My place is close to the airport, art, culture and so much more. You'll love my place because of the outdoor space, the people, the location, and the views. We are close to gastro restaurants. For the Dublin city experience we are beside the train station; 50 minute journey to Dublin City centre, 10 minutes to Drogheda. 1 hour 45 minutes to Belfast by train. Airport pick up at weekends. My place is good for couples, solo and business travelers, families (with kids), and/or dogs.
The bedroom is a very large double with large ensuite. It has two double fronted windows which flood the room with light. The en-suite bathroom window overlooks the back garden. Fast speed unlimited broadband means you can work or relax with your favorite programmes and films or alternatively you can watch a DVD on the flat screen T.V. The bedroom has a seating area facing the T.V. The neighbourhood is quiet but there are still two corner shops, two takeaways, an Italian restaurant. You are minutes away from Sonairte (the National Ecology Centre which has the cutest Cafe called 'Sunflower Cafe' which is great value in a stunning location) and an award winning gastro restaurant the 'Lime Kiln' in Julianstown and the award winning 'Relish Cafe' in Bettystown. There are three pubs which have good bands at the weekend. Gilna's serves really good bar food.
The neighbourhood is quiet with a mix of older retired residents, young families, and young professionals and everything in between. There are a lot of trees and green space. There is on street parking. Across the road there is a Hairdressers and Beauty Parlour for anyone who wants a treat. We are beside two beautiful beaches and many country walks. At night you can see the lights of Dublin to your right and the lights of Dundalk to your left when looking out to sea. The area is a Special Protection Area therefore building is limited and it is part of a Green Corridor and home to many species of plants and animals with spectacular trees. The wetlands on the river Nanny are spectacular anytime of the year and a paradise for bird watchers. 'Sonairte' have two bird watching posts. Anyone who has kayacking equipment or any other water sports will be able to enjoy these activities out to sea or on the Nanny river. I'm not a fishing person but have noticed that many people do single line fishing both out to sea and along the river Nanny. Laytown sits between where the Nanny river meets the sea.
Teresa has a beautiful modern home; the room we were staying in was huge with a massive ensuite and also came with a sofa and large flat screen TV. Teresa and her family are so nice and helpful it made our stay and JJ the family dog is a dote also. Teresa provided a tasty variety of options for breakfast also. Laytown is actually quite beautiful with great walks and lovely beaches but not is a small town and not much else going on. The perfect spot for a relaxing weekend and a stone throw from Dublin. We had a great time here and can't recommend Teresa's place high enough.
Kenny
2017-04-03T00:00:00Z
Typ pokoje
Soukromý pokoj
---
Typ nemovitosti
Dům
---
Ubytuje
2
---
Ložnice
Laytown, County Meath, Irsko
Navštivte krásné přímořské vesnice Laytown na východním pobřeží Irska, 25 min. jízdy od letiště v Dublinu! Laytown má kavárna, restaurace, obchod, dětské hřiště, fotbalové hřiště, golfové hřiště, kadeřnictví, rozmazlovat místnost, vlakového nádraží a 3 hospody! Wifi zdarma!
Tento seznam je vaše vlastní ložnice a koupelna v přízemí domu, který je vlastníkem užívanou (i když se nikdy nesetkají hostitele, je to velmi soukromé!). Nemovitost je vhodná pro skupiny nebo rodiny až sedm hostů. Je vhodný pro ty, kteří s dětmi i (děti nezůstávají zdarma! Vyberte skutečný počet osob Při rezervaci :-) Babies 'cestovní postýlka, hračky a služba hlídání dětí k dispozici, informujte se. Váš patro se skládá z vlastní koupelnou plus hlavní ložnice (2 dvoulůžkové poschoďové postele, spí 4), které vedou do přilehlého kóje spánku prostoru (3 jednolůžkové palandy). Kóje nemohou být kvalifikovány jako další ložnici, protože je velmi malý, ale to je funkční a bude pohodlně spát tři další lidi, 5ft10inches ve výšce nebo pod ní. Nebudete mít přístup do kuchyně, obýváku nebo prádelny, takže tento záznam je vhodný pro hosty, kteří chtějí jíst venku. V patře je out-of-hranice pro hosty, protože to je náš soukromý rodinný dům.
Laytown má krásné čisté písčité pláže, která se táhne na míle daleko. Můj dům je 3 minuty chůze od vlakového nádraží, které vás do centra Dublinu v 53minutes. Laytown je také skvělým místem pro ty, jízdy na Belfast (90minutes řízení nebo 1hr45mins ve vlaku). Golfisté se mohou těšit na místní golfové hřiště. Mezi zajímavosti v okolí patří prehistorický monument Newgrange, Hill Tara, Tayto Park, Hrad Trim, Opatství Bective, Battle of the místa Boyne, Národní Ekologické centrum a Skerries Mills. Dublin je méně než hodinu dojíždět z Laytown ... zde můžete navštívit Guinness, Book of Kells, Kolej sv Stephens Green, Jameson Distillery, Grafton Street a Muzeum skřítků! Dublin se může pochlubit také mnoho divadel, muzeí a koncertních sálů. Parkování na ulici je k dispozici parkoviště pro hosty přímo v přední části pozemku.
Skvělé místo! Krásná a čistá koupelna, útulný pokoj s pohodlnými postelemi a plná lednička jako bonus. Komunikace s Carol byla báječná - dokonce nám zařídila taxík až na místo. Rozhodně doporučuji všem!
Tereza
2017-03-20T00:00:00Z
Carl-Ann a été un hôte très sympathique et nous avons été très bien accueilli. Elle a été très disponible et a immédiatement répondu à nos diverses prises de contacts. La chambre était propre, fonctionelle et bien équipé (vu sa petite taille), avec un petit frigo (très utile) et quelques petites provisions pour le petit déjeuner. Par contre, vu qu'il n'a a pas de chaises (pas de place), il fallait prendre le petit déjeuner sur le lit ou assis par terre. Disons que c'est plutôt pour calmer la faim et qu'il est probablement mieux d'aller prendre un vrai petit déjeuner irlandais confortablement assis dans un restaurant dans le village. Autre chose qu'il faut savoir: le boiler étant apparemment petit, l'eau chaude suffit pour une personne et l'eau prend environ une heure et demie à redevenir chaud. Alors si vous êtes plusieurs à prendre une douche, soyez économique avec l'eau chaude! (A moins que vous aimez vous doucher avec de l'eau froide - il faut croire qu'il y a des gens qui aiment ça...) (Par contre il se peut que le problème était lié au boiler d'appui qui, selon Carol-Ann, était en panne ce jour-là. Mais là aussi, Carol-Ann a immédiatement réagi à notre prise de contact et était navré de ne pas pouvoir intervenir sur place, vu qu'elle était absente de matin-là. Elle nous a même offert un remboursement partiel (que nous avons toutefois refusé). A proximité de la maison à 3 minutes à pied, il y a un bon restaurant ainsi qu'un petit supermarché. La petite ville est très sympathique, tranquille, au bord de la mer, avec une grande plage superbe. Merci Carol-Ann pour votre chaleureux accueil, pour votre grande disponibilité! Nous nous somme senti très bien chez vous et serions ravis de revenir un jour!
Gabriela
2015-08-09T00:00:00Z
Carol-Ann is a very kind host. She left us everything for a good breakfast. Some chocolates on the pillows and others thoughtful attentions. We easily found enough places to park our two cars and the house is really close to the beach. I recommand this appartement.
Léa
2016-03-18T00:00:00Z
Great stay, very convenient. Host could not have been more welcoming!
Rachael
2016-10-04T00:00:00Z
carol-ann answered directly and made the impulsive stay possible!
Lukas
2016-08-31T00:00:00Z
We had a wonderful and pleasant stay at Carol-Ann's home. She was such a nice host so that we felt very welcome at her home and in Laytown! Her accomodation is very comfortable: a really clean and spacious room which is lovingly furnished. We even had our own bath which was so nice as well! Carol-Ann's home is very close to the beach, to a nice Pub, a supermarket and to the train station (only a few minutes walking distance) so that we could arrive by train from Dublin City. Thanks a lot Carol-Ann for having such a nice time in Laytown at your home! Best wishes Verena
Verena
2015-09-08T00:00:00Z
Very good location. Nice and clean... Good price
Joanna
2015-08-24T00:00:00Z
Super logement ! Excellente situation géographique, tout proche de la mer, du petit centre et de gare. Nous n'avons malheureusement pas eu l'occasion de rencontrer Carol-Ann car elle était de babysitting. Elle demeurait cependant disponible et fut très claire pour ses explications pour que nous trouvions le logement. Certains peuvent être cassants dans les commentaires mais oublient sûrement qu'une chambre Airbnb n'est pas une chambre d'hôtel ! S'ils attendent du luxe, qu'ils y aillent ou mettent au moins leurs remarques en privé. Grande chambre avec 2 grands lits superposés confortables, petit chauffage, frigo et petite table avec tout pour le petit déjeuner. Aucun problème d'eau chaude ! Nous y reviendrons avec plaisir. Je recommande vivement ce logement.
Coraline
2015-09-28T00:00:00Z
Typ pokoje
Soukromý pokoj
---
Typ nemovitosti
Dům
---
Ubytuje
7
---
Ložnice
Laytown, Meath, Irsko
My house is right next to the beach. Beautiful walks on beach on your doorstep. There are Restaurants, pubs, parks, arcades, art & culture nearby. You'll love my place because its a lovely and quite area, the neighbourhood is very quiet also.
The host canceled this reservation 21 days before arrival. This is an automated posting.
Dooho
2017-02-21T00:00:00Z
The host canceled this reservation 4 days before arrival. This is an automated posting.
Filip
2017-03-18T00:00:00Z
Typ pokoje
Soukromý pokoj
---
Typ nemovitosti
Dům
---
Ubytuje
1
---
Ložnice
Laytown, County Meath, Irsko
Laytown is a seaside village and our house is just a 3-minute walk from the beach. You will have a double bedroom and private bathroom with a bathtub and shower. Access to living room with fireplace, kitchen and the outside terrace.
There is a shop and several cozy pubs just under 5 minutes walking from the house.
Ich habe Sascha und Bru als nettes und hilfsbereites Pärchen kennengelernt. Das Haus liegt nah am Strand und die Bahnstation ist ein paar Gehminuten entfernt. Ich hatte eine schöne Zeit in Irland.
Anna
2016-04-02T00:00:00Z
Excelentes anfitriones muy amables siempre al pendiente de que no faltan cosas adicional, excelente limpieza, grandiosa hospitalidad y ubicación cercana a una estación del tren hay cerca tienda, bar y restaurante
Arturo
2017-03-20T00:00:00Z
Sascha and his girlfriend were very friendly and welcoming. They were happy to assist us with directions and ideas. However, there were a few drawbacks: - Shower - hot and cold water didn't mix well. It was either too hot or too cold. - Wifi network disappeared after the first day. - The shelf in the bathroom is badly placed and makes it really hard to brush your teeth/wash face close to the sink.
Julien
2017-02-14T00:00:00Z
Typ pokoje
Soukromý pokoj
---
Typ nemovitosti
Dům
---
Ubytuje
2
---
Ložnice
Laytown, Meath, Irsko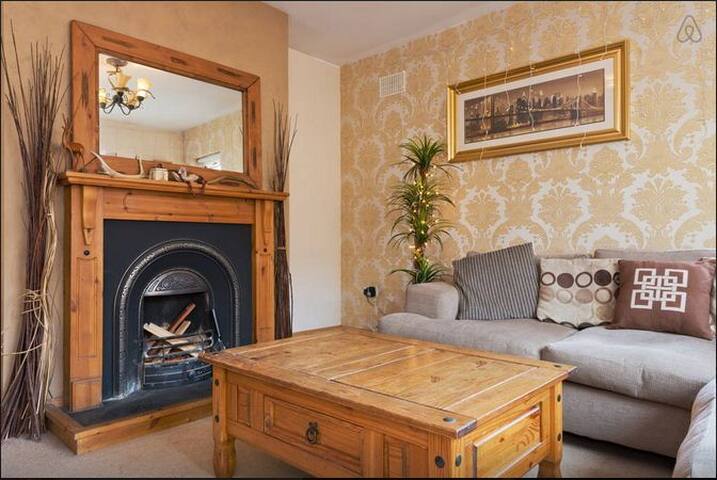 Two spacious double rooms with own entrance and private kitchenettes. Rooms can be reserved together or on their own (or indeed as part of a three room self contained flatlet ) as each has their own private entrance. Bathroom is shared between the 2 rooms.
Ideally situated on the East coast - 25 mins by car to Dublin Airport. We are a short 10 minute walk to the main Dublin -Belfast N1. Buses pass every half hour and takes approx 40 mins to get to Dublin city.
We are in a rural area so if its peace and quiet your after with long country walks then this is the place for you.
Typ pokoje
Soukromý pokoj
---
Typ nemovitosti
Dům
---
Ubytuje
4
---
Ložnice
Meath, County Meath, Irsko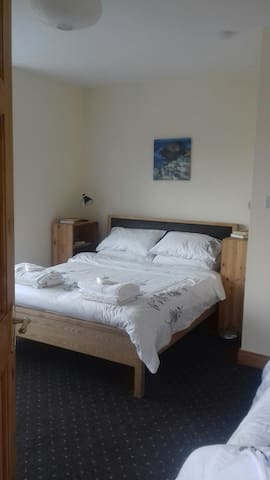 Velké double ensuite pokoj se nachází 3 minuty jízdy nebo 15 minut chůze od krásné pláže Bettystown a obce. Hospody, restaurace, takeaways a zábavy vše v rámci této vzdálenosti. Obývací pokoj s otevřeným ohněm, přístup do kuchyně. Možnost přidat nafukovací matrace pro 2 děti na pokoji, pokud rodina na cestách.
Celý dům včetně 2 dvoulůžkové pokoje s vlastním sociálním ložnice může být k dispozici v určitých termínech.
Klidné, čisté a bezpečné čtvrti.
Typ pokoje
Soukromý pokoj
---
Typ nemovitosti
Dům
---
Ubytuje
2
---
Ložnice
Bettystown, County Meath, Irsko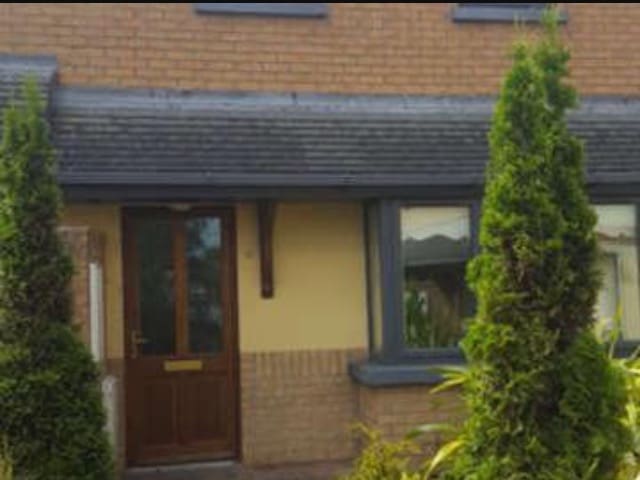 Ideal for the avid golfer/walker. Your room overlooks the 1st fairway of the legendary Laytown & Bettystown Golf Links. If you prefer a more leisurely pursuit you are 3 minutes walk to the sandy dunes of the 2mile-long beach!
Double room, separate bathroom with shower.
Typ pokoje
Soukromý pokoj
---
Typ nemovitosti
Dům
---
Ubytuje
2
---
Ložnice
Bettystown, Meath, Irsko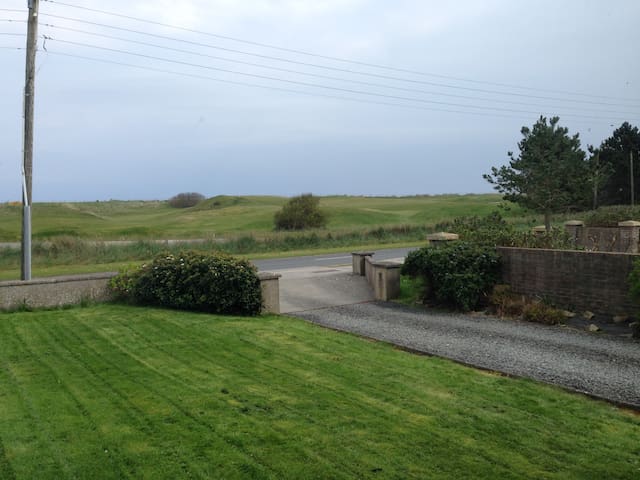 We are ideally situated on the east coast of Co. Meath. If its peace and quiet your after then this is the spot for you. This property benefits from being very convenient to Dublin (30 mins) & The Ancient East (Newgrange & Trim 20 mins). 20 mins from the Airport . The bus nearby goes every 20 minutes to Dublin at peak times. Guests have their own Bathroom and own entrance. There is a pullout sofa for extra guests a full size single bed and a camp for extra people. a cot can also be provided.
There is a kitchen in the room for your own private use. A Sink, Kettle , toaster, fridge/freezer, microwave, mini ovan with hotplate is available. Also a breakfeast bar with four stools for your meals. There is a patio where you can sit (if the sun shines !)
We are situated about 2km from the village of Julianstown. Beach walks , Fishing , Golf are all available nearby. Drogheda is the nearest town and the Town is full of Restaurants and History. Sonairte ecology centre is very close and is a wonderful place to visit with river walks
Our stay in Debbie and Toms room in mosney was very comfortable. We had everything we needed and if something was missing, Debbie was always there for us. She brought us to the beach, gave us a tip for a nice pub with live music and drove us to the fantastic new grange. Moreover we got fresh eggs and homemade bread. For us it was the perfecr place to stay! Thanks for beeing such so nice to us and making our stay great!
Eva
2016-09-12T00:00:00Z
Debbie and Tom are two lovely people who made us feel at home from the moment we met them. The rooms were nice and spacious with plenty of room. Their home is in a nice quite area only five minutes from Drogheda by car and 25 minute to Dublin. The beach is also only a ten minute walk away. If you dont have a car there is also a bus stop at the top of their road. With buses every half hour. I'd like to thank Debbie and Tom for everything. I'm looking forward to calling back sometime soon, and would definitely recommend them.
Eileen
2016-07-23T00:00:00Z
Debbie explained how to find her house and welcomed us with recommendations where to eat dinner. In our room we found everything as expected and then some, including homemade bread, fresh eggs, cucumbers, tomatoes, and apples from her garden, some other staples in the fridge. Debbie's house is located very close to many historic places we planned to visit: Newgrange, Knowth, Drogheda, Hill of Tara, Mellifont Abbey, Trim Castle etc. Our kids had fun connecting with Debbie's kids, and they even got invited to Debbie's youngest kid's Birthday Party! If you would like to see historic places like Knowth and Newgrange, Hill of Tara, etc and get to know Irish people and Irish history, then Debbie's hospitality is exactly what you are looking for!
Tatyana
2016-10-09T00:00:00Z
Check in a qualunque ora. Stanza a cinque minuti dal mare (in auto). Colazione dolce e con prodotti confezionati, ma abbondante. Comodissimo per vedere i siti nelle vicinanze se si ha una vettura. Sicuramente alloggerei ancora da loro.
Stefano
2016-08-13T00:00:00Z
Ez a szoba a ház egy külön bejáratú része. Konyha az nincs. Az egy kiállású villanyrezsó és egy hűtő szerintem nem konyha. 4 főre volt 2 szék az étkező asztalnál. Reggelit csinálhattunk ha akartunk és tudtunk volna. De nem volt kedvünk a fürdőkádban mosogatni. A család biztosan jó fej. Laknak ott még páran, de kevés szót váltottunk. A kutya cuki. A környék gyönyörű.
Szilárd
2016-08-27T00:00:00Z
Accueil très sympathique. Nous avons passé deux très belles journées avec super petit déjeuner à base de pain frais et de confiture maison, d'oeuf du poulailler et de lait frais. Un joli lieu à quelques minutes de la mer, face à un grand jardin où on aperçoit lapins et oiseaux. Grande chambre agréable avec grand lit et salle de bain. Merci pour tout à Debbie et Tom !
Patrick
2016-08-30T00:00:00Z
Tom et surtout Debbie on été très accueillant. Beaucoup de services rendus (où prendre le bus, quoi visiter....) de façon très cordiale. A l'inverse, le logement n'a pas du tout été à la hauteur de mes attente. Il faisait froid, il y avait pourtant un chauffage "normal" (chauffage central certainement), mais éteint la plupart du temps.... Allumé 1h en soirée, à peine, et pas tous les soirs. Un chauffage d'appoint au gaz était là : émanations de gaz pas super, il fallait laisser les fenêtre ouvertes ?!? Il était éteint la nuit. Je l'ai allumé un matin car il faisait trop frais, résultat, la tête qui tournait toute la matinée... La literie à ressort date certainement d'un autre age, c'était très inconfortable car les ressorts faisaient mal! J'ai trouvé des couvertures pour tenter d'atténuer la sensation: les couvertures étaient malodorantes...... Les poules du jardins se sont fait discrètes, et les oeufs du jardin aussi. Ce n'était peut être plus la saison, ou bien il n'y avait plus de poules? Ne parlant pas anglais, je n'ai pas engagé la conversation à ce sujet. Le petit déjeuner était donc constitué d'oeufs de grande surface et de pain...farineux. Le beurre et la confiture ont été bienvenus! La baignoire, n'avait que de l'eau froide. On a pu profiter des bruits de toutes la maisonnée jusqu'à ce qu'ils soient tous au lit, un simple porte nous sépare de leur maison. Voilà. Ce sont des gens fort sympatiques, la maison se trouve très facilement et est en effet très proche de l'aéroport et de site à visiter. Le confort cependant n'a pas été au rendez vous, malgrès les photos alléchantes.
soizic
2016-10-14T00:00:00Z
Tom e Debbie sono stati molto gentili ed accoglienti. Hanno avuto cura nel chiederci se andava tutto bene o se avessimo necessità di qualcosa. Al nostro arrivo abbiamo trovato frutta, pane, marmellata, bibite, latte e uova. Il secono giorno Debby ci ha detto che potevamo anche raccogliere le mele dai suoi alberi da frutta. Sono persone sincere e cordiali. La casa è in posizione strategica per visistare Dublino e Belfast. E' una casa semplice ma c'è tutto quello che serve per brevi soggiorni di 2/7 giorni. Va benissimo per famiglie. Noi ci torneremmo di sicuro.
Filippo Paolo
2016-09-01T00:00:00Z
Typ pokoje
Soukromý pokoj
---
Typ nemovitosti
Dům
---
Ubytuje
6
---
Ložnice
Meath, County Meath, Irsko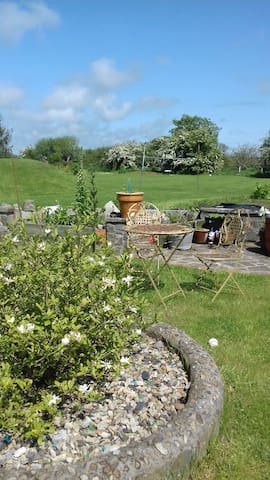 Newly renovated country cottage, 10 minute walk to the sea. 8 km from Drogheda. Ideal for exploring the Boyne Valley, Newgrange and visiting Tayto park. Also within easy access of train station, train to Dublin 40 mins. 25 mins from Dublin airport
The cottage has recently been completely renovated. And is ideal for couples and families a like. It has a fully equipped kitchen along with extras such as a top of the range coffee maker. There is a main living area which gets the morning sun and is a comfortable and relaxing place to sit and enjoy meals. The sitting room at the front of the cottage is a great place to sit back and grab a book from the shelves and forget about life for a while. The two bedrooms are of equal size with two double beds. Cots and smaller beds for children can be arranged on request aswell as high chairs (supplement applies) The bathroom has a bath and a large power shower. The cottage has a decking at the back which is a lovely place to sit with a coffee and soak up the morning sun.
The neighbourhood is unique in that it's so close to the sea, yet within easy reach of the historic town of Drogheda and only 40 minutes from Dublin city. It is a great base for exploring the Boyne Valley being only 15 minutes drive from the Unesco world heritage site at Newgrange and the Battle of Boyne site at Oldbridge. It's also a great base for families looking to visit Tayto park and other attractions such as Funtasia water park which is a mere 10 minute drive.
Killian was the best host! The cottage was lovely, very clean and everything you could imagine was already in the house so you could settle in in a heartbeat. The environment is also very pretty, the beach is just down the road. We couldn't have asked for more. Hope to be back!
Marinka
2016-05-04T00:00:00Z
We had a great time at the country cottage! Everything was very clean and Kilian could not be there to meet us, but his parents were and they were amazing. We got lost and they drove to meet us. We highly recommend this place!
Silvia Alice
2016-04-26T00:00:00Z
What a fantastic house this turned out to be. We just needed a place to allow us to visit Newgrange and visit family. When we got there Killian was there to greet us and show us everything we needed to know about the property. We were pleasantly surprised by the space inside and the area to sit outside. We were blessed with a rare sunny weekend and got to sit outside. We'll definitely head back here, especially to finish off one of the many books that are available in the living room.
Ann Marie
2016-05-16T00:00:00Z
Just what the Doctor ordered !! Thank you Kilian Regards Terry & Christine
Terry
2016-06-19T00:00:00Z
Kilian was at the house to welcome us at the time agreed having texted to confirm details. He was really kind and went through stuff such as heating controls , showing where to find extra towels and recommendations on places to visit. The house was exactly as we expected, better in fact.Absolutely sparkling clean, plenty of towels and toiletries too! Really thoughtful to leave a range of ingredients eg oil, spices, tea- bags and ground coffee. The house felt like a home, very comfortable. Location good, walk to the beach taking care on a small stretch of busy road but that was pointed out to us. Wifi much appreciated by our teenage sons.
Deirdre
2016-10-26T00:00:00Z
Kilian was a wonderful host and everything has been thought of at his place, including a generous pantry, toys for little ones and gorgeous fresh flowers. We couldn't have asked for a more perfect place to recover from a long flight.
Paige
2016-08-20T00:00:00Z
First but not last! We (x3) were the first to stay to Killian's place which was really convenient location and a neat small house. Few steps from convenient store and gas station you can reach the beach a little 10 minutes walk. Recommend the sunrise a lot. Better than advertised
Shly
2015-10-10T00:00:00Z
Absolutely amazing experience! The cottage is spotless, newly decorated and very modern. We loved the place so much we would love to live there! The garden is wonderful, you can enjoy a nice coffee outside. The beach and the golf course are within walking distance and there are some nice pubs/restaurants around that are worth checking out. Kilian is an amazing host. He is a Superhost for a reason :) He communicated with us often and answered all our questions. Even more than that, he went above and beyond to make out stay as pleasurable as possible. The place was well prepared for quests, and Killian even left us a welcoming drink in the fridge - that tells you all. Kilian loves animals and we love that he accepts pets in the cottage - ouf shih tzu puppy Larry was thrilled with the garden :) If you need anything - just ask the host - he is so welcoming and happy to help that we felt as part of the family! We will be definitely coming back but this time for more than 3 days :)
Aleksandra
2016-04-25T00:00:00Z
Typ pokoje
Celý dům/byt
---
Typ nemovitosti
Dům
---
Ubytuje
5
---
Ložnice
Drogheda , Meath, Irsko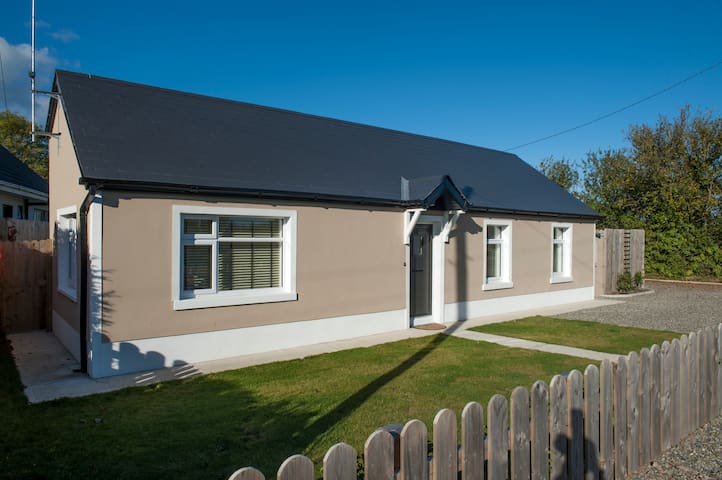 Lovely, modern, spacious entire house with one comfortable double room available just 5 minutes walk away from the Mornington beach. With Free Wi-Fi! Ideal for couples having romantic breaks, holidays. With its prime location, this property makes
This house has been newly built and has been recently decorated. It has a fully equipped kitchen and dining area with a large fridge/freezer, washing machine and all necessary amenities. Free Wifi included in the whole house. At the back of the house you can find the large living room with two recliner sofa and arm chair and open fire place. The living room has a 50 inch smart television set to several great channels, so you can enjoy a great movie in any languages. The living room benefits from the daylight sun so you can enjoy it through a double glazed large balcony window/door. Leading from the living room is a spacious balcony with peaceful view, furnished with a table and chairs to enable you to dine and relax outside to. There is also a small toilet underneath the stairs. Upstairs you will find the cosy bedroom with double bed, wardrobe, lockers and chest of drawers. The bathroom is just beside the bedroom has a bath and a power shower in it. The house benefits from its own private large garden at the back and the front. Private parking available at the front garden of the house.
This cosy house has unique blend of space and comfort, complemented by modern facilities and a rural setting. It is so close to several beaches, local shops, historical areas such as Newgrange and has excellent facilities including golf courses nearby. Please let me know if I can be any help of suggesting other site and activities in the area.
Our host, Anna, welcomed us and took great pains to patiently explain how the 50" Smart TV works. Great for a relaxing break as the neighbourhood is very quiet. House has very plentiful supply of air fresheners, scented candles and incense sticks.
Michael
2016-08-02T00:00:00Z
Had a fantastic experience at Anna's. Perfect for my husband and I to have three nights relaxing. Anna was so lovely and made sure we had everything we needed. Would highly recommend.
Amy
2016-07-29T00:00:00Z
The house is beautiful and made us feel at home it had everything we were looking for the perfect size for 2 people. Washing Maschine, big TV with Netflix, Xbox and Internet was also provided. The house has a nice garden and a quiet neighbourhood. It's easy to reach by car or public transport, bus stop and shop only 5 minutes and beach about 10 minutes walking distance. Busses run every hour to Drogheda and back so it's also a good Location if you don't have a car. Our host Anna was very helpful before and during our stay giving us all directions and Information about the area. All together me and my son stayed over two weeks and would love to come back.
Carmen
2016-08-21T00:00:00Z
The house is beautiful, has all the mod cons and is very conveniently located in a quiet neighbourhood with the beach only a 10min walk away. Anna met us at the house when we arrived and explained everything to us. We had a lovely time and can highly recommend this house and Anna the host. Anna is very helpful and we had great communication with her when we had a problem with our arrival day and time.
Yvonne
2016-08-31T00:00:00Z
Great place to stay, no complaints
Ben
2017-01-12T00:00:00Z
Beach. Netflix. 5 remote controles. 20 min. from Bru Na Boinne. Quiet neighbourhood. 10 min. from Tesco. Clean. Very kind host. Car is a necessity to visit the lovely sights in the area.
Alinda
2016-07-24T00:00:00Z
Nice interior...but the pictures from the outside flatter to deceive. The Hostess is flawless; very responsive to messages and made the booking so easy.... However, on arrival; entering the house there was a strong stench / smell...after lighting a few of the candles provided and opening the large patio doors, it made things easier. We came to the conclusion that it may have been cloths left in the washing machine in the kitchen downstairs; the smell was through the whole downstairs. Very large TV with Netflix; perfect for watching a movie while using the comfy recliner seats. All things considered, when you are paying around about a €15 cleaning charge; then wouldn't expect to have the unfortunate smell(s) throughout...considering the previous Guest had paid for the house to be up to standard. Great intentions by the Host, but sorry; not for us again.
Colm
2016-07-10T00:00:00Z
Annamaria is a lovely host. Everything in the house was as described and fit us well for our 2-night stay. House was clean and comfortable ideal for a couple and in a quite estate. The house was close to the beach which was nice for walks. The only downside was it would have been helpful to have a manual guide for the smart tv not everyone has one or knows how to set it up, took a while to work out the setting for the stations.
Patricia
2016-07-18T00:00:00Z
Typ pokoje
Celý dům/byt
---
Typ nemovitosti
Dům
---
Ubytuje
2
---
Ložnice
Meath, Meath, Irsko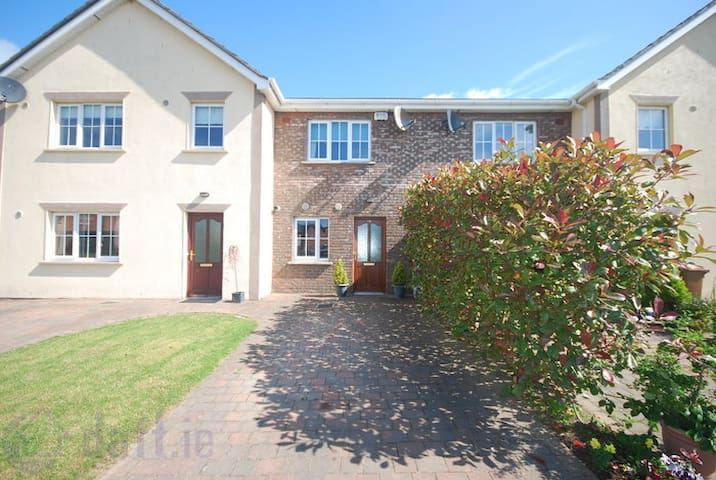 Výhodnou polohu s dobrou dopravní dostupností do Dublinu (autobus 45 min). Vezměte své cykly se na pláže, historické a architektonické památky, v naturalizovaný říční krajina s mnoha ptáků a ryb. Samoobslužná snídaně v naší velké kuchyni s jídelnou.
Anglicky a německy mluvené, někteří francouzští, malé množství Japonců. Využití deskových her a hudebních nástrojů (klavír, kytara, ukulele). Máme také hostující kola. Upozorňujeme, že nejsme schopni pojmout večerní check-in. Před podáním žádosti o rezervaci, ujistěte se, že vaše cestovní plány umožňují check-in od 10 do 6pm (konstatovat letu nebo trajektem svůj čas příjezdu ve vaší žádost o rezervaci).
Julianstown má nepřeberné množství historických prvků od hradu ze 14. století na oceňovaný modernistický kostel. Klíčové části obce byly klasifikovány jako architektonický Conservation Area. V krajině se svými zarostlých březích řek jsou domovem mnoha druhů ptáků, jako jsou například ledňáčka a konipas horský a jeho relativně čisté vody hostitele Mullet a pstruhů. Jako takový Julianstown je také určen jako zvláštní oblast ochrany přírody (SAC) s bohatými naturalizovaných oblastech, dobrou ekologickou hodnotou a vysokou místní biologickou rozmanitost. Místně známá gastro pub "vápenka" v docházkové vzdálenosti.
we just spent one night,. the house is perfect and there´s a pub near by with amazing food for the most reasonable price we found in Ireland. Unfortunaly it was Sunday and we had to pay 60€ to get a taxi into the airport, since there were no buses running at the time we had to leave (early morning)
goncalo
2016-09-11T00:00:00Z
Nice host, giving good advises for eating, drinking and visiting sights around the house. It might be a little bit noisy in the morning because of her little daughter but not too early. We didn't have a problem with it but some people might like to know. It's near to a good gastropub in Julianstown and it's close to Drogheda and Dublin.
Felix
2017-03-20T00:00:00Z
Thank you for letting us stay with you Spacious room with two comfortable beds, two mattresses on the floor and en-suite shower room. Quiet neighbourhood but close to main access roads if travelling by car to conveniently visit area (Brú na Bóinne, Dublin, seaside etc.)
Corinna
2016-08-08T00:00:00Z
We felt very welcome when we arrived and Agnes showed us around her lovely large house. Her bedroom matched the description as advertised and was very clean with a nice ensuite bathroom. Agnes was very kind and let us use a hairdryer/ironing board and we also had the chance to borrow some bikes and ride to nearby Laytown. agnes was very knowledgable about the local area abd information was provided in our room about local history and places to visit. We visited nearby Dardistown castle and From there took a long country walk into Bellestown. We also had a drink in the local Lime Kiln gastro pub. We wish we could have spent longer as it was so relaxing and would definitely stay at Agnes' again.
Lorna
2016-05-23T00:00:00Z
We were made very welcome by Agnes and her daughter, she had a tray left with tea/coffee and scones which we had shortly after we arrived as we were leaving very early for a flight from Dublin Airport and we would not be there for breakfast. Very friendly and helpful, told us about the area. Place was as described, nice quiet area but also close to Bettystown, which is quite busy. Thirty minutes drive to airport. Would recommend.
Hazel
2016-07-11T00:00:00Z
Typ pokoje
Soukromý pokoj
---
Typ nemovitosti
Dům
---
Ubytuje
5
---
Ložnice
Julianstown, Meath, Irsko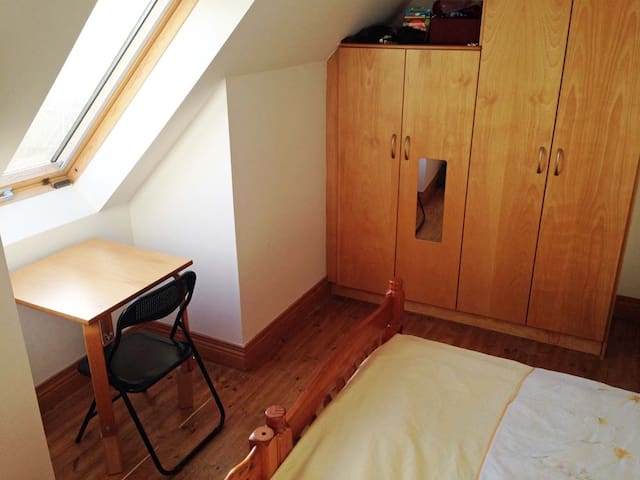 Pretty, tranquil dormer-bungalow, Mornington; a short stroll to long sandy beach. House needs a car for visitors. 8 minutes drive to Drogheda City for shopping, history & great food. Newgrange close by. Dublin Airport is 30 mins & Dublin City 45 mins. 3 double bedrooms sleeps 6. Dining room plus 2 big sitting rooms. No Internet - but SKY digital TV. House has parking, a walled garden, big kitchen with full cooking amenities. There is no air/con. Central oil heating throughout. Open fireplace.
This is a spacious, 3 bedroom dormer bungalow. We have a master bedroom en suite with a king size bed, and two double rooms with new double beds. The living room has three sofas and an open fire while the kitchen has a breakfast table, sofa and there is a full dining room for six. The house can sleep 6 people (3 couples) or a family with children. There is no internet/wifi. There is SKY digital TV. The house has parking and a walled garden safe for children to play in. No pets allowed or smoking in house.
We're close to several beaches and a few minutes from a shop and petrol station which is well stocked and good value. It is a short 8 minute drive to either Drogheda city and a full shopping centre or there's a major shopping centre (DUNNES at Colpe Cross) just 5 minutes on the way down to the house from the main road into Drogheda. The house is close to historic areas like Newgrange and has excellent facilities including several golf courses nearby. Please tell me in advance what you'd like do and I'll help you find it!
We are a family of six, kids ages between 5 to 13 yrs. We truly enjoyed the experience. Staying in Helen's house was great. The amenities was excellent. Helen is an amazing host. Very caring. She provided the essentials we needed on our first day with out having to go the shop. For a mum with young kids. I really appreciated it. Communication prior to our arrival and throughout our stay was excellent. Helen monitord the wheather and gave us information on the best place to go. Helen treated us like a family friend. The house is clean , comfortable and warm. Only 30mins away from Dublin airport and 8 mins to Drogheda town centre. The house is a walking distance to mornington beach and 5mins to Bettystown beech . My kids enjoyed the indoor swimming pool in Bettystown beach. I highly recommend Helen as a host. She is truly a credit to Airbnb.
Bennie
2016-08-23T00:00:00Z
We stayed at Helen's house and had a great time. The house is nicely decorated and all the spaces are very comfortable. She had recommendations for us and was very hospitable. The house is located in a quiet residential area but very convenient to travel around.
Claudia
2016-06-06T00:00:00Z
Helen was a great host. Very helpful when needed and went over everything about the house and the nearby sights.
Sean
2016-09-14T00:00:00Z
We had a great stay at Helen's house. The house is very pretty, I loved the bedrooms, kitchen, etc. Helen was very helpful showing us through the house when we arrived and giving us directions. The house is close to the Boyne Valley sites (Newgrange, Knowth, etc), within walking distance of the beach, and a half hour drive from the airport! Thank you!
Eileen
2016-07-08T00:00:00Z
Helen's place was great for our family. Clean, spacious and comfortable. Close to the beach and a fairly short drive into Dublin. Helen was a fantastic host. She allowed us to check in very early and greeted us at the door with coffee, tea, juice and scones. After an overnight flight from Canada with 2 kids, this was an extremely nice welcome! She also left a few provisions in the fridge to keep us going until we bought some groceries. The house has a nice enclosed back yard and Helen even had some sand toys for the kids. We didn't see Helen again after our arrival, but she was always available by phone and quick to reply to any questions. Helen also gave us lots of information and suggestions on nearby places to visit. We would be more than happy to stay here again.
Gary
2017-03-21T00:00:00Z
Me and my friends had a wonderful stay at Helen's! Everything was as described: spacious, clean and most of all comfy! The house is located in a quiet family area close to the sea. Helen was a very friendly and caring host, providing us with many useful tips and suggestions for activities for our stay! We spend some lazy days at this wonderful place and even enjoyed having no WiFi! ;) We would definitely recommend this wonderful house! Thank you, Helen! :)
Maggie
2017-01-03T00:00:00Z
Helen was a great host and made every part of our stay comfortable. We arrived on a late winter evening and she had candles lit and a fire prepared as well as Christmas decorations to make the children feel welcome, plus bottle of wine and cookies ! House was great, no complaints, everything warm and comfortable.
Sallyanne
2016-01-02T00:00:00Z
Another great welcome from Helen for Easter, thanks for the chocolates and wine!
Sallyanne
2016-04-02T00:00:00Z
Typ pokoje
Celý dům/byt
---
Typ nemovitosti
Dům
---
Ubytuje
6
---
Ložnice
Mornington , Meath, Irsko
You'll love my place because it's located in the grounds of the 15th century Irish castle.
My place is close to lots of historic places of interest, family-friendly activities and Dublin Airport. My place is good for couples, families (with kids) and bigger groups. Nearby Locations include: Dublin Airport - 25 minute drive Newgrange - 20 minute drive Tayto Park - 20 minute drive
Lovely place, lizanne and her husband were great and even showed us a tour of the castle before check out!
Taylor
2017-03-18T00:00:00Z
It was a delight to arrive in winter with a roaring fire going in the apartment!
Chris
2016-12-04T00:00:00Z
Typ pokoje
Celý dům/byt
---
Typ nemovitosti
Dům
---
Ubytuje
4
---
Ložnice
Julianstown, County Meath, Irsko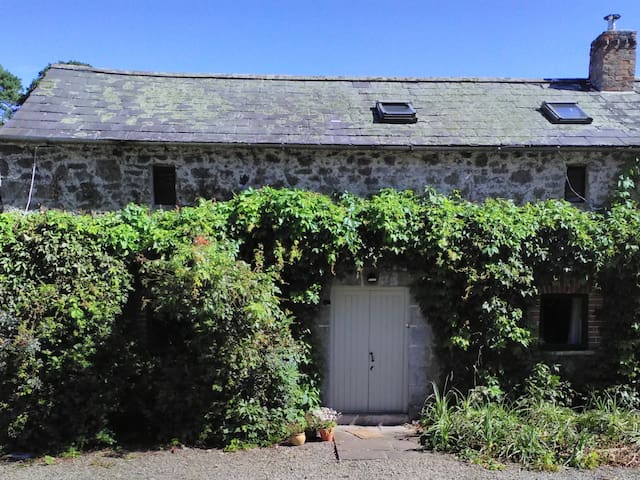 Lovely south facing house. 5 minute walk to Mornington Beach. 25 minutes from the airport. Bus services running through the town. Near to historic town of Drogheda. I have two rooms with a double bed in each room, one room with a toilet.
Really nice and warm welcome, feels like meeting long time missed family. Linda is a really a kind and nice host!
Silvia
2016-06-12T00:00:00Z
Typ pokoje
Soukromý pokoj
---
Typ nemovitosti
Dům
---
Ubytuje
4
---
Ložnice
Meath, Meath, Irsko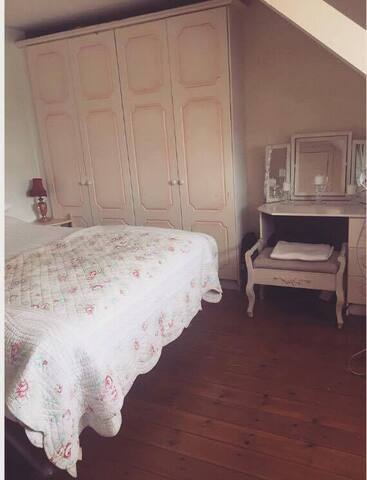 You'll love my place because it's located in the grounds of the 15th century Irish castle. My place is close to lots of historic places of interest, family-friendly activities and Dublin Airport. My place is good for couples, families (with kids), and bigger groups. Nearby Locations include: Dublin Airport - 25 minute drive Newgrange - 20 minute drive Tayto Park - 20 minute drive
Absolutely outstanding experience at the castle. The owners made us feel so at home. Gorgeous countryside location with close proximity to Dublin and Belfast. I'd highly recommend this Airbnb...we can't wait to return.
Shena
2016-10-02T00:00:00Z
Very friendly hosts, lovely castle! Accommodation was comfortable.
Benjamin
2017-03-18T00:00:00Z
Typ pokoje
Celý dům/byt
---
Typ nemovitosti
Dům
---
Ubytuje
5
---
Ložnice
Julianstown, County Meath, Irsko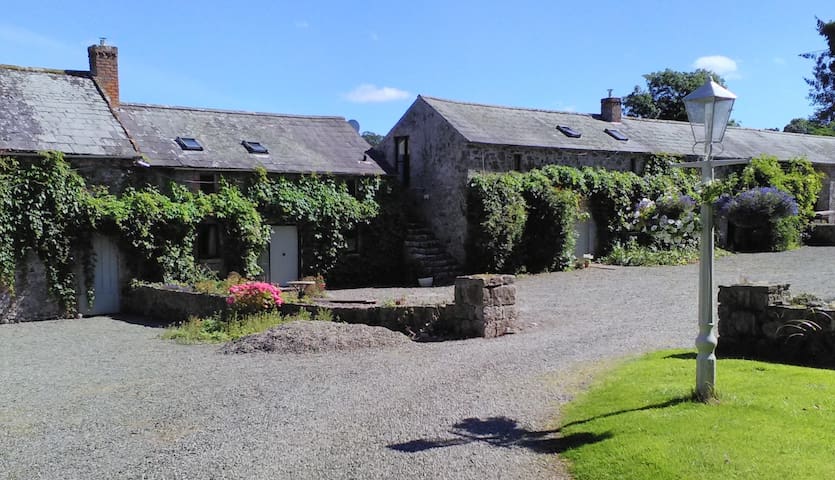 Útulný a pohodlný pokoj k dispozici v Drogheda. Snídaně je v ceně. Dům je 20 minut chůze od vlakového nádraží a 30 minut od města. Jsem k dispozici k poklesu na letišti, cena je €. 35
Cheap stay, friendly people but it could be more tidy.
Peter
2016-07-26T00:00:00Z
Cheeerful host, I recommend.
Maxime
2016-08-16T00:00:00Z
Many thanks to Leticia for a comfortable overnight stay. The accommodation was exactly as described. Fruit & health bars were an added bonus. This was a great value-for-money listing for me. I was particularly grateful for secure bike storage.
Páraig
2016-09-18T00:00:00Z
Very nice stay in a quiet and kind area of Drogheda, 20 min walk from the city center. The bed was very comfortable and the breakfast delicious! The right place to stay when visiting Drogheda!
Andrea
2016-08-23T00:00:00Z
Really great place to stay - my hosts were friendly and welcoming, and the place was vert nice, spacious and quiet for sleeping at night with a delightful breakfast. Highly recommended!
mark
2016-07-17T00:00:00Z
Very helpful and friendly host Decent location to Dublin Accessble by public bus
Cindy
2016-06-06T00:00:00Z
Little room in a quiet neighborhood, far from city center but close to main road. Very nice people.
Tibor
2017-03-19T00:00:00Z
House was perfect for what I required - Leticia met me when I arrived and showed me round the house. There was water and fruit left in the room for Mr which was a nice touch. Bed was very comfortable, I was mainly looking for a place to rest for the night after running a marathon and heading to one the next day. I was delighted with the stay and would stay again and recommend to others.
Jonathan
2016-07-09T00:00:00Z
Typ pokoje
Soukromý pokoj
---
Typ nemovitosti
Dům
---
Ubytuje
1
---
Ložnice
Drogheda, Louth, Irsko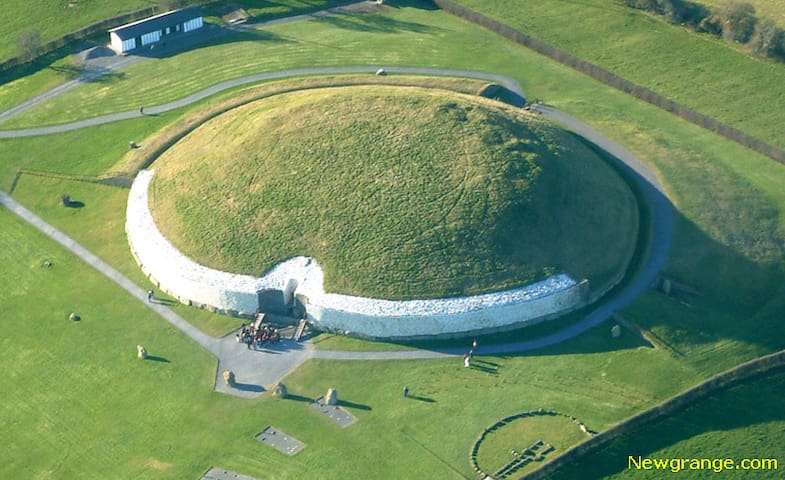 Tři ložnice dům je situován mezi Drogheda a Bettystown. 2 km od pláže jako 5 km od centra města Drogheda. Dublin City jen 35 minut jízdy autem nebo autobusem za hodinu.
Warm, clean, queit and comfortable house
Noel
2017-04-02T00:00:00Z
The host canceled this reservation 25 days before arrival. This is an automated posting.
Rosalind&Tomas
2016-12-04T00:00:00Z
Typ pokoje
Celý dům/byt
---
Typ nemovitosti
Dům
---
Ubytuje
6
---
Ložnice
Drogheda, County Meath, Irsko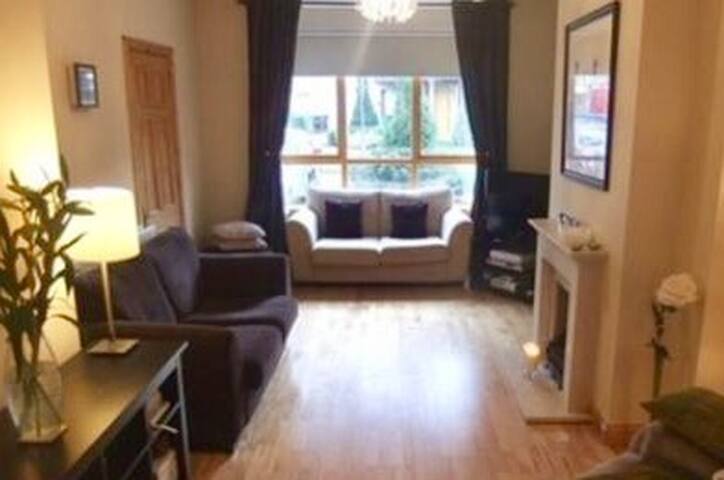 Amazing views of the historic Boyne Estuary only 5 mins from Drogheda. A 2 min drive to the beautiful beach. Relax in the south-facing garden or pop around to Moran's for the best Guinness!
House 'The Scarra' was originally a small bungalow in the tiny fishing village of Mornington, and has been expanded over time. Many years of boat-building for the local fisherman happened in our very own garage. Entrance The entrance is by the side door into a small hallway. You can throw off your coats and any dirty shoes into the cloak room and wash room from here. Kitchen Step into the large kitchen. There is a beautiful Mexican pine table for you to lay out your dinner. Have a quick look across the Boyne river toward Baltray to remind yourself of the setting. There is a large fridge and an oven. All plates, cups, knives, spatulas, etc. are ready and waiting for you. Living room Move through into the living room with a stone built, open fireplace. Couches for five people to sit around talking or watching TV (DVD selection upstairs). If the weather is nice, open up the sliding doors and let the fresh air in. Study/library A stairs leads up from the living room to the landing and study area. There are loads of books to peruse. There are cozy armchairs to relax and read. There is also a desk available for you. Toilet The toilet is off the landing upstairs. There is an electric shower and supplied towel rack. Bedroom The bedroom contains a superking-size bed with fresh sheets and pillows. There is a skylight letting in the full brightness of the day. Currently no curtains so be prepared to wake up to the glory of the morning sun! Parking There is easily space for 3 cars in the drive. Just be careful pulling out onto the road. Activities Where do we begin? Food: La Pizzeria, D'vine, Eastern Seaboard are all less than 10 mins away. Walks: Through the dunes onto the beach at Maiden's Tower is amazing. There are so many other walks in the Boyne Valley also. Golf: A keen golfer myself, I can guarantee the local quality. I would be delighted to recommend a few local courses. Drogheda: This historic town has so much to offer. Churches, a castle, pubs, tour guides, restaurants, etc. Boyne Valley: Newgrange, amazing castles (Trim, etc,), fishing, watersports, country houses.
The neighbours either side of us are a delight. After that, there's just a few fields and the beautiful river. A few cars pass by the road out front, but you still feel like you're in the countryside.
The trip was awesome the house was awesome the owners couldn't have been more helpful if they tried we had a fabulous time and would definitely do it again Thank you Blake and Clair you made our time in the motherland very easy for us.
Richard
2016-08-30T00:00:00Z
Great cottage in a lovely spot just out of Drogheda. Excellent book and DVD library. Very comfy bed. The views were amazing, with the ebb and flow of the Boyne - terrific for bird watching. Thanks to Blake - a very attentive host.
Nicole
2016-09-06T00:00:00Z
Typ pokoje
Celý dům/byt
---
Typ nemovitosti
Dům
---
Ubytuje
6
---
Ložnice
Drogheda, Meath, Irsko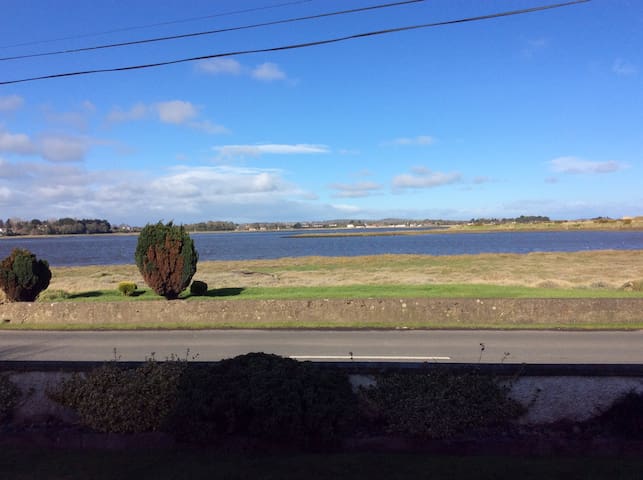 1

–

18

z

32 Pronájmy domácností
Pro zobrazení celkové ceny zadej termín. Mohou být přidány další poplatky a daně.