Zadej datum tvého příjezdu ve formátu dd.mm.rrrr
Zadej datum tvého odjezdu ve formátu dd.mm.rrrr
Nabídky ubytování, které můžeš rezervovat bez čekání na schválení hostitelem.
Pro zobrazení celkové ceny zadej termín. Mohou být přidány další poplatky a daně.
Letos v červenci a srpnu můžeš vyzkoušet jeden z této stovky vysoce hodnocených domovů v různých cenách, a zažít Sonomu jako bys byl/a místní. Možnost příjezdu kdykoliv v průběhu 24 hodin, okamžitá rezervace, a místní víno s občerstvením ti dovolí se v klidu usadit a užívat si pobyt.
Come enjoy beautiful Lillooet! We are within walking distance to downtown, parks, trails, hikes and the Fraser River. Within driving distance to beautiful Seton Lake, fishing, hunting, golfing, wine tasting, spa, passenger train, etc.
One large bedroom with a pillow top Queen size bed, closet, dresser, laminate flooring, and large windows. The Living space offers a wood stove, desk, TV, yoga/workout area, and a large comfortable couch (which can also be used for sleeping). Alternatively we have a queen size blow up mattress. The kitchen has a portable stove top with 2 burners, fridge, toaster oven, coffee maker & microwave. 4 piece bathroom (shower and tub) with towels, soap, shampoo & conditioner. Laundry room with Washer & Dryer available. Laundry Room (Washer & Dryer available for use), Economy kitchen with sink, fridge, microwave, and toaster oven. We live upstairs in the house, so for the most part we are available for any questions you may have, or to suggest places for you to check out! We are friendly and love to meet new people, but we also want to give you space to enjoy and have privacy.
We are a short 5 min walk into town by following a trail from Park Drive down to Main Street. You can find groceries, gift shops, cafe's, a recreation centre, and more! Great park about 2 min walk away. Lots of hiking trails nearby. Go for a wine tasting at the local Lillooet Winery (only 5 minutes drive away). Go to Seton Portage on the scenic passenger train. We have plenty of parking in our driveway. We suggest having a vehicle to get around, as the public transportation here in Lillooet is quite limited. There is a taxi service in town, and a passenger train to Seton Portage.
Typ pokoje
Celý dům / byt
---
Typ nemovitosti
---
Ubytuje
4
---
Ložnice
1
Lillooet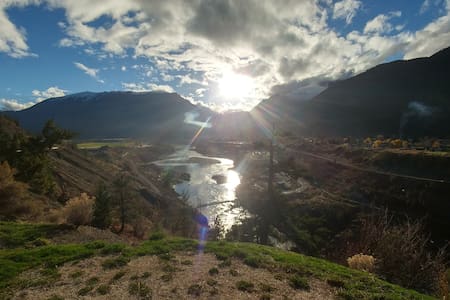 Lillooet is located in one of the most geographically and geologically dramatic and rich regions on earth. One translation of the name Lillooet is "Where many rivers meet". Lillooet is not just a place to visit; it is a place to explore. Lillooet is located close to Whistler, but enjoys small town charms and prices.
Our Guest House is located with a beautiful view of the Fraser River, where BC's history as the world's biggest supplier of jade began. There are two large jade boulders at the Guest House, and 30 jade monuments around town. Jade Valley Guest House, located on the ground floor, is within walking distance of most services on Main Street. We are situated right behind the Fire hall, which is opposite the historic United Church on Main street. Our Guest House features: - Private entrance - Separate apartment - 2 Bedrooms - Living room - Full Kitchen - Bathroom - Cable TV - Wi-Fi - Family-friendly I will meet you and I will be available on the phone.
Downtown location on quiet one-way street, overlooking the Fraser river. We are located in downtown village within walking distance of most services including taxi service. Lillooet is central to many utterly unique tourism venues: - Marvel at the traditional fishing rocks and drying racks. See: - Xwisten Experience Tours ((URL HIDDEN) - Traditional underground house s7itsken at T`it'q`et (URL HIDDEN) - Visit Sekw'el'was Split Rock Environmental ((URL HIDDEN) - Visit Fraser River cobble bars tours and sturgeon fishing ((URL HIDDEN) - Visit Fort Berens Estate Winery ((URL HIDDEN) - Hike Canyon and the Alpine. See Lillooet hiking guide ((URL HIDDEN) - Go Rock hounding - Take Helicopter tours ((URL HIDDEN) - Lillooet Golf Sheep Pasture Golf Course ((URL HIDDEN) - Visit Seton Lake - Go Fishing - Try Gold Panning - Art Gallery featuring the works of Luther Brigman and other Native local artists - The Lillooet Museum - The Jade Walk down Main Street featuring jade monuments from around the province and Lillooet -Jade Valley Pottery, on site -The dramatic road up the Bridge River Canyon to the dam and beyond -A trip back in time on the West Pavilion Road - The spectacular heights of marble cliffs in Marble Canyon - Mountain Goats on the cliffs to Seton Lake 4 miles from town - Mountain Sheep on the roads East and South.
The bed and breakfast is a spacious 2 bedroom apartment. Very clean and has views of the Frasier river.
Paul
October 2016
We really enjoyed our stay at the guest house. It was even better than expected. Halyna had some delicious baked treats for us on arrival and delivered us the most amazing breakfast in the morning. The rooms were very clean and spacious. We would definitely stay again.
Eleanor
August 2016
Great value, very cozy. Halyna made sure that everything with our arrival went smoothly. The fridge was generously stocked with breakfast items. The view from the patio was great. Also enjoyed playing around with the guitars in the unit. Would certainly stay here again when passing through the area.
Logan
August 2016
Very clean and inviting. Thank you, Halyna for a great stay. Your breakfast was delicious!
Khai & Steve
August 2016
Halyna's place is on a nice spot with a great view in the valley. The place itself is quite big and really gives you space to live. Halyna provided a complete breakfast in the fridge, and came by to offer her help whenever we needed it.
Anna
September 2016
Wonderful house, very clean and quiet, also a good view of Lillooet, and thanks Halyna for delicious breakfast and organic peach!
泽宇
August 2016
Halyna ensured a wonderful stay. The accommodation is very spacious, her breakfast was delicious and she was easily contactable.
Astrid
July 2016
Halyna visited us after arrival....but she arranged where to find key etc. She was very keen to make sure we had everything we needed A wonderful large apartment with views of the river, right in town with easy access to everything. Halyna provides so much in her kitchen, including breakfast supplies in the fridge....amazing.
Janet
September 2016
Typ pokoje
Celý dům / byt
---
Typ nemovitosti
---
Ubytuje
5
---
Ložnice
2
Lillooet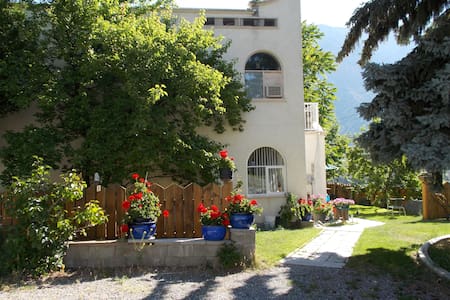 This is a small room but the price is right! You'll have access to a fully equipped kitchen and a bathroom with shower and bathtub. The living room is cozy with a wood stove to keep you warm. Wi-fi Internet is provided. 5 minute drive to downtown Lillooet. Only two guests can stay in the house. There is an extra-person fee for the second person. Please make sure to book for two guests if two people are coming. Thanks!
Guests will have access to the whole house, with the exception of my bedroom. You can cook in the fully equipped kitchen, hang out in the living room and enjoy the spectacular view from the dining room. Since I live in this house, you'll see me coming in and out of the house during the day. I'm happy to give you lots of space or to chat you up if that's what you like. And I'm definitely happy to help you find your way around town.
The Hop Farm is a great neighborhood. It's quiet and has beautiful scenery all around. And best of all, it's only a 5 minute walk from a grocery store and a 5 minute drive from downtown Lillooet. Unfortunately, there is no public transportation in Lillooet so you will have to walk or drive. The bedroom has a double bed. I provide towels and hand soap but I do not provide shampoo, conditioner or body wash. *Only two guests can stay in the house. There is an extra-person fee for the second person. Please make sure to book for two guests if two people are coming. Thanks!*
Marianne's place is a bright and cosy space that will make you feel at home, with a wood fireplace when it is cold and great kitchen and living space she shares with guests. The bedroom was comfy and the bathroom clean. A great stay!
Martin
November 2016
Our stay was short and sweet. We were passing by Lillooet on our way to Banff and needed an overnight stop here. Marie-Anne was very nice and stayed up late to meet us on arrival. The place is beautiful and has a nice atmosphere. The room is clean and warm. It's a shame we didn't have time to stay longer to explore the town and didn't interact much with Marie-Anne. A reason to come visit again! I definitely recommend staying with Marie-Anne.
Darya
October 2016
Marianne is a great host and a nice person. Her place is clean and minimal, yet you'll find everything you need. The bed was surprisingly confortable (but my standards are low to be honest). It was my first time booking a "Private Room" through AirBnb, but it really felt the same as if I rented the whole apartment. I would stay there again and I recommend this place!
Laurent
November 2016
Marianne is a great host, Room is very clean and neat, beds are clean and comfortable. We had a great night there during hunting season. highly recommend this place.
Ahmad
November 2016
Typ pokoje
Soukromý pokoj
---
Typ nemovitosti
---
Ubytuje
2
---
Ložnice
1
Lillooet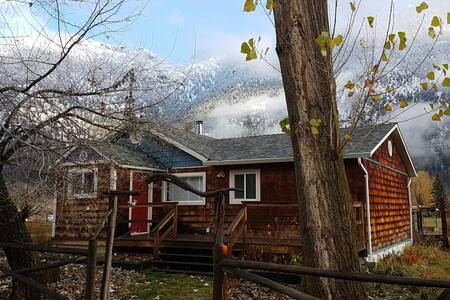 Small community close to Lillooet - right by the river. Plenty of space for hikes, bikes and swims at Seton Lake. You can travel up the canyon to Alaska or over the mountains to Whistler We have a relaxed country lived home, two large dogs and a cat.
Large lived in home - 2 bed rooms with queen size beds upstairs and big family room with a single bed and a queen futon with bathroom downstairs. Guest access to living room and kitchen, bathrooms , bedrooms downstairs family room, front door entrance. We live in the home and are available to answer questions, provide local info or have a good conversation as fits your pleasure.
Quite small community located 6miles from Lillooet on Lytton - Lillooet Guest. No public transit here other than local taxi company.
what a great spot to stop on the way across the province. Luna, Wolfie and the kitty are great companions to have around while you're out walking to the Fraser River or enjoying the view out front of the house. Riley has a lot of great stories about the Fraser River and of growing up in the area.
Lindsay
September 2016
Everything was fine. The place is hard to miss if you are on the right highway. It is a beautiful place in the beautiful nature of BC and a lovely home which is well-equipped. We slept perfectly in the beds, cooked in a wonderful large kitchen and could do our laundry. Everything was as advertised and Riley has been one of the most lovely hosts me and my family met. If we will ever go back to Canada again, this will be one of the first places were we will return. Everyone who likes a quiet, remote spot in the nature will find the perfect hosts to welcome them! Thank you so much!
Isaac
April 2016
We stayed for just one night, it was a great experience. Chatting with Kate and Riley was fun, the room and our bed were clean and comfortable. Riley even took us on a short walk down to the river, which was perfect for the little time we had.
Axel
March 2016
Riley und Kate sind sehr nette, freundliche und hilfsbereite Gastgeber. Wir haben nicht sehr viel Zeit bei ihnen verbracht, haben uns aber sehr willkommen gefühlt.
Anja
August 2015
Our stay with Riley and Kate greatly surpassed our expectations, they are wonderful hosts and from the moment we arrived we were made to feel really at home. My parents were visiting from Ireland for 2 weeks and said that this stay was the high light of their trip, they loved hearing about the 1st nation culture and history of the area. I would highly recommend a stay here
Edel
March 2016
Everything was awesome. Spacious house, amazing nature. I'd like to stay there again.
Maxim
August 2016
Kate and Riley are welcoming and gracious host. Riley took us for a walk down the river where he showed us and told us about the life of the First Nations. We had a great time. The house and room were very clean.
Louise
March 2016
Riley is a great host. He is so welcoming and answer all the questions we have. Thank you for you help for direction and guide.
Tong
August 2016
Typ pokoje
Celý dům / byt
---
Typ nemovitosti
---
Ubytuje
6
---
Ložnice
1
Lillooet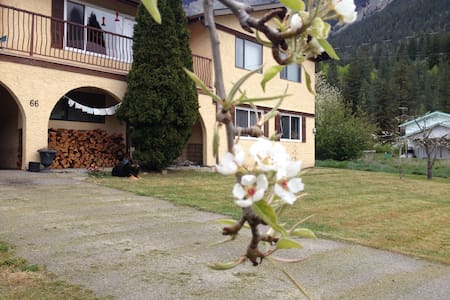 this home has sattallite tv wifi and heated floors. There are two bedrooms and one bathroom it has all linens and kitchen stuff.
great view all the amenities and your own space.Perfect for short time workers or travellers who don't want to be crammed in a hotel room Lillooet has a 9 hole golf course (with sheep on it)plenty of hiking trails right at the end of your street a lovely lake for summer as well as world class fishing. From serene to extreme Lillooet is a great place to visit. Just two hours to Whistler or Kamloops Golf cart 24 foot sun bridge cruiser 21 foot wake board boat Some conditions and extra cost I live 30 minuets away and will be there to help any way i can
Seton lake is 10 klm away and a great place to swim. There is a 21 foot wake board boat and a 25 foot sun bridge cruiser for rent or hire to qualified tenets Also there is a golf cart that you can use on a nine hole golf course with sheep on it there is no public transit but it is centrally located the driveway is steep so if there is snow park at bottom and someone will shovel the snow then it can be used safely.
Geoff's place was perfect spot to get away from the city. Super clean, stocked kitchen/appliances and quiet. His house has a beautiful view of the surrounding mountains. Would definitely recommend this place is you're around lillooet (which has so many outdoor activities!)
Martin
February 2016
Lillooet was a really nice stop on our trip through BC. The park and lake are very nice and the water was very refreshing in the summer heat. The home itself was quite nice, clean and had a refreshing AC. We had a great time in there.
Tim
August 2014
It was a lovely little place in which we were very comfortable. The house was clean, cozy and well equipped. We didn't get to Meet Geoff as we were late arriving, but he was available Via phone and gave us all the information we needed. It was easy to find and we enjoyed our time here. I would recommend to others.
Sarah
October 2015
I had a great time at Geoff's house. The house was clean and comfortable.
Daniel
April 2015
We had a wonderful time at Geoff's place I stayed there with my fiancé and my grandparents. The location the house the amenities everything was just as described and better. I will definitely be using this place if I am planning on being in the area again.
Zach
June 2015
This place was perfect for our stay in Lillooet. We got married at the HOOH Hops Farm and used Geoff's home as our home base. It was the perfect place for my girlfriends and I to get ready the day of. The house was very clean when we arrived and Geoff was super accommodating. We liked it so much we stayed longer! We will definitely be booking here again!
Laresa
September 2015
We didn't get to meet the host, yet he was available by phone and checked in on us a few times to ensure everything was ok. Easy communication.
Guy
August 2015
The place was great, and Geoff was very accommodating, despite a mix up about pets! It was right near central Lillooet and was clean. Couldn't complain:)
Cole
January 2016
Typ pokoje
Celý dům / byt
---
Typ nemovitosti
---
Ubytuje
4
---
Ložnice
2
Lillooet
A great pace to start making family memories. Located in Marble Canyon between Lillooet and Cache Creek on gorgeous Pavilion Lake. A great dock - awesome fishing and although a tad on the cold side great swimming. Great ice fishing and skating.
1100 square feet - (102 sq. meters) with 400 square feet of covered deck. Gas range with convection oven -dishwasher and laundry. 1/2 acre of land and many many acres of lake. We won't be there so fear not - no weird hosts.
Great hiking, boating and mountain biking...and did I mention the fishing? The nearest store is 30km away so bring what you will need, There is no transportation services. This is not only great in the summer but nature puts on a spectacular fall show of colours when the Aspen trees change. Then we get ice so skating and ice fishing are winter options. There is an ice auger and a portable ice fishing hut for your use.
Brock was great. He gave us accurate directions and useful information about the cabin. The cabin was stocked with everything you could need for a a comfortable stay. We had a very enjoyable visit and would definitely come again in the future!
Andrew
September 2015
We were looking for cozy quiet spot for our Christmas and the cabin was what we needed. Beautifull lake view and well equipped kitchen though it gets a bit dark inside at night. You won't find luxury over there but it's a great place to disconnect. We look forward to visiting it over the summer months.
Erico
December 2014
Sitting on the deck watching the stars over the lake can not be beat.
Philomena
September 2015
I surprised my husband with a weekend at this cabin for Christmas and we had such a wonderful time! The view is unsurpassed. So many games to play, working bbq, fully stocked kitchen, tons of firewood and matches and a indoor and outdoor log fire!What else could you need? We played on the frozen lake where people were ice fishing and making skating rinks, a real Canadian winter! On our way up Brock let us know the water pipe had broken from the cold, so he quickly got to the cabin and fixed it in time for our arrival! He also called the next morning to make sure everything was working well still and made some recommendations on things to do nearby. Bring your own cozy blankets and be sure to shop in Hope or Whistler because there are no grocery stores close by. I can't wait to come back and visit this cabin again in the summer and swim in the lake!
Alicia-Rae
January 2016
Brock was very responsive to any emails we sent and ensured we had no difficulty in locating the cabin. Everything was very true to the description. There was loads of firewood available for a cozy fire in the fireplace on our first rainy night. It was just as lovely to be able to go out on the lake on our sunny second day!
Shannon
July 2016
We spent five days at the cabin and it was an absolute wonderful experience. Breakfast on the deck in the morning followed by coffee on the dock and then making a comfy fire at night. The cabin has everything needed to have a good time and escape for a few days. The lake is simply amazing and the cabin includes boats to be able to discover it. Also, great fishing. We would def stay there again.
Melanie
June 2016
Brock was very responsive, accommodating and helpful. Amazing bed, great views and fishing considering it was December. Highly recommended!
Katie
December 2016
Brock was excellent in answering all the questions I had while preparing for the trip. This is my new favorite lake! The cabin itself had much more than we anticipated.
Christine Nari
August 2016
Typ pokoje
Celý dům / byt
---
Typ nemovitosti
---
Ubytuje
4
---
Ložnice
2
Pavilion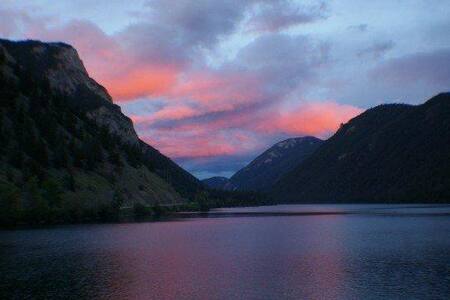 120 ft of waterfront property on beautiful Pavilion Lake, located in Marble Canyon between Lillooet and Cache Creek. Good fishing and swimming, scuba diving, with a dock. Ice fishing in the winter. Nearby rock climbing.
850 sq ft of living space with a propane gas fireplace Over 1/2 acre of land and many acres of lake
No public transit Pavilion Lake is one of only a few places in the world where microbiolite's can be found, otherwise known as freshwater coral.
Had a wonderful time at the cabin with the family. It was exactly what we were looking for to relax from the daily hustle and bustle. My most favourite thing was looking out the window and seeing the beautiful multi coloured lake right up to the back yard. Aaron was a generous host. His cabin was well equipped and stocked with essentials and beyond. There was a paddle boat and a canoe for our use, equipped with life vests from adults to kids. We spent evenings around the fire pit, adjacent to the lake. If you're looking for a place to relax and listen to nothing else but nature; sit inside by the gas fireplace with a book or outside by the fire pit with the family; take the canoe out on the lake for fishing or just lounging on the deck and having BBQ, you would most certainly enjoy Aaron's cabin on the lake.
Shalen
June 2016
We had an amazing time at the lake. All amenities are provided that you could need. We only had to pack our food, drinks,clothes and toiletries. The view is amazing and we felt comfortable as soon as we got there. We loved it so much we booked a week in August too
Marti
June 2016
Amazing location - would be perfect for a summer getaway, however, also great on a rainy day. Lots of game boards to keep you busy. Excellent wifi and heating system. It was a lovely family weekend away from the hustle and bustle of the city.
Blaire
September 2016
Excellent cabin accommodation far out into the BC wilderness. On the edge of a lake, this is a tranquil Spot to rest. Aaron is a great host, clear communication and the cabin has everything you will need for a relaxing stay. Also, easy to find with Aaron's clear directions. Great value also!
Tom
June 2016
Wonderful accomodation. Thoughtfully stocked. Thank you.
Morrison
July 2016
Although we never actually met Aaron, he was amazing right from the time of booking to check out. Responses were received almost immediately over email. Aaron was truly on top of everything, with the location, information about road conditions, and basically every imaginable info one can need to have a pleasant stay. Aaron's cabin is secluded, peaceful, relaxing, cozy and absolutely beautiful. The view is unparalleled. The cabin is clean (perhaps one of the cleanest airbnb we have ever been to) and full stocked! Excellent wifi, fireplace and heating system. This is a perfect location for a family getaway. Thank you Aaron, we will be back.
Amir & Michelle
October 2016
Great location. Awesome lake. Everything was clean and peaceful. Would want to go back anytime!
Alexandre
June 2016
Absolutely stunning location with a very cute and tidy dwelling.
Warren
August 2016
Typ pokoje
Celý dům / byt
---
Typ nemovitosti
---
Ubytuje
4
---
Ložnice
2
Pavilion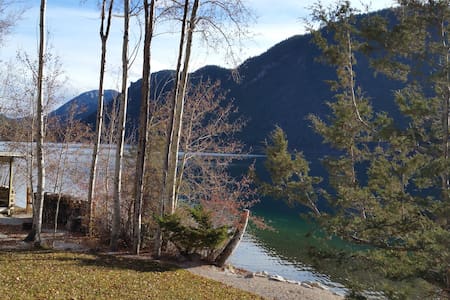 My place is good for couples, solo adventurers, business travellers, and families (with one or two kids).
Typ pokoje
Soukromý pokoj
---
Typ nemovitosti
---
Ubytuje
3
---
Ložnice
1
Ashcroft