This is an upstairs small private one bedroom, full size memory foam bed, access to the kitchen, washer dryer's, bathroom, this is one of the two rooms in the house on Airbnb,
Our stay at Matty's place was great eventhough we didn't meet him ;-). The house is very complete, a fully utilized kitchen, and bathroom and the bed was nice and comfortable. The communication before check-in was good, Matty almost replied immediately. I'd highly recommend his place if you want to enjoy the Sequoia National Park and/or Kings Canyon.
Alex
2017-04-03T00:00:00Z
Matty's place was great. And Matty himself was so hospitable, offering food, drinks, beer. I completely felt at home and would def stay here again.
John
2017-03-08T00:00:00Z
I stayed here on my way to Sequoia NP an the room at Matty's was perfect! It was just as described. He even had travel size toiletries to take if I had forgotten anything, he had fresh fruit and pastries to share, and everything went smoothly. Traffic noise from the road was a little loud, but still a great and relaxing stay.
Natalie
2017-03-06T00:00:00Z
Great stay, highly recommend.
Kim
2016-12-31T00:00:00Z
Fantastic.
Jenni
2017-01-04T00:00:00Z
The room is great! Very clean and Matty was very hospitable. He really went out of his way to make sure we were taken care of. We will be back!
Chris
2016-12-30T00:00:00Z
I enjoyed my stay at Matty's place a lot. The house is indeed very cosy and clean and all the amenities are in great shape. There is a cat and two very friendly dogs that mostly stay outside of the house. The only problem that I encountered was noise from the nearby road which sometimes can be very busy, but it was easily solved by a couple of earplugs. Overall it's a great value.
Dmitry
2017-03-17T00:00:00Z
Our experience at Matthew's air bnb in Lindsay, CA was a surprise and delight. From the moment we arrived, we felt well prepared for, well looked after, and completely at home. The house is on a family-owned honey farm property, which provided an unexpected thrill for me, a lifelong honeybee enthusiast. Moreover, we happened to have the luck of arriving a day after Matthew's English cream retriever had puppies, and we immediately fell in love with all ten of them (very hard saying goodbye to them!) The description of the space mentions that there are dogs (that sometimes bark) and a busy road nearby (noisy at times), but the bedrooms have fans that effectively buffer those sounds, so it wasn't a problem. The house, circa 1940, is a lovely two-story with large porch and nice areas to sit in the back, weather permitting. Matthew lives there, and although he regularly travels for business, he was there off and on during our stay, and we appreciated and enjoyed his cheerful, positive personality. He is very generous with extra amenities and use of common areas, including the kitchen; we were able to cook and bake. And it was great having a washer and dryer to use, too! We also enjoyed meeting and chatting with the other air bnb guest, Jenny. We highly recommend this air bnb and look forward to staying there again. Thank you for being a superb host, Matthew!
Karen
2016-12-21T00:00:00Z
Typ pokoje
Soukromý pokoj
---
Typ nemovitosti
Dům
---
Ubytuje
2
---
Ložnice
Lindsay, Kalifornie, Spojené státy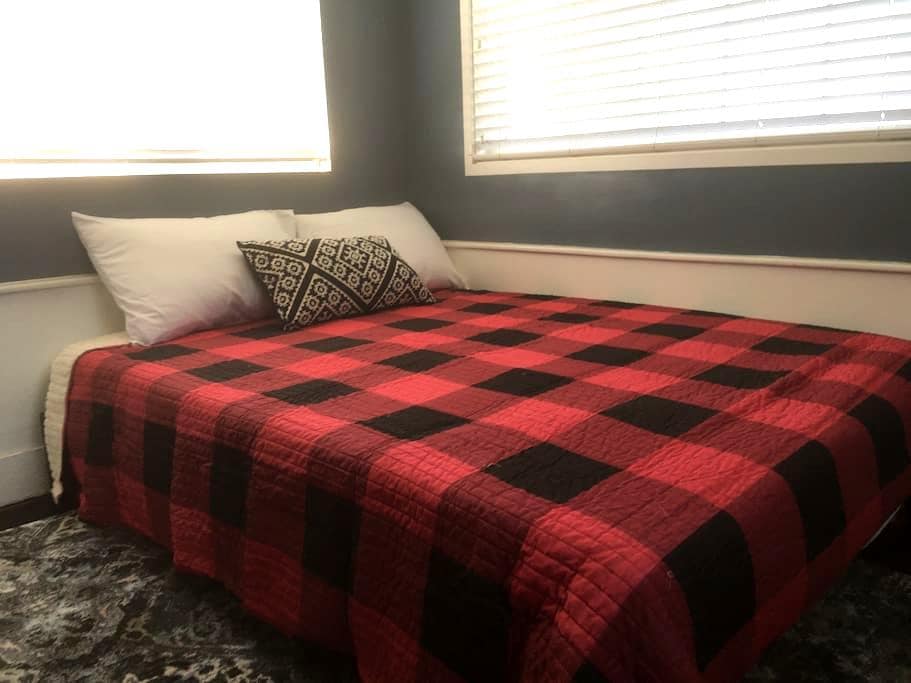 Cozy 2 bedroom suite, 2 rooms for a max of 4 guest, main room has a full size bed, other room has a twin trundle bed, 2 swivel rockets and a TV with Satellite. It has a full bath with a shower only and a small refrigerator for your use.
If your traveling to the Kings Canyon National Park, we are just 45 miles from the entrance, up Highway 198, Or approximately 50 min to Springville and the Sequoia National Forrest up highway 190.
Country setting, quiet, peaceful, friendly.
Greg was a very accommodating host. We really appreciated that he allowed us to stay even though he was in the process of moving. Greg has 3 friendly dogs.
Mindy
2017-02-17T00:00:00Z
Greg's home is quite large and attractive with a horse paddock in front, and a pool and hot tub in back. It is on the edge of the smallish town of Exeter in a quiet, residential area. Since we enjoy making our own breakfast, Greg offered us an empty shelf in the refrigerator. It worked very smoothly. There was a bathroom for our sole use just across the hall from our room, and everything was clean and tidy. The bedroom was comfortable but a bit smaller than ideal for two people with luggage to share for three nights. All in all, everything was as described in the listing, and it was a good stay. P.S. Ask Greg for the best route to Sequoia Nat'l Park or King's Canyon. We should have done that to avoid the road with endless gut-churning haripin turns!
Bill
2016-09-25T00:00:00Z
Greg nous a très bien accueillis et a même fait en sorte que nous ne soyons pas en contact avec ses chiens ( l un de nous est allergique!!!) .
MARIE
2016-09-15T00:00:00Z
Greg and his wife were very sweet and friendly. Great place to stay close to Sequoia national park. Nice clean space and lovely home. Would definitely recommend!
Natasha
2016-10-02T00:00:00Z
Beautiful home about 30 minutes from Sequoia National Park. The swimming pool was very nice break and refreshing. The host has lived in area for many years and had great local area knowledge
David
2016-07-01T00:00:00Z
Greg is a very welcoming host with a great deal of knowledge about the area. He willing shared his pool and hot tube
David
2016-08-01T00:00:00Z
The place was great.
Guillermo
2016-12-20T00:00:00Z
Greg and Sarah were wonderful hosts and we loved staying with them on their ranch. They were warm and welcoming and Greg even let us in early so we could have lunch sitting by the swimming pool! Our accommodations were very comfortable and we enjoyed an evening of shared wine and conversation. They helped us with restaurants and where to stay going forward and were all over great hosts.
Kathy
2016-05-15T00:00:00Z
Typ pokoje
Soukromý pokoj
---
Typ nemovitosti
Dům
---
Ubytuje
4
---
Ložnice
Lindsay, Kalifornie, Spojené státy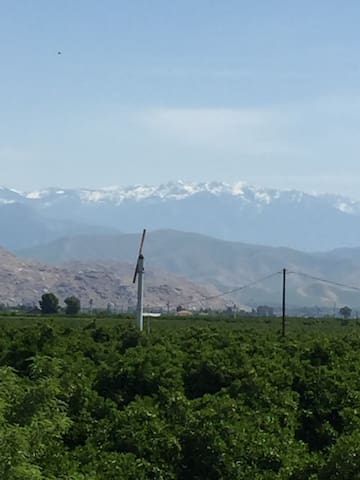 Simple, small private one bedroom. Enjoy a small house in the heart of Central California farmland where you can crash out, rest up, hangout, and relax! This is one of the two rooms in the house on Airbnb,
Quiet area, 2 minutes to a small town, 20 minutes to Kaweah Lake, 40 minutes to Sequoia National Park
Our stay at Matty's place was perfect. We did not have a pleasure to meet each other but he contact us by phone. He really cares about his guest comfort while staying. Thanks again
Klementyna
2016-10-13T00:00:00Z
Matty was great at communicating arrangements. All guests were very pleased with the accommodations and felt like queens. Quotes from guests: "Thanks so much, the space was cozy and quiet, perfect to lax after a long day's worth of hard work" "Everything was so rad, that house rules"
erik
2017-03-18T00:00:00Z
I loved the ever changing mountain view outside of Matty's house. Matty is a generous guy with a big heart and a great house. It was a fantastic stay and I will definitely stay at Matty's place again when back in the area! Thanks Matty!
Jenni
2017-02-01T00:00:00Z
Best place I have ever stayed. Matt had great hospitality and the room was wonderful.
Temor
2016-09-03T00:00:00Z
Thanks Matty for everything! Even though we didn't get to meet you, we appreciated your clear instructions and accommodations while arriving. The place was clean and well-prepared for hosts :)
Tyler
2016-10-16T00:00:00Z
Matty is a chill guy with lots of cool interests/hobbies and has made me feel at home from day 1. The place is lived in but clean, and you will fall in love with his dogs Poppy and Dahlia. Great Airbnb experience. I highly recommend Matty's place! You will NOT be disappointed.
Jenni
2016-12-24T00:00:00Z
Matty was awesome. When we arrived he was very welcoming. His house was very nice and he had plenty of little snacks and drinks, which was perfect after being in sequoia all day. He has plenty and really interesting knowledge about bees! Plus his dogs and cat are supper friendly. I would definitely stay here again and would suggest this place to others!
alfredo
2016-09-04T00:00:00Z
It felt very "home" like , the house was easely accesseble and inviting. Matty was caring and kind. Very much recommended !
Yohai
2016-09-10T00:00:00Z
Typ pokoje
Soukromý pokoj
---
Typ nemovitosti
Dům
---
Ubytuje
2
---
Ložnice
Lindsay, Kalifornie, Spojené státy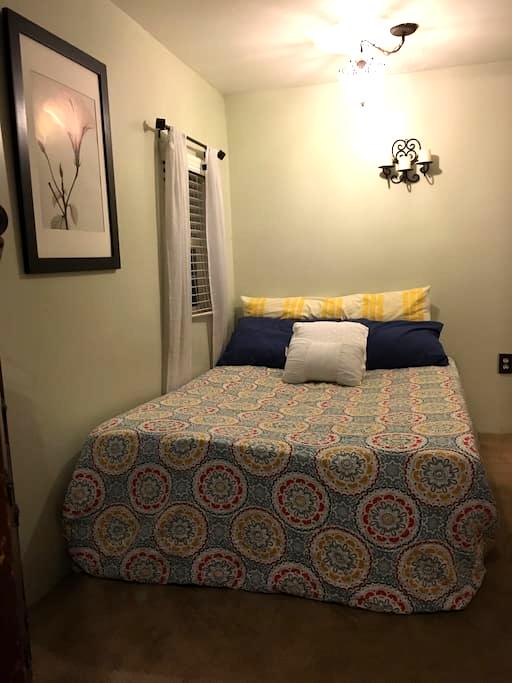 This country style room comes complete with a private bathroom, a large closet, complementary coffee, and a view of the beautiful California countryside. Country living, yet only minutes from the quaint city of Lindsay. A perfect stop on your way to the entrance of the Sequoias.
We are close to the beautiful sequoia park about 45 minutes to park entrance We have 2 twin beds and 2 twin mattress all the bedding you need plus a portable crib for your little one
Very nice your are surrounded by farmland
We stayed here with a family of four. For two adults and two grown up children (15 + 18) is the space too small. For two or three adults it is fine. Two of us stayed in the living room which we shared with two roommates. They were both very friendly. We had a nice conversation but they also left us our privacy. It is a good and affordable starting point for Sequoia Park.
Judith
2016-08-16T00:00:00Z
Thanks for being such a great host, we had a great staying
Stijn
2017-03-25T00:00:00Z
The house is very clean. The residents are polite and friendly. The room was roomy. Great walk in closet, too. Surrounded by fields and dairies, it's pretty peaceful and relatively close to Tulare.
Karen
2017-02-15T00:00:00Z
cozy and relaxing with your own privacy separated from the rest of the home. I enjoyed our stay and liked the large cathedral ceiling inside the master bedroom. We had a large closet available to hang our clothes and enjoyed our private master bathroom inside. Washer and Dryer were available and parking was not a problem. Its rural section of Lindsay and if you're planning to go up to the mountains or need a place for the night, this is a good area to stay and have a good night sleep.
Joseph
2017-03-24T00:00:00Z
We enjoyed our stay at Henry's place. He is a welcoming host and responded to our texts and phone calls promptly. Overall, it was a warm, cozy experience. He has a cat named Charlie. Charlie is super friendly and I enjoyed playing with her. Mr. Roberts is a neighbor staying in the house. He guided us for some of the local amenities. We would recommend this place to anyone who wants to explore Sequoia National Forest.
Vinayak
2016-12-31T00:00:00Z
Stayed intermittently for three weeks straight. Needed a place that I could call home until my transition to my new house. This was perfect
Joseph
2017-03-31T00:00:00Z
Amazing place. Henry is a great host who makes sure to provide a great experience. During the 2-weeks travel across the US, it was the best place to stay. Great location and neighborhood. Fully equipped, no wi-fi inside the house, but there is access from Starbucks in 5mins. drive. Highly recommended if you plan to visit a park or other places nearby.
Elisei
2017-03-05T00:00:00Z
I had a good room, good bath room. I enjoyed the facility of kitchen, laundry room and refrigerator. I mostly appreciate Henry, Robert and Ricardo! if you wanted any help, everyone is friendly, prompt, efficient and just resourceful!
Thuan
2016-10-21T00:00:00Z
Typ pokoje
Soukromý pokoj
---
Typ nemovitosti
Dům
---
Ubytuje
4
---
Ložnice
Lindsay, Kalifornie, Spojené státy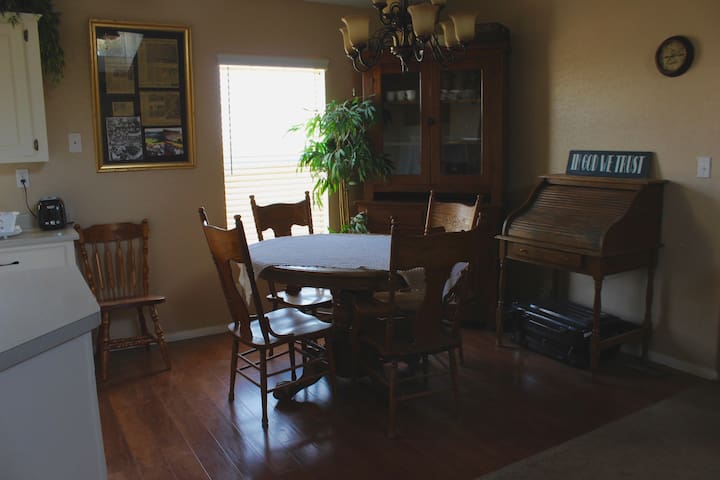 The apartment is a one bedroom, living room, bathroom, full kitchen and dining area apartment located in the back of my house. The apartment opens to the green area, the courtyard, of the house and to the pool, which guests are welcome to use. The apartment has its own private entrance and parking space.
This is a great space with a Latin America flavor. The apartment includes a queen bed in the bedroom and a futon in the living room, which converts to a full bed if needed. In addition, you have a full kitchen at your disposal.
Lindsay is a unique city because it is known for the cultivation and packing of oranges of many kinds. In March and April, the entire area smells of orange blossom, as the orange trees are blooming. This is an agricultural area, and beside the cultivation of oranges, you will find almond, olive, pistachio, and many other types of trees. From March to the first two weeks of November, Lindsay offers a market place every Friday starting at 5 pm. Here, people can find different types of food to eat, fresh vegetables and fruits, and live music to dance.
Magdalina is a very kind and gracious hostess. Her home is very quiet, relaxing and clean. The food she provided was a nice surprise. And our dog Cruz had fun playing with Lulu and Buddy!
jennifer
2016-10-01T00:00:00Z
We had a wonderful stay at Magdalena's house. She was very welcoming and helpful, we had everything we needed even including a large bowl of fresh fruit for our breakfast. We took some time to relax in the swimming pool and the hammock and we really enjoyed it. The garden is really beautiful and the perfect place to have a drink after a long day exploring Sequoia National Park.
Emily
2016-05-30T00:00:00Z
Magdalena was a wonderful host. You get a lot of privacy and space at this Airbnb. The bed was a bit small for us but maybe that's because we are Dutch ;-).. Further great experience and a good place to visit Sequoia.
Rik
2016-09-12T00:00:00Z
Her apartment was just perfect as a retreat after exploring Sequoia National Park. Very nice and cozy; had everything we needed and more. Kitchen, pool, lovely park like yard.
Alison
2015-08-12T00:00:00Z
My partner and I stayed in this quiet and peaceful guest home and enjoyed every minute of it! From the start Magdalena(the owner) greeted us and was very kind and accommodating. She showed us the grounds and provided us with everything we may need during our stay. The guest house was perfect and clean. We had access to a gorgeous pool, patio table and relaxing hammocks all complimented by a soothing pond. This stay proved well and above our expectations and we very much look for to staying here again.
Richard
2016-06-16T00:00:00Z
Magdalena was friendly, kind and helpful. She made sure we had everything we needed during our stay and even stocked the fridge with cold water and watermelon!
Ciara
2016-08-01T00:00:00Z
I had a great night. I had business that made me arrive late. But I jumped right into her awesome pool to swim away the stress of the day. The courtyard is very pretty and the apartment is nice. I would recommend staying here.
Roger
2016-08-25T00:00:00Z
Absolutely amazing! Magdalena was an incredible host - staying up for our late arrival, inviting us for homemade tacos, and even helping with the laundry. Incredible property in between orange groves. Unfortunately we didn't have time to relax in Magdalena's beautiful yard as we were there on business, but I'm sure after a long day hiking in the parks the hammocks work wonders.
Liron
2016-02-12T00:00:00Z
Typ pokoje
Celý dům/byt
---
Typ nemovitosti
Dům
---
Ubytuje
3
---
Ložnice
Lindsay, Kalifornie, Spojené státy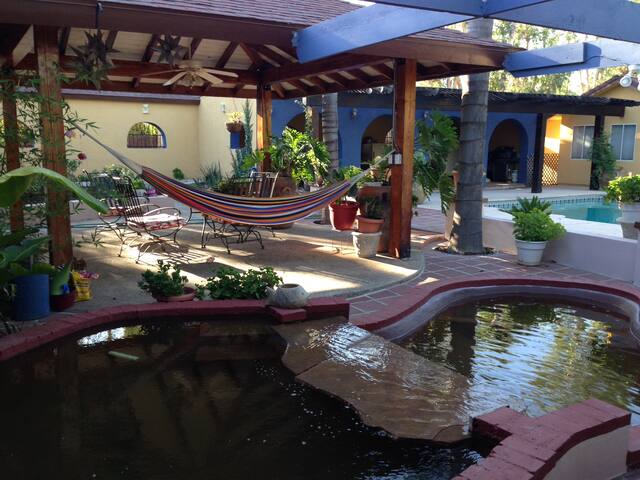 On the south entrance to Exeter, this historical home offers views of surrounding citrus, foothills and Sierras! There are four rooms. Come see our petting zoo! 2 miles to downtown Exeter, a town filled with murals, restaurants (our own Monet's), apparel and antique shops. Only one hour to Sequoia!
Our guests can enjoy the entire home. We provide breakfast often and mingle with our guests.....over glass of wine, around a campfire or at Monet's, our French restaurant! The property also includes a massage room (you may schedule), full basement with fireplace and pool table and a petting zoo! All to be enjoyed by you!
We were given a warm welcome. The host invited us to join a function she was hosting which was very enjoyable and an opportunity to meet the locals and learn more about the area. Lovely room with the best bed to have a good night's sleep in. Highly recommended.
Ian
2016-12-13T00:00:00Z
His home is everything you can ask for , it's beautifully decores and spacious , therefore you get a chance to have alone time if with a big family or there's a little fire place / tv room where you can all sit around and watch a movie , we enjoyed the family room the most since tv and a pool table are there , definitely something we need to get out of the city and just have a nice quiet weekend. There's also a small petting zoo who our 4 year old loved with chickens and bunnies and a baby goat. I can't wait to book again sometime this year .
Lizeth
2017-02-12T00:00:00Z
We stayed here just for the night coming in from los angeles and going to san francisco next morning. missed sequoia because of the snow. Jennifer was very nice and accomodated 7 of us and she was ok with a late check in. Even thou I didnt meet her when i walked in the house I was blown away. the house is very big, upscale. they even have a swimming pool. i m looking to come back in the summer for a weekend at the upscale home. thanks again
Matus
2017-02-06T00:00:00Z
This was the best airbnb experience I've ever had! Jennifer is absolutely wonderful and she went all the way and beyond to make our stay special and unique! We had an amazing time at this house! The rooms are spacious and the house has so many amenities, we were all absolutely surprised! We were 8 friends and we all enjoyed the hot tub and the pool table and the petting zoo, plus all of us had enough space and privacy in this house to be completely comfortable! Jennifer and her sweet details towards us made our stay very special and now we are even thinking of doing this reunion an annual thing! Thus house is a must! Thank you!
Marina
2017-04-09T00:00:00Z
I came back & brought my daughter this time - We were delayed by Holiday traffic so missed out on the Historic 1st TEA PARTY!!! but they will be happening in the future & we will be back yet again - to our spirit home. We got to have late tea after the Tea & watch the supermoon rise from the balcony - WOW!
Sandia
2016-11-14T00:00:00Z
I loved this house! It had so much character and the hosts made it very special. They have cozy sitting areas, a really cool petting zoo and downtown Exeter is darling! It's a great spot for heading up to the mountains or just for a quick escape.
Angela
2016-10-31T00:00:00Z
È stata la ciliegina sulla torta del nostro viaggio negli USA! La casa è favolosa: è degli anni '40 e oltre a mille particolari di buongusto ha una scala da film. Si trova a circa mezz'ora di macchina dall'ingresso del parco di Sequoia, in una zona di aranceti piuttosto interessante. Anche Exeter vale una sosta: i suoi murales le danno una certa personalità. Jennifer è stata molto accogliente e coinvolgente e grazie a lei abbiamo trascorso due giorni bellissimi. Nel nostro profilo abbiamo scritto di apprezzare AirBnb perché offre l'opportunità di conoscere persone del posto mentre si è in viaggio: beh, da questo punto di vista è stata la nostra migliore esperienza con AirBnb. Perché non si è trattato solo di una bella camera pulita, è stata un'esperienza che ci ha messi in contatto con persone che non dimenticheremo: Jennifer e i suoi figli, Lindsay, Jack, la simpaticissima Theresa e anche Jack, un ospite francese con il quale ci siamo goduti qualche chiacchiera e un'ottima cena a bordo piscina in un'atmosfera alla Grande Gatsby. Dimenticavo, Jennifer ha anche un bistrot-enoteca nel centro della città, il Monet's… da provare. Grazie Jennifer, è stato bellissimo! ----------- It has been the cherry on top of our trip in the USA! The house is amazing. Built in the Forties, shows a lot of good taste and a staircase you only see in the movies. Reaching Sequoia Park is a 30 minutes drive through an interesting orange and lemon trees area. Exeter itself has its personality due to its murals and is worth a stop. Jennifer was warm and welcoming, thanks to her we spent two wonderful days. In our profile we wrote we like AirBnb becouse it offers you the chance to meet locals while travelling. Well, from this perspective this has been our best AirBnb ever! It was not only a good, clean room. It has been an experience that connected us with people that we won't forget: Jennifer and his sons, Lindsay, Jack, the super nice Theresa and last but not least Jeff, a French guest with whom we shared some nice chats and a delicious dinner by the pool in a Great Gatsby atmosphere. I almost forgot, Jennifer is also the owner of a bistrot-winery in town, Monet's… higly recommended. Thank you Jennifer, it was awesome!
DANIELA
2016-09-25T00:00:00Z
Great stop, I really enjoyed to stay there. The room is large and confortable, the house is nice, and everyone was so welcoming and friendly : Jennifer, her husband, Terry, and the people they introduced me to, in the house or in her restaurant. Thanks
Antoine
2016-10-29T00:00:00Z
Typ pokoje
Celý dům/byt
---
Typ nemovitosti
Dům
---
Ubytuje
9
---
Ložnice
Exeter, Kalifornie, Spojené státy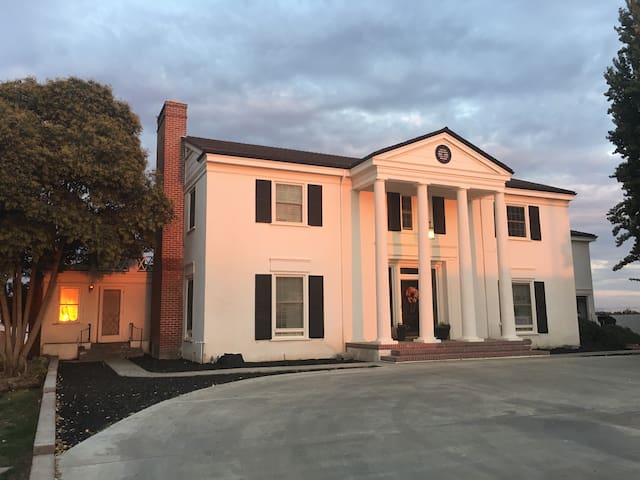 1

–

6

z

6 Pronájmy domácností
Pro zobrazení celkové ceny zadej termín. Mohou být přidány další poplatky a daně.