De vacaciones, piso en planta baja con acceso al jardín elevado. Centro de la ciudad cerca de la piscina, Ocio Parque centre.Magnifient que alberga un partido de cricket la mayoría de los fines de semana como el río Teifi - bien conocido por su pesca de salmón y Sewin, por passses. canoa centro cerca .Internet acceso, estacionamiento. Tenemos un fantástico conocimiento de la zona. 1 habitación con cama doble, 1 individual o 2 niños. cocina, cocina, salón comedor, aseo. Selección de lugares para comer. Caminantes son bienvenidos. Ideal para pescadores / mujeres. A 15 millas de las playas locales, Llangrannog, Tresaith, New Quay. Jardín Botánico de Gales cerca de la ciudad histórica de Carmarthen. Tenemos un gran conocimiento de todas las atracciones locales e instalaciones en la zona.
Nuestra comunidad es muy acogedor para todos los visitantes.
We had a fantastic long weekend in Llandysul thanks to John and Suzanne. Prior to booking, Suzanne was very helpful and always quick to respond to our queries. They accommodated a late check-in, and on arrival we were pleasantly surprised to find a collection of information about local attractions, nearby cities and hiking trails (customized with current events). This was great, as it was our first trip to the area. Perhaps more surprising was the flat itself, which was significantly larger than expected, well equipped with a fully functioning kitchen and an extra large sitting room with couches and a dining table. Moreover, the flat was clean and extremely quiet, affording us the best sleep we've had in ages. Since John and Suzanne often have extended family stay there, the unit is very warm and welcoming, feeling like a home away from home. John and Suzanne clearly have a passion for the Llandysul area. They are involved in local community programs and have a deep knowledge of the history of the area. The benefit of this is that they can advise guests of events all over the region (chances are, they'll be attending or even organizing these same events!). I'll note also that the village of Llandysul has all of the amenities you would look for on a vacation, including a grocery store, restaurants, and hiking trails. It is a quaint, lovely area and easy to see why John and Suzanne have made it their home. Overall, we were extremely pleased with our stay and would not hesitate to stay there again on a return trip to South Wales. Highly recommended!
Frank + Jess
2012-08-28T00:00:00Z
I'm just adding to the chorus of people who loved this flat, but Suzanne & John were lovely & the flat itself was immaculate. There's lots of art books, and prints on the walls, which I loved. They provided me with lots of information on local attractions which unfortunately I couldn't visit as I was travelling for business, which just means I shall have to come back. The village was great, has everything you could need & the flat is right in the centre.
Suzi
2015-06-21T00:00:00Z
Host was very welcoming, the accommodation was above and beyond what I expected! Would definitely stay again if I was there for longer. Highly recommended!
Alastair
2016-11-11T00:00:00Z
We had a lovely stay in this well-designed, comfortable flat. It had everything we needed and more: a comfortable bed, a fully functional kitchen, a great shower and a cosy living room to relax in. Suzanne and John were friendly and helpful, giving us some good tips about the local area! Llandysul is well placed to visit many beautiful places in West Wales; we were thrilled to see dolphins at New Quay. The River Teifi runs through the town of Llandysul and we enjoyed a gorgeous walk along its banks (during which a Red Kite swooped right over our heads). What a wonderful relaxing break!
Hannah
2015-04-11T00:00:00Z
We had a really nice time and Suzanne is a lovely host! She made us feel very welcome and was a big help with planing our activities ! The flat is wonderful and contains everything you look for. Definitely want to come back !
Lorena
2016-05-31T00:00:00Z
Excellent. Clean and comfortable with a warm welcome from my hosts. Highly recommended.
DAVID
2015-04-16T00:00:00Z
The flat of John and Suzanne was great! Comfortable, warm, good equiped and very clean. John und Suzanne are the perfect hosts, friendly , respectful and always helpful. I can recommend this apartment to everybody who wants to travel through Wales. Everything is close, supermarket, nice coffee - bar down the street, just the Chinese takeaway around the corner wasn`t good.
bettina
2014-10-24T00:00:00Z
Suzanne is very welcoming and hospitable. The accommodation is precisely what it says it is as written on the box and what's more - finishing unexpected nice touches, fresh daffodils, some milk for a brew, heating and ambient side lights already that made the stay a wonderfully comfortable one from the time of arrival. Wonderful value for money and a great location, with free car parking thrown in! Don't let this experience pass you by. Brian.
Brian
2015-03-07T00:00:00Z
Typ pokoje
Soukromý pokoj
---
Typ nemovitosti
Byt
---
Ubytuje
3
---
Ložnice
Llandysul, Velká Británie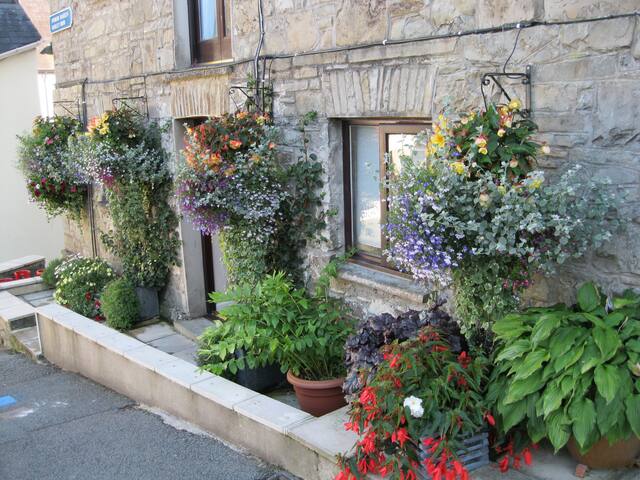 En bonito pueblo con bares y cafés, la playa y nadar en el mar, y la ruta costera. Te encantará mi lugar debido a la ubicación, la decoración moderna, los puntos de vista. Mi lugar es bueno para parejas, familias, amigos y amigos peludos! Llangrannog es una verdadera joya.
Su ubicación es simplemente perfecto. Muchos huéspedes que visitan aquí me han dicho que ni siquiera la salida del pueblo!
Seguro y agradable.
Kate's place is perfect. Even in April when we were lucky and had magnificent weather, it was perfect because it's so close to the beach, very cosy and the people are very friendly. The village, the flat, the pubs. Everything we needed and it immediately felt like home. The kids loved the two beaches and watching dolphins. Kate is very kind and was very helpful when we had questions or problems with something.
Lara
2017-04-10T00:00:00Z
Very central 2 bedroom flat in a beautiful small coastal village just 30 seconds from the beach. Clean comfortable and quite modern with good kitchen. Freeview TV and DVD player but no wifi or phone signal - thankfully that suited us - but if you like to stay in touch you may want to consider. Host was very helpful. 2 good local pubs, one slightly more up market, the other more locals and sports oriented. Both good though and both serve food. Local shop and 2 cafes. Great for a few nights away with some piece and quiet.
Neil
2017-02-26T00:00:00Z
Fantastic location, right by the beach, Kate was very friendly and popped around right away when we couldn't figure out the heating. Llangrannog is spectacular, two lovely pubs, try the wood-fired pizza in the ship on a Sunday evening.
Dai
2017-02-14T00:00:00Z
The location was amazing! If you want to truly "get away" this is the place for you. Kate's place had everything we needed for our stay and the flat is adorable!
Emily
2017-03-19T00:00:00Z
.
Lee
2017-03-06T00:00:00Z
Clean well equipped flat, ideally located close to amenities and beach. As it was out of season parking was fine,every one we spoke too was pleasant. Kate the host was excellent, and responsive. Good value for money in a lovely location.
Nicola
2017-03-09T00:00:00Z
The flat really is almost on the beach and the living room window offers great views of the sea. The accommodation has everything you need for a self catering holiday. The kitchen is really well kitted out with a big fridge freezer and all the appliances you need. Beds are really comfortable and the flat is clean and modern. Llangrannog is such a lovely place. I love the fact that you feel like you could have stepped back 20 or 30 years. I bet there isn't much that has changed. No commercial signs or adverts anywhere, a small local shop, two pubs and a couple of cafes. We visited in February so it was very quiet and peaceful although we did get a lot of rain! I bet it is beautiful in summer although busy! Great spot to get onto the coastal trail. Stunning views.
Louise
2017-02-23T00:00:00Z
Typ pokoje
Celý dům/byt
---
Typ nemovitosti
Byt
---
Ubytuje
6
---
Ložnice
Llandysul, Velká Británie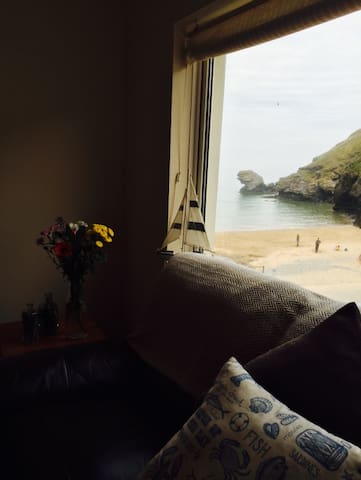 Mi lugar está cerca del puerto de Georgia Ciudad de Aberaeron, Newquay y Llanechaeron National Trust propiedad, le encantará mi lugar debido a la ubicación tranquila. Mi lugar es bueno para parejas, aventureros en solitario, viajeros de negocios y familias (con niños).
Pantycelyn vacaciones Estudio es ideal para parejas o una familia pequeña,
Thank you for the lovely stay Collette. It was the little details like arriving to a warm place with a loaf bread and prosseco that made the stay even more enjoyable. We arrived in the evening and the place was decorated with christams lights which made it look very inviting. Collette is very friendly and lives next door so can pop round if there are any problems. I would definitely recommend a stay here.
Savneet
2017-01-02T00:00:00Z
A scenic place offering comfort for a family to enjoy the sorroundings through walks and views of the Coastal path
alfred
2017-04-09T00:00:00Z
We had a great stay at Collette's place. A warm welcome awaited us, complete with bread, milk and Welsh cakes! Very comfy bed and clean place meant that we had a sound sleep and loved waking up to views of the countryside.
Tom
2017-03-26T00:00:00Z
Typ pokoje
Celý dům/byt
---
Typ nemovitosti
Byt
---
Ubytuje
4
---
Ložnice
Aberaeron, Wales, Velká Británie
Our 35 acre smallholding is very calm, peaceful and remote, surrounded by its own pasture and forestry. Red kites and buzzards live here along with many other bird and animal species. Your accommodation is a light and airy first floor self-contained flat with its own private entrance. There is a stair-lift and a wetroom making it suitable for people with limited mobility.
We have a well equipped, centrally heated one bedroom flat. It has an open plan living/kitchen area, a small bedroom (with a 4' double bed) and wetroom/shower. A good quality fold up single bed, to go in the living area, is also available on request.
LLethr is an equestrian property set in the North East Uplands Special Landscape Area of Carmarthenshire. Here you will find some of the most breathtaking scenery in Wales. If you enjoying walking, there are miles of footpaths and bridleways through open countryside and woodlands. For cycling fans, the picturesque country roads here see very little traffic. There are two fine pubs within 3 miles, and the bustling town of Lampeter, with a wide range of shops, pubs and restaurants, is just fifteen minutes drive. Other local attractions include the Dolaucothi Gold Mines, two horse trekking centres, and a fishing lake. For the more adventurous, there is a superb paragliding site nearby.
This is a perfect getaway spot! The flat is well equipped, new and feels very spacious for a 1 bedroom flat. Carol and Richard sent fabulous directions, set up a fold up bed and gave great recommendations for both eating nearby as well as walks and scenic drives. I couldn't fault them of the flat in any way and would happily recommend this to anyone, and plan on returning in the future. My mum is planning on bringing my dad here... all the way from Australia!
Allana
2016-12-30T00:00:00Z
The accommodation was absolutely fantastic and we were made to feel so welcome by Carol and Richard. The accommodation was immaculate, with many thoughtful touches - so much so we didn't want to leave! The directions were brilliant and the location is perfect for lots of exploring of the beautiful area. There are also many activities and good places to eat nearby. We would recommend for couples young and old and would love to return soon.
Soph
2017-02-15T00:00:00Z
Great hosts, fantastic place, immaculately clean and a wonderful location.
Andrew
2017-04-05T00:00:00Z
Lovely accomodation with everything you need, personal touches like bread, milk, juice, fruit above and beyond. The location was idyllic and peaceful and Carol was on hand anytime checking we were both happy and had everything we needed. Would most definately return
Vicky
2017-02-26T00:00:00Z
A lovely warm, clean and cosy place to stay for a winter break. Great to return too after a walk on a cold day. The kitchen, toilet and shower room are like new and the TV is a good size for those early dark nights. There are plenty of buzzards and red kites to watch along with other birds. Richard and Carol couldn't be more helpful. We had a great break and would recommend it to everyone who likes peace and quiet.
Pamela
2017-01-02T00:00:00Z
We love Carol's place! The only sound we heard in the morning was the birds chirping and singing. We are great animal lovers, so we enjoyed meeting their horses, dogs, ducks, and rabbits. Fresh eggs from their chickens made a wonderful breakfast. The apartment was very comfortable. The surrounding area is just beautiful.
Pam
2017-02-07T00:00:00Z
We were given brilliant directions to Richard & Carol's lovely granny flat which is situated off the beaten track in an amazing rural setting. The place was immaculate with a very well equipped kitchen, Richard & Carol were very welcoming and even provided us with breakfast materials. We would highly recommend staying here if you are looking for some peace & quiet amongst beautiful Welsh countryside. Thank you very much!
Richard
2016-12-11T00:00:00Z
Carol and Richard are great hosts, we arrived to a very warm welcome and made to feel at home. The flat is very well equipped and spotless. Set in a beautiful location, I would highly recommend to anybody visiting the area!
Stuart
2017-02-18T00:00:00Z
Typ pokoje
Celý dům/byt
---
Typ nemovitosti
Byt
---
Ubytuje
2
---
Ložnice
Cellan, Wales, Velká Británie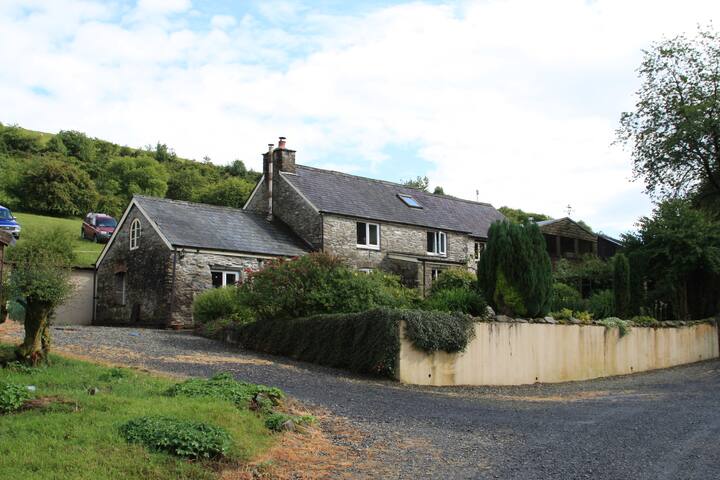 Set on a 20 acre farm with large windows overlooking beautiful rolling welsh countryside. This one level barn conversion apartment with wet room provides an idyllic rural getaway. 2 bedrooms, one Wheelchair accessible and decking for al fresco dining
The ground floor barn apartment overlooking the Teifi Rover Valley comfortably accommodates 4 people in two bedrooms. The larger bedroom, communal areas and decking are all wheelchair accessible. There is an open plan lounge/diner, a fully equipped Galley kitchen and wet room with accessible high level toilet. You can sit on the decking and watch our free range ducks and chickens antics whilst enjoying a sundowner as the sun sets right opposite in the summer
We love the peace and quiet and yet we are only 10 minutes drive from the small university town of Lampeter with all amenities! You can see the stars at night, hear the owls call, or watch the Buzzards and Kites flying above the farm in the daytime. You can help us feed our friendly pet Kune Kune pigs and relax whilst watching the farm animals or take a walk up the hill for great views from the Cambrian mountainside. The nearest beach is 25 minutes drive and you can access the fabulous heritage Cardigan coastal path.
Comfortable, very well equipped apartment. The list of contents was such a good idea and we enjoyed the breakfast welcome pack . A lovely relaxing place although we didn't get a lot of time to enjoy the farm
Anne
2014-08-26T00:00:00Z
Lovely well equipped accomadation with beautiful view. Children loved the animals. We also made good use of buckets and spades and body boards.
Michael
2016-06-05T00:00:00Z
We all had a lovely time staying here. The hosts were wonderful and let us get on with our stay but were happy enough to come and knock for my Daughter to help them feed the Pigs in the morning. We loved having the Chickens and Ducks right outside our door and the cats came calling too which was really nice especially for My 6 year old she loved it.
Toni
2016-02-18T00:00:00Z
Beautiful property, great views. We stayed in the appartment annex, we had a welcome pack which was great as we arrived in the early hours of the morning. Tea and toast after a long trip very welcome. There were also food stuffs in the cupboard and wash stuff in the bathroom - it was great not to have to do any shopping for a couple of days. We didn't meet Cathy but Louise was very helpful and welcoming and was happy to chat to us about the property and best areas to visit and she was very patient with our 6 year old. We would most definately stay again. Thank you
Jo
2016-08-25T00:00:00Z
Lanlas farm is a beautiful place in the middle of Wales. An idyllic farm with ducks and hens that were an amazing surprise for our kids. The place is quiet and with awesome views. Just in the middle of Wales to visit either the coast or the Brecon Beacons. Louise is a fantastic host, she took care of us and our kids, she was always accesible for any help. We really had a wonderful time.
Araceli
2016-08-12T00:00:00Z
We've spent three fantastic days in Wales, and want to thank Louise & Cathy for all the little details & attentions in the apartment that made our stay easier & so enjoyable. Everything was perfect! This farm is a very quiet, restful place I'd recommend to friends who need a break away from the city.
Patricia
2015-07-17T00:00:00Z
Cathy was an excellent host, very friendly and courteous. The flat was lovely and the location ideal for a few days away from work with plenty of walks and amazing views to be had.
Michael
2016-04-01T00:00:00Z
Lovely stay in this idyllic cottage for New Years Eve. Cathy and louise were excellent hosts. Very friendly and welcoming. Gorgeous views!! Even better in real life. Absolutely loved the array of chickens, Cockerells and ducks that also gave us a friendly welcome. Would highly recommend.
Emily
2016-01-02T00:00:00Z
Typ pokoje
Celý dům/byt
---
Typ nemovitosti
Byt
---
Ubytuje
4
---
Ložnice
Lampeter, Wales, Velká Británie
The staying was wonderful and unique thanks to the attention and kindness of Claire and Dave. The house is clean and well equipped. The paysage is magnificent. Sincerely, we would stay in this place much more time if we could.
Irina
2017-01-24T00:00:00Z
The annexe is spot on - huge, with everything you need for a comfy stay. Claire and Dave are really friendly, without being at all in your face. We were house hunting, so didn't do much touristy stuff, but the area is stunning, with loads to do. Highly recommended.
Kate
2017-02-15T00:00:00Z
Dave & Claire are great hosts, very friendly, living in a lovely quiet place.
Anetta
2017-03-11T00:00:00Z
Really enjoyed a relaxing stay with beautiful views. Large rooms and everything exactly as described. Claire and Dave were lovely hosts and made me feel very welcome.
Katherine
2017-03-08T00:00:00Z
Typ pokoje
Celý dům/byt
---
Typ nemovitosti
Byt
---
Ubytuje
2
---
Ložnice
Llanfair Clydogau, Wales, Velká Británie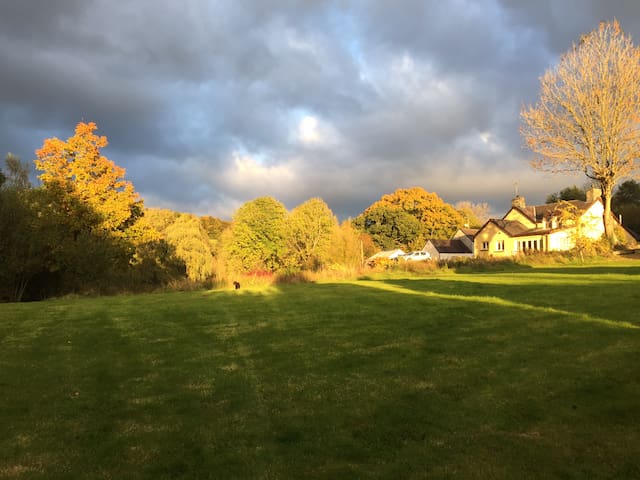 We hebben Beudy Penlan een speciaal soort plek die we zouden willen verblijven in gemaakt. Een mooie stenen gebouw met een vleugje eigenzinnige charme. 0pen plan met veel ruimte, het is echt een rustig toevluchtsoord, maar toch binnen handbereik van het sublieme Ceredigion kust en huisdier vriendelijk ook.
Die Stein weiß getünchten Wänden, offene A-Frame Dach und offene Gestaltung das Gefühl von Weite zu dieser Split-Level-Hütte erstellen. Der Hauptschlafbereich ist ein traditionelles croggloft mit einem Doppelbett über eine Treppe vom Erdgeschoss abgerufen. Es gibt einen entspannenden Wohnbereich mit drei Sofas (ein Schlafsofa), ein Holzofen, ein Plasma-TV und ein Knacken Sound-System. Es gibt kostenloses WiFi auch, und ein Arbeitsbereich, wenn Sie wirklich den Laptop benötigen zu öffnen. Die Küche ist mit einem Herd, Mikrowelle / Grill / Backofen, Spüle und Kühlschrank. Es gibt einen Essbereich mit Platz für sechs und das Bad mit Dusche ist en-suite.
Wir sind etwa 9 Meilen von den Hafenstädten von Aberystwyth und Aeron, nur im Inland von der Ceredigion (Cardiganshire) Küste. Sie werden in einem wirklich schönen bewaldeten Tal bleiben werden, ist es in blau belles im Frühjahr mit Teppich ausgelegt und im Sommer kann es eine echte Sonnenfalle sein. Der alte walisische Name für den Bereich "Dol boeth", das heiße Wiese bedeutet. Im Herbst sind die colurs wirklich dramatisch, und im Winter - gut sind wir in Wales, so dass Sie alle vier Jahreszeiten an einem Tag erleben kann, aber an einem hellen, klaren Wintermorgen würden Sie nirgendwo anders sein wollen. Sie werden im Herzen des Landes, keine ferne Rumpeln der Autos - mit der Begleitung von völliger Stille schlafen ist wirklich rejuvinating - eine Behandlung paar posh Spas bieten könnte. Unsere einzigen Nachbarn sind Schafe, Dachse und Füchse mit Luftunterstützung durch Rote Milane und Bussarde zur Verfügung gestellt. Wir sind jedoch nicht auf alle entfernten, das Dorf Llanrhystud ist nur über eine Meile entfernt und der Strand ist nur noch eine halbe Meile. Das Dorf verfügt über einen 18-Loch-Golfplatz mit Schwimmbad, Freizeiteinrichtungen, Driving Range und ein Restaurant. Es gibt auch eine Tankstelle mit Supermarkt, ein Blumengeschäft, ein Taxi und Bus Firma, ein Friseur, ein gutes Pub mit großen Pub-Essen, Biergarten und gelegentlich Live-Musik und ein Postamt und zu speichern, die auch erstklassig Autoreparaturen bietet und Wartung! Siehe "Andere Dinge zu beachten 'für eine ganze Menge mehr Informationen. auf das, was die Gegend zu bieten hat.
We had a great welcome from Cameron, who is busy decorating another unit. The accommodation was very comfortable and well equipped. Situated a few miles off the main road, it is quiet and tranquil location with the possible exception of the sheep in the surrounding fields. Inside the lounge was much bigger than I expected, and the innovative conversion to install a balcony bedroom and large shower room has been well executed. The area is great, with many hidden paths to beaches, also in easy reach of Aberystwyth, and Aberaeron. New Quay is also worth a visit. All seem to have a good selection of excellent restaurants.
Ian
2016-05-16T00:00:00Z
Spent 2 fantastic nights at Cameron and Jane's accommodation. Beautifully presented cottage in a stunning location near Llanrhystud with excellent attention to detail and very cozy! They have put a lot of thought and effort into the set up, really helpful house manual and local knowledge. Very friendly host. Great for exploring surrounding area. Highly recommended! Will be returning.
Helen
2017-03-19T00:00:00Z
My second stay. Just as fabulous as the first. Perfect in every way.
brian
2016-12-10T00:00:00Z
We loved our stay and will defiantly be back. We can not recommend this place enough. From the moment we got their to the moment we left we loved every minute. We will be back!
Emma
2016-02-15T00:00:00Z
A wonderful place to spend a few nights. Lovely cottage. Cameron and Jane made us feel so welcome ... greeting us on arrival, and waving us off! Lovely home, lovely location, lovely hosts!
Tracy
2016-09-05T00:00:00Z
We really enjoyed our stay at Cameron & Jane's cottage. They're lovely hosts. Cameron was very helpful in directing us and he got the log burner going which was great as it was lovely and warm for when we got there. The cottage is perfect! It has everything you need and more. Fantastic log burner, great tv/entertainment system, well equipped kitchen, bathroom is great, and a really comfy bed! The surrounding area is beautiful, and we were very fortunate to be there on a weekend with some great weather. Our trip really felt like a home away from home. Cameron & Jane are very welcoming and left us to enjoy our weekend. Highly recommend a stay at their cottage and we will definitely be coming back again!
Bindi
2016-03-13T00:00:00Z
A unique and beautiful barn with quirky and unique characteristics. Would certainly return in the future.
kelly
2017-02-17T00:00:00Z
Hosts were very friendly, beautiful place. Would have liked to have spent longer there. Cottage is large, full of character, in a beautiful setting. I stayed with 3 daughters. Perfect for a family.
Paolo
2015-08-12T00:00:00Z
Typ pokoje
Celý dům/byt
---
Typ nemovitosti
Byt
---
Ubytuje
4
---
Ložnice
Aberystwyth, Ceredigion Wales, Velká Británie
1 Bed flat over 2 floors, part of a period property on the edge of this historic University town. Simply furnished and decorated flat, clean and private ideal for couples visiting the area and needing a base. Full kitchen, shower room, lounge and bathroom
Typ pokoje
Celý dům/byt
---
Typ nemovitosti
Byt
---
Ubytuje
2
---
Ložnice
Lampeter, Wales, Velká Británie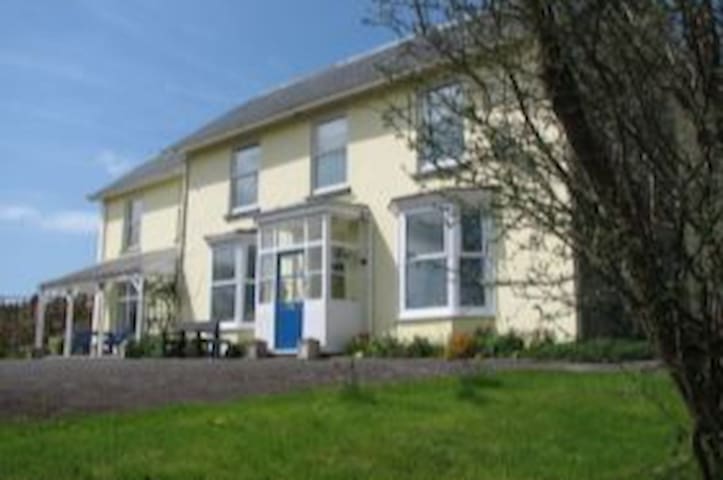 My place is located on our farm and ideally situated to visit beaches, castles,gardens,forests,Welsh countryside and all south west Wales. You'll love my place because of the cosiness,unique character, the location, the high ceilings, and the views. My place is good for couples, solo adventurers, and business travellers. Walks along country lanes to unwind and relax straight from the doorstep!
My cosy stone cottage has a woodburner but also electric heating for those who are unsure. There is a double bed on mezzanine area but 2 can squeeze in the ground floor sofa bed if needed. there is a kitchenette with beverages available and microwave to use for snacks. Electric heating and hot water ,bedlinen and towels are inclusive in the price. A starter pack of kindling and some logs is also inclusive. As logs are from my personal stock a voluntary contribution for extra logs used is appreciated ,or full bags can be purchased at cost from myself or from the local garage (currently £5 per bag and enough for the night)
My cottage is situated within the rolling green countryside of Carmarthenshire, 1 mile from the village of Peniel with its garage and shop, and 3 miles from Carmarthen town , the oldest town in Wales. Easy access from the M4
Nicola was a great host and the cottage was just as described. Very cosy, especially with the wood burner on and nicely decorated and furnished. I only stayed one night as I was visiting Carmarthen for my work, but the cottage would be a perfect holiday home for couples too and has everything you need for a comfortable stay in a lovely part of Wales. Thank you Nicola
Alison
2016-10-14T00:00:00Z
Nicola is a great host. Gave us guides and maps to lots of places which we managed to add to our little list of places to visit. The place is very cosy and comfortable. Views around the area are amazing! Definitely recommend!
Qasim
2016-07-26T00:00:00Z
My partner and I stayed at Nicola's beautiful cottage over the Christmas period. From the moment we arrived, Nicola made us feel so welcome. The cottage is set in the most beautiful Welsh countryside. As soon as we opened the front door we were hit with the warmth of a quaint log burner. Nicola was always on hand to give help and advice. In the short space of time that I spent with Nicola. I was enriched with the knowledge and history of Camarthan. Nicola is not just an awesome hostess. She is also an amazing tour guide. Thank you so much we will definitely be back x
henry
2016-12-28T00:00:00Z
Nice surrounding, good location , very friendly welcome with tips & tricks! Good accomodation , lovely fireplace , would reccomend it
Lien & Jef
2017-04-05T00:00:00Z
The cottage is a lovely lace to stay, very cosy with a comfortable bed, log fire and good shower. Nicola was very helpful in arranging our arrival and giving us advice on the local area enabling us to have an amazing tie in Carmarthenshire. Would definitely stay again.
Nathanael
2016-10-23T00:00:00Z
Nicola was very helpful when I arrived showing me round and providing useful local information. The cottage is gorgeous and I had a comfortable stay. Highly recommended.
Sarah
2016-09-29T00:00:00Z
Had a lovely weekend at the cosy stone cottage. Nicola was a great host who gave us some brill advice on places to visit whilst we were there. Would recommend anyone to stay here and would visit again.
Thomas
2016-08-09T00:00:00Z
Had a lovely stay here in Peniel. It's a lovely little cottage, very well fitted out with a clean but rustic feel. Lovely little kitchen area with fridge, toaster and kettle. Shower room and facilities very modern and clean. The cottage is quite central within beautiful Carmarthenshire with so much to do within relatively small distances. Nicola was a fantastic host and offered a vast local knowledge with regard pretty much everything we wanted to do, which happened to be Walking, castles and cute villages. Couldn't really ask for a better weekend away! Weather wasn't amazing but Carmarthen is so beautiful the rain only served to make it more atmospheric.
Lewis
2016-08-23T00:00:00Z
Typ pokoje
Celý dům/byt
---
Typ nemovitosti
Byt
---
Ubytuje
3
---
Ložnice
Peniel, Velká Británie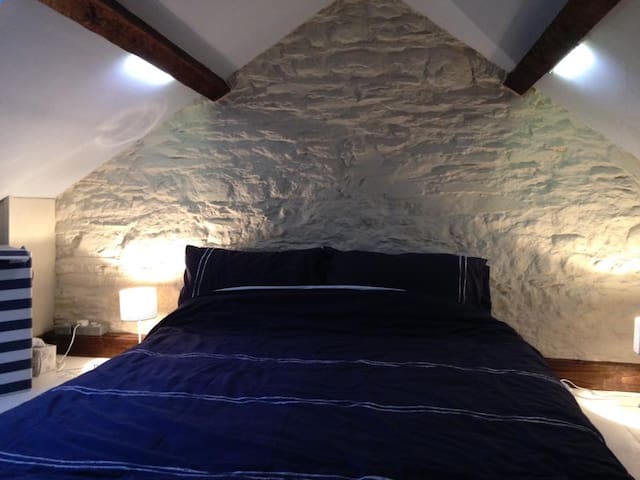 Pamela was really helpful and welcoming and we had a fantastic stay.
Eleanor
2017-01-02T00:00:00Z
My first experience in Wales was fantastic and enhanced by staying at this wonderful flat in the countryside! Although, I did not get to meet Pam in person, she was completely helpful before and during my stay, checking in with me to make sure I could find the flat and to make sure I had everything I needed. John greeted me upon my arrival and my farewell and was a pleasure to talk to. Wonderful, caring hosts! The flat was so comfy and inviting. It was warm and bright and was the perfect place for me to relax and unwind after a long day of sightseeing with friends. In fact, my friends, who were staying with family, were so impressed with the flat and were somewhat jealous of my peaceful accommodations. ;-) The area is so peaceful and quiet and it was in the perfect location for me, as my friends were only 10 minutes away. It is also close enough to the town of Newcastle Emelyn and to various tourist sites and nature walks. The only issue I had was finding the flat, as it was my first time to Wales and I didn't know the area. I definitely recommend using GPS. Pam and John were great hosts and provide a wonderful space. I really enjoyed my stay and definitely recommend staying here.
Melodie
2016-06-06T00:00:00Z
Pam made us feel extremely welcome as she rescued us when we got lost & then lent us her sat nav for the duration of our visit. The flat was new-pin clean with every thing you could possibly want; the bed was extremely comfortable, the pillows perfect and the towels the fluffiest! Lots of hot water and heat adjustable to the temp you required (so would make it an excellent winter vacation place). Best few nights sleep I have had in a while. Beautiful location, within easy reach of lots of places of interest (a pretty drive to Laugharne, a must for Dylan Thomas fans).
Renata
2016-10-29T00:00:00Z
The accommodation was everything you could hope for and more. Quite remote, nearest shops a 10 min drive but the flat had all facilities you could want. Host very friendly and responded promptly to a late booking. Would definitely return
Carolyn
2017-04-05T00:00:00Z
Two of us (a couple, one of us being 5 months pregnant) and an 8-month old cat stayed at Pamela and George's house for 9 days. We loved that the house was located in a remote and quiet area, in the middle of natural beauty. The house was super clean with a full set of amenities and comfort created in all areas. At times we didn't even want to leave the cozy atmosphere and we left quite late on the mornings. We were on holiday and did not have any big plans, however within one hour of driving we managed to visit numerous towns and villages of Caredigion and Pembrokshire, as well as beautiful beaches and mountains in West Wales. We look forward to staying here again in future and we would highly recommend this place to anyone who enjoys quality rest. ~ Toca and Eka (London)
Toca
2016-08-17T00:00:00Z
After spending 3 nights here, accompanied by my dog, I can honestly say it was perfect. The location was ideal, the environment was peaceful and beautiful and the flat was everything I could have wished for. Couldn't fault a single thing. Pam and John were wonderful hosts, it was a pleasure and I'm grateful that they shared their wonderful home with us. Definitely recommend, and would certainly return if in the area.
Sarah Louise
2017-04-12T00:00:00Z
We have had 6 lovely days in a marvelous flat by Pamela and John. They were very helpfull with every thing, so that we really could enjoy our hollidays. We can only recommend them and their flat if one want to relaxe. Lotte og Steen
Steen
2016-09-15T00:00:00Z
Lovely accommodation wth plenty of room for two people. All the amenities needed for a great week in Wales. Great hosts who care about you enjoying your stay. Being from the US we had difficulties with directions and one track roads but that was are problem
Karen
2016-06-02T00:00:00Z
Typ pokoje
Celý dům/byt
---
Typ nemovitosti
Byt
---
Ubytuje
2
---
Ložnice
Capel Iwan, Velká Británie
Welcome! My place is modern, clean, comfy and quiet. Being on the top floor affords great views down to the sea and of the setting sun. Enjoy your stay!
My place is newly renovated with a modern kitchen, bathroom and efficient heating system. There's a double bed and comfy airbed for a 3rd guest.
Llanon is a very safe and quiet little village. Great Butcher nextdoor or a village shop 3mins away for essentials. Go for a stroll on the beach or climb the hills for a better view! The pretty Georgian town of Aberaeron is 4miles South or Aberystwyth 11miles North, Lampeter 11miles Southeast.
Liam was a great host from the moment we arrived till we left. The area was very good. Easy to get to any of the seaside places in the area Butcher just up the road and a chip shop. The road outside did get a little busy but was not noticeable within the Flat. The Flat was warm and cosy and the picture does not do justice to the view from lounge
Dave
2016-11-06T00:00:00Z
We had a great stay in Liam's flat!! Everything was clean and he kindly left little extras like coffee and fresh milk and breakfast stuff! Very kind would thoroughly recommend! Look forward to staying here again when we are working in the area again!!
nia
2017-03-23T00:00:00Z
Convenient for uni in Aberystwyth, beautiful west Wales coast and mountains. Everything you need is there. Very quiet, clean and comfortable. Would happily stay in Liam's flat again. As a host, Liam was brilliant and provided a few basics which were very welcome after a long journey.
Alison
2017-02-19T00:00:00Z
Had a really great stay at this property! Perfect for couples looking for some time to relax in a beautiful setting near the sea with easy access to larger towns along the coast. Would recommend having car but not essential as there is a bus stop right outside the property. Thanks to Liam for the welcome package too!
Fiona
2016-12-24T00:00:00Z
Spot on. Good little nest with character and modern features. Liam disappeared while leaving us his place with his personal belongings (not in excess), which showed a strong sense of trust and made us feel more at home.
Fred
2016-12-16T00:00:00Z
Typ pokoje
Celý dům/byt
---
Typ nemovitosti
Byt
---
Ubytuje
3
---
Ložnice
Llan-non, Wales, Velká Británie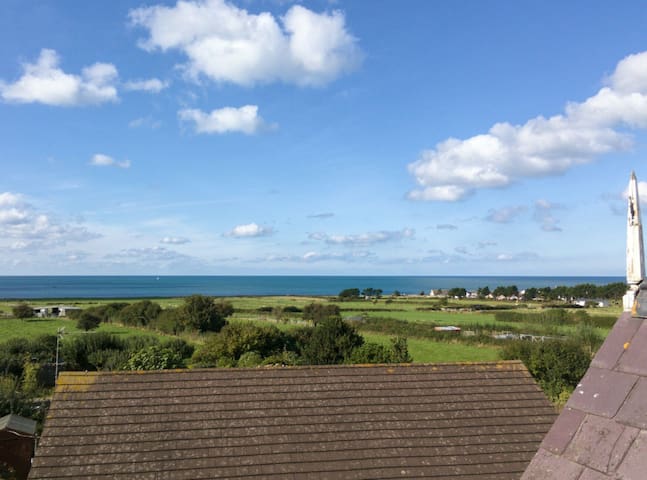 1 Schlafzimmer in sich geschlossene Nebengebäude zu meinem Bungalow angebracht, großen vorderen Raum mit kompakten offene Küche und Wintergarten. Das Hotel liegt in einer ruhigen Sackgasse im Zentrum von Porth, 5 Minuten zu Fuß zum Pub, indisch, chinesisch, Geschäfte, Apotheke, Waschsalon, Strand und Küste weg.
2 Personen, modern, kürzlich renoviert.
Schönes, ruhiges Dorf am Meer mit einer engverbundene freundliche Community.
Typ pokoje
Celý dům/byt
---
Typ nemovitosti
Byt
---
Ubytuje
2
---
Ložnice
Aberporth, Cymru, Velká Británie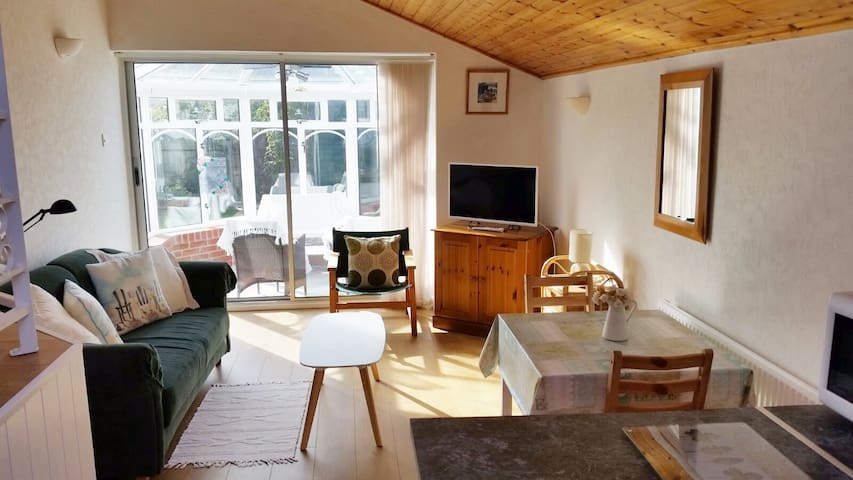 Set on edge of Brecon Beacons National Park. Ideal for couples wishing to go walking,cycling (secure storage facilities offered) or just enjoy the beautiful scenery. Within walking distance of the stunning Carreg Cennen Castle which is visible from the decked area at certain times of year! Nearby Llandeilo offers wonderful restaurants and delightful shops.
We have stunning scenery right on the doorstep and many attractions within a short drive.
A lovely peaceful place, very nicely done up and very carefully prepared for our arrival.
Andrew
2017-03-13T00:00:00Z
Karen was a great host and the apartment is in the perfect location for walks/ hikes in the local welsh mountains. Would definitely stay again!
Alex
2017-01-15T00:00:00Z
We had a lovely stay. Very cosy house and fantastic views from the terrace. Would highly recommend this place. Thank you
Marta
2017-04-09T00:00:00Z
Beautiful apartment, a great base to explore the Brecon Beacons. Hosts were great, check in/out was easy. Would definitely stay again.
Liam
2017-01-29T00:00:00Z
A beautifully finished, clean, cosy space for a quick getaway. Perfectly situated near the stunning Carreg Cennen Castle and with a lovely remote feel, yet near enough to shops and restaurants, including the local pub, which did great food! Karen was onsite to welcome us and onhand during our stay to answer our questions. We loved it so much, we stayed an extra night :-)
Alexandra
2016-12-20T00:00:00Z
The accommodation is in a quiet, beautiful location. Karen was very friendly and helpful and everything had been thought of including some mince pies and milk to get us started. We would definite stay there again.
Gerry
2017-01-02T00:00:00Z
Great location! Nice cosy place with a great couch to chill out on. There's a nice terrace too.
Gaurav
2016-12-04T00:00:00Z
Lovely stay for a night and really friendly host.
Mark
2016-11-20T00:00:00Z
Typ pokoje
Celý dům/byt
---
Typ nemovitosti
Byt
---
Ubytuje
2
---
Ložnice
Carmarthenshire, Wales, Velká Británie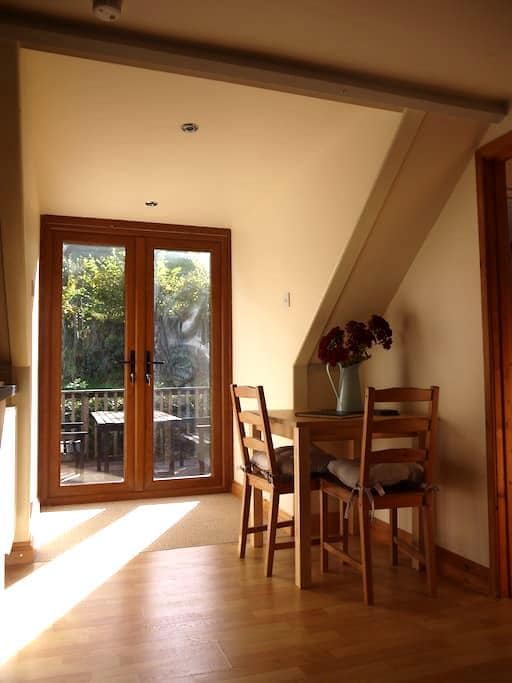 Luxury two bed apartment in historic country house, available for weekend bed and breakfast mini breaks. Self-catering from June 2017 sleeping up to 8 guests available on a weekly basis. Until June 2017, pricing is per night on a room only basis, including continental breakfast served in our beautiful dining room. max 2 adults per room. Set in beautiful surroundings, a family run business in the heart of scenic West Wales, just 15 minutes from the coast, and a mile from the nearest shops.
Plas Glandenys holiday apartment offers a spacious and comfortable stay in the luxury of a country house setting. The two large bedrooms boast stunning views of the Welsh hills, the accommodation has been thoughtfully designed to retain the character of the mansion whilst at the same time providing all the mod cons for a comfortable stay. The apartment consists of: one family suite, one double bedroom, large family bathroom with spa bath and shower, large open plan kitchen/dining/living room. The apartment will comfortably host 4-6 guests, with extra beds to accommodate a maximum of 8. All rooms are beautifully styled and equipped to ensure guests feel at home. The house itself is surrounded by 36 acres of farm land which guests are welcome to explore. You are welcome to pet and feed the horses, or feed the peacocks, great fun for little ones! A patio area with BBQ is also provided for al fresco dining in the warmer months. Guests will also be able to purchase a selection of home grown vegetables and freshly laid free range eggs from our hens during the summer months.
The apartment is ideally situated on the edge of the university town of Lampeter, In a quiet location, with access to amenities only 1 mile away. The beautiful Cardiganshire coast is only 15 minutes drive away, including the seaside town of Aberaeron, the fishing village of New Quay, and the Ceredigion coast path. The busy University town of Aberystwyth is 25 miles away. Mountain cyclists will also be able to enjoy some of the best tracks in Europe.
Typ pokoje
Celý dům/byt
---
Typ nemovitosti
Byt
---
Ubytuje
7
---
Ložnice
Glan-Denys, Wales, Velká Británie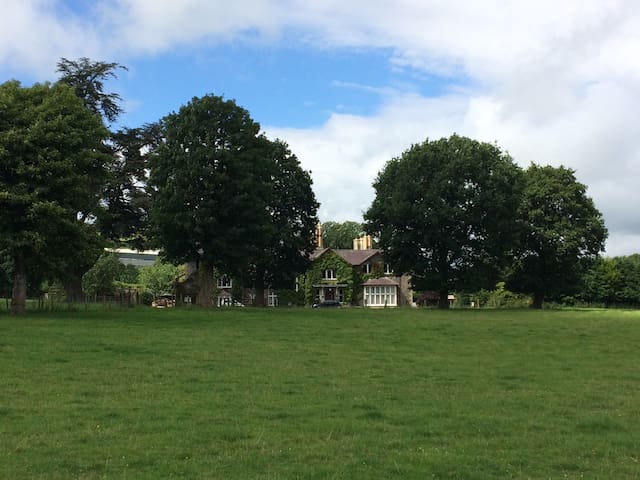 Watch the dolphins from this stylish, contemporary, 1 bedroom apartment, right on the sea front in New Quay, Cardigan Bay. Full length sliding windows maximise the panoramic views the apartment has to offer. Only metres from 2 sandy beaches as well as shops, pubs and restaurants nearby. The fully equipped apartment has Wifi, a Smart TV and Netflix. All bedding and bathroom towels are included. New Quay is Ceredigion's holiday capital, perfect for a fun-filled holiday, or a quiet, relaxing break.
Typ pokoje
Celý dům/byt
---
Typ nemovitosti
Byt
---
Ubytuje
2
---
Ložnice
New Quay, Wales, Velká Británie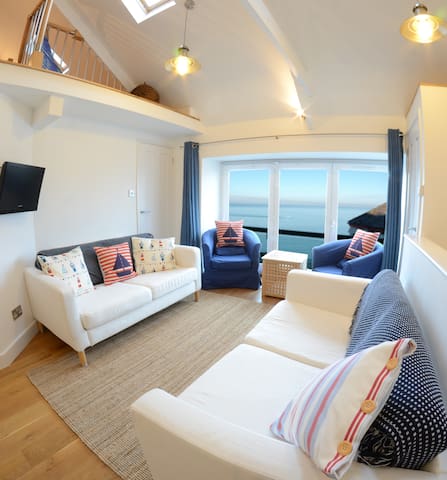 Bro Dawel, cerca de Aberaeron tiene una bañera de hidromasaje privada y está a un tiro de piedra de la playa. La casa incluye una grabadora de registro que crea una sensación acogedora a la casa de campo.
La mejor característica de esta hermosa casa de campo situado en la costa oeste de Gales es que es una bañera de hidromasaje privada. La mesa de comedor y jardín de invierno con vistas al jardín con vistas impresionantes.
A 120 metros de la playa Bro Dawel tiene un montón de deportes acuáticos cerca, así como actividades de secano como la bicicleta y caminar en la ruta costera.
Typ pokoje
Celý dům/byt
---
Typ nemovitosti
Byt
---
Ubytuje
6
---
Ložnice
Aberaeron, Aberaeron, Velká Británie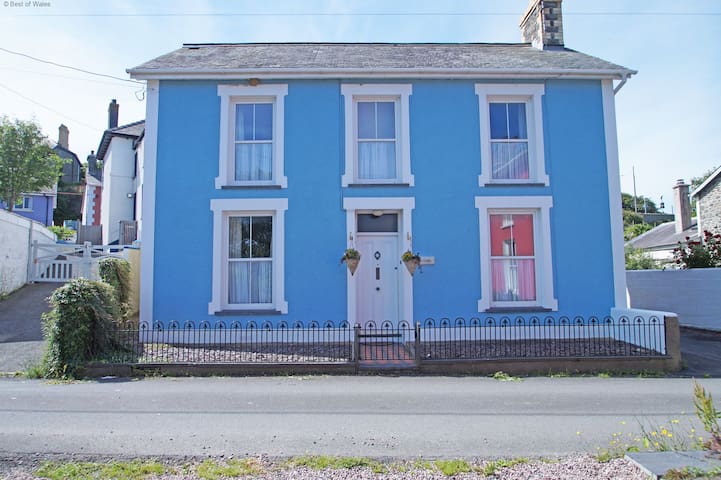 The Old Stables ist unabhängig, mit eigenem Eingang. Das Hotel liegt in der Nähe der Küstenstadt Aeron innerhalb von 1 Meile von der Ceredigion Coastal Path. 1 Meile von Aberarth Bushaltestelle, 3 Meilen von Aeron. Die Studenten liegt in ruhiger Lage mit allen modernen Einrichtungen. Bettwäsche und Handtücher werden gestellt. 1 Zweibettzimmer und 1 Doppelzimmer verfügbar Die Küche hat eine Mikrowelle, einen Kühlschrank, zwei Kochplatten, Toaster und Wasserkocher. Duschraum Parkplatz und Fahrradschuppen
Das Hotel liegt in der Nähe der Küstenstadt Aeron innerhalb von 1 Meile von der Ceredigion Coastal Path. 1 Meile von Aberarth Bushaltestelle, 3 Meilen von Aeron. Die Studenten liegt in ruhiger Lage mit allen modernen Einrichtungen. Bettwäsche und Handtücher werden gestellt. 1 Zweibettzimmer und 1 Doppelzimmer verfügbar Küche mit Mikrowelle, Kühlschrank und Herd Duschraum Parkplatz und Fahrradschuppen Ankunft bis 19.00 Uhr
My son and I had a wonderful stay at the Old Stables. Myfanwy and Ifor could not have been more welcoming. The accommodation was ideal for us - two very spacious, comfy bedrooms, a shower room and a really well-equipped kitchen. The location is absolutely gorgeous, with views of the sea and an incredible outlook along the coastline towards Aberystwyth. Just minutes from Aberaeron and a straight run down to New Quay and beyond. It was fantastic to be able to escape up the lane to the peace and calmness at Derwen, with house martins sweeping over the yard. This is a beautiful spot in West Wales and the Old Stables provides the perfect place to explore it from. We found it welcoming peaceful, spotlessly clean and comfortable. I would not hesitate to recommend it to other visitors and would love to return in the future. Wishing Myfanwy, Ifor and family (and the fantastic cobs) health and happiness always. Many thanks for making us feel so much at home. Hwyl faw(URL HIDDEN)
Jane
2015-08-29T00:00:00Z
My first experience of airbnb couldn't have been more positive. I was just looking for a place for a short notice bed for the night for a family of four and the Old Stables were perfect. A beautiful location, stunning scenery on approach and wonderful sea views from the property. My daughter was delighted by the number of horses on site and how friendly Myfanwy, her husband and the other staff were. The property was clean and tidy. There was fresh milk in the fridge and fresh fruit in the kitchen. Books and magazines in the hall and a small TV/DVD player in the kitchen too. Clean towels and complimentary toiletries in the bathroom and a separate toilet. I would absolutely stay again.
Nayson
2015-05-28T00:00:00Z
Fantastic and the most kind host! Farm was perfect for a weekend away with some friends, spacious and cosy. Towels and fresh bedding were waiting for us, house was clean and welcoming, couldn't have asked for anything else. Cliffs and a beach are only a short drive away or if the weather is nice, you could just walk across a field. With quite a few lovely villages around there is always something to do. Myfanwy and her husband are really interesting people and they even have a little museum of their vast achievements as horse breeders. Fantastic and very relaxed experience.
Lukasz
2015-06-15T00:00:00Z
The accommodation was perfect for our family of four. The two boys loved their twin room and the kitchen was perfect for both cooking and relaxing in. Aberaeron was only five minutes away in the car and Aberystwyth less than half an hour so we felt both peacefully secluded and close to seaside fun. Myfanwy and Ifor gave us a great weekend away and, although the weather was wet and windy, we would definitely go back!
Ade
2016-08-23T00:00:00Z
Lovely accommodation in a remote and peaceful location. Lots of space and different rooms to enjoy with the backdrop of living on a farm. Myfanwy was a very nice host and we thought the rooms were very good value.
Jamie
2013-06-23T00:00:00Z
I could recommend this place to everyone who is planing a trip to the west coast of wales. It's a clean, tidy and very beautiful place. We've really enjoyed our stay! Communication was easy and quick. Marco
Marco
2017-04-09T00:00:00Z
This is a very comfortable room. We all like the room and the farm museum. We see a beautiful horse named dusk. and the host is very kind.
xiaodong
2016-07-31T00:00:00Z
We enjoyed a lot, it was neat and tidy with everything provided from kitchen utensils and milk etc to extra quilts. The owner was really accomodating as we reached there a bit late but she welcomed us which was really nice of her. No complains at all it was perfect. Will stay there again a peaceful quite place.
Muhammad Taha
2015-05-26T00:00:00Z
Typ pokoje
Celý dům/byt
---
Typ nemovitosti
Byt
---
Ubytuje
4
---
Ložnice
Pennant, Velká Británie
Pro zobrazení celkové ceny zadej termín. Mohou být přidány další poplatky a daně.