90 metrů čtverečních obývací pokoj, ložnice, balkon, vanu, kuchyň a střešní terasu pro relaxaci, být v lásce nebo jen užívat neustále se měnící panorama.
Je to ideální místo pro novomanželé na svatební cestě, gay nebo rovné!
Je to klidné a tiché. Jediný noční zvuky uslyšíte, jsou ty, které každý Jungle nabízí: gekoni, cvrčci, ptáci, žáby, netopýři, kohouti nebo psů
It was amazing to stay at Christians house. The view from the bedroom is amazing the attention of matrice was extremely good. If you are concern about the location don't worry tricycle every where at every time are available.
Hugo Rafael
2015-10-06T00:00:00Z
I use airbnb because its service allows one to engage a context outside the vanilla-dross, hotel/guest encounter - having an individual share their space, and consequentially the object based narrative of their character in its natural, relaxed environment; this is what I consider to be the spirit of what makes this platform great - the sharing of parts of one's life narrative. The places I have been travelling through of late on airbnb have been bereft of this spirit: multiple listings of shoddy hotel rooms by the same smiling landlord you'll never meet; uninspired rhetoric posted verbatim from different rental sites; deceptive photographs and cliched banalities about being 'close to it all', 'at the heart of x', etc. diatribes aside, Christian's place is the quintessential example of the spirit of sharing ones home and place. the guest house is rich with warmth and character, and this is ever so complimented by Christian's friendliness and willingness to help you enjoy your time in the area. when one finds difficulty in articulating adequately why something was great, it is very suggestive that it was more so exceptional, and aside from the tropes of the space being clean, bright and full of character, coupled with the owner being kind, helpful and great to talk with, its quite the task to say much beyond fully endorsing staying here (at least for me)(URL HIDDEN)
michael
2015-06-03T00:00:00Z
We stayed in Chris's place in 3 nights. It was awesome place to stay as a couple because of its unique, landscape and location. Especially, Chris is so amazing and friendly in helping us to go somewhere and took some tours in PP Highly recommend to stay here with Chris, Much love
LINH
2016-09-19T00:00:00Z
It was the best place for us to relax and Christian put all efforts to make it the most comfortable. He is the best host I've ever met, we became like real neighbours after 3 weeks of our stay. As for the house - it is really nice and well-designed. You will be impressed by the view from the bed during sunrise just after waking up and sunset from the roof. As the house is situated in suburb of Puerto-Princessa, you will not meet bad air or dust. It is a typical rural area with spick and span households. The most annoying creatures were ants during a day and mosquitos in the night. But it is real nature, so relax and follow the rules - 1. any garbage should be thrown away as soon as possible, 2. use anti-mosqutos net under the bed and buy insect repellent. As for the Internet - there is very bad and slow in Philippines. The best way is to buy prepaid Tattoo sim-card in the Robinsons mall and use it with wifi router which you can get from Christian.
Alexey
2015-12-08T00:00:00Z
When I saw the pictures of the place here in airBnB, i knew that it was beautiful but then when we arrived at the place and met christian, it was a spectacular experience we had in puerto. For us, the highlight of our stay was when christian invited us to his home, drink some wine, chitchat about anything & at 12midnight he opened another bottle of wine just to celebrate the 25th bday of Von. Beautiful home & heart.
Joyce
2016-09-03T00:00:00Z
Han's has got a great place.... Self contained little house really.... Bit further out of Puerto Princesa but still really easily accessible by tricycle. Han's a great host couldn't do enough for you ... Loads of info on what to do locally You'll have a great stay here
Shau-Kwan
2014-05-31T00:00:00Z
Hans's place is quite amazing. The 3-part "side" house has a very natural design with lots of wood finishing and feels very unique and special especially considering where you are in the world. Hans does very well in accommodating your needs and is incredibly friendly. The place is a little bit out of the way and slightly noisy due to insects and roosters but if you don't mind this it's absolutely fantastic!
Bobby
2014-12-08T00:00:00Z
At dawn, the balcony is perfect for yoga /meditation. At night, I climbed onto his rooftop to indulge in some astrophotography, for the stars glittered so beautifully. If you wanted to, you could also wander around his lovely estate. Chris' home was as beautiful as he was lovely, and he was generous to share his stories and breakfast (Incidentally, his cooking was also the best food we had in Puerto Princesa ). I had a very idyllic time there, and I'm already looking for reasons to return! It may be away from the main street, but this place is so worth it. Finally, I am impressed and very grateful that chris' plumbing system was good. better than so many places in Manila. I was so happy to use the toilet, secure in the knowledge that things WOULD go away when I hit the flush button. The towels he provided were also nice and fluffy. PS:If the tricycle operator can't comprehend the address, say "bakers hill", and watch for the sign. Some prices we enjoyed: PPS>Uyuni: P60-100, Uyuni>PPS: P80-150. For higher prices, the tricycle will go all the way up the path to the doorstep, but sometimes we just felt bad hearing the bike struggle with our weight during the incline. PSS don't leave food out, the ants will come (lost a delicious loaf of bread that way)
Kiku
2015-01-24T00:00:00Z
Typ pokoje
Celý dům/byt
---
Typ nemovitosti
Dům
---
Ubytuje
2
---
Ložnice
Puerto Princesa, MIMAROPA, Filipíny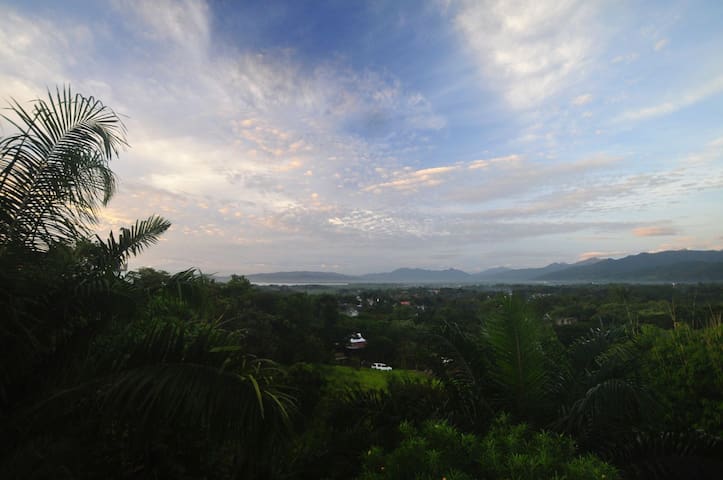 U nové výstavby se nachází v Diniwid na malém kopci, 50 metrů od Diniwid Rd, 1 minut od pláže, prostorné místnosti samostatným vchodem, king size postel, kuchyňský kout, mini bar, Wi Fi, žádný vzduch cond, velký balkon, bez výhledu moře
Nový, komfortní, pokoj a koupelna velmi prostorný, vzdušný, prostorný balkon s kuchyňským koutem, mini bar, Wi Fi. Možnost navíc snídaně, denní úklid zahrnut jen pokojů, výměna prádla každých 5 dnů. Bez výhledu na moře. periodická úprava pesticidu v celém domě a zahradě.
Diniwid je jedním z nejoblíbenějších pláží na ostrově, velmi klidné a pohodlné s místními obyvateli na pláži.
This was a great 5 days expierence at Nonnas's house! The house is located just a short walk from the Diniwid Beach, away from the crowded streets of Borocay. However still at the reachable distance from all the Stations, shops, restaurants etc. It takes aprox 15 min to reach The White Beach by feet. If you prefer to drive - you have a tricycle parking just near the house. The Diniwid beach is very clean and not crowded, which allows you to enjoy the nice view and the water (White Beach is very crowded with loads of people&sellers). The house itself was perfect, our flat was located at the second floor with our own entrance. Everything very clean and the flat has also nice kitchen, where you can cook your own meal. And the owners- they were very lovely and always ready to help! Fabricio is a scuba divining instructor and I highly recommend to go for a dive with him! Just a couple of minutes from the house you can find also a very lovely place called Spider House! It has very tasty food with beautiful views from the terrace. I highly recommend to stay at Nonna's if you wish to spend beautiful holidays in Boracay! Thank you Nonna and Fabricio & lovely dogs as well, it was a pleasure to meet you and spend this wonderful time at your place!
Rolands
2016-06-03T00:00:00Z
My fiancee and I thoroughly enjoyed our stay at Nonna's House. Nonna and Fabrizio were amazing hosts, friendly, full of useful information, and extremely hospitable. Nonna stayed in touch giving us tips about how to get from Caticlan to her place. When we arrived at Nonna's House, Nonna and Fabrizio gave us a warm welcome and were very helpful (they even helped us carry our luggage to our room). It's a beautiful house, spacious, clean and very well equipped. Everything inside the room was perfect and well-taken care of. Nonna's House is perfectly located in a quiet place called Diniwid, just a minute walking time to Diniwid Beach. The Nonna's House is definitely the best place to stay in Boracay. We will absolutely stay here again. It was indeed a great vacation for me and my fiancee, Florabel. Thank you Nonna and Fabrizio!
John
2016-04-22T00:00:00Z
The room is very spacious and cosy. I love the bed the most cause it's very very big and comfortable. Only 5 minutes' walk to Diniwid beach. There's a small kitchen at the corner of the balcony which is convenient for cooking something. The landlord of the house is an Italian couple. I didn't meet the hostess because she's on her vacation in Europe during my staying there. The host is a very nice man. The last night before I left, he agreed me to have my 4 friends sleep together with me in the room which is not allowed in hotels. He even offered us one more blanket. I'm really appreciated of that. I enjoyed my staying here. Thank you so much!
HUIQIN
2016-08-29T00:00:00Z
The room was clean and tidy,the facilities were running well, the bed is big and comfortable,and the house is lovely.But the best thing is that Fabrizio and Nona were very kind to me,gave me a lot of good suggestions,worried about my safety.That's considerate and heart-warming,made my trip filled with good memories. Thank you a lot.
ling
2017-01-16T00:00:00Z
Great location with perfect hosts.... highly recommended.
Stephen
2017-03-05T00:00:00Z
房东人很nice,是个潜水教练,要学专业潜水可以找他。住宿环境没得说,大阳台,大床,还有小厨房,非常满意,后悔定太少时间了,应该多定两天
CiCi
2017-02-11T00:00:00Z
This place is amazing. Warm and welcoming hosts, the rooms are amazing, the location is away from the main areas, which makes it more quiet. We loved every hour here and would definitly recommend this lovely place. Thanks for a lovely stay and your help during our stay :)
Michelle
2017-01-13T00:00:00Z
La Dolce Vita in Boracay! It was a fantastic stay really close to diniwid Beach and station 1. The host are very kind and helpful at any time! The room is absolutely clean and the bed is just too comfortable that you like to stay in bed the whole day! The wifi was the best in the Philippines! I definitely can recommend this place and I hope that I can come again soon!
Astrid
2016-12-20T00:00:00Z
Typ pokoje
Soukromý pokoj
---
Typ nemovitosti
Dům
---
Ubytuje
2
---
Ložnice
Malay, Filipíny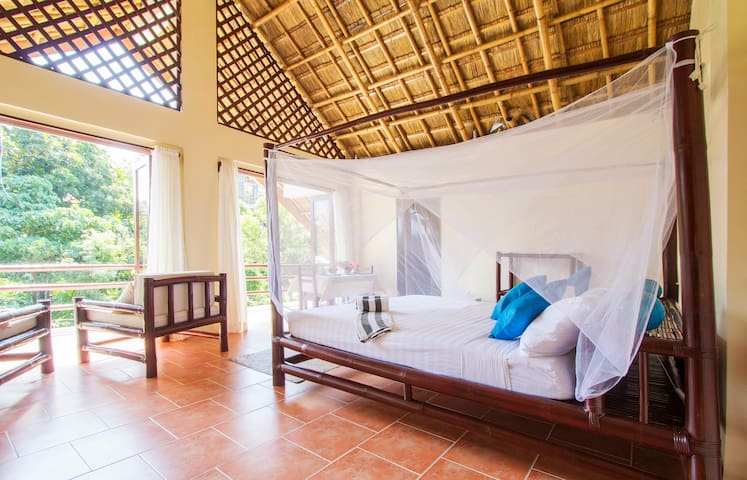 helt ny luksus villa, 7 soveværelser, 10 badeværelser, over 6.000 ft af indendørs boligareal. 20metre swimmingpool med fantastisk udsigt over boracay. 4 fuldtidsansatte medarbejdere, herunder personlige van og chauffør. fantastisk udsigt over boracay
Dette er et helt nyt hjem, med 7 soveværelser og 10 badeværelser og fem fuldtidsansatte medarbejdere. vi har forsøgt vores bedste for at tænke på alt, men hvis vi har glemt noget, så lad os vide, og vi vil gøre vores bedste for at sørge for dig. billeder af huset taler for sig selv, men det er vores personale og service, der virkelig vil give dig en uforglemmelig ferie. 5 soveværelser har en kingsize seng og 2 soveværelser har 2 dobbeltsenge. alle værelser har eget aircon, 40 "tv, eget badeværelse med håndklæder, sæbe, shampoo, hårtørrer og privat balkon. der er en stor 20 meter infinity swimmingpool med spektakulær udsigt over øen og 6 personers opvarmet jaccuzzi. er der et billardbord, stort spisebord til 14 personer, fuldt udstyret køkken og stor grill. stuen har en 60inch tv og også en projektor skærm til at se film. vi har en xbox 360 med et udvalg af spil til at holde børnene glade og også et udvalg af brætspil. Der er et musikanlæg med højttalere i hele hele nedenunder område og udenfor ved poolen. Vi har et udvalg af musik, eller medbringe din egen. enhver enhed, der har en standard jack stik / hovedtelefonstik vil arbejde. Vi har wifi i alle værelser, plus en anden forbindelse fra en anden internetudbyder nedenunder i tilfælde af en ikke fungerer (husk dette er en lille ø) huset er beliggende i et roligt boligområde, som ligger kun 10 minutters kørsel til det vigtigste område af barer og restauranter. huset kommer med en fuld tid van og chauffør på vagt 24 timer i døgnet. det omfatter også 4 fuldtidsansatte tjenestepiger. den ansatte er der for din fordel, vil de lave mad, rene og gå på indkøb for dig eller med dig, hvis dette ønskes. bemærk at vi ikke har en professionel kok, maids kan tilberede basale fødevarer, BBQ og vil med glæde hjælpe dig med at gøre din egen madlavning, hvis du ønsker. Vi har også et udvalg af take away menuer, pizza osv, at personalet vil være glade for at bestille for dig. hvis du ønsker en professionel kok for en særlig middag, så lad os vide på forhånd, og vi vil forsøge at reservere en afhængigt af tilgængeligheden. personalet kan også bestille restauranter eller aktiviteter for dig, bare fortælle dem, og de vil være glade for at hjælpe. hvis du foretrækker dit privatliv, skal du bare fortælle personalet og de vil kun komme når anmodet om. de bor lige under huset, så er på vagt 24 timer i døgnet. vi holder et stort udvalg af basale fødevarer, te, kaffe, mælk vin, øl, sodavand osv, som du kan bestille fra os til kostpris, eller andet, du kan goto mall og gøre dine egne shopping med hjælp af personalet, hvis påkrævet. vi har også en 24 hr back up generator i tilfælde af strømudfald. hvis du har nogen specifikke anmodninger af ting, du vil have os til at give ved ankomsten, så pls bare send os en liste og vi vil gøre vores bedste
To say this house was stunning beyond the pictures, would be an understatement. Walking up the steps to the open space and that view for the first time, each and every one of our group looked awed! It was absolutely beautiful, and spending NYE there was the an enormous highlight of our Philippines trip - the view of the island's fireworks celebrations (as well as our own private one) was amazing. Stephen and all his staff, especially Michelle, were incredibly helpful and always quick to meet any of our needs or wants; they have our deepest gratitude and thanks. I feel you could not choose a better accomodation than this for your stay in Boracay. Now that we're home, our friends and family are envious of our time at this villa, and many of us have been poked and prodded for not taking them along - they are definitely justified in their envy;) Stephen, his staff, and this beautiful villa have our highest recommendation, and we would not hesitate again to rebook here for a future stay:)
Sam
2017-01-02T00:00:00Z
Brilliant, brilliant, brilliant. This property in terms of luxury, quality, cleanliness, professional service and location/views is just perfection. No other word can describe it. The Villa is huge and finished to 5-star standards with quality material. It is maintained in mint condition. There are 7 large rooms all with their own bathrooms. The master bedroom on the 2nd floor is huge with a bathroom bigger than most hotel bedrooms. The views are fantastic and the outdoor temperature controlled pool is amazing. There is even a Jacuzzi next to the pool, a billiards table, a karaoke system and wifi throughout. The Villa is also air conditioned. I want to say a huge thank you from my family and I to Stephen for hosting us in his beautiful property. I have to say every single aspect of our stay was perfect in every way. The team of staff who live in separate accommodation attached to the villa are always on call to help with anything you need. They were all so nice and brilliant. They are such hard working, polite and friendly people and were such an important factor in making our stay here so enjoyable and relaxing. They are happy to prepare breakfast, lunch or dinner for you or even a barbeque. You can either buy the ingredients yourself and give it to them or just give them the money and they will go and buy anything you need. The fridge is stocked with drinks at very reasonable prices not like the exorbitant hotel prices. We really can't believe how perfect our stay here has turned out to be. Far better than the 5star resorts. The beach is a 10 minute walk but Stephen provides a van with a lovely driver Noy who will take you anywhere at any time with a big smile on his face. We were attending a wedding in Boracay and the other guests at the wedding visited us and were blown away by the Villa and the service and will be coming back to stay here in the future. Needless to say, so will we. Thank you once again to Stephen for creating this little piece of paradise and to his lovely team (Michelle, Grace, Noy and the others for their hard work and hospitality.
Ehab
2017-04-07T00:00:00Z
My guests and I stayed at Stephen's listing and couldn't be happier. Our experiece was top-notch and photos do not do this place justice! Stephen and his staff were very attentive, friendly and prompt to reply to our enquiries. Having our own driver (Noy) and maid staff were very helpful and made the experience unforgettable. I am happy to recommend this listing to anyone travelling to Boracay. Cheers!
Brian
2016-10-09T00:00:00Z
Staff and driver is very nice!House is very amazing and beautiful.
Foonfoon
2017-03-20T00:00:00Z
What a great holiday for a group of friends travelling to Boracay for a wedding! Everything was perfect and ran smoothly from first contact. Stephen was so helpful throughout the booking process and also leading up to the stay. Michelle and her staff had cooked us a BBQ on arrival and continued to impress us with yummy breakfasts (including pancakes!) throughout our stay. Food and drinks where charged with great value. The house is huge and has everything you need. We spent lots of time spent in the pool/spa and there are so many different places to chill. Rooftop views of the island are pretty magical, especially if there's a good sunset. Words cannot describe how great it is, you NEED to stay here!! Last but not least is the driver Noy. A carefree, smiley guy who takes you anywhere and then picks you up again when you need. LEGEND. We will be dreaming of our (massive) villa on top of the hill in Boracay for many years to come. Thanks to Stephen, Michelle, Noy and the rest of the staff for making it such a great holiday.
Georgina
2017-01-29T00:00:00Z
very nice!!!
Jiahua
2016-07-24T00:00:00Z
Everything was perfect. I have total 12 members of my family. Ages are vary from 2 year old kid all the way to 70 of my mother-in-law. Everyone was happy and wants to thank the villa staffs who makes our trip even better. The villa itself was greater than all the photos. All you can say when you get your first step into the villa is wow, this is amazing and unbelievable. You can see the whole island with the white beach over the infinite pool. There are plenty of rooms in the villa for whole family with very comfortable sofa. Of course every corner and chair has great view since the villa is located on a hill of the island mountain and all the sofa and chairs are perfectly positioned. I was very impressed with the villa staffs who clears out all the worries of all the meals and outside activities including the in-house massage. I have to thank the staffs, Michelle, Dean, Grace who are beautiful and have professional attitude for the hosts. They made all the meals which is very difficult but important for my family. They helped the shopping and cooking. I liked the garlic fried rice and all the local dishes especially the jumbo prawn dishes. I think the prawns are even more delicious than the lobsters. Roy, the driver who took us any place we want. He is very kind and always smile to all the family. I think everyone who has the reservation here in the villa is lucky. I would recommend everyone actually I already did to my friends.
Heeyong
2017-02-15T00:00:00Z
The house is amazing; pictures don't do it justice. Every door opens into another amazing room and view. The staff are amazing; helpful, friendly and amazingly accomodating, to the point of shopping for us and cooking a delicious dinner and breakfast for the whole house. The fridge and cupboard are stocked with reasonably priced drinks and snacks, everything you need for a great time. It is a bit out of the way, but the driver and large van (14 seats) can take you anywhere you need to go... at any time. The house is perfect for a large group holiday or for a decadent celebration. It is literally the most luxurious place I have ever stayed.
Simon
2016-11-25T00:00:00Z
Typ pokoje
Celý dům/byt
---
Typ nemovitosti
Dům
---
Ubytuje
16
---
Ložnice
Malay, Western Visayas, Filipíny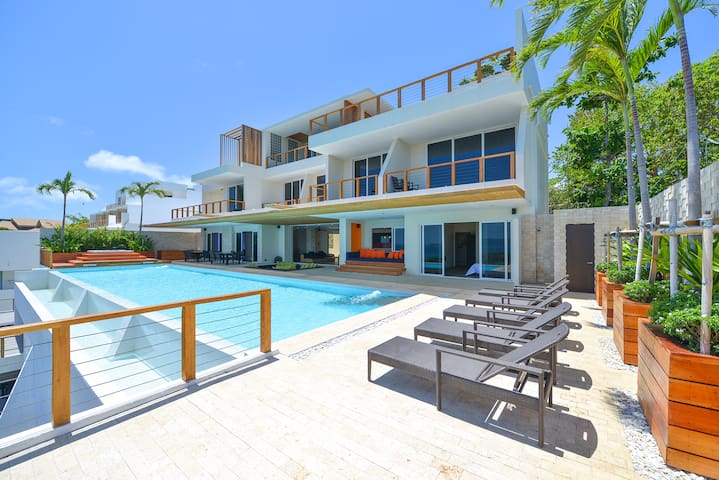 Dvě ložnice chata s velkou veranda stát naproti rybníky / rýžového pole. Ideální pro zažívá bezstarostný Venkov žijící Palawan je. Je to 10min chůze od nejdelší pláže Honda Bay se nachází podél pobřežních vesnic Manalo, Lucbuan a Maruyogon. Jsme také méně než jednu hodinu na podzemní řeku a město, a přístupné prostřednictvím městské hromadné dopravy. Laskavě přečíst celý popis před podáním žádosti o rezervaci. Jsme se nacházejí v prostředí farmy, kde časté a domorodé hospodářských zvířat daří.
Poloha domu je na vyvýšeném místě s výhledem na rýžové pole se nachází na okraji malého osobního lesa. Je vyrobena z betonového základu a stěny jsou směsí dřeva a betonu, zatímco vnitřní stěny jsou směsí betonu a nativní bambusu materiálů. V koupelně má dlážděné podlahy a stěn. Ložnice a kuchyňské podlahy jsou dlážděné, zatímco jídelní kout a veranda mají dřevěné podlahy. V ložnicích jsou promítány oken a jasné skleněné žaluzie, které mohou být otevření a uzavření regulovat teplotu v místnosti. I když nenabízejí AC, místo je svěží a je obklopen zelení. V přední části domu jsou čtyři rybníky s místními ryby a želvy. Wildlife oplývá v mini lese. Ptáci, motýli, gekoni, ještěrky monitoru a sladkovodní želvy jsou běžným jevem. Máme vlastní vodovodní systém a dům má klempířské a přívod vody. Stále terénní některé oblasti objektu, ale celkově jeho klidné místečko, kde můžete relaxovat a užívat, a to buď samostatně, nebo s malou skupinou blízkých přátel a rodinných příslušníků. Místo je ideální pro 2-4 osoby, ale můžete zmáčknout až šest osob, které využívají stany. Není-li uvedeno během vaší rezervaci dotazy, nabízíme pouze jeden ze dvou ložnic pro uložení prvních dvou hosty (tedy vy a váš přítel, manžel nebo sourozenec bude sdílet královna velké posteli). Nicméně, pro rezervaci se tři až čtyři hosty, obě ložnice bude k dispozici. Máme jednu velkou manželskou postel v jedné z místností, zatímco druhý pokoj má rám postele, který může být převeden z queen size ke dvěma samostatnými lůžky. Laskavě námi podělit o svůj preferovaný spaní uspořádání při rezervaci. Při rezervaci více než čtyři osoby, laskavě informujte se u nás za zvláštních režimů s vaší skupině.
Okolí je klidný a přátelský. Jsme rybářské a zemědělské komunity. V blízkosti Pláž je obvykle prázdné kromě několika místních fisherfolks, které využívají prostor pro obživu rybolov. To je obvykle ideální pro ranní procházky, můžete plavat stejně, ale to není opravdu pláž ke koupání doporučit, protože jako každý jiný pláži v pevnině Palawan čelí Honda Bay, budete muset dávat pozor na želé ryb, esp. v měsících lednu až květnu. K dispozici jsou také nedaleko šikovné samoobsluhy, kde můžete získat skoro vše, od veges, koření, konzervy a dokonce kuřecího masa, ale u produktů, doporučujeme dostat se na Puerto Princesa veřejném trhu. Jsme na půli cesty mezi podzemní řece a Honda Bay Wharf a je ideální pro lidi, kteří chtěli zažít a seznámit se s více bezstarostný životní styl ve venkovských obcích Palawan (bez noční život zde kromě když jdete do nedalekého střediska).
IT WAS AMAZING! Before we checked in, we had some questions to Doods and I can say that he always answered promptly. Although we made a mistake with the bookingdates, Doods was so flexible and uncomplicated to change it. Unfortunately Doods had to work, so we communicated just per mails with him. While our stay Monmon had always a helping hand. He arranged everything we wanted, helped us with renting motorbikes and in fact, he has so many good contacts, you will never be lost in any occasion. We also appreciated the conversations we had with Monmon. We learned a lot about the way of life in the philippines and felt always very welcome and a bit like part of the family. Last but not least we want also say thank you to Jovs for her delicious meals. We would highly recommend Doods place to everyone who loves nature and the warmth of a family.
Jasmin
2017-01-21T00:00:00Z
I had a wonderful time at Doods place. It was even more beautiful than the pictures i saw online. I arrived early and Doods gave us a Great welcoming he was kind enough wait until we arrived Safely to his beautiful Sanctuary. Mon Mon and his wife were also a great help. I would recommend there home cooked meal as an option. The food was great delicious and the area is very peaceful and quiet.
Wyle
2016-02-11T00:00:00Z
If you're looking for a local experience off the beaten path, check out this cottage. Nestled amongst rice fields and Tilapia ponds, this quiet gem is run by a kind local family who provide great advice on things to do, offer home cooked meals for a reasonable price and even help with laundry! I thoroughly enjoyed my quiet holiday here. You're a stone's throw from the beach and a 15min motorcycle ride from the river for rafting and canoeing. Highly recommend.
Vanessa
2017-02-16T00:00:00Z
We had a lovely time at the pocket forest house. It was clean, comfortable and well-equipped. We loved being at the edge of the forest and rice fields. We got to see harvest, play with turtles and other creatures. The food was great Filipino food, breakfasts were wonderful and we chose to have dinner cooked twice which was lovely. Thank you for hanging out with us and answering all our questions! See you next time :)
sara
2016-12-16T00:00:00Z
Foods brother Mon and his wife were really great at looking after us during our stay. The food was really good and the house was perfect. Recommended if you want to get away from the main town for a while.
Grant
2016-01-27T00:00:00Z
Stayed for couple of nights, wish we booked more.. This place is just amazing. Raymon, Doods's brother took care of everything, best tour guide ever :-) He saved us a lot of money as he has comusins/brothers/uncles all over Palawan hehe. Lodge is bit out of town, but its really nice and peaceful place - worth travelling further. Highly recommended.
Pavel
2017-01-27T00:00:00Z
Doods is pretty much the epitome of a perfect Airbnb host. He is very passionate about tourism and experiencing the Philippines in an authentic way and our 2 nights at the pocket forest cottage were some of our favorite times on our 2 week trip to the Philippines. Doods went above and beyond, even met us as we left our resort in TayTay several hours to the north and arranged for a private car (driven by his brother Marlon) to drive us back to PP. The 3 hour drive from TayTay to PP flew by as we were having a great conversation with Marlon and Doods about Palawan, tourism, the Philippines, and coral reefs. Doods also helped advise us on activities in the area, we were able to go to the underground river (and be one the first boat of the day because we left early due to his advice), multiple zip lines, hiking spots (Ugong Rock on the way back from the Underground river is a must!), and even helped us rent a motorbike for half a day. We felt like we were able to squeeze so much in and still have time for plenty of relaxation on the porch. The cottage itself is pretty basic, small kitchen with a bathroom, dining area, bedroom (with a bit of a firm bed) and a porch. A couple fans were definitely life savers! All in all the description fits it perfect, the place is cozy and clean, and perfect if you're trying to appreciate Palawan in a more homey way. Also: for a fee (totally worth it) we got home cooked meals from Doods sister in law that were amazing. We will definitely be back!!!!
Mathew
2016-06-19T00:00:00Z
Thank you for a great stay at your bnb. We loved the location and warmth of our host who were always around to assist with anything we required. The breakfast were especially delicious. Highly recommended bnb
Trevor
2017-03-21T00:00:00Z
Typ pokoje
Celý dům/byt
---
Typ nemovitosti
Dům
---
Ubytuje
4
---
Ložnice
Puerto Princesa, MIMAROPA, Filipíny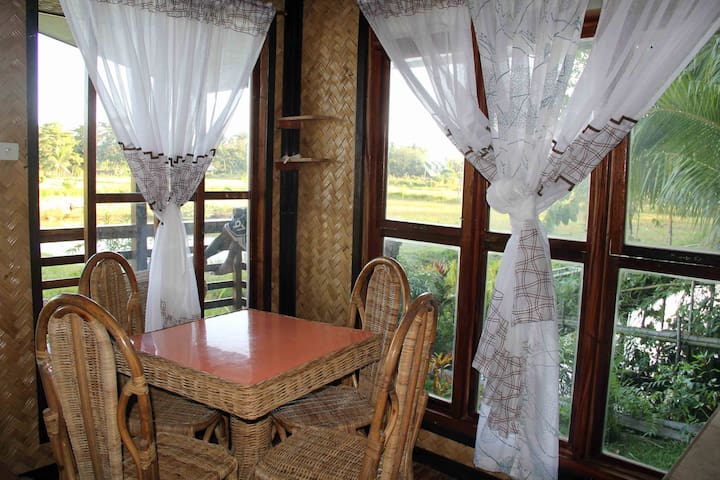 This is a self-contained apartment on the top floor of a unique charming three-story house built in 2005. There is also an adjoining tree house located in a mango tree and a middle bedroom is on the main floor. The property is 15 minutes from Puerto Galera and approx. 5 minutes by road to White beach. The 5000 sq meter property is a secluded jungle hideaway among the 2.2 hectare family property. The apartment enjoys a marvelous panoramic view of the jungle below and the South China Sea beyond.
Firstly, to save any confusion, we wish to let you know that once you have made your booking, regardless if you are one guest or nine, the site is then closed for any other persons wishing to make another booking during that same time period that you have chosen to stay.....Now...the huge suite takes up the top floor of the house and has high ceilings made of sawali and hardwood floors. In the secluded bedroom near the upstairs enterance there is a double sized bed. The suite can also accommodate two more people on another double bed located on the far side of the living room. There is a moveable privacy partition located there also. An additional made up double and single mattress are also available if needed. There are plenty of cupboards and storage spaces for you to use for your belongings and there are closests with hangars and we have extra comforters for you to use if you so wish. The large bathroom contains a shower with hot and cold running water. Soap and towels are provided. It has two enterances= one to each sleeping area. The living room area is open and spacious with over 100 glass paned windows all around. There is a big terraced balcony with magnificent views overlooking the jungle below and the South China Sea beyond. The kitchen is fully equipped with a two burner gas stove and fridge/freezer and a coffee maker and a toaster and all cooking and eating utensils. The kitchen sink and washing up and prep area are situated on the terrace. There are 2 dining tables available=one inside and another on the terrace. There is an outdoor cooking area=bbq, that the family use for cooking and that you are welcome to enjoy and make use of. Free breakfasts (eggs, toast, butter and jam, fruit/juice,coffee, tea with milk and sugar plus condiments) are also included during your stay. We also supply free bottled water. We are also connected to Wifi and you have free usage. There is a separate house built within a 100 year old mango tree with a double bed that can accommodate two additional people. It is connected to the main house by a safe and secure swinging rope bridge. We call it the Tree house. There is a very large additional bathroom with toilet and shower (cold water only) on the main floor that is made available for your own use. We have also created another secluded bedroom with a double bed on the main floor. There are fans and an automated cooling system is avaiable for upstairs and there is a fan for the tree house and a fan for the bedroom on the main floor. The upstairs suite is very airy with sliding and folding doorand folding windows. Being situated at a higher elevation we enjoy a steady flow of the cooler winds and breezes. All beds can be and are equipped with mosquito nets. On the main floor there is a television hooked up to a satellite dish that you are welcome to watch and enjoy. We have moveable music speakers that you can connect to if you wish to. In case of power outage we have a backup generator that can be put into use..... IMPORTANT to note that this rental would not be suitable for people who have difficulty with walking. The path from the road to the house is 100 meters, and it is steep in some parts and can be slippery in the rain. Hand railings and steps have been constructed for your safety and use along the walkway. At night flash lights are needed and we do supply them...... It is important to note that children 5yrs of age and younger stay for free. Children 6 yrs to 12 years of age stay for 1 / 2 price. Therefore when making your booking, for example, if there is 1 child only between 6 yr and 12 years of age do not include them in the booking and you can just pay us the 1 / 2 price in cash when you arrive. For example, if there are 2 children between the ages of 6 yrs to 12 years then when making your booking do so for only 1 extra person. Just do the maths thanks.,
.....Puerto Galera is the perfect destination for travelers looking for relaxation and comfort, or, travelers looking for adventure. Diving, snorkeling, sailing, island hopping, jungle trekking, jet skiing, golfing, tennis and kayaking are among some of the many activities you can do and enjoy in Puerto Galera. The Ponderosa road is dotted with local Filipino settlements and foreign properties culminating after 3 km at the Ponderosa golf club. We are located half way up the Ponderosa road opposite villa Malisimbo. Our residence is approximately 100 meters by pathway from the main road. White Beach is approximately 5 minutes away by local transport. Puerto Galera is approximately 15 minutes away by local transport and Sabang is approximately 25 minutes away by local transport. For grocery shopping, there is the Parkway supermarket in White Beach and two supermarkets in Puerto Galera, the Parkway supermarket and the bigger supermarket, Candava. There is a deli in White Beach and another in Puerto Galera that sell assorted European cheeses and meats. Our bread is baked fresh daily by a local New Zealand friend,Gary, and it is delicious. Local fresh fruit and vegetables shops are dotted about besides there being the larger market in Puerto Galera. There is fresh seafood for sale in White Beach and Puerto Galera and at Balatero pier. There are medical clinics and pharmacies located in White Beach and Puerto Galera and Sabang. There is a General Hospital in Puerto Galera and a smaller clinic. The PNB Bank and its ATM are situated in Puerto Galera. There is also an ATM machine located in White Beach. For changing money, the Candava supermarket offers very good rates. A very small community church has just been built on the Ponderosa road across from the entrance to the family property. It holds a service every Sunday at 6:30 am. We do have the local knowledge and experience and are more than happy to advise you on and answer any questions and queries that you may have regarding just about anything and everything concerning Puerto Galera and the surrounds during your stay. We have also compiled and put together a comprehensive information brochure for you that will be of assistance. Please make yourselves at home and enjoy your stay.
Je těžké hodnotit toto ubytování. Pro nás to totiž nebyl obyčejný pobyt u někoho cizího, ale pobyt u přátel. Tito lidé se nevěnují lidem jako k hostům, ale jako k přátelům. Jejich péče je naprosto úžasná. Za celou dobu jsme neměli jediný problém, starali se o nás od rána do večera. Rod nám zajistil motorku, byl s námi na korálovém útesu i třeba u původních domorodých obyvatel. Nercerita nám zase několikrát přichystala vynikající večeři. K tomu jsme od nich neustále dostávali spoustu cenných rad, věnovali se našim dvěma dětem. Dostali jsme třeba kokos, měli jsme pravidelný přísun pitné vody, chleba, másla i vajíček. Určitě jsem na spoustu dalších věcí zapomněl. Bonusem byl i nádherný výhled. Toto ubytování není pro ty, kteří chtějí pětihvězdičkový hotel u pláže s plnou penzí, ale pro ty, co chtějí poznat nepopsatelnou přírodu Filipín, vřelost místních obyvatel a zároveň mezi nimi dovolenou prožít. To ale neznamená, že nejsou k dispozici přenádherné pláže téměř bez turistů. Velkou výhodou pro nás bylo i to, že ceny jsou zde i pro naše možnosti, příjemné. Pokud si chcete udělat aktivnější dovolenou a třeba si půjčit i motorku, tak neváhejte. Bydlení u Roda a Necerity bylo jednoduše to nejlepší, co jsme do teď na dovolené prožili. Nedokážu si představit nikoho jiného, kdo by se k nám takhle vřele choval. Nevěřil jsem, že je možné odjíždět z ubytování a mít slzy na krajíčku, my jsme je tentokrát měli. Díky Vám. Michal s rodinou
Michal
2017-03-12T00:00:00Z
Our stay in that place is very interesting and memorable. Rod and Nerecita were very accommodating and friendly. Nice location with quick access to nice beaches in Puerto Galera.
jeffery
2015-10-13T00:00:00Z
Our stay with Rod & Necerita was better than we could have ever planned for. From the first time we messaged, they made sure we knew the best way to get to the island and the pickup at the pier went smoothly as we were picked up by family and enjoyed a quick authentic lunch before continuing promptly to their home. There is a short 2 minute walk from the road to their home, but this gives you a chance to wave at friendly relatives and neighbours on the way in and get used to the beauty of the property. I say get used to, because after you enter their gate you walk into an isolated eden of paridise. We were moved at how dedicated they and their family were to making their house and surrounding land an idyllic and yet easily maneuvered garden. The variety of plants, trees, flowers and fish is amazing and you could spend the whole time just enjoying their property. But then we entered our room... We had the whole top floor to ourselves, and room is an understatement. The room is comfortable, clean, large and offers all the ammenities an expensive hotel would offer, including an informative Info Book with foods they can cook, activities they can organize, games and even a library to choose from. It was always a lovely time waking and enjoying the best Batangas Coffee (free) and eating a fresh mango while the sun would rise in the west, greeted by the calls of the geckos, birds and singing bamboo. One of those sunrises is enough to refill your batteries. But the magic of Rod & Necerita's home did not end there. We loved joining them for a visit, while playing with their polite and friendly dog Spot. However, they allowed us to enjoy days in complete privacy as well, lettings us play with the illusion that we were completely private in the mountain jungle looking out on the beach and ocean. We could describe our stay without end, but it is now your turn to be positively surprised by this hidden gem. I will not say it was a once in a lifetime experience, as we will most definitely return again to stay with Rod & Necerita. We would also like to mention their wonderful family who made our stay perfect as well, Junior, Tita Mila, all of their lovely Grandchildren and their friendly helper Linda. We gained more than just an experience here, but also life long friends. If you haven't already, click on 'book now'! Sincerely Tyrel&Sarah Gidinski
Tyrel
2017-03-22T00:00:00Z
Perfect place in the green to relax and recharge with the most friendly and charming host Necerita. Host Necerita is the perfect host. She made our stay even more enjoyable and was helpful in every way. Rod was abroad but very good communication with him. The family is very friendly and hospitable. Booking We booked this accommodation just a few days in advance on. Communication with Rod was very good even when he was abroad at the time. He had many helpful travel tips to reach the place from Manila. Pickup on Mindoro was also arranged by the host. Accommodation The room is very bright and spacious and has a perfect view over the hills woods and bay. It is kept perfectly tidy by the owners and was cleaned every day. Towels and linen were changed regularly. The room is big enough for many people... we were just 2 and feeling great there. There is no aircon but in November the climate was perfect without. We didn't miss it. We didn't even use the fan much. Nature We left all windows and doors open in the night. Of cause some insects (mosquito nets are there) and the occasional bird or bat will come in for a visit. Be aware that the place is in a very beautiful nature setting. Access There is a short hiking trail through the woods to reach the place. Make sure you have a minimum level of fitness. If wet it can be slippery. Allow some extra time. Don't wear your best shoes. Baggage was transported by our hosts family. Make sure you have individual transport like a motorbike. It's not far to white beach on the road 10 min by motorbike and maybe 45min to Sabang. The road itself is in good repair. Food Everything is provided to prepare a healthy and jummy breakfast on the terrace while enjoying the view. Necerita is also a very talented chef so try out some of the dishes for dinner. Any extras were made possible too. We will definitely come back and recommend this place to anyone who likes a quiet beatiful hideaway with stunning views and perfect hosts. Thank you(URL HIDDEN)
Marcel
2016-11-09T00:00:00Z
thanks to our host we had a wonderful vacation. we were with 8 guests. 5 adult and 3 children. the father of my wife couldn't walk but even that was no problem. of course it's better that everybody can walk. mistake of us ,we didn't read the full explanation. we've delicious dinner. all the activities were unforgettable. especially snorkeling = seahorses, seaturtles, millions of fish. in the room we had bats , firefly and many other the kids loved it. a real jungle experience !!!
Kev
2016-07-27T00:00:00Z
The stay ad Rod and Nelly was just great we had wonderful time. The place was up the mountain with a perfect view the room was spacious and complete with kitchen. The breakfast basic butt sufficient and we had Nelly cook for us and it was perfect, it's not easy to find a good meal in the Philippines for a good price so just eat ad home with Nelly. If you like to snorkel take the trip with Rod and do the trip on a private boat. And I have been around the world diving and snorkelling and can guaranty you this snorkel trip I will not forget; it's all still alive and looks great. If you have been underwater you now the coral is dyeing all over butt here it's all still there and you don't have to go to a remote island in the pacific. Just one thing makes sure you calculate the motorbike in your budget because you don't want to do without it. Bastiaan & Elles.
Bastiaan
2015-11-10T00:00:00Z
If anything, the place is more beautiful than in the photos - and Nellie and Rod and the family the perfect hosts. They gave us all the information we needed before we arrived and then nothing was too much once we got there. All with a relaxed smile. Ill be sure to go back for longer next time!
Luke
2016-06-14T00:00:00Z
Well all have been said before...and we can only affirm. We've stayed 6 nights a Nelly and Rod's, and we loved every single minute of it! We even met Rod his brother who came over for holiday 2 weeks. My husband even played golf at Ponderosa (not far from Rod's place) with them. A great course and for the non golf players, a great terrace with the most beautiful view and good drinks. Because we lived above Nelly and Rod we got a good idea about the Filipino way of living (with a few grand children of Nelly). We've stayed in for dinner almost every night...why leave if you have a billion dollar view? The outside kitchen is great. The bed is comfortable, you don't miss an airco. The wind gently flows in the room (so romantic with a few candles lightened). The only complaint we can think of, is the shower, but Rod will fix the the leakage soon. Necerita (Nelly) cooked us dinner twice...mmmmjummy, and for a very decent price. Breakfast: they give you eggs, very delicious bread, coffee, tomatoes etc, so you can cook your own. We liked that a lot! Sitting on the balcony, sip coffee for hours...(that view!!). We rented Rod his scooter and crossed back an forth to Sabang, White Beach, (not our coup of tea; too Boracay like unfortunately), Puerto Galera and many other places. The roads are full with holes, but it doesn't matter, the nature is so so overwhelming beautiful! We dived with South Sea divers, which is operated by an American. We liked diving @ Puerto Galera a lot. What we really did not like (this has nothing to do with this Air Bnb) is the fact that there are far too many dive schools in Sabang. So there is not a lot to do for most shops. Everybody seems to be bored out of their heads. That gives Sabang a slightly 'uncosy' feeling. The pollution (garbage everywhere: in the streets, water, the beach) is just horrible. Most people there seem to be unemployed, hang around, harass tourist: "Mam, you want a boat?" "Mam, you need scooter?" "Mam, you want a necklace?". All the time. I could not stop thinking, common people, grab a trash bin and go clean this place and make it a paradise again. They just don't seem to understand that the place will go down the drain if they are not going to invest in sustainable tourisme. It seems such a big problem for many, many places in the Philippines to keep things need. Trash, trash, trash everywhere. Although I understand that poorness means living by the day, but I think it's an too easy excuse. But Rod and Necerita are very keen hosts who take care of the environment and there garden is so extremely well taken care of. So do not hesitate, if you want a truly authentic place to stay, this is it!
Elles
2016-03-17T00:00:00Z
Typ pokoje
Celý dům/byt
---
Typ nemovitosti
Dům
---
Ubytuje
9
---
Ložnice
Puerto Galera, Oriental Mindoro, Filipíny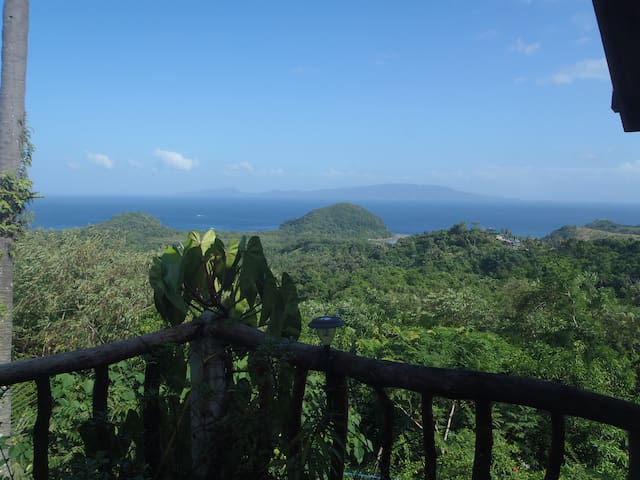 helt ny luksus villa, 8 soveværelser, 10 badeværelser, over 6.000 ft af indendørs boligareal. 18 meter swimmingpool med fantastisk udsigt over boracay. 4 fuldtidsansatte medarbejdere, herunder personlige van og chauffør. fantastisk udsigt over boracay
Dette er et helt nyt hjem, med 8 soveværelser og 10 badeværelser og fem fuldtidsansatte medarbejdere. vi har forsøgt vores bedste for at tænke på alt, men hvis vi har glemt noget, så lad os vide, og vi vil gøre vores bedste for at sørge for dig. billeder af huset taler for sig selv, men det er vores personale og service, der virkelig vil give dig en uforglemmelig ferie. 5 soveværelser har en kingsize seng og 2 soveværelser har 2 dobbeltsenge og et soveværelse har en dobbeltseng. alle værelser har eget aircon, 40 "tv, eget badeværelse med håndklæder, sæbe, shampoo, hårtørrer og privat balkon. der er en stor 18 meter infinity swimmingpool med spektakulær udsigt over øen. stort spisebord til 14 personer, fuldt udstyret køkken og stor grill. stuen har en 60inch tv og også et udvalg af brætspil. Der er et musikanlæg med højttalere i hele hele nedenunder område og udenfor ved poolen. Vi har et udvalg af musik, eller medbringe din egen. enhver enhed, der har en standard jack stik / hovedtelefonstik vil arbejde. Vi har wifi i alle værelser, plus en anden forbindelse fra en anden internetudbyder nedenunder i tilfælde af en ikke fungerer (husk dette er en lille ø) huset er beliggende i et roligt boligområde, som ligger kun 10 minutters kørsel til det vigtigste område af barer og restauranter. huset kommer med en fuld tid van og chauffør på vagt 24 timer i døgnet. det omfatter også 4 fuldtidsansatte tjenestepiger. den ansatte er der for din fordel, vil de lave mad, rene og gå på indkøb for dig eller med dig, hvis dette ønskes. bemærk at vi ikke har en professionel kok, maids kan tilberede basale fødevarer, BBQ og vil med glæde hjælpe dig med at gøre din egen madlavning, hvis du ønsker. Vi har også et udvalg af take away menuer, pizza osv, at personalet vil være glade for at bestille for dig. hvis du ønsker en professionel kok for en særlig middag, så lad os vide på forhånd, og vi vil forsøge at reservere en afhængigt af tilgængeligheden. personalet kan også bestille restauranter eller aktiviteter for dig, bare fortælle dem, og de vil være glade for at hjælpe. hvis du foretrækker dit privatliv, skal du bare fortælle personalet og de vil kun komme når anmodet om. de bor lige under huset, så er på vagt 24 timer i døgnet. vi holder et stort udvalg af basale fødevarer, te, kaffe, mælk vin, øl, sodavand osv, som du kan bestille fra os til kostpris, eller andet, du kan goto mall og gøre dine egne shopping med hjælp af personalet, hvis påkrævet. vi har også en 24 hr back up generator i tilfælde af strømudfald. hvis du har nogen specifikke anmodninger af ting, du vil have os til at give ved ankomsten, så pls bare send os en liste og vi vil gøre vores bedste Interaktion med gæster Vi har 4 fuldtidsansatte medarbejdere, der bor under huset, og du kan kontakte 24 timer i døgnet. eventuelle problemer, du kan også kontakte mig 24 timer i døgnet
Stephens villa is everything as described, It's an amazing abode in a stunning location. Every single member of staff is incredibly friendly and helpful and go so far out their way to make your stay as comfortable as possible. We were a group of 12 and staying in the villa was the highlight of our trip to the Phillipeans. I can't rate this highly enough 5 star all the way
Reece
2017-04-05T00:00:00Z
进入房间前的道路还是临时道路,条件比较差。但是转弯进入房间后,在眼前的是一幢非常漂亮的房子,非常惊艳,更别说还有非常亲切的管家和司机们。孩子们天天泡在泳池里,开心的不得了。 假期中也遇到过几个小问题,房东和管家们都非常快速的帮我们解决了,完全没有影响到全家的度假心情。 我们非常幸运的选择了这套房子。希望下次度假还能再来~
Eric
2016-11-02T00:00:00Z
Overall housing condition is really good, maybe even exceed my expectation. The villa is really spacious where u can fit in more than 20 persons. Swimming pool is in good condition as well. Stephen is very thoughtful, he prepared everything for us, even beers, juices and snacks as well. Thanks to Belle and her teams for taking us so well, preparing breakfast and arranging all the activities for us. The only downside of the villa is the location and the bathrooms. Two of the bathrooms smell bad and the water pressure of shower is too low. However, we are very enjoyable during the stay. Definitely will come back again ;)
Renee
2017-03-06T00:00:00Z
Can't recommend this Villa enough, the place was incredible! A group of us from the UK stayed for 3 nights and wished we had booked for longer! The place is exactly as the photos show, if not better. Huge amounts of space and the staff treated us like royalty, cooked for us day and night and the driver was on call whenever we needed. If your visiting Boracay and looking for somewhere to stay, look no further, this is the one.
Josh
2017-01-04T00:00:00Z
我们的整个旅程十分完美,朋友们十分肯定我定了这套别墅!在前往的路上,我们觉得很崎岖,途经环境不好。目的地完美,我们到了之后都尖叫了,太美了,看出去泳池和大海连成一片的风景很棒,房子里工作人员很友好,泳池也注重清洁,第一天醒来就看到泳池在换水!冰箱的饮料充足,都是很公道的价格,没有额外加价,我的朋友们天天派对,音箱效果也很好!第一顿晚饭我们是工作人员煮的,但是我们吃不惯!后面几天都自己diy食物,总之这套villa很成功,我们可能会再来的…
Cecilia
2017-01-21T00:00:00Z
Everything is good
Answer
2017-02-02T00:00:00Z
We were one week and had a great time. The villa is wonderful and the stuff was excellent. We will come again for sure
Moshe
2017-01-31T00:00:00Z
Awesome Villa. Boracay is not known for the high quality residences or resports, but this private villa was one of the newest, cleanest, most spacious villa I could find in the island. Located about 10~15min drive from Dmall, in a secluded neighbornood up on the hill. Sensational hilltop view that looks down upon the White Beach, with huge infinity pool. We were group of 20 people and all it needed was some extra bed - the host had no problem adding 4 extra beds, and everyone slept comfortably. Lennibelle, the butler, spoke great English and catered all of our needs - the minibar had enough beers and beverages that could satisfy our thirsty colleagues, and the price was eveb cheaper than what we would have paid in the local supermarket. The breakfast, and BBQ dinner was also just great, and so much cheaper than eating outside. The guide who arranges the tours and activities, Aljohn, was also extremely resourseful and nice. 15-seater Van is dedicated for our use 24/7, and it is probably the nicest means of transportation you can find in Boracay. Otherwise, you end up in thr tricycles. The staff resides in the lower floor at the main gate, and they are guarded by dogs as well - more than enough security. Our flight was late night, and we were allowed to stay at the villa until 7pm when we had to leave to Kalibo airport. All in all, our colleagues were extremely satisfied and picked this villa the best among the 3 different villa we visited in Phuket, Danang, and Boracay.
Sean
2016-12-05T00:00:00Z
Typ pokoje
Celý dům/byt
---
Typ nemovitosti
Dům
---
Ubytuje
16
---
Ložnice
Malay, Western Visayas, Filipíny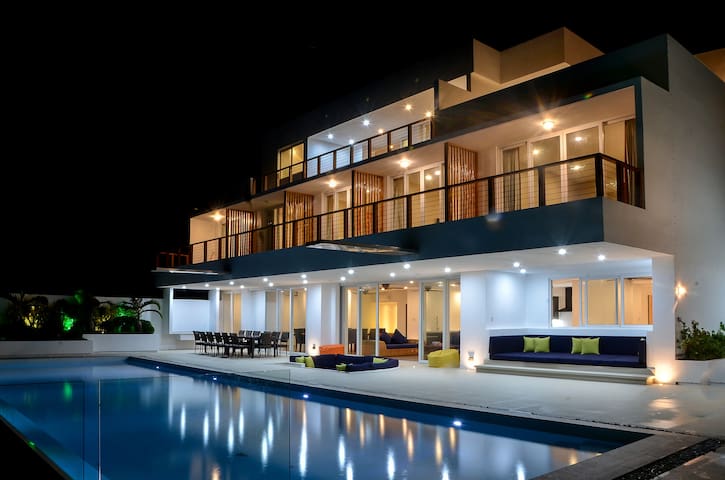 Datenschutz, drei Schlafzimmer mit Toilette und Dusche. Zimmerreinigung. Die besten Schnorcheln und Tauchen am nächsten Manila. Andere Wassersportarten zur Verfügung. Kajak fahren, Segeln, Inselhüpfen, Windsurfen, Wakeboarden, Unterwasser-Makro Fotografie
Tauchen & andere Wassersportdestination Nähe zu Manila. Mit Schwerpunkt auf die Makrofotografie, tief & Strom Tauchen.
Sehr privat und ruhig. Blick auf mehrere zugänglichen Inseln. Coral Bildung direkt vor.
Fantastic place for rest and relaxation. I didn't meet Marian as she was away at the time- but she was very quick to respond and information she gave was complete and detailed. Marian's place was exactly how it is described. There seems to be a continuous effort to keep the place in good order through regular maintenance. The staff were all great and very helpful. Snorkeling, kayaking & lazing in the waters kept us all busy- complete equipment down to the aqua shoes. My mom of 82 managed the steps quite well. My main concern when I booked was the absence of air conditioning especially due the the heat over the past months... it wasn't an issue as the house is designed for wind to pass through and there were about 2-3 electric fans per room. More than 1 per person! I would definitely recommend this place and would come back!
Leah
2016-06-04T00:00:00Z
This is a beautiful spot! Perfect getaway for 6 adults, a 3 year old and a 3 month old. There is nice shaded area by the water to relax and a big shed with tons of water sport equipment. The 2 helpers were great and the property well maintained. Marian was fast to reply with any questions or clarifications. The steps leading down to the house are a bit tough but Darwin, one of the helpers, is eager to help carry things. We'll definitely go back!
Catie
2016-09-12T00:00:00Z
Marian was a great host and we felt at home immediately. Our family had a wonderful time in this secluded property off the touristic tracks that she and her husband have turned into a little paradise - very close to nature and the sea enjoying watersports of all kinds. We will definitely come back.
Matthias
2015-01-07T00:00:00Z
먼저 단점은 개인리조트라 야간에 찾기 어렵습니다.리조트까지 경사진 계단이 많아 노인 및 유아 동행시 고려하시는게 좋을듯 합니다 경치,서비스, 카약,스노클 모두 좋았습니다 마지막으로 와이파이 안됩니다
태현
2015-09-07T00:00:00Z
This venue is ideal for groups that value their privacy and exclusivity. The place is amazing and a hidden treasure and was downright splendid. A perfect place to stay, calm and (URL HIDDEN) was far better in person. My only regret was that we only booked for two nights. Although I wasn't able to meet Miss Marian, communicating with her was a breeze. The caretakers, Nelson, Darwin and ate Cecile was very helpful. Even Ariana and her dog Ramsey was very accommodating and friendly. We'll be coming back for sure and for a longer stay next time.
Carla
2016-09-05T00:00:00Z
Me and my friends had a fantastic weekend in Marian and Rudy's beach house. Apart from the ants (well because - nature), everything else described here was spot on. This beach house easily bested all the hotels we've stayed at in Anilao in terms of value for money - the place is well maintained and secluded, we lounge and did water sports & snorkel - we even saw a see turtle! What made our stay extra special was Ate Cecil, for the delicious meals she prepared (we bought all the fresh ingredients from the anilao port talipapa), and Darwin, who helped us set-up our gears. Especial thanks to Rudy for the crash course on wind surfing. :) We will definitely come back!
Ivin
2016-10-24T00:00:00Z
기대 이상이었습니다! 사진으로 보는 것처럼 독립된 세 개의 방이 있어 저희처럼 세 그룹이 함께 머물기에 딱 좋은 구조였습니다. 방안에서 보이는 바다와 밤하늘의 별과 달, 파도소리... 다른 사람들의 방해를 받지 않고 집 전체를 쓸 수 있었고, 집 앞 바다도 종일 우리들만의 차지였습니다. 무엇보다 주인 부부의 친절함이 마음을 편하게 해주었고, 특히 Rudy와 그의 친구들이 카약과 윈드서핑 레슨까지 무료로 해주었습니다. 식재료를 직접 준비해가면, 요리를 담당하는 직원 2명이 맛있는 음식을 만들어 줍니다. 필리핀식으로 조리한 다양한 음식을 맛보는 재미도 좋았습니다. 음식을 주문해서 먹을 수도 있었어요. 결론은 멋진 환경에 독특한 인테리어의 멋진 집, 더 멋진 주인장 부부 덕분에 행복한 휴가를 보낼 수 있었습니다. 꼭 다시 가고 싶은 곳입니다. Marian & Rudy 고마워요. 곧 다시 만나요!!
주희
2014-10-26T00:00:00Z
Our stay was lovely. Secluded house right on the water. Snorkeling right out in front was super convenient, and a boat can be arranged to visit beaches nearby, which made for a fun half day. The helpers, Cecilia and Darwin, were great, from having breakfast ready when we woke up to making us late night snacks they really made our stay comfortable. We brought lots of food, card and board games etc and had a great time relaxing there.
Benjamin
2015-10-28T00:00:00Z
Typ pokoje
Celý dům/byt
---
Typ nemovitosti
Dům
---
Ubytuje
6
---
Ložnice
Mabini, Batangas, Calabarzon, Filipíny
Charming 2 ložnice dům plně vybaven v nejklidnější části letoviska Puerto Princesa. To je ideálním místem k odpočinku po dni stráveném prohlídkou města nebo plavání. Budeme rádi zodpovíme případné dotazy.
Vila se 2 ložnicemi, obývací pokoj, kuchyň a špinavé kuchyně, WC a terasa bungalov. Plně poskytnout vzduch con, elektrický ventilátor, připojení na internet, TV kabel, teplou a studenou vodou. Pet nejsou povoleny. Dobré pro 4 osoby Pro prádelny nebo služby čištění, příplatek. Mnoho dostupných aktivit, podzemní řeka, skočení ostrova v zálivu Honda, El Nido cesty a další !!! (URL HIDDEN) Klidné okolí, areál Microtel IT cca 5 minut chůze od domu, kde si můžete pochutnat na vlastní bazén a soukromou pláž. Velký nákupní centrum Robinson asi 10 minut tříkolky, nový supermarket San Jose příliš offert čerstvé mořské plody, zelenina, ovoce a mnoho místní výrobky. San Jose supermarket mají autobusové a van stanici, která může přinést všude kolem Palawan. Zdarma vyzvednout z letiště a welcome drinky
Obytnou a velmi klidná lokalita, místo klidu. Microtel resort na 5 minut, kde si můžete vychutnat pláž a bazén. 10 minut do Robinson Mall. 15 minut na letiště, centrum města a nočního života.
Très belle maison avec un très beau jardin pour se reposer. On recommande ! :)
lucas
2017-02-15T00:00:00Z
Cynthia's place is in a beautiful location, close to everything you need - including the beach. Great host, always accessible if needs be and very helpful. Would recommend to all...
Carl
2016-12-23T00:00:00Z
This property is as outstanding as it looks. It is private, but the caretaker and his family are always present. The interior is large and comfortable, and decorated with attractive pieces of art. The kitchen is well equipped. The owner, Cynthia, had some basic food items in the fridge so that upon my late arrival I had bottled water, fruit, bread, and eggs for breakfast the next morning. Also very thoughtful was the pick-up and drop-off at the airport. She also gave me a ride into town a couple of times. Every day she came by to check if I needed anything. There is a outdoor dining area with a nice table and chairs for 6 for dining al fresco. There is a BBQ grill, charcoal provided, and hammock. There is sattlelite (SIC) TV and a hard wired desk top computer. The wi-fi also works just fine. You are about 15 minutes via motor scooter from the center of Puerto Princesa and about 10 minutes from an excellent super market and mall. You can go to the beach at the Microtel or pay PHP 300 per day (about US $7) to use their pool. If you need hot showers, the water is at best room temperature, but that did not bother me, given the hot weather outside. Although there is air conditioning, I never used it. The many screened windows and 2 fans provided plenty of ventilation. The property, location, and Cynthia's thoughtfulness would lead me back to this property when I return to Puerto Princesa.
Thomas
2014-12-01T00:00:00Z
Very good experience! Communication with Cynthias was excellent and thr cottage is ideal! A bit hot during the day but very peaceful! In a 10min trycicle ride there is a big mall with a big supermarket! The kitchen has everything you need! I would definitely recommend it! Thank you again Cynthia
Marlene
2015-05-10T00:00:00Z
Accommodations were great. This was the first of two stays with Cynthia. She picked us up at the airport on time and was helpful in recommending spots to eat, shop and go out. The location has good wifi and Mark was helpful with anything we needed assistance with. He lives next door to the property with his family. He also gave us rides on his tricycle into town. Highly recommended!
Minh
2015-12-24T00:00:00Z
This was out first port of call in the Philippines and an ideal setting for northern europeans like us to get used to the climate and the place. Our transport and local trips were well organised by Bonini and Mark. including a lovely trip to Honda Bay and Pandan Island. There's a handy corner kiosk nearby for snacks but we found no local shops within walking distance. The shopping mall - Robinsons - which has everything you need for self-catering is a 15 minute motorcycle tricycle away. The villa is well designed and furnished and the garden is very pleasant. Cynthia very helpfully arranged accommodation for one evening in an excellent Puerto Princesa bed and breakfast on our return leg from southern Palawan. The nearby beach is great if you are into kites and wind surfing but wasn't quite what we had expected. We just wanted a swim and it's a long way out before there's much depth. The admission charge to the beach includes a voucher for use at the bar. The locals, as we found throughout our stay in the Philippines, are very friendly indeed.
Lorraine
2016-02-16T00:00:00Z
This was the perfect getaway - quiet, rural, comfortable. We were able to walk to the beach within 10 min each day. Cynthia and Mark were easy to get ahold of if we needed anything. Everyone in the area was super helpful and friendly. I spent 4 nights with my 2 year old and we had a blast - the beach is perfect for kids. The Microtel allows you to use the pool and beach for 300 pesos. The Emerald Beach Club is less nice but a tad bit closer and 140 pesos. Affordable, good food available for purchase at each. The house had everything we needed. Cynthia was kind enough to provide a few basics for breakfast on arrival, and even stopped at the grocery store with us on the way to the house after picking us up from the airport. She could not have made our trip easier! A very generous host!
B
2016-07-19T00:00:00Z
We had stayed on two separate nights to book end our trip to Palawan. We enjoyed our stay at the Villa San Manuel. It was great for two couples and had everything we needed including A/C, pretty solid wifi, and a full kitchen/living area. We took advantage of the transport in/out of town in Puerto Princesa with Mark's tricycle which was convenient to go to the mall, restaurants, bars and markets. We highly recommend staying here if you're interested in a place in Puerto Princesa! We really enjoyed Cynthia's help with everything. She took us from/to the airport and helped arrange for transportation to El Nido. She also helped us with our permits to the Underground River. One of our favorite moments was when she helped arrange for a fantastic private dinner outside in the gazebo/patio on our final night. The food and local service was excellent!
Minh
2015-12-28T00:00:00Z
Typ pokoje
Celý dům/byt
---
Typ nemovitosti
Dům
---
Ubytuje
4
---
Ložnice
Puerto Princesa, MIMAROPA, Filipíny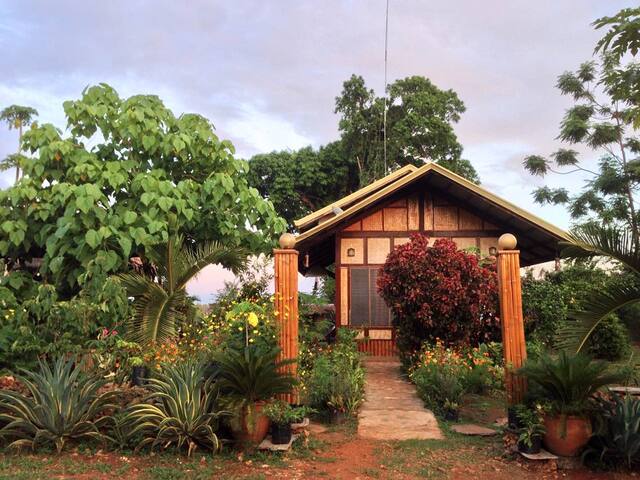 Beach house / casita located at a 1000 m2 lot area private property by the ocean. It is a beach front property privately owned.
What makes my listing unique is the fact that it is located at a very private beach cove .
My neighborhood has a mix of local folks and private property owners. Some are fishermen and some are beach home owners.
Place was great, breathtaking view, clean, very private. Caretakers were very accommodating and friendly. Very suitable for a family getaway.
Jhun
2014-05-05T00:00:00Z
We only booked an overnight stay and it was enough for me to want to come back already. :) The sun and the sand, the stars at night, the private beach, I can go on and on. The beach is better for snorkeling than swimming but it was no less beautiful. Communication was smooth and hassle free with maria. Thank you very much. :) I hope to be back very soon. :)
Francesca
2016-03-14T00:00:00Z
We stayed at Maria's place last April 16-17 2016. It was a quiet and private place at the beach front of Calatagan. Maria and JV are very hospitable hosts. They gave us the needed guidance on moving around the place and even contacted the neighboring resort for us to have a good boating experience for the family. They have very trustworthy helpers that we even did not need to lock-up our doors when we went out to the beach. They also prepared a nice bonfire for us at night which we really appreciated. Maria's husband brought us to the snorkeling area of the beach and even taught the first-timers on how to snorkel. The whole family enjoyed every bit of our stay. This place is highly recommended for those who want to have a quiet and private experience for the family. We will definitely consider going back again! Thank you Maria and JV!
Albert
2016-04-18T00:00:00Z
This place is the perfect place to relax.. the place is spacious, clean and great, we enjoyed our stay in Casita's beachouse.. Ms. Maria and Sir. JV are very accomodating, even their staffs.. lastly, the seaside breeze makes the trip worthwhile.. Many thanks Ms. Maria and Sir. JV for letting us stay in your place even we had a bit problem at first :) God bless!
Lexie
2017-04-02T00:00:00Z
My family and I booked Maria's place for one week. We loved it so much we extended for another week! The listing's description is accurate. Maria is always polite, friendly and responsive to my emails and inquiries, such as the directions to her place, amenities, neighborhood, and things to do and visit in Calatagan. When we arrived we were greeted by the friendly caretaker Gemma. Gemma is polite, sweet, helpful and attentive to our needs. She kept the place clean, washed and changed our beddings, and made sure were comfortable. We were so happy to have Gemma's company we invited her to join us for dinner. Meeting our hosts Maria and her husband were so precious. They are kind, hospitable and truly amazing people. They prepared for us a welcome tuna sashimi dinner and then seafood lunch the next day. They even let us use their swimming and snorkeling gear, which we are truly grateful. Maria went above and beyond. She coordinated and referred a trusted tricycle driver, booked our trip to the lighthouse, and referred a tour guide and found us cheap boat rental. Her place is spacious, well kept and the private beach is only steps away and just outside of the property. The hot showers were great to have and the air conditioned room kept us cool. We were comfortable and always felt safe. The house is located in a quiet, clean, private, safe neighborhood, and can be compared to as the "Malibu" of the Philippines. The area is called Cape Santiago. The beach is clean to swim at (though we spotted some trash, but they didn't bother us). The water is always shallow during the day. We enjoyed amazing sunsets, there was cool breeze from the sea, and the scenery is truly divine. The area is famous for snorkeling and deep sea diving where you will find beautiful corals and so many kinds of fish. We swam everyday, beachcombing, just watch out for sea urchins and venomous sea snake! There are local fishermen who will sell their seafood, but make sure you pay and receive fair deal. Overall our stay at Maria's place was great experience and we really enjoyed it. We made special memories we will never forget. We met very nice people who are now our friends. Thank you very much Maria, JV, Gemma and Ging. We hope to visit soon.
Victoria
2015-02-03T00:00:00Z
Great place to relax, unwind, recharge. The place is very cozy, with so many hammocks where you can just read a book, write a blog, or chat with friends. Also, the beach and a lighthouse is very accessible thru the gate at the back, so swimming or enjoying the scenic view is so easy to do.
Geegee
2017-01-08T00:00:00Z
We spent two nights here. it was worth.
Toshiyuki
2014-10-05T00:00:00Z
This place is one of the best-kept secrets of Calatagan, and I hope it remains so. The architecture of the place was ingenious, witty, and refreshing - I felt like I was in Cabo! Our casitas was quaint and homey, yet very comfortable. The beach is a few meters away from the property, and it is full of marine life. There were school of fishes, corals, starfishes, and even a kelp forest! We just spent the whole morning just snorkelling and exploring the sea. The hosts, Maria and JV, were very accommodating, friendly without being intrusive, and personally, one of the coolest couples I've met. :) This vacation was one of the most peaceful, enjoyable, and relaxing we've had. We will definitely be back soon, hopefully in the next couple of months! Thank you so much Maria and JV, and also to your whole staff! We definitely had fun! :)
Ten
2015-05-19T00:00:00Z
Typ pokoje
Celý dům/byt
---
Typ nemovitosti
Dům
---
Ubytuje
8
---
Ložnice
Calatagan, Batangas, Filipíny
Dieses geräumige Ferienhaus liegt in einer ruhigen Gegend, am Rande von Coron Stadt gelegen (ca. 5 - 10 Min. Per Dreirad zum Stadtzentrum). Das Haus hat drei Schlafzimmer, zwei Badezimmer mit warmen und kalten Dusche (Fön vorhanden), ein Wohnzimmer und eine Küche mit separatem Essbereich, die 6. Die Schlafzimmer bietet Platz für alle ein Kingsize-Bett, eine Klimaanlage und Bettwäsche, Kissen und Handtücher werden gestellt. Die Küche ist komplett ausgestattet mit einem Kühlschrank, Gas / Elektroherd, Reiskocher, und Warm- / Kaltwasser dispencer - Küchentücher sind vorhanden.Das Lounge einen gemütlichen Sitzbereich, einen Flachbild-TV mit DVD-Player, WLAN-Verbindung. Das Haus ist mit einem Generator ausgestattet Schlafplätze: 6 Erwachsene + 3 Kinder Strom und Wasser sind im Mietpreis enthalten. Waschservice, Einkaufsservice und Koch kann gegen Aufpreis arrangiert werden. Fragen Sie einfach den Eigentümer oder Hausmeister bei der Ankunft. Inselhüpfen-Touren können von Hausmeister organisiert werden.
Le logement correspond tout à fait à la description et aux photos. Il convenait très bien à notre famille de 6 personnes. Il est situé en dehors de la ville même de Coron, ce qui n'est pas un souci en soi : beaucoup de tricycles passent en contrebas et prennent environ 10 php par personne pour aller jusqu'au port. En revanche, ils ne s'aventurent pas sur la montée (assez raide) en terre pour accéder à la maison, donc ce bout est à faire à pied. Il y a deux types d'hébergement à Coron : des resorts pratiquant des prix très au-dessus de la moyenne asiatique, ou des chambres en ville exigües et exposées au bruit. La ville même de Coron n'est pas agréable : bruit, trafic chaotique, pas de trottoir, apparence de bidonville... Elle ne présente que l'intérêt d'avoir le port et les bateaux qui amènent les touristes sur l'archipel local. Ainsi que le marché local avec les produits frais. Donc autant être en dehors de cette agitation pour se reposer d'une journée de bateau, voire faire un break, la maison est assez spacieuse. Très bons aspects : la literie grande et confortable ; la télé équipée HDMI avec chaînes cablées et lecteur DVD ; le petit jardin avec panier de basket. A perfectionner : cuisine sous-équipée si on veut faire autre chose que des petit-déjeuners (pas de micro-onde, hotte ne fonctionne pas, pas de liquide vaisselle d'ailleurs introuvable en ville), mais ce n'était pas un souci principal. Nous avons apprécié l'organisation du transport depuis et vers l'aéroport par Jen, cela coûte 150 php / personne dans un van affrété. A faire parce qu'il n'y a pas vraiment d'autre solution. Nous avons moins aimé le voisin (ou ami ou cousin) qui s'est présenté dès notre arrivée pour vendre ses services de batelier, et est revenu plusieurs fois à la charge. Nous aurions voulu nous installer tranquillement avant de décider, et au cours de nos rapides recherches, nous avons compris que le prix est plus intéressant si on s'adresse directement au port.
David
2016-04-04T00:00:00Z
Me and family enjoyed our stay at NVH Vacationhome. Jen and her husband welcomed us immediately and made us feel at home. We felt like we can ask them anything, and we did. Jen helped us plan our itinerary without no questions. Definitely will come back and recommend. The house is so nice with working A/C and an awesome bathroom. I love love the master bathroom.
Sheena Jay
2016-06-02T00:00:00Z
The Nanay Vacation home was a unique experience in Coron. In a town that is full of tiny backpacker hotels and expensive resorts, this option was the best DIY option. With three bedrooms and two bathrooms, there is enough space for a family or a group of friends. Each bedroom as A/C and the caretakers were exceptionally friendly. They arranged the cheapest door-to-door transport to and from the airport possible (150/person). I highly recommend ****
Rafael
2013-04-22T00:00:00Z
Having visited a good chunk of the Philippines, I think this vacation home is definitely ranked above average. It has impressive views, is clean, well-maintained, and for a location this remote, provided adequate western-like comforts: a good value for the money. The care taker, Ate, was very warm to us, hooked us up with vacation packages, and told us where to go out and eat. I think the only issue I could remember during our stay was the blackouts at night - in fact, every night and sometimes in the morning and afternoon as well. Let me be clear that this is a citywide problem: the entire island suddenly goes dark. Other than this, the home is as described, plus a little more on the side. I will definitely stay again.
Carlo
2014-06-06T00:00:00Z
The house was lovely and well-kept and the hosts were so helpful and friendly - they will make all the arrangements for you - from tours to shopping, to preparing dinner to scheduling rides, all you have to do is show up and have a great time. We arrived as guests but left as friends. We could not have imagined a better experience and we hope to be back soon.
Paulyn
2015-07-15T00:00:00Z
It's a wonderful place for people with child. Quiet and beatiful,it's also convenient to go to the town by tutu. Jen is very nice to help us to arrange the tour. Her son and daughter are so cute. Other staffs are nice too. We will live here agian when go to Coron next time.
Chiara
2015-10-06T00:00:00Z
NVH is a lovely vacation home near to Coron. It's 5 mins by tricycle and 15 mins on foot. We found it ideal to walk into Coron town (downhill) and get the tricycle back to the home (uphill). There is air conditioning and fans in all the rooms. The owners of NVH were super helpful when the electricity broke and also helped fix an issue with the satellite tv reception. A really nice place for up to six people.
Tim
2015-12-22T00:00:00Z
Jen was a welcoming and helpful host. She helped us arrange island hopping and trike rides to town (which is quite close and cheap). The apartment was clean and very spacious. The wifi was not great in Coron in general but I believe it was related to the typhoon that had just occurred so might be better normally. Overall great stay.
Melissa
2015-10-25T00:00:00Z
Typ pokoje
Celý dům/byt
---
Typ nemovitosti
Dům
---
Ubytuje
9
---
Ložnice
Coron, MIMAROPA, Filipíny
Sebuah rumah pantai pribadi yang menyambut tamu yang mencari untuk melarikan diri dan relaksasi. Hal ini menawarkan kenyamanan sebuah rumah dengan layanan pribadi dan suasana dari sebuah resor pantai. Beachfront. Nikmati megah matahari terbenam, pandangan dan kehidupan laut yang kaya.
rumah pantai kami sangat ideal untuk keluarga atau kelompok mencari intim tempat untuk istirahat dan relaksasi. Kamar kami, area umum dan dapur baik disimpan dan menawarkan kebutuhan dasar bagi para tamu untuk memiliki perjalanan yang tenang dan nyaman. Kita dapat mengakomodasi kelompok setidaknya 16 pax hingga 22 MAKSIMAL pax saja (termasuk anak-anak).
lingkungan kami terselip di kuno Barangay Bagalangit, Mabini Anilao Batangas dalam campuran keduanya properti perumahan dan resort menyelam pribadi. Kami adalah properti tepi pantai sehingga akses ke pantai hanya melempar batu jauh dari rumah pantai kapan saja Anda inginkan!
We had a very good stay in diver joe's. Marissa and Meanne made us feel that we were in the comfort of our own home. We love them. The place is so relaxing. The sound and sight of the waves took away our stress. Will definitely go back.
Ina
2016-08-29T00:00:00Z
It was a fun overnight stay with the friends of my youngest daughter. Going back to Diver Joe's brings back a lot of good memories. Mean, the caretaker of the house was very accomodating (as usual) and Grace also. Too, bad Marissa left the place already. These are the people who helped and entertained us at Diver Joe's. I recommend the place for families and group bonding and will definitely go back again and again and again... thank you Diver Joe's!
PERPETUA
2017-03-12T00:00:00Z
Very glad to have chosen this place for my family, cousins, and friends. Huge space for 16 people. Great view specially at the balcony, big kitchen, there's a small pool that the little kids loved, all at a reasonable price. Jorica responded to my questions on time and was willing to block the dates for me without me having processed the booking right away. Caretakers Marissa and Meann are very friendly and looked after us during our entire stay from arranging the dives, boat rental for island hopping, ordering our beers, they even offered to cook the food that we brought - this ensured my mom and aunts didn't have to spend all their time in the kitchen and instead just relaxed and enjoyed their time. The dining table was always set up before meals! Incredible service that I didn't really expect. Highly recommend this place.
Honey
2016-08-08T00:00:00Z
Very accommodating host. Also a nice and clean place to stay. We enjoyed our overnight vacation.
Patricia
2016-05-08T00:00:00Z
The place is not hard to find although the street going to the resort is a little steep but manageable. We had a wonderful stay here. Lovely and relaxing view, we get to have the privacy we wanted. Thanks to ate Marissa, Ate meann and to kuya who were very accommodating. They helped us in every little thing, even with putting our beers in their freezer. Woke up the next day with our breakfast preppared. Very clean and comfortable rooms. What you see in the pictures are as it is. The dipping pool needs a little workout though, but nonetheless we had the sea all to ourselves. The marine life just infront is already abundant, no need to go island hopping. I highly recommend this place and would really love to come back soon. Miss Jorica was also helpful thru the booking process. And oh! There is a resort beside the place which is just a small gate away. We got some of our beer supplies from them as we ran out.
Abegail
2016-05-18T00:00:00Z
The caretaker is not aware that we're coming, lack of communication from the host, but Maryann and Grace we're so helpful and polite and made us feel better. The house is nice and clean , all the rooms have their own bathroom. We had a great vacation and we would recommend the place to others.
Lorna
2017-02-26T00:00:00Z
Awesome place. Very responsive Host. Very nice listing. The helpers are very hospitable and helpful I would definitely recommend this place to my friends and family. I would come back over and over again.
Gerard Angelo
2017-03-19T00:00:00Z
Nice place
Jovenar
2017-03-30T00:00:00Z
Typ pokoje
Celý dům/byt
---
Typ nemovitosti
Dům
---
Ubytuje
16
---
Ložnice
Mabini, Calabarzon, Filipíny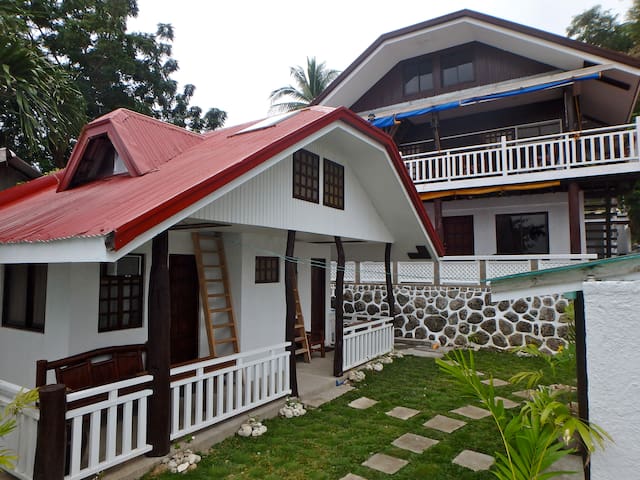 Eine saubere und komfortable Doppelzimmer in einem freundlichen britischen Filipino nach Hause. Klimaanlage mit eigenem Bad. Aufwachen auf das Frühstück mit Blick auf unserer Dachterrasse. Kostenlose Minibar im Zimmer. Weniger als 10 Minuten zu Fuß vom Strand an der Station 3.
Eine saubere und komfortable Doppelzimmer auf der obersten Etage unseres Hauses. Dachterrasse mit herrlichem Blick auf Boracay. Das Zimmer ist klimatisiert und mit einem eigenen Bad mit warmer Dusche (Shampoo und Duschgel zur Verfügung gestellt). 3mbps Wi-Fi im ganzen Haus (schnell von Boracay Standards!) 32-Zoll-TV mit HD-Kabel. Ein Self-Service-Frühstück mit frischem Brot, Obst, Müsli, Toast usw. enthalten. Ein kostenloser Minibar im Zimmer. Laptop-Größe digitalen Safe. Das Zimmer ist für 2 Personen, wenn sie mit unseren anderen Eintrag im gleichen Haus kombiniert, können wir bis zu 4 Personen. Bitte klicken Sie auf meinem Profil die andere Auflistung zu sehen.
Wir sind nicht am Strand. Um in dem Haus zu Fuß durch einen ziemlich schmalen Weg vorbei an einigen typischen einheimischen Hütten und einige bergauf Schritte beinhalten. Es ist nicht das großartigste Eingang auf Boracay, aber die Aussicht ist es wert! Station 3 ist die ruhigsten und unberührte Strecke von White Beach. Sein weg von der Hektik der Station 2 bedeutet es eine entspannte Atmosphäre genießt. Ohne die Massen sind die Preise im Allgemeinen zu niedrigeren mit ausgezeichneten Bars und Restaurants mit einigen der besten Happy Hour und Live-Musik auf Boracay. Wir sind auch nur wenige Minuten von einem Waschsalon und einem gut sortierten Laden.
Everything was just perfect! Stephen and Andy were great hosts and the room was fantastic - we would even say it was the best airbnb experience we had so far! the room and the house are exactly as pictured, super clean and inviting and the view over boracay is just one of a kind. Stephen and Andy were really nice and helpful and made sure we had an unforgettable time during our stay. We definitely recommend it and hope we get the chance to stay there again!
Helmut
2016-01-16T00:00:00Z
Who would expect more for such a cheaper price compare to others and its Boracay. But yeah its amazingly beautiful, spectacular view and too cliche as it may sound but the moment we stepped inside the Hill House we fell in love with the place right away. An epitome of "Home away from home". Daisy made sure that we will have a blast during our stay and yes we did. Definitely we will come back plus I miss the lovely cats.....
Princess
2016-10-01T00:00:00Z
Myself and my boyfriend stayed with Stephen and Andy in August 2015. Our experience was nothing short of excellent. Hilltop House is situated just off the Main Street at the southern end of white beach. Access from the jetty port is convenient via a 10 minute tricycle ride. The house is accessed from the street by short set of steep steps. This places the house at a height providing a nice views and a feeling of seclusion despite easy access to shops, restaurants and the beach. White beach is accessible within 7-10 minutes on foot. The area feels safe and the end of the beach closest to the house is actually the less crowded and pristine end, while still providing a wide range of bars and restaurants on the beachfront. The house itself is set in a lovely garden. Inside the hosts attention to detail sets it apart from other accommodation we found in the Philippines. Our room was finished to a very high standard with a quiet yet very effective air con unit. The bed was comfortable and spacious with high quality bedding. We were provided with two large bath towels and two extra large separate beach towels. A complimentary minibar fridge was a welcome surprise as well. The bathroom was lovely and clean with a hot shower and ample space. Breakfast was included and plentiful, offering a selection of cereals, fresh bread and jams, yoghurt, fresh fruit, juices and tea and coffee. Last but not least Stephen and Andy were absolutely wonderful hosts. They were always available for advice and helpful recommendations and their attention to detail comes through in the quality of the accommodation they provide. We would recommend this property to everyone.
Katie
2015-08-14T00:00:00Z
Stephen and Andy are very attentive and friendly. The price of appartment is very reasonable and the view from the terrace is amazing. Thank you for your hospitality and outstanding decency.
Yvan & Barbara
2016-01-10T00:00:00Z
The place was exactly as described in the post. It was clean and a comfortable, tranquil space during leisure time. The host, Daisy, was really friendly and easy-going which made it easy to approach her. The place is recommended for younger guests who don't mind a light stroll to the beach.
Raine Adrian
2017-04-13T00:00:00Z
Daisy was very welcoming! The room was really clean and neat, you can find basically everything you need. Very pleasant stay, would definitely come back! :)
Chermayne
2016-05-22T00:00:00Z
We would highly recommend staying here. We had such an amazing time in Boracay thanks to our host Daisy! The room and the house were wonderful and the breakfast was really good. Good location too with a beautiful, more quiet beach very close. Daisy arranged a lot of things and took us on very good trips! Daisy, thank you so much for our time on Boracay!
Angèle & Bouke
2016-07-28T00:00:00Z
We can only say positive things about the hill house . Its close to everything super comfortable, 5 star organized, the hosts are ready to help , and very accommodating. Definitely would choose again when we go back to Boracay. Thanks for everything guys.
Zoltan
2016-02-15T00:00:00Z
Typ pokoje
Soukromý pokoj
---
Typ nemovitosti
Dům
---
Ubytuje
2
---
Ložnice
Malay, Aklan, Filipíny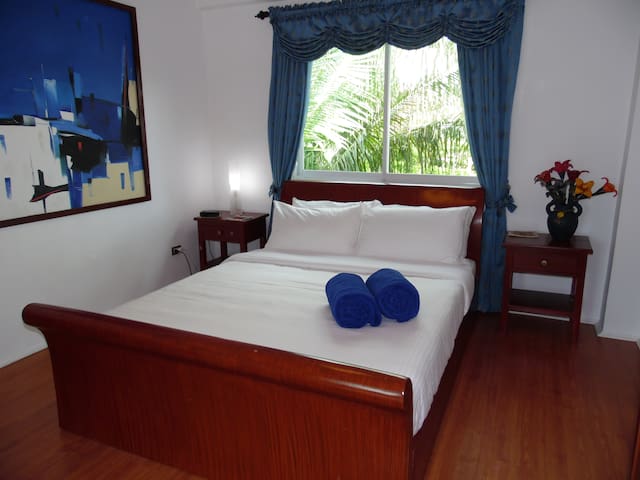 "Bahay Kubo" is the Filipino word for a traditional Filipino house. Our well-loved 2-bedroom home is fashioned with native materials from the sawali walls to our bamboo floor.
A private bedroom is rented out for every 2 guests who stay with us. There is also the option to rent out the entire house for up to 4 guests. But don't worry about your privacy! We don't rent out the other room for guests looking to book just 1 room. :-) Our house is inspired by the traditional Filipino home. Situated on the forest hillside beside Busuanga's Dipuyai River, we want to create a relaxed and laid back atmosphere that is completely in tune with Mother Nature. At the end of the day, we want you to have the best possible trip, whether it includes just chilling out with a book or having some good fun with a few drinks!
Our place overlooks Busuanga Bay and is the perfect gateway to the best island hopping and diving on the island. Although we are 36km from the touristy Coron Town, we are actually closer to some of the best destinations -- we are a mere 5 minutes away from the nearest wreck dive (Okikawa Maru, a 200-meter Japanese oil tanker) and a 10 minute boat ride away from the best powdery-white sand beaches. So our home is the perfect place to stay for those who want to avoid the crowds! Recommended activities that we can arrange for you: - island hopping and snorkeling (remote white sand beaches, stunning reefs and a shallow Japanese WW2 shipwreck) - overnight beach camping -- OUR SPECIALTY! ;-) either in huts for rent on the beach or in tents, depends on you! - SCUBA diving and courses (Luke is a tech diving instructor and Danica is a divemaster) - visit Concepcion water falls - kayaking through mangroves - bird and bat watching - Social Impact experiences on environment conservation projects and community immersions (Airbnb doesn't offer this yet in the Philippines, but Danica works for a non-profit environmental conservation organization in the area called Community Centered Conservation) Please send us a message so we can give you more information on activities we can arrange for you! :-)
Great stay. All food and beverages available for a cheap price. Tours can be organised through Luke. Approximately 45 minutes from Coron so best to have your own transport or catch the local bus. We only stayed for three nights but wish we had been better organised to make the most of Busuanga. Airport transfers are 1200 Peso via trike and take approx 1 hour. The better option would be to shuttle bus from the airport to Coron and either hire a bike from there or take the local bus to the accommodation. Overall very relaxed stay.
Brent
2016-09-08T00:00:00Z
We stayed at Luke's place for three nights and it was fun! He knows the town and activities really well and we were able to explore the area readily since he owned boats/motorcycles...etc. Luke is also well connected with the other locals, He joined us on a fun boat tour that he had recommended and dove with us while we snorkeled. He is also giving away free puppies for a limited amount of time.
Joice
2015-05-24T00:00:00Z
Very peaceful place ! Luc is very helpful ! Very nice place
Julien
2016-08-31T00:00:00Z
We had a pleasant 4 nights' stay at Luke and Danica's house. We didn't meet Danica as she was in Manila, but Luke was a friendly and welcoming host. The guys helping him out are friendly and took us on a nice boat tour. Because the house is located in a remote and quiet part of Busuanga we decided to have all our meals at the house and Luke is a good cook. The room is spacious with a good bed. We loved the 3 puppy's running around in the house. The veranda is a nice hangout, especially for watching game of thrones :) Note that the house basically had a lot of open areas and consists of 2 bedrooms - Luke and Danica's plus the guest room - with the kitchen area in between and the bathroom at the back and the veranda in the front. This means that there's little privacy, so if you're looking for a private place, this might not be the best place for you. Cleanliness of the bathroom and the kitchen needs to be improved. We had loved to have a place where we could have enjoyed the sun a bit more. Luke and Danica have big plans for their place and we wish them all the best!!
Suzanne
2016-01-22T00:00:00Z
I've stayed a couple of nights at Bahay Kubo and had a fantastic time! The house is located in a really beautiful surrounding, perfect to relax and enjoy. Danica and Luke are lovely people, they have arranged all island hopping trips and they know the region perfectly. Not to forget that Luke is a great cook! I would highly recommend this place and I hope to come back to Busuanga soon. Thank you again to both of you!
Adriana
2016-01-16T00:00:00Z
Probably our best Airbnb place. Such an amazing experience. All you need is here. If you want to Rest or to enjoy everyday activities, this Airbnb is for you. Luke and Danica are great hosts. They organized everything for us. Absolutely perfect. It was really A pleasure to share life moment with them. We highly recommend!
Maxime
2017-02-21T00:00:00Z
I can't believe that we were so lucky to find and stay at Danica and Luke's place. The location is absolutely amazing - really secluded, but with a couple of really great places to head to for food and drinks. Danica and Luke were the most excellent hosts. Funny, knowledgeable, helpful and kind. I wish them all the best for the future and building on what they've built so far! We'd definitely go back and stay again and would highly recommend as a super chilled, well priced option in a stunning part of the island.
hannah
2016-02-10T00:00:00Z
We had a wonderful stay with Luke and Danica. It's quite far from Coron, but we were looking for a place to relax. But there were enough activities to do in the area. Many of which Luke and Danica will help organise for you. They were very accommodating and they have great plans for further development on their plot. We definitely want to go back here some day. It's one of those places where you feel at home. And the bed was one of the best we've slept on in the Philippines. So highly recommended!
Maarten
2016-03-29T00:00:00Z
Typ pokoje
Celý dům/byt
---
Typ nemovitosti
Dům
---
Ubytuje
4
---
Ložnice
Busuanga, Palawan, Filipíny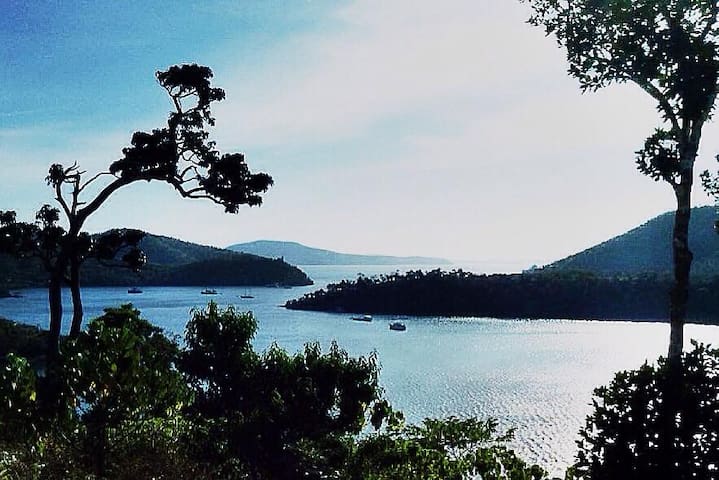 Not just the place itself but COMPLETE & WORRY-FREE VACATION PACKAGE: FREE Airport Transfer, Full-day meals, Resort Amenities, Tour Arrangement & Guides. Relaxing Scenery, Best Beaches & Snorkeling Sites, Fresh Foods! STAY IN A PIECE OF PARADISE!
Our place is around 8,000 square meter with 100 meters sandy beachfront, Fronting beautiful Islands, beaches of Elnido & Linapacan, Palawan, near from stunning CORAL REEFS which is really best for snorkeling. We have 3 Spacious Bungalows made with Natural Native Materials (Woods, Bamboos and Cogon Grass) with nice and comfortable bedding. Perfect mixed with the beauty of nature that surrounds us, Beach, Islands and Forest. We don't have Aircon Room as we don't need it at all, Sea breeze and Fresh Air from trees surrounds us are good enough. Back portion of the property is bit high where our Hundred Year Old Mango tree is located. We built tree house in it where you can witness the Panoramic View of El Nido Bay, a best place to stay. Our electricity source is from our 10KW Generator, we usually run it from 5:30 pm to 9:30am but we can also run it during daytime if needed. We also have available powerbank you can always use when battery drained during your tour or at daytime if generator is not running.
El Nido Palawan is known as one of Best Island Destination in Whole World. Getting here will give you an unforgettable experience seeing untouched Nature. We will help you to plan your daily activities and will bring you to stunning areas which will become part of your Beautiful experiences in Traveling.
My friends and I loved Natures Retreat and couldn't fault anything. The staff, in particular, made the experience even more enjoyable. Sleeping next to the ocean, snorkelling, swimming and day tripping on the boat were amongst the highlights. Not to mention the yummy picnics. Sam and everyone who works there were really helpful and considerate and made our stay relaxing and great fun. Thankyou.
Rachel
2016-02-13T00:00:00Z
This was an incredible experience. We were a group of 16, which was a bit tight in the 3 bungalows, but totally awesome nonetheless. Sam made sure we had everything we needed from snacks, alcohol, towels/linens, etc. He took us two 2 nearby islands which were beautiful and helped us arrange one of the set tours in El Nido town to the lagoons. He even helped us set up karaoke and a campfire for Smores on the beach. All of his staff are very nice and they cook the most delicious meals! If you are looking for a place that is serene and absolutely stunning this is the place to go! It's a bit of a trek from the downtown of El Nido, but totally worth it, and Sam will make sure that all van rides are arranged. I would highly recommend this AirBnb and would love to come back soon.
Melanie
2016-03-15T00:00:00Z
Se volete stare lontani dal caos di El Nido, godere di una spiaggia privata e avere un intero staff di persone deliziose a vostra disposizione che prepara pasti fenomenali, anche attrezzando barbecue su spiagge deserte, che vi porta in giro con la barca nelle isole vicine, si occupa del trasporto da e per l'aeroporto e in generale non vi lascia il tempo di fare qualunque altra richiesta perche la esaudisce ancor prima...beh, questo è decisamente il posto per voi! Sam e' stato un padrone di casa eccezionale. Pur essendo stati al Natures Retreat una settimana nel periodo dei monsoni, il posto è talmente bello che il nostro soggiorno è stato (URL HIDDEN) rivedremo!
Giulio
2016-08-28T00:00:00Z
Great place to stay when you want to get a break from the busy world around us. The Retreat is located an hour from El Nido Town and you can rent a car anytime you want (not included in the price - 40 $ one way). The place is beautiful and great for a big group. We were just the five of us and we felt it was huge! Also they have a great cook who serves you delicious local food three times a day - they even bring the food & drinks when you go snorkeling or going on a trip! The rooms are nice, very comfortable beds, but they have no windows - so it can get windy. The bathrooms are okay, but considering the price they could redo them sometime soon. Most importantly everything was clean & taken good care of. Sam, Beth and the staff are incredibly nice and helpful and they really give their best to make your stay as perfect and relaxing as possible! Thank you so much for everything!
Ariane
2017-02-17T00:00:00Z
Sam and the staff were fantastic hosts for us over a 4-day weekend stay. Meals were delicious, advice on our itinerary was always spot on, and logistics were handled without any issues. If you are looking to unplug, relax and take a breather from your hectic routine, this is the place for you. Cellphone reception by the beach can be spotty but you can head up to the treehouse (if you really need to check in with the world) and there's data everywhere else you're likely to visit. Recommendations to maximize your stay: 1. Take the boat out to Daracotan Island to snorkel at the shipwreck and lounge on the beach - one of the highlights of this location. 2. Ask the staff to set up dinners on the beach under the starlight, and have a fire set up after with some drinks. 3. Don't miss out on visiting the different lagoons in El Nido, which is one of the key attractions of this destination.
Carl Nicholas
2016-02-01T00:00:00Z
Fully agree with the reviews below. Perfect location for relaxing on the beach. Sam is a very good host arranging everything from transport to El Nido to setting up a volleybal net in the sea. If you are going to Bacuit bay/El Nido area this is the place to stay.
Marten
2016-09-19T00:00:00Z
Special place - quite removed from the tourist buzz of el nido and the resorts without being too far from everything. Sam and jessa do a great job of tailoring an itinerary around you. The beach in front of the house is beautiful and the place is great if you are looking to disconnect.
James
2016-04-02T00:00:00Z
I cannot fully express just how amazing our experience with Sam at the Reserve was. Sam was a warm, thoughtful, immensely helpful host. Before the trip he was prompt and provided so much help via email--we had a number of needy requests (food allergies, friends visiting, changing group numbers) and he managed all of it was a smile and great attitude. He arranged all of our transportation to and from the reserve for free. The logistics were flawless. He arranged activities for us during our days when we weren't relaxing, reading, and playing in the water--we went to a beautiful beach nearby and he brought us fresh coconuts after our swim, he took us to a farther beach on the other side of the island for an amazing sunset, he suggested and arranged multiple, beautiful trips out on the boat, and arranged a bonfire on the beach on the last night. The only additional cost was for the boat diesel (very reasonable) and for the van to the other side of the island for sunset. The food was delicious and fresh for the most part. Be prepared for huge meals, whether at the reserve or out on the boat. We were a little over the food by the end, but that was never because it wasn't well prepared. So much fresh fruit and oh man, the coconut shakes were amazing. The Tang juice wasn't our favorite and the coffee wasn't awesome, but given the Reserve is out in the middle of nowhere, it made total sense. The sleeping quarters were comfortable and breezy. There are so many amazing seating options around the reserve to read in the shade or sit on the beach. There's a kayak and a standup paddle board which are fun to explore the nearby waters. The beach volleyball court in the water was SO fun. Be prepared for lots of jellyfish nearby. Sam hung out with us much of the time during our meals and activities which we loved. The staff was so friendly and flexible and catered to all of our needs. We brought our own alcohol and Sam shared some of his with us as well. I'd recommend bringing mixers if you want something other than Tang or the occasional coke to put your liquor in. There was occasional WiFi that Sam shared with us so we could be a bit connected for brief moments when needed. Thank you, thank you Sam and Reserve Staff for treating us so well. We loved every minute.
Riley
2016-03-25T00:00:00Z
Typ pokoje
Celý dům/byt
---
Typ nemovitosti
Dům
---
Ubytuje
16
---
Ložnice
El Nido, Palawan, Filipíny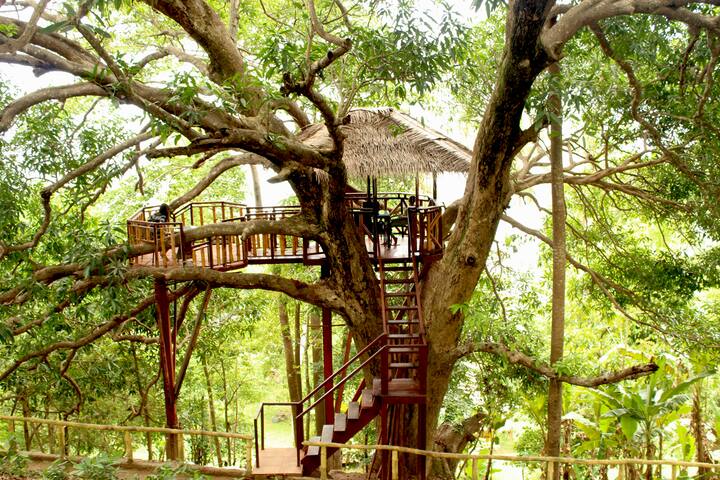 In new construction located in Diniwid on a small hill 50 meters from Diniwid Rd, for 1 min. from the sea, fully furnished studio 38sqm, kitchenette, bathroom with shower, double bed, sofa, air cond, Wi Fi, garden, no sea view
New, comfortable, ventilated by large windows, perfect for two people, garden and space in front of the entrance, Wi Fi, air cond, daily cleaning only the room, linen change every 5 days, ideal for long-term rent. No sea view. periodic treatment throughout the house and garden.
Diniwid is among the most popular beaches on the island, very quiet and comfortable with the locals on the beach.
체크아웃이 매우 늦어서 (연락도 못드리고) 죄송스러운 상황이었는데도 편안하게 맞아주셨어요. 공간은 사진에 나온 것처럼 좋았어요. 다만 너무 늦은 밤엔 조명이 없어서 돌아다니기가 좀 무섭습니다.
Soohee
2016-04-17T00:00:00Z
Great room, great location, and great hosts! I look forward to returning some day!
Micah
2017-01-22T00:00:00Z
What more can we say other than "Amazing"? Fabrizio and Boriana were such attentive, diligent, and professional hosts, we'll certainly be staying again without hesitation. Defining it as a Private Room doesn't properly convey that it's more like a 40sqm studio flat with air conditioning, stocked kitchen counter, full refrigerator, gas burners, and 2-person dining table. We could have happily stayed for months. The bathroom is well built and has plumbed hot water. The wifi is stable, there is plenty of closet space, and the bed is a dream. There are even a couple large outdoor chairs and personal front lawn with an on-site chicken. Constructed within the last year, the quality shows the care Fabrizio and Boriana have toward the place. The unit is located just a 3 minute walk from Diniwid Beach and its collection of restaurants, resorts, and bars. From there it's a 20-30 min walk along the coast to Station 1 at White Beach or 10 minutes by trike. The location is perfect for anyone looking to get away from the crowds but not too far should you like to go. No doubt we'll be here again as soon as the opportunity arises.
Alain
2015-05-15T00:00:00Z
房子很不错!很干净很大!但是需要自己带吹风机哦~房子离nami很近,大家可以去nami吃个饭,附近的沙滩也不错,风景很美。第一天到的时候,房东非常热情,感受到宾至如归的感觉。总之!五分好评!
咪
2016-02-16T00:00:00Z
Nonna's house is perfect just like the pictures. The location is good if you want a quiet vacation, and is very near the Diniwid beach which connects the white beach. The host are friendly and give me lots of info. The room is very clean, private and spacious. You can cook by yourself. If you go the island never miss Nonna's house, it's worth so much!
Xiaochuan
2015-07-28T00:00:00Z
We had the most amazing stay at Nonna's house in Diniwid! Room looks exactly like it does in the photos, very beautiful and spacious. Situated near Diniwid beach and Spider House and tucked away from the busy Station 2 but only a half an hour stroll (with a great view) to Station 2 if needed. Boriana and Fabrizio (and Lara and Brooke!) were the most wonderful host, so friendly and lovely and will definitely return here when we come back to Boracay. Thank you so much for the lovely stay!
Linda
2015-09-06T00:00:00Z
Absolutely lovely host. They are wonderful. The room is new, safe, large and clean. It is self contained with a gas burner fridge and kitchen sink. Good clean shower and toilet. The location is just off the beach. It gives you a feeling of being in the community and not a tourist, but still close to the beach. I am giving 5 stars for value.
Ian
2015-01-06T00:00:00Z
My girlfriend and i had an amazing stay in boracay and one of the reasons were nonna's house. Boriana and Fabrizio are the best hosts you can imagine and their place is just like heaven on this paradise island. The room is very very clean and has italien chic. The bed is wonderful and the bathroom as well. It is absoluteley a high standard place to be! We will be back next year and hope that we can enjoy this amazing experience again. Everyone in nonna's house took great care about us our questions and showed us the place and hotspots around the area. Everything was more than perfect in boracay. The sun and most of all Boriana, Fabrizio, Arnel and Lara!
Karl
2015-02-15T00:00:00Z
Typ pokoje
Soukromý pokoj
---
Typ nemovitosti
Dům
---
Ubytuje
2
---
Ložnice
Malay, Filipíny
Naše pohodlné a relaxační dům se skládá ze století starého masivního dřeva. Nachází se v klidném místě v centru města. Jen dva bloky od zálivu pěšky, 2 minuty jízdy z trhu, nákupních center, bank a bary se. 5 minut od letiště a snadný přístup k veřejné dopravě.
Dům je ideální pro skupiny / rodiny, váš domov daleko od domova ... S 4 ac lůžkových pokojích s vlastním kuchyňským zařízením, společné sociální zařízení kabelové televize v kuchyni, 2 plně zařízené koupelny s vlastním teplou a studenou sprchou. Mají verandu stát naproti hory a záliv, mají trávník.
můj soused jsou přátelské. jsou užitečné, když žádají směry nebo tak něco.
Our host was very good about communication. The listing was very accurate and we had no surprises. The property was well cared for and clean. The staff was helpful and addressed all our questions/needs. We only had one brief night in Puerto Princesa and this property was perfect for us. I'd recommend for sure.
Peggy
2016-07-01T00:00:00Z
Estrilda and her team ( Ms Marge and Vincent)are very accomodating with all of our request. They made our stay in Palawan very easy and relaxing. The house is clean and neat , with complete utensils for cooking and eating -in. Bonus for staying at Lolo Manit's house is the free santol fruit, where in you can eat as many as you want . I will definitely recommend this place to my friends who wants to stay in Puerto Princesa.
Vanessa Claire
2016-06-12T00:00:00Z
If you are looking for a place you can call home while you visit Puerto Princessa, Bahay no Lolo Manit is the way to go. It is a 4br/2bath house tucked away at the back of a transient stay building and it was perfect for my group of 5. My parents, my sister and my boyfriend and I had our own private rooms and we really had a lovely stay. Estrilda and Marge were very accommodating and understanding. We had a tight budget after missing our flight and having to pay a rebooking fee, so Estrilda and Marge were very helpful in helping us plan our trip that allowed us to get the most out of our money. We rented the private van for two days and it was very convenient. For those with a tight budget like us, I suggest doing the same and personally booking the tours yourself instead of at a travel agency which is what Estrilda and Marge suggested to us. We really saved a lot of money listening to their advice. These ladies know the tours and the activities you can do at Puerto Princessa very well, so you can count on them for being very honest and advise you on how to plan your trip. We ended up going to the market and cooking a few of our meals which helped us maintain the budget as well. There were a few bumps like the roosters and chickens next door that will wake you up in the morning, but then again, you are in the countryside so that is expected. There was also dirt in the water dispenser that was a little disgusting and I wish they had checked it before our stay. They did replace it right away however and thoroughly cleaned the unit. Lastly, the water heater in the the communal bathroom was not working but wasn't too big of a problem since it's very hot in Palawan anyway. Overall, despite the hiccups, we really enjoyed ourselves and will be recommending Bahay ni Lolo Manit to our friends and family. Thank you again Estrilda and Marge. You both were excellent hosts and tour guides!
Camila
2016-12-07T00:00:00Z
Nice and clean place with good acces to the city center. The owner is very helpful and comunicative. I can fully recomend.
Štefan
2017-03-05T00:00:00Z
Great host. The house is very clean and got everything we need. The Ac is good and cold. We went to the market and bought stuff for dinner and cooked. The commute is easy going to the city. They even have someone who can do your laundry for about $1 per kilo which is very convenient. I would definitely stay here again.
Jacqueline
2016-10-10T00:00:00Z
If you want to enjoy your Palawan vacation, I recommend this place for you. The owner is hands on and very accommodating. The house is clean and comfy. No noisy neighborhoods and it feels like you own the place.
Jhobert
2017-01-23T00:00:00Z
Estrilda did an excellent job of communicating and helping us set up our trip! She gave us connections for all our tour booking and transportation. The house is a great place for a family or group. The rooms are arranged with 2 singles and 2 rooms of 3. As when traveling, small issues arise (running out of TP, no water pressure, etc.) but Estrilda and her staff responded quickly to our slightest needs or wants. The place was very clean and well taken care of and an easy walking distance for transportation and places of interest.
Mara
2017-04-02T00:00:00Z
Host is an excellent communicator and host. Bhatz and Marge were cooperative and responded quickly to our requests.
Candy
2017-01-05T00:00:00Z
Typ pokoje
Celý dům/byt
---
Typ nemovitosti
Dům
---
Ubytuje
8
---
Ložnice
Puerto Princesa, MIMAROPA, Filipíny
크고 깨끗한 객실은 현대적인 시설, 남쪽 스테이션 3, 화이트 비치 (White Beach)의 조용한 부분에 위치. 여러 바, 레스토랑 화이트 비치와 가까운 분 거리 미만. 섬의 주요 명소는 모두로 쉽게 이동할 수 있습니다.
Отдыхали на Боракае в январе 2015 года. Жили в апартаментах у Питера. Все очень понравилось. Очень добрые , гостеприимные хозяева. Уборка на высшем уровне. До пляжа 1 минута ходьбы.А какой йогурт готовит его жена просто пальчики оближешь! Если поедем на Боракай только к Питеру и его супруге! С уважением Наталья.
Наталья
2015-02-01T00:00:00Z
A very big thank you to Peter, his wife and Annie for their warm hospitality. We felt right at home the moment we were greeted by them. The room was spotless, spacious and had a wonderful garden view. The Blue Peter is situated at a quiet and less crowded location, it was the perfect location to get away from the hustle and bustle of city life. The beach is literally less than a minute walk. To step out to the beach every morning, and greeted by the sun, beach and sea was a wonderful feeling. My boyfriend and I enjoyed our stay at The Blue Peter very much. We would definitely stay at The Blue Peter again! Thank you again for the wonderful hospitality.
Michelle
2016-03-10T00:00:00Z
Very great place! The house is only about a hundred meters away from white beach. It's the last part of white beach, the place was quiet, and still walking distance to the restaurants and night life. The room is large and very clean. I appreciated the table in the room and the wifi access from the room. There is also places to put your bags, a bamboo sofa ... The room is well designed. Peter and his wife are very friendly and will give you tons of advices to make the most of Boracay during your trip!
Luc
2015-07-06T00:00:00Z
Very spacious, clean and quite room 15 meters from the beach (yes METERS not minutes). Located at the quite yet beautiful end of station 3, still within walking distance to everything. The room was spotless and had everything you could need, with a nice garden view. Best of all, the WiFi was the fastest and most reliable on the entire island. We loved our stay and would definitely come back again. The room was very quite and we didnt hear any noise day or night. Peter was an excellent host, and his staff even went to find us a trike to take us to the pier when it was time to leave.
Artem
2015-01-08T00:00:00Z
I thoroughly enjoyed staying at Blue Peter House. It is steps away from the beach and in a quieter section of white beach at station 3. Peter and his wife, Leng, were fabulous hosts who promptly responded to any queries or requests for help. The room is a good size and very cozy. It felt like home away from home. It was also immaculately clean as they cleaned it on a daily basis. Leng makes fresh yogurt at home and she generously shared some every morning with me. Homemade yogurt with sweet mangoes was a real treat! If you want quick access to station 2 buzz but still want a quieter retreat, I would highly recommend staying at the Blue Peter House.
Yojin
2014-11-01T00:00:00Z
The location was perfect for us, really quiet when we sleep but just a few steps from the white beach and few more steps to restaurants and shops. The room was spotless most especially the bathroom. Bath towels were provided and how thoughtful of Peter to even think of providing us beach towels. The room itself is just like in the pictures, except that we had a different set of beddings when we stayed. Wifi is fast and we had plenty of room for storage. My husband and I really enjoyed our stay as Annie was really helpful and would always check on us if we need anything. Peter and his wife were really nice. His wife, sorry I forgot her name, was so nice and she'd frequently apologize about the construction noise but really, it didn't bother us as we are out most of the day. We thank Peter, his wife and Annie for a great first time experience of Boracay. Everyone was genuine and warm. Would definitely be back here in the future.
Leamsi
2015-11-30T00:00:00Z
Everything was great...I was comfortable and my holiday went perfect no issues cold a.c. Hot showers...
Hector
2014-12-22T00:00:00Z
Great host - Peter ensured our stay was comfortable and pleasant for the duration. The room was cleaned daily and we were provided fresh linen, beach towels and bottled water each day. Additionally, Peter checked up every so often and gave some handy tips for Boracay. Ideally located at station 3, allowing a pleasant 10/15min walk along the beachfront to the lively station 2 for evening drinks and dinner. Care and thought had gone into the amenities provided; fridge, safe, hairdryer, air con & fan, fast wifi. Instructions prior to arrival were in depth and spot on, directing us from airport to Peter's house, including taxi costs and ferry terminal info. Thank you Peter for being a great host and I hope to see you soon once again in Boracay.
Alexander
2015-02-20T00:00:00Z
Typ pokoje
Soukromý pokoj
---
Typ nemovitosti
Dům
---
Ubytuje
2
---
Ložnice
Malay, Filipíny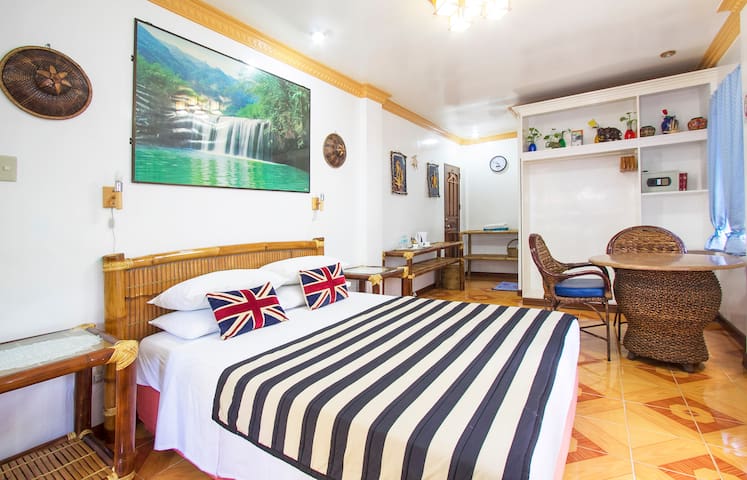 Located in Corong-Corong beach, facing the spectacular Bacuit Bay, our villa offers all the necessary comfort (aircon, hot water,...) in a stylish decoration. Its nice garden is right in front of the sea. We are at walking distance from nice restaurants, tourist attractions, booking office, high-end hotels, and at 10 minute-ride to El Nido town. We can accommodate 5 persons max. If you are more than 5, we suggest you to check if El Nido Garden Villa is available, it is behind this villa.
Our villa is right on the beach, it's around 90sqm, with 2 very comfortable bedrooms : ai rcon, queen size beds and high quality bedding, 1 bathroom, 2 toilets (1 in the bathroom and 1 one the terrace), an outside living area with a fully equipped kitchen. The tropical garden is around 200 sqm. We can ad a single bed or a baby bed in one of the bedrooms. Next to the villa, you will find the restaurant of Last Frontier Resort wich offers good breakfasts. It can be a little bit noisy sometimes, but not after 10pm. All amenities are provided such as soap, shampoo, towels, beach racket, ping pong table,... The Villa is totally secure, we have a night guard and a safe is in the house. The Internet signal can be very weak, we are surrounded by huge cliffs which sometimes block the signal. There are also some general black outs which occur in the whole city/neighborhood. We can also arrange some services, such as island hopping tours, pick up from Puerto Princesa airport,...
Our Villa is located in the one of the nicest neighborhoods of El Nido: Corong-Corong beach. It is well developed, lively and not as busy/noisy, or dirty as the town center. At a walking distance you will find different types of restaurants : Filipino cuisine, French at La Plage Restaurant, Spanish at Last Frontier Resort or Italian at Bella Vita. The Italian place offers a pizza delivery service. A booking office offers Island hopping departures from the house and kayaks rental. You can also take some sailing lessons and/or participate in regattas that usually are on Sundays. All of this, is in front of the spectacular Bacuit Bay.
Isabelle's place was amazing - everything we were hoping for. The place is really cute, has great indoor and outdoor space and is in a great location. The hosts were super responsive and helped us with all the travel planning we needed. This really is a gem in El Nido and I'd highly recommend it to anyone coming to town.
Dani
2017-01-20T00:00:00Z
Gateway to Paradise. What an amazing place. Directly on the beach and with all mod-cons that you'd like to have. A very nice small restaurant just 30 meters away along the cost where they serve a great French-Asian style menu, some decent cocktails and the most beautiful sunset. A boat rental place for private or shared organized island hopping is also just 15 meters away, ideal! Corong-Corong beach is wonderful, peaceful and so much better than El Nido itself jet only a 10 minute tricycle ride away. If you can, try to fly directly from Manila to El Nido airport. Internet connection is terrible around El Nido, nothing to blame the host about, the hills around prevent the signal coming through.
Pelle & Viktoria
2017-01-16T00:00:00Z
Von der Lage her ist die Villa ist sehr gut gelegen. Direkt am Corong Corong Beach.
Yannick
2017-04-08T00:00:00Z
Awesome stay in an amazing place. Lovely house with great view and native vibes, which was perfect for 5 of us. Be ready for some blackouts and missing water from time to time, it is part of the adventure in El Nido and Hugo and Isabelle made our experience the most comfortable possible. We couldn't have asked for more! Best thing was departing for the various tours just in front of the house. Thank you guys!
Macaud
2017-03-27T00:00:00Z
We had a great stay at Hugo and Isabelle's. They were fantastic hosts and we were glad they share a slice of their paradise with us. House is actually even better than expected especially when it comes to the location: 5 meters from the beach, plenty of restaurants nearby ("La plage" was especially good), 5 min / 1$ from El Nido. This was our 2nd trip to El Nido and would we go back (and we really hope to) we would definitely look at this house again.
Joris
2017-02-07T00:00:00Z
Adorable charming house with a great view of the sunset! The tour also picks you up in front of the house which is very convenient. Only caveat is the food nearby takes sooo long to prepare so better come early for dinner. Alternatively, you can cook with wet markets just a tricycle ride away.
Arlene
2017-04-11T00:00:00Z
If you're staying in El Nido, this is THE best accommodation there. It's close enough to the city that makes accessing the shops simple enough but far enough (tricycle rides were around 5-7 minutes) that you can relax and spend time in your living room to enjoy the sunrise/sunset as well as the picturesque view of the beach. Everything about the home was as described! No surprises or shortfalls - if anything, it was even better than what we imagined. We had the best experience and cannot rave enough about our stay here.
Mikaila Julia
2017-03-20T00:00:00Z
This was such an amazing space! The location was perfect-we were able to easily hop on a tricycle into town and the island Hoping tours we attended left from right outside our gate. There were also several restaurants right next to the house for food and drinks, a little bodega across the street with toiletries and some other basic things and the view was perfect from the porch. This place was extremely clean, the air con worked great and Isabelle was extremely helpful!! I would definitely recommend this place.
Kyra
2017-03-15T00:00:00Z
Typ pokoje
Celý dům/byt
---
Typ nemovitosti
Dům
---
Ubytuje
4
---
Ložnice
El Nido, MIMAROPA, Filipíny