Starý zrekonstruovaný statek na cestě do Rocca di Manerba 10 minut od pláže Penthouse s katedrálou stropem, výhledem na Sirmione. podzemní garáže, bazén s nádherným výhledem na ostrovy Králík a Garda. 2 ložnice, obývací pokoj s francouzskými dveřmi otevřením s verandou efektem
Krásný velký byt Quiet, historické staré vesnice, v blízkosti pláže a park v Rocca di Manerba, plavecký bazén.
Historické nastavení uprostřed přírodního parku.
Typ pokoje
Celý dům/byt
---
Typ nemovitosti
Byt
---
Ubytuje
4
---
Ložnice
Solarolo, Lombardia, Itálie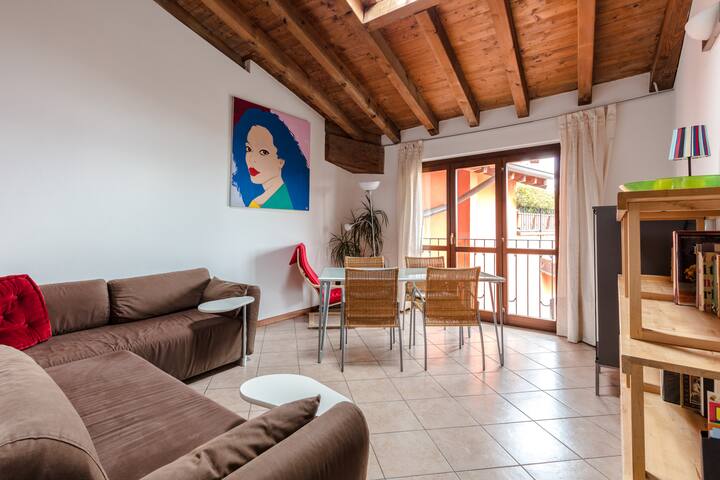 attic of 80sqm + 25sqm terrace in villa on the lake between moniga and Dusano vista.Piscina splendid garden and parking are shared with the other 2 apartments of the villa. Guests BBQ table tennis, canoeing.
beauty is the location directly on the lake in a very quiet area with a great view
This is what airbnb is all about: to be able to stay at a beautiful house at a prime location, with stunning views of lake Garda, completely private and tastefully decorated. Giuseppe's place is absolutely beautiful. The location is very convenient for travelling to all the area around the lake and beyond. We were a family of 4, and felt very comfortable in the house. There is an amazing varanda on top of the lake, a private access to the lake front and really everything you imagine when you think of a relaxing stay. The local village is nice and friendly, and we had great morning cafe's as well as dinners at the local restaurants. Giuseppe is a great host, very attentive and answered all our questions promptly. I really recommend Giuseppe's house!
Leoni
2016-10-11T00:00:00Z
We visited many areas around Lake Garda during our stay, and all were out-shined by the one we woke up to every morning! The accomodation was just as the pictures, and the location was ideallic. We had a couple of technical issues during our stay, but Guiseppe was quick at hand and helped solve as quick as he could. Perfect host!
gemma
2017-03-10T00:00:00Z
The apartment is beautiful and has great views on the lake. The terrace is the best place to spend time in the evening, just sit and relax. The pool has a shallow entry that is perfect for smaller children to play in. We would highly recommend this as a perfectly family location!
Bartosz
2016-09-16T00:00:00Z
Wir hatten einen wundervollen Aufenthalt bei Giuseppe in Solarolo. Die Wohnung und besonders die Dachterrasse sind ein Traum! Geschmackvolle Einrichtung, alles hat gepasst. Den Pool konnten wir täglich nutzen und unseren Jungs hat's gefallen. Die Lage vom Haus ist kaum zu toppen! Wir kommen sicher mal wieder.
Silke
2016-05-27T00:00:00Z
We had a very pleasant and relaxing time in the mansard of Giuseppe's beautiful villa. It's location is ideal for a variety of activities around and on the lake. The neighborhood is very exclusive and quiet. The estate is neat and very enjoyable. The pool has a shallow entry that is perfect for smaller children to play in. Giuseppe is a very courteous and reliable host.
Karsten
2016-06-24T00:00:00Z
The accommodation, location and the stunning view made our holiday absolutely perfect. We would highly recommend this as a perfectly family location. The swimming pool and access to the lake just added to possibly one of the best holidays we have ever had. We will be back.
Daniel
2016-08-02T00:00:00Z
Hi Giuseppe ist ein guter Gastgeber. Das Haus steht auf einem sehr großen Grundstück und man kann sehr gut relaxen. Die Aussicht ist super. Wir haben jeden tag auf der Terrasse bzw. Balkon gefrühstückt und auch öfter zu abend gegessen. Vielen dank für den schönen, erholsamen Urlaub. Grüße aus Deutschland Steven
Steven
2016-10-02T00:00:00Z
Had a fantastic stay at Guiseppe's place. Easy access to the lakes and Guiseppe's let us borrow his canoe. Good size pool and lovely gardens. The apartment is on the top floor and has great views on the lake, lovely place to sit and relax. Car needed to get about. Would highly recommend.
Carrie
2016-08-28T00:00:00Z
Typ pokoje
Celý dům/byt
---
Typ nemovitosti
Byt
---
Ubytuje
5
---
Ložnice
Solarolo, Lombardia, Itálie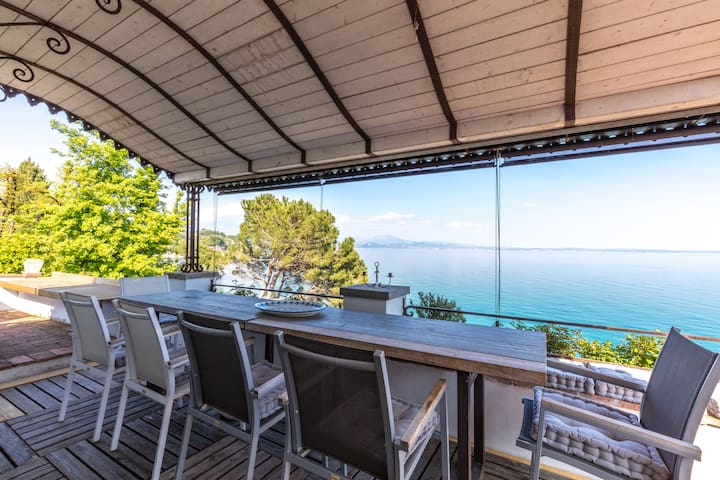 Velký byt, vhodný pro páry (s dětmi), v klidné lokalitě v centru Gardoncino, tři sta metrů od pláže. Byt se nachází v prvním patře. Byt se skládá z: obývací pokoj, kuchyň, koupelna se sprchovým koutem, dvě ložnice a terasu s výhledem na jezero Garda. Systém vytápění a klimatizace ve spaní. připojení k internetu pomocí wi-fi. Několik desítek metrů od domu se nachází parkoviště.
Gardoncino je malá tichá a klidná obec. Z Gardoncino jsou jen pár minut, a to i pěšky: pláže, přístav Dusano kde to projde člun na jezeře, parku Rocca di Manerba, týdenní trh.
Typ pokoje
Celý dům/byt
---
Typ nemovitosti
Byt
---
Ubytuje
4
---
Ložnice
Solarolo, Lombardia, Itálie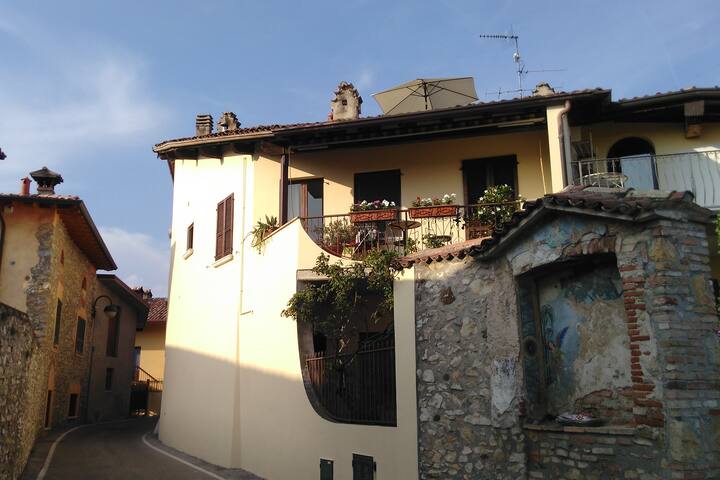 A pochi minuti dalle spiagge e dai più bei borghi del Lago di Garda, questo appartamento tranquillo è l'appoggio ideale per le vostre vacanze. L'appartamento dispone di posto auto interno, giardino privato e wifi. La zona giorno è composta da divano letto matrimoniale, mobile tv, tavolo e angolo cottura completo di elettrodomestici. Nella zona notte troverete un'ampia camera matrimoniale, un bagno finestrato con doccia e una stanza lavanderia con tutto l'occorrente per lavare e stirare.
All was perfect for us!
Sylvia
2016-07-23T00:00:00Z
This place is just amazing. Very clean, cozy and nice. Garden in front of house is perfect for breakfast and in the evening for glass of wine. In appartment you can find everything you need. Photos are exactly same as the place really is. Chiara (Norina's daughter) took care about me and my family very well. I am highly recommending Norina and her place! :)
Martina
2016-07-09T00:00:00Z
Best self contained appartment ever!! Beautiful decorated, spotless and everything you need plus more is available!! We would have loved to stay longer. The garden is great to watch the sunset, washingmachine (with washing powder) , dishwasher, etc avaiable! Highly recommend this place!!
Daniela
2016-06-24T00:00:00Z
Very clean, cozy and comfortable appartment. Privat garden is perfect for spend your free time. There are a lot of supermarkets 10 minutes by car. If you want you can see nicest place Rocca di Manerba. Highly recommend!
Natalia
2016-08-02T00:00:00Z
Das Apartment haben wir so wie in der Objektbeschreibung beschrieben und abgebildet vorgefunden. Es war sehr sauber und ordentlich. Das Apartment war mit allem ausgestattet, was für einen kurzen Urlaubsaufenthalt benötigt wird. Besonders nett ist der kleine Garten, der es möglich macht draußen z.B. am Gartentisch zu frühstücken oder einfach zu entspannen. Die Entfernung zum Strand beträgt ca. 20 Gehminuten.
Christian
2016-08-06T00:00:00Z
Wszystko było ok.Bardzo polecam.
Roman
2016-06-06T00:00:00Z
Wszystko OK, bardzo dobry kontakt z gospodarzem. Norina była bardzo pomocna, powiedziała co warto i gdzie zobaczyć w okolicy. Apartament bardzo czysty i zadbany w cichej okolicy i zarazem blisko centrum miasteczka, czuliśmy się jak w domu. Mogę polecić z czystym sumieniem.
Tomasz
2016-07-02T00:00:00Z
Typ pokoje
Celý dům/byt
---
Typ nemovitosti
Byt
---
Ubytuje
4
---
Ložnice
manerba del garda, Lombardia, Itálie
Our apartment is located in the Residence Garda Resort, a modern residential complex,90 meters long swimming pool, a tennis court, a short distance from the famous beach of the Romantica and the Natural Park of the Rocca di Manerba.
Our apartment is located in a modern residential complex, equipped with a tennis court and a large, magnificent swimming pool suitable for users of all ages, safe for children, surrounded by a spacious sunbathing area. We are a short distance from the famous beach Romantica and the Natural Park of Rocca di Manerba. Refined in detail to provide a vacation that makes you feel at home. Ideal for couples, for families, for those seeking a relaxing holiday, for nature lovers, for those who love sport and for people who want to have fun. In my apartment you can meet all your needs thanks to its strategic location, our availability and the modern structure.
The Natural Park of the Rocca di Manerba The beach Romantica The Dusano Harbour San Biagio Island Golf courts
Great apartment and great host (although we only did meet her husband). We had a great time at lake garda, the "city" center with good restaurants and a great gelateria is 10 minutes by foot just like the harbour. From this harbour you could take a long ferry ride to the top of lake garda and see all the nice villages from the lake side (suggested by Soles husband). Sadly we could not meet Sole because there is so much to see in the area and we were always on the road. Still Sole was always reachable and helpful. The apartment is big enough for 4 but it is more comfortable for 2. It was very clean and equipped with anything one would need.
Lukas
2014-09-14T00:00:00Z
Sehr schönes, gepflegtes Apartment. Sämtliche Erwartungen wurden erfüllt! Sole und Erwin sind sehr nette, unkomplizierte Gastgeber. Die gesamte Kommunikation war perfekt. Der Pool ist riesig und top gepflegt. Eine wunderschöne Unterkunft!!!
Stefan
2016-06-19T00:00:00Z
We had a really nice stay at the apartment! Nice, clean and everything was available. Manerba is a really charming place with beautiful views and from there you can reach all towns around the Garda lake easily. Sole and Erwin were very helpful and I warmly recommend there place!
Lisa
2016-05-05T00:00:00Z
Perfect! A nice Apartment, secure and beautiful Resort with a big swimming pool! Key exchange fast and without Problems, communication perfect and very immediate. Thanks a lot, Sole!
Henrik
2015-10-24T00:00:00Z
We recently stayed at Sole's apartment at Manerba del Garda and were delighted with the accommodation when we arrived. Everything was clean and tidy and as described in the listing. Sole was there to meet us at an agreed time and was very friendly and welcoming. She explained a few rules including rubbish collection dates and then left us to enjoy the facilities.
Andrew
2015-05-21T00:00:00Z
Sehr gemütliches, komplett und großzügig ausgestattetes Apartement. Traumhaft schöne und saubere Anlage mit riesigem Pool. Sehr herzliche Gastgeberin! Absolut empfehlenswert! Danke, Sole
Nadja
2015-08-22T00:00:00Z
Sole war äusserst hilfsbereit und zuvorkommend. Die Wohnung war wie beschrieben und der Pool fantastisch! Für die heissen Sommernächte wäre eine festinstallierte Klimaanlage in der Wohnung noch angenehm gewesen, ansonsten alles tiptop. Einziger Negativpunkt sind die strengen Regeln am Pool (der Bademeister wacht darüber), vor allem wenn man kleine Kinder hat. So darf man erst ab 10 Uhr an den Pool, zwischen 13 und 16 Uhr muss man ganz ruhig sein, reinspringen ist verboten und grössere Gegenstände wie Luftmatratze sind auch nicht erlaubt.
Natalie
2016-07-24T00:00:00Z
Accoglienza ottima, descrizione conforme
GIANFRANCO
2016-01-03T00:00:00Z
Typ pokoje
Celý dům/byt
---
Typ nemovitosti
Byt
---
Ubytuje
4
---
Ložnice
Manerba del Garda, Lombardie, Itálie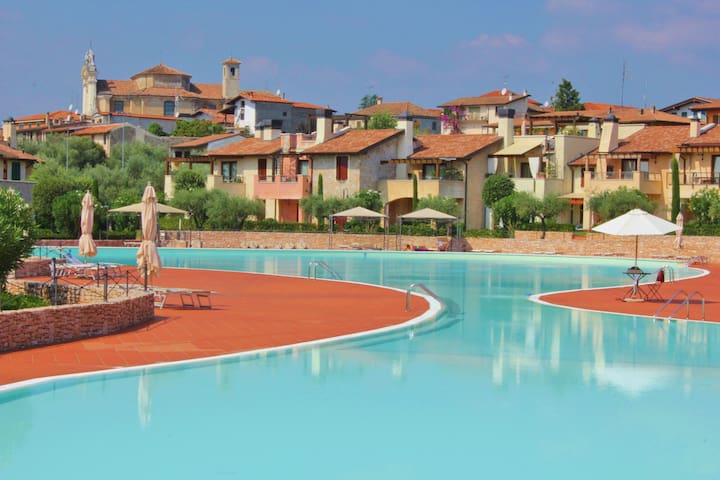 Ideální pro rodiny s dětmi s možností klidné a dlouhodobého pohledu pobyt na jezero. Byt se usadil v rezidenčním komplexu s přímým přístupem k jezeru. Jiné než malebným výhledem, v domě je také k dispozici se vším, co jeden by mohl potřebovat pro dlouhodobé dovolené (kuchyňská linka, pračka, ... atd) Obrovský bazén, zahradu a tenisový tábor jsou vždy k dispozici. Několik kilometrů daleko, lze najít trekking a Bike Tour, ale také Gardaland a nákupní centra a další atrakce.
V bytě je na druhém a posledním patře rezidenčního komplexu. Existují soukromé balkon s plným výhledem na jezero -a ložnice s manželskou postelí -an otevřený prostor obývacího pokoje s černou kuchyní, jídelním stolem, stereo a rozkládací pohovkou pro dvě osoby. -induction kuchyňská linka s nádobím, kuchyňským nádobím a hrnci a pánvemi zapotřebí. -washing Stroj se nachází v koupelně -Dvě klimatizace (jedna v ložnici a druhý v obývacím pokoji) -large lednice -velké skříně
Byt se nachází 3 km od Moniga Del Garda
Fabulous view! Cosy design appartment on a second floor of a condo. Free parking. Private beach. Small but equipped kitchen. We liked it very much. Thank you, Eliah!
Artemiy
2017-02-09T00:00:00Z
Tutto perfetto, ottima comunicazione, disponibilità e puntualità. Appartamento perfetto, splendida location con spettacolare vista lago e massima tranquilla. Ottima scelta sia per rilassarsi che come base per visitare il lago. Consigliatissimo, ci tornerò sicuramente con molto piacere.
Alessandro
2017-02-26T00:00:00Z
Alloggio molto carino, vista panoramica. Perfetto per passare dei momenti in tranquillità.
Massimiliano
2017-02-13T00:00:00Z
Typ pokoje
Celý dům/byt
---
Typ nemovitosti
Byt
---
Ubytuje
4
---
Ložnice
Solarolo, Lombardia, Itálie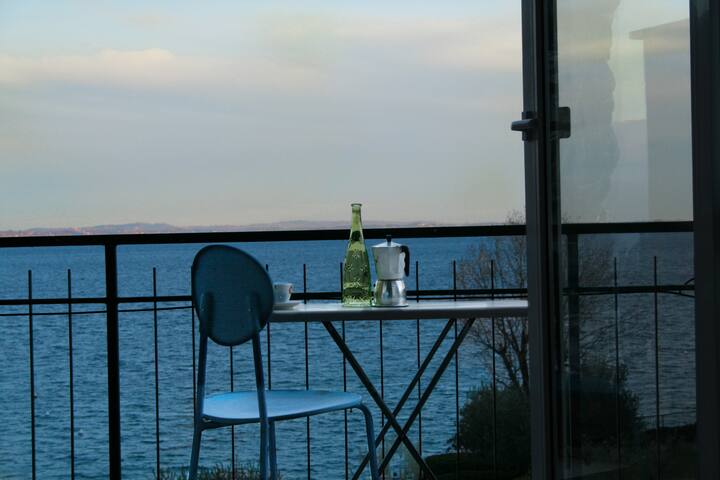 V bytě je ponořen do velkého parku, jehož prostřednictvím se dostanete přímo na pláž Scenérie je úžasná a můžete obdivovat krásu jezera cítíte v harmonii s přírodou. Má vlastní přístaviště a bazén s výhledem na pláž. Má vlastní přístup pro lodě. V randomizované strategickou pozici, aby měli snadný přístup k nejvíce 'krásná místa na jezero jako Salo a Sirmione Desenzano zábavních parků jako je Gardaland. Vhodné pro rodiny s dětmi.
V bytě je ponořena ve velkém zeleném parku, přes který se dostanete na bazén a pláž. Tato oblast je klidná a velmi uvolňující. Skládá se z obývacího pokoje s rozkládacím gaučem pro dvě osoby a kuchyňským koutem. To má dvoulůžkovou ložnici a koupelnu se sprchovým koutem a pračkou. Mimo to je vybaven na oběd s výhledem na jezero nebo relaxovat na slunci. Soukromé parkoviště
Pokud si chcete odpočinout, zaplavat do jezera a slunce zde jsou jen kousek i noční život a kulturní návštěvy Četné enogastronomic festivaly, které jsou v okolí v létě
Tiziana was waiting for us at the door with a warm welcome , she made for us a small tour and showed us everything. The location is great and clean , you can enjoy the sea or swimming pool , so there is no problem to swim at any condition. Perfect for small children as there is no traffic inside the big garden and there is a lifeguard at the swimming - pool . Tiziana was always available for us , but we didn't need anything else during the stay. If you want to enjoy the nature... this is the location , we spent most of the time in the garden or swimming. and there are great restaurants at the village near by .
Zvi
2016-08-02T00:00:00Z
We kregen een warm welkom. Erg vriendelijke mensen. Hebben ons alles uitgelegd en het park laten zien. Prachtig uitzicht over het meer, super. Zeker een aanrader!!
Ingrid
2016-08-27T00:00:00Z
Tolle Anlage mit schönem Pool, grosser Grünanlage, direkt am See und mit wundervollem Blick. Wir haben uns in Tizianas Appartment sehr wohl gefühlt, die Kommunikation war sehr nett und hilfsbereit. Das Appartement ist klein und funktionell eingerichtet, alles vorhanden, was man für ein paar Tage Erholung am See gebrauchen kann. Vielen Dank Tiziana, wir empfehlen Dich gerne weiter!
Anina
2016-09-02T00:00:00Z
Super lækkert location, lækre omgivelser, tæt på søen. Værten var MEGET søde hjælpsomme og imødekommende.
Kresten
2016-07-26T00:00:00Z
Das Appartement ist sehr schön gelegen. Ein gepflegter, grosser Park umgibt das Appartement mit direktem Zugang zum See und einem Steg, sowie einer Sliprampe. Das Appartement ist ideal für 2 Personen bei schönem Wetter. Wir waren mit dem Kajak am See. Der Zugang zum See ist ideal und die Kajaks können sicher aufbewahrt werden. Wir waren im Oktober im Appartement, das ganze Areal war sehr ruhig, die übrigen Wohnungen waren meist schon im Winterschlaf. Im Sommer herrscht sicher mehr Betrieb. Eine Fahrgelegenheit ist unabdingbar, da es in der Nähe keine direkte Einkaufsmöglichkeit gibt. Der Service von Tiziana ist vorbildlich. Vielen Dank an die Gastgeberin.
Leo
2016-10-15T00:00:00Z
Tiziana ist eine super Gastgeberin und war italienisch herzlich und hat uns mit ihrem Mann empfangen und sich auch die Zeit genommen uns die Anlage und Umgebung gezeigt/beschrieben. Die Möbel sind etwas in die Jahre gekommen, aber alles war gemütlich und alles was man braucht vor Ort. Die Anlage ist sehr groß 180 Apartments und im Sommer kann es sicher etwas lauter werden. Im September würde ich immer wieder in die Wohnung gehen, es war super!
Eric
2016-09-11T00:00:00Z
Typ pokoje
Celý dům/byt
---
Typ nemovitosti
Byt
---
Ubytuje
4
---
Ložnice
Solarolo manerda del garda, Lombardia, Itálie
in the quiet setting of 10 units, beautiful apartment suitable for families. 1° floor, garage, swimming pool and 2 terraces. Kitchen/living room with sofa bed, large double bedroom with terrace and small bedroom with 1 bed. Bathroom with washingmac
Holiday Rental House – 2 Bedrooms, 1 Bathroom, Sleeps 5. In the quiet setting of 10 units, beautiful apartment with pool, suitable for families. 1° floor, garage, swimming pool and 2 terraces. Kitchen/living room with sofa bed, large double bedroom with terrace and small bedroom with 1 bed. Bathroom with washing machine. Supermarket within walking distance. From Manerba you can relaxing days around: Salò, Desenzano, Sirmione. For those travelling as a family you can go to Gardaland, Caneva World, Movieland, Parco Giardino Sigurtà and Cavour water park. For those who prefer to relax, there is an outdoor swimming pool with a constant depth of 140 cm. The Lake with its famous beaches is 3 km.
The position of the apartment is particurary convenient because you can walk 100 mt. and shop at Penny Market.
El apartamento es tal cual se ve en las fotos. Silvia es atenta y muy buena anfitriona. Un placer en un sitio precioso y tranquilo.
Sara
2016-04-25T00:00:00Z
silvia è una persona squisita e puntuale,era presente al nostro arrivo ed è subito arrivata quando abbiamo dato la disponibilità a ripartire,bellissimo appartamento con tutto ciò che serve e anche di più,dalla cucina alla camera da letto e bagno,posto ideale per relax,ma vicinissimo a siti di interesse,di svago e divertimento,vicino a locali e ristoranti e market per eventuale spesa,presente anche una piscina utile nei mesi caldi se non si ha voglia di andare al lago,buonissima esperienza e ottima impressione generale su tutto
massimo
2016-02-29T00:00:00Z
Die Gastgeberin war korrekt und freundlich, die Wohnung ansprechend, schöne Einrichtung. Lage: positiv ist die Nähe zu einem Supermarkt, negativ die Nähe zu stark befahrener Straße.
Regina
2016-08-05T00:00:00Z
Die Wohnung entspricht der Beschreibung. Silvia ist eine sehr nette und hilfsbereite Gastgeberin.
Birgitt
2016-03-26T00:00:00Z
Hallo,wir waren zu viert, zwei grosse und zwei kleine unterwegs und leider nur für zwei Nächte auf der Durchreise. Aber silvia hat uns den Urlaubseinstieg sehr leicht gemacht. Die Wohnung ist schick eingerichtet und es ist alles vorhanden was man so braucht. Und unsere Zwerge waren natürlich am meisten vom grossen Pool begeistert. Die Kommunikation mit silvia funktionierte problemlos und sehr unkompliziert. Wenn wir wieder in der Nähe sind werden wir sicher wieder einen stop einlegen. LG katrin
katrin
2016-06-29T00:00:00Z
Opis zgodny z ofertą, bardzo dobre położenie apartamentu. Mieszkanie bardzo czyste i ładne! Kontakt był bezproblemowy zarówno w języku włoskim jaki i angielskim. Silvia miło nas przywitała, mieszkanie było przygotowane na nasz przyjazd. Doradziła nam także co warto zobaczyć w okolicy. Polecam!
Magdalena
2015-12-20T00:00:00Z
Appartamento veramente ben tenuto, posizione strategica, Silvia davvero una piacevole ospite
Paolo
2017-03-12T00:00:00Z
The apartment was fantastic. Very clean and homely. There are basics in the kitchen which made cooking very easy. There is a supermarket, similar to Aldi/Lidl with 200 meters too. It is also close to a very nice restaurant which mostly serves sea food, but does have a couple of meat based dishes. We thoroughly enjoyed our stay, and hope to return soon!! Sylvia was a fantastic host and she was there for any questions we had. She even helped us out by giving us directions and pointing out places of interest on a map.
Ryan
2017-02-15T00:00:00Z
Typ pokoje
Celý dům/byt
---
Typ nemovitosti
Byt
---
Ubytuje
5
---
Ložnice
Manerba del Garda, Lombardia, Itálie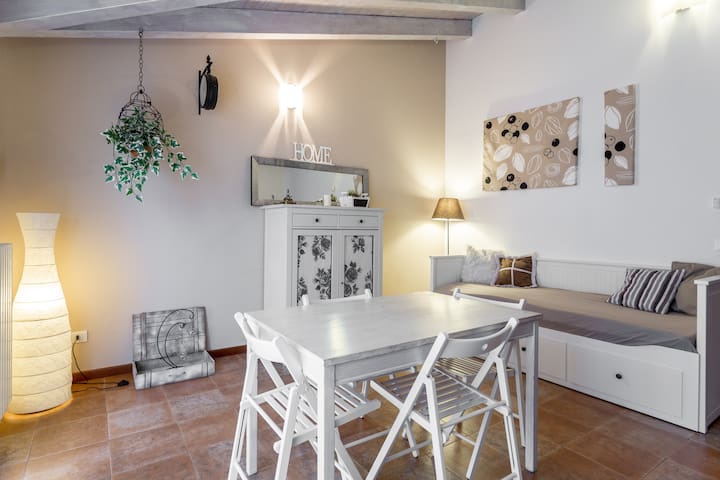 Appartamento con vista unica in riva al Garda. Enorme parco con piscina a bordo lago. Il residence da sulla spiaggia del lago, è presente un pontile privato in concessione. Campo da tennis, ping pong, parcheggio privato per ogni unità abitativa.
Schönes Appartement mit wundervollem Blick! Wir haben ein tolles verlängertes Wochenende dort verbracht. Sehr netter Kontakt mit Carmen und Alessandro. Das Appartement war sehr sauber, mit Handtüchern und Bettwäsche versehen. Es gab sogar Kekse, Kaffee, Tee, Zucker und Gewürze für uns. Als der Strom ausfiel half uns Alessandro sofort. Vielen Dank nochmal für den tollen Aufenthalt!
Nicole
2016-09-04T00:00:00Z
Appartamento molto pulito con una vista incantevole, immerso nel verde e silenzioso. Dal grande giardino, dove si può prendere il sole su una soffice erbetta, si accede direttamente a diverse belle spiagge. La cucina è fornita di tutto il necessario. Alessandro è stato gentilissimo e sempre a disposizione. Nei dintorni tanti bei posti da visitare e tante belle camminate nella natura (in particolare sulla Rocca di Manerba). Assolutamente consigliato!
Tecla
2016-06-06T00:00:00Z
Great accomodation and very clean as on the pictures shown, thanks to Alessandro we had beautiful days at lago di garda, he was always available.
Martin
2016-05-30T00:00:00Z
Everything was perfect. Great and peacefull location few meters from the lake and a really beautiful view from the balcony Alessandro is really nice and available.
Robert
2016-05-07T00:00:00Z
We had no problems at all! Alessandro welcomed us and showed us everything important... The Location of the apartment is super nice! The apartment itself is small but cosy and the view over lake garda is awesome from the balcony! Would recommend it to everyone who wants to live like 100 m from lake garda and a privat "beach" :) all in all it was great and we would definitely come back again! Thx Ales!!!
Nicolas
2016-08-06T00:00:00Z
Nous avons séjourné avec plaisir dans cette résidence très agréable avec le parc et la piscine surveillée immédiatement au bord du lac de Garde. En revanche nous sommes déçus de l'appartement en lui-même compte tenu du prix de la location. Avec un rafraîchissement ce serait excellent !
Valérie
2016-08-17T00:00:00Z
Alessandro was very welcoming and prompt in responding to any of our queries. The flat is situated in a lovely gated complex with a wonderful view over the lake and direct access from the garden on to the lake for swimming. The garden is extensive and well kept with plenty of room for people to sit under trees and read, whilst children play either in the gardens or in the supervised swimming area. The flat is compact as described and supplied with all the necessary cleaning and anti-mosquito sprays and candles. The added touches of coffee, olive oil, jam, sugar, biscuits and biscottes all helped to make us feel very welcome and relaxed.
Claire
2016-08-01T00:00:00Z
The area & surroundings were incredible. The apartment was just as we expected and included everything that we needed. Alessandro & his mother were both very helpful during the check in and check out process. I would highly recommend for anyone looking for a lake front holiday spot!
Melissa
2016-05-27T00:00:00Z
Typ pokoje
Celý dům/byt
---
Typ nemovitosti
Byt
---
Ubytuje
4
---
Ložnice
Manerba del Garda, Lombardia, Itálie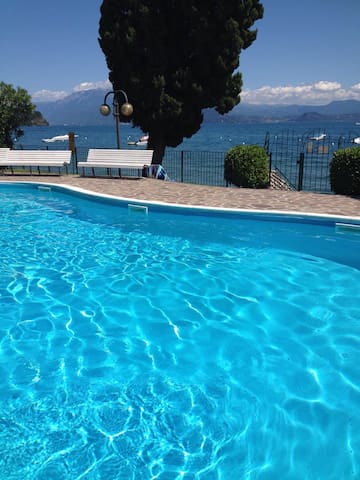 The apartment has a waterfront view, and possess an access directly to the lake. Very large terrace and is furnished elegantly. Within the larger residence area there is a pool (1 minute walk), tennis court (3 minutes walk). The apartment and area are very calm, but you can easily drive to Manerba or Desenzano if you wish to go to a restaurant or look for more nightlife. This house is romantic, allows you to enjoy the sunrise on the lake directly from the couch
The Rocca in Manerba provides a breath taking view of the lake and surroundings.
Großartiger Urlaub direkt am See, mit komfortalem, sehr gut ausgestattetem Appartment. Die Anlage ist sehr gepflegt und schön. Die Vermieterin ist sehr entgegenkommend und freundlich.
Heinz
2016-09-19T00:00:00Z
Typ pokoje
Celý dům/byt
---
Typ nemovitosti
Byt
---
Ubytuje
5
---
Ložnice
Solarolo, Lombardia, Itálie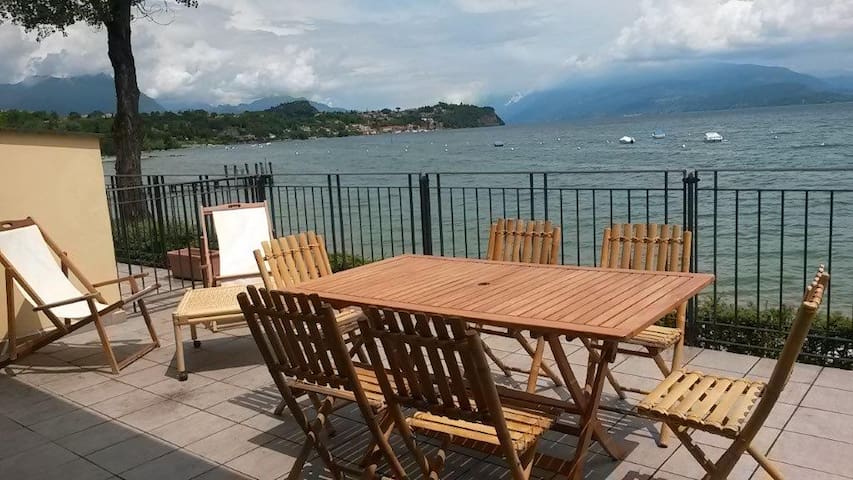 Un angolo tranquillo nel centro storico di Manerba, in un'antica casa ristrutturata, senza giardino, ma a due passi dal Parco naturale della Rocca, a 1 km dalle spiagge del lago. A 30 m. dalla piazza con ristoranti pizzerie. 5 posti letto + 1, cucina wireless, angolo esterno in cortile, utilizzabile per relax o parcheggio. Parking libero comunale, gratuito a due passi da casa. Convenzionato con centro sportivo privato, a pagamento, con piscina, sdraio e ombrelloni, tennis, barbecue, area picnic
appartamento trilocale al pianterreno,situato in una strada caratteristica molto tranquilla del centro storico, arredato con gusto, dispone di un grande letto matrimoniale, un lettino per bambini, una camera singola e un divano letto matrimoniale in stanza comune . Cucina con piastra ad induzione, microonde, nespresso, tosta pane, bagno con doccia grande, asciuga capelli. parcheggio nel piccolo cortile privato.
La frazione di Montinelle si trova in collina, in prossimità dalla Rocca di Manerba, una falesia a picco sul lago con vista mozzafiato, albe e tramonti bellissimi. Via Leutelmonte è una piccola strada rurale, caratterizzata da antiche case coloniche in cui veniva allevato il baco da seta, e gode sia della tranquillità del parco della Rocca , che della vivacità della piazza del paese. Durante il periodo estivo, un mercatino serale anima l'atmosfera con musica. le spiagge sono accessibili sia a piedi che in bicicletta o in automobile. mettiamo a disposizione dei nostri ospiti 2 biciclette.
l'appartamento è bellissimo e in una posizione ottima. Angela è una grande schiera. Io sicuramente visitare di nuovo!
Louise
2016-07-11T00:00:00Z
Lovely place, nice and clean. Very friendly host, thank you Angela! Good location. The apartments are best suited for 2 adults with children, as it has only one bathroom in the parents bedroom. We were 3 adults and felt less comfortable.
Marat
2016-10-10T00:00:00Z
Nous avons été très bien accueillis chez Angela qui est une hôtesse charmante, serviable et qui nous a permis de vivre a 100% notre expérience au lac de Garde. L'appartement est en tout point conforme aux photos et a la description, il est impeccable et te fait avec goût. Sa localisation est idéale : situé dans une rue typique et très calme du village tout en étant qu'à une centaine de mètre des cafés et restaurants. Nous recommandons vivement l'appartement d'Angela !
Beatrice
2016-07-30T00:00:00Z
We love the place and the host. Well located, well presented and well organized! Thank you Angela :)
Irina
2016-08-11T00:00:00Z
Angela and her husband were extremely welcoming, they even offered to pick us up from Desanzano when they realised we were not driving although there is a bus you can take to Manerba. The villa is in a perfect location, just a short walk down to the lake and in the centre of the little village Manerba. There was also a bike you could borrow which was very handy. The villa was lovely and clean and slept the four of us very comfortably. Overall we had a wonderful stay and would love to come back! Thanks again to Angela and her husband x
Lynn
2016-08-08T00:00:00Z
A cosy place to stay and Angela was very helpful and friendly. You can walk to the lake within 20 minutes and have restaurants, bars and a supermarket just close by. The only disadvantage is that you don't really have a sunny place to sit outside.
Daniela
2016-08-25T00:00:00Z
Angela nous a bien reçue et a répondu à nos attentes pendant notre séjour. L'appartement est situé dans un quartier calme, proche des petits commerces et Manerba offre une position stratégique pour visiter l'ouest du lac.
hélène
2016-08-23T00:00:00Z
Great apartment!
Judith
2016-07-10T00:00:00Z
Typ pokoje
Celý dům/byt
---
Typ nemovitosti
Byt
---
Ubytuje
5
---
Ložnice
Manerba del Garda, Lombardia, Itálie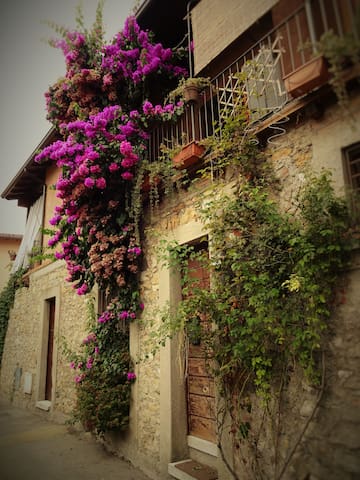 Attic Four-opened in 2016, connected to an attic room on the same floor. The apartment has a living room with sofa bed, a kitchen, 3 bedrooms with double beds and 2 separate bathrooms and a wooden loft
The accommodation can sleep up to 12 people, 8 in four rooms on the top floor and 4 in the attic on the same plane. It is located in a modern and comfortable environment, which recalls the ancient structure of the faces of the seventeenth century.
Manerba is a town that allows pleasant walks or appetizers overlooking Lake. Do not miss the Rocca of Manerba, which in addition to the archaeological and nature trail, probably offers the best view of Lake Garda.
alles war super..sehr freundlich..5 out of 5 points
Ritesh
2016-08-21T00:00:00Z
the place was great and Nicola and his family were great hosts! loads of space and everything very modern and new. the only downside was the area as there is not too much to do such as restaurants or bars.
Stefan
2016-08-11T00:00:00Z
Very large and modern flat on the hill. The flat it's leg is very private with a. Courtyard but a Market and restaurant a few minutes away by foot and larger locations a few minutes away by car. Great view of the lake for fireworks and other parties and an open market a few blocks away every Friday morning. The host was very helpful and accommodating; they were always a phone call away and made sure that we had everything we needed. Would definitely stay again.
J Demian
2016-08-16T00:00:00Z
Potrei parlare del buon profumo appena si entra in casa, della cura dei dettagli , della pulizia, delle lenzuola profumate, della vista lago, delle bibite trovate nel frigo.....bene l'ho fatto!!!! Casa consigliatissima, mi sono trovato a casa mia pur stando lontano oltre 1000 km. Grazie Nicola.
andrea
2016-07-09T00:00:00Z
Die Apartments von Nicola sind ganz toll und gemütlich ausgestattet. Die Apartments liegen zwar nicht im Zenturm der Stadt, allerdings doch sehr nah am See und zu den schönen Sehenswürdigkeiten. Ist sehr empfehlungswert.
Xiaoting
2016-11-01T00:00:00Z
It was a nice very new house , for big families or many friends ! Comfortable beds , nice kitchen and bathrooms. Better to visit in spring or Summer ! Car needed to visit area . Nice village
Μαργαριτα
2017-01-08T00:00:00Z
Casa pulitissima e bellissima! Proprietari cortesi e disponibili!
Sara
2017-01-03T00:00:00Z
Me ha encantado este alojamiento. Es muy bonito, comodo y limpio. El sector es muy acogedor y permite conocer los alrededores de este hermoso destino. Super recomendado! Es un alojamiento que esta tal cual lo muestran las fotos... muy agradable!
Melissa
2016-10-23T00:00:00Z
Typ pokoje
Celý dům/byt
---
Typ nemovitosti
Byt
---
Ubytuje
12
---
Ložnice
Solarolo, Lombardia, Itálie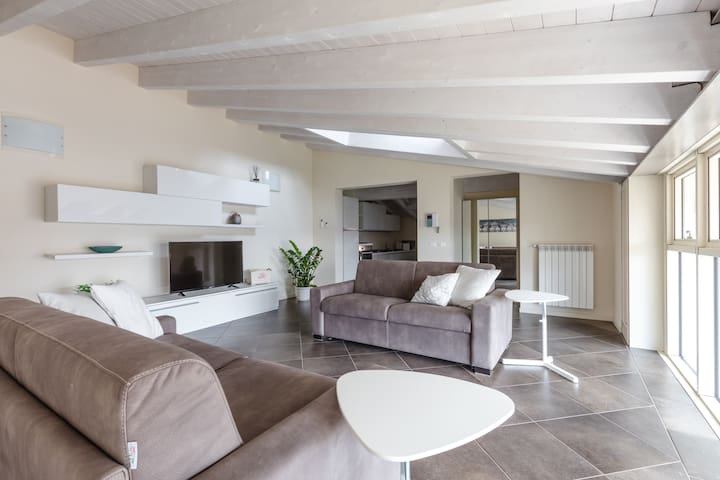 The apartment in Manerba del Garda has 2 bedrooms and has capacity for 5 people. The apartment is homelike, is ample, and has 85 m². The house is situated in a quiet neighborhood in a suburb. The accommodation is equipped with the following things: garden, fenced plot, internet (wifi), single boiler on gas, open-air car parking in the adjoining building, 1 fan.
The apartment in Manerba del Garda has 2 bedrooms and has capacity for 5 people. The apartment is homelike, is ample, and has 85 m². The house is situated in a quiet neighborhood in a suburb. The accommodation is equipped with the following things: garden, fenced plot, internet (wifi), single boiler on gas, open-air car parking in the adjoining building, 1 fan. In the electric open plan kitchen, refrigerator, microwave, freezer, dishes/cutlery, kitchen utensils, coffee machine, toaster, kettle and juicer are provided.
Typ pokoje
Celý dům/byt
---
Typ nemovitosti
Byt
---
Ubytuje
5
---
Ložnice
Manerba del Garda, Province of Brescia, Itálie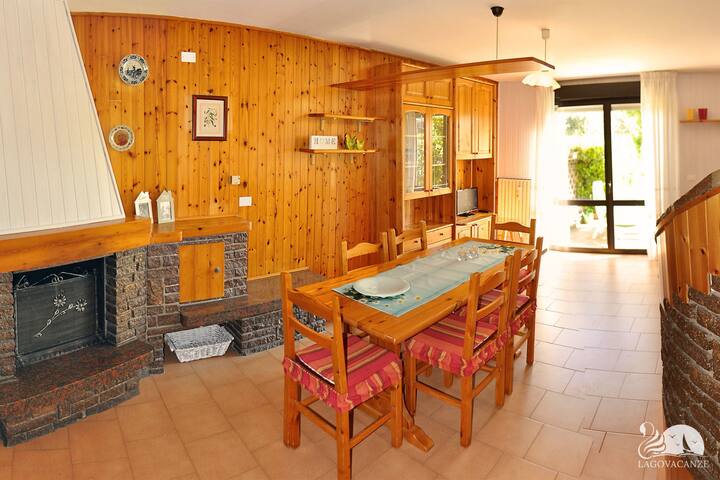 Appartamento ristrutturato luminoso, fresco e arredato con stile, terrazza con vista panoramica. A pochi passi dal centro, cascina ristrutturata accanto alla villa padronale. Vicino al lago, godetevi una vacanza unica: sarete accolti nella valle del relax nel bosco affacciato sul ruscello. L'incredibile atmosfera vi lascerà senza parole. Un grande uliveto accanto alla piscina comune, rifinita in pietra rosa. Servizi condivisi: lavanderia, palestra, parcheggio privato non custodito.
Typ pokoje
Celý dům/byt
---
Typ nemovitosti
Byt
---
Ubytuje
5
---
Ložnice
Manerba del Garda, Lombardia, Itálie
Pet-friendly apartment for families or groups up to 4 in nice residence with pools! This 1 bed ground floor apartment offers easy access to the shared outdoor pools of the pet-friendly Manerba Resort, and is ideal for couples, families and groups of 4.
Pet-friendly apartment for families or groups up to 4 in nice residence with pools! This 1 bed ground floor apartment offers easy access to the shared outdoor pools of the pet-friendly Manerba Resort, and is ideal for couples, families and groups of 4. Fully air-conditioned and centrally heated throughout, guests can enjoy a comfortable stay in all seasons. The bright and welcoming living room overlooks the covered private terrace and shared parkland beyond. The sitting room is complemented by a wall mounted flat screen TV with Hotbird channels, free Wi-Fi access and a fully-equipped kitchen diner. All the must-have cooking appliances are provided including an oven, cooker hob, microwave, toaster, coffee machine and dishwasher for a care-free holiday. From the kitchen diner, French doors lead conveniently out to a covered dining terrace with BBQ. The beautiful beamed ceilings provide an ambient and inviting contrast to the contemporary interior, whilst its open plan-style layout provides an effortless flow in which to relax and entertain. Couples staying will easily be able to enjoy a tempting holiday slumber within the inviting serenity of the modern master bedroom. With its romantic beamed ceiling and solid wood flooring effortlessly mixing with the chic homely furnishings, the scene is set for a good night's rest. French doors overlook the shared landscaped grounds to allow plenty of natural light in. Conveniently placed next to the master bedroom, the contemporary bathroom is fitted with a power shower, heated towel rack, wash basin, WC, bidet and washing machine. Additional guests staying can easily be accommodated to the comfortable double sofa bed found in the open plan living room. Outside, public parking is located within easy reach of the property. Guests can sit back and soak up the beautiful shared landscaped grounds of the family-friendly Manerba Resort. Mainly laid to lawn with olive trees and walkways, the idyllic parkland offers you, your family and pets with the perfect opportunity to relax and run around. The resort also benefits from a large outdoor swimming pool and a smaller paddling pool for kids. These lovely sunny pools are shared by just 18 apartments in total and are available from June 1st to September 30th. The Manerba Resort is situated close to the city centre of Moniga del Garda, with local shops, restaurants and all facilities. Porto Torchio, the famous La Rocca di Manerba, the Costaripa winery, Rappy Drive boat rental are just 5 minutes away. At the Manerba harbour startboat trips to Desenzano del Garda, Manerba del Garda, Salò, Riva del Garda, Garda, Bardolino. The luxury Spas, designer shops and ancient tourist sights of fashionable Sirmione (25 minutes' drive), the family theme parks of Gardaland and the Caneva Aquapark (27-31 minutes' drive) and the close proximity to the Swiss Alp ski slopes also promise to keep Lake Garda guests amused throughout the year. The airport links and famous attractions in Verona (42 minutes drive) and Milan (1.5 hours drive) are also within easy driving distance from Manerba del Garda.
Typ pokoje
Celý dům/byt
---
Typ nemovitosti
Byt
---
Ubytuje
4
---
Ložnice
Manerba del Garda, Province of Brescia, Itálie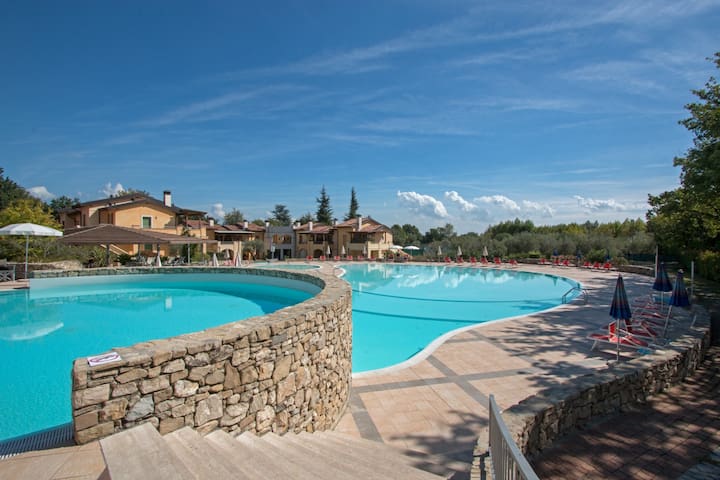 New studio apartment newly furnished , the ground floor of a private residence with swimming pool , near the lake. distances : - 2 minutes from Manerba - 15 minutes from Desenzano and Salò - 20 min from Sirmione and area parks as Gardaland - 40 min from Verona, Bardolino, Lazise Included: 1sofa bed , shower, washing macine, tv, equipped kitchen. Dog&cat small are welcome. Recall that the need for personal hygiene and for the night are NOT included . In out Saturday / Saturday Deposit 100 €
Accommodation New. Newly furnished, bright, quiet and residential area. Comfortable wardrobe, bathroom with shower and big window.
Located in a quiet and elegant area, 10 km from the center of Desenzano, is convenient to all services some even within walking distance (Bars, Restaurants, Super Market, Mac Donald, Gas, Laundry etc etc ..). Not far from the thermal baths of Sirmione and from the local beaches of the lake is a good ideal starting point to visit the famous town of Salo, Peschiera and the romantic Verona.
Ein wirklich sehr schönes Apartment, alles wie angegeben. Sehr gut ausgestattet Küche und hübsch eingerichtet. Außerdem sehr zentral gelegen, so das man alles gut und schnell erreichen kann. Sehr zufrieden
Paula
2016-08-27T00:00:00Z
The appartment is clean. The kitchen is well-equiped. The agency is very helpful. The sofabed is hard to sleep in. There is a lot of noice in the evening and night of neighbours and vehicules in the garage.
Evy
2016-08-14T00:00:00Z
Kleine aber sehr schöne und neu eingerichtete Einzimmerwohnung. Perfekt als Ausgangspunkt um Tagestouren am Gardasee zu starten und sich nachmittags nochmal an einen Pool zu legen. Alles wie beschrieben und alles notwendige vor Ort (außer Handtücher und Bettwäsche). Leider gibt es (noch) kein WLAN (was für die Planung von Tagestrips hilfreich wäre). Die Wohnung liegt direkt über der Garagenausfahrt, sodass man bei geöffnetem Fenster morgens aufgeweckt wird. Alles in allem ein sehr gutes Preisleistungsverhältnis. Small but really nice studio flat. Perfect for day trips and to relax at the pool. Everything as described and everything you need is there (except towels and bedding). Unfortunately there is no Wi-Fi so far. Sometimes it can be loud because of the garage which is below the studio. All in all good value for money.
Ruven
2016-08-06T00:00:00Z
Typ pokoje
Celý dům/byt
---
Typ nemovitosti
Byt
---
Ubytuje
2
---
Ložnice
Raffa, Lombardia, Itálie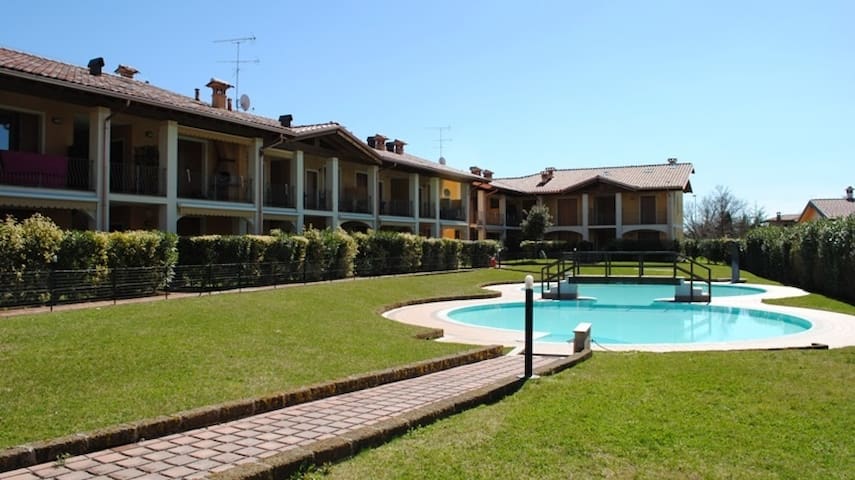 Apartment in a luxury residence with 3 pools and tennis courts. Highlights: - Wide terrace - Fully equipped kitchen - Private garage - Wireless flat Internet - Sat TV - Double air conditioning units
NOTE: 1) Price depends on the period 2) AirBnb automatically calculates the correct price 3) The pool areas are always accessible, but it is allowed to swim in the period from 1 June to 15 September This new apartment gives you the opportunity to live in a luxury residence with 3 swimming pools (also hot tub and baby pool), 3 tennis/football court, park, playground, barbecue area, security service h24 carried out by specialized operators. - Sleeps: 4 max - Double bedroom: 1 - Double sofa bed: 1 - Bathroom: 1 - Terrace (16sqm) - Square footage (61sqm) - Sat TV - Wireless Internet - 2 air conditioning units - Fully equipped kitchen You are within easy walking distance of supermarkets, bars, restaurants and Garda's beaches (about 400 meters)! So you can park your car and forget about it, if you want. The apartment is impeccable with all the equipment necessary for a pleasant stay. The beautiful and very stylish air-conditioned lounge area features a modern sofa (double sofa bed), coffee table, flat screen Sat TV, DVD, carpets, wooden ceiling, ethnic furniture, lamps and plants. The striking open plan kitchen is fully equipped (4 induction zone hob, dishwasher, refrigerator and freezer, multifunction oven and microwave oven, espresso machine, toaster, etc.). The dining area contains a peninsula table and 4 bar stools. Heating in the colder months is guaranteed by a modern pellet stove and heat pumps. The lounge area overlooks terrace-sundeck. It's definitely a plus, complete with a table and 6 chairs and sunloungers, with superb views across the park... and creamy elegant curtains to get a bit of privacy if necessary. The air-conditioned bedroom features a double bed, bedside cabinets, a banch, a spacious wardrobe, cushions, lamps and pictures. It offers a superb view across the park too. The bathroom is extremely comfortable! Featuring a shower, WC, basin and mirror, towels and hair dryer. *** We will be happy to host you and will do everything to make your stay as pleasant and comfortable as possible. Relationship with our guests is of primary importance for us, that is why we ask you for suggestions and special wishes that could make your time here as good as possible. Don't hesitate to communicate via mail or telephone your preferences concerning check-in time, places to visit, restaurants, pubs, public transportation, and whatever else could be useful for you.
By car it requires 10 minutes to reach the town of Salo', or the nightlife of Desenzano; in less than 20 minutes you can visit the most beautiful amusement parks like Gardaland, Caneva, The Safari Zoo, golf courses, etc.
Einer der besten Urlaube die wir je hatten. Man fühlt sich wie zu Hause. Die Wohnung ist der Hammer und die ganze Anlage ein Traum. Die Ruhe, die Pools und der Garten fantastisch. Die Einrichtung des Appartements ist mit extrem viel Liebe gemacht und es ist absolut alles da was das Herz begehrt. Das Auto ist in der Garage untergebracht und für die Fahrräder gibts einen eigenen Keller. Die Anlage wird rund um die Uhr bewacht und das Personal ist sehr hilfsbereit und freundlich. Bis zum Strand oder den Hafen Porto Torchio kann man in wenigen Minuten laufen oder mit dem Rad fahren. Es gibt nette Restaurants ganz in der Nähe, wir haben aber fast jeden Tag selber gekocht oder gegrillt und auf der schönen Terrasse gegessen. Paolo ist super nett und steht immer mit Rat und Tat zur Seite! Unser Urlaub war in den ersten zwei Wochen im September, da war es sehr ruhig und erholsam!
Bernhard
2013-09-15T00:00:00Z
Diese Unterkunft hat alles was man sich wünschen kann. Paolo ist ein hervorragender Gastgeber. Bei unserer Ankunft standen frische Früchte in der Küche. Im Kühlschrank befanden sich Jogurth, Eier, Getränke...etc, sowie eine Flasche Lugana. Alles war wirklich picobello sauber. Die Wohnung ist bis ins letzte Detail perfekt ausgestattet. Auch unseren beiden Töchtern hat es gut gefallen.
Melanie
2015-04-05T00:00:00Z
Having used Airbnb I number of times, I will start out by saying that Paolo is the one to beat. From the initial conversations prior to booking to the very thorough tour of the grounds to the food and drinks provided when we arrived, I can't think of anything more we could have asked for. The apartment was nice and modern, we really enjoyed eating many of our meals on the balcony. The children loved the fact that there were toys and DVDs and we took full advantage of the playground and swimming pools. Despite it being August we never felt it being too crowded. We didn't want to leave and highly recommend anyone staying at Paolo's apartment.
Marianne
2013-08-22T00:00:00Z
What a fantastic stay it was!! Can not recommend staying in this apartment enough. Paolo is a a very good host and very friendly. From the moment I booked the apartment he was always on hand and responsive to emails/texts - always happy to help with any questions we had. Once we arrived, he made us feel at home and showed us around the complex. He also gave us a great 'tourist' handbook, that helped use plan our stay. We stayed for 5 nights and it was perfect. The apartment had everything you could think of and it was in a great location (quiet but very close to the lake where there are restaurants etc).
Alkesh
2016-05-30T00:00:00Z
Das Appartement besuchten wir für einige Tage im August 2014. Die Einrichtung lässt keine Wünsche offen. Mit der sehr schönen Terrasse finden 4 Personen ausreichend Platz, zudem steht eine Garage zur Verfügung. Die Anlage mit den vielen Pools und der Gartenanlage ist gut gemacht, die vielen Gäste verlieren sich und tragen zu einer ruhigen Umgebung bei. Die sehr ausgeprägten Sicherheitsmaßnahmen in dem Ressort haben uns etwas gestört, sind aber akzeptabel. Die Lage zum Gardasee ist hervorragend, Bademöglichkeiten und ein kleines nettes Dorf sind zu Fuß gut erreichbar . Paolo ist der perfekte Gastgeber. Er hat uns eine geschmackvoll eingerichteteWohnung zur Verfügung gestellt, von der man glaubt, dass gerade ein Freund sein zu Haus mit Lebensmittel für die nächsten Tage inklusive eines guten Weines zur Verfügung gestellt habe. Vielen Dank.
Carsten
2014-08-21T00:00:00Z
Paolo was a great host and replied quick to all messages and questions. Paolo bought some fresh fruits, salat and other stuff for the first dinner and breakfast! The apartment was nice decorated and has a big balcony. The kitchen is fully equipped with coffee machine, microwave, dish washer,... We even had a parking garage. The apartment complex in which this apartment is located is equipped with a big pool area (3 different areas) which was very quit and beautiful.
Christoph
2016-09-01T00:00:00Z
Er netop hjemvendt efter 12 fantastiske dage i Paolo´s lejlighed. Lejligheden er tip top og levede op til vores forventninger. Det er et stille og roligt lejligheds kompleks, men stadig ideelt til børn med de 3 store fantastiske pools. Paolo var meget behjælpelig med alle vores spørgsmål under turen og kunne give en masse gode tips. Helt klart et besøg værd og vi kommer helt sikkert tilbage.
mikkel
2016-07-20T00:00:00Z
This apartment was fabulous! Paolo was a very welcoming host and made sure we had a good introduction to the residence and complex. We felt very at home here, with everything you can imagine at hand. An extremely well equipped apartment and very comfortable-almost like staying in someone's home. There were some good restaurants nearby, a shop just 5-10 minutes walk and a very beautiful panoramic view of the lake up a hill nearby. The pools on the complex were great, very relaxing. Recommended to couples and families (there were a lot of families on site).
Lydia
2015-07-05T00:00:00Z
Typ pokoje
Celý dům/byt
---
Typ nemovitosti
Byt
---
Ubytuje
4
---
Ložnice
Manerba del Garda, Lombardie, Itálie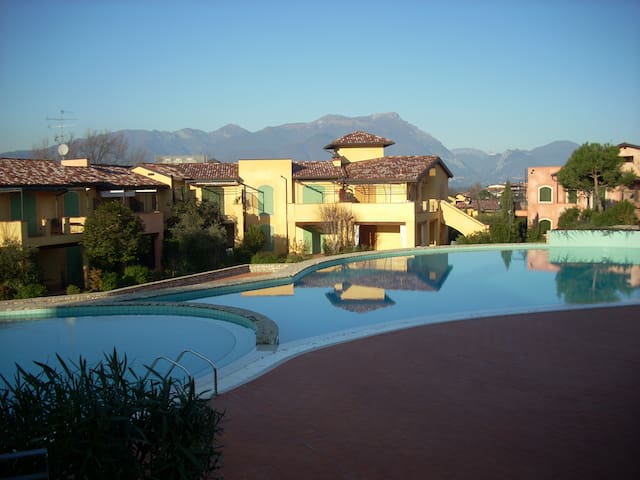 The apartment is located on the upper floor, is approximately 40 m² in size and has its own staircase. The premises consist of living / dining area with kitchen, bedroom and bathroom with shower and toilet. The floor throughout the apartment is equipped with flow and offers a modern air-conditioning even in summer a pleasant temperature. The balcony has a beautiful view of the lake and from the lawn from there is direct access to the beach. Cleaning € approx 25th
Typ pokoje
Celý dům/byt
---
Typ nemovitosti
Byt
---
Ubytuje
3
---
Ložnice
Pieve Vecchia, Lombardia, Itálie