This double studio is located on the top of a two stories building less than 5 minutes from the village's center. It has a big, shared, uncovered terrace with magnificent view not only to the sea but to the whole area.
The studio fits comfortably a couple, it has a new, well equipped kitchen and a fair sized bathroom with shower. It also has A/C and Wi-Fi connection. The most significant of the place is its terrace. It has beautiful view to the area and offers you hours of relaxation and sunbathing. This studio was renovated from the bottom the period 2016-2017.
The best on this neighborhood is that despite the fact that is less than 5 minutes walking from the village's center it is very quite. It has also much better view that the houses downtown and there are not only hotels around but mostly houses of locals.
We had a great time here, the apartment we had was clean, spacious, had a great terrace with a fantastic view. Definitely recommendable. Very close to the beach and centre of town.
Dennis
2016-09-14T00:00:00Z
Typ pokoje
Celý dům/byt
---
Typ nemovitosti
Byt
---
Ubytuje
2
---
Ložnice
Πλακιάς, Κρήτη, Řecko
Fully equipped traditional style apartment in Crete with breathtaking sea view. Annaview is an amazing apartment located in Mirthios village on top of a hill with sea view to the bay of Plakias. It is an ideal choice for relaxing and pleasant holidays. (MH.T.E): ((PHONE NUMBER HIDDEN))
Apartment No13 is a Luxurious TYPE-A, 2 separate rooms (30 sq.m) apartment that consists of: - One spacious bedroom decorated with traditional stone walls, wooden ceilings and an amazing comfortable king size bed with 'COCOMAT' mattress from 100% natural organic materials for an incredibly comfortable sleep ! - One air-conditioned separate fully equipped kitchen/dining room furnished with table, chairs, sideboards, cooking top, refrigerator, kitchen sink, coffee maker, toaster, sandwich maker, water boiler and all the necessary facilities of cooking. - One private Bathroom/WC with cold/hot water equipped with dryer for hairs. - A private big balcony, with sea view to the bay of Plakias. One part of the balcony is covered by wooden tile roof and the other is open where you can relax and enjoy the comfortable sun-bed under the sun.
The apartments are located in "Mirthios", a small village with panoramic view since it is built on the top of a hill overlooking the bay of "Plakias". The distance from "Mirthios" to the beach of "Plakias" is about 3 km or 5 minutes driving. There is also a path starting from the centre of the village passing by the olive trees farms down to Plakias where the distance is about 1,5 km and you need less than 20 minutes to go on foot. What most of our customers use to do is to rent their own transportation (car or bike) in order to organize daily trips around the island or to visit the 7 sandy beaches (some of the best in south Crete) that are located in a distance range of 3km to 10km from AnnaView apartments: 1.) Plakias beach 2.) Souda beach 3.) Damnoni beach 4.) Ammoudi beach 5.) Ammoudaki beach 6.) Shinaria beach and 7.) Preveli Palm Beach
die Unterkunft ist sehr ruhig gelegen und gepflegt. Das Appartement wurde täglich gereinigt und sowohl Bett als auch Polster waren ein Traum!! Die Unterkunft bietet sich wunderbar für Ausflüge an. Weiters gibt es ganz in der Nähe schöne Strände. Direkt neben dem Appartement ist eine sehr empfehlenswerte Taverne (Dionyssos)!! Wir haben in diesem Urlaub sehr viel gesehen und konnten so richtig abschalten!! Danke!!
Viktoria
2016-08-05T00:00:00Z
Typ pokoje
Celý dům/byt
---
Typ nemovitosti
Byt
---
Ubytuje
2
---
Ložnice
Mirthios, Kréta, Řecko
The simply decorated studios and apartments of Panorama have a kitchenette with dining area, fridge and cooking hobs. Each air-conditioned unit includes a private bathroom with shower. Guests can start their day with a full English breakfast served
Very nice, clean and well-located apartment. Very nice hosts, helpful, the breakfast was great, and relaxing at the pool was a good alternative to go to the beach. We can fully recommend it and would like to come back one day!
Markus
2016-05-23T00:00:00Z
Très bon séjour, sur la colline (il faut pouvoir monter sans problème, personne avec des difficultés pour marcher devra monter en voiture) avec une belle vue au petit déjeuner et lors des repos à la piscine de l'hôtel. Petit déjeuner copieux et flexible (on continue de vous servir à 10h10 - ne pas exagérer quand même ;-) ).
Roland
2016-08-24T00:00:00Z
Leider wurde unser Aufenthalt eine Woche vor Abflug ohne Angabe von Gründen gecancelt. Wir haben allerdings direkt eine Alternative angeboten bekommen... inkl. freiem Frühstück für alle Personen für die Dauer des Aufenthalts, freie Liegen und Schirm am Strand. Wir haben das Angebot angenommen und waren auch mit der Alternative sehr zufrieden. Zu Panorama Appartements können wir daher nicht viel sagen. Das Frühstück war gut. Es gab immer mal kleine Variationen an Ei oder Kuchen. Die Dame beim Frühstück war sehr hilfsbreit und freundlich. Der Pool war sauber und erfrischend. Die Unterkunft liegt den Berg hoch... daher schöner Blick, aber je nach Auto auch nicht ganz einfach auf der Schotterpiste zu erreichen.
Janin
2016-07-24T00:00:00Z
Very warm and friendly, good value for money. Accommodation ideally located with restaurants and bars nearby Pool very clean and very good small lunches. thank you again
Anaïs
2015-09-03T00:00:00Z
The host canceled this reservation 113 days before arrival. This is an automated posting.
Ghalia
2017-03-12T00:00:00Z
We had a great time with this accommodation. The Appartement had a lot of space and two balconies with an amazing view. It was very quiet and we had a lot of fun using the pool to refresh after long days at the beach. Staff was very very friendly. Bottom line: Nothing to complain - we recommend a booking here.
Moritz
2015-06-28T00:00:00Z
Great location, view, pool, and breakfast. Helpful hosts. But did not reply to e mail requests for directions.
Douglas
2015-09-08T00:00:00Z
logement bien situé sur les hauteurs de Plakias avec une vie sur la mer. Environnement calme. cuisine bien équipée. deux chambres. piscine agréable et petit déjeuner agréable au bord de la piscine.
Céline
2016-07-06T00:00:00Z
Typ pokoje
Celý dům/byt
---
Typ nemovitosti
Byt
---
Ubytuje
5
---
Ložnice
Πλακιάς, Κρήτη, Řecko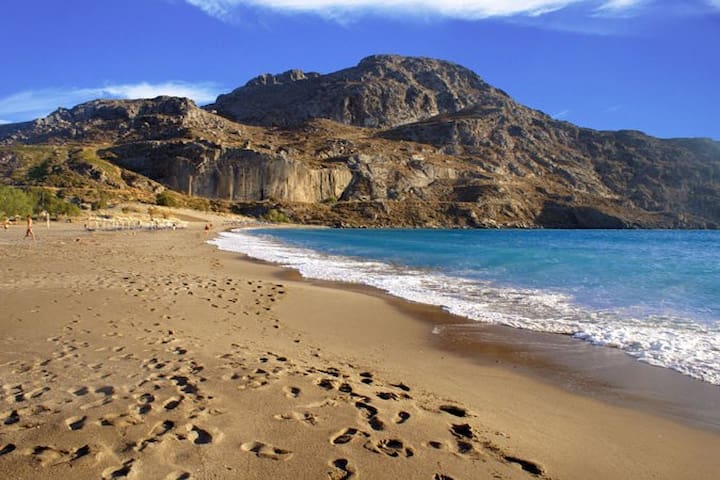 ''The Village" apartments, are located in the beautiful mountain village of Mirthios, southern Crete. There are 7 apartments altogether, with exquisite sea views of Plakias Bay. Our apartments can accommodate 2 – 4 persons.
Enjoy a cool drink while sitting in the garden terrace and admire the beautiful panoramic view of the Libyan sea with friends or family.
''The Village" Apartments are a 5 minutes drive to the sea and the village of Plakias. In Plakias there are supermarkets, sea front tavernas, coffee places and bars, a bus station, taxi stations, a doctor's surgery, 2 pharmacies and a post office. You can enjoy the sandy beach of Plakias bay and discover some other smaller beaches such as Damnoni, Souda Amoudi and Skinaria. If you like water sports, why not explore the sea of southern Crete by scuba-diving in Plakias and Damnoni with organized groups by the two diving centers. There is also the opportunity to water ski and wind surf etc. in Damnoni. A beautiful place to visit is the beach at Preveli. Surrounded by palm trees, and the river from the Kourtaliotis gorge running into the sea, it has often been used in advertisements and you can get there by car, bus, or boat from Plakias
Très bel appartement tout neuf dans un superbe village! Tout est beau ici et bien pense: logement spacieux et aéré avec une magnifique vue sur mer et montagne. Plakias et sa plage se trouvent à 30 minutes à pied ou 10 minutes en voiture. Une très belle solution pour vivre une ambiance de petit village tout en allant à la plage facilement.
Evelyne
2016-07-10T00:00:00Z
Sehr schönes Apartment (wohl frisch renoviert) mit super Aussicht über die Bucht von Plakias. Schöner kleiner Garten zur Entspannung. Tavernen zum Mittag- bzw. Abendessen fußläufig erreichbar. Supermärkte in Plakias. Klare Weiterempfehlung!
Alexander
2016-04-15T00:00:00Z
Very nice apartment with a beautiful view on the sea and on the mountains. The apartment is clean and there is everything you would need (towels, kitchen, ..). The area is very calm and you can go to the sea in 10mn with a car. I recommand this apartment if you want to rest while enjoying the view and also go to the sea in less than 15mn.
Johann
2016-10-28T00:00:00Z
Très bel appartement avec magnifique vue sur mer. Jolie décoration intérieure. Terrasse très agréable. Bon accueil avec un service irréprochable: comme à l'hôtel, on vient vous faire les lits et vider les poubelles tous les jours ! Sur notre séjour, nous avons réservé 4 logements différents, celui-ci arrive en première place.
Géraldine
2016-10-26T00:00:00Z
Very nice appartment, recently renovated with all necessary facilities (towels, dishes, TV)
Franck
2016-06-19T00:00:00Z
Typ pokoje
Celý dům/byt
---
Typ nemovitosti
Byt
---
Ubytuje
4
---
Ložnice
Rethymnon, Kréta, Řecko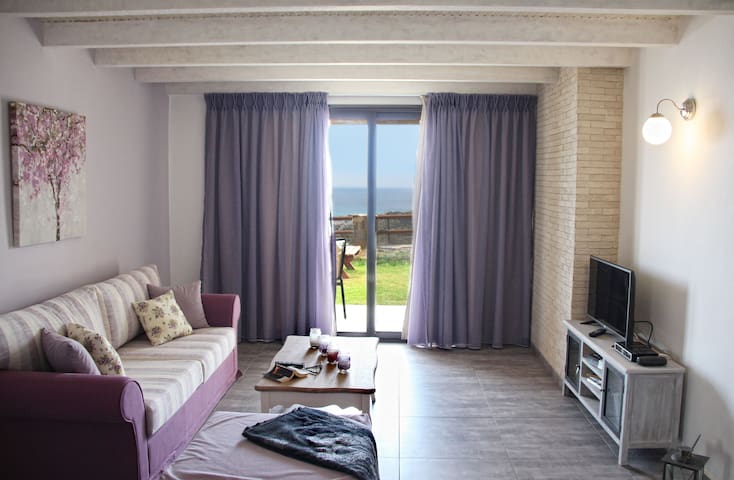 "STELLA in the village" at Mirthios consists of apartments 30 sq.m . It is the ideal choice for those who like one-room accommodation with great facilities and breathtaking views !!
The apartment 30sq.m at "STELLA in the village" at Mirthios is one-room and consists of two single beds/or one double bed, big wardrobe, kitchen ,bathroom and balcony with direct sea view ! The beds are anatomic - each single bed is 90x200 cm and they can become one king size double bed 180x200cm. The private bathroom has wc and shower - are provided towels, hair dryer, cold/hot water. In the fully equipped kitchen you find a toast maker, a toaster, a coffee machine, a water digester as well as sink, refrigerator, electric kitchen stove with oven and extractor hood. Balcony has a table , comfortable chairs , umbrella and sunbed! Enjoy the panoramic sea view sitting on balcony ! Further every apartment : -- air-conditioned -- has satellite TV.(plasma 32") -- iron and iron table -- parking place
Our area : At the south part of Rethymno prefecture, almost at the centre of south Crete. Mirthios is a peaceful village on the hillside overlooking Plakias bay, apart from the noisy tourist areas and still within easy reach shops, tavernas-restaurants. Nearby you can visit gorges, museums, sighseeings and beaches by the Libyan Sea. It's only a short walk from "STELLA in the village" into the pictorial mountain village of Mírthios. Many of the old houses are carefully reconditioned to keep their special atmosphere. Sitting on the panorama terraces of the absolutely recommendable taverns you can enjoy the wonderful view over the beautiful bay of Plakiás and the bright blue sea! With clear weather the view is enough up to the island Gavdos. The location is simply breathtaking!
We really enjoyed Our stay at Stella! The Appartement was nice, clean and spacious. We had a Great view To the sea. You can reach all The beautiful beaches within a 5 minute Drive by car. In mirithos itself there Are several Restaurants where you get very good cretan Food. Stella was helpful and very friendly. We only can recommed a stay there :)
Elisa
2016-07-18T00:00:00Z
Véry nice appartment With beautifull view on the sea. Thé flat is very clean and Stella is very plaisant. You will find some info for thé différent villages and beachs to visit. I recommand this adress.
Stéphane
2016-10-25T00:00:00Z
Typ pokoje
Celý dům/byt
---
Typ nemovitosti
Byt
---
Ubytuje
3
---
Ložnice
Mirthios, Kréta, Řecko
Das kristallklare blaue Meer von Plakias ...... dies kann bewundert werden, wenn Sie das berühmte Dorf Plakias eingeben. Es ist eine einzigartige, göttliche Harmonie des Meeres und der schönen Landschaft. Die Breeze Ferienwohnungen liegen in diesem Paradies, und sie sind nur ein 50-Meter-Spaziergang vom Meer entfernt. Die speziell entwickelten Stil der Wohnungen werden Sie sprachlos. Die Farben der Wohnungen sind die Farben des Meeres !!! Genießen Sie Ihren Aufenthalt in Plakias!
Die blaue Farbe von Plakias ... ..afto bewundern können, wenn das Gebiet betreten. Die extrem tiefblauen, kristallklare Meer sind in perfekter Harmonie mit der natürlichen Schönheit des Ortes. Genau in diesem Paradies sind die Breeze Apartments. 50 Meter vom Strand entfernt finden Sie sich in den renovierten Räumen von Breeze entspannen. Die speziell entwickelte Pop-Stil der Zimmer lässt schauen ausgeruht und führt Sie in den Armen von Morpheus zu frönen. Die Farben ... das Plakias Strand selbst ...... genießen Sie Ihren Urlaub !!
Die Wohnung befindet sich im Dorfzentrum, nur 50 Meter vom Meer entfernt. Es liegt in der Nähe traditionellen Cafés mit einem starken Element von Kreta.
We booked Breeze Aparment with short notice. Dina was always quick in answering our enquiry. From the moment we arrived to the day we left, she has always been a very attent host, helpfull in suggesting typical restaurants and with anything we needed. The apartment is simply beautifull, it is exactly like in the pictures. It has everything we needed for holiday. The location is very good, located in a side street very close to the centre (plenty of restaurants, bars and supermarkets) but yet not too noisy thank to the thick windows. Best part, the sea is very close to the apartment!! Good wifi connection. I will definitely be back by my next trip in Creete. Thank you for the great time!
Stefania
2016-06-09T00:00:00Z
We had a great vacation in this beautiful apartment in Plakias! Dina was a caring and congenial host. Although we arrived quite late, Dina waited for us and surprised us with some self-made Greek food :) The apartment was super clean. It is very modern - everything is new and furnished with so much love! Both the bed and the air condition are very good, the windows are well insulated. The apartment is located in a little street in immediate vicinity to the sea and some very good restaurants and bars. We enjoyed our apartment and the hospitality of Dina a lot and we will definitely come back!
Julia
2016-06-19T00:00:00Z
Dina was extremely accommodating, since we arrive so late she waited for us and offered to order food for us ! The apartment is clean. new and as shown in the picture in the middle of Plakias with all commodities at Walking distance!
Martine
2016-07-27T00:00:00Z
Breeze apartment is new, very nicely furnished appartment. We had available two balconies with sea view and mountain view covered in sun from the early morning. Place is located in a side street to the main road just 1-2 mins from the beach. All the amenities are very close: organic (bio) vegetables & nuts shop, mini market, pharmacy, tavernas, local bakery with the best gluten-free portokalopita (orange cake ) I've ever tried. The only disadvantage was the fact that the street got very noisy in the evening and almost until morning due to the bar outside. The apartment has very good windows that isolate noise and air conditioning available so when you close it in night you hear nothing. During our stay, however, we preferred fresh breeze compared to AC and had to cope with the noisy street. Apartment had also all the basic things you need such as soap, hair dryer, toilet paper, kitchen equipment... Dina, the owner, was very helpful and lives right next door.
Veronika
2016-07-04T00:00:00Z
Dina's place was just perfect for me and my two adult kids. We enjoyed the beaches, cafes and tavernas in Plakias and would highly recommend this apartment. Very new and clean.
Laura
2016-12-26T00:00:00Z
Nous avons passé de merveilleuses vacances au sein de BREEZE Vacation Apartement. Le logement est très agréable, très propre et soigné ! Il dispose d'une parfaite situation géographique dans le village de Plakias avec des nombreuses commodités tout autour (magasins, restaurants, pharmacie, parking gratuit ...) De plus, Dina est une hôte très souriante et accueillante !
Franca
2016-07-22T00:00:00Z
Dina e' stata una perfetta host, ha dato molte informazioni su dove mangiare, dove trovare le più belle spiagge. L'appartamento è' come nelle foto, pulito, ben arredato, a due minuti a piedi dal centro. Molto consigliato.
Riccardo
2016-08-29T00:00:00Z
The Breeze Vacation Apartment was a very beautyful place. Everything looked exactly like on the pictures. We really enjoyed our stay. We had everything we needed and Dina was a very lovely person who answered all our questions - we had a very warm welcome and also a very fondly goodbye. The only thing you have to know about this lovily place is, that there is a Taverna across the street and also a cocktailbar. So you may party on till 3 o'clock in the morning or you have to close the windows (the aircondition works perfectly!) - it is a quiet place in daytime, but not so in the nighttime.
Nancy
2016-09-12T00:00:00Z
Typ pokoje
Celý dům/byt
---
Typ nemovitosti
Byt
---
Ubytuje
4
---
Ložnice
Plakias, Kréta, Řecko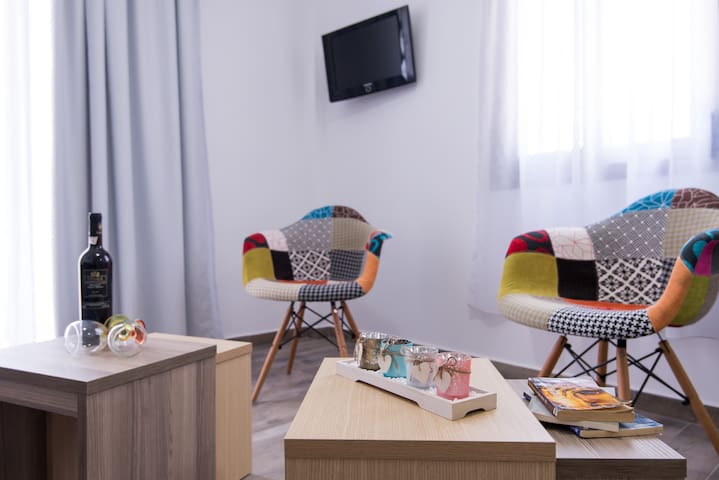 Stone studio for rent in Plakias (South Rethymno, Crete) - 30 m2 - bright, cosy and comfortable. Spacious yard and big garden. Full equipped for living: Living room, Washing machine, Kitchen shared with an other same apartment. Nice view of the sea and mountains and only 5 minutes walk to the sea. Wi-Fi, parking.
Typ pokoje
Celý dům/byt
---
Typ nemovitosti
Byt
---
Ubytuje
2
---
Ložnice
GR, Řecko
Apartmán s výhledem na moře. Dva balkony, ložnici pro dvě osoby a obývací pokoj s rozkládací pohovkou pro dvě osoby.
Typ pokoje
Celý dům/byt
---
Typ nemovitosti
Byt
---
Ubytuje
3
---
Ložnice
Plakias, Crete Region, Řecko
Krásný byt v Plakias, pouhých 20 m od domu beach.The je na výhodném místě, v srdci Plakias, se snadným přístupem k hlavní písečné pláže, stejně jako pro mnoho zařízení. Plakias je jedním z nejkrásnějších míst na jihu Kréty s fantastickým písečné pláže a křišťálově čisté vody. Tam si můžete vychutnat vodní sporty a výlety lodí na plážích u Preveli a Loutro.The Byt je nový, čistý a nabízí pohodlí, jako je televize, klimatizace, pračka a bezdrátovým připojením k internetu. Nachází se v prvním patře má dva balkony a je vhodný pro 2-4 osoby. Skládající se z jedné ložnice s dvoulůžkem a kuchyňským koutem - obývací pokoj s pohovkami - beds.The kuchyňská linka je plně vybavená, takže si můžete připravit jakýkoliv snídaně a jídlo. Byt se nachází v klidné čtvrti, ale v docházkové vzdálenosti se nacházejí restaurace, obchody, supermarkety, bary. Na pláži je organizována s lehátky, plavčík a barů. Plakias je spojen s autobusovou dopravou a taxi od letiště a ostrova ports.The krásného města Rethymno je 35 km drive.We jsou vždy k dispozici a užitečné, s autopůjčovna rezervaci, poradenství o místech, kam jít a vidět, pláže najít a restaurací navštívit.
Docházkové vzdálenosti od pláže, restaurací a supermarketů.
I liked my staying at Plakias at Alexandros' apartments very much. The host was friendly and very attentive even though he couldn't meet us and we were greeted by his aunt Maria. The Apartment is just how it is portrayed on the photos (even a bit better I'd say) - comfortable, spacious enough for 2 persons, we only used one climate control unit (there are two of them). Plakias is a very quiet places compared to Rethymno - there are no crowds and only a few people on the beach. Prevelli and Amudi beach are near and available via boat or car. I would recommend other people staying at Alexandros' apartments.
Musikhin
2015-09-05T00:00:00Z
Alexandros was a very welcoming host, and helped out with my questions regarding transportation and vegetarian restaurants prior to coming to Greece; he even helped out with talking to our taxi driver even though he was in Athens at the time! The apartment is smallish, but is very nice for two people. Despite the heat, the two (!) AC units work really well, and the two balconies are a treat. Having access to a fully-furnished kitchen as well as a washing machine was a real boon. The proximity to the beach is insanely close, in the best sense of the word. The apartment was very nicely cleaned during our two-week stay, and the caretaker, Maria, was very courteous. All in all: a perfect summer holiday stay, and a perfect host!
Niklas
2015-08-03T00:00:00Z
Thank you very much! Very confortable! Goodbye
Pietro
2015-09-12T00:00:00Z
Alex and all his cousins were very nice and welcoming. The apartment was small and cosy, with everything we needed. There was a cot put out for our little boy and the flat nice balconies at each end. The location was good, near the sea and we liked having a base in Plakias. We would recommend it! xx
Rosie
2015-04-21T00:00:00Z
Nous recherchions un appartement idéalement situé près des commerces, restaurants et plages : celui proposé par Alexandros correspondait tout à fait à nos attentes. Alexandros a toujours été soucieux de notre confort, nous a donné des conseils pour nos balades et les restaurants où dîner. L'appartement est fonctionnel, bien équipé (2 climatisations, machine à laver, table/chaises sur chacun des balcons, très bonne literie...) et propre : tous les 3 jours, le ménage était fait, les draps et serviettes changés. Si nous avons autant apprécié notre séjour à Plakias, c'est aussi grâce à l'accueil d'Alexandros.
philippe
2016-07-02T00:00:00Z
We are a couple and we stayed for 6 days in Alexandros place. The appartement was very comfortable for two, well equipped and full of light due to its two terraces, one on each side, there are no ocean views but it's a good place to relax when you get back from the beach. The location is convenient both for going to the beach and to go to the restaurants and supermarkets. Alexandros and Tolis were very welcoming and warm hosts. Good place to stay in Plakias!
Andrea
2015-05-04T00:00:00Z
The appartment is not clearly designed for holiday use, but it is nevertheless a very nice play to stay. All appliances are available and the appartment is ideal situated close to the beach. It receives the fresh wind from the sea. Plakias is having plenty of beach space and opportunties for making trips either organized or self supported. I has two balconies on each side of the house, which makes it possible to either avoid or enjoy the sunshine.
Jac
2013-09-21T00:00:00Z
Die Wohnung befindet sich in einer super Lage und die Ausstattung ist genauso, wie auf den Bildern. Alex ist ein sehr guter Gastgeber. Wir hatten wunderbare Zeit und können nur weiter empfehlen! Angela und Olga
Alex
2016-08-28T00:00:00Z
Typ pokoje
Celý dům/byt
---
Typ nemovitosti
Byt
---
Ubytuje
4
---
Ložnice
Mirthianos Plakias, Kréta, Řecko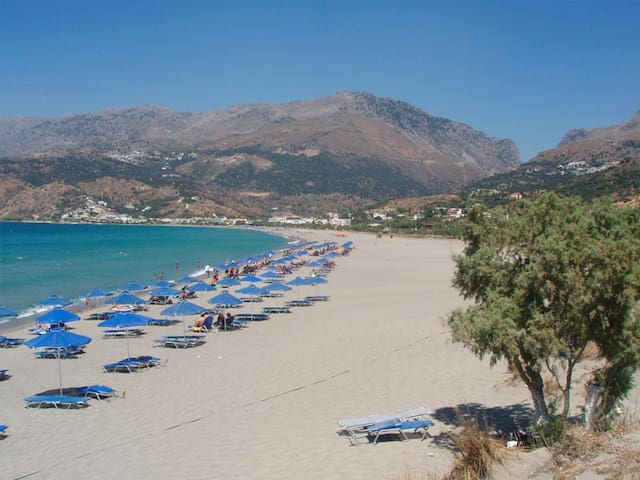 Set at the far end of Plakias, only a couple of minutes away from the main centre of Plakias, Enplo offers the guest a quiet respite. Unique in the fact that it is so close to the tavernas, cafeterias and shops, yet is set in tranquil surroundings.
Set at the far end of Plakias and only a couple of minutes away from the main centre of Plakias, Enplo offers the guest a quiet respite. It is unique in the fact that it is so close to the tavernas, cafeterias and supermarket, but set in the quiet end of Plakias.
There are many stunning beaches surround Plakias. The most famous beach is probably the palm beach at Preveli. All the outlying beaches are accessable by car and are all within a 15 minute driving distance.
Nice appartment with perfect location!
Léo
2016-07-31T00:00:00Z
ottima sistemazione per pernottare a plakias e come punto di partenza per visitare le spiaggie vicine. accoglienza sbrigativa e senza nessuna informazione. bel terrazzo, utile lo stendino per stendere i vestiti bagnato.
Marco
2016-08-14T00:00:00Z
Typ pokoje
Celý dům/byt
---
Typ nemovitosti
Byt
---
Ubytuje
4
---
Ložnice
Ag Vasileiou, Rethymno, Řecko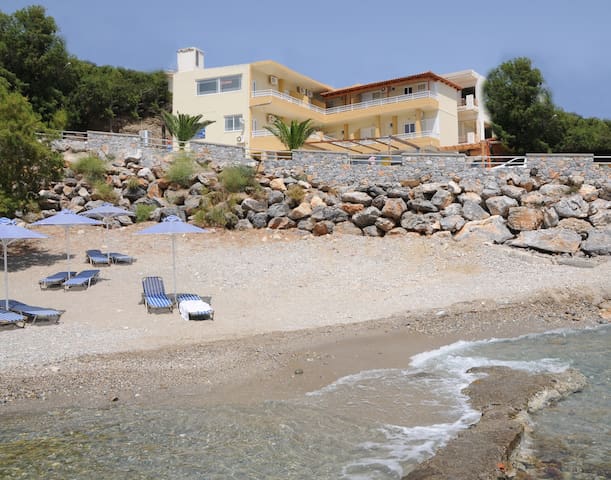 our apartment is located 500 metres from the center of plakias an 200 metres far away from the sea.also we have swimming pool and sea view.
The magnificent sea view and the lovely garden with palm trees will surprise you.
The calmness and the view to the sea which is in walking distance will relax you.
Wir sind sehr herzlich von Maria empfangen worden. Das Apartment ist empfehlenswert, sauber und geschmackvoll eingerichtet. Der Blick vom Balkon über die gesamte Bucht ist fantastisch. Von hier aus kann man den Sonnenuntergang genießen. Trotz der ruhigen Lage am Ortseingang ist der Strand, Supermarkt, Bäcker und das Zentrum fussläufig gut zu erreichen. Wir können uns vorstellen wieder zu kommen.
Bianca
2015-10-31T00:00:00Z
Typ pokoje
Celý dům/byt
---
Typ nemovitosti
Byt
---
Ubytuje
4
---
Ložnice
Πλακιάς, Κρήτη, Řecko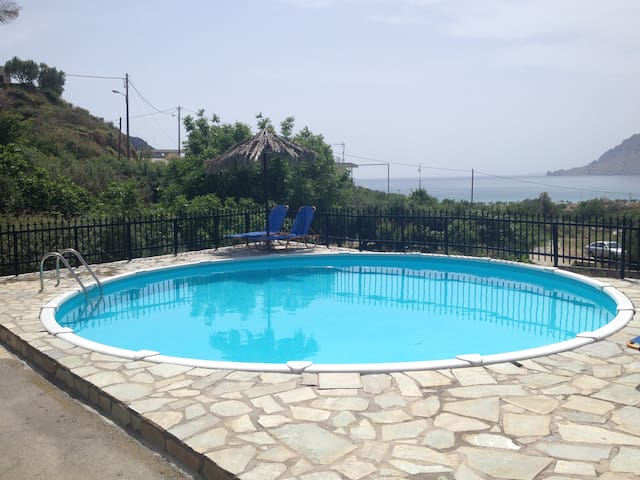 Anna Plakias Apartments Newly & well designed apartment fully equipped with balcony & view terrace The holiday home is an 35 m² fully equipped (kitchenette, fridge, cooking utensils, tea pot, etc.) apartment in a quite area of the beachfront village of Plakias on the south coast of Crete. 5 minutes walk to the beach, shops, and beach front tavernas, coffee shops and bars. 5 minutes walk takes to the small harbour where you can take the ferry to other beaches or other islands (Gavdos island) near south coast of Crete. The apartment is part of another 7 apartments which are completely separate, the apartment is carefully designed to provide privacy and relaxation with the private balcony and terrace. There are also communal places such as a yard and a roof terrace (with wooden sunbeds) with nice mountain and sea views. we are located within the beach-front village of Plakias. we are less than 5 minutes easy walk from the beach, the shops, tavernas etc. we are also 5 minutes walk to Plakias bus stop. We provide twice a week room cleaning, bedlinen and towels. Laundry and ironing service is provided and a cleaning lady is there every day to help for anything you need.
We booked this apartment in Plakias last minute and were not disappointed! It's surprisingly large with a great patio that is blocked from the wind. Very modern. The description says 5 minutes to the beach, but it's really more like 2 ;) would definitely stay here again. Efharisto!
Haley
2014-07-24T00:00:00Z
A great place to stay in Plakias! Close to the beach and center, still very quiet and private (we hat App. No. 7). Nicely furnished, clean, friendly. Sorry we did not meet Yiannis in person, but it feels like we met him, because we exchanged a number of friendly emails - every question, every request of us was quickly answerd and solved! Thanks a lot!
Barbara
2015-06-23T00:00:00Z
My stay in Anna Plakias Apartments was very nice for various reasons: perfect localization - close to the beach, a lot of greenery around and a quiet area so I could perfectly rest and relax with a cat on my lap :) The apartment itself was clean, comfortable , spacious with a nice balcony. I could even see the sea from there :) There was a cleaning lady so everyday the bed was made and everything cleaned. Yiannis is a very friendly and communicative host. Always answering any text messages and giving advice. It's a pitty we have not met. Hope I will visit this adorable place once again! Fully recommened.
Doro
2015-04-30T00:00:00Z
clean friendly and comfortable with a cake for us waiting, and one of the most beautiful kittens playing outside our room i have ever met.
Karen
2014-11-05T00:00:00Z
Nice Appartment in a well designed and beautiful decorated building.
Alexander
2016-07-15T00:00:00Z
We had a Great Time at orestis, the flat is very big, clean and cosy, with a sunny balcony. We spend the day on the Roof top (with a small Pool), sitting jn the sun while looking at the sea. It was Perfect!
Carolin
2016-03-30T00:00:00Z
Our host was very flexible with our arrival and departure time. The apartment was ready with everything one would need. It was a fantastic holiday apartment with living room, kitchen, bathroom and bedroom all modern. It was very clean. House maid came daily to re-do the bed and clean. Bed was very comfortable. There is a nice rooftop terrace with a small pool as well as sun chairs and bean bags. I would totally recommend this place and even go back there again.
Cyril
2016-04-03T00:00:00Z
We had a great stay at Anna Plakias. The location was great, the room was comfortable and we really liked the terrace
Laura
2015-10-12T00:00:00Z
Typ pokoje
Celý dům/byt
---
Typ nemovitosti
Byt
---
Ubytuje
3
---
Ložnice
Plakias, Rethymno , Kriti, Řecko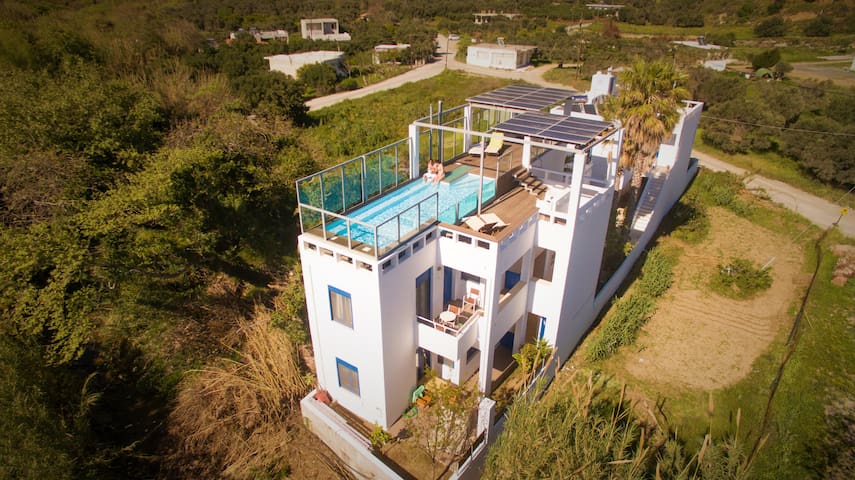 Unikátní a tichý pokoj s velkou terasou a nejkrásnější pohled na Souda 200m od pláže, 5 km od městečka Plakias, Wi-Fi a parkování
pohled
Typ pokoje
Celý dům/byt
---
Typ nemovitosti
Byt
---
Ubytuje
2
---
Ložnice
Souda beach, Řecko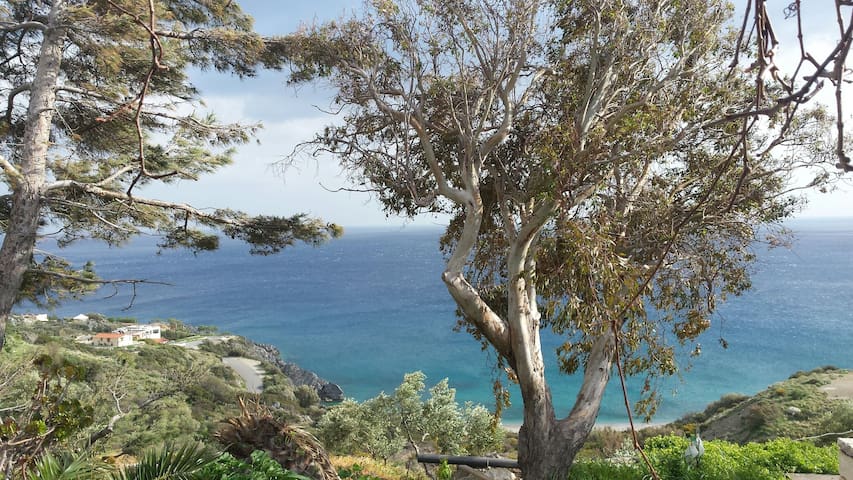 Der Panorama-Komplex befindet sich auf einem Hügel, ca. 300 m vom langen Sandstrand von Plakias gefunden. Entspannen Sie am großen Pool mit Freunden und Familie, von den schönen Gärten umgeben. Genießen Sie Ihr Frühstück an der Poolbar.
Nous avons passé une très belle semaine dans l'appartement panorama. Le confort est basique ( pourrait être amélioré au niveau des ustensiles de cuisine et de la vaisselle ...) mais l'appart est très bien placé, calme, facile. Nous savons profité quotidiennement de la piscine que nous avions pour nous seuls. Bon rapport qualité prix !
Tiphaine
2015-07-13T00:00:00Z
Prima locatie. Winkels op loopafstand en de zee op loopafstand. Fijn strand met zand en goed zwemwater. Verhuurders waren erg aardig en vriendelijk. Hele fijne en goede vakantie gehad.
Alberta
2016-07-30T00:00:00Z
What an amazing Stay in Plakias! In Panorama Apartment were great - clean, comfortable, quiet and the owners are very very very helfpul. The building is situated on little hill and from here is close to the beach, markets and city centre. We would stay here again, when we were to Plakias next time :-)
Dawid
2016-07-02T00:00:00Z
Esperienza positiva. Buona l'accoglienza. Lo studio è ampio con una cucina ben equipaggiata. Bella la piscina. L'arredamento denuncia l'età non recente dell'edificio ma comunque il rapporto qualità/prezzo è buono.
Enio
2015-06-02T00:00:00Z
Le logement correspond bien à la description: grandes chambres, belle terrasse et très belle piscine. Il est bien situé par rapport à Plakias, endroit calme et paisible. La famille qui tient le logement est disponible et accueillante.
Pierre
2016-08-31T00:00:00Z
Goede prijs/kwaliteit-verhouding. We hadden dit adresje als uitvalsbasis voor ons bezoek aan de Imbros-kloof. We hadden wat hinder van de uitlaat van de verwarmingsketel.
Luc
2016-04-03T00:00:00Z
It was not really easy to find, only the pictures only helped to reconize from far the building.
Tom
2016-05-13T00:00:00Z
L'endroit est certainement assez magique par beau temps car en hauteur dans Plakias, avec une jolie vue, mais en cette période il y avait beaucoup de vent et nous avons eu froid la nuit car le vent rentrait dans l'une des chambres. Sinon l'appart' en lui-même est plutôt chouette et propre! L'hôte nous a accueilli en 2 minutes car elle partait faire des courses et nous n'avons revu absolument personne jusqu'à notre (URL HIDDEN) manquait même si nous ne sommes restés qu'une nuit. L'appartement n'est indiqué nulle part dans Plakias contrairement à de nombreuses autres locations. Voici donc comment y aller: aller tout au bout de la ville de Plakias et prendre la dernière rue à droite, elle grimpe, vous verrez alors un logement blanc avec écrit en gros "Panomana" et non "panorama", c'est là, juste en face! J'aurais apprécié de lire ça avant de chercher sur place ;)
Alexandra
2016-11-02T00:00:00Z
Typ pokoje
Celý dům/byt
---
Typ nemovitosti
Byt
---
Ubytuje
6
---
Ložnice
Plakias, Kréta, Řecko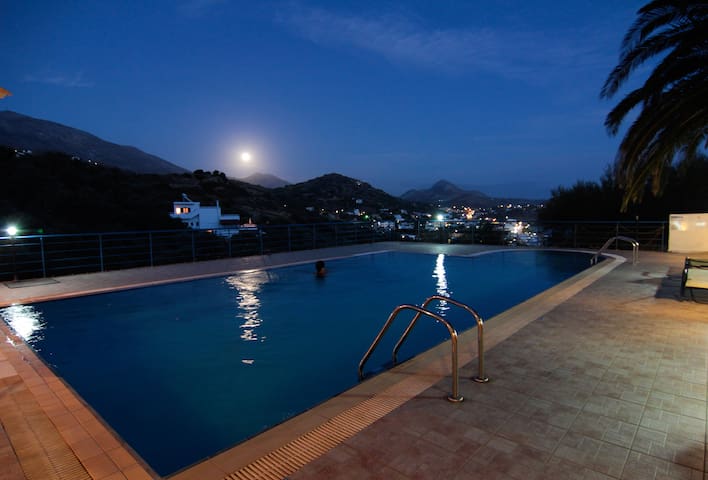 Jeden byt v klidné lokalitě. Krásný výhled na krajinu obce je, že dosáhne moře. Západ slunce ze zahrady je prostě úžasné. Byt je zařízen ve venkovském stylu, ale stále funkční.
Vchod do bytu je přes zahradu.
Dům se nachází v klidné části obce čtvrti. V těsné blízkosti je kostel a tradiční kaffeneio (jak staré kavárny jsou nazývány, že oni také slouží raki s nezbytnou Meze). V docházkové vzdálenosti je obchod s potravinami, který je slušně zásobené a dvě restaurace s dobrými kritiky, že obecně slouží chutné pokrmy.
Eleni's apartment is spacious and it and the super little garden are full of natural objects which she has lovingly collected from the beach. Everything is spotless and kept that way. All the facilities including the wifi work well. The view down to the sea never fails to charm. it is a bonus to be able to park in the yard off the narrow village roads. Eleni herself is a wonderful host. She is a most positive and cheerful person and kindly provided a delicious and lavish Greek salad when we arrived in the small hours and frequently dropped in with goodies. We felt really welcome and loved exploring the seaside and the countryside for which the apartment is well placed. The small supermarket, less than 100m from the apartment, provided very adequately for breakfasts and picnics. Several restaurants in the village mean that the car can be left in the yard for the evening.
Richard
2016-09-24T00:00:00Z
Wonderful stay! Fantastic hosts and best spot in Crete! A big thanks to your all hosts for making our stay memorable! We will be back!
Tiago
2016-07-26T00:00:00Z
Eleni takes good care of her guests and makes sure they have everything they need. She gave us many advices about the area. The apartment is big and has a beautiful garden with a panoramic view. We had a pleasant stay. Sellia is a secluded, nice village in the muntains of crete. It offers a minimarket and some tavernas. It is perfect for people who are looking for peaceful and quiet atmosphere.
Valeria
2016-09-09T00:00:00Z
We never felt us so welcom in an B&B! Such hospitality! Beautiful location, when you wake up and open the door, you see the mountains and the sea; priceless. Bed is really comfortabely, Nice bathroom, great wine, olive oil and raki from the farm of the owner, Eleni. We realy recommand this place, Nice quit town, within 10 minutes your are down in de busy town. Just go here and feel the love, hospitality and care! 10/10!
Daniël
2016-09-06T00:00:00Z
Eleni ist eine sehr charmante Gastgeberin. Danke für die Tage in deiner sehr schönen und ruhigen Wohnung. Es hat uns an nichts gefehlt - viel Platz, geschmackvoll eingerichtet, sehr sauber. Besonders hat uns gefallen, dass wir durch dich recht viel Interessantes über das kretische Leben kennenlernen konnten. Leider verging die Zeit viel zu schnell. Wir wünschen dir bei dem bevorstehenden "Großereignis" viel Freude und perfektes Gelingen. Gern wären wir dabei.
Bernd
2017-03-28T00:00:00Z
Eleni is one of the best host I ever had on airbnb. She was kind, available and always ready to help. The house is all you need, it looks exactly like the pictures. We felt so welcome, I'd definitely recommend staying at her place!
Martin
2016-08-04T00:00:00Z
Typ pokoje
Celý dům/byt
---
Typ nemovitosti
Byt
---
Ubytuje
2
---
Ložnice
Sellía, Kréta, Řecko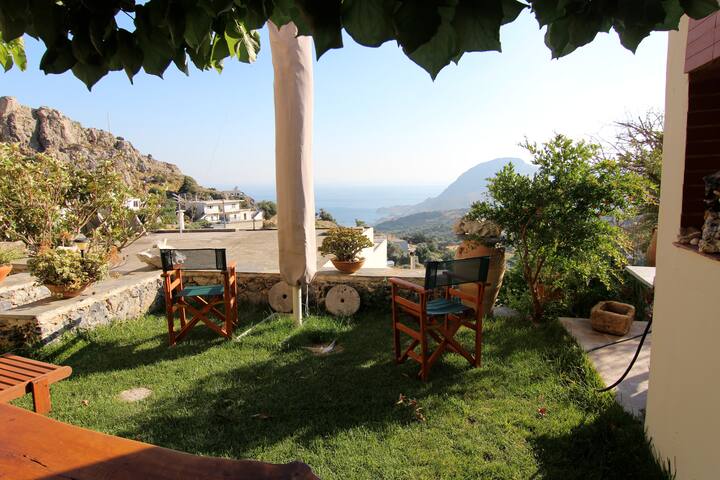 Τα διαμερίσματα και τα στούντιο διαθέτουν κουζίνα, εξοπλισμό για μαγείρεμα και άμεση πρόσβαση στον κήπο. Το ξενοδοχείο διαθέτει μια παιδική χαρά και αίθουσα πίνγκ πόνγκ με στρωματα για γυμναστική και διάφορα παιχνιδία. Περνώντας τη γέφυρα υπάρχει γήπεδο ποδοσφαίρου, όπου μπορείτε να κάνετε jogging. Ο κόλπος στο Δαμνόνι αποτελείται από μια μακριά αμμώδη παραλία, που βρισκετε στα 400μ.απο το κατάλλυμα. Ο χώρος μας είναι κατάλληλος για ζευγάρια και οικογένειες.
Attention ce n'est pas un «hôte», c'est tout simplement un hôtel, et ce n'est pas un des meilleurs. Situé à l'entrée de Plakias, il est pourtant bien en terme de localisation. A l'arrivée, suspense le gérant avait du mal à nous trouver sur son planning papier, stress quelques instants. L'extérieur est plutôt correct, les chambres correspondent à peu près aux photos, mais tout accuse le poids des ans, quelques ustensiles de cuisine à disposition, mais hors d'age, isolant electrique défectueux. Salle de bain rikiki si on tient compte des 4 couchages, présence d'une prise électrique derrière une planche servant de porte d'armoire en face de la douche. Tout cela n'étant pas très rassurant. Petit déjeuner compris dans le prix, très basique, une boisson chaude, pain, fromage et jambon, confiture, beurre miel du supermarché, attention pas de jus de fruit: supplément Départ, le gérant ne semblait pas informé que le séjour était déjà payé et me redemande de payer, énervant!! En bref je dirai «bof», déjà surpris de me retrouver dans un hôtel alors que je m'attendais à un hôte, j'ignorais qu'il y avait des hôtels sur Rbnb, je ferai attention lors de mon prochain séjour. De mon point de vue Damnoni paradise est à envisager en dernier recours, si vous ne trouvez rien d'autre...
Gilles
2016-08-03T00:00:00Z
Typ pokoje
Soukromý pokoj
---
Typ nemovitosti
Byt
---
Ubytuje
5
---
Ložnice
Damnoni, Kréta, Řecko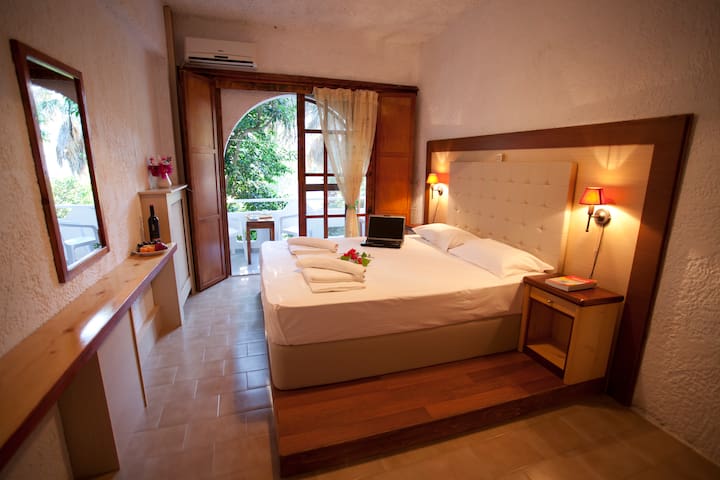 Les Asteria Apartments est une petite entreprise familiale qui comprend 2 chambres spacieuses et des appartements neufs construits dans le charmant village de Plakias, à seulement 40 mètres de la célèbre plage de sable de (URL HIDDEN) e côté droit des appartements il y a un parking où nos clients peuvent garer leur véhicule librement, sans cost.Aach des 2 appartements disponibles, offrant un espace de 40 m² et une capacité de 3 à 4 peope.
Tous les appartements disposent d'une cuisine entièrement équipée pour préparer le petit déjeuner, le déjeuner ou le dîner. Aussi une chambre, un salon avec canapé, salle de bains avec douche et un balcon privé avec une vue magnifique sur le jardin et les montagnes de periochis.Apartments sont également équipées d'air conditions, de la télévision par satellite et d'Internet sans fil haut débit sans frais. chacun des 2 appartements disponibles, offrant un espace de 40 m² et peut accueillir jusqu'à 3 à 4 personnes. Les appartements contiennent une chambre confortable pour 2-3 personnes, un salon spacieux où en 2 atomes peuvent être logés et comprend une cuisine entièrement équipée à la salle à manger (coin cuisine). Ils ont aussi une chambre séparée avec salle de bains et douche ou un appartement baniera.Each conduit à un grand balcon privé avec vue magnifique sur le jardin et les montagnes.
L'appartement est le début du village, à 50m de la sea.Just à quelques mètres de l'appartement est la célèbre plage de sable de Plakias.The appartement est proche des cafés et des restaurants.
Typ pokoje
Celý dům/byt
---
Typ nemovitosti
Byt
---
Ubytuje
3
---
Ložnice
Plakias, Crete Region, Řecko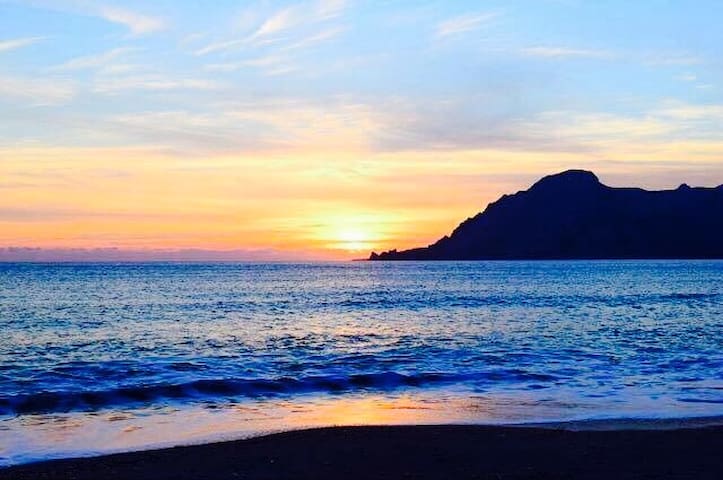 Mirthios - Airbnb
:
Průměrně

4.17

z

5

hvězdiček na základě

108

hodnocení hostů
1

–

18

z

108 Pronájmy bytů
Pro zobrazení celkové ceny zadej termín. Mohou být přidány další poplatky a daně.