Mon petit appartement non loin du coeur de la ville. Un petit centre commercial, des magasins, un cinéma, des restaurants et du fjord de Kiel se trouvent à distance de marche. L'appartement dispose d'une chambre avec un lit double 1.60m et un matelas arrière convivial. Il y a aussi dans le salon un canapé moelleux où une personne supplémentaire est confortablement. Kiel possède beaucoup de beaux endroits pour vous et heureux de vous donner des conseils je pour votre séjour :)
Non seulement moi, mais aussi mes invités dans ma maison se sentent bien, je l'ai mis en place avec une grande attention aux détails. La salle de bain fonctionne une taille plus petite, il peut être dans la cuisine pendant la cuisson sont confortables, qui fait rage. Le Wonzimmer dispose d'un canapé très confortable et confortable qui vous invite à des soirées agréables.
Typ pokoje
Celý dům/byt
---
Typ nemovitosti
Byt
---
Ubytuje
3
---
Ložnice
Kiel, SH, Německo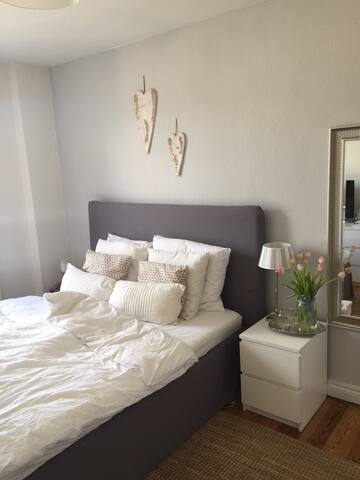 Lejligheden er beliggende i hjertet af byen, og du er på ingen tid de smukkeste steder i byen og på alle moler.
Central og rolig! Lejligheden er beliggende i byen, og du kan tage elevatoren til byen. Alt, hvad der er at se i Kiel kan nås på et par minutter.
Typ pokoje
Celý dům/byt
---
Typ nemovitosti
Byt
---
Ubytuje
2
---
Ložnice
Kiel, Schleswig-Holstein, Německo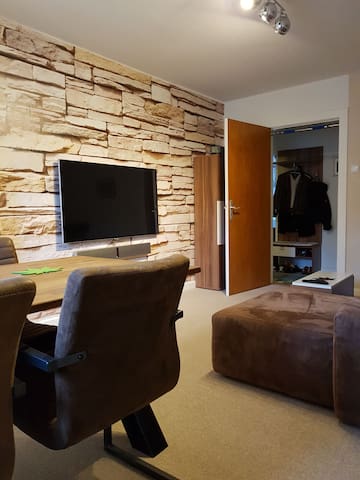 The beautiful, bright apartment is located in Hassocks district, also called Green Heart. Nearby there are shopping opportunities (Lidl, Aldi) and large parks invite you to stroll. From the apartment, it is only a 10 minute walk or 4 minutes by bus, to the city of Kiel. The apartment is newly renovated and has a private parking at the door. There are beds for up to 3 people.
The apartments were clean, nice and fully equipped, close to town and shopping. Vladimir was very nice and friendly, welcoming and made sure we were comfortable staying at his apartment. Definitely come here again.
Endang
2017-04-10T00:00:00Z
Typ pokoje
Celý dům/byt
---
Typ nemovitosti
Byt
---
Ubytuje
3
---
Ložnice
Kiel, Schleswig-Holstein, Německo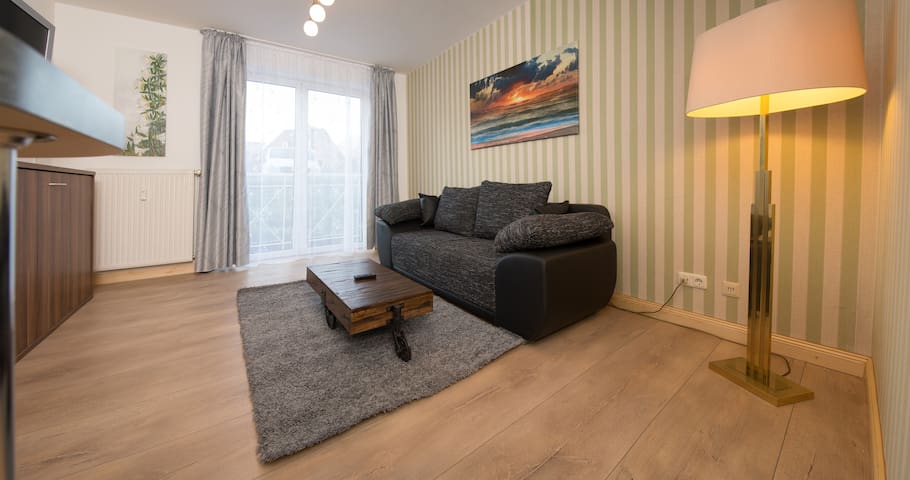 A few steps from Central Station and the Kiel Fjord, there are up to our cozy little apartment. Newly renovated, with comfortable atmosphere and absolutely central: Top ingredients for a good time in Kiel. We look forward to seeing you!
The apartment is an ideal starting point for a visit to Kiel. Cafes and pubs, restaurants and takeaways, plenty of shopping and fjord steamer and train station can easily be reached from here on foot. Bus stops are also not far away. Twice a week you get at the market three blocks away many delicacies from the region. The apartment is on the first floor of an old building Kieler brick. It is not huge, which is why cooking facilities lacking. However, it provides a microwave, coffee maker, refrigerator, kettle, toaster, TV, Wi-Fi and a small seating area plenty of opportunities to feel good. The bed has the dimensions 140x200 and bedding available. In the bathroom with shower, sink and toilet you also find towels, hair dryer and soap. In October 2015, we have the apartment redecorated and refurbished. And now we look forward to you as our guests! We are happy to provide assistance with travel arrangements, have tons of tips and showing some of our favorite corners in Kiel.
We had a great time in Benni & Lisa's apartment! The place is not big, but has everything needed for a short stay in Kiel. Really close to the station, tidy and clean. The hosts were friendly, helpful and polite. Thanks guys for hosting us! Мы провели замечательную ночь в квартире Бенни и Лизы! Квартира небольшая, но в ней есть все, что нужно для кратковременного пребывания в Киле. Рядом с центральным вокзалом, красивое и чистое жилье. Хозяева приняли нас тепло, были очень вежливы и охотно показали, где можно провести время. Спасибо вам!
Vadim
2015-11-19T00:00:00Z
Die Wohnung ist wirklich toll! Es gibt alles, was man braucht und man ist sehr schnell in der Innenstadt von Kiel. Der Kontakt mit Benni & Lisa war schon vor meiner Ankunft sehr freundlich und auch die Begrüßung war total nett! Ich war insgesamt fast zwei Wochen dort und fühlte mich in der Wohnung sehr wohl. Habe sie auch schon weiterempfohlen und falls ich nochmal nach Kiel komme, komme ich gern wieder. Die Wohnung ist genauso niedlich, wie sie auf den Fotos aussieht. Eine komplette Küche gibt es nicht, aber Mikrowelle, Wasserkocher, Kaffeemaschine und Toaster waren vorhanden. Mir hat es wirklich sehr gut gefallen!
Isabel
2015-12-11T00:00:00Z
Genau wie beim letzten Mal hatte ich wieder einen tollen Aufenthalt in Kiel. Die Wohnung ist top und hat alles zu bieten was man braucht, wenn man auf Erkundungstour geht in dieser tollen Stadt. Die Kommunikation und Schlüsselübergabe verlief reibungslos. Ich kann diese Unterkunft nur weiter empfehlen. Lieben Dank nochmals an die Gastgeber :)
Karolin
2016-10-27T00:00:00Z
Great location and apartment. Hosts were knowledgeable about places to visit and eat
Junxian
2016-12-19T00:00:00Z
The Room was great! Really lovely and cosy with an excellent location, only a 5 minute Walk from the Train station (Kiel HBF). We would definitely recommend staying here!!!
Morgan
2016-03-05T00:00:00Z
Benni und Lisa haben eine wirklich sehr gemühtliche Wohnung zur Verfügung gestellt. Alles war sauber und bis ins Detail durchdacht. Die Kommunikation verlief reibungslos und die Beiden waren jederzeit erreichbar und haben sich sogar auf unsere späte Ankunftszeit eingestellt.
Martyna
2016-09-18T00:00:00Z
Sehr schöne Unterkunft! Wir haben uns total wohlgefühlt. Vielen Dank!
Mirijam
2016-05-24T00:00:00Z
Meine Mutter und ihr Freund haben sich sehr wohl gefühlt - tolle kleine Wohnung - sehr schön, stilvol und gemütlich eingerichtet - mit der Organisation hat auch alles super gepasst. Die Lage der Wohnung ist sehr zentral, auch die Lautstärke der größeren Straße hat nicht sonderlich gestört. Im kleinen Erker sitzend den Rotwein genossen :)
Jenny
2015-10-15T00:00:00Z
Typ pokoje
Celý dům/byt
---
Typ nemovitosti
Byt
---
Ubytuje
2
---
Ložnice
Kiel, Schleswig-Holstein, Německo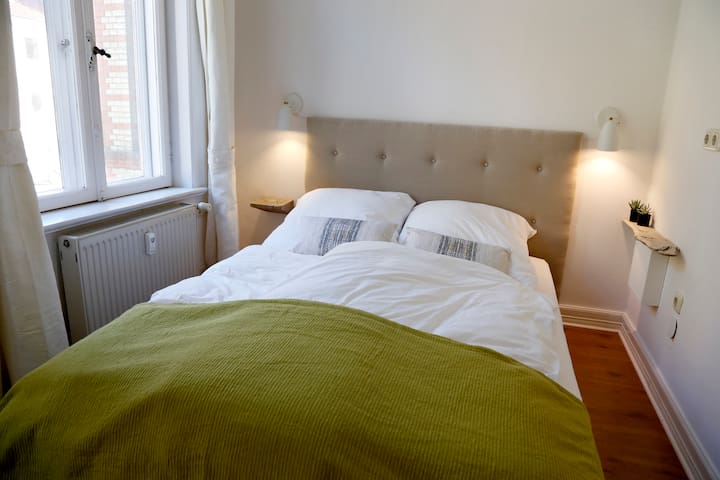 It is a 2-room apartment in a central location. She has a small bedroom and a larger living room and study, with a large bed. The kitchen is spacious and has seating for eating. There are several bus stops within walking distance for buses all directions. Also within walking distance there are shops for daily needs. The very central location is perfect to explore parts of town. There is wireless internet, TV and a washing machine.
Typ pokoje
Celý dům/byt
---
Typ nemovitosti
Byt
---
Ubytuje
2
---
Ložnice
Kiel, Schleswig-Holstein, Německo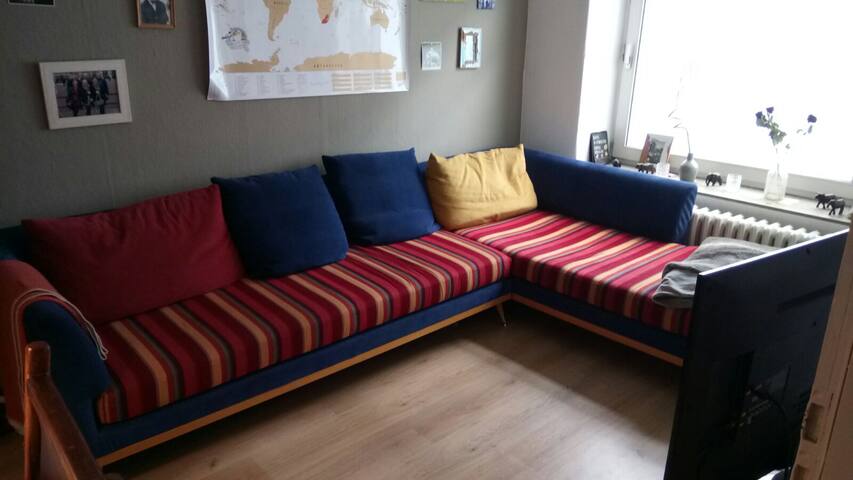 My apartment has a great view, is super modern and, most importantly, in just 5 minutes you are right on the main station and therefore right in the city =) I also have a parking space. You can easily live to 4 in the apartment, with 2 folding mattresses also: 4. The apt. has a great view, is brand new and its only 5 mins to walk to town center. It sleeps 4 people people comfortably, but I have 2 extra mattresses for a total of. 6
2-room apartment- comfortable bed in the bedroom and a large living room, where a Ausklappcouch stands. In addition, you can using 2 folding mattresses accommodate another 2 additional persons. Modern shower room and a well equipped kitchen. And of course, a wool Come Schnapps. Cozy apt. with a spacious bedroom plus a spacious living room area where the is a pullout couch. Two folding mattresses are available in case you want to be six. Modern Bathroom (shower) and a fully equipped kitchen. There will be a welcome Schnapps =)
In only 5 min. For her in the city on foot, to stroll or go for a walk on the horn. By bus from the main station (5 min. Walk) you can go to the beach =)
She is one the kindest host, she has welcome us really nice. The house was so clean beautiful and useful. The location is really close to the central train station. We highly recommend Nina's house. You won't be regret...
Guzin
2016-09-17T00:00:00Z
Es war super! Nina hat sich um ALLES wirklich sehr gut gekümmert!
Sebastian
2016-06-27T00:00:00Z
Vielen Dank für die nette Zeit! Nina ist als Gastgeberin super! Wir haben die Zeit genossen... Carolin, Klaus und Benedikt
Klaus
2017-03-25T00:00:00Z
Wir können jedem die Aussicht über den Dächern von Kiel nur wärmstens empfehlen und Nina als Gastgeberin auch! Mehr muss man dazu einfach nicht sagen.
Anja
2017-03-14T00:00:00Z
Hat alles super funktioniert.
Jan
2016-08-22T00:00:00Z
Typ pokoje
Celý dům/byt
---
Typ nemovitosti
Byt
---
Ubytuje
4
---
Ložnice
Kiel, Schleswig-Holstein, Německo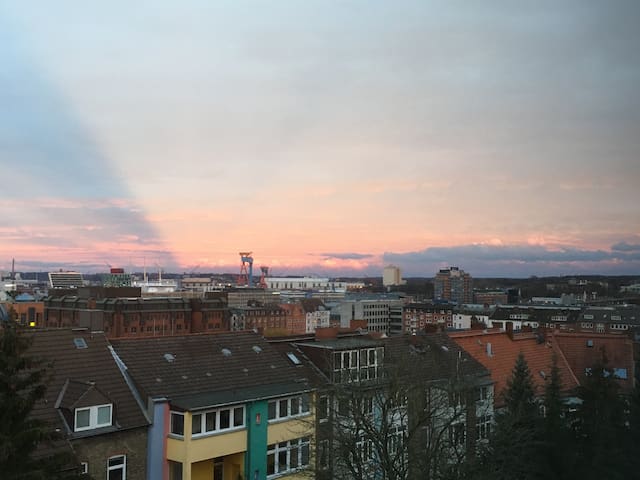 Moin :) Super situato in posizione centrale a Kiel, in 5 minuti in città! Vi presento il salotto del mio appartamento di tre stanze con letto super comodo per dormire a vostra disposizione :) Il divano può essere utilizzato in due versioni, sia come "letto matrimoniale" con dimensioni di 190x 170 (per persone di bassa statura;)) o per 250x85 non accompagnati. Se questo non è sufficiente, ma ho anche un Gästematraze! Proprio di fronte sono negozi come Sky, Lidl, Rossmann e alcuni fornai!
Typ pokoje
Soukromý pokoj
---
Typ nemovitosti
Byt
---
Ubytuje
2
---
Ložnice
Kiel, Schleswig-Holstein, Německo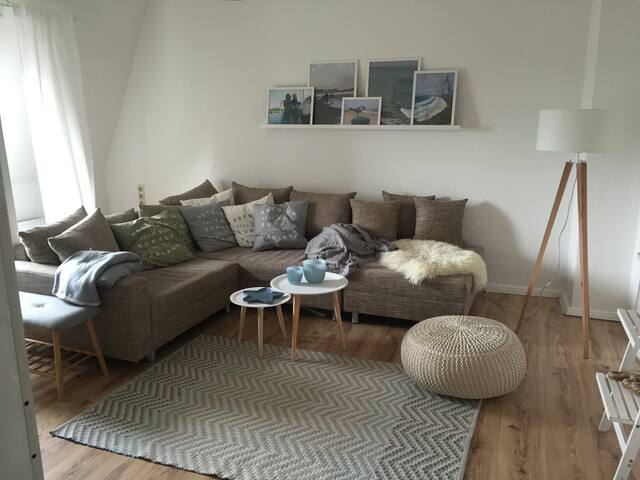 Lovely apartment with a soul. Very comfortable also in terms of its location
Dorota
2017-03-09T00:00:00Z
The host canceled this reservation 81 days before arrival. This is an automated posting.
Petra
2017-04-03T00:00:00Z
Super schöne große Wohnung, wir haben uns sehr wohl gefühlt. Es war alles da, sauber und alles was wir uns noch gewünscht haben. Netter und schneller Kontakt. Wir kommen wieder!
Desiree
2017-03-01T00:00:00Z
Typ pokoje
Celý dům/byt
---
Typ nemovitosti
Byt
---
Ubytuje
2
---
Ložnice
Kiel, Schleswig-Holstein, Německo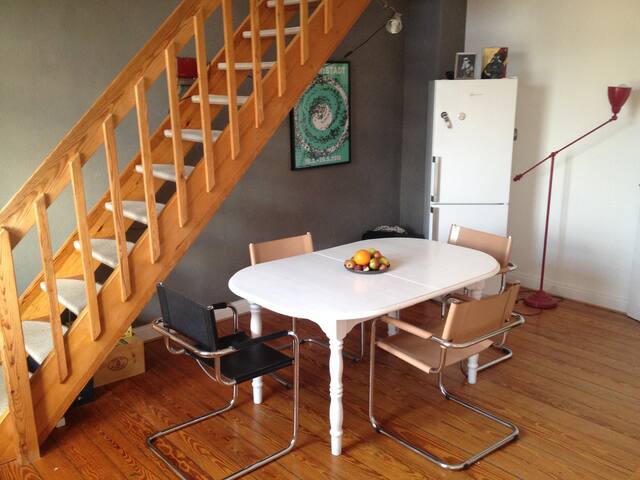 Добро пожаловать в наше уютное, коммунальном общежитие! Мы предлагаем комнату общежития, частные комнаты, чистую общую ванную комнату, общую кухню, а также бесплатный кофе, чай и арахис. Присоединяйся к нам! Это перечисление для 1 кровати в только нашей комнате в общежитии, но если у вас есть запрос для большего количества людей, пожалуйста, свяжитесь с нами. Мы с нетерпением ждем от вас.
Eine sehr gemütliche kleine Unterkunft im zentralen Kiel. Gerne wieder.
Sebastian
2017-04-02T00:00:00Z
Gut zu erreichen vom Bahnhof aus. Einfache aber sauberes sympathisches Hostel. Nur ein WC mit Bad für alle.
Mattia
2017-04-04T00:00:00Z
Typ pokoje
Společný pokoj
---
Typ nemovitosti
Hostel
---
Ubytuje
1
---
Ložnice
Kiel, Schleswig-Holstein, Německo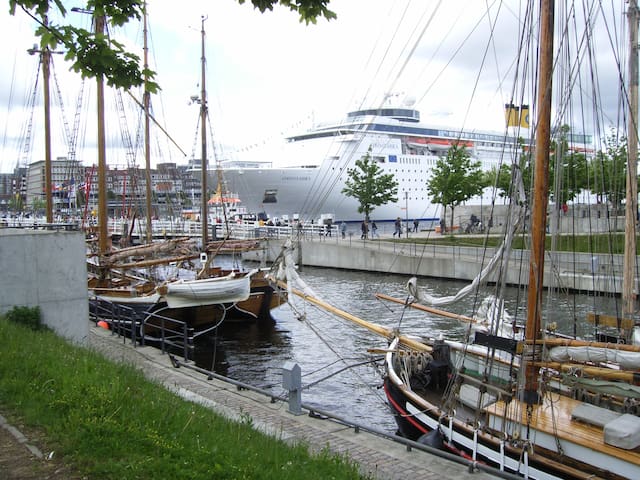 Dreamlike apartment with stucco and lots of sun! The location is very central, walking distance to the main station, the city center and the Kiel Fjord and the beautiful Schrevenpark. The apartment has a double bedroom, a dining room and a living room, kitchen, bathroom with shower and separate WC and two balconies. In addition, a private parking lot in the yard. Four guests in the dining room, a further double mattress is built. Dogs and children are of course welcome!
Spacious and very sunny apartment with stucco, high ceilings and wooden floors. The sun shines in the morning into the bedroom and into the kitchen, in the afternoon in the dining room (or second bedroom) and living room. From the dining room, another balcony faces the street. The bathroom is equipped with a shower and toilet in a little extra space. The apartment is located on the 1st floor of a house of 1905th We have - in the bedroom - no curtains, so it appears in the morning the sun in.
You can almost everything within walking distance: a supermarket is right in front of the house (open until 22.00), 2 minute walk is on Wednesdays and Saturdays, a weekly market, a number of nice cafes and restaurants are also just minutes away on foot. The downtown and the Kiel Fjord are also very close. The Kieler Woche You can therefore very easily be explored on foot.
Typ pokoje
Celý dům/byt
---
Typ nemovitosti
Byt
---
Ubytuje
4
---
Ložnice
Kiel, SH, Německo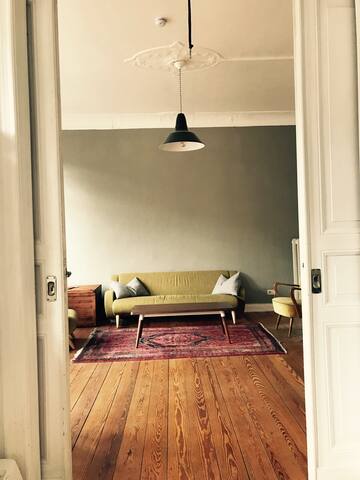 This property impresses with its central location, with its unique setting and its breathtaking views. By its perfect location you have many ways the city of Kiel and its surroundings to discover. With an exceptional interior makes you feel immediately at ease and after a long day, you can relax very well and enjoy the view of the horn. Everyone is welcome to enjoy willkomen this apartment and all its benefits.
Living room: The living area amounts to more than 35 square meters. The clever floor plan is a large and clean bathroom with a spacious shower, a spacious kitchen and a large-area table which can be used as a dining and desk, are available. Sleep: The bed is 2.00 m long and 1.40 m wide and offers maximum comfort and cleanliness by many fluffy pillows, a thick down comforter, an extra soft mattress covers and bedspreads. Eat: The apartment invites with a large kitchen and many kitchen appliances (blender, toaster, kettle, etc.) and many kitchen utensils and basic ingredients for cooking. are in the freezer if it must go fast times, even pre rolls and pretzels (the best jams are not missing!) and frozen pizza. you can go shopping yet entfehrnten in five minutes Rewe City food on Sundays. Drink: There are in the apartment directly sprudel and still water to Verfühgung. everything is there for a warming tea or a refreshing coffee. Outlook: The view is really worth a mention. If you look out the windows you can see sailboats and the Kiel Fjord. Since the apartment south has its windows you can watch also and at the appropriate time of year sunrises and sunsets. Internet: In the apartment them is a free Internet connection with up to 16 Mbit / s downstream and 1 Mbit / s upstream for Verfühgung.
Due to the perfect location of the studio can be started either directly from the apartment walks on the Kiel Fjord companies, and in no time at Sophienhof, the shopping center of Kiel, and go into the city center. In the immediate vicinity are also a large cinema and many restaurants. So the city of Kiel to discover nothing in the way !!!
Typ pokoje
Celý dům/byt
---
Typ nemovitosti
Byt
---
Ubytuje
2
---
Ložnice
Kiel, Schleswig-Holstein, Německo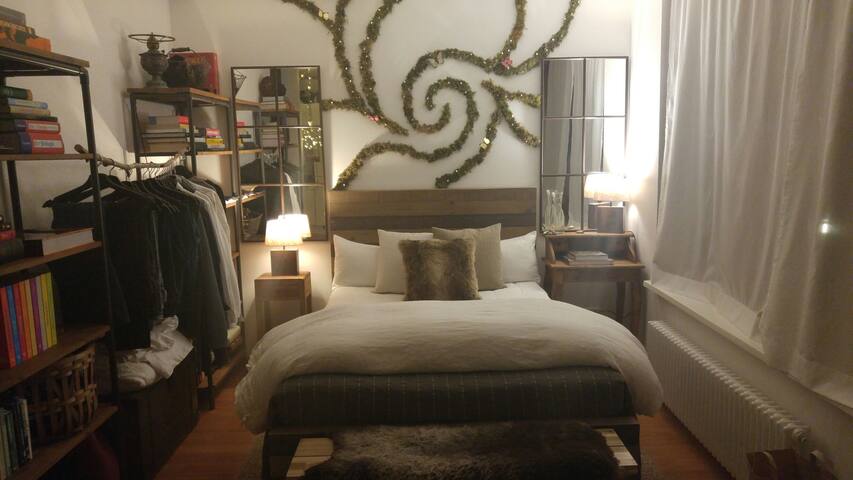 My accommodation is good for couples, solo adventurer, business traveler, families (with children).
Die Wohnung befindet sich in einer top Lage und die Ausstattung ist echt cool. Die Erreichbarkeit des Vermieters war immer gegeben und die Begrüßung war echt freundlich. Ich kann die Wohnung nur weiterempfehlen und werde sie auch wieder nutzen wenn ich in der Stadt bin.
Alexander
2016-11-06T00:00:00Z
Unfortunately I got a bad impression of the host. The bathroom, fridge and corners of every room where dirty and unpleasant. There were big cardboard boxes both in and outside the entrance. I would prefere the flats to be a little more "de private" - not to get the feeling of trespassing..... The area is nice and quiet and only a (very) short walk from the city Senter..
Jan Henrik
2016-11-27T00:00:00Z
Die Lage ist perfekt, modern und zentral. Das Bett war super bequem.
Martin
2016-08-19T00:00:00Z
Eine minimalistische Einrichtung zum überhöhten Preis.
Lothar
2016-09-03T00:00:00Z
Vielen Dank an Till und Wenke, sie haben uns sehr freundlich und zuvorkommend begrüßt und uns alles gut erklärt. Danke für den reibungslosen Ablauf.
Viktoria
2016-09-04T00:00:00Z
Sehr schöne Wohnung, sauber und toll gelegen, netter Gastgeber!
Sibylle
2016-12-11T00:00:00Z
The apartment is modern and clean and is perfectly situated in the city centre. You will have the chance to eat at Vapiano on the port and do grocery Shopping as Shops are very close. If you're not Home much (no Internet and small tv) it is Perfect.
Sonja
2016-08-22T00:00:00Z
An apartment with a great central location and own indoor parking. Great view and a quiet place. Kitchen was not so well equiped - few glasses and plates.
Søren
2017-02-17T00:00:00Z
Typ pokoje
Celý dům/byt
---
Typ nemovitosti
Byt
---
Ubytuje
4
---
Ložnice
Kiel, Schleswig-Holstein, Německo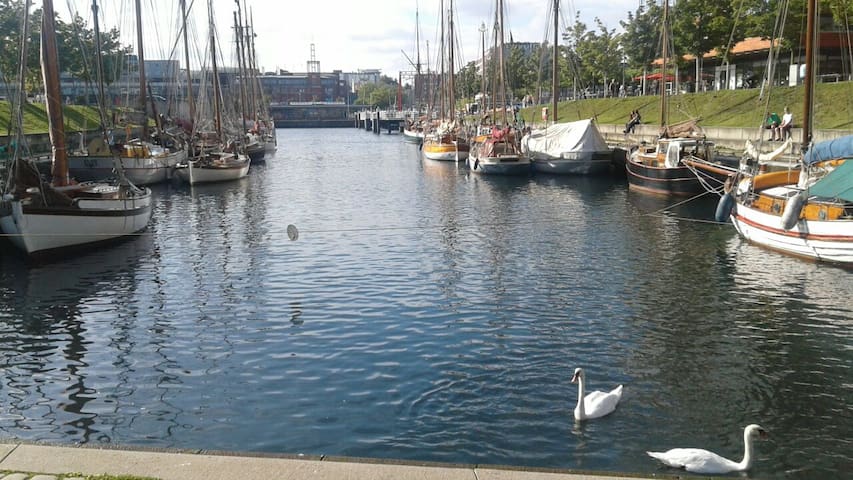 The apartment offers with its glass facade stunning views over the Kiel-horn and the evening lights of downtown. The station and the city center are within walking distance.
Sehr schöne Unterkunft, gut zentral gelegen. Ich würde immer wieder hinfahren. Die Gegend ist sehr modern, und archtektonisch interessant.
Tilman
2016-12-18T00:00:00Z
A nice and simple home, perfect for visiting Kiel for a few days! It was super easy to walk downtown and to the train station due to the walking bridge over the harbour! Nathalie was a sweet host who was really helpful in finding the apartment when I got lost on my way!
Stefan Veis
2016-12-11T00:00:00Z
Natalie war eine sehr tolle Gastgäberin. Die Wohnung war erste Klasse und war wie beschrieben. Immer wieder sehr gerne :)
Sascha
2016-12-25T00:00:00Z
Super Lage! Super Kommunikation mit Nathalie!
Marieke
2016-10-24T00:00:00Z
Die Wohnung war sehr sehr schön. Der Panoramablick ist einzigartig! Kommunikation war super und unkompliziert. Gerne wieder!
Leinad
2017-02-12T00:00:00Z
Super Gastgeberin - perfekt in der Kommunikation. Sehr flexibel - schöne, sehr zentrale Wohnung
Tim
2017-03-08T00:00:00Z
Nathalie ist eine tolle und vorallem, sehr sympathische Gastgeberin! Meine Mutter und ich waren sehr zufrieden mit der Unterkunft und der Umgebung. Die Wohnung hat alles, was man benötigt und es mangelt an Nichts. Bezüglich des Check-In's und des Checkouts ist sie sehr flexibel, das hat uns Besonders gefallen. Danke für den schönen, wenn auch sehr kurzen Aufenthalt. Wir wünschen dir viel die Zukunft alles erdenklich Gute, liebe Grüße Franzi + Eva :)
Franziska
2017-03-22T00:00:00Z
Dies ist eine total verdeckte Wohnung! Alles war voll Staub und klebrigem Schmutz und am schlimmsten waren die überall massenhaft vorhandenen Hundehaare! Wir haben uns erstmal neues Bettzeug gekauft und das Bett frisch bezogen, denn auch in diesem muss sich Fipsy vorher stundenlang aufgehalten haben... Die Dusche läuft nicht ab und dreckiges Geschirr in der Maschine fanden wir auch. Es gibt keine Kaffemaschine/-kanne o.ä., die Küche ist eigentlich auch nicht ausgestattet zum Kochen. Trotz unkomplizierter Kommunikation im Vorfeld waren wir - v.a. auch in Betracht des üppigen Preises- sehr sehr enttäuscht!!
Annette
2017-03-28T00:00:00Z
Typ pokoje
Celý dům/byt
---
Typ nemovitosti
Byt
---
Ubytuje
2
---
Ložnice
Kiel, Schleswig-Holstein, Německo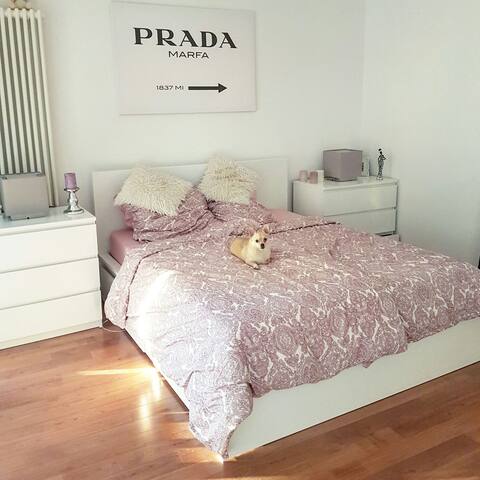 My roommate is not for a few weeks at home and you're welcome to join us to live in the flat and to live in his room. It is a very spacious and comfortably furnished room with a large bed, a sofa, a small coffee table, a desk + chair, TV and nice deco.
I stayed at Valentin's place for a night, and I had a very good time there. He is an available host, and the room was very comfy, so I recommend it without hesitation.
Alexandre
2017-04-10T00:00:00Z
Bin sehr nett empfangen worden, hat alles gut geklappt. Großes Bett für kleines Geld, vielen Dank!
Andrea
2017-04-09T00:00:00Z
The host canceled this reservation 14 days before arrival. This is an automated posting.
Lara
2017-04-07T00:00:00Z
Offene freundliche WG, lädt zum Verweilen ein
Susanne
2017-03-31T00:00:00Z
Empfehlenswert
Ayoub
2017-03-14T00:00:00Z
Chillige WG mit großer Küche, sehr zuvorkommende und supernette Mitbewohner :)
Sebastian
2017-03-23T00:00:00Z
Typ pokoje
Soukromý pokoj
---
Typ nemovitosti
Byt
---
Ubytuje
3
---
Ložnice
Kiel, Schleswig-Holstein, Německo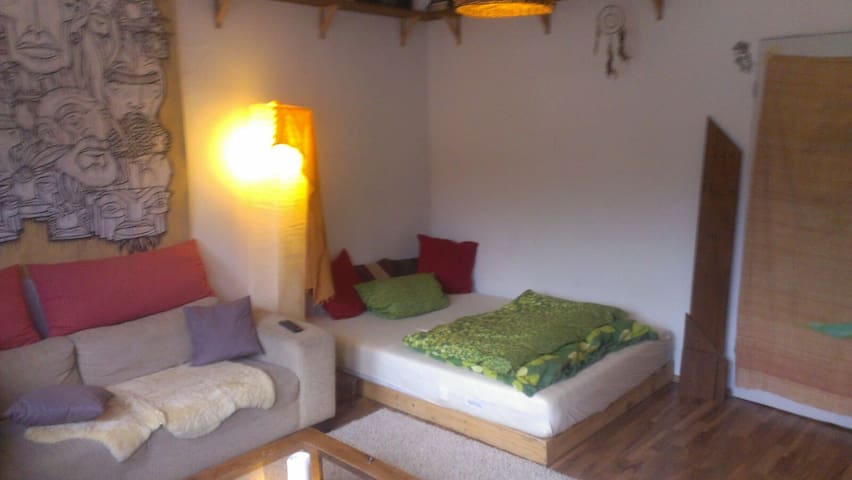 The apartment is fully furnished and can accommodate 2 people + child. We only rent to Non smoking. No pets UKSH 15 approx min. Walk, CAU 20 approx min. Walk, Train and ferry about 15 min. Walk, Highway entrance about 5 min. By car. The Garden Street is a quiet side street. There is no car parking space. Bicycles can be parked in the yard. WIRELESS INTERNET ACCESS. Own washing machine in the EC
The host canceled this reservation 116 days before arrival. This is an automated posting.
Anne
2017-03-17T00:00:00Z
the flat is lovely and very comfi. Alice was always responsive and very kind. i totally recommend!
Lucia
2017-03-28T00:00:00Z
Typ pokoje
Celý dům/byt
---
Typ nemovitosti
Byt
---
Ubytuje
5
---
Ložnice
Kiel, Schleswig-Holstein, Německo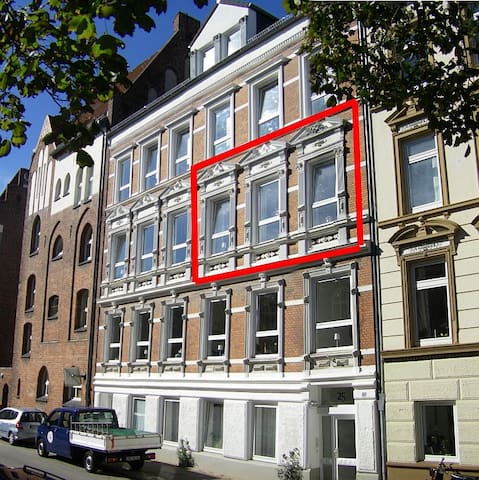 Modern apartment near the horn within walking distance of the train station and City via a good footpaths in just 15 -20 minute. A double bed (2x90x200) and a sofa bed (1,60x2,00m) can also accommodate up to 4 people. The well equipped kitchen allows quite a ENTIRE self-catering. Shopping locally until 23 o'clock. Fast food, pubs, restaurants, 24-hour gas station and bus stops in close to the near surroundings. Perfect for a very long WE in Kiel!
I have the flat in recent weeks largely renovated, but it lacks some yet so mandatory edgings and decorative and so :-) (see pictures). I try so gradually a comfortable but also cozy and balanced base for outings in Kiel and the surrounding area to create. One can - virtually out of bed - see the huge ferries in the harbor and the occasional fireworks over the harbor. You walk out the front door in 8 minutes to the horn (the port), at virtually all large Kieler festivals, such as the Kiel Week take place, and is a few steps later, at the station and in the city with great shopping in downtown, the shopping center Sophienhof, or even in the slightly higher Holtenauer street with its many small often owner operated great shops. Kiel has a lot to offer - for that I have put together some information in the apartment. And even when it rains you can see in Kiel much! On request, the double bed can be divided into 2 20cm separate single beds. Please then a special mention!
The apartment is on the boundary of the more multicultural urban district Gaarden - with small sexy partly multicultural shops - to downtown. The building itself, is a modern brick building from the 80s in the also lawyers, doctors' offices and other silent traders are located. The horn - the Kiel Festival area - can be reached in less than 10 minutes on foot.
Eine sehr schöne Unterkunft, perfekt gelegen. Hauke hat uns sehr nett empfangen und wir haben uns sehr wohl gefühlt, auch wenn wir nur für eine Nacht da waren. Das Appartement ist ebenso für längere Aufenthalte geeignet, da es großzügig geschnitten und eine vollständige Küche vorhanden ist. Vielen Dank und bis Bald!
Anna-Lena
2016-05-23T00:00:00Z
Die Wohnung ist sehr gut gelegen und ideal für einen entspannten Aufenthalt im schönen Kiel! Hauke ist sehr hilfsbereit und freundlich. Nicht zu vergessen ist die Dusche mit "Regenduschkopf"! Ich würde die Wohnung wieder buchen.
Arne
2016-11-27T00:00:00Z
Alles wie beschrieben. Sehr schöne Wohnung, netter Gastgeber. Vielen Dank
Sven
2016-07-16T00:00:00Z
Lief alles einwandfrei. Sehr unkompliziert und alles wie vorher besprochen. Die Beschreibung der Unterkunft traf zu und daher gab es keine "bösen" Überraschungen. Vielen Dank dafür
Philip
2016-07-04T00:00:00Z
Hauke was really really polite. He made us feel like home, he arrived on time and provided us with towels, bed sheets, and kitchen utensils we needed to spend an awesome time. The description of the place is accurate and actually there is one things that's great. We had a Rewe's store right in front of the house. In general the house was really clean and in perfect shape. Highly recommendable.
Jorge
2016-05-22T00:00:00Z
Super zentrale Lage, modern eingerichtet , alles da was man so braucht. Kontakt mit Hauke war super unkompliziert und schnell. Buchen wir auf jeden Fall wieder.
kirsten
2016-05-21T00:00:00Z
Hauke is a nice person. his apartment is very cozy and clean.
Xiangxin
2016-08-07T00:00:00Z
Die Beschreibung und Fotos der Unterkunft passen 1 zu 1 zur Wohnung. Hauke hat uns sehr freundlich willkommnen geheißen und die schlüsselübergabe war mehr als unkompliziert. Nur weiterzuempfehlen!
Julian
2016-07-03T00:00:00Z
Typ pokoje
Celý dům/byt
---
Typ nemovitosti
Byt
---
Ubytuje
4
---
Ložnice
Kiel, Schleswig-Holstein, Německo
Mia und ihre Mitbewohnerin haben uns einen sehr herzlichen Empfang bereitet. Das Zimmer ist sehr liebevoll eingerichtet und wir haben uns sofort wohl gefühlt. Alles war sehr sauber und die Wohnung ist prima vom Hauptbahnhof fußläufig zu erreichen. Klare Empfehlung!
Esther
2016-08-14T00:00:00Z
Das Zimmer und die Wohnung waren sauber und gut gelegen. Wir haben Mia und ihre Mitbewohnerin nicht getroffen, der Schlüssel wurde uns aber von einer Freundin übergeben. Das hat auch sehr gut funktioniert.
Patrick
2016-08-21T00:00:00Z
Großzügiges Entgegenkommen, wir haben uns sehr wohl gefühlt bei Mia. Jederzeit würden wir wieder kommen. Vielen Dank nochmal.
Wolfgang
2016-09-04T00:00:00Z
Alles hat super flexibel geklappt! Eine wirklich schöne, ruhige und saubere Unterkunft! Wir haben uns sehr wohl und willkommen gefühlt! Wir kommen gerne wieder und empfehlen Mia als Gastgeberin gerne weiter!
Janina
2016-08-01T00:00:00Z
Mias place is really wonderful, I had some great days in her flat. Absolutely one of the most beautiful rooms in Kiel!
Mohamed
2016-08-26T00:00:00Z
Typ pokoje
Soukromý pokoj
---
Typ nemovitosti
Byt
---
Ubytuje
2
---
Ložnice
Kiel, Schleswig-Holstein, Německo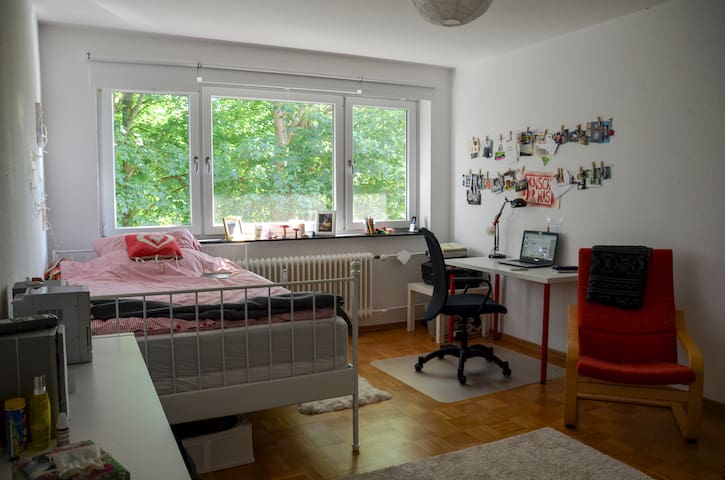 Pro zobrazení celkové ceny zadej termín. Mohou být přidány další poplatky a daně.