This sunny suite is tastefully furnished with contemporary finishes, including all linens and a fully functional kitchen. It has one bedroom and a full bath. Suite is located on the 2nd/3rd floor just incase stairs are an issue.
I very much enjoyed my stay at Nick's place. He is a very helpful person and he responded to my requests and questions very fast. He was very accommodating with my check in schedule. His place is spacious, comfortable, clean and well equipped. I highly recommend this place. Thank you again Nick for the delicious muffins! Hopefully we will meet next time! :)
Fuad
2017-02-26T00:00:00Z
Nick was an excellent host. Very welcoming and cooperative! I would definitely recommended him
Puja
2015-10-21T00:00:00Z
Great first air BNB experience. Host was friendly and available to answer any questions. Location was easy to find and close to restaurants and activities. Cozy space, would book again!
Jenna
2017-02-24T00:00:00Z
I loved my stay at Nick's place! The 1 bedroom/loft is spacious, comfortable, cute and in a very safe, walkable neighborhood. Nick was awesome with communication, responded quickly and made me feel very welcome. I would definitely recommend staying here and I hope to visit again!
Catherine
2017-01-03T00:00:00Z
The space is cozy. The location is great. Nick was a very attentive host.
Andrew
2017-01-15T00:00:00Z
Nick's place suited our needs perfectly. It smelled amazing when we first walked in, and there were some breakfast items on the table for us. The bed and couch were very comfortable and it came equipped with all the necessities. I will definitely be coming back, and also recommending it to my friends.
Jenaya
2017-02-24T00:00:00Z
I had a great stay at the suite and the place was beautiful Nick had been a great host even if I didn't meet him in person but the communication was great Thanks a lot
Lea
2016-12-08T00:00:00Z
The Host Nick was so helpful and easy to contact. The apartment was super warm and cozy, and it was pretty cold while I was here. Updates to the whole place it's a very nice location, nice view and everything was super clean. I stayed with a 1 1/2 year old and a 4 year old and there were no problems with this place even though there are stairs in the apartment. We actually enjoyed the feeling of having something that seemed like a house. 5 stars from me !
Steph
2016-12-26T00:00:00Z
Typ pokoje
Celý dům/byt
---
Typ nemovitosti
---
Ubytuje
2
---
Ložnice
Moose Jaw, Saskatchewan S6H 1X8, Kanada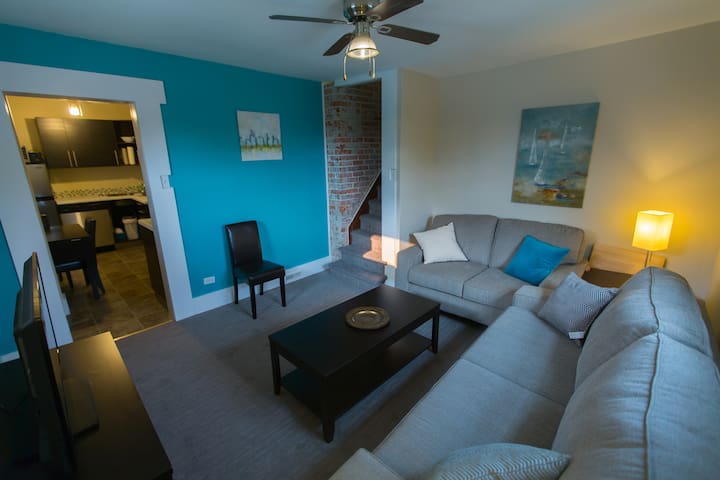 My place is located in the new development in Northwest Moose Jaw. A stones-throw away from the Trans-Canada Highway and minutes away from the downtown core, it's perfect for a transient traveler or for someone staying in town for a few days. CFB Moose Jaw is located 10 minutes to the south.
This house is brand new! The Airbnb room is located in the basement and there is a dedicated bathroom with shower for your individual use. A Queen sized bed can accommodate two guests, and a futon mattress can be made available if need be. There is also a living room in the basement with a wet bar and bar fridge for your use.
Located just north of Thatcher Drive, the house is located in a safe and upscale neighbourhood, which is still under construction. Superstore is located less than 3 km away, and many other shops and restaurants within a 5 km radius.
Nice place to stay. Very clean and Nick was accommodating. We asked him to leave his outside light on for us and it was done. Location is easy to find, parking was good. Would recommend Nick's home, I would stay there again and again.
Karen
2017-02-01T00:00:00Z
Nick was very flexible with our arrival time, as we were driving a good distance and not exactly sure of our arrival time. Very personable, we felt at ease right away. Lovely, brand new home, just a few minutes off the highway. Lots of space on your own (basement suite) to relax, as well as a big open kitchen/living room that is common space. Quiet neighbourhood, never heard a peep from the neighbours. We will certainly return if we are in the area again!
Joy
2016-10-25T00:00:00Z
The house was really clean and new. The bedroom and bathroom were nice, private, and very clean. Nick was a great host, as well! He was fun to talk to and very helpful. Highly recommend this location!
Erica
2016-11-27T00:00:00Z
It is a very nice place in a calm neighbourhood. The place is very clean and I highly recommend this place. Nicholas is a nice person and very talkable. It was a pleasure to stay there.
Mathieu
2017-02-22T00:00:00Z
House is huge and very clean. You get the whole basement to yourself if that is what you feel like. There is a dog, but is very friendly!
Maxim
2017-02-25T00:00:00Z
I don't imagine one could find a better, more hospitable host than Nicholas. A very friendly, interesting young professional with a great sense of humour. This was my first Airbnb experience and I can say it was fantastic. Highly recommended.
Michael
2016-11-14T00:00:00Z
It was lovely to find a cozy welcome at Nicolas' place in Moosejaw while traveling to Calgary. The queen sized bed is very comfortable and the bedding was clean and fresh. Nicolas provided an electric blanket to keep us extra warm. The shower and bathroom is pristine and modern with lots of towels for our use. There is a kitchenette in the living room area which has a bar fridge and sink and kettle to use. Nicolas and I chatted while watching his large flat screen TV on the main floor. He offered the use of his kitchen if we need to cook. A cup of hot tea before bed and a fresh cup of coffee in the morning was much appreciated as Nicolas went the extra mile to meet our needs. We would definitely recommend his place and hope to stay there again.
John
2017-03-04T00:00:00Z
Typ pokoje
Soukromý pokoj
---
Typ nemovitosti
---
Ubytuje
2
---
Ložnice
Moose Jaw, Saskatchewan S0H 0N0, Kanada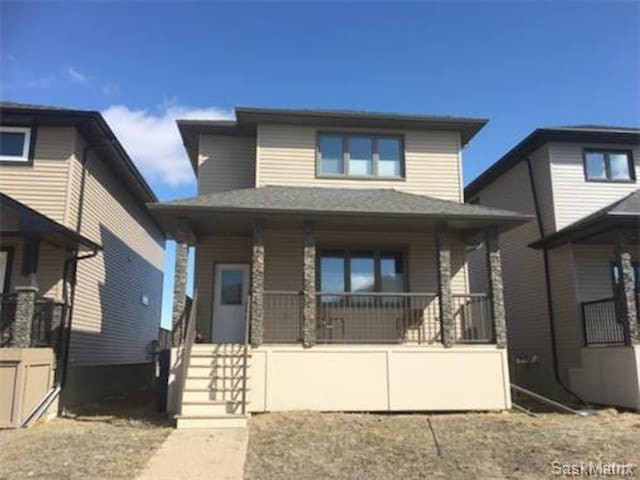 My place is close to the city centre and art and culture. You'll love my place because of the comfy bed. My place is good for couples, solo adventurers, business travellers, and families (with kids).
Location is great. Can be a little noisy being so close to the road. It's very comfortable. It's actually nicer than the photos! The whole place has been newly renovated. Nice TV.
Andrew
2016-12-22T00:00:00Z
House is even nicer than the pictures. Everything has been newly renovated. Fang was very quick to respond to any questions I had. Kitchen is very adequate. There's a large tv with digital cable. It's located close to everything you could need or want. I would certainly stay here again.
Andrew
2016-12-20T00:00:00Z
This is my 2nd time staying at Fangs. It's a nice apartment.
Andrew
2017-01-15T00:00:00Z
Overall we enjoyed our stay and would want to stay there again. We had a few comments though. As a young family we found we had to move a few things to keep them safe from curious fingers. There was not much eating space for a family. I felt the description gave the sense that we would be alone in the house but there was an active business on the main floor. Overall we enjoyed our stay though. Nice hardwood floors. New appliances. Good beds. Excellent location. The host was quick to respond to our questions and was courteous We would want to stay there again. Thanks!
Jacob
2016-11-30T00:00:00Z
Nice place. Couldn't be any more centrally located. A little noise from the business below but nothing after hours.
Gary
2016-12-07T00:00:00Z
Very central location and place was probably better than listing and pictures show. You could easily walk yo main tourist attractions - tunnels, Mosaic. Two full bedrooms, good wi-fi, good kitchen, large TV and plenty of sitting areas. No hesitation in using again or recommending. The downstairs business did not impact the stay.
Carr
2017-01-01T00:00:00Z
Typ pokoje
Celý dům/byt
---
Typ nemovitosti
---
Ubytuje
4
---
Ložnice
Moose Jaw, Saskatchewan S6H 2B5, Kanada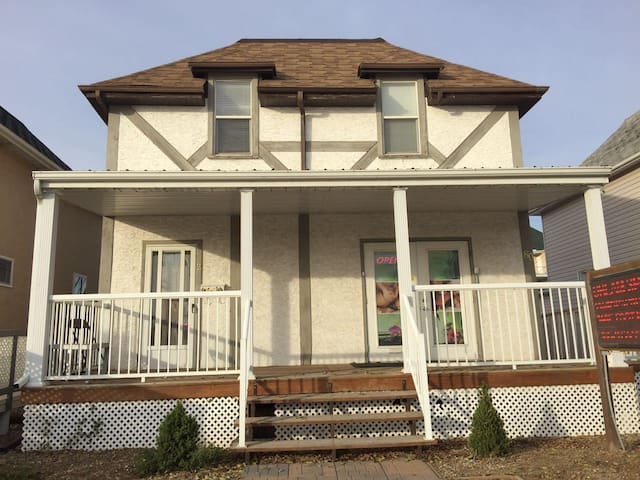 This small room, for up to two guests, on the 2nd floor has a double size antique brass bed, t.v., parlor settee and chair, electric fireplace, 3 windows, an en-suite three piece bath with shower and a 120 ft. balcony. Full breakfast included.
You will be staying in a 1902 large renovated heritage house with loads of history and said to be the oldest house still standing in Moose Jaw. Enjoy the character of this home. We are Inspected and Approved, Licensed and Insured for your safety.
We are located in a quiet park right in Moose Jaw and right next to the trans Canada Trail campground and skating oval.
Nice location, friendly owners. The room was warm and cozy and I appreciated the small electric fire.
Sarah
2016-10-23T00:00:00Z
It was great. Lois is a perfect fit for Air B&B hostess. We enjoyed staying at her home and if in Moose Jaw would certainly book there again. Breakfast was really tasty and we enjoyed conversing with them as they knew a lot of history of the area.
Elaine
2016-08-03T00:00:00Z
excellent overall - Lois was a great host and the place was beautiful and as described.
Evan
2016-04-19T00:00:00Z
Lois greeted me and carried my bag upstairs after she had me sign in. The room was nice with a brass bed and my own shower and toilet in the room. I was also able to go out on the balcony from my room and I could look at the stars and enjoy the view of the valley region. I had a delicious homemade breakfast each morning and I enjoyed chatting with the owners, the other guests, as well as Lois's charming mother. The house is located away from the downtown area, but is very easy to reach anyplace in town, including the Tunnel Tours or the spas.
Colleen
2015-09-14T00:00:00Z
You will have a delightful stay at this beautiful period house! It will be further enhanced if you are a history buff! Lois and her husband are great company and we had very interesting conversation with them and the other guests at the dining table while eating the tasty homemade breakfast! What a great experience!
Shaun
2017-02-26T00:00:00Z
Very friendly and helpful. The balcony room was great. It was above 0 degrees so I used the snack station outside my door and made a cup of tea to enjoy outside. Private bathroom and access to the balcony. Breakfast was delicious!
Jackson
2017-01-21T00:00:00Z
Fabulous country home with warm and helpful host. We enjoyed the host's family at breakfast and the penthouse suite at the top of the home with a view out over Moose Jaw.
mark
2016-12-02T00:00:00Z
Lois was most welcoming and considerate. The house is remarkable and worth a visit. We had a great stay in a beautiful suite which was an upgrade from the Balcony room. Breakfast was extensive and wonderful in a great setting with some very interesting travelers from the US and Canada.
Bob
2016-06-09T00:00:00Z
Typ pokoje
Soukromý pokoj
---
Typ nemovitosti
---
Ubytuje
2
---
Ložnice
Moose Jaw, Saskatchewan S6H 6A4, Kanada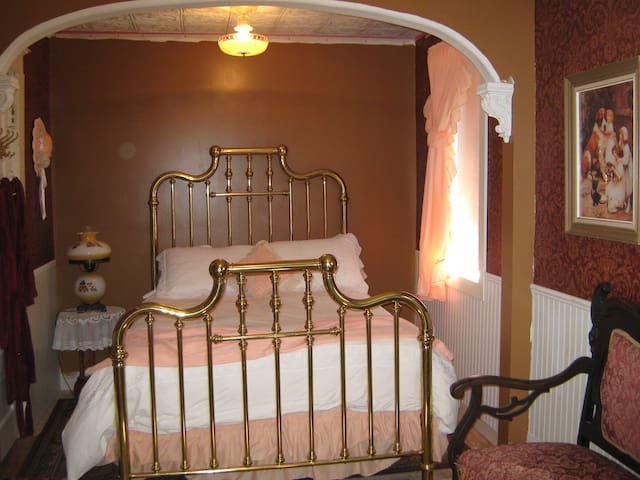 This elegant third floor hideaway is decorated in antique red and sage green. It features hardwood floors, remote fireplace, sitting area, antique sofa and four windows offering a breathtaking view of the valley. Relax in your comfy King size heart shaped bed or single day bed. Enjoy a relaxing soak in your clawfoot jetted slipper tub or separate shower.
Typ pokoje
Soukromý pokoj
---
Typ nemovitosti
---
Ubytuje
3
---
Ložnice
Moose Jaw, Saskatchewan S6H 6A4, Kanada
Downtown Modern Character Home. Private bedroom. Private bathroom (yes!). Hot tub. Free breakfast (Coffee and Cereal/Toast provided). Free wifi. Free parking. Must love dogs (we have 2)!
Modern Character Home. Built in 1910 this home has been fully renovated. Guest room is equipped with a double bed, side table, and closet. PRIVATE BATHROOM includes vanity, toilet, shower/tub.
Best location. Located on a quiet street 2 blocks west of Main Street. We are right beside a large grocery store and gym. Free parking. Walk anywhere downtown in 5- 10 minutes. 2 blocks from Mosaic Place.
Meredith and Matt were very considerate hosts. The dogs were friendly, well-behaved and enjoyed the attention we gave them. We slept well; it was quiet and the bed was comfortable. We wish we could have stayed longer to explore Moose Jaw. It seems like a great town.
Christine
2015-12-16T00:00:00Z
Meredith was an awesome host. Her house is a character home, and we loved the way she has decorated it :). Meredith answered any questions promptly and checked in on us to make sure everything was going well. Her dogs are also super friendly, and we enjoyed some snuggles while we were away from our own fur-child.
Tracie & Kresten
2016-10-08T00:00:00Z
Meredith and her husband were great hosts, both giving us our own space and having a great conversation over breakfast in the morning. Their house is a beautifully-restored character home, and the room was lovely. They also gave us use of a private bathroom, which was nice. Their location is very central, so you can walk downtown to restaurants, cafes, and the historic tunnel tours! Meredith gave us info about the house and recommendations for Moose Jaw via a watercolour poster, which was a cool arty touch. Would heartily recommend.
Caitlynn
2016-08-09T00:00:00Z
Lovely home and friendly welcoming hosts. My husband even watched part of the Tragically Hip concert there!
Janet
2016-09-02T00:00:00Z
Staying with Matthew and Meredith was so great! They gave us everything we needed, and even left advice for our time in Moose Jaw. Their hot tub was so lovely. Sharing their space was easy, and they are clean and quiet hosts. We did have a really great visit during our stay though, which my mother and I particularly enjoyed. Would definitely stay again! Thanks you two
Shannon
2015-09-10T00:00:00Z
I had a wonderful stay at Meredith's place. It is a beautiful house that had everything I needed. Meredith and her husband were very welcoming to me, as were their dogs (who are completely adorable). Communication was a breeze. Highly recommended.
Stephanie
2015-11-02T00:00:00Z
We had a great time at Meredith's place. Very cozy and calm. Nice hot tub also! Thank you very much.
Marie
2015-11-04T00:00:00Z
I enjoyed staying at Meredith's house my first time so much, that this was my second time staying there. Great location, with a large kitchen and bathroom. Very comfortable stay!
Calvin
2016-10-02T00:00:00Z
Typ pokoje
Soukromý pokoj
---
Typ nemovitosti
---
Ubytuje
3
---
Ložnice
Moose Jaw, Saskatchewan S6h1z5, Kanada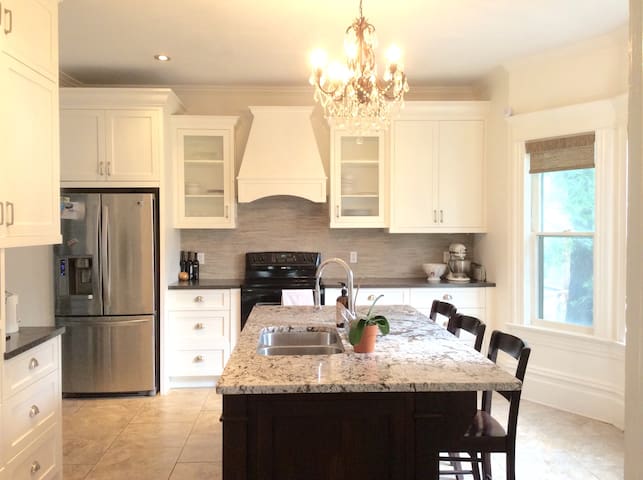 This separate entrance (completely separate and private) sunny basement suite is tastefully furnished with contemporary finishes, including all linens and a fully functional kitchen. It is situated on the corner of 1st Avenue Northwest and MacDonald Street West. It has one bedroom and a full bath. There is also a washer and dryer that is shared with the main floor tenant available to be used for free. The main floor tenant has been there for 10 years; only quiet and respectful people please.
Typ pokoje
Celý dům/byt
---
Typ nemovitosti
---
Ubytuje
2
---
Ložnice
Moose Jaw, Saskatchewan S6H 3N5, Kanada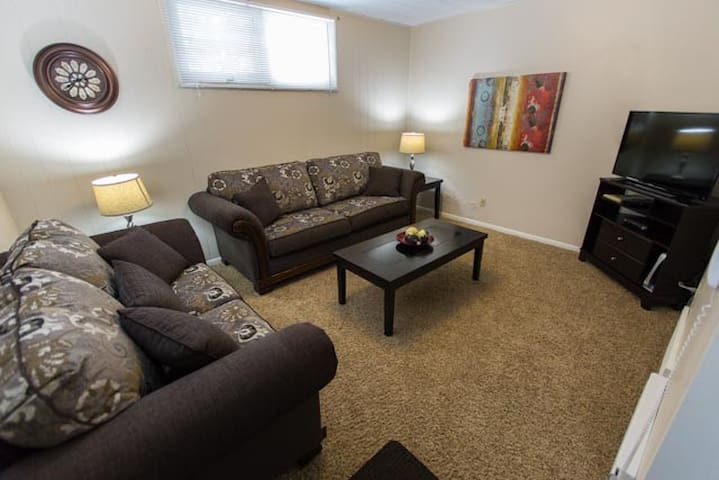 This sunny suite is tastefully furnished with contemporary finishes, including all linens and a fully functional kitchen. It has one bedroom (couch turns into 2nd bed). Suite is located on the 2nd/3rd floor just incase stairs are an issue.
It's a very well taken care of and clean space. Everything you would need for your stay including a full kitchen. The suite has wifi and an apple tv.
I had a wonderful stay at Nick's house. Very neat and well laid out! More classic than picture depicts.. Thanks for the MUFFINS!
anthony
2016-03-01T00:00:00Z
Nick went out of his way to make us feel welcome. Small space but very clean and comfortable. We'll definitely be back!
Gary
2016-03-09T00:00:00Z
The listing description was very accurate. Nick was great in providing us with everything that we needed plus more. He went above and beyond to make sure our stay was comfortable. He was very accommodating with our schedule. Thanks for the muffins :) they were a great touch and very much appreciated.
Celine
2016-03-11T00:00:00Z
Amazing place, that feels like a home. I settled in quite easily! They went out of their way to make sure I was settled - much appreciated. Stay here!!
Andrea
2016-11-25T00:00:00Z
Typ pokoje
Celý dům/byt
---
Typ nemovitosti
---
Ubytuje
3
---
Ložnice
Moose Jaw, Saskatchewan S6H1X8, Kanada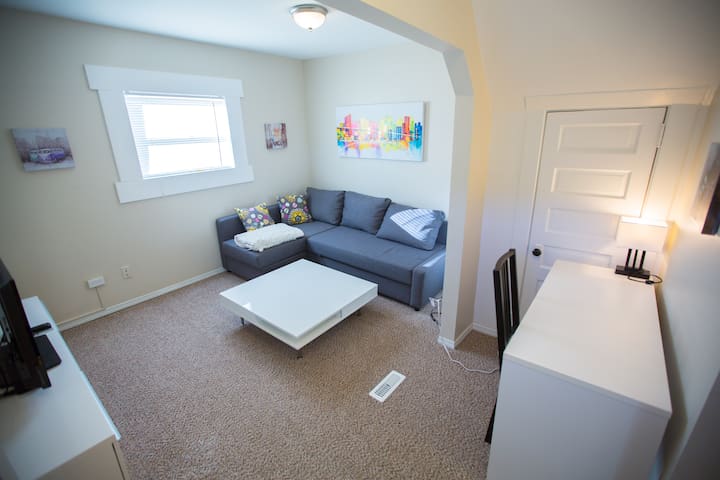 The suite is complete with en-suite laundry, all utilities, parking and optional maid service. With an on-site building manager, the property is always well maintained. Nestled amongst beautiful lush greenery in a quiet neighbourhood, the Westview Condominiums are perfect for a young family with children as they are located just blocks away from Sacred Heart elementary school.
Typ pokoje
Celý dům/byt
---
Typ nemovitosti
---
Ubytuje
4
---
Ložnice
Moose Jaw, Saskatchewan S6H 6H4, Kanada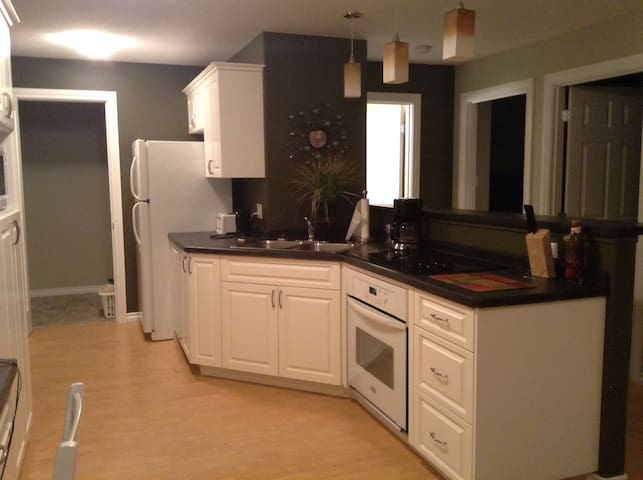 Private bedroom in new condominium. 60 km from Regina. Ride to and from airport. Ride to and from game. Some access to kitchen. Older couple are only other occupants. Call or email for price. (EMAIL HIDDEN) (PHONE NUMBER HIDDEN)
Typ pokoje
Soukromý pokoj
---
Typ nemovitosti
---
Ubytuje
2
---
Ložnice
Moose Jaw, Saskatchewan S6H, Kanada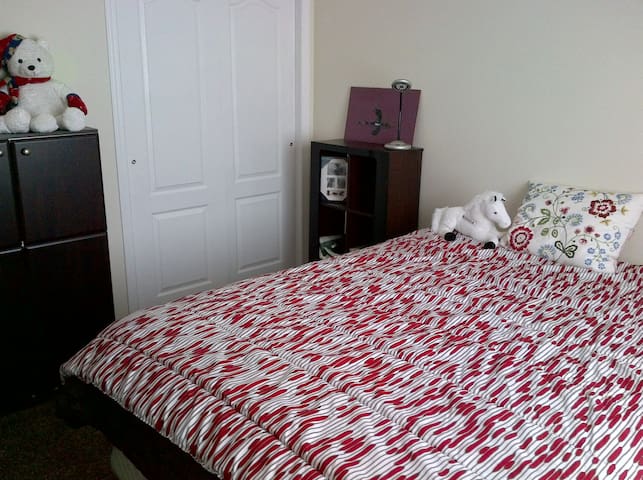 I'm an active rower, love cooking, running and swimming, settled in a lovely 2 bedroom apartment( on the 2nd floor of a 4 suite house) in Moose Jaw. Would love to share the beauty of this city and the surrounding areas with the guests. The apartment is located on top of the Wakamow valley.
Moose Jaw, an unique small city in Saskatchewan. It has a lot characters itself, with a mineral spa, rails, grain elevators, farms, hills, lakes around, and plenty of golf courses. It's also close to Regina, in reasonable proximity to Saskatoon. The guest WILL share the apartment with me. You have the choice between the main bedroom or the smaller guest room. Both have a queen bed, closet and windows. For the main bedroom, there will be a $15/night additional charge. If I'm away, then the guest get to use the entire apartment. The apartment can accommodate maximum 2 guests (the guests need to be able to share one bedroom if I'm here) at a time. We will also share bathroom, and kitchen. The laundry is shared by all the 4 units in the building, and available to myself & my guests on Thu. to Sun. There is no coin required for the laundry. Parking is in the street or at the back of the house. Please note, I DONOT have TV cable, and CANNOT host children or pets.
Right on top of the Wakamow valley with plenty of sunshine during the day, my apartment is located in South Hill. You have access to trails, parks, running tracks, and 'Fine Foods' grocery store. The best part about Moose Jaw is even if you need to travel to the other end of the town, it takes you 15min maximum.
Shelly is the world's biggest sweetie! She made us feel so welcome and prepared a wonderful meal that we all shared together and got to know each other, a memorable stay!
Liam
2014-09-27T00:00:00Z
Shelley is a fabulous host. We had enjoyed her delightful apartment to no end. It is located on the most lovely area of Moose Jaw ~ everyone wants to live there. The apartment is inviting & cozy, well lit and spacious. The bed was very comfortable, like it was our own. Plenty of blankets and comfy pillows were just perfect for us. The neighbors were quiet and friendly. We watched many people enjoying their morning jogs in this very quiet neighborhood, as we enjoyed our coffee in the front room.
Greg
2014-09-08T00:00:00Z
Shelley is a great host! We felt very welcomed and really enjoyed our stay! The room is nice and the apartment has everything you need. During our short stay we haven't met Shelley in person but there was no problem to check in and communicate with her. She had great infos for our stay, we would stay there again.
Christopher
2016-07-26T00:00:00Z
Shelley is a great host. Very accommodating and a pleasant conversationalist. Good resource material in the room to make the Moose Jaw visit memorable. The walk along the valley ridge outside the front door is spectacular.
Dennis
2016-06-25T00:00:00Z
Typ pokoje
Soukromý pokoj
---
Typ nemovitosti
---
Ubytuje
2
---
Ložnice
Moose Jaw, Saskatchewan S6H, Kanada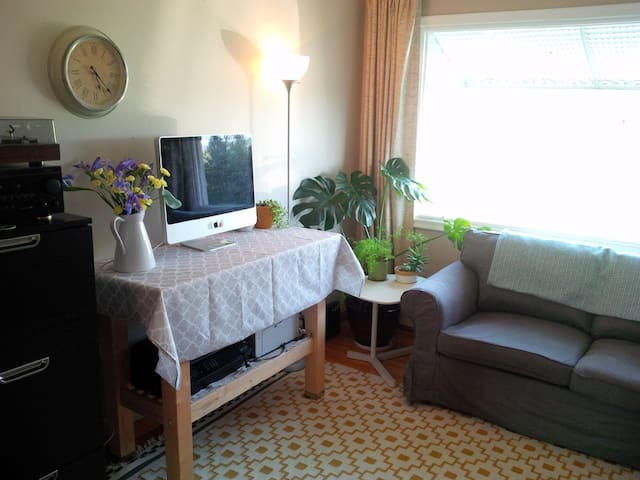 A comfortable, well-kept home in the village of Caronport with a warm, private room and lots of light. A pristine sitting garden for summer stays and a relaxing sitting room for cold winter days. A 5-minute walk from Briercrest College and a 15-minute drive to historic downtown Moose Jaw.
Full access to laundry and kitchen facilities. And feel free to sit down at the piano if you feel so inclined!
There is always something going on at Briercrest College, with music, drama, and sports. But the most cultural activities are to be found in nearby Moose Jaw -- from the Tunnels of Moose Jaw tourist attraction to the Western Development Museum to the Wakamow Valley, there's always something interesting to do in town.
Typ pokoje
Soukromý pokoj
---
Typ nemovitosti
---
Ubytuje
2
---
Ložnice
Caronport, Saskatchewan S0H 0S0, Kanada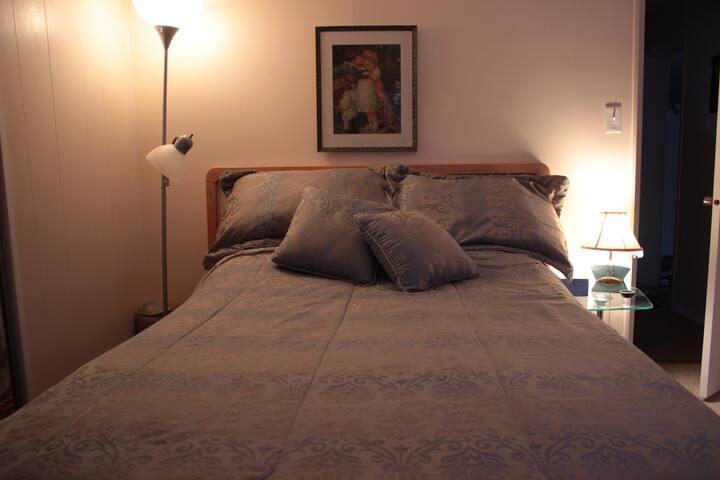 Pro zobrazení celkové ceny zadej termín. Mohou být přidány další poplatky a daně.