A spacious and fully furnished luxury 3 bedroom Apartment right on the beach. The rooms are very well maintained and the apartment is fully furnished. We have placed the refrigerator in each and every room. This is our 3 bedroom spacious apartment on the 2nd floor with a beach view. All the rooms are very spacious and has a private balcony. Each bedroom has a mini fridge and a table for two. There is a sofa in living area and a kitchen with sufficient kitchen amenities.
This is our 3 bedroom Luxury Apartment. All bedrooms are A/c with a mini fridge and a table for two and a private balcony. This had a spacious living area and an open kitchen in the living area. The house is right on the beach (Ashvem). All three rooms are spacious and well designed and maintained to give a luxury experience to our guests. Also each room has a private balcony.
We are located on Ashvem beach. Very close to Mandrem and Aarambol (3-4kms) The restaurants and grocery stores are at a walking distance. Calangute, Baga, Candolim, Anjuna, Vagator beaches are approx 15kms away.
I had travelled to Goa, with my two best friends, and we couldn't have asked for a better location, and overall stay thanks to this wonderful property nestled in the quiet part of Ashvem. Felix was helpful right from the get go, assisting us in finding the location and making sure we were informed of places to go, eat, and make the most of our time spent their. The property itself was clean, minimalistic and exactly what you would want for a getaway, to disconnect. It is right opposite a little bar/shack that is open 24x7 which serves great food too, which was an added bonus. 10/10 would stay here again! Thanks once again Felix :)
Ishaan
2017-03-14T00:00:00Z
The host has helped our driver by giving suitable directions at the right time and also helped to bring the luggage to the third floor as the flat was not having lift. So nice of him... He has arranged to provide water immediately. Also arranged a servant maid to wash utensils and cleaning the rooms..... He has also helped in providing a vehicle from known person who has shown all the places near by. we could really enjoy our stay in his place..
haranath
2016-10-13T00:00:00Z
The property is right on the beach! Probably the closest you can get. The beach is fantastic. Unlike the crowded ( and dirty ) beaches of Baga and Calangute, Ashvem beach is calm, serene and clean :) The house is big, and comfortable, and all the rooms have view of the sea, with two rooms facing the sea. My cousins loved it, and we have decided to book this place every time we go to Goa. Felix's pet- a rottweiler is also an adorable creature! My cousin really loved playing with him :) The surrounding is good too, with a 24 hour restaurant and a departmental store within 50 meters. TLDR- The property is awesome, the beach is spectacular and the host is very nice :)
Harsh
2016-11-07T00:00:00Z
Отличное место. 3 комнаты с огромными кроватями, каждая оборудована кондиционером, холодильником и душем. У дома есть небольшая территория где можно оставить байк. Пляж находится буквально через дорогу, что очень удобно. Все фото соответствуют действительности. Однако напротив дома через дорогу появился бар koleso 24/7 (хороший ориентир для поиска апартаментов), на фото его еще нет. Бар тихий, музыка ночью не играет, спать не мешает. Рекомендую для тех, кто путешествует парами. Очень похоже на мини отель, в котором вы с друзьями забронировали весь этаж. Хозяин может помочь найти такси по приемлемым ценам.
Konstantin
2017-03-06T00:00:00Z
We stayed on the top floor (2 floors are rented). The sea is visible from two of the bedrooms (from the bed itself) and also a bit from the balcony of the third. Although the view is a bit obscured by some palm trees, it would be difficult to find another house closer to the beach -- it starts right across the road. There are small shops within 5 minutes walking distance to take care of basic amenities (basic beachwear to groceries) and some restaurants as well. The beach itself is beautiful and very safe since it is long and flat without sudden drops. At mid tide a lagoon of sorts starts to form behind the main beach and you would even find toddlers playing there. It is very calm and beautiful in the morning. The rooms in Felix's place are spacious. Each has an air conditioner that worked well. The toilets are fairly clean and hot water seemed to be available throughout (although we did occasionally have minor issues with stench from the pipes). The kitchen could do with some improvements though. Although we had a large fridge and a kettle, it took a while to sort out stove and toaster arrangements and a lack of microwave and any sort of shelving made it a little difficult to use the kitchen efficiently. The wifi was also problematic and we could only rely on it for very basic purposes. Despite the issues with the kitchen and the wifi, I would go to Felix's place again in a heartbeat. This doesn't just have to do with the amazing location, but the fact that Felix is a great host. Not only did he make arrangements for all the items that one could reasonably ask for (regarding the kitchen etc), but he went much beyond. My father lost his glasses in the sea and Felix took him around to get them replaced. My wife left her contact lenses back home... again Felix to the rescue. In summary, this was a great location and Felix is a great host who goes well out of his way to help you!
Pranav
2017-01-30T00:00:00Z
Everything was great!
Rachna
2016-08-15T00:00:00Z
I've stayed in Ashwem multiple times in the past and I'm quite familiar with the area. This time we chose Felix's place for the simple reason of economy. Felix's place did not disappoint. The beach is right across the road and the view is obstructed by nothing other than palm trees. The rooms are huge and the bathrooms are clean. We had an issue with the air conditioner in one of the rooms and Felix was kind enough to give us use of another room for the night. The issue was rectified the very next day. Felix is a really nice guy and our trip was excellent and trouble-free thanks to him.
Sunil
2017-03-21T00:00:00Z
Felix is an awesome guy. Every single thing was looked after. He ensured that I got a cab from Leela to his place at standard costs. Treated us like family! Oh and he has a dog, the cutest thing in Goa! You will not find any property this close to the beach at this price. Anywhere.
Anuj
2016-09-13T00:00:00Z
Typ pokoje
Celý dům/byt
---
Typ nemovitosti
Byt
---
Ubytuje
6
---
Ložnice
Morjim, Goa, Indie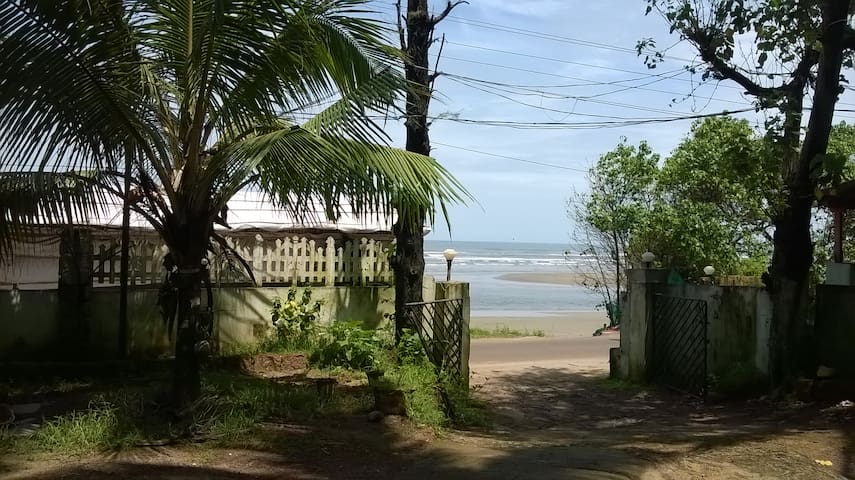 The house is located in North Goa, on Ashwem beach, one of the best beaches of Goa. It is situated away from the main road, in a quiet location with open views. Public places are within walking distance and it's a 2 minutes walk to the beach. !!!The safety of your belongings is guaranteed!!!
The house has 2 sea view apartments on the 1st floor. One apartment is for rent and accommodates 3 persons, extra bed for the 3rd person is provided in the living room in the apartment at no extra cost. Wifi is available at no extra cost. The safety of your belongings is guaranteed!
All guests are invited to the rooftop chill-out! The rooftop opens to a wide view of the surrounding scenery with sea view, which allows you to watch the sunset, have dinner under the starry sky, sunbathe without the fear of prying eyes, enjoy the evening breeze and the noise of the surf. The rooftop has everything for your comfort.
Ruchir made us feel totally welcome! First day he took us down to the beach and to some local, popular cafes and hangouts (Cafe Morjim, Pink Orange). He checked in on us throughout to make sure everything was going to according to plan. The house was lovely, spacious. The roof has a beautiful view of the stars and fireworks (if you're there for holidays). Only thing is spotty wifi, but you will find (EMAIL HIDDEN)e here if you want to get away from it all and have a short (5 minute) walk to the beach.
Natalia
2016-01-05T00:00:00Z
Ruchir was great with communicating throughout the whole stay. He arranged a taxi for us from the train station which was very convenient. He was happy to answer questions and give recommendations. The house itself is open and airy with no quams about cleanliness and its just a few minutes walk from the beach. Hot water is the best I have had in India, though this wouldn't even matter in summer months! Supermarkets and restaurants in abundance closeby. Great value for money.
Kelli
2017-03-07T00:00:00Z
Great value for money, great location as so close to the beach and restaurants/bars. Ruchir was very welcoming and introduced us to locals which made us feel part of the community. Thank you!
Alice
2015-12-23T00:00:00Z
Ruchir's flat is nice and spacious with plenty of windows for fresh air. The location is great, close to the beach and bars but far enough from the road so it's not noisy. Ruchir was very friendly and helpful.
Ross and Karla
2017-01-02T00:00:00Z
Ruchir has been a great host. We reached at around midnight, and Ruchir was there to guide us to the house. The apartment was in fact better than what we had expected from looking at the pictures. He even helped us get our car washed. And the cherry on top of the cake was the pricing - Very reasonable at this time of the year.
Avishekh
2016-12-28T00:00:00Z
Typ pokoje
Celý dům/byt
---
Typ nemovitosti
Byt
---
Ubytuje
3
---
Ložnice
Morjim, Goa, Indie
Experience a relaxing beach stay at the Morjim Sunset Guesthouse at the famous Morjim Turtle Beach in Goa with friends or family for an unparalleled experience. Property is just 300 meters away from the Morjim beach, Goa. Close to Ashvem beach and Mandrem beach. Safe and Secure place near Morjim beach with modern amenities for awesome vacation in Goa. Sun Sand Sea. Cheers
Dear Guest, Standard AC studio Double room with kitchenette and garden facing verandah . This private room of Morjim Sunset Guesthouse is located on ground floor with garden facing verandah (private seating area).
Morjim beach is a calm and serene beach in Morjim village of Pernem Taluka in North Goa. Morjim beach is nesting place of famous Olive Ridley Turtle and is a bird watching site Morjim beach is surrounded by Chapora river. You can go for boat trips to watch dolphin in Arabian sea, And you can also go for fishing. My property is located in Tembwada also called as Turtle Beach Morjim.
You will just fall in love with the location. Riverfront and Beach. You can enjoy the sunrise from the Riverside and sunset on the beach.
Sushil
2017-03-19T00:00:00Z
I had a great time at the guest house. The amenities are simple and extremely clean. Rohan and his dad are always around in case you need any help. I'd definitely recommend staying here if you are looking to stay at a clean location with basic amenties and the beach being a stones throw away.
Christina
2016-11-10T00:00:00Z
It was in a great location equipped with Kitchen. Nice, clean and very close to the beach. Rohan was very helpful in providing the directions around. Can recommend this place in Morjim for people to stay.
anand
2016-01-09T00:00:00Z
Very good for Solo travelers and couples. Rohan is very helpful and will guide you properly.
Apoorv
2017-02-12T00:00:00Z
Nice anad peaceful place Near to Morjim beach. Friendly and helpful host.
Anshul
2016-11-22T00:00:00Z
Rohan is a very kind And helpfull host. The house is cosy And clean And the bed is very comfortable. Close to The beach. All in all a Great experience.
Myrthe
2016-11-08T00:00:00Z
Excellent stay, and excellent customer service from Mr.Morge :)
Sanju
2016-10-09T00:00:00Z
We had a short stay. And thought it was a house. It turned out to be a guest house.
Nongthoi
2015-09-18T00:00:00Z
Typ pokoje
Celý dům/byt
---
Typ nemovitosti
Byt
---
Ubytuje
2
---
Ložnice
Morjim, Goa, Indie
Our 2 BHK fully furnished and equipped unit occupies an entire floor of the house. It is beautifully laid out with sit-out balconies, french windows and an elegant living room. As our guests put it: "one of the best designer suites in Morjim".
The entire floor is accessible to the guest. The open balconies provide a cool option for relaxation. The French windows and interiors add a sense of elegance. The rooms are warm and open with ample light and fresh air. The place is surrounded by the hills at the back and a coconut grove in the front.
Morjim is an un-cluttered settlement with quaint places to dine, super markets and a clean, uncrowded and pristine beach and river front. A beautiful and blissful place and close to other beaches like Ashwem, Mandrem, Arambol in the north and Anjuna, Baga and Calangute to the south.
Typ pokoje
Celý dům/byt
---
Typ nemovitosti
Byt
---
Ubytuje
4
---
Ložnice
Morjim, Goa, Indie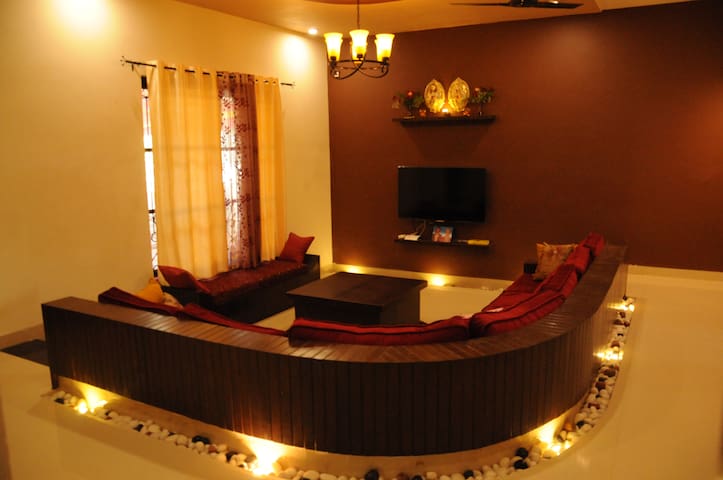 These are 2 x 1 bedroom fully furnished Apartments facing the beautiful Morjim Beach area. Surrounded by our garden area, Multi-cuisine Restaurants and Morjim beach at walking distance.
These apartments are located at the Morjim Beach. You will get a beautiful Beach/Sea view from your private balcony. Beach is just behind the apartment (very close). We have our own Garden area surrounding our house with varieties of flowers and fruits.
This is a Morjim Beach area, You will find people from all over the world. Multicuisine restaurants are all around the place. All other facilities are available at hand in this area.
Typ pokoje
Celý dům/byt
---
Typ nemovitosti
Byt
---
Ubytuje
8
---
Ložnice
Morjim, Goa, Indie
Рядом с моим жильем пляж, семейные развлечения, ночная жизнь и общественный транспорт. Мое жилье подходит для этого: пары, соло-путешественники, деловые путешественники, семьи (с детьми) и большие группы.
Beautiful new house for shanti-holiday in Goa. The house is located in the popular resort of Morjim. Location of the house is very convenient - in a quiet picturesque place, surrounded by palm trees, but at the same time close to all the tourist infrastructure: the beach, shops, ATMs, fruit and fish market, a public transport stop. The distance to the beautiful beaches - 10 minutes on a scooter (2.4 km). The atmosphere of the house helps to fully enjoy the magic of Goa. The house consists of four two-bedroom apartments. Each apartment has 2 separate bedrooms with own bathrooms, 4 balconies, fully equipped kitchen, living room, TV, and internet. The configuration of the apartment allows to guests to occupy the apartment as a whole or to occupy only one bedroom. The house has its own bordered territory, where guests can enjoy a barbecue. Available free Wi FI and cable TV. The hosts of Villa Shanti can help with rent a scooter or a car, with sightseeing or guided tours, and answer any questions of the guests. We will do everything for your comfortable, pleasant, unforgettable holiday! Welcome to Shanti Goa, Shanti Morjim, Shanti Villa! Best wishes from Goa and Shanti Villa hosts - Sweta and Vladimir!
We had a great stay. Sweta is a very good host. The place is a bit secluded from other places in Goa so travelling takes a lot of time. The place is very clean and we had a very pleasant stay there. If you wish to lounge at beach then it's for you
Sanket
2016-11-05T00:00:00Z
A very clam and beautiful place in the lap of nature. Clean rooms. Fantastic host. Near to many of the northern beaches in goa. I shall definitely make a visit again
lekha
2016-12-18T00:00:00Z
Sweta is very nice, helpful and reliable lady, my friend's laptop and DSLR were locked in the cupboard and we lost the keys at the moment of check out, as we had flight to catch we couldn't do anything but she called a keysmith and did the job for us in the next morning and the things were taken care off and we got those back.The rooms are very spacious and comfortable.
Nakul
2017-01-30T00:00:00Z
It was a great stay...rooms were really clean and comfortable...hot water, refrigerator every thing was working..
Suchit
2017-02-05T00:00:00Z
Останавливались в этом месте в феврале 2017, место хорошее, здание новое, квартиры просторные, кухня нормальная, холодильники работают, вентиляторы тоже, до пляжа Морджим 5 минут на байке, дорога хорошая, все закрывается, кровати большие, есть сейфы во всех комнатах. Напор воды слабенький, помыться можно, сантехника новая, работает нормально, белье есть, но не совсем обычное, как парео, полотенца выдают по запросу, хозяева живут этажем ниже. Часто встречаются муравьи. Цена качество вполне прилично.
Maxim
2017-02-22T00:00:00Z
We had to ask for everything. This place is in a remote village. No drinking water, no bed linen, very poor state of affairs
Sagar
2016-12-29T00:00:00Z
Typ pokoje
Celý dům/byt
---
Typ nemovitosti
Byt
---
Ubytuje
8
---
Ložnice
Morjim, Goa, Indie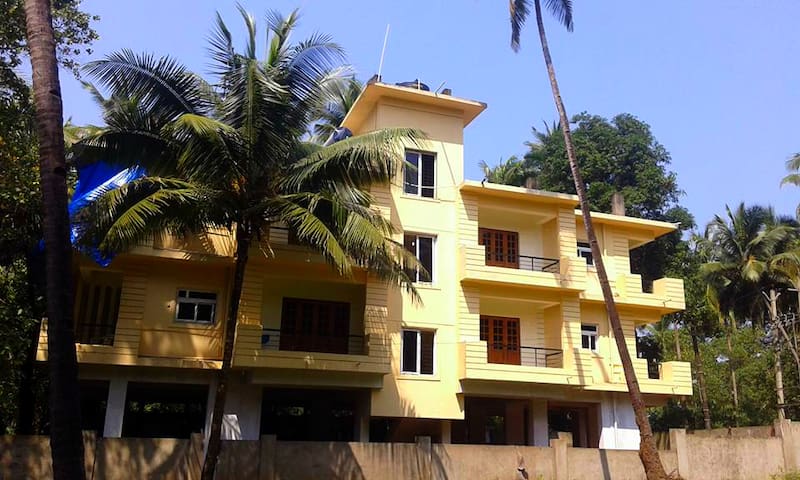 1 комнатный большой номер общий чилл-аут на крыше. Только что сделан ремонт. В шаговой доступности несколько кафе и ресторанов, магазин и алкошоп (примыкающее здание) Море сразу через дорогу С балкона открывается вид на пляж Месторасположение - прямо напротив легендарного бара Борщ Если вы приехали отдыхать, но при этом не любите стеснённую суету Арамболя - лучшего места вам не найти. И пожалуйста, читайте описание внимательнее, вариант для размещения с детьми не очень подходящий!
The host canceled this reservation 11 days before arrival. This is an automated posting.
Александр
2016-12-11T00:00:00Z
Typ pokoje
Celý dům/byt
---
Typ nemovitosti
Byt
---
Ubytuje
2
---
Ložnice
Morjim, Goa, Indie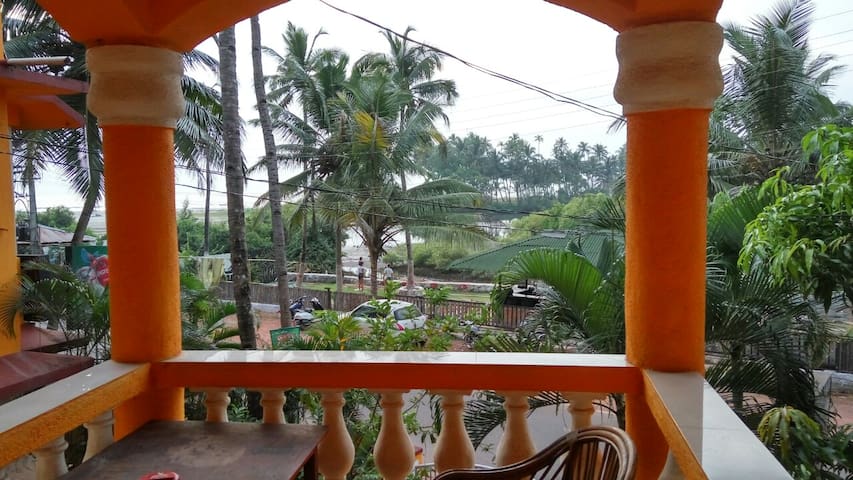 2km from beach. Max. 6 people stay . With wifi With hot water/cold water With water purifier With AC TV Refrigerator Parking space Basic breakfast and evening tea
Typ pokoje
Celý dům/byt
---
Typ nemovitosti
Byt
---
Ubytuje
7
---
Ložnice
Morjim, Goa, Indie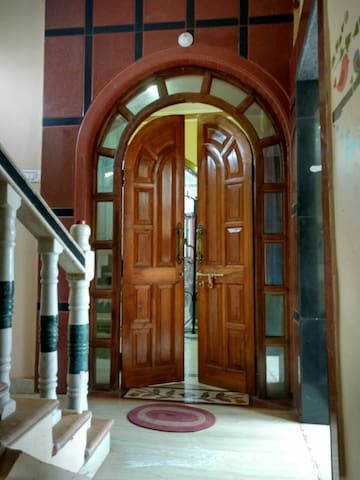 Our Deluxe 1BHK apartment in our Morjim Sunset Guesthouse property has double bed in bedroom, living room with seating area, ensuite bathroom, kitchen with utensils and refrigerator. The property is located 5 minute walking distance to the Morjim beach and 4 km from Ashvem beach. Room/Apartment size: 30 square meter Apartment is air conditioned with 32 inch LED TV. My place is good for couples, solo travellers, business travelers, families (with kids), and big groups. Best place to stay
Our property is just 5 minute of walking distance from the Morjim Beach and 300 meters away from the beach. We are hosting customers for last 6 years. 1BHK Apartment is spacious and is comfortable for 2- 3 (URL HIDDEN) has attached toilet bathroom with water heater, shower. Kitchen has induction or gas stove with frying pan, utensils so you can cook your food. Grocery stores are also nearby to the property. Restaurants are also nearby to the property and these restaurants are famous for seafood and veg-non veg dishes.
Our property is located near world famous Morjim Turtle Beach, Morjim Beach is just 300 meter from the property and Chopora river is 200 meter from the property. View amazing sunset on the morjim beach. Amazing view of Chapora river: Chapora river is just 150 meters from the property. You can view amazing view of Chapora river meeting the ocean. Guests can also do fishing in the Chapora river. During tourist season period ie from October to April you will find beach shacks restaurants on the beach. You can enjoy your breakfast lunch and dinner on the beach in these shacks. Laxmi restaurant and Seahorse restaurant famous for seafood are 1km away from the property.
The place was basic as described, however, it was very clean and the location was ideal. The hosts, Shamba and Rohan were very hospitable and understanding and the neighbors were also friendly. If you are looking for a nice affordable place to stay in Morjim, this is it!
Shashank
2015-01-02T00:00:00Z
всем путешественникам намасте! отзыв о гость-доме Рохана. низкая цена соответствует уровню жилья. Наше жилье подходит для людей с невысокими запросами к интерьеру и ремонту. есть комнаты дешевые, есть дорогие с лучшими условиями. но всегда есть вода и водонагреватель, электричество, газ. отличное расположение, тихое место, рядом конечная остановка автобусов до основных городов. утром можно купить свежие булочки и молоко. соседний пляж тихий и мелкий. цены на пляжные товары низкие. отношение владельцев дома гостеприимное, помогают и решаю при необходимости проблемы. в доме живут с грудными детьми. мы остались довольны. all travelers namaste! Review of guest-house of Rohan. low price corresponds to the level of housing. Room suited for people with low demands to the interior and repair. there are rooms cheap, there are expensive with the best conditions. but there is always water and water heater, electricity, gas. Great location, quiet location, near the terminus of buses to major cities. the morning you can buy fresh bread rolls and milk. nearby beach is quiet and small. the price of goods low beach. the ratio of home owners hospitable, and help solve problems, if necessary. live in the house with babies. we were satisfied.
Oxana
2014-12-12T00:00:00Z
The house is in quite place, five minutes to the beach, and in three minutes the place where the Chapora river meets the sea, the water is quiter there. Especially thanks to Shamba, caretaker, who help us to find and buy some medicaments when there was a need. Perfect choice for quite rest!
Тимофей
2014-11-01T00:00:00Z
It was a decent place and I enjoyed my time spend at Morjim.
Sumit
2014-10-25T00:00:00Z
Огромное спасибо отцу Рохана и Рохану, встречал там Новый год 2016 в номере 7, короче кто ищет не дорогое но качественное жильё Вам сюда! Все не обходимое там есть вода была без перебоев и холодная и горячая, кухня оснащена индукционной плиткой всегда можно пожарить рыбу или отварить креветки, холодильник есть, кондиционнера нет, да он там и не нужен есть аж 3 потолочных вентилятора этого более чем достаточно, иногда отключают свет но не на долго, эти люди добрые и отзывчивые короче всем путешественникам рекомендую! да и кто не знает английского рекомендую подтянуть язык на русском они не говорят. Отдохнули СУПЕР!
Andrey
2016-01-05T00:00:00Z
Rohan and his dad were very friendly and accommodating. Great location, only a 5 minute walk from the beach and restaurants. We hired a scooter from Rohan to explore further. Great area which we hope to return to. :)
Jamie-Leigh
2016-10-25T00:00:00Z
Awesome place with a mind blowing view. Very cooperative and helpful. Couldnt recommend enough.
Rahul
2016-08-07T00:00:00Z
I have stayed at this cozy place for 3 days, it is very clean and near the beach. Rohan is very supportive, the neighbors were also friendly. I will definitely be coming again. The love for Goa is increasing at every visit.
Ankit
2014-11-24T00:00:00Z
Typ pokoje
Celý dům/byt
---
Typ nemovitosti
Byt
---
Ubytuje
4
---
Ložnice
Morjim, Goa, Indie
Our 2 split level studios are fully furnished occupying an entire floor of the house. They are beautifully laid out with mezzanine level bedrooms & sit-out balconies. As our guests put it: "one of the best designer suites in Morjim".
The house is absolutely spacious and tastefully designed. The huge balconies are ideal for relaxation. The bedrooms are on the mezzanine floor which is accessible by spiral staircases. The unit also has a well equipped kitchen and bathroom.
Morjim is an un-cluttered settlement with quaint places to dine, super markets and a clean, uncrowded and pristine beach and river front. A beautiful and blissful place and close to other beaches like Ashwem, Mandrem, Arambol in the north and Anjuna, Baga and Calangute to the south.
Typ pokoje
Celý dům/byt
---
Typ nemovitosti
Byt
---
Ubytuje
4
---
Ložnice
Morjim, Goa, Indie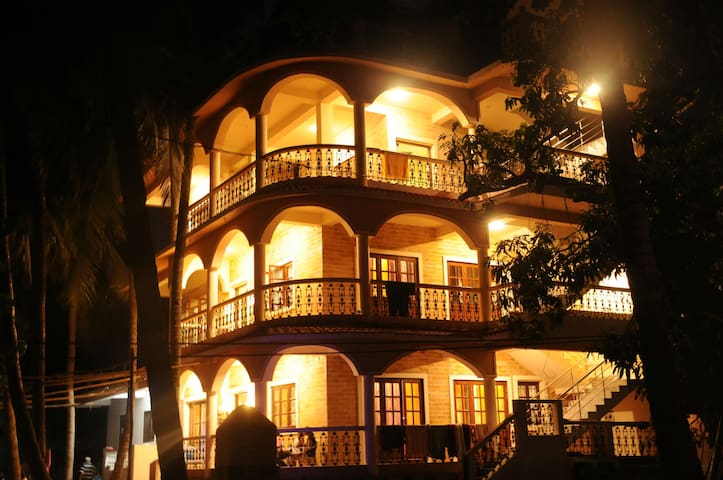 Fully furnished Duplex one bedroom apartment with living room, Bedroom (with balcony) and a kitchen.. This apartment has a living area, a common washroom and a kitchen on the ground floor and a spacious bedroom with attached bathroom and a beach facing balcony on the first floor.
This is our one bedroom duplex apartment. Ground floor has a living room and a kitchen and on first floor is the bedroom (with balcony and private bathroom). You can relax in your bedroom balcony with beach view. You step out of the house and you will find yourself on the beach.
This is a cool and a calm area, also a tourist spot and very crowded in seasons. the Upper north Goa beaches such as Mandrem, Ashwem, Morjim Arambol are closeby. Kerim beach (very peaceful) is approx 5kms away the Baga, Calangute, Candolim and other north Goa beaches are approx 10-15kms away.
Location is across the road from the beach and is further north than the main resorts so it's less crowded. Stayed in the duplex, which is perfect for 1 or 2 people. The other apartments are huge with massive balconies so best suited for groups. Felix is a great host, very helpful, went above and beyond with everything I asked about. And the super friendly Rotty puppy and cute little kitten were a nice surprise!
Ayan
2016-11-08T00:00:00Z
Typ pokoje
Celý dům/byt
---
Typ nemovitosti
Byt
---
Ubytuje
3
---
Ložnice
Morjim, Goa, Indie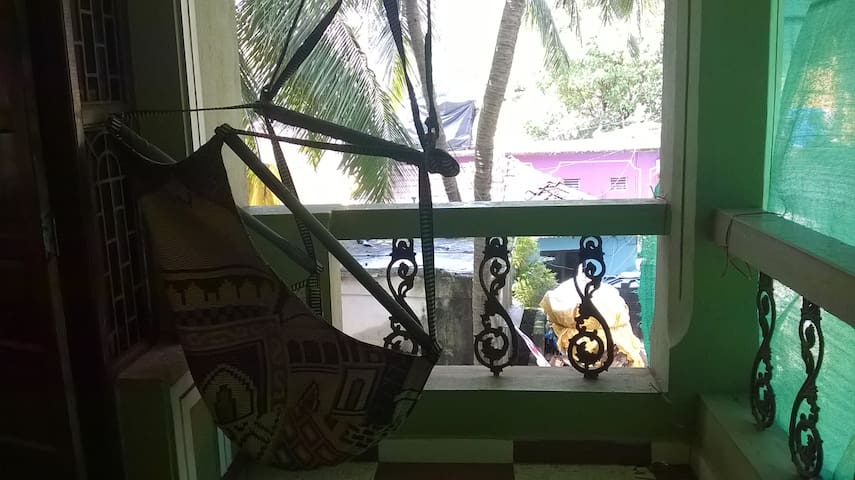 2-BHK Beach Apartment near Morjim Beach with modern amenities for your comfortable vacation in Goa.
Typ pokoje
Celý dům/byt
---
Typ nemovitosti
Byt
---
Ubytuje
5
---
Ložnice
Morjim, Goa, Indie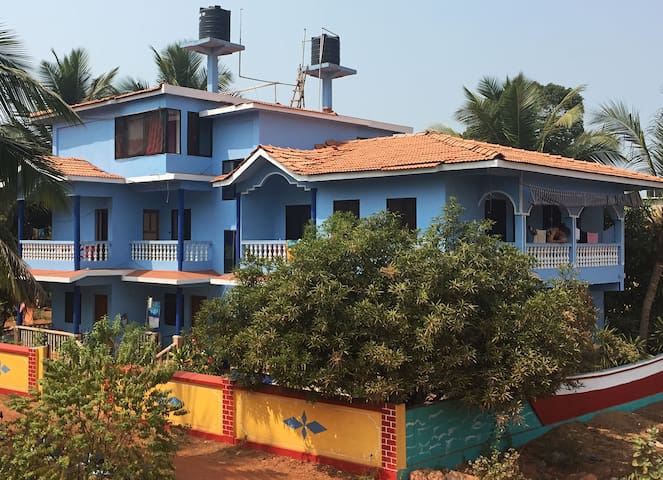 Atithi Devo Bhava. Located in the heart of Mapusa city. 5 mins walking from main bus and taxi stand. 10 mins walking from the famous Mapusa market. Embodying the spirit of AirBnB, its the perfect flat for travellers and explorers who will spend maximum time enjoying the beautiful sights, scenes and sounds of Goa and come back for a good night's sleep. I thank all my guests for helping me achieve the coveted SuperHost title.
People visit Goa from all over the world to create memories and hence all efforts will be made to ensure that guests have a memorable and an enjoyable stay. The hallmark of my flat is that I keep it clean myself so guests will not have any problems regarding cleanliness. Daily cleaning if required has to be requested. The most unique thing is the location. All north Goa destinations are closest from this main city. The flat itself is very simplistic with no frills. But comfort and convenience guaranteed. I've got two new Blue Star air conditioners installed in the bedrooms. Cooling by the experts. :) I have ensured the apartment is business ready but amenities like iron, hairdryer, etc will be provided to non-business guests on request. Guests will be offered fresh blankets, soap, toothpaste, shampoo, mosquito mats, etc. but in order to control costs and offer guests ultra affordable rates, guests need to carry their own towels.
The neighborhood is very calm and peaceful. The shops below the building have goldsmiths so lot of two wheelers might be parked during peak hours. Plenty of grocery shops, eatery joints and restaurants close by.
Just like the title suggests, this place is really affordable and amazingly clean. It was like a steal deal to find this place right in mapusa. Hats off to he host Sahil for keeping the flat so clean. Even the WiFi was pretty fast and free. Sahil has been very friendly and helped us a lot by suggesting awesome places to visit in Goa. He was available whenever we needed him. Even though the flat is in the city itself, the surroundings are pretty quiet. Perfect for a relaxed trip. There was continuous water supply and amazing ventilation in the flat. Most famous beaches like Baga, Calangute and Vagator are within 20 minutes from the flat. We had first thought it would be a bit far from the beaches but then realised and Sahil explained to us how much we saved on taxi fare, easily around 1-2 thousand. We easily got bikes on rent from the Mapusa taxi stand which is hardly a 5 minute walk. On check out, like a cherry on the cake, Sahil gave us a lovely surprise. All in all the best experience of home stay so far. Its so much cheaper and better compared to staying in a hotel. I would definitely recommend his place and would love to be back here again.
Kavir
2017-03-25T00:00:00Z
Sahil is a great guy. Not only a very friendly host but he will treat you as friends. Accommodation place was very clean, specious and located at a very convenient location from all major points in North Goa. I would highly recommend staying here if you are looking for relaxed weekend in North Goa to roam around and have fun. Trust me the host will take care of all small small things and won't disappoint you :) We had a great time and surely will be back again. Thanks Sahil :)
Yashodeep
2017-03-13T00:00:00Z
The place is very nice and the hospitality is the best. I suggest anyone who wants to stay in North Goa, just search this and if it is available then your trip will be much more enjoyable.
Aditya
2017-04-09T00:00:00Z
The best location, super clean and spacious apartment. Sahil is a wonderful person, because he has lived in Goa all his life, he knows Goa in and out and can be asked for many suggestions. Your stay is going to be wonderful:)
Rasika
2017-03-23T00:00:00Z
Awesome place to live. As specified in app it is simply the best clean and spacious flat. The flat is located very close to Mapusa Bus Stand and Market. From bus stand and market flat is hardly 5 min away by walking. Flat is very good for stay of family of 4 to 5 people and friends. Kitchen is also there if any one want to cook. All the famous beach of goa is located within 10 kilometer from the location of Flat. I can say that the flat is simply BEST. and also Value for money. I want to thank Sahil for putting all the necessary things in the flat.
BHAVESH
2017-03-01T00:00:00Z
The house exactly matches the description - Perfectly located, Clean, Spacious and affordable. And the pictures don't lie too. The flat looks exactly like shown in the pictures or even better. Since the flat is located at heart of North Goa I saved a lot of money on taxi travel from station. Sahil, the host, is a very friendly and helpful guy who takes utmost care of smallest of things. He ensured the flat was clean and also gave a sweet surprise while checking out. This is going to be my stay place everytime that i go to Goa. Thank you Sahil!
Madhura
2017-03-17T00:00:00Z
The most amazing and hospitable host who ensured the most comfortable stay experience for us. The cleanliness was just too good, he even ensured hand sanitizers for his guests which itself shows his concern and effort to keep the house clean. He took care of the nitty gritty of things even the electrical connections were labelled for our convenience to know which switch to use when.. Clean water supply in the house, basic cutlery ensured, good ventilation and very courteous host.. thanks sahil for the most pleasant stay !
Kanishka
2017-02-27T00:00:00Z
This was my first AirBnB experience and it turned out to be awesome! Sahil is an extremely friendly and helpful host. He has taken care of minutest of details like providing hand sanitizer, toothpaste, labelling the switches to name a few. The flat, situated at the heart of North Goa was in top class condition. It was very clean and spacious. I saved on travel cost as most of the beaches and tourist attractions were within the reach of 20-25 mins. I have found my go-to place :) Thank you so much Sahil for having us over and the sweet surprise you gave on check out. See you soon.
Nolan
2017-03-30T00:00:00Z
Typ pokoje
Celý dům/byt
---
Typ nemovitosti
Byt
---
Ubytuje
15
---
Ložnice
Mapusa, Goa, Indie
Our 2 BHK fully furnished and equipped unit occupies an entire floor of the house. It is beautifully laid out with sit-out balconies, french windows and an elegant living room. As our guests put it: "one of the best designer suites in Morjim".
The entire floor is accessible to the guest. The open balconies provide a cool option for relaxation. The French windows and interiors add a sense of elegance. The rooms are warm and open with ample light and fresh air. The place is surrounded by the hills at the back and a coconut grove in the front.
Morjim is an un-cluttered settlement with quaint places to dine, super markets and a clean, uncrowded and pristine beach and river front. A beautiful and blissful place and close to other beaches like Ashwem, Mandrem, Arambol in the north and Anjuna, Baga and Calangute to the south.
Quiet, less crowded and you can say it Mini-Russia. A perfect place for all those who need peace away from crowded places in Goa. Beaches here are beautiful and clean. Talking about the stay, it is just perfect. Spacious, clean and pretty place to stay. Amenities includes refrigerator, washing machine, hot water. House keeper Santosh is friendly and so are the hosts. Go for it travellers. :D
Dheeraj
2016-12-12T00:00:00Z
It is like a own residential house. Rooms were clean and hygienic.
shruti
2017-02-13T00:00:00Z
Sandra and Santan were great hosts and welcomed us with great hospitality. They made sure to provide us everything they could to ensure a comfortable stay. The house is a cozy place to live in and the caretaker would come daily to check up on how we were doing. The home is well located and is merely few minutes ride from the peaceful Morjim beach.
Siddhanth
2016-12-26T00:00:00Z
Typ pokoje
Celý dům/byt
---
Typ nemovitosti
Byt
---
Ubytuje
4
---
Ložnice
Morjim, Goa, Indie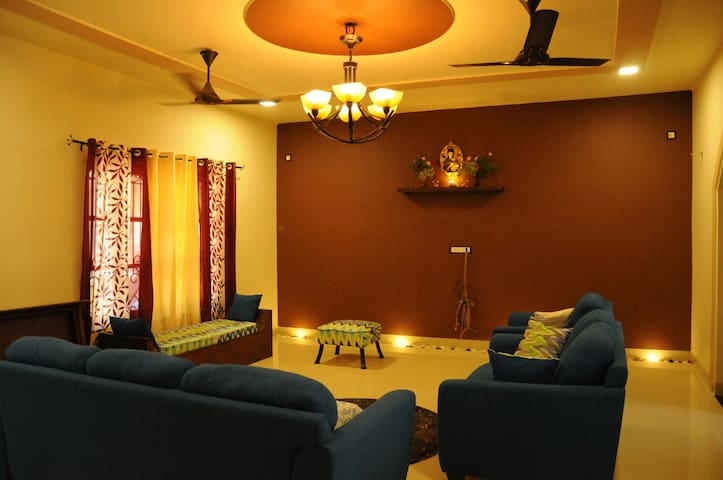 You'll be staying in a cute lil terrace apartment on a hill, in a quiet Goan neighbourhood, Xelpem. A restaurant, supermarket & a hospital, being the only conveniences in the vicinity. This is centre to the North Goa beaches - Calangute, Baga, Vagator, Anjuna & Morjim (20min drive).
This single bedroom apartment has a large private terrace. It is located on a hill. The bedroom room has a balcony too. The pad is specially designed to offer an undisturbed & relaxed experience for 2, amidst the tranquillity of it's surroundings. Free parking and a hot shower is on me.
It falls in a very quiet locality of North Goa called Xelpem, about 10 kilometers away from the neighbouring beaches like Vagator, Anjuna, Morjim, Calangute & Baga. And a 5 minute drive to the main Mapusa bus stand. You may choose the party side of north Goa, with great restaurants, clubs, pubs & beach shacks where the night life is buzzing all year or you may choose a calmer & quieter experience. Look out for my recommended restaurants and spots.
Typ pokoje
Celý dům/byt
---
Typ nemovitosti
Byt
---
Ubytuje
2
---
Ložnice
Mapusa, Goa, Indie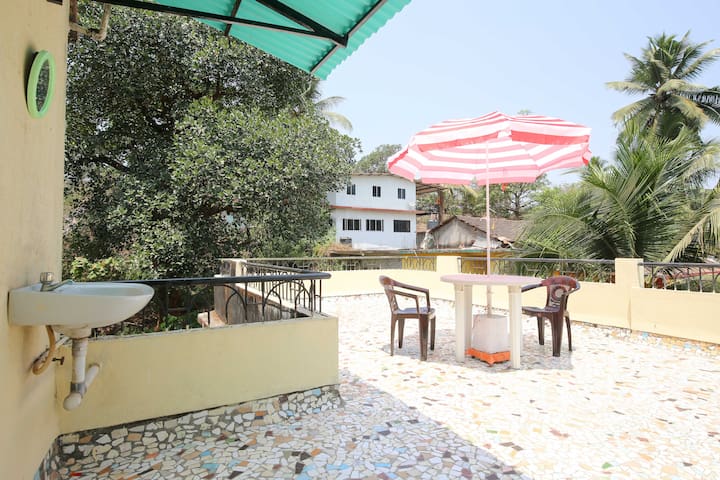 Its for someone who wish to stay in a personal place without outsider group and ready to adjust in a decent way with all facilities inside. Also wish to have a local guy for domestic help /Rental vehicles arrangemt/ housekeeping on call basis etc. Then this is a perfect place to select as its spacious, cool, fully furnished bungalow. Goan local row bungalows around, market, grocery shops, wine shops, laundry, restaurants etc is just 5-10 mins walking. Beaches are 15mins DRIVE away.
About the property : 15 - 20 mins drive away are sequencial beaches like Anjuna, Vagator , Baga, Calangute, Candolim. On the other direction from this bungalow, beaches like Morjem, Ashwem, Arambhol are around 20 -25 mins drive away. You can choose the direction you wish to, and you will find beaches after fews kms drive away. Good place to have your own privacy with your personal group in this 3BHK kirti bungalow in Goa. Its 3 AC bedroom, 3 bathrooms, hall, dinning area & kitchen bungalow, built in (PHONE NUMBER HIDDEN) sq.ft area (Ground + one). Fridge, 3 LED TVs, electric water purifier, iron for ironing, Microwave, Gas connection with utensils (for 15 guests) is also available if you wish to do cooking. Caretaker is there for misc help, as and when needed on call basis. Attractions and distance : • 15 mins drive from Calangute, Vagator & Baga beaches. • 20-25 minutes drive from Morjem, Ashwem, Arambhol beaches. • 15 minutes drive from Thivim railway station • 20 minutes drive from Panjim bus stand • 5 minutes drive from Mapusa • 40 minutes drive from Dabolim airport. We also offer airport pick-up on minimum chargeable basis wherein you have to directly pay the car vendor. Kitchen usage, Free parking in premise, Family/Kid /infant friendly. Amenities : Inverter (power backup) Fridge 3 nos LED TVs Water purifier Microwave + containers Gas connection Cooking utensils Mixer Electric Kettle, Toaster AC Iron for ironing, Geyser Housekeeping will be done during your stay. Breakfast, lunch, dinner can be organised with prior intimation. Laundry, Hotel and General stores for bread, butter, eggs are 2mins walking from this bungalow. Check in - 11am (semi flexible) Check out - 12 noon (semi flexible) Breakfast & Meals - Not included in tariff.
Neighbours are cool and peaceful people. They expect the guests to behave decently, to be non-disturbing. They wont mind making noise inside our bungalow with closed doors.
Had a comfortable stay. Rooms were spacious enough and the kitchen was well equipped. The caretaker Mohan was very helpful. He was just a call away and took good care of our needs. The locality also was very peaceful. Good place to stay for a pleasant holiday in Goa.
Deepak
2016-11-28T00:00:00Z
Very beautiful place! We had a pleasant stay!
Rohit
2015-10-13T00:00:00Z
Peaceful place to stay with all the amenities provided which are mentioned. Loved the spacious rooms. Kitchen is provided with all the necessary things if you want to cook at home. Caretaker is always ready for your service and also helped us in getting the rental bikes but i suggest to ask from other shops also to get cheaper one. Owners are very helpful and helped us in reaching to home from airport by sharing cab details and they are also available on phone whenever you have any concerns or doubts or any help required. Shops are available nearby if you want any daily use things. The only thing which bothered us is the distance from the places in goa. The place is little far away from some famous places. We have to drive up to some extent to reach the place. But this is not a serious concern and we loved driving. Rest all was perfect..Lovely stay..Enjoyed Goa...Hope this review helps !!
Anurag
2016-09-13T00:00:00Z
It was nice stay. Throughout the stay host Neeta and Mohan, the caretaker has given their best to feel comfortable. Initially, there was some hitches, but with tele con with Neeta, it got solved. Stay was comfortable throughout. It was comfortable for stay of 3 couples. Neighbouring is also good , calm and pleasant. Hdfc ATM and few restaurant s WHR nearby. Grocery shops are also at walking distance. However, beaches are a bit far from the house and conveyance is required
ChAnDrA
2016-01-20T00:00:00Z
The reservation was canceled 39 days before arrival. This is an automated posting.
Raoul
2014-11-22T00:00:00Z
A pretty good place to stay and spend some quality time in Goa. The house is easily accessible from Mapusa and quite near to Mapusa Market, which is like 40 KMs from Goa International Airport. Few places of interest are longer as this is not a central location, but the ride should be fun. All routs from and to this place aren't of much traffic, even during peak hours, so renting out a self-driven car should be an amazing option. You'll have a care-taker in the name of Mohan, he is pretty good with locals and speaks Hindi / Telugu. he also cooks food at request, I do have have much to comment, because the travel was about Goa, and we were hardly at home, but the time I get back to Neeta's place, it would be like, "Ah! Back home, Let's get back to bed after having dinner that's ready!". To add icing on the cake, there is literally no interference of the owner on using this property, it'll literally be your home, just that Neeta will be ready to support you over the phone if you need anything, and during other times, Mohan will be just a call away!
Sathya Narayanan
2016-12-11T00:00:00Z
Place was good, clean and very spacious, exactly as shown in photos, with almost all amenities.We were group of 8 people and place was big enough to accommodate even more. Beaches like calangute and Baga were 15 - 20 mins drive. Grocery store was nearby. Neeta was always available over phone to guide and Mohan was a good caretaker. Would recommend this place to others for a safe and convenient stay. Mohan arranged bikes for us at decent price and Neeta helped us in arranging our pickup/drop from railway station at best rates. Overall a really good experience. Thanks.
Saima
2015-08-30T00:00:00Z
This place is really spacious, and makes you feel like home. The services provided by the host are commendable and they are literally a call away whenever you need anything. Right from helping us reach the place , they helped us get bikes at economic rates and were cognizant of cleanness of house and comfort of the guest. In my previous experiences I have rarely found any host providing so many services like a 100% well equipped kitchen, starting the packages for channels on TV as per the guests requests and constantly checking with the guest if they need anything else. This is a great place if you are going with a group of friends and plan to chill out for most of the time. Except from being far from the beaches there is practically no problem with the listing at all and if you love to drive then that also gets sorted as u need to drive 15 mins to reach any beach. Thanks Neeta!
Manvi
2016-03-01T00:00:00Z
Typ pokoje
Celý dům/byt
---
Typ nemovitosti
Byt
---
Ubytuje
12
---
Ložnice
Mapusa, Goa, Indie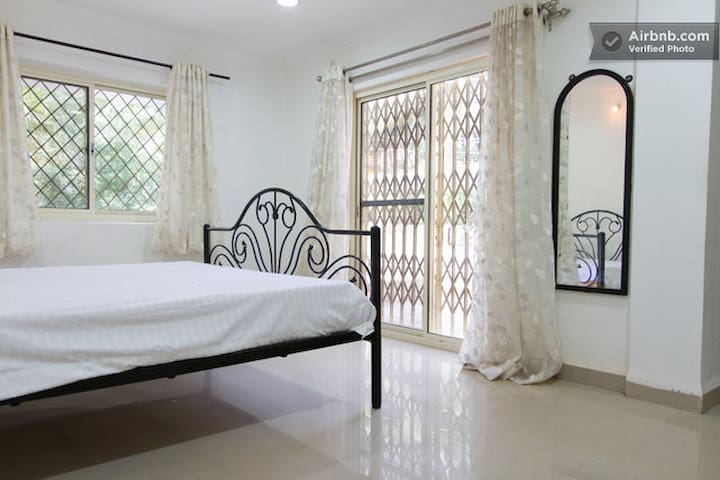 Experience a relaxing beach stay at the apartment in Morjim Sunset Guesthouse at the famous Morjim Turtle Beach in Goa with friends or family for an unparalleled experience. Spaciously designed private 2 BHK family Apartment located near Morjim Beach in North Goa with all the modern facilities to make your stay comfortable . Morjim beach is just 300 meters from the apartment. In room amenties are AC in both bedrooms, kitchen, shower, LED TV with Satellite Channel. Free Wifi
This two-bedroom self catering apartment overlooks the Chapora river and is located in the peaceful environment of Morjim beach-North Goa. The air-conditioned bedrooms have double beds, linen, towels and bathrooms with running hot and cold water. The fully equipped kitchen has a refrigerator, utensils, crockery & cutlery, just in case you feel like cooking a meal. Large Spacious 2 air-conditioned bed rooms, Clean apartment, 2 BHK Apaprtment Goa, Rooms on the beach, Family apartment with kitchen, Room with kitchen, Room with balcony. Room with shower hot cold water, Beach vacation, Home stay. Beach guesthouse 1) This spacious and well vantilated property is located on 1st floor of Morjim Sunset Guesthouse and can comfortably accomaodate 4-5 persons. Proper vantilated windows give fresh air. 2)Property is 5 minute of walking distance from Morjim beach and 2 minute of walking distance from Chapora river. 3) Seating Area has Sofa to relax and a tipoy. 4)Bedroom with comfortable matress for good night sleep come with attached balcony 5)Attached Toilet is western style, bathroom has 24 hours hot/cold running water with Water heater and shower. 6)Dressing mirror is available in the bedroom and wardrobe is present to keep your clothes.
Our place is located in Morjim Sunset Guesthouse. There is No issue in coming late. We are located near beautiful Morjim beach. Morjim beach famous for clear blue water and silver sand is nesting site of famous Olive Ridley sea turtle. Guest can relax on the beach watching beautiful Sunset view or take Sun bath on the Morjim beach. Bus station is nearby. Ashvem beach is 4km away and mandrem beach 6km away. Reastaurants are nearby. Our Property is located next to famous Jardin d'Ulysse restaurant. Cafe Laxmi and Seahorse restaurant are 10 minute of walking distance
Снимали у Рохана 1-комнатные апартаменты и студию на неделю. Сам гостевой дом располагается в 5 минутах ходьбы от пляжа. В доме всего 6 апартаментов: 3 однокомнатных и студия на первом этаже и 2 двухкомнатных на втором этаже. Студия более уютная, чем 1-комнатные апартамаенты, а если вас 3 или 4 человек, снимайте 2-комнатные апартаменты-они очень просторные с несколькими террасами. В плане расположения не очень понравилось близость ресторана, в котором практически каждую ночь до утра играла музыка и веселились люди. Рохан и его отец Шамба очень доброжелательные хозяева, стараются помочь, если возникают какие-то проблемы. Для нас единственным негативным моментом было отсутствие профессиональной уборки перед нашим заездом, но купленные в магазине тряпки и моющие средства помогли нам решить эту проблему за один вечер. В целом впечатления остались хорошие, а по соотношению цена-качество, так вообще замечательные.
Viktoria & Sergey
2014-01-19T00:00:00Z
Все круто. Жили в двушке с холлом и кухней. В комнатах кондиционеры и вентиляторы. Место хорошее, до пляжа две минуты. Рохан помогает по всем вопросам и идет на встречу. Тут же обмен денег, кафешка, в общем, все что нужно для новоиспеченного или даже олдового туриста)
Max
2017-02-18T00:00:00Z
I had a great time in GOA. The property is just as described. The location is very convenient and there are a few restaurants and a supermarket, 5 minutes away from the property. Definitely, if I come back to GOA I will be visit you again!! Many thanks!!
Gustavo
2014-10-13T00:00:00Z
We have a pleasant holiday. Thank for Rohan. Very friendly and comfortable home. The beach is a 5 minutes by walk.
Yulia
2013-12-07T00:00:00Z
Well located, accurately described clean apartment with two balconies, just a few minutes walk to the beach. Had a good time.
Taveeshi
2017-01-29T00:00:00Z
Typ pokoje
Celý dům/byt
---
Typ nemovitosti
Byt
---
Ubytuje
6
---
Ložnice
Morjim, Goa, Indie
3bhk For Rent , Near Mapusa Bus Station. Apartment Is Fully Furnished With Kitchen Cabinets, Wardrobes, Beds, 6 Chair Dining Table ,sofa Set. Power Back Up for one Tube light and one fan in each bedroom for 4 hours. One Fridge, 3 Air conditioners,fully automatic washing m/c,microwave, 3 burner gas stove with gas cylinder and exhaust chimney, 3 water heaters in the bathrooms,clothes iron and 43 inch LED with cable connection are also fitted. Each room has a bqlcony with a nice surrounding view
Centrally located. Close to the main market. Driving distance to most popular beaches in North Goa (within 10 km).Refer pictures for actual maps distances and time.In close proximity to all the hotspots in North Goa. This is the right spot if you want to be in the vicinity of all the nightspots and pay a reasonable price for accommodation.
Surrounded by fields, not much disturbance from traffic.
The place is worth the money you spend. Basic facilities like taxi stand, restaurant, bike renting, all are just at a walkable distance. Sonalia mam is a very good host as She kept telling us about the places to visit. The apartment was very clean.
Pravin
2017-01-21T00:00:00Z
This was our first trip using Airbnb concept app ....We are giving full 5* rating in each and every aspect of comfortable stay at this property....this located at heart of Mapusa Goa very close to bus stand ...all popular beaches are just 15 to 20 minutes distance from it using car ....The host Sonalia the owner of property is so kind she helped us to find out good places near by for food and other activities during our 4 days (URL HIDDEN) this property you will find small small day to day needed things are taken care .Its fully furnished ....I would say better than any 5* hotel .If you want value for money deal with 5* comfort go ahead and book this property.....
Yogesh
2017-01-29T00:00:00Z
One word - Awesome!!!
Prannoy
2016-11-27T00:00:00Z
The flat is fantastic and clean its a new building and it has all you need the best part is the host is very friendly and ready to help you in every way possible to make your stay comfortable the place is just 2 min from mapusa bus taxi/bus stand there is navtara restaurant within 500m Love it!
Vishal
2016-12-05T00:00:00Z
It was a great stay. House was well equipped with the day to day needs. It was in a residential complex. Places like Baga, Anjuna were not more than 20 minutes of travel time. The host Sonalia is extremely warm and considerate and made sure to extend all the help that we needed.
Poulami
2016-12-19T00:00:00Z
Fantastic apartment with a very helpful friendly host. I would recommend it to anyone. The apartment is clean and comfortable. We had a great stay.
Ryan
2017-01-12T00:00:00Z
Good.....
Aby
2016-12-01T00:00:00Z
Angelus and Sonalia are very sweet and loving Goans. The house was spacious 3Bhk 3bath apartment, perfect for 6 pax. It's great value for money too considering the complex is new with all amenities. Recommended without any reservations!!
Puneet
2016-11-20T00:00:00Z
Typ pokoje
Celý dům/byt
---
Typ nemovitosti
Byt
---
Ubytuje
6
---
Ložnice
Mapusa, Goa, Indie