Light, spacious apartment located in very private and peaceful part of old town Motovun.
Apartment Pina is comfortable 70m2 spreading on diferent levels, with views over the surrounding hills and vineyards.
Motovun is a walled hilltop place with restricted driving and parking facilities. Neighborhood is very quiet with no car traffic therefore you can not come with car, but public parking is 50 m away on the main street.
Das Apartment von Mila und Olja ist ein Traum! Wunderschön restauriert und noch schöner als auf den Fotos zu sehen! Die Kommunikation war sehr unkompliziert und hilfreich! Da die Unterkunft am unteren Ende von Motovun liegt galt es bei jedem Ausgang den Berg zu bezwingen, was aber durch die absolut idyllische Lage und die kleinen Gässchen jedes mal ein neues Erlebnis war.
esther
2015-08-21T00:00:00Z
Le logement, aménagé avec beaucoup de goût, correspondait intégralement à la description. Un cadeau de bienvenue nous attendait: nous en remercions nos hôtes. Nous avons pu profiter de la terrasse ombragée. Nous avons passé un très agréable séjour dans ce village perché idéalement situé pour visiter l'Istrie.
Benoît
2016-08-04T00:00:00Z
Olja and Milan are extraordinally kind, friendly and welcoming hosts. Their apartment is a perfection of design, functionality and comfort. It's absolutely beautiful, spacious and clean and we felt amazingly well while we spent 5 nights there. Motovun itself is a small but spectacular village on a high hill in the middle of Istria. We enjoyed delicious food and stunning views over the valleys around the village - really romantic. Due to it's location in the center of Istria, we were able to visit several cities and beaches all over Istria during our stay. All in all: highly recommended!
Thomas
2016-07-08T00:00:00Z
We arrived at this beautiful hill top town, to find a really beautiful apartment, which was furnished to a very high standard and had everything that we needed. The apartment was much larger than we had expected and was very well laid out to provide a restful sitting area and a separate reading/writing area. Unusually the bathroom was downstairs but this gave the bedrooms the stunning views. The bathroom was to a high spec. The hosts were brilliant, friendly and welcoming but not intrusive. We stayed in 3 places in Croatia but this was without doubt the best.
claire
2015-09-21T00:00:00Z
Highly recommended ! :) If you are looking for a comfortable, romantic place in the centre of Motovun - this is the place ! Every detail is where it should be and the interior is great. Very clean and you have everything you need. We had a great time and we will certainly come again. Olja and Milan are great hosts and as you will see when you visit their home - great interior designers ! Respect ! :)
Livio
2014-08-31T00:00:00Z
Simply put, Milan and Olja's Motovun apartment is magical. By far the best apartment I stayed in during my trip to Croatia (and perhaps anywhere, ever!). I so infrequently stay in homes or apartments that motivate or inspire me to the degree this space did. Take a step out into the quiet cobblestone streets that look down into the vineyards and fields of green Istria, and you feel you could be in croatia 200+ years ago. Olja & Milan have taken great care in creating an apartment that is aligned with the textures and materials of old Motovun, but making sure the modern upgrades are integrated perfectly. Each nook and corner is perfectly & thoughtfully decorated. As hosts, they are very thoughtful setting out a bottle of wine for our arrival and stocking the kitchen with coffee and muesli. They made sure the apartment had plenty of towels, soap and all the necessary kitchen accoutrements. Plus, they are extraordinary kind humans that are a delight to talk with. If you have the opportunity to rent the apartment, do it! I promise, it will be a highlight of your trip.
mark
2015-05-10T00:00:00Z
Beste Olja en Milan, We hebben genoten van jullie mooie appartement; het was precies zoals het op de website werd gepresenteerd. De inrichting en de mooie lichte kleuren spraken ons heel erg aan. De uitrusting in de ruimten voldeed uitstekend; keuken en badkamer zijn schitterend en ook het slaapgedeelte is erg mooi en comfortabel. Het was echt een thuiskomen als we onze uitstapjes hadden gedaan. Dank jullie voor de gastvrijheid en de vriendelijkheid. We hebben ons meer dan welkom gevoeld. Hartelijke groeten van Hugo en Liesbeth.
Liesbeth
2015-09-26T00:00:00Z
Milan helped me park the car on the hillside since I was obviously struggling to drive a stick shift :) We were welcomed with a nice bottle of Teran, a local Istrian wine. The location is perfect because it's close enough to the entrance (you can't drive up) but in the heart of the the charming town. Take heed: to walk up these hills is a workout but the views, the restaurants and shops, and experiences are unparalleled. The townhouse is spotless: organic yet modern. Everything is in the details and you'd only wish you can take the apartment back home with you. We got into separate chats with Milan and Olja at the beginning and end of our stay. They are both very warm and lovely people.
Ramona
2015-06-13T00:00:00Z
Typ pokoje
Celý dům/byt
---
Typ nemovitosti
Byt
---
Ubytuje
2
---
Ložnice
Motovun, Istarska županija, Chorvatsko
Lovingly restored, to feel good, relax and enjoy: Our new cozy duplex apartment on two floors in historic part of Motovun right behind the Gothic city gate is waiting for you.
The brand-new, well equipped kitchen is located on the ground floor. From the kitchen window, you can find the little Church of St. John the Baptist and St. Mary of Gate- a popular photo motif. The bathroom with a toilet and shower is also located on the ground floor. A wooden staircase leads to the first floor. You will find a small library with novels and guidebooks. A sofa on the gallery invites you to read and relax. The spacious light-filled bedroom is the heart of our Maisonette. Apple TV, cable TV, Wifi and a large TV screen transforms the space into a home theater. You are welcome to use the terrace to have a drink or just enjoy the beautiful view of the landscape. You reach the terrace by taking the steps around the house. Although our house invites you to stay and linger, Motovun is so unique and worth seeing that you will be eager to explore this wonderful town. From our house, it's just 150 meters to the main square with its panoramic restaurants, truffles, wine and olive oil shops, artist studios and souvenir shops. Here you can take a walk along the 900 year-old wall and enjoy the breathtaking view of the valley and forests of Motovun and its surroundings. It would be our pleasure to recommend you the best places for local food in Motovun and its nearby villages. It is absolutely worth it to explore Motovun and the vicinity by bike. We have a women's and men's mountain bike, we can recommend routes with different levels of difficulty. As a guest in our apartment, you are allowed to park in the resident parking on top of the hill. At the tourist parking lot, please show your booking confirmation at the gate or just say that you are at Vlatka's and Horst's place and continue to drive up the hill. After the second curve and about 300 meters more, you will see the first parked cars on your right side along the hill's edge. You can park after these cars for free. There will also be parking signs. Once you have parked, feel free to call us, we are welcome to come and help you with your luggage.
Neben Motovun ist auch das Umland absolut sehenswert und eine Oase für Läufer und Radler. Wir haben ein Damen- und ein Herren-Mountainbike, das Sie gerne für Ausflüge ins malerische Umland benützen können. Selbstverständlich stehen wir Ihnen auch hier gerne mit Tipps & Tricks zur Verfügung.
Our staying was just perfect. The apartment and our hosts was just perfect. Thank you for everything! You can book with no hesitations!!
Jordan
2016-08-15T00:00:00Z
Der Aufenthalt bei Vlatka und Horst war großartig. Ohne Probleme konnten wir einen Parkplatz in der Nähe des Apartments finden, das durch einen kurzen Aufstieg durch Motovuns wunderbare Gassen in wenigen Minuten erreicht werden kann. Vlatka und Horst empfingen uns herzlich und führten uns zum Aparment, das bereits auf den ersten Blick zum längeren Verweilen einlud. Im Untergeschoß findet sich eine perfekt ausgestattete Küche und ein schön verfliestes, sauberes Badezimmer. Als Willkommensgruß gab's außerdem eine Flasche vom herrlichen, selbstgemachten Hauswein des Nachbarns. Im oberen Teil des Apartments findet sich ein gemütliches Sofa, eine riesengroße Auswahl an Büchern und Reiseführern und das geräumige Schlafzimmer, das neben einem tollen Smart-TV auch zwei Fenster mit schöner Aussicht zu bieten hat. Alles ist sauber, neu her- und stilvoll eingerichtet. Zum Haus gehört außerdem eine Terrasse mit sensationellem Ausblick, auf der der bereits erwähnte Rotwein gleich noch besser schmeckte! Wir unternahmen außerdem einige Tagesausflüge, auch an die Südspitze Istriens ans Kap Kamenjak, was durch die zentrale Lage Motovuns kein Problem war. Vlatka und Horst waren unendlich bemüht und konnten unseren Aufenthalt mit zahlreichen Tipps noch verbessern. In Summe kann man nur sagen, dass dieses Aparment wärmstens zu empfehlen ist!
Stefan
2016-08-18T00:00:00Z
Vlatka and Horst were great! The place is in a great location and it was on pictures - spacious, clean and very cozy. We had a great time. If you are travelling to Istria - this would be a great choice.
Oksana
2016-08-22T00:00:00Z
The photo's from the appartment of Vlatka and Horst on AirBnB were very promising already, but when we arrived and saw it with our own eyes, it was beyond expectation! This completely renovated and newly decorated appartment is very spacious, absolutely spotless clean and provided with all luxury one could wish for. We received a very warm welcome, Vlatka and Horst were waiting for us at the parking when we arrived with our car. They are very kind, warm, got hospitality written all over them and leave no chance to make you feel like home! Definitely one of the best AirBnB's we've seen and thus highly recommended!
Erik
2016-08-09T00:00:00Z
If we visit Motovun again (likely) we would without a doubt stay here again. Vlatka & Horst we're the most welcoming on our trip so far. Their house is beautiful and the three level terrace offers excellent views. A great place to enjoy some wine. Motovun and the area around it is lovely. This area deserves more time to explore the surrounding opportunities. We stayed two nights but would have liked another two.
Thomas
2016-09-26T00:00:00Z
Great location, great appartment, great hosts
Filip
2017-03-12T00:00:00Z
V&H were our very first and probably the very best hosts ever. Sorry guys, but I don't think you we'll ever beat them. Their place has been tastefully refurbished with premium Ikea furniture, crispy white cotton bedding, fully equipped kitchen, bathroom with a washing machine etc. A welcome plate of fruit and a bottle of local red wine awaited us. They have an impressive collection of German and Croatian books; they know a lot about the area and can help you with directions/destinations/programs/culture etc. Last night the air was filled with the scent of pine, citrus and rosemary and we were drinking wine under the star lit sky. It sounds like a cliché until you go and experience it yourself. Thanks V&H.
Pamagyar
2016-08-10T00:00:00Z
Vlatka's and Horst's appartement is very sweet, clean, modern and lovely furnished. The appartement is even better than showed on the pictures and is located directly on the mountain, where you have a incredible view over the whole area while sitting on the terrace. (Especially at night you can have a stunning look at the stars and perhaps see a few falling stars like we did.) Vlatka and Horst are very warm and welcoming hosts and love to provide their guests with recommendations, which places you can visit around Motovun. Motovun itself is a small and pretty old town, which is located in a very beautiful region and even the coast can be reached in 25min by car. We highly recommend a stay at Vlatka's and Horst's place.
Johannes
2016-08-26T00:00:00Z
Typ pokoje
Celý dům/byt
---
Typ nemovitosti
Byt
---
Ubytuje
2
---
Ložnice
Motovun, Istarska županija, Chorvatsko
Dolcissimo monolocale piano terra con veranda coperta offre una splendida vista ed un totale relax. Può ospitare 2 persone , la cucina e attrezzata, e posizionato in centro a soli 100 metri dalla piazza principale, ATM, ufficio postale e risoranti.
Irene was a great host. She welcomed us to her beautiful studio apartment in Motovun with a nice bottle of local wine and lots of other goodies. The studio was exactly like in the pictures, very clean and comfortable. The veranda was the best part with a stunning view of the countryside. In addition there was a lovely little garden too were we could sit surrounded by beautiful flowers. The studio is very quiet and private for being in the city centre and close to all the shops and restaurants. Was ideal for our romantic getaway.
Patricia
2016-06-02T00:00:00Z
Amazing location right in old town with a view. Highly recommended. Quality mattress (rare in Croatia as far as I can tell), very clean place, with really everything you could think of including a washer, a drying line, a little patio, goodies, a little gift, and Irene right upstairs for anything you might need. Thank you Irene.
Allen
2016-06-29T00:00:00Z
Beautiful apartment with an exquisite view. Perfect for the nature lovers. The place is visibly recently renovated and it is beautifully furnished and very fresh in the hot summer day. The host was very kind. I would definitely recommend this apartment!
Katarina
2015-07-15T00:00:00Z
We highly recommend the cosy flat in Motovun. It is central and has everything that is needed. Irene os a perfect host, very helpful and friendly. We got a bottle of wine and marmalade as we arrived as well as further tips. We really enjoyed our stay and would come back again.
Caprice
2016-08-20T00:00:00Z
Sehr zu empfehlen! Sehr lieb eingerichtet, sauber, komfortabel, Küche gut ausgestattet! Wein und Trüffelmarmelade als Willkommensgeschenk, sehr zuvorkommend! Riesen PLUS: die kleine aber doch feine Terrasse 3 ... Kommen gerne wieder :-)
Thi My Dung
2016-09-06T00:00:00Z
Definitely the best AIRBNB apartment ever! Even better then on the pictures!) Just perfect! Thank you Irene!
Oxana
2016-08-17T00:00:00Z
Irene's place was perfect for us, it was relaxing and romantic and sweet. The views from the terrace were wonderful and we spent many hours just enjoying wine and coffee from it. Irene was very accommodating and helpful and had a pleasant attitude that made us feel at home an relaxed. Definitely one of my favorite parts of the trip
Sasha
2016-09-01T00:00:00Z
We would live here if we could. :) Irene was wonderful and oh so helpful. She had a bottle of local wine waiting for us as well as a little gift of truffle jam...YUM! Her place is a little slice of heaven. Quiet, clean, and comfy, with a lovely garden terrace looking out from this magical hill town. Highly recommended! Thanks Irene!
mary
2016-09-22T00:00:00Z
Typ pokoje
Celý dům/byt
---
Typ nemovitosti
Byt
---
Ubytuje
2
---
Ložnice
Motovun, Istarska županija, Chorvatsko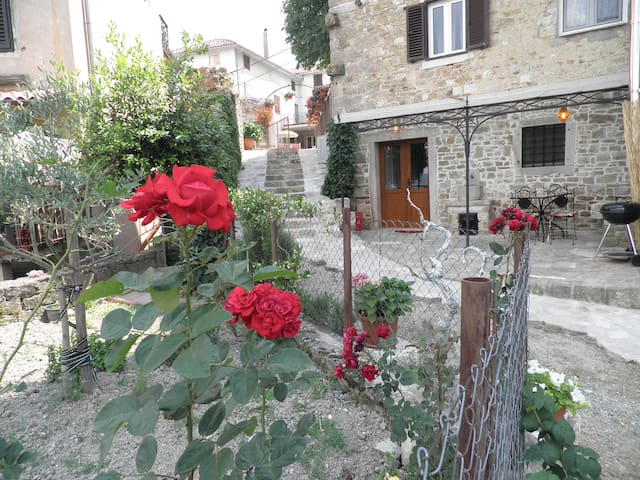 The apartment Hana is located in medieval Motovun in Istria,Croatian region often dubbed the "new Tuscany" It is food-obsessed peninsula of rolling hills and medieval walled hilltop villages.Apartment is newly equipped and set in private part of town.There is a public parking in Motovun at the entrance to the old city. Price per day 2,6 euro or 20 kn. We can provide a car ride from there to apartment.
Will provide you whit useful tips and info about Istria and Region. We can also help whit booking of events, restaurants, guides and etc. Transfer possible in afternoon. Why not take to the skies and get an aerial view? Try paragliding in tandem. Truffle hunt can be organized.We will direct you to bike rental if you would like to visit "Parenzana". Take a cooking class or go to Zip line in Pazin.Trips to Ljubljana, Trieste, Venice, Rijeka and Opatija...Pula.Motovun Film Festival-international movie event and five-day party all in one at the end of July.
Motovun is romantic, beautiful Venetian town, 270 m abovesea level, great wives and countryside. You can enjoy vine, food and atmosphere of old historic little town.
Hana was very helpful and was a wonderful host. The flat was very clean and was huge. Hana was very easy to contact and was always very quick to respond. We had an amazing time in Motovun and the rest of Istria. We highly recommend staying here, the location was perfect!
Andrew
2016-09-19T00:00:00Z
Hana organised essential parking for us and even collected us in her car to transport our bags to apartment. In the heat this was priceless , I think we would not have found apartment easily with out her help. Accommodation was lovely.
Kathryn
2016-09-14T00:00:00Z
Hana and Emil's wonderful apartment completely exceeded our expectation. When we stay in an older place, we put up with a lot of compromises. But this apartment was FABULOUS. We had room to dance! The spacious bedroom has a lovely view; we took many photos. And there was a room to eat plus a HUGE kitchen / living room. There was a great deal of counter space, a full-sized refrigerator, tea, coffee, milk, oil, cookies, jam. Clearly, this apartment was designed by very thoughtful people and built to a high standard. Really, we were in heaven. Such attention to detail! And we loved the colors and the art. To top it off, Hana and Emil met us during their lunch break to give us great tips on where to go, what to see. Lovely, friendly, helpful people! Motovun is a cool, medieval town complete with ancient, uneven cobblestones and steep streets. Wear your comfortable walking shoes. We recommend the parmesan polenta with truffles at Mondo. Trust us.
lu ellen
2016-09-29T00:00:00Z
Lovely stay! The view is absolutely breathtaking!
Chad
2016-07-15T00:00:00Z
Our stay at Hana's was incredible! Upon arrival in Motovun, she met us for a glass of wine at a nearby restaurant. Our conversation and the sunset turned out to be one of the highlights of our entire trip. She is a wonderfully warm and accommodating host. Her recommendations were impeccable and she even made us reservations for a tour at a local vineyard. My only disappointment is that we weren't able to stay longer. Hana and her place get my highest recommendation. Thank you, Hana, and see you again soon!
Chris
2015-04-10T00:00:00Z
We loved our stay in Hana's comfortable apartment! The apartment was nicely decorated, had stunning views from every window, and it was clear a lot of thought was put into extra touches for guests, including extra toiletries in the bathroom, fresh fruit in the kitchen, and bottled water and local wine in the fridge. The apartment was also stocked with a great selection of local guides and information to plan our activities in the area. Hana provided clear directions on how to get to the apartment, and made check-in easy. Highly recommended!
Vaughn
2016-07-04T00:00:00Z
We had a fantastic stay at Hana's. Her apartment is ideally situated, in the heart of the delightful town of Motovun. It is spacious, completely renovated, modern and comfortable. We were travelling with our two children who loved it too. Hana made us feel very welcome and gave us many tips to make our stay even more enjoyable. Thanks, Hana!
Nathalie
2016-08-28T00:00:00Z
The apartment was great, spacious and clean, just a short walk from the centre of the old town (perfect for a morning coffee). It had a beautiful view of the surrounding countryside. Hana was also incredibly helpful and welcoming, happy to attend to every little detail. We hope to return!
Ivor
2016-10-29T00:00:00Z
Typ pokoje
Celý dům/byt
---
Typ nemovitosti
Byt
---
Ubytuje
4
---
Ložnice
Motovun, Istria County, Chorvatsko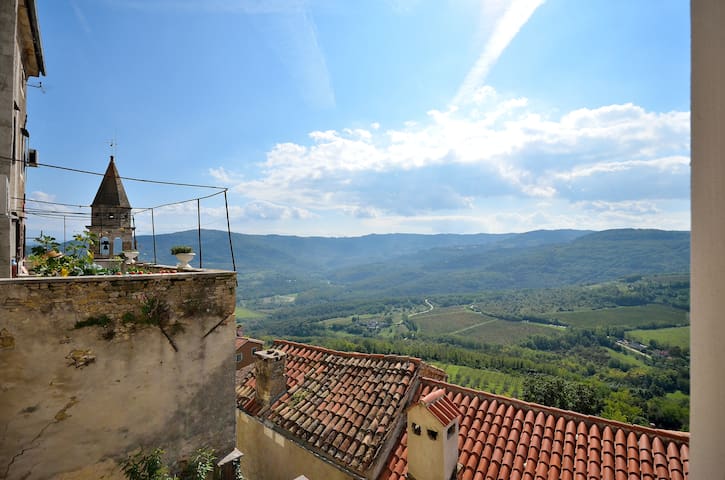 "Welcome to the historic town of Motovun, free of car traffic and mass tourism. A treasure for individualists. Newly built, with a loggia in front, it offers modern comfort in an athmospheric setting, of course with Wi-Fi."
25 years ago we discovered this beautiful place. Two weeks of vacation have become four months of stay. This is why we have expanded the apartment so that our guests have a comfortable starting point to discover Istria. The most beautiful places by the sea are easy to reach because Motuvun is located in the middle Istria.
Es war ein toller Start unserer Rundreise in einer malerischen Stadt. Die Unterkunft liegt perfekt und fußläufig zu allen Bereichen des Bergdorfes. Durch die tolle Hilfe unserer Gastgeber war auch die Parkplatzsuche völlig entspannt. Eine Erkundung des Dorfes ist von der Unterkunft sehr gut möglich. Vielen Dank gebührt unseren Gastgebern auch für die Empfehlungen (Stadtrundgang, Einkaufen und Abendessen), die alle samt hervorragend waren. Wir würden jederzeit wiederkommen. Vielen Dank für diese Eindrücke.
Stephan
2016-08-17T00:00:00Z
My husband and I had a wonderful stay in Lothar's place. It is a charming place close to the center of everything. The apartment stays a nice cool temperature despite the hot weather which made sleeping easy. Lothar was also very responsive in terms of communication.
Elizabeth
2014-06-24T00:00:00Z
Nagyon jól éreztük magunkat Motovunban. A szállás fekvése ideális, a kilátás a teraszról páratlan, az egész völgyet belátni. Az apartman jól felszerelt, művészi hangulatot áraszt. A lakás klímaberendezés nélkül is kellemes hőfokú a legnagyobb melegben is. Lothar és Éva segítőkészek és kedvesek. Jövőre is itt szeretnénk eltölteni a vakációnkat(URL HIDDEN)
Eszter
2015-09-12T00:00:00Z
Lothar and Eva are wunderful hosts. Their house is a real beauty with the best view over the Motovun valley. Despite the wet weather in mid of August in Croatia we had the pleasure to spend more time on the loggia of the studio apartment. The passing tourists seemed pretty jealous though... ;) Due to these first rainy days of our stay we decided to give Croatia another try and asked Lothar and Eva to stay longer. This worked out perfectly and finally we could enjoy some more lovely Istrian wine and even better more sun.
susanne
2015-08-21T00:00:00Z
Wir suchten nur ein gutes Appartement für die Trüffeltage in Livade. Wir fanden die perfekte Unterkunft, mit einer Loggia, in der man den Tag von morgens bis in die Nacht verbringen kann. Wir blieben spontan noch zwei Tage länger. Zum einen weil man einen kurzen Weg zum Meer hat, zum anderen weil wir mit den Gastgebern noch einen schönen Wandertag auf der Parenzana einlegten. Sie sind seit 30 Jahren in Motovun und kennen wirklich fast jeden Stein dort. Sehr informativ und unterhaltsam. Man kann auch Glück haben!
Johannes
2016-10-02T00:00:00Z
Lothar's apartment was beautiful. Being two artsy people, we loved all the music and art available to us within the space. It was perfectly situated to explore all of Motuvun. Lothar was kind and easy to communicate with. Check in was super easy. I wish we would have had more time.
Nicole
2015-09-06T00:00:00Z
The host canceled this reservation 165 days before arrival. This is an automated posting.
Karen and Eddie
2017-02-10T00:00:00Z
The host canceled this reservation 19 days before arrival. This is an automated posting.
Nicolas
2016-06-05T00:00:00Z
Typ pokoje
Celý dům/byt
---
Typ nemovitosti
Byt
---
Ubytuje
2
---
Ložnice
Motovun, Istria County, Chorvatsko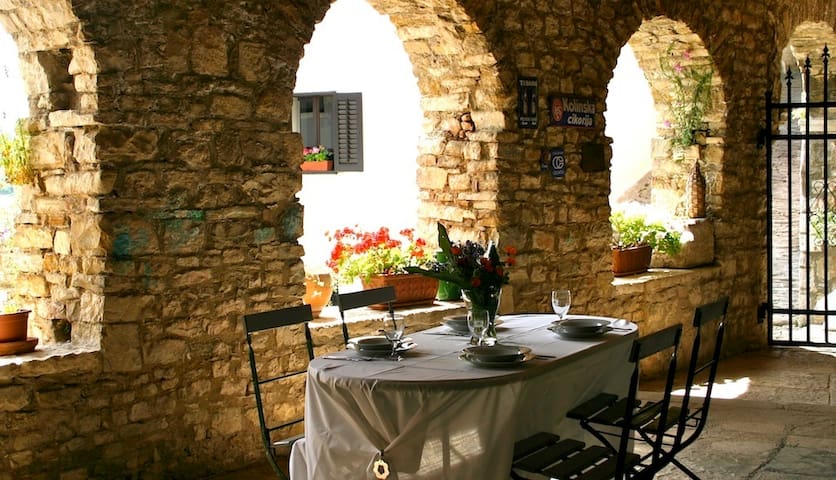 Studio apartment situated on the first floor of a medieval Motovun house. Its located only 40m from the main square but in a remote quiet street.
In its 30 m2 it has all you need for a short or a longer stay.
Renata was very kind and friendly host. Apartman is in the strict center of Motovun and the ambient was beyond our expectations. We are definitely coming back and sincerely recommending this place.
Stipe
2016-07-25T00:00:00Z
Sve pet! :-)
Suzana
2016-10-17T00:00:00Z
L'appartamento nel quale abbiamo dormito non è quello della foto, ma un'altro molto simile nella stessa casa. La casa si trova nel centro storico di Motovun, in una viuzza caratteristica. Quando siamo arrivati faceva un po' freddo, ma probabilmente solo perchè eravamo i primi ospiti della stagione. Pulizia accettabile, appartamento ottimamente fornito di accessori per la cucina. Il figlio di Renata che ci ha accolti è stato molto gentile e disponibile.
Veronika
2016-03-27T00:00:00Z
Renata was kind and helpful and a very welcoming host. The place is clean and cute, the bed is very comfortable - this is for me very important thin when travelling. Located 50m from main gates, within the historic city walls. Recommend!
anamarija
2016-07-03T00:00:00Z
Renata is a nice host. She came to pick us up and help parking. The little apartment is cozy and at the center of Motovun. Nice bathroom and quietly place to sleep and relax.
Anna
2016-08-02T00:00:00Z
Automobilom omogucen pristup 100 metara od apartmana. Ugodna vlasnica. Sigurno preporucamo ovaj smjestaj.
Zoran
2016-08-26T00:00:00Z
Alloggio molto buono .. all'arrivo non c'era nessuno ad attenderci ed abbiamo aspettato un'ora poi è arrivato un ragazzo molto gentile che ci ha dato le chiavi e ci ha chiesto a che ora saremmo ripartiti 3gg dopo facendo presente che avremmo dovuto lasciare casa per le 10 (allora era meglio non dire nella descrizione che check in e check out fosse flessibile) .. comunque l'alloggio è molto carino e completo delle cose necessarie. Avrei preferito aver incontrato Renata che invece non si è mai fatta vedere e sentire.
Roberto
2016-06-06T00:00:00Z
Typ pokoje
Celý dům/byt
---
Typ nemovitosti
Byt
---
Ubytuje
2
---
Ložnice
Motovun, Istarska županija, Chorvatsko
Two bedroom apartment for 4 persons, near Motovun, with Wi-fi, Sat tv and nice green garden with gazebo and grill. Ideal for a peaceful holiday. Pets are welcome!
Apartment for 4 persons with a living area of in total 50 sqm is located on the high ground floor. Consists of living room, SAT-TV, kitchen with dining table, two double bedrooms, shower/toilet and terrace with sitting furniture. The house was built 1900 and the apartment was renovated 2008 in traditional style. On the plot of 200 sqm the guests have on disposal barbecue and pavilion with sitting furniture and on the other side of the small street a garden where the guests can also serve with fresh and natural vegetables.
Monte Rudina is a charming apartment located near Motovun and 27 km from the sea. Located at the very edge of the small village Brkac from which spreads the beautiful panoramic view on the surrounding hills.
We had a wonderful time. the house was cozy,clean and comfortable. We were sorry we weren't able to stay longer as we hadn't taken advantage of the garden with its barbecue and the porch/veranda. The village is an easy driving distance from the delightful medieval town of Motovun and 40 mins from the beautiful beeches around Rovinj. I would certainly recommend the location and the host couldn't have been more helpful.
Josephine
2016-09-29T00:00:00Z
It is a really charming property with lots of character and all you need. Relaxing surriundings. 30mins drive prom the coast, 5 mins from Europe famous Motovun, 20mun drive to Pazin( check out the zip line and the food in the motel!) The actual owners met us, showed us around, very sweet people. So if you are looking for relaxation and feeling the real Istrian vibe-it is just the right place. And it is a great value for the cost it is at.
Asen
2016-06-22T00:00:00Z
The house was idealic, set between the mountains and us being from the Netherlands, it was magnificent. The landlords were very friendly. They helped us to get there and were always ready to anwer questions. We loved our stay at Monte Rudina. Haak family
Zeliha
2016-08-21T00:00:00Z
Very good experience. House very cosy and well equipped for cooking. The hosts are very réactives. All was positive.
Stéphane
2016-08-14T00:00:00Z
Typ pokoje
Celý dům/byt
---
Typ nemovitosti
Byt
---
Ubytuje
4
---
Ložnice
Motovun, Istarska županija, Chorvatsko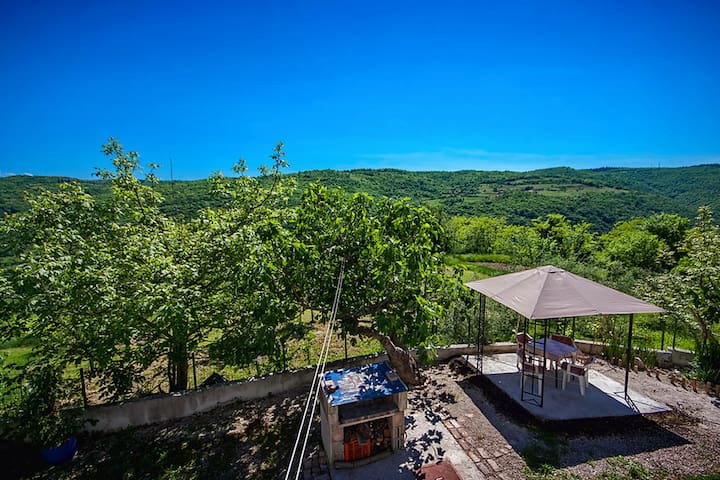 Comfortable 2 bedrooms apartment with direct exit to your private fenced garden with terrace and BBQ brings you immediate to relaxed vacation feeling. Fully equipped kitchen. Beautiful sunset with a glass of Terran you will never forget. Secure parking and good WI-FI.
IN THIS HOUSE WE HAVE 2 APARTMENTS. This apartment has a private garden, covered terrace with a view to vineyards and a BBQ. Facilities such as private parking in front of the house (which is very rare in Motovun), WI-FI internet, a shop/ATM /bank just across the street. Details: 90 m2, 4 people, BEDROOM 1: double bed (2 mattresses 90x190 cm); BEDROOM 2 / living room: double bed (160x190 cm) + sofa + Sat TV; KITCHEN: 4 electric rings, oven, fridge with freezing area, coffee maker, kettle BATHROOM: sink, shower, bidet, toilet
Just across the street there is small supermarket open daily, bank and ATM/bancomat. In 50-100 m there is pharmacy (working Mon-Fri) and nearest medical care + dental care. In 200 m there is nearest restaurant. There are water park Istralandia in only 10-15 min drive from apartment, and much more which I will be happy to explain to my guest. Motovun is a unique magical medieval town-monument. Arising on the 227 meters high hilltop, it represents an incomparable scene of a typical small medieval town of Istria made of stone and surrounded by annular walls that offer a stunning view on the surrounding vineyards and on the famous park-forest of Motovun rich in truffles. Old railway Parenzana that passes only 100 m from your accommodation it is renowned recently to for hiking and cycling treks.
Great apartement with a fully equipped kitchen. A big plus is the lovely garden with a fantastic view of the surrounding hillsides of vines and olive trees. Barbara is a great host full of information about Istria that is very easy to visit from Motovun; nothing is more than one hour away. We had a lovely week here.
Francois
2016-10-03T00:00:00Z
The apartment and also our host Barbara were perfect! Wonderful garden & terrace with view and lot of space to seat or lie in the sun. The big apartment was very nice and comfortable and has a perfectly equipped kitchen. Car is definitely recommended for trips, but the nice centre of Motovun with some nice restaurants can also be "climbed up" by feet. And a supermarket is just across the street, open almost all the day.
Claudio
2016-09-05T00:00:00Z
We had a great stay at Barbara's lovely apartment. It's in a great location with wonderful views across hillsides and vineyards. You could base yourselves here and see all of Istria if you have a car. We were on a cycle tour but extended our stay here for 4 nights - it was the best accommodation on our whole tour. Thank you Barbara. Oh and the outside seating areas were amazing - a choice! Don't hesitate to book this one. Sian & Richard
Sian
2016-09-08T00:00:00Z
just perfect!
Frank
2016-08-20T00:00:00Z
Barbara was a super host! The apartment is very well appointed and organized, she has thought of everything. Impeccably clean, with a spacious and pretty outdoor area. Parking is secure if traveling by car. Very enjoyable stay thank you.
Peter and Krista
2016-09-13T00:00:00Z
She was there when we arrived and kept in touch til we arrived. Great area and easy from to get around.
Marsha
2016-09-22T00:00:00Z
Great accommodation if you arrive by car. (In an old city, you can't go by car). But the location is right next to the main stairs leading to the center. A big plus for the terrace, the view and the owner ;)
Ivan
2016-05-08T00:00:00Z
The reservation was canceled 87 days before arrival. This is an automated posting.
X.
2014-03-31T00:00:00Z
Typ pokoje
Celý dům/byt
---
Typ nemovitosti
Byt
---
Ubytuje
4
---
Ložnice
Motovun, Istria County, Chorvatsko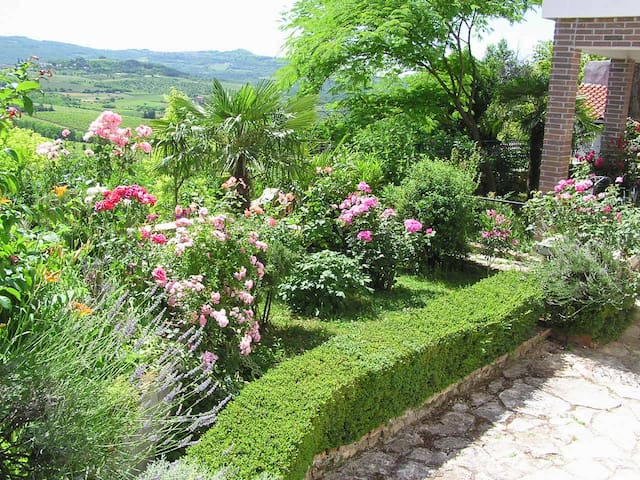 Studio app Nirvana situated in the centre of medivial city of Motovun.Autentich details, wooden beams, old stone charatise this apartment and offer you a chance for a pleasant stay.Accommodate up to 3, 50 m to the maine square,restaurantes and ATM.
It was awesome
Ivan
2017-03-21T00:00:00Z
Beautifully decorated and extremely stylish apartment combining old and new: rustic wooden beams, electric roof windows, embedded brickwall lights, and breathtaking view! Jasmina is wonderful host - very helpful and positive! We hope to come here again in the future!
Gosha
2016-08-19T00:00:00Z
Ottima sistemazione per visitare Motovun all'interno del paese. L'appartamento era molto pulito e accogliente e Jasmina è stata molto disponibile e gentile da consigliare
Giuseppe
2016-07-05T00:00:00Z
Jasmina is a lovely host, eager to help with any potential issues. Location is georgeous with a stunning window view. WIFI is not very stable however that is the situation with most of the Motovun's wifi connections. The apartment is small but cozy and offers everything 2 ppl might need during a short stay. Pillows are high quality but very big so if you need a smaller pillow let Jasmina know.
ana
2016-08-12T00:00:00Z
The appart is really nice. We booked the evening for the day after...and Jasmina really kindly responsed immediatly ;-) The welcome was friendly and a lovely gift was waiting for us. So odlicno ! Thanks a lot.
Eve
2016-01-09T00:00:00Z
Jasmina was terrific in every way and the apartment is adorable. Location and view couldn't be better. Great value too!
Antonia
2016-08-16T00:00:00Z
Jasmina is an excellent host and made us feel incredibly welcome. She met us at the foot of the town and took us back and forth from the apartment at the beginning of our stay. She also ensured that should we need anything she was there to offer assistance/advice. Small town hospitality with a big heart!
Ziad
2016-10-06T00:00:00Z
The apartment was great, Jasmina a very nice host, I would recommend it absolutely!
Astrid
2016-08-13T00:00:00Z
Typ pokoje
Celý dům/byt
---
Typ nemovitosti
Byt
---
Ubytuje
2
---
Ložnice
Motovun, Istarska županija, Chorvatsko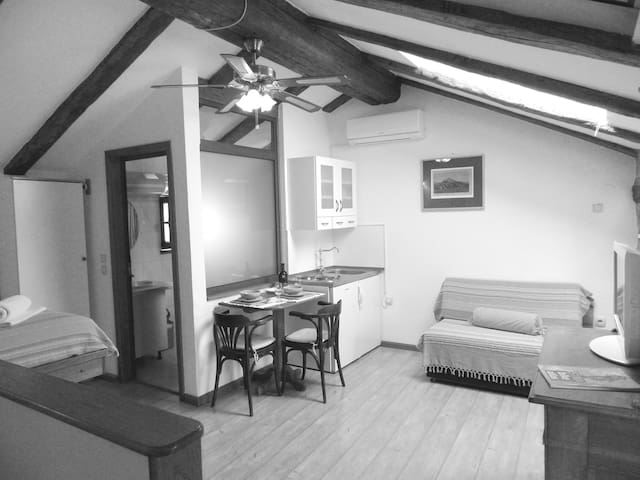 On the top of Motovun hill is situated apartment Mare - spacious and sunny apartment for 2-4 people with full equipped kitchen, modern shower bathroom and small charming balcony...
Completely equipped flat suitable for longer staying. In the middle of the old town! Just opposite the restaurant, very near to bakery and grocery shop, main square and parking.
We are situated in the main street with easy access to all thing what you need when you are in holidays: cafe bar, restaurant, grocery shops... And we have amazing view to city walls and valley of river Mirna!
The host canceled this reservation 331 days before arrival. This is an automated posting.
Tracey
2016-07-11T00:00:00Z
Vojka's apartment is the perfect place to enjoy the beauty of Motovun. The apartment is very spacious, comfortable and well equipped. Motovun is busy with tourists during the day but by staying right in town we were able to enjoy the peacefulness of the town in the evenings and mornings. The windows from the apartment are perfect for viewing the beautiful sunsets and the little balcony is fun for people watching.
Karen
2016-08-14T00:00:00Z
We had a wonderful stay in Vojka 's lovely apartment in the middle of Motovan. Being up a rather steep hill, we really appreciated her meeting us with her car and assisting with luggage. The apartment lived up to expectations - beautifully furnished, all conveniences, lovely modern bathroom and views to die for.
Ann
2016-07-06T00:00:00Z
This was an absolutely amazing stay (5 nights) in the beautiful town of Motovun. We wished we could have stayed longer! The appartment has the most amazing views out over the hills and velley below - amazing sunsets, mysterious clouds way below clearing into perfect blue skies - just beautiful! There are some great restaurants just a few steps away, and loads of stuff to do throughout Istria of course. Vojka was hugely welcoming - picking us and our luggage up from the carpark, and her sister dropping us off at the end. A perfect stay for us and our 2 kids - thanks Vojka!!
Dan
2016-08-19T00:00:00Z
Spending five nights at this fabulous apartment was not enough time and we did not want to leave. The space was extremely clean, very well furnished with a kitchen that made cooking enjoyable. At night the town was quiet and made for peaceful sleep. An added bonus was the washer and dryer, which can be quite a commodity when you're on the road for an extended time. The views from the apartment are worthy of every cliché ever penned and the town is beyond charming. I am in full agreement with the fellow who commented on the amazing view from the bathroom—not many water closets could compete with that vista. The sunset is framed over the hills and you can enjoy the slow show from the living room. Vojka is the consummate hostess and her efforts made our stay perfect and carefree. She was always available if we needed anything and helped with our luggage, giving us front door service when we checked in and then, regrettably had to leave. Thank you, Vojka, for all of your help and kindness. This is the place you should stay if you want to spend time in a nice apartment and live like a local in Motovun. Its location is also a great base for day trips to throughout Istria.
Kevin
2016-05-30T00:00:00Z
We really enjoyed our (too) short stay at Vojka's apartment! It's super clean, huge and the view, especially in the bathroom is unique. It's located in the middle of the beautiful truffle town Motovun and we can also totally recommend you to try the restaurant just opposite the apartment. We'll definitely be back :)
Elena
2015-08-28T00:00:00Z
The apartment is spacious, well appointed, with wonderful views from the living room and bathroom. It is close to both parking and the historic center. Vojka is all you want a host to be -- accessible, friendly, helpful. I'm glad we got a chance to meet and talk. A very enjoyable stay.
Jane
2016-08-26T00:00:00Z
The apartment is very spacious, nicely decorated and very clean. Bed is comfortable. The apartment has really a breath taking view! The town is very nice and quiet. Super for a nice getaway to relax. We had a great time and Vojka was very helpful with the luggage and available for answering other questions. We would love to come back!
marleen
2016-08-20T00:00:00Z
Typ pokoje
Celý dům/byt
---
Typ nemovitosti
Byt
---
Ubytuje
4
---
Ložnice
Motovun, Istarska županija, Chorvatsko
We have re-decorated five apartments in an 1862 villa that overlooks the beautiful Mirna Valley, right in the centre of medieval town - Motovun. Come and enjoy in Istrian rich cuisine in this truffle heaven and try your luck on a truffle hunting tour organized by our family! We warmly welcome you to our magical town and wish you a pleasant stay :)
Apartment "Bella Vista" (38 square meters) is our most booked apartment! It was recognized as one of the 20 MOST BEAUTIFUL apartments in the whole of Istria! Of course, this did not come as that much of a surprise, considering the breathtaking view of the Mirna Valley that can be enjoyed on its balcony. So be quick with your decision! With its spacious kitchen, living room, bedroom and bathroom, this apartments suitable for a family or group of four. We have also received the Domus Bonus certificate for this apartment - the highest level of accommodation quality. Characteristics: - AP: 2+2 (one real double bed in bedroom and one couch/mattress in living room if needed) - open air living room - kitchen - kitchen equipment: dishes for preparing and serving meals and drinks, cutlery, refrigerator (freezer 15L) - bedroom (double bed) - bathroom (shower, lavatory, toilet, bide) - air conditioning - heating - TV + satellite - free wi-fi Location: - situated in the centre of the old town, on the very top of the hill, very near to a grocery shop (50m away), surrounded by many restaurants (10m away!) where you can try the rich Istrian dishes! Water supply: local aqueduct Access to the apartment: vehicle access directly to the apartment parking space, best is to call us once you are in Motovun so we can guide you to the apartment (very easy, not to worry!) Additional services and equipment: child bed (at request) We also own a small souvenir shop in the same building where this apartment is! We offer a 10% of discount on our wide range of products for all of our guests. Come and try traditional and home-made Istrian grappas and wine, taste some delicious truffles or satisfy your cheese yearnings. Of course, the tasting is completely free :) Our family business also offers TRUFFLE HUNTING tours where you can get to experience truffle hunt! The tour includes both truffle hunting and a truffle luncheon - an unique experience not to be missed! If you would like to know more about the prices, or just need more information, please let us know. We have had many guests and none of them left unsatisfied. We love what we do and hope we can help you get to know Istra as much as you can. In case you would like some help in organizing wine or olive oil tours, want to know where the most beautiful beach is or what meal not to miss - let us know and we will help! Come and enjoy Motovun! Relax from every day life in our cozy apartment that will surely suit your needs!
Bella Vista was amazing. I loved the view from the balcony and the rooms were very clean. What I loved most was our host "Mirjana" who was really kind and sincere. I would recommend this place to any of my friends. Thank you Mirjana!
Young Kyun
2015-08-12T00:00:00Z
This is a great place with the best view. I have stayed in the area at different places, but the view from the balcony was amazing and the location was really the best for getting to anywhere in istria. The place was very clean and having someone in the store to help with any questions was very convenient. I would definitely stay here again and will recommend it to friends. It just happened to be my birthday while I was there and they even surprised me with a great little gift. Very friendly people
mark
2016-07-11T00:00:00Z
This is a wonderful apartment on the hilltop of Motovun. The view was amazing and the apartment had everything we needed for a lovely three day stay. It was a great base to explore the rest of Istria.
Margaret
2013-06-03T00:00:00Z
Mirjana's apartment was so beautiful! The location is perfect. Involves 5 minutes of walking from the free parking spot most of the way up the hill. The apartment was very spacious and clean, and the balcony was unbeatable! Communication was not perfect, a few messages with questions went unanswered, and we never met Mirjana, it was another woman but it wasn't a big deal. Would recommend providing more detailed instructions ahead of time on the parking and arriving - we had to call for instructions which can be expensive for international visitors. Overall good experience - thanks!
Lily & Joe
2016-05-28T00:00:00Z
The apartment's location was a perfect home base for our exploration of Istra. It was comfortable, the staff was helpful and the view was truly Bella Vista.
Sharon
2016-07-19T00:00:00Z
Amazing place, everything as described, perfect location, best view ever... the list goes on. It was the start of our holiday and we couldn't have wished for a better place. Very clean and fully equipped with everything we needed. We will try to be back there next year :)
Sarah
2015-06-26T00:00:00Z
Mirjana's apartment is in a great location and was a great place to stay. Due to a change of plans, we managed to book the apartment on the day arrival which we really appreciated! Thank you again
James
2015-08-13T00:00:00Z
Abbiamo passato una sola notte a Motovun, la camera seppur piccola e differente da quella che avevamo richiesto e prenotato, era pulita e accogliente. Abbiamo avuto qualche piccola difficoltà con il bagno purtroppo, era maleodorante e la doccia non aveva pressione dell'acqua. Ci hanno detto che quando c'è tanta gente in paese può capitare, però ... Mirjana con noi è stata gentilissima. Giunti in paese per la festa del tartufo ci ha fatto un super prezzo per l'acquisto di alcuni pezzi che ci siamo portati a casa. Un paese meraviglioso, con un panorama notevole, sia di giorno che di notte. Grazie Mirjana !
Giorgio
2015-10-25T00:00:00Z
Typ pokoje
Celý dům/byt
---
Typ nemovitosti
Byt
---
Ubytuje
4
---
Ložnice
Motovun, Istarska županija, Chorvatsko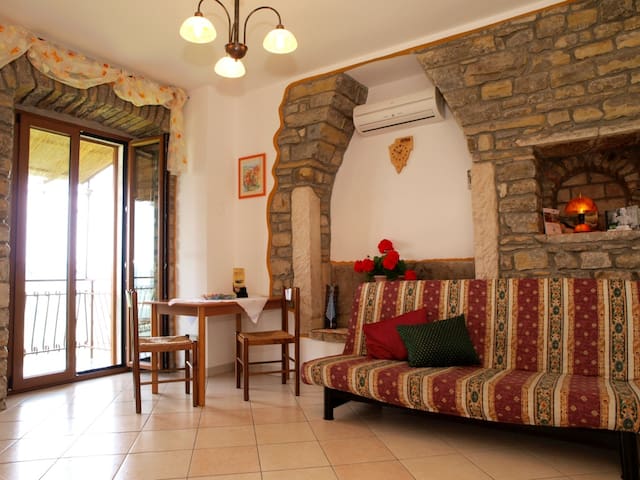 Modern apartment in a historic building in the middle of the old town of Motovun. Truffle restaurants and bars on the doorstep. High end furniture and kitchen. Ideal for a romantic stay in the famous hilltop town.
Famous hilltop town with splendid views over the glorious countryside of inland Istria. Many truffle restaurants, wineries, biking, and hiking. Ideal location to explore the peninsula.
Very nice newly done up apartment. Large, good amenities, comfortable. Great location in the town. Village is at the top of a hill with limited access for vehicles, so you need to check that out before going. I was on foot and enjoyed walking up and down the hill. Good walking trails around the village, and roads with few cars as well, so great area for walking and biking. Hana at the office, in the same building as the apartment, was very helpful and easy to get in touch with.
Daniel
2016-08-18T00:00:00Z
The plaće was very nice and the location was great! Vojka was available for everything we needed. The only thing we disliked was the bed. It was too soft for us. But that is individual.
Ida
2016-08-09T00:00:00Z
Typ pokoje
Celý dům/byt
---
Typ nemovitosti
Byt
---
Ubytuje
2
---
Ložnice
Motovun, Istarska županija, Chorvatsko
Što se nalazi u blizini: lijepe panorame, kulturni sadržaji, restorani, and sadržaji i aktivnosti za obitelj. Za koga je moj smještaj: parovi, solo avanturisti, and obitelji (s djecom).
Typ pokoje
Celý dům/byt
---
Typ nemovitosti
Byt
---
Ubytuje
3
---
Ložnice
Motovun, Istarska županija, Chorvatsko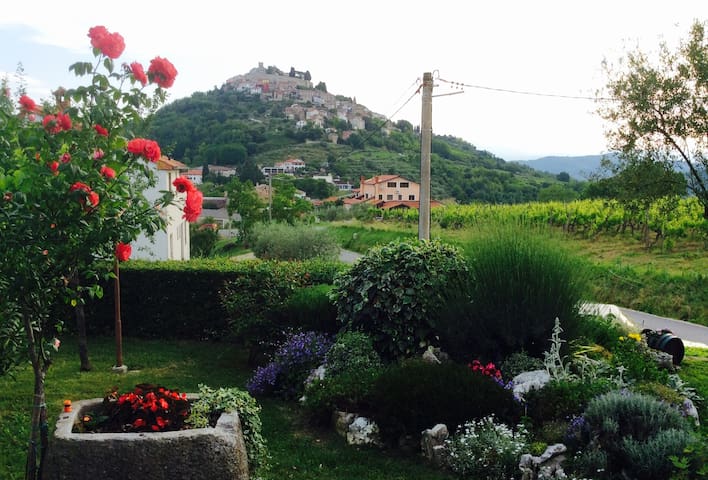 Studio apartment is located on the ground floor of our family house, made in 1622. The garden has a terrace, from which the magnificent view of surrounding hills and vineyards is provided. On the second floor of the house there are three more rooms with two beds. The main square, church and city walls are only 200 m away, as well as a few shops that offer home made products. We enabled our guests free public parking and transport to our house. We would like to welcome you to our Villa Marija.
Typ pokoje
Soukromý pokoj
---
Typ nemovitosti
Byt
---
Ubytuje
2
---
Ložnice
Motovun, Istarska županija, Chorvatsko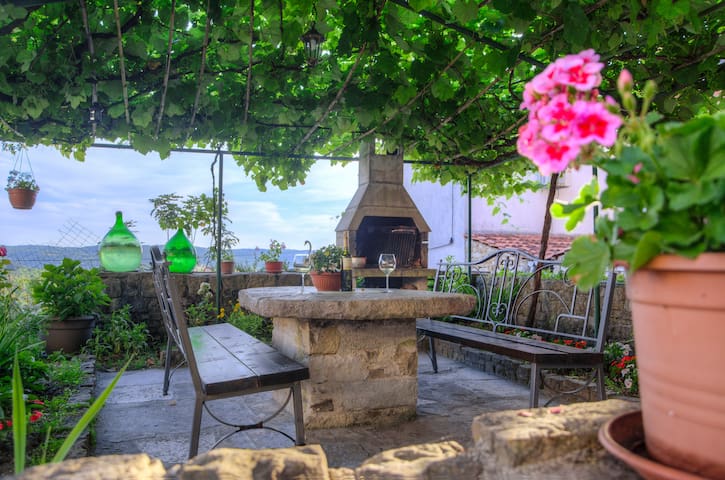 MotovunHouse offers top quality comfort and the best possible atmosphere, fully equipped to make your, both short and long term stay as pleasant and comfortable as you had imagined. You will certainly find "your home away from home" here.
On the very top of the Motovun hill, in the centre of the town, there is Motovunhouse***, a town house built in 1761. Located in the peaceful and romantic part of the town, it has been entirely refurbished to accommodate nine people. Alltogether there are three rooms: two bedrooms and a living room. Each having it's privat bath. Back terrace is an ideal place to bask in the sun during the day and spend an evening in conversation under the stars, make use of the fireplace and barbeque and sip a glass of homemade wine from the nearby cellars.
Motovun Film Festival, concerts and exhibitions, White Truffles and Teran Festival, nearby wine roads and olive oil roads, cycling paths, running tracks, caves, historical sites, the vicinity of the beaches with crystal clear blue sea, aqua park with pools, riding or paragliding above Motovun, are only some of the activities available throughout the whole year.
We had a perfect stay at the Motovun house. Zeljko was very friendly & helpful including giving us some great tips to explore this hill top gem and the surrounding area. My family and kids loved Zeljko's historic house and the cool terrace. Highly recommended !
miro
2016-06-21T00:00:00Z
All of Motovun is a challenge to access, and challenge to get around in (there is not a level street in the whole town)...but, after overcoming those challenges Motovun is a fun place to explore. This unit was pretty basic in its appontments (no bed was larger than a single). This is reflected in the favorable cost per night. Communication with hosts was great up until the arrival time. On the day of arrival we received an email that neither host would be available to guide us to the unit, or to get us grounded. While we managed (there were language challenges in the final directional email) it was pretty uncomfortable for us dealing with one lane streets, do not enter barriers, do not park here, and the like. A "picture book" of directions/landmarks would have been lots better than written directions should the hosts ever not be there to meet the guest. The washing machine in the bathroom did not appear to us to have a dryer (as advertised), but because we did not get an orientation, we were on our own to figure out how to use it. Staying in Motovun is not for the faint of heart, but worth the effort.
Paul
2016-10-04T00:00:00Z
This place is incredible. We were traveling with 5 kids, so took all house and felt like we have enough privacy and at the same time possibility to be all together - either on the terrace near the city walls or in the dining room. The house is very clean and well renovated, but also has very authentic feeling. The views from the rooms are outstanding. The Motovun town is very nice to spend some days - it is touristic, but very calm and nice in the evening, when one day tourists are out. The area is well known for truffles - so tasting is a must, you can even go on hunting with the locals. From Motovun is only 30 minutes drive to major Istria seaside resorts and 1 hour drive to Opatia resorts. In general - very good place to stay if you want to escape crowded places, but be close to all resorts and sea activities. And on top of that - the host Zeljko is best host any traveler can ask - very helpful and attentive. Thanks, heavy recommended and we are coming back for sure...
Liutauras
2016-08-09T00:00:00Z
Typ pokoje
Celý dům/byt
---
Typ nemovitosti
Byt
---
Ubytuje
9
---
Ložnice
Motovun, Istria, Chorvatsko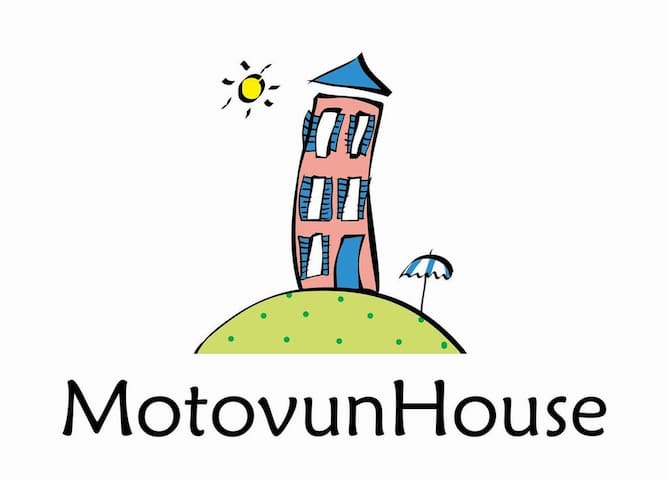 A beautifull apartment in the lower, quiet part of the old town. Accommodates four people, two in a closed spaceous room and extra two on a couch in a loggia with a stunning view.
Renata's apartment was amazing. The views of the countryside from the living area were breathtaking. The apartment was very clean, quiet, and comfortable Renata is a great host and I highly recommend her apartment.
Yas
2016-09-08T00:00:00Z
Renata war sehr hilfsbereit und uns hat es sehr gut gefallen.
Birgit
2016-10-31T00:00:00Z
L'alloggio è affascinante con una vista mozzafiato. Non è così comodo arrivarci ma la vista e la tranquillità che si gode ripaga del piccolo disagio del parcheggio. A noi è piaciuto molto. Renata molto gentile e disponibile
Mauro
2016-08-13T00:00:00Z
Loved staying at Renata's place in Motovun. The views are even better than the pictures you see, and all the accommodations are new and nice; you could never guess that you were staying in a medieval town. Furthermore, Renata and Jakow were great hosts and made sure we had a great time using their advice on the town. Lastly, everyone in my group agreed that Motovun was the best place to stay in Istria, as the town is the perfect size to allow one to relax peacefully or have an excellent meal, or even watch soccer at a pub. Loved my stay here, and can't wait to come back!
Charles
2016-06-19T00:00:00Z
Typ pokoje
Celý dům/byt
---
Typ nemovitosti
Byt
---
Ubytuje
4
---
Ložnice
Motovun, Istarska županija, Chorvatsko
60m2, 4+1 people, 2 bedrooms: 2 double bed with NEW ORTOPEDIC MATERASSES + sofa bed 85x185 cm, kitchen: 4 electric rings, small fridge with freezing area, dishwasher, coffee maker, toaster, kettle, bathroom (with shower), covered terrace with a view, private parking, WIFI internet, sat TV
IN THIS HOUSE WE HAVE 2 APARTMENTS. This apartment has beautiful view from the terrace with full facilities such as private parking in front of the house (which is very rare in Motovun), WI-FI internet, a shop/ATM /bank just across the street.
Just across the street there is small supermarket open daily, bank and ATM/bancomat. In 50-100 m there is pharmacy (working Mon-Fri) and nearest medical care + dental care. In 200 m there is nearest restaurant. There are water park Istralandia in only 10-15 min drive from apartment, and much more which I will be happy to explain to my guests. Motovun is a unique magical medieval town-monument. Arising on the 227 meters high hilltop, it represents an incomparable scene of a typical small medieval town of Istria made of stone and surrounded by annular walls that offer a stunning view on the surrounding vineyards and on the famous park-forest of Motovun rich in truffles. Old railway Parenzana that passes only 100 m from your accommodation it is renowned recently to for hiking and cycling treks.
Barbara was prompt with her communications and gave us easy to follow instructions for finding her apartment. She was there to greet us and show us around. Arrining on a Sunday, after the local convenience shop had closed, Barbara had ensured that we had milk etc, a provided a welcoming local digestive drink. Her apartment is big, clean, bright and has a great deck for enjoying a tea/coffee in the morning or a glass of wine in the evening. During our stay, Barbara baked bread and was kind enough to share it with us. There is a convenience store across the road and a bus you can catch up the hill to the old town. You can also walk if you like. Barbara has really good local knowledge and made some great recommendations for eating and visiting. The kitchen had everything we needed for cooking our evening meals. Barbara's apartment in Motovun is an excellent location for exploring the North of Istra in your car. Oh, and did I mention the truffles?
Coral
2015-10-09T00:00:00Z
Barbara has a great place, was the most responsive host we had and gave us some great recommendations for the area. It is Centrally located to many of the small towns in the area, easy access to the historic town of Motovun and a well appointed kitchen. The terrace with access to the garden (and grill) were a great option for us to have a night of cooking for ourselves. The only issue we had was that this unit is particularly close to the road that has some traffic at night, and without air conditioning it is a trade off between the fresh air and the noise. I would totally stay with Barbara again, but maybe in the lower unit.
Justin
2016-09-13T00:00:00Z
This is a great apartment and a great host. Host Barbara moved to Motovun years ago because she loves the town and it shows. She knows all the great places to go and she can fix you up with whatever you need. Highly recommended!
andy
2015-07-30T00:00:00Z
Absolutely perfect. I loved staying here. The apartment is clean, in a great location, plenty of hot water and is very large. There is air conditioning but you dont even need it with the cross-breeze from the windows. Bed is comfortable and Barbara allowed us use of the washer for a quick load of dirty clothes, as we were near the end of our trip. (Thank you again for that, Barbara!) Barbara is a great host who helped make us dinner reservations one evening while in Motovun. She also gave us suggestions for other towns nearby to check out and communicated with us while we were traveling with directions etc. The balcony is very large and has amazing views. We enjoyed wine out there one night after dinner. Plus there's a parking lot adjacent to the property, which is very helpful. I would 100% stay there again. Both the apartment and host are fantastic.
LAUREN
2014-09-08T00:00:00Z
Wir haben uns bei Barbara sehr willkommen gefühlt. Die Wohnung liegt in dem Haus, wo sie selbst mit ihrer Familie lebt und auch das Touristenbüro Montonatours betreibt. Alles was man eventuell benötigen konnte, war vorhanden, man hat gemerkt, dass sie sich Gedanken gemacht hat. Es gibt einen überdachten Balkon mit etwas Abendsonne. Und es gibt einen Parkplatz, was in Motovun keine Selbstverständlichkeit ist. Die Wohnung liegt am Fuß der Altstadt kurz vor (bzw hinter) dem öffentlichen Parkplatz. D.h. sie ist wg. des Verkehrs nicht ganz ruhig, dessen sollte man sich bewusst sein - aber Schlafen ist wegen der guten Fenster kein Problem. Ein Shuttlebus fährt einen etwa 30 Meter weiter für ca. 1,30 pro Person den Berg hinauf, was wir gerne genutzt haben. Die Treppe hinab führt direkt auf Barbaras Haus zu. Wir waren rundum zufrieden.
dagmar
2016-09-23T00:00:00Z
My husband had a great three days at Barbara's flat. She gave us great directions, some great dinner options (we ate at two of the three and loved both) and even had a few tidbits like coffee, local grappa, tea, milk and juice for us. To be able to park right at the flat and access the car when needed but also just walk across the street to access the stairs to Motovun was perfect for us. We enjoyed that we were able to access all of Istria pretty easily from the flat. Thanks Barbara!
Becca
2015-05-04T00:00:00Z
Barbara was very nice with us and always ready to help. The apartment is perfectly located in Motovun, very nice and well equipped. You have your own garden and you can use a barbecue. In short, every thing was perfect. Highly recommended !
jean-philippe
2015-08-09T00:00:00Z
The best airbnb accomodations we had out of 7 in Croatia. Barbara upgraded us to the larger apartment at the back of the house to shield us from some temporary construction noise, so we didn't stay in this one, but another in the same building. The apartment was large and very comfortable. It has an outdoor area with amazing views. Barbara is bubbly and warm and extremely thoughtful about providing the conveniences of home -- a kitchen with all the equipment and basic condiments, snacks, milk/juice/tea/water, and there's a small market just across the street. We were also able to do laundry here. So in the midst of a whirlwind trip, this place felt the most like a home of our own and an opportunity to enjoy some relaxed domesticity in a lovely setting. Making our own breakfast and eating it looking over the countryside was one of the happiest, calmest moments of our trip.
Dave
2015-07-02T00:00:00Z
Typ pokoje
Celý dům/byt
---
Typ nemovitosti
Byt
---
Ubytuje
5
---
Ložnice
Motovun, Istria County, Chorvatsko
Light, spacious apartment located in very private and peaceful part of old town Motovun.
Apartment is comfortable 120 m2 spreading on two levels with views over the surrounding hills and peaceful Motovun streets.
Neighborhood is very quiet with no car traffic therefore you can not come with car, but parking is available 50 m away on the main street.
Olja et Milan nous ont accueillis chaleureusement dans une maison hyper-propre et bien entretenue! Le lieu est encore plus joli que sur les photos... Très discrets, nos hôtes étaient pourtant à notre disposition pour nous conseiller les bons restaurants (nous ne voulions pas de "pièges pour touristes"), les lieux culturels et les jolies plages! Nous vous conseillons vivement cette location. A noter que l'accès au village à pied, demande une bonne condition physique.
Isabelle
2016-07-25T00:00:00Z
The apartment is beautiful, even better than the photos and spotlessly clean. It's in a great location within motovun town and off the main tourist walking routes so very quiet. We would recommend to others!
Katie
2016-06-05T00:00:00Z
We spent two days in this beautiful house on a trip in Istria. We should have stayed longer as we much preferred staying in Motovun and drive to the beaches than staying in the other places as Porec, Pula or Rovinc. The house is really nice, beautifully decorated, with a lot of space. You feel immediately like beeing in your own country home. Besides, it´s very close to where you can park your car which is very practical in a pedestrian village. Milan was there to welcome us and has been very nice. It´s the nicest place we've rented so far on Airbnb. For those wanting to discover Istria and who don't mind driving a bit through this beautiful country-side, I would stay in Milan's house all the time, and that´s what I'll do next time...
Jean-Jacques
2014-08-16T00:00:00Z
The host canceled this reservation 72 days before arrival. This is an automated posting.
Jess & Neil
2016-03-24T00:00:00Z
We came to Motovun for the film festival, which we enjoyed very much. The centrally located, beautiful house, and the very kind hosts were a bonus. Milan made sure that everything was in order (e.g. our permits for the festival) and has shown great flexibility to accommodate our various needs. Highly recommended.
Norbert
2014-07-31T00:00:00Z
Typ pokoje
Celý dům/byt
---
Typ nemovitosti
Byt
---
Ubytuje
4
---
Ložnice
Motovun, Istarska županija, Chorvatsko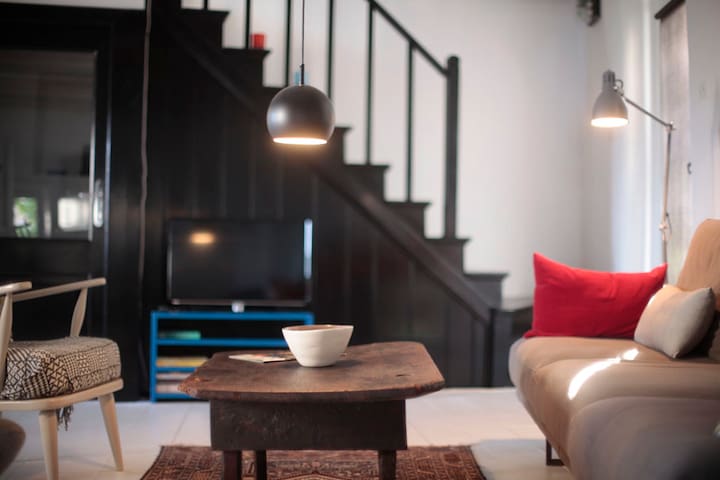 Motovun - Airbnb
:
Průměrně

4.94

z

5

hvězdiček na základě

320

hodnocení hostů
Pro zobrazení celkové ceny zadej termín. Mohou být přidány další poplatky a daně.