My place is situated on The Satilla River in Atkinson. Just past Brantley County in South Georgia. You'll love my place because of the view; it is breathtaking. You will experience pure peace during your stay. My place is good for couples, solo adventurers, business travelers, families (with kids), big groups, and furry friends (pets).
Monthly rates are negotiable. Two kayaks and paddles are included in rent. Pontoon is available at owner's discretion and for an additional charge. Holiday rates negotiable. Pets are considered based on size, breed, etc and a $50 non-refundable deposit is required.
A little slice of heaven on the Satilla River! Ditch the beaches, this is the spot for a relaxing weekend!
Devin
2017-01-16T00:00:00Z
Great place. Very peaceful!!! I would love to stay here again.
Kerston
2017-01-01T00:00:00Z
This river house is a great way to get away and spend some time on your own private beach!
Trey
2017-03-12T00:00:00Z
Breathtakingly beautiful location with a wonderful sun room viewing the river for morning coffee and evening cocktails. The house and beds are really comfortable-you could live on the sectional sofa and be a happy camper. The open floor plan gives a feeling of spaciousness and the kitchen is equipped with everything you need. Must try food:Skipper's Fish Camp in Darien, Southern Soul BBQ on St. Simons, and Gary's Meat Market (BBQ) in Brunswick. A cautionary warning for parents with small children, the deck has no railing and there is a steep drop. Otherwise, a perfect place for a family vacation.
Frieda
2017-03-25T00:00:00Z
Autumn and Glenn were great. The house had everything - and some. Beautiful view of the river, and kayaks available to explore around. Spacious and sun-filled house, with a grill, hammock, and bar underneath. Perfect for a peaceful, serene getaway!
Jessica
2016-11-20T00:00:00Z
This is an indoor/outdoor experience like no other. We loved our time on the river. Great glamping!!
Wendi
2017-04-02T00:00:00Z
The host canceled this reservation the day before arrival. This is an automated posting.
aaron
2017-02-13T00:00:00Z
Typ pokoje
Celý dům/byt
---
Typ nemovitosti
Penzion (B&B)
---
Ubytuje
6
---
Ložnice
GA, Georgia, Spojené státy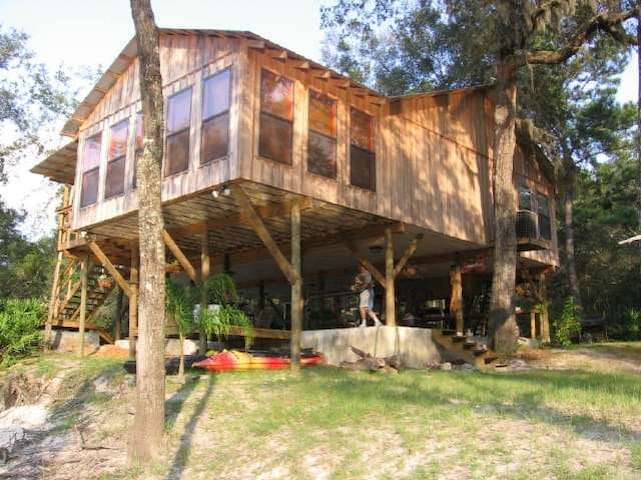 Step back in time to 1902 when this beautiful old home was built. Only the kitchen and baths have come into this century. Large rooms and porches to swing or rock until your hearts content. Central heat and air. All bedrooms are on 2nd floor with NO elevator.
This home was built by the Brantleys in 1902. The price is for the entire 2nd floor. 4 LARGE Bedrooms, 3 LARGE Baths.
Quiet small town atmosphere.
The house is beautiful. Rooms are large and beds are very confortable BUT the hostess is very problematic. We had no hot water the 1st night and following morning. She offered a discount which she later refused. The house was FILTHY; big dead bugs everywhere, things under the beds... Kitchen was not equipped for guests. We used a table to eat and got chastised for it (what were we supposed to do?). We got accused of breaking some antique stool that we have never ever seen and she also accused us of staying one more day which we have proof we didn't and I would recommend anyone to stay here. Not worth the money or. more so, the headache that the hostess induces.
Karen
2017-03-19T00:00:00Z
Typ pokoje
Celý dům/byt
---
Typ nemovitosti
Dům
---
Ubytuje
11
---
Ložnice
Blackshear, Georgia, Spojené státy
In a quiet community, just outside the city limits of Brunswick, GA, this well-appointed home is located within minutes of both Jekyll ($6 pass) and St. Simon's Islands. Winn-Dixie, convenience stores, and gas stations are all within 1.5-3 miles from the home, as well as several eateries and a Starbuck's. Glynn Place Cinema, Harley-Davidson, Panera, Academy, TJMaxx, and many other points of interest are approximately 10-15 miles away (exit 38). Restaurants ($ - $$$$$) are in town/on the islands.
**READ HOUSE RULES PRIOR TO BOOKING! ** The guest rooms have accommodations such as fresh sheets, bedding, and towels. One room has a desk and chair. The other has seating under the window, as well as a dresser with available drawers for your things. Both have closet space with hangers, if needed. You're welcome to store drinks and/or food items in the main refrigerator and dine in the dining area during your stay. The outdoor kitchen is available year round, and the pool is available seasonally. The rest of the home is not part of the listing. There are two bedrooms available to guests. Both bedrooms are currently offered together, with family/friends in mind, with one guest bathroom available to all.
Quiet neighborhood within a short drive to both Jekyll Island and St. Simons Beaches, downtown, and the quaint town of Brunswick, GA. See recommendations for more.. Sound: -You are welcome to come and go at all hours, but please be courteous to our neighbors.
Donna went above and beyond to make our stay as comfortable as possible. She is very kind and thoughtful. I loved the homemade muffins that were out of this world. Her home is lovely and she's a gem!
Jennifer
2017-03-17T00:00:00Z
Donn has a beautiful, immaculate home. It was convenient for our trips to Jekyll and Brunswick.
Michael
2017-03-22T00:00:00Z
This place is fantastic, The bed is one of the most comfortable I've ever slept on, the bathroom and shower was immaculate. Basically the whole house looks new, classy and pristine. I have been to many airbnb properties and Donna is the best host I have ever stayed with. She knows the area well, is interesting and fun, and could not have been nicer. I didn't get a chance to use the pool, but it looks like it will be awesome on a sweltering Brunswick day. It's close to everything but far enough away from crowds. Enjoy it!
Brian
2017-03-26T00:00:00Z
Typ pokoje
Soukromý pokoj
---
Typ nemovitosti
Dům
---
Ubytuje
4
---
Ložnice
Brunswick, Georgia, Spojené státy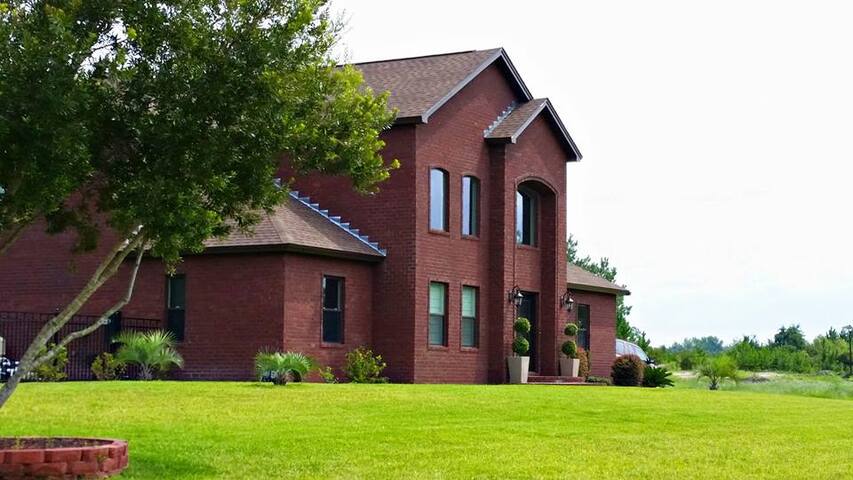 Located on a private island in the Golden Isles of Georgia. A low country 75+ year old cabin with character next to the river. Enjoy nature walks, fishing, relaxing, and privacy. A great get-away location. Close to the coastal islands and beaches.
This low-country self catering cabin is equipped for a secluded get-a-way on a beautiful tidal river and marsh estuary.
Located on a private island with only 5 other houses.
The cabin was exactly as described. It was quiet and peaceful and only about 25 minutes from the main island!!
Kelly
2017-03-26T00:00:00Z
We enjoyed the very secluded, quiet cottage. The layout is a bit unconventional: one big room in front with King bed and sitting room/TV area--but very spacious and comfortable. Kitchen and bath at the back with everything you need. Huge covered back "porch" to keep out of the weather if needed, and right on the edge of a beautiful tidal creek...We were able to launch our canoe, although limited by the tides. Incredible sunrises over the creek, so get up early! Glad we brought our binoculars to check out the birds on the creek. We had fine cell service (AT&T) so could look things up/review emails easily with our smart phones despite the lack of wifi. Only thing I wish I had brought were some slippers as the nice hardwood floors did get cold. Very much appreciated the nice pair of heavy cotton bathrobes! Breakfast foods were also provided: coffee, tea, orange juice, cereal and bread, butter, jam. Outside, there was a nice big yard/field to play frisbee or to watch the deer in the morning. There were a few biting gnats, even in January, so bring some bug repelant if you want to spend some time on the creek in canoe or kayak.
Carola
2017-01-27T00:00:00Z
We had a great time! The cabin was perfect for us and had everything we needed! We will be back for sure!
Sommer
2016-05-16T00:00:00Z
This country cabin was the perfect get away from the city. The hosts were very precise and left great instructions. I have never seen so many stars!!! George and Shellie even had breakfast goodies for us. Would stay again!!
Laura
2016-08-01T00:00:00Z
I have never been in the position of leaving a negative review. We stayed here three weeks, so we had some time to get to know the quirks of the place, beyond the beautiful Spanish moss and sunrises. The water is sulphuric, so just know your showers will smell like sulphur and you need to buy drinking & cooking water. Though it may be a feature of the region, we didn't know. There is no wifi as we knew, but additionally we had no service for our cellphones (tmobile or AT&T). One night, a giant cockroach crawled up my girl's leg and woke her up. There was a black widow on one of the rocking chairs outside another night. All these things, however, we were willing to look the other way – the outdoors is beautiful, the cabin tranquil, we had privacy, and the price was right ($45/night for 3 weeks). Quirks and nature don't matter if the price is right, even scary bugs. On our last day, we wanted to make a nice breakfast to toast our departure, and decided to turn on the blender for a smoothie. It started smoking in less than a minute. We turned it off, and set down a hot pot at the same time, which melted a part of the countertop vinyl. We showed George this, and I offered to pay in full any damages to replace the vinyl. Hours later, I get a text from Shellie asking us to pay over a hundred dollars for the vinyl, the already broken and dangerous blender, and a supposedly broken chair. Upon further inquiry, the story changed and the chair turned out not to be broken, but missing a section of surface pleather on one of the arms. We did not damage the chair, though she insists we did. We didn't take pictures of the place when we entered, but I suggest you do if you decide to stay here! I have paid the "reduced" price they asked for ($40 for the vinyl and $40 for the chair). This experience ended our stay in Georgia on a sour note.
Isabelle
2016-07-07T00:00:00Z
Great spot to get away from all the noise. The cabin is very quaint and right on the river, provides a nice view of the sunrise. We wouldn't hesitate to stay there again.
John David
2016-06-20T00:00:00Z
This was a fantastic cabin in a well secluded area. The only noise we heard all weekend were the birds and the wind! I can't express enough how relaxing it was. Coffee on the back porch will make you reconsider leaving! Thank you again George and Shellie! We hope your future guest enjoy their stay as much as we did.
Rachelle
2016-11-06T00:00:00Z
This Cabin was great. Very peaceful and private. We really enjoyed spending time on the back patio and soaking in the atmosphere. George and Shellie provided drinking water and breakfast food which really made a difference for us. All in all, this is a good getaway place to stay and I would come again. Shellie made sure we made it safe and had everything we needed.
Kent
2016-09-05T00:00:00Z
Typ pokoje
Celý dům/byt
---
Typ nemovitosti
Srub
---
Ubytuje
2
---
Ložnice
Brunswick, Georgia, Spojené státy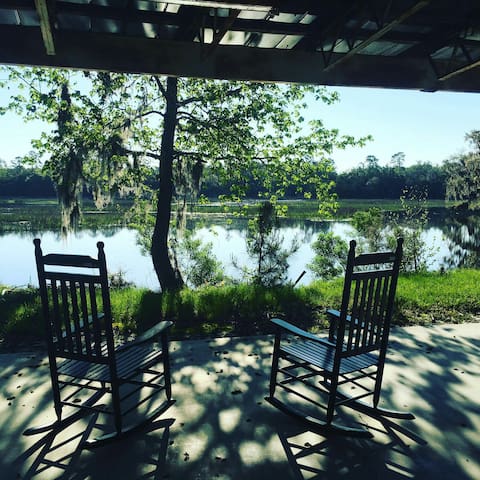 This spacious country estate is perfect for leisure and business travelers. Escape the hustle and bustle of everyday life with a quite stay. Southeast Country Estate. Located 10 minutes from the historic Blackshear downtown shopping and dining area.
Awesome experience! Great hospitality and the place looked exactly like the pictures except it was bigger than expected so that was a bonus! Very clean and just a great stay all around, this place is highly recommended!
Ellie
2016-12-18T00:00:00Z
Typ pokoje
Celý dům/byt
---
Typ nemovitosti
Dům
---
Ubytuje
6
---
Ložnice
Blackshear, Georgia, Spojené státy
Quaint & comfortable with lots of light. Outdoor shower FOR RINSING THE SAND OFF...... (AND INDOOR FULL BATH) & fire pit. Nestled behind a privacy fence and once you open the gate you walk into your own private get-a-way. Located in the south end of Oldtown Brunswick. 15 min from beaches.
Comfortable queen bed . Washer/dryer. Huge windows with a lot of light.
On street parking . Across the street from a convenience store. Lived in Little House for 25 years and this is a safe neighborhood. Park is on Grant Street and Catholic church and school are by the park. It is a quaint little cottage and is not the Ritz and is not in your usual cute little cul-d-sac. It is a mixture of ethnic backgrounds and cultures and most neighbors have been there for years.. Moved because my grandson came to live with us and needed a larger place. WE are across the street from the port authority and you will hear occasional ships' horns and train whistles.
This was our second stay at Sunset Cottage so we clearly enjoy the space. The yard is lovely and the location very convenient for our purposes. The house itself is homey and whimsical and easy to feel at home in.
Wendy
2016-04-24T00:00:00Z
THIS IS A VERY UNIQUE ABODE. CREATIVELY AND WONDERFULLY DECORATED. AS YOU STROLL OVER THE WALKWAYS AND ENTER INTO THE STRUCTURE, THOUGHTS OF WALKING THE DECK OF A CLASSIC WOODEN SAILBOAT ON A GENTLY ROLLING SEA WHILE MAKING WAY FROM A BANANA REPUBLIC MAY ENTER YOUR MIND. CLOSE IN TO THE HISTORIC DOWNTOWN AND ACROSS THE STREET FROM THE WATER.
Bob
2016-10-21T00:00:00Z
My roommate and I absolutely loved the Sunset Cottage! Both the cottage and Gloria make you feel so welcomed. She has done a fabulous job making the cottage the perfect place to get away! We spent the majority of the time either riding the bicycles that she has for her guests or in the outdoor shower. We both cannot wait to go back!
kinli
2016-07-16T00:00:00Z
Place was like our own private haven! Very clean. Comfortable bed. Gloria left a small gif basket for us as well as water and wine! So nice and welcoming. Gloria was available for anything we needed. About 15-20 min away from Beaches.
Patty
2015-09-23T00:00:00Z
What a delightful treat it was staying at the Sunset Cottage. Gloria's excellent communication made it easy to gain access to the house even though our check in time was near 2:00am. The decor is whimsical, charming, humorous and perfect for the setting. The house is generously stocked with necessities. The yard is a tropical party waiting to happen. The location was great for day trips to the lovely Sea Islands and Savannah and Jacksonville. We left behind an item after checking out which Gloria promptly mailed it to our home. Gloria was the perfect hostess.
Georgia
2016-02-21T00:00:00Z
We can't say enough about our stay at Gloria's place. It's a comfortable, unique cottage in Historic Brunswick. Just a short drive to Jekyll and Simons Islands. Loaded with anything you need to make your stay the best. The privacy fence around the property made the stay even more enjoyable not worrying about our dog, who was also made very welcome.
Edward
2017-03-20T00:00:00Z
Gloria was a fantastic host offering a cosy cottage full of charm. The yard is very private with lots of nooks and crannies to read and a fire pit ready to go with wood and starter. She had snacks awaiting us as well as bottle of wine. The location was an easy walk to downtown and an easy drive to beaches.
carmela
2015-12-30T00:00:00Z
We've stayed here several times and love the cozy, homey feeling of the cottage.
Wendy
2016-09-28T00:00:00Z
Typ pokoje
Celý dům/byt
---
Typ nemovitosti
Dům
---
Ubytuje
2
---
Ložnice
Brunswick, Georgia, Spojené státy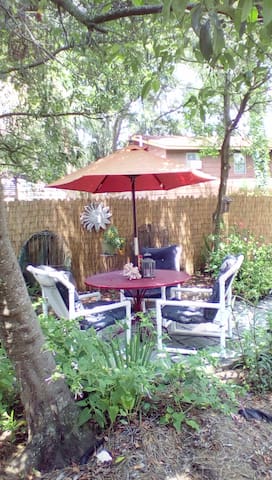 "Can you believe this is our life?!" I spontaneously proclaim throughout the day. We recently moved here and I am filled with awe and gratitude. In order to share our blessing, we quickly began to renovate outside storage into Coastal Cottage. Coastal Cottage is less than a mile from the Jekyll And Saint Simon's Island causeways and from Historic Downtown Brunswick. Savannah and Jacksonville and their airports are an easy hour away. Big and little friends welcome.
We are excited about sharing our new hometown with you! Our plan is to keep this space very affordable so that you can pack in lots of days enjoying this breathtaking beauty. Please note, though is listed as two bedrooms, Coastal Cottage has an open floor plan, the double and single mattresses are in the open loft in this 20 X 20 beach cottage. The loft has an additional air conditioning unit which can be used as to keep cool day and night when the weather is hot.
What we fell in love with here is the diversity of people. Unlike many beach towns, this is a real hometown with various socio-economic groups living and working together. Beach access is all free and the marshes, parks, recreation facilities, restaurants, etc. reflect the beauty of the many people who call this Brunswick home. We live in Windsor Park. A quiet family neighborhood with the feel of a time gone by. People walk their dogs, visit with neighbors, have picnics and watch out for each other.
Terry and Chris' place is perfect. There is everything you need, even more (delicious biscuits), it is very cosy. Terry and Chris are very nice, ready to help and it is easy to communicate with them.
Manon
2017-03-03T00:00:00Z
Terry and her husband were amazing hosts. I would highly recommend staying there. Their place is spotless, has all necessary amenities and additional goodies, is in a great location, and is so adorable. I hope to return to their lovely abode some time soon.
Stacy
2016-10-26T00:00:00Z
Upon arrival Terry communicated very well about the check in process. The art work, cleanliness, and extra traveling supplies make this costal cottage really a unique experience. We traveled with three young children, and the loft and outdoor extras added a special touch for the kids. It was just enough room for our short thanksgiving trip and the kitchen was more equipped than we could have imagined. The private area was just what we needed for our family vacation. Their location was also convenient to the local stores and beaches. We look forward to visiting again in the near future!
aysha
2016-11-26T00:00:00Z
Terry and Chris were very easy to talk to and work with, whether to use the bicycles they offered, or to do laundry. The location is not really walkable to anything, but with a car, one can visit all of the beaches and salt marshes the area has to offer. It is a smaller space, but everything you might need is all there. The yard is loaded with pretty greenery, and the public outdoor spaces welcoming.
Wendell
2017-03-23T00:00:00Z
Such a wonderful and cute place! Would highly recommend! Terry and Chris were so easy to coordinate with and we had a great stay. Super clean and they even had snacks for us for munch on. Can't describe how pleased we were!
Brooke
2016-10-28T00:00:00Z
My husband and I truly loved our stay at the coastal cottage and can't say enough good things about it! The cottage itself is gorgeous, so clean and comfortable, nicely decorated and fully equipped with all amenities (such as a fully functioning kitchen). It was so lovely to be able to relax for a few days, we felt very much at home and would gladly come again. I cannot recommend the cottage enough! Terry and Chris were great as well - friendly, communicative and helpful. We experienced no problems with the check-in or the general communication. Thanks for having us guys, we thoroughly enjoyed ourselves! Victoria & Lukas :)
Victoria
2017-03-16T00:00:00Z
The Coastal cottage is quickly become a new home away from home. Terry and Chris are very kind and genuine people. We look forward to staying again.
Christy
2016-11-06T00:00:00Z
Coastal cottage is a gem! Delightfully appointed and very clean. It was the perfect respite on our driving vacation from FL to VA. We fit well in the cottage - as a family of five. Terry and Chris has so many lovely amenities - it was hard to leave. This is certainly a place I'd love to spend more time at! Thanks for a great experience!
Kelley
2017-03-11T00:00:00Z
Typ pokoje
Celý dům/byt
---
Typ nemovitosti
Bungalov
---
Ubytuje
5
---
Ložnice
Brunswick, Georgia, Spojené státy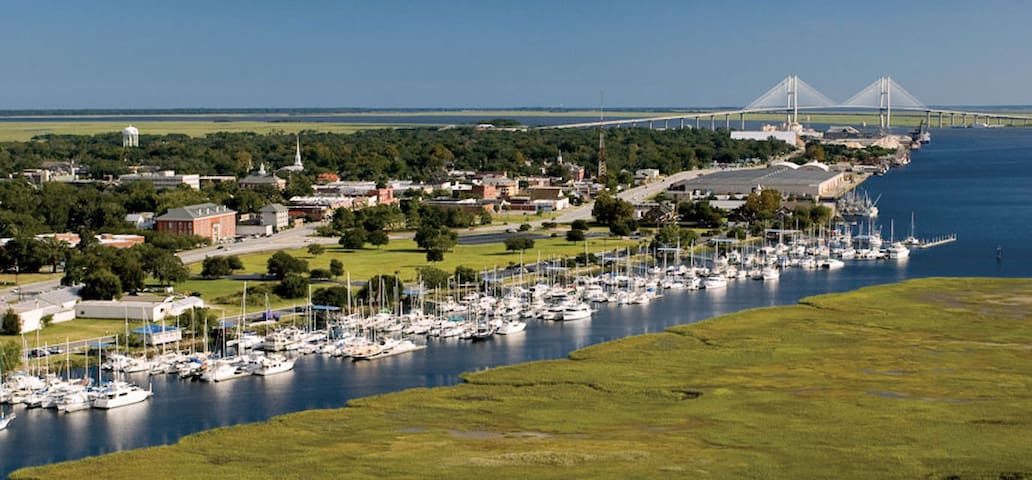 Our studio apartment is within walking distance to the attractions in Downtown Brunswick. We are near Jekyll Island State Park, St. Simons Island, and all of the other attractions of the Golden Isles! We welcome couples, solo adventurers, and business travelers.
Our studio apartment sits behind our home and on top of a detached garage. It is located in Historic Downtown Brunswick, GA and is within walking distance to a great downtown!
Awesome!! These guys are doing it right.. second time staying here. Thanks!
Amanda
2016-12-22T00:00:00Z
We loved this place! The hosts are very welcoming (fresh fruit and flowers!) and the apartment is nicely laid out and was equipped with everything we needed for our stay. There is much natural light which helps give an air of spaciousness! It is very convenient to lots of activities and sights in the area. We will definitely look into staying here again next time we visit the Georgia coast.
Mary
2017-03-30T00:00:00Z
Great little apartment in a beautiful area!
Meredith
2017-01-09T00:00:00Z
Loved staying at Megan's apartment, she was an excellent host and the apartment worked out perfectly! Looking forward to staying again next time I'm in the area.
Jennifer
2016-12-04T00:00:00Z
Good sized apartment within easy reach of the centre of Brunswick. Very clean and well equipped. Megan's family were very welcoming. If you are looking for something to eat we'd recommend Island Jerk on Mall Blvd.
Nigel
2017-03-23T00:00:00Z
Great space ! Tons of room, comfortable & very inviting.
Tabitha
2016-11-20T00:00:00Z
Very cozy and creative place! We loved our stay and hosts! Lots of great home touches, including great local baked bread. Would stay again!
Amanda
2016-12-23T00:00:00Z
Megan really has put together a wonderful property and she goes the extra mile to take care of you by providing the small incidentals that make all the difference. A fantastic rental in a really picturesque neighborhood which is minutes from wonderful natural beauty. Highly recommend!
James
2016-12-29T00:00:00Z
Typ pokoje
Celý dům/byt
---
Typ nemovitosti
Byt
---
Ubytuje
2
---
Ložnice
Brunswick, Georgia, Spojené státy
Canoe provided. Or bring your boat to the St Mary's River, enjoy peaceful days and relaxing nights on the Florida/Georgia line. Floating dock, screen porch, kitchen, bath. Sleeps 3-4, fullsize bed. Located between Okefenokee Swamp and Cumberland Island National Sea Shore. Owners live in main house on property.
Two room cabin with kitchen and bath/shower over looking beautiful St. Mary's River. Private dock. Canoe provided. Kitchen includes microwave, hot plate/griddle and refrigerator. Charcoal grill on porch. Bring charcoal. Welcome to bring kayaks, fishing gear, boat, etc. Full size bed in bedroom. Two twin foutons in living room. Great location to stay for day trips to Amelia Island, St. Augustine, St. Mary's, Cumberland Island, Okefenokee Swamp, Jax Beach
Secluded. Private. Main house is on property
Bishop's house is a really special place. The location is stunning, right on St. Mary 's river, and the walk up to the house through the trees is really charming.
Catherine
2016-09-21T00:00:00Z
Going to this cabin was an amazing experience. Such a nice quiet spot on a beautiful river. My girlfriend and I had a great time.
Romulo
2016-01-18T00:00:00Z
Prompt and good commuication with the host. This place has so much going for it...great location for going to the Okefenkee Swamp (which was what I was there to do) and overlooking the St. Mary's River. Sitting out on the deck in the evening with a beer watching the birds and squirrels and the river was great after being out and around all day. When it got a little buggy, the screened-in porch was perfect. The cabin is basic but fine. I personally had a allergic reaction to the small bedroom and used the futon sofa in the living area for a bed. As I think some other reviewers have mentioned there isn't a real bed in the cabin, just the sofa and a fold-out chair. I had my Thermarest pad with me just in case, so was fine. I brought a microwave dinner with my other road food and didn't worry about cooking. Just enjoyed the wonderful setting.
Susan
2016-03-22T00:00:00Z
If you are looking for peace and quiet with a fantastic view then the St. Mary's cabin is your place. Fishing and canoeing are an added bonus to the serene environment. If you require a certain degree of comfort in the sleeping and bathing accommodations the temporary type beds may prove to be a challenge. Bishop and his parents are responsive and gracious hosts. I am certain with a few tweaks the cabin would be the jewel of St. Mary's River.
Vicki
2016-05-04T00:00:00Z
Host is extremely responsive and helpful. The cabin is a rustic beauty. We LOVED the large porch, dock and canoe. The river is gorgeous and the space perfect for a little R&R. We love to BBQ, so that worked perfect for us, but we did think electric stove top, instead of electric griddle as far as the kitchen is concerned and had one meal planned that we had to readjust with just griddle. So don't read that wrong like we did, the electric griddle is great for eggs, bacon...etc. little harder for boiling rice.. etc. Overall, wonderful spot, great host and a repeat trip will hopefully be on our future.
Monique
2016-08-01T00:00:00Z
The cabin is exactly as it's pictured ! Loved the location , a little small town near the FL/GA line . We had a small incident with spiders the first night but all the host were more then understanding and looked over the property with us the next day just to make sure we were comfortable. All you really needed was food + charcoal (if you plan on grilling). Moe was a frequent visitor and was more then happy to just hang out on the porch when we were outside. Biggest plus for me was the host has lights strong out on the walk way up on on the deck out back , added a little extra to our nights.
Aaliyah
2016-08-15T00:00:00Z
What a wonderful weekend at this cabin on the river! It was perfect for our HRC Hunt Test at SSJ Farm Quail Preserve. Only 5 minutes away. The cabin was exactly as described and we really enjoyed our stay. Thanks Bishop...we will come again.
Anne
2016-09-12T00:00:00Z
Location was perfect
Melissa
2016-10-26T00:00:00Z
Typ pokoje
Celý dům/byt
---
Typ nemovitosti
Srub
---
Ubytuje
3
---
Ložnice
Hilliard, Florida, Spojené státy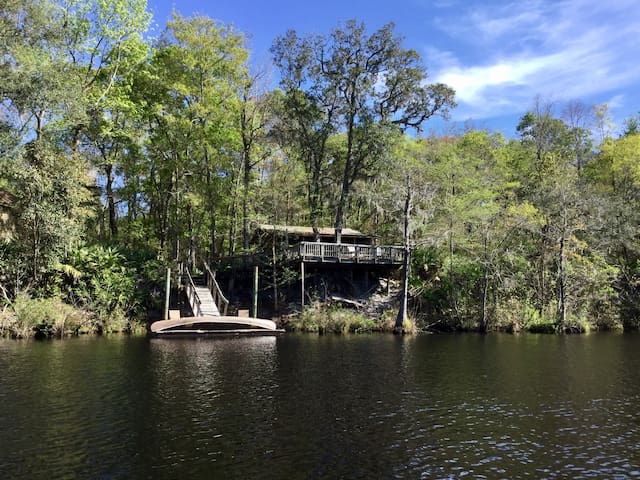 Lovingly restored Victorian home in historic Old Town Brunswick. Centrally located to beaches, golf, nature trails, local eateries and boutique shopping. Perfect for a couple or a family.
Typ pokoje
Celý dům/byt
---
Typ nemovitosti
Dům
---
Ubytuje
8
---
Ložnice
Brunswick, Georgia, Spojené státy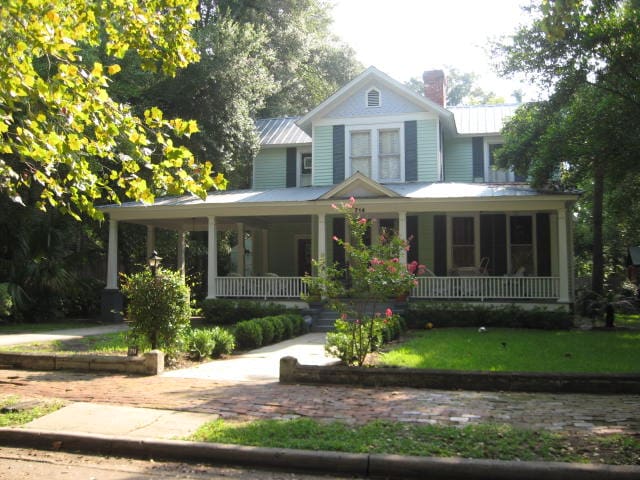 Beautiful Southern Victorian home in the charming historic district of Downtown Brunswick, GA just minutes from the beaches and golf courses of Jekyll and St. Simon's Islands. 4Bed/3.5Bath sleeps 10.
Completely restored, the Main House features 12' ceilings, 8' paned windows with plantation shutters and hardwood floors through out, the finest in furnishings and linens, and all modern conveniences (Central Heat/Air; Washer/Dryer; WiFi). Walk in from the front porch (with porch swing) and you will open to a magnificent staircase foyer with a powder room. There is a beautiful sitting room with gas fireplace and bay windows and the dining room seats 10 (high chair also available). The kitchen boasts a professional grade gas JennAir stove, stainless steel refrigerator, microwave, coffee maker and two dishwashers. There is plenty of seating in the den along with TV (w/Comcast) and DVD Player. The 1st Floor Master Suite has a king size bed and flat screen TV along with a private bathroom featuring a custom tiled, dual head, walk-in shower. The upstairs has a hall bath with claw footed tub/shower. There is a bedroom with a queen bed and another with a king bed - both with ample closet space and nonworking fireplaces. The Upstairs Master Suite has a queen bed and flat screen TV - private bathroom with dressing room, dual sinks and custom tiled walk-in shower. The upstairs hallway opens to the upper porch with its own porch swing. House Amenities: Central Heat & Air Conditioning * Completely furnished kitchen * Washer/Dryer * Linens and towels * Private Courtyard with Fountain * WiFi throughout house*
Historic Brunswick is a beautiful tree-lined neighborhood of grand old southern homes. You can walk 2-3 blocks to the charming downtown area with restaurants and antique stores. Less than 2 miles away is the causeways to the Islands of Jekyll or St. Simons. You can be on the beach in 15 minutes.
The place was fantastic. The experience was great! Highly recommend
Molly
2016-06-13T00:00:00Z
Great stay wish I could have stayed longer. Easy check in and out. House is better than advertised. Will stay again hopefully soon.
Brad
2016-04-16T00:00:00Z
Rose our host and Stacie the property manager made it so very easy to check in and check out. I love that we were able to bring our dog and our family and their aren't petty additional fees for everything. The price you see is what you get and with that said you get an amazing HOME while visiting St. Simon Island and Brunswick. Our stay was way too short (only a weekend) to watch my son play college baseball. The house had everything you need to make you feel completely at home but completely away on vacation. We loved the courtyard and the kitchen made it easy to eat breakfast and dinner in the house everyday. We traveled to St. Simon one day and the Copper Pig another. We were sad we didn't have more time to explore the Downtown where we head that only two blocks from the house was a great place called Tippsy McSways. This home is definitely worth every penny and I recommend it for four couples to do a great getaway with each bedroom being very comfortable, clean and romantic. Or it makes a super family house too. Our parents loved that there was a master bedroom downstairs and my husband and I loved that there was another master upstairs. My nephew and son each had an awesome room too to spread out in. The neighborhood, being that it is the historic district, is older and the street the house sits on is a great walk with Mossy Oak all down the street. Behind the house are some run down houses but the neighbors were quiet nice. Thanks again Rose!!! you did an amazing job renovating the house and yet keeping it's old charm! Thank you Stacie for keeping the house so clean and making check-in and checkout a breeze! We would love to come back!! Margaret & Todd Castor and family.
Margaret
2016-04-06T00:00:00Z
We had a great time at this lovely, historic house. I would highly recommend this for family gatherings. It is close to Jeckyl and St Simons Islands, but also really close to the quaint downtown Brunswick. The kitchen was well stocked with all essential utensils and the place was really clean with a nice layout. There are two master bedrooms, two other bedrooms and plenty of places to sleep.
Ryan
2016-08-16T00:00:00Z
We had a small family gathering at the Victorian. Everything we needed for cooking was there. It's the only place we have stayed that had knives that could actually slice a tomato. And there was a sharpener there also. We had a cookout on the brick bbq. Plenty of seating inside and out. Plenty of nice plates and silverware. We had a really nice room with a great double shower head. The other family members also commented on the nice rooms. We plan to book again next year or sooner.
Elaine
2016-04-12T00:00:00Z
Perfect historic house with great accommodations.
Noe
2017-01-16T00:00:00Z
Great location and HUGE house! Every room was very large and everyone was happy with the accommodations. We had 2 different families in the house and had a get together before graduation with 15+ people and everyone was very happy with the home.
James
2016-12-14T00:00:00Z
Loved the space! Lots of room. Kitchen is big and open to family room for easy entertaining. Great possibilities for outdoor entertaining. Convenient location to Jekyll and St. Simon's Islands. Need to improve Wi-Fi on second floor.
Gina
2016-09-05T00:00:00Z
Typ pokoje
Celý dům/byt
---
Typ nemovitosti
Dům
---
Ubytuje
10
---
Ložnice
Brunswick, Georgia, Spojené státy
I think you will like my place! Its like a beach house, because I love the beach! To me its a tropical paradise, with over 30 large palm trees, & lots of bananna trees in the summer. You may see various wildlife that live along the creek bank. Im close to restaurants, nightlife, Historic sights, hospital, shopping & FLETC (5min). St Simons Island is about 15 minutes away & Jekyll Island about 25 minutes. . My place is good for couples, solo adventurers, and business travelers. Airport nearby!
The unit may have been a 2 car garage @ one time, and I just recently updated the entire place. Its a nice "simple" casual place. You have CH&A, small stove/oven, full size refrigerator, microwave, coffee pot, toaster oven, dishes, pots, starter coffee, tea, sugar ect & I think all the basics you need. Im just beginning to host, so please bare with me, as i make improvements & updates! The bed is queen size, and the blue jean couch is comfortable. Its located on a tidal creek thats about 5' @ high tide & 0 @ low tide. I have caught fish off the bank before, & you can bring & launch your kayak...but dont get stranded when the tide goes out!
The neighborhood is a older established neighborhood with huge moss covered oaks & long winding roads. Its usually quiet, BUT there can be the usual noise because humans live, work & play around here. Its a great place to walk, ride your bikes or jog. Im located about 3 minutes to the Federal Law Enforcement Training Center (FLETC) front gate, and not far from the mall, hospital & islands. Theres several historic sites nearby, and lots of salt & freshwater waterways if you like boating & fishing! Theres also a convience store, Dollar General & Pizza Hut a few blocks away.
This was a great little place for my trip to the Airshow. I wish I could have stayed here longer, but I was only in town for the day. The suite is great. There is more floor space there than I thought there would be and a huge tv. Also, the view of the marsh is very nice. I sat in the bench for a little while in the early morning and went to St. Simons Island for breakfast which is only 15 minutes away. Schelley was very responsive and truly cared about my visit. Love this little place and will be back next year.
Andrew
2017-03-25T00:00:00Z
The place was as advertised, and a good value for the price. While we were briefly visiting, I certainly would've stayed longer if I could have. The neighborhood felt very safe, it was close to plenty of stores, and a short ride away from a few different beaches. Definitely a quiet place to relax after a long day. The host was friendly and accommodating, and made our short visit great. The main TV is huge, and I could tell the kitchen was newly remodeled. Final plus - the bed was actually comfortable.
Patrick
2017-03-26T00:00:00Z
Cutely decorated and very clean. Easy communication with Schelley and easy access to the property.
Melissa
2017-03-23T00:00:00Z
Great place and location! Everything you need and more! Definitely suggest if you don't want to pay island prices.
Melissa
2017-04-06T00:00:00Z
Good place to stay, pleasant and attentive host. Would recommend and repeat.
Jacob
2017-03-31T00:00:00Z
Typ pokoje
Celý dům/byt
---
Typ nemovitosti
Dům pro hosty
---
Ubytuje
3
---
Ložnice
Brunswick, Georgia, Spojené státy
A lovely country home on a private island. Located on a tidal river and creek. You can enjoy privacy, fishing, crabbing, nature walks, and beautiful views of marshland and river. We are located in the Golden Isles of Georgia and close to the beaches.
River's Edge Country home is located on a private island. There are only 4 other homes on the property. River's Edge is the only house on the right side of the roadway.
This lovely home exceeded expectations. Communication is a key to our comfort. We like to know what to excepct and these owners checked that box from the get-go. Prompt, warm, informative. Sorry we didn't meet them, but their hospitality was evident the moment we arrived. Every detail was well thought out. We felt welcome and pampered in their home. The property was immaculately clean. They provided a variety of breakfast treats and a great bed. We were delighted with the beautiful scenery... I can't imagine what else you could want. It was very seculuded, a long, scenic road assured privacy. We saw lots of deer and great birdwatching. Wish it could have been a longer visit. We are looking to relocate to the Georgia coast, and this was a great introduction to what this area has to offer.
kate
2016-09-05T00:00:00Z
Would love to have chatted more with George and Shellie but we just had such full days exploring the area and only got back later in the evenings. When we did chat it was great to hear the history of the farm and the area.
Mark
2016-07-19T00:00:00Z
We were made to feel warmly welcomed. Our arrival was stress free thanks to Shellie's detailed instructions. Our hosts were readily accessable to answer any needs or concerns. The location was convenient to all we wanted to do during our stay. The home was tucked away in an oasis of moss draped live oaks. Very peaceful. The accommodations were spacious, well appointed, clean, and a pleasant respite after a busy day of activities on St. Simon and Jekyll Islands. My wife and I would gladly stay here on a return trip.
philip
2016-07-12T00:00:00Z
Great stay for relaxing weekend.
Kathy
2017-01-02T00:00:00Z
This property is accurately represented by the host's description and pictures. We loved the remoteness and the peace and quiet of this location! Very close to St Simon's Island and Jekyll Islands. Property was clean and well stocked for a great getaway!
Amy
2017-03-05T00:00:00Z
We just got home an hour or so ago and we want to go back. As far as we are concerned, staying at River's Edge is all a vacation should be. Returning at the end of the day was not an end. It was a continuation of delight. I do not have enough space to list: the peace and quiet, the afternoon sun through the live oaks, the view of the marsh, the deer in the yard, the morning mist, relaxing on the screen porch, the end of the road privacy, the unusual secluded yet near everything location. If one doesn't want the hustle and the bustle and the noise, this is the place. We never turned the TV on in 5 days because the place was too nice to waste time with it.
Sharon
2017-02-25T00:00:00Z
We enjoyed our quiet getaway at River's Edge. The house was comfortable and well-equipped with everything we needed. It was so quiet yet close to wonderful restaurants and the islands. We especially loved the daily encounters with deer, horses and birds. We hope to come back!
Janet
2017-03-28T00:00:00Z
Absolutely stunning home and beautiful enchanting landscape. Enjoyed walks around the property and watching the wildlife and the tides. Highly recommended!!!
Andrea
2017-03-01T00:00:00Z
Typ pokoje
Soukromý pokoj
---
Typ nemovitosti
Apartmán pro hosty
---
Ubytuje
2
---
Ložnice
Brunswick, Georgia, Spojené státy
quiet, overlooks the gold course, nestles under the trees , clean and beautiful.
Typ pokoje
Celý dům/byt
---
Typ nemovitosti
Řadový dům
---
Ubytuje
2
---
Ložnice
Saint Simons Island, Georgia, Spojené státy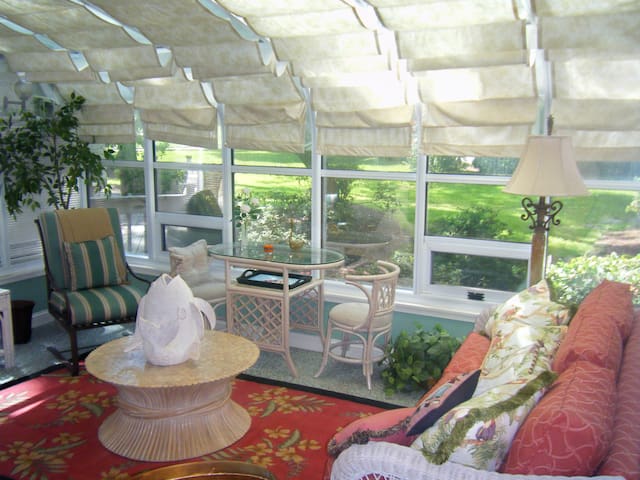 My place is close to the beach, family-friendly activities, nightlife and dinning. You'll love my place because of the location is only minutes from the island without high cost . My place is good for couples, business travelers, and families (with kids).
Great house for a stay in Brunswick. I especially appreciated the kitchen basics that Jo provided for our stay (salt and pepper, full knife drawer, olive oil, etc.) which made cooking and grocery shopping very easy. House was immaculately clean. Overall great spot to stay.
matthew
2017-03-19T00:00:00Z
The house was excellent and super clean. Very spacious.
Mario
2017-02-26T00:00:00Z
Typ pokoje
Celý dům/byt
---
Typ nemovitosti
Dům
---
Ubytuje
6
---
Ložnice
Brunswick, Georgia, Spojené státy
Come stay with us in our relaxed and comfortable c.1900 Queen Ann style home! 2cd floor room, queen bed, private bath with tub or shower, wifi, cable tv in common rooms. Full breakfast option for $5pp Vegan/Vegetarian Friendly!
Comfort & charm close to FLETC, beaches, great dining & more. Private room & bath in Artists residence with keyless entry located in Historic Olde Town. Stained glass, WiFi. TV in common rooms.
Great old town historic neighborhood with double carriageway and fantastic live oaks.
Rusty and Catherine were amazing hosts. I could not have asked for a better experience. Our time with them exceeded any expectation I had. Beautiful home and wonderful people. It seemed like we became friends as opposed to guests. The home is in a great area and there is plenty to do within walking distance or a short drive. I recommend going to Jekyll Island. It really shows off America's untouched beauty.
Perry
2016-10-02T00:00:00Z
What a Gem! We had such a lovely time in this beautiful home along a stunning tree lined street. The space was extremely clean and loads of attention to detail was given. We had a fabulous breakfast each morning consisting of fresh fruit, homemade granola, yoghurt and muffins. What a treat! We would highly recommend this spot to stay a country of nights. There is loads to do in the area and it was an excellent base! Thank you for having us. Much appreciated!
Sydney
2015-05-25T00:00:00Z
I can't imagine a better host experience! I made the reservation very last minute and was not very good communicating my arrival time that day, but Mimi was very gracious! Catherine and Rusty are best friends of Mimi and David and were our hosts for the weekend. They were incredible! They have such a gift of hospitality. From the moment we arrived we felt loved, and were able to hang out and talk about the neighborhood and all the best things to do in the area. We were able to hang out with Mimi and David the next morning after our arrival, and the six of us (my wife was with me) were just conversing like old friends over coffee and breakfast! Oh, and I love dogs and both that are around are the BEST. The is a beautiful old late Victorian from the early 1900s, and is in pristine condition. The neighborhood is a designated historic district and there is a very tight nit community of folks from various countries who have made Old Brunswick home, and care deeply about investing into the good of the neighborhood. We have no need to ever look for another place to stay when we are back in the Brunswick area and we hope to visit and stay again very soon with our new friends!
Lee
2016-03-05T00:00:00Z
My boyfriend and I had an absolutely lovely and pleasant stay at MiMi's BnB. Before we even arrived at MiMi's house, the exchanges via email with MiMi were so helpful, kind and informative. Although MiMi herself was not there (she was away on business) her friends were there to welcome us when we arrived.They gave us a tour of the gorgeous home and even offered to recommend things to do and places to eat in the area. The room was well air conditioned and stocked with a mini fridge, microwave and kettle with tea and coffee. The bed was unbelievably comfy and I think I had the best nights sleep. Breakfast was laid out on the table once we woke up and we spent the whole morning talking with Rusty (MiMi's friend). I can't wait to stay here again on my next visit to Brunswick/St.simon's Island. Thank you so much MiMi, and Rusty and Catherine!
Sarah
2015-06-05T00:00:00Z
My husband and I had an awesome experience staying at Mimi's! The pictures really don't do justice to the beautiful historic home they live in. We stayed in Brunswick for easy access to Jekyll Island...before heading out to the beach, Mimi gave us a delicious breakfast each morning (including her homemade yogurt and granola) and we would have coffee in their lush backyard patio garden. Mimi and her husband were both very friendly and forthcoming with recommendations for restaurants and activities on the island. Great experience!
Megan
2016-03-17T00:00:00Z
We live on a sailboat and lived in Brunswick for several months in 2013. When our boat broke down in Cape Canaveral en route to St. Simons for a week of work, we found that we needed to find a B&B to stay in. Mimi's beautifully appointed c1900 home on Union Street in Brunswick's historic district was an absolute delight (as was Mimi and her dear, sweet dog Rosie). We walked everywhere and discovered downtown parks that we didn't know existed. We learned about the town's rich civil war and WWI shipbuilding history (hence the fabulous homes and architecture). We had fabulous dinners in little bistros within blocks. On Easter morning Mimi excitedly handed over the binoculars to show us the first painted buntings of the season, feeding from her resplendent back yard. I call Mimi's backyard "The Secret Garden" … it just looks that way. The accommodations were splendid, the spirit ever so nurturing and the setting scrumptious … all kinds of other little things made our stay a virtual vacation, when we were actually working. Just a lovely place to come home to each evening … and then walking out to enjoy exploring yet another little part of the downtown. An added bonus - minutes to 95, to FLETC, to St. Simons, Jekyll Island … a perfect, safe haven!!! Mimi couldn't be a more gracious and professional host.
Judith
2014-04-24T00:00:00Z
Seriously, staying here is a dream! There is so much history in this house and on this street. The hospitality and ambience make this such a restful southern retreat. We love staying here!
Lee
2016-05-09T00:00:00Z
Rusty and Catherine were very gracious hosts. They had lots of recommendations for Brunswick as well as St. Simon's Island and Jekyll Island. Both were charming, warm, and talkative, and it was a pleasure chatting with them in the morning over coffee. The house is a stately old home, very well kept and beautifully decorated. There's not a whole lot to do in Brunswick itself, but some good restaurants are within a short walk and access to the islands is easy. We had a very relaxing stay and were well attended to. Next time we're planning on being in the area we'll definitely check to see if there's a room available here!
Desiree
2016-09-05T00:00:00Z
Typ pokoje
Soukromý pokoj
---
Typ nemovitosti
Penzion (B&B)
---
Ubytuje
2
---
Ložnice
Brunswick, Georgia, Spojené státy
My place is good for couples, solo adventurers, business travelers, families (with kids), and furry friends (pets).
Typ pokoje
Soukromý pokoj
---
Typ nemovitosti
Dům
---
Ubytuje
4
---
Ložnice
Jesup, Georgia, Spojené státy
This spectacular house overlooks the Saint Mary's River and is 45 minutes north of Jacksonville, Florida! This beautiful home features a 50' dock and two large decks overlooking the river, which are linked by a wide staircase. Absolutely pristine setting, nestled amongst verdant countryside and beautiful mature trees, yet only minutes from the towns of Folkston, Hilliard and Callahan.
This comfortable home has been newly professionally renovated and offers hardwood and tile floors, a large master suite with king sized bed, a second bedroom that can sleep three, a third bedroom with queen sized bed that can sleep two, three bathrooms, a huge family room (sleeps another two on comfortable queen size fold out Serta sleeper ), large foyer and living room with 15' ceilings, crown moldings, hardwood cabinets, granite counter tops, stainless steel appliances, custom blinds and silk lined curtains Floor plan is open and flows very nicely - perfect for relaxing and entertaining!
You can launch your boats and jet skis at a high quality boat ramp facility with a park and beach a few hundred yards down river. This house is situated on a large and private nicely landscaped and treed lot in a well established, safe, and friendly neighborhood that is extremely convenient to major access highways. A slice of heaven and perfect natural tranquility, yet located with excellent services within easy driving distance.
Typ pokoje
Celý dům/byt
---
Typ nemovitosti
Dům
---
Ubytuje
9
---
Ložnice
Hilliard, Florida, Spojené státy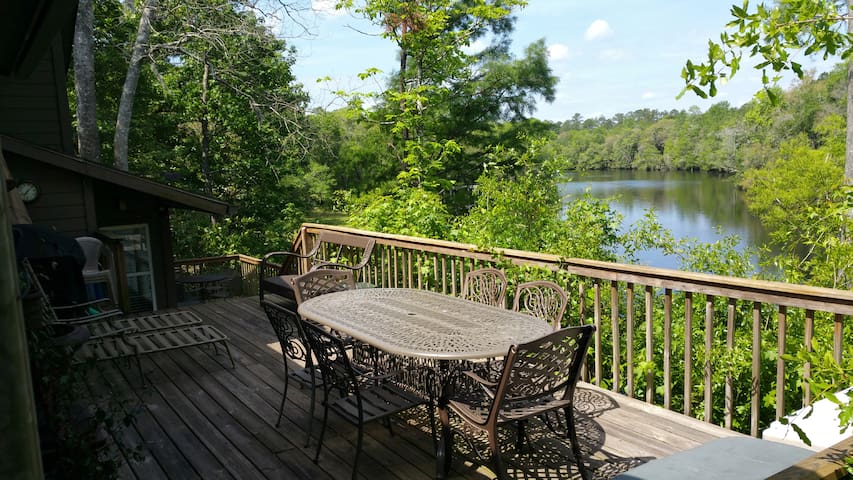 Pro zobrazení celkové ceny zadej termín. Mohou být přidány další poplatky a daně.