Zadej datum tvého příjezdu ve formátu dd.mm.rrrr
Zadej datum tvého odjezdu ve formátu dd.mm.rrrr
Nabídky ubytování, které můžeš rezervovat bez čekání na schválení hostitelem.
10 Pronájmy
· Nedre Eiker
10 Pronájmy
· Nedre Eiker
Pro zobrazení celkové ceny zadej termín. Mohou být přidány další poplatky a daně.
This is the second part of our semi-detached home in the hillside of Mjøndalen - near Drammen. We have 6 ordinary beds, but we can come up with two extra matresses on the floors if you want to. Se the pictures for details on our house.
Nice vew to the dam. Cot if you have a young child. Access to the garden. We live in the other end of the house.
SUMMER: You can have country walks / hiking straight from the house with many trails in the woods. Turf (football), mini-pitch and playground adjacent to the school 300 m from the house. Bathing spot at Hagatjern, 2.8 km from the house. We like to hike up to Hagatjern (lake) and walk around the lake (8 km trip) to this bathing spot. WINTER: Wonderfully groomed ski trails in the winter from MIF hut by Hagatjern. Many trails of varying length. Family friendly. Good trails also for training. Status of trails are updated online. Alpine skiing hill at Aron, about 10 km towards Drammen. DRAMMEN Drammen is now a very nice city. Nice to stroll a trip around the riverside. OSLO Oslo is not far away, by train or by car, with many things to visit and experience throughout the year. The easiest way to get here and get around, is by car. Public transport: To get here, you can take the train to Mjøndalen and bus up to the house. You may discover that the bus and train do not correspond so you may have to wait a bit. The buss stop is less than 100 meter from the house, and the bus takes 8 minutes to/from the center of Mjøndalen sentrum / the train station. We can help you find timetable on internet. In rush hours the bus arrives/leaves twice every hour. In evenings and saturdays/sundays it comes every second hour. It is also possible to walk down (2,7 km to the station) and up again - but we don't recommend doing this with luggage. From Mjøndalen there are trains going to Oslo, Kongsberg, Gardermoen (Oslo airport). We can help you find timetable on internet. Last time I checked, the train used 46 minutes to Oslo Central Station and 72 minutes to the airport. Heating: Fan convectors connected to our hydronic heating. Its possible to use woodstove with firewood.
Super nette Gastgeber !!! Wir haben eine wunderschöne Woche hier verbracht !! Gerne wieder
Yvonne
October 2016
Alltid like blid
Thomas
December 2016
Vi leide huset til vår familie. Vi fikk mulighet til å se på huset og snakke med verten på forkant noe vi syntes var kjempe bra. Familien vår føltes veldig vel i huset. De fikk ett koselig opphold der. Skulle vi trenge plass til folk igjen leier vi huset igjen.
Stefanie
September 2016
We only stayed one night, to be closer to Oslo for our flight out the next morning, but we wished we had longer at Kjersti & Runar's cosy family home. We met Kjersti on arrival and she was very friendly and welcoming. There was plenty of room for our family of 5 and was the place was spotless. It was a nice way to end our holiday in Norway. Thanks Kjersti and Runar.
Brenda & Bruce
January 2016
Altid like blid. :)
Thomas
January 2017
Thank you for a pleasant stay for our workers. They are very pleased with there stay. Kjersti and Runar was very nice, and they did their best so our worker should enjoy there stay. We hope we can come back on another occasion
Lise-Mette
April 2016
Det var fantastisk i Mjøndalen på vinterstid. Stort hus med mange soverom og ett fint bad. Vi sov godt og vi var så heldige å få en natt ekstra på kort varsel. Veldig behjelpelige. Anbefales.
Mathis
January 2016
Kjersti and Runar are definitely the best hosts that have ever existed on Earth! Starting with great accomodation, cozy rooms, super clean, with everything you need, full of space. Me and my friends felt very private during the whole stay, not to mention about beautiful neighborhood you can easily discover. They are wonderful people. Staying at their house made our trip amazing. I wish I could give 10/5 stars!
Aleksandra
April 2016
Typ pokoje
Celý dům/byt
---
Typ nemovitosti
---
Ubytuje
8
---
Ložnice
4
Nedre Eiker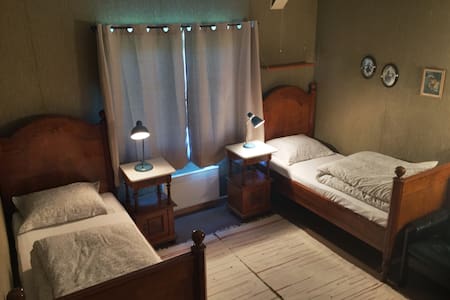 Dette var en sjarmerende hytte med sjel.
Camilla
March 2016
Our stay at Eva's place was really agreeable. The house was nice and warm, beautifully decorated and in a remarkably calm environment. Driving to Oslo takes less than an hour and directions are clear and easily followed. We would definitely stay there again given the opportunity, thank you!
Benoit
April 2016
We spent 3 wonderful days in the cottage. Great location, and perfect for our family of 3 children: 7, 4 and 3 years old. We could find everything expected and also more there: skis for all... We felt like at home... Thanks Eva! We will go back!
Judit
December 2015
2 more weeks in Eva's cabin. Its neer our work and everything was nice.
Lise-Mette
December 2015
We rent the cottage for 3 of our worker for 2 weeks. Everything was very nice . Thank you.
Lise-Mette
November 2015
Thanks for a pleasant stay for our work once again. We are very pleased with our cottage. Eva did here best so that we could enjoy our stay. We hope we can come back on another occasion
Lise-Mette
April 2016
Merci pour la jolie maison Eva ! C'etait très pittoresque. Dommage des problèmes avec l'eau et les plombiers qui nous évacuaient dans le matin.
Emelie
March 2014
The accommodation was very relaxing. We really enjoyed the woodburner, the dvd collection and the overall environment. Although it was closer to more build up areas then expected. But despite that right on the edge of woods and high up in the hills.
Susanna
January 2016
Typ pokoje
Celý dům/byt
---
Typ nemovitosti
---
Ubytuje
6
---
Ložnice
3
Nedre Eiker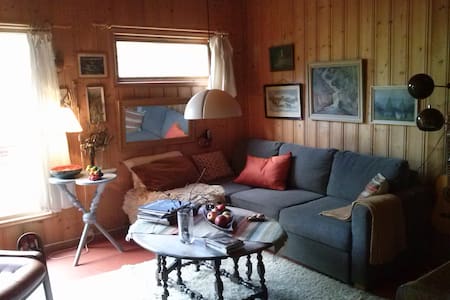 Rigtig hyggelig familie, god stemning og intet problem
Can Muhammed
September 2016
The host met the guest before the actual arrival to show where the key was. The host didn't show where the kitchen was, but considering all the rest, the stay was OK. Would recommend to someone who isn't looking for a luxury stay, but wants a good value for money.
Romualda
August 2016
Typ pokoje
Soukromý pokoj
---
Typ nemovitosti
---
Ubytuje
1
---
Ložnice
1
Nedre Eiker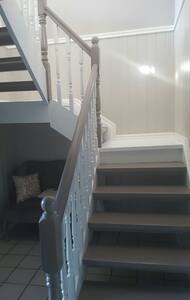 My appartement is close to great views. You'll love my place because of the environment and nature around . My place has two bedrooms, one is available for renting to AIRBNB good for couples and solo adventurers.
Typ pokoje
Celý dům/byt
---
Typ nemovitosti
---
Ubytuje
6
---
Ložnice
2
Nedre Eiker