Newly updated condo with garage. 1 mile from shopping and major freeway. Few miles from Selfridge and minutes from beautiful lake St. Clair.
Comfortable modern 2 bedroom 1100 sq ft condo with attached garage. Sleeps 4 people comfortably. Large bedrooms with walk-in closet in master bedroom. Full bath upstairs and half bath downstairs. Single car garage included
Great neighborhood that is safe and pleasant to live in. Family oriented community. Walking distances from major shopping centers and outlet stores.
Nice, clean and cozy home. Family friendly. Would stay again while in the area
Angel
2017-03-26T00:00:00Z
Place was nice and clean. Never had any problems getting in contact with Alex, replied within 5 mins. Definitely staying here next time.
Mirza
2017-02-05T00:00:00Z
Great host. Quiet and safe neighborhood. Nice neighbor. Great little place to stay for our trip to Detroit.
Sean
2017-04-02T00:00:00Z
Alex, was extremely responsive and a great host. The place was a fair price and worked well for us.
J.B.
2017-01-29T00:00:00Z
This place makes you feel at home as soon as you step a foot in the door and the aroma will lift you off your feet. Plenty of space and a big comfortable bed and most importantly a great charming host.
Donaldo
2017-02-20T00:00:00Z
Clean, place with big TV and beds. Wifi is pay to use after the first hour though
Patrick
2017-02-15T00:00:00Z
Great Host, Very Clean, responded back fast!
Marcel
2017-03-11T00:00:00Z
Second time staying here, I was not disappointed, Alex is a great host.
Mirza
2017-03-19T00:00:00Z
Typ pokoje
Celý dům/byt
---
Typ nemovitosti
Dům
---
Ubytuje
4
---
Ložnice
New Baltimore, Michigan, Spojené státy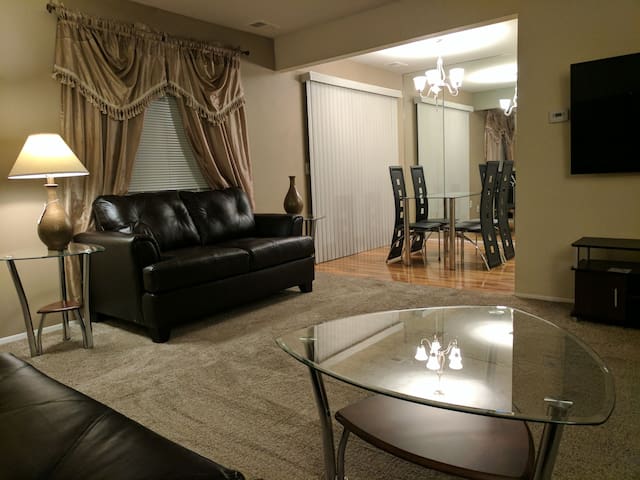 The private space has queen bed, large walk-in closet, dresser, nightstands and TV w/Apple TV. You will have your own private bathroom with a shower/tub combo. Also included is a loft/entertainment area with a flat screen TV and large couch. This space offers much more than just a bedroom!
We live in a nice, family-oriented neighborhood and our newly built subdivision has a pond as well as park. We are located only 40 minutes north of Detroit with very easy access to highways!
An excellent experience. Niki and Ryan were great hosts and made me feel welcome from the time I booked to when I departed. Their home is new and spacious. The accomodations are very clean, very comfortable and very convenient to local shopping and restaurants. I will check to see if they have availability the next time in am in the Detroit area.
Richard
2017-02-01T00:00:00Z
Niki and Ryan's place is great! I enjoyed it so much I decided to stay another week. It is very clean and they have nice accommodations. I highly recommend anyone to stay here when they are visiting the Detroit area.
Dave
2017-04-01T00:00:00Z
Typ pokoje
Soukromý pokoj
---
Typ nemovitosti
Dům
---
Ubytuje
2
---
Ložnice
New Baltimore, Michigan, Spojené státy
Amazing lakefront home with the convenience in location to be minutes from most things desired.
2300 sq ft 2 bdr home w vaulted ceilings and loft with a futon for a possible 3rd bed if needed. 2 baths, upstairs has stand alone shower and 2 person jetted tub, lower level has stand alone shower. 1 bdr upstairs and 1 bdr downstairs. Both have beautiful views of the lake and walkout door walls. 2 car attached garage can hold 1 vehicle. Kitchen is fully stocked for most needs and washer and dryer work great. Cable television in living room and upstairs bedroom. Lower level bedroom has smart tv. Wifi is free.
Such an incredible neighborhood. Located at the end of a dead end street, there is no through traffic. Surrounded by 2 sides with water, you can use the lake or the canal!
The owners were really great in that they even put some groceries in the fridge and soap/shampoo in the bathrooms for us. Beautiful location and home! Looking forward to going back in the summer time!
Victoria
2017-03-05T00:00:00Z
Typ pokoje
Celý dům/byt
---
Typ nemovitosti
Dům
---
Ubytuje
6
---
Ložnice
New Baltimore, Michigan, Spojené státy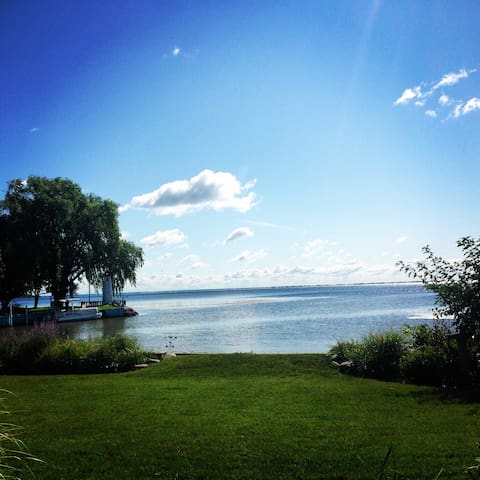 Private home on canal with views of Lake St. Clair, 1/2 mile from Sefridge airbase. Great fishing all seasons. Boating available in warm season, well space available if you have a boat. Close to great shopping and restaurants. Cute dogs to enjoy!!
private spacious bedroom with workstation. private bath
Close to major shopping. Quant little towns and major highways. A great getaway.
Wonderful experience! This is a sweet loving family, very hospitable. They made us feel at home and Evelyn made delicious breakfast! I would go again...overall perfect!
Ketki
2016-10-16T00:00:00Z
Evelyn was so welcoming, suggesting restaurants and best routes. The room was very comfortable with everything I needed. She had light breakfast items along with coffee, and even made us popcorn one night. The channel view is beautiful and the location was perfect for my meetings. Evelyn was so fun to talk to and her little dogs are adorable!
Jill
2016-07-15T00:00:00Z
So so so grateful for Evelyn and Lou Had an amazing relaxing weekend. Really felt like part of their circle and loved every moment. From sitting on couch on rainy day reading a book to kayaking. Will definitely be back!
Christina
2016-09-18T00:00:00Z
Very easy to find location, great access to anything you might want to do. Great hospitality, made me feel right at home. An easy recommendation to anyone looking around the area!
Greg
2015-11-21T00:00:00Z
I had such a great time staying with Evelyn & Lou! The access to Lake St Clair couldn't be easier & Lou happens to be an awesome fisherman. Catching a giant walleye with him was probably the coolest experience of my time in Michigan thus far. Cheers!
Zachary
2016-07-31T00:00:00Z
We stayed for one night and didn't spend much time at the place. However, Evelyn was extremely accommodating with the check in time. We left right when we woke up and Evelyn provided us a little breakfast for our car ride. She seems like a great person. Also the place is very nice and peaceful.
kirubel
2016-08-06T00:00:00Z
Evenlyn was a super host. She has a lovely house and location on the canal and Lake and makes it very evident that she wants you to enjoy your time there as well. It's not just a place to stay, it is a place to enjoy, and she is very warm and welcoming! I would definitely stay here again.
Molly
2016-08-02T00:00:00Z
Evelyne was very welcoming and understanding (I'm vegan). I could use the kitchen and relax in the back yard looking at the canal. The house is close to a major road and it's easy to get to the highway.
Christian
2016-06-04T00:00:00Z
Typ pokoje
Soukromý pokoj
---
Typ nemovitosti
Dům
---
Ubytuje
2
---
Ložnice
chesterfield, Michigan, Spojené státy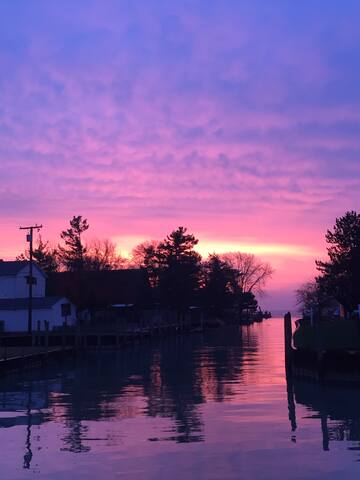 1500 square foot cottage on a canal on Anchor Bay, 3 bedrooms, 1.5 bath, all appliances, boat dock at seal wall,
Typ pokoje
Celý dům/byt
---
Typ nemovitosti
Dům
---
Ubytuje
4
---
Ložnice
Ira Township, Michigan, Spojené státy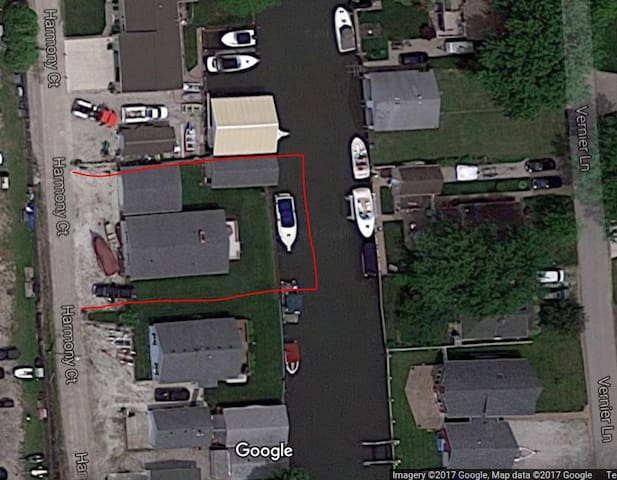 Located directly on Lake St. Clair in Anchor Bay. Newly built lake front home ideal for vacations, family gatherings, and outdoor sports (ice fishing and boating). It is 2900 square ft. The house has 5 bedroom/bathroom en-suites. Large great room (kitchen/living room) which is good for hosting large groups. It has a 1200 square foot two level deck that is directly on the water's edge. The location gives you the Up-North feeling with the convenience of being close to the city.
The home is equipped with the following items. Coffee Maker Microwave Outdoor Propane Grill Available for Rental: Ice Fishing Equipment (Shanty, 4 Poles, Auger, Sled) $200/Week
Very nice house! We checked in on a Thursday and left on Sunday morning. The house has attached bathrooms to each bedroom. Plenty of space for our party of 8. Would totally recommend to anyone wanting to stay!
Ben
2017-03-26T00:00:00Z
Demetrius treated me and my family like we were his family! He has a very beautiful home, with a lot of accommodations that will fit any occasion. Most of all he's just a great guy to do business with. We will definitely be staying there again! No brainer!
Derek
2017-03-05T00:00:00Z
Typ pokoje
Celý dům/byt
---
Typ nemovitosti
Dům
---
Ubytuje
16
---
Ložnice
Ira Township, Michigan, Spojené státy
Waterfront home with space! 2000 ft2 home with 2 boat wells and 55 feet of seawall, and enough parking to accommodate at least 8 vehicles/trailers. Home is located 3 houses from Lake St. Clair. Great fishing, and water playground! Lots of waterfowl to see-ducks, geese, and swans! 2 full baths, fully equipped kitchen with all new appliances. Laundry room with new Maytag washer and dryer. Downtown Detroit is about 1 hour away, pro sports, the DIA, The FOX , Belle isle, the Motown museum, etc.
all bedrooms have 40 in smart tv; lots of small kitchen appliances; deck and firepit in backyard and grill.
nice quaint neighborhood
Typ pokoje
Celý dům/byt
---
Typ nemovitosti
Dům
---
Ubytuje
13
---
Ložnice
Clay Township, Michigan, Spojené státy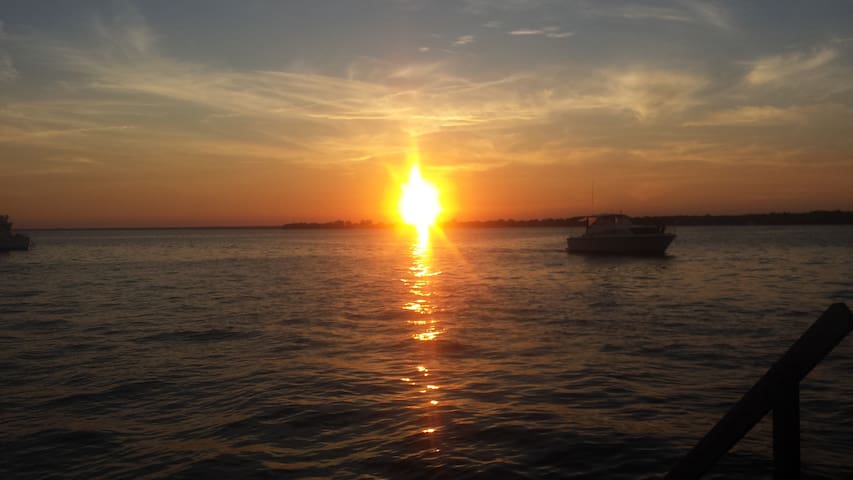 Ranch style home, located on Lake St Clair. 45 minutes North of Detroit. 1 hour from DTW airport. Country setting 6 miles to expressways which will take you to all the beautiful places in Pure Michigan. Private room and shower.
Fall the most beautiful time of year here in Pure Michigan. There is no place on earth the natural beauty of the leaves turning is truly a majestic site. Summer interest, if your a water enthusiast , bring your kayak, canoe, paddle board. Or launch your wave runner 2 miles away at the public boat launch. Or just enjoy the serenity of the water. Short Drive to the activities of Detroit Casinos and nightlife. Close to Canada across the river.
Quiet neighbor hood on dead end street.
First of all, I was hosting a cousin, who I never met, that was coming to the US to met family so I was kind of nervous. I saw an ad for Airbnb on tv and looked in my area because I wanted my cousin close by. Debbie's house is right down the street from me, which made it so convenient. The house has a gorgeous view of the lake and the property is so pretty, you never want to leave. Debbie made me feel more than comfortable. She called me several times to see if we needed anything. My cousin is a musician so he spent his free time in the beautifully shaded yard playing his guitar. He said it was the nicest place he had ever stayed. Everything was there for him to use as he wished. To me, the best part is, I made a new friend in Debbie ~ I would recommend this home without hesitation to anyone.
Melissa
2016-08-11T00:00:00Z
Loved this experience. Everything was better than I expected and I hope I have the time to go back. There are plenty of local tourist areas to visit, but the home is located on a quiet road and in a wonderful neighborhood. Interior was clean and spacious. Outside, the view of Lake St. Clair is beautiful. Debbie is a super nice and helpful at every turn. Highly recommended!
Brad
2015-06-20T00:00:00Z
This place was great. Very good location for the wedding I was attending. Right on the lake, I was able to relax on the back deck and look out into Canada. Debbie made me feel very welcome, the room was clean, the bed was comfortable. Would definitely stay again, unfortunately I don't think I'll find myself in Detroit again anytime soon.
Derek
2015-08-02T00:00:00Z
Ms. Penkala was kinda enough to open her home last min. Though it was dark, the home was very beautiful and exactly how it was described for me. Ms. Penkala did everything in her power to make my stay easy and comfortable. I would recommend this post to anyone.
Robert
2015-10-28T00:00:00Z
Our stay at this home was a highlight of our trip to the Detroit area. We were booked into a regular hotel for part of the time, at the beginning and the end of our visit, and we hated to leave Debbie's home to go back to the commercial room. What this home offers is a scenic view of Lake St. Clair, a peaceful setting, and great amenities that made us feel right at home. In fact, we felt more like we were renting the whole house and not just a room, because we were told to make ourselves at home and we had everything we needed to feel that way. The bedroom has a fairly comfortable double bed, a large dresser with a double row of drawers, and a closet. There is an adjoining bath with a shower, and of course supplied bedding and towels. The room has a cable TV, but we also could use the big screen system in the living room, which could play DVDs too. There is WiFi for your devices, and lots of comfy seating. By far, the best asset to us was the water frontage, and due to great weather, we were outside enjoying the view every day we were there. The location is quite convenient, minutes off the freeway, near Lake St. Clair Metropark. Sunrise over the lake is spectacular, and ducks and swans were swimming by all day long. We gathered together some photos to share here: (URL HIDDEN) Overall we felt it was a good choice for being near the city but having scenic surroundings. The house was very clean and had nice decorative touches everywhere. Debbie is a friendly host and communicated well to make sure we were OK and comfortable. We felt like we were family by the time we left, and we would try to stay there again if in the area.
Keith
2015-09-18T00:00:00Z
Lovely house with a nice yard and a fabulous lake view. Very nice just to sit out in the yard, especially in the morning in the evening, and look out over the vast expanse of water and sky. I made my booking with very short notice, and Debbie responded quickly and had everything set for my arrival. Highly recommended!
David
2016-05-15T00:00:00Z
Typ pokoje
Soukromý pokoj
---
Typ nemovitosti
Dům
---
Ubytuje
2
---
Ložnice
Harrison charter Township, Michigan, Spojené státy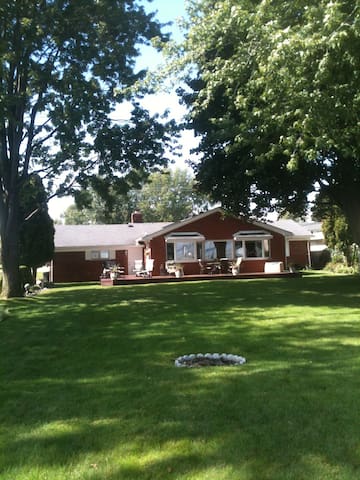 2nd floor bedroom with an adjustable full-size bed (head, legs custom height, plus vibrate). Home gym machine in the room as well. Free Wi-Fi. Common areas of the house are for your use as well (kitchen, dining room, living room, laundry room, patio, porch). Beautiful safe subdivision very close to the highway, ~30 minutes from Detroit and Port Huron. Close to many shopping malls and stores and eateries, movie theaters, parks, etc. and just a short drive away from Anchor Bay.
What makes this space unique? Well, for comfort - the adjustable/vibrating bed is nice. For convenience - we're located in a subdivision perfectly located close enough to everything you want, yet far enough to not have to worry about traffic congestion that all the other high-demand suburbs have.
Our front porch looks across the street to a beautiful, fairly new elementary school. There's playgrounds in the back, as well as a couple basketball hoops that are rarely used. There's also a short little walking path (0.5 miles, round trip) that goes through the woods next to the elementary school. There's also a beautiful and spacious well-maintained open field around the corner from us, on the main boulevard, in the middle of the subdivision. It also has another playground and also a gazebo at the far end. If you're up for a bit of a longer walk, the Village recently put in a nice little fountain park area, about a 2 mile walk away.
Great experience! The whole family, dogs included, were welcoming, friendly and fun. We had a great time visiting with Daniel, Suhathai and their adorable son. The house is spotless and the bedroom comfortable. The neighbourhood is like something from a wholesome, American family movie. Pretty, calm and safe. The location is convenient - so close to I94 and Hwy 3. We had such a pleasant visit, we stayed up too late chatting! They are the kind of people we'd love to have visit in our home. We would love to stay there again.
Patricia
2016-08-01T00:00:00Z
I must say that I felt like home. Dan and his family were very welcoming, respectful and caring. Awesome family, including their dogs ;) The house, rooms and bathrooms were very clean, comfortable and cozy. Thank you!
Arlette
2016-07-25T00:00:00Z
Great experience with a fun host. Clean, quiet and I even got some amazing home-cooked Thai food. Nice safe location, easy access to highway and shopping. Will definitely stay with Daniel again if in the area
Kevin
2016-08-28T00:00:00Z
Daniel and family were friendly, helpful and welcoming after a long, tiring day. It was my second visit to their house and I thoroughly enjoyed it. It is in such a nice, convenient neighbourhood- so close to the Bluewater Ferry and the Bluewater Bridge, Chesterfield and Hall Road. It feels so much safer than a hotel when I'm travelling alone. I hope to stay again.
Patricia
2016-11-12T00:00:00Z
I went to Detroit to visit my boyfriend and some friends. The location of Daniel's house was perfect for me because it was super close from my bf house but if you plan on going as a tourist to Detroit it might be a little hard for you to get there if you don't have a car. Daniel and his family were super nice, they are attentive but they also give you your own privacy. The room is cozy and the bathroom was really clean. I'd definitely go back. It was so nice Thank you!
Osiris
2016-11-25T00:00:00Z
Daniel and Toei are lovely, as is their son. The home is as described and they made us feel at home with everything we needed. We enjoyed the conversations and their friendly demeanor. We hope to return again sometime.
Maria
2017-01-10T00:00:00Z
Typ pokoje
Soukromý pokoj
---
Typ nemovitosti
Dům
---
Ubytuje
2
---
Ložnice
New Haven, Michigan, Spojené státy
New Baltimore - Airbnb
:
Průměrně

4.93

z

5

hvězdiček na základě

71

hodnocení hostů
1

–

9

z

9 Pronájmy domácností
Pro zobrazení celkové ceny zadej termín. Mohou být přidány další poplatky a daně.