5 miles from North Platte, NE, South Highway 83. Full kitchen stocked basics Waterfront cabin on Lake Maloney. Shower, towels, large outside deck, dock and water slide. Some life jackets included. If you have small children you must be very watchful as cabin is right on the lake. Air conditioned
Right on the lake close to town gas station very close and marina. Deck and dock. One story 500 sq feet.
Very well maintained
Mary made us feel welcome. Thanks for the goody basket.
Jeanene
2016-08-03T00:00:00Z
We enjoyed our stay. We had a bit of a hard time finding the cottage amongst others in the boat community in the dark but Mary was very helpful!
Miriam
2017-03-24T00:00:00Z
Very nice place had everything we needed. We had a great time, kids had a blast on the water slide and we swam all day and relaxed in the evening on the deck...can't wait to come again! Would love to rent a jet ski next time :) Thanks
Jody
2016-08-14T00:00:00Z
The cabin was greathe! Our host was very accessible and accommodating. And a great spot on the lake! We would definitely book this again.
Alison
2016-07-15T00:00:00Z
Wonderful cabin right on the water very nice and accommodating would be over the top place in the summer
Trenton
2017-03-09T00:00:00Z
This is a small cabin in a boat club on the east side of Lake Maloney. It's very convenient to get back and forth to North Platte and easy to find off of Hwy 83. We were three friends coming back for a high school reunion and it was perfect for us. We loved sitting on the deck and enjoying the breeze. Mary is great at communication and made sure we knew where to find the key, etc. upon arrival. The kitchen has enough for basic cooking and there is good climate control options.
Marianne
2016-08-01T00:00:00Z
Very lovely! Beautiful views, nice deck. Felt very at home. Host was very accommodating to our circumstances.
Robray
2016-08-07T00:00:00Z
This section asks us if we were made to feel welcome. Quite honestly, not really. It's no offense, it's just felt like a business transaction. We booked, we went, we stayed, we left. No real interaction from the host. Never saw them. We enjoyed the location on the waterfront as it was quiet, even with the kids next door. Not very private as you have cabins within 10 feet on each side of you. The cabin was adequate with facilities, but nothing fancy. The air worked fine in the living quarters, but the bedroom window air conditioning was so loud we couldn't keep it on at night and just used the overhead fan on high.
Herb
2016-08-06T00:00:00Z
Typ pokoje
Celý dům/byt
---
Typ nemovitosti
Srub
---
Ubytuje
6
---
Ložnice
North Platte, Nebraska, Spojené státy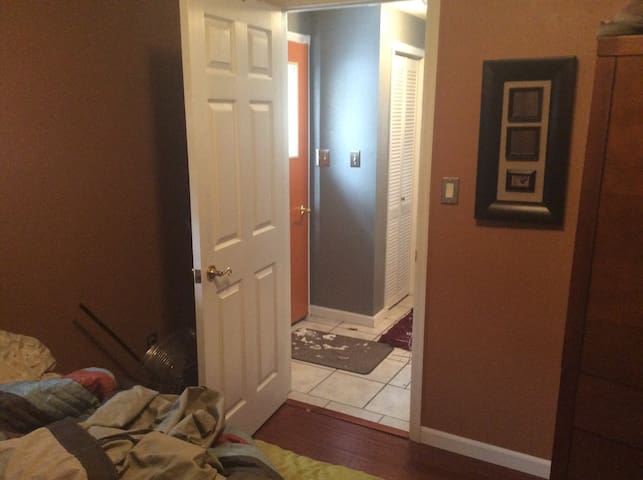 Very welcoming and relaxing, feels like home away from home, child pack and play available for all guests- located about 15 minutes north of the interstate
It's very private and quiet, and the land around us is beautiful
Thank you so much for hosting us. We were really tired and got a great sleep. The room was comfortable and it's a relief not to be forced to stay at a motel when you are in a roadtrip through Nebraska.
Alba
2017-03-19T00:00:00Z
Excellent place to stay if you're traveling through Nebraska. Very comfortable, friendly and hospitable!
Spence
2017-02-03T00:00:00Z
They are located about 10-15 minutes off the interstate but the hospitality they provided was great. We had bottled water, towels, the Wi-Fi password and a welcome note all laid out in our room when we arrived. They made us feel right at home after a long day of travel. We had a great stay.
Josh
2017-01-17T00:00:00Z
Lovely home and family! Great room!
Ts
2017-01-14T00:00:00Z
The host canceled this reservation 211 days before arrival. This is an automated posting.
Herry
2017-02-08T00:00:00Z
Stasha's home was awesome! The room I stayed in was very cozy and well equipped. The home had very good WiFi and the bed was super comfortable. Stasha communicated very well and very quickly with me. It was an awesome stay and would most definitely recommend staying here to anyone.
Ian
2017-03-22T00:00:00Z
Typ pokoje
Soukromý pokoj
---
Typ nemovitosti
Dům
---
Ubytuje
2
---
Ložnice
North Platte, Nebraska, Spojené státy
We would love to host you here on the edge of the Nebraska Outback! Conveniently located a mile north of I-80, four hours from Denver & Omaha, 3 from Cheyenne, we're a pleasant, relaxing stop after an arduous day of driving. Please be sure to double-check the directions, and let us know if you're going to be arriving late so we can prepare and give you the after-hours instructions.
We are located in west central Nebraska, a mile north of I-80, about four hours from both Denver and Omaha, three from Cheyenne and Lincoln. As we enter our fifth year as AirBnB hosts, we would love to extend our hospitality to you. Our home offers the following: 1 bedroom with a full size bed and a queen bed; 1 bedroom with a king bed; 1 bedroom with a queen bed. There is a shared bath in the hall of the bedroom wing. We have a cat and a dog which have the run of the public areas of the house, but not the bedrooms. Our living quarters are in the basement, so you'll have the upstairs to yourselves, unless there are other guests in residence. It is possible that we can accommodate more than four people. Please contact us to make the arrangements.
Sutherland is a rural community of just over 1,000 people. There is a grocery store, which closes at 7 and a convenience store that closes at 9. There is a bar and liquor store too. A continental breakfast is provided. There are very limited dining options available locally. The nearest option is 12 miles west in Paxton at Ole's or the Windy Gap, both excellent choices. We are nestled in the Platte River valley, and are a gateway to the beautiful Nebraska Sandhills. Birdwatching and outdoor recreation are popular pastimes and we'd love to share the history and culture of the area with you.
Clean, comfortable, quiet and conveniently located for cross-country travel. The guest wing felt private. We appreciated the clear and helpful communication with Muriel on driving directions and were very happy to have continental breakfast.
Myra
2016-07-17T00:00:00Z
My husband and I felt very welcome in Muriel's home. The house was very nice and room was comfortable. Muriel was great with communicating with us about arrival and we had a very nice stay. Plus their dog was the friendliest!
Jenn
2015-08-01T00:00:00Z
Thank you Muriel! Muriel and Mark were wonderful, the greeted us with a home cooked dinner! It was great to learn about Nebraska. The room and bathroom were large and comfortable. I felt right at home. They even let us bring our dog. Muriel and Mark are fantastic people, I hope anyone stopping in Nebraska gets the chance to meet Muriel and Mark.
Mya
2014-10-14T00:00:00Z
The place was cozy and comfortable. Also, we couldn't have asked for kinder, more accommodating hosts. Overall, our experience was great!
Jo
2015-12-03T00:00:00Z
Fantastic. Very nice people, lovely room, would definitely stay again if I was in the area.
Jeff
2016-04-15T00:00:00Z
Muriel and her husband were great hosts. They fixed supper and invited us to join them. Our room was very nice-we basically had the bathroom to ourselves. We asked questions about the Bailey Rail yard and found them extremely knowledgeable about the area. We watched a wonderful PBS special on North Plattte during WW2 with Muriel's husband. We would highly recommend them. The bed was very comfy, by the way.
Janet
2015-08-05T00:00:00Z
Ours was a last minute reservation for a place to stay on a drive from S. California to Minneapolis. The house was easy to find, and just a few minutes off the Interstate. We got in fairly late, met Muriel and Mark, stretched our legs on a neighborhood walk, crashed, and left at 6 AM the following morning. Unfortunately there was very little chance for interaction, but the little interaction we had was very pleasant, the accommodations comfortable, and the tub/shower WONDERFUL. We'd stay there again.
Norman
2015-03-10T00:00:00Z
Amazing experience! Definitely glad we stayed here on our long journey. Clean house, comfy bed, own bathroom, jacuzzi, and light breakfast in morning all made for a perfect stay for us. Highly recommend!
Amanda
2016-08-25T00:00:00Z
Typ pokoje
Soukromý pokoj
---
Typ nemovitosti
Dům
---
Ubytuje
4
---
Ložnice
Sutherland, Nebraska, Spojené státy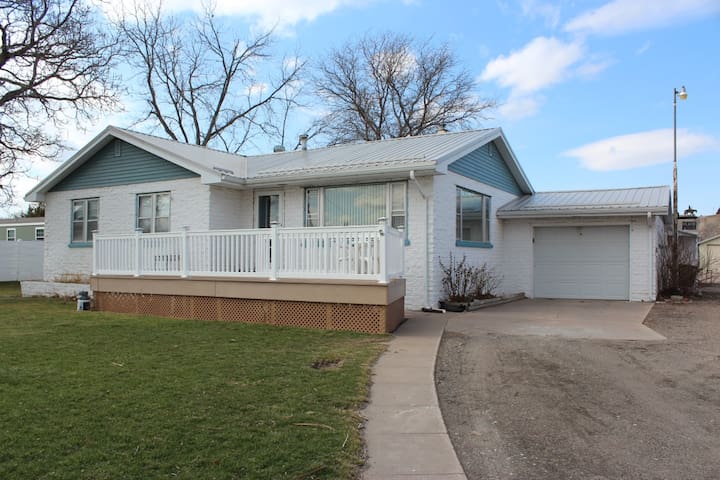 My place is close to The Sandhills, the upcoming solar eclipse (Aug. 21, 2017), Augusta Wind Golf Course. My place is good for couples and families (with kids). It is placed in the wide-open range land on a knoll. Great weather-viewing and peaceful relaxation site. (URL HIDDEN) Please contact the host for other possible openings/dates.
Typ pokoje
Celý dům/byt
---
Typ nemovitosti
Dům
---
Ubytuje
10
---
Ložnice
Stapleton, Nebraska, Spojené státy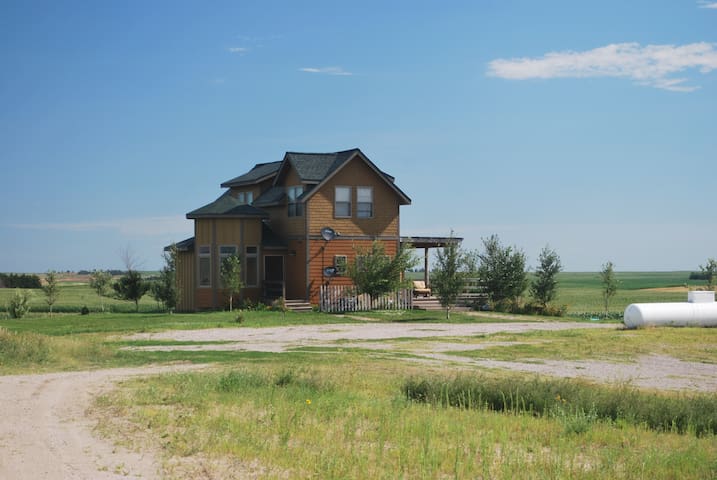 North Platte - Airbnb
:
Průměrně

4.96

z

5

hvězdiček na základě

253

hodnocení hostů
Pro zobrazení celkové ceny zadej termín. Mohou být přidány další poplatky a daně.