Pecs city center to our customers. The apartment is ideal for couples, lone adventurers, business travelers and small families. The property is a few steps away from the historic center, the charming pedestrian streets, where you can find all service units, restaurants and dining options, family-friendly activities. The city's vibrant nightlife and konfortos, characterized by rapid public transport.
We had a great time in this friendly little apartment. We received a warm welcome : a small chocolate and fresh mineral water. The apartment was really clean and offered everything that we needed ( including fresh linen and towels ). The communication with the owner went really smooth and fast. The bed was really comfy. The Wireless Internet was fast. We even had the opportunity to meet with the house's cute cat in the garden… :)
Csaba
2017-04-02T00:00:00Z
The host Éva is helpful and communicated.We arrived at midnight but she and another man waited and welcomed us.The flat is wonderful with perfect equipment,cozy environment and delicious hand made snacks.really recommended.
Chan
2017-04-03T00:00:00Z
Nagyon jó és kellemes szálláshely, Éva nagyon kedves és segítőkész szállásadó.
Anna
2017-03-17T00:00:00Z
Eva was kind enough to allow for a late check-in and to wait for my fiance and me throughout the night. As we are fairly new to Hungary and traveling by car in the country in general, this was more than accommodating and made us feel very welcomed. Her place is clean, spacious and delightful. It is close to the city center and the University of Pecs, so it brought back memories of my own college life, only more vibrant amid beautiful buildings and people. We enjoyed our visit to the various historic/religious museums/cathedrals/mosques/tombs, all in a walking vicinity of Eva's house. Thank you for your hospitality, Eva! -Sophy & Yong
Sophy
2017-04-01T00:00:00Z
Ajánlom mindenkinek a szépen felújított, kényelmes lakást. Konyha, fürdőszoba jól felszerelt szinte nem is kell semmit magával hoznia az embernek ruháin kívül. Éva szívélyes vendéglátó.
Krisztián
2017-03-05T00:00:00Z
Nice and cozy apartment!
Andrea
2017-03-01T00:00:00Z
Éva's place is located in a great area, only 5 minutes walk from the city center and closed to restaurants and bars. The rail station is on a 15-20 minutes walk distance. The house was very spacious and quiet and was presented in nice conditions. The only downside was that in the morning a lot of light was coming in the lateral window which was the only one without heavy curtains. The towels were new and the kitchen was fully equipped. Definitely going back on the next trip to Pécs! Thanks Èva for the lovely hospitality! Linda & Vidor
Linda
2017-03-28T00:00:00Z
Typ pokoje
Celý dům/byt
---
Typ nemovitosti
Byt
---
Ubytuje
4
---
Ložnice
Pécs, Maďarsko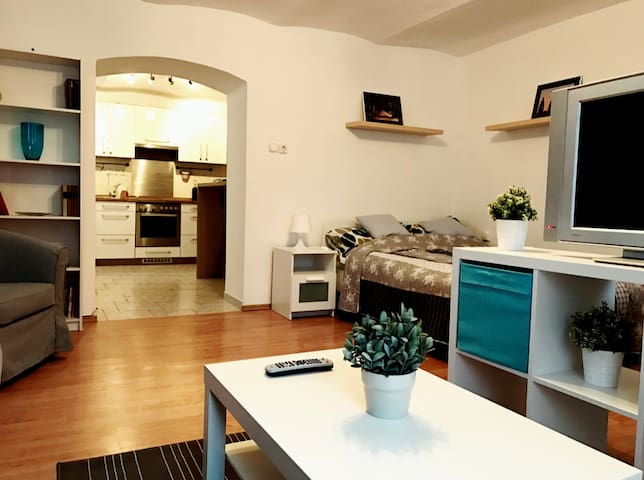 The appropriate place for this: couples, business travelers and families (children).
Köszönöm Andrea.
Balint
2017-03-18T00:00:00Z
Typ pokoje
Soukromý pokoj
---
Typ nemovitosti
Byt
---
Ubytuje
3
---
Ložnice
Pécs, Maďarsko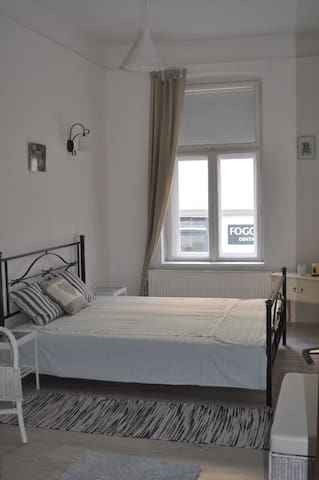 Recently converted apartment. Unique modern furniture, double terrace, view of the city. Bedroom has a double bed, pull-out sofa bed in the living room. Modern kitchen, dryer and a number of built-in furniture provides ease of use and convenience. Recently reconstructed apartment with unique modern furniture, double terrace and view of the city. Has a double bedroom, livingroom has a sofa bed. The modern kitchen, the washing machine and tumble and the number of built-in furniture offers easy use and comfort.
Excellent for families, couples, groups of up to 4 people, travelers, business people "American style kitchen, living room" apartment with two bedrooms. sofa in the living room into a comfortable bed for 2 people. Only one of the nets used. My place is good for couples, solo Adventurers, families, Business Travelers to group up to 4-5 persone. From just one two bedroom can be used - the other one is closed.
Hillside condominium, downtown 15 minutes on foot, Parking is free to use packages, bicycle garage, An ideal starting point for hiking Mecsek well. - hillside condominium, - 15 minutes from downtown on foot - Free Parking - garage can be Used for bicycle or packages - ideal starting point for mountain hiking
Typ pokoje
Celý dům/byt
---
Typ nemovitosti
Byt
---
Ubytuje
4
---
Ložnice
Pécs, Maďarsko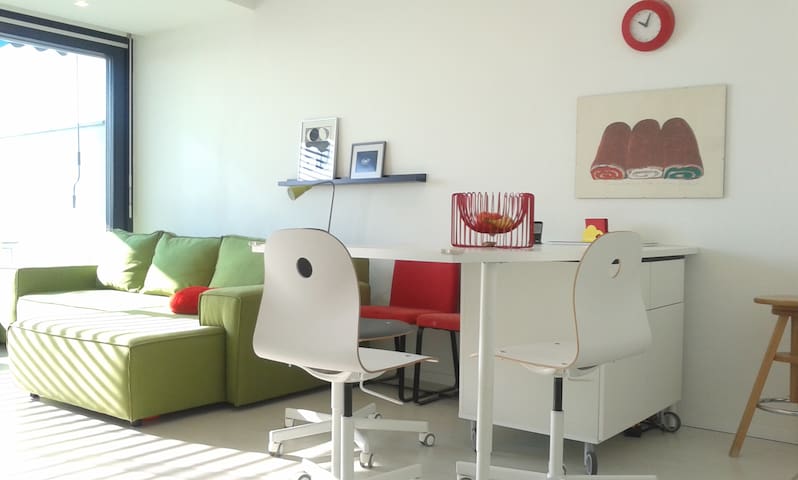 Puede encontrar nuestro apartamento en Pécs centro de la ciudad, entre la plaza Dom y la plaza Széchenyi. Es un una calle tranquila pero en el centro de la vida cultural de la ciudad. Apartamento es totalmente y recientemente renovado y 50 metros cuadrados.
Si quieres estar en el centro del acontecimiento cultural en Pécs, pero que quieren disfrutar de un apartamento bastante, venga a visitarnos. Ponemos a su disposición los programas y lugares interesantes para visitar en Pécs y en las áreas circundantes. Cuando se encuentra en Pécs, hacer lo que las personas hacen en Pécs. Vamos a ayudarle a sentirse en casa en nuestra ciudad!
El barrio es sinly la cntre ciudad de Pécs. Dóm Square, Sétatér, la plaza Széchenyi, la calle Király. Vamos a enviar a programar guías para su entartainment.
We had a wonderful time at Beata's place. It is spacious, clean and silent. The kitchen is great for cooks and we took advantage of it. We were even able to do laundry, which was excellent timing on our travels. Beata was communicative, kind and very easy to talk to in our few interactions. Highly recommended.
Talia
2016-07-01T00:00:00Z
Our experience at the Coffee & Wine Appartment was far better than we ever expected....or even hoped for. First, the location is ideal for activities in the historical, cultural centre of Pécs - the apartment is just around the corner from the Cathedral (and the museum quarter, early Christian mausoleum, champagne factory) and a 3-minute walk to Szécheny and Jókai squares. Public transportation is very convenient to the Zsolnay Cultural Quarter and the Kodály Centre (superb concert (URL HIDDEN) well as other historical and cultural sites. The apartment itself is large and well-appointed, including a very spacious bathroom. Recently renovated (July 2015), the apartment is very clean, secure, and comfortable. Beáta is the ultimate host....friendly and welcoming with lots of knowledge about the city. Upon our arrival, we were presented with welcoming snacks and a bottle of regional wine, lots of tourist information, and answers to all our questions. We stayed in the apartment for 10 days and, throughout our stay, Beáta was always available for advice and suggestions and to provide anything that we needed and/or requested to make our stay in the apartment more comfortable. Pécs is a city not to be (URL HIDDEN) is the home of Zsolnay porcelain, extraordinary Art Nouveau buildings, an exotic Sunday flea market, and some of the best wineries in Hungary which are just minutes away. The Coffee & Wine Appartment is an ideal place from which to explore this fabulous city and region. You will not be disappointed in Pécs, the Coffee & Wine Appartment, and definitely not Beáta! Thank you, Beáta, for the opportunity to meet you (and your daughter) and the unbelievable experiences we had in Pécs!
Ki
2015-08-04T00:00:00Z
Very nice place to stay. Big, good location et cetera!
Reinoud
2016-09-14T00:00:00Z
Bea kedves, közvetlen. Az apartman központi, mégis csendes, romantikus helyen található.Nagyon jól éreztük magunkat a négy nap alatt.
BARBARA
2015-09-26T00:00:00Z
I totally recommend a stay at Beata's Coffee&Wine apartment next time you are in Pecs! Beata is the best host, and the apartment is like a palace ... so large and with everything you need to enjoy your stay in the city! It is perfectly located between Dom Square and Szechenyi Square, and is cool in the summer heat, peaceful, and relaxing! I can't think of a better place to stay while in this beautiful city!
Rebecca
2015-08-17T00:00:00Z
Nagyon jó helyen elhelyezkedő, kedves kis apartman. Csak ajánlani tudom.
Nóra
2017-02-17T00:00:00Z
Kiváló elhelyezkedésű hely pécsi városnézéshez, gyalog minden elérhető közelségben van. Szép lakás nagy szobákkal, kényelmes ággyal, nagy fürdőszobával, újszerű berendezéssel. Jobb, mint amit a képek alapján vártunk. Pontos, segítőkész házigazda.
Gyorgy
2016-12-30T00:00:00Z
We simply had a very pleasant stay at Beata's place. The location is perfect as it is very near the historical centre. Finally, we would like to add that Beata is a friendly and helpful host. Recommended.
Kim
2016-11-05T00:00:00Z
Typ pokoje
Celý dům/byt
---
Typ nemovitosti
Byt
---
Ubytuje
2
---
Ložnice
Pécs, Baranya, Maďarsko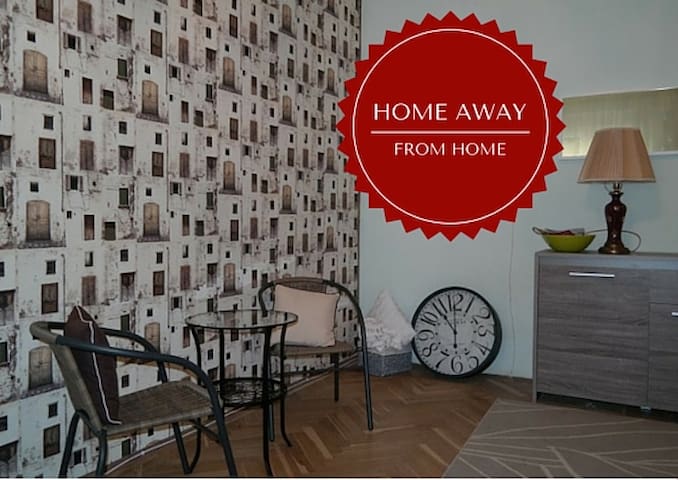 Our apartment in the center of Pecs, the Iron Gereben street, yet quiet family housing area, located in the ground floor of a five flats. The apartment is newly built, 40 m2, shared 100 m2 garden terrace.
Pécs central part of a five-unit condominium building separate, newly built apartment with private garden. Local tax to be paid on the spot Adults £ 400 / night per person
The host canceled this reservation 11 days before arrival. This is an automated posting.
András
2016-05-02T00:00:00Z
Thank you Rajmund, our stay in your apartment was cool, it was exactly what the pictures showed, super clean and well-equipped. The pillows could have been more comortable (smaller), but that's really the only thing I can mention!
Dóra
2016-07-09T00:00:00Z
A legtökéletesebb választás volt a négy fős családunk számára. A ház nagyon rendben volt, elrendezése jól átgondolt,igényesen és jó ízléssel kialakított. A konyha jól felszerelt. Rajmund nagyon segítőkész volt, kéréseinket rugalmasan kezelte. Szívesen visszatérnénk ide legközelebb is. Mindenkinek ajánlani tudom ezt a helyet!
Krisztina
2016-05-03T00:00:00Z
Az apartman jól felszerelt, tiszta, modern, olyan mint a képeken (nem okozott csalódást). A környék csendes, a központ gyalogosan megközelíthető. A szállásadó nagyon barátságos volt, a felmerülő problémákat nagyon rugalmasan kezelte. Csak ajánlani tudom Mindenkinek!!!
Tímea
2017-02-15T00:00:00Z
Rajmund nagyon kedves házigazda volt, aki a megbeszélt időpontban fogadott minket. Az apartman egy csendes utcában található, közel a belvároshoz, kb 10 perc sétára. Az fogadott, amit a képeken is láttunk. Nagyon jól felszerelt, 4 személynek teljesen ideális akár hosszabb tartózkodásra is. Külön tetszett a kis kert, ahová jó kiülni egy kellemes, napsütéses napon vagy egy kis esti beszélgetéshez. Mi nagyon jól éreztük magunkat és csak ajánlani tudom mindenkinek. Köszönjük.
Herédi
2016-05-17T00:00:00Z
The apartment was very cozy, modern and well decorated. Everything was clean and in perfect conditions. It only takes 15minutes by foot to the center. Rajmund and his wife were very nice and helpful. I strongly recommend it!
Ana
2016-08-09T00:00:00Z
Ein wunderbares, helles Appartment. Praktisch und mit sehr viel Liebe umgebaut und eingerichtet. Modern, sauber und sehr gepflegt. Gut ausgestattete Küche, grosses Schlafzimmer, tolles Bad. Rajmund hat uns auch spät Abends herzlich empfangen und alles gezeigt. Danke, wir kommen nächstes Jahr wieder!
Christina
2016-05-09T00:00:00Z
Rajmund szívélyesen fogadott minket. Az apartman megegyezett a leírtakkal.
Kriska
2016-07-03T00:00:00Z
Typ pokoje
Celý dům/byt
---
Typ nemovitosti
Byt
---
Ubytuje
4
---
Ložnice
Pécs, Baranya, Maďarsko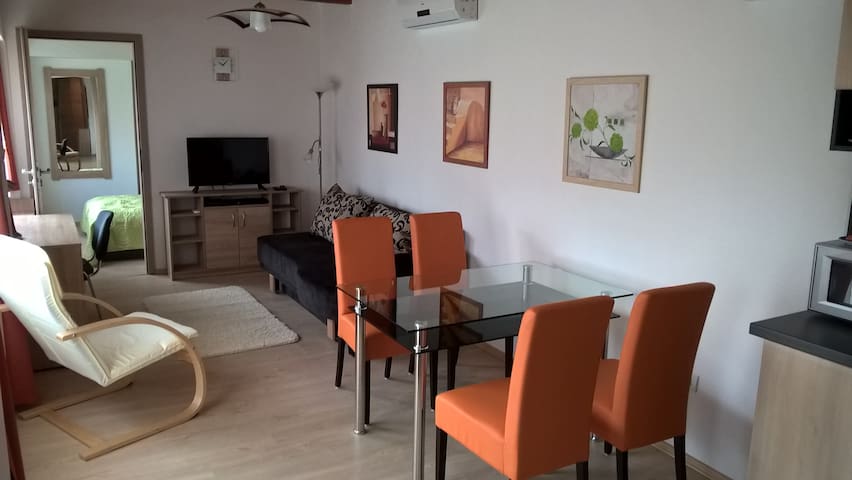 Ahoj všichni, Tato lokalita je ideální, velmi ústřední. rádi hosting hostů z celého světa! :) Já používám Airbnb pro cestování aswell. Byt je klidný, útulný, zbrusu nové cihlové designu v jedné z nejkrásnějších čtvrtí ve městě. Pár kroků od slavné baziliky a Seta tér, kde jsou organizovány všechny letní atrakce, a jen 5 minut chůze od hlavního náměstí náměstí Széchenyi. Doufám, že tě uvidím! :)
Rodiče postavený bytu a je připraven od roku 2016 May. Vybrali jsme si všechno, od cihlové konstrukce, aby každý malý kus. Doufám, že se vám bude líbit a budeme se snažit, aby Váš pobyt v komfortní, jak můžeme :) Má ideální polohu, velmi centrální vše dosažitelné během několika minut :)
Tato oblast se nachází jen pár kroků od slavné baziliky, a pěší ulice, kde se organizují slavnosti vína a další koncerty v létě. Hlavní náměstí, je jen kousek, 5 minut od bytu. Tam jsou pěkné barů a restaurací v okolí, které bych rád, aby vás doporučuji! :)
Egyszerűen minden szuper volt. A lakás pont olyan, mint a képeken. Szép, tiszta, jól felszerelt, az ágy nagyon kényelmes :) Az elhelyezkedése is nagyon jó. A belvárosban, közvetlenül a Barbakán mellett. A kultúrkert estére a legjobb kikapcsolódás nyáron, szintén 2 perc séta a lakástól. Fanni anyukája nagyob kedves volt. Elég későn értünk oda, de ez egyáltalán nem okozott problémát. A kedves fogadtatás mellett a hűtőben víz és barack, az asztalon keksz várt minket. Maximálisan csak ajánlani tudom mindenkinek a helyet :) The apartment, the location, Everything was just perfect. The bed is super comfortable :) Fanni's mother was very kind and helped us with everything. We really enjoyed the stay and hope to get back some day :)
Zsuzsanna
2016-08-07T00:00:00Z
Good communication, got in with no problems. Great location and excellent value. would happily stay again. Plug sockets a little dodgy and a full size duvet (rather than 2 small ones) would have been welcome but all in all excellent for the money!
Nick
2016-12-20T00:00:00Z
Fanni anyukája fogadott bennünket nagyon kedvesen. Kekszet, gyümölcsöt, kávét, ásványvizet és programajánlatot is kaptunk. A lakás fantasztikus, teljesen új, nagyon tiszta, igényesen, ízlésesen berendezett, pontosan olyan, mint a képeken. Az ágy szuper kényelmes. A városközpont nagyon közel van, gyalog is könnyen megközelíthető. Minden gördülékenyen ment, tökéletesen éreztük magunkat. Köszönünk mindent a házigazdáknak, mi biztosan visszatérő vendégek leszünk.
Julianna
2016-06-26T00:00:00Z
Kedves fogadtatás, tiszta, rendezett lakás. Az elhelyezkedése kiváló. Ajánlom mindenkinek!
Gabor
2016-07-17T00:00:00Z
Thank you Fanni for the apartment. It was really great to stay there. The apartment is modern, clean and comfortable. There was TV and Internet access, too. Another advantage is that the room is in the center. Thank you again. *****
Péter
2016-06-19T00:00:00Z
Very nice place with everything we needed and good location. Walking distance to City Centre and all Restaurants.
Jana
2016-08-11T00:00:00Z
Io e mia sorella siamo state ospiti di Fanni per una settimana e ci siamo trovate veramente bene. La casa è accogliente, molto bella e completa di tutto il necessario; si trova in una tranquilla via residenziale ma veramente a pochi minuti dal cuore della città, l'ideale per me. Fanni è molto gentile e disponibile, al nostro arrivo ci ha fatto trovare cibo e acqua in frigo, cosa molto gradita viste le tante ore di viaggio. La consiglio vivamente.
Carla
2017-03-06T00:00:00Z
We had spent years in Pécs as students in the old times, now case back as another Airbnb host with a family of 4. The location is perfect, just steps away from Barbican, also at the end of Ferencesek walking street, so location was the main reason to book it. The flat is exactly as in the pictures, room enough for all of us, equiped with everything you need for even a longer stay. I highly recommend this Airbnb, and of course it will be my choice for the next time.
Szabolcs
2016-10-31T00:00:00Z
Typ pokoje
Celý dům/byt
---
Typ nemovitosti
Byt
---
Ubytuje
4
---
Ložnice
Pécs, Baranya, Maďarsko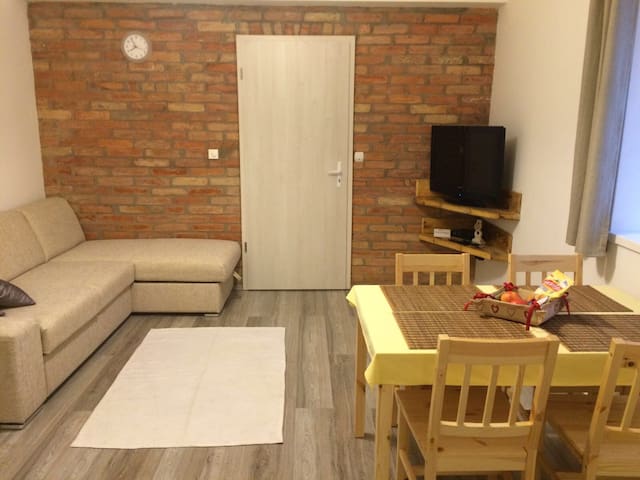 If you are comfortable, cozy nook stay in Pécs looking for the right place! 42 sqm studio apartment is fully equipped with air conditioning, cable television with in store for you, which is perfectly suited for a rest after a long day.
The central part of "lak" Pecs-Garden City is located in a newly built block of flats 5 floors. Do not worry about the stairs, elevator in the building, which is conveniently "felrepít 's residence at the. A large room with an American kitchen and one bathroom available to you. The induction hob and kitchen with stove, refrigerator and sink is fitted. The apartment is heated fully solved, so we guarantee you will not be cold. Summer can survive, nice cool air can provide a built-in air conditioning. The bathroom has a large shower, washing machine, and great local facilities. If you come for a longer period, you will find a wardrobe in the hall closet swallows everything. Do not worry about bed linen, pillows, etc. Because we ... everything you could possibly need.
Pecs - Garden City easily accessible from any part of South West Hungary. The city is part of a typical resting, sleeping part of the city, a peaceful environment. Pecs historic part of town in 10 minutes, easily accessible.
Kedves, rugalmas, korrekt hazigazda. A lakas otthonos, tiszta, jol felszerelt.
Eszter
2016-10-11T00:00:00Z
Tamas and Esther were very proactive in making our stay pleasant. Esther was there upon arrival and answered all questions. They had maps and cooking utensils which was awesome. We preferred to walk to the centre of town, which took about an hour. If you're okay with that, good value for money.
Ayesha
2016-09-24T00:00:00Z
Nagyon jól éreztem magam, a hirdetés pontos. A szállás kivalo helyen van. Tamás nagyon segítőkész!
Veronika
2016-06-11T00:00:00Z
Nagyon szuper volt a hely, a házigazdák végtelenül rugalmasak és kedvesek, bárkinek csak ajánlani tudom ezt a helyet.
Benedek
2016-08-29T00:00:00Z
Sorry for late cancel. Very friendly and good communicators
Marie
2016-07-25T00:00:00Z
We needed a place to stay in Pec with a place to park our car, good internet and a washer. And we wanted an "entire house" But very few places offer everything we needed…(especially parking) Tamás' condo was one of the few that had it all….but their price was so low we expected something we wouldn't like. But we were in a hurry and Tamás was an "instant book" so we decided to try their place. AND WE ARE GLAD WE DID!! We've been touring Europe for 2 months now. We have stayed in over 20 AirBnB apartments in 4 countries so we have a pretty good idea what GOOD and BAD AirBnB apartments are like . Some host are in it just for the money…and it shows in what they offer. Others are really proud of what they are doing and offer as much as they can. Tamás apartment is definitely a GOOD AirBnb apartment. They were there to meet us and answer all our questions. Because they live on the third floor of the same building we were assured that everything would go smoothly..and it did. We've stayed in apartments that cost three times MORE and didn't offer HALF the amenities Tamás was offering: Free parking, a washer, air conditioning (didn't need to use it even in July), a real 4 burner stove with oven, an modern elevator, a nice view of the neighborhood. And it's all modern and up to date. This is the first time we've stayed in an apartment with a couch that turns into a bed but it turned out to be easy. The apartment is tastefully decorated (women hostess' do a better job decorating and thinking of little things….like a clock in the bathroom!!) And it is on the 5th floor with a great view of the local area . Yes… it takes a hour to WALK to the city center, BUT the bus terminal ends and begins right across the street so, if you don't want to walk or drive, getting to the historic city center is easy. And there's a Peny's supermarket and a big Tesco just 3 and 5 minute's walk… if you need groceries. At first We booked only one night (in case we didn't like it)….and ended up staying two nights. We would have stayed longer if we had more time. Five stars to Tamás for an excellent apartment!!!
Ernest
2016-07-27T00:00:00Z
The host canceled this reservation 41 days before arrival. This is an automated posting.
Siklósi
2016-11-19T00:00:00Z
Kedves és segítőkész házigazdák, tiszta, élvezhető, korrekt lakás.
László
2016-09-18T00:00:00Z
Typ pokoje
Celý dům/byt
---
Typ nemovitosti
Byt
---
Ubytuje
2
---
Ložnice
Pécs, Baranya, Maďarsko
Gemütliches Studio-Apartment direkt neben den Fakultäten für Medizin und Geisteswissenschaften! Das Stadtzentrum liegt 15 Minuten mit dem Fuß, nur 5 Minuten mit dem Bus. Späte Ankunft ist möglich! Gratis WLAN-Zugang, kostenlose Kaffee und Tee!
Pleasent Blick aus dem ersten Stock zu einem schönen Park - Fenster mit Blick nach Süden.
Die Wohnung befindet sich in der Nähe der Campus der Medizin und Geisteswissenschaften in einer angenehmen und sicheren Gegend der Stadt. Es gibt viele Geschäfte, Restaurants Cafés und Spielplätze in unmittelbarer Nähe der Wohnung.
A lakás csendes, tiszta, kellemes a környék. Vizsgázóknak az egyetem közelsége miatt kiváló. Tömegközlekedéssel is nagyon jól megközelíthető. A házigazda maximálisan segít mindenben.
Ágnes
2016-04-07T00:00:00Z
Áron anyukája fogadott bennünket. A szállás szuper volt. Aki a campus mellett akar megszállni, annak ez a legjobb választás!
Mark
2016-10-08T00:00:00Z
Áron nagyon kedves és készséges szállásadó. A lakás nagyon szép, tiszta, napfényes, az ágyak nagyon kényelmesek. A környék is nagyon kellemes, közel van a belváros, kb. 10 perces sétával elérhető, 30-as busszal 3-4 megálló. Van a környéken élelmiszerbolt, éttermek. Nyugodt szívvel ajánlom bárkinek. :)
Marietta
2015-06-22T00:00:00Z
Nagyszerű szállás, Áron pontos és segítőkész, gyorsan válaszol. A lakád tiszta, teljesen felszerelt.
Orsolya
2017-03-31T00:00:00Z
A lakás pontosan megfelel a hirdetésben foglaltaknak, szép tiszta, modern. Áron segítőkész volt, a super-host kitüntetést nem olyan egyszerű kiérdemelni, ő rászolgált erre.
Tamás
2017-01-01T00:00:00Z
Áron has a lovely and central apartment that covered all my needs. The neighbours were friendly and the area was not noisy. He is easy to reach and will stribe to meet your expectations and needs. I highly recommend him and his apartment.
Mustafa
2016-11-23T00:00:00Z
A lakás pont olyan mint a fotókon. A késői érkezésem ellenére gördülékenyen el tudtam foglalni az apartmannt. Nyugodt szívvel tudom ajánlani mindenkinek.
Máté
2017-02-19T00:00:00Z
Áron anyukája kedvesen fogadott, segítőkész volt. A lakás nagyon jó volt.
Zsolt
2015-08-24T00:00:00Z
Typ pokoje
Celý dům/byt
---
Typ nemovitosti
Byt
---
Ubytuje
3
---
Ložnice
Pécs, Baranya, Maďarsko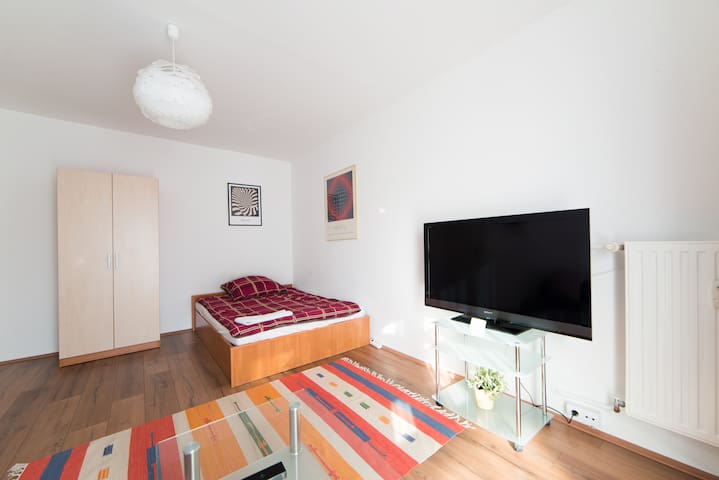 Mein Platz ist in der Nähe familienfreundliche Aktivitäten, Nachtleben, Flughafen, öffentliche Verkehrsmittel, Stadtzentrum, historische Stätten. Sie werden meinen Platz wegen der Nachbarschaft, das Bett bequem, nah an allen Annehmlichkeiten und den öffentlichen Verkehrsmitteln, komplett ausgestattet, gemütlich und geschmackvoll eingerichtete lieben. Mein Platz ist gut für Paare, Solo-Abenteurer, Geschäftsreisende, Familien (mit Kindern) und große Gruppen.
Pecs Stadtzentrum, renoviert, gasbefeuerte Hydronic Kesselhaus, zwei getrennte Zimmer mit Verbindungstür zur Miete. Ein Zimmer hat ein Doppelbett, das andere mit ausziehbaren Sofa. Gut ausgestattete Küche, eine Waschmaschine zur Verfügung. Die Liegenschaft befindet sich im Zentrum von Pecs, aber die Zimmer sind ruhig, weil den Park oder den Innenhof. Vor dem Busbahnhof, Bahnhof und Busbahnhof ist zu Fuß in wenigen Minuten zu erreichen. Die Fußgängerzone (Straße der Barmherzigkeit) ca. 200 Meter entfernt, diese Wanderung bis zum Széchenyi Platz zu bekommen.
Appartement très propre, bien placé. Hôte accueillant. Attention à bien demander comment fonctionne les radiateurs car nous n'avons pas réussi à les faire chauffer.
Samuel
2017-02-25T00:00:00Z
First she cancled our reservation but found us a nice replacement, good communication. Responsibale and recommend her.
Tihomir
2017-04-08T00:00:00Z
The host canceled this reservation 4 days before arrival. This is an automated posting.
Benjamin
2016-12-06T00:00:00Z
Booked 6 hours before arriving and Lilla was very helpful and extremely communicative. Excellent location, 700m from rail station and the same to the centre of Pecs. Very clean, lots of room. Lovely bathroom and hot water. Check in worked very well. Great city to visit now Budapest is on its way to becoming like Prague in terms of numbers of visitors.
Kathryn
2016-12-17T00:00:00Z
Typ pokoje
Celý dům/byt
---
Typ nemovitosti
Byt
---
Ubytuje
4
---
Ložnice
Pécs, Baranya, Maďarsko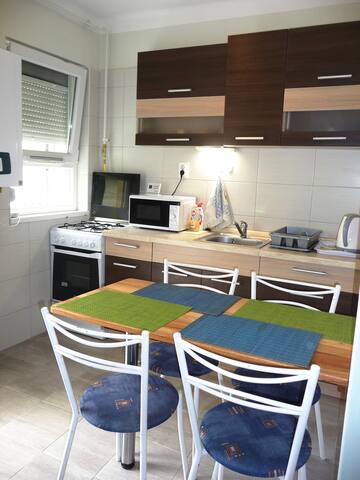 The place is located near the city center, parks, arts and culture, and a great view. For this reason, you'll love my place in the area of lighting, comfortable beds, comfort and cuisine. The proper place for: couples, lone adventurers, business travelers.
Typ pokoje
Celý dům/byt
---
Typ nemovitosti
Byt
---
Ubytuje
4
---
Ložnice
Pécs, Maďarsko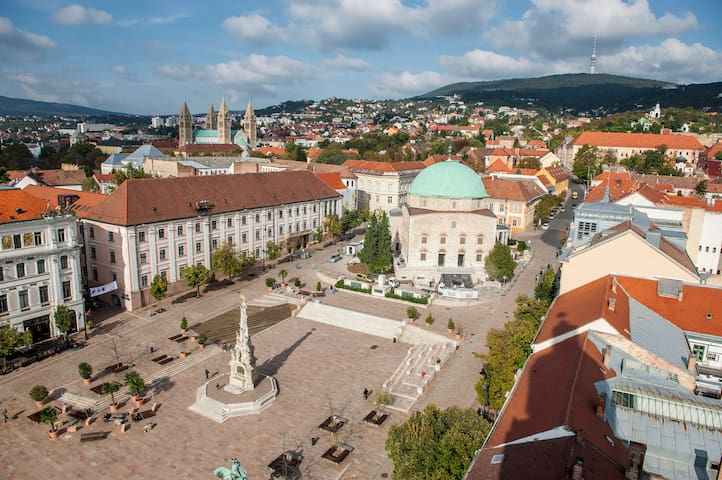 Tamas nagyon szimpatikus es segitokesz volt. A lakas tiszta rendezett, minden igenyunket kielegitette. Egy elmeny volt itt megszallni!
Tamás
2016-12-30T00:00:00Z
Nagyon szívélyes volt a fogadtatás, kellemes volt a lakás, mindennel felszerelt. akár hosszú ott tartózkodásra is alkalmas. Kaptunk program javaslatot a város megtekintésére, a környék felfedezésére. Még saját készítésű térképeket is rendelkezésünkre bocsájtott a házigazda, hol található élelmiszer üzlet, vendéglő, stb.
Andrea
2016-02-08T00:00:00Z
Typ pokoje
Celý dům/byt
---
Typ nemovitosti
Byt
---
Ubytuje
4
---
Ložnice
Pécs, Baranya, Maďarsko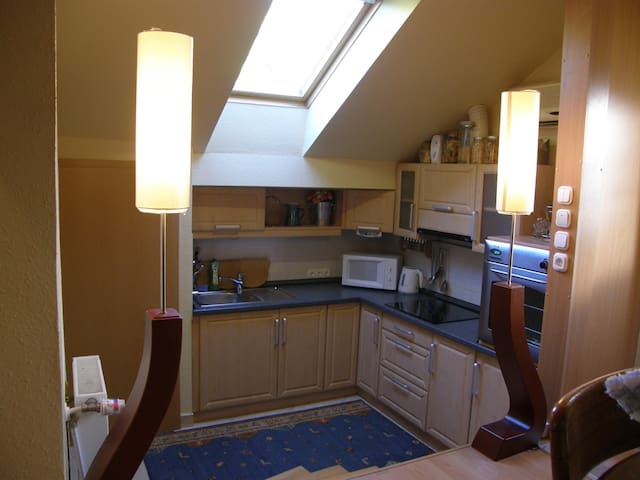 Onlangs gerenoveerd, trendy appartement op een steenworp afstand van de belangrijkste voetgangersstraat - Kiraly utca. Gelegen in een rustige 6 Appartement gebouw, met een romantische (gemeenschappelijk) tuin. Alle historische gebouwen - Kathedraal, Djami- zijn aanspreekbaar binnen enkele minuten lopen.
Steenworp afstand van Kiraly utca; op loopafstand van alle toeristische attracties
Typ pokoje
Celý dům/byt
---
Typ nemovitosti
Byt
---
Ubytuje
4
---
Ložnice
Pécs, Magyar, Maďarsko
Lyceum Apartment liegt zentral im Herzen von Pécs, parallel zur Király Straße. Eine gemütliche Wohnung mit einer großen Terrasse. Sie können Ihr Auto in der Wohnung der Tiefgarage abstellen.
Very central clean flat with basic equipments. Mihaly was very helpful and friendly. Parking entry is really small so tale care. All together I would choose this flat again!
Melitta
2015-02-16T00:00:00Z
Nagyon segítőkész pontos minden problémát segített gyorsan és hasznosan megoldani. Mindenkinek szívből ajánlom.
Endre
2016-09-10T00:00:00Z
Fantastic apartment in the heart of a great city. Apartment fully equipped , the outside terrace was great for sitting outside for breakfast, had a great time in Pecs!
Hayley
2015-09-19T00:00:00Z
Nagyon szepen koszonjuk a segitokeszseget es kedvesseget. A lakas nagyon igenyes es jobb helyen nem is lehetne. Csak ajanlani tudjuk mindenkinek. :)
Katalin
2016-02-06T00:00:00Z
A lakás a belváros közepén található, minden pár perc sétával elérhető, teljesen felszerelt és nagyon szép. Minden gördülékenyen ment, a házigazdánk kedves és segítőkész volt, nagyon jól éreztük magunkat! Ha újra Pécsen járunk biztosan itt fogunk megszállni!
Bori
2015-10-11T00:00:00Z
Super schönes Appartement! Total hilfsbereite Vermieterin! Kann ich ohne jede Einschränkung empfehlen!
Birgit
2016-05-01T00:00:00Z
In the heart of Pecs...really was! Fantastic location one street off the main pedestrian walk but perfectly quiet. Wonderful bright and sunny room with a well equipped kitchen and modern bathroom. The bed was very comfortable and the linen luxurious. There was access to a nice little outdoor area also. We didn't meet Mihaly but his wife was delightful and very helpful. Parking under the apartment meant our car was secure and we could easily access it when ever we needed to. We had a wonderful stay and would recommend Pecs as a destination and this apartment as a great place to stay.
AndyandLinley
2014-10-17T00:00:00Z
Perfect location in the centre. Zsusana was very friendly and offered things to see and do
Josh
2015-04-13T00:00:00Z
Typ pokoje
Celý dům/byt
---
Typ nemovitosti
Byt
---
Ubytuje
3
---
Ložnice
Pécs, Baranya, Maďarsko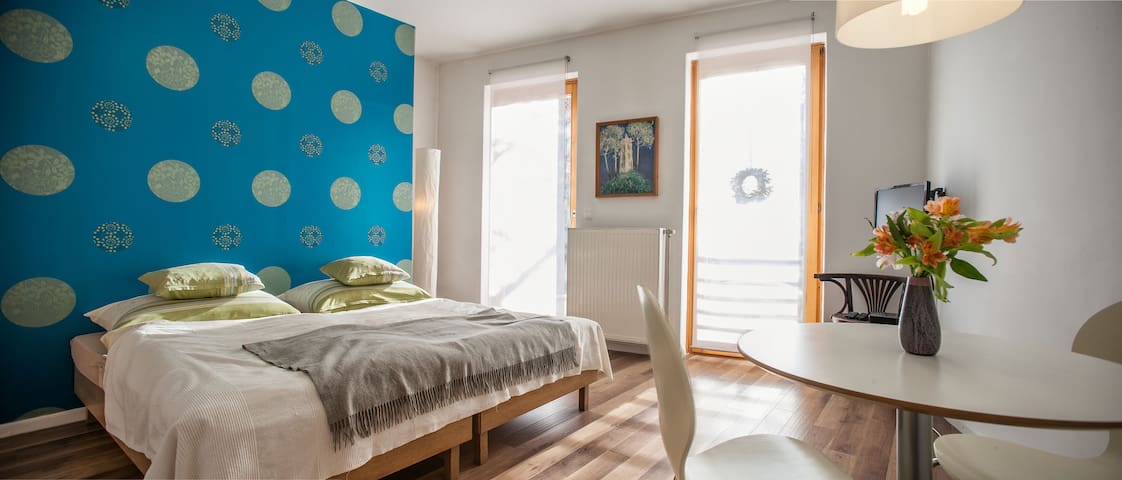 Die Wohnung befindet sich in den schönen Hügeln von Mecsek, nur wenige Minuten von der Innenstadt Pécs, und die in der Nähe Wander- / Radwege. Es bietet eine große Auswahl für alle Arten von Besuchern. Die Wohnung ist komplett ausgestattet mit allem, was Sie brauchen.
Unsere Wohnung ist nach den höchsten Standards eingerichtet, mit komplett ausgestattete Küche, eine Waschmaschine und ein über 20m2 Panorama-Terrasse, die Berge und Teile der Stadt mit Blick auf.
Sehr ruhige Umgebung in der Elite-Teile der Stadt. Verschachtelte nur wenige Minuten vom Wandern / Radfahren Flächen, Parks und historischen Innenstadt von Pecs.
This apartment is absolutely lovely -- in the hills overlooking Pecs, a steep but relatively easy walk to the centre or old city. It can get warm in the summer, but the windows and circulation in the apartment are superb and very carefully thought out. There's something really lovely about an evening breeze blowing through the house. The appliances are top quality as are bathrooms, and its a very quite complex. You sit out on the balcony and enjoy sweeping views, simply no reason not to love this place. The bus system works well, schedules are predictable, and distances are all very negotiable. Its important to get groceries by 7pm as stores tend to close by that time, with a few exceptions. Tunde was also extremely considerate and responsive to all requests.
Terre
2015-06-06T00:00:00Z
Lovely stay at this flat! Tunde was extremely clear with instructions on getting in and where to park which was very nice. The apartment was very nice, well appointed and comfortable. Only warning might be for families with small children as there are lots of stairs getting in to the flat as well as a very steep staircase inside. But really not a big deal. Lovely area on the hill too. Walking distance to town center although you'll get a workout going up the hill.
James
2016-10-05T00:00:00Z
Typ pokoje
Celý dům/byt
---
Typ nemovitosti
Byt
---
Ubytuje
6
---
Ložnice
Pécs, Baranya, Maďarsko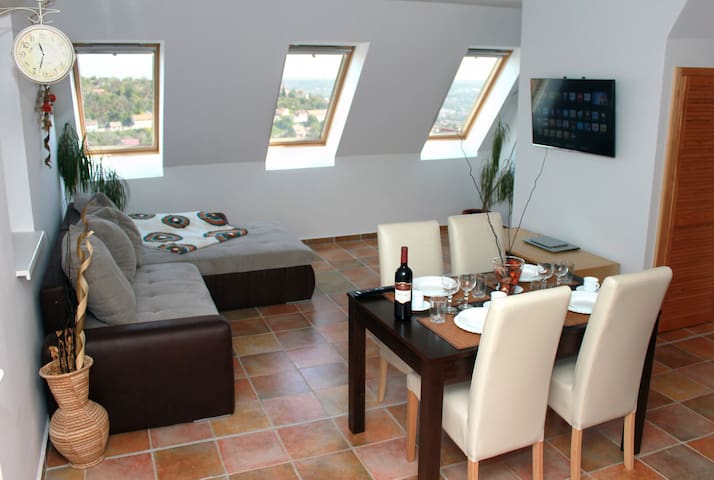 Dette elegante, sjarmerende leiligheten ligger på hovedtorget i Pécs, europeisk kulturhovedstad 2010. Bygningen huser Leiligheten ble bygget i 1892, i ecclectic stil. Selve leiligheten er 100 m2, med to store rom (soverom: 37 m2, stue: 31 m2). Leiligheten har også et fullt utstyrt stort kjøkken (der grunnleggende fodstuffs er gitt), en vakker bad med badekar og dusj, og en balkong som vender mot torget. Leiligheten er innredet med tilpassede møbler - skinn sofa, atmosfærisk keramisk vedovn - og en spesialdesignet stereoanlegg. Leiligheten er vakkert dekorert - det har et stort antall planter, og mer enn 100 kunstgjenstander (malerier, fotografier og skulpturer) i den. Denne unike leiligheten er et ideelt utgangspunkt for å utforske de kulturelle verdiene av den historiske Pécs fra. Vår hospitability er en ytterligere garanti for at ditt opphold i byen vil være hyggelig og minneverdig. tjenester Gratis Internett-tilgang, LED-TV, DVD-spiller, 5.1. HIFI, fullt utstyrt kjøkken, røykfrie rom, radio, Sight (innen 5-15 min.s gangavstand): Mosque of Pasha Gazi Kasim Pécs Cathedral Tidlig Christian Cemetary (UNESCO World Heritage Site) Street of Museer Acquarium- Terrarium Zsolnay Quarter Egenskaper Kjøkkenutstyr Forut Peis Full Kitchen Internett-tilgang Sengetøy og håndklær Krydder, mineralvann, kaffe, te, sukker, pasta, ris etc. Appliances Alarm klokke Blender CD-spiller Kaffetrakter DVD spiller Fryseboks Iron and Board Mikrobølgeovn Radio Kjøleskap Satellitt-TV eller kabel-TV Stereo Brødrister TV (s) videospiller Aktiviteter i nærheten Pécs Golf spa innsjø Vandring Hesteridning Live Entertainment Fjellsykling Shopping / Restauranter svømming Tennis Theme Park Gang politikk Sjekk inn: 14.00 Sjekk ut: 11.00 Merknader - Røyking på balkongen - En king-size seng + 2 madrasser følger med
Fantastic place to stay, a visual feast if you like art. I felt like I was staying in an art gallery. Loved the old style apartment. The nightlife in the square was great to just relax and watch from the small balcony. Lajos was very helpful and communicative, no issues at all. We had a great time there. Thank you for opening up your special space to us.
Laz
2016-09-13T00:00:00Z
I cannot recommend Lajos and Monica's home highly enough. This is the perfect place to stay in Pecs, a beautiful city in southern Hungary. We ate fresh cherry tomatoes and herbs from the veranda which has a majestic view of the main square. The apartment is filled with wonderful photographs and artworks, everything you need is provided for, fruit and foods in the fridge, bottled water, a great music collection. Lajos is a great host, he even offered to loan his bicycle however we found great cheap bicycle rental just down the road, it is a great way to get around Pecs. There are good restaurants and bars a short walk away. We had a great holiday.
Rachelle
2016-07-19T00:00:00Z
Typ pokoje
Celý dům/byt
---
Typ nemovitosti
Byt
---
Ubytuje
4
---
Ložnice
Pécs, Baranya, Maďarsko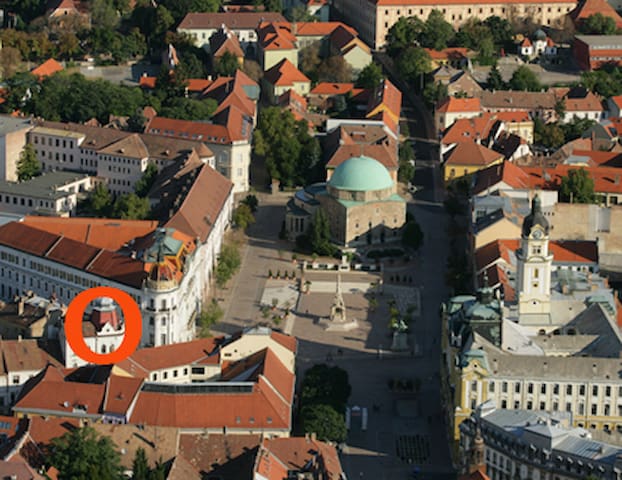 I wait for all travelers to Pecs families, friends! Our apartment is a cozy, quiet part of the town of Pécs Tettye. The three-room apartment is on the first floor so the stairs can cause problems older or overweight people. Nearby is a beautiful park and forest playground. The city center and the Mecsek 1 km from us. The cathedral, the Roman Necropolis, Cell Septihora, Zsolnay Cultural Quarter is just 1.5 km. Villany, Siklos, Orfű, Szigetvár 20 km from us.
59 m2 and spacious, bright apartments are very close to 10 minutes / to / forest and the city center as well. A small patio smoking is allowed. 4 people comfortable sofa bed in the living room but 2 people with extra bed for 6 people is located can be solved. Kids travel cot, baby bath, high chair, baby cutlery provided. books, program brochures on Pécs are provided. Clean towels (50x70) and bedding facilities. Arrival and departure by arrangement. TOURIST TAX is 400 HUF / person / night TOURIST TAX is 400 HUF / person / day
Tettye: This is a very charming, old part of town, pleasant walks can be made in the area. Next to us a Carmelite monastery and tufa caves. there is a big playground under the forest north direction from the house. A small wooden bridge you can walk a chapel above the cliffs, from which wonderful night view of the lights of downtown Pécs. The old family winery Somogyi 120 meters away from us savor great wines from Villany.
Minden nagyon rendben volt, tiszta és rendezett szállás. Ajánlom mindenkinek!
Zoltán
2016-09-24T00:00:00Z
Nagyon szep,tiszta,jol felszerelt apartman.A kozpont es a latnivalok gyalog is kozel vannak.A kornyek nyugodt es csendes.Jol ereztuk magunkat!
Krisztina
2015-09-07T00:00:00Z
We arrived by train and took the 32 bus and ended up walking a long way. Take the 33 bus. Dora still waited for us and was very welcoming. She informed us about a festival that was on and suggested a couple of good eating places. We were able to walk everywhere and enjoyed the walk up to the lookout and the hills behindTettye Very comfortable apartment with everything we needed.
Fiona
2016-05-11T00:00:00Z
L'appartement de Dora est très agréable, bien placé près du centre tout en étant au calme. Dora nous a très bien accueillis et renseignés sur Pecs.
Sabine
2015-08-24T00:00:00Z
Jol felszerelt apartman, kivalo elhelyezkedes, nagyon korrekt hazigazda. Legkozelebb lehet hogy nem is keresunk mast. Well-equipped flat, perfect location, nice and flexible host. Next time we may not even look elsewhere.
Vince
2015-11-08T00:00:00Z
Tökéletes méretű és felszereltségű apartman egy család vagy kisebb baráti társaság számára, csendes környéken, ahonnan mind a belváros, mind a Tettye és az onnan induló túraútvonalak rövid sétával, biztonságosan elérhetőek. A házigazda nagyon kedves és rugalmas, bármikor visszamennénk.
Katalin
2015-02-15T00:00:00Z
Great apartment - clean, spacious and light. Very close to the centre and right next to a nice hill walk. Recommended.
Peter
2016-03-30T00:00:00Z
Nagyon jól sikerült a pécsi hétvégénk a barátainkkal, amihez nagyban hozzájárult, hogy teljes kényelemben és szép körülmények között tudtuk őket elszállásolni a Masi Apartmanban. Dóra is mindent megtett, hogy minden simán menjen az érkezéssel és távozással. Köszönjük szépen!
Zsófi
2016-10-10T00:00:00Z
Typ pokoje
Celý dům/byt
---
Typ nemovitosti
Byt
---
Ubytuje
6
---
Ložnice
Pécs, Maďarsko
Orfű - Airbnb
:
Průměrně

4.82

z

5

hvězdiček na základě

258

hodnocení hostů