Skvělé místo pro okružní celém Londýně se snadnou dopravou od vlakového nádraží Hampton Wick. Místní zajímavosti patří Twick Rugby World Cup, Hampton Court Flower Show, tenisový Wimbledon, Kew Gardens, Richmond Park, Kingston a Richmond centrum.
Samostatný přístup do nově modenised soukromého suterénním bytě. Byt se skládá z 1 luxerious king size ložnice, velmi velké Procházka skříň (která může pojmout jednoho lůžka), koupelna a samostatné WC. ). V obývacím pokoji je přístup do malé terase. Kuchyňská linka se všemi mod cons inc indukční varná deska, sporák, mikrovlnná trouba, myčka, lednice / mrazák, pračka. V kuchyni je plně vybaven vše, co budete potřebovat inc, ale nejsou omezeny na: talíře, skleničky pánve a příbory. Váš pobyt bude zahrnovat návštěvu z týdenního čistič, který změní váš povlečení a ručníky. Dětské zboží může být poskytnuta (je-li vyžádat předem) vč vysoká stolička, cestovní postýlka, schodišťové bránu, hračky, knihy. Můžeme poskytnout další single (twin) postel, ale tam je poplatek za přistýlku, zda jeho pro dítě nebo dospělého. Pokud potřebujete přistýlku je nutné rezervovat pro tři osoby. Mohu také poskytnout jednu dětskou postýlku. Rezervaci pro 4 osoby budou přijímány pouze v případě, že čtyřky jedná o dítě (do věku 12yrs. Parkování - existují tři možnosti. 1 bezplatné parkoviště 5 minut chůze od bytu. 2 můžete zaparkovat v těsné blízkosti zdarma mezi 6:30 hod - 08:30 hod nebo 3 si můžete koupit vstupenky parkování poškrábání u £ 2,50 půl dne. Dopravní - Vlakové nádraží a autobusové zastávky jsou naproti domu. Vlak linkou se dostanete do Londýna za 25 minut nebo i na Twickenham, Richmond, Putney, Wimbledon nebo Clapham Junction. Na autobusové linky jsou k Heathrow, Hampton Court a mnoho dalších místních oblastí. Obchody - můžete chodit do centra města Kingston v době kratší než 5 minut a je zde také samoobsluze 2 budovy pryč. Hospody / resturants - během pouhých pár minut od domu se nachází mnoho hezkých míst k jídlu a pití. Místní atrakce - Bushy Park & Richmond Park, Hampton Court Palace, Twickenham Stadium Rugby, Wimbledon tenis, Richmond, Kew Gardens. Eco ruchu - pro ty, kteří mají rádi, aby se rozdíl je budova obsluhované 4kW solárních panelů a máme "studna" poskytování šedé vody pro WC letech.
Mám také další nově zrekonstruovaný byt lokálně, viz druhý zápis.
Hanna and Rob (and little Isabelle of course), are a beautiful family and amazing hosts! We arrived with our 3 months old baby at midnight and everything was well organised and prepared for us. Hanna made sure the temperature of the flat will be warm enough for us in the middle of winter, she bought a bottle of milk for us and left it in the fridge as we arrived on New Year's Day and everything was closed. She even got our baby a beautiful and thoughtful gift! She organised a travel cot for us and a new Moses basket, she showed us around the neighbourhood... We got so close that we grabbed coffee a few times together, and became friends with our two babies! She is so lovely! One night our daughter didn't feel well and I was worried, Hanna offered to take me to the hospital in their car even though she had her baby only one week before, and had a lot on her plate! She is well deserving of her Super Host status. The flat itself is big, modern, clean and beautiful. We loved it so much we decided to stay with them for another month. The location of the flat is superb! Right across the train station to the city, but we didn't even need to get to the city as Kingston has everything you need - amazing shopping, riverside restaurants and cafes and Bushy Park with its resident deer. Just outside the place there is a convenience store where you can get pretty much anything... I could go on and on about how amazing this place is and how great Hanna and her family are. Thank you so much for such a good experience, and we will definitely be back.
David
2016-02-11T00:00:00Z
We greatly enjoyed our stay in Hannah's apartment. The apartment was indeed spacious and very well and thoughtfully equipped - including toiletries, store cupboard essentials and toys and books to help entertain our daughter. A very convenient location for train access to Central London, historic houses and theme parks. The attentive Hannah was unable to meet us on arrival but left the key with the friendly staff at the adjacent convenience store and called by the following day to check that we'd settled in okay.
Peter
2015-08-01T00:00:00Z
This flat has been refurbished to a very high standard. Sumptous bedding and pillows,therefore wonderful sleeps. Kitchen and bathroom beautifully done. Extremely spacious with good quality seating and dining table and chairs.
Margaret
2013-06-18T00:00:00Z
Hannah was an amazing host! I cannot explain enough of how wonderful our stay was at the flat. We had to arrive a day late due to our flight being canceled and Hannah was so understanding of the situation. The flat is absolutely amazing! Spacious, clean, and in a very convenient location from downtown London. The Hampton Wick train station across the street will take you into downtown London in 25 minutes. Everything about the flat was just perfect! We will definitely stay here again next time we visit London!
Angela
2015-06-06T00:00:00Z
Great host, perfect apartment. I strongly recommend you to stay in this apartment if you are going to London.
Wai Chun
2014-05-15T00:00:00Z
We had a wonderful stay at Hannah's place. It's exactly as shown in the photos, clean, spacious, safe feeling and very light - even though it's a basement flat. The bed is very comfortable, great bathroom and fully equipped kitchen. VERY comfortable leather couch for vegging out in the evenings. Hamptonwick station is literally across the road and it's only a 10 minute walk to Kingston via a gorgeous bridge across the Thames. We caught the train to Waterloo from both stations - super convenient - 30 minutes into town. For supplies we used either the off licence (nearly next door) or Waitrose just across the bridge. Even though the property is on a busy road and across from the station, it's really quiet and peaceful which was great after a long day walking London. Hampton Court palace is very close and well worth a visit - it was amazing - and Bushy Park is walking distance as well. We had a great time staying with Hannah. She responds to messages and emails quickly and I would recommend her flat to anyone.
Helen
2016-08-06T00:00:00Z
Everything was perfect. Easy communication throughout with Hannah, who met ud personally and explained everything. The flat was in immaculate condition. Location great, very easy for trains in and out of London, and for walking into Kingston for shopping and dining.
Roddy
2016-07-12T00:00:00Z
The apartment is lovely. Great location, excellent facilities. Hannah is very pleasant and helpful. I visit the area for work frequently and have only just found this apartment. I will definitely be visiting again!
Andrew
2014-05-03T00:00:00Z
Typ pokoje
Celý dům/byt
---
Typ nemovitosti
Byt
---
Ubytuje
4
---
Ložnice
Hampton Wick, Greater London, Velká Británie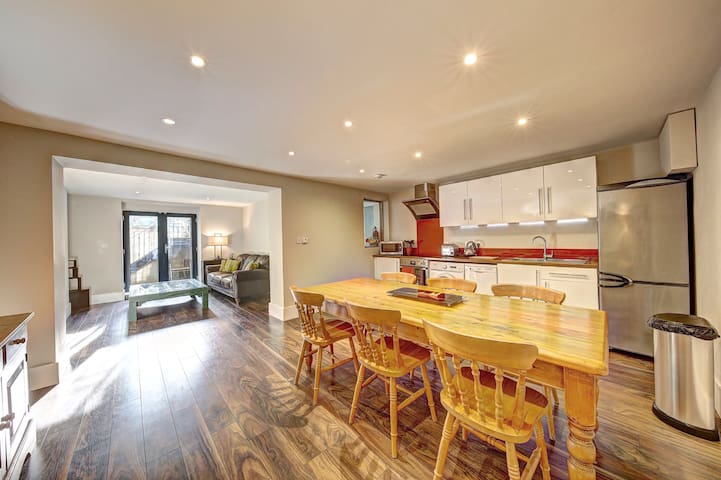 Unsere Architekten Wald Lodge bietet moderne, private und komfortable Unterkunft in einer fabelhaften ländlicher Umgebung. Innerhalb c30mins von Flughäfen Heathrow und Gatwick und 45 Minuten von London, was nicht zu lieben?
An den Ufern des Flusses Mole dieser Rückzug Wald einstöckigen genießt einen atemberaubenden Blick über die Landschaft von Surrey. Völlig in sich geschlossene, wurde die Lodge im Sommer 2013 mit modernem Komfort und einfachen Zugang im Verstand errichtet. Es ist hell und luftig und bietet ein hohes Maß an Privatsphäre und Komfort. Nur 5 Minuten von M25 / Jnc 10, ist es innerhalb von 35 Minuten von Heathrow und Gatwick, 20 Minuten von Guildford und London ist 45 Minuten mit dem Zug von Cobham & Stoke D'Abernon oder Effingham Junction-Stationen, ist es ein idealer Bolzenloch für Unternehmen zu machen Führungskräfte oder solche, darauf bedacht, die vielen Sehenswürdigkeiten der Umgebung zu erkunden. Es ist auch ideal für diejenigen, Hochzeiten und Veranstaltungen an den verschiedenen Veranstaltungsorten beliebt in der Gegend, wo die Freiheit besuchen kommen und gehen, wie Sie bitte hilfreich. Mit Schritt freien Zugang, für die eine geräumige Unterkunft bis zu vier Personen auf einem Selbstversorger-Basis und umfasst: • Doppelzimmer mit Kingsize-Bett • Badezimmer mit Dusche • Offenes Wohnzimmer mit Schlafcouch • Esstisch für vier Personen • Küche mit Kühl- / Gefrierschrank, Mikrowelle, Doppelkochfeld und kleine Wandofen • Große private Terrassenbereich • TV / DVD / Radio / iPod-Lautsprecher •W-lan • Bügeleisen und Bügelbrett •Haartrockner Handtücher und Bettwäsche zur Verfügung gestellt.
Wir haben das Glück, von schönen Wäldern und Landschaft umgeben zu sein, in einer Kurve auf dem Fluss versteckt. Es ist ein wirklich ländlichen Stelle, wenn auch nicht weit weg von allem.
Me and my girlfriend came here for a short break and both thoroughly enjoyed ourselves. The lodge is exactly as described, and Alison, the host, was very helpful and friendly. The lodge was the perfect size for just the two of us, and there were a lot of places around for us to go out and explore. It was the perfect place to relax.
Kieran
2016-06-17T00:00:00Z
We had a lovely time at the woodland lodge thanks to Alison! She prepared information before our arrival, filled the fridge with breakfast essentials so we could enjoy the scenic view. The place, the location and Haka the family dog are lovely! I definitely recommend spending a weekend there!
Simone & Stefan
2014-05-12T00:00:00Z
A perfect weekend hideaway in the beautiful Surrey countryside. Alison was super helpful in advance of the booking recommending places to eat and lovely too on arrival. We had loads of goodies to keep us v happy - thank you!
Emma
2016-10-03T00:00:00Z
Alison is a great host and made our stay really comfortable. The place is lovely, ideal for a relaxing weekend in the country. Highly recommended!
Alkisti
2017-02-26T00:00:00Z
We were looking for a quiet, romantic retreat and we found it!!! Location was beautiful....away from it all tucked away amongst the trees. Yet only 10mins from Guildford and 20mins from Kingston. The lodge was clean and cosy with everything you could possibly need. The jam and honey made by Alison was a lovely touch as were all the other goodies provided by the host. Alison was brilliant as the host, full of tips and always contactable and very approachable. Thank you Alison for everything and at short notice too. See you again soon
Amjad
2014-11-06T00:00:00Z
We had a fabulous stay in the lodge and would highly recommend it. Very peaceful, well thought out and extremely comfortable accommodation. The amount of goodies supplies was amazing and we adored the local honey! We will definitely be returning to see more of the local area. We had a very short stay so only had time to sample the delights of the Cricketers and a day out at Wisley. Great place, great people and way better than a 5 star Hotel!
elizabeth
2017-03-21T00:00:00Z
Alec's retreat - the wooden lodge - is a dream. Very comfortable, with everything you need for a stay and then this lovely view over the river Mole. Unfortunately the evenings were still a bit too cold to sit outside, but with the terrace door wide open, it was a bit like sitting outside. There is the motorway close by - yes. We heard it on the first and second day, but on the third day we had become so used to the constannt rustle that we actually didn't here it any more. Alison and David and of course Haka (the dog) gave us such a warm welcome - even with a few words in German - and we felt immediately at home. The hardest thing was, not to give Haka any food. It was so difficult to resist his eyes. Alison hat filled the fridge and the cupboard with lots of provisions, especially home made jam and marmelade. We couldn't resist to empty the jars. Back to the cottage. It is ideal for exploring Surrey as well as the western part of Greater London (with Hampton Court Palace, Kew Gardens and lots of NT places). By trains it is just about 40 minutes up to Waterloo. So if you want to do a visit to the city - no problem. We were very sad when we had to leave again after one week. But we definitely plan a return next year. So: We'll be back!! Thanks again, Alsion, David and Haka, for everything. We can (and already did) definitely recommend your lodge. We hope to see you again next year.
Jürgen
2015-05-17T00:00:00Z
What a fantastic stay. My first experience of airbnb and we couldn't have wished for more! A perfect location, a lovely place to stay and the very best host you could possibly wish for. We recommend this more!
matt
2016-09-18T00:00:00Z
Typ pokoje
Celý dům/byt
---
Typ nemovitosti
Chalupa
---
Ubytuje
4
---
Ložnice
Surrey, Velká Británie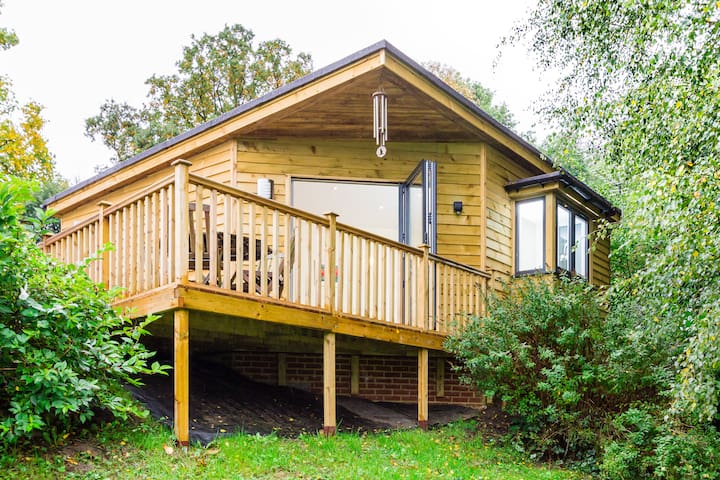 Rose Cottage at Blackmoor Farm is a charming 16th century barn conversion. Situated just two miles from junction 10 on the M25 it is 30 minutes from Heathrow and Gatwick airports. London is a 40-minute train ride away.
Rose Cottage at Blackmoor Farm is a charming 16th century barn conversion. Situated just two miles from junction 10 on the M25 it is 30 minutes from Heathrow and Gatwick airports. London is a 40-minute train ride away and we are 5 minutes drive from RHS Wisley and close to several National Trust properties. We are also close to Thorpe Park, Chessington World of Adventures and Legoland. Accommodation is over two floors: Double bedroom with one double bed, Twin bedroom with two single beds, two bathrooms, one en-suite with power shower, one with roll-top bath, large open plan living area with double sofa bed, kitchenette with double hob, microwave, fridge, dining table and chairs for four people, TV, Wi Fi, ironing facilities. Bed linen, towels and hair dryer included. We provide a welcome pack with kitchen basics and toiletries. Continental breakfast is provided.
Ockham is a very pretty historical village, mentioned in the Doomsday Book. It was once part of the Lovelace estate and has very distinctive red brick architecture.
We had a great time at the cottage, thanks Colette - it was lovely to meet you. The cottage is fantastic - clean, comfortable, set in a really quiet location but with easy access to south west London, Windsor, various theme parks etc & local train service into central London. The directions to the cottage were easy to follow (a satnav wont get you to the house as its down a private laneway) The Black Swan pub nearby served great food & was a lovely spot to spend an evening We would definitely love to visit again
Marc
2016-07-18T00:00:00Z
The cottage was lovely and cosy in a nice rural setting and Colette was very welcoming. There is also a great pub at the end of the drive.
Charles
2015-01-02T00:00:00Z
Nous avons passé un week end pascal dans ce tres bel environnement bucolique. Le cottage est charmant dans un style rustique bobo sympa. Excellent accueîl de notre hotesse . L'endroit est ideal pour visiter le surrey , sur le plan du confort, rien ne manque mais la literie pourrait être plus recente . Rançon du calme et de la campagne: le chemin d'acces est complètement defoncé .
Anne
2016-03-30T00:00:00Z
My goodness, what a wonderful place to stay. Rose Cottage is in such a lovely area and Colette was so helpful with information about the locality. The cottage is also very homely with wonderful exposed beams but all the amenities. I had to shorten my stay at the last minute due to an unforeseen work commitment and Colette was also very understanding. A wonderful place to stay away from it.
Rob
2015-05-20T00:00:00Z
Colette was very welcoming, and we had a lovely stay at Rose Cottage, it is in a beautiful location, rural but still close enough to commute into London, with some great pubs nearby! Loved the bath! Many thanks
Lucy
2015-09-21T00:00:00Z
We had a magical time at the Rose Cottage! So close to Heathrow (we needed somewhere to recover from jet lag before seeing all our family) and yet felt like we were in the middle of the countryside. Terrific pub nearby as well! Thanks Colette for being such a wonderful host.
Britt
2016-07-22T00:00:00Z
Collette was very responsive when we were making the booking from Australia and went out of her way to accomodate our early arrival. Rose cottage was delightful and certainly met our expectations. The gardens, stable yard and friendliness of Collette and the guys working on the farm exceeded our expectations and we enjoyed the area and local pubs. Collette is a talented artist and a great host. We will definitely recommend Rose cottage to our friends.
Tania
2016-06-11T00:00:00Z
Great place with lots of character. Well equipped and very comfortable beds. 2 bathrooms a real bonus. One feels special sitting upstairs under the barn beams. The location is great, peaceful and quiet in the countryside but close to Cobham with several characteristic villages nearby with unique shops, pubs and restaurants. A very easy train journey to London. We really want to return and explore the footpaths. Colette is a 5 * hostess.
Geraldine
2015-12-08T00:00:00Z
Typ pokoje
Celý dům/byt
---
Typ nemovitosti
Dům
---
Ubytuje
4
---
Ložnice
Cobham, Surrey, Velká Británie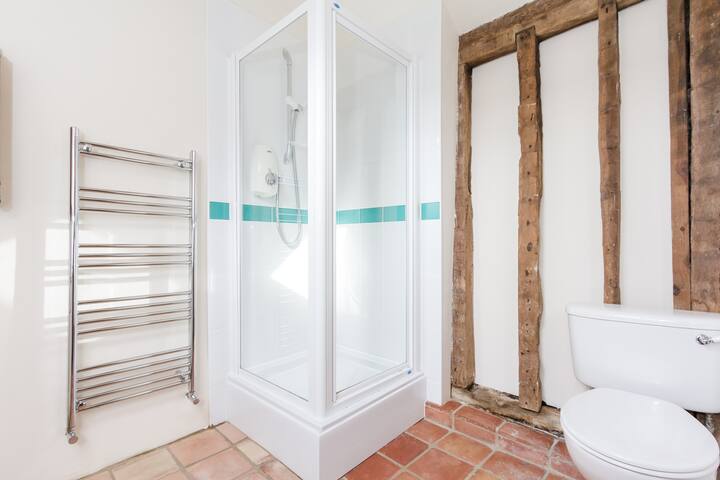 The room is in a modern 3 bedroom house with a garden and off-road parking, in a friendly, quiet and well regarded area of leafy Surrey, inside the M25. Only a short walk to main railway station for central London (trains to Waterloo every 30 minutes); bus stops near-by. Heathrow airport only 9 miles. A good base to visit theme parks ie.Chessington World of Adventures; Thorpe Park; Legoland; Mercedes-Benz World; Hampton Court; superb golf courses, great shopping centres and the River Thames. Our location is also a good base for those working at The Heights, industrial estate, in Weybridge which accommodates the HQs of Sony, Proctor & Gamble, Boots, PGS and others. BP in Sunbury and Shepperton Film Studios are also close by. Walton-on-Thames benefits from a new shopping centre with lots of cafes and restaurants. There are also several pubs and a recently refurbished cinema. The double room is spacious, bright and freshly decorated. The room also has a fold out single chair bed. There is plenty of wardrobe and draw space. It has a TV, freeview satelite box and DVD player. Wi-Fi access and other all mod-cons are available. The kitchen is fully fitted with a double oven, dishwasher, fridge-freezer, washing machine, microwave, etc. The household is very quiet with a relaxed and laid-back friendly atmosphere. It is a perfect base to return to after a busy day at work or sight-seeing. A warm welcome awaits.
We had a lovely time at Carolyn and Steve's! They are great hosts - the communication was easy and the room was lovely and comfy. My boyfriend and I stayed over for one night only, as we were in Surrey for a wedding, so our visit was a little brief. However, we did get to enjoy a quick cuppa with our hosts, who were super helpful throughout our stay! Very recommended! Thank you.
Paula
2013-10-07T00:00:00Z
Carolyn was very helpful and warm. The room was very clean and comfortable and the neighborhood was quiet. I would definitely go back.
Parveen
2014-05-10T00:00:00Z
Carolyn was great, very welcoming and kind. The room was very comfortable, clean, and with lots of hanging space and draws to put your clothes in. Bathroom and kitchen where excellent too, I would certainly recommend to this to friends and family. Thank you Carolyn.
Chris
2016-07-30T00:00:00Z
Nothing special about the location - it's a residential estate! The room is exactly what you see in the photos and has all the amenities you could possibly need. This however, doesn't mean that a stay here is worth the rate charged!
Anna
2016-07-16T00:00:00Z
Carolyn and Steve were excellent hosts. They were very accommodating to any requests we had and were helpful in suggesting were to eat, etc. The room was clean and comfortable and the location was just about 5 minutes away from the train to London. We would certainly stay with them again and would recommend them to others.
Bernard
2015-05-07T00:00:00Z
I had a very enjoyable stay at Carolyn and Steve's. Their home in warm and comfortable and the room exactly as it appears on the profile, clean and tidy in a nice quiet neighbourhood. Carolyn was very approachable and nothing was too much trouble, also happy to give a feeling of much freedom too. Exactly what I was after.
Callum
2015-05-30T00:00:00Z
We were made welcome, the house and room were clean and tidy.
Colin
2015-06-01T00:00:00Z
Nice room with everything we need. Carolyn and Steve are very friendly; even if we arrived really late, they gave us a warm welcome. Sadly it was a very brief stay.
Ulrike
2014-07-04T00:00:00Z
Typ pokoje
Soukromý pokoj
---
Typ nemovitosti
Penzion (B&B)
---
Ubytuje
3
---
Ložnice
Walton-on-Thames, Anglie, Velká Británie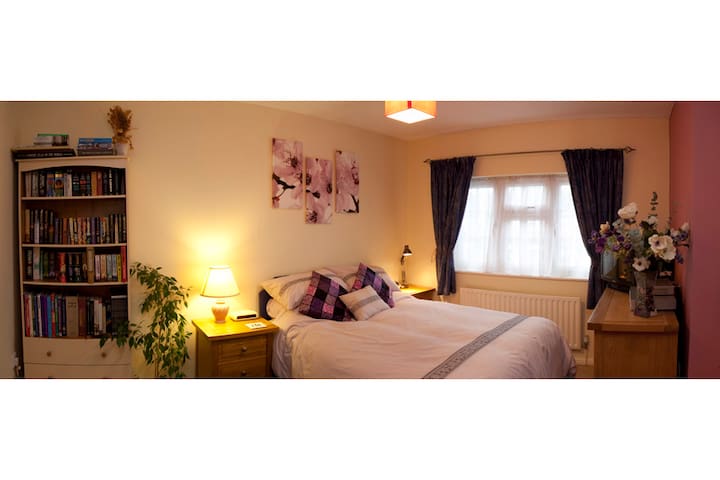 Our warm, comfortable two bedroom apartment with spacious open plan living area is ideally located for access to train station and local town centre. Enjoy relaxing riverside walks, eating out, shopping & trips to central London.
Walking distance to a fantastic town, shops and market. Also well placed for access to Richmond, Hampton or Central London.
The flat is in a great location with shopping train station river etc within 5 mins walk. Kevin is a great host and answered any enquiry promptly . There was an issue with the internet on arrival but we soon got it sorted. The flat could have been cleaner and more organised but Kevin addressed all issues satisfactory and refunded the cleaning fee. It was home from home and I would definitely stay there again. Thank you Kevin
Alfie
2015-09-26T00:00:00Z
The host made me feel welcome. Kingston is a good location to heathrow airport. Also close proximity to the train and buses. Getting into london was an hour by train. I would stay at this location again.
Michael
2016-10-25T00:00:00Z
Despite an initial hiccup getting access to Kevin's place, we found it a great spot, very handily located and with great facilities. Despite being in a large complex it was very very quiet and peaceful. We would happily stay there again. Just a word of warning - if you are using both bunk beds, just check the slats under the mattress of the top bunk - our kids were woken when one of the slats fell onto the child on the lower bunk in the middle of the night - thankfully she wasn't hurt but please do just check them before you use the bunks.
Kathryn
2015-05-05T00:00:00Z
The place was very nice, clean and at a great location. Perfect for venturing into the City or staying at beautiful Kingston-upon-Thames for a relaxing afternoon. Kevin was a great host and always available and helpful. The flat is cosy and can easily accommodate four people. All in all wr highly recommend it.
Stavros
2016-01-18T00:00:00Z
The host reminded by e mail re time of arrival. Delayed by plane and immigration Gatwick Airport. Arrived at (URL HIDDEN) in apartment tried to contact intercom no response. ( out of order) called on phone Kingston contact finally maid showed up. Preferable contact around to facilitate check in. Apartment spacious and splendid location just walking distance to city center Kingston upon thames.Very comfortable aqequate facilities. Kitchen facilites,for cooking. toaster,washing machine, Some minor issues re locking front door and heating called local contact and host overseas and communication through e mails and (SENSITIVE CONTENTS HIDDEN)s.Ok all solved speedily. Need to have e mail and (SENSITIVE CONTENTS HIDDEN)s systems for effecient communication.Would be problem without them. Overall pleased with the apartment spacious, good location and facilites. :Like home away from home. Would come back if opportunity arises. Thanks to the host Kevin for prompt response eventhough not in Kingston.
samshuri
2016-06-04T00:00:00Z
We were made very welcome. The listing was accurate and we felt safe and secure . The building was very well managed.
Susan
2016-03-01T00:00:00Z
We had such an amazing experience. Before even arriving at our destination, our host was very helpful. He provided us with a house manual so we were aware of how to work things in the house, not only that but he also provided us with a list of recommendations for the area, such as restaurants, supermarkets, etc. Did not realize how convenient this location was but it had absolutely everything we needed within a 5 minute walk (supermarket, mall, restaurants, train station, the river, etc.)
Vivian
2016-07-01T00:00:00Z
We hebben met vier volwassenen overnacht in het appartement van Kevin. Het appartement is ruim genoeg en voorzien van alle benodigdheden. De auto kan in de kelder worden geparkeerd en er is een balkon om buiten te kunnen zitten. Helaas hebben we Kevin niet ontmoet, maar de schoonmaakster liet ons binnen en bij vertrek hebben we de sleutel achtergelaten in de brievenbus. Het appartementencomplex is redelijk centraal gelegen in Kingston. Het centrum is vijf minuten lopen (onder het spoor door), evenals de restaurants langs de Thames. Er is een uitgebreide supermarkt om de hoek en Hampton Court Palace is een half uur lopen. 's Avonds was er wat geluid van de belendende flat, maar 's nachts was 't rustig. Kortom, ik kan het appartement van harte aanbevelen.
Davied
2015-07-05T00:00:00Z
Typ pokoje
Celý dům/byt
---
Typ nemovitosti
Byt
---
Ubytuje
4
---
Ložnice
Kingston nad Temží, Velká Británie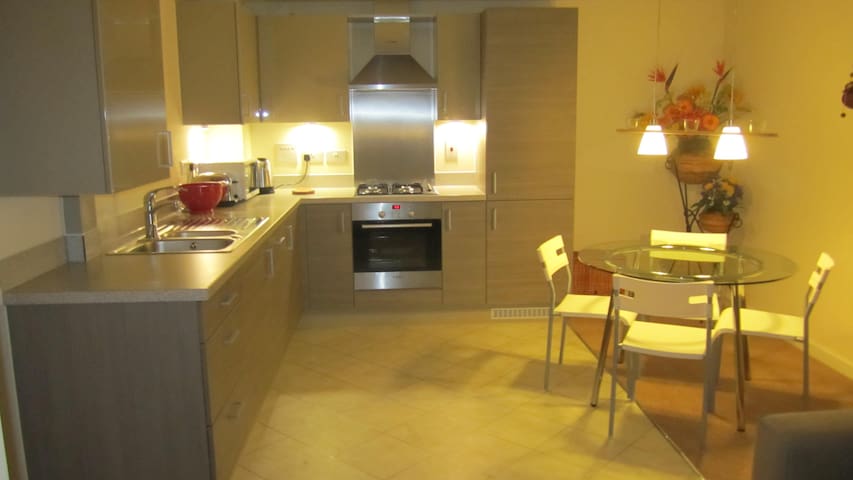 We thoroughly enjoyed our one night on board Baboo. I was impressed with the level of security- the outer gate and on board, which gave us both a strong sense of well being and safety. The comfy beds, fluffy towels, books to read and plants made it very homely. It was peaceful too. We took milk, breakfast yogurts etc- tea, coffee etc was supplied.
Caroline
2016-08-08T00:00:00Z
Natasha and Klaus made our whole family feel very welcome. The marina itself is really beautiful, and the surrounding area (Bushy Park and the deer, Hampton Court Palace (including the maze and secret garden for children) left us feeling like we were on another continent and not just down the road in London! The boat is very comfortable and well laid out, the small skiff and canoes great fun, and Natasha and Klaus were very responsive to our questions and on hand to settle us in. When we left, Klaus even took us down to Hampton Court itself in a smaller boat which saved us the walk with our bags!!!
Euan
2016-08-15T00:00:00Z
Will be booking again.......
Kevin
2016-09-11T00:00:00Z
We loved our stay and the kids especially enjoyed the electric boat trips, lying on the sundeck and pretending the boat was their den. Natasha and Klaus are great hosts too, very friendly and helpful. Thank you!
Lily
2016-09-16T00:00:00Z
My first booking on here and it was great. Easy to organise and good communication. The boat was just right for the 2 of us with plenty of room and a great layout inside. The boat and surrounding area was gorgeous. I would definitely recommend whether as a base for going out or just a nice location to relax for a couple of nights. We would be looking to return.
Wayne
2016-09-28T00:00:00Z
Natasha responded immediately to all communication, the detailed instructions were perfect. Baboo was a wonderful experience, and couldn't have been in a better location. It was quite magical stepping from the busy road into the tranquil marina.
Anne
2016-10-08T00:00:00Z
lovely place to stay book now!
Liz
2016-10-17T00:00:00Z
everything was great
Thomas
2016-10-15T00:00:00Z
Typ pokoje
Celý dům/byt
---
Typ nemovitosti
Loď
---
Ubytuje
4
---
Ložnice
Hampton Court Rd, Greater London, Velká Británie
Das Haus befindet sich in einem gehobenen Wohnviertel Minuten (3 Straßen) von ACS und zu Fuß zu Dänen Hill School entfernt. Der Zug dauert etwa 38 Minuten nach London. Wir sind von Heide und Wald umgeben. In der Nähe sind Hobbledown (Epsom), Chessington, Bocketts Farm (Bookham), Brooklands (Weybridge), Sandown Racecourse (Esher), Epsom Derby (Epsom), Garsons Farm Wählen Sie Ihre eigene (Esher), der Chelsea Football Club (Stoke D ' Abernon), Hampton Court Palace, Kingston und Chessington World of Adventures (Chessington). Die High Street ist ca. 1 Meile entfernt und verfügt über ein Cafe ', Spa / Salon, Indian Restaurant, Pub auch Thai dient, und eine Tankstelle. Die Lage ist praktisch für Wisley RHS Gardens, Claremont Gardens, Painshill Park Gardens. Mehrere Ställe für Reiten und Hacks in der Nähe. Es gibt 3 Geocaches in einem 1-5 Minuten zu Fuß versteckt. Viele Baby-Klassen um. Oxshott wird in den populären Shopaholic Romanen des britischen Autors Sophie Kinsella, als die Heimatstadt von der Serie 'Erzähler, Becky Bloomwood vorgestellt. Gordon Ramsey Kommerzielle in der Oxshott Heath gefilmt. Ein größerer Teil des historischen Romans (unter der Asche) des deutschen Autors Tom Finnek in Oxshott und in der Nähe Cobham. Die neuen Angebote mit den Großen Brand von London 1665 bis 1666 und die so genannte "Diggers", Nonkonformist abweichende Gruppe während des englischen Bürgerkriegs. Einige Szenen aus dem Monty-Python-Spielfilm Jabberwocky (1977) wurden in Oxshott Woods gefilmt. Es ist eine erstaunliche Soft-Play-Center und Pool im Leatherhead Freizeitcenter ein paar Meilen entfernt. Die Liegenschaft befindet sich entlang der Olympischen Spiele und die jährlichen Prudential-Fahrt London Radweg populär gelegen. Radfahren ist das ganze Jahr über beliebt. Wir sind während des Wimbledon-Tennisturnier beliebten 15 min einfache Fahrt mit dem Zug oder mit dem Auto zu sein. Guildford ist 15min entfernt und ein beliebtes Ziel mit der High Street zu Fuß vom Bahnhof entfernt. Es gibt einen Park-and-Ride-Bus die Gäste zum Spectrum Leisure Center nehmen, die einen schönen Indoor-Wasserpark hat, Kegeln, Klettern, creche und Eislaufen.
Fantastic stay. Cindy was very welcoming and helpful especially as we have a toddler! Perfect location for day trips into London, the trains didn't disturb us at all from the house but we're very convenient. Oxshott Heath is just on the door step for great morning walks. The house is well equipped and the underfloor heating is fab for us flying in from a hot country. We would definitely stay again.
Charles
2016-05-28T00:00:00Z
The station house is awesome. Nothing to dislike. Tastefully decorated and furnished, allocated parking space, and trains in your back garden! Interestingly the new trains are quite quiet and they don't bother you but it's so cool having them right there. I should add Cindy is a perfect host, good communication, met us for checkin then left us alone.
Mark
2016-08-12T00:00:00Z
It was very comfort stay: house is beautiful: clean, white, modern decorated, kitchen is big and fully organized for family cooking. There are some toys and books baby. Cindy and Daniel are great host, very friendly and helping. Despite the fact we didn't rent a car, we found a lot to do round Oxshott with baby (thanks Cindy for guide us) Closeness to train station is only bonus and you can easily travel to other villages for shopping, playgrounds and cafes. Very good family stay.
Elena
2016-06-27T00:00:00Z
We had a very good stay at Cindy's house. It is very conveniently located and they have a fenced area for parking 2-3 cars so parking is not a problem. The check-in was easy and quick despite our late arrival; there was a welcome kit with refreshments, the rooms were spotless and the place felt like a home. We could not use the garden because of the cold weather but it would be great for summed BBQs. I would definitely recommend staying there to families or professionals.
Eneko
2017-03-03T00:00:00Z
Our family of five was relocating to the UK from South Africa and we were looking for a home away from home on our arrival. We were a little cautious because the location of the house to the train but it proved to be a non issue! We loved having the train so close - it was so convenient and its not a busy station so the noise level is low. The home is lovely - it has everything you need. It's clean, it has crisp white fresh linen and lots of hanging and cupboard space. The area (Oxshott) is beautiful and quiet - we went for many walks and jogs in the heath next door which has a well marked 3km foot path. The local shops are in walking distance and have all your basic needs and a lovely pub. For the bigger shops - you need to drive but all reasonable distances. Our host Cindy, was fabulous! Loads of good advice to help us settle into the area and always on standby to make our stay more comfortable. I would recommend the home for short and long term stays.
Lauren
2016-06-15T00:00:00Z
A very convenient location. Friendly and accommodating hosts. Direct access to London whilst being on the doorstep of oxshott common. A large space that's great for a large family.
Rebecca
2017-03-26T00:00:00Z
Typ pokoje
Celý dům/byt
---
Typ nemovitosti
Dům
---
Ubytuje
7
---
Ložnice
Oxshott, Surrey, Velká Británie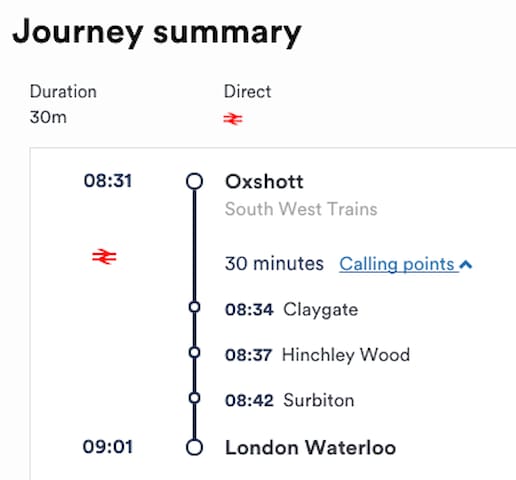 This room is our second room, it's a double and is great if you are training/working in the area. It is also good for a vacation if you are visiting London with 2 train stations near by. Chessington is 30 min from Gatwick airport by cab.
Relatively quiet area. Local shops are on the road and main market town of Kingston-upon-Thames is 15 minutes by bus.
Stefano was a great host, welcoming me in the dead of night due to a 3+ hour flight delay. The location was very convenient for me as it was a short walk from our company offices. Although the location was a surprise, tucked above a nail salon, the room size, comfortable bed, clean kitchen/bathroom and fast internet access were more than I expected. Combine all that with a very reasonable price and Stefano's place is a great value!
Chalon
2015-07-30T00:00:00Z
A thoroughly pleasant and enjoyable experience staying with this truly lovely and warm couple. I felt at home and comfortable at all times. I recommend them to anyone.
Mark
2015-09-26T00:00:00Z
Very welcoming couple, Stefano and his wife Anna. Clean well decorated flat with a warm bed. Sadly, Stefano will not be doing Airbnb anymore and hope that they will do so in the future. Wish them all the best.
Seth
2016-02-27T00:00:00Z
Stefano and Ana were a great host and were very welcoming! They really made me feel at home. They even invite me to watch movie and have a pizza dinner with them. Thank you so much guys, i really enjoyed my time. Overall, it is a very quiet and comfortable room in a very clean and beautifully decorated apartment. The location is good too, as there are a restaurants and convenient stores in the surrounding area, and connectivity is great. I would highly recommend this place to anyone visiting Chessington (or even London). Saty
satyakam
2015-11-12T00:00:00Z
Thank you for your friendly! It was perfect! See you soon I hope ;)
Adrien & Vincent
2015-10-09T00:00:00Z
Lovely room in a lovely apartment. Very spacious and nicely decorated. The bed was comfy and I had a good night's sleep. Defo recommend. And you can get to London in half and hour!
Katy
2015-12-11T00:00:00Z
Typ pokoje
Soukromý pokoj
---
Typ nemovitosti
Byt
---
Ubytuje
1
---
Ložnice
Chessington, Greater London, Velká Británie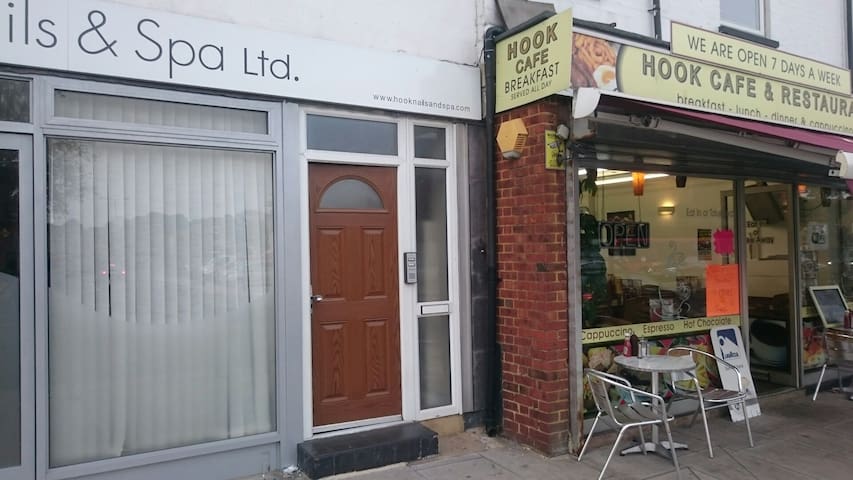 The pictures are before renovation which is taking place throughout April to May, the room will have a kitchenette double bed with memory foam topper and comfy bedding, freshly decorated and well equipped! Perfect for holiday or a trip! The newly renovated bathroom is clean and spacious with seperate shower and corner bath! although the house is shared it is quiet and cosy.
Typ pokoje
Soukromý pokoj
---
Typ nemovitosti
Dům
---
Ubytuje
2
---
Ložnice
Chessington, Anglie, Velká Británie
In the room there is a TV with all digital channels and Free Internet is available too on WiFi. Complimentary coffee/tea facilities. Towels and toiletries. You can make full use of the kitchen, you can order takeaway. The house is 10 minutes bus bride (bus stops near the house and comes every 15 minutes) away from 3 major stations that has regular train services to both Victoria and Waterloo which takes around 35 minutes. Buses runs every 15 minutes Easy access from M25. Parking available
Spacious double room in tidy and relaxed house 10 minutes bus ride to Epsom Town Centre, Tolworth, Ewell West and Epsom and Chessington North Stations. In the room there is a TV with all digital channels, DVD and CD player. Free Internet is available too on WiFi. Complimentary coffee/tea making facilities. Towels and toiletries. You can make full use of the kitchen, you can order takeaway and the host is always cooking so you are welcome to that as well for free. :) The house is 10 minutes bus bride and about 3-4 minute walk to the house. away from 3 major stations that has regular train services to both Victoria and Waterloo which takes around 35 minutes. Buses run until midnight and if its late a cab can be booked from all stations for £5.00 to the house) You can use travel card and oyster to two of these stations If you are coming by car Epsom is only 5 miles from the M25 ( junction 9) and parking is not a problem.
Nice place and got a good sleep, everything I could've wanted for my overnight stay.
Christopher
2017-01-12T00:00:00Z
The host canceled this reservation 11 days before arrival. This is an automated posting.
Melanie
2016-11-04T00:00:00Z
Thank you for our stay.
Teresa
2016-11-01T00:00:00Z
Katherine was very welcoming and helpful. Wonderful house, easy to get to (by car) and find although the streets house numbers were a little small and hard to read in the dark a larger number or light over the house number would be useful. Clean, fresh wonderful atmosphere. Thank you for my first Air BnB experience
Valli
2016-10-29T00:00:00Z
Lovely and nice host! Clean and nice place, everything you need around you (supermarket, bus station etc.)!
Maximilian
2016-11-21T00:00:00Z
Katherine is a very gracious and welcoming host. Clear communication and a helpful attitude made my stay in her lovely comfortable home smooth and easy.
Anita
2016-12-17T00:00:00Z
Excellent, very cozy and comfortable accommodation, easy access to transportation and quiet. Katherine is a wonderful person, educated and sociable. I highly recommend.
Patrick
2017-04-07T00:00:00Z
Katherine is a very kind host. The room was very comfortable.All things are great! Just like at home.
Jin
2016-10-27T00:00:00Z
Typ pokoje
Soukromý pokoj
---
Typ nemovitosti
Dům
---
Ubytuje
2
---
Ložnice
Chessington, Anglie, Velká Británie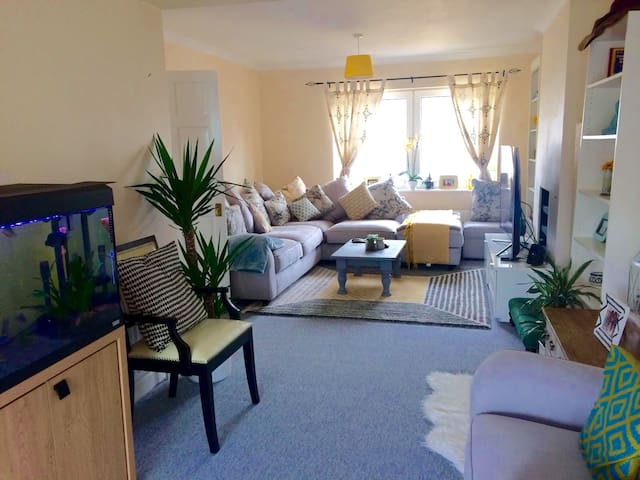 Newly renovated one bedroom lodge with independent entrance ideal for a romantic gateway or a family weekend away.
Place in a mature garden set away from the main road, the cosy lodge offer a private retreat to the hustle and bustle of everyday routine with all modern cons. It has a comfortable sofa that converts into a superior quality double bed with high comfort spring materass. 50in tv screen and kitchenette corner with sink, fridge, microwave and kettle and fully equipped with tableware. It also has a VI Spring double bed and a it's own bathroom with walk in shower . Independent entrance from the main house
It's conveniently located to reach Kingston upon Thames and Chessington World of Adventure. It's also close to Chessington North train station, which will take you in London Waterloo in less then 25 minutes.
She was very helpful, was there on time to greet us, explained everything properly for the guest to understand things clearly.
Heshan
2016-07-31T00:00:00Z
Stef was very welcoming and showed us around the lodge when we arrived. Everything we needed was available including some kitchen facilities. Comfy beds, a great location and excellent value for money. Thank you for your hospitality Stef!
Harriet
2016-07-02T00:00:00Z
The host canceled this reservation 182 days before arrival. This is an automated posting.
Alan
2016-02-29T00:00:00Z
The cosy lodge was just that - cosy and a nice lodge at the back of the section. Away from the road, it was quiet and enjoyable. A large 50" TV was great for watching Wimbledon, just 10 miles away down the road! I would recommend this quiet location to anyone.
Kevin
2016-07-04T00:00:00Z
We were welcomed and shown around on arrival, our Host Stephanie was most welcoming and accommodating. The Lodge was new and immaculate inside and more than met our expectations. Although her house was on a busy road the Lodge was at the bottom of the Garden and was very peaceful and relaxing. There`s work going on in the garden but when finished will be an extra plus and be great when the weather improves. Definatly recommend the Host and the Lodge.
Philip
2016-02-22T00:00:00Z
There are nice clean rooms with a new equipment, building is in the garden with trees and flowers - it is great value for super money. We were there for 4 nights, bus stop and shops are nearby. Connection to London is fast. For 2 - 4 people it is ideal accomodation. We are satisfied with our choice.
Radovan
2016-02-29T00:00:00Z
Great Cosy Lodge - a real hidden treat at the back of this very busy destination. Friendly host and very clean and tidy place. Would definitely stay here again.
Zoe
2016-08-30T00:00:00Z
Typ pokoje
Celý dům/byt
---
Typ nemovitosti
Byt
---
Ubytuje
4
---
Ložnice
Chessington, Surrey, Velká Británie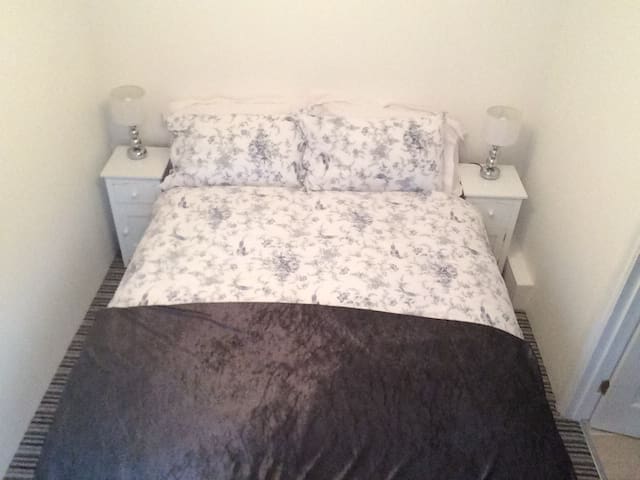 It's a house shared by me and husband with two spare bedroom ideal for those who comes and work during the week or travelers who needs peace and quite, near buses, train station and shops. Very neat house.
Typ pokoje
Soukromý pokoj
---
Typ nemovitosti
Dům
---
Ubytuje
2
---
Ložnice
Chessington, Anglie, Velká Británie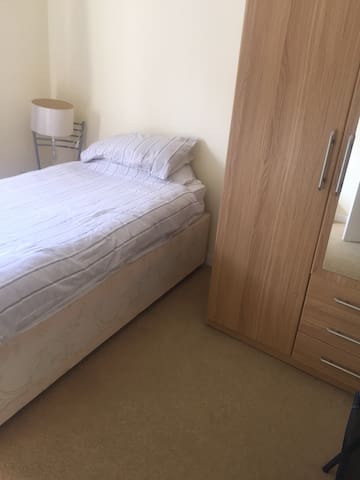 My place is close to public transport, nightlife, and the airport. You'll love my place because of the people, the neighbourhood, the ambiance, the location, and the outdoors space. My place is good for couples, solo adventurers, and business travellers.
Very friendly and welcoming host. Lovely French croissants and pastries for breakfast.
Carolyn and David
2017-03-01T00:00:00Z
The experience couldn´t be better.
javier
2016-09-18T00:00:00Z
For my wife & myself this was our first experience with Airbnb,being a shy person my wife was wary of staying in some else's house.She shouldn't have been for when we arrived we were more than pleasantly surprised at the welcome we received.Sue&Jan made us feel completely at home,were made to feel part of the family which we felt like by the time we came to leave. The facilitiesare as Sue describes them and probably a bit more.If the rest of Airbnb hosts are half as welcoming as Sue &Jan WE'RE HOOKED.
John
2016-11-13T00:00:00Z
Sue is very kind welcoming person Room was super clean and cozy Everything was very organized. also breakfast was the best. We were very comfortable . Absolutely we will come back this perfect house.
Angelina
2016-12-06T00:00:00Z
Typ pokoje
Soukromý pokoj
---
Typ nemovitosti
Dům
---
Ubytuje
2
---
Ložnice
Chessington, Anglie, Velká Británie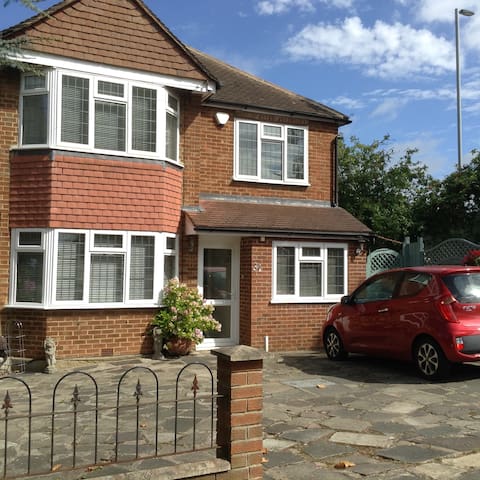 Close to public transport, the airport, the city centre, art and culture, and parks. You'll love my place because of the cosiness, the high ceilings, the location, the views, and the people. My place is good for solo adventurers and business travellers. The room is a large, bright, inviting double in my beautiful, stylish house in Surbiton/Kingston Upon Thames area. My home is character packed with high ceilings and period features and situated in a semi-detached Victorian house
The bedroom is a large yet cozy double offering a double bed, in my beautiful, stylish house in Surbiton/Kingston Upon Thames area. My home is character packed with high ceilings and period features and situated in a semi-detached Victorian house in a quiet, residential street within easy reach of local shops and cafes. The neighbours are very friendly and so is the wildlife :) The property is very secure and alarmed; all mod cons - washer-dryer, fridge-freezer, well equipped kitchen, Wi-Fi. Bedding and Towels supplied. If you have a car, parking is free on my street. I have been renting out for 18 years and offer a friendly, non-intrusive service. My guests always comment on how tranquil and cosy their stay was. This area is friendly and safe. You have the benefit of nature and open space combined with a friendly, social and buzzy atmosphere throughout the area. Not to mention of course - being close to the River Thames which I love, having recently moved out of Central London. Gone are the days of "Surbs being the Burbs". We are served by the historical art deco Surbiton Station (of Harry Potter fame) with just a 17 minute journey into Waterloo. But there are alternative routes - mine is usually a short train ride to Wimbledon and then pick up the District Line to West and South West London. Alternatively, the 11 min ride to Clapham Junction and change to a 4 min journey to Victoria is a much used route of mine. We are Zone 6 which is covered by Oyster card. In terms of location, you couldn't ask for better - transport links are excellent with bus, including night buses in and around Surbiton and Kingston Upon Thames. Also the option of mini-cabs, black taxis and Uber. There is a short bus ride from my home to Surbiton Station. Local amenities include Waitrose, Marks & Spencer, Sainsburys, John Lewis, Heals, and many other fashion and lifestyle shops, all the well known coffee chains and eateries, as well as some super independent artisan cafes. Plenty of gastro pubs and a favourite cocktail bar and Italian Restaurant in Maple Village. A good choice of cinemas and theatre. Very suitable is you wish to visit Epsom Downs Race course, Sandown Park, Wimbledon or Hampton Court events. Suitable for short stay visitors. Happy to consider someone who wishes to stay longer term. I have met people from all over the world and enjoy sharing my own interests as well as hear about theirs.
My neighbourhood is very friendly and a mix from all walks of life. We take care of our street and get to know each other. There is a great Arts Centre around the corner.
Nikki has a lovely house Surbiton/Tolworth. Great host, very chatty! A must-stay if you are in the area!
Marcelo
2017-02-02T00:00:00Z
Very welcoming host. Place is clean and uncluttered.
Rob
2017-04-07T00:00:00Z
Typ pokoje
Soukromý pokoj
---
Typ nemovitosti
Dům
---
Ubytuje
1
---
Ložnice
Surbiton, Anglie, Velká Británie
My place is close to the airport, the city centre, and parks.
Everything went really well! After a short message, we could check in sooner and immediately got the password for the wifi. The room is really as big as shown on the pictures and the bath looks very luxurious! The only problem is the noise coming from the motorway nearly right in front of the house. It makes it impossible to sleep with an open window.
Laura
2016-10-20T00:00:00Z
Bharti was a very nice and welcoming host . I enjoyed my stay and will recommend this to anyone looking for a nice , clean place to stay with easy transportation links to Kingston and surrounding areas.
Oscar
2017-02-24T00:00:00Z
Really welcoming environment, cool house, nice host
Conor
2016-09-23T00:00:00Z
Typ pokoje
Soukromý pokoj
---
Typ nemovitosti
Byt
---
Ubytuje
2
---
Ložnice
Surbiton, Anglie, Velká Británie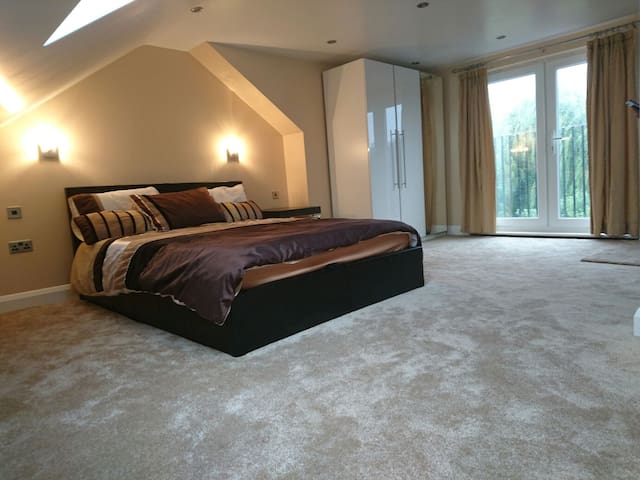 Surbiton train station 5 minutes walk. Bus stop 2 minutes walk. Kingston 10 minutes by bus.
Lovely big room which was clean and comfortable, as described. Mary is an excellent hostess, very helpful and friendly. Location has good transport links. Planning to stay there again soon.
Mary
2017-04-05T00:00:00Z
This place is fantastic to stay, Mary is very approchable and nice. She even gave food that she cooked for herself. Delicious. She tries to help as much as she can, and make your stay comfortable. It is a very recommendable place to stay.
Sheila
2017-02-27T00:00:00Z
Mary has been gentle and hospitable, my stay went very well. The flat is quiet and central (central to Surbiton, that is). Very good value for money.
giacomo
2017-02-03T00:00:00Z
Typ pokoje
Soukromý pokoj
---
Typ nemovitosti
Byt
---
Ubytuje
2
---
Ložnice
Surbiton, England, GB, Surbiton, Velká Británie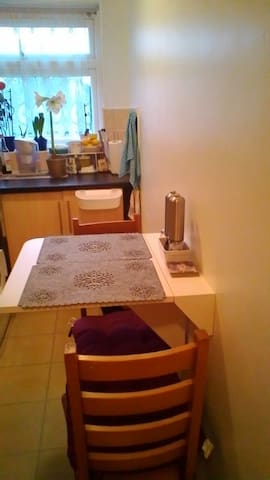 We are 10 minutes away from Surbiton Station (by bus) or Tolworth Station (by foot). The bus stop is at the end of our road. By train we are 25 minutes to Waterloo - the heart of London. For nature lovers we are 25 mins to Hampton Court, Richmond Park, the River Thames, Wisely etc. We have a lovely, well decorated house, a beautiful garden and we are located in a quiet road. We are also close to local shops and a park too.
You will have a very nice, large room with a comfy sofa bed (or air mattress if you prefer). A desk, sofa, dvd player (plus dvds) etc. There is also a table with two chairs in your bedroom as well.
We live in a safe neighbourhood.
Typ pokoje
Soukromý pokoj
---
Typ nemovitosti
Dům
---
Ubytuje
2
---
Ložnice
Surbiton, Anglie, Velká Británie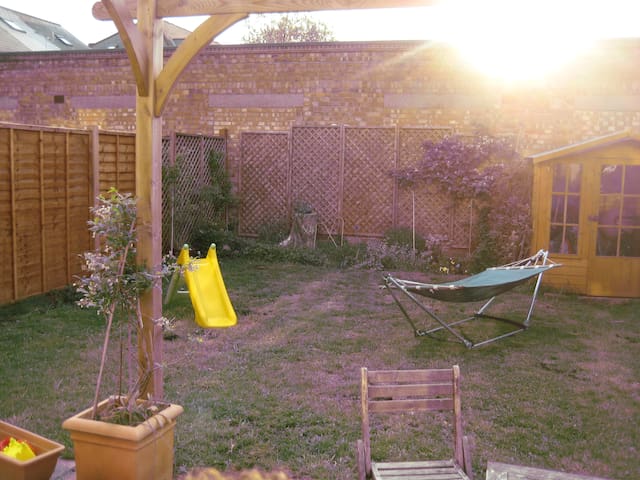 I have a lovely 4 bedroom house in Surbiton, 17min walk to surbiton train station or a quick bus ride, from Surbiton station you can get a train and it takes only 15-20min to get to London. My house is 1min to the bus stop and the shops. The area is very nice and I have a big garden plus parking is no prb. The double room is also very nice and stylish.
The double room is in on the first floor and it's very nice and stylish. The house is also big and contemporary with a big garden and parking space. 1min to the bus stop and the shops, close to surbiton train station too where you can get to London in 15min train.
The room was great, everything was tidy and clean. Ela was very welcoming and nice. I really enjoyed my staying, it was perfect! I would recommend it to everyone.
niccolò
2016-08-30T00:00:00Z
Eda's place was very clean and I enjoyed staying there. Thank you for making my stay so comfortable
Edward
2016-09-11T00:00:00Z
Eda and her family are really welcoming, charming and very helpful. I felt like staying with a friend :) It gave me great pleasure to join them for dinner and have a chat with them once in a while. The room is bright, spacious and really really tidy and clean! I can highly recommend to stay in this room.
Michelle
2016-12-23T00:00:00Z
Comfortable, functional and Eda and family are lovely and very relaxed.... Prefect for a place to sleep whilst working long hours close by.
Luke
2016-07-02T00:00:00Z
Typ pokoje
Soukromý pokoj
---
Typ nemovitosti
Dům
---
Ubytuje
1
---
Ložnice
Surbiton, Anglie, Velká Británie
Oxshott - Airbnb
:
Průměrně

4.8

z

5

hvězdiček na základě

564

hodnocení hostů
Pro zobrazení celkové ceny zadej termín. Mohou být přidány další poplatky a daně.