Les Julianes offers high-quality, tastefully decorated holiday accommodation in a newly-renovated barn set in 4500m2 of land. Fabulous views of the surrounding vineyards, villages & Montagne Noire, 3 minutes drive from the busy village of Olonzac.
The fully air-conditioned accommodation sleeps up to 2 adults and 2 young children. Spacious bedroom with king size bed and en-suite bathroom. Fully-equipped kitchen and open-plan living-room, including double sofa bed, Sky TV, DVD player, BOSE docking station and free, unlimited WiFi. Large south-facing terrace overlooking the garden, equipped with sun loungers, BBQ, tables and chairs.
We are in wide open countryside surrounded by vineyards and great views but bars, restaurants and supermarkets are all close by. A great base for exploring the area.
Having read some extremely positive comments on Airbnb we were fairly sure of what we were going to get. And we were not disappointed! Thank you Noel and Naomi for your welcome in a lovely area. We were very comfortable in a lovely spacious apartment equipped with everything 4 adults could need. Noel waited up into the early hours to welcome us, far beyond the line of duty, and we thank you.
Rachel
2016-12-06T00:00:00Z
Nuestra estancia en Azillanet fue fantástica! El apartamento es precioso (tal y como se aprecia en las fotografías), muy cómodo y espacioso. Dispones de todo lo necesario y es un lugar muy tranquilo. Noel y Naomi son unos anfitriones excelentes! Viven allí mismo y nos dieron todo tipo de información y recomendaciones de la zona. Nos hicieron sentir como en casa desde el primer momento, son una pareja muy agradable y tienen la casa muy cuidada y con todo tipo de detalles. Sin duda, si volvemos por la zona, repetiremos!
Laura
2016-03-30T00:00:00Z
Les Julianes is a well-equipped and really comfortable gite. The gite is spacious, attractively furnished with a large well furnished terrace with great views of the sunset over the Montagne Noir. Noel and Naomi are warm and welcoming and we look forward to staying with them again.
Richard
2016-10-08T00:00:00Z
What a wonderful place! The location is perfect for exploring the Minervois region and the Canal du Midi. The apartment in their home is a mix of countryside, views, with luxurious touches. The ironed sheets, the L'Occitane soaps and lotions, the shower, towels. The kitchen is great. Terrace overlooking the pool, which Noel opened for us for a bracing October swim. Everything was above our expectations. Our stay was much too short! Thank you Noel and Naomi!
Judith
2015-10-13T00:00:00Z
Naomi et Noël sont des hôtes très accueillants et fort sympathique. Une bonne bouteille de vin du coin nous attendait pour l'arrivée :-). le gîte se situe en dessous de leur habitation ( nous étions donc à 15 mètres de la piscine) mais notre intimité fut bien préservée. Il sont à fait ouverts et nous laissent tranquille également. Ils sont à l'écoute pour conseiller des activités à faire, pour un itinéraire pour éviter les embouteillages, peuvent cuisiner des plats pour nous, conseille des bars/restos. Nous avions la liberté d'ouvrir/fermer la piscine si besoin. L'appart est vraiment super beau, moderne, épuré et super super super équipé. On dépose ses valises et il y a tout: tous les ustensiles de cuisine auxquels vous pouvez penser ( + café, thé, sucre,huile d'olive, savon vaisselle, pastille lave vaisselle etc..), idem pour la salle de bain essuie de bain et de douche, savon, gel douche,etc...) Nous n'avons manqué de rien et cela a rendu le séjour très agréable.
Alexis
2016-08-29T00:00:00Z
Fantastic hosts, we loved our stay perfect for an amazing experience in the south of France, will be back for sure !
Marta & Kevin
2015-01-03T00:00:00Z
Noel and Naomi made us really welcome despite us turning up later than we had arranged. The location was superb and both Naomi and Noel are very friendly. Our host was very thoughtful - he noticed us walking to the town (3km walk) for an evening meal and sent us a message on our mobile that he could collect us when we're ready to return but we left our phone back at the gite but really appreciate this little extra thoughtfulness. The place is very equipped, clean and luxurious
Thomas
2015-08-02T00:00:00Z
Had a fantastic stay here, Naomi & Noel are very welcoming & friendly people who made our stay very enjoyable, they invited us to take walks with them which we did as we love walking, it also gave us a chance to view the local areas which we might not have done otherwise. Really enjoyed our nights and daytime coffee's at Café de la Poste. The Gite is beautiful, there was everything provided that you could possible think of, beautiful products in the bathroom and a well equipped kitchen for as much or as little cooking as you wanted. The area is nice and peaceful which is just what we needed, it is also in a good location for all the little villages and the bigger cities are only a short drive away. Thank you Naomi & Noel for all your help over the 2 weeks, hope the mower is still working. Would definitely recommend this as a place to stay.
Ian
2016-03-24T00:00:00Z
Typ pokoje
Celý dům/byt
---
Typ nemovitosti
Byt
---
Ubytuje
4
---
Ložnice
Azillanet, Languedoc-Roussillon, Francie
Very authentic gite in thousand years old stones, renovated and modern equipped. Very calm, nevertheless in the town center just a few steps from the vinyards!
Own access, common courtyard, teak outside furniture. Great atmosphere to relax!
Séjour très agréable. Accueil chaleureux de Karsten malgré notre arrivée tardive. Logement aménagé avec goût. Le tout dans une région magnifique. Je recommande.
Julien
2016-11-13T00:00:00Z
Karsten and Eva's place is an absolute paradise! When you arrive, as you walk through the medieval gate, you'll immediately feel the tranquility of the perfectly styled tropical style courtyard complete with outdoor setting, BBQ and hammock. Filled with palms, the well manicured garden features white pebbles which provide a contemporary feel, working in perfect harmony with the ancient 1000 year old walls of the original structure. Although part of a shared building, the accommodation is completely private with a separate back entrance. With a clean white aesthetic and flawlessly styled Scandinavian influenced interiors, this lovely two bedroom apartment exudes rustic chic. Relax at night by the open fire and cook for yourself in the well equipped kitchen or try one of the local restaurants. Kartsen and Eva are friendly, approachable and were always there to help with recommendations for local winery's or restaurants. As experienced Airbnb'ers, we'd highly recommend this stay as one of our Top 3 stays on Airbnb and are already planning our next trip!
David
2015-11-06T00:00:00Z
Wunderbares Erlebnis. Ein herzliches Willkommen - an alles wurde gedacht..... von dem Kaminfeuer angefangen bis hin zu den Eiswürfeln im Gefrierfach. Komplett ausgestattete Küche, durchdachte Utensilien, ein "Rundum-Sorglos-Paket". Stilvolles Ambiente. Sehr sauber. Fragen zu der Unterkunft wurden innerhalb kürzester Zeit beantwortet. Vielen Dank...... und ich komme gerne wieder.
Dorothea
2016-11-20T00:00:00Z
Located in the picturesque French village of Pepieux, the Gite La Tour is the perfect blend of ancient architecture and modern comfort. Karsten and Eva have done an amazing job creating this heavenly, private space with numerous amenities. Even in the heat of summer, the Gite stays cool and comfortable and the outdoor patio is a relaxing space for meals and conversation. Our hosts were most gracious, helpful, and accessible from the moment we arrived through our final day. Highly recommend! Thanks again, Karsten and Eva!
Leah
2016-07-09T00:00:00Z
This is such a delightful place to stay; it's charming, an oasis of calm and a beautiful place to relax and enjoy the area from. Karsten and Eva were welcoming and the place has all you could hope for and more.
Kiren
2016-09-05T00:00:00Z
Karsten and Eva are wonderful hosts, very welcoming and kind. The residence is everything we expected and more. The ancient stone walls offer a fascinating counterpoint to all the modern and comfortable amenities. This was a wonderful and unique experience. We made full use of the well-appointed kitchen, preparing meals with fresh ingredients from the local market. Eva even had fresh coffee and a French press ready for our arrival! The highlight for us was the lush private courtyard featuring an outdoor dining area, hammock, and bubbling fountain. We highly recommend this AirB&B and look forward our next trip.
Matthew
2016-07-16T00:00:00Z
This gite was made with love and has sensitively been renovated so that it still retains historical character. The courtyard is secluded and attractive. Bedrooms are spacious, kitchen has all modern appliances and also the bathroom is a masterpiece. Both Karsten and Eva are a wonderful couple with a great sense of humour with warm and welcoming smiles. The area is great for experiencing the region, and Eva went out of her way to give us great ideas to explore different areas. We were privileged to have been their first AirBnb and we would certainly recommend anyone to stay in this fabulous gite. Thanks
Maureen
2015-08-30T00:00:00Z
Typ pokoje
Celý dům/byt
---
Typ nemovitosti
Byt
---
Ubytuje
4
---
Ložnice
Pépieux, Languedoc-Roussillon, Francie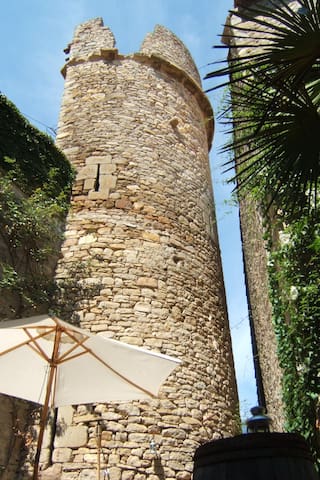 Beautiful Studio gite on appr.35m2 with sleeping alcove, veranda and garden; tucked in the Garrigue, surrounded by rosemary and thyme; breathtaking views onto the Pyrenees. Situated at the edge of Cesseras, a pretty village in the heart of the Minervois, just 7 minutes North of Olonzac, a bigger village with super market, doctors, pharmacy, shops restaurants, bars and a big Tuesday market.
great for couples or single travellers. Well behaved pets are welcome
There are also two bicycles available for guests. The area is great for walking and bike riding. Also, The Canal du Midi is just minutes away where you can walk or ride your bike along the Canal stopping for a glass of wine at a local cave or café. Every Tuesday morning is traditional market in Olonzac. After shopping stop for a coffee at one of the many surrounding bars that are brimming with people. For a quick swimm is the Lac du Joarres outside of Homps with restaurant and walking areas. The Mediterranean beaches are just 50 minutes away. A visit to Barcelona by car is just 3 hours away. Andorra is about the same distance. You can have both, skiing in the winter and swimming in the summer, but yet a peaceful location away from the hussle and bussle of too many people.
Typ pokoje
Celý dům/byt
---
Typ nemovitosti
Byt
---
Ubytuje
2
---
Ložnice
Cesseras, Occitanie, Francie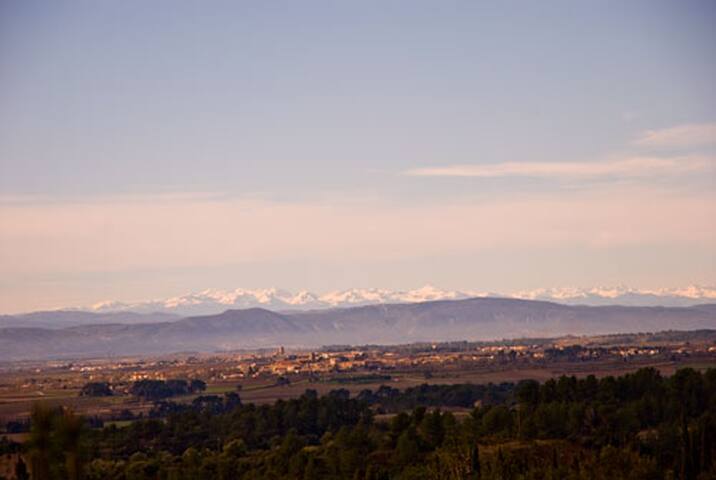 Azille er et ideelt udgangspunkt for at udforske i dit eget tempo de mange skjulte skatte i Minervois regionen og den smukke Aude-dalen. Selvfølgelig kan du altid bare læne sig tilbage og slappe af med et glas vin & en god bog i din Zen værelse.
Den Gîte er helt uafhængig, med egen indgang på en privat, rolige side af La Dolce Vita. Interiøret tilbyder et fuldt udstyret køkken, badeværelse med bruser, samt en zen-inspirerede soveværelse og stue, adskilt med bambus skærme. Ideel til 2 personer, den Gîte er en komfortabel plads til at slappe af efter en lang dag med besøg den fantastiske region.
ro, charme, historie. En selv tour er på tilbud. cykler til leje til den halve dag, fuld-dag eller for ugen.
Typ pokoje
Celý dům/byt
---
Typ nemovitosti
Byt
---
Ubytuje
2
---
Ložnice
Azille, Languedoc-Roussillon, Francie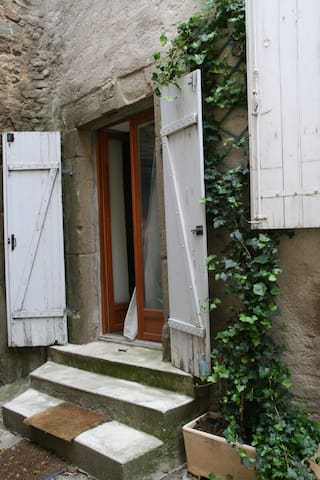 The Syrah Suite is a spacious ground-floor two-bedroom apartment with a private entrance in front of the pool in the Chateau's gated courtyard. Chateau Marcel is centrally located in the small medieval wine-producing village of Cesseras.
Whether relaxing by the pool or enjoying the good food and live music at our local bar-cafe, Chateau Marcel is a friendly home from home. Our village Cesseras has a post office and small but well-stocked local store. Within just a five-ten minute radius by car is the market town of Olonzac, offering all services and amenities and an excellent Tuesday-morning market. Just down the road from Olonzac is the town of Homps on the world-famous Canal du Midi and the Lac de Jouarrez for swimming, boating and wind-surfing. The 12th century Cathar stronghold of Minerve is perched high in the breath-taking gorges just behind Cesseras. The chateau is conveniently located near the border of the Herault and Aude Départements and approximately equidistant between the major cities of Narbonne, Carcassonne and Beziers, with Toulouse and Montpellier a little further afield.
We are located in the Minervois region of the Languedoc. This is wine country and an excellent location for anyone interested in wine tasting. There are vineyards everywhere! With its rolling countryside, the area is also ideal for country walks and cycling. For those unfamiliar with the Languedoc, it should be said that with its sunny climate, natural beauty and rich history it has something to offer everyone. Its Mediterranean coastline has numerous large sandy beaches, while the Haut Languedoc with its cool forests, gorges and mountain rivers offers excellent hiking, cycling and canoeing. The area has many museums and historic cathedrals to visit, not to mention the Cathar forts and castles. There are many festivals, particularly in the high-season summer months and every city and town has its market day. In short, there is a virtually inexhaustible array of things to see and do
Belinda is a wonderful host, very attentive, and the Chateau is even nicer than on the pictures. The pool is lovely. Belinda offers great advice as to where to shop and what to see. And there is plenty to see when driving around - the beautiful scenery and historic places. The atmosphere in the village is great. We are already looking forward to coming back next year)
Anna
2016-07-28T00:00:00Z
Typ pokoje
Celý dům/byt
---
Typ nemovitosti
Byt
---
Ubytuje
4
---
Ložnice
Cesseras, Languedoc-Roussillon, Francie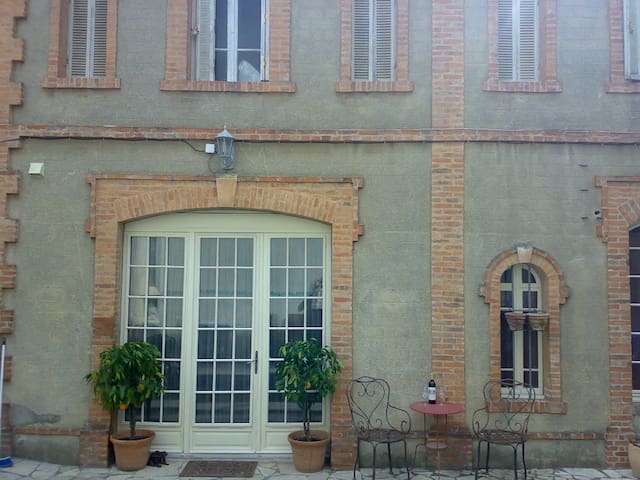 Mon logement est proche de Minerve -cité Cathare -. Vous apprécierez mon logement pour l'emplacement. Mon logement est parfait pour les couples, les voyageurs d'affaires et les familles (avec enfants).
The host canceled this reservation 212 days before arrival. This is an automated posting.
Rick
2016-12-21T00:00:00Z
Typ pokoje
Celý dům/byt
---
Typ nemovitosti
Byt
---
Ubytuje
4
---
Ložnice
Azillanet, Languedoc-Roussillon Midi-Pyrénées, Francie
il est situé au bord du canal du midi. a proximité ce trouve le lac de Jouarre (baignade, marche à pied, vélo...) ensoleillé et lumineux il est composé en rez de chaussée d'une cuisine équipée , d'une salle à manger. les chambres sont à létage
Typ pokoje
Celý dům/byt
---
Typ nemovitosti
Byt
---
Ubytuje
5
---
Ložnice
Homps, Francie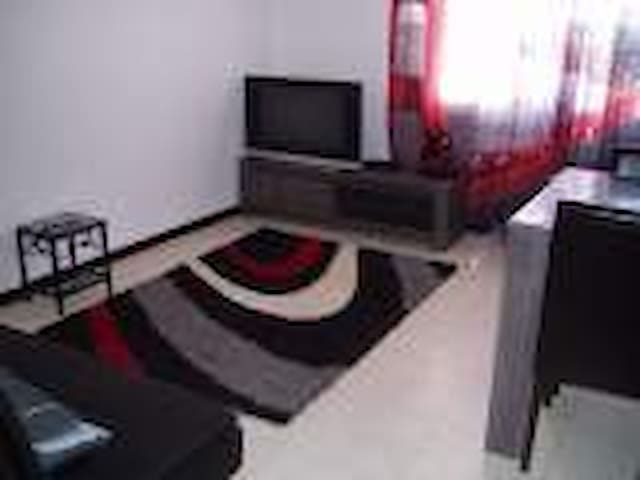 The Carignan Suite is a spacious apartment on the first floor of the chateau's main building. Being south-facing it is luminous and sunny. It has two good-sized double bedrooms and a large living/dining area with a well-equipped kitchen at one end.
Typ pokoje
Celý dům/byt
---
Typ nemovitosti
Byt
---
Ubytuje
4
---
Ložnice
Cesseras, Languedoc-Roussillon, Francie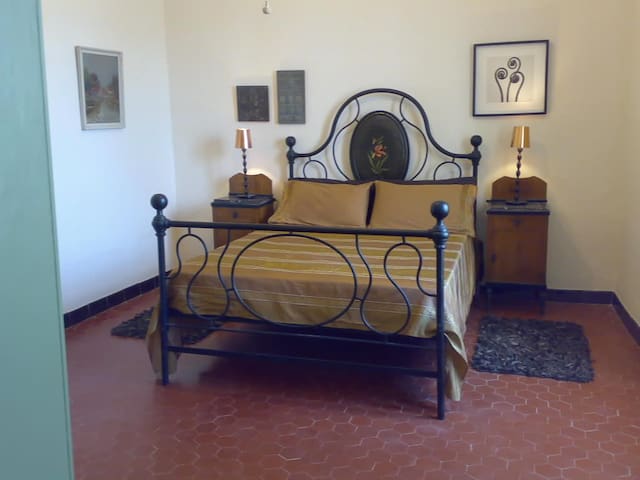 Vous apprécierez mon logement pour la tranquillité, l'espace extérieur. Mon logement est parfait pour les couples, les voyageurs en solo et les voyageurs d'affaires.
Chambre avec accès indépendant au 1er étage, terrasse extérieure, salle d'eau , clim,T.V. et frigo
Quartier calme trés peu fréquenté
Typ pokoje
Soukromý pokoj
---
Typ nemovitosti
Byt
---
Ubytuje
2
---
Ložnice
Azillanet, Languedoc-Roussillon Midi-Pyrénées, Francie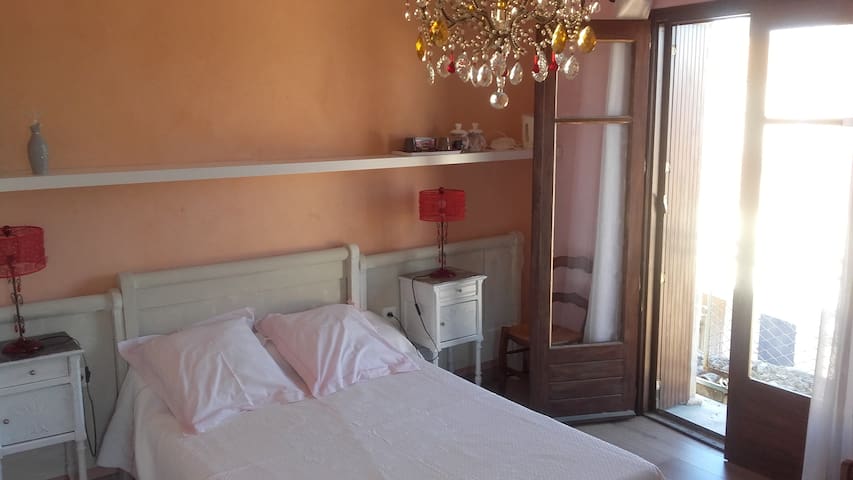 Located 30km away from Carcassonne on the edge of Canal du Midi, Château de la Redorte welcome you in its 25 luxury Suites for night or week (all have a fully equipped kitchen). Other amenities ; Exterior swimming pool, Spa, restaurant, Wine tasting.
Suite Privilege with 2 bedrrooms : one with a queen bed and one with 2 single beds. Kitchen with appliances, terrace included.
Beautiful chateau that has been recently refurbished. We stayed in a 2 bedroom villa which was immaculate. We ended up staying an extra 4 days we enjoyed it so much. Staff, setting, everything was perfection. We will be back as often as we possibly can be! Fabulous
Anthony
2016-08-25T00:00:00Z
Cadre très agréable au calme. Les suites donnent une indépendance tout en bénéficiant d'un service hotelier. Adresse à retenir pour notre prochaine visite dans la région
Stephane
2016-08-20T00:00:00Z
Typ pokoje
Celý dům/byt
---
Typ nemovitosti
Byt
---
Ubytuje
4
---
Ložnice
La Redorte, Languedoc-Roussillon Midi-Pyrénées, Francie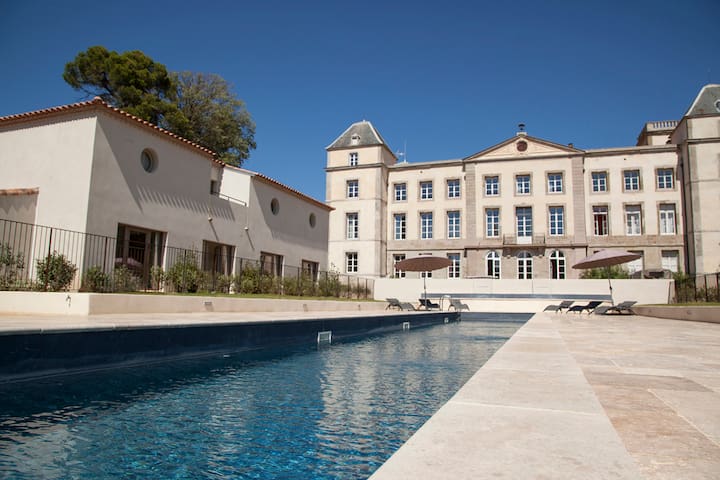 Modern interior, the apartment caters for all guests needs, downstairs there is a separate toilet, the fully equiped kitchen with dishwasher/washing machine leads to an open plan living room. The upstairs provides 2 bedrooms, a separate WC, bathroom with bath and shower and twin basins. The sunny terrace leading from the living room, makes for great al fresco dining. Free wifi and communal heated pool (May to Oct)and Sauna (all year). Onsite and local restaurants to enjoy, & great wine tasting.
La Redorte Holiday apartment near Carcassonne with walking, beach/lake nearby. Shared swimming pool, sauna and Terrace. Walking, beach/lake nearby. A relaxing get away in the South of France with, DVD library, TV and Internet. This beautiful and charming apartment is set in a restored Batisse which was once the XVIII Century winery of the nearby Chateau. Apartment Limoux is well equipped with everything you need to sit back, relax and enjoy your stay. It is situated in the Centre of the village, with a nearby (2 minutes walk) supermarket, pharmacy, butchers, boulangerie & post office, even a beauty/hair salon. Walking distance from the apartment you will find the Canal du Midi, with great restaurants set on the banks. There is a grassed courtyard for relaxing and coupled with the shared heated swimming pool, (open mid May to mid October) with all year open sauna, it is the centre of outdoor living in the summer months and is fully fenced for safety. La Redorte is around 35 minutes from Carcassone, with regular UK flights also arriving into Toulouse or Beziers. Nearby there is a swimming lake, with a restaurant, and water sports/kayaking. If you want a day at the beach, it is around 35 minutes to the sandy beaches of the Med or if you want to visit Spain it is around one hour and a quarters drive. This is the land of the Cathars, of vinyards soaked in the sun, the breath-taking medieval cite of Carcassonne and the beautiful Canal du Midi, a UNESCO World Heritage site which has featured in many of Rick Stein's cookery programmes. Steeped in charm and history it weaves its way through La Redorte to reach the Mediterranean Sea. The scenic cycle path which runs along its banks leads to many lovely restaurants. 10 mins away is the beautiful lake at Jouarres, where you can have a quiet day sunbathing with supervised swimming or hire a kayak or pedalo. The fine beaches of the Mediterranean can be reached in 35 mins and there are golf facilities only 30 mins away. The area is a wine lover's dream, with free wine tasting in the surrounding vinyards. That, coupled with the rich culture, joie de vivre of the summer fetes held every week throughout August, cycling along the tree lined canal, extensive coastline and fine dining make this holiday ideal for couples, families and friends alike. Large historic stone staircase entrance leads to first and second floor duplex apartment within a secure complex with private off street parking and shared use of swimming pool and sauna.
Typ pokoje
Celý dům/byt
---
Typ nemovitosti
Byt
---
Ubytuje
4
---
Ložnice
La Redorte, Occitanie, Francie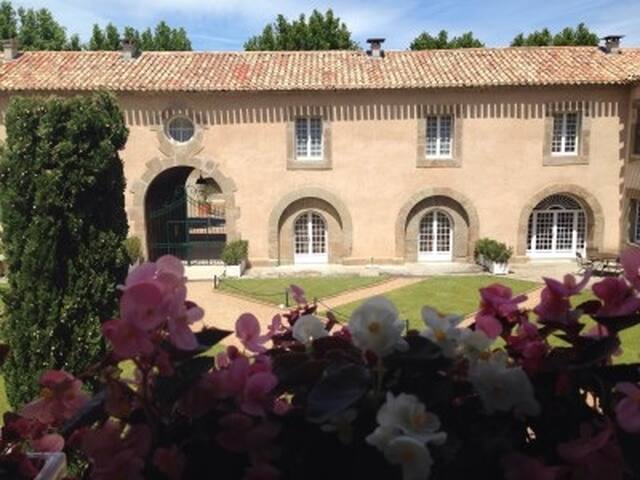 Viognier Chazan is situated within a secure restored 18th century winery with a heated pool and sauna. La Redorte, our village, is in the Languedoc wine region in the south of France close to La Cite, Carcassone; a medieval fortified town, Minerve; a quaint pedestrian-only village, Narbonne; with it's 2500 years of history, and boasts access to the Canal du Midi which flows through it. Our apartment is newly decorated and extremely spacious and comfortable. You'll love all the extras we offer.
Our apartment is on two levels. One staircase leads up to the master bedroom with balcony and en suite bathroom. Another staircase leads to the two additional guest rooms and a full bathroom. One of these guest rooms has a balcony. On the main level there is a huge terrace with lounge and outdoor eating area with bbq. It is sheltered from the sun and wind and has beautiful views over the French rooftops in the village and the vineyards and mountains in the distance. There is a grocery store next door as well as a butcher, baker, bank, tabac and pharmacy just a 5 minute walk down the street.
La Batisse is a very understated building from the outside, which opens into a beautifully preserved interior courtyard. The apartment reflects this also, which is very tastefully furnished, spacious and has everything you could possibly need for your stay. It is also spotlessly clean. The comfortably furnished terrace is a perfect place to relax and eat in the evening, while the bedrooms are luxurious. The hosts were also on hand very promptly for any query we had, even though they live in Canada! I would be tempted to try and keep this place a secret, but it really deserves to be shared!! We hope to be back sometime soon.
Colm
2016-08-26T00:00:00Z
Typ pokoje
Celý dům/byt
---
Typ nemovitosti
Byt
---
Ubytuje
6
---
Ložnice
La Redorte, Languedoc-Roussillon Midi-Pyrénées, Francie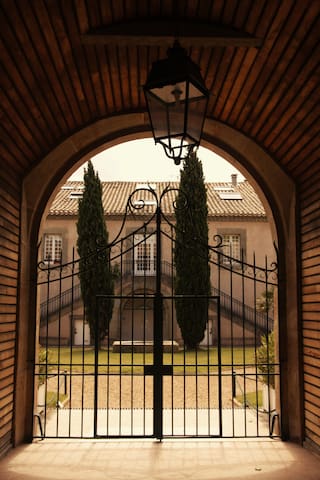 3 bed large modern apartment in a block with seasonal pool and sauna. La batisse is a stone wine cave that used to serve the chateau opposite now refurbished into modern secure luxurious surroundings. 3 bed , ensuite plus second shower room, laundry designer kitchen. Superb reviews on request.
Character and french history once a barracks then an annex to the chateau opposite. Then superbly refurbished into a few modern apartments.
La Redorte is central to Narbonne, Carcassonne,and the Mediterranean as well as the black mountains and Cathar History. Cycling, boating on the canal du midi are most popular pastimes as well as wine tasting as we are in the middle of the french wine fields.
Typ pokoje
Celý dům/byt
---
Typ nemovitosti
Byt
---
Ubytuje
6
---
Ložnice
La Redorte, Languedoc-Roussillon, Francie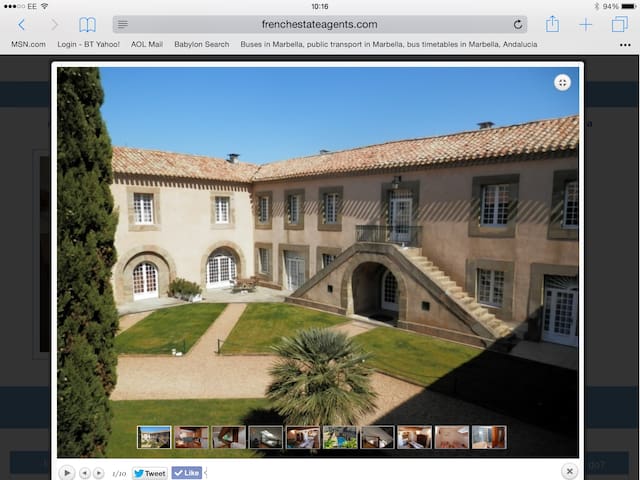 Lovely apartment in beautifully restored XVIII Century winery in the South of France. In the village of La Redorte, near Carcassonne. Shared Swimming pool and sauna.
This beautiful and charming apartment is situated in the heart of the village of La Redorte and overlooks the stunning garden courtyard. The canal du midi is a five minute walk and lakeside beaches are a short drive away. There is a restaurant in the village and many more in the surrounding area. There are 2 bedrooms (one being situated on the large mezzanine floor) and 2 bathrooms - one with bath and twin basins, the other a shower room. A large historic stone staircase entrance leads to this first and second floor duplex apartment within a secure complex with private off street parking and shared use of swimming pool and sauna. Large airy rooms with tiled and wooden floors throughout and exposed beams. Comfortable white furnishings with glass, period furniture and quirky original art work combine to create a very relaxing accommodation. There are beach parasols and deck chairs for your use, washing machine, dishwasher, two televisions and DVD players with a DVD library for your use. Everything you need to make if feel like home from home. Trip Advisor 5 Star rating.
Situated in the heart of the village of La Redorte which has a supermarket, patisserie, butchers and post office. A short walk to the Canal du Midi. Bicycle hire is available nearby. The Medieval Cities of Carcassonne and Minerve are a 30 minute drive.
Typ pokoje
Celý dům/byt
---
Typ nemovitosti
Byt
---
Ubytuje
4
---
Ložnice
La Redorte, Occitanie, Francie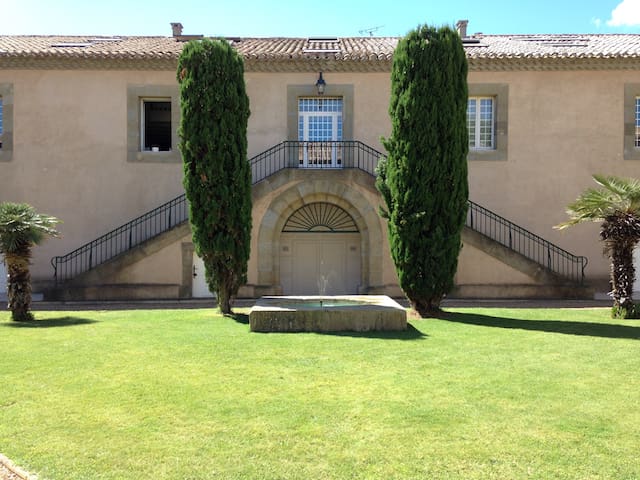 Bienvenue au Château de la Redorte, Resort vigneron de 25 Suites & Villas entièrement équipées. Nos Villas piscines pour 6 personnes sont composées d'un salon, de 3 chambre, de 2 salles de bains, d'un jardin avec piscine privative.
Typ pokoje
Celý dům/byt
---
Typ nemovitosti
Byt
---
Ubytuje
6
---
Ložnice
La Redorte, Languedoc-Roussillon Midi-Pyrénées, Francie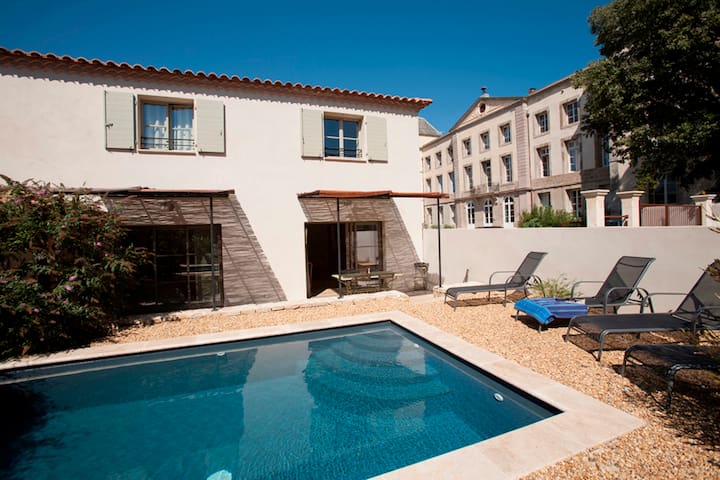 Small studio in my stone house of the seventeenth century, the vineyards of the Minervois and Rieux-Minervois, a village of 2000 inhabitants with all shops and market 3 times a week. It gives an impasse and a large square with no traffic, quiet. Visit our unique hexagonal Church in Europe, the city of Carcassonne, Minerve, curiosity Lauriole, the Cathar castles, the Canal du Midi, the chasm of Cabrespine, the Limousis cave, GRUISSAN and beach cottages ...
This small studio of 12M2 is independent, fully equipped and very functional. It is equipped with a comfortable bed 120. It is located on the ground floor, in my stone house of the seventeenth century, in the heart of the old village of Rieux-Minervois.
You have all the nearby shops, bakeries, butcher shop, banks, tobacco / newspapers, supermarket, market 3 times / wk
Pascale made arrangements to meet me and had made everything clear about when and where, so finding the place was very easy. She was very welcoming and showed me lots of places to visit in the area. This apartment is located in the very heart of the village and is in an enchanting area. It was neat and clean and had everything I needed. Pascale was very friendly and even cooked dinner for me one night. I would absolutely stay there again.
Glenda Sue
2016-12-06T00:00:00Z
I had a little problem with my plans since I wansn't very aware on the schedules of public buses that come and go to and from Carcassonne. Pascal was very gentil on helping me with this, and my trip ended being as I planned. The studio is just as it looks like in the photos. Little details make it even more beautiful. If you are traveling with out a car be aware of the bus schedule if you are planning to stay most of your time out of this town. Great place, absolutely recommend it. Ps: no free wifi around the town except when you are at Pascal's so take that in mind
Manuela
2016-07-17T00:00:00Z
nous avons été accueillis dès notre arrivée sur la place du village et guidés jusqu'au studio , bien frais malgré la canicule ce jour là. Pascale nous a bien documentés sur les buts de visite et découverte de sa région, et mis à disposition plans , brochures et cartes. Studio petit mais bien équipé et agencé. Les deux seuls "bémols" étant la difficulté pour accéder jusqu'au logement en voiture du fait de l'étroitesse des rues (elle le signale d'avance) et la réception tardive , 18h/18h30 , du fait de son travail, mais compensée par chaleur de l'accueil et fraicheur du studio et des boissons fournies au frigo ! Nous avons donc passé un séjour agréable et reposant.
jean-pierre
2016-07-16T00:00:00Z
Nous n'avons malheureusement passé qu'une nuit dans la studette de Pascale, malheureusement car tout est très propre et cosi, petit mais très bien équipé. Il n'y a pas de bruit. Le village de Rieux est charmant, et pratique si l'on veut visiter les alentours de Carcassonne. Un grand merci à Pascale pour ses précieux conseils touristiques, elle s'est montrée très disponible même pour le peu de temps que nous avons passé là-bas, en particulier n'hésitez pas à aller voir "la curiosité" de Lauriole (alias "la route qui monte et qui descend"vers Siran), le beau village de Minerve à flanc de falaise,... Superbe week-end !
Anne-Sophie
2014-07-15T00:00:00Z
Nous avons passé un très bon séjour à Rieux Minervois. La maison se situe dans le centre du village qui est très joli. Le studio est très bien agencé et bien équipé, petit mais juste ce qu'il faut ! Pascale est d'une extrême gentillesse et nous a donné de très bons conseils pour les visites aux alentours, les bonnes tables etc. C'était notre premier Airbnb et nous le conseillons les yeux fermés !
Aude
2016-08-12T00:00:00Z
Lugar limpio, tranquilo y acogedor. Pascale fue muy maja y nos facilitó la visita a los alrededores. Experiencia buena.
Cris
2015-04-06T00:00:00Z
Pascale is a very welcoming host. She met us in the main square of the village to help us get to the studio and she has a dossier with lots of useful information for tourists in the area. The studio is very well equipped, fridge, small kitchen, a good bathroom. She also leaves some bags of tea and instant coffee for the morning. If you have a car is a perfect choice for people going around in a budget.
Lavinia
2015-01-04T00:00:00Z
Une parfaite petite chambre dans un village adorable, nous avons passé une nuit reposante dans cette studette très bien équipée ! Merci à Pascale qui est très sympathique...
Aude
2014-08-25T00:00:00Z
Typ pokoje
Celý dům/byt
---
Typ nemovitosti
Byt
---
Ubytuje
2
---
Ložnice
Rieux-Minervois, Languedoc-Roussillon, Francie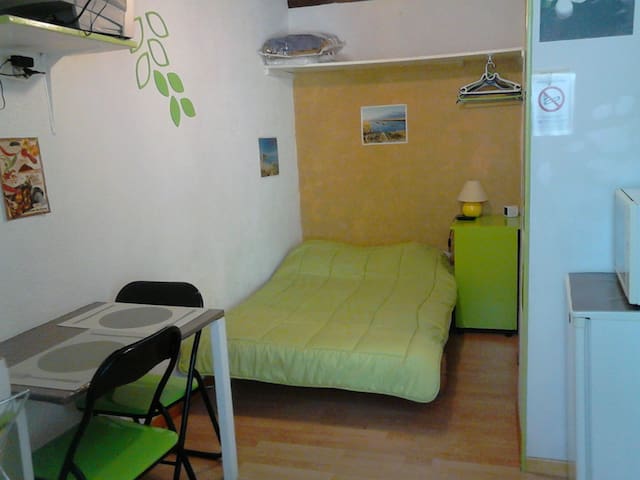 Situado en el borde de un pueblo de la elaboración del vino, a pocos minutos a pie de una variedad de comercio, incluyendo el mercado, supermercados, bancos, restaurantes y bodega de vinos. El apartamento es amplio y luminoso, con techos altos, una moderna cocina y baño. Tiene una gran terraza para disfrutar del sol de comedor Aude y al aire libre. Perfecta pied-a-terre para explorar los viñedos de Minervois, mercados locales, Canal du Midi, Carcassonne y la costa mediterránea.
Aunque parte de nuestra casa, apartamento Camille es un apartamento completamente autónomo primera planta con su propia puerta de la calle y la escalera. Está cómodamente equipado dentro y hacia fuera, con una cama de tamaño extra (que se puede configurar como dos camas individuales), un sofá cama en el salón, TV, reproductor de DVD por separado. La cocina está equipada con una cocina de gas, horno eléctrico, lavavajillas, nevera-congelador. Hay una mesa de comedor para 4 personas. El baño tiene una cabina de ducha, lavabo y bidé. Hay un aseo. En la gran terraza, que cuenta con zonas de sol y sombra, hay una gran mesa y 4 sillas, dos sillones y tumbonas están también disponibles. Hay una pequeña tienda derramada en la terraza que se encuentra la lavadora para su propio uso.
El apartamento está situado en una zona tranquila en general en el borde de un pueblo con tiendas típicas. Cambiar la pastelería de la panadería y llevarlo a la cafetería para un buen desayuno. Haga compras para los productos locales de temporada en el mercado. Hacer una visita a uno de los muchos viñedos para una degustación, o una toma paseo por el río, bajo la sombra de la trees.Join con la fiesta local. Durante julio y agosto, hay un "pop-up" bar al vino en el viñedo castillo local en los fines de semana.
Typ pokoje
Celý dům/byt
---
Typ nemovitosti
Byt
---
Ubytuje
3
---
Ložnice
Rieux-Minervois, Occitanie, Francie