Pro zobrazení celkové ceny zadej termín. Mohou být přidány další poplatky a daně.
My place is close to all of the local restaurants. Just a 10 minute drive will place you in the heart of Downtown Monroeville and all of the city's rich history. You'll feel right at home in this Alabama abode. With brand new appliances and furniture, all that is missing are some happy travelers. My place is good for couples, solo adventurers, business travelers, and families (with or without kids).
Typ pokoje
Celý dům/byt
---
Typ nemovitosti
Dům
---
Ubytuje
4
---
Ložnice
2
Monroeville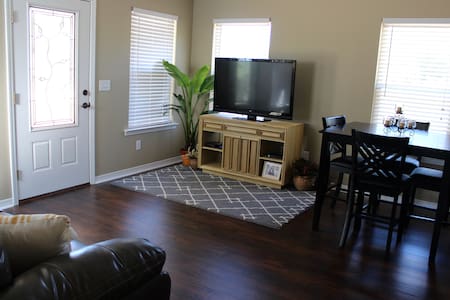 One bedroom with an small kitchen and dining. You have your own private bath area. It is the same location as the other apartment with the same outdoor photo's. Close to the Creek Indian Casino, 2 parks, Monroeville's To Kill a Mocking Bird, kids under 12 years old are free. There is one queen air bed.
The apartment was remodeled in the last months of 2015. There are a lot of new things including the the bathroom. One large room and one small bathroom. PLEASE READ...this is an studio apartment and not bed and breakfast. Bring your eats Walmart and other stores are 17 miles away. You have shared access to the pool and hot tube. There is also a gas and charcoal grill. I'm usually at work.
This is a farming area. Please see my other listing. I do not wish to copy and paste here. You will need an auto. There is no pubic transportation. Large trash container on the west side of the house and it goes out on Thursday.
Great spot. Good resting spot between destinations, even though it added about 35 mins or more to my drive. Ronald was available and friendly and helpful. I would have liked to know where the thermostat was, i searched for a long time (too late at night to bother host). Forced air was loud, too cold and too hot at times. Too bad on a night with perfect weather. That probably wouldn't bother most people, but it caused me not to sleep very well. I should have asked him earlier didn't think of it. Was nice to have washer dryer, tv, fridge etc. The place is cute and very well equipped, good design for comfort and plenty of space around for recreation.
Carol & Michael
February 2017
Everything was great. I just needed a place to stay for the night. Half the price of a hotel and a much nicer place to stay.
Jim
November 2016
Great cottage in the country!
Eric
December 2016
All the reviews were true. This was a beautiful place with everything you need and more. Ronald was a very nice guy. He was quick to respond every time we texted him. He came around to greet us when we arrived. The studio apartment is beautiful and spotless. Ronald built it himself! He says he is going to work on the lawn in front of the studio in the spring, so we would love to go back and see it. We highly recommend the place.
Jonathan and Sue
February 2016
This is by far the nicest place on Airbnb that I've ever stayed at. I've done quite a bit of traveling for work and I would take staying here over a five star hotel any day. It's in a quite area, it's very comfortable and has everything you need, including a mini washer and dryer! Ron was very welcoming and very helpful during my entire stay. I recommend this to anyone traveling or visiting near by. You won't be disappointed!! I give it five stars.
Callie
February 2016
Ronald's AirBNB was fantastic! A perfect getaway for an individual or family for a day or a week if you want peace and quiet. Oh, and cows.
Alexander
June 2016
Ron's place is perfect for a quiet getaway. I can't wait to go back!!
Gregory W
March 2017
Ronald was a great host. We had a really good and quiet time at his place. We truly recommend it.
Michika
January 2017
Typ pokoje
Celý dům/byt
---
Typ nemovitosti
Byt
---
Ubytuje
2
---
Ložnice
1
Atmore
Apartment in my home in the country surrounded by farm land and timber land. This is South Monroe County. It is about 17 miles N. of the Creek Indian Casino. Towns around are Atmore and Monroeville. Close to Claude Kelly State Park. under 12 free. There is one queen size bed in a private room. The couch is not full size but would be good for a small person. One twin air mattress. PLEASE READ...this is an apartment and not bed and breakfast. Bring your eats Walmart and other stores 17 mi. away.
There is an apartment , pool and hot tub. Extra sleeping can be had with twin air mattress and the couch. Not much...I have to work a lot.
It is my home located in a farming area. You have to have a car. I am close to Wind Creek. It is 75 mile to Pensacola and 88 miles to Gulf Shores.
Ronald was extremely helpful with our trip, we were driving from New Jersey to New Orleans and needed to make a stop in Alabama to split our trip up. He was extremely understanding with our changing arrival time from 2am to 5 am. If you need a flexible stay, he's great! His yard was really cool with a hot tub, pool, some palm trees and even some cows next door.
Julia
November 2016
Ronald's house is a very nice, clean and well organized place. Very cozy. We just loved the starred sky and non-urban neighborhood. Ronald is a very accessible and polite host. We really felt like home there.
Ricardo
October 2015
Ron really made us feel at home. He showed us the pool area and hot tub, and was readily available if needed. The apartment is a nice, quiet place along the backroads in Atmore. This was a nice change of pace for both of us after staying in busy cities our last few trips. The apartment itself has a homey feel to it, not too big or small. Perfect for a couple or a small family. I would definitely recommend staying at Ron's if you need to get away from it all for a few days or weeks :).
Christopher
July 2015
Wonderful stay! The apartment is perfect, relaxing and peaceful, so much nicer than a hotel room! Ron is also a wonderful host! He has thought of everything to make your stay a comfortable experience. If you have any questions or need anything he is fast to respond. This is a gem! :-)
Tamara
June 2016
The host made us very welcome. And had an interesting story about his family and the home and surroundings. The pool was great. For me, the very rural setting with cattle and corn fields etc. right next to the home property was wonderful. For some urban folks this may be both a great pleasure and a down side. Very interesting area of Alabama. Monroeville the home of "To Kill a Mockingbird" a novel by Harper Lee is nearby. The home itself and accommodations are typical farm house style. Very comfortable, but to most city dwellers sort of rustic.
Steve
July 2015
Ronald's place was absolutely brilliant! He describes it as "no frills" but this is my no means an accurate description - everything is immaculately clean, most things appear brand new and the bed is super comfy! We are going back to stay for my birthday because we had such a relaxing time :) thanks, Ron!
Jennifer
February 2016
Ronald's place is absolutely adorable! It was the perfect weekend getaway. If you like peaceful mornings and resort quality stay please book with Ron. He is very hospitable, I'm already making plans to visit again. The jacuzzi is to die for!! We bbq'd and everything! ! I can't wait to visit again! The decor was very cute, a lot of thought and planning went into the simple country home.
Catherine
March 2016
Now here is a man who takes pride in the quality and upkeep of his property! Perfectly comfortable and relaxing stay at Ronald's home. He was nice enough to even drain and fill the hot tub for this party of one!
Megan
March 2016
Typ pokoje
Celý dům/byt
---
Typ nemovitosti
Byt
---
Ubytuje
4
---
Ložnice
1
Atmore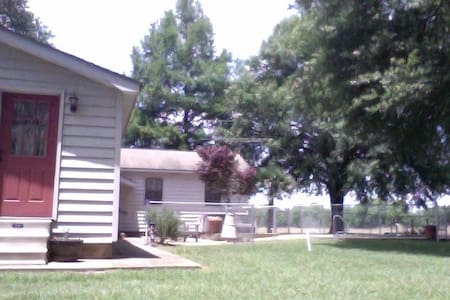 The Brundidge is an elegant 98- year old manor nestled on 4.2 acres which features a grand entranceway; modern kitchen; beautiful sunroom; four bedrooms; three and one half bathrooms; five fireplaces; a third level entertainment room; and a Koi pond.
More information about The Brundidge on Bruner is available at http://stallworthstudios.com/. Guests have access to all common areas. The owners are available on the premises at all times during guest stays.
I rented the entire facility for two days for my wedding. This included four bedrooms, the loft and living space downstairs. The owners provided additional staff for my special day, kept the day running smoothly and made my family feel at home. Altogether, ten people stayed overnight and 50+ attended the wedding. We hosted a luncheon shower, dinner reception and brunch the next morning before people departed and there was lots of seating and space for all. The Brundige is lovely and spacious. The interior is well decorated and will make you feel like you're at home. There are both antique and contemporary touches throughout the home. I would recommend this location for retreats, weddings, girls' weekends, couples getaways, reunions, showers and parties. The owners will meet with you and help you make the day a success. They also work with local vendors. You can screen movies upstairs. There's wifi and cable tv. I highly rate the venue without reservation.
Calaya
August 2016
Despite the internet and cable outage, it is worth noting that the mobile service is poor as well. Otherwise, the house is an absolute treat. Very nice accommodations and the host couldn't have been more welcoming.
aaron
September 2016
Typ pokoje
Celý dům/byt
---
Typ nemovitosti
Penzion (B&B)
---
Ubytuje
8
---
Ložnice
4
Evergreen
This is a great home that has just been completely remodeled from top to bottom. It is cozy, comfortable and convenient to everything in town. Two bedrooms one bath, wifi, complete kitchen and laundry facilities.
You will have the house all to yourselves. It will be your own private space while you are there - but we are easy to contact should you need assistance. As our guests, you will have access to the whole house during your stay. The hosts are available at anytime by phone or text.
Brewton, Alabama is a small town in South Alabama. The people here are welcoming and treat you like family. Summers are hot and winters are mild. Relax, eat and shop downtown or take a day trip to Pensacola (1 hour away), Mobile (1 hour and a half away) or Montgomery (1 hour and a half away). The Gulf Coast beaches are also a nice day trip and are located between 1 and 2 hours away depending on the beach you choose to explore. You will need a private vehicle to get around in Brewton, Alabama This is a great home to enjoy small town life, yet it's only a short drive to the white sands of the Florida Gulf Coast or larger cities including Pensacola, Florida; Mobile, Alabama or Montgomery, Alabama.
We really enjoyed stating at Cavin's house - it was the perfect place for our family of 5. The location was great, the house was very clean and fully stocked, and Cabin was flexible with our check-in time. Thanks so much!
Theo
July 2016
This is a wonderful newly renovated home in an area where options are limited. Very clean, nice and comfortable.
russell
January 2017
Great stay. Beautiful home. Friendly hosts.
Melissa
December 2016
Typ pokoje
Celý dům/byt
---
Typ nemovitosti
Dům
---
Ubytuje
4
---
Ložnice
2
Brewton
French Country home with private guest suites with kitchenettes and ensuite bath. Private rooms with private or shared baths depending on availability and Aunt Sissy's Cottage, a turn of the centry 2 BR/1BA Farmhouse. Rates are per room at main house. Aunt Sissy's Cottage rates are $150 per night which includes 2 bedrooms and fully furnished cottage with kitchen.
Lush gardens where colorful pecocks roam. Free WI-FI, Laundry facilities
Wind Creek Casino, Movie theater, Bowling alley, Magnolia Branch Recreation Area Quick access to I-65 and direct routes to the beaches
Foster is like your fantasy host: organized, clear, kind, and fantastically thoughtful. From the basket of crackers and water bottles in the room, to the hefting of my bag over uneven flagstone, to a five-star breakfast, he demonstrated professionalism across the board. The home is spacious and charming; the location is unbeatable, and the fruit trees, irresistible.
kathryn
November 2016
Typ pokoje
Soukromý pokoj
---
Typ nemovitosti
Penzion (B&B)
---
Ubytuje
4
---
Ložnice
1
Atmore