Beautiful room in an original Tuscan Country house placed in the middle of the wonderful nature of central Tuscany. 40 km away from Florence. Perfect for Hikers and anyone who loves adventure and relaxing in the countryside.
Original tuscan farmer house...with amazing landscapes around it!
Claudio and Heidi are wonderful and amazing hosts. The place is located in a fantastic landscape with a beautiful view over green hill and close-by hiking paths - absolutely astonishing. The lovely house is comfy, spacious and exactely as you see it in the pictures - perfect for a calm vacation in nature. Heidi and Claudio are gorgeous hosts - they made us feel like home from the first moment on, serving delicious breakfast, giving great suggestions for hikes and helping us with every questions we had. We totally recommend this Rifugio
Katja Heldt
2016-05-09T00:00:00Z
What a beautiful stay! Claudio's and Heidi's place is the perfect hideaway: stunning views, a river for swimming, great hiking trails, a lot of blackberries and grapes to pick and a cozy house with a lot of lovely details. I felt at home from the minute Claudio picked me up at the train station. He and his wife Heidi are open minded, caring and kind. I really loved to have homemade breakfast in their family's kitchen in the morning. They even let me join family dinner (so tasty!), a hiking tour and a trip to Arezzo with their cousin. It was an adventourous and relaxing week and I am planning to go back there one day. Thank you for everything!
Ela
2015-09-07T00:00:00Z
This was one of my favourite/best places of my europe trip. Originally I wanted to visit Florence, which worked out with Claudio. However, I stayed the next morning to afteroon in Claudio's home. I was shocked by how beautiful and serene their home and location is. It is very peaceful, but I loved Claudio and his family. I really felt a strong family connection, possibly because I was around the same age as their sons. This really showed me how airbnb can build a connection between people, which I felt. Their home is lovely (you get stay in a guest house), access to washroom, a room to yourself, your own fridge, and wifi. I highly recommend this place because of the scenary, home, and the amazing people. I really hope I do come back again :)
Sam
2015-07-11T00:00:00Z
Beautiful home and very kind family. Claudio and his wife Heidi have two properties- one is where they live and the other for the renters. They were very available for questions. We stayed one night, but wish we had stayed longer. The home was very cozy and the surroundings were amazing. We went on a 3-4 hour hike along the river that runs near the property. We would love to be back.
Sheila
2016-08-13T00:00:00Z
Heidi, Claudio and their three sons are so cordial and open-minded that I felt at ease with them from the moment I jumped into Claudio's unique car ;) Same with the place where they are living and the rooms they are renting: it's full of rest, beauty and charisma. I absolutely want to return one day!
Liane
2015-06-20T00:00:00Z
Heidi ha detto questo io devo parlare in Italiano, cosi scusi il mio Italiano male! Heidi e Claudio sono molto molto simpatici! Loro hanno mi portato di la stazione di treno a la loro bella casa nel paese. La casa è grande e molto carino, perfetto per la mia fine settimana. Heidi cucinava la colazione tutti mattini e il cibo è molto buono. Voglio bene sto la loro casa, è voglio stare di nuovo!
Breanna
2016-05-30T00:00:00Z
Staying with Claudio and his family was nothing but a pleasure. It truly is a beautiful place and they made us feel really welcome and at home. They picked us up at the station as arranged, had the fireplace going on arrival, we had 2 great home made breakfasts and all facilities were as described on their listing. We had the cottage all to ourselves and spent 2 days here just relaxing and getting ready for the second half of our tour. The stay here - with a fireplace, fantastic views, boardgames, reading and some walking around - really was a peaceful, rejuvenating experience. Thanks Claudio and Heidi for being such great hosts!
Sansha
2016-04-15T00:00:00Z
Claudio and his wife are perfect hosts and live in a little tuscan heaven on earth!! After a beautiful holiday touring around all northern half of Italy, we discovered many amazing places but Claudio's was the best. If you are looking for unspoiled nature, beautiful views, a cozy and clean traditional house to sleep in, tasty food and beautiful human encounters, than this is the place to go! Thanking again the hosts for this intermezzo - it will remain a beautiful memory close to our hearts. Hope to be back soon!
Diana
2016-08-06T00:00:00Z
Typ pokoje
Soukromý pokoj
---
Typ nemovitosti
Penzion (B&B)
---
Ubytuje
2
---
Ložnice
Pian di Scò, Toscana, Itálie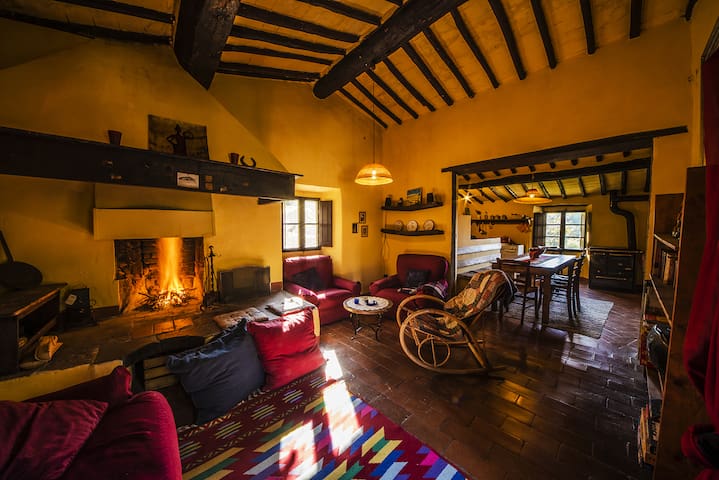 This renovated barn is part of a farm complex set in an olive grove in Tuscany, with large saltwater pool, onsite parking, patio, garden, near village with shops and trattorie/pizzera. Ideal base for visiting Florence and Tuscan towns, Chianti area.
The Barn has origianal large windows giving beautiful views of the Chianti hills, we provide a barbeque for guests and pool equipment (umbrellas, daybeds, lilos etc.)
The local village is very 'italian' the two main bars are frequented by 'locals' who play cards and chat at the tables outside, so the coffee is good. There are local bakers - fruit and vegetable shops, very good butchers (Florentines come and buy their meat here) and also small supermarkets and a chemist. Nearby there are beautiful medieval towns with weekly markets.
Great place to stay. The barn has everything you need to make your stay very comfortable. When we arrived the TV was not working (which wasn't a big deal for us) but Joanna and her husband saw to purchasing a new one right away and set it up the next day! Very helpful and very welcoming. Pools was lovely and the grounds were stunning!
Gretl
2016-07-07T00:00:00Z
Joanna er en meget venlig og imødekommende vært som fik os til at føle os velkommen under vores ophold. Huset ligger på landet i en lille landsby. Omgivelserne er rigtig smukke og der er meget fredfyldt. Højdepunktet var helt klart deres utrolig søde hunde! Huset er meget fin og der er alt hvad man skal bruge, endda også mere end det. Joanna var så sød at give os et par ting til køleskabet til de første dage vi var der. Alt i alt en god oplevelse!
Martina
2016-07-31T00:00:00Z
Well equipped rural Tuscan barn conversion. Very pleasant and accommodating host (plus dogs). Definitely need a car for local area. Has all the features of a barn conversion. Wifi is very slow mind, but this should not matter depending what you are there for - 3G works fine.
Richard
2016-11-15T00:00:00Z
Un séjour vraiment très réussi ! Joanna est très chaleureuse, disponible et fait tout pour que nous nous sentions bien : les boissons, fruits et laitages à notre arrivée, le verger à proximité, les conseils pour les visites et réponses aux questions que nous nous posons. Le barn a beaucoup de charme et est très confortable, à l'intérieur comme à l'extérieur (la terrasse, la grande piscine). La description et les photos correspondent parfaitement. C'est un endroit très harmonieux, où même les chiens et chats sont adorables. Nous avons regretté de ne pas pouvoir rester plus longtemps et souhaitons y revenir.
diane
2016-08-07T00:00:00Z
We arrived into town in the evening and Joanna was waiting for us at the train station. She is really sweet and it was really thoughtful of her to get us some food supply to last a few days. My mum and I really appreciated that! Joanna's place is really warm and cosy, even in the winter!! Her pets are super friendly and very affectionate. Although we were unable to get a rental car, Joanna was kind to give us a short tour of Greve. We had a really nice time staying with Joanna and would definitely stay here again if we return to Florence for another visit.
May
2016-02-07T00:00:00Z
Super accueil de Joanna. Elle parle français qui plus est, ce qui est pratique quand on ne parle pas un mot d italien :) L appartement est très agréable mais c est mieux avec le beau temps ;)
Philippe
2016-06-13T00:00:00Z
Joanna was a great host and her property was very nice! She went out of her way to be helpful and make us feel welcome like stocking up for breakfast since we arrived late. She was always available and even had time to cook dinner for her family and us. The house was a separate building from the family home and had magnificent views, was well equipped with everything you might need. The only downside was that we were there at the end of September and as the weather was not so warm, neither was the house. This would be an upside during the hot summer months though! :)
Robin
2015-09-27T00:00:00Z
We had a fantastic stay at Joanna's place - I would highly recommend it to anyone traveling in the area. Beautiful barn house with amazing views all round. Joanna was very hospitable and was more than happy to give us info & tips on Tuscany & beyond. If we return we would love to stay again :-) Eddie & Simona London
Eddie
2015-10-04T00:00:00Z
Typ pokoje
Celý dům/byt
---
Typ nemovitosti
Dům
---
Ubytuje
3
---
Ložnice
Pian di Scò, Toscana, Itálie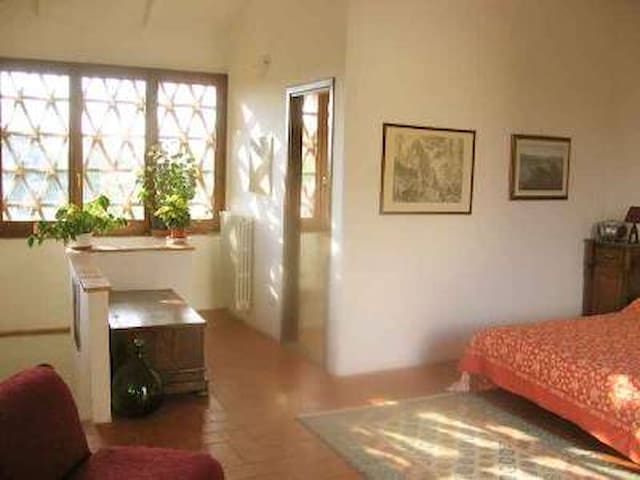 Beautiful room in an original Tuscan Country house placed in the middle of the wonderful nature of central Tuscany. 40 km away from Florence. Perfect for Hikers and anyone who loves adventure and relaxing in the countryside.
Original tuscan farmer house...with amazing landscapes around it!
Claudio and Heidi's place is absolutely amazing. The old farmhouse is beautiful and really well kept, clean and well organised. And the surrounds are gorgeous with views over the Tuscan countryside, mountains and valleys. I did some lovely bushwalks and swam in the natural pools of the river. It was such as nice break from the hectic August pace in Italy! Both Heidi and Claudio are really lovely people who are easy to get along with, thoughtful, compassionate and respect your privacy. And the breakfast is great!! Thanks for having me
Boe
2016-07-31T00:00:00Z
La casa di Heidi e Claudio è accogliente, rilassante e allo stesso tempo stimolante. Un luogo in mezzo alla natura dove arrivano viaggiatori da tutto il mondo. E' una bella esperienza oltre che una bella vacanza. Ricorderemo con affetto le chiacchiere mattutine con Heidi accompagnate da un'ottima marmellata di prugne e del pane fatto in casa.
Alice
2016-08-12T00:00:00Z
Ciao, un posto incantevole, e un'accoglienza sincera con tanta gentilezza. Arrivare di sera e trovare un bel camino acceso è bellissimo, quanto la casa e il panorama intorno alla casa. Colazione a base di marmellate e pane fatto in casa....wow! Un posto da non perdere !
raffaele
2016-10-30T00:00:00Z
This place is as piece of heaven on the earth. House is lovely and very clean. Room was comfortable. Surrounding is magic. And the people - all family is extremely nice and helpful - always and with everything - from picking me up from the station up throughout showing best places to visit, up to help with daily stuff. This is the perfect place for people who need peace and few days of relaxing in beautiful environment. Thank you very much for your kindness and hospitality!!!
Karolina
2015-08-22T00:00:00Z
The two nights my friend and I spent with Heidi and Claudio at their beautiful Airbnb home were easily our favorite from our two week Italy visit. Heidi and Claudio (and their family) are truly beautiful people and it was a joy to be in their presence and in the world they have created on their Tuscan hillside. Claudio kindly picked us up from and dropped us off to the train station (which was an easy 25 min. train ride from Florence) and even waited for us to do some shopping at the town supermarket. Breakfast was delicious each morning with Heidi's homemade bread and jam, and she even gave us a basketful of fresh eggs from her chickens to use for our lunch! The rooms the couple rent out are in a (very charming) building separate from but adjacent to their own family home, so you have as much privacy as you wish for. The rooms are very clean, lovingly decorated, and the kitchen is fully equipped. And despite the hot July weather, a surprise treasure in this spot is a waterfall that runs through the woods not fifteen minutes walk from their home! A perfect place to cool down. If you're looking for a place to breathe deeply, sleep amongst the stars, take a dip in clear water, and remain in the presence of a truly kind, loving, and generous family, there's nothing better. Thank you so so much, Claudio and Heidi!
Reshmaan
2015-07-22T00:00:00Z
Isolated, in the hills, looking down on a perfect valley. Go here if you like to be well off the touristic path in Tuscany. Heidi and Claudio are the most welcome hosts and will go out of their way to make sure you have everything you need. The room is nice and old but comfortable enough. Nothing fancy, just a pleasant rural stay in tuscany with nice hiking nearby.
Gunnar
2016-07-25T00:00:00Z
Heidi and Claudio's home is lovely, as are Heidi and Claudio themselves. Guests share a separate house with comfortable and spacious rooms, a fully functional kitchen, and a clean bathroom. Breakfast in the morning is delicious with homemade bread and jam, among other things. I was even able to share an evening meal with Heidi and Claudio, and enjoyed the chance to learn more about their time in this area and their history at the house. They are delightful people, and the property is absolutely beautiful, with lots of places to sit and rest and also nearby to hiking.
Sarah
2016-07-06T00:00:00Z
This place is amazing! Perfect place for relaxing and enjoying the Tuscan hills. Book longer then one night and you will not regret it :)
Mai
2015-11-13T00:00:00Z
Typ pokoje
Soukromý pokoj
---
Typ nemovitosti
Penzion (B&B)
---
Ubytuje
2
---
Ložnice
Pian di Scò, Toscana, Itálie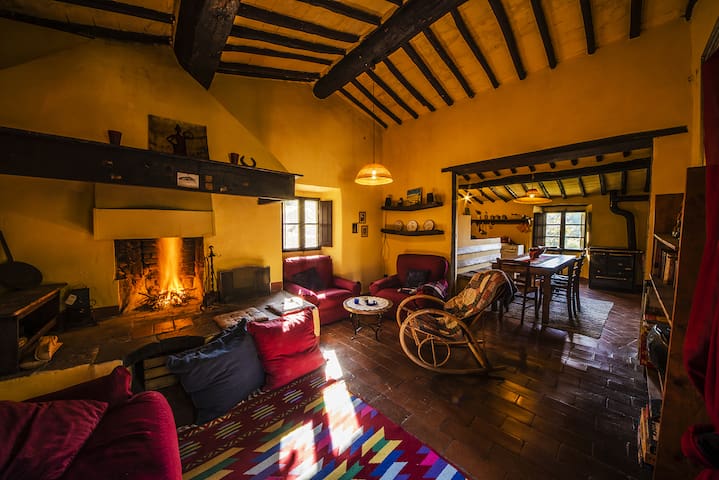 apartment with equipped kitchen with all appliances, double bedroom, bedroom with 2 single beds living room with sofa bed bathroom, outdoor private garden with gazebo table and barbecure, park with swimming pool and parking inside the wi-fi Table Ten
apartment with equipped kitchen with all appliances, double bedroom, bedroom with 2 single beds living room with sofa bed bathroom, outdoor private garden with gazebo table and barbecure, park with swimming pool and parking inside the wi-fi Table Tennis Bicycle park
Pian di Sco is the Balze del Valdarno, represented by Leonado da Vinci as Gioconda.E 'background of the picture located in the hills in front of the beautiful Pratomano Chianti.Campagna hills, quiet but full of charm and history in the village of Pian di Sco there are Bar shop, small supermarket, pizzeria and small restaurant in addition to the pharmacy and weekly market
le propriétaire nous avait téléphoné sur la route pour prendre des nouvelles sur l'heure de notre arrivée, il a fait de gros efforts pour parler français et nous a offert de l'huile d'olive à notre arrivée des jeux sont à disposition ainsi que tout le nécessaire pour la piscine ( masques, bouées )ainsi qu'un barbecue pour chaque location et des vélos en libre service
Jean-louis
2016-08-20T00:00:00Z
We had a lovely stay with Paulo at Pian de Sco . We were met as soon as we arrived and shown around our apartment which was spotlessly clean and very welcoming . We had everything we needed and were made to feel very welcome indeed. The pool was lovely and the setting very pretty surrounded by the Tuscan mountains with beautiful sunsets.
sue
2016-07-31T00:00:00Z
Fantastic place! Good facilities for cooking, barbeques, etc. Amazing property and location.
Morven
2016-09-04T00:00:00Z
La location proposta è l'ideale sia per chi vuole recarsi a visitare le città d'arte nei dintorni sia per chi si vuole godere qualche giorno di tranquillità al fresco della piscina immersa negli splendidi panorami delle colline toscane. Sia l'esterno con il giardino perfettamente curato, la piscina e i giochi messi a disposizione per i bimbi, che gli interni degli appartamenti sono di altissimo livello anche tenuto conto del prezzo contenuto. Firenze dista solo una quarantina di minuti in macchina e si raggiunge in un attimo. Tutto molto bello e ben organizzato. Speriamo di poterci tornare. Consigliatissimo!!!!
Gianluca
2016-07-18T00:00:00Z
Devo dire che nonostante un ritardo da parte nostra nell'arrivo alla struttura, i titolari sono stati gentilissimi aspettandoci e accogliendoci al podere. Ci hanno poi consigliato dove e come muoverci per spese alimentari e posti che meritavano di essere visti. La descrizione non rende l'idea della bellezza di questo posto, la tranquillità della campagna ma anche la posizione logistica che ti permette di visitare gran parte delle più famose città d'arte (URL HIDDEN) poi salite da Pian di Scò verso Reggello fino all'abbazia di Vallombrosa troverete un'area picnic fantastica immersi nella natura di un'oasi naturale spettacolare. Cinque stelle con lode, da tutti noi grazie.
Giacomo
2016-08-09T00:00:00Z
Paolo et très acuillant et sympathie tout est ok et très calme avec une belle et propre piscine ,noms avons passés des moments inoubliables , je recommend cet grande appartenant très ancien, Merci à Pablo E Johnny et sa famille
Kevan
2016-08-25T00:00:00Z
Very nice place with a wonderful pool and garden. Had a really good time in the days there. The host was really helpful advising us places to go enjoying the food and the wine. 5 Stars!
Alessio
2016-09-10T00:00:00Z
Un séjour très agréable dans un petit complexe de cinq logements, avec beaucoup d'espace et une piscine très agréable.
Jean-Jacques
2016-07-13T00:00:00Z
Typ pokoje
Celý dům/byt
---
Typ nemovitosti
Byt
---
Ubytuje
6
---
Ložnice
Pian di Scò, Toscana, Itálie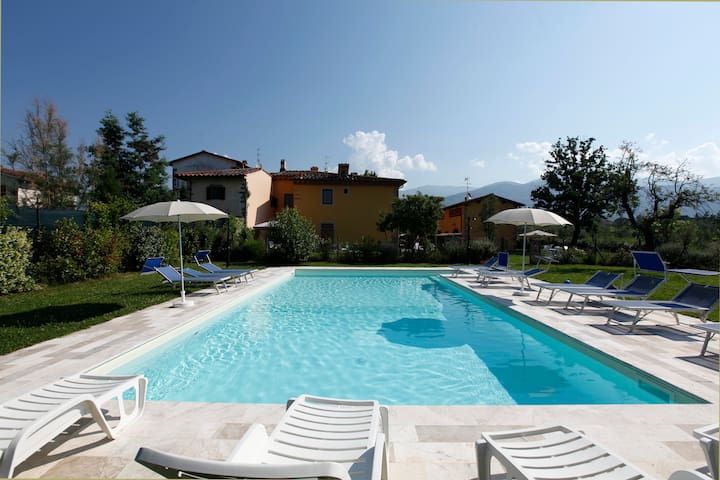 Immersed in olive groves, our guests can enjoy the Tuscan countryside in a quiet and private atmosphere with friendly hospitality.
Agriturismo I Gelsi is a harmonious farmhouse in the Tuscan hills. It sits in a sunny position surrounded by olive trees, with a spectacular view onto the valley. Adorned with a Roman Style swimming pool, the main country house includes an apartment for the guests. The flat, which sleeps four to five, has been accurately renovated in Tuscan style, with 'cotto' tiles paving the floors and wooden beams embellishing the ceiling. The apartment includes two bedrooms, one looking onto the valley through a picturesque arch window, the other looking onto the lively landscaped backyard. A bathroom with a shower; a traditional and fully equipped kitchen-dining room with a cozy fireplace, a four fire range and an oven, a microwave and a fridge-freezer; a living-room corner with sofa and a small TV SAT. A washing machine is available to our guests as well fans, a hair dryer, a baby chair, a baby bed, an iron, wifi, brochures of the area, parking area, and access to the swimming pool (open from May 28 to October 11). The apartment has a verdant yard which includes a covered dining area and an outdoor grill, where our guests can enjoy outdoor cooking and socializing, and a beautiful view of the valley. The price includes: electricity, gas for cooking, water, bed linens and towels (changed weekly), wifi internet access, swimming pool access, final cleaning, baby high chair and baby cot (on request). Price doesn't include: heating (charged based on consumption) At the Agriturismo I Gelsi, our guests can enjoy leisure walks under the Tuscan sun, relax and cool off in the panoramic swimming pool, or take the opportunity to visit the nearby historic and artistic cities of Florence, Arezzo, and Siena and the multitude of exquisite little villages of Tuscany. At just 2 kilometers from the Agriturismo, the village of Pian di Sco', offers traditional bakeries, butcher shops, and produce stands where one can buy the characteristic Tuscan delicacies, a small supermarket, banks, a post office, as well as restaurants, bars, delicious ice-cream parlours, and other eateries. Place of interest nearby: -Reggello (6km) -Firenze (40 km, 20 minuti in treno, 40 minuti in macchina) -Chianti & wine tasting -Arezzo (40 km), Lucignano, Cortona & Perugia -Siena (65 km), Terme di Rapolano, Monteriggioni, Volterra & San Gimignano -Montepulciano & Pienza -Pisa & Lucca -Fashion outlet: •The Mall (Gucci, Prada, Armani, Fendi, Dolce & Gabbana,…)17km •The Space (Prada, Miu Miu) 32km •Outlet Valdichiana •Outlet Barberino
Eva welcomed us on arrival and explained all the facilities and was very helpful
David
2016-09-25T00:00:00Z
Eva and Luigi are very nice and absolutely helpful. Very nice to meet them! If you like a very quiet and peaceful ambience you are absolutely right here. There were many insects, but this is, of cause, normal in such a natural place. Thanks a lot!
Angela
2016-08-29T00:00:00Z
Nous avons été très bien reçu. La communication avec l'hôte a été facile. Eva nous a accueilli dans ce petit coin de paradis et elle a été généreuse de ses explications et conseils. L'appartement et le site ont surpassé nos attentes. L'endroit est confortable, très bien équippé et situé sur une propriété exceptionnelle. Luigi et Eva sont des hôtes sympatiques et généreux. Je recommande fortement cet endroit à ceux qui veulent connaître ce que la tocane a de plus beau à offrir.
Sebastien
2016-06-15T00:00:00Z
Wir hatten sehr viel Kontakt im Voraus. Eva und Luigi haben alles möglich gemacht, um unseren Wünschen gerecht zu werden und haben die Wohnung perfekt vorbereitet mit Babybett und extra Bett für die große Tochter. Insgesamt blieben keine Wünsche übrig und es war schlicht alles in der Wohnung vorhanden, was man sich wünschen konnte. Angefangen von Gewürzen, die man direkt aus dem Garten entnehmen durfte bis hin zu Grillkohle für die offene Feuerstelle. Wir haben uns wie zu Hause gefühlt. Da Eva und Luigi gleich nebenan wohnen konnte man jederzeit mit Fragen zu ihnen kommen.
Jörg
2016-06-24T00:00:00Z
Her koste vi oss virkelig! Fantastisk hage og bassengområde. Det bugner av lavendel, urter, oliventrær og andre herligheter. Flott utsikt fra bassengområdet. De lager veldig god olivenolje på gården - anbefales! Leiligheten er veldig typisk toscansk, med masse sjarme. Eva og Luigi var flotte verter. Vi kommer gjerne igjen ved en senere anledning. Tommel opp :)
Kristin
2016-07-17T00:00:00Z
We had a wonderful stay at Agriturismo I Gelsi, everything was perfect. We feeled really welcomed and the house located between vineyards and olive trees offered a spectacular view over the hills. The appartement itsself had everything we needed and Eva and Luigi were perfect hosts who took of everything. We can highly recommend a stay.
Christian
2015-09-27T00:00:00Z
Eva & Luigi olivat todella vieraanvaraisia ja ystävällisiä eikä majoitus olisi voinut sujua paremmin! Paikka oli kuvankaunis ja lähin kylä sopivasti 20min kävelymatkan päässä, josta löytyi pieniä kauppoja ja kahviloita. Majatalo oli siisti ja kaunis ja kaikki tarvittava tieto löytyi mukaan lukien kävelyreittien kartat ja tietoa lähialueen kohteista. Suosittelut, menisin ehdottomasti uudestaan!
Sara
2016-10-22T00:00:00Z
Beautiful place and lovely hosts We were a party of 4 who spent a wonderful week in this great place where we felt very welcome. The house is very authentic in this great rustic style and was wonderfully cool even when temperatures outside were soaring. The gardens are extremely well kept in a park like setting with an abundance of flowers, fruit and olive trees as well as charming arrangements. We had all our meals outside and enjoyed an abundance of nature and wild life - even got to see the resident deer. I can very much recommend this place and the hosts to anyone who wants to experience some of the true wonders of the Tuscan countryside and hospitality. The recommendations for local restaurants and wine tours in Chianti were also spot on. PS: Gigi is an outstanding wine maker and his olive oil is not half bad either :-)
Lars
2016-07-06T00:00:00Z
Typ pokoje
Celý dům/byt
---
Typ nemovitosti
Dům
---
Ubytuje
5
---
Ložnice
Pian di Scò, Toscana, Itálie
Charming farmhouse in Pian di Sco with exposed brick and spectacular views of Pratomagno can accommodate from 4 up to 11 people and has all the amenities. Surrounded by well-tended olive groves is ideal for a relaxing holiday and sport. Private pool and tennis court. Private chef on demand.
Villa Valentini, a charming well restored farmhouse of about 250 sqm dated back to the 16th century in Pian di Sco, close to Reggello and the Chianti area, is set in the foothills of the Pratomagno mountain range at south-east of Florence and surrounded by acres of well maintained olive groves. It commands breathtaking views over the Valdarno and a countryside dotted with farmhouses, villages and bell towers - a perfect area for long walking. The interior is comfortable in a rustic style, complete with beamed ceilings and terracotta floors with air conditioned bedrooms. A shaded pergola on a terrace below the house has been fitted with a large stone table, chairs and a barbeque for outdoor dining. The swimming pool, all-weather tennis court and a second pergola are set to one side of the house next to a barn, all with amazing view. Ground floor Large sitting room leading to a dining area with a fireplace and old stone walls and to a well-equipped kitchen (Dishwasher, Microwave, Kettle, Mixer, Toaster, non satellite-TV in front of the dining area). Room 1: Twin room (convertible into double) with ensuite bathroom with shower. Room 2: Double room with ensuite bathroom with bathtub. Laundry room (behind the house) with washing machine and ironing set. Detergents provided Upper floor Large sitting room with an open fireplace, non satellite-TV with DVD and books. Room 3: Double room. Room 4: Triple room (convertible into double room with extra bed) Room 5: Twin room (convertible into double) with independent entrance/exit. Common bathroom with shower. Nice balcony with view over the garden between the bedroom nr 5 and the sitting room. Garden An informal garden set within 15 acres of private olive groves, fruit orchards and vines. The swimming pool is set about 10 mt from the house, next to a little pool house with a changing room and shower. The tennis court, available all year round, overlooking the pool and the tuscan countryside.
Midway between Florence and Arezzo, both about 40 km, amid typically Tuscan scenery. - Pian di Sco, 3km away, offers a large selection of shops, bars and restaurants. A nice location where everything is at your fingertips : bar, restaurants, pubs, pizzerias, dancing, night clubs, banks, jewellers, beauty centers, hair stylists, supermarkets, pharmacies. Wonderful walking trails in the nearby Pratomagno hills and Casentino, and a short drive across the Valdarno brings you into the Chianti region. - Reggello, 5 km away, offers many outdoor events, museums, outlet shopping, various tourist attractions, Rally Reggello. GOOD RESTAURANTS AND CONVENIENCE STORE NEARBY Supermercato Carrefour, Pian di Sco - 3 km Pizzeria Stagnino Cascia di Reggello, 5 km Ristorante Via Vai, Pian di Sco – 2,6 km Gelato DiVino, Centro Pian di Sco – 2,6 km (great ice-cream and happy hours)
A beautiful house in a stunning setting - we stayed here for 4 nights and had a great time. The pool and tennis court are great and we used the barbecue a couple of times too. The nearest town, Pian di Scò, is about a 20 minute walk but probably not one to do after dark. Luckily the owner of the restaurant we went to gave us a lift home! We had one problem which was understandable for a house this age but Isabella was very quick to sort it out. Loved staying here and Isabella and Mauro gave us some mementoes to remember it by! Grazie
Michael
2016-08-27T00:00:00Z
Isabella & Mauro made us feel so welcome at villa Valentini! They came to greet us and explain how the house works and even baked us a beautiful cake. Not to mention the wine they gave us, that they make themselves. This is a traditional Tuscan farmhouse, Isabella told us it was built in the 1700's, so don't expect mod cons, but it is very unique and well kept with everything you need for a comfortable holiday. It has lovely old stone fireplaces with plenty of wood at the back of the house for burning and outside BBQ's. There are chickens and tortoises on the property (which my 2 year old daughter loved to feed everyday!). The property has its positives and negatives if you are visiting with a toddler. The positives are, fenced pool area, high chairs and cots available and of course the animals! The downside is the stairs, which are a bit of a hazard, but they do have a stair gate at the top.. And we blocked the bottom stairs with a piece of furniture. So, we had no problems and our 2 year old had a ball. The tennis court is very well maintained with lots of balls and rackets.. And to our surprise, we used it most days! You need a car to stay here, as the supermarket and a few restaurants we found were a 5 minute drive to the nearest town, Pian Di Sco. The A1 autostrada is a 10 minute drive away, making most destinations (Florence, Sienna, Arezzo & Chianti region all accessible day trips). Thank you so much Isabella & Mauro for a wonderful family holiday at Villa Valentini!
Shani
2016-05-15T00:00:00Z
An incredible, dreamlike experience! My friends and I had the pleasure of staying at Isabella's villa over a beautiful weekend this Fall. From the very moment of our arrival, our stay has been truly memorable and great. As if driving up the lush driveway to Isabella's villa wasn't magical enough, her warm, friendly welcome and delicious homemade cake that made us feel truly as if we were in a Tuscan fairytale. Everything about Isabella's villa is truly perfect and exactly as described - or better. The view is breathtaking; the kitchen and fireplace are a joy to use; the house itself is charming but absolutely modern and functional; the pool and tennis court are great, and the WiFi works flawlessly everywhere. We also had the pleasure of having a dinner made for us by a chef of Isabella's recommendation, who prepared an unforgettable evening with amazing food and drink. I cannot recommend Isabella's villa enough. We will be sure to return for another lovely weekend in the Tuscan hills!
Dawid
2016-10-04T00:00:00Z
Typ pokoje
Celý dům/byt
---
Typ nemovitosti
Vila
---
Ubytuje
11
---
Ložnice
Pian di Scò, Toscana, Itálie
Una casa amplia , limpia , cómoda y silenciosa ideal para hospedar una familia entera, o bien vacacionar con amigos, dar paseos caminando sin ruidos ni estrés Vacaciones ideales para relajarse y disfrutar de la mejor tradición toscana
A large and comfortable house, ideal to accommodate a whole family, or vacationing with friends
An excellent accommodation in Tuscany as a starting point for FLORENCE, SIENA, AREZZO, CHIANTI. PRIVACY - PANORAMIC VIEW - PRIVATE GARDEN and PARKING (all fenced) - TERRACE - BARBEQUE –FIREPLACE – WOOD OVEN DETAILED INFORMATION The Viletta (around 230 sqm) can comfortably accommodate 6 persons in 3 bedrooms 3 full bathroom + 1 crib. It is a private place with parking place inside this wonderful town, with green grass and olive trees. Laundry, fireplace, wood oven, full kitchen with dishwasher, microwave oven. Heating The interior design is full of rustic charm and a beautiful view of the Tuscan countryside. SURROUNDINGS: The viletta is situated in a very charming town ideal position as a point of departure for the most important tourist destinations in Tuscany, a real cultural experience. The opportunity to personalize your tours depending on your preferences. (wine tasting, mountain snowskying or hiking, visit the beach, shopping, besides the all the cultural richness of each particular place. Renaissance experiences visiting castles, etc.) Firenze 30 min, Arezzo 40 min, Siena 1h, Greve in Chianti 30 min, Castelfiorentino 1h,10min, San Gimignano 1h, Montepulciano 1h, Montalcino 1h, 40 min, Asis 2h, Volterra 1h,30min, Pisa 1h, Roma 2h_30min. Shopping experience designer Outlets in Leccio 15 min., Outlet in Vakdichiana 1h., Outlet in Barberino di Mugello 1h. Ask for Celebrations, town parades and festivals in popular holidays, depending on the dates, they are a real cultural experience. In the village (walking distance) you can find: bank, grocery store, little market, newsagent, pharmacy, laundry services, family doctor etc .. very close to a bus station and in about 15 min. drive you can find: hypermarket, hospital, railway station.
Très bonnes vacances dans la maison d'Odette, un bon point de départ pour visiter les villes et villages de Toscane. La maison est grande et bien équipée, et nous avons été très bien accueillis par la belle soeur d'Odette, charmante et disponible. Super!
Nathalie
2016-08-18T00:00:00Z
Typ pokoje
Celý dům/byt
---
Typ nemovitosti
Dům
---
Ubytuje
6
---
Ložnice
Pian di Scò, Toscana, Itálie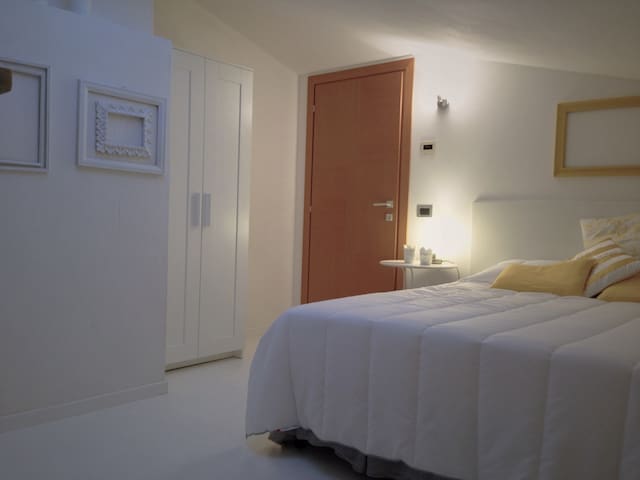 Recently and finely renewed into comfortable and an elegant country house; The Villa is displaced on one floor providing, by three sides, a spectacular view. Spacious and bright, furnished in perfect harmony between elegance and comfort. Esperidi extends on 120 SQM of 1 floor; spacious and bright Dining/Living room, small Kitchen, 1 Bathroom with shower, 1 double Bedroom, 1 triple Bedroom (bunk beds) another entrance/exit on the garden and a small laundry room.
Typ pokoje
Celý dům/byt
---
Typ nemovitosti
Dům
---
Ubytuje
5
---
Ložnice
Pian di SCO, Toscana, Itálie
Il mio alloggio è vicino a The mall, Firenze, Arezzo, attività per la famiglia, cultura, arte, fiorentina. Ti piacerà il mio alloggio per questi motivi: la gente, l'atmosfera, gli spazi esterni, il quartiere, la natura, il cibo. Il mio alloggio è adatto a coppie, avventurieri solitari, chi viaggia per lavoro e famiglie (con bambini).
Typ pokoje
Celý dům/byt
---
Typ nemovitosti
Byt
---
Ubytuje
4
---
Ložnice
Pian di Scò, Toscana, Itálie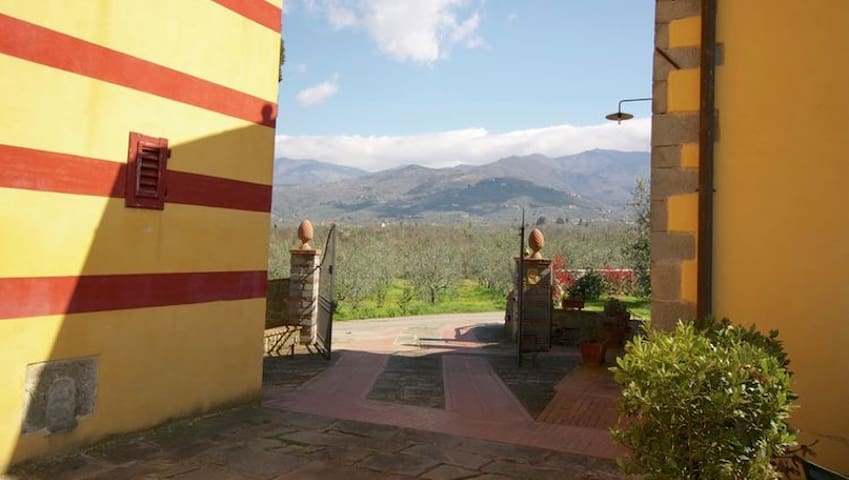 apartment for 2 people in an old farm of 1800 with swimming pool and park ,25 km from Florence, 30 km from Arezzo and 50 km from Siena, with all comforts, recently been renovated and furnished keeping the characteristics of Tuscan tradition.
apartment with kitchen with sofa bed for one person, double bedroom and bathroom, and outdoor private garden with table and barbecure
Pian di Sco is the Balze del Valdarno, represented by Leonado da Vinci as Gioconda.E 'background of the picture located in the hills in front of the beautiful Pratomano Chianti.Campagna hills, quiet but full of charm and history in the village of Pian di Sco there are Bar shop, small supermarket, pizzeria and small restaurant in addition to the pharmacy and weekly market
Tres bien reçu. A l écoute de nos demandes. Tres belle maison décorée avec gôut. Le calme de la campagne, mais un peu loin de FLORENCE. ' " il faudrait faire les villes à la campagne" Mais quand il fait trop chaud il suffit de prendre sa voiture et de monter dans la grande forêt qui domine cette vallée
bernard
2016-09-10T00:00:00Z
Luogo Bello, soggiornato meravigliosamente. Tutti quanto nelle nostre aspettative. Paolo gentilissimo e premuroso. Ci ritorneremo
Nicoletta
2016-08-12T00:00:00Z
Super séjour accueil sympa
thierry
2016-08-18T00:00:00Z
The host canceled this reservation 38 days before arrival. This is an automated posting.
Jbb
2016-07-12T00:00:00Z
The host canceled this reservation 32 days before arrival. This is an automated posting.
David
2016-07-03T00:00:00Z
Очень удобное расположение дома для осмотра Флоренции, Сиены и Ареццо. Все чисто аккуратно. Первый раз требуется встреча с хозяевами, чтобы понять, как добраться. Надо иметь ввиду, что это место фактически не является частным домом. Это мини-отель на несколько апартаментов с кухнями и всеми удобствами для самообслуживания. Мы гостили в конце октября, поэтому кроме нас никого не было. Был не сезон для бассейна, о чем хозяева предупредили.
Michael
2016-10-31T00:00:00Z
The villa and grounds at Pian Di Sco with Paolo and Johnny was amazing. My mother and I had an excellent time. The accommodation was very clean, and of a very high standard. Outside, there was a lovely pool with loungers and green surroundings where you could play many games on the well kept lawns. The whole villa was perfectly located close to the village/town, and was quiet at night. I recommend this villa without reservations to all AirBnB users, couples or families, or indeed individuals.
John
2016-07-13T00:00:00Z
Typ pokoje
Celý dům/byt
---
Typ nemovitosti
Byt
---
Ubytuje
3
---
Ložnice
Pian di Scò, Toskánsko, Itálie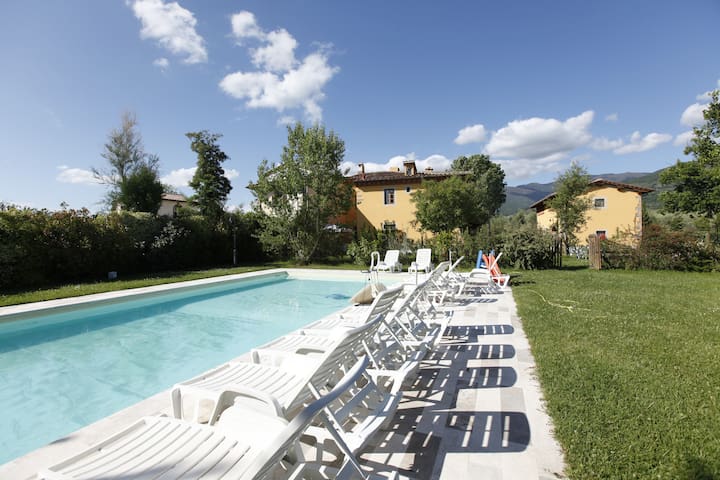 Il mio alloggio è adatto a coppie, chi viaggia per lavoro e famiglie (con bambini).
Typ pokoje
Celý dům/byt
---
Typ nemovitosti
Byt
---
Ubytuje
6
---
Ložnice
Pian di Scò, Toscana, Itálie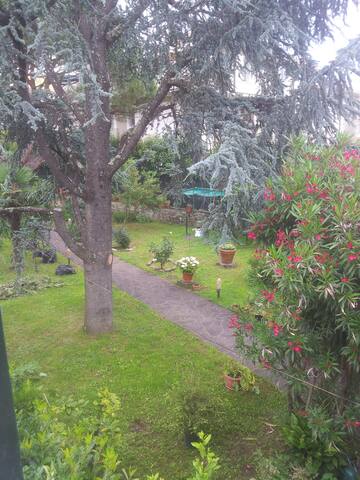 Beautiful room in an original Tuscan Country house placed in the middle of the wonderful nature of central Tuscany. 40 km away from Florence. Perfect for Hikers and anyone who loves adventure and relaxing in the countryside.
Original tuscan farmer house...with amazing landscapes around it!
Totally recommended and please if you decide to stay at Claudio's place, please stay at least two or three nights. I stayed for just one night and it was a big regret. The host, the room and thehouse and the area are all beautiful. I felt like I was in a movie :).
Hanh
2016-07-14T00:00:00Z
ES IST WUNDERSCHÖN DORT. DANKE FÜR ALLES
Sebastian
2016-08-23T00:00:00Z
Wir hatten eine schöne Zeit in der Lebensumgebung von Heidi und Claudio. Zwei herzliche und authentische Charaktere, die sich hier eine Welt geschaffen haben, in der wir uns wohl gefühlt haben und in der wir uns für 5 Tage willkommen aufhalten konnten. Für uns Stadtmenschen war das Leben hier in der Natur sehr erholsam. Der Blick in die Weite, die ungewohnten Geräusche der Tiere und die Herzlichkeit der Gastleute haben in uns neuen Raum geschaffen.
Christian
2016-08-03T00:00:00Z
Claudio and Heidi are the BEST. Imagine your perfect Tuscan getaway... And now multiply it by ten! We stayed with them for two nights but by the time we left we felt like we had known Claudio and Heidi for our entire lives. I wish they could be my grandparents that I visit each summer (but they're not very old). Make sure to have dinner with them; there's nothing like a home-made meal with home-grown ingredients and local wine. Ask Claudio about olive oil. I simply cannot recommend this listing enough. If you have any concerns or apprehensions about it, stop thinking and start booking!
Sael
2016-07-18T00:00:00Z
Unsere Vorstellung wurde weit übertroffen! Die Gastfreundschaft von Heidi und Claudio ist beispielhaft und liegt u.M.n. in deren Persönlichkeit begründet, die warmherzig und authentisch ist. Die Abgelegenheit des ehemaligen Gutes inmitten schönster Natur, ließ uns bereits nach kurzer Zeit in dem uralten und urgemütlichen Steinhäuschen von der Hektik des Alltags befreien. Das leckere Frühstück im Haupthaus, der wunderschöne Rundwanderweg gleich vor der Haustür, die Möglichkeit sich lesend oder nur dösend zurückziehen zu können - auf den Liegestühlen oder im urigen Kaminzimmer - das und noch viel mehr machte unsere Urlaubswoche zu einem unvergesslichen Erlebnis. Vielen Dank Heidi und Claudio - wir würden gerne wieder kommen :-) Monika und Konrad
Monika
2016-06-19T00:00:00Z
Claudio is an excellent guy, and his family is awesome. The place is excellent if you want to have hollidays out of the big cities, but if your plan is to visit Florence or something like that may be it will be difficult to move. Anyway this place is wonderful, and absolutelly I recommend it. Thank you so much Claudio & Heidi, I hope to see you again very soon!!
Luis
2015-09-02T00:00:00Z
I am one of those lucky souls who was able to come *back* to Claudio and Heidi's beautiful home in the hills of Pian di Sco. Last time in Italy two years ago, with a dear friend, it was easily my favorite experience. This time, with my mother, was no different. Beautiful souls, beautiful home, beautiful spaces everywhere you turn. The guest house rooms are clean, spacious, and comfortable. The kitchen is stocked with all the cooking equipment you need. Remember to plan ahead in picking up/packing groceries, because you will love to prepare your meals and savor them in this space. Turn one direction and the windows open up to the fiery sunset, turn the other and the fireplace is burning to keep you warm. Picnic on the bench outside, hike up to the waterfall or down to the town, say hello to the horses, make a bouquet of wildflowers to complement the olive branch greeting you at the kitchen table. And please don't forget to spend a little time with Heidi and Claudio - I did, hoping that their kindness and generosity and humor and open hearts might rub off on me :) If you have the chance, stay here at least two nights (even if that means giving up an extra day exploring Florence). Come seeking a place to breathe deeply, and you will rediscover tranquility in your heart. I can't wait to return again!
Reshmaan
2017-04-05T00:00:00Z
Heidi und Claudio sind schlicht wunderbare Gastgeber! Ihr Haus in den Bergen ist ein toller Rückzugsort für Großstadtlärm-Geschädigt und ein guter Startpunkt für Ausflüge in die malerischen Städte der Umgebung. Dieser Ort ist so schön, dass man ihn eigentlich gerne als Geheimtipp für sich behalten möchte ;-)
Andreas
2015-08-20T00:00:00Z
Typ pokoje
Soukromý pokoj
---
Typ nemovitosti
Penzion (B&B)
---
Ubytuje
3
---
Ložnice
Pian di Scò, Toscana, Itálie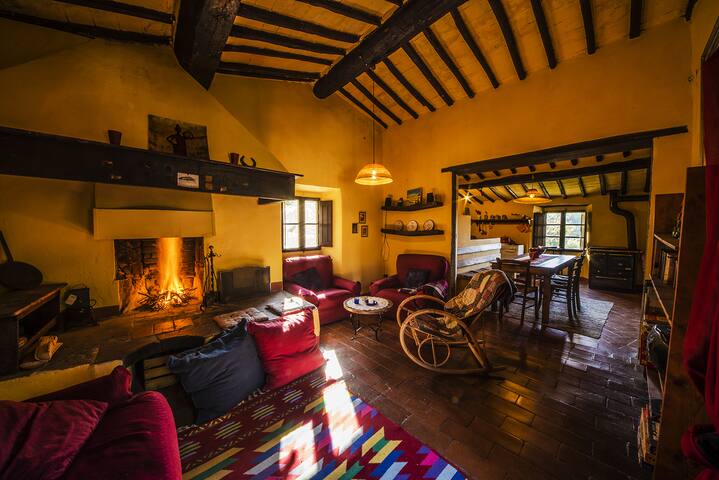 Siamo a Pian di Sco, ridente paesino in collina (350m s.l.m.), tra la valle dell'Arno ed il massiccio del Pratomagno. Siamo in una villa di fine '800 recentemente ristrutturata con ampio giardino, posta nel tranquillo centro del paese.
Typ pokoje
Soukromý pokoj
---
Typ nemovitosti
Penzion (B&B)
---
Ubytuje
3
---
Ložnice
Pian di Scò, Arezzo, Itálie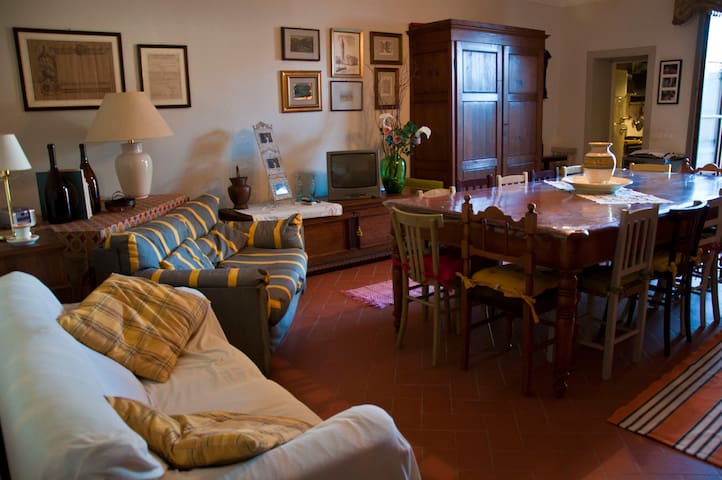 Country villa in Tuscany with swimming pool, large green park, bbq, sleeps 6-7, 3 bedrooms, 2 bathrooms, in a hilly area 550 meters above sea level, surrounded by greenery. The villa is ideal for enjoying relaxation, culture, food and wine. I wait fo
Villa Treggiano boasts a great panorama over a green tuscan valley. The villa is all surrounded by a private park with swimming pool and barbecue area. The villa is a real paradise for nature lovers, moreover it is not far from important tuscan cities art like Florence, Sienna and Arezzo
La villa si trova a breve distanza da Firenze, dalla zona del Chianti, ma anche da borghi minori ( Loro Ciuffenna, Castelfranco, Vallombrosa, ecc..) importanti per arte, cultura, e specialità enogastronomiche, che noi consigliamo sempre ai nostri ospiti di visitare. In questi borghi minori ogni iniziativa ha un sapore più autentico, in quanto organizzate non solo per i turisti, ma per la popolazione locale. Noi diamo sempre molte indicazioni in tal senso ai nostri ospiti.
Dear Demy and Maurizio, thank you very much for your warm welcome and the pleasant atmosphere during our stay. Your house was comfortable and offered more than enough space for our one week holiday with five persons. The garden and the area around the swimming pool were full of trees and flowers and the terasse attracts with a great view over the valley during sunset. To say it short - everything is perfect! But there are two things to consider: Do not put anything on the table in the big bedroom during heavy rain and do not arrive with a large car. Unfortunately, there was a heavy storm during our stay which was actually not a problem, but the roof leaked a bit so the table on the wall of the large bedroom got completely wet. The track to the house leads through the moutains in an olive and wine area with a nice view, but it should be enjoyed with caution. It was very challenging for us to pass it with our Audi A6 with sport suspension. All in all we had a quiet and stress-free stay with a large private pool, beautiful landscape and charming hosts. Grazie!
Raphaela
2015-08-23T00:00:00Z
Villa conforme aux attentes, Demy et Maurizio nous ont réservé un accueil chaleureux. Le chemin d'accès étroit participe au charme de la localisation de la villa.
jacques
2016-08-20T00:00:00Z
Beautiful and calm location with a nice view. Very nice welcome from Demy who prepared a baby cot upon request. We enjoyed tasting figs and walnuts from the garden. Yes, the road IS very narrow and bumpy, but when drivning really slowly it worked (for our mid size car).
Ellika
2015-09-27T00:00:00Z
My friends and I spent a complete week in Demy's villa in Tuscana and we spent so many great time there, between the terrace with the amazing view, the big swimming pool that refreshes us so much with the convinient pergola, the BBQ area, the small garden in front of the house and also inside the charming house (not so much because the weather was so perfect). Moreover Demy and her husband were really friendly and they welcomed us with a good bottle of wine and some delicatessen (perfect after our long drive). But we have to warn you that the path to reach this little paradise is not so easy and it is important to have good drivers if you want to visit the neighborhood (the small village Regello is really charming) .
Sophie
2015-07-29T00:00:00Z
We had a nice stay at Villa Treggiano. The location is extremely beautiful but like Demy mention in description, you must get the small (regular) car for easier way to get there cause the road is narrow. We had Audio 4 and it took us couple days to get use to it. The Villa Treggiano has lots of space and equipped with antique furniture. It was tide and clean when we arrived. Not far from the Villa there is a pool. It is very nice and clean. There is table and benches in shade of trees and olive trees which is very nice to relax. Garden and terrace are amazing with breath taking view of Valley Toscany. There were a lot of grapes in September and my little daughters love them so much. Although you have neighbors there but you barely meet them. Demy and Mauricio are living near the Villa and welcomed us with bottle of red toscany wine, salame and fresh bread. They were helpful when we had internet problem in the Villa. Thank you for a nice stay :)
Julia
2015-09-20T00:00:00Z
We received a very warm and friendly welcome and enjoyed our stay at this property. The villa was clean and well equipped. Beautiful gardens, pool and bbq area. The Wifi was only accessible from the window ledge of the main bedroom which was a bit disappointing.
Liz
2015-07-22T00:00:00Z
Maison conforme à la description, confortable et spacieuse, avec de la terrasse un point de vue magnifique sur la vallée, au calme et avec une immense piscine à usage exclusif. Les 700 derniers mètres du chemin d'accès sont certes étroits mais nous n'avons pas eu de problème avec notre 4x4 Volvo XC90. A noter que le centre de Florence est accessible en train d'un village à proximité. Accueil très chaleureux de Demy et son mari Mauricio, nous avons même eu un 'panier' de bienvenue :-). De plus ils sont très disponibles pour aider.
Laurent
2015-08-31T00:00:00Z
Typ pokoje
Celý dům/byt
---
Typ nemovitosti
Dům
---
Ubytuje
6
---
Ložnice
Pian di Scò, Toscana, Itálie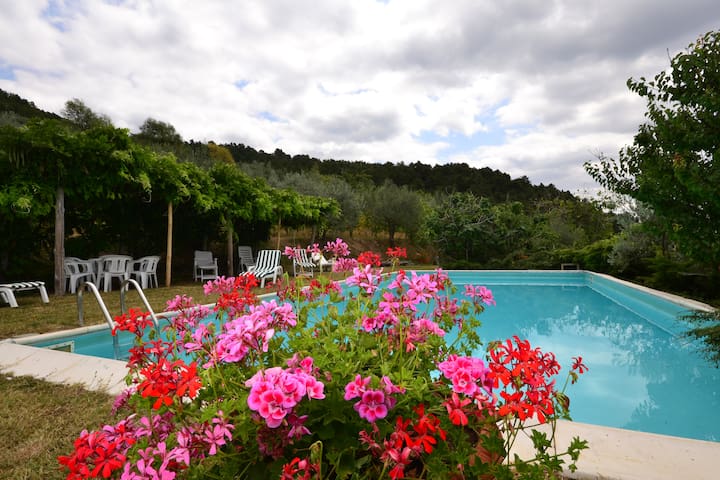 Apartment for 4 people with swimming pool and outdoor space for dining out. Panoramic and quiet. Free Wi-Fi and cleaning included in the price.
Surroundings and Outside Description - LA GREPPIA Ancient typical Tuscan farmhouse in the heart of the Valdarno Valley. Old 17th century house situated right in the heart of the upper Arno Valley on the slopes of the Pratomagno massif, surrounded by splendid olive groves and overlooking one of the most beautiful of the Tuscan valleys. You can still find traces of the original building that remain unchanged and, during the reconstruction, painstaking care was taken to preserve the old stone walls, the wooden ceilings and the terracotta floor tiles. Inside the house there is aso another apartment (max 6 persons) at the owner's and his guests' disposal. The typical Tuscan style of the interior decoration contributes in no uncertain manner to creating a wonderful, fascinating atmosphere. Sunbathing area, panoramic pool, excursions and trekking. From the large sunbathing area in front of the house with its outdoor furniture and sun umbrellas, as well as from the 6 x 15mt. swimming pool (depth 0,90-2,50mt.) seemingly suspended over the land below, you can admire the scenery of the Tuscan hillsides. Because the Autostrada A1 is fairly close by (15 km to either Valdarno or Incisa exits), you can get to Florence in a short time or to the most beautiful historical and artistic cities of central Italy. During your holiday it will be possibile to enjoy trekking and mountain bikes excursions also with expert guides. On request the owner will prepare typical Tuscan meals. Laundry room with iron and ironing board. Interior Description - IL FIENILE Individual house a few metres from the main building, resulting from the the reconstruction of the old hay loft. GROUND FLOOR: Living-dining room with kitchen facilities and open fireplace, bathroom with shower, double bedroom with bathroom and shower. FIRST FLOOR: Twin bedroom where an extra bed can be added. EQUIPMENT: oven, freezer, high chair.
Typ pokoje
Celý dům/byt
---
Typ nemovitosti
Byt
---
Ubytuje
5
---
Ložnice
Pian di Scò, Toscana, Itálie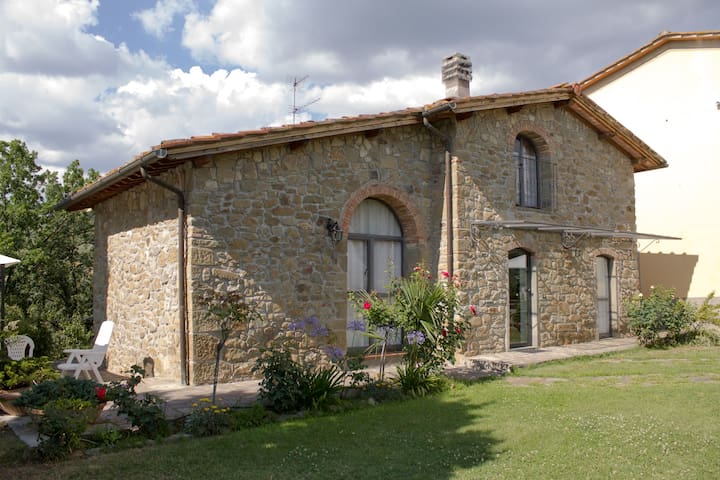 Holiday home near Florence and Arezzo,modern and rustic, with 2 bedrooms and 2 bathrooms, large living room with fireplace, kitchen, dishwasher and sofa beds. Wi-Fi, air conditioning and satellite TV in every room. Pool, private garden
Holiday home near Florence and Arezzo, panoramic modern and rustic, with 2 bedrooms and 2 bathrooms, large living room with fireplace, kitchen, dishwasher and sofa beds. Wi-Fi, air conditioning and satellite TV in every room. Swimming pool shared with 2 other apartments, garden with tables and chairs, laundry area, bbq, private lighted parking .
Immerso nella natura, panoramico
We were welcomed to the place by Marco and his family. The place was as advertised. There are 2 bedrooms, 2 bathrooms and a shared family room / kitchen space. The swimming pool was a short walk down and has spectacular views of the rolling hills around the place. We love driving so we enjoyed the windy single lane drive up to the place. Central location - smaller towns in Tuscany are a short drive away (note - you will need a car if you stay here). Pian Di Sco is the town closest to it and has a coffee place, a small grocery store, and we found a restaurant that we enjoyed. The wifi there was a bit sporadic but Marco and his family were available / responsive to resetting it from time to time after which it would start working again. Since this was our first trip to Tuscany, and we don't know if this is a common occurrence there, but our only real issue with the place was the bugs (they came in all shapes and sizes).
Naureen & Shehryar
2015-06-28T00:00:00Z
The 5 of us had a wonderful stay at Marcos place. The apartment was lovely as on the pictures, clean and had a A/C, that we were very grateful of. Having a washing machine available also made a lot things easier. We enjoyed very much spending time in the garden and in the pool, with a great view across the landscape and homemade ice-cream by Marcos family, which was delicious :). We felt warmly welcomed by him and his family and can only recommend that wonderful place in Toscany. But be aware of mosquitos, they love it there too.
Katharina
2015-08-07T00:00:00Z
Posizione bellissima,casa pulita e accogliente.host gentile e disponibile. Consigliato per passare qualche giorno in tranquillità immersi nelle bellisme colline toscane.
Andrea
2015-12-08T00:00:00Z
Typ pokoje
Celý dům/byt
---
Typ nemovitosti
Byt
---
Ubytuje
6
---
Ložnice
Pian di Scò, Toskánsko, Itálie
Appartamento di 75 mq posizione tranquilla ma vicinissima alle principali attrazioni della nostra regione 20 min dall out let di Leccio 30 min da Firenze 40 da Arezzo e Siena, vista Chianti,ricco di tutti i comfort TV cucina trrezzata biancheria
Typ pokoje
Celý dům/byt
---
Typ nemovitosti
Byt
---
Ubytuje
4
---
Ložnice
Pian di Scò, Toscana, Itálie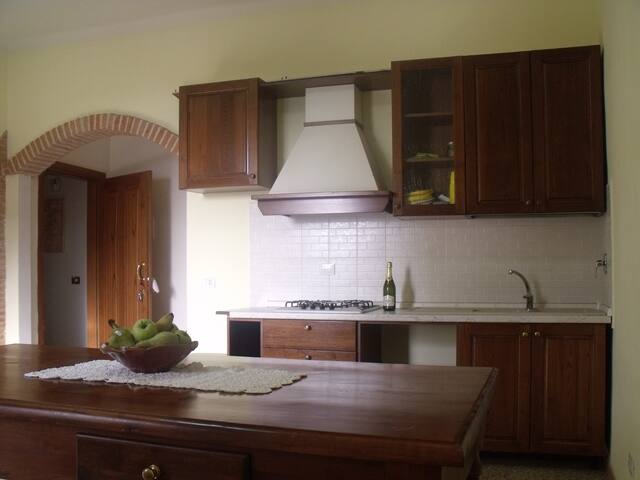 Sala Piccola si trova nel cuore della Toscana, fra il Chianti ed il Casentino, al centro del triangolo Firenze, Siena ed Arezzo, immerso sul suggestivo territorio delle Balze a Castelfranco di Sopra. L'azienda è una piccola proprietà di sette ettari che produce: olio di oliva extra vergine, fagioli zolfini, ortaggi ed alleva animali da cortile.
Typ pokoje
Celý dům/byt
---
Typ nemovitosti
Byt
---
Ubytuje
5
---
Ložnice
Pian di Scò, Toskánsko, Itálie
Pian di Scò - Airbnb
:
Průměrně

4.9

z

5

hvězdiček na základě

210

hodnocení hostů
Pro zobrazení celkové ceny zadej termín. Mohou být přidány další poplatky a daně.