The structure is surrounded by greenery ..... for absolute relaxation !!! Kitchenette, TV and private bathroom. solarium area with swimming pool.
This is a very nice place, very new and clean. It looks just like the photos. It has everything you need for a nice and relaxing holiday, while still being close to some nice places to visit. A downside was the very small road that we had to follow to get there, and the fact that the owners only speak Italian. We speak some Italian so for us it was no problem, but for others this might be hard.
Emma
2016-07-24T00:00:00Z
The location of the accommodation is 30min by bus (SC)from La spezia train station (just opposite the train station) and comes every 15mins. The owner can't speak English so well, so it took us a few time to sort it out. But Cristian and his family are so so nice and hospitality. The room is really clean and having everything you need. There is a supermarket nearby so you can buy some food or snake. If you want to go to cinque Terre, you can take the bus to La Spezia first and then buy the train tickets to cinque Terre, but remember back to train station before 6, because there is no more bus back the place after that. We had walked to home on the highway in the night and is not fun at all.
simon
2016-09-16T00:00:00Z
Perfetto tutto! Christian e la mamma estremamente disponibili, gentili e sempre con il sorriso pronto. La casa/ appartamento pulito, nuovo e attrezzatissimo di qualsiasi accessorio necessario. Se ne trovate uno che manca, chiedete e ve lo faranno avere in pochi minuti, sempre con il sorriso. La zona della piscinetta è perfetta per il relax, colazione o una lettura estiva. Complimenti!!
Marijana
2016-09-02T00:00:00Z
Christian et sa famille nous ont très bien accueilli. L'appartement était propre et très joli. Nous le recommandons pour ceux qui souhaitent être au calme et visiter les Cinq Terres.
Marion
2016-08-11T00:00:00Z
La residenza "Lillo" è situata vicino alle Cinque Terre (per chi ha la machina) e la nostra camera era molto comoda e moderna. C'è tutto per passare un buon soggiorno qui: calma, piscina e vista sui monti... L'accoglienza è anche ottima, abbiamo ricevuto preziosi consigli e aiuto. Grazie al "Lillo" abbiamo scoperto un ristorante simpatico a Bottagna.
Léopold
2016-08-25T00:00:00Z
Красивое место, горы, бассейн имеется. Жилье очень комфортное, есть все необходимое.
Arkadijs
2016-08-23T00:00:00Z
Cristian und seiner Mutter haben uns herzlich in ihrer wunderschönen Unterkunft empfangen. Zwar sprechen Sie kein Deutsch oder Englisch, doch konnten wir uns grob sehr gut verständigen. Ansonsten hilft es auch ein Übersetzungsbuch bei sich zu haben. Wir haben uns sofort wohl gefühlt, es ist sehr gemütlich und liebevoll eingerichtet, wie auf den Bildern. Es ist absolut sauber und super ausgestattet. Die Fenster sind alle mit Fliegengitter ausgestattet, was wir als sehr angenehm empfanden. Der Anfahrtsweg wirkt anfangs eng, aber auch mit einem kleinen SUV kommt man gut dort an. Mit dem Auto kamen wir sehr gut nach La Spezia und Umgebung. Nicht weit ist zu Fuß ein kleiner Supermarkt zu erreichen, der morgens auch frische Brötchen anbietet :) Wir waren sehr gerne dort und können es nur empfehlen!!
Sas Kia
2016-09-22T00:00:00Z
Un accueil chaleureux et très agréable dans un cadre calme et très propre ! Je recommande !
Manon
2016-08-09T00:00:00Z
Typ pokoje
Celý dům/byt
---
Typ nemovitosti
Byt
---
Ubytuje
2
---
Ložnice
Vezzano Ligure, la spezia, Itálie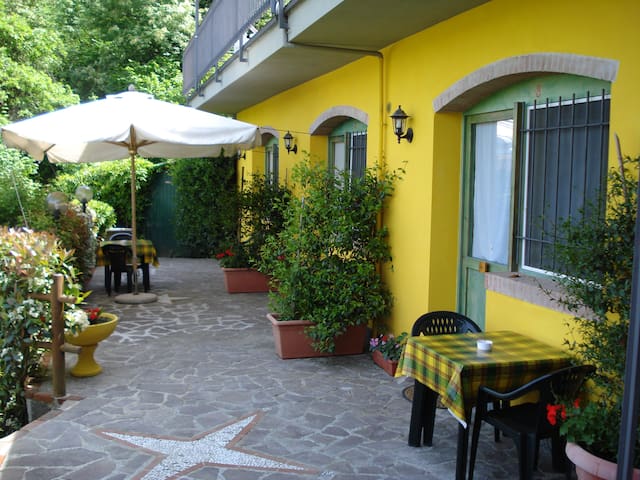 Profondément dans les collines verdoyantes de Ceparana vous trouverez notre villa où vous pourrez profiter d'un séjour de détente loin du rythme frénétique de la ville; à partir d'ici vous pouvez facilement rejoindre Cinque Terre, La Spezia, Portovenere et d'autres plages, alors que si vous êtes plus du type aventureux, vous pouvez essayer votre main, ou plutôt, les pieds à la randonnée Alta Via dei Monti Liguri qui commence ici à Ceparana à pied ou vtt. Petit déjeuner inclus dans le prix de la chambre. Animaux acceptés! Nous parlons italien, anglais et chinois.
Les chambres sont spacieuses et confortables, équipées de tout le mobilier et les accessoires nécessaires. Notre jardin est très grand et plein de verdure, et est titulaire d'un court de tennis. Place de parking disponible.
Quartier calme pleine de villas privées similaires.
We stayed for 3 days and had a very good experience! The family were very helpful and friendly. The location is good if you are planning to do days in the area.
Michael
2016-08-12T00:00:00Z
Bello tornerei volentieri
Khalid
2016-08-29T00:00:00Z
Nous avons passé un excellent séjour chez Xu Jing. La maison est spacieuse, propre et tout à fait conforme aux photos. Nous avons été accueillis par la fille de Xu Jing qui parle parfaitement anglais et qui est très disponible et agréable tout en restant discrète. Nous conseillons vivement ce logement.
Quentin
2016-08-08T00:00:00Z
The experience at Xu Jing's house couldn't be better. Loona and her brother are the perfect hosts, very nice, friendly and helpful. Everything was very clean and they even prepared breakfast for us early in the morning! We reccomend it 100%!
Víctor
2016-08-20T00:00:00Z
Vert nice place and nice people. Thanks to Marco and her sister for welcoming us and giving all the necessary information. We really enjoyed the breakfast offered by them
Lucienne
2016-09-12T00:00:00Z
We didn't meet Xi Jung but her son Marco and her daughter Luna who both manage the airbnb. They are very organised and always available for advice. The house is easy to find and well located. The room is nice and clean. However, we had to share the bathroom with the other 4 guests, which was a bit long in the morning, and not always clean (some guests are really disgusting). Breakfast is copious . I recommend.
Emmanuel
2016-09-07T00:00:00Z
Nous avons fait escale chez Xu Jing pour une nuit, avant de quitter la région. C'était vraiment parfait. Un excellent rapport qualité prix, avec le petit dej offert. Nous avons été chaleureusement accueillis par Luna, qui nous a attendu tard pour nous rendre service. La chambre est très fidèle aux photos, dans une grande maison d'un quartier résidentiel de Ceparana. Ceparana, est à10km de La Spezia et de Sarzana (où nous avons passé une très belle soirée dans cette ville d'antiquaires). Pour une escale bon marché, nous vous le recommandons vivement!!
charlotte
2016-08-09T00:00:00Z
Xu Jings young daughter Luna and her son Marco are the backbone of the air bnb. They are just superb to deal with - communication is fantastic as they both speak English so well ( our Italian isn't so good) and they respond super fast. The best check in and arrival I have ever experienced. It is just like the photo's - so clean and offers super value for money ( I think they could charge a little more). Absolutely five stars all the way - They should be superhosts. Thanks/Grazie Mille
Lyn & Gavin
2016-08-23T00:00:00Z
Typ pokoje
Soukromý pokoj
---
Typ nemovitosti
Vila
---
Ubytuje
2
---
Ložnice
Ceparana, Ligurie, Itálie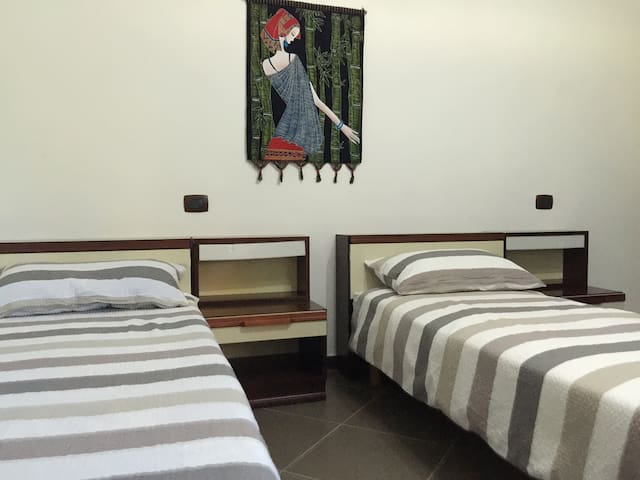 Located 6 km from the station of La Spezia FF.SS and a short walk from the bus to the City service, recently renovated with terrace, entrance with kitchen / living room, bedroom, bathroom.
Recently it renovated with terrace with table, chairs and umbrella. Entrance with kitchen / living room, bedroom, bathroom with shower. The living room has a sofa bed which can comfortably accommodate two persons and in the bedroom can be added cot infant or a child. The apartment is a short walk from the bus station towards La Spezia, you can buy tickets at the host. All trains from the spice go in two directions: east and west EST: Tuscany and Emilia Romagna (Lucca, Pisa, Parma, Florence ..) WEST: 5 Terre, Genoa, Milan, Turin, Savona, Ventimiglia .. You can buy a day ticket for the National Park of 5 lands and move from La Spezia to Levanto on all regional trains. DISTANCES BY TRAIN: 5 Terre 7-16 min Siena 3 a.m. Lucca 1:00 a.m. Florence 2 a.m. Pisa 1:00 a.m. Genoa 1 a.m. You can reach the 5 Terre and the Gulf Islands also via ferry from the pier. The name of the consortium ferry is called "Consorzio Marittimo Turistico 5 Terre-Gulf of Poets" The Apartment has 1 double room and a couch-bed in the living room for two other guests. There Is The Possibility to put a baby or child bed in the bedroom. There is a balcony with a table, chairs and a beach umbrella. There is a living room with Sat TV table and a couch-bed There is a full furnished kitchen with pots in pans, and an oven. There is a Toilet with shower. The apartment is very close to a bus stop going to the station spice, you can buy the ticket asking to the host. ALL the trains from La Spezia only go in two directions: EAST and WEST EAST - border with Tuscany (Pisa, Florence, Lucca, Siena) WEST- 5 LANDS, Genoa, Milan, Sestri Levante, Savona etc. You may consider buying a special one-day pass for National Park (can use the train all day from La Spezia to Levanto and the paths of the 5 LANDS DISTANCES BY TRAIN: The 5 Terre (7-16 min) Siena 3 a.m. Lucca 1:00 a.m. Florence 2 a.m. Pisa 1:00 a.m. Genoa 1 a.m. You can reach 5 Lands by ferry boat from the harbor. The name of the consortium of the ferries is: "Consorzio Marittimo Turistico 5 Terre-Gulf of Poets"
Two storey White House with green shutters. On main road. Definitely need a car. Off street parking for small car. Welcomed warmly by Eleonora and family. She speaks English well and provided tourist info for area including bus and cinque Terre ferry timetables and walking info for cinque Terre tracks. Well stocked kitchen with milk juice prepackaged sweet breakfast items, fresh fruit basket. Good wifi. Byo shampoo conditioner. Hairdryer provided. Recommend restaurant suggested by host. It had great home made ravioli and steak.
Craig
2016-10-01T00:00:00Z
Nous avons été très bien accueilli par les parents qui sont des gens sympa et chaleureux. Nous n'avons pas pu rencontrer leur fille mais bonne communication avec elle. L'appartement est très propre, spacieux. Le lit est grand et confortable. Seul bémol : la maison est située sur une rue bruyante et passante.. A recommander pour un petit séjour!
Julienaurelie
2016-08-22T00:00:00Z
We had the most lovely stay here and anyone else who gets the chance should also choose this place! The apartment is very clean and well equipped and very close to a bus stop- literally over the road. The family were so kind picking us up from the bus stop when we first arrived and answering all and any questions we had. They treated us like friends and it was such a pleasure to spend time with them. Thank you so much!
Hannah
2016-07-18T00:00:00Z
אלינורוה מקסימה וגם הדירה נפלאה. עם זאת, משום מה חשבנו שהדירה ממוקמת בלה ספציה והצטערנו לגלות שהיא בעיירה נידחת ליד. כשבוע לפני בואנו אלינורה עברה פציעה ומסתבר שכשהיא בריאה היא מסיעה את האורחים שלה לעיר, אז החוייה שלנו לא משקפת כלום.
shani
2016-07-24T00:00:00Z
L'appartement est spacieux, confortable (le lit est un vrai grand lit), très bien fourni (canapé, cuisine équipée, télé...) et assez bien isolé de la rue malgré la circulation. Nous avons eu le plaisir de trouver quelques prospectus de tourisme ainsi que le frigo rempli de petits gâteaux, yaourts, fruits et lait. La famille d'Eleonora était très accueillante, discrète et de bon conseil. En bref : une très bonne adresse, à recommander vivement !
Hélène
2016-07-21T00:00:00Z
Ci siamo trovati molto bene con Eleonora e la sua famiglia. Anche se siamo stati per una notte soltanto sono stati disponibili e molto gentili. La casa è perfetta, in ottime condizioni e confortevole.
Michael
2016-04-26T00:00:00Z
Nous avons séjourné pour 3 jours et avons été accueillie par son père qui a été très sympatique. L'appartement est tel que décrit, propre près des transports en commun (autobus). Plus que le nécessaire est dans le frigo et nous a même offert d'aller chercher des choses pour nous. Belle attention de sa part. Bien situé pour visiter les 5 terres ainsi que les environs qui sont très beaux. Je recommence cet endroit.
Karina
2016-10-18T00:00:00Z
Mooi vertrek met keuken ruime slaapkamer . Je ziet aan alles dat er veel aandacht is besteed en het oogde als nieuw , ook de betegelde trap er naar toe en het terras maakte indruk. We werden hartelijk welkom geheten door Eleanor en haar ouders. Eleonora spreekt prima Engels . De woning heeft een parkeergelegenheid maar wegwandelen is geen optie , het huis ligt direct aan een drukke weg. Met de auto uitje maken gaat prima. Het geluid van de weg wordt voldoende gedempt door de dubbele ramen. Bed en wifi waren prima. We waren er 1 nacht , op doorreis, ook dat was geen probleem .
Tjerk
2016-06-22T00:00:00Z
Typ pokoje
Celý dům/byt
---
Typ nemovitosti
Dům
---
Ubytuje
4
---
Ložnice
Vezzano Ligure, Ligurie, Itálie
Sistemazione ideale per una famiglia. In casa c'è tutto quello che occorre per una rilassante vacanza. Nelle vicinanze un parco e un fiume dove andare a tuffarsi. In autobus(ogni 30 minuti) in 15 minuti si arriva in centro di La Spezia, fermata del bus a pochi metri. Parcheggio privato. Giardino privato.
Typ pokoje
Celý dům/byt
---
Typ nemovitosti
Byt
---
Ubytuje
4
---
Ložnice
Piano di Valeriano-bottagna, Ligurie, Itálie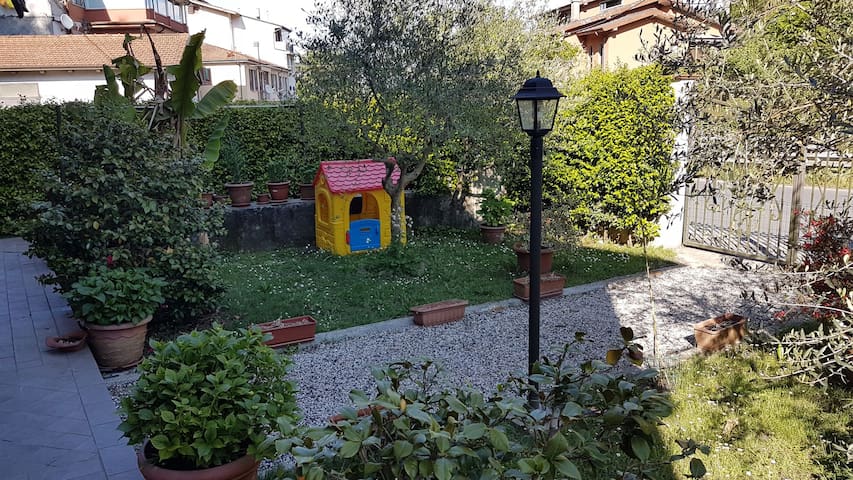 Independent villa with garden and veranda, parking with automatic gate. 3 Double Rooms kitchen equipped with everything Dining room and living room sofa Fireplace and Big Screen, Bathroom with shower, air conditioning. At 10 minutes from La Spezia from the embarkation by sea or train station to visit the 5 Terre, Portovenere, Lerici. The proximity to the entrance highway also makes it ideal for visiting the art cities: Florence, Genoa, Pisa and Lucca Marble Quarries
The house has 2 double rooms and one double with two single beds to which it can 'add a third. It 'also available a cot for children and to request a high chair. The house is equipped with air conditioning and a fireplace Outside private parking and enclosed garden. The linen (sheets, aciugamani, tablecloth) is available.
Accoglienza ottima, appartamento dotato di tutto il necessario e confortevole, ospitalità impeccabile. Consigliato!
Paolo
2016-12-10T00:00:00Z
This house is really cozy, everything inside makes you feel like coming home to your mom's house. Very clean, very well equipped, check in and communication was easy. Since we traveled by car, it is also a bonus that this house is located near gas station and hence, car wash and convenience store. There is a spacious safe parking spot in the backyard. Wifi is fast.
Doddy Primanda
2016-11-27T00:00:00Z
Hello Franco, Your house is too beautiful and maintained very well.. Location is also very good.. You provided very sufficient kitchen utensils. You are very friendly and nice person. Once again i mentioning that your house is just amazing and superb I would like to visit again.. Thanks Madhu
Madhu
2016-10-17T00:00:00Z
Bon accueil, merci Alessandro un hôte dévoué
Jérôme
2016-10-22T00:00:00Z
it is a nice place to stay and the hosts are so kind and welcoming. I love it!
Nattacha
2017-03-18T00:00:00Z
We were just passing through and only stayed one night here. Our experience was wonderful!! The hosts welcomed us and were very friendly and helpful. The house is adorable and offered more than enough room for our party of 6. Everything was really clean and cozy. We really loved the beds and pillows - very comfortable! We would definitely stay here again if we come back to the area!
Brandon & Katie
2015-12-16T00:00:00Z
The place is a very good value for 7 people. 3 large rooms. Enough space to park 2-3 cars outside the house. Only 25 min in the morning traffic from the boat trips to Cinque Terre.
Thierry
2016-10-28T00:00:00Z
Franco and his son are very helpfull. Even we arrived very late in the night they made everything very comfortable for us. The flat is clean, has a lot of beds and space. Everything was like we expected and relaxed. Martin
Martin
2016-10-01T00:00:00Z
Typ pokoje
Celý dům/byt
---
Typ nemovitosti
Dům
---
Ubytuje
7
---
Ložnice
Ceparana, Ligurie, Itálie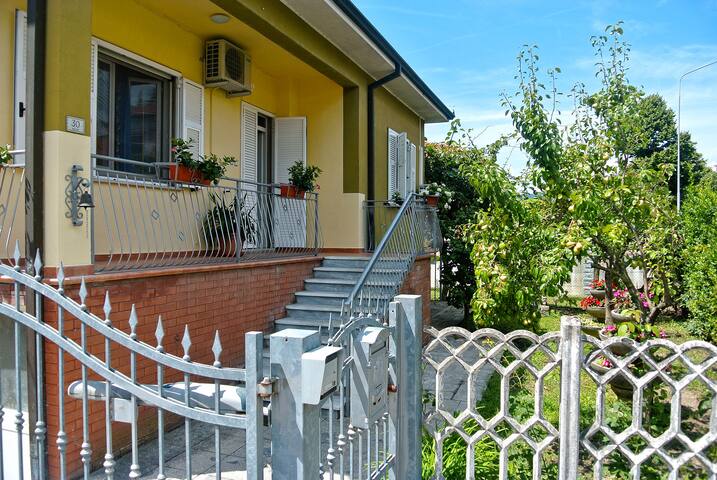 apartment located in a very convenient area near the bus square with service to La Spezia and 5 lands (Pulman direct who in Monterosso, direct bus to the station of La Spezia) 10 minutes from the center of La Spezia and Sarzana. Apartment living room and kitchen facilities, 1 double and 1 full bathroom shower. (No towels)
It is a small town with all facilities! Very convenient to reach all the resorts like La Spezia, Cinque Terre, Portovenere, Sarzana etc.
Tutto perfetto grazie di tutto lo consiglio vivamente
Mattia
2016-09-04T00:00:00Z
La casa è semplicemente deliziosa è pulitissima! Location comoda, zona tranquilla e ottima comunicazione, è stato un piacere trascorrere un weekend da Pietro!
Angelo Mauro
2016-11-27T00:00:00Z
Nous avons été correctement accueilli bien qu'assez rapidement. Le logement est très correct, neuf et spacieux. Il nous a manqué des sacs poubelle et du papier toilette et les serviettes ne sont pas fournies. Sinon aucun problème. La ville n'est pas très agréable (sans charme) mais plutôt bien située géographiquement pour visiter la région (20 minutes de La Spezia). Un bon rapport qualité prix.
Nicolas
2016-09-11T00:00:00Z
Tutto perfetto appartamento con tutto il necessario
Simona
2016-08-16T00:00:00Z
L'appartement est, comme l'indique l'annonce, bien situé : proche la Spezzia et l'arrêt de bus est vraiment au pied de l'appartement. L'appartement est conforme à l'annonce. Pensez à vous munir de serviettes de bain.
Céline
2016-08-11T00:00:00Z
Жилье соответствует описанию. Удобное месторасположение. Наличие автостоянки рядом с домом, на которой всегда есть места. Прекрасное местечко.
Сергей
2016-08-08T00:00:00Z
Ottima location, a un passo da La Spezia. Casa molto graziosa e ampia.
Marco
2017-02-06T00:00:00Z
This was definitely a great apartment to stay in and value for money! You get the whole apartment to yourself and if you are like us the kitchen will be great for you too! The bus stop is right outside but it is important to note that buses to La Spezia are not as regular as we hoped. It can be as little as one per hour in the afternoon. The journey to the station of La Spezia also takes at least 30 minutes instead of the 10-15 minutes that was advertised. However, it is easy enough as it is a direct bus. Also note that the last bus from La Spezia to here is around 21:10 so if you were planning on having evening plans, you might have to reconsider alternative transport! A final note is that while we were here, the hot water for the showers didn't seem to last longer than 30 seconds! Overall, we still had a great time and were very comfortable.
Stephen
2016-08-15T00:00:00Z
Typ pokoje
Celý dům/byt
---
Typ nemovitosti
Byt
---
Ubytuje
3
---
Ložnice
Ceparana, Ligurie, Itálie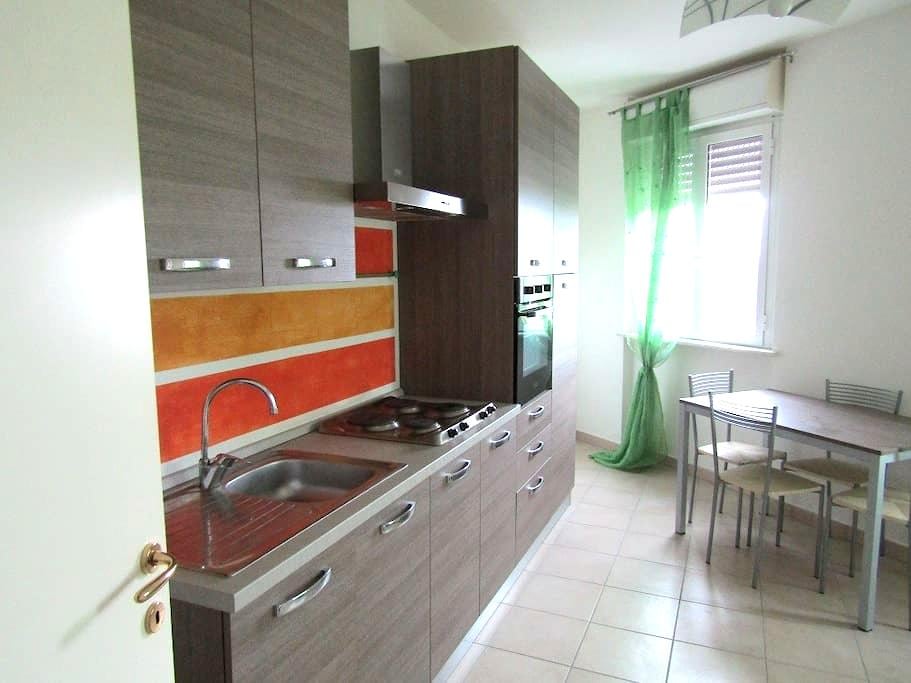 Charming cottage in a small village in the countryside near the city center and the railway station of La Spezia from where easily reach the Cinque Terre, Lerici, Portovenere, the Tuscan coast and the famous cultural sites of Florence and Pisa. Lovely detached house in a little village near the towncentre and the Railstation of La Spezia from where you can easily reach, in few minutes, the Cinque Terre, Lerici, Portovenere and the cultural sites of Florence and Pisa.
The house was recently renovated and offers every comfort including a private car park. On the ground floor with private entrance are kitchen and bathroom, first floor master bedroom and bedroom with balcony.
The country is served by bus, there are all public services Poste, bank, supermarket and so on. Every kind of facilities are present at two kilometers-
Typ pokoje
Celý dům/byt
---
Typ nemovitosti
Dům
---
Ubytuje
4
---
Ložnice
Follo Alto, Ligurie, Itálie
Triple private room large and bright. The room is located inside Villa Margherita dell'affittacamere
Typ pokoje
Soukromý pokoj
---
Typ nemovitosti
Penzion (B&B)
---
Ubytuje
3
---
Ložnice
Ceparana, Ligurie, Itálie
My accommodation is located in the medieval village of Vezzano Ligure, with panoramic views over the plain of the Magra, the Apuan Alps and the Tuscan Sea, within easy driving distance of the Ligurian vezzano station with links to 5 Terre and the Gulf of Poets. My accommodation is suitable for couples and families (with children). Advised to arrive with their own transport (car / motorcycle): Free public parking about 250 meters from the apartment.
Luca and Federica's place was so gorgeous! I felt like I got the real italian experience staying in their home. The house itself is located on a very picturesque street overlooking the mountain and the view is breathtaking. The community are very friendly and we had no trouble finding the house thanks to (SENSITIVE CONTENTS HIDDEN) maps. Luca and Federica were very flexible with our arrival time. There is no wifi but you don't even need it because it's such a lovely peaceful retreat. I found the serenity of their village so refreshing after a day in the very touristic cinque terre. Would highly recommend visiting the pizzeria down the street too - it was fantastic pizza! Would definitely stay again!
Holly
2016-09-14T00:00:00Z
Luca is a great host, he provide us good advices about what to do in the region. Also his apartment is very cosy in a beautiful village.
Stéphan
2016-09-05T00:00:00Z
L'appartamento è molto carino,pulito e si trova in un borgo facilmente raggiungibile e che soprattutto non è molto distante dalla Spezia e le varie località di mare vicine, torneremo sicuramente!
Casuscelli
2016-08-27T00:00:00Z
Vi havde et fantastisk ophold hos Luca! Byen er så hyggelig og ligger højt på toppen af et bjerg. Fra vores vindue havde vi den flotteste udsigt hvor vi kunne se milevidt. Det var så lokalt og mere Italiensk bliver det ikke. Man skal have bil for at komme dertil. Luca og hans søster var så søde oh gæstfrie og tog rigtig godt imod os med masser af gode råd og fif.
Pernille
2016-08-14T00:00:00Z
The place is very beautiful in a charming little town up-hill, well équipes and clean. Luca welcomed us warmly and took time to give us info and advices that were very useful. We recommand this place !
Romain
2016-08-24T00:00:00Z
Luca è stato molto disponibile nel darci qualsiasi tipo di informazione, soprattutto nel consigliarci dove parcheggiare la macchina per raggiungere le cinque terre nel modo più semplice. L'appartamento è carino e attrezzato.
Gloria
2016-08-16T00:00:00Z
It was a very nice homestay. Nice view and a lot of space. Thank you so much.
Evelyn
2016-09-06T00:00:00Z
Luca is very friendly and its really easy to communicate with him if you have any problem. The house is very clean, well decoreted, full equiped kitchen and confortable. The views from the window are amazing. Vezzano its a very beautiful village that you can see. The public transport its not a problem because you have a bus few times a day. We reccomend this place to stay and visit cinque terre, portovenere, la spezia...
lorena
2016-09-26T00:00:00Z
Typ pokoje
Celý dům/byt
---
Typ nemovitosti
Dům
---
Ubytuje
4
---
Ložnice
Vezzano Ligure, Ligurie, Itálie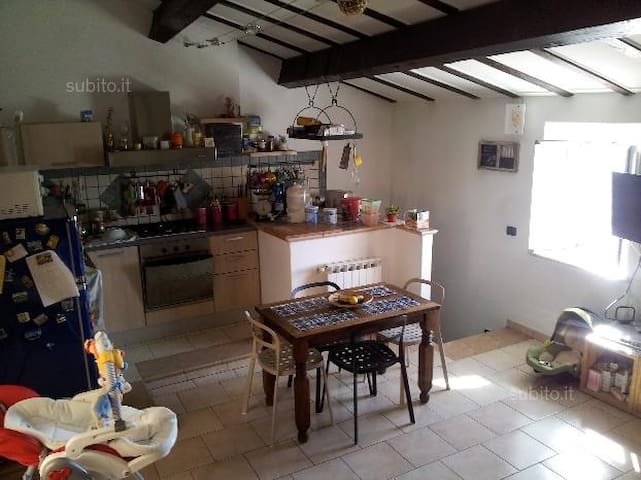 The locanda is situated in Liguria on the Tuscany border, our guesthouse is only 3kmfrom the Costal motorway, . We are 8km from La Spezia. Good location to discover Liguria Tuscany,a good location to get to the 'Cinque terre' and beaches of Lerici. The bus connection to La Spezia Cental station arrives directly from the station to within 200 meters from the guesthouse for easy access to the Cinque Terre. We have mountain views and traditional restaurants and supermarket within walking distanc
The locanda is situated in Liguria on the Tuscany border, our guesthouse is only 3kmfrom the costal motorway, between Pisa and Genova airports (Ryanair). It is also 8km from La Spezia (main north/south rail connection). This is the affordable way to discover Liguria and Tuscany,a good location to get to the 'cinque terre' and we are close to the sandy beaches of lerici ,also great to explore the main cultural Italian cities such as Florence, Pisa and Lucca. We are close to the touristic areas such as Lerici, Porovenere and Lunigiana. It is also an ideal stop over on the north/south Italian coastal route. Nearby are many local restaurants serving traditional Ligurian and Tuscan cuisine. Our facilities include 3 large private clean rooms, most with shower/basin, 2 with large balconies and 2 large shared bathrooms. The Locanda feels more like a small hotel than a property with a friendly and relax atmosphere. There is a good local bus connection to la Spezia town centre(boats to cinque terra and buses to Lerici) also the rail station where you can take trains to cinque terre. Turistic info available at the propety
Good connection to the highway. Clean rooms and bathroom. Very nice and helpful owners.
Kamila
2015-07-27T00:00:00Z
Petite auberge très bien tenue et très confortable. Le gérant nous a donné toutes les infos nécessaires pour visiter les Cinque Terre. Nous la recommandons !
Timothée
2014-08-23T00:00:00Z
We had a great time staying at this small hotel! it is very clean and quiet, just what we needed after our long days out. Ilaria was very helpful in getting bus tickets for us, giving us suggestions on where to go and making us feel right at home. I highly recommend staying at this lovely place.
Dawn
2013-07-13T00:00:00Z
Nice place, clean and in safe area. host was nice and bumped us up to the ensuite since they weren't full. had lots of info about getting to cinque terre. it's about 40 ish minutes from the train station and the last bus is around 8. breakfast was Melba toast and instant coffee.
Hadessa
2016-10-18T00:00:00Z
good basic room and helpful people, located right next to bus stop
Karen
2015-10-17T00:00:00Z
The description was accurate and accommodation was local in a quiet little city with good connection to La Spezia. Clean and comfortable.
Kuba
2016-06-23T00:00:00Z
Ilaria was very quick and helpful when we booked in last minute! The room was nice and clean! She also gave us good suggestions for restaurants in the area. The only thing was probably that it sounds like a bed&breakfast should include breakfast, which it didn't. It was only tea/coffe and some biscuits/toasts in plastic. But as long as you know that, we can absolutely recommend the place.
Josefin
2016-07-20T00:00:00Z
Basic but generally OK. Had wifi issues (didn't work in the room - only at the reception space)
Bill
2016-07-25T00:00:00Z
Typ pokoje
Soukromý pokoj
---
Typ nemovitosti
Penzion (B&B)
---
Ubytuje
2
---
Ložnice
Piano di Valeriano-bottagn, Ligurie, Itálie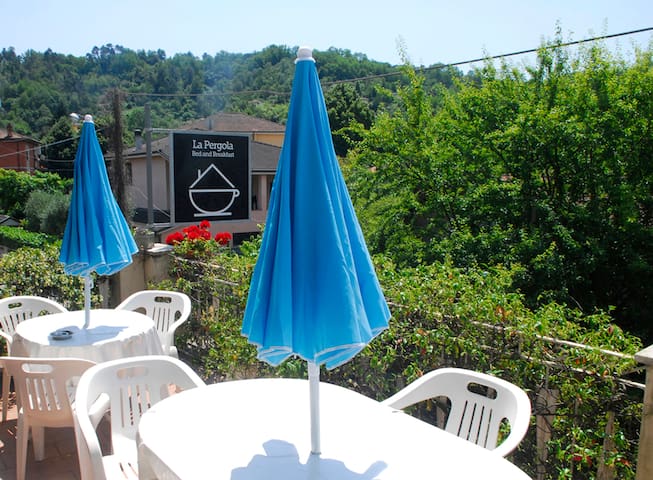 Tivegna je krásná a kopce je vrchol středověké vesnice. Dům je kompletně zrekonstruován a má originální nábytek a úžasnou atmosféru. Je to asi 20 minut od La Spezia, kde se chytit vlak do Cinque Terre..or prostě zůstat a relaxovat
Tivenga je klidné horské městečko, které je ideální únik po dlouhém dni v oblasti Cinque Terre. To je na vrcholu kopce do přírody. Dům byl obnoven jako původní styl. K dispozici jsou dvě ložnice s vlastními koupelnami. Jeden z pokojů má balkon s výhledem do údolí a na vesnicích okolí. K dispozici je vybavená kuchyň a obývací pokoj. Tivegna je malá vesnice na kopci, který se nachází asi půl hodiny jízdy od La Spezia, což je užitečné, pokud chcete navštívit Cinque Terre a okolí, jako je Portovenere, Lerici. To je také v blízkosti Lucca, Carrara a Pisa. Dům je dobrá až pro čtyři osoby Když přijedete, můžete si nechat auto na volné parkovací místo v malém náměstí v obci. Z náměstí k domu jsou 100metres s některými kroky. Pokud se vám líbí můžu accompain každý den na nádraží v La Spezia a vyzvednout vás ve večerních hodinách (za malý poplatek), takže nemusíte najít parkování ve městě La Spezia.
Tivegna je docela na vrcholku kopce mediaval vesnice. Domy jsou každý z nich v okolí a může se uvolnit a žít klidný, nebo si mohou prohlédnout les a na silnici do přírody nedalekého domova. Do vesnice žije dvě stě osobu a my jsme jako jedna velká rodina, jsme zdvořilí a přátelští. Když přijedete, můžete si nechat auto na volné parkovací místo v malém náměstí v obci. Z náměstí k domu jsou 100metres s některými kroky.
We had a very warm welcome by Valentina and Federico, which are such nice and gentle people. They helped us in every way, and gave response to all our questions. They live in an original and old Italian house upon the hill in Tivegna. From our large bedroom with balcony we had a beautiful panorama view over the landscape. We also could use the large kitchen and In the house all original elements are saved, which makes all very authentic. Valentina is a very good cook and delivered us delicious original Italian meals, which we liked a lot. And of course all prepared with local and natural ingredients. We had very nice conversations with them and learned a lot about the area an history of this region. For us it was also a nice place from where we could visit La Spezia, Cinqueterre, Verona, etcetera. We had really five fantastic days by them!
Willem
2015-06-07T00:00:00Z
Our hosts couldn't have more welcoming, friendly and helpful, from meeting us on arrival, to showing us around the village to providing croissants for our trip when we left. The B & B was in a tiny hilltop village with spectacular views in all directions. Our bedrooms with ensuite baths were spotless and had everything you needed including very comfortable beds and lovely furnishings. Frederico and his partner Valentina prepared gourmet dinners both nights we were there - the best meals we've had so far in Italy and very reasonably priced. It was quiet, peaceful and totally unforgettable. Thank you Frederico and Valentina for a wonderful experience. The village of Tivegna where the B & B is located is about 20 minutes from La Spezia, where you catch the train to Cinque Terre. It is high in the hills, reached by a winding, mountain road, and is about 5 km. from any stores or restaurants. Nightlife is non-existent bur peace and beauty is yours for the taking.
Judy
2014-10-02T00:00:00Z
We had an incredible stay at Federico's beautiful home in Tivegna . The view from our balcony was one of the best i've ever seen and the rooms were very clean and cozy. I recommend taking him up on his local dinner option for is was such a wonderful meal. If only every AirBnB option was this special and well taken care of. Thank you Federico! I'm sure we will be back!
John
2014-05-31T00:00:00Z
Двухэтажная квартира, очень чисто, хорошая мебель, две ванные комнаты и большая удобная кухня. Прекрасный вид из окон, свежий воздух. Расположена достаточно высоко в горах, без автомобиля нереально никуда добраться, хотя и есть автобусная остановка, но каждый день на нем ездить - потеря времени, часа полтора до моря, на машине же минут 30-40. Дорога - узкий серпантин, поначалу даже кажется, что нереально разъехаться со встречными, со временем привыкаешь. Парковка перед деревней, место найти сложно, но можно. Хозяева живут неподалеку. Они прекрасные люди, окружили нас заботой и вниманием,. Могут приготовить ужин, очень подробно рассказывали о том, куда можно съездить, оказалось столько всего, что за целое лето сложно все успеть. Вывод - если не пугают ежедневные разъезды на автомобиле - лучше места не найти.
Alexey
2014-07-20T00:00:00Z
这是我最棒的airbnb体验,没有之一。Federico和Valentina是我见过的最好的房东,让我有一种认识当地人到家里做客而不是旅游的感觉!Valentina来la spezia接我们,带我们来到山顶这个1000多年的小镇tivegna,这里没有游客,但是却会是你旅程的最亮眼的地方,这才是你所期待的意大利。Valentina还会给你做地道的意大利晚餐。总之,你会为你的行程选择住在这里而感谢自己!
Shuai
2016-10-07T00:00:00Z
We wanted to see Cinque Terre but weren't keen to stay with a bunch of tourists... this place far exceeded all our expectations and we wouldn't recommend staying anywhere else! Located on top of a mountain in a medieval town the views from the town and apartment itself (from the balcony and even the kitchen!) are superb!! We visited Cinque Terre easily (short trip) and then retired to a beautiful, peaceful authentic Italian experience with lovely hosts. The town itself is interesting and absolutely stunning. We couldn't believe our luck at finding this place! We recommend having your own car but would encourage you to stay in this place regardless!
Jason
2017-04-08T00:00:00Z
Picturesque village of Tivegna is truly the place to be! Eating breakfast on the balcony and cooking your own meal in a fully equipped kitchen (some groceries included) with an amazing view of the mountains made our experience memorable. The hosts were very welcoming and helpful. If you are looking for a more authentic Italian experience, Tivegna is a very relaxing place, isolated from the tourism in Cinque Terre.
Matus
2016-08-28T00:00:00Z
Incredible!! Staying in Tivegna at Federico's and Valentina's home was the highlight of our trip to Italy. If you are seeking a true Italian experience this has to be the best of the best. The opportunity to stay in a 400 year old home perched on the top of a mountain that has been thoughtfully remodelled with modern conveniences and endless antiques is a dream come true. We chose this location to be within reach of the Cinque Terra and Carrara Marble mines. We enjoyed every meal that Valentina thoughtfully prepared for us. She is an excellent chef and very accommodating to our schedules. She was helpful with suggestions about the nearby areas to visit and the history of the village. A wonderful experience!
Don
2017-04-06T00:00:00Z
Typ pokoje
Celý dům/byt
---
Typ nemovitosti
Dům
---
Ubytuje
4
---
Ložnice
Tivegna, Ligurie, Itálie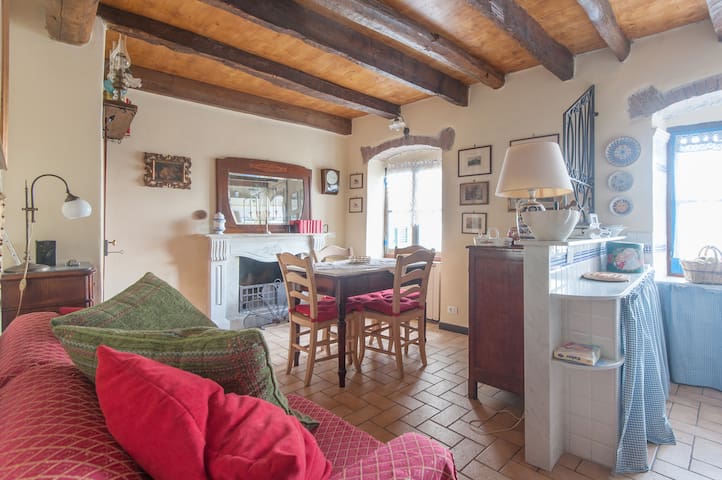 Il mio alloggio è adatto a coppie, avventurieri solitari, chi viaggia per lavoro e famiglie (con bambini).
Alloggio internamente nuovo, con arredamento e pulizia curati.
La posizione strategica degli appartamenti, a pochi kilometri dall'autostrada, permette di raggiungere in poco tempo tutte le principali mete turistiche tra la Liguria e la Toscana come le affascinati Cinque Terre, Lerici e Portovenere incastonate nello splendido Golfo dei Poeti, La Versilia con Forte dei Marmi e le sue grandi spiagge, La lunigiana con i sui monti e i prodotti tipici, e Pisa con la sua torre e la sua storia. Posizionata in una zona industriale, ma nonostante ciò senza traffico e in zona tranquilla, con facile accesso in pochi minuti al centro della città di La Spezia.
Typ pokoje
Celý dům/byt
---
Typ nemovitosti
Byt
---
Ubytuje
5
---
Ložnice
Piano di Valeriano-bottagna, Ligurie, Itálie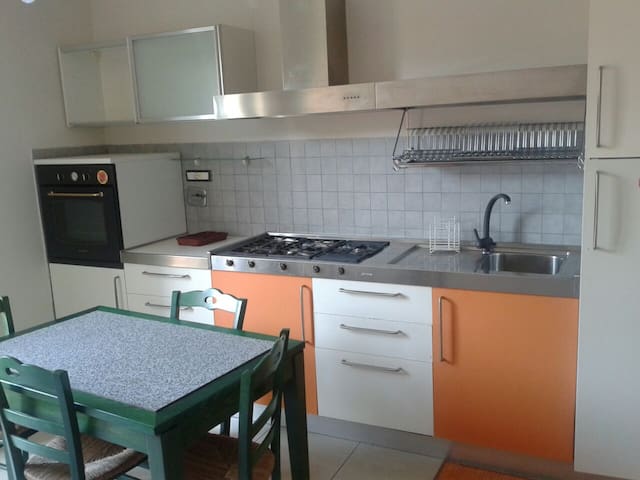 Eingebettet in den Hügeln von La Spezia mit beautifu Blick auf den Golf, die Lage ist ein perfekt für ein paar entspannende Tor für den Frieden und Ruhe suchen. Sie können Cinque Terre bequem mit dem Auto, Schiff oder Zug (Bushaltestellen sind nur wenige Meter von zu Hause aus) zu erreichen. Ich wünsche, dass meine Gäste konnten den einzigartigen Charme des Golf der Dichter genießen: atemberaubende Aussicht und eine märchenhafte Atmosphäre! Meine Frau Sandra und ich freuen uns auf Sie!
Großer Speicher von etwa 20 Quadratmetern, mit kleiner Küche und Bad, befindet sich im dritten Stock eines Dreifamilienhaus. In der Küche Gäste finden: Kaffeemaschine, Grill Elektrogrill, Schneidebrett, Toaster, Mikrowelle und Kühlschrank mit Gefrierfach. Starke Punkt dieser Gehäuse-Lösung ist die große Panoramaterrasse von 40 qm, die in ein Solarium umgewandelt wurde: Sie tan liegend auf einem bequemen Liegestuhl mit der Insel Palmaria und den schönen Golf von Le Grazie vor Ihnen bekommen können, oder Mittagessen und einen Chat mit Ihren Freunden unter einem schattigen Pavillon. Vom Haus aus kann man leicht Cinque Terre, entweder mit dem Boot von der Morin Promenade oder mit dem Zug von Migliarina Bahnhof (kostenlose Parkplätze in der lokalen Platz) erreichen. Sie können auch mit dem Zug von La Spezia Centrale Bahnhof nach Cinque Terre gehen, die Sie mit dem Auto in 15 Minuten oder mit dem Bus (Haltestelle in der Nähe des Hauses) in 35 Minuten erreichen können. In La Spezia Centrale Bahnhof gibt es einen bequemen Parkplatz mit 218 überdachte Parkplätze, die von 64 Sicherheitskameras überwacht werden. Der Parkplatz ist 24 Stunden am Tag, und es ist auch möglich, einen Parkplatz online im Voraus zu buchen (wenn auch nur für den nächsten Tag)
Neben dem Haus gibt es: ein Lebensmittelgeschäft, eine Metzgerei und die Bushaltestelle in die Innenstadt und dem Bahnhof. Bei 900 Metern finden Sie: eine Apotheke, eine Bar, ein Zeitungstabakladen, einen Minimarkt und einen anderen Bus in die Innenstadt und dem Bahnhof (alle 30 Minuten).
Descrizione perfettamente in linea con la realtà. Panorama rende ancora di più dal vivo. L'host é stato molto gentile e disponibile. Consigliato per coppie a cui piace la tranquillità
L
2017-01-01T00:00:00Z
Nous avons été chaleureusement accueillis par Giorgio et Sandra, conseillées dans nos visites et gâtées de produits régionaux. L'appartement est conforme aux photos. Vous passerez un agréable séjour, au calme, sur les hauteurs de la Spezia, de quoi admirer la magnifique vue depuis la grande terrasse ! Pour info, il est préférable de posséder une voiture pour se rendre au logement. Bus peu fréquent et arrêt du service en fin de journée. A la Spezia, stationnement cher mais 2 parkings gratuits dont un a Piazza di Armi, utile pour se rendre à la gare centrale et rejoindre les Cinque Terre ! Bon voyage!
ANNE
2016-09-20T00:00:00Z
Séjour vraiment très agréable avec une vue magnifique, studio tout équipé et climatisé. Confort assuré. Giorgio a facilité notre séjour en nous conseillant sur les activités à faire. Nous recommandons sans soucis car nous reviendront sûrement.
Emeric
2016-08-14T00:00:00Z
Appartamento come da annuncio, tutto ok. Giorgio si è dimostrato molto disponibile nelle indicazioni riguardo le attrattive in zona.
Enrico
2016-08-10T00:00:00Z
Giorgio es un anfitrión muy amable y preocupado. Nos fue a buscar a la estación y tenía todo preparado para nuestra llegada (agua helada, frutas, galletas y comida para nuestra estancia). La habitación es perfecta, tiene una terraza con una vista espectacular. Si bien la casa de encuentra lejos del centro hay buses que te acercan a este.
Rodrigo
2016-06-29T00:00:00Z
Perfect stay! The balcony is all you need for a good holiday. Giorgio and his wife are very helpful and it was food and wine in the frige when we came. It would probably be best to have a car since it a bit out of town. Very clean and cosy appartment, it is absolutly to recomend. The view from the balcony is fantastic!! Thank you so much for your hospetality
Veronica
2016-07-07T00:00:00Z
Spectacular views and Giorgio and Sandra are so funny, kind and exceptionally helpful! One should have a car to stay here. I didn't but my hosts were very accommodating and helped me with transportation. Highly recommend!
lynn
2016-10-14T00:00:00Z
The view from this lovely appartment is breathtaking. Looking out not only on the whole of La Spezia but also across the neighbouring mountains and distant hill top village. A bus ride away from town it's perfect for a retreat away from the hustle and bustle of the tourist areas . Giorgio and his wife Sandra where great to us leaving all the details we needed to get around on local buses and out to the areas beauty spots. They left a lovely basket with wine and pasta which was so kind. Giorgio also dropped us off at the station on our way home. Nice and comfortable flat with everything you need and we found local people really helpfull and welcoming and had some great bus journeys around the hills. It's €2.50...they do not run late ..stop around 9pm.... but it was nice to get back and sit on the balcony. We found the taxi from the train station was handy as a treat for around €20. We would deffinately stay here again and felt really welcome. ...thank you Giorgio and Sandra for a warm welcome in your lovely place x
Siobhan
2016-07-29T00:00:00Z
Typ pokoje
Celý dům/byt
---
Typ nemovitosti
Byt
---
Ubytuje
2
---
Ložnice
Vezzano Ligure, La Spezia, Itálie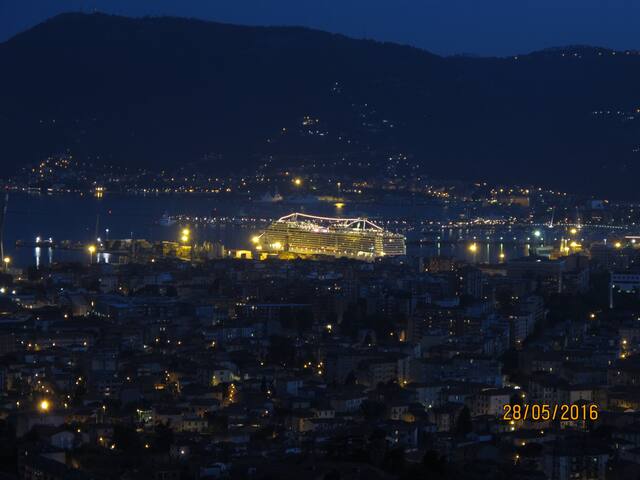 BEAUTIFUL APARTMENT IN MEDIEVAL VILLAGE OF TYPICAL LIGURE VEZZANO. PARTICULAR AND TYPICALLY FURNISHED, EQUIPPED WITH EVERY COMFORT, WITH BEAUTIFUL VIEW OF THE VALLEY OF THE LEAN AND THE COAST OF VERSILIA, A FEW MIN FROM THE FAB 5 TERRE AND THE GULF OF POETS. Possibility to organize excursions by boat
Truly a lifetime experience to be staying in such a unique flat. The flat was something we have never seen before, a mixture of a traditional layout with modern design, making it one of the most unique places we have ever lived in. On top of that the host was polite and accomodating. Overall it was an amazing stay.
KO
2016-09-02T00:00:00Z
Très bien recu gens sympa Appartement très aggreable Nous pourrons le conseiller
Marie-Christine
2016-10-08T00:00:00Z
Tout etait parfait, autant l'appartement que le village,les cinq terres ne sont pas tres loin .
BRUNO
2016-07-30T00:00:00Z
A very beautiful apartment in the heart of a small medieval village. Renovated with a lot of good taste, combination between old and new materials, exposed stones and beams, and a wonderful view on the valley. So charming !! Michol and her family welcomed us with smile, very friendly and kind. Nice walks in the village, at night or during the day, plenty of cats in the streets to play with :) We would have loved to stay more !
Aurelien
2016-07-18T00:00:00Z
Una casa fantástica! Muy bonita, comoda, tiene todo lo q se necesita, cocina y baño bien equipados, una vista bella de la zona. El unico inconveniente fue llegar hasta el lugar ya que hay que dejar el vehiculo en un parking y después caminar hasta la casa por unas callecitas internas (muy medieval por cierto lo cual es muy copado!) y el wifi andaba mas o menos, pero por lo demas todo super bien. Daniel y Federico muy amables y hospitalarios, nos dejaron algunos snacks de bienvenida y nos enseñaron todo de la casa y de lugares para ir a comprar.
Alejandro
2016-09-29T00:00:00Z
l'host è stato gentilissimo sempre disponibile
Giancarlo
2016-09-23T00:00:00Z
L'alloggio si trova in un bellissimo borgo sulla cima di un colle, ed è raggiungibile unicamente a piedi in quanto le macchine non possono circolare. l'appartamento è esattamente come presentato nelle foto: molto carino, pulito e ben curato. L'accoglienza di Michol e di suo marito e della piccola Asia è stata meravigliosa, molto disponibili e premurosi. Nonostante non sia previsto dalla formula ci hanno fatto trovare il latte fresco e l'acqua in frigo e tutto l'occorrente per la colazione. Seguite i loro consigli su luoghi da visitare, dove mangiare e come spostarsi.
Anna
2016-04-27T00:00:00Z
L'alloggio si trova nel borgo storico del paese, e, con le luci di Natale, è veramente incantevole. La casa è pulita e accogliente con una splendida vista sulla valle. Federico e Daniel sono stati molto accoglienti e disponibili.
Lara
2016-12-10T00:00:00Z
Typ pokoje
Celý dům/byt
---
Typ nemovitosti
Byt
---
Ubytuje
4
---
Ložnice
Vezzano Ligure, Ligurie, Itálie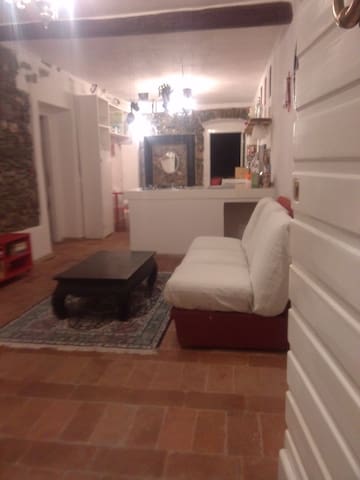 DOLCE CASA je prostorný a pohodlný domov. To má vlastní vchod do středověké vesnice Vezzano Ligure a širokou terasu s výhledem na údolí řeky Magra s krásným výhledem z Apuan Alp do moře. Může se pochlubit strategickou polohu na hranici mezi Ligurie a Toskánsko, který vám umožní rychle dostat nejznámějších míst na záliv básníků a severní části Toskánska.
DOLCE CASA je prostorný a pohodlný domov, s vlastním vchodem, kuchyní, 2 ložnice, 2 velké pokoje s možností přistýlky, koupelna s bidetem a sprchovým koutem, velká terasa, ústřední topení. Vzdálenosti autem během několika minut: 10 'od vlakového nádraží Vezzano Ligure, 15' z La Spezia a od spojení do národního parku Cinque Terre, 20 'z Lerici, 35' z Portovenere a pobřeží Versilia, 45 'z' letiště Pisa. Bezplatné parkování 300 metrů daleko.
Navštívit středověké vesnice Vezzano Inferiore a Superiore. Oni stále zachovávají středověkou mapy, pozůstatky hradu a věž z románského období, stejně tak některé panoramatický výhled do údolí Magra, Apuan Alp, jejich mramorové lomy Carrara a Záliv básníků. V září obec probudí své dávné tradice oslavující víno festival.
Thanks for your beauriful room. it is in a amaizing town in a gracful mountain. I really have more time to stay next time.
Yinshan
2017-01-31T00:00:00Z
Sabrina's house is a really great place, perfectly clean, tastefully decorated with italian old fashionned furniture and modern touch. The view is breathtaking, perfect for a breakfast in the sun ... Vezzano is a beautiful village, we really apreciate hanging out and eat at village restaurant, AMAZING ! Perfect place to enjoy Ligure .... Highly recommanded !
lelia
2017-03-10T00:00:00Z
Splendido appartamento confortevole inserito nel centro storico di Vezzano Basso (ma e` abbastanza in alto!) tutto viuzze. Splendida terrazza che da sulla valle del Magra, Versilia ed in fondo l'Elba (forse era Piombino ma la distanza e` uguale)! Sabrina (la proprietaria) e` estramemente simpatica e disponibile.
Antonio
2017-02-20T00:00:00Z
Esperienze fantastica. Posto stupendo, panorama eccezionale. Sabrina e' stata gentilissima in tutto e sempre disponibile. Consiglio a tutti questo appartamento! Voto 10+
Gabriele
2017-01-02T00:00:00Z
Typ pokoje
Celý dům/byt
---
Typ nemovitosti
Dům
---
Ubytuje
6
---
Ložnice
Vezzano Ligure, Ligurie, Itálie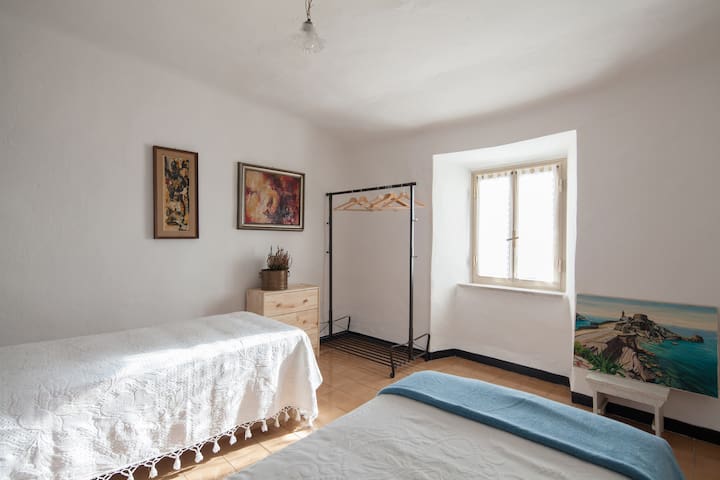 La mia struttura, dotata di tutti i comfort, sarà lieta di ospitarvi in uno spazio ampio e luminoso, in una località immersa nel verde delle colline liguri, a metà strada fra divertimenti e luoghi storici. Vicini a Lerici, Cinque Terre, Portovenere.
La distribuzione degli spazi interni è funzionale ad una fruibilità della struttura per garantirvi un servizio ottimale. Due stanze sono matrimoniali, mentre la terza è una doppia, che, all'occorrenza, può diventare matrimoniale.
Non mancheranno tranquillità, sicurezza e l'ospitalità dei residenti nei confronti degli ospiti.
Fabrizia is a wonderful and helpful host. Her B&B is beautifully situated to capture the beauty of La Spezia and the surrounding area. Fabrizia was very knowledgeable about activities in the area and guided me to the best spots.
Kelli
2016-08-01T00:00:00Z
The host canceled this reservation the day before arrival. This is an automated posting.
Danielle
2016-07-16T00:00:00Z
Typ pokoje
Soukromý pokoj
---
Typ nemovitosti
Penzion (B&B)
---
Ubytuje
2
---
Ložnice
Valeriano, Ligurie, Itálie
My accommodation is close to art and culture, magnificent panoramic views, restaurants, beach. Vezzano Ligure and an ancient village with its strategic position (we are in the hills behind the Cinque Terre) allows visitors to reach beautiful places just as the Cinque Terre in a short time, Lerici and Portovenere and Versilia The sea and '8 km. A 3 km there is' the Natural Park Montemarcello-Magra-Vara on foot, by canoe, on horseback or by bike.
The host canceled this reservation 2 days before arrival. This is an automated posting.
Andrew
2016-05-22T00:00:00Z
Typ pokoje
Soukromý pokoj
---
Typ nemovitosti
Dům
---
Ubytuje
2
---
Ložnice
Vezzano Ligure, Ligurie, Itálie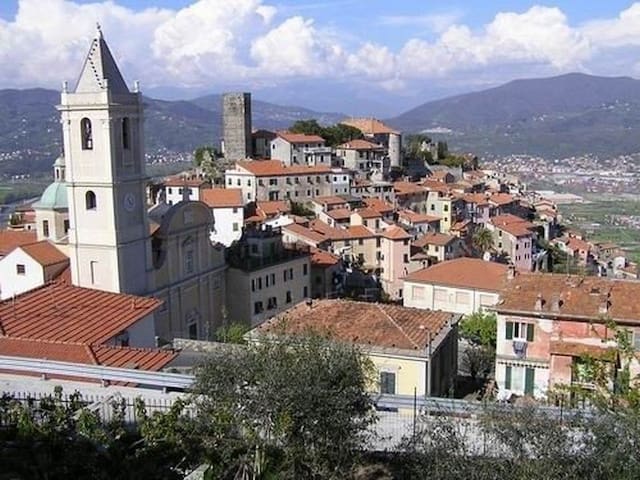 Ubytování v nejbližším okolí Cinque Terre, Lerici, San Terenzo, Tellaro, La Spezia, Fiascherino. Se vám bude líbit svou dovolenou z těchto důvodů: zcela obnoven, který se nachází v centru staré vesnice 1600. Velmi klidná lokalita pro ty, kteří mají rádi přírodu, která obklopuje vesnici. Blízkost všech turistických lokalit, snadno přístupný (15 minut), dělá to ještě působivější .. Moje ubytování je vhodné pro páry, osamělých dobrodruhů i obchodní cestující.
L'accueil de Luca fut très sympathique, il nous a attendu même malgré notre arrivée tardive. L'appartement est très joliement décoré et au calme dans une petite rue typique. (A 10min de la spezia et du train qui mène aux Cinqueterra !) Chouette séjour à Santo Stefano ! :)
Laurie
2017-04-02T00:00:00Z
Logement bien situé au centre ,dans un dédale de petite ruelle d'un village typiquement italien. Appartement rénové,propre,calme ,très bonne literie ( c est important apres une journée de marche) . Très bon accueil de la part de Luca qui nous a fait visiter le logement ,plus quelques conseils. Le village est très calme une pizzéria accessible à pied. Une petite supérette pour dépanner avec du jambon italien délicieux
Jean Marc
2017-03-17T00:00:00Z
Il Borgo Incantato is a hidden treasure as one looks for a place to stay while visiting Cinque Terre. In this accomodation you have the wonderful extra value of experiencing staying in one of those literally medieval places, with small streets covered with many bridges (the aparment itself is in one of them!). At the same time, the apartment is a jewel of Italian astistry in modern design and decoration, with all the best comforts of modern life (remodel is brand new--perfect fast internet, lots of hot water, great heating). So, it is not only an enchanted medieval town, but an enchanted home that one gets by staying at Luca's place. This spacious apartment is conveniently located at a 5 min walk to the Santo Stefano di Magra train station, from where one can go to La Spezia to catch the local train serving the Cinque Terre. Or, as we did, you can can skip one railroad interface and drive 10-15 min to La Spezia Central rail station, paying EUR 0.75/hour for parking (or EUR 1.50/hour at the covered station parking). To access Luca's place, free public parking is available at a 1 to 2 minute walk. And everything is backed by an atentive host, Luca, and his gracious mother Stefania. We loved this place. Thank you Luca for sharing your jewel home with us! Andre and Isabel
Andre
2017-02-24T00:00:00Z
Appartement parfait qui correspond au descriptif ! Tres bien décoré et idéalement situé ! À quelques minutes de la gare de Santo stefano et à 10 min en voiture de la gare de la Spezia ! Idéal pour la visite des 5 terres ! L'accueil a été parfait, lucas est un hôte très agréable et disponible pour toutes questions ! Nous vous conseillons vivement ce logement !
Arnold et célia
2017-04-12T00:00:00Z
De loin le plus beau logement dans lequel nous avons séjourné en Italie (et nous venons souvent)! L appartement est niché au milieu des charmantes ruelles pavées du centre du village typiquement médiéval. Le logement est superbement décoré, tres moderne, avec tout le confort souhaité, dans une ambiance loft. Nous avons particulièrement apprécié le lit immense, la douche à l italienne immense elle aussi, la tranquillité, et le chauffage centralisé. Le logement est idéalement situé pour visiter les Cinque Terre. On peut rejoindre la gare en quelques minutes et prendre un train jusqu'à La Spezia (10 min) et de la prendre le train qui dessert les villages des Cinque Terre. Ce fut une bonne surprise pour nous car nous avons eu un soucis avec la location de voiture que nous avions prévu. Luca a été tres disponible avant et pendant le séjour et a été d'une grande aide pour préparer nos excursions. Un grand merci à Luca et a sa tres gentille maman qui est venu nous récupérer en voiture à la gare! Je recommande cette petite perle a 100%!! Justine
Justine
2017-03-21T00:00:00Z
L'appartement de Luca est conforme aux photos de son annonce et les surpasse même. Niché au cœur du village, ce logement est idéalement situé pour visiter les Cinq Terres ou encore La Spezia. Moderne, design, spacieux, confortable, ... c'est un lieu dans lequel on se sent immédiatement à l'aise. De plus, Luca est un hôte agréable avec qui il est aisé d'échanger. Il a été disponible avant et pendant notre séjour, répondant à toutes nos questions. Je recommande vivement ce logement qui est une perle rare!
Nora
2017-02-13T00:00:00Z
Alloggio con una buonissima posizione se si ha l'auto, per visitare le Cinque Terre, Lerici e Porto Venere. L'appartamento è stato ristrutturato recentemente, ha tutto quello che serve anche per eventualmente cucinare. E' nel centro storico del paese di S. Stefano di Magra, posto molto tranquillo e vicino a qualsiasi negozio di cui uno può aver bisogno, si parcheggia facilmente a pochi passi dalla casa e in maniera gratuita. Il posto dove si trova la casa non offre molto ma va benissimo se si cerca una buona base di partenza per visitare le destinazioni sopra citate. Luca è una persona disponibile che ci ha dato dei buoni consigli all'arrivo sia per quanto riguarda la visita di Lerici che un posto dove mangiare a Sarzana.
Luca
2017-02-20T00:00:00Z
Appartamento curato e piacevole, la madre di Luca abita di fianco ed è molto disponibile. Facile da raggiungere, tranquillo e pulito.
Chiara
2017-03-30T00:00:00Z
Typ pokoje
Celý dům/byt
---
Typ nemovitosti
Dům
---
Ubytuje
2
---
Ložnice
Santo Stefano di Magra, Ligurie, Itálie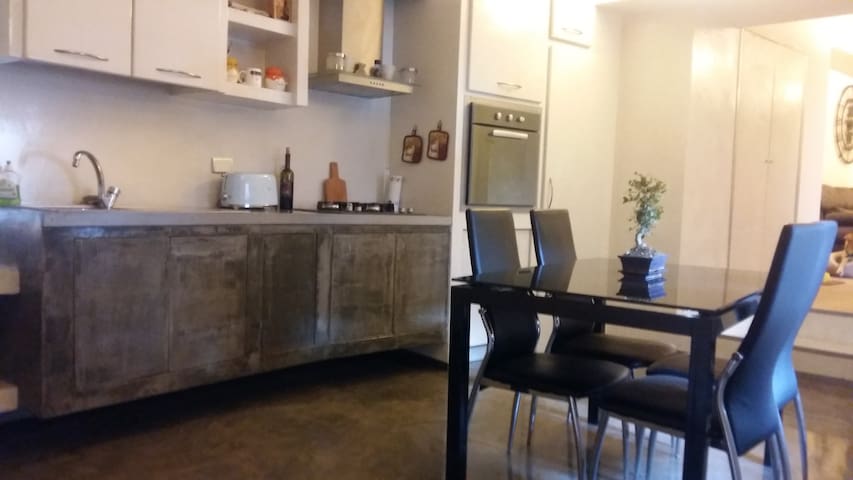 Pro zobrazení celkové ceny zadej termín. Mohou být přidány další poplatky a daně.