Hart 2 Hart Vineyards Estate Farmhouse: Luxury in the Heart of the Coloma Valley Relax and enjoy the wine country experience in the heart of Northern California's Coloma Valley, secluded in our 120 acre vineyard and winery estate. Stay comfortably in the newly remodeled 3600 sqft. Farmhouse with 5 bedrooms, 4 bathrooms, fireplaces, and large gourmet kitchen perfect for entertaining. This custom home has the best view on the estate with 360 degree vistas of rolling hills and vineyards.
The vineyard house was absolutely perfect for our family Thanksgiving celebration. The house is large enough to give everyone space and cozy enough to bring everyone together. Carissa and the team at the vineyard were great hosts and incredibly flexible when our travel plans went awry. I would be more than happy to have my family stay again.
max
2016-11-26T00:00:00Z
Excellent location and immaculate hosting. The home makes for a perfect event space.
Brady
2017-02-05T00:00:00Z
Typ pokoje
Celý dům/byt
---
Typ nemovitosti
Dům
---
Ubytuje
12
---
Ložnice
Pilot Hill, Kalifornie, Spojené státy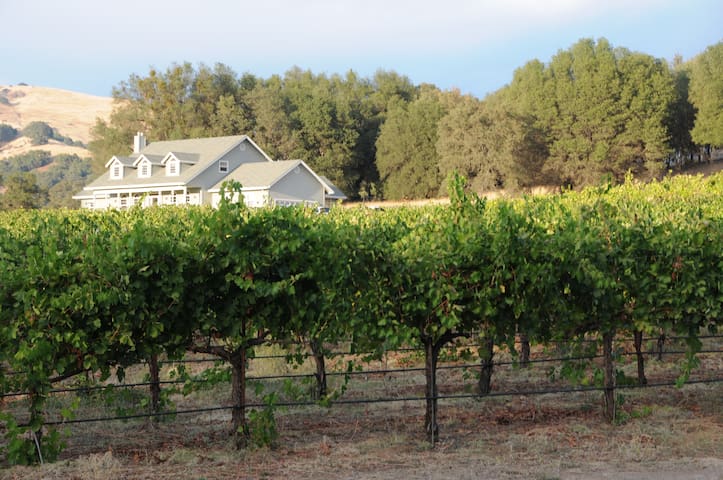 Revel in the spaciousness of your secluded 1,500 square foot luxury home while enjoying the breathtaking panoramic views of the majestic Sierra Nevada Mountains, the gentle rolling hills, the picturesque vineyards that dot the landscape, and beautiful Folsom Lake. Because you are the only guests, your stay will be truly private. Casa Bella Verde offers a luxurious getaway like no other. Master Bedroom The master bedroom features The Westin Heavenly Bed® in a generous California king size. The bed's unique pillow top mattress, plush pillows, luxury sheets and down bedding wrap you in extraordinary comfort to create the perfect foundation for a deep calming sleep. Master Bath Enjoy pure relaxation in your own oversized spa tub for two complete with massaging jets, angled backrests, and a ceiling tub filler. Spa robes and slippers are provided for your ultimate comfort during your stay. The spacious master bath also features two beautiful glass vessel vanities, imported mosaic tile, and exotic granite floors with inlay bronze medallions. Living Room The spacious living room provides a beautiful warm environment to read, relax or watch TV. The beautiful sculptural custom media wall features a 55" LCD screen high definition television, a Polk Audio Surround Sound bar and a DVD player so that you may enjoy a movie or your favorite shows. Gourmet Kitchen The home's gourmet kitchen features top of the line appliances and a wine chiller so that you may whip up a snack or enjoy your favorite wine at it's optimal temperature. Breakfast Nook While dining, you may take in the breathtaking views of the Sierra Nevada Mountains from every angle in your own cozy breakfast nook. Guest Home Amenities include: • California King Westin Heavenly Bed® • Luxury Down Bedding • 55" LCD Screen High Definition Television • Polk Audio Surround Sound Bar • DVD Player • Free WiFi Internet • iHome Clock Radio with Docking Station • Bedroom Safe • Kohler Jetted Spa Tub for Two • Two Individual Glass Vessel Sinks In Master Bath • Spacious Glass Block Walk-In Shower with Both Wall and Ceiling Rain Shower Heads • Luxury Bath Amenities • Plush Spa Robes and Slippers • Gas Fireplace • Private Terrace with Panoramic Mountain and Valley Views • Full Gourmet Kitchen • Full Size Washer and Dryer • Private Two Car Garage Casa Bella Verde is proud to offer luxurious amenities to make your stay relaxing and tranquil. The Pool Experience one of the most magnificent pools in the world. This incredible 230' curved vanishing edge pool gives you the feeling of being on top of the world. While lounging on plush chaises under the California sun, enjoy the breathtaking views of the Sierra Nevada Mountains, rolling hills and lush vineyards. The Fitness Center Our fitness center offers a variety of strength and resistance machines, free weights and cardio equipment including a treadmill, elliptical machine, upright bike and recumbent cycle. The Fitness Center is comfortably furnished with a high definition television, towels, complimentary fruit, energy bars and chilled bottled water. LOCAL ATTRACTIONS (all within 20 minutes from Casa Bella Verde) Whatever pursuit you prefer, uniquely diverse and exciting opportunities for recreation and fun are only minutes away from Casa Bella Verde. Wine Tasting Located in the foothills of the Sierra Nevada Mountains are dozens of beautiful wineries that produce award winning vintages which rival that of Napa and Sonoma. Many of these wineries are smaller "boutique" wineries which offer award winning wines, friendly tasting rooms and picturesque views of the snow capped mountains as well as rolling hills dotted with majestic oaks. Because of the higher elevation of the Sierra's, these local wineries are able to produce wines that are vibrantly flavorful and exclusive to this area. Mountain Biking The American River Trail is one of the finest bike trails in California. Enjoy amazing views of the American River, the majestic oaks and the beautiful rolling hills. River Rafting Enjoy world class white water rafting on the American River, revered as one of the most popular rafting destinations in the United States. Hiking The Sierra Nevada foothills offers some of California's most beautiful scenery. If you are looking for a leisurely scenic walk along the river or a challenging mountain hike, the Sierra Nevada foothills provides all this and more. Folsom Lake Nearby Folsom Lake offers the best combination of scenery, weather and recreational opportunities that mother nature has to offer. Whether it is waterskiing, fishing, boating or just sunbathing, beautiful Folsom Lake has it all. Casa Bella Verde is a place where most come to relax and rejuvinate in a quiet, peaceful environment. Nestled in the middle of a 40 acre property, you may enjoy true privacy and seclusion. Because this is a rural setting, there is no public transportation. Everyone brings their own car so that they may drive to all the nearby attractions if they so choose. The breathtaking views and luxurious amenities are what make Casa Bella Verde one of the most desirable destinations in the United States. Because many of our guests are allergic to pet dander, and because the host is highly allergic to pet dander, we are not able to accommodate pets of any kind. Thank you for your understanding.
There are too many wonderful things to say about this host and location. Briana is exceptionally mindful and kind. She goes above and beyond expectations of what a good "host" could be in many ways. For example, stocking the fridge with your favorite breakfast items, leaving welcome cards and giving you access to her OWN kitchen (in the main house) as if it were your own. If you have ANY questions about anything, she is always accessible by message or phone-call. She goes out of her way to give you privacy but we ended up encouraging her to join us for dinners by the pool :) The location is outrageously beautiful... beyond what you can imagine. My advice is to catch the sunrises and sunsets... take a nap in the afternoon during the hottest times of day, then swim and hang out by the pool til dinner. We drove down the hill only once to replenish the fridge at Whole Foods- but you can do this in under an hour (if you shop fast). Although I would've loved to go hiking and explore the nature around us, I just couldn't part ways with the beautiful home. This place will make you feel like yourself again... If you want rejuvenation, peace, alone time,... yoga by the pool, cooking with high-end appliances.... or just laying in bed and enjoying the view... this place is a must-visit destination. FINAL PERSONAL NOTE: This is an eco-luxury estate... you will hear bumble bees, see hummingbirds, cute lizards, maybe deer or even jack-rabbits. Its amazing! On the flipside, this is the 3rd year of drought in California, so if you have a conscience you will be aware of your water usage. The gorgeous pool isn't affected as the house is sustainably designed. If you don't like this kinda thing, then don't bother (and maybe meditate to turn on your love for nature!!). Otherwise- this is the place for YOU.
Mira
2015-08-19T00:00:00Z
Does drinking margaritas under the stars in front of a roaring fireplace with something tasty sizzling on the BBQ sound good? How about gazing out from your secluded terrace across a breath-taking vista while hummingbirds dart among the lavender? Or working up a sweat in your private gym before a refreshing dip in the infinity pool and maybe a well-earned nap in your king-size Heavenly Bed? Well, to me it sounds like paradise… AKA Casa Bella Verde. My (then) fiancé and I combed Airbnb for the perfect honeymoon destination. We've both been lucky enough visit some nice places on our travels and, for a once-in-a-lifetime trip like our honeymoon, we were always going to be a tough crowd. Expectations were sky-high as we turned off the main road and started up the private drive towards CBV. What we found took our breaths away. From our first glimpse, we knew neither of us had ever stayed in a more stunning place. You've seen the pictures and read the reviews but nothing can prepare you for how spectacular CBV really is. From its location to the accommodation, the facilities and hosts Briana and Nick, the entire experience is simply delightful. Spacious, luxuriously appointed, completely private accommodation? Check. Infinity pool overlooking mountains? Check. Outdoor kitchen and poolside fireplace, complete with sofa for starlight lounging? Check. The cherries on top of this delicious treat are CBV's hosts. From the moment we arrived, Briana and Nick made us feel completely welcome and pampered, while at the same time letting us know our privacy was paramount. The couple live on site (CBV is their self-built dream home) but their sensitivity and discretion mean anyone wanting to do a Greta Garbo and be alone will be well catered for. However, if you're open to more interaction, you'll discover your hosts are the loveliest people you could wish to meet. Even before we arrived (it took about 2.5 hours of very laid-back driving from SFO) we were already texting with Briana and had received a lunch recommendation for locals-only taquería en route, which was super tasty and excellent value. Briana made it very clear that no question or request was too small and that they were there to make our holiday absolutely perfect. CBV gave us the honeymoon of our dreams with the unexpected bonus of amazing new friends! On a practical level, CBV's secluded location means having a car is a must. It's a scenic 25 minute drive down the hill into town, where you'll find great restaurants and top-quality grocery shopping. The area also boasts some outstanding wineries, hiking and white water rafting, although I have to admit we couldn't bear to leave CBV long enough to check out these other attractions. Next time! Oh yes, there will be a next time. It was hard not to feel very sad leaving this amazing place. It's a true heaven on earth. If you're able to, book CBV right now… before we beat you to it!
Bea
2015-03-29T00:00:00Z
My boyfriend and I were looking for a relaxing weekend away from the city and that is EXACTLY what we got. Casa Bella Verde was the most beautiful place to spend three days. Nick and Briana were extremely accommodating and were incredible hosts. Nick told us all about the house's history and shared information about the wildlife. The house itself is stunning, we sat by the pool all day and didn't want to leave. The guest house is modern, clean, and very homey. The kitchen is well stocked and we were able to make all our meals in the guest house. The scenery by the pool is amazing and there were cute birds flying around during the day. At night we looked up at the stars and looked at the moon through a telescope! We also visited the nearby winery, David Girards, and got a complementary tasting! The wine was so good, we bought 3 bottles! Overall, we enjoyed our stay so much and really hope to visit again!
Sahana
2015-09-21T00:00:00Z
Casa Bella Verde left my girlfriend and I speechless while meeting Briana and Nick was an absolute pleasure. the home has 360 views of the El Dorado foothills and folsom lake and is a masterpiece in itself(you'll soon find out Briana is a design genius). There wasn't one thing Briana hadn't already though of, the guest house was beautiful prepared. We spent most of our weekend relaxing, visiting Folsom/Sac and talking Briana and Nick. We are recommending cbv to family and friends alike and plan on staying here in the future! Thanks Briana!!!
Nikil
2016-07-05T00:00:00Z
Briana and Nick were extremely welcoming, and helpful hosts. They treated me like a longtime friend whom they haven't seen in awhile. It was the perfect getaway after a lengthy road trip, and they were extremely accommodating about my situation, since my initial booking ended up canceling at the last minute. Their home, and guest homes are both beautiful, and very well maintained. You could really tell that they deeply care for both your experience as a guest, and the house itself. It far exceeded my expectations in person, and I really hope to pay them a visit again soon. Thank you Briana & Nick!
Tommy
2016-08-01T00:00:00Z
What a fantastic spot! Briana was so accommodating. While this is a guest house to the main home, you would not know it when staying. We had complete privacy and were invited to use any and all parts of the home during our stay. I cannot stress enough how incredible the views are. If you can find a better view to wake up to FROM YOUR BED, let me know and I'll gladly come check it out. In the meantime, I'll be heading back to Pilot Hill with Briana.
Lawrence
2015-11-28T00:00:00Z
Briana and Nick were amazing hosts. The accommodations, property, views and Briana and Nicks hospitality completely exceeded our expectations. If you are looking for peace and quiet, breathtaking views, five star accommodations, this is the place! Our experience at Casa Bella Verde was exceptional.
Beth
2014-07-07T00:00:00Z
We had a great weekend here. Briana and Nick are incredible people, very accommodating and communication could not be better. Their home is a marvel, there is so much to enjoy. We definitely hope to come back soon!
Igor
2015-07-05T00:00:00Z
Typ pokoje
Celý dům/byt
---
Typ nemovitosti
Dům
---
Ubytuje
2
---
Ložnice
Pilot Hill, Kalifornie, Spojené státy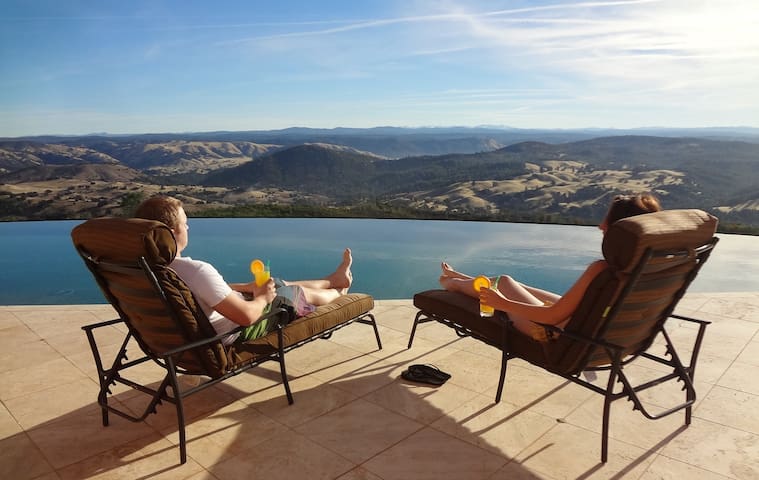 The Orchard Cottage is close to family-friendly activities. You'll love The Orchard Cottage because of the views, the location, the outdoors space, and the ambiance. The Orchard Cottage is good for couples, solo adventurers, families (with kids), big groups, and furry friends (pets). The Orchard Cottage is one of the 2 cottages offered at the Cottages On Salmon Falls. Please check out The Cottages On Salmon Falls for more detailed information on this unique property.
The Orchard Cottage is a part of The Cottages On Salmon Falls property. For large groups you may also book The Country Cottage. The Orchard Cottage has private access and a carport off Jackass Mine Rd.
The Orchard Cottage is centrally located in The Gold Country, just minutes from Folsom Lake boating, The American River, Historic Coloma, wine tasting, and fantastic hiking, biking, kayaking, white water rafting and horse riding trails including the Western States Trail, Olmstead Loop in Cool and Cronan Ranch in Coloma. The property is a short drive to Lake Tahoe ski resorts.
Beautiful home in a nice quiet location. My group loved the very spacious house and the horses and donkeys nearby.
Brian
2017-01-01T00:00:00Z
Typ pokoje
Celý dům/byt
---
Typ nemovitosti
Dům
---
Ubytuje
9
---
Ložnice
Pilot Hill, Kalifornie, Spojené státy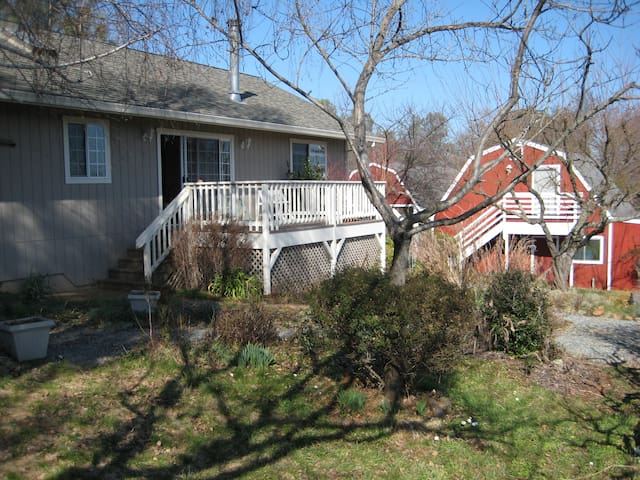 There are 2 cottages on this property that each rent separately. Check out listings for the Country Cottage &/OR the Orchard Cottage on Salmon Falls for more details. Enjoy the comfort and hospitality of these charming cottages on the American River Divide in historic Pilot Hill. Each fully furnished home accommodates up to 6+ people. Centrally located in the Gold Country, just minutes from boating, rafting, hiking, wine tasting, bring your horses or bikes to explore the trails.
Choose the one cottage that best suits your small group, family, couples getaway or retreat. You may choose to reserve both cottages for larger family reunions, receptions, and groups. Please note that each cottage is reserved separtely. Additional fees may apply for large groups. With 2 cottages on this property there is much to offer. The older Country Cottage is nestled in the trees and old garden growth. This cottage has a cabin feel with wood paneling and flooring, a large kitchen, wandering floor plan and unique bathrooms. Sit under the olive tree while you enjoy the surrounding gardens in their various stage of bloom, relax on the deck after your adventurous day exploring the Gold Country, play a game of pool, or snuggle up in front of a wood stove with a favorite book. The more modern Orchard Cottage offers open mountain Views from the front room and generous sun deck. Sip your morning tea while sitting on the deck and look out over your horses in the pasture and plan your days trail adventure. Follow the garden paths to the orchard and enjoy seasonal fruit off the trees. Relax in the evening by one of two wood stoves. This cottage can also use a separate entrance if you wish.
The Cottages are centrally located in the Gold Country, just minutes from Folsom Lake boating, The American River, Historic Coloma, wine tasting, and fantastic hiking, biking, kayaking, white water rafting and horse riding trails including the Western States Trail, Olmstead Loop in Cool and Cronan Ranch in Coloma. For your winter vacation, The Cottages are a short drive from Lake Tahoe Ski Resorts.
Our stay at the cottages was amazing! We stayed over the weekend for my boyfriend's birthday with a few close friends and we absolutely loved the property and our time at it. Kalin made the booking process so easy and got back to me right away with every question I had. The description was spot on and it instantly felt like home. We were fortunate enough to meet one of the owners, Mike was kind enough to show us the other property. We will definitely be back!
Lauren
2015-07-27T00:00:00Z
The area is very scenic and the house is charming from the outside. Inside the rooms are spacious, though the place is awkwardly laid out--a lot of narrow dark hallway and it feels a bit like a maze. Not my style of decor, but everybody's different. Anyway, the beds are comfortable and there's everything you need. However, the hot tub, which was a major draw for us, ended up not being usable because once turned on, it became dangerously HOT. We had to leave it turned off for 48 hours before we could get in it, and by then we were ready to leave--a disappointment, AND someone could get seriously hurt! Also, the remote for opening the gate is quite annoying and takes a lot of fiddling with to operate. Loved the horses and donkeys!
Mark
2015-11-29T00:00:00Z
Just off the main road, their guest cottage is perfect for a relaxing getaway, the area is gated off so our 2 little dogs could run like crazy, and the hosts even keep the grass in the rental area green! Host was extremely responsive over texts and very helpful. Upon arrival we walked inside to printed menus and guides of just about every thing in the area. The bedrooms are huge. Phones had great service, Just wish we had wifi to top it all off!
Joseph
2016-08-21T00:00:00Z
Comfortable hill country get away, peaceful, serene, beautiful emerald green hillsides and rolling pastures. Close to American river, gold and wine regions in foothills of the sierras. Kalin was perfect hostess, all amenities exceeded expectations.
gerry
2016-04-13T00:00:00Z
We really enjoyed our stay in the Country Cottage (I think that's the one we were in). The vibe and decor of the house fit the surroundings well. We found almost everything we could have needed. Beds were comfy and the blackout shade in the master was great for naps for the babies! It wasn't baby proofed, but we didn't expect that. We brought outlet plugs and moved some things from the low shelves. Decent gas burning range in the kitchen. And the super-cool wood stove in the kitchen was a huge attraction to our 11 month old. But no major issues there. It is a cabin in the country, so expect some critters to be around and inside the house. But there were horses too! My older daughter fed them some apple cores and overall it was a great place to stay! Thank you!
Mallika
2015-10-12T00:00:00Z
A beautiful location near our rafting adventure in Coloma; the cottage was wonderful, spacious and a great venue in which to celebrate a 60th birthday!
David
2016-05-23T00:00:00Z
Wow we loved our time at SalmonFalls road. The Country Cottage was interesting and spacious. The sunrwise through the main bedroom window was a wonderful awakening. The same for sunset from the hot tub after a long day observing the beautiful scenery. There are plenty of activities available for those looking for a fun time. We never met our hosts but it wasn't necessary as everything was clear and in working order. We would have loved to stay longer. If you don't like isolation you might find the cottage a little remote. There are neighbours but you would have spend some time at Pilot Hill to meet them. An ideal location for riding river rafting and panning for gold!
Avril
2014-08-22T00:00:00Z
The cottages are fabulous! Well stocked, spacious, private,gorgeous views - perfect for families or a couple on a romantic getaway. Cool, CA is just down the road with some great little places to eat and grab groceries. We will definitely be back!
Claire
2015-08-01T00:00:00Z
Typ pokoje
Celý dům/byt
---
Typ nemovitosti
Dům
---
Ubytuje
6
---
Ložnice
Pilot Hill, Kalifornie, Spojené státy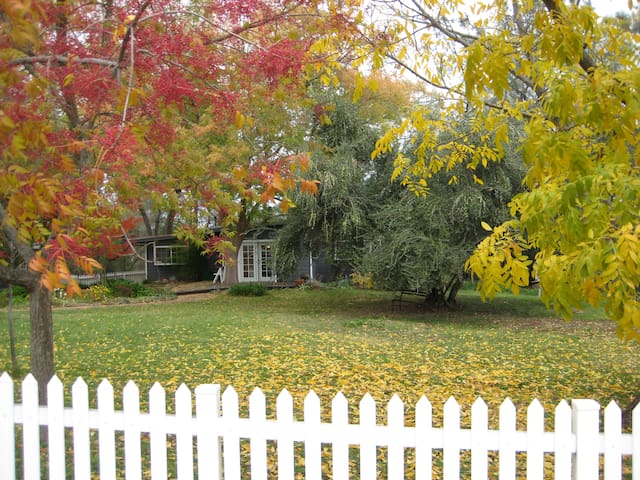 Our country place is close to parks, art and culture, rafting, Folsom Peninsula Campground, Coloma (Gold Country), hiking, and wineries. All are within a few miles. You'll love the peace and quiet, comfy room, good food, and beautiful views of the Sierras. We have another listing if you are a group of four or five.
Our bedrooms include TVs and private bathrooms. You are welcome to share the house; we prepare breakfast and dinner is an option. Hang out on our decks or sit in the meadow, star gaze at night and wake up to birds and wildlife outside your window. We are at the end of a quiet road on 20 acres with a scenic view of the Sierra Mountains.
Kathleen was a great host. Her place is amazing. Tucked away into Pilot Hill her 20 acres is quite beautiful. Kathleen is Very friendly and defines what a great Airbnb host is. She made us an amazing breakfast also. Can't wait to stay there again.
Jared
2016-10-02T00:00:00Z
Kathleen and Jim were model hosts. They welcomed us when we arrived, provided a seamless check-in experience, were accommodating to our questions and helped us get to know the area. Would absolutely stay again!
Andrew
2016-06-27T00:00:00Z
Typ pokoje
Soukromý pokoj
---
Typ nemovitosti
Dům
---
Ubytuje
2
---
Ložnice
Pilot Hill, Kalifornie, Spojené státy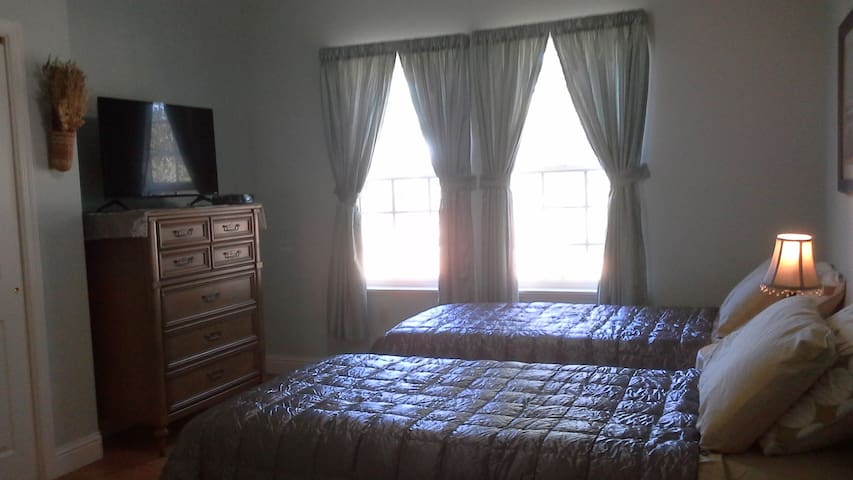 The Country Cottage is close to family-friendly activities. You'll love The Country Cottage because of the location, the outdoors space, and the ambiance. The Country Cottage is good for couples, solo adventurers, families (with kids), big groups, and furry friends (pets). This cottage is a part of the Cottages On Salmon Falls property. Large groups may want to book both the Cottages on the property. Check out our listings for the Orchard Cottage &/or the Cottages on Salmon Falls.
The Country Cottage is a very unique cabin like home nestled in the trees. This property is located near some great local restaurants, wine tasting, white water rafting on the American River, historic Coloma, Folsom Lake, The Western States Trail system, Olmsted Loop and Cronin Ranch.
Beautiful & comfy and Kalin was great!
Kevin
2016-11-25T00:00:00Z
Kalin quickly responded to my emails before and during our stay. Arrive and departure times were flexible. The cottage was comfortable for the family: husband, me, son, daughter in-law, and 3 yr old grandson. One night we had 3 friends over for dinner. The cottage was ideal for us all to take part in cooking, visiting in the living room, and checking out the burros and horses, which my grandson fed carrots and apples daily. Beds were comfortable, roosters reminded us morning had arrived, and a shower with a view awaited. The bedrooms were private, there was plenty of room for all to relax. The rain kept us inside and gave us a chance to read more books to our grandson while others cooked, napped or Cottage was close to the Holiday Market in Cool, where you can pick up just about any quality items you need at good prices. My only complaint is that we were not able to stay longer. We'll be back.
Diane
2016-10-30T00:00:00Z
Typ pokoje
Celý dům/byt
---
Typ nemovitosti
Dům
---
Ubytuje
6
---
Ložnice
Pilot Hill, Kalifornie, Spojené státy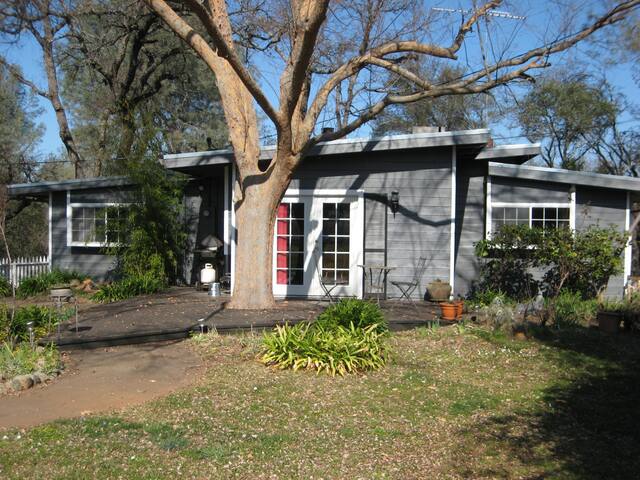 探索加州的黄金之国,同时享受一个宁静和平的都铎的家在埃尔多拉多山的设施。步行到福尔瑟姆湖,参观福尔瑟姆历史名镇;交通便利,距离萨克拉门托30分钟,1一小时内,南太浩湖30分钟后,从旧金山2小时。铺在福尔瑟姆新苍白球中心,并享受许多餐馆和娱乐场所周边地区。
Beautiful quite location with a very special host!
Eric
2017-02-05T00:00:00Z
Typ pokoje
Soukromý pokoj
---
Typ nemovitosti
Dům
---
Ubytuje
2
---
Ložnice
El Dorado Hills, Kalifornie, Spojené státy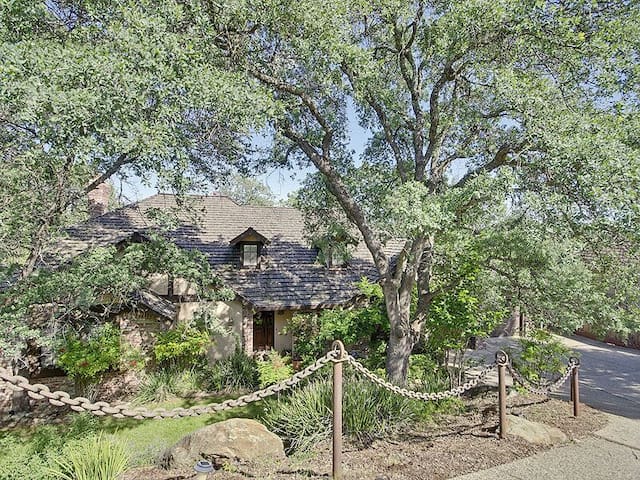 Cathy met me with a gracious smile and gave me a thorough orientation to the room, the house and even a trail map down to the lake from their property. Everything was clean and very comfortable, providing the perfect retreat. I spent most of my time on the private balcony. Just beautiful! Cathy has the gift of hospitality and a kind respect for privacy. I look forward to staying again!
Tami
2015-05-27T00:00:00Z
Cathy and Greg are warm, kind, generous and hardworking hosts. This is a working horse ranch and it is amazing to watch the ranch work. This actually contributed to and not detracted to the relaxing nature of my stay. Hearing the horses gallop and neigh, hearing the rooster crow and the chickens cluck. It was serene. The room is clean and very comfortable and Cathy and Greg made sure that I felt at home. Greg even offered and cooked a freshly laid egg breakfast for me amid his busy schedule. I found the space I needed to getaway and read and write like I had wanted to and the ranch was close enough to wineries in the region, that on the spur of the moment I took the afternoon to visit. The proximity to Folsom lake is attractive too and I took advantage of this with a morning walk. All in all a great stay! Thank you Cathy and Greg!
Timothy And Dana
2015-03-29T00:00:00Z
Absolutely beautiful ranch and the grounds are immaculate. Our room overlooked the ranch with 2 comfortable wicker chairs situated on an outdoor deck for sipping a cold drink and sharing moments. Cathy and her husband are consummate hosts inquiring as to what our breakfast preferences were days in advance. They have 4 welcoming, friendly dogs, wineries and horseback riding within close distance and a fantastic room with private bathroom to come home to. We'll be back again! Highly recommended!
gary
2014-10-05T00:00:00Z
That was SO nice to stay at Cathy and Greg's place. The house is great and the private terrasse was perfect to relax and read a book. The hosts have very good conversation and do everything to make you feel at home in their beautiful ranch. That was an A+ experience.
Romain
2015-08-23T00:00:00Z
I had a wonderful stay! Cathy and her family (including the animals) were so welcoming and the room was so comfortable and had a wonderful view of the farm. I enjoyed the beautiful sunset from the porch rockers and soaked in the relaxing claw foot tub. A great stay! Thank you!
georgie
2014-10-12T00:00:00Z
Staying with Cathy on the ranch was wonderful! Breakfast was delicious (and gluten free at my request!) and the stay was relaxing, comfortable and clean. We particularly loved the animals and were even able to pick some fresh blackberries to take home. We will be staying again!
Monica
2014-06-02T00:00:00Z
Cathy and Chris went above and beyond during our stay in they're sweet little ranch rose guest room! Everything was clean, tidy and better than the photos! Breakfast was delightful and Cathy and her husband Chris were very attentive! Although we were in town to visit family over the Thanksgiving holiday we felt like we were staying with family as well!
Alex
2014-11-28T00:00:00Z
We absolutely LOVED our stay with Cathy, Greg, their sons, and their animals (horses, chickens, dogs and cats). There were no animal noises however, except a distant crowing rooster in the morning. We have a 3 year old daughter, Cathy and Greg were very accommodating by providing a crib for her and offering her a pony ride with a cowgirl dress up! This family treated us like their family. The suite was sunny and spacious. The hosts provided a patio set for the balcony, so that we could enjoy the serene view of the property. They were flexible with check in and check out time. They also provided us maps and directions on how to visit the lake and the hatchery.
Svetlana
2014-12-27T00:00:00Z
Typ pokoje
Soukromý pokoj
---
Typ nemovitosti
Dům
---
Ubytuje
2
---
Ložnice
El Dorado Hills, Kalifornie, Spojené státy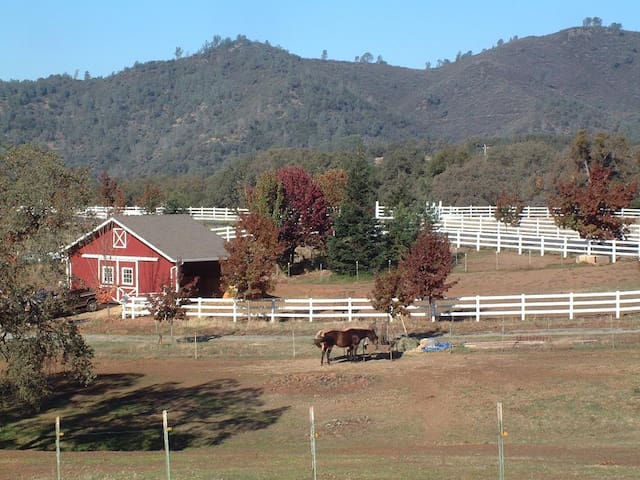 Our place is close to American River, Auburn, Coloma (Gold Country), hiking, rafting, swimming, fishing, Folsom Peninsula Campground, wineries.... You'll love our place because of Peace and quiet, beautiful views, birds and wildlife, beautiful sunrises and sunsets, delicious food, lots of parking. Our place is good for couples, friends, and solo adventurers.
Our new home is located on 20 acres in the middle of gold rush territory. We have a driveway that weaves through oak trees and a view of the Sierra Mountains from our meadow. You are welcome to sit on our deck and star gaze in the evening and wake up to birds chirping and beautiful oak trees outside every window. We are 5-10 miles from a variety of adventure opportunities that include, hiking, swimming, fishing, rafting, biking, wine tasting, site seeing, exploring Coloma, Auburn and Placerville. We have an additional room in our home that is also listed and can accommodate two more people.
Typ pokoje
Soukromý pokoj
---
Typ nemovitosti
Dům
---
Ubytuje
2
---
Ložnice
Pilot Hill, Kalifornie, Spojené státy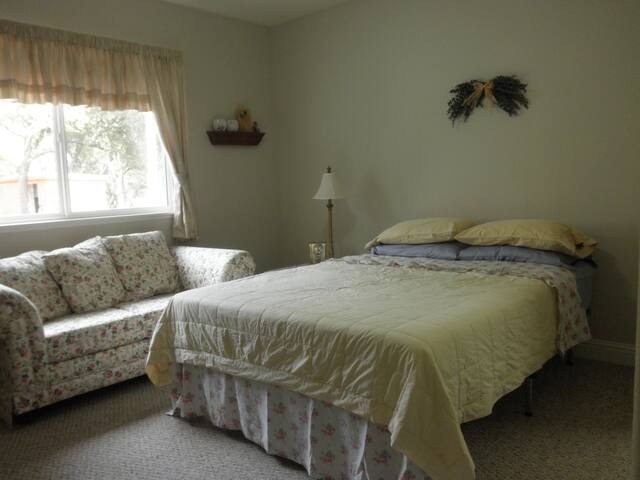 Milk & Honey Cottage es una escapada que es "bueno para los huesos y dulce para el alma." Este refugio está situado en un barrio país, justo al lado de la ruta del vino Auburn, ya pocos minutos de Hidden Falls, el casco antiguo de Auburn, el centro de Auburn, el río americano, senderismo, restaurantes y tiendas de café.
Nuestra cabaña privada es un lugar tranquilo, refugio tranquilo, justo al lado de la ruta del vino, sin embargo, a sólo 4 minutos en coche de la histórica ciudad de Auburn, Ca. Disfrutar de este espacio privado, en nuestra propiedad de 1 acre, separada de la casa principal, con su propia entrada entrada independiente.
Nuestro barrio es un arbolado, tranquilo santuario, pájaro con un ambiente rural país, sin embargo, muy conveniente para las actividades, restaurantes, tiendas, excursiones, etc.
I've used AirBnB frequently and this was the best experience so far. The pictures and description of the property are 100% accurate. Erica and her husband are warm and generous hosts. The neighborhood is charming and tranquil. The cottage is very thoughtfully stocked with all of the household amenities one would need. The kitchen is fully stocked with pots, pans, plates, silverware, spices, plenty of tea choices etc. The baked items were great for breakfast/tea-time. Communication and instructions were excellent. We will definitely be back. Highly Recommended!!
Amar
2016-11-13T00:00:00Z
This was the best experience yet on AirBNB. I have stayed at quite a few places but this was the best-appointed places of them all. Erica had everything ready for us and was very responsive with questions and information. We had everything we needed and more! I would definitely come back and stay.
Grant
2016-10-21T00:00:00Z
Erica's place was a diamond in the rough! It was so much more than the listing indicated. It was quaint, clean, comfortable and private. Erica had provided maps to trailheads for some of the most awesome hiking in the area. She provided staples and great treats upon our arrival. The evenings were cool and we had the use of the most awesome pellet stove which kept us warm and toasty. She was always available to answer questions and provide information about the area. I would drive out of my way to stay here again; one of the best airbnb experiences we have had!! Way to go Erica!!
Christopher
2016-11-12T00:00:00Z
The Milk and Honey cottage is incredible-- by far the best airbnb experience I've encountered! Erica is wonderful, and she stocked the cottage with everything we could possibly need and more. Particularly helpful were the recommendations for hikes and local attractions-- Auburn and the surrounding areas are beautiful and definitely worth exploring. Chocolates, pastries, bathrobes, fresh flowers, board games, and a cozy pellet stove fire were just a few of the many luxuries that made for such a fun and relaxing getaway. I will definitely be returning to the M & H cottage!
Ryan
2016-12-10T00:00:00Z
Loved it !!! Nice little getaway really peaceful and comfortable !!!
Luis
2017-02-16T00:00:00Z
The cottage is beautiful and so thoughtfully put together. Its obvious that a lot of effort and care has been put into this Airbnb (theres even railings and a little bench in the shower if you need such things). Erica is a top-notch host, one of the most gracious and kind people I've come across in my Airbnb adventures. I would definitely recommend the Milk and Honey Cottage to anyone!
Lauren
2017-02-20T00:00:00Z
Erica is amazing! The house is fantastic! The pictures perfectly describe this cute cottage. Every time I are in Auburn I will only stay here.
Jocelyn
2016-12-11T00:00:00Z
We didn't get a chance to meet Erica but she was extremely friendly and communicative our entire stay with any questions we had. The cottage was so welcoming and cozy, would 100% stay here again!
Michelle
2016-12-23T00:00:00Z
Typ pokoje
Celý dům/byt
---
Typ nemovitosti
Dům
---
Ubytuje
4
---
Ložnice
Auburn, Kalifornie, Spojené státy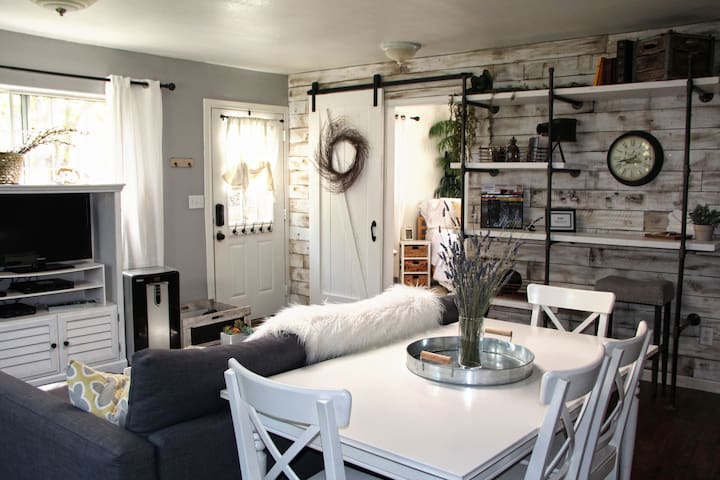 Cathy was a wonderful, friendly host and the property was beautiful and comfortable. We needed a bit of extra space as we were a total of 4, so she went above and beyond to help us out by adding this loft space to her profile so we could reserve it properly. Our family was visiting from different locations for a memorial service, so we were very fortunate that Cathy helped us stay together. The bed in this loft is extremely comfortable with a memory foam mattress topper and a number of pillows to choose from so you can find one that is just right. The window behind the blinds opens for a fresh breeze all night coming off an open field. In the morning, the friendlier of the cats crawled in bed to investigate and another perched on the windowsill to watch the birds go by. What a peaceful country morning. The loft looks down onto the living room and kitchen area, so you can hear noises from down there, but Cathy and her family are not loud people, so it's very comfortable. If you're a light sleeper it might be useful to have earplugs. Breakfast was a delicious veggie scramble, chicken sausage and local gluten-free pastries. After breakfast, Cathy gave us directions to walk down to Folsom Lake, which I did in flip flops and we swam out in the water before walking back, saying bye to the people, cats, dogs and horses and heading out.
Jules
2014-07-14T00:00:00Z
Typ pokoje
Soukromý pokoj
---
Typ nemovitosti
Dům
---
Ubytuje
2
---
Ložnice
El Dorado Hills, Kalifornie, Spojené státy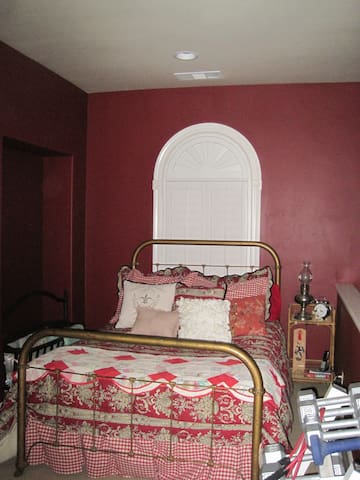 Amazing host, fantastic setting, private and clean. Only improvement would be the futon if you're not used to firm mattress.
Isaac
2017-01-29T00:00:00Z
Megan's place was wonderful- clean, cozy, nicely decorated, and supplied with everything you will need for a relaxing getaway. The studio appears to be newly renovated. The garden outside your door is a beautiful spot to relax. There is a cute cat in the garden who is very friendly! We had a great time, and we will return if we are in the auburn area again.
Kathy
2017-04-02T00:00:00Z
Greatly enjoyed staying at this charming place! Megan was welcoming and provided everything needed. Was pleased to find the sofabed supercomfortable. A longer walk to town than I had anticipated, but a lovely , peaceful spot and would definitely recommend!
Andrea
2016-10-27T00:00:00Z
This is a fantastic spot for an individual or couple who want to be be very close to downtown Auburn, yet in a peacefully quiet neighborhood. Also great proximity to the local trails and outdoor activities. Megan is the consummate host and has all the little details dialed! Very helpful to have a little hotplate and toaster oven in the kitchenette to make breakfast in. The garden / outdoor area is a real gem as well. Megan was super-responsive and made sure I had everything I needed for a comfortable stay. Wish I could give the experience and the space a higher rating. Highly recommend!
Brent
2017-03-05T00:00:00Z
Megan's studio was immaculate and so cozy! The perfect place to stay for our overnight trip to Auburn. Megan was extremely communicative, and even let us know that the studio was available early. She was happy to give recommendations for area restaurants and hiking trails as well. We will definitely be back next time we are in Auburn!
kelly
2016-09-25T00:00:00Z
Cute, cozy, comfortable and centrally located. Megan's studio was a great choice. Very close to all that Auburn has to offer. Just minutes away from shops, restaurants , the American river, trails and the 80 freeway. I enjoyed my short stay and would definitely return.
Darcy
2017-02-06T00:00:00Z
Everything we needed/wanted and local advise for the area. Great stay!
Cory
2017-02-17T00:00:00Z
This lovely space is better than advertised and central to everything in Sacto/Tahoe/Auburn area. I stayed for two days and nights while home shopping and riding the American River Bike Trail, just 30 minutes away in Folsom Lake area. Megan was a fantastic host, the studio is clean, and has everything one needs for self-sufficiency and some quiet time. I loved the setup and will try to visit again in the future.
Kevin
2017-03-29T00:00:00Z
Typ pokoje
Celý dům/byt
---
Typ nemovitosti
Dům
---
Ubytuje
2
---
Ložnice
Auburn, Kalifornie, Spojené státy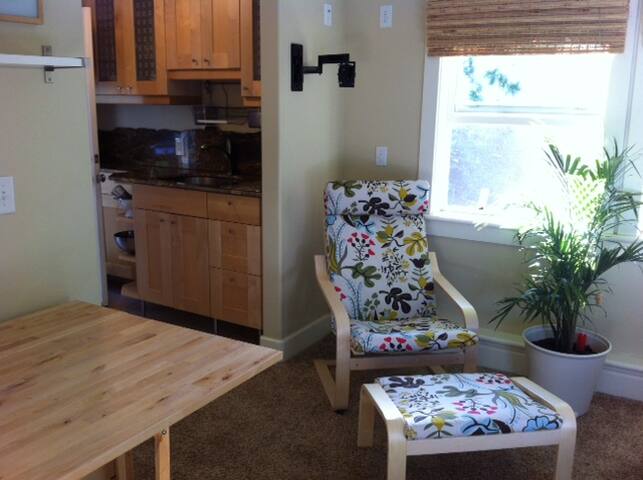 A 5 minute drive from the Overlook Park and perfect for solo travelers! Stayed here for the Auburn Triathlon weekend and it is just as it's described! Very quiet, which is perfect for getting that pre-race rest! There are trains that run nearby but their horn sounds don't last long. Mary is very good at keeping up with contacting you and being an awesome host!
max
2016-05-16T00:00:00Z
Mary was super welcoming and our stay was fantastic. She was incredibly accommodating and the place is the cutest little getaway retreat! We loved our stay!!
Hailey
2016-09-07T00:00:00Z
May was amazing! She is so nice and helpful. We had so much fun in Auburn from her recommendations! The neighborhood was quiet and very nice. The old town and downtown areas are close as well. It's almost walking distance for me(30 mins).
Vince
2016-07-11T00:00:00Z
We were greeted by Mary upon arriving at the apartment. She was friendly and made us feel right at home. The apartment was even prettier than the pictures. The location was amazing. Would highly recommend.
Tammy
2016-07-15T00:00:00Z
Host was excellent! We would like to return to Marys.
Jim
2016-06-23T00:00:00Z
The listing was perfect. It was such a great stay. Mary was super friendly and happy to answer all of my questions. The apartment was just awesome. Everything felt new and clean. It was so nice having a kitchen and a table/desk since I was working while I was there. The location was beyond perfect, with trail access just a half mile around the corner and downtown just up the road as well. Highly recommend staying here! :)
Eric
2016-06-18T00:00:00Z
Mary's apartment in Auburn was just what we needed. The place was well appointed, cleaning, home-y, and very comfortable. The kitchen had everything we needed. The bathroom was stocked with the essentials. The AC kept us cool in the afternoon/evening and the Auburn night time air was the perfect for sleeping. We met Mary when we arrived. She was warm, thoughtful, and helpful. She provided amazing instructions and was a great communicator before the trip. We highly recommend this Airbnb. We'll be back!
Tim
2016-06-13T00:00:00Z
What a great spot to spend a nice relaxing weekend in Auburn. Mary was very welcoming and made sure I had everything I needed. A wonderful place to stay if you're looking for a quiet relaxing weekend.
Jordan
2016-12-06T00:00:00Z
Typ pokoje
Celý dům/byt
---
Typ nemovitosti
Dům
---
Ubytuje
2
---
Ložnice
Auburn, Kalifornie, Spojené státy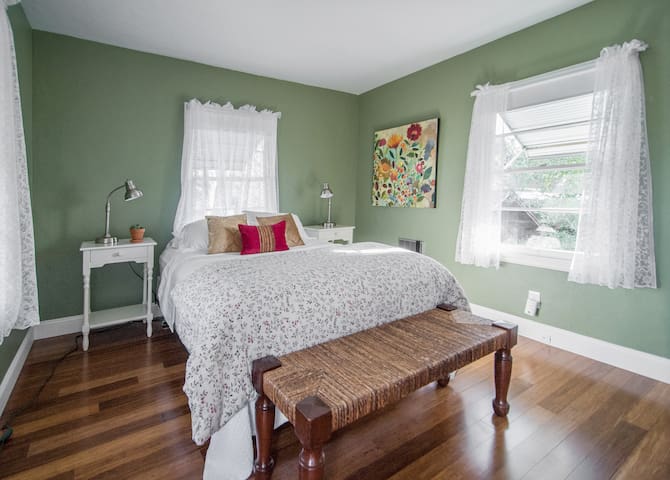 This cozy place offers a perfect location in Auburn, CA. The well-equipped studio is exactly as described and our Host, Darla was wonderfully helpful and communicative. We enjoyed walks to downtown Auburn and throughout the nearby neighborhoods, watching the sunset from the porch, and snuggling inside in this cozy cottage! We are excited about the thought of coming back!
Nicole
2017-04-09T00:00:00Z
Typ pokoje
Celý dům/byt
---
Typ nemovitosti
Dům
---
Ubytuje
2
---
Ložnice
Auburn, Kalifornie, Spojené státy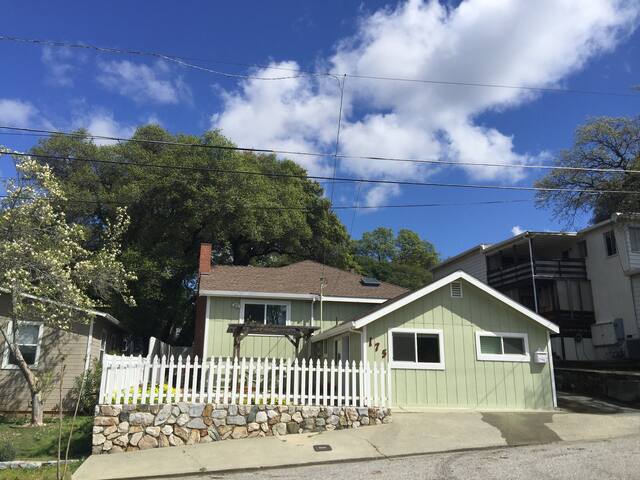 This was an outstanding experience, and one I would recommend to anyone. Lovely quarters, comfortable bed, delightful hosts, and all at a great price! Thanks again, John!
Darren
2017-02-10T00:00:00Z
John is an amazing host. He welcomed my boyfriend and I with a friendly smile and made sure we got comfortable right away. He was very informative and provided us with a cozy chic room in his beautiful home. Every part of the house From what we saw was impeccable! He offered us coffee before checking out and he endured we had everything we needed. The neighborhood is extremely safe and the people are very kind. I'd highly recommend staying at Johns!
Yeresys
2016-06-15T00:00:00Z
This was my second time staying at John's place, and once again, the room and John are delightful. He is a great host, the room and bathroom are spotless, and John's art is remarkable. Highly recommended.
Tami
2016-10-12T00:00:00Z
John's home is not only comfortable but a work of art. He was so gracious in welcoming us and everything was immaculate.
Cathy
2017-04-05T00:00:00Z
John's place is the perfect place to stay for a business trip. He is a wonderful host and I look forward to staying with him again.
Steve
2017-01-25T00:00:00Z
Beautiful place. John is a wonderful host, and a great artist. I was very happy with my stay.
Tami
2016-10-06T00:00:00Z
Maybe the first time that John hosts french visitors. It was perfect, we've got a very warm welcome. His house is very nice and very closed from downtown Auburn where you can find all the restaurants and shops. It's a place I would recommend if you're coming to Auburn to run the Western States 100 :-)
Thomas
2016-06-24T00:00:00Z
John offers a comfortable home like environment even when I am traveling for business. This was my second time staying with him and look forward to staying with him again.
Steve
2016-10-19T00:00:00Z
Typ pokoje
Soukromý pokoj
---
Typ nemovitosti
Dům
---
Ubytuje
2
---
Ložnice
Auburn, Kalifornie, Spojené státy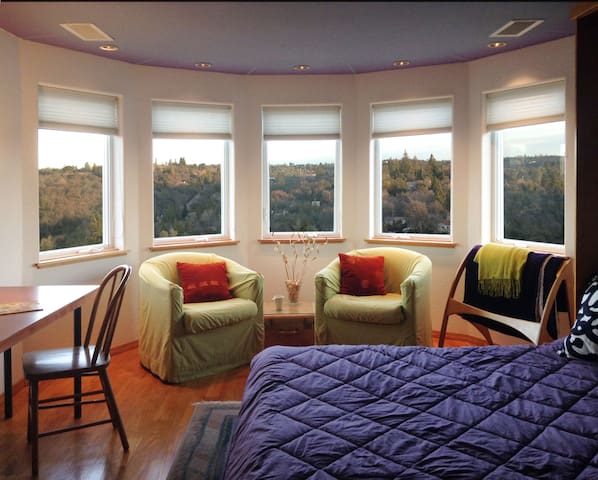 Lindsay seems like a genuine person that has a passion for hosting guests in her home. She did everything she could to make our stay as comfortable as possible.
Tommy
2016-12-31T00:00:00Z
From the moment we arrived (fairly late in the evening) Lindsay was so warm and welcoming. She gave us a brief thorough tour around the room and then let us settle in. Although nothing more was needed after we arrived she was always just a quick text away to fulfill any potential needs. Her home was well cooled in the high summer heat and well stock with delicious snacks, water and coffee. (many thumbs up for that.) Her home is mere minutes from all that Auburn has to offer. I couldn't speak more highly of our experience at this lovely abode.
Daren
2016-07-30T00:00:00Z
Lindsey is a gracious and very accommodating host and was delightful and easy to communicate with. Her home is in a lovely and convenient area and was easy to find. The charming private bedroom and bath are roomy and the bed is extremely comfortable. We enjoyed our stay very much and would stay again in a heartbeat.
Cheri
2016-05-16T00:00:00Z
We absolutely loved staying with Lindsay! She is one of the kindest people I have ever met. I stayed there one night with just my baby while my husband ran a race and the second night it was all 3 of us. Lindsay went above and beyond to make us feel welcome and comfortable. The room is very comfortable, clean, and gets great natural light. Lindsay provided delicious scones and even got more when I said how much I liked them! She was super accommodating when we were running late arriving and was so generous to us. I highly recommend staying with Lindsay. Her place is also affordable - huge plus! We hope to stay again sometime!
Allyson
2016-05-09T00:00:00Z
Lindsay was gracious and very helpful getting settled, room is very private and comfortable with nice amenities for breakfast, such as a bowl of fresh raspberries and a fridge with yogurt and water. Separate entrance nice for a busy schedule. Good conversation when time permitted, a very nice place to stay.
Steven
2016-06-29T00:00:00Z
Great place to stay! Lindsay was an amazing host.
Annie
2016-09-05T00:00:00Z
My 2 night stay in June at Lindsay's Garden Room was wonderful! The room was lovely, spacious, clean and Lindsay provided so many special touches....fresh flowers, snacks and nice chilled drinking water. The bed was very comfortable and I enjoyed a quiet walk in the neighborhood each morning. Thank you Lindsay for your warm and welcoming presence, you made my first airbnb experience a delightful one!
Bonnie
2016-06-27T00:00:00Z
Lindsay is a fabulous host and the room is fantastic. I love the quiet scenic location. I would definitely book this location again!
Nichole
2016-11-30T00:00:00Z
Typ pokoje
Soukromý pokoj
---
Typ nemovitosti
Dům
---
Ubytuje
2
---
Ložnice
Auburn, Kalifornie, Spojené státy
1

–

18

z

63 Pronájmy domácností
Pro zobrazení celkové ceny zadej termín. Mohou být přidány další poplatky a daně.