Útulný rodinný byt s velkou terasou v malé vesnici ve východní části Istrie. Z bytu si můžete prohlédnout v Kvarnerském zálivu. Pro získání ke skrytému, unikátní a uncrowded pláži budete potřebovat pouze 15 minut chůze přes středozemní lesa.
Tento byt má vše, co potřebujete! Ve druhém patře velkého rodinného domu najdete Byt s kuchyní, koupelnou a malou terasou. Pokoje, kuchyň a koupelna jsou všechny spotřebiče, které potřebujete, od ložního prádla a ručníků na mikrovlnnou troubou a Dyer. V každé ložnici máte jeden dvoulůžkový a oba pokoje mají jasný výhled na Jaderské moře. V prvním patře se nachází další menší byt, ve kterém já nebo moji rodiče obvykle zůstávají. V přední části domu je velká terasa se zahradním nábytkem a úžasným výhledem.
Okolí je krásné a klidné středomořské vesnice obklopené lesy a moře s nádherným výhledem na ostrově Cres.
Everything was as expected and even better! Picturesque view, nice forest, hidden beaches, very hospitable owner and no people around.
Erika
2015-07-12T00:00:00Z
Logement très bien équipé, propre et très agréable. L'emplacement est enchanteur avec vue sur la mer à 180°, terrasse sous les vignes et calme paradisiaque. Deux criques pleines de charme et peu fréquentées. Accueil chaleureux de toute la famille. Nous leur sommes très reconnaissant de leur aide lorsque nous avons eu une panne de voiture. Nous espérons pouvoir revenir dans ce bel endroit. Anne et Eric
Éric
2016-08-06T00:00:00Z
Az apartman csendes, nyugodt környéken van, a hirdetésben leírtaknak teljesen megfelel. A házigazdák nagyon kedvesek és segítőkészek voltak. A kilátás valóban lenyűgöző. A nagyobb strandhoz az erdőn keresztül kb. 15 percet kell egy kitaposott ösvényen leereszkedni, aki nem szeret túrázni, annak ez kényelmetlen lehet. Viszont a strand szép, kavicsos, árnyékot is találni, és közel sem olyan zsúfolt, mint egy átlagos horvát strand főszezonban. Összességében nagyon kellemes időt töltöttünk ott, szívesen ajánljuk az apartmant másoknak.
Adrienn
2016-08-27T00:00:00Z
Living there was wonderful. The view is amazing and the beach very clean. Anamarijas parents were very lovely and welcoming. I would todally come there again!
Lisa
2015-08-04T00:00:00Z
Il y a une très belle vu sur la mer avec 2 terrasses très agréables, la maison est au calme, et isolée pour décompresser et se relaxer c'est l'idéal ! Un chemin un peu escarpé descend de la maison à la mer . Pour nous c'était très bien, pour des personnes en recherchent d'animation il faut prendre sa voiture pour tout. Anamarija et ses parents sont très accueillants et chaleureux
Laurence
2016-08-20T00:00:00Z
Typ pokoje
Celý dům/byt
---
Typ nemovitosti
Dům
---
Ubytuje
5
---
Ložnice
Plomin, Istria County, Chorvatsko
Ihr nächstes Ferienhaus ist eine Kombination aus alt und neu. Was bedeutet, ist weit über 40 Jahre alt, trifft das Interieur ein sehr leichtes modernes, schlichtes Design. Mit alles, was Sie für Ihren Aufenthalt benötigen, und nur am Anfang des Dorfes, so dass es nicht eine lange Fahrt, um überall Sie gehen mögen. 4 km entfernt vom Strand in Plomin luka, 15 km entfernt von Rabac. Weitere Bilder in Kürze, und wir freuen uns über Ihre Fragen und Anliegen sowie Sie und Ihre Familie! Oh, und Ihre Haustiere :)
Das Haus bietet: -a große Terrasse sowie der Garten, -3 Fackeln mit Duftkerzen für Mücken, -Kaffeemaschine, -Verbandkasten, -W-lan, -das Haus dicke Wände hat, ist es sehr kühl an heißen Sommertagen zu halten, -Zusätzliches Bett (falls erforderlich), die in 5 beträgt.
Typ pokoje
Celý dům/byt
---
Typ nemovitosti
Dům
---
Ubytuje
4
---
Ložnice
Plomin, Istria County, Chorvatsko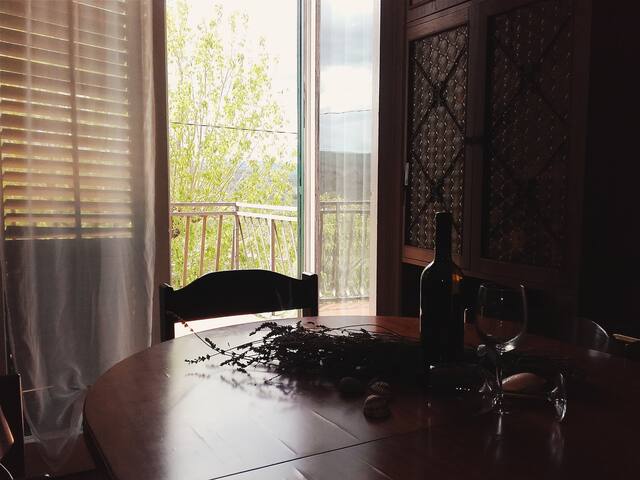 Haus Martina is a splendid 5 bed room villa set in the spectacular Istrian countryside. Incorporating luxury with rustic charm, Haus Martina is a picturesque vacation for those aiming to sample the beauty and culture of rural Istria .
Haus Martina is a splendid 5 bed room villa set in the spectacular Istrian countryside. Incorporating luxury with rustic charm, Haus Martina is a picturesque vacation for those aiming to sample the beauty and culture of rural Istria and the breathtaking Adriatic coast. A substantial and magnificently styled villa, Haus Martina accommodates 10 guests across 5 bedrooms and functions excellent gardens and a large swimming pool. The 5 bedrooms are light, contemporary, large and smartly embellished. They either have their own big terraces or come complete with stunning private terraces leading straight out into the well-manicured gardens and swimming pool location. The upstairs bed rooms offer a great view of the swimming pool and surrounding Istrian countryside. Each bedroom features its own bathroom, enabling privacy at all times. All bathrooms showcase complete centers including shower facilities. There are 3 kitchens in this delicious Istrian villa, permitting maximum privacy when preferred. They are all well-appointed with modern devices. Haus Martina conveniently hosts 10 people with cottage divided in between the primary villa and a couple of charming cottages embeddeded in the lovely premises. Wherever you lay your head on this stunning property, you will have direct access to your own balcony and to the stunning swimming pool and gardens. The indoor living locations are homely and generally rustic. They are the perfect places to take pleasure in a dinner by the fireplace on a cool night, however the outside areas are the real emphasize of this stunning Istrian retreat. The garden location is common of the Istrian region, as revealed by its rural appeal. In a remote countryside area, the villa is surrounded by fields and farmland. Lovers of rural charm will be enamoured with this attractive countryside area. The lovely gardens showcase a magnificent swimming pool full with deck reclining chairs and parasol, which permit guests to completely relax and rewind during the day. Guests can even make the most of badminton, volley ball and football centers. For the evenings there is a charming seating area, ideal for stylish candlelit dinners, providing an opportune minute to delight in an award winning regional wine and magnificent food as the sun sets on this pocket of Croatian paradise. This tastefully appointed villa is preferably situated with excellent dining establishments located just 5 kilometres away, offering the perfect chance to sample the incredible local wines of the Istria area along with fresh seafood, olive oil and white truffles. The magnificent Adriatic ocean is simply 15 kilometres away-- famous for its crystal clear waters, splendid beaches and remote bays and alcoves, you will be in the heart of one of the most lovely spots in Europe.
We really enjoyed our stay at this lovely , spacious , quiet location. We loved the two cottages and the separate main house. Our teenagers enjoyed the Table tennis, Pool and Football as well as sitting around the large table outside.. Our hosts were helpful and responded quickly to any query
Ann
2016-07-10T00:00:00Z
The villa was absolutely beautiful! The environment is very pretty and a small supermarket is nearby. Allthough the owners of the house live in the same house during your stay, they do not complain a lot about noise or stuff like that. We had a wonderfull stay!
Stefan
2016-07-17T00:00:00Z
Typ pokoje
Celý dům/byt
---
Typ nemovitosti
Dům
---
Ubytuje
10
---
Ložnice
Šumber, Zagrebačka županija, Chorvatsko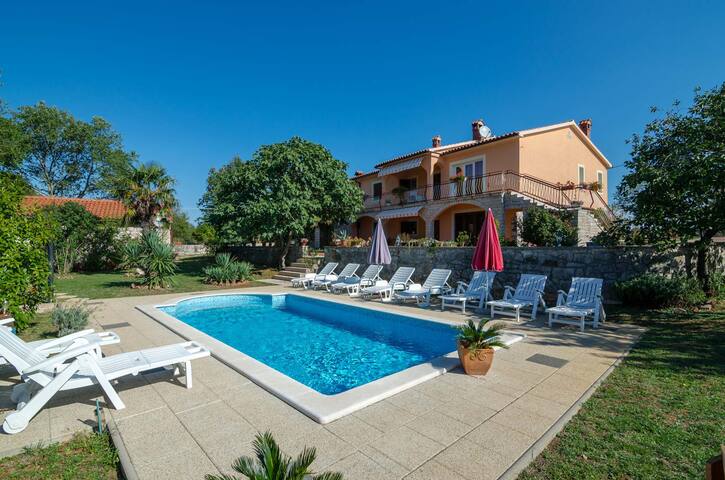 V blízkosti se nachází mnoho historických měst k návštěvě, jako je Brsec & Moscenice a mnoho pláží. Jsme také v blízkosti Rijeky a Opatiji, kde můžete navštívit výstavy, koncerty a akce, ale také dost daleko, aby žít v harmonii s natur Máte-li rádi procházky najdete mnoho stezek přes nedotčené přírody a snad vybrat přírodní maliny a vidět jeleny na cestě. Pro koupání a opalování, Moscenicka Draga a Brsec jsou jen 10 minut jízdy autem. Tam je nádvoří, takže si můžete odpočinout a užít si svou dovolenou v klidu. V přízemí našeho domu má dva plně vybavené apartmány s exkluzivní pro naše hosty. Apartmán 1 má kuchyň, dvoulůžkový pokoj, jídelní kout a koupelnu. Byt 2 je apartmán také s plnou kuchyní, manželskou postelí a sociálním zařízením. Apartmán č.1 mohou ubytovat 2 až 4 osoby. Apartmán č.2 (studio) se může ubytovat 2 osoby. Oba byty lze připojit dovnitř, aby ubytovat celkem 6 osob. Stanovení ceny je následující: Apartmán č.1: 60 euro / noc až pro 2 osoby Apartmán č.2 (studio): 50 euro / noc až pro 2 osoby. Prosím, kontaktujte nás pro stanovení cen za více než 2 osoby. Neváhejte se nás zeptat - Rafael & Milenu za jakékoliv tipy na návštěvu místní města a pláže. Do historických měst Moscenice a Brsec jsou v blízkosti a pláží a měst podél pobřeží, jako je Moscenicka Draga, Lovran a Opatiji jsou přístupné během 10 až 20 minut jízdy autem. Tam je osterija (místní restauraci), v docházkové vzdálenosti, která naši hosté někdy jít na místní jídla.
Děkuji Rafaelovi a Mileně za skvělou péči během celého našeho pobytu. Hostitelé jsou velice milí a angažovaní, vždy poradili a pomohli. Pokud hledáte klidné prostředí, krásný výhled na moře, máte rádi vesničky, do kterých se ještě nedostal masový cestovní ruch, nádherné, romantické pláže s minimem lidí a moderní, útulný apartmán, je to místo pro vás. My jsme byli nadšení.
Ivana
2015-07-06T00:00:00Z
We had a lovely stay in Sveta Jelena Studio Apartment. The flat has the best sea view, so we stayed most of the time on the terrace, although the studio is nicely decorated and has all modern comfort. You are close to the beach (by car), but in a quiet neighbourhood. Our hosts were very welcoming and helpful ! We would recommend the flat to anyone who wants to enjoy the best of Croatia.
Geert
2016-06-18T00:00:00Z
Milena, Rafael's wife was waiting for us, and after our first amezement (beautiful view, cozy house furnished with a very good taste, nice garden) she gave us all the necessary information about the house and the neighborhood. We can just tell good things about them, Rafael even came after us one day by car, just to help us find the small beach nearby. And it's amazing, that the house didn't need any airconditioning, although it was a big heat (around 34-36 Centigrades), inside we always enjoyed cool temperature! I can recommend the apartment for everyone, who would like to stay far from the noisy beaches, enjoy the view of the sea, but by car reach the coast in 10 minutes. Thank You Rafael and Milena! I am sure we are coming again sometimes!
Zsuzsanna
2016-06-28T00:00:00Z
From the moment we arrived, Milena and Rafael made us feel at home, even before arriving they took care that we take the proper road. Milena and Rafael gave us lots of tips and went always the extra mile to make us feel very good and at home. The apartment has lots of small details and a beautiful decoration, very cozy and comfortable; fully equipped, shiny, a happy place to stay and is even more beautiful as in the pictures. Incredibly quite, so sleeping till late was not a problem. It's really a lovely place to stay and learn this part of Croatia and the people of Croatia. We'll be back soon hopefully. Hvala vam toliko Milena & Rafael, your friendship is a beautiful gift.
Marcelo
2015-09-21T00:00:00Z
It was beutiful! Accomodation es clear,calm,and we really enjoyed the panorama. Rafael and Milena were great hosts,they are friendly,helpful and very kind. We had everything we needed for a perfect holiday. I can recommend this place to everyone,who wants a perfect vacation,we are planning to go back for a week later :)
Orsolya
2016-08-17T00:00:00Z
Rafael and his whole family are the perfect host in this lovely property in the heart of Istria. A perfect apartment with all you need to enjoy the most hospitable area in the north of Croatia
Carlos
2015-07-22T00:00:00Z
Was soll man schreiben? Für uns einfach ein Traumhafter Urlaub mit Kombination Meer und Wandern. Total nette, super hilfreiche und zuvorkommende Gastgeber. Ein Total süßes Apartment, liebevoll eingerichtet, mit wunderschönen Blick auf das Meer und den Sonnenaufgang. Einfach nur Danke.
Werner
2016-08-14T00:00:00Z
Unsere 6 Tage bei Rafael und Milena waren viel zu kurz. Dank ihrer wunderbaren Tips haben wir die Zeit perfekt ausnutzen können und viel gesehen. Im Apartment haben wir uns sehr wohl gefühlt und es hat uns an nichts gefehlt. Die Wohnung ist schön eingerichtet und sehr sauber. Wir kommen auf jeden Fall wieder und können die Ferienwohnung nur empfehlen!
Tim
2016-07-26T00:00:00Z
Typ pokoje
Celý dům/byt
---
Typ nemovitosti
Dům
---
Ubytuje
2
---
Ložnice
Sveta Jelena, Primorsko-goranska županija, Chorvatsko
Holiday home Dina is situated in a small and quiet village Nedešćina. Rabac with beautiful beaches and crystal clear sea water, who offers many summer events and tavern with Istrian spacialities is 10 minutes driving distance.
Holiday home Dina have two hausing units, on the ground floor and the firs floor, that are connected via external stairs. On the ground floor are 2 bedrooms with double bed, 2 bathrooms, big living room with 1 double sofa bed, dining room for 10 people, kitchen (microwawe, coffe maker, dishwasher, refrigerator with freezer), and on the firs floor are 2 bedrooms with double bed, 1 bedroom with single bed, 1 bathrooms, big living room with 1 double sofa bed, dining room for 6 people, kitchen(coffe maker, refrigerator with freezer ). Each floor has a large terrace. The house is situated in a safe and quiet area. Its very paceful, yet everything you might need is near by (500m), such as: market, bus station, restaurant, post office. Parking for 3 cars is available in front of the house in a safe place.
Great house with nice garden and beautiful pool. We stayed with 6 adults and 5 kids. You can reach the sea (Rabac) by car in 15 minutes and Labin in 10 minutes. Supermarket is 1 minute away, also a restaurant with delicious Pizza. Local contacts are friendly and helpful. House owners live in the same house, but they have separate entry and we had no direct contact.
Mathias
2016-08-21T00:00:00Z
Typ pokoje
Celý dům/byt
---
Typ nemovitosti
Dům
---
Ubytuje
10
---
Ložnice
Nedešćina, ISTRA, Chorvatsko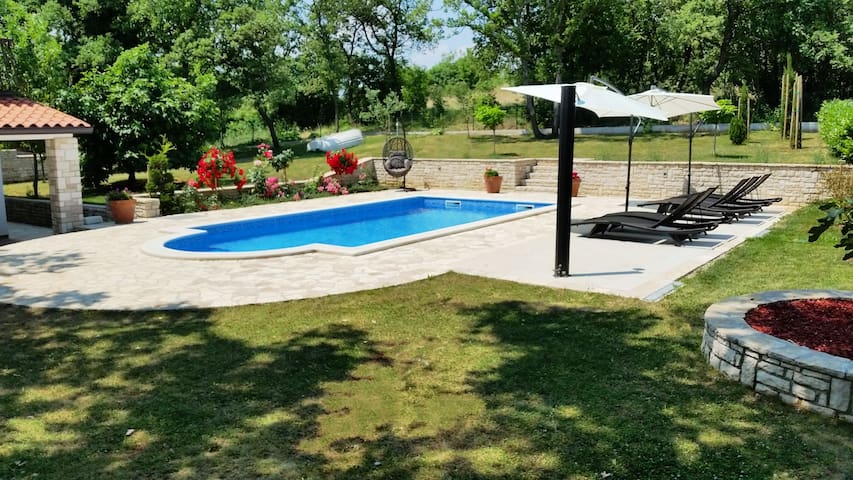 Vom Feriendomizil aus lassen sich alle Sehenswürdigkeiten Istriens mit einer maximalen Anfahrtszeit von 90 Minuten gemächlich und genussvoll erkunden. Ein nahe gelegener Naturpark (Ucka Nationalpark) bietet ideale Möglichkeiten zum Biken und Wandern. Das Ferienhaus bietet mit seinen etwa 80m2 Wohnfläche bequem für bis zu 5 Personen Platz. Kontaktieren Sie uns unter Mobiltelefon (auch (SENSITIVE CONTENTS HIDDEN)) (PHONE NUMBER HIDDEN), per Festnetzanschluss: (PHONE NUMBER HIDDEN) oder per e-mail: (EMAIL HIDDEN)
Zur Nutzung stehen als weitere Annehmlichkeiten zur Verfügung: • GästeWC mit Waschmaschine • Klimageräte in allen Räumen • WLAN • Garage • Swimmingpool (11 x 5,5 x 1,6m) beheizt und beleuchtet, mit 3 Massagendüsen; Wassertemperatur Juni bis August 29 – 30°C. Der Pool ist zu Ihrer alleinigen Nutzung. • Pavillon mit etwa 16m2 • Mehrere Sonnenterrassen mit Landhausmöbeln und Sonnenschirmen • Steingemauerte Grillplätze mit Gas- oder Holzkohlebetrieb. • ca. 3000m2 angelegter Park mit einladenden Plätzen zum Verweilen und Genießen Alle Zimmer und Terrassen haben Meeresblick.
Typ pokoje
Celý dům/byt
---
Typ nemovitosti
Dům
---
Ubytuje
5
---
Ložnice
Brseč, Okres Primorje-Gorski Kotar, Chorvatsko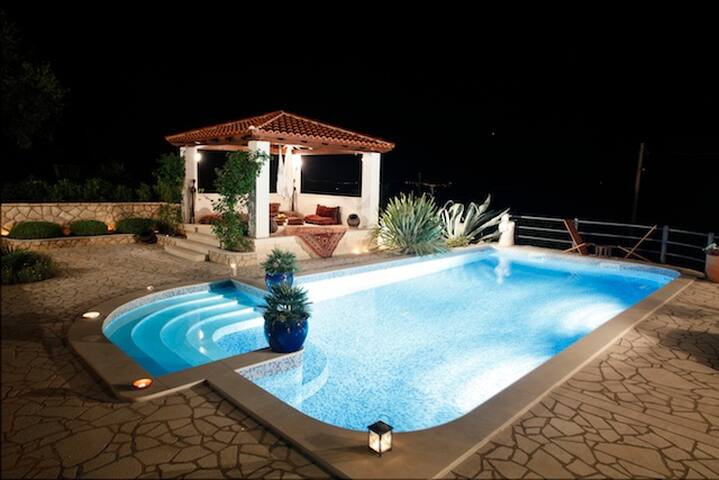 Malý, ale útulný byt, který je ideální pro letní dovolenou ... krásný, renovovaný v roce authetic stylu starožitných, casa Lavanda je usazena na svahu hory Učka, který nabízí jedinečný výhled na plat, a to zejména v noci, kdy romantický tisíce světel tančí mihotající na obzoru. Ty by se mi to za těchto důvodů: na krásnou zahradu, romantický atomosphere, na Quiete místa.
Casa Lavanda je autentický starý kamenný dům-1833- renovovat v autentickém antickém stylu s přírodním materiálem, kamene a dřeva. Náš pěkný dům se surronded stromy a květiny, je to velmi slunné a klidné, místo k relaxaci a užít přírodu
Neighboard je zcela a bezpečné, drobet mnoho lesů a nádherný výhled na stolci. Náš dům je dobrým výchozím bodem k objevování všeho, co Istrie a Kvarner nabídnout ...
We had a really nice time at Emilia and Milica place, we didnt even miss the internet, because of the nice nature and gardens in surrounding, where you can relax. The hosts were absolutely fantastic. Highly recommended!
Anja Gea
2016-07-18T00:00:00Z
What an amazing spot! The cottage is both cozy and charming, and has everything you need for a nice, relaxing stay. The gardens are amazing, and meticulously designed and maintained. Elisa and Milica are easy to communicate with, and extremely friendly and helpful. I would highly recommend staying here!
Daniel
2016-06-01T00:00:00Z
We had a really nice time at beautiful Filipasi Casa Lavanda. The appartment is very charming with many lovely little details surrounded by a wonderful garden. It is clean and you can find all you need for a comfortable stay. Elisa and her family are very kind and always there to help or give nice tips for the best places or she brings little native delicacies. We will surely come back to this beautiful relaxing place.
Oli
2016-08-28T00:00:00Z
Nos ha encantado la casa, el entorno es precioso, rodeado de naturaleza, la casa es muy acogedora y con todo lo necesario. Elisa nos ayudo en todo lo que le pedimos. Muy recomendable.
ELENA
2016-07-28T00:00:00Z
We had a wonderful stay at Cottage Filipasi and Elisa is a great hoast! We got a warm welcome and everyday a little "surprise" like freshly picked cherries or a little bottle of rakija. The cottage (an old stone house) is situated above the sea on a hill with a view of the sea until Rijeka. It is surrounded by beautiful gardens with hamocks and deckchairs, the perfect setting for breakfast or to chill out. Many little details in the house and the garden show with how much love they are looked after. As we did not want to go to the "touristy" beaches Elisa told us where to walk down from the street to get to little, more secluded beaches. It was so relaxing and quiet, like in paradise. Unfortunately we had only 3 nights!
Sonia
2016-05-30T00:00:00Z
Everything was great, Elisa and Milica were very welcoming and we enjoyed this place very much, how quite it was! We will be coming back again for sure!
Marina
2016-07-24T00:00:00Z
Ein kleines Paradies wie man es sich vorstellt. Sehr ruhig abseits vom Tourismus gelegen. Die Gastgeber sind herzlich und lesen einem jeden Wunsch von den Lippen ab. Wer die Ruhe liebt, fühlt sich von Anfang an zuhause(URL HIDDEN)
Jürgen
2016-06-12T00:00:00Z
Elisa und ihre Mutter waren sehr herzlich, fröhlich und stets um unser Wohlergehen besorgt. Sie wohnen praktischerweise nicht weit weg und sind schnell da, falls man sie mal braucht. Am tollsten ist der riesige Garten mit einem wunderschönen Blick über Hügel und Mittelmeer, mit Kräutern fürs Abendessen und Hängematten für das gute Buch oder den Mittagsschlaf. Die Unterkunft war sauber und gemütlich, im istrischen Stil wurde der Fels gleich mit eingebaut. Sehr zu empfehlen für alle mit Auto, Lust auf Ruhe, Herzlichkeit und Ursprünglichkeit.
Katrin
2015-07-29T00:00:00Z
Typ pokoje
Celý dům/byt
---
Typ nemovitosti
Dům
---
Ubytuje
2
---
Ložnice
Sveta Jelena, Primorsko-goranska županija, Chorvatsko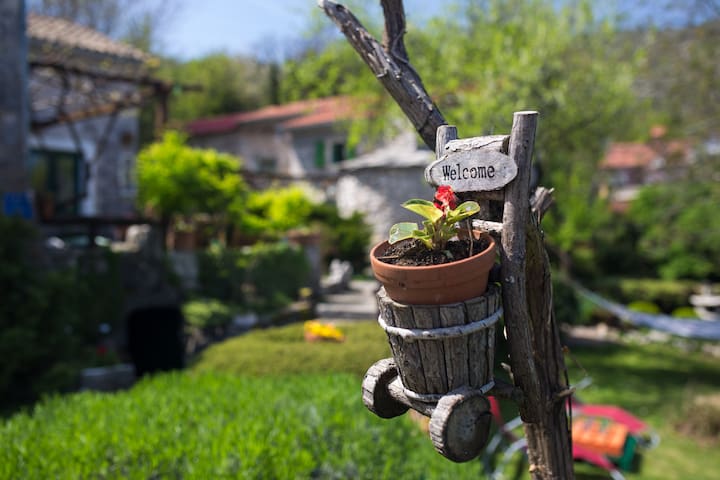 You will be able to enjoy in green meadows, swimming pool with the view all surrounded with Mediterranean stone walls. Interior is modern decorated, very spacious and well equipped for your comfort.
Have a morning coffee on the terrace with panoramic view, pet family owned horses on neighbouring meadow; make a grill for your family and much more enjoying in nature, silence and Mediterranean scent coming from the sea, forest and plants from house garden like lavender, rosemary… Enjoy!
The Istrian peninsula 'terra magica' lies on the Adriatic sea which is the closest warm sea to the heart of Europe. The medieval town of Labin is situated on the hill above beautiful Rabac. House Ivona is located in a small, romantic and quiet Istrian village Gondolici only few minutes drive from town Labin. Surrounded by preserved nature, the view on Mediterranean hills and forest and on beautiful Adriatic see and island Cres will leave you breathless.
Great location, stunning panorama, absolutely quiet, yet just a short drive to Labin! Even in October so beautiful. And thanks Sanja and Igor for being a great host, friendly, responsive to our needs. Great stay, absolutely recommendable!
Dirk
2016-10-29T00:00:00Z
Sanja and Igor are great hosts . They are very concerned about their guests and they are always available. The house is unique, clean and modern. We can not get enough from the panorama view and the surrounding beaches are just amazing. Thanks to Sanja and Igor - the wine was also fine ;)
Alex
2015-09-28T00:00:00Z
Das Haus liegt wunderschön, sehr ruhig und man hat eine traumhafte Aussicht. Die angrenzende Pferdekoppel mit zwei wirklich hübschen Pferden rundet das Idyll noch ab. Das Haus selbst ist sehr gräumig und gut angelegt und die Küche ist wirklich gut ausgestattet. Der Pool war uns ein Genuss zur frühabendlichen Entspannung. In der Gegend rund ums Haus kann man ausgiebig wandern, laufen oder mountainbiken....das Auf und Ab ist recht erlebnisreich. Das nahe Labin bietet abends nicht nur eine schöne Kulisse, sondern auch passabel gute Küche im historischen Stadtensemble. Ja und das Baden im Meer ist in Rabac gut möglich und nicht weit und wer eine ruhigere Ecke sucht (und die gibt's schon auch) der muss ein bissl (URL HIDDEN) besten am Küstenweg (von Duga Luka) entlang Richtung Rabac. Last but not least ist Sanja, die Gastgeberin ausgesprochen nett und zuvorkommend. Zusammenfassend ist's ein Haus, ideal für ruhesuchende, naturliebhabende und komfortaffine Menschen.
Nikolaus
2016-10-03T00:00:00Z
The house was really perfect and everything was even better than the pictures...amazing view...very good equipped (washing machine, dishes, BBQ, etc.)...Everything was very clean and we felt good and like at home from the first moment we arrived. Thanks a lot to Sanja, who is a very friendly host and we hope to come there the next years again :-)
A.
2016-06-19T00:00:00Z
This villa was perfect for us with stunning views, well kept, clean and tidy rooms and grounds. The barbeque area is perfect! The hosts were very responsive to our calls and messages.
Tara
2016-07-31T00:00:00Z
Sanja is a very good hostess. On the arrival she explained us nicely all the characteristics and alternatives of the house and had prepared for us also a nice welcome detail. She was always available for a couple of additional needs and resolved them very friendly and cordial. The house is amazing, it has a large living room connected with the also large open and modern kitchen, it has spectacular views to the forest and to the sea, it is quiet, clean and with everything you would expect for living, and on top Sanja offered to provide us with any additional gadget or complement in case we would need it. I would recommend this house with no doubts as we have spent very comfortable days in the house and also in Labin, we are looking forward for coming back soon. Thank you so much for everything Sanja.
Maria Aran
2017-01-03T00:00:00Z
Typ pokoje
Celý dům/byt
---
Typ nemovitosti
Dům
---
Ubytuje
8
---
Ložnice
Labin, Istria County, Chorvatsko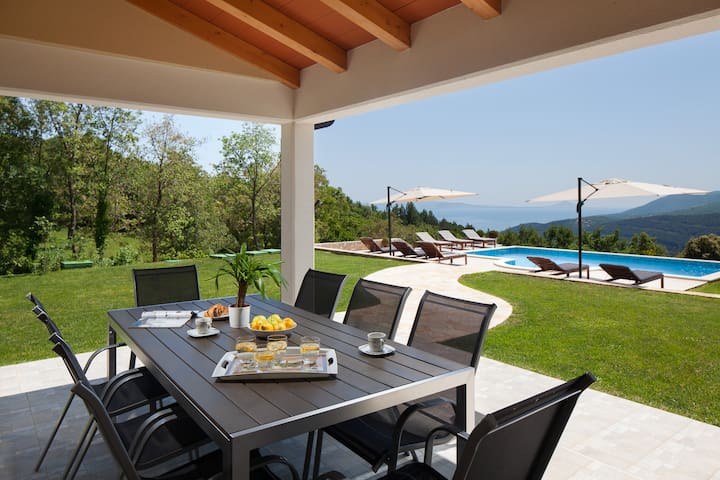 For staying less than 3 nights ( Per calculated price / one fold ) 30,00 % higher price. Final cleaning is included in the price.
This room is located in a family house in the center of Rabac. Once you enter the house, you take the steps - room is on the 2nd floor and the shared bathroom is on the 1st floor. The room is suitable for 3 persons. It has a double bed and a single bed, table and chairs. The bathroom has a shower, a bathtub, washbasin, wc. Terrace with garden furniture and great sea view is at your disposal. Post office, bank, grocery store, restaurants, bars are 50 m from the house. Nearest beach is 30 m from the house. Local bus stop 100m. Main bus station in Labin 5km. Airport and train station in Pula 45km. Ferry in Brestova 25km.
Typ pokoje
Soukromý pokoj
---
Typ nemovitosti
Dům
---
Ubytuje
3
---
Ložnice
Rabac, Istarska županija, Chorvatsko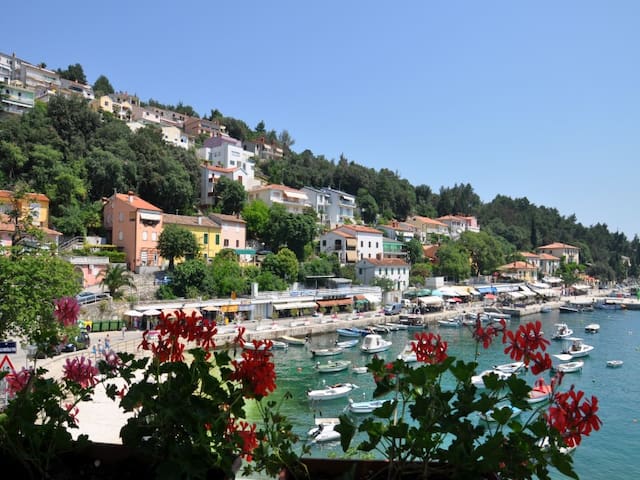 The house is pretty with harmonious and pleasant interiors.All bedrooms and a living room are air-conditioned, free Wi Fi .Space for children play and a barbeque.The proximity of the centre and its monuments is an advantage.5 km from the see ( Rabac)
Suzana is one of the most charming host I have ever met. She was lovely, friendly and extremely helpful and made our holiday really special. We loved the house and the pool. The house is well equipped. The city center is 10 min walk. We would love to come back and visit Suzana and stay again in her lovely house.
Nikoletta
2016-06-26T00:00:00Z
Typ pokoje
Celý dům/byt
---
Typ nemovitosti
Dům
---
Ubytuje
5
---
Ložnice
Labin, Istarska županija, Chorvatsko
Genießen Sie Ihren Traum-Urlaub direkt am Meer in Brsec. Das vollständig renovierte Haus bietet einiges, um Ihnen einen traumhaften Urlaub zu bereiten. Über die große Dachterrasse blicken Sie direkt aufs Meer und können den Sonnenuntergang genießen.
Typ pokoje
Celý dům/byt
---
Typ nemovitosti
Dům
---
Ubytuje
6
---
Ložnice
Brseč, Okres Primorje-Gorski Kotar, Chorvatsko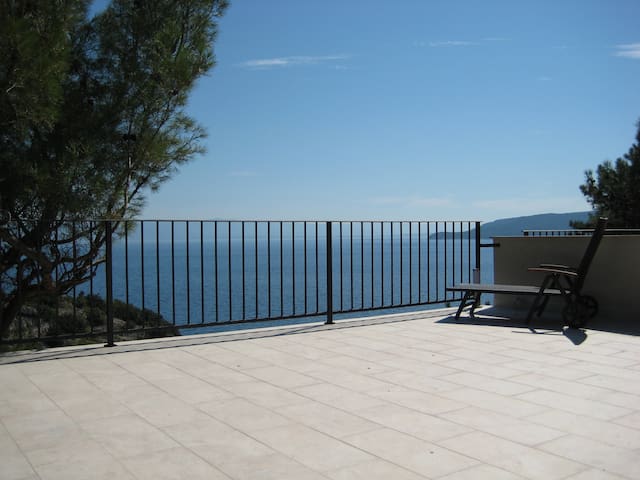 Welcome to our new apartment A large and freely parking area is available on the premises During the day, you can enjoy all the commodities of the old rustic scenery in town and village or having a fun and excitement on the sea. There are many nearby places of interest and historic monuments, including top notch restaurants where you can taste the local cuisine which offers a great variety in seafood and other traditional meal. Pets allowed (by prior arrangement, for fee)max.1
Entire home/apt · Labin, Istria County, Croatia Lovely: You're almost home, so dive in with gusto and see what happens! Two bedroom garden apartment and beautifull garden. Accomodates up to six persons(URL HIDDEN) The accomodation is surrounded by a relaxing and lovely green garden where you can spend a quality time The doors of the lounge and kitchen lead to outside deck where you can have your breakfast, afternoon tea, barbecue or just sit and enjoy with glass of wine. Check a fan page on (SENSITIVE CONTENTS HIDDEN) under name Holiday Apartment in Croatia Plenty free parking avalible on premisis, can accomodate up to 3 cars. Only one Pet: allowed, EUR 10,00/pet per day. Labin, Istria, Croatia. Restaurant 30 m, Shopping 300 m. Holiday apartment- 4 + 2. Pets allowed. , TV, air conditioning, barbecue, free Internet. Distance to Italy 80 km. Distance to Rijeka 60km Distance to Pula 45km Distance to Opatija 50km
Nice & clean apartment located at a walking distance from Labin old City, with its very charming style and atmosphere. Adriana was very friendly.
Jean-Marc
2014-08-17T00:00:00Z
Appartement spacieux et bien équipé, parfait pour une famille de 5 personnes dans un quartier calme. Très bon accueil d'Adriana qui parle très bien anglais
Erwan
2016-07-05T00:00:00Z
Adriana met us on arrival, was very friendly and helped us with local recommendations. The Apartment was exactly as described and the two bathrooms were most useful. Old Labin had a good ambiance in the evenings.
Stuart
2016-07-24T00:00:00Z
Tak for et fantastik ophold i Labin. Lejligheden som er underetagen af et stort hus var en perfekt ramme for en familie på fire. Der var også en fin have med spiseplads under et sort valnødtræ når der var brug for skygge. Stedet ligger mindre end 10 min fra en rolig strand on 15 min fra en turiststand med masser af muligheder for vandsport. Helle vores familie kan kun anbefale dette sted.
Ole & Tanja
2014-07-22T00:00:00Z
Nice apartment, few minutes walking distance to old Labin. There are great beaches 10-20 minutes' drive away at Duga Luka and Ravni. Adriana was very helpful.
Tamás
2015-08-23T00:00:00Z
Very nice house, 5 mins walk to Labin old town, Adriana is a very good host, she helped us a lot especially with our dog, we suggest this accommodation to everyone.
irene
2014-07-15T00:00:00Z
Adriana was a truly great host that made every effort during our stay, from beach recommendations to tips on going out. Loved the fact that we could eat outside under the walnut tree, sipping Istria's Malvazija wine. The accommodation is perfect for Labin as it's a stone's throw from this picturesque town plus there are great pebble beaches at Duga Luka only 10 mins drive away. Due Fratelli is a very good fish restaurant you can't go wrong with as is Velocity Cafe for Ice Cream on Labin's main square.
mihailo
2015-08-16T00:00:00Z
The accommodation was perfect for our family and located just walking distance of old center of Labin. Adriana is very helpful and our stay has been wonderful! Lovely garden and a spacious apartment.
Pascal
2014-08-09T00:00:00Z
Typ pokoje
Celý dům/byt
---
Typ nemovitosti
Dům
---
Ubytuje
6
---
Ložnice
Labin, Istria County, Chorvatsko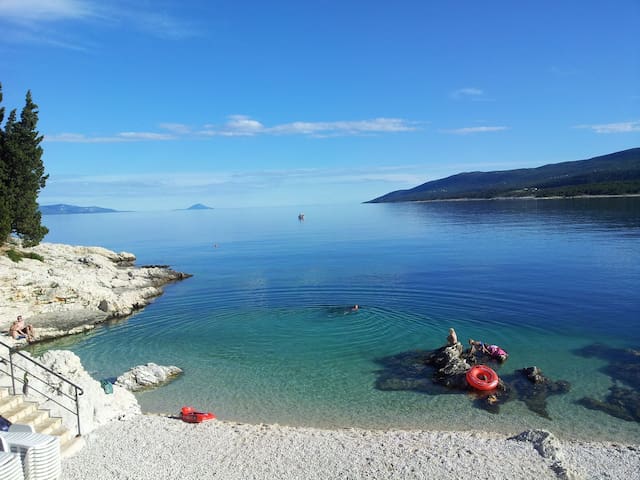 Relaxing house with stunning views of the sea. Fully equipped with two bedrooms, bathroom, kitchen, lush garden and terraces with amazing views of northern Adriatic. The house is in sparsely inhabited area which guarantees privacy and peace. The beach is 15 minutes away through the pine forest.
Typ pokoje
Celý dům/byt
---
Typ nemovitosti
Dům
---
Ubytuje
4
---
Ložnice
Labin, Istria County, Chorvatsko
Jedná se o dům na dovolenou v klidném místě, s velkou zahradou, WIFI, parkování, gril, pračkou, rozlehlou terasu, velká kuchyň. Je to dobré místo pro strávení dovolené pro rodiny s dětmi, přáteli a domácích zvířat. Pouze 1 km od pláže.
Rekreační dům Vendi má velkou přední terasu s venkovním jídelní stoly a židle. To má jednu velkou kuchyň a jídelna. Prostorný obývací pokoj a TV místnost. Dvě ložnice s manželským lůžkem paluby, a jedna přistýlka. Jsou zde dvě moderní koupelny.
Krásné okolí, nádherný výhled a klidné přírody. Naši hosté jsou vždy překvapeni, když dorazí, nemohou uvěřit, že krásná příroda je. Pokud hosté chtějí prozkoumat povahu, existuje mnoho starých cest, staré domy a kaple, a vodní zdroje, které jsou prostě tak krásné vidět. Nejkrásnější věc je, když se probudíte a budete vidět první paprsky slunce na obloze, a uslyšíte zpěv ptáků, nebo je to něco, co prostě musí expirience.
Typ pokoje
Celý dům/byt
---
Typ nemovitosti
Dům
---
Ubytuje
6
---
Ložnice
Plomin Luka, Istarska županija, Chorvatsko
Stone house is located in the small vilage Čepić. Only 8 minutes by sea, and 20 minutes by mountain Učka. 15 minutes from city Labin. 3 minutes from shop. We have 2 badrooms, 1 bathrooms,kitchen, terrace, and big garden.
Typ pokoje
Celý dům/byt
---
Typ nemovitosti
Dům
---
Ubytuje
6
---
Ložnice
Lanišće, Istarska županija, Chorvatsko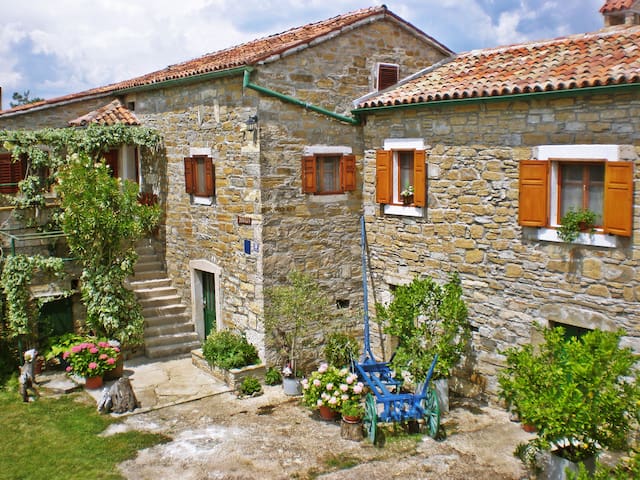 Mijn ruimte is op 15 minuten rijafstand van het strand van Rabac, 10 minuten rijafstand centrum Labin. Je zult genieten van mijn plek vanwege de rustige locatie, ruimte, zwembad. Mijn ruimte is geschikt voor stellen, gezinnen (met kinderen) en grote groepen.
Prive en eigen zwembad 8+4
De rust en uitzichtb
Typ pokoje
Celý dům/byt
---
Typ nemovitosti
Dům
---
Ubytuje
8
---
Ložnice
Nedescina, Istra, Chorvatsko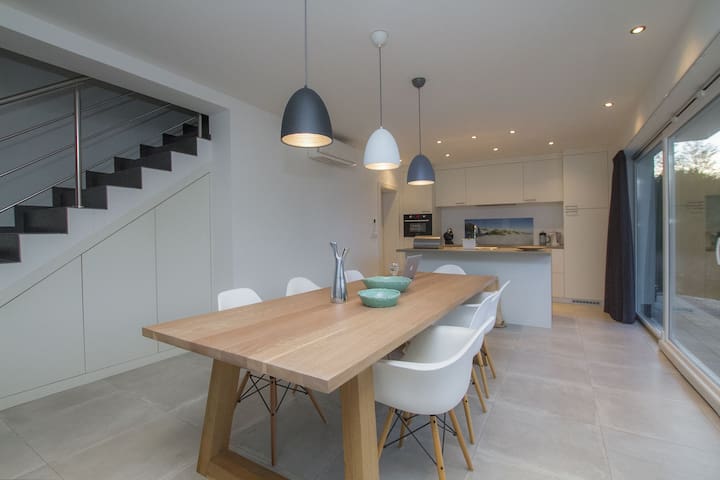 Small village at north end of island CRES , 6km from ferry port Porozina, surrounded by forest , 3km from beautifull beach. Sheeps , deers , goats , birds . Absolute quietness and few people living ( our family is the only which is year round here )Jim. 30 stone houses ,which are mostly for weekend use , dry stone walls , walking paths trough oak &chestnut forest.
Ancient stone&wood house , wooden stowe , big terrace . direct approach by car. Perfectly insulated, no AC need.
Island of CRES is like a protected national park , preserving wild life as it was hunderds years ago , white head griffon are well known rarity here . we have an eco center for them in next village , and it is biggest colony -75 couples , in whole Europe! Over 1500plant species on island to be admired and many of them are endemic .....
I'll start this one short: Do it! If you love istrian nature, perfectly cooked regional food and the good life don't look any further. You're right at Igor's place. Hi for a swim at one of the beautiful beaches around and have a good conversation while enjoying an on point dinner prepared with passion and experience by Igor. Have a look at his woodcraft art collection or in one of his cellars where he is storing his self made wine, cheese and salami. This place gave us some peace of mind. Pretty good chance that we'll come back to this beautiful spot. Thanks again to Igor. No stress on Cres.
Thomas
2016-08-27T00:00:00Z
Igor is a fantastic host, he runs an eco-farm and a sustainable tourism business. As we came by bike we asked Igor for dinner and breakfast. Both meals were a great experience on perfectly homemade foods in delicious preparation, eine, cheese ham, sausage, vegetables, honey, fruits.... The temptation was extremely high to extend our stay just because the food was so incredibly good. Only advice is to leave some space in your luggage so that you could buy something from Igor.
michael
2016-08-28T00:00:00Z
Abbiamo avuto una splendida accoglienza e ci siamo trovati benissimo, veramente al di sopria della più osea aspettativa. L'unico neo, che non dipendeva certo da Igor, è stato il fatto che siamo rimasti troppo poco...una sola notte non è certo sufficiente per apprezzare a pieno l'ospitalità e la bellezza del luogo.
Oliviero
2016-07-19T00:00:00Z
Nous avons passé une très bonne semaine à Filozici. la maison est petite mais agréable et la terrasse est super. Le village est très beau et très tranquille. L'île de Cres est vraiment agréable avec plein d'excursions possibles. Merci Igor!
Elsa
2016-08-24T00:00:00Z
Tumble upon this quaint little village and relax! We loved the natural surroundings, the calm and tranquility which reign above all else. Igor takes care of his guests, notably with the kindness of his warm welcome. Its also a culinary experience, a generous meal supplied with ingredients from his own harvest...a real treat!...
Fanny
2016-07-16T00:00:00Z
Quiet and naturel place to stay... Perfect spot to visit Cres Island. Lovely persons. The Thank you for your welcoming and the extraordinary good advice for the beach !
Lisa
2016-07-22T00:00:00Z
Very quiet place to stay and forget the everyday life surrounded by forests fulls of deers and sheeps. Beautiful and almost deserted beach is about 1 hour of pleasant walk or 10 minutes by car. Igor and his family is very friendly always ready to help if needed. We really loved that place.
Viera
2016-09-04T00:00:00Z
Wir haben in Igors liebevoll und künstlerisch eingerichtetem Haus ein paar gemütliche Tage in einer wunderschönen Umgebung verbracht. Das Abendessen bei ihm war ein wahrhaftiges Schmankerl! Auf einem alten Pfad gelangt man durch traumhaft schöne Wälder zu einer malerischen Bucht.
Christa
2016-09-06T00:00:00Z
Typ pokoje
Celý dům/byt
---
Typ nemovitosti
Dům
---
Ubytuje
6
---
Ložnice
Cres, Okres Primorje-Gorski Kotar, Chorvatsko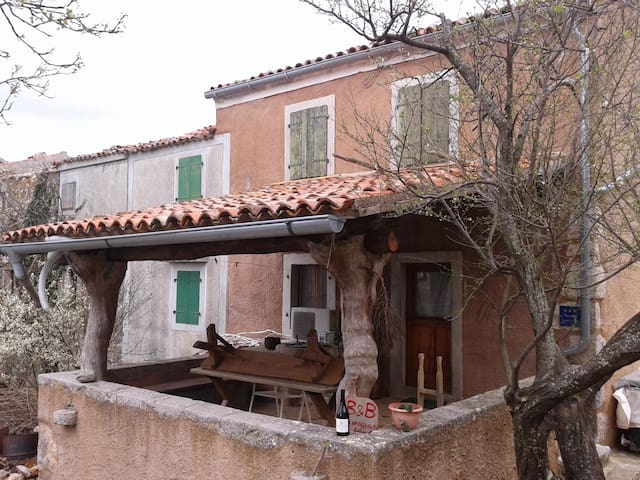 Our house is located on a small hill, cca 5 km from the beach, close to both the sea and the mountains. It's situated in a natural park, has tracking roads close by, as well as beaches and islands. You will definitely like our house if you like: nature, tranquility, good and authentic food, a stunning view, clean sea with pebble beaches, hiking, biking, or just relaxing near the pool. Our house is couple, family, children and pet friendly.
Welcome to our lovely house! Our house is a small summer house, surrounded by trees and flowers, with the woods behind her and a beautiful view of the Kvarner bay in front of her. It's very sunny and peaceful, a place to relax and enjoy nature. The house has two bedrooms, and there are also two couches that open in the living room, so you can come alone, bring just your dog, or you can take five of your friends too! There is a big terrace, which has also a view on the kids playground and on the pool. The pool is circular, 5 m in diameter, and 1,5 m deep. There is also a vegetable garden, all organic, which you are welcome to use, as well as all the herbs and fruit that grow on the property. There is a barbecue grill for you to use, as well as many chairs, loungers and a hammock. There are 2 parking spaces on the property. The property is surrounded by a fence, so you can let your dog run free.
The house is situated in a peaceful and safe small village. The village is on a hill, in the natural park Učka, overlooking the Kvarner bay and the islands.
Typ pokoje
Celý dům/byt
---
Typ nemovitosti
Dům
---
Ubytuje
6
---
Ložnice
Mošćenička Draga, Primorsko-goranska županija, Chorvatsko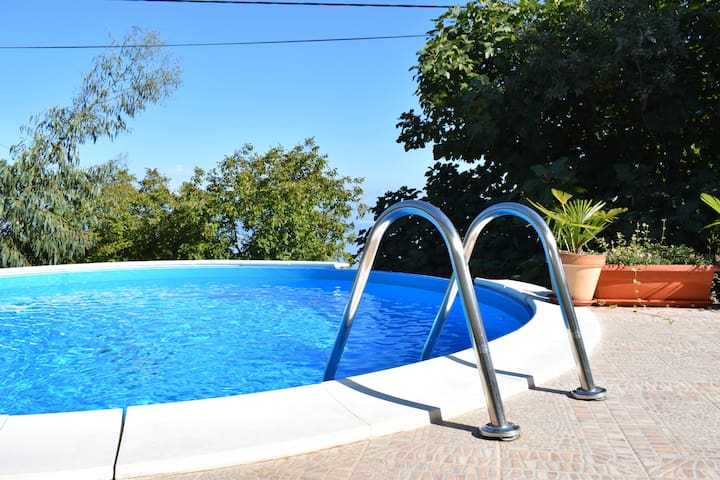 1

–

18

z

132 Pronájmy domácností
Pro zobrazení celkové ceny zadej termín. Mohou být přidány další poplatky a daně.