Dejligt hjem for 2. Nyd oliventræer og skov udsigt, ud af romantiske arch vinduer. Smag et brusebad med sol panel varmt vand. Spil med fuld køkken. Har din middag på terrassen foran din dør. Sleep dybt i fred i vores dal.
På Tuscany bakker, blandt de gamle oliventræer og skov af en grøn tavs dal med udsigt over byen Pistoia, kan du nyde en meget god logi i et gammelt bonde hus dateret 1700 '. Huset er blevet renoveret tage sig for at bevare gamle udvendige vægge med sten og mursten, og at forny inde for den moderne komfort du behøver for at nyde en afslappende ferie. Du vil sove i ganske atmosfære af en lille gammel landmand landsby og fra dine vinduer har du udsigt over oliven marker, af "tusind år" kirke og klokker tårn, af skove klatring til toppen af omgivende bakker; og Pistoia byen mere langt væk i bunden af dalen. Din lejlighed har et fritliggende indgang og foreslår også inde i forførelse af traditionelle Toscana materialer: valnøddetræ, ovn mursten, hvid keramik, natursten, antikke møbler. Denne lejlighed er lidt Penthouse, med store vinduer, en masse lys, flot udsigt, romantisk atmosfære, perfekt til et par. På haven niveau, du vil indtaste en stue med et køkken side, godt rustet til at tilberede dine livretter. En kort trappe når badeværelse, meget komfortabel med en bred bruser. Varmt vand er produceret med solpanel, hjalp med moderne kondens gas varmer, når det er nødvendigt. Kun få flere skridt adgang til soveværelset: komfortabel dobbeltseng i midten af træ og sten værelse, med to vinduer ser ud til oliventræer marker og skoven på den modsatte side af vores dal. Plader og håndklæde og bord dressing vil blive leveret til dig. Almindelig slutrengøring er inkluderet i priserne. Rabatter ansøgt om ugentlige ophold. På Podere Uliveto kan du slappe af på terrassen eller gå i oliven felter og i skovene, eller nå den lokale land reastaurant på toppen af dalen. Ladies kan beslutte at lære grundlæggende af toscanske broderi af vores nabo, som er en ordentlig lærer ... Eller du kan besøge den dejlige historiske centrum af Pistoia by, 15min væk fra din dør i bil. Firenze by er en time væk, hvis du bruger den nærmeste togstation og glemme alt om biltrafik. På mindre end en time kan du nå de 2000m høje bjerge i Abetone, eller havet af Viareggio, eller andre interessante byer som Pescia, Lucca, Pisa ... Vores beliggenhed giver dig mulighed for at vælge mange andre berømte historiske byer som Siena, San Gimignano , Volterra, Arezzo, at du vil være i stand til at besøge i daglige udflugter med din bil. Hvis du ikke kan lide at køre bil, kan du ankommer til Uliveto med offentlig bus fra Pistoia. Skriv dit behov i private beskeder før booking, og vi vil svare shortely!
Vi er i centrum af Toscana intersting område. Pistoia er ikke en "fuld af turist" by, men det har en stor historie, og smukke gamle firkantede, kirker og bygninger. Firenzes centrum er 1 time fra vores dør, hvis du bruger toget. Pisa og Lucca og andre historiske byer kan besøges på én dag. Mange havet strande er 1 times kørsel væk. Monteres og skove i Abetone er også 1 times kørsel væk ...
Very nice place up in the montains with stunning views
Barnabas
2017-03-16T00:00:00Z
What a memorable spot! The view, the cozy apartment and a wonderful welcome from Giorgio and his mom made this our favourite place! The apartment was newly renovated. We liked the cozy decor and spacious shower. Each morning we woke up to amazing views and birds chirping outside. Since we were up in the mountains, at night we enjoyed the view of Pistoia city lights which was just 15 minutes away, and the surrounding mountains. We also loved the fireflies!!! Each night felt magical! Thank you Giorgio for a very warm welcome and all the tips and suggestions for nearby attractions and restaurants! The focaccia from a bakery in Pistoia was simply delicious! We went there each morning before embarking on our sightseeing adventures.
Monika & Marcin
2014-06-03T00:00:00Z
We hebben een heel plezierig verblijf gehad in een goed onderkomen op een erg mooie locatie. De ruimte is relatief klein maar uitstekend om als uitvalsbasis te gebruiken om Toscane te bezoeken. Het was netjes, schoon, compleet en erg gezellig. Giorgio is gastvrij en behulpzaam.
Erwin
2016-08-21T00:00:00Z
Giorgio and Cristinas 'Uliveto' was unbelievably better than the photos (which are pretty good). The 1300's home is completely renovated and the quality of the work is impeccable. The space is a little tight but very efficiently designed and very tastefully decorated. The view is breathtaking. The home is situated high above Pistoia overlooking Giorgio's olive and fruit tree orchard. The bed super comfy, great shower, well tooled kitchen. Giorgio is a gracious host, offering a wealth of knowledge about the area and his families history in Uliveto, along with maps, books and brochures on just about anything your passion drives you to do in Tuscany. We greatly enjoyed his company. Next time we hope to meet Cristina too! The space we were in has a staircase, however they also have a handicap access rental available
Larry
2015-10-31T00:00:00Z
Our stay at Uliveto is what we will remember most about our first trip to Italy. More than the cities and historic sights, we will fondly remember the peaceful tranquility, the views of the hillsides and Pistoia below, and our little chats with Giorgio. Giorgio was a perfect host - generous and hospitable. He was welcoming and friendly from the moment we booked, to the moment we said farewell. Several times during our stay we were greeted with a basket of plums and pears; and a basket of lettuce, tomatoes, cucumbers, onions and zucchine - that he had just picked. There is nothing like a salad made entirely from freshly picked vegetables, topped with Giorgio's own olive oil. Unbelievable! We enjoyed and appreciated it all, and we would love to return on our next trip to Italy. The apartment and the surroundings are more beautiful in person than the pictures could even try to depict. We were very lucky to have had the opportunity to stay there. Thank you again, Giorgio and Cristina! A presto!
Jeff
2016-08-02T00:00:00Z
Wir hatten eine rundum perfekte Zeit im Uliveto! Das Apartment-Häuschen war sauber, sehr gemütlich und mit allem ausgestattet, was man braucht. Das Highlight dieser Unterkunft war für uns aber eindeutig der wunderschöne grüne Außenbereich, besonders die Terrasse mit Blick auf die umliegenden Berge, die Olivenhaine und die glitzernden Lichter von Pistoia unten im Tal. Von Giorgio wurden wir sehr herzlich empfangen und mit unzähligen Ausflugstipps sowie frischem Obst und Gemüse aus dem eigenen Garten versorgt. Wir kommen gerne wieder!Grazie e alla prossima!
Anne
2016-09-07T00:00:00Z
Giorgio & Christina and their place Uliveto is a remarkable experience for us. We stayed here a month, and during our stay Giorgio and Christina have treated us more than as hosts to guests, but like friends and family. Their hospitality was really more than a person could expect. Many goods were given to us with such a great smile, and we shared some very interesting conversations. They always offered a ride with them to town (we came with no car and it's super easy), and also kindly came to take us from train station! The bus is comfortable, and if you'd like to stay here without a car, but still travel to Pistoia and other places- you have no problem at all! We can't tell enough about Giorgio and Christina's generousity and kindness. They just want to give and give! Everything you need is here, you are taken care of and of course have two very good friends to talk to. The apartment itself is just perfect. Tidy, clean, beautiful, newly renovated and still remains it's unique old charm, and has everything you need. The view from the porch is unbelievable, and also the surroundings, which Giorgio would love to tell you about, are so lovely. Uliveto is a little piece of heaven... We enjoyed so much picking olives together and tasting the amazing olive oil! We can't thank you enough for a perfect stay! Your place is a dream coming true and we would never forget it!
Sivan
2015-11-06T00:00:00Z
We have had a great time at Giorgio & Cristina's. The place is beautiful and Giorgio provided us with good advice and material for hikes, restaurants and other activities. Additionally they surprised us with fantastic home-made jam, cookies and wine (and some stronger stuff for the last evening ;)). And when we ran out of coffee or forgot to buy cinnamon they were always willing to help out. The place is very quiet and beautiful. Also the city of Pistoia is well worth the visit. We did get a bit frustrated with the mosquito's though.. All and all a wonderful first AirBnB experience! Much thanks to Giorgio and Cristina.
Niek
2016-08-29T00:00:00Z
Typ pokoje
Celý dům/byt
---
Typ nemovitosti
Byt
---
Ubytuje
2
---
Ložnice
Pistoia, Toskánsko, Itálie
One hour from Pisa and Florence. Self-catering apartment attached to 18th century stone farmhouse in Tuscan landscape of olive groves and vinyards. Spectacular views of valley and medieval village. Our own extra virgin organic olive oil available.
Ideal for visitors wanting peace and tranquility in the Tuscan countryside, and easy access to the great cultural centres of Florence, Pisa, Lucca, Chianti, Siena, San Gimignano and Volterra. A large, light and airy studio apartment with king-size double bed (or two singles if requested), wardrobe, chest of drawers, sofa, table and chairs, satellite TV, DVD, and large en-suite bathroom with shower, WC, basin and bidet. Alcove kitchenette equipped with hot plates, microwave, fridge, crockery and cutlery and pots and pans. Free wifi internet access. Independent entrance opens onto large sunny terrace with great views. Private parking.
We have the best of both worlds -- we're in typical Tuscan countryside, but just an hour from Florence and Pisa, and even less to Lucca and Pistoia. Around us are lovely hill-top villages and great traditional restaurants.
We had a wonderful time in this beautiful and high standard and very clean appartment in the Tuscan hills. Our hosts were very friendly and helpful. Definetly a recommendation.
Christoph
2017-03-21T00:00:00Z
Great view, quiet location, nice restaurant suggestions.. we really enjoyed our time. Nice and really easy to talk to landlords.
Christoph
2016-06-10T00:00:00Z
Hemos disfrutado mucho de nuestra estancia. La casa está impecable y muy bien equipada. Es un buen punto para hacer excursiones a Florencia, Lucca, Pisa. La atención de Marinella y Fabio fue magnífica sin olvidarnos de nona Maria, Leo y Robbie. Una auténtica gozada!
Marta
2015-08-09T00:00:00Z
We stayed 4 nights at Marinella's place. We really enjoyed the tranquility and the beautiful souroundings throughout our stay. The view from the garden is just astonishing. Within walking distance we could explore some unique medieval toscan villages and took part in a local pizza event, which we liked very much. With a short ride we also reached out to Lucca, which is definitely worth a visit. Marinella and her family have been perfect and great hosts. She welcomed us with a hot coffee and surprised us with some delicious home made Tiramisu. We would love to go back any time.
Rainer
2015-09-22T00:00:00Z
Marinella and Fabio were wonderful hosts! Before we even arrived Marinelle provided us with extensive driving instructions on how to locate the apartment and navigate throughout the countryside. Being that it was our first time in Italy and driving from Rome to Tuscany, this made for an easy and carefree journey. After driving all day we arrived quite a bit later than expected. Marinella and Fabio being such gracious hosts, were quick to help us find a place for dinner and made our reservations. Throughout our stay, both Marinella and Fabio were extremely helpful and attentive. The apartment was very clean and the view from the garden was breathtaking. The pictures do not do it justice, as it is very difficult to capture the beauty on camera. We had a wonderful visit and would highly recommend this apartment! We hope to be back soon in the near future! Thank you Marinella and Fabio!
Jacqueline
2016-09-27T00:00:00Z
the apartment is located in a beautiful area in tuscany. pisa, florence, lucca are not too far away for a daytrip. marinella and her husband were very welcoming. they offered us a glass of wine when we arrived and even shared very deliciouse cake with us. they gave recommendations where to eat and what to do in the area. the apartment is like described and very clean. all in all we had a very nice time, even we had bad luck with the weather. i can fully recommend this place and the hosts!
Alexander
2015-05-19T00:00:00Z
Marinella was the perfect hostess, even before we met she had given us help and advice as well as directions from the airport etc. On arrival she was there to greet us and after showing us to the apartment offered us refreshments and brought bread oils and olives and a lovely home made cake! The location is just so perfect, secluded with wonderful views surrounded by lovely little villages, and a country lane leading down to Massa where we found a warm friendly welcome at the cafe for a relaxing breakfast or lunch. Throughout the week Marinella gave us more home made cakes, home made jams and lots of tips on places to visit, shopping, restaurants, train information and finally directions back to the airport all of which made the travelling very much easier and left us more time to enjoy Tuscany, and what a fabulous beautiful place it is. Thank you Marinella and Fabio for sharing your beautiful home with us, we hope we will come back again and we will definitely eecommend you to our family and friends. Thank you x
Janet
2015-08-30T00:00:00Z
An absolutely beautiful place to enjoy northern Tuscsny. Miranella was a wonderful host and prepared a platter with wine olives and bread. Magical scenery from your apartment. The apartment was very clean and spacious. You need a car to access this BnB but it's worth it. Take care on the road but when you get there WOW
Susan
2016-04-30T00:00:00Z
Typ pokoje
Celý dům/byt
---
Typ nemovitosti
Byt
---
Ubytuje
2
---
Ložnice
Massa e Cozzile, Toskánsko, Itálie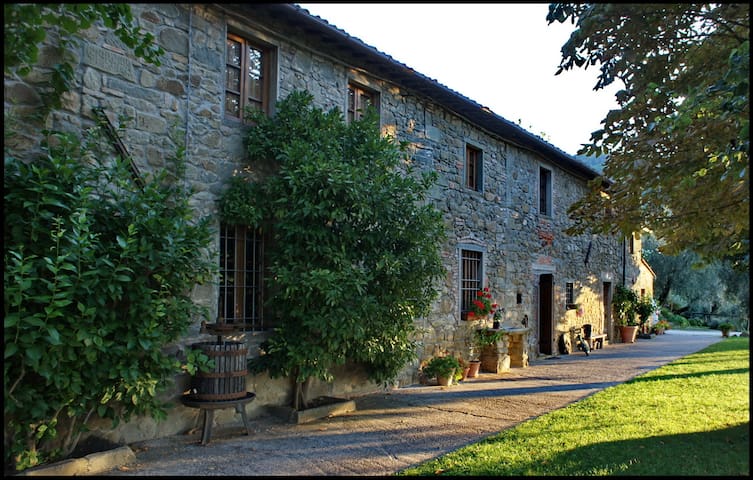 Originally a farmstead, the four apartments have been stylishly created retaining many original features. The 16 metre pool offers an amazing view all over the valley. La Stalla's rooms were originally the farmhouse stables, mostly used for cattle.
(60 m2: Sleeps 4) Dining/sitting room with kitchen, open stone fireplace and armchairs (30 m2) + 1 double bedroom (12 m2) + 1 twin bedroom (9m2) + a bathroom with shower, toilet, bidet, basin, hair dryer. Stone walls, kitchen with oven, four hob stove, refrigerator, freezer, historic stone basin, kettle, toaster. Adjustable heating. Private entrance. Private fenced garden with outdoor furniture (approx. 30 m2). These rooms were originally the farmhouse stables, mostly used for cattle. The 16 metre pool, has sun all day and a view all over the valley. Open from May to September, it is 100 metres away from the accommodation in order to ensure the peace and quiet around the apartments themselves.
San Marcello-in-Pistoiese is just one of many delightful hill-top villages that are worth visiting in the region – and it's only a short walk from your apartment. The nearest town is Pistoia, a small but interesting place that really is worth a visit. Also worthy of note, and equally captivating, are Gavinana and its small museum, Cutigliano, and Popiglio, famed for the Castruccio bridge. There are plenty of options for pleasant strolls in the surrounding woodland and Tuscan countryside. However, for something a little more challenging, there are some wonderful walks in the mountains.
We are a family of four with two teenage girls. We had a lovely time at la stalla apartment. The pool is a great feature of the apartment woodland to the rear, fantastic views in front. Very peaceful. The apartment is a good base for walking, or travelling further by car, to tuscanys other attractions. Sandra the host is a very helpful guy. Thanks for a great week.
Gary
2015-08-23T00:00:00Z
Great house, really quiet. We would definitely recommend this stay.
Tilman
2016-09-04T00:00:00Z
Lovely place, extremely quite, green and full of amazing views of the highlands. Incredible location if you want charge your batteries. Swimming pool with cooling water after the hot day of sightseeing. Sandro was a very welcome and helpful host. Highly recommended to stay there while in Tuscany.
Aneta
2016-10-01T00:00:00Z
We had a wonderful vacation at Il Gufo. Il Gufo is situated in a beautiful area with a splendid view of the mountains. If you want to relax in the nature in peace and quiet it is the perfect place!
Bo
2016-07-09T00:00:00Z
This an incredibly beautiful spot. The apartment is rustic and simple. It was lovely and cool despite the heat. The pool was also lovely with stunning views along the valley. On my last evening l sat in the pool watching the swifts taking and evening drink,a magical moment. Sandra is a great host. He is thoughtful and incredibly hard working. I would love to go back.
Karen
2015-08-09T00:00:00Z
Przepiękna okolica. Domek znajduje się na zboczu góry. Spacerek do San Marcello Pistoia dość angażujący, ale warty zachodu:) Widok na zalesione zbocza gór niesamowity. Bardzo ładny basen. Mega zimna woda, ale czego można oczekiwać w górach we wrześniu :). Sam apartament był idealny. Czysty i dobrze wyposażony. Dla amatorów wypraw w góry idealne miejsce. W okolicy jest wiele szlaków górskich. Przepiękne górskie miasteczka. Nieopodal znajduje się obserwatorium warte odwiedzenia. Sandro jako gospodarz spełnił się w 100%. Niczego nam nie zabrakło, a jeśli czegoś było potrzeba, załatwiał bez mrugnięcia. Miejsce godne polecenia, z zaznaczeniem, iż prawdziwa Toskania jest trochę niżej :) W okolicy pojawia się piękny czarny kot, lubiący być dokarmiany :)
Marta
2016-09-18T00:00:00Z
prachtige locatie, mooi zicht. het huis is volledig ingericht met karakter. zwembad heeft een schitterend uitzicht. goede locatie om de regio te verkennen of wandelingen te doen. toegangsweg wel rustig oprijden.
Peter & Mariella
2015-09-27T00:00:00Z
Il Gufo es un super endroit avec une vue magnifique perdu dans les montagnes Toscane avec des activités et des belles balades dans les alentours
harald
2016-09-09T00:00:00Z
Typ pokoje
Celý dům/byt
---
Typ nemovitosti
Byt
---
Ubytuje
4
---
Ložnice
San Marcello Pistoiese, Toskánsko, Itálie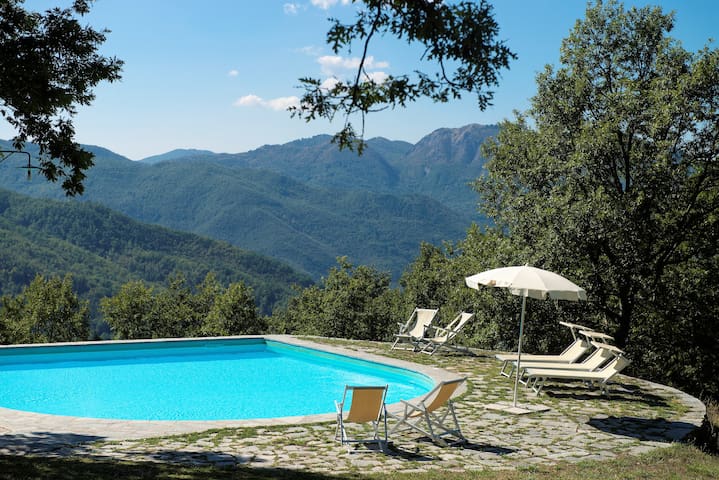 My accommodation is suitable for couples and families (with (URL HIDDEN) 'a typical Tuscan farmhouse situated on a hill with panoramic view reached by some asphalt road partially sterrata.Posizionata equidistant from the Tuscan cultural capitals like Florence area, Lucca Pisa.
farmhouse built of stone, with terracotta floors and exposed beams, arranged on two floors, furnished in Tuscan style with antiques and at the same time able to offer a 'atmosphere of total relaxation .I two large fireplaces where you can relax the crackling of the flame .The windows of the rooms are all equipped with mosquito nets to enjoy the fresh country air without insects fastidiosi.Ampi indoor and outdoor spaces that allow you to carve out areas of privacy while sharing the house with all family members. private use of the swimming pool only for guests of the house accessible from mid 'May to' settembre.Tavolo meta ping pong. outdoor barbeque for your dining .The house has a beautiful grove of proprietà.E 'present a delightful panoramic porch where to enjoy the shade in the summer, gardens where children can play in full sun and lack tranquillità.Non loungers to make the most of the pleasures of the rural environment.
The house is free on three sides and bordered in privacy (URL HIDDEN) to a dwelling house is surrounded by nature in the countryside and you can reach local attractions and entertainment through the car.
Typ pokoje
Celý dům/byt
---
Typ nemovitosti
Dům
---
Ubytuje
7
---
Ložnice
Monsummano Terme, Toscana, Itálie
Dovolená na statku Poggio alla Cavalla v srdci Toskánska Rekreační dům na venkově, bazén, Wi-Fi, vzduch cond, zahrada, soukromé parkoviště. Byt s kuchyňským koutem, obývací pokoj s rozkládací pohovkou, ložnice 2p manželskou postelí a samostatným lůžkem, koupelna se sprchou
O prázdninách Farma je obklopen zahradou, kde se nachází plavecký bazén s velkou panoramatickou terasou a vlastní parkoviště. Byty (MQ. 38/42 Přibližně) jsou situovány v přízemí, mají stejný povrch, má stejné vlastnosti a stejnou cenu. Jsou vybaveny samostatným vchodem, topení, klimatizace, TV, DVD přehrávač, Wi-Fi připojení na internet. Uvnitř apartmány jsou: - Kuchyňský kout (sporák s 4 plynové plotýnky, elektrická trouba, myčka, dřez, lednice s mrazákem), s kompletní nádobí a veškeré nádobí, sada nádobí a skleničky stanovených pro 6 osob, stůl se židlemi, stůl se židlemi (ubrus a kuchyňské prádlo) - Komfortní denní část s rozkládací pohovkou. (V ceně ložní prádlo) - Velký, jasný doublebedroom (ložní prádlo v ceně) a možnost přistýlky. - Pohodlné a praktické koupelna (vana prádlo v ceně) se sprchovým boxem, umyvadlem, WC, bidet. Turistická farma je vybaven pračkou, prádelny, šňůře, žehlicí prkno a žehlička. Každý byt má také vlastní zahradu s stolem, židlemi slunečníkem a grilem pro venkovní obědy a večeře. Bazén s můstkem má sprchový kout, lehátka, lehátka, slunečníky, altánem. Kousek od bytů (km 1 / km2), jsou supermarkety a prodejny potravin, pekárny, banky, pošta, lékárna, lékařské praxe, zelený kříž veřejná podpora, restaurace, pizzerie, atd
že příroda obklopující chovat svátek, což je zvláště zelené a vozového díky svým mírných kopců, se používá především pro pěstování vinné révy a olivovníků a vyznačuje nízkými kopci, s výjimkou Montalbano. Konformace této oblasti a vitalitu krajiny mají v průběhu času vedl k vytvoření mnoha malých center s vysokým obsahem: řemeslné obchody, malé podniky, typických restaurací, malých trzích. Kousek od bytů (km 1 / km2), jsou supermarkety a prodejny potravin, pekárny, banky, pošta, lékárna, lékařské praxe, veřejná podpora, restaurace, pizzerie, atd
Es war besser als erwartet und auf den Fotos zu sehen. Gastgeber sind sehr freundlich und zuvorkommend.
Waldemar
2016-08-28T00:00:00Z
Die Ankunft in der Unterkunft war sehr freundlich und herzlich, haben auch ein Willkommensgeschenk in Form von Haus eigenem Wein und Olivenöl bekommen (beides vorzüglich) ;) Die Unterkunft selbst war sehr sauber und wie beschrieben. Leider waren wir im März dort, wo das Schwimmbecken nicht eingelassen ist, im Sommer ist es sicher noch 100mal schöner ;) Uns fehlte es an nichts, hatten auch ein Gitterbett für unsere kleine Tochter und konnten uns gut mit unseren Gastgebern in Italienisch und ein wenig Englisch und Deutsch unterhalten. Die Erreichbarkeit aller sehenswerten Städte ist alles ca. im Umkreis von einer Stunde, was selbst mit einem Kleinkind kein Problem war. Wir würden sofort wieder dorthin fahren und die schöne Toskana weiter erkunden!
Karin
2016-04-01T00:00:00Z
Een mooie en rustige omgeving en centraal om naar zowel Lucca (ca 30 min.) als naar Florence (ca 30 min), Sienna (ca 70 min) te gaan. De kamers zijn prima onderhouden en schoon, eveneens het zwembad en terrassen zijn goed onderhouden en clean. De eigenaren zijn zeer toegankelijk en bij vragen staan ze altijd klaar. Mooi uitzicht op wijngaarde, lekker zwembad. Vertrek had iets ruimer gemogen, maar ivm veel buitenleven heb je hier geen last van. Prijs, kwaliteit is prima.
Saskia
2016-08-21T00:00:00Z
Typ pokoje
Celý dům/byt
---
Typ nemovitosti
Byt
---
Ubytuje
5
---
Ložnice
Lamporecchio, Pistoia, Itálie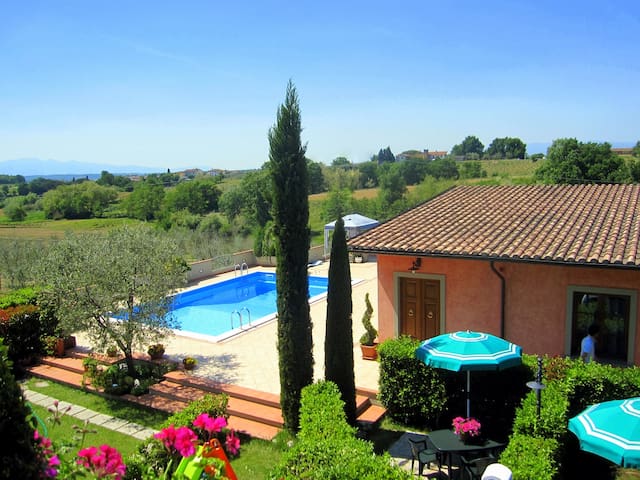 Pets friendly
Ours is a house on several floors, with a kitchen, a bathroom, the bedroom and a bedroom, furnished in a characteristic way, with wooden beams, heating and air conditioning
Typ pokoje
Celý dům/byt
---
Typ nemovitosti
Dům
---
Ubytuje
4
---
Ložnice
San Rocco, Toscana, Itálie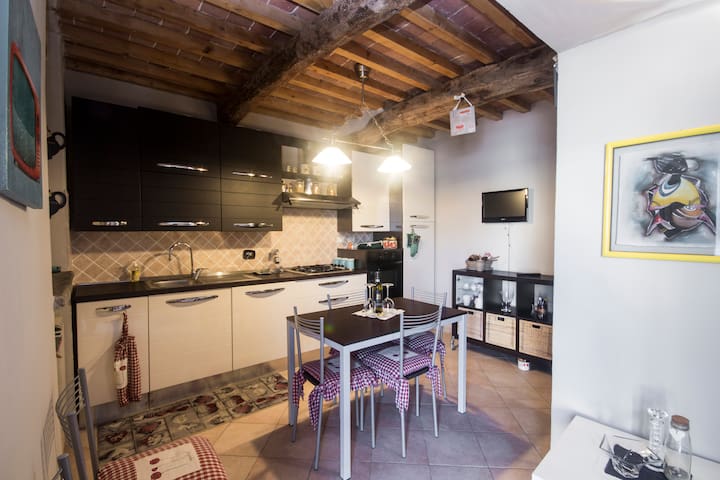 Casa del 500 con travi a vista completamente ristrutturata molto spaziosa disposta su 3 livelli con una grande mansarda .é situata in un borgo medievale arroccato sulla cima di un colle che si affaccia su Montecatini a 5 minuti di macchina dal centro
l'alloggio è fantastico per la sua posizione a soli cinque minuti dal centro di montecatini, rimanendo immerso nel verde delle colline toscane e della loro storia . la casa è molto spaziosa e fresca anche d'estate i locali sono tutti molto ampi. lo stile è classico , con pavimenti in cotto, travi di legno e muratura a vista.
il quartiere attorno è un borghetto arroccato sulla cima di una collina, tutto in pietra con una piccola piazzetta e una chiesa appartenente ancora all'ordine dei Cavalieri di Malta. E' immerso nel verde e molto curato, sembra di fare un salto indietro nel tempo nelle abitudini della vecchia toscana. Si respira calma e tranquillità, anche se in 5 minuti di macchina si puo' essere comodamente nel centro della vita di Montecatini e delle sue Terme , famose in tutto il mondo
Lovely place, fresh and calm, in a beautiful village next to a nice plazzia with delicious trattoria. Claudio was very helpful, the house was large and clean, many places in the village for the children to play and meet other kids. Ideal for resting and discovering Toscana.
Sophie
2016-08-15T00:00:00Z
Staying in this residence and town was a unique experience for us. Claudio went out of his way to make us feel welcome, and responded very quickly to any enquiries we had.
Jason
2016-12-16T00:00:00Z
Posto incantevole , casa ben strutturata, propietario molto attento alle nostre esigenze ... Ne vale la pena se decidete di passare attimi di tranquillità lontano da tutti e tutto. Spero di ritornare presto!!! La casa offre tutto ciò di cui si necessita Noi siamo stati lì x capodanno in sei persone e siamo stati divinamente L unica pecca è L odore forte di umidità (chiuso) data forse dal non troppo utilizzo... Ma la bellezza del resto, ti fa passare questa cosa in secondo piano...un saluto a Claudio e a presto sentirci e vederci
Marco
2016-01-05T00:00:00Z
Claudio's house is adorable and nice to live in. The three floors are newly renovated, clean and friendly. The house is located in a very small and this time of year very quite village in the hillside. Firenze, Lucca and Montecatini Terme are all within easy reach. We did not meet Claudio in person, but he took care that we were well serviced and let us arrive well after midnight - thank you for that, even though place is hard to access in the dark when you don't know the way. House is easy to heat, plenty of warm water available, and has a small but well equipped kitchen. Easily sleeps six. If you'd like to see your teenagers off-line - definitely go here. If you rely on phone signal and wifi - don't. In October the local restaurants and bars are only open at night and wifi-contact is thus scarce. All in all a lovely trip to Tuscany.
Lisbet
2016-10-21T00:00:00Z
Typ pokoje
Celý dům/byt
---
Typ nemovitosti
Dům
---
Ubytuje
8
---
Ložnice
Montecatini Terme, Pistoia, Itálie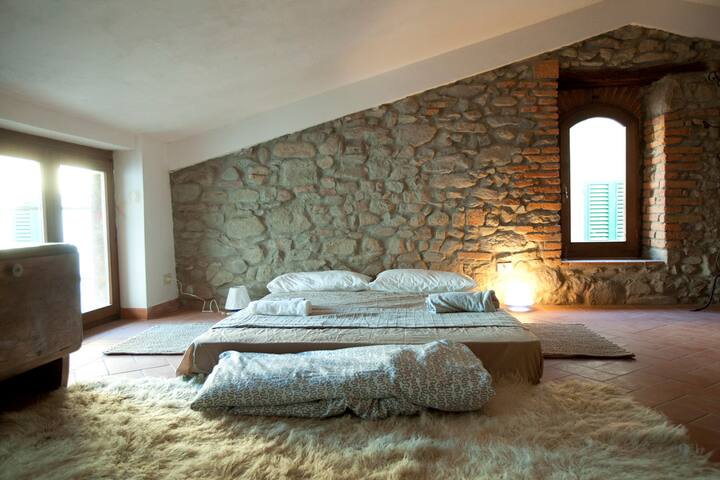 Můj byt se nachází v historickém centru v blízkosti Piazza Mazzini, divadla, kina, veřejné zahrady, na řeku a autobusové dopravy. Na vlakové nádraží je asi 15 'odejít a připojí vás k nejdůležitějším měst v Toskánsku: Florencie, Pisa, Lucca, Pistoia, Siena. prostorný byt, čisté a pohodlné.
Můj byt odráží vlastnosti klasické toskánské bytu: trámy, cihly, vysoké stropy. A "velké, čisté a pohodlné. Kuchyně se všemi náležitostmi pro vaření. K dispozici jsou 2 koupelny, jedna hlavní a jedna služba. Hlavní ložnice je velmi prostorný a menší ložnice má pohodlnou rozkládací pohovka, která může ubytovat 2 osoby.
V bytě se nachází hned vedle Stephansdom kostel a náměstí Piazza Mazzini v Pescia. Jsou v centru města, odkud nejdelší řeka Pescia můžete chodit do velké procházky, autobusová zastávka, několik restaurací a pizzerií. Po 15 minutách se odtud je vlakové nádraží, klíčovým bodem pro návštěvu Florencie, Viareggio, Pisa, Lucca, Pistoia, Siena, Arezzo.
Eravamo due colleghe e cercavamo un posto vicino al Teatro. L'appartamento di Annamaria era perfetto. Si è rivelato un'ottima scelta. La nostra Ospite è stata molto carina e simpatica, un atteggiamento davvero accogliente e ci ha messo a disposizione la casa... e il suo contenuto! con estrema cortesia. E' un appartamento in centro storico e ne ha tutte le caratteristiche, e il bilanciamento tra "negative" e positive pende senza dubbio a favore delle ultime.
silvia
2017-03-12T00:00:00Z
The host canceled this reservation 35 days before arrival. This is an automated posting.
Syam
2017-01-14T00:00:00Z
Beautiful place right downtown. Extremely clean and wonderfully restored.
Mara
2016-12-30T00:00:00Z
Annamaria è semplicemente fantastica, appena la conosci sembra di aver a che fare con una cara amica che conosci da una vita, disponibile, precisa e molto semplice, mette a disposizione la casa dove vive con estrema generosità. La casa è molto carina ma soprattutto molto pulita con tutto ciò che può servire. Consiglio a chiunque voglia alloggiare da quelle parti! A differenza di tanti altri appartamenti a Annamaria vi lascerà persino un sacco di cose per la colazione, fantastica!
Francesca
2017-01-22T00:00:00Z
Abbiamo soggiornato in casa di Annamaria per qualche giorno, do ragione a chi ha scritto precedentemente che le foto non rendono merito, la casetta è di gran lunga più accogliente e comoda! Annamaria poi è una dolcezza! Ci siamo trovati benissimo! L'appartamento è sito in una posizione strategica, per la quale si possono raggiungere facilmente tutti i centri di maggiore interesse (Lucca, Pisa, Viareggio, Pistoia, Firenze), comodo perché si possono raggiungere non solo in macchina ma anche semplicemente in treno! A costi davvero irrisori (es. Firenze sono 10euro andata e ritorno!) e con comodità di orari dalla mattina presto fino a sera tardi! L'appartamento è provvisto davvero di tutto! Qualsiasi cosa possa mancare (e non manca davvero nulla!!) Annamaria è subito disponibile! Abbiamo trovato a nostra disposizione anche qualcosa per colazione, visto che saremmo arrivati di sera tardi. La casa è pulitissima e molto calda! Siamo estremamente soddisfatti della scelta, torneremo sicuramente presto! Ancora mille grazie per tutto Annamaria!! p.s. unico consiglio spostarsi con una macchina non eccessivamente lunga per avere più facilità di parcheggio!! Per il resto buon soggiorno a tutti!
Francesca
2017-01-07T00:00:00Z
Ci siamo trovati benissimo, la casa è accogliente e bellissima. Ci ritorneremo prestissimo
Salvatore
2016-12-04T00:00:00Z
Ringrazio la gentilissima AnnaMaria per la sua disponibilità e ospitalità !!!Nell'appartamento non mancava nulla anzi anche più di quello che ci dovrebbe essere , comodo , accogliente e pulito.Insomma molto soddisfatta, non mancherò di ritornare a soggiornare da lei nei miei prossimi viaggi a Pescia!!!
Stella
2017-04-09T00:00:00Z
l'appartamento è bellissimo, ancora meglio che in foto, spazioso, comodo e super accessoriato, pulitissimo ed ordinato: ottimo! non abbiamo potuto conoscere Annamaria di persona ma è stata comunque presente tramite la mamma o al telefono. rapporto qualità prezzo super. si respira un'atmosfera autentica.
elena
2016-12-11T00:00:00Z
Typ pokoje
Celý dům/byt
---
Typ nemovitosti
Byt
---
Ubytuje
4
---
Ložnice
Pescia, Toscana, Itálie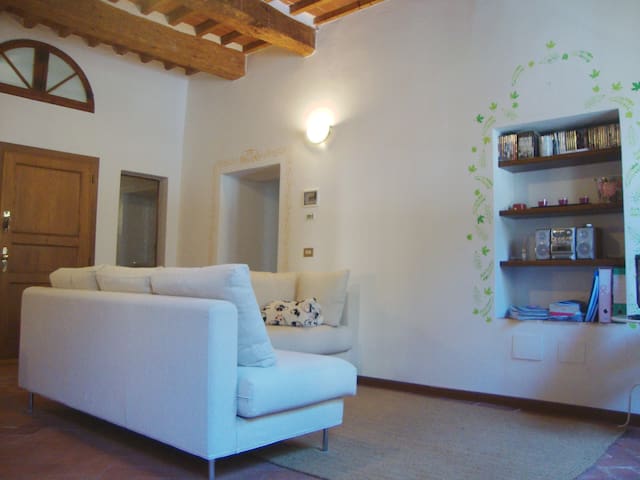 Náš útulný a klidný byt se nachází v 17. století, toskánský statek, na kopcích, které se potýkají Florencie-Prato-Pistoia. Ideální pro mírové azyl a dokonalá jako Toskánsko poznávací základnu.
Vores lejlighed er hyggelig og beboeligt, i et gammelt toscanske hus (1600 ca), på toppen af de grønne bakker ud mod Firenze dalen. Ideel til en fredelig ophold og for stor toscanske sightseeing! Lejlighed i en gård på toppen af de grønne bakker i Carmignano, ideel for elskere af "geografi", fordi udsigten strækker sig fra Appenninerne skove Acquerino til højder af Pratomagno og dalen, der kombinerer Pistoia og Prato og Firenze. Brunelleschi kuppel er klart synlig fra front plænen. Den geografiske placering gør dette sted midtpunktet og godt udgangspunkt for at nå mange vigtige steder i Toscana: 20 km fra Firenze, 13 km fra Prato, 15 km fra Pistoia, 90 km fra Siena, 60 km fra Lucca og ikke mere end 90 km fra kysten. I nærheden (1 km) er der en vingård (Capezzana), hvor du kan smage vine, besøge vinkældre og hvor at spise lokale produkter. I dette område er der mange restauranter af ægte toscanske køkken. Ikke langt væk (2 km) Der er også en hyggelig lille by, Bacchereto, let nås til fods, hvor du vil finde en fremragende restaurant (det hus, hvor Leonardo da Vincis mor boede), en bar og en købmand. Den nærmeste lufthavn er Florence (20 km) og Pisa ligger 70 km væk. Lejligheden er en del af en traditionel toscansk gård (1600 ca.) har to soveværelser med dobbeltsenge, en rummelig stue, et lille køkken, med vinduer med udsigt over land siden. I stuen er der en sofa, et spisebord, et pokerbord, og et træ sted. Badeværelset har et brusebad. WiFi internetadgang. Udenfor er der en græsplæne og en pavillon, hvor at spise (inkluderet en grill). Det anbefales brug af egne midler. Min familie bor i huset lige ved siden af, så for ethvert behov eller spørgsmål er du velkommen til nock døren og min far vil byde dig velkommen! Lukker busstoppested ligger 4 km væk, nede i dalen, så foreslås en leje bil. Lufthavne omkring er Firenze (20 km) og Pisa er 70 km væk.
We loved our stayed in this quiet house in the middle of the hills: Filippo (Ettore's father, who received us) is a great and experienced host. The surroundings are lovely and Florence (to avoid in the summer) or Pistoia and Prato (much more pleasant!) very accessible in about 40mn drive.
Fabienne
2016-08-13T00:00:00Z
Beautiful place, even better than on the pictures. Fully equiped kitchen, and the house is decorated with love. It's a bit of a drive to the big cities (Florence, Lucca, Pisa), but that was not a problem for us. If you look for some peace and quiet in a beautiful environment full of olive trees with a great view and stunning Toscane light, this is were you want to be. Filippo, the father of Ettore who lives next door, has been very helpfull and hospitable. The wifi did not work everywhere in the house, but in the master bedroom it was ok. Not very fast, but good enough. The wine shop close by (open on Thursday to Sunday) has great food and wine. If we have the change, we would certainly go back.
Mapsy
2015-07-23T00:00:00Z
This was our second time and we will be back many more times! The location, hosts and place are all incredibly special.
Ron
2016-05-13T00:00:00Z
Lieber Ettore, lieber Filippo, vielen Dank, dass wir in eurem Haus in Carmigniano wohnen durften! Wir hatten dort eine tolle Zeit und unser Abend in dem empfohlenen kleinen Wein-Restaurant war großartig!
Uta
2016-07-30T00:00:00Z
Séjour très agréable chez les parents d'Ettore qui sont des hôtes très accueillants, chaleureux, disponibles, attentifs au bien être de leurs locataires. Nous avons beaucoup apprécié la générosité de leur accueil, notamment par tout ce qui avait été mis à notre disposition pour faciliter notre séjour et tout particulièrement des provisions en quantité suffisante pour nous restaurer, les tous premiers repas et plus particulièrement le soir de notre arrivée, après un long trajet... Nous avons été enchantés du cadre propice à une belle découverte d'une Toscane authentique, en précisant que la maison ainsi que sa situation permettent un séjour très agréable, même par les fortes chaleurs de Juillet... Vue magnifique depuis la propriété, un endroit où revenir et à recommander sans hésitation !
Annie
2016-07-12T00:00:00Z
We were met on the road in and guided to our cottage and parking space. Our first evening was made warm and friendly with a bottle of wine from the winery on site, lettuce fresh from the garden and interesting, helpful conversation with our hosts. This is a truly special place for experiencing Tuscany - the landscape, way of life, family, community, food, wine, olive oil. Our hosts helped make our day trips smooth and special with tips on transportation, places to visit and eat. Our evening chats, sharing wine and even a wonderful family meal were highlights that would not have been possible with a tour group.
Lori
2016-06-22T00:00:00Z
This is a calm, rustic and well equipped country style house, high on a hill with a panoramic view over Prato and Florence. The house is on the property of a Carmignano winery called Capezzana. We were staying in the lower apartment, with two cool and large bedrooms, a living and a kitchen. The house is old and quite dark, but with a lot of history inside and very artistically decorated. We were welcomed by Filippo, Ettore's father, and we had nice talks together. We were even invited to a lovely dinner with his wife and family, which was truly a heartwarming experience!
Esther
2015-07-08T00:00:00Z
WONDERFUL. That's the one word that describes our stay. Ettore and his family were very welcoming. Upon arrival we were greeted by his dad who is very amicable and knowledgeable about the region. Furthermore they even had equipped the kitchen with some basic necessities and a great rose wine that is brewed in the vineyard just in front of the farm. We lived in a beautiful painting for days, that's how I can describe the experience. Tranquil and rustic. Definitely a place to come back to.
Didi
2014-08-13T00:00:00Z
Typ pokoje
Celý dům/byt
---
Typ nemovitosti
Byt
---
Ubytuje
4
---
Ložnice
Carmignano, Toskánsko, Itálie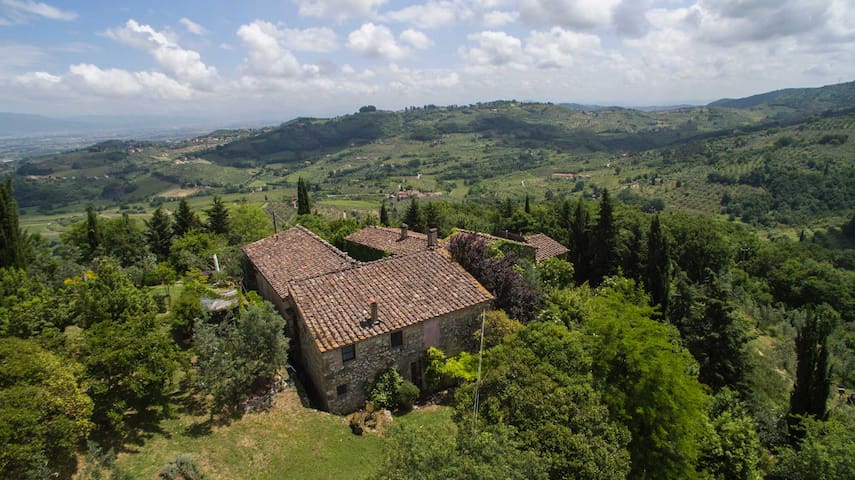 Olivanda ist ein wunderbares Panorama-Villa im oberen Teil der Toskana, zwischen Lucca und Pistoia, 40 Minuten von Florenz, 30 von Pisa und dem Flughafen entfernt. Hier fühlen sich wohl in der Toskana! Perfekte Lage, um zu sehen, die Kunststädte der Toskana bis zum Meer und Cinque Terre zu genießen und Landschaft der Toskana!
Olivanda ist eine wunderschöne Villa über Montecatini, unter den Panorama-Hügel, mit säkularen Baumpark Oliven- und einem schönen immer sonnigen Pool. Wir sind in einer strategischen Position, um 6 Minuten von Autobahn und Schiene Weg, 40 Minuten von Florenz und Pisa Flughäfen, 40 Minuten vom Meer und 60 Minuten von montains. Die Doppel / Dreibettzimmer sind drei, geräumig und komfortabel, sie haben in warmen Farben gehaltenen Wände, Terrakottaböden, Kastanien olivgrün Rahmen mit Doppelverglasung und indipendent Klimaanlage / Heizung und ein eigenes Bad in jedem Zimmer und Haartrockner. Der Eingang befindet sich ein largeand schönes Wohnzimmer in Rose gemalt, mit Kamin, TV, bequemen Sesseln und einem langen Tisch für zwanzig Leute für den Winter Frühstück und Abendessen, mit Bänken und Blumenkissen. 07.06 Parkplatz innerhalb, Schwimmbad und Wi-Fi kostenlos. In der Nähe des Hauses gibt es einen großen Grill und eine gute Versorgung mit Brennholz. Olivanda ist völlig getrennt Erdgeschoss einer schönen Villa, wo es eine andere Wohnung zu mieten, wo im Moment Eigentümer wohnen. Die Gäste Olivanda mit dem angenehmen Gefühl, frei und ohne zeitliche Einschränkungen leben zu Hause zu sein. Stille herrscht, nur unterbrochen von Vogelgezwitscher und trotz der Vielzahl von Aktivitäten wählen Gäste oft Stunden in der Hängematte zu verbringen, ein Buch am Pool lesen, in dolce far niente. Die Zufahrtsstraße ist die Provinzstadt und verbindet sich mit dem Hals Buggiano Überblick und Verbinden der reizvollen mittelalterlichen Dörfern, die über die Hügel spähen. Ganz in der Nähe gibt es eine Reitschule, Golfplätze, viele Luxusgeschäfte, Spa, Kunststädte in wenigen Minuten zu besuchen. Wenn Sie die Besitzer mögen, können Sie einige der Toskana Kochkurse oder zum Einkaufen in einem Bauernhof organisieren.
Unsere Nachbarschaft sind zwei B & B und wir gehören zu den grünen Hügeln, so ist es hier sehr ruhig. Wir haben ein schönes Restaurant zu, neben uns und um uns herum, so dass unsere Gäste gehen können, zu Abendessen zu Fuß zu haben.
We had a very nice stay during our 10 days in Buggiano. The garden and the pool Area are very nice, and we have to say that the House and everything around is way better that the explanation and the pictures. We were two families with 9 People all together, and everything worked out fine... And we had plenty of room for all of us. For future guests, everything is included... Bring your swimwear, shorts, t-shirt and your toothbrush... That is all you need. Olivanda House is everything you could ever imagine from a Tuscany House.
Nick
2016-07-30T00:00:00Z
We had a very relaxing time in Michaelas house. Located on a beautiful hill outside of buggiano it's nearby many nice cities and villages you can visit. I especially liked Lucca and Florence. It's also nice to have access to the pool on warm days!
Vilhelm
2016-06-26T00:00:00Z
Wuawwwww this was like The Italian Dream come through ! Michela and her family welcomed us like we were family and this was only The beginning. The House is amazing - better than The pictures. We were 7 adults and 3 children and we had a lot of space and with The High summer temperatures The airconditioned bedrooms worked perfectly. The pool was amazing and The outside barbecue was tested aswell. Listen to Michelas recommendation where to go / what to See and your stay Will be amazing. Pernille / Christian & Co.
Pernille
2016-07-18T00:00:00Z
We had a great stay at Olivanda. Michela and her family made us most welcome starting from greeting us late after a delayed flight (way after check in time) to offering us tomatoes from the garden when there were surplus. We had a great stay. The pool is fabulous and we spent most of our time there. The apartment is spacious and comfortable and became a second home whilst the location is great for travelling to great places such as Lucca and Montecatini Terme and Alto. Michela and her family were there to help us when we had questions but very much left the place to ourselves and worked around our needs to give us privacy and a great holiday. Thank you very much for a great holiday.
Lucy
2015-08-23T00:00:00Z
We were a group of 6 and booked this apartment for one week at pretty short notice when there weren't a lot of choices left, and were positively surprised. The apartment is very spacious with a separate bathroom for each bedroom, a big living and dining area and a kitchen with lots of dishes and appliances. The garden contains lots of interesting plants, a nice swimming pool and many places to sit, eat, relax and sleep. There also seem to be two dogs living on the estate, who unfortunately are locked up when guests like me who are afraid of dogs are present. Although we were originally searching for a place where we can be totally alone, the presence of Michela and her family who live in the upper floor went almost unnoticed and we could enjoy our time without any restrictions. They seemed very nice and I can imagine them to be helpful hosts if you need them. The apartment is situated on a rural hill next to a city, where stores are within a few minutes reach by car, and quiant little villages can be visited by foot. The surrounding area does not really look like the "typical" Toscana you see in movies and travel catalogues, still it's beautiful. For people interested in sightseeing, there are many well known places nearby that can be reached from there by car in a reasonable amount of time. We wished we could have stayed longer!
Mario
2015-08-30T00:00:00Z
the price of the electricity should be given to the guests when they arrive to avoid bad surprise at the end. anyway we had a very Nice stay. place has a lot of charm. garden is well arranged. the location is great near the highway to all attractions pisa florence sienne... A lot to do just arround the house. buggiano castello Nice Walk by foot. michela is a wonderfull host. very helpfull and has very Nice adresses. we had incredible vegetebales baught in a farm she recommended. she has 2 adorable dogs. our girls were in adoration so very pleased!
Sophie
2016-08-28T00:00:00Z
Very friendly and helpful hosts, we had a very nice time at the property. Its not terribly well equipped if you want to self cater a lot. No toaster, kettle or proper oven.
Daniel
2016-09-03T00:00:00Z
Typ pokoje
Celý dům/byt
---
Typ nemovitosti
Dům
---
Ubytuje
9
---
Ložnice
Buggiano, Toskánsko, Itálie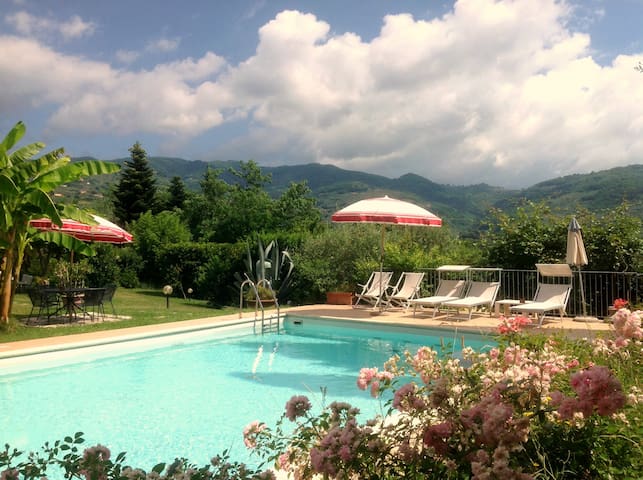 Organic Farmhouse "LA GIOCONDA" is situated in the area of Santa Lucia 2 Km from Vinci and only 200metres from Leonardo da Vinci's native house. It consists in a main country-house and rustic apartments restored. Contact me in order to receive the best offer.
This one -room studio Apartment called GRANAIO has all the necessary equipment to offer comfortable staying in our farmhouse ,it's on first floor and it's composed by : kitchenette,1 double bed,bathroom ,private place in the garden with table and chairs . The garden with barbecue has beautiful view on typical vineyard of Montalbano Chianti docg and olive grove ,all organic production . Wonderful swimmingpool in panoramic location ,parking,laundry , mountain bikes,table tennis and games for children, free of use . In September, guests can join with us in the grape harvest.
Typ pokoje
Soukromý pokoj
---
Typ nemovitosti
Byt
---
Ubytuje
2
---
Ložnice
Vinci, Toscana, Itálie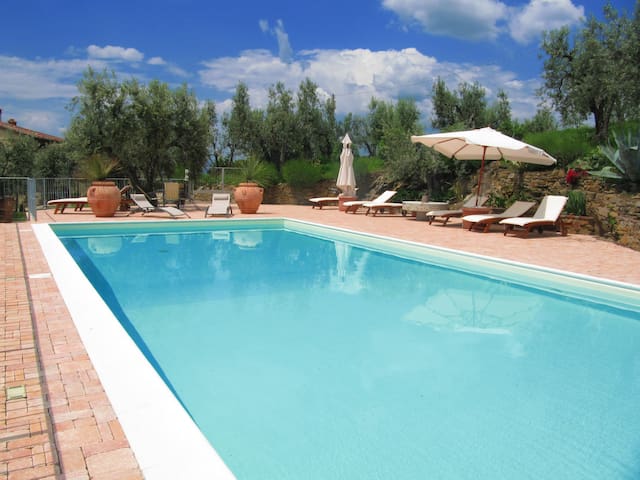 Das Haus ist ein sehr rustikal, sehr charmante, umgebaute Scheune in dem kleinen Bergdorf gelegen von Pieve di Controne, die Teil von Bagni di Lucca ist. Die Scheune befindet sich in einem ruhigen cornerof Dorf gelegen, das heißt, Sie perfekte Isolation genießen können.
Im Obergeschoss der Wohnbereich besteht aus einem großen offenen Wohn-, Ess- und Küchenbereich unter einem schönen Dach ausgesetzt Balken. Unten hat es zwei Schlafzimmer und ein modernes Bad mit Badewanne, Dusche, Waschbecken, WC, Bidet und (beide davon mit einem Doppelbett, Sitzgelegenheiten und viel Platz im Schrank haben). Die Möbel im ganzen ist sehr geschmackvoll und inkeeping mit dem Gebäude. Durch die dicken Steinmauern, im Winter ist das Haus im Sommer kühl und gemütlich. Es gibt einen privaten Garten mit herrlichem Blick auf die Berge und hinunter zu Bagni di Lucca unten. Der Garten verfügt über einen Außen Tisch und Bänken, sowie Gartenstühlen. Es gibt viel Sonne während des Tages und herrliche Sonnenuntergänge über den Bergen am Abend. Bagni di Lucca selbst hat viel mit guten Restaurants zu bieten, einen herrlichen Außenpool, Wandern, Rafting, Mountainbiken oder Reiten. Das Haus ist ideal für diejenigen, suchen die Toskana und die Umgebung zu erkunden, die für eine Aktivität im Freien Urlaub suchen, oder diejenigen, nur wollen Frieden und Ruhe. Lucca ist 40 Minuten, Florenz 90 Minuten oder sogar glamouröse Portofino ist nur 150mins (alle mit dem Auto). Der Besitzer ist gerne im Detail über das Telefon zu beschreiben.
Bagni di Lucca ist eine Gemeinde in der nördlichen Toskana, die aus 25 Dörfern und unzähligen Bergdörfer. Es übersetzt als "Bäder von Lucca" wegen seiner Thermalquellen. Es wurde populär im 19. Jahrhundert, nachdem er als Favorit von Napoleons Schwester bekannt ist und zog auch Schriftsteller, Künstler und Dichter in der Gegend wegen seiner Schönheit und das Klima. Byron und Shelley und die Barrett Brownings waren unter denen, die zu besuchen wollten. Bagni Di Lucca Pieve di Controne ist eines der 25 Dörfer von Bagni di Lucca, ca. 8 kilometeres vom Zentrum entfernt. Es liegt auf einem Berghang es hat einige der besten Aussichten in der Gegend gibt. Nur sehr wenige Menschen leben in dem Dorf und der Scheune befindet sich in einer ruhigen Ecke gelegen, so dass Sie perfekte Isolation genießen können, wenn Sie es wünschen.
Guy's place is sensational and far exceeded our expectations. The setting is unbelievably picturesque with breathtaking views and the property has clearly been renovated with a great deal of love and care. The house was spotless with an extremely well equipped kitchen, spacious living area and comfy bedrooms. A really special place, we are already talking about when we might be able to come back!
Annabel
2016-09-01T00:00:00Z
La estancia ha cumplido con creces nuestras mejores expectativas
Anna
2016-08-25T00:00:00Z
We had a wonderful time at Guys place. It was immaculate when we arrived and the decor is stunning. The views over the mountains, stillness and sunsets are just dreamy. Not hugely toddler friendly but we still had an amazing few days. Highly recommend it.
hayley
2016-09-05T00:00:00Z
This is a wonderful property that we enjoyed staying in for 6 nights and left wanting to stay longer. It is clean, spacious, well equipped and well furnished. Guy provided everything you could possibly need for a comfortable stay and we did not want for a single item throughout the week. The open plan kitchen, dining and living space are comfortable, cosy and very sociable. There is a modern bathroom and two equally well furnished and spacious bedrooms. Although the barn is part of a small and friendly community, its situation makes it extremely private. It has a beautiful outdoor space, which we used for reading, eating, relaxing and gazing at the most amazing views across the valley. Our booking was made at very short notice, yet guy was in contact quickly. He answered our questions promptly and provided us with very thorough and considerate information about the property and the area before we arrived. A resident of the hamlet manages the property for guy. She was equally as thoughtful and advised us about collecting groceries en route as we were arriving on sat evening, meaning shops would be closing and would not open on the Sunday. She was there to meet when we arrived, helped us with in with bags, advised about the local area, waved or chatted when she saw us, made contact to see if she could do anymore and general made us feel as though she was there for us if necessary. We enjoyed staying here, would not hesitate to recommend it and would certainly return if we are fortunate enough to have an opportunity.
Damian
2016-06-11T00:00:00Z
Everything was so easy. Lots of great information and brilliant welcome from Rina. The position of this property is just perfect, despite the hairy drive from Bagni! All amenities and resources were as expected and we had a marvellous time. I would go back tomorrow!
Kryssie
2016-10-06T00:00:00Z
Typ pokoje
Celý dům/byt
---
Typ nemovitosti
Dům
---
Ubytuje
6
---
Ložnice
Bagni di Lucca, Toscana, Itálie
RUSTICO DI CAMPAGNA CON 2 CAMERE DA LETTO, 2 BAGNI E POSSIBILITA' DI 2 POSTI LETTO AGGIUNTIVI IN SOGGIORNO CON DIVANO LETTO MATRIMONIALE. PISCINA CON IDROMASSAGGIO E GIARDINO ESCLUSIVI.
Troverete sicuramente speciale il giardino e la piscina ad acqua salata, con idromassaggio e cascata che contribuiranno al vostro relax quotidiano della vacanza. Il giardino curato in ogni dettaglio vi offrirà un angolo particolarmente intimo e piacevole.
TROVERETE UN AMPIO SPAZIO ESTERNO A GIARDINO ATTREZZATO CON GIOCHI PER BAMBINI E ZONA RELAX ALL'OMBRA PER I GRANDI.
Typ pokoje
Celý dům/byt
---
Typ nemovitosti
Dům
---
Ubytuje
6
---
Ložnice
Altopascio, Lucca, Itálie
The room has an independent entrance and a private bathroom with shower. The room itself is large and it's provided with cable TV with a lot of movies and foreign channels, kettle for tea/coffee, microwave, fridge, couch. Two bikes available.
The room, which is in the basement of our home, has an independent entrance and a private bathroom with shower. It is quite bright, due to the entrance glass door and the 2 windows; also the bathroom has a window. A/C is not available: during summer the room is quite fresh by itself. Entering the bathroom is on the right side, the room on the left. The use of the kitchen isn't included, due to the fact that the kitchen is situated in the upper floor: anyway we provide a microwave and a fridge in the room. We live with three dogs, so it's possible to meet them in the garden: this info is for those for whom this can be a problem.
Our home is situated in a quiet area, so no traffic or noises at night: you can only hear dogs barking, in case.
Francesca was very kind host. We've got a quiet nice stay in her house. Everything is very good. The house come with a locked garage. It is a very safe place to stay. Highly recommend!
Jenson
2016-12-29T00:00:00Z
Francesca est une personne très accueillante et aimable , elle maitrise parfaitement le français, ce qui a simplifié la communication entre nous . Le logement est très confortable , très propre et de bon standing,il est situé au cœur de la Toscane et à 17 KM de Florence ce qui favorise les déplacements touristiques . Nous le recommandons !
violette
2016-09-02T00:00:00Z
Francesca was a devoted host for our 6 night stay and the room was exactly as described.
Joanne
2016-10-15T00:00:00Z
Nice place to relax and unwind
Fang Yu
2016-08-25T00:00:00Z
Напишу отзыв на русском. Все понравилось. Комната просторная, соответсвует описанию и фотографиям. Все чисто, уютно. Есть небольшая площадка для парковки. Дом находится на возвышенности. Как добраться общественным транспортом слабо представляю, ибо были на машине. В комнате ни один телефон не ловит, приходилось выходить на улицу. Интернет предоставили хороший. Francesca очень приветлива и гостеприимна.
Andrey
2016-07-14T00:00:00Z
Todo perfecto como siempre
Jesus
2016-09-05T00:00:00Z
Appartamento delizioso, accogliente, pulito. Francesca è un host gentilissimo e disponibilissimo. Consiglio veramente a tutti si soggiornare da lei. 10+
Daniele
2016-01-27T00:00:00Z
Comeana-beautiful village between Toscana's hills, Absolutelly quiet. Have very nice restaurant with absolute masterpiece of the local food products. It is possible to come and leave Comeana by walk. 3 km road cross fields. Very interesting. And close to Comeana locate Signa-railway station from which you can go to Florence, Piza and any other cities. About Francesca. I never meet so comfortable ... not owners. We were like friends from first moment. Spend so much her time to us. Help us in all what we just think. thank you very much, Francesca. House. Large ground flour. About 40 m2 room. Beautifull bed, enough furniture for living. Very nice toilet and shower. Large coridor. Private parking place free. Private entrance. So. Very interesting place. Absolutely comfortable. Close to Florence and other cities by train. Large room. Private parking place. Private entrance.
Stanislav
2016-01-01T00:00:00Z
Typ pokoje
Soukromý pokoj
---
Typ nemovitosti
Dům
---
Ubytuje
2
---
Ložnice
Comeana, Toscana, Itálie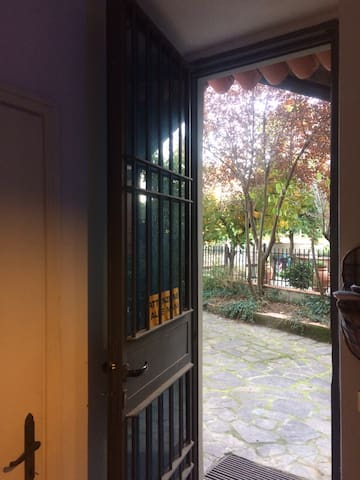 Tipica casa rurale toscana, da poco ristrutturata, ideale per coloro che amano relax e silenzio;ben posizionata per raggiungere città d'arte e di mare. A soli 10km da Pistoia, 4km dallo Zoo, 15km da Montecatini Terme, 50km da Lucca e 45km da Firenze.
L'abitazione, denominata "Rifugio del Vincio" si trova all'interno di un Borgo Settecentesco raggiungibile a piedi a pochi passi da un parcheggio riservato e può ospitare fino a 4 persone. Si compone di una cucina attrezzata (stoviglie fornite) con lavastoviglie, forno a microonde e forno elettrico. Al piano superiore un accogliente salottino con TV-SAT, divano letto, bagno con doccia, camera matrimoniale e camerina con due letti singoli. La biancheria da letto e da bagno viene direttamente fornita. Consumi di Luce e Gas compresi nel prezzo
Il Borgo gode di una splendida vista sulla valle del fiume Ombrone e sulle montagne Pistoiesi e si trova a soli 4 km dal Giardino Zoologico di Pistoia.
Casa bellissima e veramente tranquilla! Facilmente raggiungibile con i mezzi pubblici dalla stazione di Pistoia. Accoglienza molto calorosa, premurosa e attenta di Caterina, con una grande disponibilità (ci ha offerto un passaggio dalla stazione alla casa)!
Martina
2015-07-02T00:00:00Z
muy bien recibidos por Caterina, nos sentimos a gusto , muy recomendable para visitar Pisa y Florencia por estar ubicado equidistante , acogedor y aseado cuenta con todo lo indispensable. recomiendo a todos excepto a personas con limitación para subir escaleras
Juan
2016-08-28T00:00:00Z
It was a pleasure . The appartment was so nice and cozy, very clean and the rooms were confortable . Caterina was very nice and helpfull. Thank you!
Andrea
2015-08-16T00:00:00Z
La casa de Caterina es tan agradable como aparece en el anuncio. La ubicación es excelente para visitar Florencia, Pisa, Lucca, Prato y el mismo Pistoia, que merece la pena verlo de noche. Además el hecho de dormir en el campo hace la estancia más relajada. A la casa no le falta nada, está muy bien aprovechada. Damos las gracias a Caterina y a su padre por toda su atención durante nuestra estancia. El recibimiento de Mario fue muy acogedor y hospitalario. ¡Nos hicieron sentir como en casa! ;)
César
2015-07-28T00:00:00Z
Estuvimos muy conformes con todo lo brindado en su casa. Muy hermoso entormo, preciosa casa y muy atenta Caterine en su bienvenida y atenciones. Gracias!
marcelo
2015-05-07T00:00:00Z
La casa di Caterina è bellissima, comodissima, un vero gioiello. La casa ha i pavimenti in cotto, il pavimento con le travi a vista e una vista spettacolare. Si trova in un piccolissimo borgo caratteristico, con stradina a ciottoli per arrivare. Caterina è stata gentilissima e ci ha supportati in ogni cosa! Esperienza bellissima che ripeteremo sicuramente!
Francesca
2016-11-27T00:00:00Z
Casetta bellissima in un borghetto veramente amabile. L' accoglienza è stata calorosa addirittura da parte del papà di Caterina.. non ci possiamo proprio lamentare, anzi! È venuta voglia di tornare al più presto!
Federico
2016-05-30T00:00:00Z
Un logement atypique dans un petit village de Montagne. Cette adresse est à retenir proche de Florence et Lucques.
Anouar
2015-08-09T00:00:00Z
Typ pokoje
Celý dům/byt
---
Typ nemovitosti
Byt
---
Ubytuje
4
---
Ložnice
Montagnana, Toscana, Itálie
Dating back to the year 1200 d.c. the house offers a wonderful view of Pistoia , Prato and Florence . Unique and finely rebuilt It is a charming accommod Travel time: Pistoia 10 min - 30 min Florence -Lucca 30 min - 40 min Pisa - Siena 1 hour 30 min
Risalente all'anno 1200 d.c. la casa inserita in un piccolo borgo composto da tre abitazioni vanta una vista meravigliosa su Pistoia , Prato e Firenze. The house is very characteristic with its stone walls . It consists of a living room with kitchenette , a small seating area set in an old icehouse , a canera bedroom with a loft and a large bathroom . Outside courtyard exclusive with large garden and a wood stove . The house enjoys plenty of privacy
It is a wonderful place near the main city of Tuscany.
Idéalement située à flanc de colline entre Pise et Florence, la "Torre in Collina" offre une vue imprenable sur Pistoia et ses environs. Au retour de nos excursions sous le soleil de Toscane, nous avons apprécié la fraîcheur de cette ancienne tour romaine, restaurée avec goût, confortable et bien équipée. Discret, disponible et soucieux de notre confort, Ferruccio nous a accueilli chaleureusement et nous nous sommes immédiatement senti "chez nous". Un séjour inoubliable que nous comptons bien renouveler !
Patrick
2016-07-28T00:00:00Z
Would definitely recommend! Ferruccio was perfect host. He made us feel very welcomed, he even baked us cookies. We really felt "at home". The house was really nice, clean and comfy, with beautiful view and garden to relax. It's perfect place for exploring (trip) or family vacation. Thank you so much for the wonderful experience!
Ren
2016-06-20T00:00:00Z
We spent a wonderful time in Ferruccio´s typical Tuscan house. It was very amazing to enjoy the unique view across Pistoia and the surrounding area. Furthermore the furnishing and equipment was excellent, the host very friendly and available. All in all it was a positive, great experience and surprise. Highly recommendable!
Cornelia
2016-07-05T00:00:00Z
La descrizione della località è stata precisa. Davvero un posto di notevole bellezza con una vista magnifica. La casa all'interno è stupenda, pulita e ben arredata. Perfetta per godersi qualche giorno in coppia o in famiglia. I proprietari sono gentili, disponibili e a disposizione per ogni eventuale problema. Ci è davvero dispiaciuto dover sostare per appena una notte ma speriamo in futuro di poter tornare! Straconsigliata!
Stefano
2016-07-14T00:00:00Z
Typ pokoje
Celý dům/byt
---
Typ nemovitosti
Dům
---
Ubytuje
3
---
Ložnice
Toscana, Toscana, Itálie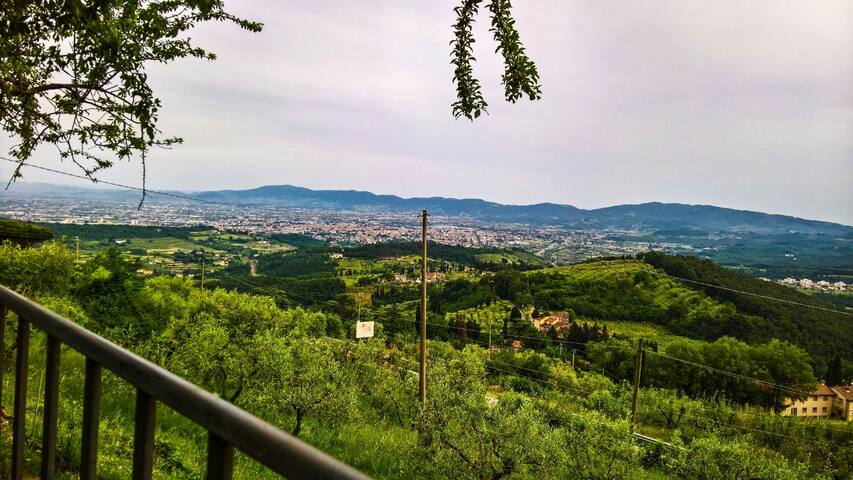 Beautifull apartament overlooking amazing country side next to Montecarlo in the vignards. The apartament includes the use of two pools , one for kids, in a large and lovely park. This is the perfect place from where you can visit many places within half an hour drive. Perfect for 5 people it can sleep up to 6 plus a crib upon request.
Charming apartment on the first floor of an old and renovated house, delightful and comfortable next to Montecarlo, nearby Lucca not far from with great view over the plain of Pescia and Pistoia hills. The structure is at the first floor and includes: -a bedroom with a double bed and a single bed with one split air conditioning -one bedroom with two single beds -bathroom with shower a nice kitchen\living very well equipped with a single sofa bed The property is in a large park where the guest will have access to : Adult pool mt 13x5x1,2 and children's pool mtr 6x3x1,2 Terrace and large park The price includes everything: bed linen, final cleaning ,exclusive use of the apartment, TV, Wifi, parking crib upon request. ( pool towels are NOT included) Extra in cash: -electricity €0,32 per kwh upon consumption -laundrette €5 per one load upon consumption -tourist tax €4,5 per adult -guests can request linen and towels change for €8 per person -
Montecarlo is a municipality located about 50 kilometres (31 mi) west of Florence and about 12 kilometres (7 mi) east of Lucca. Fort and village Montecarlo was founded in 1333 by future Bohemian king and Holy Roman Emperor Charles IV (Montecarlo - Charles' Mountain), who freed the nearby city of Lucca from Pisa city occupation. A true settlement, however, appeared only after the Florentine destroyed the nearby castle of Vivinaia, and the authorities of the Republic of Lucca moved the population to the hill where Charles' castle was. Montecarlo was a possession of the Republic of Florence from 1437.
Typ pokoje
Celý dům/byt
---
Typ nemovitosti
Dům
---
Ubytuje
5
---
Ložnice
Montecarlo, Toscana, Itálie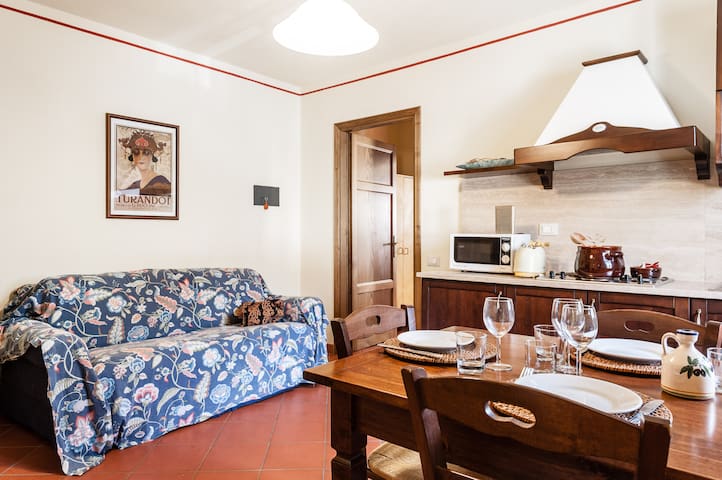 Spacious duplex in the Montalbano hills with large terrace on a corner of the untouched Tuscan countryside. In an excellent position to visit all the major tourist attractions.
The site allows you to spend a relaxing holiday, enjoying also a large garden for the guests. The apartment on the ground floor is available to owners who use it occasionally.
The main features of the house are the surrounding countryside, the scenic location, the tranquility, the fact of not being isolated but in a small village permanently inhabited. It's also centrally located to visit all the major tourist destinations.
Typ pokoje
Celý dům/byt
---
Typ nemovitosti
Byt
---
Ubytuje
5
---
Ložnice
Montemagno, PT, Itálie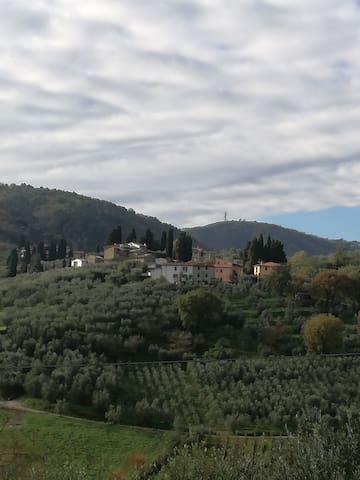 Province of Pistoia - Airbnb
:
Průměrně

4.89

z

5

hvězdiček na základě

225

hodnocení hostů