Apartamento no rés de chão acolhedor, muito luminoso e confortavel, inserido numa residencia calma com muitos espaços verdes e segura. Vizinhança simpatica e natural. Ideal para férias e descanso.
A Urbanização é calma, segura e convivial. Ideal para (URL HIDDEN) muitos jardins e espaços verdes para as crianças brincarem tranquilamente e sem perigo. Local ideal para recarregar baterias.
Typ pokoje
Celý dům/byt
---
Typ nemovitosti
Byt
---
Ubytuje
4
---
Ložnice
Quiaios, Coimbra, Portugalsko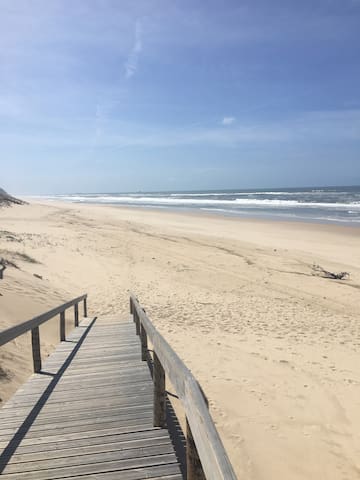 Excellent beach apartment on a private condo close to the sea. Perfect place to relax during Autumn/Winter near the fireplace, or obviously, to enjoy the sun and the beach during Fall/Summer. The condo is perfectly located: not too far away from the main city (Figueira-da-Foz is 15min drive away), but far enough to be a good place to relax away from the crowds. Supermarket, restaurants, bars, swimming pool, health club are all walking distance. Good spot for hiking lovers too.
Relaxing condo close to the sea.
The host canceled this reservation 4 days before arrival. This is an automated posting.
Gormally
2017-04-04T00:00:00Z
Typ pokoje
Celý dům/byt
---
Typ nemovitosti
Byt
---
Ubytuje
4
---
Ložnice
Quiaios, Coimbra, Portugalsko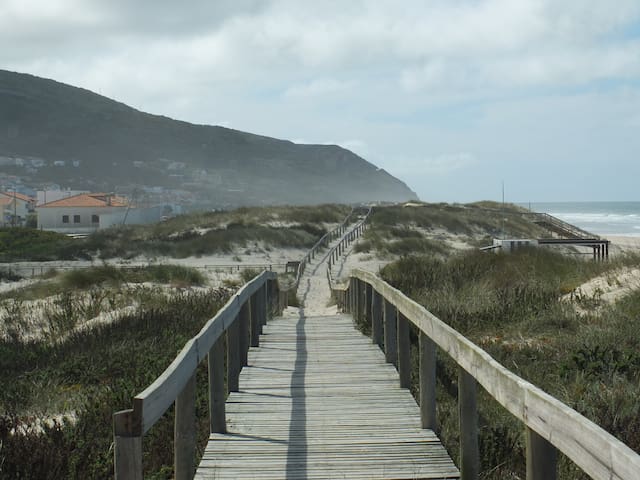 Casa a 50 metros de uma praia fantastica e sossegada! Ideal para uma familia ou grupo de amigos.
Casa a 50 metros da praia. Ideal para um fim‑de‑semana em família de descanso. Ou para uma semana de férias no verão.
Il est difficile de donner un jugement négatif sur une personne que l'on ne connaît pas. mais en réalité le début de notre séjour a été plutôt traumatisant car l'hôte n'était pas présent sur les lieux et tout s'est déroulé par téléphone. La veille de notre arrivée, Ruben nous demande d'arriver vers 16h, car le ménage devait être fait dans l'appartement. Nous arrivons alors à 17H30 (après 3 jours de voyage). A notre grande surprise, les clefs ne sont pas disponibles à l'endroit indiqué par Ruben. Nous l'appelons et il nous demande d'attendre encore deux heures. Nous lui expliquons qu'on est trop fatigué et que nous ne pouvons attendre dans la rue. Après plusieurs coups de fil, il nous envoie les clefs avec une personne inconnue. Nous rentrons seuls dans son appartement où le ménage n'est pas fait. Ce n'est que le lendemain que le logement a été nettoyé. En effet, Ruben nous a proposé que le ménage soit fait à 21 h le soir même de notre arrivée, ce que nous avons refusé. Nous regrettons le manque d'organisation et de coordination. L'hospitalité perd son sens dans un tel cas, même si des excuses ont été faites, nous déplorons le manque du sens de l'accueil. On a du se débrouiller seul pour faire l'inventaire de ce qui est utilisable dans l'appartement. L' absence de Ruben à notre arrivée ou de quelqu'un pour le remplacer nous a causé un réel souci d'organisation, personne n'a pu faire l'état des lieux après le départ des autres locataires. par ailleurs, la télé ne fonctionnait pas, Ruben nous a demandé d'attendre à la maison pour envoyer un réparateur, ce que nous n'avons pas accepté. Des fuites d'eau sous l'évier lui ont été signalé mais aucune réparation n'a été faite. Des fuites d'eau dans la salle de bain, idem. Cependant, le logement a un atout majeur, sa proximité de la plage et qu'il est situé dans une région où le climat est très agréable.
ELIE
2016-08-14T00:00:00Z
Typ pokoje
Celý dům/byt
---
Typ nemovitosti
Byt
---
Ubytuje
4
---
Ložnice
Quiaios , Figueira da foz, Portugalsko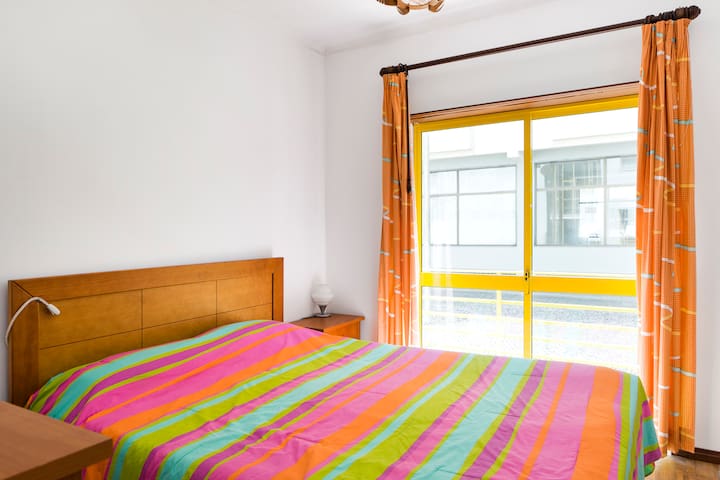 Apartamento T1, em urbanização na Praia de Quiaios 1 Sala 1 Quarto 1 Casa de Banho 1 Cozinha A 5 minutos, a pé, da praia; A 15 minutos da Figueira da Foz, de carro;
Miguel and his family are very friendly and courteous. The flat is very cozy and clean. The beach (which is very clean) is just 2 minutes by foot and there is a supermarket just 100 meters from the residence. We really enjoyed our stay. Thank you for making our trip to Portugal even more amazing
Felix
2016-09-16T00:00:00Z
Splendid isolation in Murtinheira! We enjoyed our stay in the flat and loved especially to have come-season, where you the beach (only a stone throw away) and most of the neighborhood is yours. You can even listen to the sound of the waves from the bedroom. Travelers without car should be aware that there's only a bus connection (Figueira da Foz Estacao - Quiaios Praia) on weekdays and the picturesque walk to Figueira da Foz is about 5-6 Kilometers. Miguel was very welcoming and took us even to the train station on our last day.
denes
2016-10-02T00:00:00Z
Casa localizada em zona muito tranquila mesmo ao pé da praia. Casa ideal para pessoa sozinha ou um casal. Talvez seja melhor para o verão e para quem tem carro pois não há Wi-Fi nem transportes ao pé. Existe um supermercado a 3 minutos da casa o que deu muito jeito. Teria apreciado aquecedor na casa porque sou muito friorenta
sara
2017-03-26T00:00:00Z
Typ pokoje
Celý dům/byt
---
Typ nemovitosti
Byt
---
Ubytuje
4
---
Ložnice
Quiaios, Coimbra, Portugalsko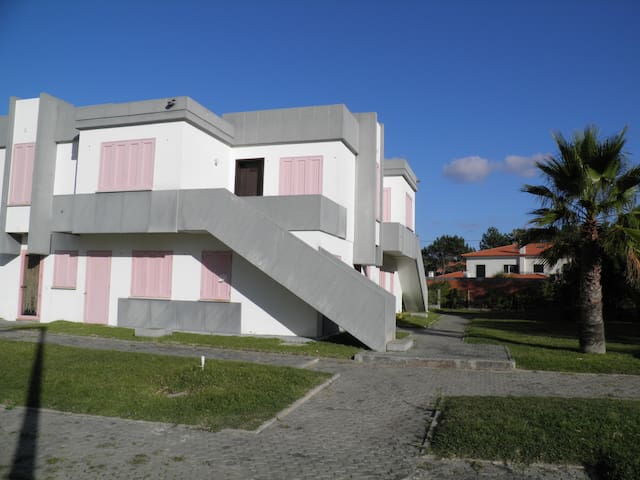 This appartment with a peaceful localization presents a amazing view on Quiaios beach. Figueira da Foz beach is localted Km12. On the other hand, this flat have a confortable room with simply furniture, a bathroom with a bathtub. A TV is available
The flat was very nice and situated in a calm area very close to the beach. It is really great if you want to spend some peaceful days at the beach. We have really enjoyed our stay there.
Lea
2016-07-26T00:00:00Z
Nous avons passer de tres bonne vacances. Nos hotes nous attendais a la maison, personnes tres gentille et attentionné. Appartement propre avec tout le necessaire. il est tres bien situé. plage, piscine... a 2minutes a pied. L annonce est conforme a la description, tout est parfait.
Marinux
2016-08-29T00:00:00Z
Jean et sa femme nous attendaient à l'appartement. L'appartement est comme sur les photos, et plus spacieux que nous pensions. C'était très bien pour notre famille de 4 personnes. Nous avons pu faire à manger sur place, il y a aussi quelques restaurants près de la plage. Ils nous ont gentiment mis à disposition des jouets pour la plage pour nos deux filles. Nous avons également pu utiliser le parasol de plage. La douche est très agréable. L'appartement était très propre et il a beaucoup d'espace de rangement.
Marie-Claude
2015-08-12T00:00:00Z
The apartment is very nice, very close to a sensational beach and a great location for excursions. It´s clean and has everything you need. The hosts Jean, Gloria and Michael are very helpful and friendly. We loved it.
Birgit
2015-09-08T00:00:00Z
Clean and cousy apartment. The location is great, near the beach with small restaurants and bars around. 10min by car to the nearest city, figueira da foz. Perfect spot to spend some summer vacations with the whole family. I happily recommend it.
André
2016-07-12T00:00:00Z
Very nice place. Near the beach, shop, gym and swimming pool. Many small restaurants nearby. Very clean apartment. But one big disadvantage - permanently switched off the electricity.
Alexander
2015-08-20T00:00:00Z
l'appartement dispose de tout le confort et l'équipement nécessaire, il est très propre et se trouve à 100 m de la mer, Jean et Gloria sont des hôtes merveilleux, nous les remercions pour leur accueil très chaleureux.
franck
2015-08-07T00:00:00Z
Appartement très bien situé dans un complexe résidentiel tranquille à Quiaos , à 200 m d'une plage immense où vous avez de la place ( il est vrai que les vagues sont plus pour le surf que pour la natation ) l'appartement est très propre et bien équipé et autour vous avez des restaurants , une piscine municipale ouverte et un ensemble spa piscine pour enfants chauffée. Ambiance portugaise,assez peu de touristes , Coimbra ' Aveiro et d'autres lieux à visiter autour ( il faut une voiture) Dans l'ensemble c'est très bien si vous voulez échapper aux lieux comme Nazaré saturés de vacanciers. La wifi est disponible dans un café proche. Merci à Lara et à sa famille qui nous ont chaleureusement accueillie et dont les enfants ont joué avec notre fille de 6 ans.
daniel et dominique
2016-08-07T00:00:00Z
Typ pokoje
Celý dům/byt
---
Typ nemovitosti
Byt
---
Ubytuje
4
---
Ložnice
Quiaios, Coimbra, Portugalsko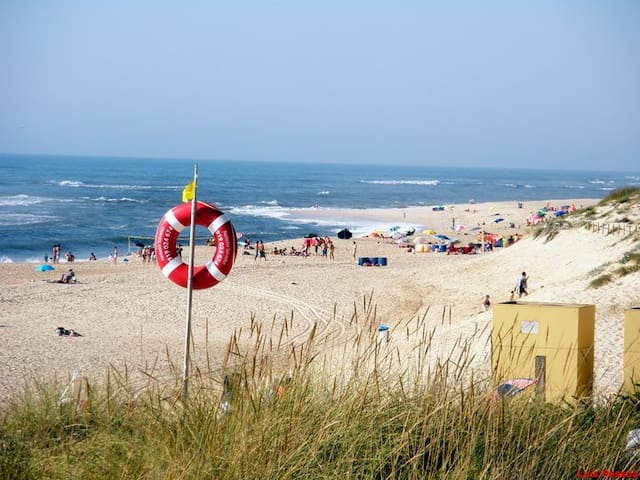 Excellent beach apartment on a private condo close to the sea. Perfect place to relax during Autumn/Winter near the fireplace, or obviously, to enjoy the sun and the beach during Fall/Summer. The condo is perfectly located: not too far away from the main city (Figueira-da-Foz is 15min drive away), but far enough to be a good place to relax away from the crowds. Supermarket, restaurants, bars, swimming pool, health club are all walking distance. Good spot for hiking lovers too.
Relaxing condo close to the sea.
Typ pokoje
Celý dům/byt
---
Typ nemovitosti
Byt
---
Ubytuje
6
---
Ložnice
Quiaios, Coimbra, Portugalsko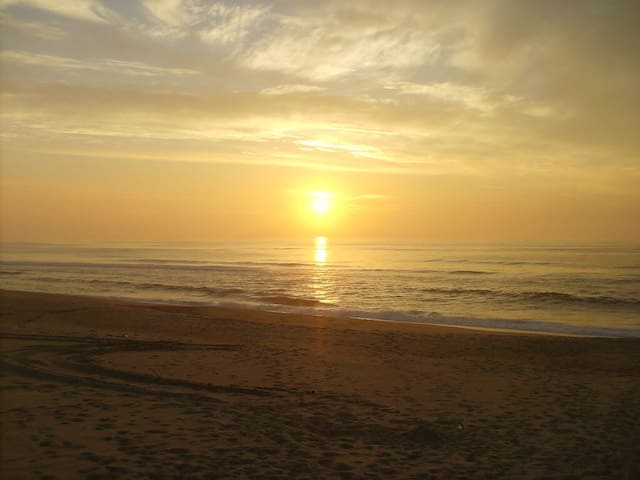 O meu espaço fica perto de Figueira da Foz, Tocha, Coimbra e Aveiro. Vai adorar o meu espaço porque fica entre o mar e a serra. Podem pescar ou fazer trekking na serra nos percursos marcados. Tem acesso fácil a peixe fresco. O meu espaço é bom para casais e famílias (com crianças).
Typ pokoje
Celý dům/byt
---
Typ nemovitosti
Byt
---
Ubytuje
10
---
Ložnice
Quiaios, Coimbra, Portugalsko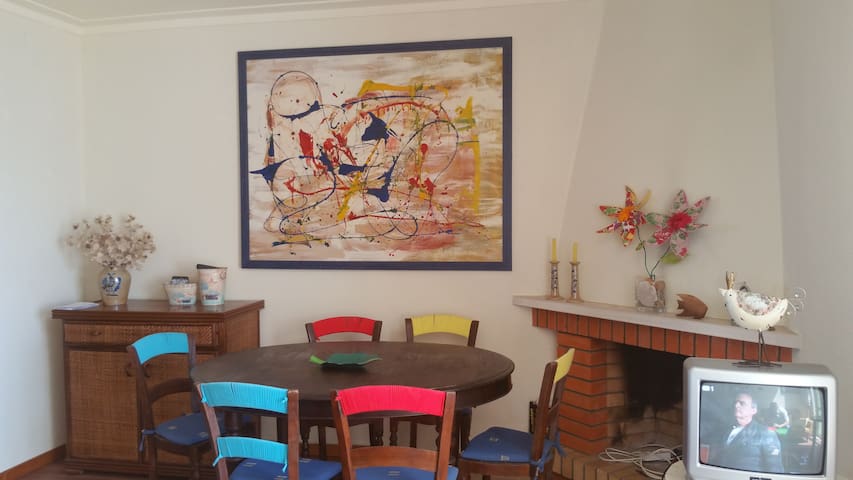 O meu apartamento fica a 30 metros da praia. Um espaço aconchegante, bom para casais, aventuras individuais, viajantes de negócios, e famílias (com crianças). Registo: 38503/AL - Turismo de Portugal, I.P.
Apartamento a 30 metros da Praia, Solharengo e acolhedor.
Zona perfeita para descansar. Kilometros de Praia Atlantica virgem e selvagem. Óptimo para pernoitar numa viagem entre Lisboa-Porto. 40min de Coimbra Serra da Boa-Viagem, Cabo Mondego e natureza envolvente
The place is perfect! Though we were not very lucky with the weather (it was showering and windy) the ocean is still spectacular and the house I'd about 30 meters to the beach. The village is very quiet and there is a nice pizzeria with a very tasty pasta near by) I think when the weather is less cloudy the night sky must be full of stars there So if I ever have a chance to come back to Portugal, I will stay there for sure) Recommend !
Polina
2017-02-04T00:00:00Z
The place is simply awesome! The ocean is right to the house. We arrived in the evening and caught the sunset-it was really amazing! Nice place to stay when you travel between Otto an Lisbon. You find everything you need there. 5 stars for sure!
Anton
2017-03-30T00:00:00Z
O espaço é muito agradavel, limpo e com todos as condições para uma óptima estadia. A casa está situada em frente à praia, na melhor localização de Quiaios! Obrigado Tiago, definitivamente queremos voltar!
Rui Bulhosa
2016-12-30T00:00:00Z
Very nice apartment, with a homey feeling and in a fantastic location for any beach lover. Tiago and family were great hosts, always available for anything that would improve our stay. We were there with 4 (two adults and two children), and the place is surely roomy enough to be comfortable. We will surely return!
Rute
2017-03-04T00:00:00Z
A casa do Tiago e da Dona Rosa é uma casa perfeita para uma escapadela de fim-de-semana em família. Não é uma casa com grandes luxos, mas tem tudo para nos fazer sentir confortável - aliás, corresponde na totalidade às fotos e à descrição. Quanto à localização, está mesmo em frente à praia, perfeito para uma estadia no Verão. Sendo Inverno, aproveitámos para conhecer toda a zona: Aveiro, Coimbra, Figueira da Foz e ainda fomos comer um leitãozinho à Mealhada. Um fim-de-semana em grande. Recomendo.
Miguel
2017-01-15T00:00:00Z
The apartament is located just in front of a beach - great for summer time. For a bit colder time - there was an electric heater. Kitchen area is spacious so great for integration and meals. There was everything needed in the apartament. Good value for money.
Katarzyna
2017-03-24T00:00:00Z
Nous avons été accueilli par la maman de Tiago qui est une femme charmante et très disponible. Le logement proposé est top, comme décrit dans l'annonce il est à deux pas de la mer. Un vrai bonheur!
Aurélie
2016-12-02T00:00:00Z
Anfitrião muito simpático e atencioso, sempre disponivel ajudar e a tornar a estadia agradável. Alojamento rústico junto à praia com estacionamento próximo. Zona calma. As valência da habitação poderiam estar mais ajustadas ao tipo de visitante que pretendem acolher, tal como o espaço distribuído de forma a tornar a experiência mais acolhedora e com todas as valências disponíveis.
Daniel
2016-10-23T00:00:00Z
Typ pokoje
Celý dům/byt
---
Typ nemovitosti
Byt
---
Ubytuje
4
---
Ložnice
Praia de Quiaios, Coimbra, Portugalsko
Můj prostor se nachází v blízkosti pláže, restaurací a jídel a aktivit pro rodiny s dětmi. Zamilujete si svůj prostor z důvodu pohodlné lůžko, životní prostředí, okolí, venkovního prostoru a osvětlení. Můj prostor je vhodný pro páry, dobrodružstvími sóla, obchodní cestující a chlupatými kamarády (zvířata).
hospedarme en casa de Carlos ha sido un placer. el apartamento está en una zona muy tranquila, rodeada de zonas verdes y muy cerca de todos los servicios de la ciudad. la casa es nueva y muy limpia con una orientación perfecta con vistas al mar y playa. Carlos fue puntual y muy amable, dispuesto a ofrecer toda la información que necesites. repetiría sin duda.
Jose
2016-08-27T00:00:00Z
The apartment was better than we expected! Carlos was very kind and he attended all our needs from the begining. The house was really clean and both Windows (room and dinningroom) have an amazing sights. You can see the beach and even hear the sound of the sea! The location was also very good, close to the beach and the center. I totally recommend the place to stay.
Alba
2016-10-03T00:00:00Z
O Carlos foi muito disponível e respondeu sempre às solicitações. O apartamento estava muito limpo e cuidado, com tudo o necessário para a estadia. O bairro é tranquilo , limpo e bem localizado. Recomendo.
Nuno
2016-09-15T00:00:00Z
Good Stay for the summer not really for the winter as house can get a bit cold. Carlos is a nice guy.
Susana
2017-02-19T00:00:00Z
Typ pokoje
Celý dům/byt
---
Typ nemovitosti
Byt
---
Ubytuje
4
---
Ložnice
Figueira da Foz, Coimbra, Portugalsko
Small modest but clean and nice bright apartment situated in 20 meters of the beach and near businesses, banks, restaurants, bars numerous spaces of free parking lot
Very well situated very very close to the beach(range), SURFING, soccer field, Basketball, park of games for children, supermarkets, bars, restaurants and banks and located in an alley without traffic of vehicles. The apartment is bright, small craft it reigns a real family atmosphere contrary to a hotel there what gives him(her) a cosy and warm side.
Seaside district has a practice for the sport to run to the beach make ballads take a glass (have a drink) or go shopping in a mini high-octane gasoline. Bank nearby
Typ pokoje
Soukromý pokoj
---
Typ nemovitosti
Byt
---
Ubytuje
3
---
Ložnice
Buarcos, Coimbra, Portugalsko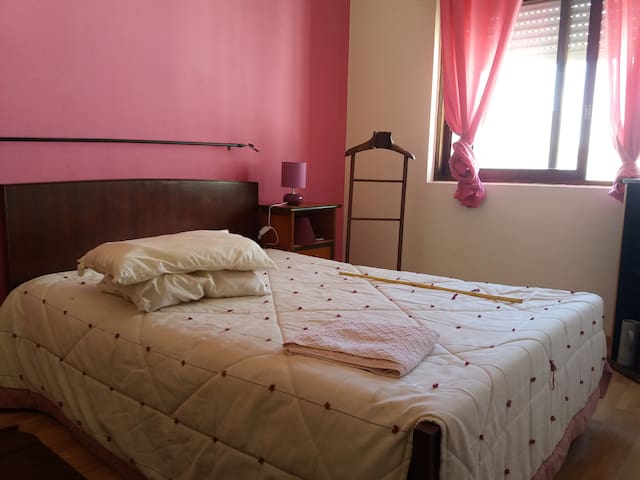 apartment located 2.5 km from the beach and downtown, shopping centers are nearby, the city of Figueira da Foz has beautiful white sand beaches, casino and gourmet restaurants. Porto is 150 km, 200 km Lisbon and Coimbra 40 km easily accessible from the highway. But there are also the beaches renowned for surfing as Peniche and Nazaré. The apartment is spacious with 2 bedrooms, a large living room, a balcony, a kitchen.
Typ pokoje
Celý dům/byt
---
Typ nemovitosti
Byt
---
Ubytuje
4
---
Ložnice
Figueira da Foz, Coimbra, Portugalsko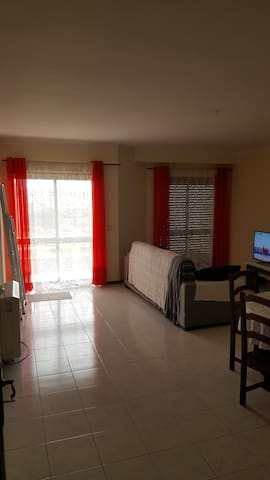 Este apartamento localiza-se perto da praia, vida noturna e atividades para famílias. Você vai amar este espaço por causa da maravilhosa vista para o mar, fica na primeira linha de apartamentos da marginal a um passo do areal de Buarcos, Figueira da Foz. Ideal para casais, aventuras individuais e famílias (com crianças).
# Apartamento T1 ideal para 4 pessoas - situa-se num 2 andar sem elevador. É composto por:(URL HIDDEN)quarto de casal(URL HIDDEN)sofá cama na sala - para duas pessoas # Kitchenet equipada com frigorifico, placa eléctrica - ideal para quem quer preparar as próprias refeições em casa. Se preferir pode optar por ir aos vários restaurantes nas redondezas da casa e descobir a gastronomia local, ou take-away e trazer para casa e desfutar das vistas da sala. # Casa de banho Duche Maq. lavar roupa # localizaão privilegiada na marginal - 1ª linha da praia - com varanda e deslumbrante vista sobre o mar.
A cidade Figueira da Foz é um dos destino de férias preferidos de muitos portugueses. A cidade tranforma-se no verão tornando-se irreverente e cosmopolita e cheia de vida. Durante o verão há sempre imensas coisas para fazer: desde passar longas horas na praia aconselhamos as caminhadas na marginal, skate, bicicleta, visitar a serra da Boa Viagem, visitar o centro, aproveitar para shopping e quem sabe tentar a sorte no casino. PRÓXIMO DE: Bares e cafés Restaurantes tradicionais Minimercado Padaria Pastelaria Mercado Bancos Farmácia Centro de Saúde Comércio Zona pedonal Jardins Parque de merendas
Carina est super sympa et conviviale, tout comme sa mère qui nous reçus le 1er jour. J'ai eu Carina par téléphone et texto et l'ai vue le dernier jour. Appartement sympa, très bien situé avec vue sur la plage, quelques commerces aux alentours mais surtout des restaurants. pour les courses, à 3 min en voiture il y a 2 grandes surfaces dont 1 plus grande que l'autre à 200 m d'intervalle. Pour la voiture il vaut mieux se garer derrière l'immeuble pour qu'elle soit a l'ombre tout l'apres midi... Location à recommander
PAUTONNIER
2016-07-19T00:00:00Z
Obrigada Carina pelo apreço e pela dedicação!! O sitio e o apartamento são muito agradáveis e aquela varanda é sem dúvida uma mais valia!! O sitio é óptimo para quem estar no centro e ao mesmo tempo junto à praia. A casa tem todas as condições para se passar uma semana tranquila e com comodidade!! O barulho dos carros na marginal constantemente é o que considero menos positivo!! Parabéns pelo espaço!!!
Filipa
2016-08-22T00:00:00Z
The flat was very comfortable, well organized and clean. Is has a balcony directly facing the beach which was amazing. It had all the necessary amenities for an excellent staying in the beach. The photos of the flat are very accurate. Carina was an excellent host. She was always available by phone. She was so kind to leave us delicious coffe bags, fresh water and milk, so we immediately felt like home. The neighborhood is safe with easy access to cafes, restaurants and supermarket. It was 5min away from the train station, by taxi, which was very convenient. During our stay, there was free street concerts of popular music, every night, which was really nice. This events together with the cars that constantly pass in front of the house make it a bit noisy but we were OK with it.
Margarida
2016-08-14T00:00:00Z
Estuvimos muy comodos durante nuestra estancia ya que disponiamos de todo lo basico en el alojamiento, el apartamento tiene unas vistas excepcionales, podrías pasar el día entero mirando. Carina y su familia fueron encantadores.
emilio
2016-09-24T00:00:00Z
The host canceled this reservation 7 days before arrival. This is an automated posting.
Manuel Carlos
2016-07-01T00:00:00Z
Staying at Carina's place in Figueira da Foz was trully great. It is located in the best place posible: in front of the beach with a beautiful sight. The aparment is full equiped, and there are restaurants, cafeterías and shops nearby. highly recommneded
Alfonso
2016-07-13T00:00:00Z
Typ pokoje
Celý dům/byt
---
Typ nemovitosti
Byt
---
Ubytuje
4
---
Ložnice
Buarcos, Coimbra, Portugalsko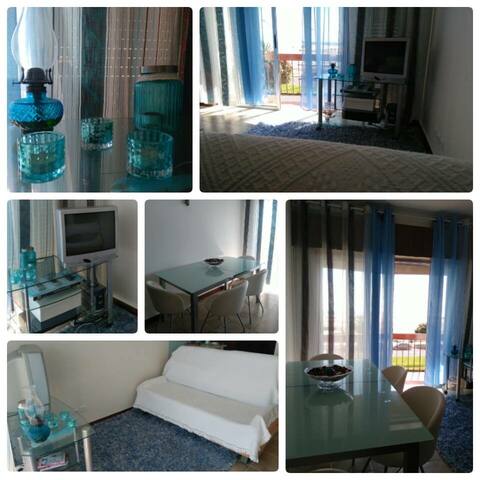 Pequeno apartamento composto por sala-cozinha, quarto, wc e dispensa. Fica a 500mts da praia, mas no centro da cidade.Junto ao Centro de Espetáculos, perto do casino e zona verde da cidade. Muito arejado e com muita luz. Moderno e funcional.
Pequeno espaço mas com condições para acomodar até 6 pessoas confortavelmente.
O apartamento fica situado junto à policia e ao parque verde das abadias
A la hora de hacer la reserva,la comunicación fue rápida y fácil. El apartamento es tal y como aparece en las fotos: renovado, funcional y amplio. Hice la reserva con un día de antelación y se preocupó de traeme un moisés para mi bebé. Todo muy limpio. La zona es tranquila con aparcamiento.
MONICA
2016-07-24T00:00:00Z
La casa está perfectamente ubicada, tiene todo lo necesario para pasar unas grandes vacaciones, es muy acogedora y João es muy atento con los huéspedes.
Sara
2016-08-19T00:00:00Z
o apartamento tem um óptima localização. As fotos não fazem jus ao quão fantástico é o apartamento. O João e a família são 5 estrelas, sempre disponíveis a ajudar, tanto antes do check-in como durante todo o período que la estivemos. Recomendo vivamente a conhecerem a Figueira e a ficarem hospedados neste apartamento.
irene
2017-03-12T00:00:00Z
El anfitrión fue muy amable y receptivo, la casa estaba limpia y recogida y disponía de todo lo necesario para pasar unos días sin preocuparte por nada (equipo de baño, utensilios de cocina, etc.) Relación calidad/precio insuperable. La zona es tranquila pero está cerca del centro, dando una paseo puedes llegar a los lugares principales de Figueira da Foz aunque el coche o moto son muy recomendables. Todo ok exceptuando que no tenía Wifi. Por tanto muy buena valoración. La casa de Joao es muy recomendable!
Guillermo
2016-07-18T00:00:00Z
The flat was very nice and tidy. João picked us at the station up and brought us also back there. He was friendly and gave us kind instructions :) Our stay was short, but just perfekt!!
Sina
2016-10-16T00:00:00Z
O Joao foi 5* . Super rápido a chegar. Deu nos as indicações preciosas para chegar ao apartamento e dez nos sentir á vontade.
Cátia
2017-01-01T00:00:00Z
Joao was the perfect host, when we arrived he showed us around and made us feel comfortable. He gave us a great suggestion on the dinner (local food) and explained everything we could visit. As for the appartment, this was central, clean and spacious and had everything you need. Do bear in mind that the walls are thin and it can get quite noisy (best to take earplugs to sleep). Other than that nothing to remark!
Sofie
2016-07-09T00:00:00Z
Apartamento cercano al centro en una zona tranquila y con facilidad para aparcar. Muy bonito, limpio y funcional. La comunicación con el anfitrión ha sido muy buena, te da muchas facilidades y sugerencias para que conozcas la zona. La única pega es que no tenía wifi. Por todo lo demás, es muy buena elección.
Adriana
2016-07-25T00:00:00Z
Typ pokoje
Celý dům/byt
---
Typ nemovitosti
Byt
---
Ubytuje
4
---
Ložnice
Figueira da Foz, Coimbra, Portugalsko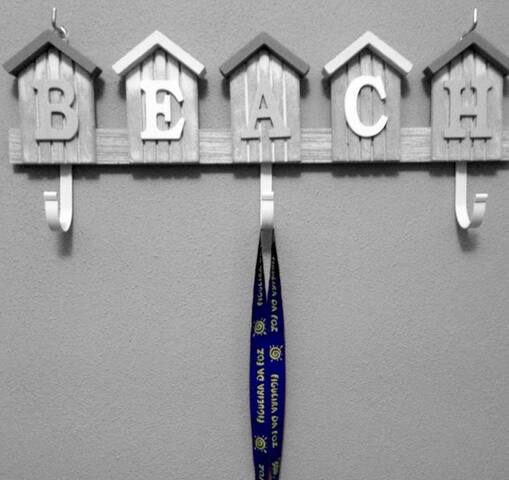 Nosso apartamento é muito legal e permite que você instale até 4 pessoas. Está localizado no centro da cidade, a 100 mts do casino ea 150 mts da praia. Desfrute do sol e da Figueira à noite, com muitos bares e discotecas.
Uma simpática recepção e uma casa bem acolhedora. A casa muito bem localizada e acolhedora! E até tinha uma gaveta cheia de livros e jogos para crianças! o meu filho de 2 anos adorou!
Eduarda
2015-12-09T00:00:00Z
Excelente apartamento para umas Mini Férias em família como foi caso da nossa estadia.
Rui
2017-03-26T00:00:00Z
Très bel appartement, bien situé dans figueira da foz, proche des commerces, de la plage, on peut tt faire à pied. Les propriétaires sont très sympathiques et nous avons été très bien accueillis. Je recommande cette adresse.
Nathalie
2015-08-23T00:00:00Z
Nice and spacy apartement. Pedro was fast to response to every request & question. We enjoyed a lot!
keiu
2016-10-01T00:00:00Z
Apartamento muito agradável, muito perto da praia. Recepção 5 estrelas, com direito a morangos e doces tradicionais. ;)
Eduarda
2016-06-14T00:00:00Z
Un piso estupendo, igual q en las fotos. Se portaron muy bien con nosotras, muy simpaticos y amables, nos dejaron unas frutas y una mermelada muy ricas. Zona muy centrica y bien situada. Recomendable 100% volveremos en otra ocasion.
Ana
2015-07-14T00:00:00Z
Casa incrivelmente acolhedora e bem localizada. Das melhores casas em que já tivemos. Recomendamos vivamente esta casa e garantimos que vai valer a pena.
Beatriz
2017-01-01T00:00:00Z
Un apartamento ideal en un sitio estupendo! Tuvimos que dejar el apartamento mas tarde y Pedro nos trato genial. Volveremos el año que viene sin duda
Lola
2015-08-01T00:00:00Z
Typ pokoje
Celý dům/byt
---
Typ nemovitosti
Byt
---
Ubytuje
4
---
Ložnice
Figueira da Foz, Coimbra, Portugalsko
Apartamento com 2 quartos, sala e terraco com vista para a praia, situado na marginal da Figueira da Foz/Buarcos. Totalmente remodelado, muito confortavel e com vistas incriveis, ideal para um escape de fim de semana ou ferias na praia.
Der Balkon mit Meerblick, mit einem großen Tisch und Liegestühlen Ihre Mahlzeiten mit Ihrem schleift und Familie zu entspannen und zu genießen.
Nous n'avons pas eu l'occasion de rencontrer Isabel mais tout était bien organisé pour notre arrivée. L'appartement est spacieux et très bien équipé, avec une magnifique et très grande terrasse de laquelle on ne voit que la plage et la mer! Magnifique lors du coucher de soleil! Isabel a été très souple pour les horaires et nous a autorisé à rester un peu plus le jour de notre départ Logement à recommander!
Estelle
2016-05-11T00:00:00Z
stunning view from the terrace and warm there.On the beach you cannot really sit as long (atlantic ocean) at the end of september.There are two lifts in the building,very helpful with heavy luggage,small supermarket with everything, delicious bakery nearby.Branca Isabel told us about the surroundings before,was available at the phone during our stay and managed a little problem quickly.The ocean,you can walk for kilometres,always great ,if you can drive a little up north to the small mountain,you ´ll have a great view and beautiful wood there.The kitchen is small, but equipped with everything one would need.
Birgit
2016-09-27T00:00:00Z
Very nice appartment at the top of a building in the middle of the beach of Figureira de Foz. Very considered hosts with outstanding flexiblity and patience with somewhat late arriving guests...
Thierry
2015-10-08T00:00:00Z
De advertentie en hoe het in werkelijkheid was, kwam precies overeen. Leuk en schoon licht appartement. Als de zon had geschenen was het perfect geweest, helaas was dat niet het geval. Het uitzicht over het brede strand en het heerlijke balkon maakten ons niet vrolijk natuurlijk, maar daar kon Branca niets aan doen natuurlijk. De plaats is een echte badplaats, op half uurtje van Coimbra, en dat is zeker een bezoek waard.
S
2015-05-03T00:00:00Z
Nice appartment, perfect location, we enjoyed every day.
Ronald
2015-08-14T00:00:00Z
Figueira da Foz é uma joia portuguesa! Aproveitar este lugar em apartamento tão bom como o de nossa anfitriã Branca foi um privilégio. Tudo funcionou muito bem. O local estava impecável. O terraço é amplo e com uma vista da praia muito bonita. Mesmo à distância Branca foi muito eficiente quanto à disponibilizar a chave e estava disponível para informações e ajudas. Muito obrigado!!
Marcelo
2016-03-28T00:00:00Z
Lovely big apartment with a fantastic view over the beach from the terrace - ideal for watching the sun go down ! We were 4 girls there for a wedding and were really very pleased with the place - easy free parking, only a short stroll away from the main part of the town and very comfortable and breezy at night. The apartment was very well equipped with all we needed! Branca was always very quick in getting back to my questions in the lead-up to the stay. All in all we had a lovely relaxing time in Figueira and I would definitely recommend this apartment if you are going there - precisely the kind of place which makes airbnb a step above the usual hotels Last but not least - for your breakfast in the mornings turn right when you leave the building - 30 second walk and there is a lovely bar with lots of Portugese pastries!
Olivia
2015-07-29T00:00:00Z
The appartment was one metter from the beach and If you think that Figueira beach is the longest yoy can find, that is really important. The terraze was great too and the appartment may be small for 4 adults but everything that you need will be found there. The host are extremly fast to solve whatever problem or doubt you may have. Not recommended to go without a car there is not much to do if you cant move around.
Ariel
2016-07-08T00:00:00Z
Typ pokoje
Celý dům/byt
---
Typ nemovitosti
Byt
---
Ubytuje
4
---
Ložnice
Figueira da Foz, Coimbra, Portugalsko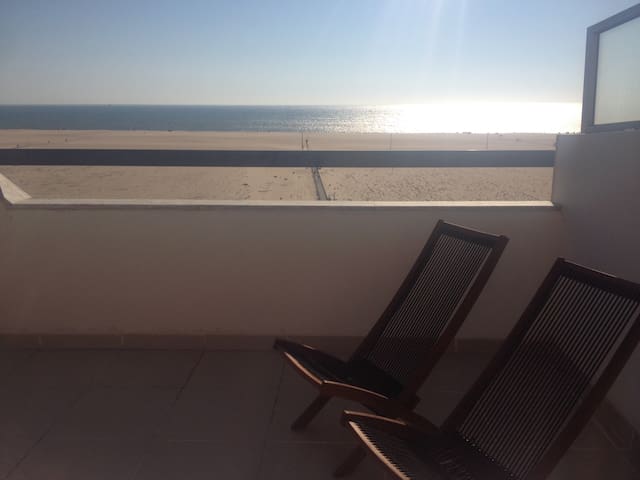 3 bedroom apartment, modern and spacious, well-equipped, on the beach, with two balconies (suite and living room) with fantastic views Mar. common roof terrace on top of the building with barbecue and stunning views of the beach, and Sierra Mar. Located in prime area of the city, near the beach, Green Park, Water and Trade Park. A 20 meters from the beach is just across the road and on the beach. Very quiet area.
Typ pokoje
Celý dům/byt
---
Typ nemovitosti
Byt
---
Ubytuje
6
---
Ložnice
Figueira da Foz, Coimbra, Portugalsko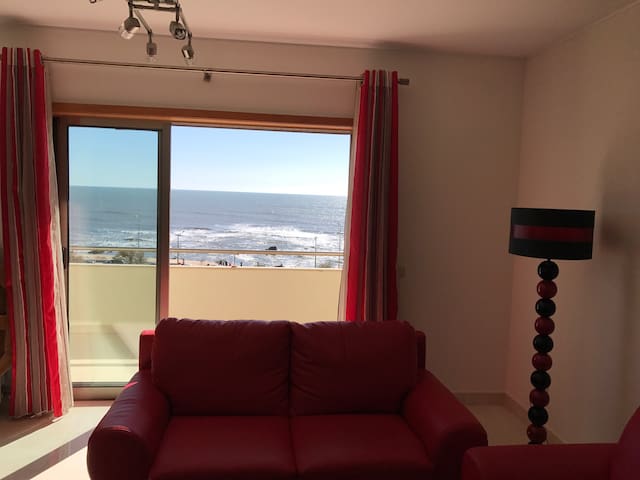 Idealmente localizado, em frente à praia e ao lado das montanhas. Apartamento renovado em 2008, máximo conforto e tranquilidade, decorado com bom (URL HIDDEN) qualquer coisa necessária perto da casa (supermercado, restaurante, café, campos desportivos).
Minha família comprou esta casa para ter um lugar calmo, com bom tempo, boa comida, fácil de chegar e onde poderíamos sair, toda a família. Podemos ir para a praia de manhã, andar de bicicleta e ir para a piscina à tarde e nunca se preocupar com uma coisa. A espaçosa varanda com vista para o mar e ver o pôr do sol no final do dia nos apaixonou com o lugar. As noites jantar, olhando para o mar, com um peixe grelhado cozinhar na varanda e depois de um dia divertido são inesquecíveis.
Os lagos em Quiaios, subir Serra da Boa Viagem (a montanha), ter frutos do mar e uma cerveja no Nautic (o restaurante) faz para as férias mais relaxantes. Se você quer mais coisas divertidas para fazer, basta ir a Figueira da Foz, a 20 minutos de distância, para os bares, mais restaurantes, lojas, o casino, etc
Excelente casa para um grupo de amigos! Dá para tudo, para a diversão e para descansar! Perto da serra e da praia, para todos os gostos! Casa muito ampla e com exelente vista para o mar, recomendo
Marcos
2016-04-26T00:00:00Z
The flat is nice and just in front of the lovely beach. However a few things must be pointed out : -The place has no central heating and is poorly insulated, so it was quite cold. There is an electric heater in every room, but we could not switch on more than 2 at the same time, otherwise the circuit breaker switches off. -The blinds are difficult to open and close. Some of them cannot lock, or are stuck. -The hot water tank is not connected to the earth, so there is a risk of electric shock. Apart from that, we enjoyed our stay
vincent
2017-03-26T00:00:00Z
The reservation was canceled 9 days before arrival. This is an automated posting.
Katya
2014-09-08T00:00:00Z
The apartment was wonderful, everything you need for cooking, sleeping and feeling relaxed. It was easy to get the keys and find the place. Just across the apartment is ocean and beautiful beach and just few km to walk, there are cliffs and fantastic coastline. Me and my friends enjoyed staying in the place, everything is just like promised or like in pictures ( maybe even a bit better). Thank you again, it was really pleasant stay.
Kairi
2015-01-25T00:00:00Z
The host canceled this reservation 10 days before arrival. This is an automated posting.
Ilona
2016-09-15T00:00:00Z
A estadia foi muito agradavel.A casa é ampla. estava tudo conforme o descrito.
Helena
2016-09-19T00:00:00Z
L'endroit était conforme à nos attentes, le logement agréable,la station balnéaire est plutôt calme et convient pour quelques jours
nadine
2016-08-10T00:00:00Z
A really lovely, light and surprisingly spacious apartment - I only had a couple of nights here but wish I'd had longer as it's the perfect spot to relax in. The apartment is really well equipped; although it is stated that no bedding is provided, there are pillow and blankets so you could get by with bringing just sheets and pillowcases in the summer. We had a couple of initial issues with the electricity (we couldn't find the fuse box to switch it on - top tip: it's behind the mirror in the hallway!) but Carolina responded promptly to my messages and everything was resolved very quickly. Obrigada!
Vicki
2015-05-10T00:00:00Z
Typ pokoje
Celý dům/byt
---
Typ nemovitosti
Byt
---
Ubytuje
8
---
Ložnice
Praia de Quiaios, Coimbra, Portugalsko
O meu espaço fica perto de belas paisagens, restaurantes e refeições, praia, atividades para famílias, e vida noturna. Vai adorar o meu espaço por causa de a iluminação, a cama confortável, a cozinha, e o aconchego. O meu espaço é bom para casais, aventuras individuais, viajantes de negócios, famílias (com crianças), e grandes grupos.
goncalo was very niced showed us around the most modern hostel we have ever stay in, very close to main areas and given the season we pretty much had it to ourselves!
Mitch
2016-11-16T00:00:00Z
Logement moderne et atypique. La terrasse a vue sur la mer domage que notre chambre n'ait eu qu'une fenetre de toit. chambre propre mais petite avec plafond mansardé. La cuisine est bien équipée. Le stationnement est facile.
jean-louis
2016-10-12T00:00:00Z
Nous avons été bien accueilli, avec le sourire. L'hôtel est bien situé à deux minutes à pied de la plage. La décoration est moderne, le concept est sympathique et permet l'échange entre les hôtes grâce à une cuisine partagée, une belle terrasse à l'étage etc... Nous avons passé un bon moment!
Corinne
2016-07-30T00:00:00Z
Un perfecti anfitrión. Todo muy limpio y nuevo. La estancia se encuentra al lado de la playa (6 min caminando) y a unos 15 min del centro (caminando).
Nuria
2016-08-07T00:00:00Z
Typ pokoje
Soukromý pokoj
---
Typ nemovitosti
Byt
---
Ubytuje
2
---
Ložnice
Figueira da Foz, Coimbra, Portugalsko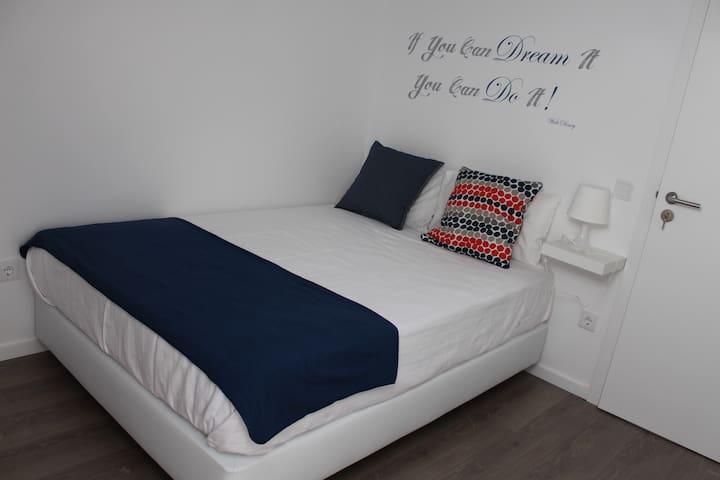 Quiaios - Airbnb
:
Průměrně

4.32

z

5

hvězdiček na základě

128

hodnocení hostů
1

–

18

z

155 Pronájmy bytů
Pro zobrazení celkové ceny zadej termín. Mohou být přidány další poplatky a daně.