Big, beautiful huoneisto.Erilliset toilet and bathroom. The possibility of a smoke sauna and paljuun (of payment) Quiet area, right next to the nature, wilderness and fishing. Birdwatching, peregrine falcon, wild goose etc. Lynx and bears, moose and deer.
The silence and the wilderness. Wild animals and rare birds (such as the peregrine falcon) In winter, a meter of snow and in summer next to the Salmon River.
Friendly people and wonderful nature.
The host canceled this reservation 52 days before arrival. This is an automated posting.
Aurélie
2015-11-04T00:00:00Z
The host canceled this reservation 28 days before arrival. This is an automated posting.
Sergey
2015-11-04T00:00:00Z
Kari y su familia nos hicieron sentir como en casa desde el primer momento: nos prepararon una sauna tradicional, nos enseñaron esquí nórdico,nos recogieron y llevaron al aeropuerto, nos invitaron a compartir con ellos Fin de Año e incluso una cena típica con carne de reno. La habitación es enorme y totalmente equipada, incluso con cocina dentro. Todo está muy limpio. Su descripción se ajusta perfectamente a la realidad. El lugar es perfecto para estar en contacto con la naturaleza y descansar, dado que está alejado de núcleos urbanos mayores, y es de una belleza incomparable.¡¡Hemos pasado aquí unas de las mejores vacaciones de nuestra vida!! Ya estamos deseando volver... Sólo tenemos agradecimiento para Kari y los demás. KIITOS.
Lidia
2015-01-07T00:00:00Z
After spending a lovely weekend at Kari's home one can clearly realize that certain special something that can not be experienced in a hotel: a warm, personal greeting from Kari & his wife upon arrival, an insight in their everyday life at the Lappish countryside, riding their horses, enjoy the authentic smoke sauna at the backyard and a great and funny conversation with them on our last evening (accompanied with a shot of heartwarming strong spirit :-) ). A friendly and helpful couple, unique atmosphere, very peaceful environment deep in the forest and breathtaking winter scenery made our short winter holiday unforgettable. Kiitoksia! Köszönöm! :-)
Klarissa
2014-12-23T00:00:00Z
Kari var jätte hjälpsam med att beskriva vägen för oss i realtid och välkommade oss på ett väldigt trevligt sätt. Huset är en dröm för en barnfamilj, med den stora, fullutrustade gympahallen, gitarrerna, bubbelbadet och det smakrikt inredade sovrummet med loft.. Vilket ställe!! :)
Rémi
2015-03-08T00:00:00Z
The host canceled this reservation 55 days before arrival. This is an automated posting.
Priyadarshini
2015-11-04T00:00:00Z
The host is quick in his response. The directions to the house is clear. We share half of the house with host and wife. Host runs a school for trouble children in his grounds. The house is surrounded by woodlands and you can pick blueberries everywhere. In winter this place must be beautiful with snowy trees. As for cooking facilities, there is a small stove for simple meals and not much crockery about. This place is about an hour's drive to Rovaniemi.
Chooi Yatt
2015-08-05T00:00:00Z
It was a lovely stay at Kari for our group of 5. Although the location may not be ideal for those intending to do most of your activities in Rovaniemi, Kari was very accommodating in providing transport to and fro Rovaniemi whenever we needed it which was very much appreciated! The place itself was very comfortable and sufficient for the five of us. Kari made it extremely welcoming for us, and even invited us to join their family for a private Christmas celebration dinner which we enjoyed very much. We were also invited to use their sauna and hot tub and they have activities such as horse-riding and sledding and skiing equipment which they readily lent to us. Overall, we thoroughly recommend this place especially if you want a authentic experience of living with Finns!
Jia Min
2014-12-28T00:00:00Z
Typ pokoje
Celý dům/byt
---
Typ nemovitosti
Byt
---
Ubytuje
7
---
Ložnice
Ranua, Finsko
An authentic place in the Lappish countryside with gorgeus view to the Kemijoki river. Here you can find silence, beauty of the nature and peace for your mind. This accomadation fits perfectly for couples, families and group of friends who wants to experience the peaceful time in Finnish Lapland. You can try the classic riverside sauna or electric sauna and here is the best place to see the Northern lights without the city lights.
This place is located at lovely Autti village in Rovaniemi region. The house is duplex house where one part is only for guests and another is for hosts. The use of riverside sauna is free for guests. If you like fishing we can provide you the boat and some equipments, for icefishing as well.
La ubicación de la casa es excepcional. El entorno es increíble. La casa es espaciosa, acogedora y bien equipada. El anfitrión estuvo dispuesto en todo a ayudar en todo momento, siempre disponible. La sauna en el borde del lago fue mágica, una experiencia inolvidable. ¡Totalmente recomendable!
Luis
2016-12-04T00:00:00Z
The house is wonderful if you want to experience the local Rovaniemi house, especially they have the Sauna in the house and the rooms are huge and really cozy. The host is super nice as well. One thing needs to be considered is that the house is quite far away from the central so it would be nicer if you spend couple days there.
Becky
2016-12-24T00:00:00Z
we have a very good experience there . sadly the weather is not good . but the house is fantastic and the host is auch nice ~~
Shujie
2016-12-29T00:00:00Z
Pekka and his son Olli were so kind with us during the stay in their beautiful cottage. They helped us with any problem, recommended us things to do and even came to guide us during a trip. The whole surroundings of the house were fantastic and the sauna was nice. Only good comments about it! Highly recommended!!
Alberto
2017-01-28T00:00:00Z
Typ pokoje
Celý dům/byt
---
Typ nemovitosti
Byt
---
Ubytuje
7
---
Ložnice
Rovaniemi, Finsko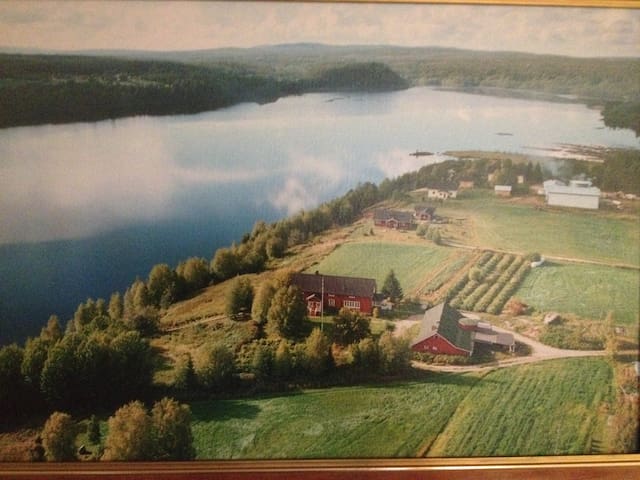 Superb location right next to (100m) ski lift, cross country skiing tracks, restaurant and grocery store. You don't need a car during your stay. Apartment is fully renovated during summer 2016. The price includes one Lift Pass to Iso-Syöte (value of 154€ / 7 days). The apartment has a sauna and cozy fireplace.
The apartment is fully renovated during summer 2016. It's a two-storey apartment and size of 85m2. There are three separate bedrooms and large upstairs hall with high quality sofa bed. You can easily accommodate eight persons. Here are some of the main amenities: Downstairs - Bedroom - 2*80cm beds that can be united - Toilet, bathroom and sauna - Kitchen with all the relevant equipment - Cozy fireplace, large sofas - 55" Full HD TV (Apps), (SENSITIVE CONTENTS HIDDEN) Chromecast and wireless audio system with Genelec loudspeakers Upstairs - Large hall with Interface Vanilla sofa bed (140cm wide). - 46" Full HD Display with PlayStation3 - Bedroom no. 2 with 140cm wide bed - Bedroom no. 3 with 2*80 beds that can be united - Toilet
Jarmo's house is very comfortable, warm and well located. We were 7 during one week, and the house is big enough that a friend of our daughter who live on Finland can easely join us for the week end. Jarmo is a very good host, available and friendly. A very good destination for discovering Finland, skiing, walking in the forest and others activities like snowmobile or dogsled with huskies.
isabelle
2017-02-18T00:00:00Z
Hyvin varusteltu, hieno paritalohuoneisto kävelymatkan päässä laskettelurinteiltä.
Pauli
2017-02-25T00:00:00Z
Typ pokoje
Celý dům/byt
---
Typ nemovitosti
Byt
---
Ubytuje
8
---
Ložnice
Pudasjärvi, Finsko