Erleben Sie die Ruhe auf dem Land, 6 km vom Strand, 8 km von Vila do Conde und 18 km von Porto entfernt. In einem Dorf mit allen Annehmlichkeiten (Geschäfte, Supermärkte und Cafes / Restaurants.) Wir werden uns freuen, Sie persönlich begrüßen zu dürfen und werden während Ihres Aufenthalts um Rat folgende notwendig zur Verfügung stehen.
Typ pokoje
Celý dům/byt
---
Typ nemovitosti
Dům
---
Ubytuje
6
---
Ložnice
Vairão, Porto, Portugalsko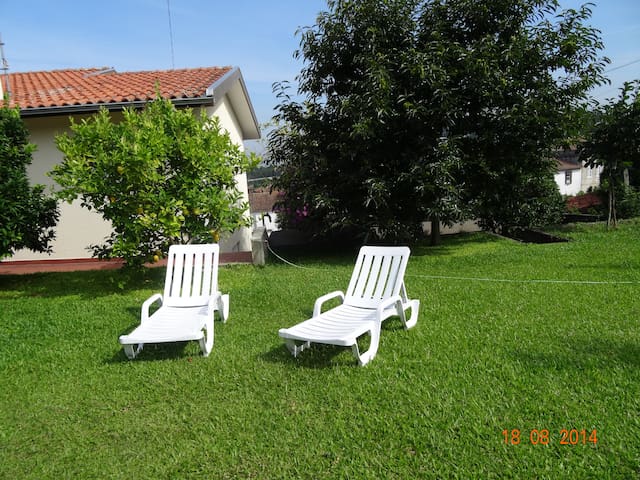 The fusion of two themes, riding and nature arises Equinaturi House which is divided into two areas, the Equi Opensapce and Naturi Openspace. This is the Equi Openspace, come find it!
A true openspace living room / kitchen / bedroom and bathroom, which can be housed 3 adults and 2 children. The room has a double bed and a bunk bed with 2 single beds. The living room features a sofa bed. The kitchen is equipped with oven, hob, microwave, utensils and table with 5 seats. The pool, deck, sun loungers, garden, nature characterize the exterior space. ~ seasonal outdoor pool, open in mid-May.
The Equinaturi House is located in Cordova, 8 klm from Santo Tirso and 30 klm from Porto International Airport. If you want to know the North of Portugal you can also visit by car, Porto (30 Klm), Braga (30 Klm) and Guimarães (30 Klm). Nearby is a supermarket (you can walk), pharmacy, gas fuel, pay-shop, hairdresser, florist, ATM, butcher, bakery, stationery / kiosk, cafes, restaurants and a 10-minute drive from the center commercial and cinemas. 1 minute from Equinaturi House is Coudelaria Vila Nova where you can know the space, see the horses, the breeding mares and to make the equestrian baptism (riding for the first time). Be my guest !!!
Um espaço muito acolhedor, muito bem decorado e com a tranquilidade necessária para uns dias de descanso ou passeio. Todo o processo de reserva e de estadia decorreu sem qualquer problema, com um anfitrião muito disponível e simpático.
Filipa
2016-09-05T00:00:00Z
Logement conforme aux photos. Le studio est neuf et vraiment décoré avec goût. Nous avons été agréablement surpris par le logement car il est spacieux. Accueil parfait Rui était à l écoute Par contre je ne sais pas si c est signalé dans l annonce mais le logement n est pas dans le haras mais a 5 min a pied. Le haras et les chevaux sont magnifiques et possibilité de prendre des leçons d équitation ou faire une sortie. Par contre un point négatif avec la rue qui est très passante... Et les 2 logements côte à côte donc manque d intimité des que l on est dehors En tout cas c est super bien situé pour visiter Porto,Guimareas,Braga,etc...
Vanessa
2016-08-15T00:00:00Z
Sitio estupendo y tranquilo. Rui fue muy atento enseñandonos toda la hipica.
Enrique
2016-08-24T00:00:00Z
Le logement est semblable aux photos et très bien entretenu.
Aurélie
2016-08-03T00:00:00Z
Typ pokoje
Celý dům/byt
---
Typ nemovitosti
Dům
---
Ubytuje
5
---
Ložnice
Monte Córdova, Santo Tirso, Portugalsko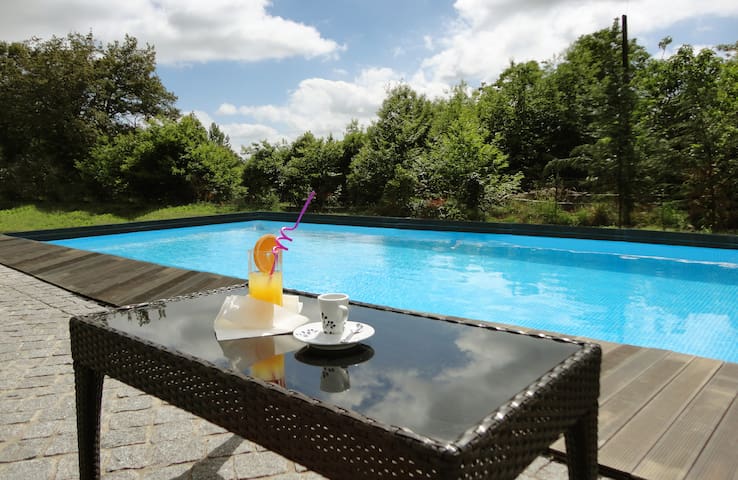 Vitória's House is located in the beautiful city of Vila Nova de Famalicão, between cities like Porto, Braga and Guimarães. Just 35 Km from Francisco Sá Carneiro Airport and very close to the main motorways. Inside a farm, it is perfect for your family! The house has a salty pool, and a kitchen full equipped. Every room is air conditioned and fitted with a flat-screen TV with cable channels. In the neighborhood you can find restaurants, coffees, bakeries and beautician, only 5 minutes by feet.
The house is inside a farm. Here you can enjoy country life, and if it pleases, get along with various farm animals. The owners live on the farm, so they will be there for any need, ensuring however all privacy.
Few Km away, there is the thematic restaurante Eugénios, where you can have the best dancing dinners of Portugal. Eugénios has also a gym if you want to exercise. 5 minutes by feet, you can have fresh bread every day. There´s also other restaurants, coffees and beautician. And if you want to do the grocery shopping, you have just 1 Km away, one big supermarket.
Typ pokoje
Celý dům/byt
---
Typ nemovitosti
Dům
---
Ubytuje
5
---
Ložnice
Braga, Braga, Portugalsko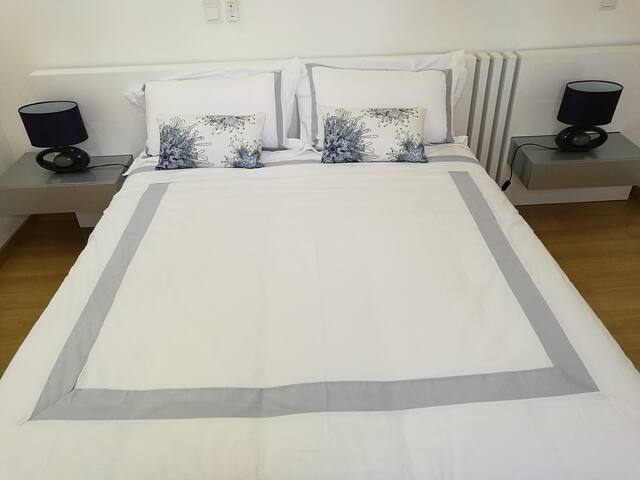 casa ideal atípico para as férias, uma grande sala, combinando sala de jantar da sala de estar e cozinha, você vai viver juntos durante as suas férias em família ou casais. O churrasco está pronto em todos os momentos para grelhar sardinhas ou outros peixes de ter comprado à beira-mar. A 20km do aeroporto do Porto e 6 das praias de Vila do Conde e Póvoa de Varzim, com acesso muito fácil, a localização é um plus para visitar o norte de Portugal.
No piso térreo Grande sala com kitchenette Um quarto com uma cama de 2 pessoas Casa de banho com duche e WC 1º andar Quarto muito grande com 2 camas de 2 pessoas terraço 20m² jardim espaço fechado para o carro 18 m2 40m² Lawn 18 metros quadrados terraço Churrasqueira TNT francesa 27 cadeias + estrangeira
A vista do jardim é provavelmente um dos mais bela aldeia.
Typ pokoje
Celý dům/byt
---
Typ nemovitosti
Dům
---
Ubytuje
6
---
Ložnice
Touguinhó, Vila do conde, Portugalsko
************** PER FAVOR QUE HI HA UNA OFERTA PER AL MES DE JUNY - NOMÉS de 90 € / DIA !! ************** Estic llogant una increïble casa de pedra que data de 1640, a 15 km de Porto. És un gran lloc per passar unes vacances relaxants al camp. La casa té 2 dormitoris, un amb un llit doble i l'altre amb dos llits individuals. Tant les habitacions tenen una cambra de bany i també hi ha un tercer lavabo. La cuina està totalment equipada (incloent una estufa, nevera, forn microones, rentavaixelles i una taula). També hi ha una rentadora, una planxa i una taula de planxar a la zona de bugaderia. A la sala d'estar hi ha un ordinador amb una Surfstick internet. També hi ha un garatge on es pot mantenir fins a 3 cotxes, i per sobre d'ella una altra habitació gran. També tindrà accés a l'antiga cuina amb llar de foc i un forn de pedra, on la meva família fa servir per fer pa i, a sobre, una sala d'estar amb sofàs, una taula de futbolí, etc. Hi ha un munt d'espai a l'aire lliure on es pot gaudir de la natura en pau i tranquil·litat i també una a l'interior del camp de golf. La ubicació és perfecta, perquè es pot arribar ràpidament a Porto amb cotxe o amb tren. Si ho desitja, també puc deixar un cotxe per al seu ús personal. Altrament, les connexions de tren són força simple de Porto i es pot arribar amb autobús Maia.
Fomos recebidos com muita atenção pela Elisa, que nos deixou à vontade. O local e a propriedade superaram nossas expectativas. Quartos e acomodações confortáveis e cozinha bem equipada. Meu marido, filha, genro e netos sentiram-se à vontade na casa e aconchegados. Se retornar à região do Porto a casa da Elisa será nossa 1a. opção. Recomendamos.
Gabriela
2016-06-28T00:00:00Z
Das Haus ist einfach nur wunderbar, herrlich eingerichtet und das große Grundstück lädt einfach nur zum entspannen ein. Die Küche ist komplett mit allem was man braucht ausgestattet. Der Pool herrlich kühl an den heißen Tagen im Sommer. Wir würden jederzeit wieder hinreisen. Durch die nähe zum Flughafen und der Stadt Porto ist dieses Haus einfach nur perfekt. Mit 4 Erwachsenen und 2 Kindern hatten wir in diesem Haus sehr viel spaß.
Patrick
2014-08-19T00:00:00Z
Una casa amplia, cómoda y con todos los detalles para sentirte como en casa.Cerca de Oporto y de la costa, con una anfitriona a la altura de la casa, muy amable y agradable.Ya echamos de menos esos desayunos en el patio, el jardín, los partidos de badminton, Oporto y estar de nuevo en Portugal. Habrá que repetir.
Javier
2014-05-05T00:00:00Z
Merci Elisa pour votre accueil chaleureux. Vous avez préparé la maison très vite, malgré ma demande très tardive. Avec beaucoup d'attentions. La maison est magnifique, dans un jardin fermé, sécurisé, avec des orangers...Cuisine moderne, très belles chambres. Wifi, parking, atrium, piscine, c'est une maison où passer beaucoup de temps. Et très près du centre de Porto.
Gerard
2014-11-29T00:00:00Z
Elisa nous a accueilli et nous a montré sa maison. Durant notre séjour, Elisa est venue en toute discrétion pour faciliter notre séjour (sortir les poubelles, nettoyer la piscine). Nous avons profité du jardin, du patio et de la piscine. Très bon séjour, Maia est proche des villes à visiter et des plages. Nous avons pris les transports en commun pour aller à Porto sur les recommandations d'Elisa.
Eliane
2016-09-08T00:00:00Z
Excellent séjour chez Elisa Accueil chaleureux, Elisa et son mari sont très gentils et aiment les enfants. Logement spacieux, confortable, très bien équipé. La villa est reposante. Très très belle piscine couverte qui fait notre bonheur pendant cette période estivale. Nous recommandons vivement cette location et remercions beaucoup Elisa et Luis A bientôt Maya, Maëlle, Anna, Solenn, Raphaël et Frédéric
Solenn
2016-07-10T00:00:00Z
Wonderful stay at Elisa's place as always! That is the sesond time we are coming and it has been a pleasure to be there again! Elisa is relly nice and the house is quiet and beautiful!
Judicaelle
2017-03-20T00:00:00Z
Un grand merci à Elisa pour son accueil, sa gentillesse et sa disponiblilité. Nous avons été très bien reçus et nous avons pu échanger en Français avec Elisa. La location est tout à fait conforme à ce que nous avions vu en photo : une maison magnifique, avec un beau jardin, un grand patio et une belle piscine couverte. La localisation était pour nous idéale, à la campagne mais assez proche de la ville et de l'aéroport. Encore merci à Elisa, ce sera pour nous un plaisir de revenir la voir.
Patrick
2015-04-27T00:00:00Z
Typ pokoje
Celý dům/byt
---
Typ nemovitosti
Dům
---
Ubytuje
7
---
Ložnice
Maia, Porto, Portugalsko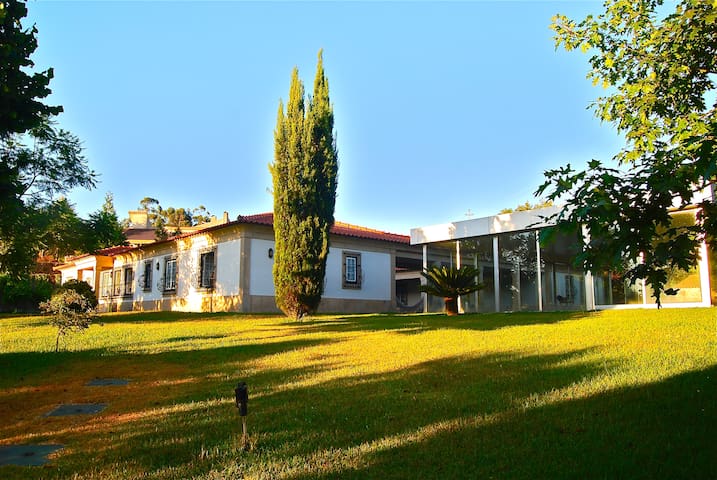 Maria´s Home é uma casa antiga situada na freguesia da Junqueira do século XIX, recentemente restaurada, oferecendo todas as comodidades necessárias para passar umas férias agradáveis.
A casa encontra-se inserida numa propriedade de 3 500 m2, rodeada de vegetação e ambiente rural. Sendo uma casa acolhedora com 5 quartos(acomoda 8), 4 casas de banho (uma com banheira hidromassagem), duas salas, uma ampla cozinha, lavandaria, piscina, jardim, churrasqueira, sala de jogos, dois alpendres, baloiços para crianças, pomar, parque de estacionamento privativo e com óptimas condições para animais de estimação. Na sua proximidade encontram-se vários locais de interesse histórico e cultural. A cidade de Vila do Conde situa-se a sensivelmente 7 Km de distância de fácil acesso de carro ou transporte público. Vila do Conde é uma cidade banhada pelo oceano Atlântico com uma extensão de 18 Km de praia que no verão oferece diversas actividades desportivas e de lazer, assim como, espectáculos de música (Azurara Beach Party). Pode ainda visitar o Centro Histórico de Vila do Conde e a Nau Quinhentista situado no Rio Ave.
Nous sommes trés heureux de ce voyage. nous ne connaissions pas le Portugal et il nous a semblé trés interressant : nous sommes plutot amateurs de "vieilles pierres " et repos: pari gagné. de façon générale les portugais nous ont parrus trés aimables aidants à l'écoute. En ce qui concerne la location nous avons été séduits, elle corespondait bien plus qu'à nos attentes aussi nous recommanderions sans arriere pensée le Maria's Home d'Ema c'était parfait pour ce que nous étions venu chercher repos et découverte , en effet elle est placée tres proche de Porto et trés accessible aux voies de communication .l'acceuil lui même vraiment parfait : aussi nous avons eu coeur de répondre à la confiance qui nous a été faite en nous confiant cette maison . Notre au revoir Ema et nos remerciements. (Elle n'a pas été déçue de notre passage?)
robert
2016-09-17T00:00:00Z
Que de points positifs ! Un grand merci à Ema pour nous avoir reçu avec beaucoup de générosité et de délicatesse (gentilles attentions à notre arrivée et au cours de notre séjour) et à Chantal pour nous avoir aidé à communiquer ! Ema, nous avons vraiment passé un moment agréable et avons adoré votre joli nid douillet ! Votre maison contient tout ce que nous pouvions désirer ... jardin verdoyant, petits salons extérieurs aux volumes spacieux pour des pauses agréables, piscine très bien entretenue et à taille humaine (même pour 7), salle de jeux, potager ... Chambres confortables et spacieuses. Cuisine, salon et salle à manger très bien équipés, à la déco bien pensée. L'ensemble est extrêmement propre ! Je recommande vivement cette villa et Ema est incontestablement une hôtesse fantastique !
Catherine
2016-06-04T00:00:00Z
Emma your home rental is a perfect paradise for fantastic holidays with young children : MANY THANKS ! Your home is very very very clean, fully equiped, very quiet and ideally localised : near many sites to visit Your hospitality is at top level, as your many daily services to help your visitors living great moments : thanks for welcoming tapas dinner for a happy arrival expérience, your bread free delivery during breakfast, your daily cleaning service, and so many souvenirs... The pool is fantastic as the barbecue place and the children game part (ping pong, baby foot, table games...) without forget every places to sit and rest !! Congratulations !!! We hope to come back soon cause we really love your home
Xavier
2014-07-27T00:00:00Z
Amazing places if you are looking for a quite and relaxing stay. Nicely renovated and decorated old farm house with a huge outdoor and pool area (bigger than it looks on the pictures). The owner brought fresh bread every morning and you can eat fruits and vegtables from the garden. Nice beaches and the next big city can be reached by car in 10-15 mins. Overall, perfect stay!
marc
2015-07-14T00:00:00Z
Typ pokoje
Celý dům/byt
---
Typ nemovitosti
Dům
---
Ubytuje
8
---
Ložnice
Vila do Conde, Porto District, Portugalsko
Casa inserida em quinta rural, com total privacidade e acesso a piscina
House with 1 bedrooms, 1 bathroom and kitchnet. Ideal for 1 couple. Has access to garden and swimming pool 3 km from metro Vilar do Pinheiro, 10 km from the airport, 8 km from the beach and 18 km from Porto center.
The host canceled this reservation 33 days before arrival. This is an automated posting.
CHARLINE
2015-08-31T00:00:00Z
Location que nous vous conseillons fortement. En dehors de Porto (il faut une voiture) nous avons trouver un havre de paix... Très belle propriété où nous avons apprécié faire une pause entre deux visites. La piscine est très propre et non négligeable au regard de la chaleur quand nous y étions. Le propriétaire fait tout pour que vous y soyez bien. Merci à lui pour toutes ses attentions. au niveau du logement nous avons trouvé tout le confort nécessaire pour deux personnes. Nous y retournerions bien avec nos enfants en louant l'appartement plus grand.
Frédérique
2015-07-03T00:00:00Z
Tout était aussi beau et propre que dans l'annonce ! La propriété d'Ana et Alvaro est un véritable eden (quel magnifique jardin !), situé à une vingtaine de minutes de Porto en voiture. Nos hôtes ont été charmants et notre séjour fut très agréable. Nous recommandons chaudement ce logement !
Nicolas
2015-07-20T00:00:00Z
Notre séjour à Mostéiro était parfait! Nous avons été accueillis comme il se doit par le propriétaire de la maison. Le logement était propre, équipé et agréable. Un cadre verdoyant (très grand jardin et piscine) pour passer de très bonnes vacances. A 10kms du centre ville de Porto, la voiture est conseillée pour les visites. Néanmoins, le métro se situe à 3kms de la villa et c'est très agréable de se balader à travers les routes de campagne et sous le soleil du Portugal. La maison se situe dans un environnement calme, campagnard et paisible. Nous gardons un très bon souvenir de se séjour et nous ne pouvons que remercier Anna et son père pour l'accueil qu'ils nous ont fait.
Delphine
2015-06-02T00:00:00Z
Unas vacaciones perfectas, una casa con unas instalaciones ideales para pasar unos días de descanso y poder visitar la costa norte de Portugal. Alvaro se mostró muy atento con nosotros. Seguro que volvemos!
Mirian
2015-08-15T00:00:00Z
Quartier très calme, lieu magnifique, hôte discret, appartement très bien, pas déçus de cette semaine passée à mosteiro ! Je recommande !
Valentine
2015-08-22T00:00:00Z
Séjour agréable et reposant. L'environnement (propriété , jardín et piscine) est vraiment très beau et le logement spacieux et confortable.
Fabienlg
2015-09-12T00:00:00Z
Typ pokoje
Celý dům/byt
---
Typ nemovitosti
Dům
---
Ubytuje
2
---
Ložnice
Mosteiró Vila do Conde, Porto, Portugalsko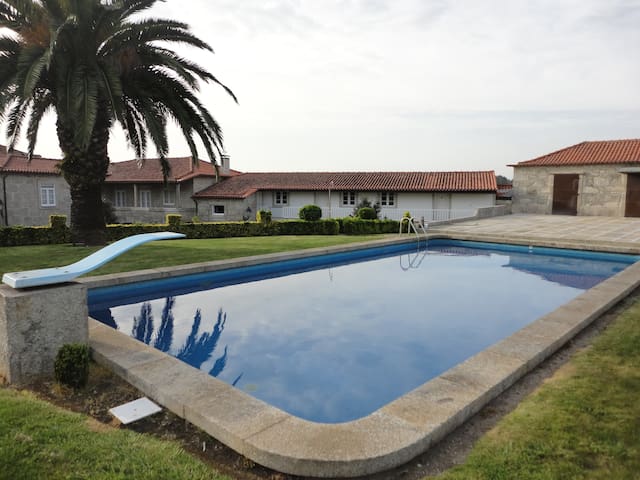 Casa de campo com piscina e jardim envolvente. Calmo e relaxante. A cerca da 6 km de Vila Nova de Famalicão. Cidades num raio aproximado de 30 km: Porto, Braga, Póvoa de Varzim (praia), Vila de Conde (praia), Guimarães, Santo Tirso e Barcelos.
Typ pokoje
Celý dům/byt
---
Typ nemovitosti
Dům
---
Ubytuje
5
---
Ložnice
Landim, Braga, Portugalsko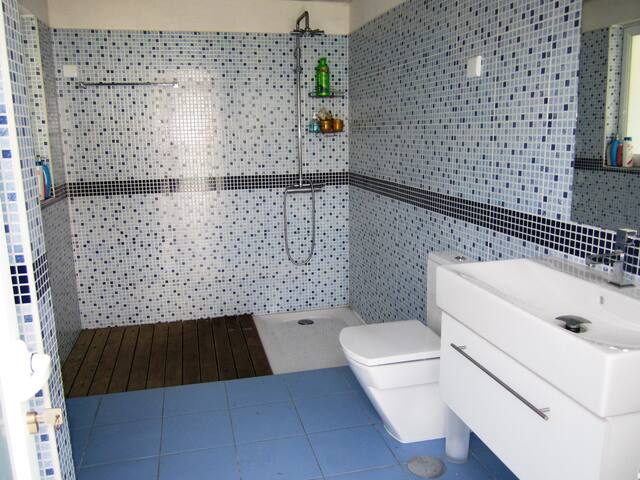 Pokoj ve vymyšleném venkovském domě s přístupem do bazénu, tenis / fotbal / basketbalové hřiště a kulečníkový stůl. T
Typ pokoje
Soukromý pokoj
---
Typ nemovitosti
Dům
---
Ubytuje
2
---
Ložnice
Vairão, Porto, Portugalsko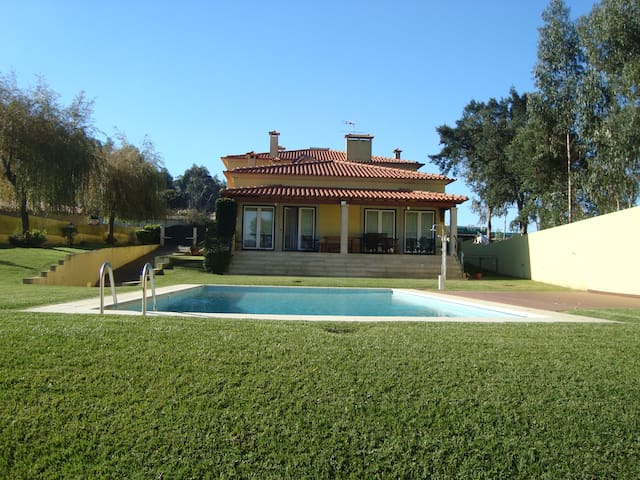 Enjoy quiet time in a centuries-old cottage 25km from Porto and minutes from the ocean. The antique furnished 10-room house sits in 6 acres of walled land. It hosts 4 guests, with all contemporary amenities and a bounty of space to spare. Each stay includes a basket of seasonal vegetables, fruits and eggs from our farm next door. Casa da Mineira is proud to welcome all guests.
Casa da Mineira is a airy 160 m2 or 1600sf house that sits in a 6-acre walled property. The grounds include a garden, lawn, granite patio and areas of orchard and cultivated fields. The grounds are part of a large 300-acre farm called Quinta de Vilarinho which has been in the family for many generations. The present configuration of the farm compound, with its mansion, barns and stables dates from the mid 19th century. The house has 2 large bedrooms with private bathrooms, an additional bathroom for visitors, a large and well equipped traditional kitchen, office, TV-room, living room and dinning room. The building was completely restored in the last year to offer all the comforts expected in a contemporary home. It has radiant-heated floors powered by solar-panels, cable TV, wi-fi, dishwasher and laundry washer. The traditional kitchen features an large walk-in chimney with a functional brick oven, a semi-professional stove, full refrigerator and freezer and is fully equipped to cook a feast. The formal dinning room sits six guests. It can very comfortably host 4 guests for a relaxing vacation, but it can also be the ideal workspace for a writer or scholar in a longer stay.
Casa da Mineira sits in the quiet village of Vilarinho, Macieira, county of Vila do Conde. The village offers basic amenities and commerce, such as a pharmacy and a supermarket.
Casa de Mineira was even more beautiful than any pictures could tell. We were welcomed very friendly by Ines and her assistant. There was even a huge basket with vegetable and fruits from Ines farm. Ines also invited us to make a walk on her farm and was very helpful with advices and help during our stay. We loved sitting on the sunny terrace and enjoyed the quietness of the countryside.
Oliver
2015-10-14T00:00:00Z
We had such a beautiful stay here! The place is beautiful and feels like home. Spacious, peaceful, and serene. Bonus there was fresh local fruit and veggies awaiting our arrival! We gladly recommend this place to stay and looking forward to returning ourselves! Thank you Ines!!
Isabel
2016-12-18T00:00:00Z
Really worthy
LUIS
2016-03-26T00:00:00Z
This has got to be one of the most beautiful houses in the area between Porto, Barcelos and Guimaraes. We stayed here for a couple of days on a business trip, and it was a great place to come back to after a busy day. Iñes made us very welcome with fresh vegetables, fruit and eggs and invited us over to her garden too, which is located on the same square. She also pointed out a very friendly restaurant just across the street. With shops and bakeries nearby, it was a very convenient stay.
Peter
2016-05-04T00:00:00Z
The place was absolutely lovely, quiet and peaceful. We enjoyed our stay and the hospitality a lot and would recommend it to anyone who wants to spend some relaxing time in the countryside. The geese have already been changed into ducks that make no noise at all.
Nikolaus
2016-05-19T00:00:00Z
A beautifully restored historic house in a quite location. Not far from the coast and a 35 minute train ride to Porto. A car is essential however to get around. Clean, well equipped and spacious. Exactly like the photos!
Bev & Mark
2016-11-15T00:00:00Z
This is the most spacious, elegant, quiet and beautiful place you can imagine. Everything is beautiful, clean and well thought out. Fresh fruits,vegetables and eggs await you in the kitchen - all from the farm's own production. Emilia welcomed us warmly and Ines answered all our questions. If you don't have to be in a big city, this is as good as it gets.
Uli
2016-06-15T00:00:00Z
Extraordinaire maison, d'un charme fou ! Inès et Emilia ont été très accueillantes, nous avons particulièrement apprécié les légumes et fruits du jardin !
Marc
2016-08-20T00:00:00Z
Typ pokoje
Celý dům/byt
---
Typ nemovitosti
Dům
---
Ubytuje
4
---
Ložnice
Macieira da Maia, Porto, Portugalsko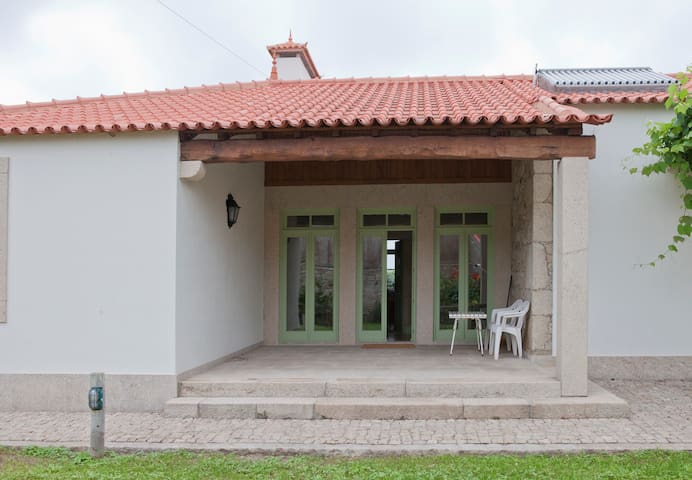 Magnifica Casa Rústica Centenária, mas com todo o conforto de uma casa moderna, totalmente remodelado em 2016. Situa-se na freguesia de Bagunte no conselho de Vila do Conde, a cerca de 20 km da cidade Invicta do Porto. Ótima localização para conhecer o norte de Portugal: - Parque Penada Gerês fica a cerca 1:20h; - Guimarães(considerado Património Cultural da Humanidade) fica a cerca de 40 minutos; - Vigo (Espanha) fica a acerca de 1:45h.
A casa tem 5 quartos com cama de casal; cozinha totalmente equipada; piscina privada; parque infantil;maquina de lavar roupa; ferro de engomar; churrasqueira; parque privativo; alguns animais como galinhas, ovelhas, etc habitam na parte exterior da habitação. Disponibilizamos serviço de "chef em casa". Se preferir fazer um almoço ou jantar mais requintado e não quer ir a um restaurante, temos o serviço de "chef em casa", onde pode escolher o menu de comida tradicional portuguesa e aproveitar para interagir com o chef na cozinha.
Fantástica experiência. Os responsáveis pela casa foram sempre prestáveis e ajudaram em tudo o que era necessário, realmente fantástico. Quanto à casa, o espaço é bastante amplo, privacidade garantida, toda a casa foi recentemente remodelada, está em condições fantásticas. A zona da piscina é incrível, boa vista, diversão garantida nesta casa. Sem duvida que recomendamos, principalmente para um grupo de amigos como foi o nosso caso. Devemos repetir entretanto. Bons acessos, local mais do que suficiente para estacionar todos os carros, sala super confortável. A repetir, sem dúvida.
Arnaldo
2016-09-25T00:00:00Z
Tudo foi fantástico! A casa em si é maravilhosa. Tem tudo o necessário, ou talvez mais... As crianças deliraram com o pequeno parque e os animais da quinta. Relativamente à hospitalidade não podia ter sido melhor. Antes e durante a estadia, sempre disponíveis e com imensa simpatia. Uma experiência a repetir, da próxima vez com calor para usufruir da piscina!
Mafalda
2017-01-01T00:00:00Z
Sítio fantástico com uma casa de sonho. O anfitrião sempre prestável. A única coisa a lamentar foi não poder ter ficado mais dias a disfrutar deste sítio. 5 estrelas!
Ricardo
2016-09-12T00:00:00Z
Typ pokoje
Celý dům/byt
---
Typ nemovitosti
Dům
---
Ubytuje
10
---
Ložnice
Bagunte, Porto, Portugalsko
My space is close to the beach, public transport, restaurants and meals, night evida. You'll love my space because of the environment and people. My space is good for couples, solo adventures, business travelers, efamílias (with children).
Un'ottima accoglienza e disponibilità; l'ubicazione non è purtroppo delle migliori, ma può essere utile per fare pausa a prezzo ragionevolissimo.
Francesco
2016-08-15T00:00:00Z
Typ pokoje
Soukromý pokoj
---
Typ nemovitosti
Dům
---
Ubytuje
4
---
Ložnice
Vila Nova de Famalicão, Braga, Portugalsko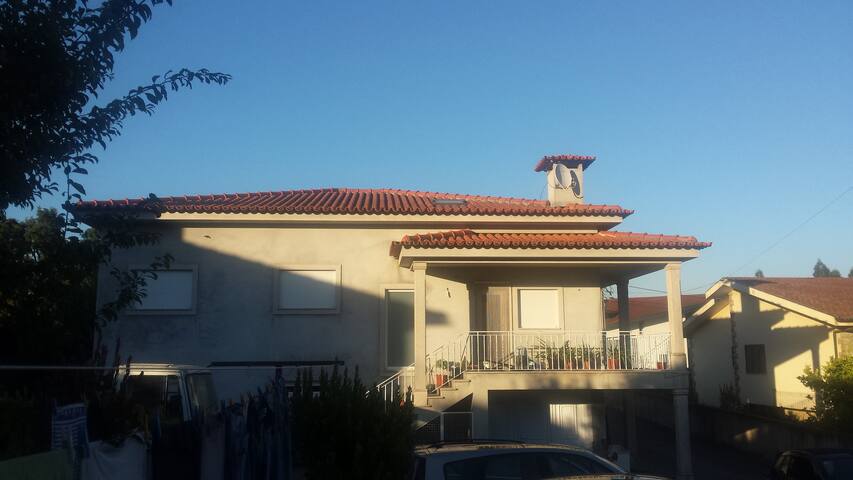 Dies ist ein sehr ruhiger Ort, an dem die Bauern leben. Es gibt eine Menge von Maisfeldern und Pferden.
Alda was a wonderful host! She is an incredibly friendly and generous person who made my mother, my dog, and I very comfortable on our visit. The bedrooms are very clean and just as pictured. The bathroom is well equipped and clean, as well. Alda has a dog named Valentina and she was a perfect playmate for my dog-he misses her already! Alda-thanks so much:)
Ashleigh
2016-07-31T00:00:00Z
Good place to stay before going to the airport, just 30min and you are at the airport. Alda is very welcoming you. Everything very clean. Good price/quality. Very nice dog, but unfortunately during the night other dogs make some noise and there is a strange smell outside.
Carine
2016-09-28T00:00:00Z
Alda is such a great host. We don't have enough words to thank her. She picked us from the metro stop, she dropped us off to where was needed the next day, she prepared a delicious meal for us and entertained us with interesting chats. Rooms are cozy and comfy and the lovely cat and dog walking around are a super nice bonus. Highly recommended!
Cristina
2016-09-24T00:00:00Z
Nuestra estancia ha resultado fantástica. La casa es muy acogedora y esta en una zona tranquila, rodeada de campos verdes. Fue muy sencillo llagr hasta aquí. Alda es una mujer muy agradable, culta y simpática. Te proporcionará todo lo que necesites. No shizo sentir como en casa. La comunicación es muy fluida, puesto que habla portugués, italiano, inglés, francés y español. Es un sitio muy recomendable para descansar y pasear. Si pasamos otra vez por la zona, ¡seguro que repetimos! Muchos gracias por todo, Alda, ha sido un placer estar contigo!
Ricardo
2016-11-10T00:00:00Z
La casa es muy bonita, con un estilo rustico muy cuidado, con un gran jardín en el cual se puede desayunar y comer al aire libre. Lo único la ubicación, que es un poco difícil llegar a ella, pero con (SENSITIVE CONTENTS HIDDEN) maps no hay problema. Alda, la anfitriona ha estado muy correcta y ha intentado en todo momento que nos sintiéramos cómodas, pero un pequeño problema con el idioma no permitió que la relación fuese más fluida.
Olga
2016-08-16T00:00:00Z
Alda fue muy amable y nuestra Telma pudo jugar con su Valentina y entrar en la casa con toda libertad. Quizás por su problema de cadera no le diese tiempo de preparar las estancias a tiempo... Ella nos ofreció compartir toda la casa sin problemas y el precio es muy bueno. No obstante mis padres y yo buscábamos más intimidad en esta ocasión.
GISELA
2017-02-12T00:00:00Z
Alda est très gentille, agréable et discrète. Nuits un peu sonores à cause des chiens voisins, mais le chien d'Alda est très gentil…
Nicolas
2016-08-26T00:00:00Z
Alda nous a accueilli chaleureusement dans sa maison très fonctionnelle et bien équipée pour une grande famille. Bon rapport qualité/prix. Alda a été très disponible et soucieuse de notre confort.Nous recommandons ce logement.
Guillaume
2016-08-03T00:00:00Z
Typ pokoje
Soukromý pokoj
---
Typ nemovitosti
Dům
---
Ubytuje
5
---
Ložnice
Balazar, Porto, Portugalsko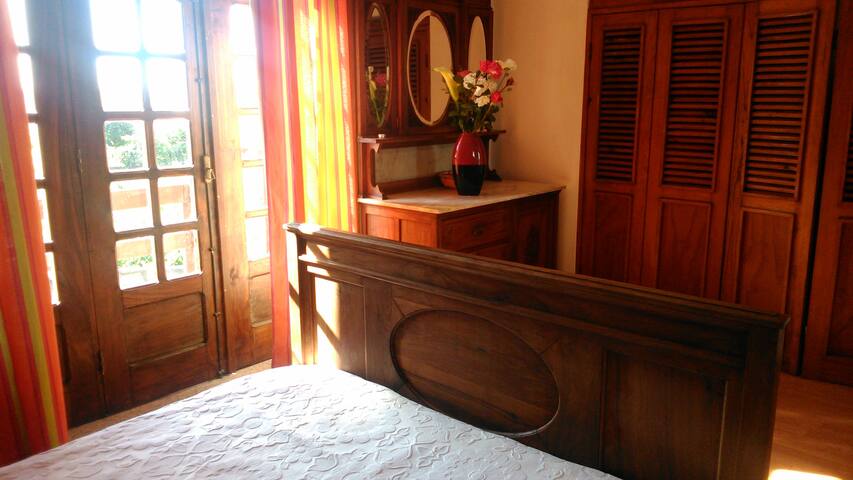 Casa completamente recuperada, com todas as comodidades e uma decoração (URL HIDDEN) um amplo jardim, piscina com cobertura de segurança. Localizada na freguesia de Várzea, concelho de Barcelos, a 5 Km do centro da cidade. Uma cidade bonita no norte do país banhada pelo rio Cávado e famosa pelos seus produtos artesanais, gastronomia, história, tradições e património. A 12 Km de Braga, 12 km das praias de Esposende/Fão/Póvoa de Varzim e a 3 Km dos principais acessos para autoestrada.
A moradia localiza-se num local sossegado com vistas magníficas. Cozinha completamente equipada, zona de jogos, estacionamento privado na moradia, churrasqueira, possibilidade de refeições no exterior. Piscina de grandes dimensões com cobertura de segurança e pré aquecida por painéis solares. Jardim com grandes áreas.
Local sossegado e seguro, com vistas priveligiadas e muitos pontos de interesse nas proximidades.
Typ pokoje
Celý dům/byt
---
Typ nemovitosti
Dům
---
Ubytuje
6
---
Ložnice
Várzea, Braga, Portugalsko
Large house with privacy, outdoor patio and garage Located 500 meters from sand beach, 2km from Oporto Subway, 15 km from the airport Is locate in a rural residential area with artesanal fishing, near cities of Vila do Conde, Porto, Braga, Guimaraes
House fully furnished and equipped. All divisions have direct light. Housing with large outdoor area for leisure, with grass, trees and patio. Patio with table, chairs, sunshade and sun loungers
Quiet residential area with rural characteristics, with good accessibility, sea views, located relatively close to restaurants, shopping areas, artisanal fishing area, beach with fine sand, blue flag and with long walkways by the sea.
Sehr herzlicher und liebevoller Empfang, danke!
Anke
2016-08-24T00:00:00Z
Excellent house!! Super clean the kitchen is great you can cook without worry to miss any kitchen gadget. The location for us was excellent near to the airport, in a safe quiet neighborhood. The village have a bakery, restaurant and a shop. Just Wonderfull!!
Daisy
2017-04-08T00:00:00Z
Maison spacieuse, très propre et meublée avec gout, bien équipée, à la campagne proche de la plage et du petit port local. Bon acceuil et sérieux des propriètaires .
Éric
2016-02-24T00:00:00Z
Fui muito bem recebido, a descrição do anúncio é apropriada e o bairro tranquilo.
Luciano
2015-10-19T00:00:00Z
Es de las mejores casas en la que hemos estado de vacaciones. Muy espaciosa, con una decoracion muy elegante y confortable. Muy limpia. El jardin grande. El menaje de la cocina muy completo. Al lado de la playa en un lugar muy tranquilo. Wiffi funciona perfecto. Muy bien comunicada, a 5 min de la autopista y carreteras para ver la zona norte de portugal. Fuimos dos adultos y dos crios y nos ha encantado la casa. De verdad que la recomiendo.
Juan
2016-08-21T00:00:00Z
Super séjour. Aucun reproche à faire … à notre arrivé le propriétaire était là, il nous a fait visiter la maison (toute a fait fidèle aux photos et au descriptif) rien ne manqué, linge de maison, plans des environs, bonnes adresses ….etc Nous avons profité du bord de mer qui est à 8 min à pied.. Même le beau temps était de la partie. Bref très bonne adresse à recommander ++
muriel
2016-03-19T00:00:00Z
La maison est très agréable, la région est belle, bref, nous avons passé un excellent séjour !
Sabine
2015-10-27T00:00:00Z
Charmante maison, dans le village typique de Vila Cha, un bel accueil nous a été réservé par le propriétaire serviable et nous ayant indiqué notre situation sur une carte et les restaurants dans lesquelles nous pouvions manger (cependant pour les prochains arrivants il y a un très bon restaurant au sein du village, situé a côté du lavoir, vous ne serez pas déçu c'est un vrai régal, c'est local, frais et typique et la patronne est juste familière a souhait, pas de chichi). La maison dispose de tout le nécessaire pour vivre confortablement, c'est juste super. Des serviettes, des couvertures,quelques denrées ont été mis a notre disposition (délicate attention des propriétaires). Vous n'avez besoin de rien prendre tout est à votre disposition. Rien de tel que de se mettre sur la terrasse de la maison avec une vue sur la mer et vous pourrez également vous promenez au bord de la plage. La maison est irréprochable, propre et fonctionnelle. Si vous partez en hiver, prenez tout de même des vêtements chaud car les maisons au Portugal ne sont pas fournies en chauffage comme chez nous en France lol mais des chauffages d'appoints sont mis à votre disposition dc n'ayez crainte. Bref un séjour parfait....vivement cet été. Merci encore aux propriétaires pour leur professionnalisme et leurs attentions.
julie
2016-01-17T00:00:00Z
Typ pokoje
Celý dům/byt
---
Typ nemovitosti
Dům
---
Ubytuje
5
---
Ložnice
Vila do Conde, Porto, Portugalsko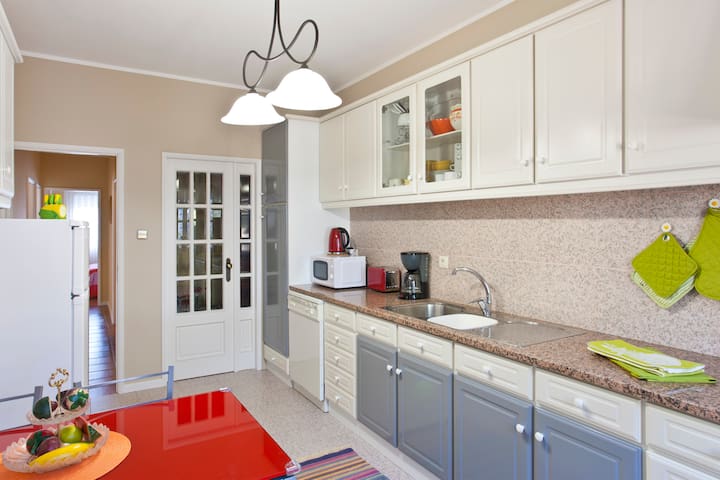 15 Minuten von Porto und dem Strand, spektakuläre Haus. Golf Natur im Ferienort, Swimmingpool, Chill-Out, Grill, 3 Bäder und 3 Schlafzimmer, TV und Wifi. Ideal für Familien. Machen Sie Ihren Aufenthalt unvergesslich.
Das Haus befindet sich in einer kleinen Stadt neben Porto, oft eine Porto Nachbarschaft weil sein nur eine 15-minütige Fahrt zum Herzen dieser wunderbaren Stadt. Dank seiner Nähe und für eine ruhige und Sicherheitsbereich ist es für Sein die bevorzugte Residenz von einigen berühmten FC Porto Fußballspieler auch gut bekannt ist. Das Haus hat 250 Quadratmeter, 3 geräumige Schlafzimmer, 3 Bäder, 2 Wohnzimmer w / Esszimmer mit Plasma-TV und Wi-Fi. Es gibt eine schöne Küche mit allen Geräten und einem wunderschönen privaten Swimmingpool mit einer schönen Terrasse mit Grill und Garten. Das Haus verfügt über einen Parkplatz. Es ist der perfekte Ort, um eine Familie oder eine Gruppe von Freunden aufzunehmen. Handtücher und Bettwäsche sind im Preis inbegriffen.
Such a beautiful villa! The house is awesome! We were 5 people, which was totally fine since the house is huge. Everything is as described and as one can see on the pictures. The view is really spectacular and even though the neighborhood is really calm and quiet, we never had problems with listening to music and chilling outside in the evenings. We relaxed the minute we unpacked, and the pool is a fantastic size. Very easy to get 15 minutes from Porto's city center. We will definitely be booking again! Sara was a fantastic host and was available any time we needed her. Such a wonderful holiday.
Carlos
2017-02-10T00:00:00Z
Sara and Carlos understand how to make you feel at home. Our first encounter with Airbnb could not have been better! The House offers everything you probably would wish for when relaxing with your family and/or playing golf. As a lot of Portuguese families live in the development you never feel yourself in a tourist only place. The restaurant in the clubhouse is worth a visit. Lively Porto is 20 min drive. You need a car to get to this wonderful place and a good GPS :-).
Georg
2016-03-09T00:00:00Z
Sara et Carlos sont des hôtes charmants et nous avons reçus un accueil très chaleureux. C'est une magnifique villa qui bénéficie de tout le confort dans un quartier calme et reposant. Nous avons beaucoup apprécié le design et les aménagements, ainsi que les extérieurs. Nous recommandons vivement cette villa et ne manquerons pas d'y retourner lors de notre prochain séjour au Portugal. Un grand merci a nos hôtes pour leur gentillesse et leur disponibilité.
CAROLE
2016-07-03T00:00:00Z
Très bien accueillis par Sara et Carlos, la maison est spacieuse, lumineuse et propre. La vue, le cadre, la tranquillité nous ont permis de nous reposer. La ville Porto est vraiment à quelques minutes en auto. Ce fût parfait !
Thierry
2016-08-07T00:00:00Z
L'accueil de Sara et Carlos a été parfait, malgre les imprévus du voyage. Nous avons passé un excellent séjour : la maison est lumineuse, avec de très beaux volumes, parfaitement entretenue et dans un bel environnement au calme.
Emmanuelle
2016-07-31T00:00:00Z
Nous avons passé 15 superbes jours dans la très belle maison de Sara & Carlos qui sont venus nous accueillir. Tout est vraiment parfait, la maison, la piscine et la région qui es très belle. C'est un séjour à refaire Séverine & Patrick, Raphaël, Baptiste
patrick
2016-07-17T00:00:00Z
Typ pokoje
Celý dům/byt
---
Typ nemovitosti
Dům
---
Ubytuje
6
---
Ložnice
Porto District, Porto District, Portugalsko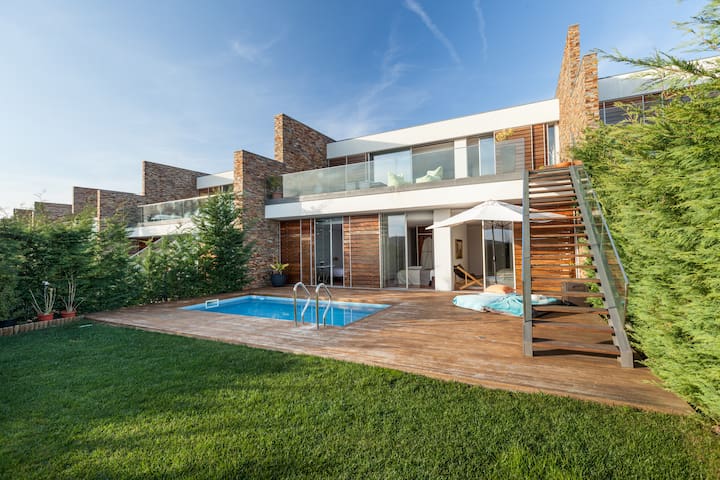 The fusion of two themes, riding and nature arises Equinaturi House which is divided into two areas, the Equi Opensapce and Naturi Openspace. This is Naturi Openspace, come find it!
A true openspace living room / kitchen / bedroom and bathroom, which can be housed 3 adults and 2 children. The room has a double bed and a bunk bed with 2 single beds. The living room features a sofa bed. The kitchen is equipped with oven, hob, microwave, utensils and table with 5 seats. The pool (available from 15.06.2016), the deck, the deck chairs, garden, nature characterize the exterior space. seasonal outdoor pool, open in mid-May.
The Equinaturi House is located in Cordova, 8 klm from Santo Tirso and 30 klm from Porto International Airport. If you want to know the North of Portugal you can also visit by car, Porto (30 Klm), Braga (30 Klm), Guimarães (30 Klm) and Vila do Conde (30 klm-beaches). Nearby is a supermarket (you can walk), pharmacy, gas fuel, pay-shop, hairdresser, florist, ATM, butcher, bakery, stationery / kiosk, cafes, restaurants and a 10-minute drive from the center commercial and cinemas. 1 minute from Equinaturi House is Coudelaria Vila Nova where you can know the space, see the horses, the breeding mares and to make the equestrian baptism (riding for the first time). Be my guest !!!
Gostei
Ana
2017-03-05T00:00:00Z
Ensembles très bien
Stéphane
2016-08-07T00:00:00Z
Rui was a fantastic host. Nothing was too much trouble and he did everything he could to help us. I would highly recommend Rui to all travellers.
Zak
2017-04-12T00:00:00Z
Hemos estado seis días y fenomenal. La casa es una monada y muy cómoda. El dueño es una persona encantadora. Siempre está atento de que nos encontremos bien. Incluso nos trajo unos dulces típicos para desayunar que estaban deliciosos. Está constantemente haciendo mejoras. Durante nuestra instancia puso luces en el patio y en la piscina. La zona está fenomenal para visitarla. Las carreteras Son buenas. Y hace fresquito por las noches. No nos importaría repetir la experiencia. Rui es una persona encantadora y su casa tiene de todo!
Lorena
2016-07-10T00:00:00Z
Otimo apartamento. Tudo foi como esperado.
Gustavo
2017-02-12T00:00:00Z
Typ pokoje
Celý dům/byt
---
Typ nemovitosti
Dům
---
Ubytuje
5
---
Ložnice
Monte Córdova, Santo Tirso, Portugalsko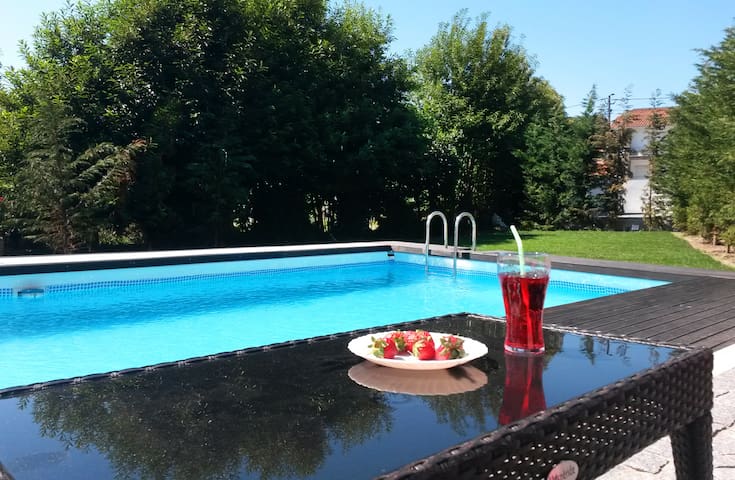 Vivenda Familiar com governanta. Local calmo, com Jardim e quintal. TípicO e Com todas as comodidades para viver a experiência de ficar numa aldeia típica do norte de Portugal. O acolhimento e o calor humano será a sua verdadeira experiência. Até já Family villa with housekeeper. Quiet place with garden and yard. Typical and Natural. With all the facilities to live the experience of staying in a typical village of northern Portugal. The warmth of humanity will be your true experience.
Typ pokoje
Soukromý pokoj
---
Typ nemovitosti
Dům
---
Ubytuje
8
---
Ložnice
Macieira da Maia, Porto, Portugalsko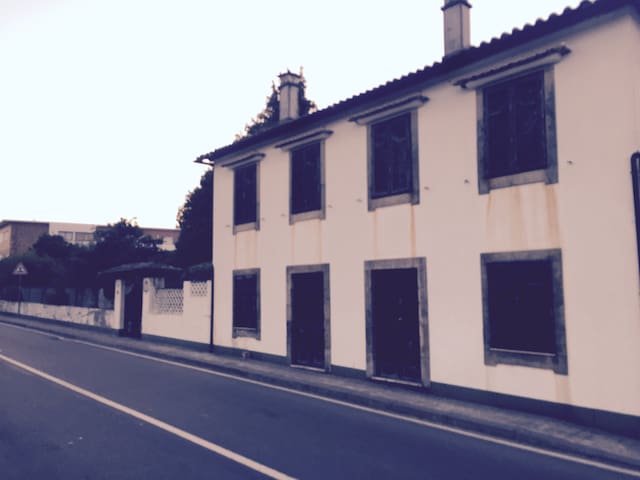 1

–

18

z

58 Pronájmy domácností
Pro zobrazení celkové ceny zadej termín. Mohou být přidány další poplatky a daně.