Benim yerim aile dostu faaliyetleri ve toplu taşıma araçlarına yakındır. Sen çünkü coziness, yüksek tavanlı, manzaralı ve konumu yerimi seveceksiniz. Yerim çiftler, (çocuklar) aileleri, büyük gruplar ve kürklü arkadaş (evcil hayvan) için iyidir.
Perfect weekend escape. We loved our stay at Steve's gorgeous house. The pictures do not do it justice. Gorgeous fairytale garden and lovely main room. Everything was clean and beautiful, the kitchen and master bathroom are both huge and well stocked. Steve's handyman even helped us out when we were having trouble starting our car. Looking forward to coming back!
Irene
2016-11-20T00:00:00Z
This place is better than viewed in pictures. Great for groups and entertaining. Nice beautiful open space and lovely property. Close to great towns and activities. Great communication from owner. Totally recommend and would stay again
Jp
2016-12-12T00:00:00Z
Cozy, modern, and unique house in private location (bed room and bath rooms are not private, bc giant glass windows are all around! But it's funny. you can have a unique experience). House is huge that you can use first and second floor. And Smart heating system and Amazon Alexa sound system are awesome!!! Best ever place! Highly recommend.
Sangha
2017-01-19T00:00:00Z
My husband and I were looking for a weekend getaway to celebrate our anniversary, and this fit all the marks. It's one of THE most beautiful houses we have ever stayed in, and Steve went above and beyond as a host. The kitchen is HUGE and stocked with any spices and supplies you would need to cook. We made an amazing meal one night on the grill outside and later roasted smores from ingredients the host had left. It is on a big property and we enjoyed walking around the land with our dogs in the breathtaking autumn views. The biggest plus is it is only two hours from NY and about 10 min from New Paltz which is a cute artsy college town. We enjoyed hiking in the Mohonk preserve, visiting the main village of New Paltz, and various farm stands and breweries. Yard Owl craft brewery is particularly great! We will definitely be back again with friends! Would highly recommend taking a weekend getaway here this fall or really any season.
Abby
2016-10-10T00:00:00Z
Steve's Farmhouse is a magical place just as described. It's a wonderful place to relax and unwind, enjoy making meals and explore the land, including the pond and rowboat over the road. The garden is filled with flowers and it's great to sit and watch the birds, including hummingbirds, and bees and grasshoppers and a gray fox even came to visit at night! Steve is a great communicator and very welcoming. You will have a lovely stay. (Be aware though, if you are looking for total quiet, that you can hear the traffic noise from the Thruway when you are outside.)
zana
2016-08-26T00:00:00Z
What an amazing house and property! We loved our stay! The house is located in a very quiet neighborhood just 5 minutes from downtown Rosendale. It is in a completely private and beautiful setting, surrounded by trees and nature. Both the house and the property are in excellent condition. Steve's home is a beautiful farmhouse with a modern addition built off of the back. It is a great blending of old and new architecture. We felt so comfortable and at home during our stay. There was plenty of room for the four of us. As amazing as the house is, the property is even better. We had a great time sitting out back among the beautiful wild flowers. We also loved hiking up the hill behind the house. Our favorite part was getting to cross the street and relax in our very own private row boat in the large pond on Steve's property. We spent our weekend exploring the many gorgeous acres and just relaxing and enjoying the quiet. Our dog loved being off leash and running around all weekend long! The house is close to downtown Rosendale and a close drive to High Falls, New Paltz and Kingston. Steve was incredibly responsive. He quickly answered our emails and texts, and we really enjoyed getting to stay at his home. We can't wait to go back again!
jamie
2016-08-22T00:00:00Z
Steve's house is AMAZING. We were a group of 6 but could easily have fit more people. The sunroom is the best living space I've ever experienced - with its huge couch, lovesack, and swing, all engulfed in sunlight from the doors looking out to the pond and trees and the generous skylights. The spacious master bedroom and bath with beautiful views was also a gem. All in all, we had a wonderful time hanging out in the house, roasting marshmallows at the firepit and exploring the surrounding lush lands. HIGHLY RECOMMENDED.
Valentina
2016-09-06T00:00:00Z
The house is marvelous! My family of 5 were enchanted with the views and the comfort of the space. As others have said, the pictures do not capture how open and spacious it is. We had some pretty cold days and the house was cozy and super comfortable. Beautiful fireplace and enormous kitchen overlooking a pond and the woods. Also Steve is an uber responsive and very gracious host. Highly recommended!!
Veronika
2016-12-28T00:00:00Z
Typ pokoje
Celý dům/byt
---
Typ nemovitosti
Dům
---
Ubytuje
8
---
Ložnice
Tillson, New York, Spojené státy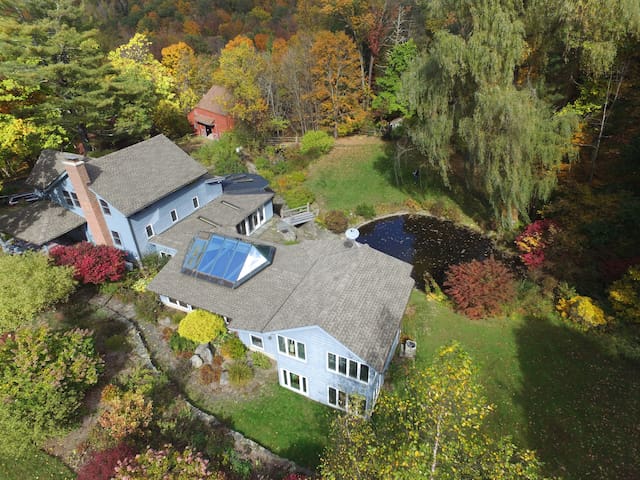 Wilda is no doubt an amazing host. Everything in the room and the private bathroom is prepared as of hotel standard, including all the supplies we can possibly think of, even floss. Not to mention the homemade breakfast she prepared for us. We got to enjoy some blueberry pancake in the well-cared backyard on a lovely summer morning. Can't beat it!
Jane
2015-07-11T00:00:00Z
Wilda and Shaun's lovely home was perfect for a fall getaway in the Hudson Valley. Room was private and comfortable, and breakfast was delicious.
Nina
2014-09-28T00:00:00Z
My boyfriend and I had such a pleasant experience at Wilda and Shawn's home! We were both bummed we didn't plan on staying two nights! The room was very clean and comfortable. She had the AC running before we arrived (making the room nice and cool for a nap!). It was so nice to have robes and toiletries provided! (Makes you feel a bit more at home!) We both enjoyed breakfast she made in the morning, as well as getting to know her during the meal. I would recommend this to anyone looking for a clean comfortable space and a great location (directly between Kingston/New Paltz).
ellen
2015-05-30T00:00:00Z
Welcoming hosts who enjoyed conversation over a delicious breakfast. Wilda and Shaun were very easy to talk to and accommodating to my travel plans.
Tamara
2015-10-18T00:00:00Z
My husband Steve and I so enjoyed our time with Wilda and Shaun! The house was beautiful. We enjoyed their hospitality!
dianna
2012-11-12T00:00:00Z
Wilda and Shaun were great hosts. I was by myself and they made sure I felt included, welcome and cared for. They are kind people! The accommodations were excellent. My room was comfortable and had an air conditioner. Shaun shared his maps with me when I needed to get a better feel for the area. Wilda is an excellent cook. Breakfast included fresh fruits, jam, cream cheese and an assortment of breads or muffins. I don't eat a big breakfast, but Wilda would have made eggs, bacon and the works every morning for me if that had been my preference. I had a wonderful stay and I enjoyed their amusing cats!
Mary
2014-05-31T00:00:00Z
Felt very welcome in Wilda's home - especially as a first time Airbnb user. Everything was as described and I felt at home in Tillson. Wilda also put together a great breakfast for me early in the morning as I had a bike race to get to early.
Dan
2016-10-02T00:00:00Z
Wilda and Shaun were incredibly welcoming and generous with their time and their home. My boyfriend and I felt immediately at ease and comfortable in their home. They are sweet and fun to talk to- it was possibly the most interesting breakfast conversation that I've had in quite some time. The bed was extremely comfortable, the room was cozy, and we were perfectly rested for the wedding that we attended in Rosendale the next day. Thank you, Wilda and Shaun! We hope to see you again sometime soon!
Johanna and Charlie
2015-11-08T00:00:00Z
Typ pokoje
Soukromý pokoj
---
Typ nemovitosti
Dům
---
Ubytuje
2
---
Ložnice
Tillson, New York, Spojené státy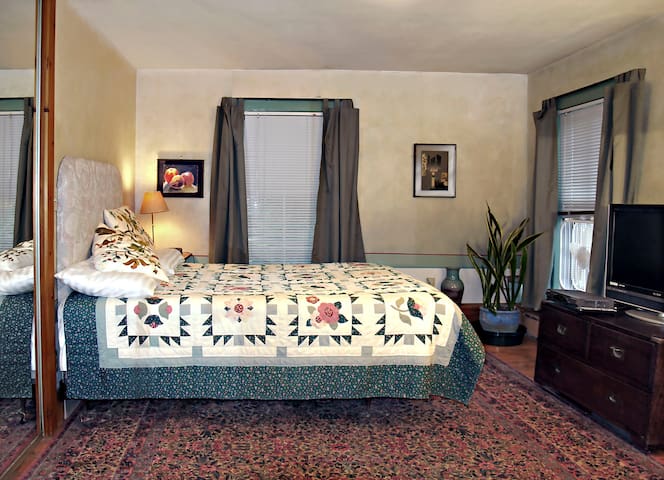 The host canceled this reservation 121 days before arrival. This is an automated posting.
Tyler
2017-02-01T00:00:00Z
Les & Carol were great hosts. They proactively reached out to us to confirm the reservation and ensure a smooth arrival. They were constantly available for issues. The house was as described and in good condition, given it's age. We did experience a plumbing issue during the stay that the owners were able to temporarily correct while waiting for the plumber. The house is located in a residential area but adjacent to the local highway. We heard occasional loud traffic noises at night, though nothing compared to NYC. Also, there is only one smallish bathroom. For larger groups or families, please be aware. Otherwise, a very pleasant experience! Thanks!
Calvin
2016-09-05T00:00:00Z
Typ pokoje
Celý dům/byt
---
Typ nemovitosti
Dům
---
Ubytuje
4
---
Ložnice
Tillson, New York, Spojené státy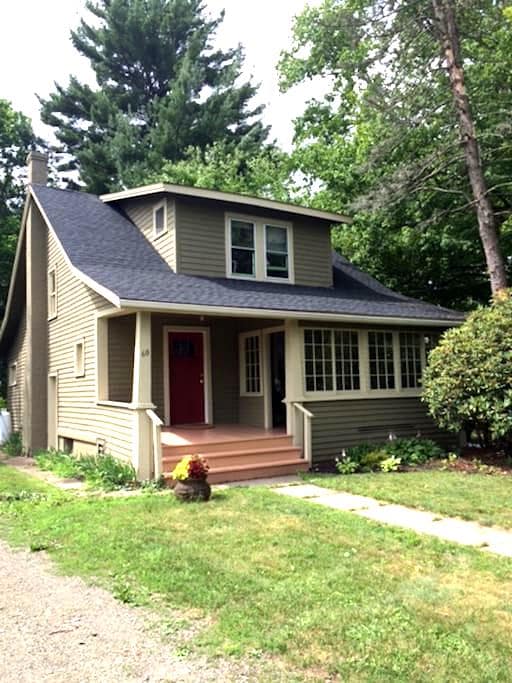 Beautiful house and amazing location would highly recommend
Namek
2016-06-13T00:00:00Z
Typ pokoje
Celý dům/byt
---
Typ nemovitosti
Dům
---
Ubytuje
4
---
Ložnice
Tillson, New York, Spojené státy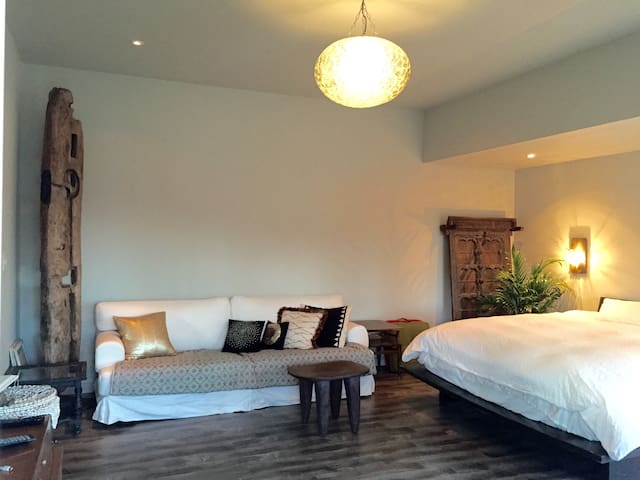 Julie- We loved your incredibly cozy cabin for our girls getaway weekend! What a warm and peaceful environment- softest blankets and sheets ever, cozy couch- wonderful dining room table to enjoy the farm to table food we brought in from town. The complimentary hot yoga class was such a wonderful part of our weekend together! Thank you so much for having fresh cider, apples and tea ready and waiting for us. You have a fabulous property and I'd come back alone just to read the fabulous books on your shelf!
viktoria
2015-11-15T00:00:00Z
Julie is a great host. The cabin can be a little tricky to find at night but we followed Julie's directions and they guided us directly to the property in the dark! The property is not as secluded as expected, the neighbors face the front of the cabin but they are distant enough to have some privacy. The stores and drive to town are within minutes. We enjoyed visiting the 1600 year old houses on Huguenot Street Historic District and the antique shops are fabulous! Quiet, relaxing, and who doesn't love to barbecue! We hope to return.
Jade
2017-02-21T00:00:00Z
There were four of us and this log cabin weekend getaway was exactly what we needed. It was nestled not too far from other houses but just far enough. The decor was lovely and the modernness added the perfect touch. Beds were amazingly comfortable and you could smell the freshness of the linens. Everything was available in the house that we needed as well as town, great shops and cafes/restaurants. We spent most of our days on the porch from breakfast to dinner and then late night at the fire pit. We can't wait to go back!
Kali
2016-04-26T00:00:00Z
This truly was a perfect log cabin retreat for the Thanksgiving weekend! The house is very inviting, with stylish decor, comfy beds, and inviting living/dining areas to spend time with the group. While the woods surrounding the house make it feel like a get-away, it is an easy drive into town. Along with a great list of recommendations for area activities and restaurants, Julie thoughtfully welcomed us with cider, apples, and a locally made blueberry pie to enjoy with our Thanksgiving meal. We also enjoyed trying out the free hot yoga class! I like the New Paltz area, and will definitely try to stay here again when I visit.
Julie
2015-11-29T00:00:00Z
Aptly named, this lovely home was a wonderful getaway for a long weekend. Set in a beautiful small town, but feels tucked away and surrounded by nature. The house itself was perfect, with the comfiest beds and cozy common areas. Julie was incredibly helpful in collating a list of places and things to see and do, and even stocked up cider and fresh fruit for us, which was just unexpected and unnecessary but so considerate. Would definitely try to stay here again when I'm in the area!
Larissa
2015-10-19T00:00:00Z
Our stay at Julie's cabin was fantastic. The cabin itself looks even better than it does in the photos. Julie provided helpful tips and was very quick to respond to our questions.
Robert
2016-08-29T00:00:00Z
Julie's place was perfect. It was cozy and clean and really just a wonderful place to stay during our visit. Julie was extreamly easy to communicate with and responded immediately. I would stay here again and recommend it to everyone!
Rachael
2017-01-02T00:00:00Z
Hosts very welcoming. Everything very clean. Well organized. Treats in the fridge. Very comfortable beds. Lovely sheets and towels. Very quiet. Altogether delightful.
Vanessa
2016-09-20T00:00:00Z
Typ pokoje
Celý dům/byt
---
Typ nemovitosti
Dům
---
Ubytuje
5
---
Ložnice
Tillson, New York, Spojené státy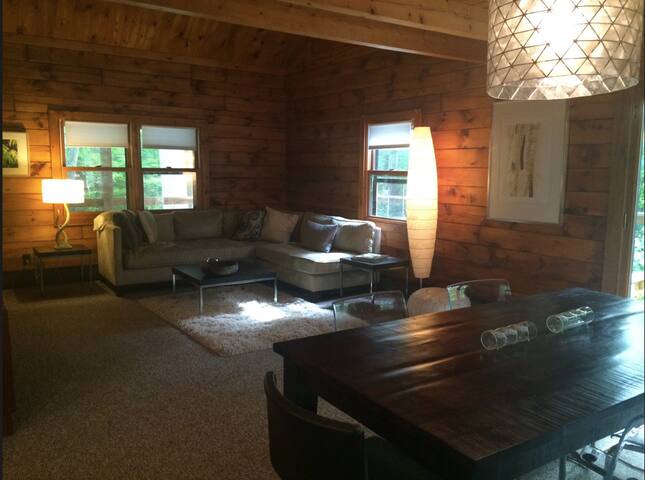 The host canceled this reservation 12 days before arrival. This is an automated posting.
Khurshid
2016-11-24T00:00:00Z
Typ pokoje
Celý dům/byt
---
Typ nemovitosti
Dům
---
Ubytuje
4
---
Ložnice
Tillson, New York, Spojené státy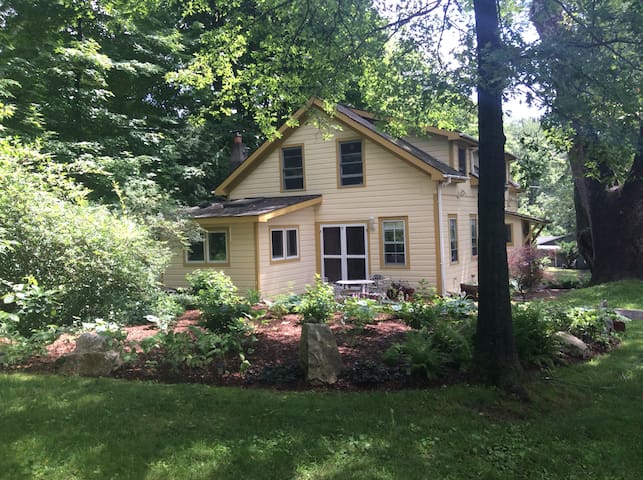 Come enjoy the serenity of our newly renovated lakeside cottage! Guests can enjoy their time relaxing fireside with panoramic views, hiking or biking 22 miles of trails running through our backyard, and let's not forget splashing around in the lake
Charming one bedroom cottage situated on a spring fed lake. The cottage itself has panoramic lake views in both the bedroom and living room. Pull out twin sofa and room for an air mattress in the living room (4 person max, please). Fully stocked kitchen including refrigerator/freezer, microwave, stove, oven, coffee maker, cookware, etc. and fireplace (with seasoned wood). The cottage also has heat, a window A/C unit, ceiling fan, and entire home audio system. This cozy cottage is the perfect way to spend anywhere from a weekend away from the city or a full week vacationing in the great outdoors. This getaway is great for everyone from the family that loves adventure, yoga enthusiasts, or the couple that is looking for a quiet weekend.
With so much to do in the area we are happy to share our thoughts and experiences on local cultural and natural attractions, restaurants/wineries/breweries, and art galleries including. Highlights include: - A scenic 22 mile hiking/biking trail which runs through the property. - Fantastic local restaurants, bakeries, cheese shops, breweries, wine vineyards and the popular Hudson Distillery Company. Breweries, vineyards and Hudson Distillery all have tours and tastings (some may be seasonal). - Local art venues including galleries, fairs, antiquing hotbeds and Woodstock - Seasonal farm stands, farmers markets and apple & pumpkin picking. - Countless biking, hiking and bouldering trails.
We felt taken care of on a beautiful lake with plenty of outdoor activities. We biked the trails located by the property, swam, boated, and enjoyed excellent food in the nearby towns. This is a jewel!
John
2016-08-19T00:00:00Z
Very gracious and generous host. House had everything we hoped for - perfect for meal-making indoors and outdoors, and lovely relaxation. We spent two days sitting on the lake, rowing around, swimming, and grilling. Very private. I would recommend to anyone looking for a weekend away upstate.
Daniel
2015-07-29T00:00:00Z
Edward was an amazing host. My boyfriend and I returned for the second time in one month to revisit the gem he has hidden in the woods to enjoy more of the sights that we didn't have time for on our first visit. (Mainly because there wasn't enough time since there is so much to do out there) Edward and his wife stock the house with eggs, orange juice, English muffins, coffee etc. We appreciated the thorough attention given to the little details like that to make our stay feel truly like a bed and breakfast. Insect repellent, a backpack, canoe, kayak, and a dock to tan on all came equipped with our package. This host is special and is one of a kind. Thank you so much!
Farrah
2016-07-28T00:00:00Z
Edward offered us a warm welcome from the very first introduction. He greeted us at the entrance of the property and led us to our beautiful cabin. This place is a gem hidden away, sitting on top of a beautiful private lake. Edward provides more than the average host. The charcoal was ready for the grill. Worms were provided for the fishing hooks. The house comes equipped with everything you could need for a real weekend in the woods. We kayaked and swam all day. Edward is very warm and extremely thorough. He gave a complete tour, provided a plethora of nearby activity catalogues and recommended places he likes to eat. We felt like special guests. He even stocked the fridge with food for breakfast! There was even a backpack in the closet in case we wanted to take a hike. On the property, there is a gorgeous hike that takes you right into the woods. We spotted two owls! All in all this was an amazing vacation. We hope to return soon! Thanks Ed!
Farrah
2016-07-08T00:00:00Z
My girlfriend and I had a wonderful time at the cottage, Ed was a such great host, he provided breakfast items, charcoal for the grill and plenty of firewood for the indoor fire! The cottage is secluded and beautiful, and has an amazing view of the private lake it rests upon. We had such a great time, definitely would go back!
Jayme
2015-10-25T00:00:00Z
Ed was a pleasure throughout the entire booking process and our whole stay. He has a wealth of knowledge of the area and has excellent suggestions for activities, restaurants, and other things to do during your stay. The pictures don't do the place justice, the entire lake is practically yours and waking up to that view every morning would never get old. A perfect getaway spot and easily worth every penny. I already am trying to see where I can fit another trip into my schedule!
Tyler
2016-08-23T00:00:00Z
My mother and her friend stayed at Edward's lakeside cabin for the second time. This is what they had to say... "From the stocked refrigerator to the fireplace waiting to be lit, our host has considered all the creature comforts. We went right to the rocking chairs on the lake and began to unwind. This place is heavenly in every respect."
Aaron
2016-05-21T00:00:00Z
My husband and I just returned from a wonderful long weekend at Edward's cabin. The whole process was super easy and seamless. Edward provided detailed information about the area, directions, places to see etc and welcomed us to the cabin himself. The cabin itself is cozy, clean and is equipped with everything you may need for a relaxing, comfortable time -- the kitchen is stocked with utensils, cooking essentials like oil and spices. Edward even provided breakfast goodies and a six pack of local beer :) I also appreciated the amenities in the bathroom, like shampoo, soap, bug spray, cotton buds -- they really thought of everything! Ed also provided ample firewood for use in the fireplace and the outdoor fire pit. I also loved the varied selection of books in the cabin -- ranging from Thoreau to a quirky book called "the worst case scenario survival handbook". Truly had a wonderful time, great fishing too! Thanks again Edward for sharing your little piece of paradise with us :)
Nikki
2017-04-10T00:00:00Z
Typ pokoje
Celý dům/byt
---
Typ nemovitosti
Dům
---
Ubytuje
3
---
Ložnice
Rosendale, New York, Spojené státy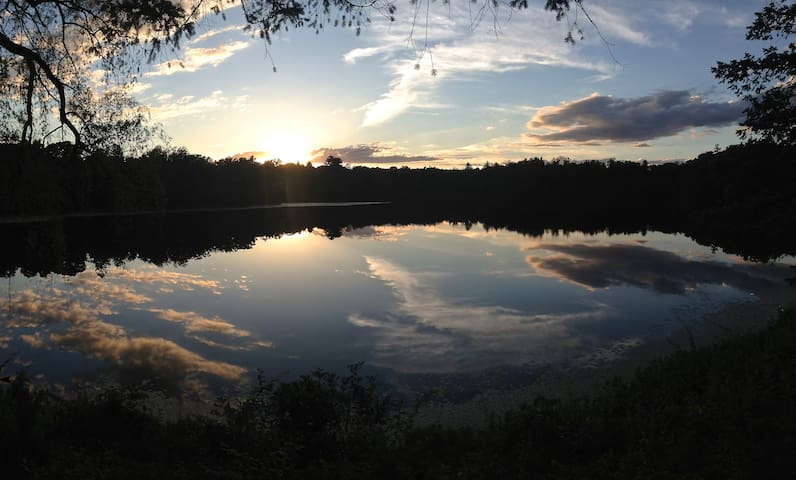 "Beautiful volumes, perfectly furnished, all very pretty and practical: If I had a piece of land, I could see myself wanting to build a cabin just like this--or rather, ask David to build it!" (excerpt of a guest's review)
Escape from New York to this ultra-modern--yet cozy--two-bedroom eco cottage in the heart of the Hudson Valley in the Village of Rosendale, NY. A car isn't even necessary. From NYC the express bus is 2 stops--1hr. 45 min. from Port Authority. The bus stop is a short walk or arrange a pick-up in advance. I'm a green builder and furniture designer and I created this state-of-the-art cottage for guests. It's outfitted with unique materials, custom-designed furniture and lighting. The spectacular location is an outdoor enthusiast's dream with all indoor comforts--coupled with a short walk to civilization. On the property there are rock cliffs and amazing nature to admire. It's a 5-minute walk to the Mohonk Preserve--a place that The Nature Conservancy calls "one of the last great places on earth." Included in your stay are 2 free day passes to the Mohonk Preserve. This cottage was hand-made to the highest "green" standards and my hope is to inspire you to live comfortably while conserving energy. Accommodations include two bedrooms with plush, queen-sized beds. The modern kitchen includes an induction cooktop and Advantium oven. The spa-like bathroom has a deep-soak tub. Access to the cottage is with a key-code lock and there's wireless internet, Apple TV, and good cell reception. It's a 100-yard walk to the just-renovated, 1000' long, 150' high "Walkway over the Rondout." This historic former train trestle is part of the Wallkill Valley Rail Trail (WVRT) which accesses over 85 continuous miles of hiking, trail running, cycling, and cross-country skiing. Below this trestle is the nearest swimming hole. Enjoy a lovely and scenic riverside stroll to bars, restaurants, and historic movie theater on Main Street--a 5-minute walk from your door. Come experience what it's like to have no indoor air pollution. The cottage was hand-made and finished with virtually zero VOC's (volatile organic compounds). An allergy sufferer's dream: there's no smoke, down feathers, or pet dander of any kind. Fresh, filtered air is exchanged constantly via a heat recovery ventilator (HRV). Rosendale is centrally located to visit international art venues in Storm King and Beacon, The Culinary Institute of America (CIA) and other Hudson Valley farm-to-table meccas, and we're sandwiched between historic Kingston and New Paltz. Rock climbing, ice climbing, and mtn bike guiding services are available. Massage can be scheduled in-house--or arrange a super-special day-spa visit at the Mohonk Mountain House. Local occupancy tax is included.
David is a great host! He picked us up from the bus station, told us all about the area with great hikes and restaurant recommendations, and even lent us his snow shoes! If we needed anything or had a question, David responded within minutes. His place is very clean. Spacious with a well equipped kitchen to make meals. But the real beauty is the view from the back yard. Trees, rock formations, and lots of snow made for a relaxing and enjoyable breakfast atmosphere. Would definitely want to come back again!
Stas
2017-02-13T00:00:00Z
We had a great time. The house was spotless. David was great.
Marie
2017-02-23T00:00:00Z
Excelente
Javier
2017-01-08T00:00:00Z
We had a great stay at David's place. He is very accommodating, picked us up and dropped us off at the bus even! The house is pretty close to his house and the road but still feels private with a nice view out the back. Well equipped kitchen and the place was spotless.
Leila
2016-12-25T00:00:00Z
Heavenly experience once again--my fourth or fifth time. Did some reading inside to avoid the midday sun (hot weekend), after a long wonderful morning hike through the Mohonk Preserve up the road. Peaceful and quiet, the cabin has a wonderful view out the picture window.
Laura
2015-05-03T00:00:00Z
As good as ever!
John
2015-07-03T00:00:00Z
This cottage is absolutely beautiful. My girlfriend and I had an incredibly relaxing stay here and enjoyed the space immensely. A great choice for a peaceful, restorative vacation.
Jeffrey
2015-11-22T00:00:00Z
We had a wonderful stay in David's cottage. The house itself is one-of-a-kind. It's a beautiful space, full of personality and with every modern amenity. The location also makes it a perfect jumping off point for outdoor explorations nearby and it's a short walk to restaurants in town. David was also a great host, very responsive and helpful with information about the area. We'd stay here again in a heartbeat.
Noah
2015-02-08T00:00:00Z
Typ pokoje
Celý dům/byt
---
Typ nemovitosti
Dům
---
Ubytuje
4
---
Ložnice
Rosendale, New York, Spojené státy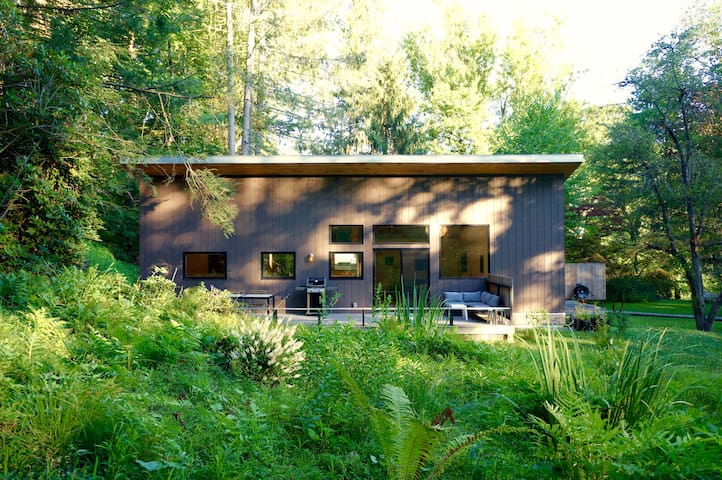 Enjoy views from your upstairs oasis: 1 bedroom, kitchen, & bath. Slip out your private entrance to hike Joppenbergh. Rent a bike, ride the rail-trail. View the valley from the trestle. Walk to local eateries, and cinema, or just relax by the river.
Enjoy original art by local artists. Views of trestle, river, mountain and town. And the occasional Bald Eagle, Canadian geese and Blue Heron. The bed is ready for you, made with cotton sheets, fluffy pillows, blankets and comforters with more to spare. You will also find lots of clean towels for each guest on your bed and in the bathroom. The bathroom is also stocked with liquid/bar soap, toiletries, first aid items and a hairdryer. The kitchen has the basics, a few pots and pans, toaster, french press for coffee and teapot for tea drinkers. Plates, glasses, cutlery for four, a knife, cutting board. Refer to the photos. You will need to bring your own spices beyond salt and pepper.
We encourage you to try out the great cuisine in our neighborhood. The Cheese Shop just opened an outdoor wood fired yummy Mediterranean restaurant called the Garden House. The Rosendale Cafe has an eclectic vegetarian cuisine with live wonderful music every weekend. Check their website for full details. ByWater Bistro is an elegant dinner out with fresh local flavors. The Alternative Bakery has all kinds of treats including vegan fare. There is a burgers and fries type bar-grill, Red Brick Tavern, complete with sports on the TV bar with pool type vibe. The diner, 32Lunch is located on Rt 32, the ultimate diner gigantic breakfast for the pancake lovers complete with boisterous host. Next door to 32Lunch is a Chinese Take out, a supermarket, pizza place and Dollar General. Also on Route 32, next to the blue bridge is Matsu, an ecclectic sushi, japanese and chinese menu, very rustic yet upscale interior next to the Wine Shop, Bobby and Mary can help you select something nice for a picnic. These choices are all walkable. Within ten minutes by car, you can drive to New Paltz for delish sushi at Hokkaido or drive to High Falls for comfort food / brunch items at The Kitchenette or The Eggs Nest or The Last Bite. There is even a new seasonal cafe on the Rail trail ( Memorial day through October). Rent bikes and head toward New Paltz and you will hit it. There is a cheese shop with some vegetables and to go salads, chips, desserts. There is also a large grocery store at the other end of town, a ten minute walk and a Farmer's Market on Sunday behind the Rosendale Theatre, community run movie house which shows independent features, music and theatrical venues. (website hidden) A guide to all places that show art in New Paltz, High Falls, Stone Ridge, Rosendale, etc.
We had a wonderful stay at Sean and Hope's place. It was perfectly located--right next to the rail-trail and a quick walk to the cafes and shops on Main St. The kitchen and bathroom are wonderfully equipped with anything you could need. Sean and Hope were incredibly welcoming, checking about our arrival to be sure we wouldn't get stuck in a rain storm! A completely wonderful experience.
Caroline
2016-08-23T00:00:00Z
Sean and Hope were lovely and welcoming hosts, and we thoroughly enjoyed our stay. Both of them were willing to chat and help us enjoy our stay, which really contributed to a great weekend. They really let us in on their town. The space itself was immaculate, clearly carefully prepared for our arrival, and the town was precisely what we were looking for: an engaging and pretty locality with excellent food, peace & quiet, and green.
Emil
2016-04-25T00:00:00Z
We had an incredible weekend stay at Sean and Hope's place! The apartment was bright and cozy and ideally located! Every morning began with a short (3 minute!) walk to the rail trail entrance where we rode our bikes for miles. Sean and Hope were incredibly accommodating and made sure we had everything we needed for our stay (including an iron when we realized our wedding attire was wrinkled). They were also happy to recommend some great local restaurants within walking distance from the apartment. We had the perfect relaxing weekend and will definitely be back!
Katie
2016-08-01T00:00:00Z
Amazing location that is walking distance from the bus stop, the hiking trails and the small town of Rosendale. The space is very clean and the whole top floor of a house with a private entry. Definitely a great spot to get away from the city for a weekend!
Mike
2016-01-03T00:00:00Z
We had an excellent stay at Sean & Hope's place. It is beautifully decorated and immaculately clean. Great location within walking distance of shops and restaurants in Rosendale and the Wallkill Rail trail. We would definitely stay again. Highly recommended.
Dawning
2017-03-20T00:00:00Z
Sean and Hope were wonderful hosts. The apartment was decorated with fun decor and the floral arrangements were lovely. The kitchen was well stocked. The bedroom had many books on various subjects, both fiction and nonfiction in addition to information about things to do and restaurants to try. Great stay!
Charlotte
2016-07-16T00:00:00Z
Sean and Hope were great hosts! Sean was very warm and welcoming and very helpful with guidance on plans for the weekend. The house was exactly as we pictured it would be and the town was a very cute. We would definitely return to their home again!
Olga
2014-11-10T00:00:00Z
This place is wonderful!--cozy, clean, and a perfect weekend getaway. Sean and Hope were so kind, and went out of their way to drive us around town and show us all the things to do and place to eat. It would have been ideal to have a car, but we certainly didn't need one to enjoy the charming town and abundance of hiking option. They also let us check in early and leave a little later, even though we only stayed one night. We'll definitely be coming back, hopefully for longer next time!
Samantha
2015-04-21T00:00:00Z
Typ pokoje
Celý dům/byt
---
Typ nemovitosti
Byt
---
Ubytuje
2
---
Ložnice
Rosendale, New York, Spojené státy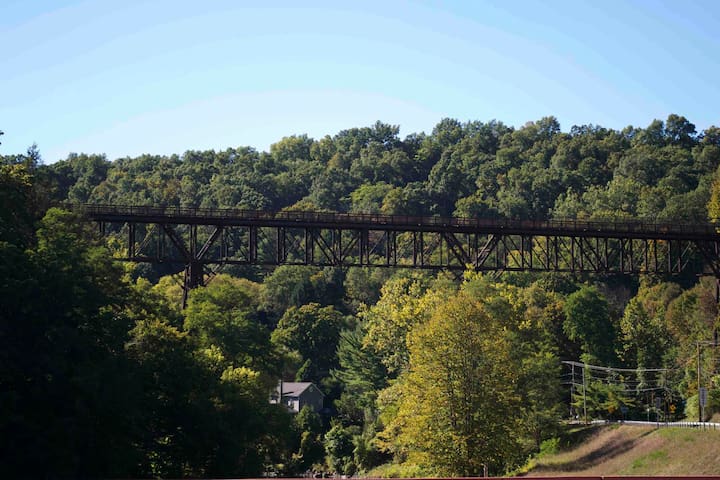 This is a guest bedroom in an old Victorian house. Walking distance to Main Street - across the street from the Rondout Creek under the trestle. 2 bikes to ride on the Rail Trail, 10 mb Wifi, Copper bathtub, hammock, and bus pickup if you need it.
This old Victorian house is a 4 minute walk to Rosendale Main Street. I just got 2 mountain bikes you can borrow to ride around - see the pictures. To get to Rosendale Main Street, you walk or bike beside the Rondout Creek, pass under the rail trestle and in about 400 yards, you're there. There is a Waterfall to swim in - another 10 minute walk up the road. You can walk or bike to the rail trestle, too. There is a full sized hammock, a copper bathtub, a yard and patio to relax if you are in the mood for quiet space. Breakfast eggs here come from the chickens next door. This is a single room in a 3 bedroom house. The room contains 1 Queen bed, a table, a desk with one chair, a land line phone, and three big windows. The room is cleaned on the morning of your arrival. There is plenty of storage space with a lock so you can leave your belongings in a safe place while you explore. If you arrive before check-in, it is usually no problem at all just tell me when. If you need a place to leave your stuff after you check-out (for example, your flight or bus doesn't leave until the evening and if the room is going to be re-occupied) there is locked storage available. You will be given clean linen and towels. The upstairs bath is all yours for the duration of your stay and is supplied with toilet paper, soap, shampoo, and if you have forgotten toothpaste, razors, deodorant, lotion, chap stick etc. there is a little basket of those things ready for you as well. There is a living room with a fireplace to enjoy and a kitchen that you are welcome to use, a hammock, and an outdoor seating area in the small yard. There is also a washing machine and dryer if you need one. The house has 10 mb WIFI internet access in every room. The building is old but it has been remodeled and this room was remodeled only a couple of years ago. There is no elevator in the building. If you book this room, you will be provided the following: -Clean sheets, blankets, and pillows -Clean towels -One key to your room. -Information for booking Hiking, climbing, walking, cycling, skydiving, tubing, brewery, and day-trip tours. You can book them directly from the house. I can also tell you cool local spots to check out.
I joined airbnb.com to meet people and rent out my extra room in Rosendale – Rosendale is the best hamlet in the world and in addition to the Rondout Creek, the Widow Jane mine, and the Rail Trail to New Paltz, we even got a traffic signal recently. In Rosendale you will find historic sites, restaurants, cafes and clubs. The bus station is nearby on Route 32 ( about a 15 minute walk or I can pick you op there) and Stewart International Airport is 30 minutes away in Newburgh NY. I can give you further information for hiking, climbing, walking, cycling, skydiving, tubing, brewery, and day-trip tours. You can book them directly from the house. I can also tell you cool local waterfalls and swimming holes, and other local festivals, flea markets, yard sales and spots to check out.
Our stay in Rosendale at Duffy's was our first time using AirBnB. It was great! Duffy is an interesting, warm, and knowledgeable host, who offered great suggestions and directions to fun places around town. We were in town to hear live music at the Rosendale Cafe. Conveniently, the Cafe was a five minute walk from the BnB. Our room was spotless and very comfortable. She made us a fantastic breakfast! Her place is very convenient to town as well as lovely local walking/bike trails. She even had bikes for guests to borrow. We had a wonderful time and are happy to recommend Duffy's to others.
Tim
2016-10-16T00:00:00Z
Duffy is the best Airbnb host I ever had. She's very understanding and welcoming. Her place is super cute! There's rail trail very close to her place so you can either walk or bike. She has two bikes that you can borrow!!!! I will definitely stay here again and will recommend to my friends!!! Thanks Duffy❤️
Aarong
2016-10-08T00:00:00Z
Duffy was such an amazing host and her home is lovely. Bed is super comfy, and breakfast was delicious. A true B&B experience! Thanks again, Duffy! We hope to stay with you again.
Joel and Desma
2016-10-03T00:00:00Z
We had a lovely stay at Duffy's. She was welcoming, and full of local lore about Rosendale where our daughter now lives. She generously included our daughter in our breakfast which we all appreciated. The food was great!
Nancy
2016-09-18T00:00:00Z
Our stay at Duffy's place was beyond our expectations! We had such a great time at her house. Duffy has the most exceptional, remarkable, beyond your dream bath ever! Not to mention her wonderful breakfast and her kindness! We will come back for sure.
Julie
2016-08-07T00:00:00Z
Duffy is a fantastic, welcoming, funny host, and the room and house is awesome. She picked us up from the coach stop, provided a beer, showed us around, offered breakfast the next morning, gave us the scoop on Rosendale (a great little town). Couldn't have asked for a better stay!
Adrian
2015-04-06T00:00:00Z
Was made very welcome and Duffy very accomodating helping us with the hire car and getting to the b&b
Janet
2015-05-15T00:00:00Z
Wow talk about a superhost! Buffy is everything you could ever want in a host and more. Her beautiful house is clean and very generously supplied with amenities for guests, and Buffy is a very kind, open and attentive host. Rosendale is a great town and staying with Buffy is the best way to get to know it. We will definitely be coming back!
Jasper
2016-07-04T00:00:00Z
Typ pokoje
Soukromý pokoj
---
Typ nemovitosti
Dům
---
Ubytuje
2
---
Ložnice
Rosendale, New York, Spojené státy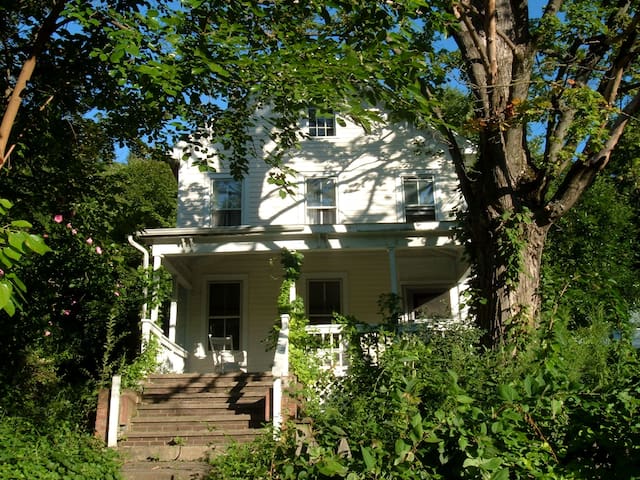 A beautiful BnB like room in the cutest Rosendale cottage! Share kitchen, bath and backyard. Walking distance to town and rail trail plus proximity to Gunks make this an ideal vaca location. 2 indoor/outdoor cats included. Bicycle rental possible.
Susan was a lovely host; warm and welcoming. Her home, very charming and cozy. The guest bed was super comfy too! Also great that she is conveniently located just a stones throw from Main St. Rosendale. Overall, a very peaceful and enjoyable stay :)
Robert
2016-06-26T00:00:00Z
Susie's house is pretty and well-decorated, mainly with her photos and other art. The cats are sweet. She is genuinely kind, and talking with her was a lot of fun. The neighborhood is 5-6 minutes on foot from the main strip of Rosendale, which has many cafes, restaurants, low-key bars, a ginger elixir/teahouse, two apothecaries, a bookstore or two, great bakery, and several places to get good coffee. You can also reach a small grocery store in 10-12 minutes on foot. The Wallkill Vally Rail Trail has two access points that are both right around the corner from Susie's, too. There's lovely forest to walk through, and you can reach New Paltz on the trail in seven miles. It's a very pleasant spot for a break.
Catherine
2016-10-15T00:00:00Z
Suzy was very welcoming and a great host! The room was comfortable and right next a private bathroom. Suzy also left coffee out for us in the morning (a huge plus in my book). Her house is a short walk to downtown and close to access points to the Wallkill rail trail.
Sean
2016-08-01T00:00:00Z
Suzy was a pleasure as she arranged my stay. Her house is cozy with lots of interesting art and the bedroom was clean and comfortable. Rosendale is a cute Catskill down with a lovely farmers market on Sundays.
Mark
2015-09-07T00:00:00Z
This was one of my nicest experiences with Airbnb. Susan is a great host: very friendly, calm, nice and welcoming. We had a great chat, and I felt like I am in my own room. The room is cosy, comfortable and clean. So are the showers and the kitchen. Rosendale is located in a gorgeous area, I enjoyed the romantic scenery and nature around Susan's house, despite the rain. This destination is great for hiking, nature, and also: weddings :) It was very easy to park my car, and access Susan's place with (SENSITIVE CONTENTS HIDDEN) Maps on my phone. Thank you very much Susan ! I hope I will have an excuse to visit your area again, and stay at your place! All the best! Elias
Elias
2016-06-06T00:00:00Z
Lovely host, lovely home, sweet cats, and comfortable accommodations. Susan picked me up from the bus stop and saved me a 20 minute walk through town to her place. She is easy going, friendly and an accomplished artist. Her house is a showcase for her photography which is striking and beautiful. The house has a view of the train trestle above Rosendale and is 5 minutes walk to town and 5 minutes by bike (hers is available to rent and fairly priced) to the trail head for the Wallkill Rail Trail. This allowed me to access the area despite not having a car.
Sarah
2016-02-01T00:00:00Z
We had a great experience staying with Susan! She was able to accommodate us last minute and responded very promptly to our request. Her home is very close to Rosendale and the bike path. We were able to walk to town Sunday morning for breakfast and the farmers market then take a nice bike ride to New Paltz. Thank you again! We're looking forward to another trip up that way soon!
Matthew
2016-08-28T00:00:00Z
Susan is incredibly lovely! She made me feel at home from the moment I arrived and was very helpful with the many questions I asked. The house is lovely, it is obvious that Susan loves her home and I was able to see why - it's beautiful! The room is very big and the bed so comfortable I slept more than I usually do! I highly recommend it. The town of Rosendale is dreamy, everyone says hello to you on the street and if you get the chance to explore it, do visit the alternative bakery and the Rosendale Cafe, beautiful food and people there! Thanks Susan.
Francisco
2016-10-10T00:00:00Z
Typ pokoje
Soukromý pokoj
---
Typ nemovitosti
Dům
---
Ubytuje
1
---
Ložnice
Rosendale, New York, Spojené státy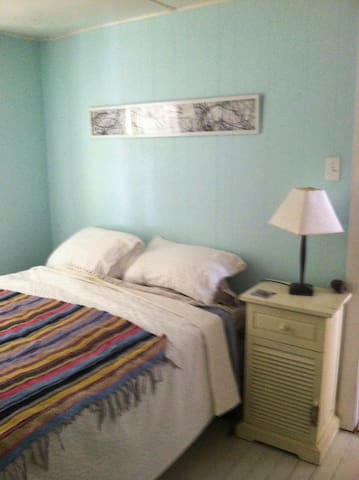 "This is the quintessential airbnb experience: great living space, nature, and art." (excerpt from guest's review)
Escape from New York to this modern, one-bedroom flat within a hand-built eco home in the Village of Rosendale, NY. A car isn't even necessary. From NYC the express bus is 2 stops--1hr. 45 min. from Port Authority. The bus stop is a short walk or arrange a pick-up in advance. I'm a green builder and furniture designer so the flat is outfitted with unique materials and custom-designed furniture. This amazing location is an outdoor-lovers dream with all the indoor comforts--coupled with a short walk to civilization. On the property are rock cliffs and beautiful nature to admire. It's a 5-minute walk to the Mohonk Preserve--a place The Nature Conservancy calls "one of the last great places on earth." Included in your stay is a free day pass to the Mohonk Preserve. This completely separate flat has one bedroom with a queen-sized bed. The living room has a wonderfully comfy fold-out couch for up to two additional guests. You have a private entrance with a key-code lock. Outside your door it's 100-yard walk to the newly-renovated, 1000' long, 150' high "Walkway over the Rondout." This historic former train trestle is part of the Wallkill Valley Rail Trail (WVRT) which accesses over 85 continuous miles of hiking, trail running, cycling, and cross-country skiing. Below this trestle is the nearest swimming hole. Enjoy a lovely and scenic riverside stroll to bars, restaurants, and historic movie theater on Main Street--a 5-minute walk from your door. Come experience what it's like to have no indoor air pollution. The house was built and finished with virtually zero VOC's (volatile organic compounds). An allergy sufferer's dream: there's no smoke, down feathers, or pet dander of any kind. Fresh, filtered air is exchanged constantly via a whole-house energy recovery ventilator (ERV). Rosendale is in the heart of the Hudson Valley and centrally located to visit international art venues in Storm King and Beacon, The Culinary Institute of America (CIA) and other farm-to-table meccas, and we're sandwiched between historic Kingston and New Paltz. Rock climbing, ice climbing, and bicycle guiding services are available. Massage can be scheduled in-house--or arrange a super-special day-spa visit at the Mohonk Mountain House. The flat has fast wireless internet and good cell service. Local occupancy tax is included.
Really enjoyed David's charming flat. Really thoughtfully and beautifully designed and in superb condition. Lots of little details were taken care of - there really wasn't anything we had to buy for our stay besides the basic stuff we'd travel with anyway. No AC was not an issue - the apartment stayed nice and cool and David has some wicked magic fan in the bedroom. Great place to stay for outings to nearby parks and towns. David was super friendly and helpful but also respected our privacy. Would definitely go back again!
Joshua
2012-08-20T00:00:00Z
David was extremely gracious and helpful. We were a family of four, two kids 11 and 9. He picked us up at bus station despite us asking to walk - turns out it would've been a bit of a walk, uphill so with kids and bags, best to get a ride. But the town is totally accessible by foot, while still being remote/quiet enough. We LOVED Rosendale - it's not nearly as built up as New Paltz which is 7 miles away by bike/car/cab (we took cab) and yet restaurants were absolutely amazing. And David has provided a great "cheat sheet" on all to do in town and beyond. You want to get away easily, this is the place to go and David was a fantastic host.
kyle
2014-08-04T00:00:00Z
Great experience, highly recommended. David was accommodating, helpful, welcoming, friendly and great to deal with. The flat is exactly as pictured -- immaculately clean, well-appointed, modern and comfortable. The only thing the photos get wrong is the setting -- it really is amazing and the pictures don't do it justice. David has built an impressive, modern little campus (his house, the flat and another rental property) into the side of steep hill on a gorgeous site overlooking a beautiful town. Could not have asked for a better experience, setting, or host!
Laura
2014-10-26T00:00:00Z
David is an amazing host! He was very welcoming and available for questions we had over the weekend about activities. The apartment itself is beautiful, clean, and looks exactly like the pictures. The record collection is great. David even soundproofed the bedroom recently! Rosendale is a quiet town with some cute places to eat and shop - we spent some time in New Paltz and Hyde Park as well. The weather stopped us from doing some of the hiking/biking we had hoped for, but we still strolled along the Rail Trail which was beautiful and so close to the apartment. We would definitely go back and hope to when the weather is warmer!
Joanna
2015-03-30T00:00:00Z
If you're heading to the Hudson Valley, this is a wonderful place to stay. The setting is really lovely and David is an informed, friendly and welcoming host. There are some great restaurants in the area, but if you want to cook up a breakfast in the apt, the tools are there. The comfort and value are so much above a stay at a local hotel. You'll enjoy your time here. (Thanks, David!)
Nadine
2012-05-08T00:00:00Z
Beautiful setting, can walk to everything - restaurants, hiking. Peaceful, clean, great decor, cool lighting and fab record collection. David's great and living the good life in Rosendale. Great host. Five stars! Would love to go back.
Andrea
2015-04-13T00:00:00Z
David was an excellent host! He was welcoming when we arrived and always made himself available for us through text message while we stayed there. He had great recommendations and was able to direct us wherever we wanted to go! The place was very clean and nice and I would definitely recommend it to someone else. David provided us with the basic necessities and more. He could not have been a better host! I definitely recommend staying here if you want a quiet setting with a small town that is easy to walk to, a beautiful scenery, and small hiking trails nearby on foot, as well as larger ones nearby that can be accessed by a short drive.
Samantha
2016-08-21T00:00:00Z
David was an excellent host. He was there to greet us when we arrived and gave us excellent tips on where to explore, where to eat/drink, etc. The apartment itself is idyllic, tasteful, and just a short walk from the town center. Highly recommended.
Niranjan
2015-11-15T00:00:00Z
Typ pokoje
Celý dům/byt
---
Typ nemovitosti
Dům
---
Ubytuje
4
---
Ložnice
Rosendale, New York, Spojené státy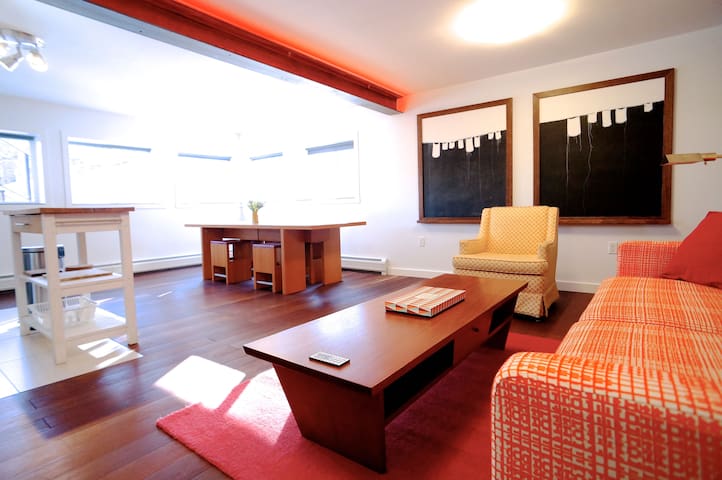 Private room in a beautiful light filled, contemporary house with cozy wood stove and modern kitchen. Bike, hike Rail trail. Visit Women's Studio Workshop, and "hip" Rosendale,. Enjoy nature in privately sited, convenient location.
Beautiful light filled open space contemporary, quiet house. Private room with private bath. Sit by the pond and listen to the frogs and the birds. Deer may pay you a visit.
Walking distance to Women's Studio Workshop, renowned nationally, offering unique classes by well known artists. Country road, close to village, easy access to Kingston, New Paltz, Mohonk Preserve, lakes, and parks. Self guided bike rides for all levels available.
Beautiful, quiet, and peaceful home. As described. Would definitely stay again!
Meredith
2016-10-23T00:00:00Z
My birthday weekend in Julienne's place was an absolute delight. She was such a gracious host. Whether you like sit and make a fire in front of a pond in her backyard, have coffee in the balcony or have the most peaceful sleep, you'll get all of that and more at Julienne's.
Elizabeth
2016-10-16T00:00:00Z
A lovely house in a beautiful setting at a reasonable price. Julienne is an excellent hostess.
Elisa
2016-09-20T00:00:00Z
Don't want to say more.
Walter
2016-09-23T00:00:00Z
The host canceled this reservation the day before arrival. This is an automated posting.
Mengru
2016-08-12T00:00:00Z
Julienne is very welcoming. The listing is quite accurate. It's a wonderful rustic retreat with the village of Rosendale close by.
Albert
2016-10-09T00:00:00Z
Yes. It was a lovely location and Julienne was a very gracious host.
Nina
2016-10-03T00:00:00Z
The place was beautiful and bucolic. Perfect for nature lovers. The deck was amazing, and the pond looks like it will be spectacular. The shared kitchen was clean and well stocked. The view from the living room was simultaneously majestic and calming. The bedroom was welcoming and elegant with a clean modern private bathroom. Joanne couldn't have been nicer or more accommodating. I'm looking forward to returning for a weekend in the winter!
mark
2015-08-31T00:00:00Z
Typ pokoje
Soukromý pokoj
---
Typ nemovitosti
Dům
---
Ubytuje
2
---
Ložnice
Rosendale, New York, Spojené státy
Hidden Valley Lake is the perfect name for Brandon's lovely home away from home. The place is secluded yet nearby towns are easily accessible. Walks and morning coffee or lunch on the picnic table were an enjoyable way for us to relax and enjoy the scenic surroundings of many acres. The apartment is tastefully done and well supplied with all that was needed to make our stay comfortable and convenient. Brandon is friendly and accommodating and has done a terrific job making the property very special. We shall return!
Julie
2015-10-12T00:00:00Z
We had a wonderful time at Brandon's place. It wasn't hard to find but it is in the country ((SENSITIVE CONTENTS HIDDEN) map was right on)and so quiet! With a family of woodchucks and a very nice area,we had a relaxing time with family of 4. The condo was very clean and had everything you need plus some! Highly recommend . Very Comfortable. We didn't meet Brandon but his Mother was great and showed us around and how things worked. If in that area again would definitely stay there! Thanks,Joann and Jon
Joann
2016-06-06T00:00:00Z
Everything is wonderful. As other reviews mention, it's best to travel during the day for the first time as the road is a little hard to find. But once you do, it's easy. Clean, roomy and 2 bathrooms. Will visit again.
Mark
2016-10-30T00:00:00Z
Brandon's pictures tell you everything you need to know about your stay. You arrive upon a private access road to your cottage. For aesthetic value you pull up to an old auto garage and then your perfect private cottage. No complexity in the exterior design, but a beautiful hybrid of rustic modernity. Two bedrooms and two bathrooms completley flanked in a high polished hardwood setting. Everything was perfect. A nice little backyard to unwind after your adventures. I will be back. Thanks Brandon
joshua
2016-09-05T00:00:00Z
We had a great stay at Brandon's charming apartment. We stayed for 4 nights as a family for a wedding in the area and it was a great little spot to get away. It's well located between a few towns so easy to drive between them. It's a new place so there were a few amenities missing which we assumed would be there, like a hair dryer and an iron and ironing board (we don't necessarily need this when travelling but had the wedding) but all we had to do was ask and they did everything they could to help us. It was a good sized apartment with a great lawn and chairs an tables to sit outside and enjoy the sunshine would recommend for a family of 4 or two couples, great to have two ensuites.
Ellie
2016-08-09T00:00:00Z
The place is beautiful and spacious, just as pictured! There are also some really nice architectural details, like wood pegs instead of nails in the wood framing around the house. Rosendale is in an ideal location for seeing Kingston, Woodstock, and other hudson valley/ catskill towns, and for hiking in Minnewaska. It is also walking distance to the Hudson Valley Rail Trail. Brandon was an excellent host and had great suggestions for things to do in the area and was very responsive. The one thing I would note is although it is on a lake, there is no beach area by the lake to sit out. However, there is plenty to do in the area and Lake Minnewaska is beautiful so this was not problem for us. Overall, it was a great weekend getaway for me and my husband!
Rebecca
2016-07-05T00:00:00Z
Brandon and his family immediately made us feel welcome (we loved his home tapped maple syrup!) and the apt was exactly as listed. It was modern, clean and well equipped. We had everything we could want or need and the property was so relaxing and peaceful. Rosendale is perfectly situated to explore both sides of the hudson valley and there were so many wonderful day trips close by. The neighbors were super nice and we felt comfortable and at home. It was a wonderful stay and Brandon is a great airbnb host.
Sherry
2015-08-03T00:00:00Z
Hidden Valley in Rosendale was an adventurous find! The home is located in a wooded area that is quiet and filled with wildlife. A car is necessary and a good GPS! The interior is nice with all wood floors, granite and beautiful bathrooms. Brandon was helpful with things to do in the area as well as restaurant recommendations. He was always prompt responding to an E-mail or text.
Angie
2016-05-17T00:00:00Z
Typ pokoje
Celý dům/byt
---
Typ nemovitosti
Byt
---
Ubytuje
4
---
Ložnice
Rosendale , New York, Spojené státy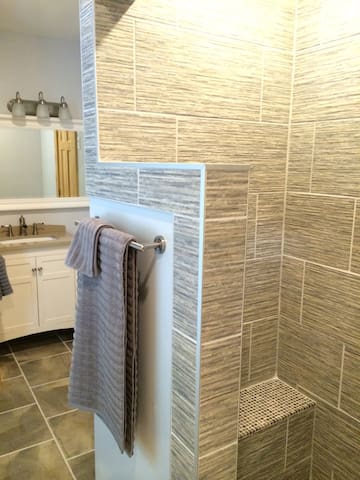 First, Mondays through Thursdays, I am often unable to rent out on short notice. I suggest you give me at least 24 hours notice before requesting on weekdays. This is a place for younger people who want to hike and check out the area. This is NOT a place for neat freaks, people with bad backs or conservative couples, not comfortable for older people. Room for 2. Read my description thoroughly, please.
Self contained 600 square foot apartment with own entrance in large home. Please read my ENTIRE description before booking. It is very honest. If you are a young liberal person from Brooklyn, you will probably be happy. If you are conservative retired couple you will not!! I welcome dogs and do not charge a cleaning fee so obviously I am not a neat freak. I clean the place and the towels and sheets and dishes will be clean but you may see an occasional dust bunny or cobweb in a book shelf. That sort of thing. Also, my kitchen linoleum and bathtub are from 1980 something. Clean but not a place you want to take a romantic bath. The shower has good water pressure, though. My kitchen cabinets are hideous and not in wonderful shape. The immediate outside neighborhood is extremely safe but run down looking(URL HIDDEN) That being said, the good points: A short walk to Main street, this bright and sunny one bedroom in a renovated old warehouse storage building for the railroad, is just yards from the entrance to the rail trail which extends 12 flat miles through New Paltz to Gardner. Lots of scenic hikes branch off the trail nearby. Building is located next to trestle, pictured ( It is open!)) on very small road. I believe it is already possible to take the rail trail over the trestle all the way to Kingston to the north and I know you can go all the way to Gardner, through New Paltz, to the south. (URL HIDDEN) Apartment has high ceilings, exposed beams, and lots of sun. Private entrance. Full EIK, kitchen table for two, microwave , gas stove, coffee maker, toaster. Cable and wi fi. Lots of cool books and vintage stuff. Firm full size futon on sturdy wood frame with good foam topper. Some say it is too firm. I did have one couple say it was too small and one couple left early because their back hurt. I'm 50 and find it really comfortable but, I am pretty tolerant. My tv and microwave are both old but work fine. I keep the water heater off to save money. It heats up quickly and stays hot for quite a while after it is turned off. . Shop at great vintage store, Soiled Doves. Then rent a bike at Favata's and head down the trail. In the evening, have some dinner and live music at the Rosendale Cafe (open late April to late October) see a movie at the Theater. It is host to part of the Woodstock Film Festival. Several other shops, galleries and restaurants on Main st. to visit. Half hour to Woodstock, hour to Hunter Mt., 20 min to Mohonk, 10 min to New Paltz. I have provided a list of recommended stores and eateries and some hand drawn maps of good hikes to take right out the door. This apartment is in the building adjacent to the parking lot used to access the trail and has parking for two vehicles in front of the apartment entrance in rear of building. The parking lot is now closed to the public so it is a nice advantage to have parking so close. Apt is about one mile from bus stop that goes to and from Port Authority. Quiet neighborhood. More than 2 people possible but they would need to bring sleeping gear as I don't recommend the option of the pull out couch. It is not comfortable. Also, my television is only for watching in bed. If watching television is important for you, you may want to rent a place with a living room TV! Other drawbacks: no porch, no yard, no hot tub, no gorgeous view from my place (although the view out of the windows isn't at all bad). . I welcome dogs No barkers or chewers, please. No tobacco inside house please!! My place seems to appeal to younger people. I am middle aged but very immature. I am an artist and I have some weird art so not for those with conservative taste. For geologists, the Binnewater Hills seen from the trestle have been hailed as a Geologist's paradise.
Clean and Large apartment would rent from again and recommend for others to rent.
Gregory
2012-10-24T00:00:00Z
My husband and I visited Gretchen's apartment for a quick getaway. Gretchen responded promptly and gave us great information about how to find her place and what to do in the area. The apartment is decorated with a lot of fun books and personal effects that make you feel like you're staying at a friend's house.
Katie
2014-04-07T00:00:00Z
Gretchen is awesome. Excellent descriptions of things to do around town and the town's establishments. The house was great, bed really comfortable, water pressure in the shower tops. The kitchen was well equipped and the towel situation was perfect. Plus it was walking distance into town (we were there for a wedding so that was quite crucial for us!) and as other reviewers have said, Gretchen provided umbrellas and a flashlight which was super helpful. She was super helpful in general and I would definitely advise others to stay there as well as stay there again should we find ourselves back in Rosendale :)
Amanda
2015-04-06T00:00:00Z
We had a great time at Gretchen's place. Our dogs had so much fun on the rail trail, the close proximity to the trestle is reason enough to choose her apartment. It's a short drive to Woodstock and New Paltz, both definitely worth checking out. The apartment is thoughtfully decorated and comfortable, it has that wonderful 100+ year old mountain house feel. We are planning to return again in the fall!
Garry
2015-08-03T00:00:00Z
Gretchen's place was walkable from the bus from NYC (hour 30 mins NYC to rosendale) and a 20 min walk to her place. 10 min walk to town and literally 1 minute from 2 trail heads. Perfect for a getaway without a car. Such a great break! Thanks again Gretchen!
Aubrey
2014-04-14T00:00:00Z
Even though we did not get to spend much time in Gretchen's place due to the timing of our trip, we really enjoyed ourselves. She was accommodating when we arrived later than our expected time. Her apartment is clean, spacious and lots of cool toys and books. Guests have everything they need to be comfortable. The setting is beautiful being in the woods. It is very close to town. We hope to come back and spend more time here.
Cobi & Miguel
2015-08-05T00:00:00Z
Gretchen went way beyond the call of duty; she provided transportation to and from the bus station and took me to buy some supplies! I even got to join her for a horse feeding at the stables. She is flexible, kind, fun and funny. And her place is fantastic - a true low-key retreat. I loved the space with its arty decor and big kitchen. Her TV has all the great cable networks and it was fun to watch films in bed! The best part of my stay was the proximity to the rail trail. It is a magical woodland walk! The main street is sweet and has some great shops like the vintage and Tibetan stores. If you're walking it's a hike up the hill to go back home, but it's not far at all.
Carol
2015-12-23T00:00:00Z
Gretchen's apartment was perfect and exactly what we were looking for. It was only a 5 minute walk into Rosendale and a very short drive to Kingston, New Paltz and Poughkeepsie. There's a trestle right next to the apartment and a nice trail as well. The inside of the apartment is pretty eclectic which made the stay more enjoyable.
Gloria
2015-09-07T00:00:00Z
Typ pokoje
Celý dům/byt
---
Typ nemovitosti
Byt
---
Ubytuje
2
---
Ložnice
Rosendale, New York, Spojené státy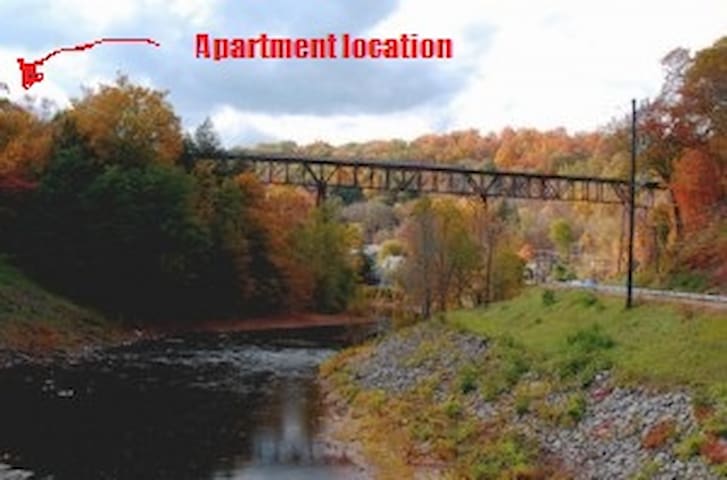 This spacious, historic brick 2nd story 2 bedroom walkup overlooks the quaint Rosendale Main St. Commanding views up and down the street and short walks to restaurants and entertainment put you right in the middle of the "action".
This spacious 2nd story walkup (translation...13 stairs) is in an ideal location to experience Rosendale's small town atmosphere. The 2 bedroom, 800 sq foot private apartment is the upstairs of an historic circa 1890 brick brownstone. With hardwood floors and sunny south, east and west facing windows overlooking busy Main Street, the view is commanding. Kitchen is fully equipped and has gas cooking. One bathroom with cast iron, claw foot, tub and shower. Main bedroom has a queen-sized bed, the 2nd bedroom is a sleeping loft (accessible by ladder only) and also has a queen sized bed. Less than two hours north of New York City, Rosendale is a progressive town with activities almost every week including the Rosendale Street festival, Woodstock movie festival and the international pickle festival. The bus stop to/from the city is a 15 minute walk from the house, so no car needed if you are travelling lightly. Within 2 minute walk: The Rosendale Cafe, The Big Cheese, the Alternative Baker, Red Brick Tavern, the 1850's House, The Bywater Bistro, The Rosendale Theatre, (great, independent films for $6), community acupuncture, massage, yoga and hiking on Joppenburgh Mountain. Within a 15 minute walk to library, post office, liquor store, two pizza places, the Rail Trail (hiking, and biking) with trestle, boutique retail, and the Rondout creek. Table Rock tours is nearby for bicycle rentals. Talk to me for secret swimming holes nearby.
Our neighborhood is made up of warm, open, down to earth people, expect to make a friend of the first person you meet. This is an earthy town similar to Woodstock.
The apartment in Rosendale was exactly like in the pictures and I would not hesitate to stay there again. The air conditioning was very welcome as the day time temperature reached into the 90s. Rosendale itself was fun and funky and I would have like to explore it more. John and Althea made us feel welcome!
paula
2015-08-02T00:00:00Z
John's place was great. We felt right at home as soon as we arrived. It's very comfortable with everything you could need. My daughter loved the piano, the bath and all the dragonflies decorating the apartment. If we make it back to Rosendale we'll stay at John's place again. Thanks!
Dan
2015-12-13T00:00:00Z
We had a great stay at the charming apartment above the Visions of Tibet store. It's walking distance to a hiking trail and Rosendale's cute restaurants and cafés. Parking is free and convenient in the municipal parking lot. The decor is very eclectic and stocked with a lot of extras like board games, spices for cooking, lots of pots and pans, and more. The cozy reading nook was a favorite and we took advantage of the flat screen TV, surround sound and DVD collection. We'd definitely stay there again.
christine
2015-05-25T00:00:00Z
This place was just perfect - clean, beautifully decorated, and right in middle of the cute quaint town of Rosendale. The apartment was actually much larger than expected... Very comfortable for two people but had a pull out sofa and bunk bed, so could easily fit a small family. We loved it and will definitely be back!
Leigh
2015-10-25T00:00:00Z
Such a GREAT place to stay. I'm losing count- this might be my 4th or 5th time, and whenever I'm coming to the area it's the first place I check availability on. Perfect location, homey and clean, with responsive, easy going hosts. Who could ask for anything more?
Jessica
2016-11-20T00:00:00Z
Very pleasant and clean. Great experience!
Yael
2015-09-07T00:00:00Z
I can not say enough good things about this apartment. Filled with eclectic charm, this cozy yet spacious gem located right in the heart of Rosendale. It is about a 10 minute drive to New Paltz and 5 min walk to the rail trail so there are tons of options for fun at your finger tips. There is also free parking right outside and we had no problems getting a spot. The host was very welcoming and the apartment was spotless. When you walk in it feels like home. If I could live here I would! The apartment still has a lot of the original detail including a great nook by the window to play cards, a spacious kitchen for cooking and hanging out and a cozy bedroom behind pocket doors. The only downside was there was some street noise since you are right on the main road into town. Other than that, I wouldn't change a thing. It is definitely a place I would book again. Ps - Make sure to stop by the big cheese right next door for farm fresh food!
Mike
2016-10-30T00:00:00Z
We really enjoyed our stay at John's place in Rosendale. The apartment and surrounding area were lovely (pictures are an accurate testament to the apartment's comfort and eclectic decor), and John was a communicative and very helpful host. Especially appreciated the proximity to virtually all the restaurants in town (less than five minutes for almost all of them), and the fact that we were able to get to the apartment from the Trailways bus stop on foot! Thanks for letting us have use of your place for our getaway weekend.
Lucas
2015-11-02T00:00:00Z
Typ pokoje
Celý dům/byt
---
Typ nemovitosti
Byt
---
Ubytuje
4
---
Ložnice
Rosendale, New York, Spojené státy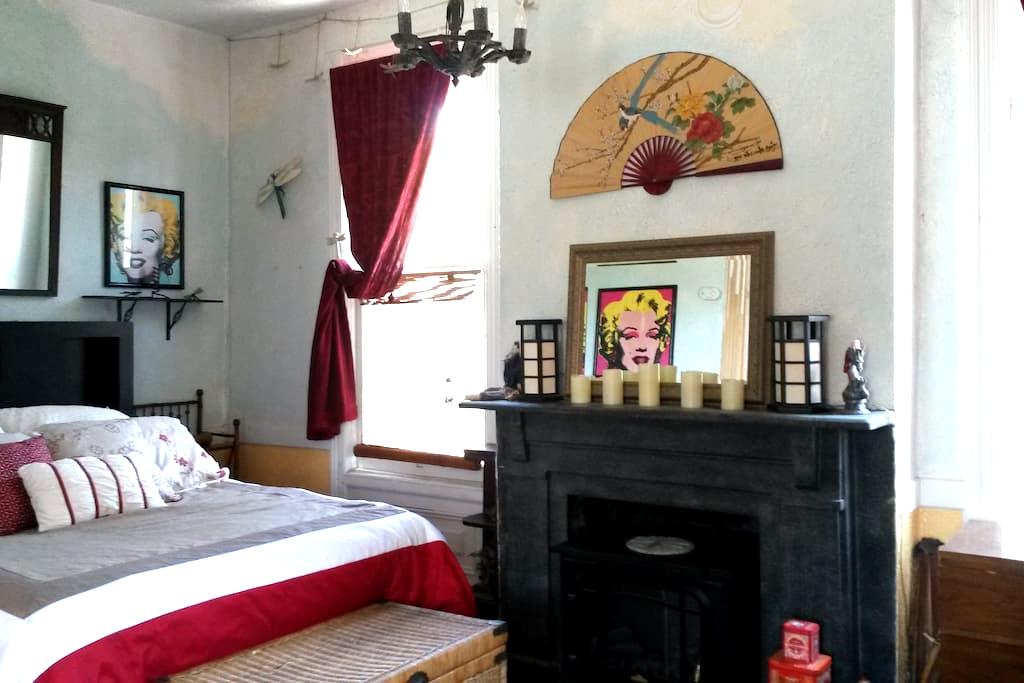 Bright apartment in an 1880's home. Easy to get to and close to the sites, tastes, and activities the area has to offer.
We try to provide a clean apartment, that is a warm and comfortable.
Our home is a great locations to have access to the restaurants, farmers markets and farmer stands, rail trail, mountain biking, cycling, climbing, swimming holes, cross country skiing. And Tom is a life long resident of the area and a great resource to find it all.
Everything exceeded our expectations. This is a fantastic accomodation for a getaway. Highly recommended.
PHIL
2016-08-29T00:00:00Z
Tom and Colette were great hosts -- always in contact with me and easy to reach. We rented the space for our guests visiting for the weekend. They were very comfortable and very content with the space. The apartment is wonderfully located: within walking or biking distance to the town of Rosendale; very close access to the rail trail and the trestle bridge over the Rondout; and right along Elting/ Springtown Road for more biking and access to New Paltz. This will be our 'extra guest bedroom' from now on!
Daniel
2015-11-09T00:00:00Z
Thanks for having us to stay in your apartment Tom! Your place was awesome. Clean, stylish and comfortable with all the necessary amenities! Rosendale was a short bike ride or walk "down hill" and very accessible from the house. Hoping to come back for a longer visit next time so can make use of some of the local biking trails!
Rebecca
2016-08-01T00:00:00Z
Really cute multi-apartment historical home surrounded by wilderness. Beautiful town! This place is pretty central to downtown Rosendale, maybe a mile away. You could walk but I don't recall sidewalks.
Lucia
2016-10-03T00:00:00Z
Everything was as expected! Great service overall!
Saul
2016-11-27T00:00:00Z
Great stay - lovely apartment - super clean, comfortable and relaxing. It's also a stone's throw from Rosendale and a short ride from New Paltz. Very nice hosts.
Daniel
2016-11-13T00:00:00Z
We had a quick overnight stay to visit family and the apartment met all our needs. It was close to family and the cute town of Rosendale. We would definitely stay again.
Julia
2016-08-27T00:00:00Z
My family and I really enjoyed our stay. We were so close to things we wanted to do. Tom was so responsive and so friendly we felt very welcome in his and Collette's home. We loved it!
Stephanie
2016-07-05T00:00:00Z
Typ pokoje
Celý dům/byt
---
Typ nemovitosti
Byt
---
Ubytuje
4
---
Ložnice
Rosendale, New York, Spojené státy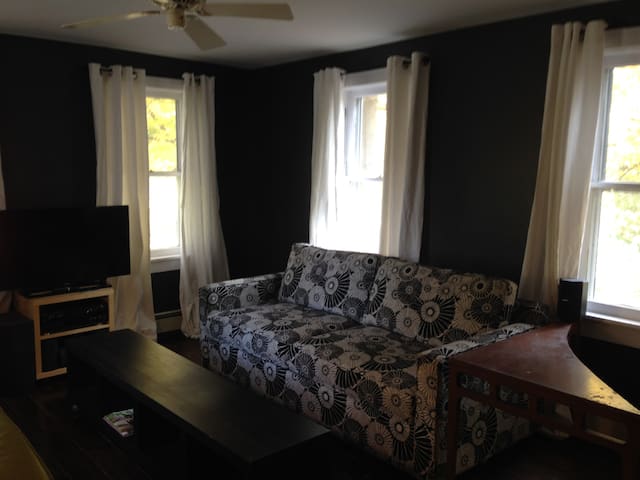 Private master bedroom with full private bath and patio. A peaceful escape 90 miles from NYC on 11 acres of private land. No neighbors and plenty of nature, but also within walking distance to hiking trails, cafe's, restaurants and boutiques of Rosendale, NY. The spacious living room with fireplace invites guests to soak up the bliss of Upstate NY in any season. See listing for our other room guest room here: https://www.airbnb.com/rooms/16664213?preview
This home has been in our family for many generations and has gone through many renovations. We are excited to opening the doors to share the experience with worldly travelers.
We had a very enjoyable and comfortable stay. The master bedroom we stayed in was private, spacious, and had a large bathroom attached. Great privacy and location. There were also many items, toiletries, and accessories guests might need available in the bedroom and bathroom in case you forgot to bring anything. Our hosts, Rose and Joe, were equally as wonderful as the Airbnb itself. We highly recommend this location!
Amena
2017-01-01T00:00:00Z
The host canceled this reservation 9 days before arrival. This is an automated posting.
Deborah
2017-04-03T00:00:00Z
Delightful experience. Clean, spacious and luxurious mid century modern accommodations. Exceptional communication and hospitality. Rosendale is a very fun town too.
Daniel
2016-12-11T00:00:00Z
Typ pokoje
Soukromý pokoj
---
Typ nemovitosti
Dům
---
Ubytuje
2
---
Ložnice
Rosendale, New York, Spojené státy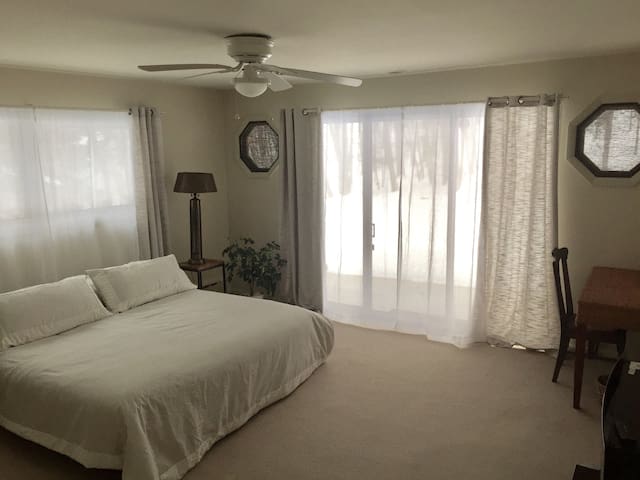 Pro zobrazení celkové ceny zadej termín. Mohou být přidány další poplatky a daně.