Nous vous proposons un appartement écologique indépendant au rez-de-chaussée de notre maison directement au bord de la mer. Les chambres disposent d'un espace propre, calme pour se détendre avec un salon privé ainsi qu'un coin cuisine pour l'auto-restauration. La chaleur du radiateur est produite par notre chaudière à bois, ainsi que par deux poêles. Le poêle fusée stocke la chaleur dans un banc de torchis qui en fait un confortable hang-out bois space.The est d'origine locale et durable. L'électricité provient de nos panneaux solaires et les énergies renouvelables.
Nous sommes une maison colorée d'amis et de famille qui vivent ensemble. Nous vivons dans le premier et le deuxième étage de la maison. Nous avons un jardin potager ainsi qu'un cercle de feu avec des bancs pour se détendre et écouter les vagues. Nous pouvons fournir des hamacs, aussi. De Tangleha vous pouvez profiter de magnifiques couchers de soleil et levers, chants d'oiseaux, ainsi que le gloussement de nos poulets, il y a beaucoup de belles promenades côtières dans la région que nous pouvons vous signaler. Nous avons aussi des pirogues que vous êtes invités à utiliser. Dans le temps de l'été, nous avons souvent barbecue auquel vous pouvez nous rejoindre.
Tangleha ist ein perfektes Wochenende aus den Städten, da sie direkt am Meer und man kann tolle Sonnenuntergänge und Sonnenaufgänge und sogar Nordlichter genießen, wenn Sie Glück haben! Lokale Pubs und Geschäfte sind innerhalb von 5 Minuten Fahrzeit erreichbar zu finden.
Typ pokoje
Celý dům/byt
---
Typ nemovitosti
Dům
---
Ubytuje
6
---
Ložnice
Saint Cyrus, Skotsko, Velká Británie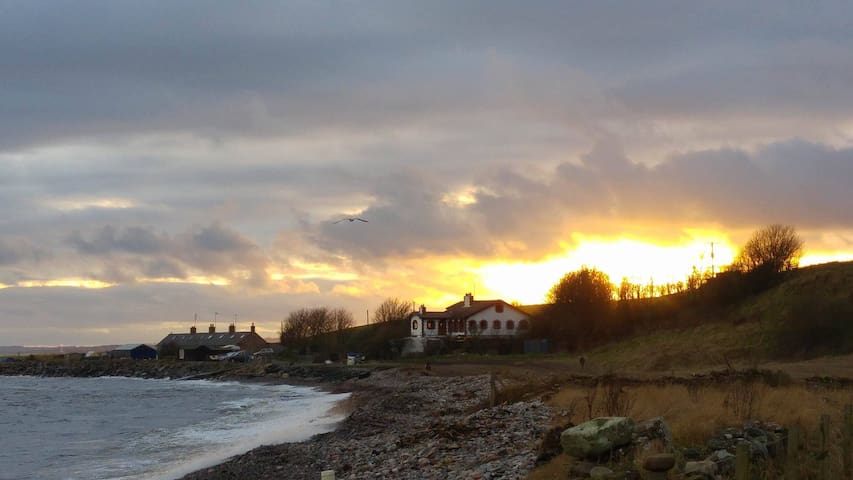 We had a great stay at this modernly converted farm. Lesley and Charles were lovely hosts. Welcoming, easygoing, helpful and kind. Beautiful room, comfy bed and luxurious bath! We had a cosy continental breakfast and Lesley even packed us a hot-crossed bun lunchpack :) Can definitely recommend this B&B and hopefully we can visit again ourselves. Thanks for the stay.
Peter
2016-03-31T00:00:00Z
I agree with the other two reviews completely. I stayed with Lesley and Charles for a week. They were perfect hosts. Very welcoming and easy going and nothing was too much trouble. Food was great. Comfortable bedroom, large bathroom with one of the best showers I've experienced. The steading conversion has been done very nicely and the house is very roomy. It's in a lovely spot. 5 minutes walk down to the sea. You can walk to Johnshaven in half an hour along a small coast path. I thoroughly recommend East Mathers. I will definitely stay again.
Terry
2016-07-10T00:00:00Z
Lesley was the perfect host! And the house was absolutely STUNNING, with gorgeous views across the fields and out to sea, a beautiful warm modern bathroom and super comfy separate bedroom with an upstairs sitting room we could use also. It was lovely waking up and looking out of the window to see the sea so close. Lesley made us a delicious breakfast in the morning with fresh fruit, coffee, cereals and cheeses and was fabulous company. She also recommended a great local restaurant in Johnshaven which had fresh lobster and crab from the harbour. Would recommend to stay with Lesley to anyone!
Georgia
2016-04-07T00:00:00Z
Lesley personally led us in when we managed to miss the turn, despite what were really very good directions. She immediately made us feel comfortable in her beautifully restored, unique home. The steading is very near the coast with wide open fields all around--lovely views in every direction. Our bed was very comfortable, the bath tub a real treat. Breakfast was delicious! Lesley and her husband Charles were friendly, interesting and well-informed. We would love to return for a longer stay!
Barry
2016-09-12T00:00:00Z
L' accoglienza è stata ottima come la disponibilità e la gentilezza.
Gaetano
2016-08-13T00:00:00Z
Lesley is a great host and her home is just fantastic. An ideal location of passing through or for a base to explore the area for a few days. The location is awesome, the photos do not do it justice.
Mark
2016-07-21T00:00:00Z
Typ pokoje
Soukromý pokoj
---
Typ nemovitosti
Dům
---
Ubytuje
2
---
Ložnice
Saint Cyrus, Velká Británie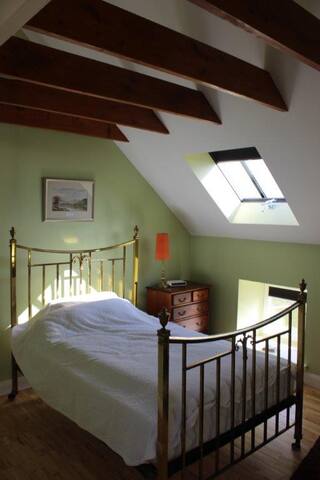 ''Detached Tranquil Self Catered Country Cottage'' Come and relax while watching our red squirrels feeding on the door step!! Large country garden to explore and great family friendly woodland walks on our door step. A Truly Unique Cottage !! 15 mins walk from Laurencekirk, shops and train station
Woodland walks on your doorstep Star gazing loft space Lots of parking space Tranquil garden area Red squirrel and bird feeding area
Tranquil Country Cottage set in a large country garden with secluded areas and endless opportunity to create ever lasting memories for everyone!!
It was a lovely cottage with beautiful surroundings full of different birds, squrriels and rabbits to name a few. We had a wonderful time at the cottage and barely ventured out. Our daughter did not want to go back home at end of our holiday( glass roof windows with the view of stars was highlight of her holiday). Kevin and Erika are wonderful people, made us feel welcomed. We will definitely stay again at their cottage.
Janice
2016-12-29T00:00:00Z
Lubo and his guys were very comfortable thank you
Duncan
2017-02-10T00:00:00Z
Thanks for accommodating the guys Kevin.
Duncan
2017-03-31T00:00:00Z
Excellent modern cottage for quiet getaways. Clean, comforting with log fire and we'll worth the money and the nature in the gardens gave it a nice touch
darren
2017-02-12T00:00:00Z
Fantastic hosts, very welcoming and accommodating during our stay. Cottage lovely, homely and situated in beautiful surroundings. Went a lovely walk round the woods and the kids loved the garden.
Pauline
2017-01-06T00:00:00Z
Lubo and the the guys were very comfortable and happy.
Duncan
2017-02-03T00:00:00Z
The guys really enjoyed there stay. Thank you.
Duncan
2017-03-10T00:00:00Z
Excellent place to stay, peaceful and secluded. Everything has been thought of and no corners cut. Nice views all around and feels like home from home.
Connor
2017-02-27T00:00:00Z
Typ pokoje
Celý dům/byt
---
Typ nemovitosti
Dům
---
Ubytuje
6
---
Ložnice
Aberdeenshire, Skotsko, Velká Británie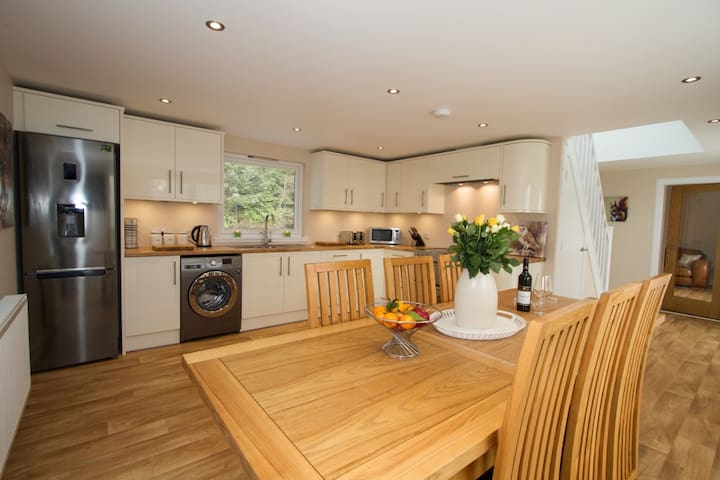 The house is superbly located right on the sea front with great views and a spacious sea facing garden. The village amenities and harbour are all a few minutes walk. The house is recently refurbished and is very comfortable for couples and families (with kids).
The Location is amazing with the shore just beyond the garden. The dolphins pass frequently if you keep a look out. The harbour is a stones throw away, as is the local shop, pubs and a super local restaurant 'The Anchor'. The coastal path is a great way to explore the area and crosses in front of the house.
You can walk either direction from the house along the coast or into the village. There are many tiny paths through the old houses to explore and there is a great sandy beach at St Cyrus a few miles south. For self catering try Gordon, the next village North for fresh seafood you buy from the shop on the harbour wall.
I would recommend this accommodation to everyone. Clean, warm, location is outstanding.
Dave
2017-03-31T00:00:00Z
Well equipped, clean and cosy house in a wonderful location with great views of the sea. Walks from the door and well situated for trips to pretty coastal villages, beach at St Cyrus and fantastic birdwatching opportunities at Montrose Basin. Well stocked shop, affordable craft shop with friendly owner and great hotel with top notch food and attentive staff all 3 minutes walk away. What more could you ask for.
Euphan
2017-02-26T00:00:00Z
A lovely house in a great location
James
2016-08-28T00:00:00Z
Typ pokoje
Celý dům/byt
---
Typ nemovitosti
Dům
---
Ubytuje
6
---
Ložnice
Aberdeenshire, Skotsko, Velká Británie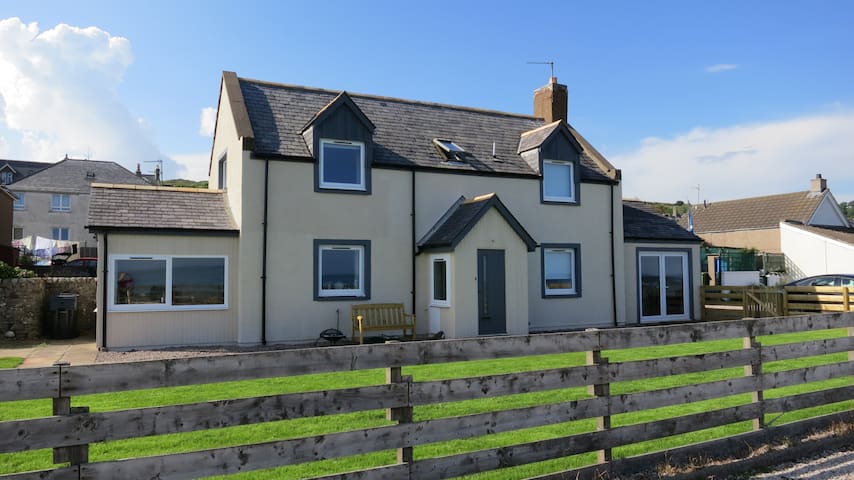 Beautiful room with double bed. House is in central location close to bars, restaurants, parks, high street and gym. Each room comes with tea and coffee making facilities and self serve continental breakfast. All rooms are private from main house and comfortably fit two per room. Bathroom Shared with neighbour room. Price is 40GBP per room per night. Check Balmain house listing if you wish to book both rooms. https://www.airbnb.co.uk/rooms/17084276?checkin=18-02-2017&checkout=19-02-2017&guests
Home comforts separate from main house with plenty of privacy. Within walking distance to bars, restaurants, gym and places of local interest.
Close to restaurants, bars and local points of interest- all within walking distance and quiet location five minutes from Bamse monument. Ten minutes from aerodrome museum.
The accommodations were superb, just as we had expected and better! Had a lovely stay!
Amanda
2017-04-04T00:00:00Z
This was my third stay with Angela and Murdoch, and I'm impressed as ever with their lovely place. I'll be back next month ☺️
Louise
2017-03-29T00:00:00Z
This is the second time I've stayed with Angela and Murdoch, and I couldn't be happier to be back! The perfect bolt hole to come back to after a manic few days of work. I'm hoping the next time I'm back I'll be able to take advantage of the lighter evenings and enjoy some of the lovely scenery the area has to offer too. I can highly recommend this lovely place to anyone visiting the area! Angela really has thought of everything you might need and the room is wonderfully comfortable. Thanks again guys! X
Louise
2017-03-01T00:00:00Z
Had a great stay with Angela and Murdoch, although I was only there for one night. They were very welcoming and helpful, and the room was lovely. Very clean and comfortable, with everything you could ask for, from extra large bath towels to a private fridge. And all in a beautiful home right in the centre of town.
Iain
2017-04-02T00:00:00Z
I'm always hesitant to book accommodation if there aren't many reviews or if it's a new listing, but I couldn't have been happier with my stay with Angela and Murdoch! The accommodation is absolutely beautiful. A clean, comfortable room which has been decorated to a wonderful standard. The hosts have thought of absolutely everything that a guest might need, from extra supplies in the bathroom to a lovely selection of teas, coffee, and breakfast items. I was in the area on business, and was looking for somewhere that would be quiet and convenient for getting to and from the office. The location is a quiet, unassuming residential street just a few minutes walk from the town centre making it really handy for the public transport links. If you're looking for an alternative to a B&B or hotel for a business trip, then I absolutely would recommend staying with Angela and Murdoch. Having said that, if you're looking for somewhere for a holiday, the location is also ideal! The coastline is absolutely gorgeous, good golf courses are dotted all around the area, and you're just a 40 minute drive into the Cairngorms too. I've stayed in a number of Airbnb's for work and pleasure across Europe and in New York, and I've got to say that Angela and Murdoch's place has got to be one of the best yet! I can't recommend highly enough!
Louise
2017-01-25T00:00:00Z
The room was marvellus, very confortable. The breakfast was full with a lot of variety
David
2017-03-07T00:00:00Z
Typ pokoje
Soukromý pokoj
---
Typ nemovitosti
Jiné
---
Ubytuje
2
---
Ložnice
Montrose, Skotsko, Velká Británie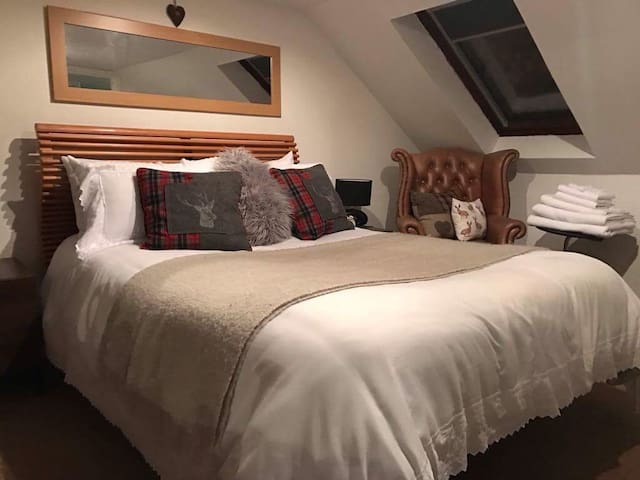 chalet en bord de mer de caractère dans un village charmant de pêcheurs. Vue à 180 degrés de la mer. Chaleureux et confortable avec un vrai feu et une véranda ensoleillée. Deux pubs, une avec de la nourriture fantastique, et un magasin de village bien garnie.
Un chalet très calme, chaleureux et relaxant. Tous les logements sont au rez-de-chaussée. véranda ensoleillée attrayant avec une deuxième télévision. Jeux à jouer, wifi, des livres à lire, les oiseaux de mer et les dauphins à surveiller. Comfy lits, des chaises et un canapé. Un vrai feu pour les soirées fraîches. Les vélos peuvent être stockés en toute sécurité dans un hangar verrouillé.
The Anchor Hôtel dans le village (5 minutes à pied) a un grand menu avec des événements spéciaux comme 'Curry Night' un jeudi. (Repas et boissons pour £ 8). Il y a belle promenades côtières de l'extérieur de la porte d'entrée ou des villages voisins. Les collines de Aberdeenshire et Angus ne sont que quelques miles de là. L'atmosphère et du célèbre château de Dunnottar est à 20 minutes.
Location, on the beach was wonderfull The cottage is homely and perfect, we didnt want for anything. Had cosy winter nights in front of the fire. Seafood dinner is highly reccomended at the anchor only 5 mins walk away
Neil
2016-11-13T00:00:00Z
Friendly and helpful host. A real home from home. Beautiful cottage, photos didnt do it justice. Annie catered for everyone, even games and lego for kids. Thanks for a fab relaxing weekend break. We will be booking again!
Gillian
2016-06-06T00:00:00Z
Annie was very welcoming and fast to respond via email. Kittiwake cottage is a great little house and perfect for our needs. Within walking distance of the pub and lovely walks right on the doorstep. The house itself was warm and clean and has parking right outside. Fab!
Ilona
2016-09-28T00:00:00Z
What a gem this place is. It looked good on the pics....but it didn't look that big. Charming reception room, two bedrooms, a full kitchen. And what a lounge! Lovely garden too. And the views! Annie was great, made us feel very welcome and had some food ready for us in the fridge. It's an amazing place....wish we could have stayed longer. Great fresh crab and lobster just a minute away. A fantastic base to explore the area....and to enjoy the evenings.
Alexander
2016-07-28T00:00:00Z
Everything at Kittiwake Cottage was delightful! From the moment I booked, Annie made us feel welcome, not least when I couldn't predict what time we would arrive. Thank you Annie for being so accommodating! The cottage itself is marvellously furnished and equipped; everything we needed was there, and more besides. Though it was November, we were warm and cosy throughout our stay. And as for the location and the view; pure magic!
Rosalind
2016-11-08T00:00:00Z
Wonderful location and terrific host. Will definitely come back.
Jim
2016-03-09T00:00:00Z
Kittiewake Cottage is a lovely, warm and comfortable cottage right on the coast with views across the sea. It is quiet and cosy and we really enjoyed our stay. The photos don't really do it justice. It is a good sized house with lovely décor and attention to detail.
Margaret
2017-04-03T00:00:00Z
Kittiwake Cottage is a wonderful relaxing place in a sweet quiet fishing village. The house is very comfy - open fire and seaview from the bed - perfect!
lorenzo
2016-11-18T00:00:00Z
Typ pokoje
Celý dům/byt
---
Typ nemovitosti
Dům
---
Ubytuje
4
---
Ložnice
Johnshaven, Velká Británie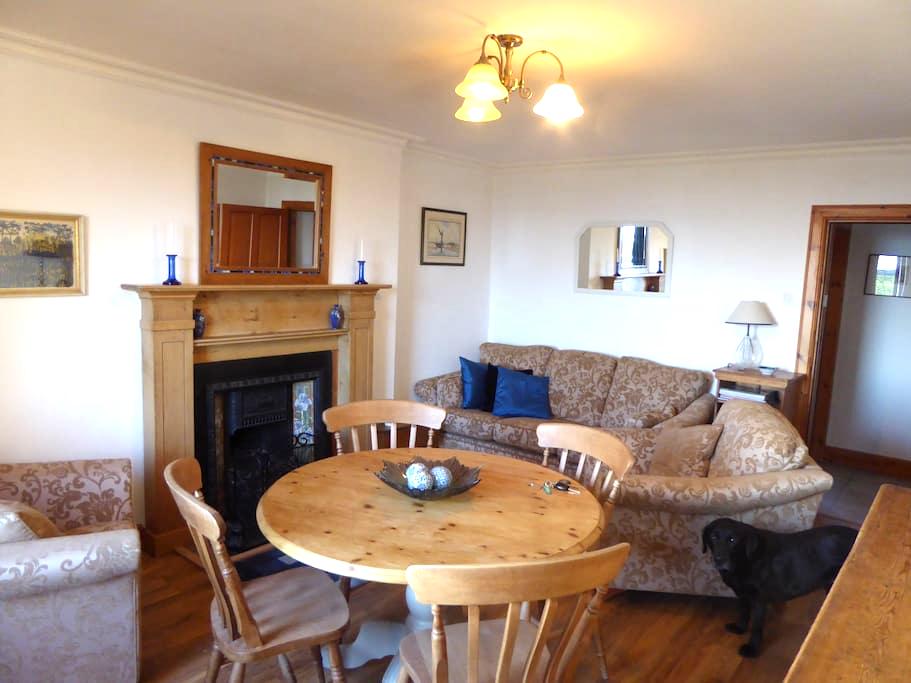 Sited alongside our B&B in a quiet location on St Cyrus Nature Reserve just one mile from St Cyrus beach. There are local amenities in Montrose and Inverbervie as well as lots of sites to see and things to do. Suitable for couples and families (with kids).
We had a fantastic stay here. Kath was very friendly and a great hostess. The location was great surrounded by nature. Will definitely return here
andrew
2016-10-07T00:00:00Z
The caravan was adequate for our needs and in a beautiful location with the nature reserve and beach nearby. The owner was friendly and approachable. Wouldn't hesitate to stay there again which I hope we will do sometime in the future
Liz
2016-08-05T00:00:00Z
She was very nice and helpful . Maar de banken waren niet fijn om op te zitten en vooral het gedeelte bij de tafel was moeilijk om aan te schuiven. Jammer de omgeving is heel fijn .
Gerda
2016-09-06T00:00:00Z
Perfect stay at a well positioned caravan near a lovely beach . Everything you could need , clean and welcoming thanks a lot
hannah
2016-07-07T00:00:00Z
We spent some wonderful days in a beautiful landscape. We enjoyed staying in the caravan, having food while watching the horses, goats and chickens out of the window....: really nice! And the national reserve nearby is great too! So we highly recommend staying here! Also Kath was a really helpful and great host. Thanx for all!
Branka
2016-08-15T00:00:00Z
It was our first experience with Air BnB, first time staying in a caravan and first visit to Scotland! But even before we left my eleven year old son descided that we definetely have to do this again next summer. Kath was a great host- especially the communication was excelent ( how did Kath manage to always reply within minutes to questions I had beforehand??!!!). The caravan shows its age at some areas, but this is reflected in the price and we very much enjoyed all the space the caravan offered, having two separate bedrooms, a big TV.... oh, and the very entertaining chicken, ducks and dogs in the field next door! St Cyrus Beach and Nature Reserve are absolutely gorgeous and the "entrance" to it is just 2km down the road and worth a stay here on its own. Lots of sights are in easy reach (even if you are like us not used to driving on the "wrong" side of the road ,) ) So if you are looking for a very relaxed and enjoyable place to stay in Angus/Scotland we can only recommend to stay in Kath's caravan
Kerstin
2016-07-24T00:00:00Z
Typ pokoje
Celý dům/byt
---
Typ nemovitosti
Chalupa
---
Ubytuje
4
---
Ložnice
Montrose, Skotsko, Velká Británie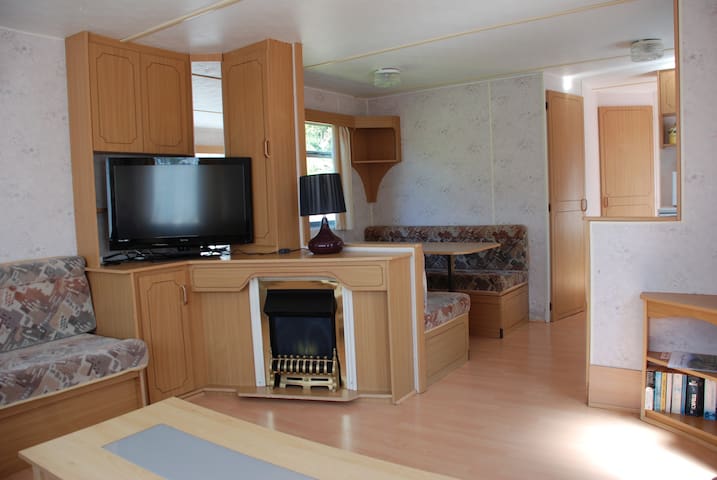 Traditionelle Hütte mit 2 Schlafzimmern, einem Wohnzimmer Öffnung auf eine Terrasse, ein Wohnzimmer und eine gemütliche Stube. Die möblierte Terrasse mit Blick auf das Meer. Der Garten ist komplett eingezäunt und es gibt Geräte in der Hütte zu spielen. Ein paar Meter entfernt ist der Hafen.
Lovely quiet sea front location and a very cosy cottage with everything you could need to hand. Lovely views from bedroom overlooking the sea front.
Susan & Shaun
2017-03-19T00:00:00Z
Typ pokoje
Celý dům/byt
---
Typ nemovitosti
Dům
---
Ubytuje
5
---
Ložnice
Johnshaven, Skotsko, Velká Británie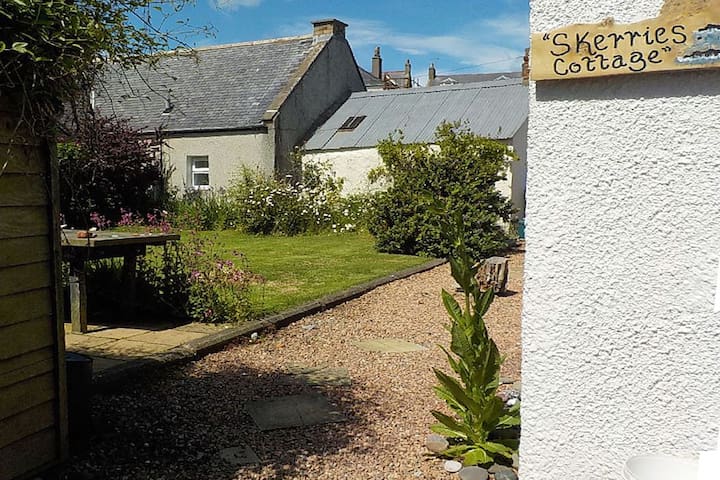 My place is close to lovely walks, beaches, parks & castles. Located in the Aberdeenshire town of Laurencekirk which has bars, restaurants and shops all within walking distance. Just off the A90, Aberdeen, Dundee, Stonehaven, Banchory & Royal Deeside are all within easy reach.. You'll love my place because of My warm welcome and it's perfect location for touring Scotland.. My place is good for couples, solo adventurers, business travellers, and families (with kids).
Warm and cosy first floor double bedroom with great views over a large park, which has a play area and tennis courts. We also have a small single room available for use next door to the double room. A single bed can be added to the room on request for a child. A private bathroom with a full size bath and shower head attachment is situated upstairs on a mezzanine level. Plenty on street parking and within walking distance of a train station.
Laurencekirk is the main town within the 'Howe O The Mearns' A quiet town with some shops, bars and restaurants within walking distance.
We had a great stay at Lauren's. The bedrooms are beautiful! And we had a great breakfast as well!
Lygie
2017-03-19T00:00:00Z
Thanks so much. Flexible and helpful host.
Claire
2017-03-26T00:00:00Z
A fantastic location for Fasque Castle. Very welcoming hosts with a lovely home and an amazing selection of food! Quiet and comfortable.
Chris
2017-03-12T00:00:00Z
Typ pokoje
Soukromý pokoj
---
Typ nemovitosti
Dům
---
Ubytuje
3
---
Ložnice
Laurencekirk, Skotsko, Velká Británie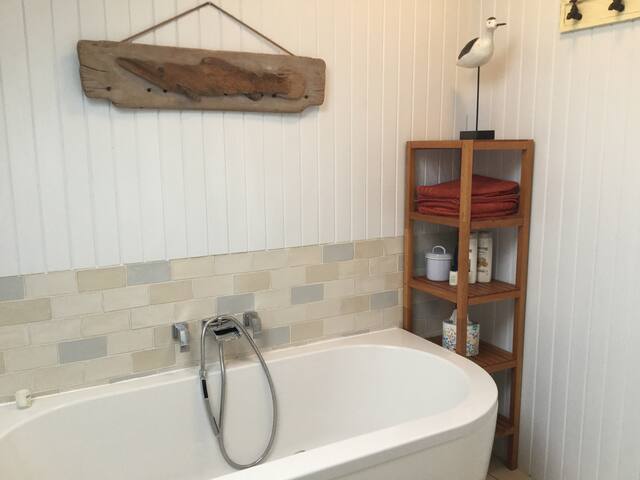 Rowanlea Lodge is a unique log cabin built with Scottish Douglas fir trees. The perfect place to relax and unwind with spectacular views towards the Grampian hills and Cairn O Mount.
The Lodge is decorated and furnished to a high standard with an open plan living/ kitchen area with log burner. There is a double bedroom downstairs, and a shower room. Upstairs is an open plan bedroom/seating area with a double bed and a further double sofa bed .
The Lodge is a short walk away from the North River Esk famous for salmon and sea trout fishing. Our Local friendly pub is just a short walk down into the village. There are two golf courses within a 10 minute drive, Montrose Golf Links one of the oldest in the world with two 18 hole courses with stunning landscapes. Another favourite is Edzell golf course located at the gateway to the Grampians in the foothills of the Angus Glens.There are two beaches close by Lunan Bay one of the most beautiful beaches in Scotland, popular with surfers, horse riders and a great walk for those of you who have dogs. Also St Cyrus beach, a nature reserve renowned for its grasslands, rare flowers, butterflies and moths. Cairngorms National Park is approximatley 40 miles from the Lodge with beautiful mountains, forest paths, rivers, lochs, wildlife hotspots, a perfect day out. The Angus Glens is perfect for walking where you will see some great views much wildlife and get a taste of rural Angus. The popular coastal town of Stonehaven is a 20 minute drive packed with many sea food restaurants and of course famous for the fire balls at New Year. Montrose is a ten minute drive where you will find many shops and supermarkets.
My wife and I have just returned from a lovely, peaceful weekend at Rowanlea Lodge. The cabin itself is stunning, you can tell the craftsmanship involved in its construction and the care and eye for detail from Lorna in decorating and making it a home away from home. Everything is taken care of. Would recommend to anyone looking for some peace and quiet and great walks.
Graeme
2016-05-16T00:00:00Z
We had a lovely stay at the lodge. The cabin is extremely comfortable and well equipped, finished to a high standard. Lorna was an excellent host with very friendly and thorough communication. Lots to do in the local area, we particularly recommend Lunan beach.
Mhairi
2016-09-07T00:00:00Z
Lorna has a beautiful and well-appointed property in Marykirk. We enjoyed it so much we extended our stay by two days.
Byron
2016-04-13T00:00:00Z
Beautiful lodge, lovely location close to wonderful beaches and the view was lovely.. Lorna was very helpful and made us feel very welcome.. would definitely recommend staying here.
Mrs Deborah
2017-03-19T00:00:00Z
A group of four friends enjoyed the most wonderful stay at Rowanlea Lodge. The accommodation is stunning, and was perfect for our wee Christmas getaway. We had everything we needed to cook a Christmas dinner, and the beautiful decorations throughout the lodge made the whole experience magical! We will definitely be back. Thank you Lorna.
Katrina
2016-12-11T00:00:00Z
Logement à conseiller. Logement agréable, bien équipé et chaleureux. Plein de petites attentions de la part de Lorna. Les enfants ont aussi bien profité des lieux. Nous reviendrons ...
Nicolas
2016-07-25T00:00:00Z
We really enjoyed our stay at a Rowanlea Lodge. The lodge is beautifully crafted and furnished. Lorna is a lovely host - very friendly and helpful. The lodge is in a good location with lots of interesting places to visit within a short drive. Lunan bay beach is definitely worth a visit. Wish we could have stayed longer!
Jacqui
2016-06-13T00:00:00Z
Most cosiest place we have been to. And the best equipped and cleanest, too. Everything is nearlly new and you have all the modern equipment like a dishwasher and a washing machine but also all the home-like feeling features like the log fire and those great sofas. Lorna made the plan for building the house herself and you feel the love in every detail. She was a lovely host answered our questions really quick by message and also gave us total privacy. There was even a lit christmas tree when we arrived. It's a calm place with a great view. We would love to come back next year. Thank you so much, Lorna!
Sarina
2017-01-04T00:00:00Z
Typ pokoje
Celý dům/byt
---
Typ nemovitosti
Srub
---
Ubytuje
6
---
Ložnice
Marykirk, Velká Británie
Cosy, quiet and close to the sea - my house is in a friendly and traditional fishing village that's absolutely packed with character and characters! A shop, traditional pub and a pub/restaurant are all within a few minutes walk. There are fantastic beaches, wildlife, castles, stone circles and other attractions within easy reach with the whisky trail, Royal Deeside and the UK's only wilderness being just a short drive away. The village offers a relaxed pace of life and great seafood.
Full of period furniture and pieces, my house has a definite retro feel. Its light and airy but retains its cottage cosiness.. Fully centrally heated with a wood-burner in the sitting room and a large well equipped kitchen, its a nice relaxing and comfortable place to be.
Johnshaven has a preservation are - meaning that it retains a lot of its historical charm and features...with houses, lanes and gardens being laid out in a slightly random fashion. The main road doesn't run through the village and for this reason it retains a slightly sleepy air. The Anchor hotel offers great seafood and The Ship (a former coaching inn) a real taste of the traditional.
Typ pokoje
Soukromý pokoj
---
Typ nemovitosti
Dům
---
Ubytuje
2
---
Ložnice
Aberdeenshire, Skotsko, Velká Británie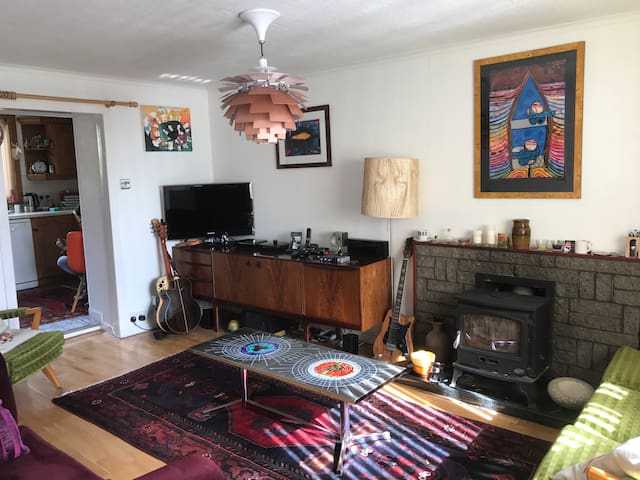 Sue could not have been kinder, from allowing me to check in anytime after 10am on my day of arrival to allowing me to check out anytime on my day of departure. Everything was supplied including extras of milk, tea, coffee, soup, diluting juice. Sue herself, is absolutely lovely and even allowed me to accompany her and her friend on a terrific dog walk. Johnshaven is full of lovely little cottages and stone houses. This particular cottage has beautiful scented roses round the door. The bed is a super King and super comfy, the bed linen was crisp white. The shower is terrific, constant hot water. Sue even supplied toiletries, as I'd packed 2 lots of conditioner and no shampoo this was a real boon.lol I didn't have any dogs with me but the cottage is totally dog friendly. I have no hesitation in recommending this cottage and will definitely be back.
Jo
2016-06-14T00:00:00Z
Sue is a wonderful and helpful host. Her cozy cottage is situated in a lovely fishing village and provides everything you need. Perfect for a quite, peaceful holiday by the sea.
Dirk
2016-06-21T00:00:00Z
Sue was very welcoming and flexible and a great host . The cottage was as expected. Clean, tidy and with everything you need. Johnshaven is a pleasant village and I liked being able to see the sea from the living room window. Overall a good pick and good value. Sue was always easy to get hold of and willing to help. But actually I didn't need much help because everything worked fine. I will come back! Thanks Sue.
Terry
2016-06-22T00:00:00Z
Typ pokoje
Celý dům/byt
---
Typ nemovitosti
Dům
---
Ubytuje
2
---
Ložnice
Johnshaven, Velká Británie
Our glamorous, opulent boudoir bedroom is a place to relax in our spacious country family house . Amazing light from huge windows,with shutters, lovely view of stream, fields and gardens. Antique furnishings, comfortable four poster bed, adjacent private shower room( not en suite but only yours!) See you soon!!
Gorgeous and romantic bedroom with extremely comfortable bed. Lovely welcome from the hosts.
Clea
2016-09-24T00:00:00Z
Would highly recommend.
Bubba
2017-04-02T00:00:00Z
Typ pokoje
Soukromý pokoj
---
Typ nemovitosti
Dům
---
Ubytuje
2
---
Ložnice
Montrose , Angus Scotland, Velká Británie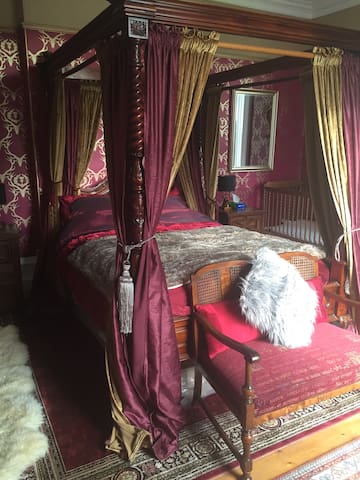 The B&B is close to parking, shops, supermarkets, sea, fantastic beaches, hills, tourism, wildlife, views, and a garden. We offer a suite of 3 bedrooms, a living room, a nice breakfast. You will have three private bedrooms, a pleasant WC / shower-room, food storage, kettle & toaster. Good level of light, comfort, and internal space. Ideal for intimate family groups..which we prefer. (Note: YOUR party resident per booking period ONLY). I am Andrew, my wife is Edi, we occupy a separate floor.
This is a sizeable apartment. You will have use of all of the upper floor. The bedrooms are comfortable. 4 visitors (or fewer) is the optimum for ensuring less stress on WC / shower usage, but 6 guests have been accommodated The group should be of a close family, or equally familiar and co-organisational.
Proximity to all facilities offered in a rural town, as well as stunning country scenery, walks, and things to do.
Very welcoming host. Spacious rooms. Lovely breakfast selection. Great locatio n in centre of town. Lovely view of basin. Accomodation on top floor so a few stairs to climb! Great value for money
Mary
2016-10-08T00:00:00Z
The accommodation was just as expected; spacious and comfortable. The lounge was a beautiful space to have breakfast in the morning and to relax in the evening. Andrew was a charming and informative host. Andrew and Edi made us very welcome and the tea and biscuits in the evening to accompany our game of Scrabble was a lovely touch. The highlight of our stay was Lunan Bay, a gorgeous beach, with an excellent cafe for coffee and cake, after a walk. There are lots of varied and interesting places to visit ranging from the Cairngorms National Park to Glamis Castle and village to Dundee, with a cinema for a rainy afternoon. Montrose itself has limited places to eat in the evening, so be prepared to travel for your evening meal. Although Roos Leap, an Australian restaurant and the George Hotel were excellent and good value.
Angela
2016-07-14T00:00:00Z
We enjoyed staying at Andrew and Edi's Airbnb. Andrew was very helpful with great suggestions fo our sighteseeing and even took us to beautiful Lunan Bay. The accomodation was clean, very nicely decorated, and the beds very comfortable. The breakfast was also very good. This was exceptionally good value for the price and I would recommend it to other travellers.
Diana
2016-07-05T00:00:00Z
We were pleased to have a whole floor with 3 bedrooms and bathroom all to ourselves. Great beds, excellent new bathroom, lots of space for us to enjoy. The breakfast is basic but adequate and is served in a large, classy high-ceilinged room. The hosts are very personable and helpful. We felt very much at home away from home. Andrew and Edi went out of their way to accomodate us. Montrose was surprisingly pleasant. We knew nothing about the town before we arrived but really enjoyed walking around in and away from the High Street. Check Tripadvisor for restaurants, there are some good ones.
Jeppe
2016-08-04T00:00:00Z
Superb hosts! Andrew and Edi offer a lovely set of rooms, just perfect for a family of four. They are welcoming and care greatly for their guests. Great communication and would recommend.
Ms
2016-09-11T00:00:00Z
Everything was as described in the advert. Nicely decorated and homely. Andrew was helpful, friendly and engaging. Highly recommended.
tadeo
2016-08-18T00:00:00Z
We thoroughly enjoyed our stay at this elegant Bed and Breakfast! Andrew and his wife Edi were the perfect hosts. We felt like we left having gained two new wonderful friends. After driving into Montrose, Andrew met us at the train station which was right across the street from their place. That way he was able to show us where to unload our stuff. We were able to park our car just around the corner in a parking lot that was very safe and it was free. It was only a 1-2 minute walk to their house from the parking lot. The guest rooms were on the upper floor. It was really nice that we had the whole floor to ourselves. There was one bathroom in one of the rooms that was just for our family to use. We went downstairs into the sitting room every morning for breakfast which was very yummy. We also were able to use the sitting room at night which was nice and comfortable! The rooms were elegant and beautifully decorated. It was the perfect place for our family of six. Everything was very clean and nice. The first day we arrived Andrew took us around and pointed out all the places to see in Montrose. He was very helpful when it came to suggestions for places to visit. He was very laid back and pleasant to take to at the end of the day. Andrew and Edi made sure that all of our needs were met and were very accommodating. We hope to make it back to Scotland someday to stay at some of their other rental places. We highly recommend staying at this Bed and Breakfast.
Michelle
2016-06-21T00:00:00Z
Lovely welcome from hosts to this spacious, comfortable house with lovely dining room for 5 young touring musicians. A good place to relax and recharge our batteries. Cheers, Caroline
Feis Rois
2016-07-31T00:00:00Z
Typ pokoje
Soukromý pokoj
---
Typ nemovitosti
Řadový dům
---
Ubytuje
6
---
Ložnice
Montrose, Velká Británie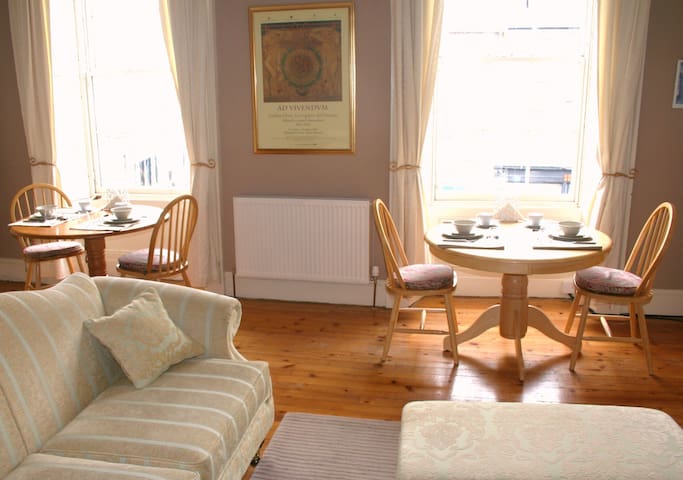 Eskview Farm is located on the St Cyrus Nature Reserve, 1 mile from the beach. Local amenities are in Montrose with lots of sight seeing within the local areas, Cathedrals in Brechin , Castles in Edzell with local produce and farm shops nearby.
Big thank you to Kath, for the friendly welcome and for all your help during my stay, and for the advice and tips about the local area. I was in the smaller room, the bed was comfy, and the location of the b&b is really quiet and peaceful. The good sleep and cooked breakfasts really set me up for my first few days in my new job! :-)
Heather
2016-05-07T00:00:00Z
Kath was a great host, kindly offering to come a fetch me in a car, as I was cycling in torrential rain towards her lovely B&B. Whilst I decided to cycle the whole way, it was fantastic to have a large roll top free standing bath filled with hot water to recover. She even tumbled dried my sodden clothing so it was dry for the following day's ride. Very nice single room with good facilities and top notch cooked breakfast.
Andrew
2016-06-16T00:00:00Z
Kath was a fantastic host. She kindly stayed up late on my night of arrival after my plane was delayed until 11pm, and I walked in to a warm and cosy room all prepared for me. I was treated to a full English breakfast every morning. The surrounding area is beautiful, I was staying there for a golf competition and there are some great golf courses in the area or nice places to walk if you prefer. Would recommend Kaths b'n'b to anyone.
Michael
2016-07-07T00:00:00Z
Typ pokoje
Soukromý pokoj
---
Typ nemovitosti
Penzion (B&B)
---
Ubytuje
1
---
Ložnice
Montrose, Velká Británie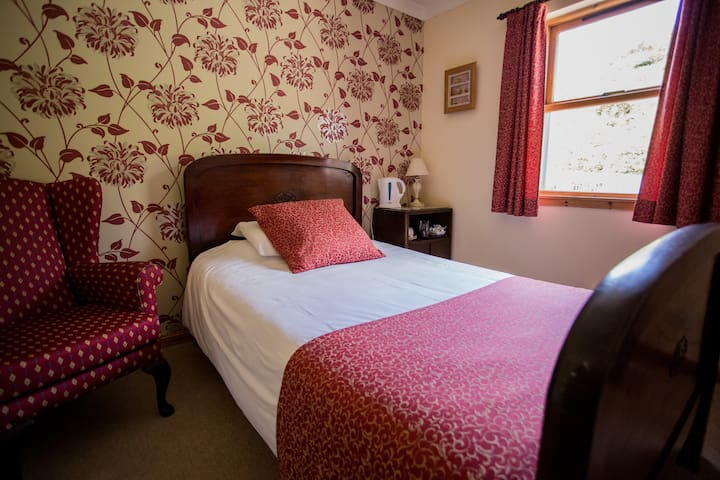 The Smoke House is a delightful listed sandstone property in the picturesque fishing village of Johnshaven. Situated next to the harbour it offers great walks, stunning beaches and friendly pubs , restaurant and shop in close vicinity. Sleeps six. With Balcony, sea view, yard and parking. Very comfortable. Wood burner. Wifi.
The house is one of the oldest in the village dating from 1680 or earlier. It is a beautiful sandstone listed property with many outstanding features. Very comfortable Scandinavian style accommodation including open plan lounge on the first floor with suspended beams, wood burning stove and view to the sea. 3 bedrooms includes: 1 double bed with ensuite 1 kingsize bedroom 1 kingsize mezzanine bedroom
Johnshaven is unique. It is a wonderful community with lots of events planned throughout the year. There are beautiful walks along the coast in both directions where you find sandy beaches, waterfalls, lime kilns, agates and driftwood. There is a fine restaurant, two pubs and an excellent licensed local shop...(within a stones throw of the House) The nearby town of Stonehaven is home to Duntottar castle and the gateway to Royal Deeside.
Eileen was the perfect host. She greeted us when we arrived and made us feel most welcome. After a short guided tour we were left to our own devices. The cottage was large and had real character. All the furnishings were in perfect condition and the cottage was warm and very comfortable. We were provided with clean fresh towels and bedding. I would recommend this property to anyone looking for a quiet, relaxed getaway. Johnshaven as a village was beautiful and all the residents were friendly and more than happy to have a chat.
Stuart
2016-03-20T00:00:00Z
We enjoyed our time in the Johnshaven. The house has all the facilities that one needs. You are closed to many attractions. We particularly enjoyed St. Cyrus beach and the Dunnottar castle, but there is definitely more. We highly recommend this accommodation
Simona
2016-06-28T00:00:00Z
A wonderful stay and Eileen was a perfect host. We had a great time exploring the area. From a rugged walk to the wonderful sandy beaches of St Cyrus to the ruins of Dunottar Castle, this house is ideally located. Our 2 dogs loved meeting Eileen and her dogs, they were made to feel just as welcome as we were! Would highly recommend & we look forward to returning sometime soon.
Caroline
2016-05-03T00:00:00Z
The Smoke House was a lovely place to stay. We were made very welcome, we were warm and comfortable. There was plenty of everything we needed, including bathrooms, comfy sofas, friendly dogs and a great local pub. The location was perfect, quiet but charming. Highly recommended
elly
2015-10-28T00:00:00Z
We had an excellent family holiday at the smokehouse. Eileen was a great host and the place is very charming, clean and practical. The fire place is great. Definitely recommended and we are looking forward to visit again.
Matthias
2016-08-05T00:00:00Z
Thank you Eileen, we had the most wonderful few days at The Smoke House. The house is lovely, and fantastically located right at the pier, giving a birds' eye view of the life of a fishing village. We loved Johnshaven, and will definitely be back soon.
Rowena
2016-08-19T00:00:00Z
Great house, really well equipped and comfortable. Great position in very quiet village on beautiful coastline. Good food at the Anchor Hotel. We hope to return.
Rebecca
2017-04-09T00:00:00Z
It's an amazing house. My wife and friends love it very much. Its decoration is awesome. The host is very kind and prepared house by heart. Rooms are very very clean and new. It gets all we need in traveling. Again we like this house.
Chao
2015-08-09T00:00:00Z
Typ pokoje
Celý dům/byt
---
Typ nemovitosti
Dům
---
Ubytuje
6
---
Ložnice
Montrose, Angus, Velká Británie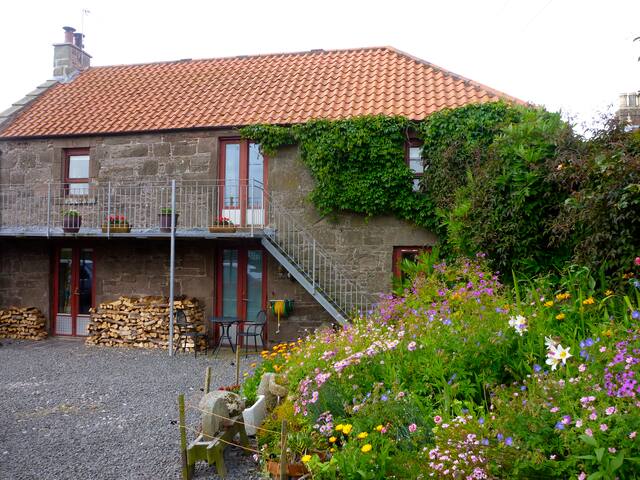 Pro zobrazení celkové ceny zadej termín. Mohou být přidány další poplatky a daně.