We offer 4 Private bedrooms with king size bed, all with a-c and ceiling fan and ensuite bathroom, hot/cold water, com on area with wi-fi and a plunge pool,breakfast is included and bottled drinking water on the house Please note price is per room
(URL HIDDEN)
Great hosts and yummy breakfast along with a super comfy bed. We only stayed one night and really enjoyed our stay. Excellent value for money.
Lindyloo
2016-10-17T00:00:00Z
Such a peaceful place. Homey feel that Mikael and Brama seem to have perfected. They are pros. The pool is so nice to cool off in and it seems like they draw great guests to interact with. The location is also great for the start or end of a trip if you plan to stay in multiple areas since it has easy access to the airport.
Reed
2017-01-09T00:00:00Z
We had a lovely stay at Mikael and Bramas Guesthouse. The place is beautiful, very cozy and welcoming. It feels like home away from home. Mikael and Brama are really friendly and helpful too, and great to have a chat :) the small pool in between the rooms is great to cool down, as the ocean and sanur centre are a little bit far away from the place. Just a 15 minute walk or a quick taxi ride will bring you there anyway. If you are travelling by yourself the place is really good to connect with the other guests and make new friends too. All in all we had a very good experience and we would definitely go back.
Valentina
2017-03-07T00:00:00Z
Mikael and Brama were very friendly and helpful. The room was clean and the breakfast perfect. We can recommend them Petra and Gerd
Gerd
2017-02-26T00:00:00Z
Mikael and Brama are so adorable. Mikael even came and pick us at the airport wich was very nice. Brama is the best cook ever ! The place is lovely and well decorated and also very clean. It's 15 minutes by walk from the beach or 5 minutes by motorbike !
Emilie
2015-11-06T00:00:00Z
I knew I made the right choice to stay here when several days before my trip, Mikael and Brama sent me a message wishing me a safe journey and reconfirmed that they would be there to pick me up at airport. Room is just as described in pictures...comfortable spacious and very clean. And breakfast was delicious. I highly recommend the Balinese Breakfast Nasi Goreng. Brama and Mikael were very helpful and helped me find a ATM that would maximize my withdrawal as I was headed to Nusa Lembongan where there are none. I definitely recommend this Homestay especially for your first night. I am traveling alone and these guys were the best welcome wagon!
Andrea
2016-10-17T00:00:00Z
Perfect! Will def return when traveling to Bali. Fast internet, great food, great hosts. Brama should offer cooking classes
Bettine
2015-11-21T00:00:00Z
We cannot describe in words, how lucky we are, to have been guest in the M&B house and even further, to met two of the most wonderful people on earth..Mikael and Brama. The house is one of the nicest AirBnB places we have ever been at so far and we are traveling quite a bit with AirBnB. The house is spacious, super clean, the interior is lovely (also handpicked and designed by the hosts) and just everything we could ask for! Outside your room, you have a pool wich is so nice and cool and a perfect area around to calm down. On our arrival day (we were really exhausted) our host took care of us and treated us really well with tea, coffee and even handmade (delicious) banana coconut cake! In the mornings you will get the best breakfast. Brama (the best cook on earth, seriously!) will make you the most delicious nasi goreng and Mikael will treat you with a nice fresh fruit salad, fresh fruit juice and some coffee and tea. The best way to start a perfect morning. If you have further anything, where you need help with (e.g. Laundry service) be sure that these both superhost will take care of your problems! Next to nice chats, we took the opportunity to have a dinner, wich Brama will cook for you and it was soo good. We would highly recommend to everyone, to take this opportunity!! All in all we just felt like home or staying at a friends house! We will come back for sure and wish Brama and Mikael all the best :) We will miss you guys a lot!
Hendryk&Laura
2016-11-02T00:00:00Z
Typ pokoje
Soukromý pokoj
---
Typ nemovitosti
Penzion (B&B)
---
Ubytuje
2
---
Ložnice
Denpasar, Bali, Indonésie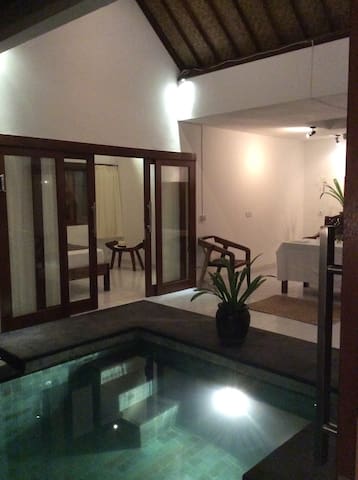 Guest house with public kitchen and free wi-fi at Semawang, Sanur. cozy and comfortable private bed room available to stay daily, weekly, monthly. Close to many bar & restaurants, night life and beach (5 minutes walk), easy to find any tourist needs. This house is run by our excellent staff Paulus and Alfons, they will assist all your needs on this house, they also run the tour information in front of our house, you can book your tour in Bali with them. Enjoy your stay with us.
Our space is 4x3 meters room and bath room. including 1 queen size bed and 1 wardrobe cabinet, air conditioner ( AC ), television ( local channel ), Full movie on TV hard disk, trash bin, and bath amenities. We also installed soundproof on the room to keep noise from outside.
Our neighbourhood is small and big hotels, bar & restaurants, spa, art shops, supermarket, beautiful beach with friendly people.
I was picked up at the airport by Agung and his family which was so reassuring as a woman traveling alone. They were so nice and welcoming. My room was basic but adequate. I was a little saddened to realise that I did not see Agung or his family again during my stay as they don't live on the premises. However, the guys on the travel kiosk outside were VERY helpful and I wish to thank Alfonso and Paul for all their help and cheerful nature. I will return!
Patricia
2016-07-04T00:00:00Z
Great location, nice rooms, very helpful staff
Julio
2016-05-01T00:00:00Z
Very pleasant stay. Close to shops, restaurants and the beach. Big comfortable bed and good air con. There's a really great restaurant nearby called tropical. There's music on next door which you can hear but we didn't mind. Would recommend!
louise
2016-04-05T00:00:00Z
Great place realy frendly :) big room shower Bath fresh fruit every day , have a good time
Jelle
2015-11-27T00:00:00Z
This place is located in the main Street auf sanur which is pretty good! The room was clean and the wifi did work good. The bar next door though is so loud, you cannot Even sleep with earplugs. Also it is mentioned in the Description that there will be music the live music will not stop at 10 pm as it is said, but in 11 pm, but then there still is music till 3 am! This must be mentioned somewhere!
Janna
2016-07-30T00:00:00Z
Agung and Diah were the most amazing hosts! Great communicators and happy to organise everything from transport to tours to food! Also the value for money staying here was amazing. I had a small accident on the road while staying in Bali. The whole team at Puri Prada helped me by taking me to the doctor and pharmacy, organising food for me, and generally caring about my wellbeing. Absolutely incredible, thank you so much.
Kira
2017-03-05T00:00:00Z
The host canceled this reservation 2 days before arrival. This is an automated posting.
Jenny
2017-03-25T00:00:00Z
While a cute room and a good location we had many issues. The ceiling of the restroom was covered in mold and on our second day the light fixture began dripping water. This wasn't fixed and on our last evening it started smoking. Many have mentioned the noise and even though their sound proofing may have made it more bearable you can still hear every word from the band (it is a good band). If the mold and water issues were fixed it would be a nice place.
David
2017-02-04T00:00:00Z
Typ pokoje
Soukromý pokoj
---
Typ nemovitosti
Dům pro hosty
---
Ubytuje
2
---
Ložnice
South Denpasar, Bali, Indonésie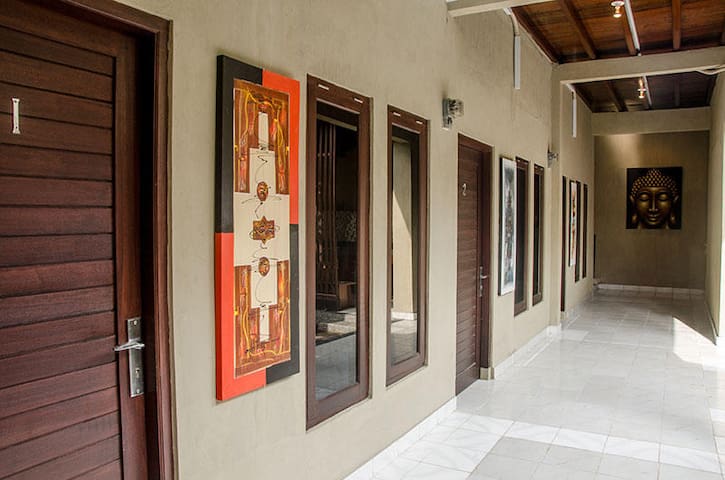 SPECIAL: Pay for 5 nights, get 1 night FREE! Contact us for more info!
Villa Tranquila has a rustic feel with beautiful garden inside surrounding the swimming pool. The private room has a huge double bed with ensuite bathroom. The bathroom also has an open garden which gives it a natural feel while the room itself is very spacious. The room overlooks the swimming pool, which is for guest use only. A private entrance and parking slot next to a small road gives easy access to the beach, yoga studio and restaurants - only a 5 min walk. Laundry service is available but no cooking facilities. Ideal for single travellers or for a couple exploring (URL HIDDEN) and advice available on surfing, SUPing, kiteboarding, restaurants and tours. As the villa is tricky to find, we arrange an airport pick up with a reliable driver for 15USD. Please send your flight details when booking! Overall great value for money
Excellent villa! Is in the a quiet location. The distance to the ocean is for 7 minutes. To restaurants and shops is 5 minutes. I recommend for those who want to enjoy the peace and rest from the city noise. The villa has a swimming pool, beautiful bathroom with Balinese style. In my opinion, is much nicer than the picture. There is air conditioning, tea and coffee, large selection of DVD, guides, WIFI and a very friendly dog)). All is left to chance. Many thanks to Collin and Komang for the hospitality!
Svetlana
2011-12-12T00:00:00Z
A good centrally based home stay close to Sanur and restaurants ... there is no fridge to keep beer, ice, milk, etc ... a DVD player is supplied with a large collection of movies ... simple and adequate for a short stay ...
KEVIN
2014-06-11T00:00:00Z
We had a really great time. This place looks even better than the pictures and Lorraine was a fabulous host. Very good communication and very good location close to the beach and restaurants. I would stay here again in a heartbeat.
Lauren
2016-04-02T00:00:00Z
So beautiful and peaceful. Colin is a sweetheart. Though we rarely saw him we felt well cared for. Miss Jones, the doggie, is lovely.We can recommend this to anyone who wants a beautiful, restful, quiet base in Sanur. A thousand thanks to Colin. Susie & Timothy PS, The bathroom is as fantastic as it looks.
Susan
2012-03-11T00:00:00Z
Нас встретил в аэропорту менеджер-как и обещал Colin .Вилла нам понравилась. Сначала мы себя не очень комфортно чувствовали, так как никого не было и мы были одиноки. Было несколько вопросов на бытовые темы- а спросить не у кого. Потом мы оценили по достоинству наше пребывание на вилле Colin -нам никто не мешал, было очень комфортно.Не ожидали, что нет холодильника-очень был нужен. Еще неожиданностью оказалось, что нет телевизора для просмотра эфирных программ, только диски.Прохладный бассейн в жаркий день-это супер.Еще было бы прекрасно, если бы нам хоть какие-то тарелки, ложки, вилки дали-вечером фрукты чай кофе-это хорошо.
Valentina
2013-11-06T00:00:00Z
This place is just OK. The pictures make it look better than it is. Luckily we are in Sanur for a few weeks and found much better value in the area. For this price you can get a nice place with drinking water, breakfast, good shower and nice pool.
Finn & Liz
2015-07-05T00:00:00Z
As all received comments already it was lovely, quiet and Lorraine is really helpful.
Gwen & Charles
2014-11-27T00:00:00Z
This was a perfect getaway in Sanur. The location could not have been better- close to the beach, yoga, and great food. Colin and Lorraine were very helpful and also gave a great deal of privacy. We loved the outdoor bathroom and the private pool.
Allison
2016-06-09T00:00:00Z
Typ pokoje
Soukromý pokoj
---
Typ nemovitosti
Vila
---
Ubytuje
2
---
Ložnice
Jalan Blanjong , Bali, Indonésie
Fully air conditioned villa with private pool, full hotel services. Close to beach, quiet but only a few steps to shops, restaurants, SPAs, nestled in a complex of 4 villas with 24/24h security. Up to 10% discount for partial occupancy --> contact us
Located in the city of Sanur, in the most exclusive area of Bali, Orchid Villa in Sanur combines the tranquility of a private residential area with direct access to the family friendly Southern district of Sanur. The villa of 240 m2 living space is fully air conditioned. It comprises a 70 square meter living room and four bedrooms, each with ensuite. Its equipment complies with the most stringent Western standards. The boundary walls are 2.15-2.60 metres high to provide maximum privacy, but are curved in design and hidden behind bush and trees, which avoids that 'boxed-in feeling' which is common in Bali. The villa which is part of a luxurious complex of four villas has a main entrance gate which is manned 24 hours per day by well-trained and attentive security staff, making it a very quiet and secluded area. A full-time maid is at the disposal of the occupants. She provides five star hotel services. Dozens of restaurants, bars, shops, massage parlours are less than one kilometer away. The white sandy beach is only 400 meter away. Protected by a coral reef its calm waters are perfect for bathing and swimming. Sanur is also the most convenient starting point for trips to the interior of the island. NOTE: Prices quoted are for an occupancy of all four bedrooms. We offer discounts for partial occupancy. Whatever the number of bedrooms you occupy you will always remain the sole occupants of the villa Maximum occupancy is 8 adults and two children. For children we provide comfortable beds with all bedding. Surcharge is 14 € /bed/night. - Contact us for more details-
We had an awesome stay in the villa. The villa is spacious, practical (3 bathrooms, outdoor shower) and the maid does a great job. The pool is bigger than you would think and is cleaned daily. I liked the location a lot. Near jalan tamblingan but not too close. Very nice to rent bikes or a motorcycle like we did. The communication with Monique and Jean was very good. They are very responsive and easy to communicate with. If we return to Sanur, we will definitely stay there again! Greetings, Denis, Debbie and Lily Jane
Dennis
2014-10-17T00:00:00Z
We had a nice stay in this villa. And everything is so good. We are a 10people family, and cook everyday! All the cooking tools are there, I like cooking! That's the reason I like the kitchen so much! Oh, and also the swimming pool,really nice! Its really a nice place to stay in peace! Thanks so much for everything Monique arranged for us!
Luxia
2016-03-03T00:00:00Z
We greatly enjoyed our wonderful stay at the villa over the Christmas week. All other comments are endorsed - it's a perfect base from which to explore Bali, or just chill out. Bed's are comfortable, it's spacious, pool is wonderful, location is excellent - nothing to fault at all, except that time runs out. Many thanks to the staff - Chennin is great (worth asking for her nasi goreng!), and the security guys are very friendly. Not sure what happened to Baili's rainy season, or the peak tourist season (perhaps they were all in Kuta, which we avoid), but it helped us enjoy our brief stay. Thanks Monique!
John
2015-12-27T00:00:00Z
It's a perfect (URL HIDDEN) quite consistent with the evaluation.All of us are very satisfied with this villa.Thank you,Monique. Thanks to Rama and his (URL HIDDEN) a perfect time for a stay.
Qing
2017-02-10T00:00:00Z
We loved our stay at Jade Villa B. The location is perfect- in a busy area surrounded by shops, spas, restaurants and close to beach, but set back off the road so it is quiet and peaceful. Rama was extremely helpful and accommodating, quickly resolving any issues and great recommendations. Cening was perhaps my favourite aspect of our stay (i wish i could bring her home). She ensured the villa was constantly clean and dishes and laundry done, all while smiling and assuring that nothing was too much trouble. The villa has a great layout which was perfect for our needs (2 small families, a couple and a single). We highly recommend and hope to stay at Jade Villa B again in the future
Candice
2016-09-01T00:00:00Z
Fantastic villa and walking distance to many lovely restaurants. The villa was always very clean thanks to the beautiful jennine :-) We were a group of people arriving on different days and I could not fault / thank the owner Monique enough for helping us navigate our stay and making us feel very welcome.
Jessica
2016-08-24T00:00:00Z
We arrived at Jade villa at 2am and we immediately felt like we were at home. We were greeted at 2am by Cening and Rama with fabulous frangipani leis...a beautiful start to any holiday. We were shown around the villa and everyone was so excited about our (URL HIDDEN) felt so lovely! The villa was beautifully prepared for our arrival. We had beautiful fresh flowers everywhere in the villa and lots of extra special little touches that made it feel like we were in paradise. The villa was PERFECT for my family in so many ways. I have 4 kids aged between 6-19 and I had one extra 17 year old so space and privacy was very important for us and the villa ticked all those boxes. The villas location was perfect for our family. Jade Villa is at the end of the villas/lane so my 2 youngest played soccer in the car park area all the time. It's quiet because the villa is away from the road. When walking down the lane towards the main road I never worried about my kids and the road because the main road is sooo quiet. There was many beautiful restaurants and spas close to Jade Villa which we took full advantage of. We loved to go to the beach for a change of scenery and it was lovely that the outing was always pleasant and we were never hassled by anyone trying to sell us stuff. The maid, Cening is priceless! Cening cleaned the villa for us, cleaned up after us, did our laundry and cooked breakfast and lunch for us. I can honestly say that our 21 days at Jade Villa has been one of our best holidays ever and I can't wait to return ASAP!
Jill
2015-07-21T00:00:00Z
For our family, this was the perfect place! The villa has a very clever layout, is beautiful decorated and has spacious rooms. The pool was bigger than it seems on the pictures which was a nice surprise. The housekeeper Chening is a real gem, keeps the villa in perfect shape and helped us with all our wishes. On our easy 7 minutes walk to the beach, we came by several Spas, Shops and Restaurants. The very good supermarket just across the street was perfect to stock up for breakfasts and snacks. Even though the villa is in the center of Restaurants, Bars & Spas, it is still quiet and private.
Alain
2017-02-15T00:00:00Z
Typ pokoje
Celý dům/byt
---
Typ nemovitosti
Vila
---
Ubytuje
10
---
Ložnice
Sanur, Bali, Indonésie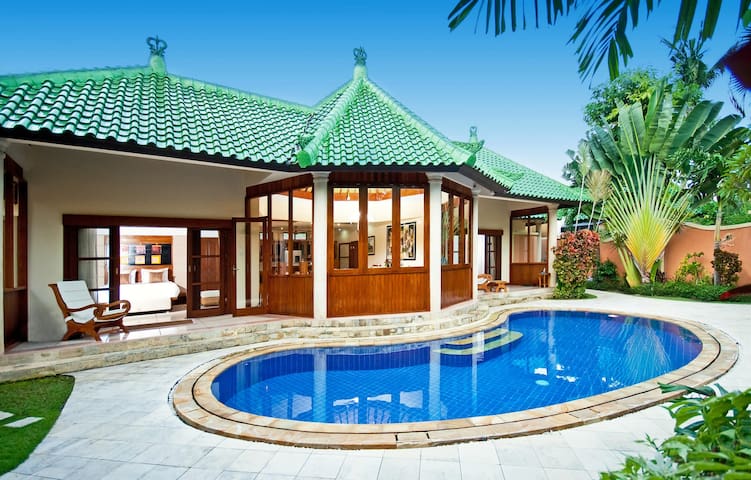 My place is close to great views, the city center, art and culture, and restaurants and dining. You'll love my place because of the location, the views, and the coziness. My place is good for couples, solo adventurers, business travelers, families (with kids), and big groups.
Все было отлично! Очень хороший хозяин, чистота и уют.
Владимир
2017-03-19T00:00:00Z
I spent two weeks at Abyan Guest House. I have stayed in Sanur many times, so I know the area pretty well. The guest house is very well located, just a short walk to shops, restaurants, bars, beach and very close to Hardy's supermarket. The area that it's in is quiet and peaceful. It's located in a maze of tiny streets, most only big enough for a couple motorbikes to pass, but don't let that put you off. It's really easy to get in and out of. The rooms are new and spotlessly clean. The pool is nice. Breakfast is very good and made fresh to your tastes. The staff is marvelously friendly. You will feel at home. I highly recommend the property.
Steven
2016-12-31T00:00:00Z
I was greeted on arrival and have a push bike already waiting for me as per my request. The room was clean and modern, a short ride to the town centre and breakfast was lovely. I will defiantly be back :-)
Krissi
2016-12-06T00:00:00Z
Great guest house, close proximity to sanur beach and warm hosts.
James
2017-04-04T00:00:00Z
Nice place, true to the pics, good breakfast, and nice staff.. Quick to get to the beach and shops.
Rune
2017-02-26T00:00:00Z
Abyan guesthouse is located quite near the busy main street of Sanur but the place itself is really peaceful. The guesthouse offers nice new and very clean apartments with airco, fan and good shower with hot water. Also good wifi which is hard to find on Bali. The staff is excellent and very friendly. Sanur is a great place to start day trips to other beautiful places, although a driver is recommended because traffic on the island is very busy ( ask for Gus Di if you want a trustworthy and nice person to show you the island) Abyan guesthouse offers good quality for a very very decent price.
Gordon
2017-02-20T00:00:00Z
Great Place and value. The room is clean.
Irwin
2016-08-30T00:00:00Z
Great place to stay in Sanur. Short walk to the Main Street and the beach. Host will rent you a bicycle for more than half what they are charging on the street. Clean room and pool. Many added comforts such as: mini refrigerator, tv, closet, double towels one for shower and one for pool/beach, breakfast, safe, desk, and of course wifi. All around comfortable stay
Jessie
2016-07-24T00:00:00Z
Typ pokoje
Soukromý pokoj
---
Typ nemovitosti
Penzion (B&B)
---
Ubytuje
2
---
Ložnice
Bali, Bali, Indonésie
Beautiful affordable house with complete facility in the Heart of Sanur. Stay private with your family and beloved only. With full kitchen facility and pool gives you a very comfortable ambiance while you stay with us.
This property is 12 minutes walk from the beach. Situated 2.2 km from Sanur Beach in Sanur, this air-conditioned villa features a balcony. The villa is 3.9 km from Serangan Turtle Island.
Typ pokoje
Celý dům/byt
---
Typ nemovitosti
Dům
---
Ubytuje
6
---
Ložnice
Kuta, Bali, Indonésie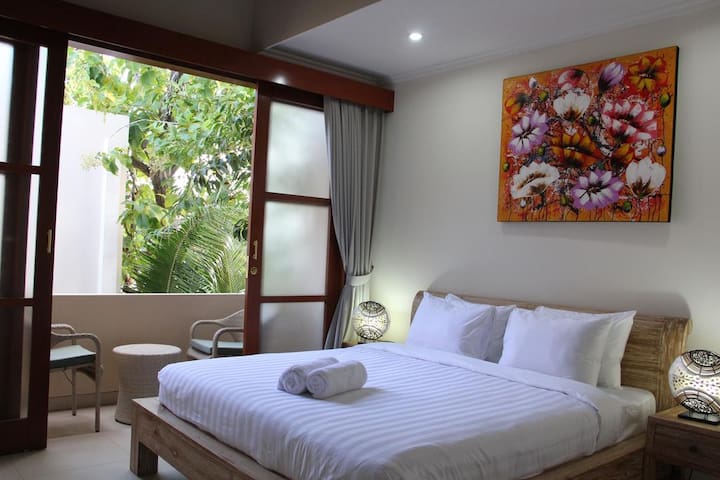 My place is close to family-friendly activities, nightlife, public transport, the airport, and the city center. You'll love my place because of the coziness, the high ceilings, the views, and the location. My place is good for couples, solo adventurers, business travelers, and families (with kids).
We were welcomed with a drink, the hotel is in an great location, the staff is incredibly dedicated to you having a pleasant stay, the pool is beautiful, the room is luxurious and clean!
Kelsey
2016-12-21T00:00:00Z
Had a wonderful stay here. Beds are comfy and the restaurant was pretty good. They usually have bikes that you can use which are very helpful. The beach is a five minute walk.
Jane
2017-03-13T00:00:00Z
I couldn't recommend Akana enough to any Bali travelers out there. The staff was supreme, especially Tali, the accommodation itself is wicked and its pretty good distance to Sanur Beach. Book it now!
Dave
2017-02-26T00:00:00Z
I had one wonderful night in this hotel, the people were incredibly friendly and I didn't miss anything.
Eileen
2017-03-19T00:00:00Z
Typ pokoje
Soukromý pokoj
---
Typ nemovitosti
Byt
---
Ubytuje
2
---
Ložnice
Denpasar Selatan, Bali, Indonésie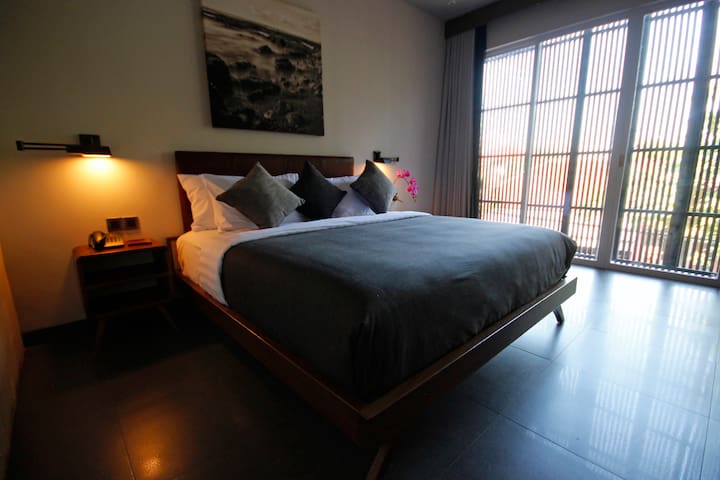 Casa Meena: 8 studios pleasant, light and practical. Terrace overlooking a large swimming pool with a beautiful tropical paradise. friendly landscaped communal kitchen area. relaxing atmosphere. Nearby beach 20mn to feet, 7 minutes by bike ..
The studios are new and nicely decorated, the bedding is quality. Cleaning is done 3 times per week with change of towels. Sheets are changed once a week. For ecological reasons, linen and towels are washed with organic products without fabric softener to reduce the use of electricity we use solar panels for hot water, waste sorting is systematically carried out. (Rare in Bali)
The area is quiet and fairly typical for Sanur. There are small shops, small restaurants and spas. The nearest beach is 7 minutes by bike or motorcycle, the most commonly used means of transport in this area.
This place is an amazing find. We arrived after many long flights and Carol was there to greet us graciasly. I'm so happy we made this our first stop in Asia. The place is spotless and looks just like the pictures. The yard is an amazing oasis with a large fantastic pool that we enjoyed day and night. For anyone used to North American standards this is a must.
Robert
2016-11-16T00:00:00Z
Carole's place is a little slice of heaven in hectic Bali. Comfortable beds, good wifi, immaculately clean grounds, and a wonderful pool make it a great place to stay. We stayed for 4 nights, and wanted to stay even longer. Definitely a place we'll come back to. Thanks Carole!
jon
2016-08-29T00:00:00Z
Our stay at Casa Meena was truly amazing! We were taken really good care of, the apartment was very clean, and the pool was great! Casa Meena is in a really nice and calm area, highly recommended!
Mikael
2017-04-02T00:00:00Z
Carole et son mari sont aux petits soins pour leurs hôtes. Tout est fait pour qu'on se sente bien. Le quartier est très calme. Je conseille de (URL HIDDEN) d'un moyen de locomotion pour avoir accès aux commerces, restaurants et plage. Carole se fait un plaisir de vous conseiller pour en louer un à des conditions très intéressantes.
Brigitte
2016-11-01T00:00:00Z
Séjour absolument parfait. Un havre de paix ou il fait bon être. La plage est a 20 minutes a pieds et beaucoup de commerces sont proches. La chambre est impeccable et décorée avec gout. La piscine, un merveille
Maud
2016-09-08T00:00:00Z
5 заключительных дней нашего путешествия мы провели в Casa Meena. Это идеальное место для отдыха. Вилла очень стильная, с красивой территорией и открытой общей кухней, на которой есть все необходимое. От комнаты мы также остались в восторге, большая комфортная кровать, красивая деревянная мебель. В комнате есть мини кухня с электрическим чайником, холодильником и барной стойкой. Мы приехали, не предупредив, на час раньше, чем было заявлено при бронировании, но Кэрол вместе с балийской девушкой за 15 минут подготовили для нас комнату! Помогла нам с арендой байка и заказом такси в аэропорт. Кэрол – очень милая женщина, всегда была очень приветливой и внимательной, за что ей огромное спасибо! До ближайших пляжей и кафешек нужно ехать минут 7-10 на байке. Рядом с отелем есть минимаркет и палатка со свежими фруктами. Мы остались в восторге от этого места и обязательно будем рекомендовать.
Yulia
2017-01-15T00:00:00Z
Es könnte nicht besser sein. Hochwertige Einrichtung, bequeme Betten, ruhig gelegen und trotzdem nahe an der Stadt und am Meer. Dazu super schöne Gartenlandschaft. Carol und ihr Mann sind super lieb und wir wollen auf jeden Fall wieder kommen. Da Viele dort länger wohnen, gibt es wirklich eine schöne kleine Gemeinschaft. Der Pool ist klasse!
Kristina
2017-02-26T00:00:00Z
Очень понравилось это тихое семейное местечко! Carole прекрасная хозяйка, знает своё дело на 100%! Следит за чистотой и порядком, всегда на связи. Очень добродушная атмосфера. Чисто, уютно, а главное - комфортно! За проведенное здесь время мы хорошо подружились! Большое спасибо Carole!
Alexander
2016-12-26T00:00:00Z
Typ pokoje
Celý dům/byt
---
Typ nemovitosti
Kondominium
---
Ubytuje
2
---
Ložnice
Denpasar Selatan, Bali, Indonésie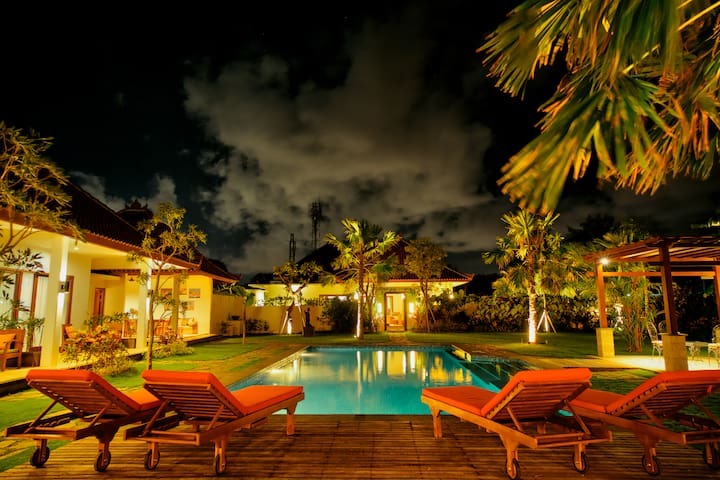 Beautiful, quiet and spacious 34 sq. m. guest room, appointed in rich, modern style with hardwoods, marble and natural earth tones. Deluxe amenities include king bed, large work area with complimentary wireless Internet access, private bathroom with combed cotton terry towel. Breakfast is served on request, price 4$. On the way to the beach(500m) you can taste Balinese cuisine to be impressed friendliness of the locals. If you want, I will be your guide...
Our house is located in the resorts of Sanur Beach, which is one of the famous beaches in Bali. Only 15-minutes walk, you will feel the beauty of the immaculate white sand beach of Semawang Beach, Mertasari Beach, Sanur Beach. Only 20 minutes drive to Ngurah Rai International Airport via Bali Mandara toll road access and 15 minutes drive to Denpasar, the Capital City of Bali. It is also an accessible centre to other significant tourist attractions and places of interest.
Yari and Luci are such a great hosts. And their place is amazing, you will have a large room and a private bathroom. The piscine in the villa is really nice. It is a quiet and beautiful place.
Oda et Peter
2016-08-31T00:00:00Z
Yari et Luci sont vraiment accueillants et très sympathiques, une maison somptueuse, une chambre à la hauteur de nos esperances, bonne literie, climatisation et très grande salle de bain avec baignoire. Chambre spacieuse et propre. Nous avons passé que deux petites nuits, rapide...trop rapide nous recommandons vivement. De plus une piscine est juste magnifique encore Merci Yari et Luci
Charline
2016-09-10T00:00:00Z
My girlfriend and I loved the (sadly short) stay. The hosts we're so friendly, helpfull and welcoming! The room was big, really clean, great bed, good A/C, good swimming pool and at a great and secure location in Sanur.
Laurens
2016-07-12T00:00:00Z
We had our first stop here on Bali, and we could say that we are more than happy to meet Yari&Luci, the both are realy funny and very helpful. Lovley People ! The pool is fantastic and the house and rooms are also very nice and clean! We will come back
Robert
2016-11-30T00:00:00Z
Yari and Luci's place is beautiful and just like the pictures. Their home is located in a residential locality, inside a secure compound. The compound has a whole lot or trees, ponds and a beautiful walkway and has 24/7 security which makes it so safe for solo women travelers. Their home is a mix of modern and Balinese styles with marble flooring, white walls and teak furniture. The most beautiful part is that their back door opens up to a beautiful pool, I have spent many hours in that pool most morning :). A short walk (15 mins) lands you bang in the middle of the Main Street of Sanur with countless Resturant and stores, a further quick 5 mins walk gets to right to the Sanur promenade that is by the beach. A great walking and cycling stretch for about 4 km. They keep their home very clean and give you quick and clear instructions on the shared stuff. Yari is very helpful with tips on Resturant's and places to visit. He was also very helpful with getting me tender coconuts when I wanted them :). Yari and luci were my go-to people on Balinese fruits. I have truly enjoyed my stay and would surely visit again.
Swathi
2017-03-10T00:00:00Z
nice and friendly host, clean house, recommended
wei
2016-09-03T00:00:00Z
Yari and Luci are fantastic hosts who are very friendly. Yari is kind to share many tips about living in Bali. They are there when you need anything but give you space too which is great. The room is very comfortable, fully airconditioned, with a good size bathroom. The room is on the 1st floor with a side door that leads you to the back of the house and out to the swimming pool. The swimming pool is huge and awesome which I enjoyed alot. The water pressure for shower is great and it is hot. The wifi in the house is great too. Fast and stable. The villa is located in a quiet residential area. It is a really comfortable stay which I highly recommend!
Yan
2016-11-16T00:00:00Z
Our favorite place to stay in Bali. The house is beautiful, pool is surrounded by Balinese temples and beautiful landscaping. The hosts Yari & Luci were more than accommodating and helpful!
Riley
2017-03-19T00:00:00Z
Typ pokoje
Soukromý pokoj
---
Typ nemovitosti
Dům
---
Ubytuje
2
---
Ložnice
Denpasar Selatan, Bali, Indonésie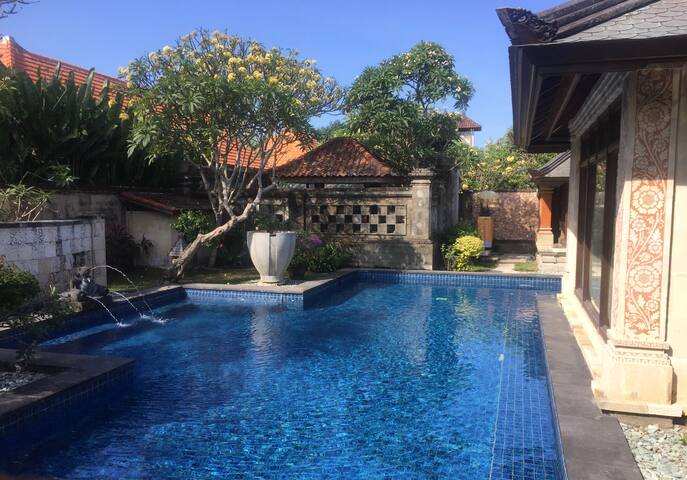 Welcome to our 2 unique, stunning, traditional Javanese teak joglos with all the modern amenities needed for today's traveller. Enjoy en-suite bathrooms, with a beautiful pool and tropical garden. Fully air-conditioned, maid service, kitchen & wifi
Fully serviced 2 bedroom joglo (a stunning traditional antique teak Javanese house) and separate gladak (a lovely traditional antique teak Javanese house) with twin beds, and a double bed, terrace and kitchen located 7 minutes walk to the sandy beaches of Sanur, Bali. The joglo house features 2 air-conditioned bedrooms (2 doubles) 2 bathrooms, 1 kitchen (with oven), 1 living room, office space, 24 hour wi-fi, cable TV, tropical garden, safe for your valuables, outdoor terrace area, maid service once per day. The gladak house features two twin beds sectioned off by a panel, 1 double bed, a writing table, fully air-conditioned, a raised terrace with sofa chairs and eating table, one bathroom with hot water shower, a small kitchen and fridge (no oven) and maid service (cleaning only) once per day. The location is fantastic, a simple 7 minute walk to all shopping, grocery store, beach, Hyatt hotel. All public transport is available easily within this area. If you are looking for a traditional experience in Indonesia, a joglo is the perfect match! Tastefully decorated with Indonesian teak furniture and decorations. Check in is at 2:00 pm on arrival day and check out is by 12:00 pm on departure day. The number of guests staying in the property is not to exceed the number specified in the booking confirmation. Under no circumstances will any additional guests be allowed to stay without prior agreement and payment. Feel free to contact me for more information about the house. Please note that laundry is available for a fee. The maids can wash and iron your laundry but there is no private access to the laundry area and a fee applies. Also please note that the gladak house is made of 100% teak wood (including the flooring) and you will be sleeping within the teak. The gladak is air-conditioned and all windows and doors can be locked, just as in a regular house. However, buildings with wood are not perfect and it is impossible to seal it 100%. The gladak house may be noisier than the joglo house as the teak does not insulate the house as well as bricks do from the nearby road. The bedrooms in the joglo house are made with brick, therefore they are better insulated from the outside street noise. Jalan Kesari where the houses are located is a quiet residential street with not much through traffic. The by-pass which connects Sanur to the rest of the South of Bali is about a 5 minute walk away so you may hear noise from that street.
Had a lovely time in Sanur at Lisa's place. In a great location and is an amazing place to stay! Lisa arranged for airport pick up, transfer on to our next destination and even a great babysitter for our 3 year old son. Comes highly recommended by our family!
Louise
2016-04-17T00:00:00Z
Lisa was the best host you could ask for - she was welcoming, quick to respond to messages, and offered many ideas of things to do in the local area. We had an incident on the street during our stay, and Lisa was so helpful and came to our aid immediately as soon as she had heard what had happened. The pictures of the joglos do not do the place justice - it was beautiful!! The place was open, airy, clean, spacious and we'll kept. We were very comfortable there and also enjoyed interacting with the staff of the houses. Whilst we were 3 friends staying here (very luxuriously we had our own beds and private bathrooms!), the place would also suit 2 families or a group of couples travelling together - there was plenty of room so that you wouldn't step on each others toes. The houses are centrally located, within easy walking distance of the main street of Sanur and was easy for your companies to find to pick us up for day trips. Overall, we had an absolutely wonderful stay and hope to return to Sanur again.
Didianne
2015-08-16T00:00:00Z
Lisa was very friendly/accessible and the joglos were AWESOME! Authentic and cozy. The property is extremely well maintained and she even had a cleaning crew come daily during our stay - something I've never experienced at an airbnb. There is an outdoor cat that darts inside any chance it gets. It also yelps quite loudly when it wants inside. Not a huge issue but it did become a bit annoying after a few days. Nothing was provided in terms of soap/shampoo - we even had to buy our own hand soap - so just prepare accordingly.
Luke
2015-08-10T00:00:00Z
Lisa had arranged a driver to collect us from the airport and she was waiting to welcome us when we arrived at the Joglo's in Sanur. Joglo means traditional Javanese home. Both homes are amazing and in original condition. The location was perfect, close enough to the town centre and the beach to walk in just a few minutes and yet private. We will be back.
Mary
2015-12-09T00:00:00Z
Fantastic place, our family enjoyed staying at the joglo and gladak house. The buildings really truly unique and beautiful, very spacious and well decorated and furnished. We particularly enjoyed the comfy beds, we slept so well here! The location was great, close to the beach and shops/restaurants. Lisa was a great host and was always prompt and easy to deal with. Looking forward to coming back again, thanks Lisa
Sally
2016-07-25T00:00:00Z
Lisa was behulpzaam en gastvrij. Ze heette ons welkom en was altijd bereikbaar. Het huis was geweldig , alles van hout en authentiek. Op loopafstand van het strand en de hoofdstraat. Met een fiets en/of brommer was de omgeving goed te verkennen. Het (fiets)pad langs het strand was ideaal. Sanur centrum had veel leuke restaurantjes en voldoende vertier.
Tyra
2016-08-30T00:00:00Z
You will be in awe of this 100 year old teak joglo with a private pool!! Our stay here was better than I ever imagined - everything was perfect!! We hired Made Rai to drive us and I highly reccomend him. Wish we could have stayed longer. Lisa was very responsive to any questions and requests we had and arranged transport from the airport for us which was very appreciated.
Kelly
2017-02-13T00:00:00Z
We had a wonderful stay in Beautiful joglo houses. We loved the place because it is so charming and authentic. The main house offers a large living area very comfortable and spacious and open on the garden from all sides. The kids enjoyed the pool. The second house is older and totally wooden made. It looks fabulous but maybe not as comfortable as the main one. However it is very convenient for a family with 2 kids (double bed + 2 single beds). I can only recommend to bring ear plug for those who sleep there since the insulation is not that great and the nearby road may be a bit noisy sometimes. The houses are 10 min walking (with kids) to the beach , 15 min walking from small supermarket, only 5 min driving (15 000idr taxi meter ) to north of sanur center. We appreciate also the cleaning being done every day. This stay was very relaxing and we warmly recommend this place. We will definitely return during our next stay in Sanur. Thank you Lisa!
Baymont
2015-09-28T00:00:00Z
Typ pokoje
Celý dům/byt
---
Typ nemovitosti
Dům
---
Ubytuje
8
---
Ložnice
Sanur, Bali, Indonésie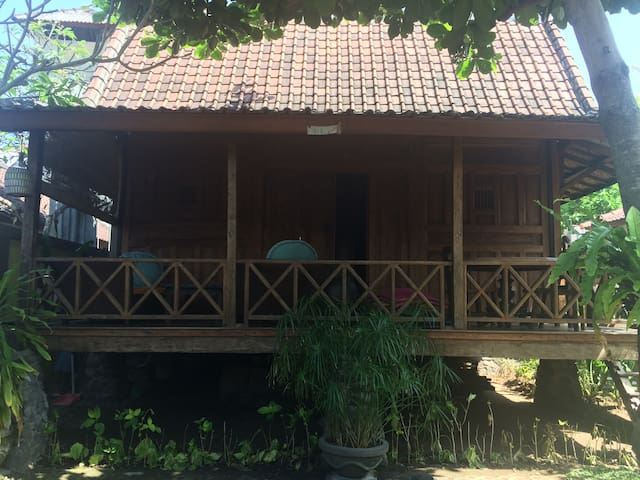 This spacious and comfortable room is part of small property in Sanur which located within short walk to Hardys mall, café Watujimbar some shops and 5 minutes walk to Sanur beach. Enjoy the best location of Sanur by staying in a homey atmosphere property with Balinese concept house
A spacious air-conditioning room with comfortable bed and en-suit bathroom with shower. It featured a cable TV, desk, fridge, fresh linens and towel as well as the bathroom supplies and amenities. Free wifi internet access also available in the room. Guest can enjoy the beautiful garden view from the terrace.
The property is strategically located in the family-friendly village of Sanur, one of Bali's few destinations that has embraced tourism yet still retains its cultural values. It is within easy walking distance to a stretch of white sand beach blessed with lovely sunrises and gentle tides. Sanur has a distinct community feel and there are many restaurants, cafes, shops and colourful market stalls in the immediate area to choose from. This property is just minutes from Hardy's Sanur, a popular complex that has a supermarket and upstairs store selling clothing and souvenirs. This property is perfectly placed to experience the very best of Bali with a wide range of tours and adventure activities. Days can be spent exploring the island or just staying in Sanur where a pathway runs for several kilometres along the coast for fun bike rides and leisurely strolls.
We had a great experience here! Lovely view and good service! Nice, clean pool. Breakfast was generous as we could order whatever and as much as we wanted. The kids loved it!
Malin
2016-03-18T00:00:00Z
Jati hotel & Homestay is our new home base in Sanur, beautiful interior cosy garden, fountains, good helpful staff, nice sweet people. They stored our baggage meanwhile we travel around. We're coming back
JoseL
2016-03-07T00:00:00Z
The property itself is in a very quiet location, with a small but pretty garden. It's a comfortable walking distance to the beach. The room itself, whilst clean, is old, tatty and down at heel. I was a bit apprehensive about falling whilst climbing out of the shower within the bath! The breakfast was adequate. I was staying in the older part of the home stay/hotel. I didn't see the newer rooms, as they were occupied. The pool area was small, but very pretty and inviting. The staff were friendly and helpful. The wifi was rather unreliable, but that is pretty standard in Bali. The older rooms need renovating and brought up to date. The price was too high for the standard provided. I wouldn't stay here again.
Sue
2016-05-30T00:00:00Z
The stay was great! The people were friendly & the room was tidy & spacious. The pool was very clean and fresh. My only complaint= no airport pick up as I had arranged and was confirmed. Arriving at midnight (my time) with a 3 year old and no pick up- was very disappointing. Especially as I spent some time looking for my driver. Although, a taxi took no time to arrange! Advice= triple confirm importance of pick up or just go straight to taxi airport service.
Jo
2016-12-23T00:00:00Z
Beautiful garden and lovely villa. Close to good restaurants and the beach. Only issue was when we arrived our two beds we were expecting was only one. This was quickly rectified though and we had a lovely stay. Breakfast delivered to our little private Garden was delicious. Sunrise with the pagodas on the beach was amazing. The airbnb airport pickup is well worth it for door to door service. Thanks
Jacintha
2016-08-21T00:00:00Z
Very good location and rooms for the price. The staff is really attentionate and friendly. The rooms are simple but the gardens on the outside are just amazing for being in the centre of Sanur, you will rather feel like you are in rural Bali. The only thing they good be better on are lager portions on the breakfast. Overall very satisfactory!
Michael
2016-07-01T00:00:00Z
Unfortunately I got sick before I came to Sanur, but luckily I found a great place to recover! Really felt good at this place!
Kerstin
2016-02-19T00:00:00Z
We had a really easy and great experience at this small B&B/mini-hotel in Sanur, Bali. We were only staying for a short stop over so arrived late and left early - everything was really efficient. Also had a delicious breakfast which was included, and on our lovely terrace too.
Emma
2016-03-13T00:00:00Z
Typ pokoje
Soukromý pokoj
---
Typ nemovitosti
Dům
---
Ubytuje
3
---
Ložnice
Sanur, Bali, Indonésie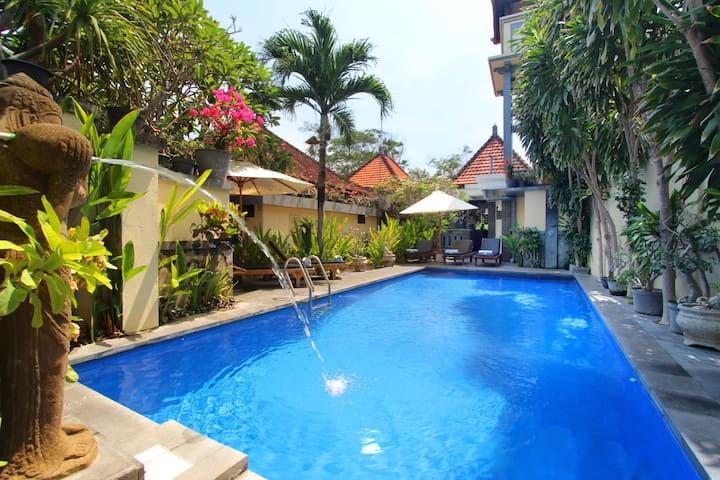 My place is close to the airport, the city center, and art and culture. You'll love my place because of the light, the comfy bed, the kitchen, the coziness, and the high ceilings. My place is good for couples, solo adventurers, business travelers, and families (with kids).
We are located at Jalan Betngandang I No.13 in Sanur, a place where you can see the daily life of local people activities and stay for whatever reasons you may have. It's only a couple of minutes walking to the nearby restaurants and beach from our Homestay We have a total of 12 lovely rooms . Designed in traditional Balinese and simple minimalist architecture, we name each room after the flower instead of the ordinary number in the left side of Homestay when you facing forward and names of heroes from epic of Ramayana and Mahabarata in the right side when you facing forward. Each room is equipped with a double quen-size bed, bedcover, a couple of pillows, a side table, sofa, wardrobe, TV and private bathroom with hot/cold shower and fully air-conditioned. Room fridge is provided in every rooms. Our private room has free internet access and password can be obtained through one of our staff. Kitchen and fridge are provided for your own convenience to prepare your own meal. We have one sharing swimming pool . Listening to the bird chirping and enjoying the sunshine, you can sit on a gazebo, relaxing and reading, even sunbathing. Going and getting around in Sanur? We provide a free shutle for your convenience until 3 pm. We are looking forward to see you at Kubu Daton Homestay and we really hope you will enjoy Bali as much as we do!
Tout simplement parfait, je le conseille à tous. Belle chambre, lit confortable, air climatisé, bon petit déjeuner... et Putu est un hôte serviable et sympathique. Il offre même des lifts avec sa voiture si comme moi, vous ne conduisez pas trop le scooter. Il a également été hyper flexible sur mes heures d'arrivée et de départ. Merci!!
Claudie
2017-02-15T00:00:00Z
Putu and his family are soooo nice. You can talk with them for anything you don't understand. And of cource the room is very clean. l recommend this house to somebody who want to stay in Sanur.
代
2017-03-14T00:00:00Z
This was a lot of firsts for me! My first time in Bali, my first place to stay from the plane and my first time with air b&b. I traveled on my own and always felt part of a greater whole. And I am over the moon how perfect it was: On a practical level this was near the airport, so a taxi ride away and then the perfect place to become acquainted with Bali and get over a long haul or sleep zone changes. Puto and his family are more than helpful without being intrusive. The homestay looks just like on the photo- devoted to beauty, calm and care. The accommodation was refreshing and tasteful - more than you could want. Sanur itself was a delight to explore. I would definitely recommend this! Oh and the breakfasts were divine Not forgetting the swimming pool.....
Nicola
2017-03-24T00:00:00Z
Had a good stay with putu! Quiet place and good breakfast
Andre
2017-02-17T00:00:00Z
The homestay is just looks like (URL HIDDEN) is near by (URL HIDDEN) and his family are very kind and helpful.We have spent a unforgetable week in there.I am highly recommend this place to my friends.
honghong
2017-04-01T00:00:00Z
Typ pokoje
Soukromý pokoj
---
Typ nemovitosti
Penzion (B&B)
---
Ubytuje
2
---
Ložnice
Denpasar Selatan, Bali, Indonésie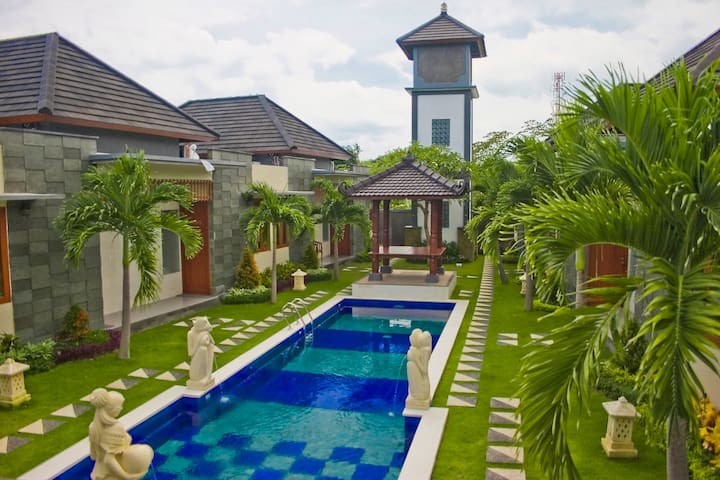 A beautiful hidden space surrounded of nature-safe & quiet-south sanur-6min walk to the beach, And restaurants & shops. rooms including DVD,wifi,cable tv hot&cold water on suite shower . Guest have use of free drinking water and tea and coffee ,kitchen. A true Bali experience (Second floor room)
Unique bali style with a touch of modern. Cool flowing breeze. A lovely garden with a huge tree which gave us our name . swimming pool and a cozy living area , kitchen, enough space to hang out for everyone! Hidden in a dead end path in the south of sanur, away from motorbike, car and sound pollution! Built in 2013
Small, quiet & safe neighbourhood, balinese style villas, all located in a small old style dirt road. Not crowded & very easy to get around. Our area is still very green, a lot of trees & flowers
Superbe ! Les filles de la maison sont plus qu'adorables et sont ouvertes aux discussions que ce soit pour des infos sur bali ou sur la vie des balinais en général. Le chauffeur Dewa est un personnage mais super sympa et il vous amènera où vous souhaitez monnayant quelques roupies. La chambre et la salle de bain étaient très jolies et propre, idem pour le reste de l'hôtel (jolie piscine). Niveau emplacement ce n'est pas loin du centre de Sanur mais mieux vaut louer un vélo si vous ne souhaitez pas vous épuiser vu la chaleur humide ambiante.
Julie
2016-09-27T00:00:00Z
Our stay here was very nice, we really liked the open living room facing the swimming pool and the bungalows are beautiful. Everyone made us feel very comfortable. We didn't stay in one of the bungalows unfortunately, but our room was still cozy, the only thing that bothered me was our bathroom, with the broken toilet seat.
Ben
2015-02-15T00:00:00Z
The contact with dwi was really hard. We couldn't find the place at the first time and by the time we arrive, the room we've booked was somehow not vacant anymore. Luckily We still got another room and the room itself was quite good. The pool is not clean and it is not 5 minutes from the beach away..
Bayu
2015-09-15T00:00:00Z
Met some nice people the first day and Dewa was a great help collecting us from the airport at 1am! Also his sister Desa was very warm and friendly. My daughter loved the pool.
Meghan
2017-03-11T00:00:00Z
Sehr freundliches Personal, wurden herzlich Empfangen. Sauberes Zimmer und Bett. Bad auch schön. Wie auf den Bildern zu erwarten. Sehr nah zum Strand, 5 min zu Fuß. Gerne wieder.
Lena
2016-11-30T00:00:00Z
It is a nice place for this price. The room is clean and communal area is good. We like everything. All good cafes are 10-15 minute walk, but there are some other very close
Mariya
2015-07-08T00:00:00Z
We stayed for one night in little tree house and had a very nice experience. The room was clean with an en suite amazing shower. The bed was very comfortable. The staff and hosts we're nice and helpful. We enjoyed our stay and would not hesitate to stay here again.
Nanna F.
2014-07-25T00:00:00Z
We really enjoyed our stay at Dwi's place. The room was beautiful and comfortable. Nice pool and common area. Tasty breakfast and friendly staff! 8 out of 10, would recommend
Victor
2016-06-15T00:00:00Z
Typ pokoje
Soukromý pokoj
---
Typ nemovitosti
Vila
---
Ubytuje
2
---
Ložnice
Denpasar, Bali, Indonésie
★Very Spacious Room 38㎡ And Spacious kitchen and lounge area, 1 Bedroom Green Studio Apartment Third floor is tastefully decorated with paintings and antiques, This apartment a Six-Apartment, complex with the total building size of 265㎡, with room size 38㎡.The Apartment features a spacious One bedroom (King Size 200 X 200 cm),kitchen set, AC, Free Wifi,Washing Machine,TV LCD LED 43 inch,DVD Player with HDMI,huge shared swimming pool, Long stay would be more than welcomed! 日本語も対応出来ます!
1 Bedroom Green Studio Apartment Third floor is tastefully decorated with paintings and antiques, that makes you comfortable staying there, strategically located in center of sanur area, 1 Bedroom Green Studio apartment a Six-Apartment, complex with the total building size of 265 ㎡, with room size 38 ㎡. 1 Bedroom Green Studio Apartment features a spacious One Bedroom ( King Size 200 X 200 cm ), A fully equipped kitchen, It is fitted with a stove top, refrigerator, microwave, kettle and toaster you can use it if you wish to cook for yourself or try out Indonesian cooking, LCD LED televisions 43 inch,Indecision and Indihome (Indonesia's cable TV) in front of Bedroom, DVD player with HDMI, Air-conditioning and ceiling fans, for comfort. Free WI-FI internet access throughout the Apartment and huge shared swimming pool where you can enjoy and relax during your stay,Free Tea and Coffee inside the room. For surfers an outdoor shower will wash the sand away. Villa manager will take care of anything you might need anytime. We will assist you with questions or Inquiries you may have and can help if you would like to organize Optional extras additional Charge: - Breakfast delivery ( must order one day before ) - Airport Transport( Drop Off Or Pick Up ) we charge US$ 15,00 and one day tour around Bali We charge US$ 60,00 - pushbikes Rental -Motorbike rental -Water Sport Activity -Boat Ticket Lembongan Island. 1 Bedroom Green Studio apartment This magical location will win you over and so will your stay at 1 Bedroom Green Studio Apartment. Located within 10 minute easy walking distance of The Apartment is Sanur`s white sandy beaches, you can enjoy a beverage or massage on the beach and later dine at some of the beachfront or main street restaurants Also shopping center at Hardy's supermarket,From the Apartment the main street is a 2 minute walk, While along the main street of Sanur you will find many salons, supermarkets, cafés, Bar, and restaurants to suit any taste and budgets – and all within walking distance of studio. Do not hesitate and book 1 Bedroom Green Studio Apartment for your holiday !!!
The neighborhood is very friendly and very helpful.
It's a great pleasure for us to be the first guest in this new, clean, very beautiful and comfortable guesthouse with Komang and his wife. The guesthouse is in a safe, quite and very good location, the neighborhood is good too. Just by walk 5 minutes you can reach the main street, another 5 minutes you are at the beach. On the way there is a tiny shop where you can buy water and other useful stuff. At the main street you can find bigger supermarkets. The room is completely new with lovely furniture and very comfortable king size bed, Sofa, TV (HBO movies) and a very useful kitchen. Also you have your own washing machine in the bathroom which is amazing for long time travelers. The guesthouse has also a small and lovely pool. Komang and his wife are so friendly and helpful with all your needs. Komang speaks good english. My boyfriend was sick, Komang help us to call the doctor, drive me to the supermarket and back. They ask us everyday if we want them to clean our room. We completely recommend this guesthouse. 客栈价格,五星服务 地段好,房间全新装修,洗衣机、厨房、电视、沙发一应俱全!超大双人床很舒服!一楼的小游泳池泡泡水感觉很棒!房东夫妇人超级好,主动帮助我们!房间可以每天打扫!强烈推荐!
Nijuan
2016-12-26T00:00:00Z
Typ pokoje
Soukromý pokoj
---
Typ nemovitosti
Byt
---
Ubytuje
2
---
Ložnice
Denpasar Selatan, Bali, Indonésie
This villa built to western standards is located in Jalan Kesari Dua (Dua meaning 2, also written as ll). It is located in the centre of town behind Hardys supermarket, a short walk to the main street and beach. Inside is an air conditioned bedroom with king bed, ensuite and kitchen. Outside is a roofed seating area with a fan, outdoor shower, shady garden and pool. Cold drinking water and optical fibre Wi-Fi are provided.
This quality built and equipped villa with pool is located adjacent to the owners residence but is completely private within its own gated compound. It has a complete international standard water purification system with UV steriliser so you can drink the water from the tap. It has been decorated to reflect the Sanur fishing village heritage and includes furniture made from old traditional fishing boats. There is even an old boat located in the garden which has been converted into a bench seat. Clean and fresh, the space is well lit and practical for short or long stays. There is storage for luggage, hanging space and drawers for clothes and a fully equipped kitchen. All furnishings and equipment are quality and new. The Boathouse is located a short walk to Hardys supermarket, the centre of Sanur and the beach.
Sanur is a traditional fishing village which has grown over the years but kept its fishing village charm. It caters for tourists and locals alike. In Sanur you have all the facilities a holiday maker may want such as shops and restaurants, drivers and tour providers, spas and salons. You can also experience local life as many of the shop keepers live locally, there are many ceremonies and traditional daily activities to observe or participate in.
We had a great stay at the boat house. The location was excellent, 2 min walk to the main road and 5 mins walk to the beach. It is also very close to casablanca bar which offers very good live music every night. The area is very safe day and night. The host provides a note book full of good recommendations for restos, bars, massage etc.. in sanur which we found very useful.
Selim
2015-08-25T00:00:00Z
We LOVED our stay at the boathouse. Garry was out front when we arrived and gave us the rundown of the villa as well as tips and recommendations for our time in Bali. The villa itself was very clean (and super cute!) and had everything we needed, including a bottled water dispenser. The villa was a quick walk to the main street and beach. The night market is a must while you're in the area. We saw Garry and Maureen throughout our stay and they were always friendly and willing to answer our questions. We wish we could have stayed longer! p.s. Garry mentioned the island will be upgraded to 4G soon so there should be improvement in internet speed.
Jen
2015-07-02T00:00:00Z
Maureen & Garry greeted us & were friendly & helpful with suggestions & easiest ways to get to beach, restaurants etc. Lovely private villa & pool was great to cool off in after sightseeing. & very private. Had a relaxed stay at the beach house
Rosie
2016-11-23T00:00:00Z
Exactly as pictured, villa is in a quiet cul de sac with hosts just nextdoor. I was most impressed with how clean it was ( I am a bit of a clean freak) the bedding was great quality. Inside is a great set up everything you could need, had a wonderful stay, would recommend to those new to Sanur as everything is very close once you figured it out :-)
Pania
2016-09-07T00:00:00Z
The Boathouse was our first destination after arriving in Bali (first visit) and we could not have been happier that we chose this accommodation. The place was spotless, quiet (not a sound at night), ant-free, and nicely decorated. The place was spacious and well-designed to maximize storage space so plenty of space for luggage. Garry and Maureen were also very helpful--giving us a list of restaurant recommendations and other tips to help us enjoy our stay. The Boathouse is also perfectly located--5 minutes from town, 10 minutes from the beach, and right in the middle of the main tourist strip ($1 US to either end of the road making it easy to explore). We enjoyed our stay so much that we're considering traveling back through Sanur and seeing if the Boathouse is available. The owners are also concerned about sustainability and urban planning (we had a discussion about this) and have designed their property with environmental considerations in mind. The property looks exactly like the photos and the bed was very comfortable. There is also a good laundry in the neighborhood. This was an awesome find! Thank you Garry and Maureen!
Delight
2015-04-15T00:00:00Z
Beautiful place in a quiet lane right behind the main road, about 5 min walk. Private pool and kitchenette were great, all exactly as shown. Maureen and Gary were out of town, Paula was super helpful during my short stay here. Highly recommended given the quality.
Winnie
2016-10-16T00:00:00Z
Beautiful Villa, everyday housekeeping included and in a private street that was a close walk to Hardy's. Our power and water went out a couple of times during our stay due to bad weather and we weren't told it was the whole street so we freaked out and thought it was just our villa and couldn't get through to the owners so maybe better communication. Other than that it was a lovely stay and the owner was very friendly too.
Sarinah
2017-02-07T00:00:00Z
Marureen and Gary provided a great place for us to stay on our honeymoon. They arranged transportation for us from the airport when we arrived, which was fantastic after 35 hours of traveling. The accommodation was just as pictured; beautiful, clean and close to restaurants and the beach. We would stay here again!
Brittany
2016-10-23T00:00:00Z
Typ pokoje
Celý dům/byt
---
Typ nemovitosti
Vila
---
Ubytuje
2
---
Ložnice
Sanur, Bali, Indonésie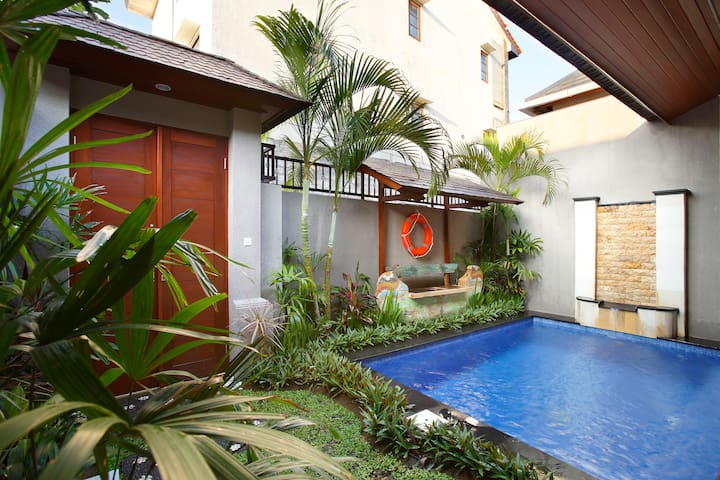 Four bedrooms each with large bathroom offering the luxury of privacy. Located in a gated complex with 24/7 security, the walled villa sits open to your 9m pool and tropical garden. A housekeeper makes sure you don't lift a finger.
It is rare to find a villa like ours, which has four bedrooms each with it's own full sized bathroom. Two bedrooms have private outdoor showers. The kitchen, living areas are open to the pool and garden creating an ambience of comfortable relaxation. We have a housemaid on hand all day 6 days a week to cater for laundry and cleaning - you do not have to make a bed or wash up.....
Sanur is not (URL HIDDEN) is a relaxed area more suited to people over 35yrs who enjoy excellent restaurants, cafes, warungs and beaches. You can laze on the beautiful beach whilst having a massage, or hire a jet ski, surf kite or parasail. A wander along the beach will take you to small local stalls selling clothes and artefacts. The main street is a stretch of fun shops, boutiques and eateries. Cafe Jimbar hosts a local food market on Sundays where you can purchase directly from the locals. It's excellent food and even better value!
The location of the villa is very private and quiet. The staff were friendly and maintained the villa well. Judy was very quick to reply to all messages and a very thoughtful host.
Tracy
2016-12-19T00:00:00Z
Dealing with Judy was great, prompt, straightforward and easy. The problem for us was that the organisation managing the complex her residence is in.. usurped her booking for us and put us in a different villa- not hers. So they could accomodate their own clients. Whilst they insisted it was bigger , it didn't seem as well maintained or modern as Judy's ( from the pics- we'll never know because we never set foot in hers) Judy's hands were tied as she wasn't in the country so frustrating for her and us. Long story short the complex (Emerald Villas) gave us a 50% refund for the trouble which was appreciated. Location, food , transport , housekeeping all great. Not sure if this has happened before. But we still enjoyed our stay - we're just bummed as first experience of AirBnB and we had done research, paid well in advance and didn't get the property we booked! All good in the end.
Megan
2017-01-06T00:00:00Z
Hard genoten van ons verblijf. Ideale ligging (vlakbij grote weg waar je met bemo in 5min in centrum bent, wandelafstand tot strand). Mooie open ruimte (living, keuken, zwembad, terras), die volledig omheind is en dus volledige privacy geeft, maar toch ook een open-ruimte-gevoel. Poetsvrouw komt elke dag, doet ook was en strijk. Huis wordt heel proper gehouden. Wij waren hier met 3 volwassenen en 4 kinderen (die wel konden zwemmen). Perfecte prijs-kwaliteit en super service !
Sandy
2016-08-13T00:00:00Z
Our stay in Sanur in Judy's villa was a real treat! the villa was just gorgeous, beautifully set out and very comfortable. The housekeeper, Wayan kept the place spotless and we really didn't have to lift a finger. The location was perfect, it was quiet and peaceful - perfect for relaxing with friends and family and a short walk to the beach where you can catch an amazing sunrise. The restaurants were just around the corner or along the beach, it was close to parasailing and other watersports, shopping general sightseeing. Judy was very flexible and patient when I kept changing things around, a very lovely lady to deal with. I would highly recommend her villa if you are looking for somewhere to relax and enjoy the beauty of Bali.
Michelle
2016-01-17T00:00:00Z
Judy was brilliant at promptly responding to every message and had very helpful suggestions with transfers. Wayan who worked at the villa was lovely and the whole place was totally Awesome, my kids had a brilliant time. Pool is lovely and the place is huge! Great value for money. Thanks loads Judy
Anna
2016-08-21T00:00:00Z
Beautiful, clean, quiet villa minutes from beach and restaurants. Absolutely loved the pool and having rooms and laundry done daily. Great for families ( might need that temporary pool fencing) or like us a girls holiday X
Kylie
2016-09-15T00:00:00Z
Great house, great housekeeper, minutes away from the beach.
Bj
2016-01-03T00:00:00Z
The villa is beautiful and the staff was pleasant and helpful. Everything worked as it should and the locations was near enough to everything we wanted. Food, shopping and the beach. Although with such a nice villa and pool we didn't get out too much. I would stay again in a heartbeat. We didn't want to leave and isn't that really the point? Thanks Judy
Michael
2016-02-26T00:00:00Z
Typ pokoje
Celý dům/byt
---
Typ nemovitosti
Vila
---
Ubytuje
8
---
Ložnice
Sanur, Bali, Indonésie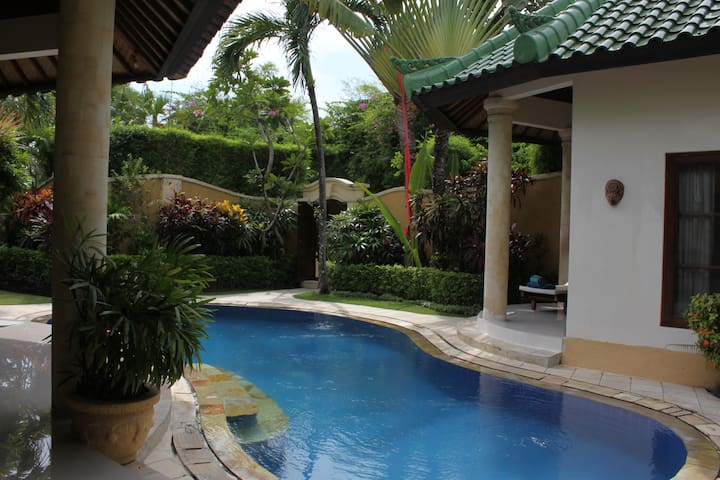 This private Villa is located beachside in the centre of Sanur & features King Size bedroom with air-con, ceiling fan & private bathroom, a large living area with TV, DVD & WiFi, dining and fully equipped kitchen. All rooms have ceiling fans & air conditioning plus the outdoor garden area with pool A second king size bedroom and private bathroom is available at the Villa at additional cost upon request. We have a baby cot also available for rent if requiring accomodation for babies and infants
This brand new stand alone private Villa has a spacious king size bedroom with private bathroom plus a 2nd king size bedroom with private bathroom available at additional cost, see separate listings and or inquire with the host on this listing. Please note that the Villa is totally for your own private occupancy when making a reservation. There is a large living and dining area to relax in and the kitchen area is fully equipped for your use. There is a multi channel cable TV, DVD and Soundbar bluetooth system to also enjoy during your stay The Villa has ceiling fans and air conditioning throughout for your comfort. The outdoor area has sun lounges and eating area by the swimming pool that is a chemical free ionic filtration system. Refer also to separate listing for reservations for the 2 Bedroom Villa or contact me through this listing for further details
We had a wonderful stay at Helen's villa. The villa was clean and spacious with a little garden plus amazing pool to relax in. The communication with Helen was helpful and friendly all the time. The villa is kept in perfect order bei Amalia the housekeeper. We can recommend this villa to anyone who would like to spend some time in Sanur.
Victoria
2016-08-07T00:00:00Z
Helen's place is great and in such a good location especially for those with little kids as it's quiet and safe and not far from the action. Everything is in walking distance and such a variety of places to eat! The pictures don't do it justice as much bigger than it looks and the pool is great! Amalia the housekeeper was amazing and really made our stay memorable, anything we needed was not a problem. Amalia's cooking was so delicious and much easier than trying to go out with a toddler at night. Helen was a good host, she organised a driver made sure we settled in and as we required a pool fence was available whenever required. Overall the place is fantastic and would certainly stay again!
Youmna
2017-01-06T00:00:00Z
We had an amazing week in Sanur staying at Villa Rinjani. The villa was perfect for our little family and easily had space for a few more. It was well appointed, fully equipped kitchen and all the mod cons. Comfy bed and pillows, even a cot for our little one. The housekeeper Amalia kept the place spotless and also cooks a delicious (and generous) evening meal. We were very happy with the location, situated in a safe and quiet street only minutes walk from the main strip and Hardys supermarket, and only a few more to the beach. We were lucky enough to meet Helen and Paul who were very helpful and had plenty of tips for the area. We really enjoyed our stay and will be recommending this place to our family and friends. Thanks for having us Helen, you were a lovely host.
Kristy
2016-07-30T00:00:00Z
Our host made us feel so welcome. On arrival Amalia and Made were at the Villa to greet us and settle us in. Amalia looks after housekeeping and Made the pool and garden. The Villa was so comfortable and very clean with all amenities as described. We had everything we needed for a beautiful and relaxing holiday. The Villa is in a lovely quiet area where we felt very secure, and just a short walk to shopping, restaurants, supermarket and beach, a wonderful location. We also met our Host, Helen, who called in to ensure we were comfortable and had everything we needed, and also assisted us with transport during our stay. Helen is a wonderful Host, so happy to meet her and really appreciated her making us so welcome and comfortable. We would highly recommend a stay at the Villa and will look forward to our next stay.
Joy
2016-04-29T00:00:00Z
Hi, It was a great pleasure to stay in your villa helen... Very confortable, very quiet district... Amalia is very sweet and warm... We also met her husband : very calm and sweet too. But we never saw the gardener Don't worry it doesn't matter.... . Maybe the villa miss a microwave. For us, it's not a problem but Maybe for family The villa is very close to main street and beach... Thank again //// Pour nos amis francophones qui liront ce commentaire : la villa est dans un quartier très calme tout en restant proche de l'artère principale. On est proche de tout et c'est appréciable... Le supermarché a 5mn, la plage à 10mn vraiment très simple. La villa est neuve ( depuis 6 mois) mais vous avez tout le confort nécessaire. Il manque juste un micro ondes: cela ne nous a pas gêné mais je dis ça pour les familles.. Je vous recommande un repas préparé par Amalia ( qui s'occupe du ménage): très bonne cuisine balinaise et très copieux... Bref très bon séjour et reposant
Marjorie
2016-07-12T00:00:00Z
Very enjoyable stay at hosts villa. So comfortable and relaxing. Approx. 10 min. Walk to main road with shops & restaurants. Highly recommended
Sheila
2016-09-05T00:00:00Z
Une villa aussi belle que sur les photos et vraiment très confortable: clim dans la chambre et la pièce commune, soundbar pour mettre de la musique... Vraiment très haut standard. Dans un quartier très calme, à 5-7 min de la rue principale. Le must c'est Amalia la dame qui s'occupe de la villa: gentille et très serviable, elle garde la villa immaculée et lave vos vêtements. Nous y avons passé un séjour exceptionnel! Helen n'était pas présente mais à été très réactive par mail pour toutes les petites questions que nous avons. Nous recommandons cet hébergement magique.
Chloé
2016-12-01T00:00:00Z
Excellent villa in quiet location, yet the beach and all amenities are only a short walk away. Helen was a most communicative host
Nick
2017-03-28T00:00:00Z
Typ pokoje
Celý dům/byt
---
Typ nemovitosti
Vila
---
Ubytuje
2
---
Ložnice
South Denpasar, Bali, Indonésie
Our place is close to the beach in Sanur, Denpasar, Bali. You will love our place because of its great location in a quiet alley. My place is good for couples, solo adventurers, and business travelers. We like to help you have a great stay. We can pick you up from the airport (cheaper than taxi), rent a scooter to you, suggest nice things to see in Bali (my husband was a tour guide). Please note, that this rooms shower has no warm water. (My second room that is for rent, has warm water.)
You will rent a 2 room apartment studio with outdoor kitchen. You can store your groceries in a fridge and cook for yourself.but one room without warm water
Wayan and her husband are very friendly and happy persons. The room was good, the air condotion works well. The room was simple, with a good bed. Located in a small side street, so its not noisy but the street with many restaurants and other stores are just 5 walk minuts away. Beach also very close just 10 minutes to walk. Thanks for the stay.
Pascal
2017-03-31T00:00:00Z
Staying with Wayan Annie was great. I was looking for a quiet place, yet in walking distance to the beach. Whenever I had questions about Indonesia, Bali, and nice places nearby, Annie and Nyoman were very helpful. And thanks a lot for the home-cooked Indonesian dinner and driving me to the airport! I will gladly stay here again the next time I'm in Denpasar, Bali.
Stefan
2017-03-16T00:00:00Z
I really enjoyed my stay at Wayan's place in Sanur. It's very conveniently located - walking distance to the beach and all the local restaurants, spas etc. I came there for some chill time with my mum for her birthday and it was well-suited. You have privacy and your own kitchen space etc. Wayan and her family are very helpful and lovely people who I consider friends now. happy travels xxx
Susann
2017-03-30T00:00:00Z
Typ pokoje
Celý dům/byt
---
Typ nemovitosti
Dům
---
Ubytuje
2
---
Ložnice
Denpasar Selatan, Bali, Indonésie