Tranquility and serenity await you at this stunning 14-room, 7,538 sqft Colonial nestled on 2.5 private acres. Six enormous bedrooms each contain their own private full bathroom and walk-in closet. The gourmet kitchen boasts custom cherry cabinetry, a breakfast bar with a gorgeous poolside view, granite countertops and stainless steel appliances. The lower level includes a recreation room with a pool table, hockey game, poker table, dart board, massage chair, wine cellar and a sauna.
You'll get a glimpse of the home's grandeur from the circular driveway. Once inside, you'll appreciate the fine attention to detail from top to bottom. Built in 1954 and renovated to perfection, the spacious rooms offer gleaming hardwood floors, crown and decorative moldings, arched doorways, and six-panel interior doors. The elegant formal living room with its gas fireplace offers a set of French doors that lead to the large Family Room, surrounded by windows that bring the beauty of the outside in. A second fireplace is found in the handsome library, which also features built-in bookcases. A floor-to-ceiling bow window in the formal dining room looks out on the magical backyard. This home is built for entertaining. Each room flows gracefully into the next. Your family and friends can enjoy hours of excitement playing a variety of available board games. The house also contains a pool table, an air hockey game, a foosball table, a poker/card table, a high performance stereo system, and even a strobe light to get the party started! When party time is over, there are plenty of options for relaxation including: near any of the 3 fireplaces, sitting on the back patio, getting a massage in the massage chair, or having a steam in the 2-person sauna. There is also an in-ground pool with a built-in hot tub and waterfall in the backyard. These are available for rentals on May 1st and later.
Set at the end of a quiet cul-de-sac, the house is barely visible from the street, offering the seclusion you desire; yet the neighborhood provides easy access to major thoroughfares and public transportation. The closest NJ Transit train stations (with services to NYC, Newark Airport, etc.) are within 2-5 miles (Fanwood Station, Netherwood Station, Westfield Station - which are all on the NJ Transit Raritan Line).
Great place for a big family gathering. You can enjoy the family time and also get back to your private rooms. The entire family was motivated to pick a place like this for annual vacations.
Vamsi
2017-03-30T00:00:00Z
Words cant begin to describe how amazing the stay was with Frank. His home was extremely clean and he was very thorough. A real professional. The value was well worth it!! Anyone who has the honor to stay with Frank will be nothing but extremely happy!! We asked a simple question of whether or not he has a tea kettle, Frank replied with a sorry and then we thought that was the end of it. No big deal at all right? Well to Frank this was unacceptable. He literally went out while we were gone and bought a teapot and a variety of excellent teas to go with it. If that's not true dedication I don't know what is. To make it better, we went through a blizzard and he actually came over and shoveled the whole driveway and sidewalk for us. He would respond to texts with incredible speed. Always answered his phone. He even took the time to actually type up a list of all the popular restaurants nearby that he frequents with his family. He even suggested places to buy really affordable second hand sleds and great sledding hills in the area when an unexpected blizzard threatened to ruin our vacation. To be honest i had a bad experience my first time using airbnb but after incredible customer service from the great folks at airbnb and with amazing people like Frank who really do care our trip was once in a lifetime. It was the first real family vacation ever. I'm pretty sure this will be hard to top. Thank you especially Frank!!!!!!!
Kevin
2017-03-15T00:00:00Z
It's very big house and nice place to hangout with your family.
Uday
2017-03-26T00:00:00Z
Typ pokoje
Celý dům/byt
---
Typ nemovitosti
Dům
---
Ubytuje
15
---
Ložnice
Scotch Plains, New Jersey, Spojené státy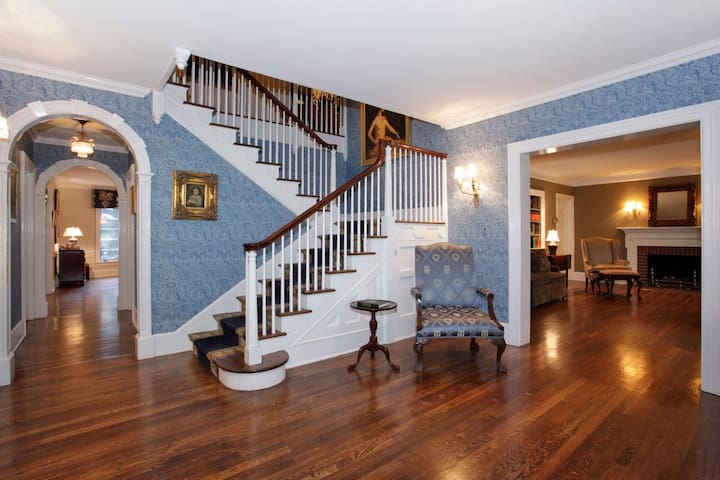 Charming Furnished 2 Bedroom + Den English Stone Cottage 2 Decks, 1 Patio, 1 Car Garage Separate Workshop / Studio 20x20 Barbecue, Cable TV, Jetted Tub Basement with Laundry, Cedar Closet , Workbench Pet Friendly Central Air
Great host. Very responsive and accommodating. House was accurately advertised.
Patrick
2017-01-23T00:00:00Z
Typ pokoje
Celý dům/byt
---
Typ nemovitosti
Dům
---
Ubytuje
4
---
Ložnice
Scotch Plains, New Jersey, Spojené státy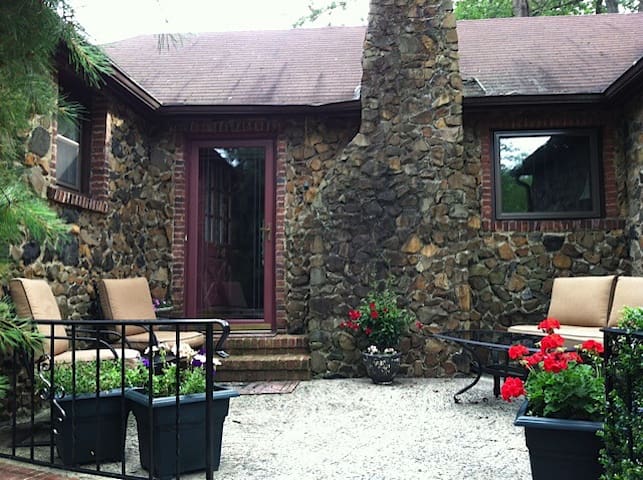 This cozy and comfortable large private bedroom and bathroom in a beautiful new house in quiet, secluded wooded area; yet only 5 minutes from New Jersey Transit train Fanwoodwith direct stops to New York City, Newark, and many other locations. Free onsite parking included. You'll love & enjoy this spacious paradise!
Clean, large, private bedroom and bathroom, in spacious paradise, yet only 5 minutes from NJTransit trains to New York City, Newark, or public transportation
Mark made me feel very welcome. The listing was reasonably accurate. I would definitely stay at Mark's home again.
Andrew
2016-10-15T00:00:00Z
Mark and Allie were wonderful hosts, nice people, and made my first Airbnb experience really nice. The house was very nice. The bed was comfortable. The entire place was very clean. 5 stars!
Max
2016-07-28T00:00:00Z
Mark was a great host. He was always responsive and nice. The room was cozy and private. The bathroom was very clean. The neighborhood is very pretty and quiet. The train station is a quick 8 minutes away.
Jayna
2016-11-25T00:00:00Z
I enjoyed staying at Mark's place. I am thankful that he was willing to accept my reservation at a short notice. He was a superb host and made me very comfortable. He also grilled some food for me as I could not find anything that evening. This was truly a great Airbnb experience for me. Mark's house is cozy and his room and attached bathroom were clean and comfortable. Highly recommended! Thank you again!
Krupa
2016-06-22T00:00:00Z
Nice big, clean, house, comfortable bed, huge yard, street parking was easy. very friendly. very friendly,hypoallergenic dog. Three year old child. In a nice, quiet, neighborhood, and we could come out go as we pleased. You must have a car, not near to public transportation. We had WI Fi and cable TV in room. big bathroom, great shower.
Ed
2016-11-06T00:00:00Z
Typ pokoje
Soukromý pokoj
---
Typ nemovitosti
Dům
---
Ubytuje
2
---
Ložnice
Scotch Plains, New Jersey, Spojené státy
This wonderful, spacious home is located in North Jersey, and is a 30 min train ride from NYC. Quiet neighborhood (wonderful park just two min away), the comfy beds, and open space. Good for couples, solo adventurers, business travelers, and families with kids (we have a whole closet full of toys and game!). All people and pets are welcome! **WILLING TO GIVE SPECIAL OFFER IF YOU ONLY NEED ONE BEDROOM*
The guest space consists of a living room, a kitchen, two bedrooms, one full bathroom, and sliding door access to the backyard. The space is the bottom floor of a big, new house in a wonderful suburban area. The downstairs has everything you need, including a mini fridge, treadmill, a strength machine, a TV, and wifi.
This was a perfect stay
Shakeila
2017-01-28T00:00:00Z
The hosts were great! They were very friendly and patient. The house was very clean and welcoming.
Alizé
2017-01-01T00:00:00Z
The host canceled this reservation 22 days before arrival. This is an automated posting.
Gene
2017-01-27T00:00:00Z
The rooms are very spacious and Anita was very communicative and accessible. However, the space was not clean. There was dirt and dust all over and not enough clean towels. As far as central location and space, it had what we were looking for. I hope things improve for future guests.
Katie
2017-01-15T00:00:00Z
Typ pokoje
Soukromý pokoj
---
Typ nemovitosti
Dům
---
Ubytuje
6
---
Ložnice
Scotch Plains, New Jersey, Spojené státy
The house, upscale single family home locates in a beautiful neighborhood in Scotch Plains NJ and has a lot to offer. The entire house has 4 bedrooms and two and half bathrooms. About your room : Furnished basement, Private bedroom Queen size bed, TV/DVD player, free WIFI and closet , and your own private bath and living room .Guests will have access to all the amenities the home has, Fridge, washer and dryer are all available in the house. Sharing nice gourmet kitchen and dinning room. There are plenty of restaurants and shopping within walking distance as well. Local stores in the area provide all you need for your stay. If you're visiting NYC, there is direct bus service to the city, or you can drive to the nearest train station, which would take you into or out of NYC 24/7 and spare you the traffic along the way. About your hosts: Friendly couple who live in the main house, we love soccer and English premier league games are available by Fox soccer channel Saturdays and Sundays.
Tony was really chill. We came in kinda late but he was cool and didn't hassle us because of it. The area provided had more than enough space and was really clean. He is really accommodating. If you are tired and need some space he'll give it to you and if you feel like chatting for a bit he's cool with that too.
Eddie
2015-05-25T00:00:00Z
Tony and Kim have been fantastic hosts for the 3 weeks I stayed at their place. The place is really worth the money. Tony is particularly helpful and does his best to make you feel at home.
Kirti
2014-08-27T00:00:00Z
The house is located on a quiet street, very private and safe. Tony was the most gracious host, who provided not only the room, but the entire downstairs where there was a little workout room as well as access to the laundry room. My whole stay was a great experience because I made a new friend in Tony, as well as his daughter, Kim.
Grey
2015-07-17T00:00:00Z
Tony and Doris were wonderful hosts, conscientious, friendly and good company. My room was spacious and clean and I had access to a private living room and shower. Their place is close to the Watchung reservation and Rt 22 which makes commuting to work each morning a breeze. I had a wonderful time and I would definitely stay with Tony and Doris again!
Noah
2012-11-07T00:00:00Z
Tony was an excellent host. The bed was made and there were fresh towels waiting for us in the bathroom. The accommodations were exactly as pictured, with plenty of space in the bedroom and living room area.
Ricky
2015-05-12T00:00:00Z
Great host! Great experience
P
2016-06-04T00:00:00Z
Tony is a terrific, very hospitable host. His place was a perfect fit to accommodate my commute to Warren.
Francis
2017-01-13T00:00:00Z
Second stay. Tony is a good natured man and his place is quite cozy. Will book again in the future.
Megan
2016-11-27T00:00:00Z
Typ pokoje
Soukromý pokoj
---
Typ nemovitosti
Dům
---
Ubytuje
2
---
Ložnice
Scotch Plains, New Jersey, Spojené státy
Private Queen Bedroom with private bathroom with shower on our first floor. 1 hour to NYC and Philadelphia. Use of pool during summer months.
Guests will be on the first floor of our home. All linens and towels are included.
It is a community. Much more than just a town. Millington and Stirling Train Stations are both walkable from our home.
Linda was a most gracious hostess. I felt right at home immediately. She extended herself above an beyond always inviting me to use the pool and share meals with her.
Diana M
2016-09-30T00:00:00Z
This was a perfect place to stay! Linda has a beautiful home and family and the room was perfect. I couldn't recommend it more.
Steve
2017-02-14T00:00:00Z
Wonderful and welcoming host with knowledge of many things to do in the area. Getting to I-287 and I-78 takes less than 10 minutes (even during rush hour). The listing undersold how nice the house is. The main living room has 30 foot ceilings with a fireplace, TV, comfy couches and mini-bar. The high-end kitchen made me wish I could cook! There is also a pool table in the basement that we used a few times. One caveat - The Millington Train station was under construction (Nov 2015) and the NJ Transit shuttle van was unreliable (I tried to catch it twice and it didn't show either time). If going to NYC, you may want to double check with NJ Transit web page, or plan to drive to a closer station to catch the train. If all else fails, there were always many available Ubers in the area.
William
2015-11-21T00:00:00Z
Linda is awesome!! She made sure I had everything I needed. The guest room is a master bedroom suit looking out over their pool in the lush wooded area of Millington NJ. It's exactly as the picture shows - terrific!!
James
2016-05-19T00:00:00Z
Typ pokoje
Soukromý pokoj
---
Typ nemovitosti
Dům
---
Ubytuje
3
---
Ložnice
Long Hill, New Jersey, Spojené státy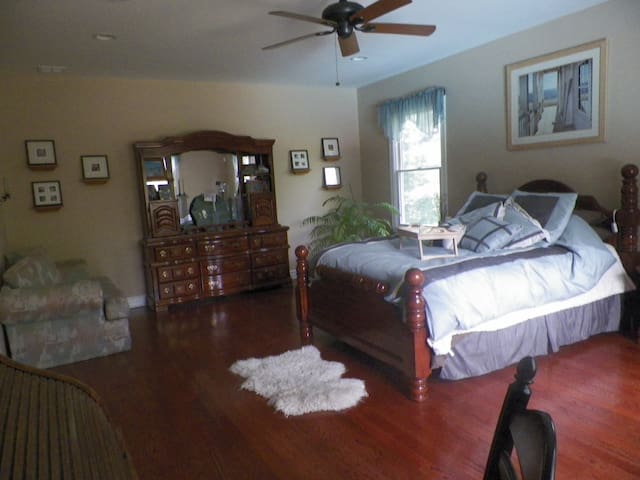 Walk to train. One occupant ONLY.
Typ pokoje
Soukromý pokoj
---
Typ nemovitosti
Dům
---
Ubytuje
1
---
Ložnice
Long Hill, New Jersey, Spojené státy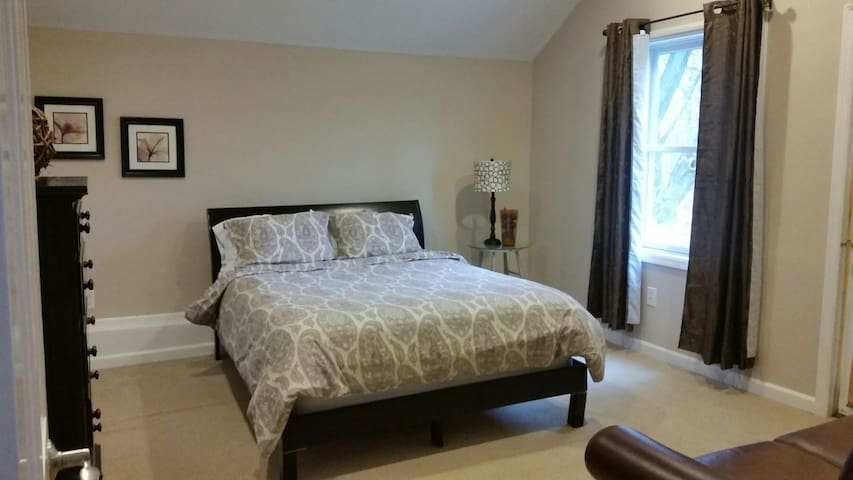 Beautiful private two story guest suite in an 1879 Victorian mansion. The guest suite has its own entrance, kitchenette / breakfast room on the first floor and bedroom and large bath on the second floor. Steps to the NY train and downtown S Orange.
A beautiful private two story guest suite in an 1879 Victorian mansion. The guest suite has its own entrance, kitchenette / breakfast room on the first floor and queen bedroom with large double-vanity bath on the second floor. Beautifully decorated by the owner who is an interior designer, the kitchenette and breakfast area is bright and sunny and a great place for a morning cup of coffee. The bedroom faces the back of the house and is very private. A floor mattress and pack-and-play are available for those traveling with children. A parking space is provided and we invite you to enjoy a glass of wine on our front porch or back patio.
South Orange is a diverse neighborhood a stones throw away from New York City. The town was settled as a weekend community for wealthy NY city residents and there are a ton of fascinating houses and period architecture to be enjoyed around town. There are a number of great bars and restaurants close by in downtown South Orange and not far away in Maplewood. The South Orange Perfoming Arts Center (SOPAC) brings national acts to our community. There are several large parks nearby that are great for kids and picnics and the South Mountain Reservation offers hiking with views of the Manhattan Skyline while the Turtle Back Zoo is a great activity for the kids.
Lovely host and hostess. Very welcoming. The A/C is a tad noisy. Then again the unusual heat wave (temps well into the 90's) while we were there required more use than is probably normal. Furnishings etc.. were first rate.
Bernard
2016-07-25T00:00:00Z
This well appointed, super comfortable 1 bedroom in a gigantic old Victorian house has a high ceilings, a spacious washroom with Jack and Jill sinks and good water pressure in the shower. We were snug as two bugs in a rug. It was super close to our relatives but also a short walk to the South Orange train station so day jaunts into Manhattan were easy as pie. Beware the neighbourhood sidewalks - they are uneven so you must pay attention to avoid tripping on some stretches. Right near the train station there are a large number of small restaurants serving a variety of food and a super authentic bagel place with some of the best New York bagels we've ever eaten. Our host, Jessica is quick to respond to requests or concerns and maintained clear, prompt communication before the trip. The house is a tiny bit echoey so sound but nothing that will keep anyone awake. The small kitchenette is excellent for travellers on the go who want to buy morning snacks and have a coffee before they leave. My wife was thrilled with the place. We were always happy to come back after a long day to our temporary home away from home. The bed is comfortable and cosy and adjustable, radiator heat. An excellent experience all around!
Robert
2016-11-20T00:00:00Z
Great location with easy accessibility to the NJ Transit, Starbucks and restaurants. Although the bedroom is small, the bed was very comfortable, good closet storage & the bathroom was spacious.
Judy
2016-09-20T00:00:00Z
Great accommodation with comfortable bed and spacious bathroom. The location was convenient for the train to NYC. Great communication with Jessica.
Trang
2016-12-12T00:00:00Z
Even though our host was out of town for most of our stay she texted me well in advance of our arrival so we knew what to expect and felt welcome. The house is a beautiful old Victorian with all the historic charm but has been updated in a stylishly comfortable and uncluttered manner. The neighborhood is quiet and beautiful and was perfectly situated for visiting our family in Maplewood, just minutes away. The private entrance and kitchenette, plus off-street parking were appreciated. Lots of nice little touches...clearly the owners have thought about what travelers require to be comfortable and have provided it. We would return and definitely recommend staying there!
Brenda
2016-07-07T00:00:00Z
The guest suite was very comfortable and in a nice quiet neighbourhood, just what we were looking for. Thanks a lot Jess and Scott!
Indrek
2016-07-15T00:00:00Z
Jessica was very communicative and we felt quite comfortable upon arrival. She came out to say hello even though we already had the code for our private entrance. The house is fricken' gorgeous, and our little piece of it had everything we needed for three nights. The downtown of the town is a few blocks walk and has everything: restaurants, barbers, a Dunkin', and a really cute toy store. We took the train into the city, which was super convenient. All in all, this house and the area pleasantly surprised us, and we would totally stay again.
John
2016-08-05T00:00:00Z
Jessica was very helpful and proactive in ensuring check in went smoothly and that I had everything I needed during my stay. The room is well appointed, was very clean, and just as described. The bathroom is a very nice size, too!
Caitlin
2017-01-15T00:00:00Z
Typ pokoje
Celý dům/byt
---
Typ nemovitosti
Dům
---
Ubytuje
3
---
Ložnice
South Orange, New Jersey, Spojené státy
Comfortable and spacious one bedroom apartment with separate entrance located on the ground level of our historic home in South Orange, New Jersey. South Orange is a vibrant commuter town located 30 minutes by train from New York Penn Station, 15 minutes from Newark Airport and 1 block from Seton Hall University. Off street parking is available.
One bedroom basement apartment located on the lower basement level of our home with a separate entrance. A large living room area has a large sectional sofa, dining area and a flat screen TV with cable TV. A separate bedroom has two single beds that can be combined to make a king plus the sofa bed in the living room pulls out to a full size pull out bed. The full bath has a shower. There is a table with seating for four people for meals and working. The galley kitchen is well stocked and has necessary equipment (full size stove/oven, microwave, toaster, and coffeepot). There is also a laundry room that you are welcome to use.
South Orange is a vibrant New York City Commuter town with a direct 25 minute train into Penn Station, mid-town Manhattan. We are less than a mile from the South Orange train station and only 20 minutes away from the Newark Airport. In addition to its proximity to New York City, the Village of South Orange has much to offer including many unique shops, restaurants, pubs, a movie theater and its own Performing Arts Center. South Orange is also home to Seton Hall University which is just one block from our home.
This was a great stay. Our host showed my daughter and I around the area. The apartment was nice and clean. I would stay here again.
Michelle
2016-07-13T00:00:00Z
I ABSOLUTELY LOVED staying at Jen's home. The home itself is BEAUTIFUL!! Great neighborhood and close to everything. Jen was fabulous and very accommodating. The apartment was very spacious and super clean. I will definitely be staying here again.
Fawn
2015-12-07T00:00:00Z
We LOVED the apartment! We were there for a weekend. Jen was extremely welcoming and friendly, made us feel right at home. She was communicative and let us know she'd be available if we needed anything at all. It's a beautiful neighborhood, great for walks, just wish we had more time there! Highly recommended!!
Maria
2016-01-18T00:00:00Z
So.....we got in at 10pm with two very tired and jet lagged dogs from the UK.....we got our stuff in the apartment and realised that we needed a glass of red and some cheese and crackers! Thank you Jen for the bottle of red, it made our landing perfect!
Steve
2016-03-10T00:00:00Z
The host canceled this reservation 39 days before arrival. This is an automated posting.
Ya'ara
2015-08-10T00:00:00Z
What a beautiful spot! Jennifer's home is in a gorgeous neighborhood with old fashioned gas street lights & impressive colonial homes. The apartment is cozy & comfortable. The town has great restaurants & shopping as well as scenic drives & public parks. The trees were amazing in the Fall
Batavia
2016-10-16T00:00:00Z
Lovely place and owner is very responsive with fantastic communication . Would not hesitate to recommend.
Becky
2016-09-06T00:00:00Z
PERFECT place. Location couldn't have been better for our needs, right across the street and down just a block from Seton Hall University's main entrance. Comfortable twin beds, coffee and a coffee maker, VERY spacious digs, a great value. We had a later flight, so Jen was very accommodating, letting us store our bags until it was time for us to leave.
Bob
2016-09-25T00:00:00Z
Typ pokoje
Celý dům/byt
---
Typ nemovitosti
Byt
---
Ubytuje
4
---
Ložnice
South Orange, New Jersey, Spojené státy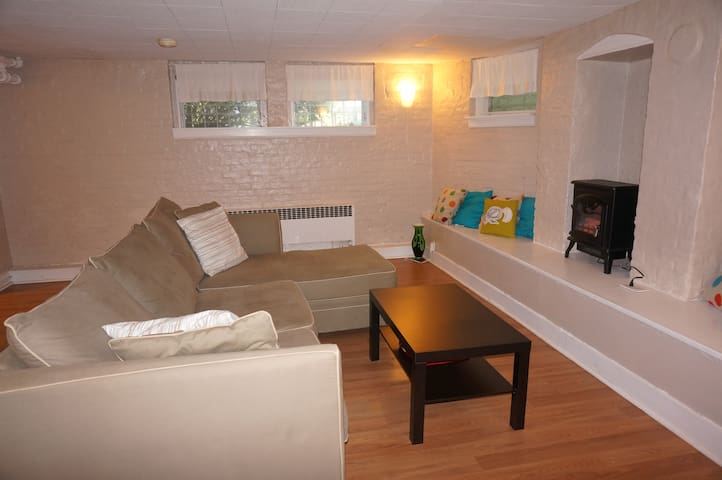 A beautiful, newly renovated center hall colonial and 1908 former Parsonage home very close to Seton Hall and to the village of South Orange. Walking distance. Perfect for tourists to NYC and for visiting families to Seton Hall. The Master Suite has a king size bed with a Grove Park view and a spa shower. The Sanctuary has a small queen sized bed with a sofa, air mattress, clawfoot tub and handheld shower. Both perfect for couples, parents, single travelers, businessmen.
Our home is located in the historic Montrose Park Historic Section in South Orange so it is surrounded by beautiful homes and yet very convenient to the village. We face Grove Park which is a small beautiful quiet park with a walking path and playground. The center hall colonial, built approx 1910, was a Parsonage for 80 years, which we purchased from the village church and painstakingly renovated. 4 floors and 6 bedrooms with a finished basement. A 7 minute walk to the NJT station in the village which is a 30 minute ride to NYC. We have our Master Bedroom en suite available with a spa shower and our Sanctuary Bedroom on the top floor with a beautiful clawfooted tub/handheld shower. Please advise us during the inquiry as to which room you would prefer- The Mastery Suite or The Sanctuary Suite. Each are $100 each. I live here with my artistic teenaged daughter. We love sharing our home and housed a wonderful student pursuing his masters degree from China last year! This is a perfect alternative to a NYC hotel room, convenient to Northern NJ business meetings, NJ parents/alumni weekends, local performances or if you are considering moving to the area. Feel free to ask any questions!
South Orange, NJ. We have Seton Hall University right down the road. SOPAC, a performing arts center, a multiplex theater, many shops (nera luxury Short Hills mall) and restaurants. Biking, jogging and hiking minutes away in the 20,000 acre South Mountain Nature Reserve.
Typ pokoje
Soukromý pokoj
---
Typ nemovitosti
Dům
---
Ubytuje
2
---
Ložnice
South Orange, New Jersey, Spojené státy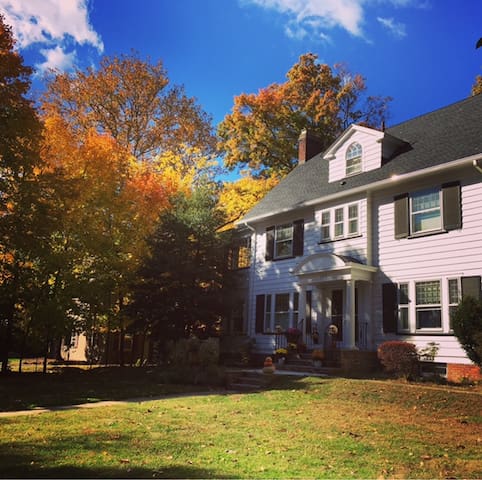 Full apartment available late April currently under construction. Apartment provides a king master bedroom, Jack and Jill bathroom, laundry, full kitchen, family room and recreational room with the bar and a pool table.
Full apartment currently under construction kitchen and bathroom still remain to be done additional family room and Billiard extruding wet bar area... but also can be segmented so that the Fourier kitchen bathroom and master bedroom suite are all you rent. Fully furnished all appliances and amenities
2 train stations within a mile from my house. I have a built-in swimming pool outside kitchen and gazebo with internet and television very peaceful neighborhood two and a half acre lot. Great Swamp bird sanctuary is basically in my backyard lovely area for walks.
Typ pokoje
Soukromý pokoj
---
Typ nemovitosti
Byt
---
Ubytuje
2
---
Ložnice
Long Hill, New Jersey, Spojené státy
Luxury abounds in this Private 3rd Floor Guest Suite in our warm and beautiful Tudor home. See the photos for the million dollar New York City View from Your bedroom! The suite includes TWO Separate Bedrooms and a Private bath on the 3rd floor.
Join us in our magical 1938 seven bedroom Tudor home! The 3rd Floor Guest Suite affords a million dollar New York City View from your bedroom and is only a 35 minute train ride from NYC! The suite includes TWO Separate Bedrooms and a Private Bath (see our photos for a blueprint). This is the perfect alternative to a NYC tourist hotel room, convenient to Northern NJ business meetings, a wonderful B&B for a parent/student college visits in NYC & NJ, parents/alumni weekend, local performance/professional interview or if you're considering moving to the area! **Unfortunately, we do not do Events at our home, so if you are looking for a party venue, we are not able to help you. The Suite includes two bedrooms and a private bath: "The Namibian Bedroom" has a queen-size bed overlooking stunning views of the Manhattan skyline. Spacious and quiet, the room is decorated with luxurious linens and African art. "The Moroccan Room" has a King-size built-in bed with a Moroccan flare. If you do not need it, the room will be kept unoccupied. A bright, pristine bathroom with shower is off the shared landing. Luxury linens, soaps and hairdryer are available. ***We have priced this listing for the following configurations: A: 1 Guest - 1 Room (the 2nd room is empty) B: 2 Guests - 1 Rooms (the 2nd room is empty) C: 2 Guests - 2 Rooms ($30/day charge applies) D: 3 or 4 Guests - 2 Rooms ($30/day charge for each of the 3rd or 4th guest) **** Please advise us during the inquiry as to which configuration you would prefer. Note that the second room charge will apply for Options: C & D. For Option C, I will send you a Special Price which will include the second room charge. Feel free to ask any questions! (URL HIDDEN)We are Patty & John. We have three grown sons, who may or may not be visiting during your stay. They are the leaves off of our tree - fun, respectful and welcoming. We love sharing our home with guests from around the world and want you to feel at Home in Our Home(URL HIDDEN) **Please send an Inquiry to tell us about yourselves and what brings you to the area!
South Orange, New Jersey The artsy towns of South Orange/Maplewood boast Seton Hall University, a performing arts center (SOPAC), a multiplex theater and many shops, cafes, restaurants and art galleries. Our neighborhood is beautiful and safe, with scenic biking, jogging & hiking just minutes away in the 20,000-acre South Mountain Nature Reserve. New York City: Not only do you have a stunning view of NYC from your bedroom, but you can be in the city in less than an hour! (NJ transit Train to Penn Station-NY is 35 minutes). Arts & Shopping: South Orange Performing Arts [SOPAC] - 1 mile Paper Mill Playhouse - 3 miles New Jersey Performing Arts [NJPAC] - 8 miles The Mall at Short Hills - 6 miles New Jersey beaches (The Jersey Shore) begin just an hour away by car. Washington, DC, Philadelphia, PA and Boston, MA are also easy road-trips.
Patty went out of her way to welcome us when we arrived, even with a very late airplane arrival. The house is beautiful. Even though the listing is for the 3rd floor rooms, she insisted we make ourselves comfortable throughout the home. Quiet, safe neighborhood with plenty of great restaurants within a few minutes' drive. We will return, for sure!
Chris
2015-11-12T00:00:00Z
From start to finish the experience was 5 star.....Patty greeted us at the door and made us feel right at home with a tour of her beautiful home. When we got to the third floor suite, I couldn't believe the view, there was NYC under an incredible sky. I'm an artist and that view the next morning with the sun rising was incredible, an inspiration for later use. The room was spacious and cozy, with decor reflecting Patty and John's travels from around the world, fresh flowers and fluffy white towels. Everything was impeccably clean. My son loved the second room with the king size bed tucked into a nook..... He slept better there then home. Each morning blueberry muffins were served that Patty made, they had more blueberries than muffin, her husband John described them as muffin flavored blueberries, he was right. They were the perfect hosts and made us feel like we were relatives coming for a stay. We would go back in a heartbeat, As a matter of fact my son wants to move in Permanently. We are so glad we choose Patty's rather then a hotel, the experience was so much richer, unique and memorable.
Tara
2013-09-30T00:00:00Z
We went to the United States all the way from Japan and it was first time using airbnb. We really enjoyed our first airbnb stay. Patty and John are very nice and kind, and we felt like we have been friends for many many years. They are very kind giving us useful information and support from the time of booking. For people like us, visiting the US from abroad, it was a big help. The house is very beautiful, located in peace and quiet area top of hill with good view of Manhattan. In the morning, Patty prepared home made blueberry muffin, which is the best muffin I ever had! It had such a wonderful time with Patty and John and when we come to the US next, we definitely stay with them(URL HIDDEN)
masami
2015-07-10T00:00:00Z
There are very few things that a self-proclaimed macho guy will ever describe as "enchanting." This is one of them. I arrived to Patty's house after dark and it was beautifully illuminated like a fairy tale cottage (well, a very large cottage). My accommodations on the top floor of the house were perfectly private, clean and roomy. I saw a gigantic orange moon above the NYC skyline and I knew I was in the right place. Patty's family perfectly matches her beautiful house. Her husband was welcoming and friendly. I felt like I had known him for years by the second night. Patty has three adult sons who are perfect gentlemen without being stuffy or boring. They were a constant source of entertainment and, if I may be so bold as to speculate, are likely to make a young lady's heart beat a little faster. They may not always be around (as they are college-age and beyond) but I was lucky enough to meet all of them. And Patty! She is such a dear. She played the perfect hostess, making sure I was always comfortable. She sent me off with freshly roasted almonds and blueberry muffins. By the end of the visit, the muffin counter was at 14 (but Patty adds no sugar, so I don't feel guilty). As a person new to the area, the whole family went out of their way to make me feel welcome, inviting me to dinner, including me in "water aerobics" and even heading to the park to throw around a frisbee. I'm living in the area now and I can't wait to come back to visit.
Eddie
2014-06-21T00:00:00Z
Our hosts Patty and John made us feel very welcome and responded to questions immediately. They always made that little extra something that might seem simple but that made our stay exceed our expectations. The house is wonderful and we especially appreciated the pool, gym and well equipped kitchen as a family. The neighbourhood is quiet but close fantastic restaurants, a zoo, hiking areas and train station (Manhattan), even better than advertised! All of the rooms were beautifully designed and I highly recommend this home for your next vacation. We are already planning to go back, but this time it's not the area that's on top of our agenda…it's to visit and share traveling stories with Patty and John our new inspiring friends.
Therese
2016-07-19T00:00:00Z
Patty -- and her whole family, really -- made my family feel extremely welcome in their warm, beautiful home. We hung out with her in the kitchen at multiple points, chatting, joking, eating her delicious muffins and even helping to make applesauce. At the same time, our rooms felt very private, and we were able to have our much needed alone time whenever we needed it. In short, Patty is a natural hostess and it was a real treat staying in her home.
Josh
2014-10-20T00:00:00Z
Patty and John were great hosts and warmly welcomed us into their home. Patty even baked goods for us throughout our stay, which was very thoughtful. The house is in a great location and we were able to easily access everything we needed. The neighborhood was nice and quiet and parking was plentiful. The only slight downside to this listing was the lack of a separate entrance and a separate living space.
Ka
2014-10-14T00:00:00Z
Wow, this place is amazing! Great, well-appointed space with incredible views of the city and even a sweet pool. And Patty is the real deal! She is warm, genuine and thoughtful and really made the trip memorable. We look forward to coming back.
Stacy & Brian
2014-08-16T00:00:00Z
Typ pokoje
Celý dům/byt
---
Typ nemovitosti
Dům
---
Ubytuje
3
---
Ložnice
South Orange, New Jersey, Spojené státy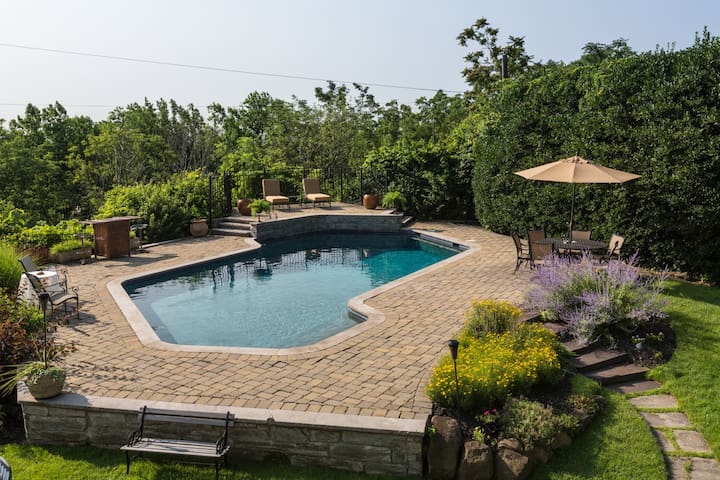 Rent our 1 Bedroom + Full Bath attic loft. Daybed that can be twin or double. Close to South Orange train station, Seton Hall University, and on jitney line. TV, Cable, Wifi, and labrador retriever included. Enjoy your time in New Jersey with our family!
I had a great experience with Amy and Lester. They were warm, gracious, and hospitable hosts throughout my stay. The upstairs room was clean and very private with its own bathroom. One of the biggest advantages of this listing is the location. It's in a safe, quiet neighborhood that's walking distance to the train station (for easy access into the city), a nice library, and a great little downtown area with restaurants, bars, and coffee shops. Amy and Lester were very up front about their busy schedules and their active household. They're a great family and I highly recommend this listing.
Mark
2015-11-04T00:00:00Z
Typ pokoje
Soukromý pokoj
---
Typ nemovitosti
Dům
---
Ubytuje
2
---
Ložnice
South Orange, New Jersey, Spojené státy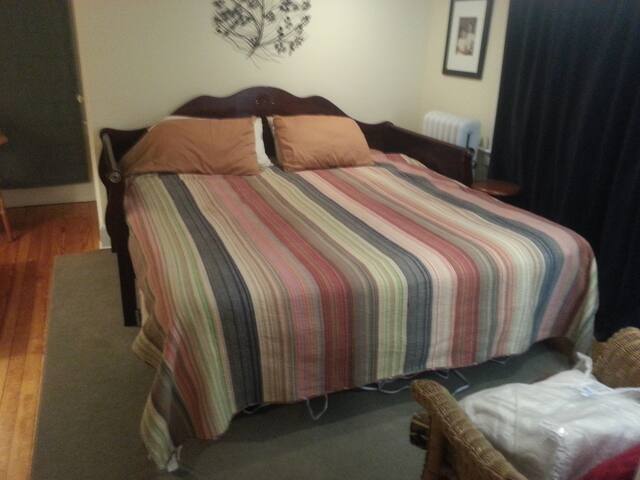 Perfect for seton hall grad students. Nestled in Montrose Historic District, 2 blocks from Seton Hall University, 30 minute train ride in mid town NYC. Walking distance to 2 trains. 1 bedroom apartment, living room, with private entrance, kitchen and bathroom. No parking available. Fully furnished.
Perfect for a quiet student.
Fantastic architecture, quiet, and safe.
Typ pokoje
Celý dům/byt
---
Typ nemovitosti
Dům
---
Ubytuje
2
---
Ložnice
South Orange, New Jersey, Spojené státy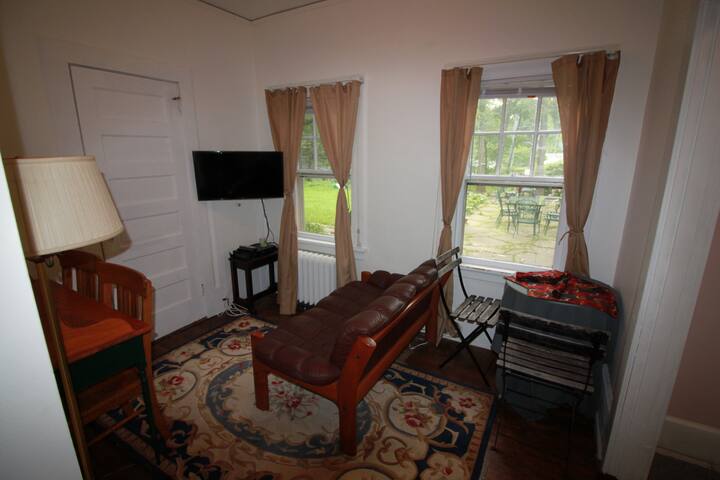 My place is close to Seton Hall University. You'll love my place because of the people, the ambiance Mcdonalds Is Near great for small events , family gatherings. My place is good for couples, solo adventurers, business travelers, families (with kids), and big groups.
Typ pokoje
Celý dům/byt
---
Typ nemovitosti
Byt
---
Ubytuje
6
---
Ložnice
South Orange, New Jersey, Spojené státy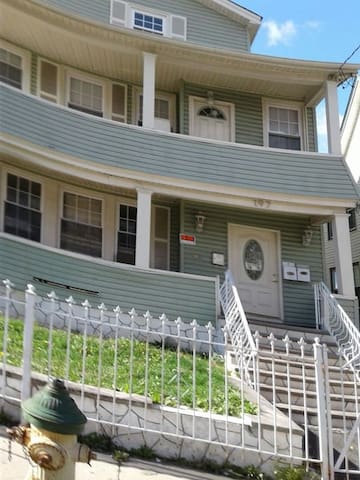 ONE zastávku autobusem od Times Square (expresní autobusové zastávky dva bloky od domu a jde rovnou do New Yorku). ZDARMA letiště vyzvednout (viz dostat kolem podrobnosti). Pohovka plocha pojme až 2 osoby. Automatická kontrola IN, nemusejí čekat na nikoho a výměnných kláves. Pohodlné, čisté a cenově dostupné. Make inteligentní rozhodnutí knihu sem!
Jste rezervaci pohodlnou rozkládací pohovka (nikoliv v soukromí) se nachází 5 minut od mezinárodního letiště Newark a jednu autobusovou zastávku od náměstí Times Square. Nově zrekonstruovaný dům speciálně pro Airbnb seznamu. Rezervační zahrnuje: - Full Size Rozkládací pohovka pro dvě osoby - Volný parkovací místo - Volný letiště vyzvednout (viz Getting Around) - $ 5 Čištění poplatek za den Proč rezervovat s Me: Jako světoběžníka Domnívám se, že bychom se neměli utrácet spoustu peněz na hotelu nebo v místnosti. Místo toho, nejvíce prostředků z rozpočtu by měl jít do samotného dobrodružství. Také se domnívám, že finanční dostupnost by neměla ohrozit komfort. To je důvod, proč jsem nabídnout ubytování v pokojích s hodnotou za dolar. LGBT komunity přátelské.
Okolí je bezpečný a se spoustou obchodů, restaurací a barů.
For the price, this is quite fair a deal. Good for single travelers and close to the airport.
Qining
2016-09-24T00:00:00Z
Roy prepare for us more than we had expected. The bathroom was clean, the fan really help in the hot weather. The stay was very comfortable.
Nur Elisha
2016-08-19T00:00:00Z
Close to Newark airport and the 112 bus that will take you to the Port Authority Bus Terminal in NYC. Roy was an excellent host and responded quickly to my booking. Would use again.
Niklas
2016-05-19T00:00:00Z
Great value, great location, lots of parking on the property. The room felt private for being a shared room.
Erica
2016-10-02T00:00:00Z
It's ok
Alejandro
2017-02-27T00:00:00Z
Great location just one bus 30 minutes away from downtown Manhattan. It was easy to enter and the place was clean. Close to restaurants. If you want to stay for less with reasonable condition. This is your place.
Raheel
2016-08-24T00:00:00Z
very good
Effy
2016-07-09T00:00:00Z
So this is not a couch in someone's home, this is a mattress on the common area floor of what seems to be a townhome converted to a motel. First, the good: it is clean, the bed was comfortable, the wifi was good, and there was in fact off-street parking. Now, the bad: I stayed there on a day where the high temperature was 96 degrees and was surprised to find that there was no AC! Either that or they had it turned off for some reason. Still, I would have accepted this but there was also no fan in my room! There were two windows, but they opened directly onto a busy, noisy thoroughfare, and because air did not easily flow into this room (which is on the top floor - heat rises!), the temperature remained intolerably high until around midnight. If you are going to stay here, bring your earplugs and make sure a good fan is provided! Also, the location isn't very good, although Reubens across the street has great empanadas!
Robert
2016-05-30T00:00:00Z
Typ pokoje
Společný pokoj
---
Typ nemovitosti
Dům
---
Ubytuje
2
---
Ložnice
Elizabeth, New Jersey, Spojené státy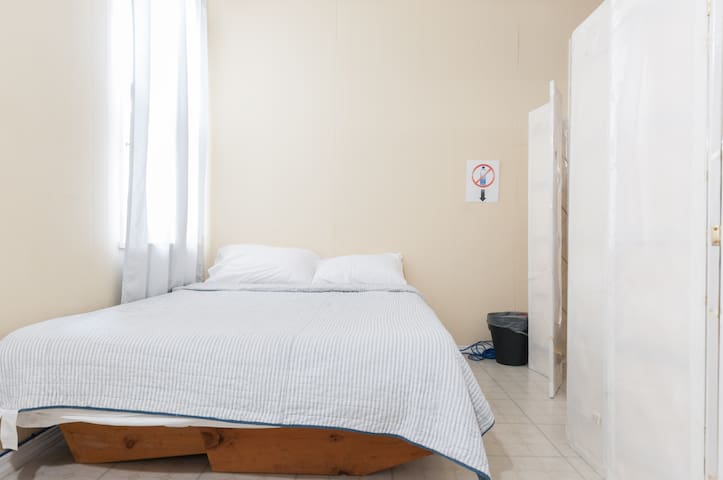 Conveniently located on local bus and train routes, The Redeye allows you to access Newark Airport, The Prudential Center, and New York City!
The host canceled this reservation 22 days before arrival. This is an automated posting.
Elena & Jesus
2017-04-06T00:00:00Z
Typ pokoje
Soukromý pokoj
---
Typ nemovitosti
Jiné
---
Ubytuje
1
---
Ložnice
Elizabeth, New Jersey, Spojené státy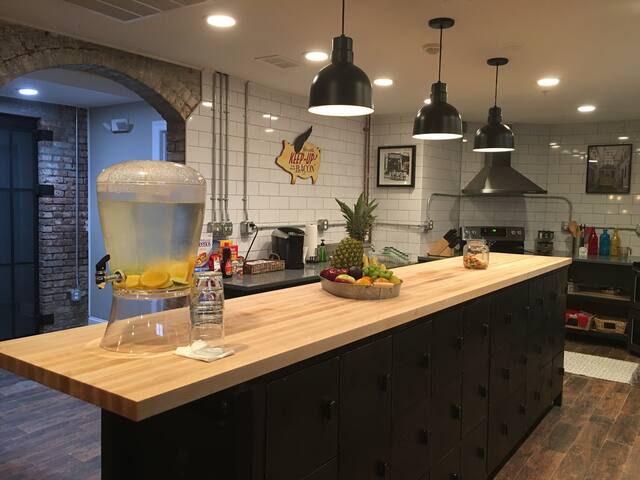 Jedná se o soukromý pokoj 5 vzdálenost od železniční stanice North Elizabeth která vás zavede do New Yorku za 25 minut minuta chůze. Tam je autobus, který vás zaveze do NY Port Authority přímo na rohu bloku! V domě je 5 minut od letiště Newark.
Místnost je velmi čistý a velmi útulné. To se může ubytovat 1 osobu pohodlně. Má dvojitou postel, Armoire pro zavěšení ošacení, klimatizace v letním horku v zimě, plochá obrazovka s kabelem, stát noci s lampou, psacím stolem a Strong Wi-Fi připojením. Ačkoli tento pokoj má palandu nemám žebříku na horní posteli. Budu moci poskytnout malý krok žebřík na pomoc osoba, která bydlí na horním lůžku. (Omlouváme se za případné nepříjemnosti) ** Poznámka: budete moci slyšet zvuk dopravy, protože tato místnost není dobře izolovány. Ale mohu poskytnout ucpávky do uší, pokud je zvuk vás obtěžovat. ** Je to stále hodně).
V této části uvidíte, že jste v blízkosti mnoha příhodných místech. Restaurace (italská, portugalská, čínské, Jižní Ameriky, pizzerie, fast food) Parks, pekařství, Prodejna alkoholu, Bary / kluby, Super Markets, lázně, kulečník a další !! Tam je spousta rozmanitosti a je to bezpečné místo.
Christian is a nice person and I recommend you to stay with him.
Anders
2017-01-14T00:00:00Z
Place was very comfy
Char
2017-02-03T00:00:00Z
Christian is respectful and thoughtful. He gave us a big smile and picked us up from the airport even though It was pretty late night when we arrived at the airport. Our room was clean and cozy. (It's little bit cold at night time but using the thick blanket shoud be okay) Everything was prepared as he mentioned. I highly recommend this place to everyone The best host ever! :D thanks Christian hope we see again
원정
2016-12-26T00:00:00Z
The room was small but equipped with everything a traveler needs. There are several rooms in one housing so it requires some extent of waiting to use the bathroom. The family is very friendly!
Claire Yun-Ju
2017-01-03T00:00:00Z
Stayed one night after I landed in Newark and it was very good. Close to the airport and the bus to Manhattan is just right around the corner.
Runa
2017-01-06T00:00:00Z
This room is located very close to the airport. We walked to a nearby park and walked to get dinner at a great Peruvian restaurant. I believe the room was converted from a balcony, so just expect it to be loud, bright, and small. We definitely appreciated the ear plugs. We enjoyed our stay, and we feel like we got a great value!
Hollie
2017-02-26T00:00:00Z
GOOD PLACE with 30min transportation to EWR, cozy but economical place,helpful hosts
Lingcheung
2017-03-27T00:00:00Z
Very cozy. Just a little bit small, however it's okay!
添元
2016-11-28T00:00:00Z
Typ pokoje
Soukromý pokoj
---
Typ nemovitosti
Dům
---
Ubytuje
2
---
Ložnice
Elizabeth, New Jersey, Spojené státy
Scotch Plains - Airbnb
:
Průměrně

4.59

z

5

hvězdiček na základě

476

hodnocení hostů
Pro zobrazení celkové ceny zadej termín. Mohou být přidány další poplatky a daně.