A quiet cabin in my backyard frequented by birds and surrounded by nature. Your privacy respected at all times.Close walking distance to Avalon and Whale Beaches and Avalon village. It takes me 15-20minutes to walk toWhale Beach and Avalon Beach.Bus to the city 200 metres away.
Your private separate cabin , air conditioned, ensuite bathroom with shower/toilet and basin; fridge, microwave,cooking use of bar-b-que,wi-fi, and use of laundry. Within walking distance (15 minutes) to beautiful northern beaches of Avalon,Whale Beach even Palm Beach(40 minutes walk) ,home of Home and Away,and Pittwater are on your doorstep. Ideal for relaxing,surfing,swimming,walking.Views you would not believe! See why this has been and still is the holiday destination of the discerning elite of Sydney.Enjoy the bush,birds,surf and sand on pristine beaches where you will always find a space to relax and enjoy without the crowds of Bondi.Take a break from your hectic lifestyle and travel to unwind. Enjoy the "village" atmosphere of Avalon,cafes, eateries,full of families and gentle folk. The main bus route into the CBD is only 200m away if you have the desire. This is paradise as you will see when you get here.I promise you will not be disappointed if you want space and time to yourself.We are not in the heart of Sydney but that is what makes it so special!
This is a family neighbourhood.Typical home and garden plots with lots of greenery.
A great cabin, exactly as advertised and very comfortable. Hendrika was an excellent hostess, very welcoming and had lots of helpful information on the local area. I would definitely recommend the place!
Henry
2014-03-04T00:00:00Z
Great little cabin, awesome area and great hosts. Would definitely stay again
Pete
2014-07-22T00:00:00Z
Was a great place to stay for our trip. Hosts are beautiful loved all the dogs and could not have gotten a better location
Stephen
2014-11-17T00:00:00Z
We had a lovely stay at the Beachside cabin. David and Hendrika were friendly and helpful and the place was nice and peaceful.
Stephanie
2015-03-02T00:00:00Z
Cute and cozy! Nicely decorated and well equipped. Also provided privacy. Loved my stay here! Perfect spot for a getaway
Claudia
2016-02-16T00:00:00Z
It was a pleasure staying with Hendrika! She was a lovely host and exceeded our expectations. The house was perfect!
Jonathan
2016-01-02T00:00:00Z
Hendrika was warm and welcoming. The cabin was within walking distance to great restaurants and takeaway and short drive to the beach. It was cosy and comfortable.
Simone
2016-03-08T00:00:00Z
We had a lovely stay here. We were made to feel very welcome and we enjoyed the simple comforts of a backyard style granny flat. A fantastic location, half way between Avalon town centre and Palm Beach. A lovely breakfast was provided, but we unfortunately didn't get time to enjoy it...we might just have to come back! Thanks.
Carla
2015-03-16T00:00:00Z
Typ pokoje
Celý dům/byt
---
Typ nemovitosti
Srub
---
Ubytuje
2
---
Ložnice
Avalon, New South Wales, Austrálie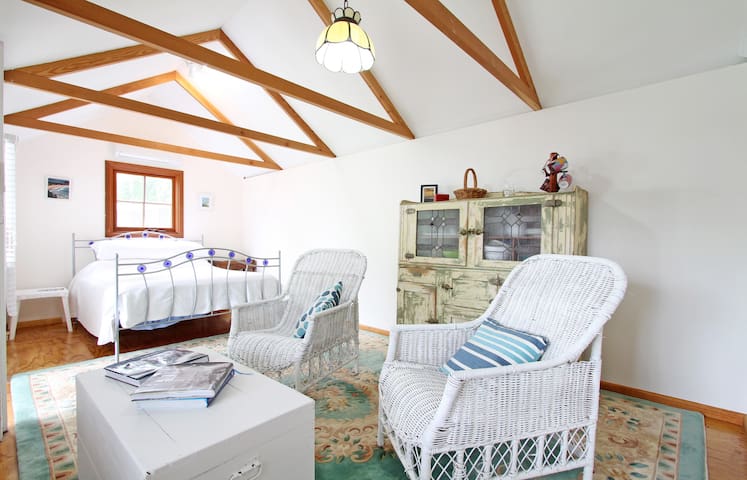 Come stay in this beautiful hideaway in a secluded area of sunny Avalon. Surrounded by trees with wide ocean views, this self-contained space (lower floor) is a 10-15 minute walk to beaches and Avalon's village, cafes and restaurants.
Your accommodation is comprised of a self contained area/ half of the house and includes 1 bedroom with new queen bed, balcony, bathroom and living/tv area, bar fridge as well as tea and coffee making facilities. There are no cooking facilities but plenty of cafes and restaurants nearby. Take-always are also an option. Please see the my guide on this site for recommendations.
Avalon is a sparkling gem in Sydney's northern beaches full of cute shops, cafes and restaurants and the best beaches in the world. Friendly, relaxed vibe.
Everything was perfect! Near Avalon , Palm beach and small town. It is Amazing house. If you wanna feel real AUS life, the best place. Lionel and Meredith are so kind and nice hosts. Thank you for sharing the nice house with us. : )
Jieun
2016-11-24T00:00:00Z
Meredith and Lionel were both warm and welcoming, and also respectful of our privacy. Their home is spacious, clean and tastefully decorated. We were comfortable and slept soundly. So lovely waking up in the treetops to that incredible view!
Elesha
2015-11-18T00:00:00Z
Beautiful home, homey, clean and well decorated. Friendly and helpful owner. Enjoyed the stay and would definitely recommend. Thank you Meredith for the great stay.
Kevin
2016-08-19T00:00:00Z
The host canceled this reservation 84 days before arrival. This is an automated posting.
Kate
2015-10-01T00:00:00Z
Fantastic place looks like straight out of a postcard. Meredith and her husband could not be more welcoming. What a great decision to stay at your place. Thank you so much for everything!!
Natalie
2015-12-29T00:00:00Z
Great place with an even greater view, very accessible to nice shops and parks around 10 min walk away. And loved the inclinator ride up and down!
Nathan
2016-07-30T00:00:00Z
We were extremely grateful to Meredith for accepting our last minute booking and were so pleased to stay in such a wonderful spot! The place it's self is spacious, with great amenities like a fridge and Netflix. The main selling point is of course that fabulous view which didn't disappoint one bit! Meredith was great and provided any information that we could possibly need, and had a great, very detailed guide in the room to local amenities including flyers for restaurants. Incredibly useful! Don't miss out on browsing the wonderful collection of books and enjoying a holiday read on the balcony. Bliss!
Phoebe
2016-02-01T00:00:00Z
Beautiful home! The outdoor patio provided amazing views of the ocean and surrounding trees, and the inclinator was a fun addition! Meredith was very helpful and checked every once in awhile to make sure we had everything we needed, and otherwise left us to enjoy the great space!
Kyle
2016-05-25T00:00:00Z
Typ pokoje
Celý dům/byt
---
Typ nemovitosti
Dům na stromě
---
Ubytuje
2
---
Ložnice
Avalon Beach, New South Wales, Austrálie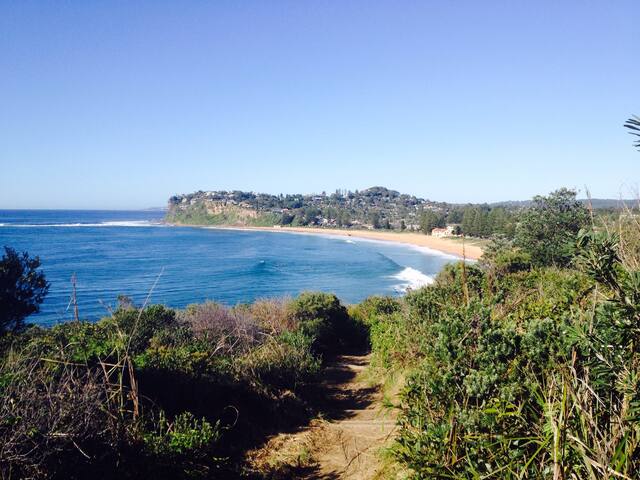 In addition to our Guest Room (with King size bed) we have another bedroom, directly opposite the Guest Room also with King size bed. Both rooms can be reserved to accommodate a maximum of 4 people. There would be an additional charge for 2nd room.
One smartly furnished King size bedroom with private and exclusive use of modern shower, WC & bathroom, with luxury toiletries. There's an electric blanket on the bed for cooler nights and a ceiling fan to help keep the room cool. (NB there is also reverse cycle ac throughout the house). In addition to the bedroom described above, we can also offer an additional bedroom with a Queen size bed - the 2 rooms may be booked by 2 couples or perhaps a family of 2 adults and 2 smaller people. Re the latter, we do own two smallish dogs who are very much part of our family and live indoors at night time. Whilst both very affectionate and friendly, they are not used to very young children especially those who are not used to being around dogs themselves. We do also have a fairly steep set of stairs with deep treads so again not at all suitable for those little ones who are just learning to walk. Nor do we have a nursery gate at either the top or the bottom of the stairs. We absolutely love children however our home is not suitable for them. Truly peaceful with only the sound of local bird life to wake up to. Guests may with prior arrangement have access to outdoor area eg the Jacuzzi with private deck, BBQ on the main rear deck, the kitchen for preparing meals & the upper rear deck for breakfasting or an aperitif before dinner. It's limited - a car is absolutely essential in order to make the most out of stays in this area. We are happy to provide a daily breakfast of goodies such as fruits, cereals, yoghurts, bread/croissants, jams, tea, coffee and juices. With prior arrangement, dinner can be prepared by the Hosts at a price per head, exclusive of wines.
We love the peace and the tranquility! Plus the proximity to beaches and the National Park nearby - I think there are about 6 beaches to choose from!
We had a very comfortable stay in Susanna's lovely home during our flying visit to Sydney. Susanna was gracious and welcoming and we looked forward to the delicous breakfasts she left for us each morning. Thank you Susanna for hosting us so beautifully! Claire & Gary
Claire
2014-01-09T00:00:00Z
Once again a lovely welcome from Susanna and Bradley in their beautiful home in Bilgola. This is the third time we came back, this time with my parents all the way from Holland, and we can't get enough of it. Susanna and Bradley provide a warm welcome, with eye for detail and great hospitality. Many thanks for making this stay, despite the rain, unforgettable.
Eve
2016-01-06T00:00:00Z
Susanna and her husband Michael made us feel at home. Their welcome is warm and generous. Peace & Tranquility is beautifully located and their hospitality is more then average. The room, as well bathroom, are lovely decorated, bright and crispy! Everything you need is available at Peace & Tranquility, in a blink you escape from the busy city life. Susanna and Michael make it all happen!
Eve
2014-10-11T00:00:00Z
The perfect staycation experience Perfectly located close to ku-ring-Gai, avalon and palm beach, this cosy private room was full of beautiful little surprises and lovely touches: gracious hosts, delicious breakfast & snacks, little nooks and crannies with views, fireplace, jacuzzi, artwork, scented candles, organic shower lotion - you name it. The only downside was the brevity of our stay. Would we stay again? Absolutely! Not only for the creature comforts but especially to learn more about the hosts.
Solveig
2014-08-26T00:00:00Z
Fantastic place to stay! squeaky clean, breakfast provided, great location, peaceful and cosy. Owners were ridiculously helpful, going out of their way to assist with plans and giving us the inside tips of places to go, to eat, explore, etc. Consistently made us feel part of the family and invited us out with their friends. I would recommend this place for all, this place will definitely hold a place in our hearts.
Matthew
2016-10-02T00:00:00Z
We had a wonderful weekend at this absolutely gorgeous house! Susanna and Michael were warm and generous hosts and made us feel welcome and at home. We took full advantage of the jacuzzi in the backyard and loved the sunny balcony with unbeatable water views! A delicious breakfast which included fresh fruits and organic yoghurt was provided each morning. Michael was kind enough to go out of his way to drive us to the wedding we were attending, which was much appreciated! We would whole heartedly recommend staying in this beautiful house in peaceful, leafy Bilgola and would love to return soon!
Bhavni
2014-11-17T00:00:00Z
The host canceled this reservation 4 days before arrival. This is an automated posting.
Nikki
2015-09-28T00:00:00Z
I booked this property for a work colleague who was delighted with the accommodation. I can only comment on the booking process which was professional and efficient. Susanna was helpful at all times.
Sue
2015-01-18T00:00:00Z
Typ pokoje
Soukromý pokoj
---
Typ nemovitosti
Dům
---
Ubytuje
2
---
Ložnice
Bilgola Beach, New South Wales, Austrálie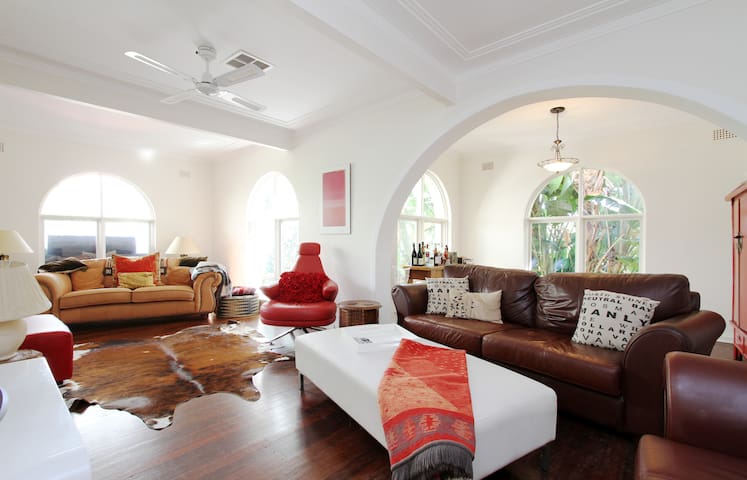 Take in the ocean views from your own light-filled, leafy hideaway, beautifully equipped for longer stays. Accessible 10 minutes walk to the beach, cafes and bush walks of the area. Then relax in your own private space and take in the stunning view.
A lovely self-contained apartment with sunlit rooms decorated with easy elegance for relaxing and taking in the view. An easy 10 minutes walk to beach, cafes, restaurants, stunning bush walks and public transport, whilst being situated in a secluded spot away from the hustle bustle. Driving is not necessary. Guests have separate entrance to their apartment. You will occasionally cross paths on the driveway with hosts, Emily and David- happy help you with any queries should you have them, but of the general understanding that you need to just get on with the business of having a holiday. Guests are always greeted after their journey here, with a bottle of wine and a welcome selection of appetisers and breakfasts to start your holiday off on the right foot. Happy to assist if you are dairy and/or gluten free. We have an excellent, well-equipped kitchen for longer stays and are happy to point you in the right direction for local specialty fare. As is the case for many spots with great views, access is via a short but steep driveway. Parking is safe and always available. Due to enquiries, we now have an extremely comfortable queen sofa bed which is very easy to return to a sofa during the day. Pictures still being updated. Please contact for more details.
This is a great part of the world - idyllic in both summer and winter. Popular activities besides the obvious attraction of stunning Whale Beach are: -The Boathouse at Palm Beach for breakfast and lunch- opening up on our street shortly! -Jonah's fine dining with views high above Whale Beach -Palm Beach Fish and Chips which can be enjoyed at Pittwater whilst the sun sets -Ferries come and go regularly to Pittwater, opening up access to national parks such as The Basin -Walk to the lighthouse at Barrenjoey Head, Palm Beach -Experience the nearby Avalon village atmosphere, including cafes, restaurants, bookshop and cinema -All these are accessible in minutes by car and the regular bus service walking distance from your base
Our stay was really enjoyable at David and Emily's place. Not only that their place is a beautiful welcoming and warm flat with a gorgeous scenery of the ocean, it was also effortless with all the arrangements. We would definitely come back if we head up that way again. Thanks so much :)
Kristine
2015-03-09T00:00:00Z
Emily's communication and response to booking requests and changes in the booking was fantastic - quick, friendly, happy to help. The apartment is a gorgeous little space underneath the main house with a lovely view and a private entrance - well laid out with everything you need including breakfast supplies and snacks. Apartment information and local information were supplied and made the stay easy and relaxing. After having accidentally leaving some items in the apartment, Emily sent them to us straight away! Thanks again :)
Roanna
2015-09-21T00:00:00Z
From the very beginning, Emily and David were so helpful! Starting with the booking process, all the way through suggestions during the time we spent with them, they were always available to help. They were kind, caring and generous (wonderful food was there waiting for us when we arrived, and a bottle of wine!) They were always very responsive and helpful. We were so glad to be able to stay with them!
Kat
2015-11-25T00:00:00Z
Our overnight was perfect. Walking distance to the beach, quiet and clean. The apartment was so well stocked and we really appreciated the thoughtful touches of food and drinks ready to enjoy! Thanks so much :)
Belinda
2015-03-24T00:00:00Z
Beautiful accommodation in fantastic location. Emily was a fantatsic host, she made sure we knew where everything was and offered advice on local attractions. The extra little touches were an added bonus. Would hightly recommend this home/apt for those planning to stay in Whale/Palm Beach.
Darren
2015-05-11T00:00:00Z
It could not have been a better welcome with all the essentials, making sure we had the perfect start to a great stay. The aspect and location is ideal, set just above the best beach Sydney.
Justin
2015-04-03T00:00:00Z
Emily and David were wonderful hosts right from the moment of booking, to the warm welcome on arrival and making us feel right at home. We enjoyed the treats supplied (chocolates, wine, cheese, fresh crusty bread.... ) and the magnificent view across the ocean. We only had 2 days away but it seemed like so much more. We walked to the lighthouse, took a long walk along the beach and enjoyed an early morning swim and coffee at Palm Beach. And we were spoilt for choice with plenty of fabulous places to eat in near by Newport. We will definitely be booking another stay at Whale Beach Escape.
Jane
2015-09-23T00:00:00Z
We loved our little stay at Whale Beach. Not only is the location ideallic, David and Emily's place was the perfect getaway. They were very accommodating and welcoming even providing a portacot and toys for our 10 month old. The apartment is spacious, everything is provided and the view is gorgeous! The breakfast provisions were also very generous and appreciated. We would most definitely recommend this place to others. Thanks for your hospitality, David and Emily.
Melissa
2015-03-18T00:00:00Z
Typ pokoje
Celý dům/byt
---
Typ nemovitosti
Byt
---
Ubytuje
5
---
Ložnice
Whale Beach, New South Wales, Austrálie
Spacious family home with outdoor & indoor entertaining areas, swim spa in bush setting, two beaches within walking distance and beautiful bush walks right at the door; The Newport Arms nearby,Avalon 5 mins drive & Palm Beach 10 minutes drive.
Located in Sydney's beautiful Northern Beaches and within walking distance of the beach, shops and restaurants: A lovely, house complete with spacious bedrooms, a well equipped kitchen, dinning room, library, living room with open fireplace, flatscreen TV/DVD, large undercover balcony/outdoor living area and a bathroom with spa bath and laundry facilities. For those wanting to keep in touch, Wi Fi is included. When the surf's up, you're welcome to borrow our learner surfboards or boogie board or on rainy days you can enjoy our wide range of board games or DVD movies. Or you could curl up in the massage chair with a book from the extensive library :-) Given that the house is quite large, we are happy to try and accommodate larger families/groups. One room has a queen bed; the second has two single beds and a bunk bed and the third has a double bed and an elevated king single with a study desk underneath. There is also a single mattress which can be comfortably added to any of the rooms and a futon in the living area which will comfortably sleep two averalge sized adults.. Additionally guests are welcome to use the heated outdoor swim spa in its beautiful bush garden setting. Bush walks surround the property which is also a short walk to both Newport and Bilgola beaches, Newport wide range of restaurants, shops and buses to the city (Sydney). . We live in an adjoining but separate house so are nearby if you need help or to be pointed in the right direction to a great restaurant or city outing. The famed Newport Arms is a few minutes away and offers a courtesy shuttle for those wanting to enjoy a few drinks; Avalon Beach & Village with the local cinema is 5 minutes drive, while Palm Beach is around 10 minute drive.
Newport Beach is great for families and serious surfers alike having been the beach where world champion Tom Carroll honed his surfing skills. Sydney's most famous destination pub, the Newport Arms is minutes away with a courtesy shuttle to and from home on offer.
Michelle was wonderfully welcoming and the property and area are fabulous.
Simon
2015-08-19T00:00:00Z
We had a great time at Michelle's place. The view and proximity to the beach make you feel far away from Sydney, and Michelle's warm welcome, flexibility and ease of communication made the stay a breeze!
Meredith
2016-04-14T00:00:00Z
Michelle was great host and the house is in a great spot for a nice relaxing weekend. We didn't get spend a lot of time at the house but it had everything we needed and the view was great and relaxing to watch. Thoroughly recommend
Brent
2015-09-07T00:00:00Z
Michelle was delightfull with us and with our children. Great balcony with perfect view, big kitchen and rooms. Very confortable for the 5 of us. Very quiet Area. Sounds are from birds and Ocean. Nice walk to the beach, shops or in the forest. Good surf just down the cliff. Short drive to Pittwater, Avalon or Palm beach, staight bus to the city.
david
2013-11-21T00:00:00Z
Michelle and her property met all of our expectations and more! She made us feel at home throughout, supplied everything we asked for and even set up a Christmas tree for us!
Brian
2013-12-27T00:00:00Z
Definitely a perfect house for a vacation. The location is very nice since we can explore more lots of beaches. Michelle is also very helpful in everything. The only problem we had is the staircase is very long and this limit our travel since we bring 2 elderly.
Emir
2015-08-14T00:00:00Z
We loved the place, the beach and the swimming pool! We were a party of 9 and Michelle made us all feel very welcome. There was a nice mini-bushwalk from the garden down to the beach (3min) which gave us the feeling of it being our own beach entrance.
Federico
2014-12-15T00:00:00Z
Michelle's place is fantastic. It had everything we needed, including great ocean views - we loved hearing the waves at night. There's a quick pathway down to the beach from the back of the house, and another public pathway just a few houses a way. Coles and the main strip is just a walk away, we had a car, which gave us great access to the rest of the north shore. Michelle was really hospitable, we felt very welcome and had a really relaxing week. Michelle's dog Daisy was super friendly, we enjoyed having her to play with when we saw her :)
Jared and Kristy
2013-12-11T00:00:00Z
Typ pokoje
Celý dům/byt
---
Typ nemovitosti
Dům
---
Ubytuje
12
---
Ložnice
Newport, New South Wales, Austrálie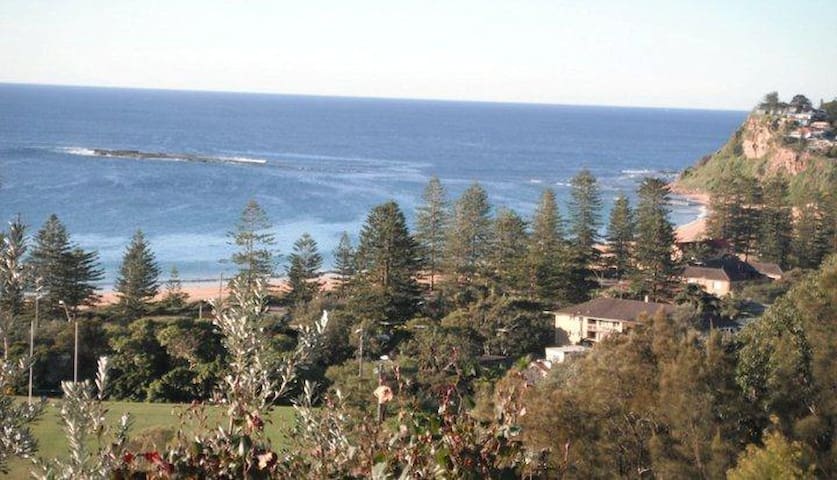 This original timber and sandstone fisherman's cottage on the water's edge of Pittwater's stunning Mackerel Beach has been lovingly restored into a beautiful, secluded beach and bush hideaway and couple's retreat.
Perfectly positioned, the Little Black Shack's North East aspect lets you wake to the sunrise over Palm Beach headland and enjoy the sun all day long. The sea breeze keeps the shack cool during summer whilst the tree-lined ridge of Ku-ring-gai National Park behind, shelters it from the cold southerly winds during winter. With its rustic, hand built sandstone open fireplace, comfy leather chairs, soft cowhide rugs and full-length window box seat, The Little Black Shack is also a cosy winter cabin. There are two bedrooms and 1 bathroom. Just metres from the water, every room features windows and French or barn doors opening out to uninterrupted views of Mackerel Beach, Pittwater, Barrenjoey Headland, Palm Beach and beyond. The interior features recycled and hand made furniture with an eclectic mix of nautical antiques and collectables gathered from travels around the world and forages along the beach. The lounge, dining and gourmet chef's kitchen are open plan. The lounge features a hand built sandstone fireplace and a floor to ceiling bookcase with an extensive library. A large flat screen TV, Blue-ray DVD and the latest Bose surround sound Wi-Fi stereo are hidden behind the doors of a rustic handmade cupboard with Bose speakers in the outdoor areas and Bose Wi-Fi systems in each bedroom. The window seat spanning the full length of the front of the lounge room, is the perfect spot to relax with a good book, chill out with your own playlist, take a nap or gaze out of any one of the 6 windows overlooking the stunning beaches and bay. The kitchen features concrete bench tops, wooden cupboards made from the original floorboards, a large farmhouse sink, commercial grade cookware, microwave, Ilve gas stove and electric oven, perfect for creating your favourite meals. Two French doors open from the kitchen/dining area onto a small covered balcony and bar area overlooking the water. Once you are here you will never want to leave - which is why the gourmet chef's kitchen comes equipped with everything you need and a fully stocked pantry. You can also help yourself to the fresh herbs in the kitchen garden. The original sandstone bathroom features a beautiful stone bath and a large copper shower with amazing water views. The main bedroom has a generous king bed and access to a private lawn and garden. The rustic hand made bed has loads of comfy down pillows and is elevated to take full advantage of the water views! The second bedroom is reached by a short set of sandstone steps in front of the house. This cosy room features a super comfortable hand made queen bed. The room is built from the original sandstone, lined with timber and has a soft cowhide rug on the floor. It also enjoys stunning panoramic water views through the window and barn door. It has its own private stone terrace overlooking the water and a grassed area shaded by a large Frangipani tree, with a hammock to relax in ... Both rooms are beautifully furnished with cowhide rugs, antique cupboards and chests of drawers and the bedding is 100% linen. There is a large north facing sun deck at the front of the shack and a covered terrace and outdoor hand-built sandstone kitchen. Featuring a wood fired oven and charcoal BBQ/fireplace this space is perfect for all day alfresco living, dining, cooking and entertaining. There is an outdoor shower set amongst the trees half way down the front steps leading to a secluded sandy beach at low tide. Here you can rinse off after swimming or shower under the stars on warm summer evenings. The cottage is surrounded by native coastal gardens and terraced grass level areas overlooking the water and shaded by huge Frangipani trees. The Little Black Shack is completely eco friendly. Windows, barn doors and French doors allow the sea breeze to circulate and cool the house in summer while the open sandstone fireplace warms the house during winter using firewood collected from fallen trees off the property. Rainwater is harvested for bathing and washing which is recycled to irrigate the main garden. The grounds also feature a small kitchen garden to provide you with fresh herbs. When it comes to the interiors, if we couldn't find it second hand, we made it by hand, from recycled, repurposed and found materials. Candles and oil lanterns are provided for alternative lighting.
Whilst we're only a mile from the mainland and Palm Beach, we might as well be a million miles away … Getting here is part of the experience. Once you board 'Myra' the old timber ferry at Palm Beach you leave the city and your worries behind. The Little Black Shack is reached via a short walking track at the end of the beach or via the rocks along the beach at low tide. Once you are here, close the gates, breathe in the fresh air and enjoy the view, the peace and the quiet. Relax and unwind on Mackerel's beautiful main sandy beach or enjoy swimming or snorkelling right out the front on a secluded section of the beach, fishing off the rocks below, kayaking or boating in the crystal clear protected waters of Pittwater. The surrounding National Park offers some incredible bush walks to secluded beaches, The Basin Lagoon, ancient Aboriginal carving sites and incredible lookouts. Take a leisurely stroll along Mackerel Beach or through the valley behind it where you will find friendly locals (including wallabies and bush turkeys) and some original fibro beach cottages. You can also hire your own 'tinny' from Palm Beach to explore Pittwater's many coves and bays by water. If you feel like heading back to the mainland, the old timber ferry 'Myra' leaves on the hour and is just a 10-minute ride to Palm Beach wharf. From here you can make the trek up to Barrenjoey Lighthouse, walk to Palm Beach, dine at the local restaurants, bars and cafes or browse the shops, galleries and Palm Beach markets (on set days). You can also head into Avalon village, just 5 minutes down the road by car. Here you can explore the many shops, restaurants and bars, visit the surf beach or take in a movie.
The Little Black Shack is magical! Once you set foot on the shores of Great Mackerel beach you'll feel a million miles away. My brother and I spent two nights at the shack to get away from our busy lives in Sydney and to unwind....and that we did! This is by far the most amazing place I've ever stayed, in Australia as well as internationally. The attention to detail Ingrid & Jamie have paid to this property is amazing, never once did we find ourselves saying "it would be good if they had..." actually quite the opposite, the kitchen has everything you could ask for (and even my chef brother was impressed!), the pizza oven was a blast to use and although we didn't catch any, the crab traps and kayaks were a lot of fun! Beyond the necessities are the considerate little touches that truly make your stay special, from the gorgeous bunch of flowers on arrival, to the aesop shampoo and conditioner, everything was thought of. Thank you so much Ingrid and Jamie for being truly generous and hospitable hosts. There is no doubt we'll be coming back.
Lisa
2015-07-15T00:00:00Z
We had an absolutely wonderful stay at The Little Black Shack. The privacy, the attention to detail, waking up to that view.... Everything about out stay was amazing. We kayaked, fished, made pizza to cook in the oven, lazed in front of the fire, walked along the beach... the list goes on. The stocked pantry, linen sheets, quality everything... you can tell that so much thought has gone into the details. Thanks Ingrid & Jamie for an amazing weekend, we'll be back soon. Claudia & Paul.
Paul
2015-08-16T00:00:00Z
We had a fantastic time at the little black shack! its such an amazing, peaceful and romantic location.
Tim
2016-09-24T00:00:00Z
If you want to escape to somewhere truly magical, The Little Black Shack will absolutely take you there. Ingrid and Jamie are obviously a creative couple with the vision and ability to transform a down-at-heel seaside cottage into a very special place that, as you will read, none of their guests want to leave. If we had the opportunity, we would stay here forever. On a grand scale it is brilliantly conceived but on a more intimate level everything has been thoughtfully considered and every need catered for. This secluded cottage nurtures you in all possible ways and if you can't relax here I doubt you would be able to anywhere. Great Mackerel Beach is only a stone's throw from Palm Beach in Sydney but the stretch of water between the two places offers complete isolation from the hectic pace of city life. There are no cafes, restaurants or shops unless you catch a ferry and that is exactly why it appeals to us. Not that you have to go without anything at all! This gorgeous little cottage is luxuriously appointed in a rustic, artistic, thoughtful and authentic way. You will be able to enjoy good coffee, a chef's kitchen, a wood fired pizza oven, a herb garden, a great sound system, board games, reading material and a very comfortable king-size bed with soft linen sheets that is raised high enough for you to gaze out to the water through the expansive windows when you wake. The window seat in the lounge is also thoughtfully raised to take in the views. If you visit in the winter there is an open fire to snuggle around and much appreciated by us there is a guitar for you to play. I arrived at the cottage with a sprained ankle and I was very grateful to find an ice pack in the freezer! Positioned right above the water, with the lapping waves providing a soothing symphony, every room of the cottage, including the shower, provides a sea view. There are many outdoor areas from where you can soak in the passing parade of yachts, fishing vessels, kayakers and, during our stay, leaping dolphins. You have access to kayaks, fishing rods, snorkelling gear, ocean swims and of course beach and bush walks. You can choose whether to be active or just chilled out and relaxed. Relying on public transport from Sydney we caught a train to Woy Woy, shopped for supplies there and then took a taxi to Ettalong (although there are buses) from where we caught a ferry to Palm Beach and then another to Great Mackerel Beach. Once out of Sydney it was a lovely introduction to the beautiful Pittwater area. This is not just a place to stay; this is a place to experience. It is thoughtful and generous. A stay at The Little Black Shack will touch you on every possible level, provide a feast for all your senses and completely soothe your soul.
Lesley
2016-11-02T00:00:00Z
Once again, the Little Black Shack and its hosts Ingrid and Jamie, delivered on all fronts. We had an amazing weekend and will definitely be coming again.
Tom
2015-09-14T00:00:00Z
We had an amazing experience at the little black shack. We couldn't have wished for more. Idyllic location, beautiful house which was perfectly equipped. Very much looking forward to a return visit.
Tom
2015-04-17T00:00:00Z
Little Black Shack was one of the most unbelievably beautiful experiences I have ever had. Ingrid was the perfect host and i could not have asked for a better relaxing weekend away
Eli
2015-06-28T00:00:00Z
This place in amazing. The level of detail that Ingrid and Jamie have gone to to create the ultimate beach shack is incredible. The photos do not do it justice. We will be staying here again as soon as we have time.
Jungle
2015-04-23T00:00:00Z
Typ pokoje
Celý dům/byt
---
Typ nemovitosti
Dům
---
Ubytuje
4
---
Ložnice
Great Mackerel Beach, New South Wales, Austrálie
Waterfront home with your own private beach, Kayaking, swimming, fishing, bush walking or just relaxing. Ideal spot in winter as the sun gently warms the whole house and at night we can light the fire.
Your room is bathed in sunlight with access to use our boat shed and your own private sandy beach. Kayaking, swimming, fishing and lots of bush walks. Stunning views of Pittwater. Spacious bedroom with 180 degree views of the Pittwater. Stunning sunrises and sunsets. Comfortable bed and private lounge. Tea and coffee making facilities. Access to use the open air boat-shed with barbecue facilities. Your own private sandy beach. Fully equipped kitchen. Comfortable lounge/dining room. Kayaking, swimming fishing, bush walking. We will be here to help direct you on stunning bush walks, put you into the kayak to explore the private beaches, walks to waterfalls etc. Or you can chill out in the boat shed soaking up the warm winter sun. Water access only, a welcoming small community. Lots of artists and creative people (including ourselves) For more information check out the Scotland Island community web site. Access to the island via Church Point We will do a complimentary pick up and drop off to he mainland. Taylor's Point or Church Point wharf in our commuter boat. There are NO shops on the island so you must bring all your food unless you wish to eat with us.This will attract a small additional cost.
There is Free Jazz at Church point Waterfront Cafe on Friday evenings and Sunday afternoons. You will need to catch a ferry or water taxi there
This is by far my favourite Airbnb I have stayed in. Paul & Tracy were beautiful hosts. From the moment we were picked up in their commuter boat to being dropped off at the end, the whole weekend felt very special. Particular mention to their awesome breakfasts and knowledge of the surrounding area. Highly recommend borrowing their canoes for a trip to the national park. Also, their jetty and boat shed is such a wonderful place to relax or go swimming from. Scotland Island is a wonderful part of NSW made even better by Paul and Tracy's hospitality. We will both definitely be back!
Helen
2016-12-03T00:00:00Z
Paul and Tracy were wonderful hosts. From getting in touch prior to our pickup from the wharf to showing us around their home to sending us off in our kayak. Paul was friendly,approachable, and unobtrusive. Their home is warm and welcoming and so much artistic energy put into it! We had a lovely time and will definitely come back
Elaine
2017-02-25T00:00:00Z
We stayed the weekend (fri-sun) in autumn. You shouldn't be put off by bad weather. The rain was soft during a bush-walk in the national park, and provided stunning views of the bay. Windows ran the length of the wall in the room we stayed in, so you can chill on the couch and look out and see the view from the bed when you wake up. Exceptional hosts - Paul and Tracy were there as needed and a pleasure to chat with.
Rebecca
2017-03-18T00:00:00Z
Great location, great service, friendly and unobtrusive hosts, a perfect way to experience Pittwater life (but don't tell everyone).
David
2017-03-25T00:00:00Z
Paul and Tracey made me feel so welcome in their home. The listing and location was just as described and I also got plenty more than I bargained for. Not only do they pickup and drop you off in their private boat to transport connections on the mainland, they also provide kayaks to paddle around in solo, or if you're lucky like me I got a guided kayak tour on a beautiful Sunday morning, up close and personal with all the yachts too which was amazing! The room is wonderful - beautiful art by Trace & Paul and artefacts from their travels. It was really bright and spacious and the bed comfy, with it's own toilet, little lounge with tea/coffee facilities and a balcony with an incredible view. Your bathroom is separate to theirs, and their bedroom is down two levels so it feels quite private in general. Paul's breakfasts and Tracey's dinners were delicious, and they are very knowledgable about the area. As there's no shops or anything on the island you do need to bring food/alcohol with you, or book in for additional meals to be provided. I think it's a great offer from T&P to provide meals. For the food I brought along, there was a fridge and BBQ in the boatshed and it was perfect for me to potter around in during the day while I was keeping to myself. I was hoping for a quiet weekend in solitude and I am so so grateful to have booked this little island waterfront gem as Tracey & Paul are so intuitive to their guests needs (be it social or solitude) that they allowed me to feel like a had a little mini break with new friends. I highly recommend and would love to come back again.
Hayley
2016-02-07T00:00:00Z
Wow this is the most amazing home, everything is an art piece absolutely stunningly. I went into my bedroom and that was it I didnt leave for 3 hours, just sat on the bed and looked that view. As for the boatshed its like no other rustic seaside creation. The hosts Tracy and Paul wonderful people, so enjoyed my time with them. Thank u both. I didnt want to cart food over to the island and paid a little more to be feed, and that was a real treat their both fantastic cooks. Truely a weekend away I will never forget.
Velvet
2016-11-19T00:00:00Z
The place is amazing. It's perfect for a weekend away. Paul and Tracy were amazing hosts. Highly recommend staying here.
Craig
2016-11-26T00:00:00Z
Paul & Tracey were amazing hosts. Incredibly hospitable & accommodating. The accommodation was as described & the little extras like a loop around the island on our way home were a nice surprise. We had a great balance of interaction & privacy across our stay & left feeling like friends. We would recommend Paul & Tracey's Home to anyone & hope to return one day.
Lauren
2016-07-18T00:00:00Z
Typ pokoje
Soukromý pokoj
---
Typ nemovitosti
Dům
---
Ubytuje
2
---
Ložnice
Scotland Island, New South Wales, Austrálie
The quintessential Newport beach bungalow......superbly positioned in the coveted "Golden Triangle" only metres to Newport Beach and shopping village. The property consists of the main house and a fully self contained studio.
Beautifully styled and well-appointed, this single storey beach home offers casual comfort and spacious living areas, perfect for family groups seeking a relaxed beachside holiday. A beautifully manicured and fully enclosed rear garden is ideal for children. The garden studio is complete with an ensuite, a perfect 4th bedroom if 8 guests are staying or extra living area if preferred.
Newport Beach on Sydney's Northern Beaches is fast becoming an exclusive holiday destination for Australian and International holiday-makers alike. Not only is it famous for its many popular surfing breaks including Newport Peak and reef, it is also ideal for swimming, being patrolled by lifeguards over the summer months from October through to April. The iconic Newport Hotel is a short 10 minute walk from the home and other quality eateries are even closer, located in Newport Village. The Village also offers a wide variety of shopping from large supermarkets to boutique stores. The beach is less than 5 minutes down one end of the road and should you chose to explore the other end of the road, you'll find the historic Bungan Castle, built in 1919. Majestically perched on the headland overlooking Bungan Beach, every stone of this castle was brought over by its German owner and it is now heritage listed.
Typ pokoje
Celý dům/byt
---
Typ nemovitosti
Dům
---
Ubytuje
8
---
Ložnice
Newport, New South Wales, Austrálie
Beautiful Pittwater is a great relaxing destination , close to the city , but miles from the hustle and bustle. Great place for friends and family to chill out. * 2 bedrooms * Private sandy beach * Bar b que facilities * Fishing equipment * Kayaking * Swimming * Wood fire with plenty of wood
The main bedroom has 180 degree views of the Pittwater, facing North so the sunshine and light fill your space. There is a private lounge and tea and coffee making facilities. The second bedroom has a queen bed and is also North facing.
Scotland Island is a small domestic suburb 30 kilometres from the heart of Sydney. We are surrounded by National Park and the waterways of Pittwater. There are often local events that can be fun to join in.
This is the most unique Airbnb house I have (URL HIDDEN) awesome! If you have the pleasure of being hosted by Paul&Tracy you will be impressed. The house itself is a work of art, everywhere you look are creative details handmade by the talented couple. The location is perfect for a relaxing getaway, with plenty of adventurous options to keep everyone entertained in such a secluded area. We will be back 100% :)
carl
2016-06-20T00:00:00Z
Excellent hosts, from when collected at Church point wharf to return to wharf at end of stay. Lovely breakfast, vey willing to share information about the lovely Scotland Island. Thanks again Paul & Tracy
Rachel
2016-04-27T00:00:00Z
Definitely an amazing place! we had really a good time there, Paul and Tracy are very nice and full of charm of personality. Highly recommend!
Xiner
2016-11-13T00:00:00Z
I had the most wonderful time staying with Paul & Tracy in their lovely island home. I was so comfortable and felt so welcome. Their boat shed with steps down to the private beach with clear warm water was a highlight, as was kayaking around the island and small bays of Pittwater, and meeting some of the lovely locals who popped over for a visit & chat. I went away for a few days to enjoy time out from my busy life in the big city, and left feeling totally refreshed, relaxed and invigorated. I really look forward to another visit to Paul & Tracy, and really hope it's soon! Thank you so much for hosting us.
Yvette
2016-05-28T00:00:00Z
A perfect island retreat in the true spirit of Airbnb. Paul and Tracy are wonderful hosts, incredibly friendly and welcoming. Our family of four with two grown up children loved swimming straight from the jetty, kayaking around the Island and just relaxing in the boatshed with spectacular views in the day and twinkling lights at night. Very comfortable beds, artistic and enhanting decor and some nice personal touches made our stay most memorable. Thank you Paul and Tracy.
Sally
2016-12-30T00:00:00Z
We had a wonderful stay at Island Retreat. Paul and Tracy were fabulous hosts - they made us feel so comfortable, we felt as if they were old friends. Their house is charming, full of their own art work and interesting furnishings. The location and view are simply stunning. We enjoyed swimming from the jetty; kayaking; a walk around the Island; sunbathing and relaxing in the boat house; sundowners on the jetty; delicious evening meals (cooked by our hosts) eaten on the boat house deck; waking up to breath taking views and the sound of lapping water. We couldn't have wished for more. This is a very special airbnb and we would thoroughly recommend it.
Ann
2017-01-08T00:00:00Z
Paradise! What a beautiful and tranquil spot to stay. Paul and Tracy made us all so welcome and were incredibly generous in sharing their lovely home and helping us to have so much fun. Lovely breakfasts, superb swimming and kayaking, and an inspirational home and surrounds with so many thoughtful touches. Thank you for sharing your slice of paradise!
Kate
2016-12-17T00:00:00Z
Thank you Paul and Tracey. Really enjoyed our stay. Wonderful location, love the boatshed. Highly recommended
Mark
2016-12-13T00:00:00Z
Typ pokoje
Soukromý pokoj
---
Typ nemovitosti
Dům
---
Ubytuje
4
---
Ložnice
Scotland Island, New South Wales, Austrálie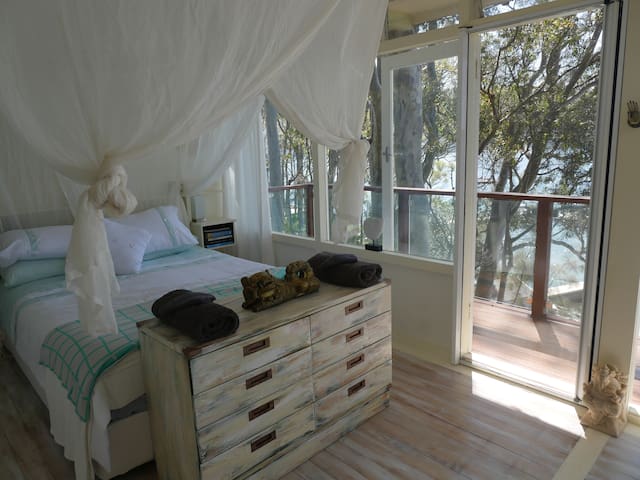 Saratoga is a beautiful waterfront home with private jetty set in an idyllic location. It is a great getaway overlooking Pittwater with spectacular water views. It is ideal for those looking for a quiet get away not far from the CBD. You will have the house to yourselves as the hosts do not live on the Island.The tariff is for the first 2 guests per night, plus $75 per adult per night extra. Children 3-15 are $50 each per night extra. Infants 0-2 are no charge. Cot hire available.
'Saratoga' is a beautiful waterfront home with 180 degrees view of Pittwater. It is light and airy and is spread over a 4 generous levels. It has been fully renovated and all furniture, furnishings and fittings are new. There is one queen master bedroom with en-suite. 2 x queen bedrooms plus another bedroom with 2 singles. Both bathrooms are ultra modern. All bed linen and bath towels are provided but do ask guests to bring their own beach towels. The kitchen is fitted with quality appliances including oven, electric cook top, microwave, exhaust fan, jug, toaster, sandwich maker, Nespresso style capsule coffee maker, tea pot, all glassware, all crockery, all cutlery, all cookware and many other utensils.....even Jamie Oliver would be envious.!!! However, if things go 'pear shape' in the kitchen there is a 4 burner BBQ on the back verandah. You will have the house to yourselves as Terry & Maureen do not live on the Island. They are readily contactable and if needed, can arrive within the hour.
Scotland Island is a vibrant, thriving and welcoming community situated in Pittwater. Around 400 people live on the Island. Access is by water only, the Island has pristine bush walks throughout with many native birds.
Great place. Everything was as described, Terry was a pleasure to deal with.
Jeff
2016-01-05T00:00:00Z
I had the best time! Scotland Island and Saratoga are perfect for a little relaxing getaway. Next time I'm taking the family for sure because I know they'd love it. I wish I'd have more time there. Terry and Maureen are the perfect hosts and their house is amazing. Newly renovated this house has everything you need.
Becs
2016-05-19T00:00:00Z
Terry was great from the start. He was very accomadating and keep in contact with us. The house is very modern and clean. It is also very spacious. The view from the kitchen lounge area is fantastic overlooking pittwater. The only minor negative is that there is no washing machine or dryer (for when wet weather strikes) otherwise the place is beautiful. I highly recommend this house to all and we will be visiting again.
charlene
2016-01-08T00:00:00Z
We had a fantastic weekend on Scotland Island - perfect waterfront getaway. The house was very comfortable, clean, modern and had everything we needed for our stay. We were 4 adults and 4 children and we had plenty of space as rooms were split over 2 levels. We'd definitely return.
Susan
2016-09-11T00:00:00Z
Saratoga is an amazing home in an amazing setting. The house appears to be very recently renovated- everything is in pristine condition and perfectly clean. Both indoor and outdoor spaces are a dream- the photos are great but they don't capture how gorgeous this place really is. Terry and Maureen were very gracious hosts and we can't thank them enough for sharing their space with us.
Bronwyn
2016-12-01T00:00:00Z
We can't wait to visit Saratoga again - thanks Terry for making sure we knew exactly where to go, what to do and leave us to relax. The house itself is so comfortable and spotless. But still cozy with million dollar views. Thank you so much for extending our stay and letting us enjoy the beauty of your slice of heaven on earth. We look forward to our next visit!
Sally
2017-03-25T00:00:00Z
Saratoga is just wonderful and you can't beat Scotland Island and Pittwater. Perfect for relaxing and enjoying the water.
Lucy
2017-03-13T00:00:00Z
Terry is a kind and welcoming host. He couldn't have done more to make our experience better.
Iain
2016-07-10T00:00:00Z
Typ pokoje
Celý dům/byt
---
Typ nemovitosti
Dům
---
Ubytuje
6
---
Ložnice
Scotland Island, New South Wales, Austrálie
Point House is one of the finest destination homes in Sydney's Northern beaches with expansive grounds, a separate self-contained studio pool house and access to a luxurious 100-foot motorboat with skipper and crew. On offer is also a resident butler and housekeeper who will attend to your every need and is also a trained chef. It's up to you whether you want a butler service throughout your stay. Mid Dec to mid Jan minimum 5 day bookings only.
Reminiscent of a classic Hollywood mansion, this unique north facing waterfront property has been custom built for entertaining and provides 5-star luxury and style at every turn. A spectacular, private holiday house on Sydney's northern beaches, Point house is also perfect for wedding receptions and bridal photography, corporate functions and commercial photo or film shoots. On offer is also a resident butler and housekeeper who will attend to your every need and is also a trained chef. It's up to you whether you want a butler service throughout your stay, however Boston will be there to greet you on arrival, show you the house and give you a welcome glass of champagne. He can also assist with local activities, catering and organising functions, operating two jet skis, providing skipper and crew for the boat and ensuring your stay is truly memorable. There is also a Bentley and seven seater Mercedes Benz 4WD available for hire if you need a car. House Layout When entering this unique property you pass through a landscaped oasis of carp ponds with waterfalls and water features. Majestic double doors open onto a lobby with a superb spiralling staircase which services this multi-level property. The residence sleeps a maximum of 11 adults with 6 bedrooms and 7 bathrooms. There is also separate self-contained boathouse studio with king bed plus the property has parking for 4 cars. The property consists of : A vast and inviting entrance gallery Spacious & bright living areas with expansive views over Pittwater from every room Wonderfully flexible floor plan, with a total of 6 bedrooms & 7 bathroom 3 master bedroom suites with king size beds, all with ensuites and walk in robes 2 generous kids bedrooms with double bed bunks in one and a queen bed in the other, both with ensuites Amazing large ultra-modern Kitchen Main dining table seats 8, pool deck dining table seats 8 Extensive lounge and seating in games room Beautiful outdoor entertaining areas with dual BBQ plus various inviting outdoor garden terraces Climatised cellar room Infinity swimming pool & 6 seater spa Additional Self-contained lower boathouse studio apartment with king size bed, kitchen and ensuite Large waterfront gardens with extensive wharf and Boatshed with ramp Fully equipped gym Games room with snooker table Bedrooms 3 x master bedroom suites with king size beds, all with ensuites and walk in robes. 2 x generous kids bedrooms with double bed bunks in one and a queen bed in the other, both with ensuites. 1 x additional self-contained lower boathouse studio apartment with king size bed. What Cocoon Luxury Properties loves! •Wonderful salt water swimming pool with spa and boat jetty •Glorious waterfront location with separate boat house •TV's with Foxtel and Wifi throughout entire property •Plex media server also available on tv's with large collection of movies, documentaries, and tv series •Sonos music system throughout property Extras •100 foot Sunseeker Predator Motor Boat •2 x Seadoo jet skis •Bentley GTC Continental, convertible •2012 Mercedes GL 4 wheel drive 7 seater •1962 Datsun 260z (fully restored) Strictly no parties unless agreed first with us.
Pittwater offers delicious food, from humble fish and chips to award-winning restaurants or stop in for a drink at the Newport Arms, a fantastic historic pub set on the Pittwater waterfront and recently refurbished by Justin Hemmes. Visit Jonah's at Whale Beach, near Palm Beach. This multi-award-winning restaurant serves modern Australian cuisine along with fantastic ocean views. Head to Palm Beach to discover Barrenjoey Headland and visit the Barrenjoey Lighthouse, built in 1881. From here, you'll have panoramic views of Ku-ring-gai Chase National Park, the Central Coast and Broken Bay, the mouth of the meandering Hawkesbury River. Palm Beach also has wonderful fine dining options. Other Favourite Local Attractions The Newport Arms Hotel Jonahs Restaurant The Boat House Cottage Point restaurant West Head Look out Barrenjoey Lighthouse Mona Vale Golf Club
Typ pokoje
Celý dům/byt
---
Typ nemovitosti
Dům
---
Ubytuje
11
---
Ložnice
Newport, New South Wales, Austrálie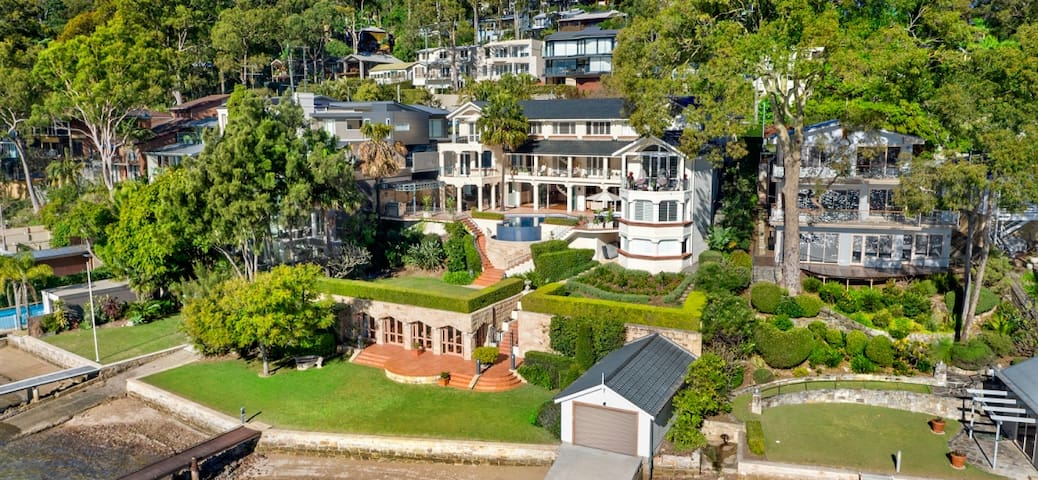 My place is close to the beach and family-friendly activities. You'll love my place because of the outdoors space and the comfy bed. My place is good for couples, solo adventurers, and business travellers.
Collin and Rosemary obviously love what they do from the perfect coffee to the homemade bread, all the little details made our whole experience of Scotland Island very special. They really took the time answer all our questions about island life, we highly encourage anyone who is thinking to visit the island to stay here, it will beat all your expectations!
Mia
2017-01-05T00:00:00Z
My wife and I spent a night at Scotland Island lodge and it was everything that we'd hope for - peaceful, relaxing and a perfect escape from our busy lives! Rosemary was a brilliant host and welcomed us into the lodge. She provided us with information on the island and suggestions of how to spend our time on Scotland Island - including use of their 2 person Kayak!! This is a must do, it was a beautiful was to explore the island and see some of the incredible houses!! The room was clean and had everything that we needed for our stay! The room we stayed in had exclusive use of a Outdoor Spa which was awesome - highly recommended!! In the morning we sat down to a fully cooked Breakfast which was prepared by Rosemary and it was outstanding!! Nothing to fault about this place at all, we had an amazing stay and we will be back in the future!!
Tim
2016-11-12T00:00:00Z
Typ pokoje
Soukromý pokoj
---
Typ nemovitosti
Penzion (B&B)
---
Ubytuje
2
---
Ložnice
Scotland Island, New South Wales, Austrálie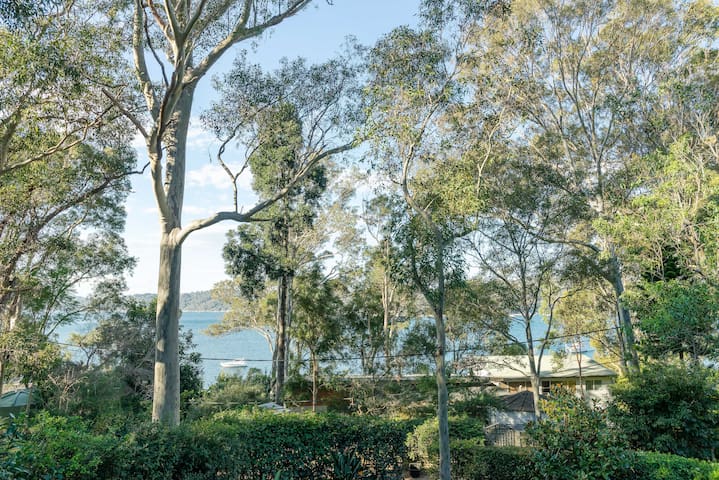 An island get away for an entirely unique Sydney experience! Opens directly to jetty over Pittwater Estuary with a small beach and easy to access from ferry or water taxi just off Church Point. This listing is for the upper timber studio only.
Designed by architect Rick Leplastrier, the home is located on the water's edge on 1279 sqm of land and has an approximate 15 metre water frontage. Home is craftsman built to shipwright standard featuring the use of timbers and beautiful sandstone. The upper level has a winding sandstone staircase leading up to the open plan timber studio. This listing is only for the upper timber studio. A rare level grassed lawn to the water's edge provides direct access to a sandy beach, a perfect place for swimming or to enjoy the added waterfront facilities of your private deep water jetty and pontoon. The property is fully landscaped with natives and succulents and is complimented by dry stone walls and pathways leading through the block with private sitting nooks throughout.
Scotland Island is a thriving, vibrant and welcoming community situated in the Pittwater estuary, Sydney, Australia. Around 1000 people live here, some as weekenders, others as permanent residents. Accessed by water only, the island is a refuge for natural forests, bushland reserves and native animals. Visitors love the shimmering water and gentle pace. Residents love the sense of community and adventure.
Perfect little getaway to switch off and relax. Proximity to the ferry wharf and private jetty means getting around Pittwater is easy. Thoroughly enjoyed our stay.
Montana
2016-03-30T00:00:00Z
Amazing little get away!
Irene
2016-10-02T00:00:00Z
Right on the Pittwater, this house was in lovely, tranquil setting and in a great location for a relaxing getaway. The close proximity to the ferry wharf makes it very easy to get to and Roland was very helpful on the couple of occasions where we needed assistance.
Amber
2016-02-15T00:00:00Z
We had a wonderful weekend! Such a lovely place down by the water. Roland was very responsive to any queries we had. We'd certainly recommend.
Brad
2016-04-25T00:00:00Z
Really very special place in a very special location. Highly recommended and Roland and Sonia are great hosts and we're very easy to liaise/communicate with in the lead up to checkin.
Daniel
2016-12-04T00:00:00Z
The Boathouse was simply perfect for our week away. The effort getting to Scotland Island with our luggage and groceries was definitely worth it. The locals were very friendly and the house was amazing with private beach and floating jetty. Got some fishing in and lazing in the sun. Perfect for some R&R, we will definitely be back.
Kurt
2017-01-06T00:00:00Z
We had such a great stay at Roland and Sonias island getaway. The boat house is right next to East Pier and very easy to get to via Ferry. Roland provided very helpful information on how to get there. Scotland island is just the other side of Pittwater and close to Palm Beach. The house is amazing with a very cool nautical (URL HIDDEN) is very comfortable with great airy windows and a great outdoor eating area. One of the best features was the large living room window looking out onto the sea. My girlfriend and i spent hours watching the many yachts sail by. All in all a very relaxing way to spend a weekend. A big thank you to Roland and Sonia for letting us stay.
Brad
2016-11-27T00:00:00Z
Een prachtige lokatie op het eilandje "Scotland Island" perfect te bereiken met de ferry. De communicatie met Roland is werkelijk geweldig. Genieten van de rust, prachtige uitzicht en natuur.
carole
2017-02-19T00:00:00Z
Typ pokoje
Celý dům/byt
---
Typ nemovitosti
Srub
---
Ubytuje
2
---
Ložnice
Scotland Island, New South Wales, Austrálie
Architect designed waterfront house on Scotland Island with private jetty. Modern, airy home with comfortable luxury. 2 decks facing Pittwater invite you to laze the days away and enjoy the views. Ideal for families with older kids or adult groups who can appreciate everything the house and location have to offer. Bring your watercraft and have endless fun, go for bush walks in the NP opposite or drive to one of the many stunning beaches both on the ocean and on Pittwater. It's paradise!
Upstairs our house offers an open Living/ dining/ kitchen area opening to a large wrap-around deck (with gas BBQ) facing Pittwater, as well as 2 bedrooms (1 QS, 1 DB) with access to the rear deck and a bathroom with shower. Downstairs is the main entrance, the large bathroom with shower and freestanding bath tub as well as our Guestroom/ second living area with direct access to the lower deck and spectacular views. Depending on your requirements, the room either offers a seating area with 2 sofas or we change them to very comfortable beds (new King Furniture Delta bed sofas), either 2 singles or 1 QS. Please let us know what you prefer.
Scotland Island is a truly unique place. It is so close to Sydney and everything a big city has to offer, yet it's a world away at the same time. Things work differently on the island. People here are a community, we share and we help each other. So, if you have a problem don't hesitate to ask the neighbours. Especially in case of an emergency! But this also means that we respect each others right to privacy, peace and quiet. There are lots of walks all over the island and you are allowed to walk along the shore (easier at low tide), even if it may look private, it isn't. As we have only very few cars on the island, it is quite safe for kids to ride their bikes or run around. Due to the nature of an island, though, we recommend that your children are confident swimmers and old enough to understand the dangers of swimming in open waters. Bring your own surf board, kayak, boat, fishing tackle and snorkeling gear and enjoy everything life on the water has on offer! If you like bush walks, take the ferry from 'Tennis' across to 'Halls' or 'Lovett Bay' or 'Elvina' and walk through the NP. Or drive by boat or car to Palm Beach for a climb up to Barrenjoey Lighthouse, which offers spectacular views, grab a bite at 'The Boatshouse', and then cool down with a swim in the ocean. Then there is 'West Head', 'Cottage Point' and 'Akuna Bay' along with lots of bush walks to be explored in Kuringai NP. Mona Vale offers not only all the necessities, there are also some lovely restaurants, coffee shops and boutiques to discover. And if you have enjoyed yourselves too much to cook dinner, pop over to the 'Waterfront Cafe' in Church Point for some delicious food. There is just so much to do and see, you better make a plan - or just grab a book and relax!
What an amazing experience we had. The house is in a spectacular location, with a amazing views. Everything was beautifully designed, clean, tidy and really relaxing, like a homely 5* hotel. The rooms are light and airy, spacious, comfortable and well furnished. The host (Andrea) was really friendly, gave us lots of nice tips on how to discover the area and was very flexible to accommodate our needs. This was one of the best experiences we had and I would highly recommend paying a visit to this great place. Living on the island really was as magical as it sounds. Thanks for everything Andrea!
Edoardo
2017-02-25T00:00:00Z
Typ pokoje
Celý dům/byt
---
Typ nemovitosti
Dům
---
Ubytuje
6
---
Ložnice
Scotland Island, New South Wales, Austrálie
This self contained waterfront apartment is opposite Church Point on Pittwater, close to Mona Vale and the Northern Beaches. You'll love the serene water views over Pittwater; close proximity to Kuringai National Park's walking trails and unique Island lifestyle . Enjoy Kayaking, swimming, fishing, bush walking or just relaxing. Apartment has a separate bedroom, a TV in Lounge/kitchen, with Internet access. Wifi is available. We offer a complimentary pick up and drop off to/from the mainland.
Water access only is by ferry, water taxi or tinny to a welcoming small community. For decades our family holidayed very simply and happily in the original old house and when we retired we rebuilt the house on the original footprint of the old home - hence it's original name "Willoughby" for the northern Sydney suburb where our family lived. This apartment is stepped below our house. Since retiring we live permanently on the Island and love the maritime lifestyle as we hope you will too. We offer a continental breakfast in the advertised price but you are welcome to cook more substantial fare on your deck barbecue, keeping in mind you will need to bring across any extra food provisions with you. We are on filtered tank water, as are all island people, so we ask that you be mindful of unnecessary water consumption, as Sydney summers can be very dry. For more information check out the Scotland Island community web site. (URL HIDDEN) As there are NO shops on the island any provisions need to be brought across. There is a restaurant/cafe on Church Point Wharf, the ferry leaves the island regularly and finishes it's service at 7.00 pm then the water taxis are available with prior arrangements. * NB Public Holidays, Christmas and Easter will be a higher tariff, please contact your hosts to confirm price.
The Island has 700 people scattered throughout with roads, public and private wharfs.
Typ pokoje
Celý dům/byt
---
Typ nemovitosti
Byt
---
Ubytuje
2
---
Ložnice
Scotland Island, New South Wales, Austrálie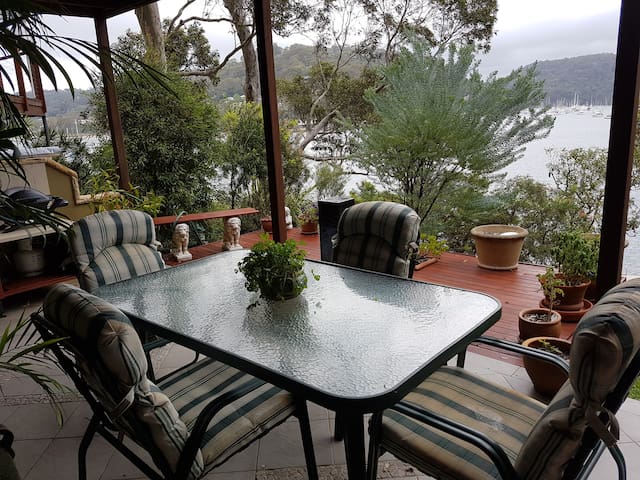 Bangalla is a stunning waterfront property on Scotland Island, a short boat-ride from Church Point in the heart of Pittwater. It is perfectly suited for a family or 3 - 4 couples to share in a truly relaxed setting, a great holiday getaway.
Bangalla is a stunning waterfront property nestled on 2 acres of very private manicured grounds. The beautifully restored historic homestead has been tastefully refurbished with unique and stylish furniture which provides a luxurious environment in which to relax, and the cottages elevated position give spectacular panoramic vistas over Pittwater and the Barrenjoey Peninsula. A separate pavilion and wet edge pool complete this fabulous property.
Pittwater is truly a unique paradise, where you can enjoy the simple pleasures in a wonderous environment. The somnolent beauty and tranquillity reigning over Pittwater is magical, take in the serenity, a place where you can retreat and watch the world go by, or participate in the many water sports / activities and local attractions Spend your days relaxing by the pool with breathtaking views, watching the yachts sail by or take refreshing swims in the cool salty waters on your own private beach. Kayak through the misty bays at dawn, exploring the many little tucked away beaches around Pittwater, spend a day out cruising or sailing and take in the serene beauty, indulge in a little fishing, wake boarding, windsurfing, diving, take a scenic ferry cruise or an adventurous whale watch tour.
Amazingly beautiful and luxuriously appointed property. Our group of 12 ladies had a fabulous time in the sauna, by the pool and on the manicured grounds. Our host Kerrie was super helpful and was always available in case of any issues. Loved our stay and would recommend without hesitation.
Maya
2016-10-02T00:00:00Z
Kerrie was super responsive and extremely accomodating for our special requests. Bangalla is an amazing property that was an absolute pleasure to stay at. We will most certainly be back!
Van & Caleb
2016-11-16T00:00:00Z
Bangalla is not just a holiday property, it is an experience! You have to be there to fully understand what I just said. It was the perfect weekend getaway cum relaxing birthday celebration for my partner and a dear friend. Our host was pleasingly efficient in communicating with me that checking-in was a breeze. Thanks, again, Ahdia! You will definitely hear from me/us soon enough for our next stay. Can't wait!!!
Marc Daniel
2017-02-26T00:00:00Z
For such a beautiful location and house , and at a cost to expect exceptional presentation,the cleanliness, maintenance of household furniture and kitchen goods as well as the general management of the property would need major overhaul before I could recommend this venue. When this is all attended to it is a destination to enjoy. Too many things to be addressed before I would confidently recommend this .
claire
2017-03-05T00:00:00Z
This house was perfect for 7 busy mums to escape the city and enjoy each others company and the quietness of the island and spectacular views. The house & gardens are divine. The house is well equipped with everything that you need to cook up a storm or not. The only thing that was unexpected was the rugged terrain from Carols ferry wharf to the house - you need to walk along the shore line across rocks etc makes it challenging when you have lots to carry or not so fit! Few trips back and forth. Best advice would be to get a water taxi - they can drop you off right in front of the house as they have their own wharf with a gorgeous boat shed.
Annie
2017-03-26T00:00:00Z
Staying on Scotland Island was a world away from the fast city lifestyle. Bangalla homestead is a jewel on the Pittwater and it was such a pleasure to sit back at the pool house and watch the world go by. The kitchen facilities were excellent and the property has great character space and comfort. Aside from the few technological glitches, our stay was fantastic. Kerrie was quick to respond to our questions and very friendly and helpful on our arrival. Look forward to planning our next visit to Bangalla.
Jasmine
2016-11-07T00:00:00Z
Bangalla was an amazing property, felt so secluded yet was so close to Sydney. The pool and pool house is spectacular and the main house and master cottage was beautiful. Perfect for a chilled out break, would 100% recommend. Only tips would be pack light as there will be some steps and walking involved to get there.
Lauren
2017-02-04T00:00:00Z
Typ pokoje
Celý dům/byt
---
Typ nemovitosti
Dům
---
Ubytuje
10
---
Ložnice
Scotland Island, New South Wales, Austrálie
Somewhere special to relax and enjoy on Pittwater which is renowned for great food and hospitality since 2002. 4 star AAA rating
Rosemary and Colin made us feel very welcome. We enjoyed a wonderful dinner with the other guests and loved using the fishing and kayaking equipment. I'm sure we'll be back!
Matt
2016-11-20T00:00:00Z
Staying at Scotland Island Lodge will give you the best possible, true "bed n breakfast" stay. Rosemary's considerable expertise as a host where the brilliant setting and layout of the lodge is only surpassed by Rosemary's wonderful cooking. Arrive hungry and opt for the full evening meal. It was delicious! Taking the kayak out at dawn the next morning to prowl around the island and Lovett Bay and then getting back to the lodge for a three course breakfast....Wow. As you can tell we enjoyed our stay; for my partner the best point was the in-deck hot tub and falling asleep to the sounds of the Australian bush. A great experience,truly!
Evan
2016-02-12T00:00:00Z
The Lodge was exactly what I was looking for. A friendly, quiet, and relaxing escape from the big smoke with a long journey to get there.
David
2017-03-18T00:00:00Z
A recommended get away with a fabulous room / sitting area /ensuite for your own private use. Top your stay off with the wonderful dinner option - 3 course delicious home cooked meal - not to mention the all inclusive breakfast menu. Scotland Island Lodge is well worth the visit!
Allen
2017-02-19T00:00:00Z
Typ pokoje
Soukromý pokoj
---
Typ nemovitosti
Penzion (B&B)
---
Ubytuje
2
---
Ložnice
Scotland Island, New South Wales, Austrálie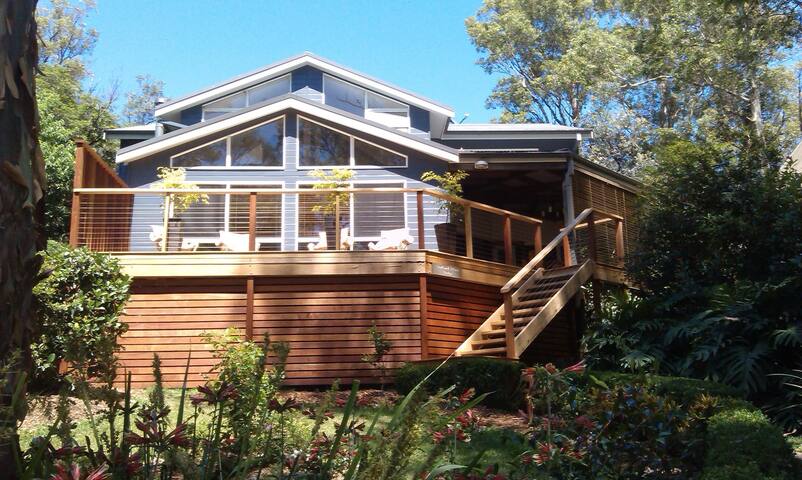 Waterfront house at Scotland Island Features: * expansive views over Pittwater * beachfront, private jetty * 4 bedrooms * 4 bathrooms * gym * designer kitchen * 2x Foxtel boxes, 2 x AppleTV * WiFi * BBQs * boathouse with kitchenette * 3x kayaks
Enjoy the peace and spectacular views from this waterfront, beach front property at Scotland Island's south-western shore, just moments from Church Point. * Open plan main living area: - Views across Pittwater; - Designer kitchen with gas stove and oven, Nespresso machine, Soda Stream; - Dining table for 8; - Sonos (broadband Wi-Fi available throughout the house); - Large adjoining covered deck with BBQ; and - TV with Foxtel and Apple TV (Netflix). * Sleeps up to 10 guests: - Master bedroom with King bed & ensuite, boasts expansive views of Pittwater and adjoins parents' retreat / second living room with TV, surround sound theatre, Foxtel & Apple TV (Netflix); - 2nd bedroom with Queen bed (waterbed) with ensuite; - 3rd bedroom with two King Singles (two beds together are equivalent size of King bed); - 4th bedroom with two bunk beds (each a standard single bed); and - Queen size blow up bed available on request. * Gym equipped with treadmill, exercise bike, rower (Concept2) and yoga mats. * 2 additional bathrooms. * Private beach and jetty with picnic table and sun umbrellas for lazy lunches by the water. Boathouse equipped with sink, mini-fridge and large BBQ. * Three kayaks for paddling around Pittwater / Scotland Island. * Laundry with front loader washing machine and dryer. * Linen (bedding, doonas, towels and tea towels) provided. * Shampoo, conditioner and body wash provided. * Cot and high chair available.
Scotland Island is located at the southern end of Pittwater, just moments from Church Point. Activities include: - explore Pittwater by boat or kayak - explore Ku-ring-gai National Park - swim or relax by the beach - explore Scotland Island - walking around the island is a ~45 minute walk along the internal roads or along the waterline at low tide - local restaurants / cafes such as the Waterfront Cafe at Church Point (live music Friday nights and Sunday afternoons), RMYC, RPAYC or Quays Marina - nearby activities include sailing, pubs (The Newport Arms), golf (Bayview or Palm Beach), northern beaches (Palm Beach is just a short boat ride away) - hire a motor boat and explore the Hawkesbury River including Akuna Bay and Cottage Point - yacht charters
This house is immaculately turned out. Two living areas provide exceptional views of the Pittwater and also modern entertainment conveniences (Netfilx, Foxtel, Wifi, Sonos). The four bathrooms are spacious and modern. Each of the four bedrooms has comfortable beds and beautiful linen. The house is equipped with an excellent kitchen as well as two outdoor BBQ areas (one on the upper deck and the other right outside the boatshed on the water). We brought our entire (extended) family and everyone (from kids to grandparents) enjoyed a weekend away on Scotland Island. The kids particularly enjoyed jumping off the dock into the Pittwater. the beach is clean and is just right for the little ones to make sandcastles. Look forward to our next stay!
Anand
2016-03-20T00:00:00Z
Adam and Simones house is beautiful. This is our third time on the island and we have loved it everytime. Adam kindly picked us up from church point which was a very nice way to start our holiday. The house lived up to the photos and the beach below was fabulous. The kids spent all day down there swimming and making sand castles. The locals are very friendly and you feel right at home. I would highly recommend staying at Scotland Island for a holiday. Thanks again! Rob
Robert
2017-01-29T00:00:00Z
Adam and Simone's place was perfect for a long, relaxing weekend away over Christmas — beautiful, very well equipped house set in a truly stunning location. Adam and Simone were brilliant hosts too, very easy to communicate with and made sure we were well looked after during our stay. Would highly recommend!
Buzz
2016-12-29T00:00:00Z
From Adam picking us up and ferrying us over right through to check out .. Adam and Simone were great hosts who made our stay comfortable and enjoyable. Great location right opposite Church Point, far enough from civilisation to have a break, close enough to Kayak over for a coffee in the morning. No hesitation in recommending this place .. we had an incredibly fun weekend here. Enjoy!
David
2017-02-19T00:00:00Z
Adam & Simone were amazing and did everything to ensure our stay was perfect. They have an amazing home in an amazing location - the family can't wait to return. Thank you for sharing your little paradise with us :)
Alexis
2017-01-07T00:00:00Z
This property and the owners are exceptional. Adam and Simone were amazing to deal with and their home is even more beautiful than the photos. They accommodated all our needs (including a portable cot, blow up bed and high chair) and generously helped us transport our excessive amount of luggage across from Church Point. The house is conveniently located to Bells Wharf (the first ferry stop) and has all the necessities you need plus a few fantastic and unexpected extras (Foxtel, Apple TV, Sonos, Nespresso machine, kayaks - just to name a few). Scotland Island is a great place to explore and everyone we met was really lovely. We would definitely recommend this property for anyone looking for a relaxing luxury getaway.
Kelly
2017-01-01T00:00:00Z
We loved staying here and will be back. Adam and Simone were super easy to deal with, quick to respond, and full of helpful info. They met and welcomed us to the island and showed us around the property. The house is as it looks in the pics. It's massive. The private room/ensuite is on its own level with balcony and lounge room. We stayed with 8 people in total, and spent most of our time on the large balcony (sits back from water, so secluded but still lovely view). The kitchen had everything we needed and cooking dinner for eight was easy, and great for a group thing to do. We barely used the lounge room but its large and comfy. Wi Fi worked fine. We spent most of our time on the balcony and the jetty - parked our towels and took some food and swam around - best at high tide. We also used the kayaks to paddle around and went for walks. Spent three nights here and didn't need to leave, but we were in relax mode. Water Taxi isn't super reliable, but the Ferry is. So just make sure if you venture off the island you come back when the ferry is still operating. All in all, a great, comfortable stay in a beautiful house with a great view. Took a little organising to take the food we needed, but worth it. There's a general store and bottle shop across the water, so you can always stock up there, but take the main food and drink you need. Believe me, it's worth it, its the perfect place to kick back and relax with a group of friends. Thanks for looking after A & S !
Damien
2016-03-30T00:00:00Z
very welcoming, helpful.
JC
2016-11-26T00:00:00Z
Typ pokoje
Celý dům/byt
---
Typ nemovitosti
Dům
---
Ubytuje
10
---
Ložnice
Scotland Island, New South Wales, Austrálie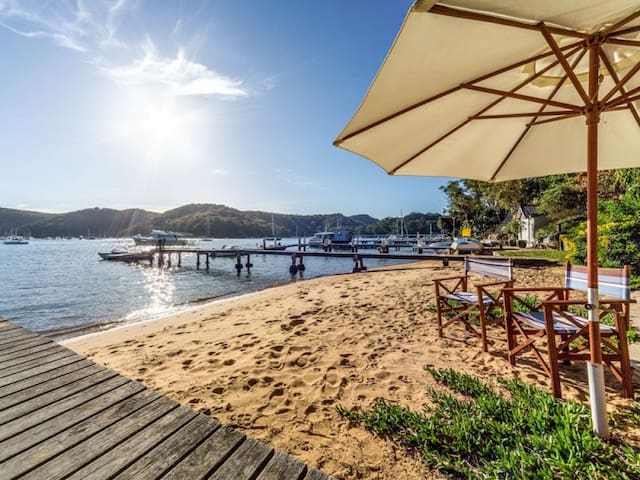 Pro zobrazení celkové ceny zadej termín. Mohou být přidány další poplatky a daně.