If you like being in the country and watching wildlife and enjoying the wide open spaces then this is the place. We are halfway between San Antonio and Austin, so you get to enjoy both. You'll love my place because of the ambiance. My place is good for couples, solo adventurers, business travelers, and families (with kids). During the summer there are many things to do such as tubing down the river, horseback riding, eating fantastic BBQ, and going to the various amusement parks.
Wake up in the morning with a cup of coffee and watch the deer at the feeder, the horses running around, and enjoy the solitude. Same thing in the evening. Our place is beautiful and there are no words to describe the experience you will have.
Very quiet rural neighborhood. Lots of cattle, deer, turkeys, etc., Great area to walk or ride your bicycle.
Bob's place was wonderful! we really enjoyed sitting on the back porch enjoying coffee while watching the horses and taking walks and bike rides down the country road. The home is well decorated and Bob and Carla were incredibly welcoming. We'd love to stay here again some time!
Megan
2017-03-15T00:00:00Z
Bob's place is super nice, he is an amazing host and I enjoy the peace and calm of the property. I feel confident that you will enjoy Bob's house.
Eduardo
2017-03-20T00:00:00Z
Perfect place to enjoy the country side. Thank you Bob and Carla for sharing that lovely place with the world! :)
March
2017-04-02T00:00:00Z
Bob & Carla are amazing hosts! We started the trip with a beautiful drive to their sprawling property in Seguin, TX. The cottage was perfect for our family of four! We loved being greeted by their two dogs and our kids were thrilled to be able to visit with the horses. We hope to return the next time we find ourselves in Texas!
Michelle
2017-04-08T00:00:00Z
Beautiful and scenic land, the house is nicely equipped and the beds are so cozy!
Sara
2017-03-30T00:00:00Z
Typ pokoje
Celý dům/byt
---
Typ nemovitosti
Dům pro hosty
---
Ubytuje
4
---
Ložnice
Seguin, Texas, Spojené státy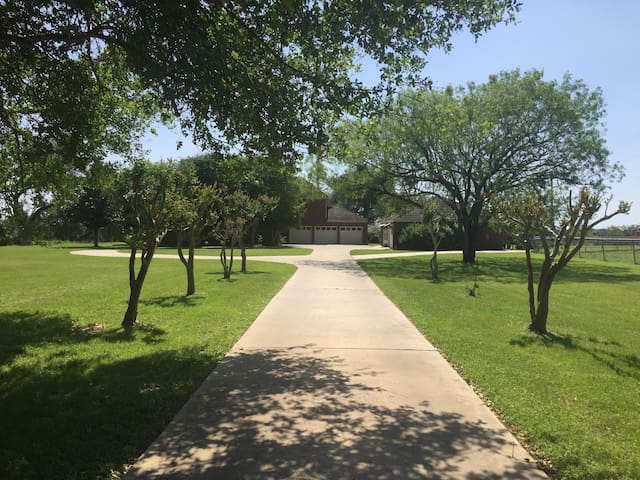 AN EXCLUSIVE CHILL AREA ON A VERY PRIVATE 5 MILE STRETCH OF THE GUADALUPE RIVER AKA LAKE SEGUIN. OUTDOOR ACTIVITIES: BBQING, BASKETBALL, FRISBEE, SWIMMING CANOEING/KAYAKING FISHING BIRD WATCHING/OWLS VERY INVITING SPLIT LEVEL HOME COMPLETELY UPDATED 2017
HOME CAN SLEEP 8 PEOPLE COMFORTABLY, TWO MASTER SUITES - DOWNSTAIRS QUEEN SUITE VERY PRIVATE PROPERTY IS HOME TO SOME OF THE OLDEST NATIVE PECAN TREES IN TEXAS - FIREFLIES - SEASONAL
VERY PRIVATE ON THE END OF CUL-DE-SAC NEIGHBORS FRIENDLY. CLOSE TO GOOD FOOD AND DRINKS. EXTREMELY SAFE AND EASY TO WALK AROUND.
Typ pokoje
Celý dům/byt
---
Typ nemovitosti
Dům
---
Ubytuje
8
---
Ložnice
Seguin, Texas, Spojené státy
Our Cozy Coffee Corner is located in a quiet cul-de-sac close to the Guadalupe river and near a golf course. Enjoy a home cooked breakfast and some gourmet coffee! The room is equipped with a desk, microwave, coffee pot, and a goodie basket.
We are located near a river and a golf course. The room can comfortably fit two.
Our neighborhood is quiet and close to attractions.
Wow! What can I say. This was perfect for us. And Jenny was the most gracious and hospitable host you could ever want! She even took the time to let us use their air purifier when my fiance' was having trouble sleeping. Thanks so much for everything Jenny!
CODY
2017-03-13T00:00:00Z
Always nice to stay at Jenny coffee corner
anjum
2017-02-24T00:00:00Z
Jenny was a fantastic host. The room was perfect and she was very generous in all aspects: coffee machine in the room, little chocolates, etc. The place is located in a nice environnment, it is very quiet and very, very clean. We had a very good night sleep. If a rating or more than 5 was possible, our rating would have been a lot higher. I would highly recommand this place to anyone; it is really worth it. If you happen to pass in Seguin, make sure you choose Jenny' corner. You will have no regrets. Gaston and Ghislaine
Gaston
2017-03-27T00:00:00Z
Great host .. enjoyed the company
anjum
2017-02-09T00:00:00Z
Jenny and Scott are absolutely wonderful and kind people! Their humble home is set in a quiet, residential neighborhood in Seguin. We were in the area for some activities at Texas Lutheran University. From Austin Airport, the hour long drive over was direct and easy. The room is the perfect size outfitted with lots of warm extras such as a coffee machine, snacks, and even chocolates! The bed and sheets are comfortable and the bathroom is private and directly across the hallway. Jenny went out of her way to make us feel welcome, greeting us with the most delicious homemade brownies. She made herself available to answer any questions for our stay. And she helped us on start our day with homemade breakfast including fresh fruit and the most awesome homemade coffee cake! We especially loved talking with Jenny and Scott over breakfast. They are warm and sweet people. We would absolutely stay with Jenny and Scott again!
Judy
2017-03-05T00:00:00Z
Typ pokoje
Soukromý pokoj
---
Typ nemovitosti
Penzion (B&B)
---
Ubytuje
2
---
Ložnice
Seguin, Texas, Spojené státy
Nestled on a large, heavily wooded lot in a quiet residential neighborhood, this 2-person suite is perfect for a quiet getaway. Less than an hour's drive from San Antonio, Austin, and the Hill Country, it's an ideal location to explore South-Central Texas. The suite is luxuriously equipped with a queen bed, DVD, satellite TV, refrigerator, microwave, toaster oven, and coffee maker. There is a large, walk-in shower with rainfall shower head. It has central heating and air conditioning.
This is a studio suite with queen bed and separate bathroom. The suite also features a kitchenette with refrigerator, microwave, toaster oven, and coffee maker. There is a television with DVD player and satellite TV. The bathroom features a large, walk-in shower with dual shower heads (one rainwater head). Outside of the entry is a small patio with chairs and a cocktail table.
This is a quiet, residential neighborhood with large, heavily wooded lots. There is very little traffic.
Roberts place is in a beautiful neighborhood where we saw deer nightly! We LOVED the double headed shower. The kitchenette was stocked with things I would have had at home and we were able to get into a groove very easily. There really wasn't much else that could have made this place better, especially for the price!
Ashley
2017-01-18T00:00:00Z
We had very quick response from Robert with any questions. We loved our stay here! It is connected to the house but very private. The scenery is nice and the room itself is very cozy and clean. Everything is provided including shampoo, conditioner, cups, utensils, etc. If you aren't familiar, this area is about 30 min from San Marcos and about a hour from Austin so not too far from everything. If we come back to the area, we will rebook!
Maria
2017-03-26T00:00:00Z
Highly recommended, quiet, relaxing, good access to hill country or San Antonio. Robert was very helpful throughout the stay. Love the place!
maria
2016-11-13T00:00:00Z
Olmo Retiro di Seguin is a delightful, private getaway location in a quiet, wooded neighborhood. Private access and woodland views! I highly recommend Robert's place for your sojourn in Seguin!
Todd
2016-11-23T00:00:00Z
Great, quiet location that affords privacy in a safe location.
Mitch
2016-12-15T00:00:00Z
Robert was super accommodating, a great host. The bathroom/shower is oddly located in the front foyer. The shower area only has a shower curtain and does not have a door. The front foyer and the main room smells overpowering like pets - don't recommend if you have allergies unless Robert changes the flooring and thoroughly freshens up the space. Great little room, super comfortable bed, beautiful trees on property, very quiet until the dogs in the area barks in the morning. Oh, thermostat is in Robert's house so he has to adjust temperature, which he did upon his return from a meeting in the evening. Thank you so much for hosting me Robert.
Isa
2017-02-19T00:00:00Z
Loved the place, will def be making plans to visit again!
Elicio
2017-02-26T00:00:00Z
Great place to stay! Would recommend!!
Taylor
2017-04-02T00:00:00Z
Typ pokoje
Celý dům/byt
---
Typ nemovitosti
Dům pro hosty
---
Ubytuje
2
---
Ložnice
Seguin, Texas, Spojené státy
Bungalow, 3 queen beds in 1 open room, Kitchenette, 1 Bath (located in bathhouse building behind tipis) each tipi has it's own bathhouse.
Come sleep in one of our Geronimo tipis! The tipis are amazing. There are 5 in total surrounding a stock tank pond located on 4.5 acres (Geronimo Creek Retreat) that borders the beautiful spring-fed Geronimo Creek. Great for family getaways or rent all 5 tipis for larger groups! They look like a traditional tipi from the outside but inside they are fully furnished and have all the conveniences of modern day living including air conditioning, heating, basic satellite TV, kitchenette with sink, under-counter refrigerator, stove top and extra large toaster oven. Each Tipi comes with its own private bathroom with a large walk in tiled shower. The bathroom is located in a separate building, all of the tipis have their own private bathroom. Geronimo Creek Retreat is an oasis of peace and fun nestled in the pecan trees overlooking a babbling creek in the heart of nature and on the edge of Texas Hill Country. We also have 4 tree-house cabins (1 bedroom with a loft) on the property and a 3 bedroom house for rent, these properties can also be found on the (SENSITIVE CONTENTS HIDDEN) site and our website. Do you long to swim and fish in the creek like you were a kid again? Want to throw some horseshoes or drink a cold one while you chill out in a lawn chair enjoying the feel of warm Texas sunshine on your face? Envision your own cozy tipi with plush furniture, fully equipped kitchenette, private bathroom and gorgeous view, not to mention BBQ pit for grilling, picnic table and fire pit for chatting or just relaxing with your friends and family. Imagine escaping from the real world for a while. The retreat also has a community game room with big screen TV, ping pong table and a large covered area with picnic tables and a community hot tub. The creek has excellent fishing. We have a dock with kayaks and kayaks for guests use. We also keep tubes, lawn and lounge chairs, and life jackets for your convenience. No of people can fit in is 6
The tipi's were super fun for the kids, and the property was fantastic. One thing you need to know is the host will send you a link to download an app, this is how you will get the code for your room/tipi and the bathroom. If you miss this part it would be very confusing to get into the room.
Eric
2016-07-30T00:00:00Z
Typ pokoje
Celý dům/byt
---
Typ nemovitosti
Srub
---
Ubytuje
6
---
Ložnice
Seguin, Texas, Spojené státy
Private one bedroom, one bathroom guest cottage right across from Lake Placid. Cottage includes a kitchenette with refrigerator and coffee maker, microwave.A private deck looking over the trees and a view of the water. 5 minutes from downtown Seguin, 20 minutes from New Braunfels, and 35 minutes from San Antonio!
The space is in a quiet, private neighborhood right on Lake Placid! It has a full size pillow top bed and a full size pull out sofa bed with a large walkin shower and closet! The house is on stilts so feel like your up in the trees with a great view of the water! The covered porch is perfect to sit out and enjoy your coffee in the morning or glass of wine at sunset!
It is quiet and peaceful and you can see all the stars at night!
Super-cute little place across the street from the Guadalupe river! The hosts are friendly and attentive and the neighborhood is lovely! Less than 10 minutes from downtown Seguin. *All residences on the river are up on stilts due to periodic chance of flooding (like houses on the coast), so there are 22 steps to get into the Roost. The view and breeze are well worth it- especially when the jasmine is blooming!
Sheri
2017-03-26T00:00:00Z
Typ pokoje
Soukromý pokoj
---
Typ nemovitosti
Dům
---
Ubytuje
4
---
Ložnice
Seguin, Texas, Spojené státy
This Majestic home built by Joseph Sonka in 1893 is a walk into History. Constructed of brick from the Sonka brick yard featuring Italianate detailing give it the old European look and feel. With over an acre you can relax with nature.
Loose yourself on the estate with many areas to relax. The private back yard featured several sitting arrangements. Harvest fresh vegetables from the garden for your garden to table breakfast. Enjoy the many native flowers, birds and other wildlife.
Seguin is a very quaint town in central Texas there ate many historic buildings and homes in the area. Seguin is the best kept secret on antique stores as we have over twenty in the immediate area. Walnut Springs walking trails are less than a block away.
This is a fantastic place for anyone visiting Seguin. It's even worth a detour if that's not your ultimate destination, and is probably a much better value than places in San Antonio or Austin. Paul has expertly and lovingly restored a wonderful and unique mansion, furnished it with countless beautiful antiques. He gave us a tour of the gardens and wine cellar. We had a two-bedroom 1 1/2 bath suite. The bed was very comfortable, the bath luxurious with top quality everything from toiletries to bed linens. Paul is a trained chef who clearly enjoys providing his guests with a great breakfast, served in his beautiful dining room. His specialty is bananas foster French toast served with a specially flavorful local bacon. He happily accommodated our early departure by making our last breakfast extra early. His communications were timely and accurate, and he clearly enjoys getting to know his guests. We recommend most highly.
Marc
2016-07-18T00:00:00Z
I found the Sanko house while looking for a B&B to stay at for my class reunion. Paul is an awesome host and chef! He gave my husband and I a tour of the property, and it's amazing. Nice backyard garden area to hang out, and our rooms were perfect. Best night's sleep in a long time
Michelle
2016-07-02T00:00:00Z
Wonderful place to stay. It's a beautiful property, great setting (very quiet) and a very welcoming host. Would come back in a heartbeat!
eric
2016-05-13T00:00:00Z
Very comfortable home and host. Very personable, friendly. Hope to stay again!
Nancy
2017-02-19T00:00:00Z
We enjoyed our stay at Sonka House so much! Paul has done a splendid job with this historic house, which was solidly built with a degree of craftsmanship you won't find today. (Historic, yes, but thankfully the bathrooms are modern.) He greeted us with a wine and cheese tray, much appreciated, and gave us a thorough tour of this impressive structure. So glad it is being preserved! We were able to walk to the excellent Tavern on the Creek for dinner, and took a stroll downtown. Yay, small towns! We love 'em. Paul prepared us a delicious, filling breakfast, leaving no room for the appealing pastries we saw at the friendly little convenience store right across the street while buying a bag of ice for our cooler.
April
2016-07-25T00:00:00Z
Paul was very pleasant and made us feel right at home. The house and property were beautiful.
Elizabeth
2016-08-07T00:00:00Z
Typ pokoje
Soukromý pokoj
---
Typ nemovitosti
Penzion (B&B)
---
Ubytuje
2
---
Ložnice
Seguin, Texas, Spojené státy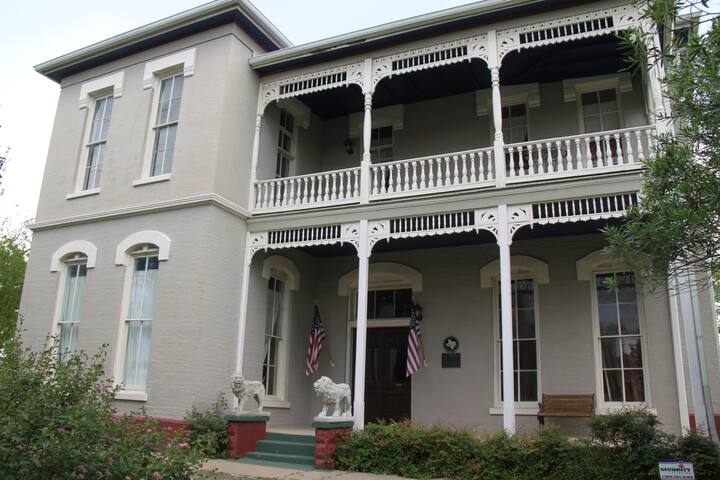 Covered RV spot w/ electric, sewer & water hookup on breathtaking gated property located on Guadalupe River with direct access to water for fishing, swimming, boating. Enjoy our backyard and access to grill, hammock, and waterslide. Pets OK.
On the river, tranquil, peaceful, swimming, tubing, fishing, boat access
Very safe
Amazing spot, beautiful view, great value and very friendly and accommodating hosts! We will be back!
Stacey
2017-03-14T00:00:00Z
Typ pokoje
Soukromý pokoj
---
Typ nemovitosti
Jiné
---
Ubytuje
6
---
Ložnice
Seguin, Texas, Spojené státy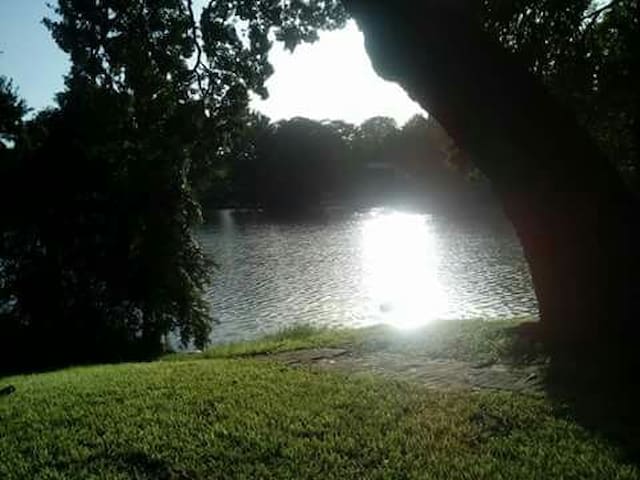 Peaceful, spacious two-story 2,600 square feet, 4 bedrooms, 3 baths, landing with futon, vaulted ceilings with 50" T.V, redone well-equipped kitchen, washer-dryer. Kitchen, dining room, 3 bedrooms, one bathroom and deck all have view of beautiful section of the Guadalupe River called Meadow Lake.
Internet, cable, DVD player. Lots of space for guests to spread out as well as large common areas for family and friends to gather. There are two king beds, two queen beds, a full-size futon, sleeping 10 comfortably. Maximum of 12 as there is a comfortable couch and one air mattress. All upstairs bedrooms as well as the kitchen, dining room, upstairs balcony, and back deck overlook Meadow Lake and 100-year old live oak trees.
This neighborhood is quiet, peaceful, and feels removed from the noise and business of civilization even thought it's only .4 miles from Walmart, and .6 miles from HEB.
Amazing house and river. I always change where I go for my birthday, I'm gonna go back next year. This house is big and really nice. They provide all amenities needed. From DVDs to wifi all the way to French press and a blender. They even have a great spice rack. I'd recommend this place to anyone.
Michael
2015-08-25T00:00:00Z
The location of the house was very nice... The upper balcony had rotten wood and was not safe to occupy... The house was recently treated for rodents and bugs... There were plenty present... The washing machine sounded like a jet engine... The dishwasher didn't work at all... We left the unit in way better condition than we received it... NEVER Got the security deposit back... The owners were extremely accommodation allowing us to check in early and leave late.. I would rate this house no more than 2 1/2 stars considering I paid 1300.00 for 3 days...
Holly
2015-08-17T00:00:00Z
We thoroughly enjoyed staying at Patsy and Gene's house. What a great river house! If you are looking for a leisurely getaway, and want to just hang around a house with friends or family, this is a great place. The house is in a perfect location as anything you may want to do outside the home is not a far drive. They have everything you could possibly want or need in the kitchen or for outdoor grilling, even tupperware which we greatly appreciated. The house was clean, and you can tell it is well loved and cared for as there is some great remodeling/improvements that have been done, like in the restrooms. Patsy and Gene were also very flexible about check in/check out times when asked. No complaints at all, we had a wonderful stay!
Christine
2016-04-04T00:00:00Z
Patsy and Gene place is fantastic , listing is as describe and above expectations. Lots of space , quiet neighborhood , well kept house and definitively good attention to details. Communication was excellent at all times. Kitchen well equipped , BBQ place outdoors , back porch in front of the river , walking distance to Guadalupe River, personally I did not bathe there but I saw a lot of ppl boating up and down the river and fishing. House is located 25 minutes from New Braunfels , 1 hour from Austin , 30 to 45 according to traffic to San Antonio River walk and international Airport. Rooms with ample closets , plenty of linens and towels. Hotel like details in all restrooms and rooms. House has many table games for big families ( scribble , cards and more ) . I definitively highly recommend the house if you are traveling to the country hill area . I would like to be back to their home in the future. I will say they are super hosts. Do not hesitate to rent this house.
Liliana E
2015-07-30T00:00:00Z
The home was great. It had everything we needed and more. The kids loved playing in the river and the beautiful trees provided plenty of shade for hanging out on the porch swing or on the dock. We had ten people and there was plenty of room for everyone. The kitchen was well equipped which made cooking easy!
Marylu
2016-06-22T00:00:00Z
Typ pokoje
Celý dům/byt
---
Typ nemovitosti
Dům
---
Ubytuje
10
---
Ložnice
Seguin, Texas, Spojené státy
Nicely renovated home on the canal with easy access to Lake McQueeney. This is a 3 bedroom, 2 bathroom home that sleeps 7. Lovely views of the water with a private boat ramp.
Typ pokoje
Celý dům/byt
---
Typ nemovitosti
Dům
---
Ubytuje
7
---
Ložnice
Seguin, Texas, Spojené státy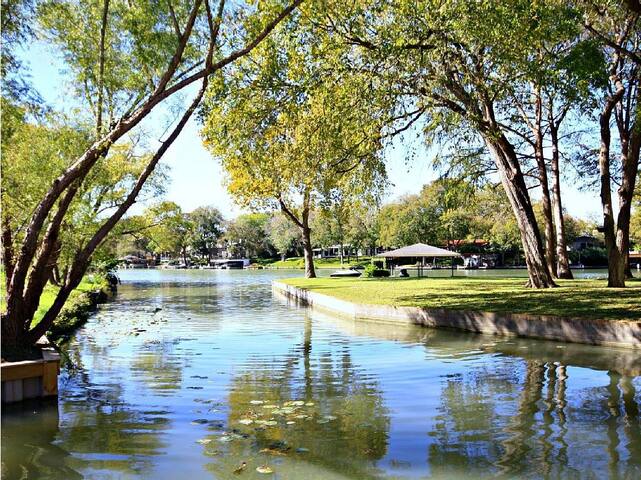 We are between Austin and San Antonio. Near toll road 130 and IH10. Approximatly 18 miles to IH35 at San Marcos.
Two rooms plus bath(toilet and shower) and front porch. Double bed in BR. Futon is in the den. Has internet and sat tv. 35 minutes to San Antonio and Austin city limtis. 5 - 6 minutes to toll road 130. 8 - 10 minutes to I10. 20 minutes to San Marcos
Rural and quiet. Light traffic on the county road.
Typ pokoje
Celý dům/byt
---
Typ nemovitosti
Srub
---
Ubytuje
3
---
Ložnice
Seguin, Texas, Spojené státy
Beautiful home on the lake with easy access from I-10 coming from San Antonio, Houston or surrounding areas. This home is single story with open concept living and plenty of space to enjoy family or friends. Beautiful lake views from many rooms. Hop in the lake and enjoy fishing, swimming, boating (if you have one), or yard games. After you enjoy a fun filled day relax by the fire, bbq and watch fire flies at dusk. Many popular attractions and restaurants a short drive away-Schlitterbahn, Gruene
This is a single story home with Lake Placid in the back yard. Most of the main rooms: kitchen, living, dining and Master have wonderful views of the lake. There is a covered porch with an extended deck to kick your feet up and relax a bit. If that deck isn't good enough you can wander down the stairs to the yard or over to the deck right on the river. It is fun watching the skiers, kayaks and birds go by. It is easy to get to I-10 from this location and hit many close attractions Schlitterbahn, Gruene, New Braunfels, San Antonio, San Marcos.
20 minutes to Schlitterbahn, 10 minutes to ZDT, Gruene hall, 5 minutes to Granzins meat market, 30 minutes to San Antonio, 10-15 minutes to New Braunfels. 5 minutes to TLU.
This house was absolutely perfect and the host Michelle was incredibly thoughtful. The place is just as pictured if not even better than expected. The kitchen has everything you need, and the deck was amazing for a morning coffee on the water. It's calm and quite. Family friendly. Very clean and well decorated. I say drive into Seguin, San Antonio or New Braunfels. We will 100% be back to stay here again. I've rented several places from Canada down to Florida and this may just be my favorite. Thank you for a great weekend away!
Sara
2017-04-03T00:00:00Z
Typ pokoje
Celý dům/byt
---
Typ nemovitosti
Dům
---
Ubytuje
9
---
Ložnice
Seguin, Texas, Spojené státy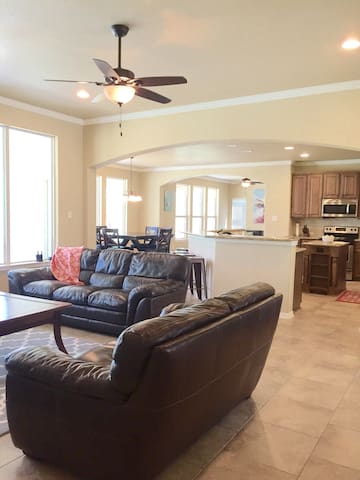 Spacious waterfront home close to watersports, restaurants, parks, golf, shopping, historic culture.
3000 Square foot home on an acre with river access right out the back yard!
Quiet neighborhood but spacious enough that you can make a little noise without disturbing the neighbors.
Great place for our group of 10 guys. Small issue popped up, but Clay was on it quickly and got it taken care of.
Gage
2017-01-15T00:00:00Z
Typ pokoje
Celý dům/byt
---
Typ nemovitosti
Dům
---
Ubytuje
16
---
Ložnice
Seguin, Texas, Spojené státy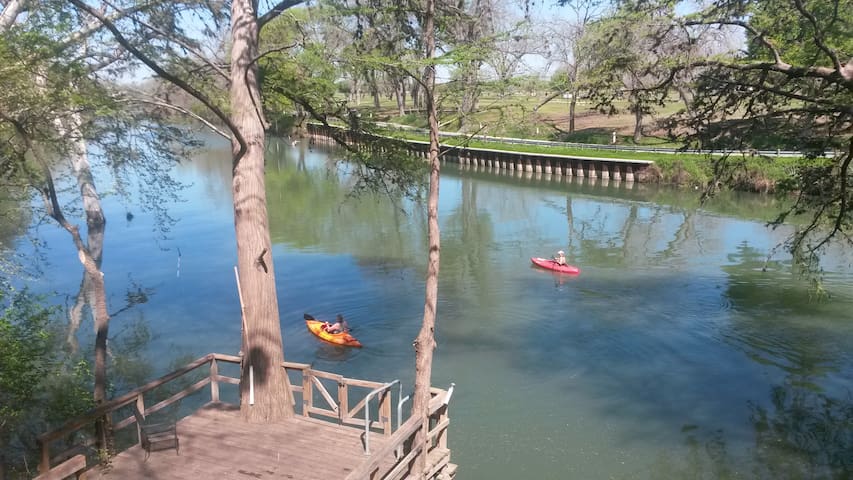 My place is close to Lake Placid, New Braunfels, Lake Dunlap, Lake McQueeny, . My place is good for couples, solo adventurers, business travelers, families (with kids), big groups, and furry friends (pets).
Come and enjoy the million-dollar views at Reiley Retreat, perched on the banks of Lake Placid, a constant level lake just east of New Braunfels. This crisp 2 bedroom, 1 bath duplex, ideal for smaller groups (4-6), has been recently remodeled and updated with designer furnishings and accents. The panoramic views will take your breath away as you watch the world wake up with a hot cup of Joe on our brand new back deck. It's even easy to enjoy grilling dinner out back on the propane grill because the east-facing orientation and a huge cantilever umbrella shield you from the brutal Texas summer sun. Enjoy over 100' of improved waterfront including a boatlift (if you choose to bring your own boat), dock with boardwalk, rope swing, and shaded grassy lawn. The refreshing waters of the lake readily greet those who enter. Water depth varies from waist-high near the boardwalk and continues to get deeper as you swim out further from shore. Kayaks, stand up paddleboards, an array of floats, and horseshoes are provided for fun in the sun all day long. As twilight falls, you're welcome to chase fireflies, star gaze, or even enjoy some night fishing. This spot is great for anglers, so we've outfitted the water with underwater green fishing lights so that you might actually be able to call it "catching." Inside, you'll find a fully equipped kitchen including new, stainless appliances, microwave, Crock Pot, blender, toaster, electric teakettle, and your choice of Keurig, Nespresso, and coffee maker. A rolling wine and coffee bar can double as an extra workspace if you're really ambitious in the kitchen. The utility room off the kitchen hosts brand new, large capacity washer/dryer for all of your laundry needs. The bedrooms have been designed so that you can settle in and make this your home away from home; one with a queen size sleigh bed, the other with a double bed and twin trundle. In each, you will find a full-size closet, large dresser, and flat screen TV, along with luxurious pillows and linens that will envelop you at the end of your day. If you don't want to wait until bedtime, feel free to indulge in an afternoon snooze since the black out curtains will make it cozy and dark for you.
Typ pokoje
Celý dům/byt
---
Typ nemovitosti
Dům
---
Ubytuje
8
---
Ložnice
Seguin, Texas, Spojené státy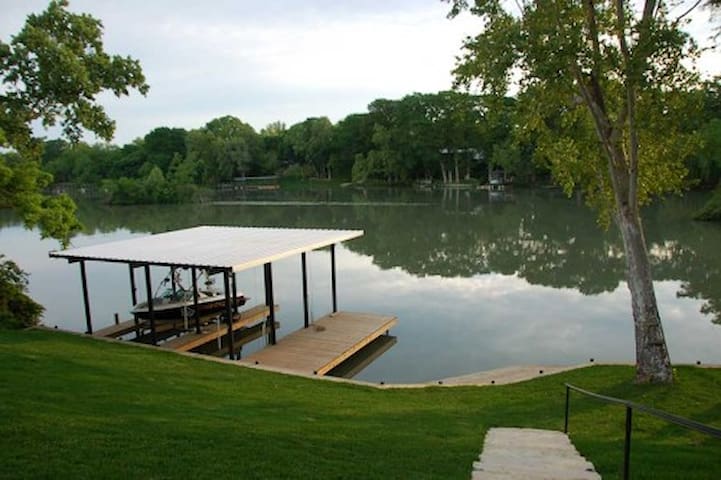 My place is good for couples, solo adventurers, business travelers and families (with kids) Property has been in our family for over 20 years and is on the Guadalupe River. Located just outside Seguin with easy access to San Antonio and a 15 min. drive to New Braunfels. Stay in Seguin(avoid busy hotels) and play in New Braunfels No Pets Allowed
Close by: Schlitterbahn, Comal River, River Walk in San Antonio, Fiesta Texas and Sea World.
Public boat ramp with-in 5 min. Boat lift and Seadoo lifts. Water toys. Dock for swimming and fishing.
The home is beautiful and very well taken care of. Eric is very helpful and kind. The lake is breathtaking at sunset. Amazing place to stay.
Marisa
2017-03-18T00:00:00Z
Typ pokoje
Celý dům/byt
---
Typ nemovitosti
Dům
---
Ubytuje
10
---
Ložnice
Seguin, Texas, Spojené státy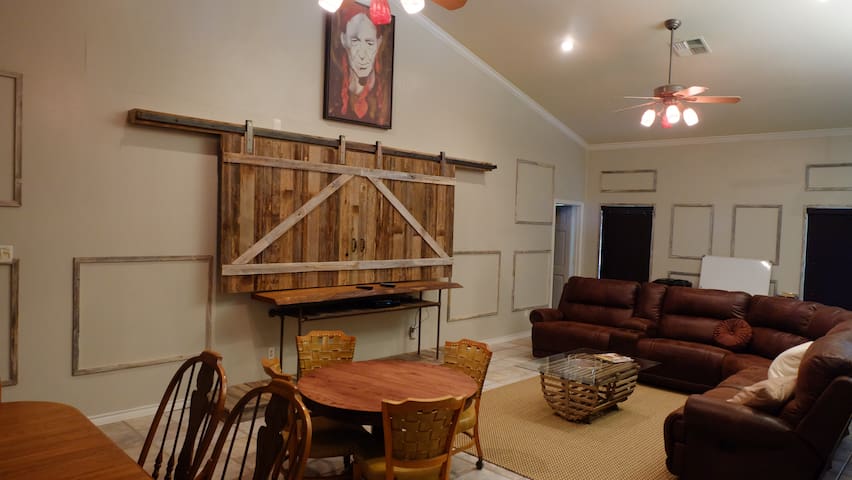 Lovely place near Lake Placid, on the west side of Seguin, Texas. 1 mile from the Caterpillar plant, 2 miles to Texas Lutheran University campus. 45 minutes to San Antonio airport, 1 hour to Austin Airport.
Spoke with us about the area and places to eat. Even left a lovely bottle of wine for us to enjoy!
Stephanie
2016-06-15T00:00:00Z
This review is for Michael's apartment at in Austin, TX. While I didn't meet Michael, his current tenant was very accommodating courteous. The apartment was clean and as described. The available water, fruit, chips & wine was a nice touch too. I would definitely return!
Nolan
2015-03-19T00:00:00Z
Typ pokoje
Společný pokoj
---
Typ nemovitosti
Dům
---
Ubytuje
2
---
Ložnice
Seguin, Texas, Spojené státy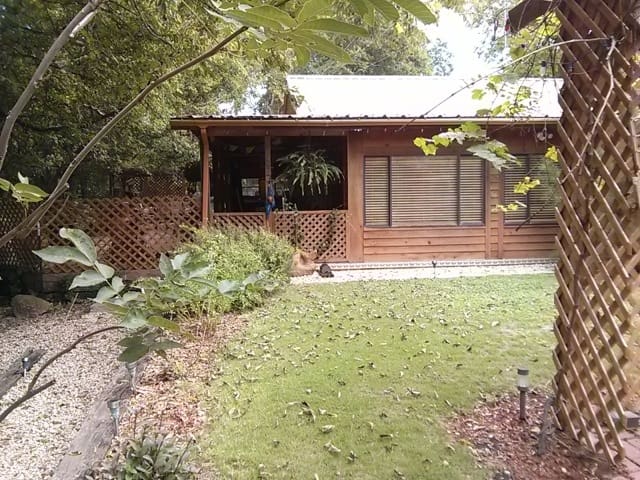 Elegant 2 story home on Lake McQueeney. Sleeps 21: 5 bedroom 3 1/2 baths. Large kitchen & dining nook with formal dinning. Perfect for water sports, sun, relaxing, wedding venue, bachelor/bachelorette, company parties and reunions. Large yard with stone fireplace and fire pit. Private boat ramp with dock perfect for fishing and a deck for sitting over the water with table and chairs. Cabana with frig, gas grill and hot tub. Perfect home for fun in the sun!
Sitting on beautiful Lake McQueeney which is a perfect place for relaxing in the lake or launching your boat from the private boat ramp. Enjoying fun in the sun and water
Quiet but beautiful neighborhood on Lake McQueeney.
The host canceled this reservation 21 days before arrival. This is an automated posting.
Melissa
2017-02-18T00:00:00Z
Typ pokoje
Celý dům/byt
---
Typ nemovitosti
Dům
---
Ubytuje
16
---
Ložnice
Seguin, Texas, Spojené státy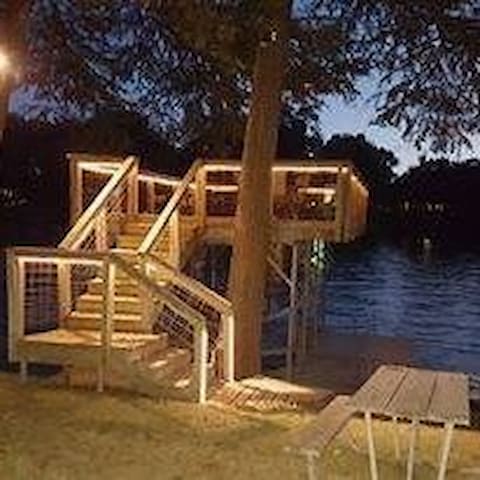 The ultimate riverside retreat awaits at this studio vacation rental cottage which sleeps 2. Offering waterfront views, 2 private decks and a close proximity to restaurants, shopping and outdoor activities, your Seguin escape begins here!
With the Guadalupe River right in your backyard, you can't help but appreciate the surrounding beauty from the moment you arrive at this Seguin vacation rental. Featuring a uniquely rustic and vintage vibe, this abode provides a one-of-a-kind lodging experience for you and your loved one. Inside, the cottage is outfitted with tastefully selected decor and cedar walls, all of which create a truly warm and inviting ambiance. In the well equipped kitchenette, prepare your favorite meals before taking a seat at the lovely dining table, where you can gaze out the sun-filled window to relish in serene nature views. You'll also discover all the comforts of home are provided here, from air conditioning and cable TV to an electric fireplace - ideal for cooler evenings. In the mornings, grab your cup of joe and open the french doors, which lead to the cabin's very spacious balcony. From there, you'll enjoy waterfront views of the beautiful Guadalupe River, or a stunning sunrise bursting with color. Further explore from the cottage's two private decks, also boasting gorgeous river and nature views. You can't help but relax when you kick up your feet at the outdoor lounge area, an ideal place to unwind after a long day. When you're ready to call it a night, retreat to the inviting and stylish bedroom for a peaceful night's sleep on the comfortable Queen-sized Bed.
While you may consider spending the duration of your getaway lounging inside this charming cottage, you won't have to travel far to experience the best of Seguin living. The Guadalupe river, located just steps from the home, offers a prime location for tubing and fun under the sun. You'll also find plenty of options for culinary treats, ranging from casual BBQ dives to exquisite fine dining. Visit world-famous San Marcos Outlet Malls for a day of retail therapy and indulgence. Head to Schlitterbahn for a water park adventure, located just 30 minutes from the property. Whether you're hoping to relax riverside, or preparing an exciting getaway with loved ones - book this Seguin vacation rental cottage for an experience you'll always remember!
Typ pokoje
Celý dům/byt
---
Typ nemovitosti
Jiné
---
Ubytuje
2
---
Ložnice
Seguin, Texas, Spojené státy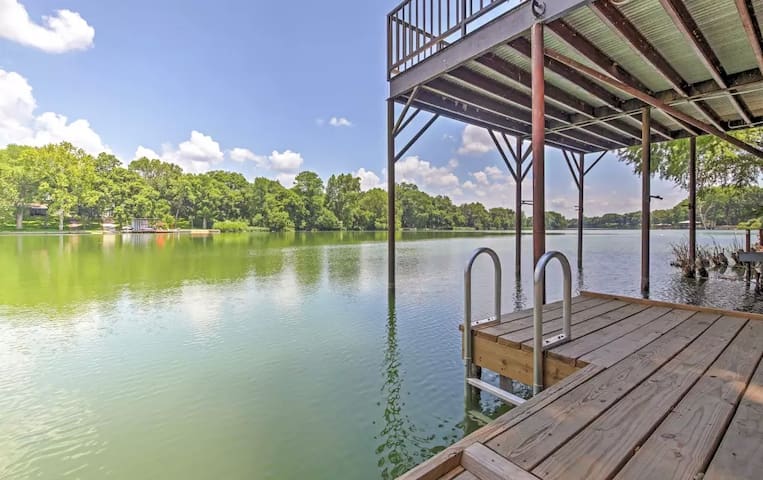 Pro zobrazení celkové ceny zadej termín. Mohou být přidány další poplatky a daně.