Hungary.Countryside.Relax. [SLEEPS 3] COSY FOR COUPLES 1902 renovated Hungarian farmhouse | 3 private houses. MY OTHER LISTINGS [sleeps 6] Large (Family Accomodation) http://airbnb.com/rooms/3783778 [sleeps 6] Open Plan (Attic) http://airbnb.com/rooms/7285976 Breakfast 2000.- HUF Dinner 5.000.- HUF Schnaps 450.-HUF Wein 450.-HUF/dl Home made Beer 850.-HUF
[SLEEPS 3] Cosy (perfect for couples - with winter FIRE BURNER in room) -------------------------------------------------------------------------------------- A unique, newly renovated Hungarian village farmhouse originally built in 1902 with self contained outbuildings, located 90minutes from Budapest by car (2hours on direct bus). The accommodation has been extensively restored to retain all of its original features whilst keeping its original soul with modern 21 century comforts in mind. Each of the accommodations are located in our own private gardens in the beautiful countryside of Tarnalelesz. We offer a unique getaway for people who appreciate relaxing in and around the countryside, away from the hustles and bustles of everyday city life. As a family run business business, we have made every effort to ensure our self contained accommodations have been exquisitely restored with tasteful furnishings, character and child friendly facilities in mind. HOME COOKED MEALS (optional for guests) --------------------------------------------------------- Simple cooking (stove/hob/oven) facilities are available for guests private use (in summer). However we mainly provide our guests with freshly cooked meals for breakfast and evening meal to take the hassle out of cooking and washing up! We try really hard to locally source seasonal produce from local farms, diaries and producers in the village and surrounding regions; - BREAKFAST LUNCH €6,50 EUR - (2000 HUF) - EVENING MEAL €15 EUR - (4500 HUF) - GLASS WINE LARGE [GOOD HOUSE' Red/White] €2 - (600 HUF) - IMPORTED BEERS [LARGE] €2 - (600 HUF) - LOCAL BEERS [LARGE] €1.25 - (400 HUF) - BOTTLES OF 'QUALITY' WINE [locally sourced] - VERY FAIR prices We also have the best fresh coffee made with organic milk. Try it for yourself. We think its the best we've tasted!
- 60 minute drive from Hollókő (a UNESCO world protected heritage site) - 35 minute drive from Eger (beautiful) historic town with thermal baths castle and cobbled streets. - 40 minute drive from Szilvásvárad, Egerszalók, Sirok
Es hat mir super gefallen! Alles....... vom Design der Zimmer bis zur überdurchschnittlichen guten Gastfreundschaft!! komme aufjedenfall wieder!!!!
Paul
2015-08-05T00:00:00Z
What a charming place!!! We spent a most relaxing time in Hungary. Dorka was very nice host. Highly recommend this place.
Steven & Keiko
2016-05-30T00:00:00Z
Dora was warm and always quickly responding from our very first emails. She was so accommodating by picking us up at the bus station. The farmhouse is so charming, very eclectically designed with many things from everywhere. A cute playground area for children with families, our room even had 2 hassocks at the table, and a little wood burning fireplace, how charming. We had an incredible dinner with another Hungarian couple, she celebrating her Birthday, which Dorka made very special for her. We had a grand time, fun, laughter, great food, Palinka, all made for a wonderful stay. Bus from Budapest is only 2 hours, then 45 mins. if you want to go to Eger. The whole trip lovely through the country part of Hungary.
Ms. K
2016-05-17T00:00:00Z
Dorka and her daughter Abi are very friendly people. If you are stressed, the calmness of Dorka and the peace of the house will bring you back into a good state of mind. We enjoyed the garden, full of plum trees, the excellent food (breakfast and dinner are a real treat, with products from the area!), the Hungarian wines. The house is historical and cosy. There are a lot of things to do in the area (antique market in Eger, Eger itself, Bukk park, the small villages in the area etc.). Also nice to meet other people visiting the place and talking with them if you like to. Dorka puts up a great bonfire to enjoy at nighttime. She is a very nice person, she puts all the effort to make you enjoy your stay. Me and my 18 year old son had a great time!
Patricia
2016-08-03T00:00:00Z
If you come to Hungary and do not visit Dorka then you have missed out! The place is beautiful, the food delicious, and Dorka is very nice.
Jacob
2016-09-08T00:00:00Z
Dorka was amazing host! I have travelled many times before, but Dorka was wonderful. She cooked a really tasty meal for us and her daugther Abigel was so cute. We had a dinner like a family. Tarnalelesz is beautiful and its only a short drive from Budapest. The room was perfect and tidy. Everyone has to try it! Simply lovely and amazing <3
Janák
2017-01-22T00:00:00Z
Dorka was so wonderful. Her property was exactly what we were hoping for. She was a fabulous cook, extremely interesting and gave us very good ideas for things to do. She was our first nights in Hungary and set the tone for a marvelous vacation. She even helped us recover our lost luggage! Our favorite stay while away and we hope to return one day!
Debbie
2016-05-25T00:00:00Z
A really lovely little place in a beautiful corner of Hungary. I was there in December and it was a great place to relax by the fireplace and catch up on some sleep and reading but I can imagine it's pure magic in the summertime. Also, Dorka's hospitality and pancakes were really great!
Linda
2015-12-09T00:00:00Z
Typ pokoje
Celý dům/byt
---
Typ nemovitosti
Byt
---
Ubytuje
3
---
Ložnice
Tarnalelesz, Heves County, Maďarsko
A teljesen felújított modern stúdiólakás, kiválóan alkalmas párok, kéktúrázók, kirándulók, üzletemberek, gyermekes családok és egyedül utazók számára, mindenkit szeretettel fogadok! A szállás jól felszerelt, TV, WIFI, internetcsatlakozás ingyenesen vehető igénybe, a konyhában minden önellátáshoz szükséges eszköz adott. A lakás Pásztón a Cserhát és a Mátra völgyében helyezkedik el, kiváló kiindulópont a környék, pl: Hollókő vagy a Mátra, a Szentkút felfedezésére és Budapest is csak egy órára van.
Pásztó város a Nyugati-Mátra lábánál, a Zagyva-folyó és a Kövicses-patak által határolt dombháton települt. A város könnyen elérhető az M3-as autópályáról, Hatvannál lekanyarodva mintegy 20-25 perces autóúttal, a 21-es számú főközlekedési úton. A kellemes környezet - a Mátrába vezető közlekedési út innen vezet a hegység magasabb pontjaira. Továbbá a 21-es főútról, az UNESCO által a Világörökség részévé nyilvánított Hollókő is csak 20 km távolságra helyezkedik el és a Cserhát legközkedveltebb kiránduló helye. Szállóvendégeink, Hollókőn és környékén, 3 étteremben 10% kedvezménnyel étkezhetnek: - Hollókő VÁR Étterem, - Alsótold, Cserhát-völgy Fogadó - Alsótold, Bableves Csárda Mindhárom étterem igazi palócos ízekkel, tájjellegű ételekkel, bőséges adagokkal, kuriózumokkal,autentikus környezetben várja Vendégeit egész évben. A lakás, a Cserhát lakónegyedben helyezkedik el, egy tömbházban. Az épület környezete rendezett, biztonságos és nyugodt. A lakás teljesen felújított, 2017.04.01-től várja Vendégeit. Modern stílusú, stúdió lakás, 34 négyzetméteren, melyben 1 db hálótér van. A szobában 1 db nagyméretű 2 személyes franciaágy és 1 db kihúzható kanapé került elhelyezésre, mely szintén 2 fő részére alkalmas. A szoba egybenyitott a jól felszerelt konyhával. A konyhában minden főzéshez és önellátáshoz szükséges eszköz adott: elektromos tűzhely sütővel, mikrohullámú sütő, kenyérpirító, vízforraló, étkészlet, evőeszközök, poharak, edények, stb. A fürdőszoba zuhanykabinnal és mosdóval ellátott, alapfelszereltség a tusfürdő, kézmosó, sampon,balzsam, WC papír, hajszárító, tükör. Törölköző és friss ágynemű adott. Az ablakok redőnnyel és sötétítő függönnyel is ellátottak. A lakásban a fűtést, látvány gázkonvektor szolgáltatja, melyet a vendégek saját maguk kezelhetnek igény szerint, külön fűtésdíjat nem számítunk fel. A szobában 120 cm átmérőjű SMART TV került elhelyezésre, valamint a WIFI is alapszolgáltatásként áll rendelkezésre. A lakás 1-2-3-4 fő számára egyaránt foglalható. Az ablakból kilátás nyílik a MÁTRA-Muzsla szakaszára, mely a városból közkedvelt kiránduló hely, célpontok egyike a Nyikom kilátó, mely teljesen zárt, belül padok, kanapék és asztalok vannak. A legfelső szinten fotók tájékoztatják a nézelődő turistát a csúcsok elnevezéséről. Az emeletes ház mellett szabadtéri parkolóhely díjmentesen biztosított. A kerékpárral érkezőknek az épület földszintjén zárt helyiségben tárolóhelyet biztosítunk, díjmentesen.
Pásztó, fejlődésben lévő, rendezett, nyugodt kisváros, kb 10.000 lakossal. A város kiváló kiindulópont a környék látnivalóinak felkutatásához: Tar - Sztúpa, Mátraverebély - Szentkút, a Mátra és a Cserhát kéktúraútvonala veszi körbe. De a város is bővelkedik látnivalókban: Szent Lőrinc Plébániatemplom, Oskolamester háza, Rajeczky Benjámin zenetudós emlékszobra, Csohány Galéria, Pásztói Múzeum és Romkert. Tovább a Pásztó Strandfürdő a nyári szezonban, felújított és rendezett, tiszta környezetben várja a kicsiket és nagyokat egyaránt, 3 db medencével, játszótérrel és vendéglátó egységekkel, mely a szálláshelyről, gyalogosan is csak 10 perc sétára helyezkedik el. A Mátra egész évben kiváló kirándulóhelyei, félórás autóúttal megközelíthetők: Mátraszentistván Sípark, Mátraszentimre, bagolyirtás,Galyatető, Kékes tető, Mátraháza, stb. A környék nagyvárosai: Salgótarján, Balassagyarmat, Szécsény, Gyöngyös és Hatvan, valamint a szlovák határ mentén Somoskőújfalu, Losonc, Fülek, mind 30-40 km-es körzetben helyezkednek el. Tehát Pásztó, tökéletes kiindulópont lehet a környék felfedezéséhez, mind gyalogosan és közúton egyaránt. Továbbá a buszjáratok és a vasúti közlekedés is kifogástalan. Budapest közvetlen járatokkal kapcsolódik a városhoz és a Szlovákiába vezető vasútvonal is Pásztón vezet át.
Typ pokoje
Celý dům/byt
---
Typ nemovitosti
Byt
---
Ubytuje
4
---
Ložnice
Pásztó, Maďarsko
Je to ode mě blízko do Lake and pools Zelená voda Kurinec, Teplý vrch Lake. Mé ubytování je skvělé pro páry, sóloví cestovatelé, služební cesty, rodiny (s dětmi) a domácí mazlíčci (zvířata).
Typ pokoje
Soukromý pokoj
---
Typ nemovitosti
Byt
---
Ubytuje
4
---
Ložnice
Rimavská Sobota, Slovensko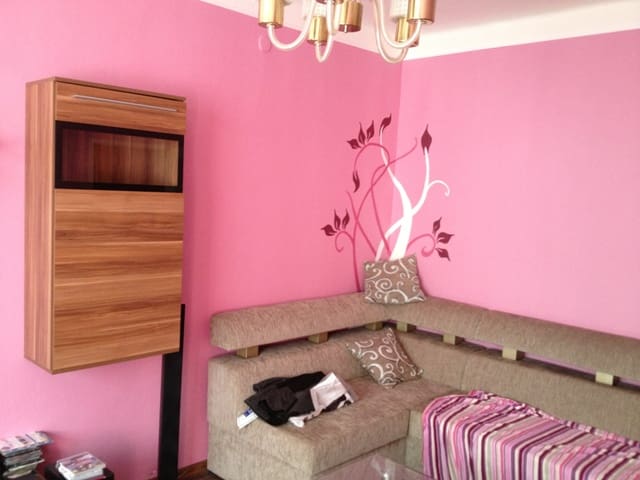 Pokoje jsou jednoduché, plně zařízené a moderním stylu IKEA, z nichž všechny, aby bylo ještě výraznější. Ať už je to hrát nebo nakupování, místo je velmi dobré, a od barů, restaurací, divadel jsou velmi blízko
Typ pokoje
Celý dům/byt
---
Typ nemovitosti
Byt
---
Ubytuje
2
---
Ložnice
Rimavská Sobota, Rimavská Sobota, Slovensko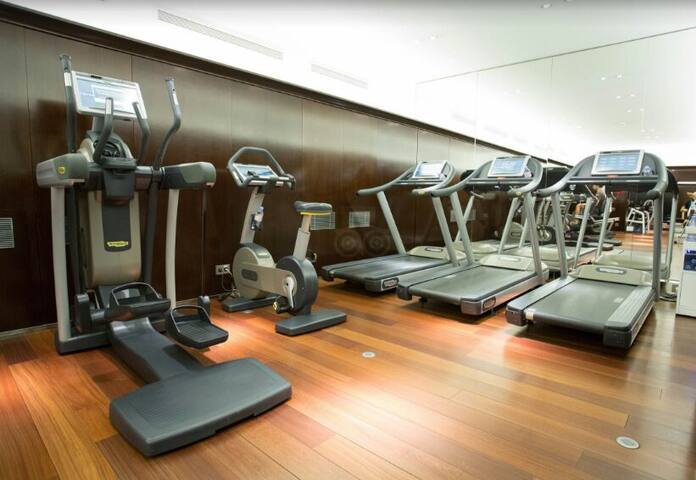 A helyem a következők közelében található: nagyszerű kilátás és családbarát tevékenységek. Emiatt fog tetszeni neked a helyem: az elhelyezkedés és a környék. A helyem erre megfelelő: párok, családok (gyermekekkel) és bundás barátok (háziállatok).
Ha motorral érkezel, használhatod a garázsomat! Az ár 3500 Ft / Fő / éj !!!
Typ pokoje
Soukromý pokoj
---
Typ nemovitosti
Byt
---
Ubytuje
7
---
Ložnice
Parád, Maďarsko
The spot is located near: restaurants, dining and nightlife. For this reason, you will like my place in the outdoor space, and the atmosphere of the neighborhood.
Every two minutes from home! Bank, restaurants, shops, a post office, a bakery, a nightclub, a children's playground!
A házigazdával személyesen nem találkoztunk, de megkaptunk minden szükséges információt. A lakás abszolút a város központjában helyezkedik el, szinte minden fontos hely gyalogosan elérhető. A lakás tiszta rendezett, és jól felszerelt, nagyon jól éreztük magunkat.
Zoltán
2016-09-18T00:00:00Z
Alida's family apartment is a very nice and cosy place. After a long journey we had, we found it a really lovely spot to spend the night. The apartment is just next to a central square in Gyongyos. We did not meet with Alida in person, but she was in touch with us all the time, she is a very nice person and her English is really fine, so we had no communication problems :) highly recommend!
Milena
2016-08-07T00:00:00Z
The flat is located in the village center, between 1 and 5 minutes walking from every interesting place and from the bus station too. Lovely people living in Gyöngyös, allways prepeared to help in case you need it. Our accomodation have been very confortable... we would defenetly repeat our experience here.
Manu
2016-08-05T00:00:00Z
Mieszkanie w centrum, dwa kroki od starego miasta.
Jacek
2016-08-20T00:00:00Z
Nagyon szép a lakás, ténylegesen a város központjában. Alida nagyon kedves és készséges volt.
András
2016-08-02T00:00:00Z
The host canceled this reservation 7 days before arrival. This is an automated posting.
Mónika
2016-10-26T00:00:00Z
Alida's house was great! It was clean and everything was in good order. Also in the town centre and ideal for the market and things.
Stephanie
2016-08-21T00:00:00Z
Typ pokoje
Celý dům/byt
---
Typ nemovitosti
Byt
---
Ubytuje
6
---
Ložnice
Gyöngyös, Heves County, Maďarsko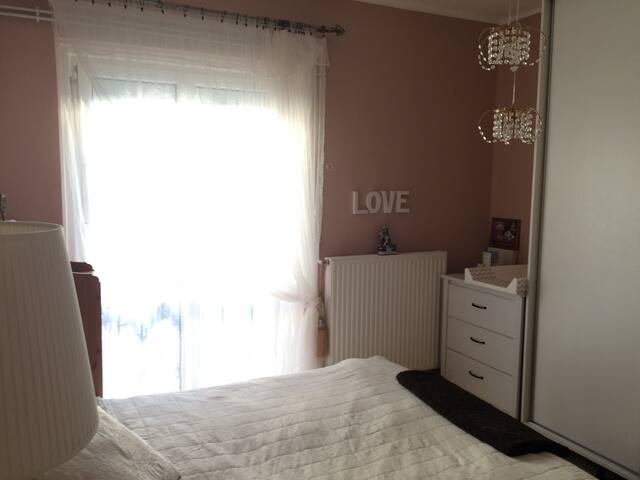 Het appartement is een grote karakteristieke open ruimte, originele open keuken van alle gemakken voorzien. Een zithoek, slaaphoek met twee persoonsbed. Sanitaire voorzieningen met douche en toilet. Voor natuurliefhebbers en rustzoekers en wandelaars
Het appartement is een prachtige authentieke ruimte met uitzicht op de vallei en van alle gemakken voorzien. Geniet van de rust de ruimte en de natuur op Milydom.
Milydom ligt in een ongerepte omgeving, de Krupina Planina. Uitgestrekte bossen en weidenvelden met een fantastische flora en fauna. In de omgeving kan je zwemmen in het natuurbad ( 15 km) of het historische stadje Banská Štiavnica wat op de werelderfgoed van Unesco staat bezoeken. In de omgeving zijn verschillende restaurants waar je goedkoop kan eten.
Typ pokoje
Celý dům/byt
---
Typ nemovitosti
Byt
---
Ubytuje
2
---
Ložnice
Stredné Plachtince , Banská Bystrica, Slovensko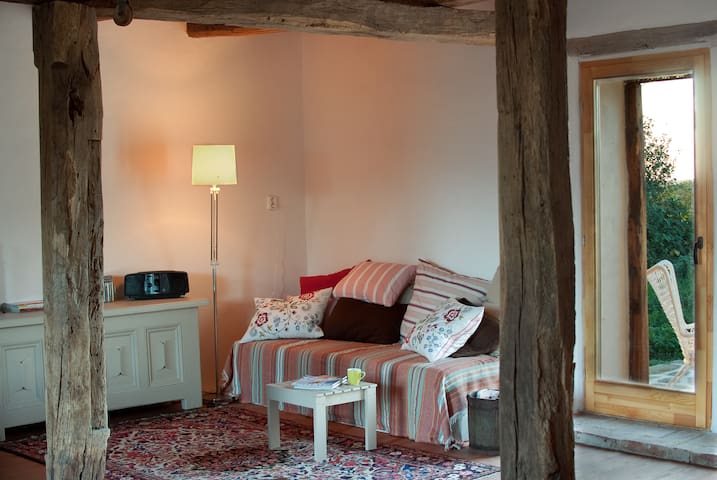 Our 110 yrs "Old Granary" consists of Apt. "Walnut" and Apt. "Oak". 100m2 "Walnut" features 2 bedrooms, a large living / dining area with a big, fully equipped kitchen, a bathroom and toilet. Guests have full access to the amenities of the Old Granary!
Only 40 min drive from Budapest, "The Old Granary" - a 110 yrs old granary, fully renovated to the highest standars, serves as a 300m2 guesthouse, located in the Mátra wine-region. 2 spacious apartments (Walnut and Oak) host up to 21, but you can rent them also separately, still having full access to the amenities of the Granary.
Typ pokoje
Celý dům/byt
---
Typ nemovitosti
Byt
---
Ubytuje
10
---
Ložnice
Nagyréde, Heves, Maďarsko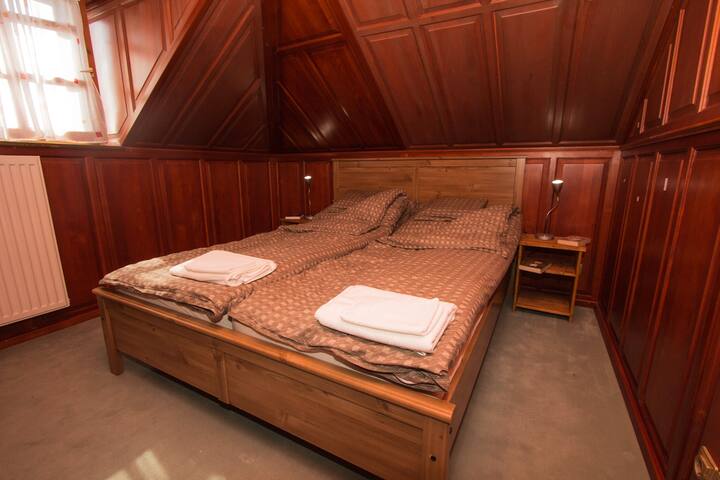 Bellissa Apartman Eger történelmi belvárosában a Balassi Bálint utcában új építésű épület 2 emeletén található. Dobó tértől, a híres Minarettől 5 percnyi sétára van.
Mariann is friendly and hospitable host, very welcoming and patient. The apartment presented in the pictures corresponds to reality: high standard, clean and cosy. Location is very close to Eger's centre, ideal for short-term trips. I fully recommend a stay in this apartment and no doubt I would come back here in the future.
Krzysztof
2016-01-31T00:00:00Z
Bardzo dobre położenie, do centrum blisko, a okolica cicha i spokojna.
Zbigniew
2016-11-13T00:00:00Z
Mariann was very friendly and warm person. Location of the apartment was superb, close to the city centre but in quiet neighbourhood. The apartment was very clean and just like in the pictures. We had really good time in Eger and would highly recommend this apartment!
Tuula
2016-04-18T00:00:00Z
We got a very warm welcoming by Mariann, she showed great effort and even though she had little english we managed to understand eachother. A lovely flat with a very spacious bathroom and bath:) clean and just as in the pictures, no remarks. Perfectly located 5 min walk from center of Eger.
Jenny
2016-02-16T00:00:00Z
Szuper szállás, bátran ajánlom azoknak, akik szeretnének a belvároshoz közel megszállni, hiszen innen gyalog megközelíthető Eger központja és sok látnivaló. A lakás modern és tiszta, tágas fürdővel, az autónkat is biztonságos helyen le tudtuk parkolni. Mariann nagyon kedves és vendégszerető. Ha legközelebb ismét Egerben járunk, szívesen térünk vissza hozzá!
Edina
2015-10-11T00:00:00Z
Everything was perfect! We were very much in a hurry at check in, and Mariann was very cooperative to be able to finish as fast as possible. The flat is awesome! Modern, sunny, has everything you need. If we go back to Eger, we will definitely stay here again!
Eva
2015-10-04T00:00:00Z
A lakás pont olyan szép és rendezett mint a képeken. A belváros pár perc sétára van, Mariann pedig nagyon segítőkész. Remekül éreztük magunkat a rövid ott tartózkodás alatt.
Judit
2016-04-02T00:00:00Z
Nagyon elégedettek voltunk a lakás színvonalával,tisztaságával, a kedves és pontos fogadtatással. Jó szívvel ajánlom másoknak is!
Hajni
2016-03-06T00:00:00Z
Typ pokoje
Celý dům/byt
---
Typ nemovitosti
Byt
---
Ubytuje
5
---
Ložnice
Eger, Heves, Maďarsko
This is a nice, two bedroom apartment. The apartment is located only 10 minutes walk from the city centre, besides it is in a silent and calm area, where car parking is free of charge.
The flat is 53 m2, it is located on the ground floor, there are two rooms, one of them is 12m2 the other one is 18m2. The smaller room has a balcony. This room has a double bed. In the larger room there is a double bed and a sofa-bed. There a separate toilet and a bathroom with a tub. The kitchen is well equipped.
Évi apartment is located in a quiet neighbourhood, where car parking is free of charge. Next to the house there is a playground, where children can use modern equipments. Basilica of Eger, Eszterházy Károly college, Archipiscopal palace of Eger and pedestrian of Széchenyi street (centrum) are also within a walking distance. The Bishops' Garden can be reached also with few minutes of walk, and its view worth this small walk. In the middle there is a fountain. You can walk via the entire Bishops' Garden via the arborescent avenues, and you can also walk via the bank of Eger Stream. Thermal Bath of Eger is located at the other bank of Eger Stream.
The apartment is very clean and well equipped, close to the city center. Évi is very communicative and she was very flexible about our arrival and leaving. She even left us some delicious chocolates and nice Christmas decoration. We had a lovely time here, we would recommend it to anyone.
Zsuzsanna
2016-12-24T00:00:00Z
Evi and her husband were wonderful hosts. First, they picked us up at the train station and took us to the apartment. So very kind and considerate. They explained everything about the apartment and even made some cherry cake for us. The apartment was in a quiet neighborhood and immaculately clean. It was roomy and full of light and when you opened the windows you heard the birds singing. The kitchen was well equipped, the beds comfy, and there was a small balcony for fresh air. It is only a 15 minute walk to all the major sights in Eger, which is a charming place to spend a few days. Evi responded quickly to all our emails. I highly recommend staying at Evi's apartment.
Terence
2016-06-14T00:00:00Z
A szállás minden igényt kielégítő, kényelmes, jó helyen van, elérhető közelségben a várostól és a Szépasszony-völgytől is. Évi kedves, segítőkész, városnézési tippeket is kaptunk tőle az általános információkon kívül. Mindenkinek ajánlom.
Imre
2016-10-08T00:00:00Z
A házigazdák rendkívül barátságosak voltak. A környék szuper, és nagyon közel van mindenhez, amihez kellett.
Gergő
2016-10-23T00:00:00Z
Éviék iszonyatosan kedvesek és aranyosak voltak. A szállás mindenhez nagyon közel volt, és nagyon otthonosan éreztük magunkat benne. Mindenkinek ajánlom!
Ágota
2016-06-07T00:00:00Z
Nagyon figyelmes házigazda, rendkívül segítőkész. A szállás teljes mértékben megfelelt nekünk.
Gáspár
2016-10-02T00:00:00Z
A lakás csöndes, nyugodt környéken található mégis közel a belvároshoz. Alkalmas pároknak is és családok számára egyaránt. A konyha jól felszerelt, mindkét szobában található Tv (már akinek ez fontos :) és az ágyak is kényelmesek voltak. Nekünk jól jött, hogy a játszótér a szomszédban van, a parkolás pedig ingyenes a ház előtt. Évi segítőkész volt, azonnal válaszolt minden kérdésünkre. Minden flottul ment, jó szívvel ajánljuk az apartmant másnak is.
Tekla&Balázs
2017-03-19T00:00:00Z
Evi's place was very well equipped comfortable quiet place. About ten minutes walking distance from downtown.
Tibor
2017-03-13T00:00:00Z
Typ pokoje
Celý dům/byt
---
Typ nemovitosti
Byt
---
Ubytuje
6
---
Ložnice
Eger, Heves County, Maďarsko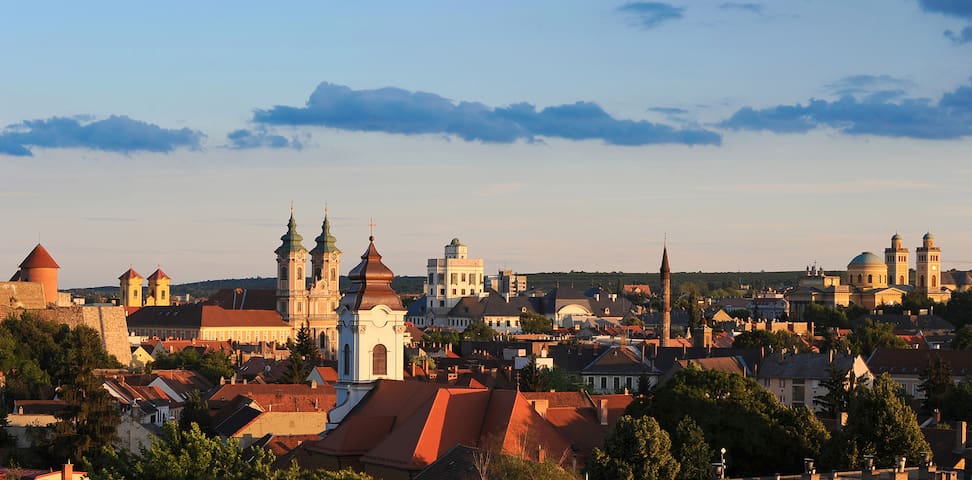 Várjuk kedves vendégeinket Egerben, a Mekcsey úti lakóparkban található, igényesen kialakított, új bútorokkal berendezett, 2. emeleti féltetőteres, apartmanunkban, ahol max. 4 fő részére 2 hálótérben kellemes kikapcsolódást biztosítunk.
Szállásunk Eger belvárosában található, kényelmes sétával pár perc alatt elérhető az Egri Termál és Strandfürdő, a Dobó tér és a sétáló utca is. Az egri vár és sportuszoda pedig látótávolságba van. A szálláshoz biztonságos, zárt belső udvari parkolás biztosított.
The BEST service we've ever received. The owner picked us up from the bus station and on our last day dropped us off at the train station. The apartment was very clean and spacious for the two of us. There's a 24 hour small convenience store at the end of the block. Easy walk to the main square. Great location.
Holly
2016-10-02T00:00:00Z
Excellent price-value. Close to center, everything is in walking distance. Clean, well-kept place, everything is as in the pictures. Closed and safe parking place. The apartment has everything you basically need in a household (including ironing board, iron, kettle, etc.). Host is easy to manage, gives invoice. Real airbnb. Kiváló ár-érték, legjobb helyen, vár 200m :), tökéletesen felszerelt, számlát is adnak az éjszakáról. Mint a képeken. Kiváló kommunikáció, rugalmas vendéglátó.
Norbert
2017-01-28T00:00:00Z
Minden szuper Volt nagyon aranyos Kis Lakas. Minden a közelben.
adam
2015-12-28T00:00:00Z
Két estét töltöttünk az apartmanban. A lakás nagyon tiszta rendezett. A házigazda nagyon kedves. Mindenképpen csak ajánlani tudom.
Balazs
2016-01-06T00:00:00Z
Beáék nagyon jó házigazdák, nagyon kedvesen fogadtak, részletesen és türelmesen elmondtak minden tudnivalót és még a csomagokat is segítettek felvinni! ☺ A lakás szuper helyen van, mindenhol tisztaság volt ès minden helyiség jól felszerelt. Az ingyenes parkolás is nagyon klassz volt. Köszönjük tovàbbá a rugalmas kulcsleadàst reggel!!
Zita
2016-01-30T00:00:00Z
Nagyon kedves ès pontos volt a hàzigazda! minden szuper volt!:)
Zsuzsanna
2015-10-11T00:00:00Z
Beáék nagyon szívélyesen fogadtak minket a megbeszélt időpontban. A lakás nagyon aranyos volt és otthonos. Teljesen felszerelt, semmiben nem láttunk hiányt. Éttermek/boltok tömkelege besétálható távolságban. A vár, uszoda, strand szintén 5 perc sétára. Nagyon jól éreztük magunkat, köszönjük, remélem még találkozunk!
Viktor
2016-02-28T00:00:00Z
The flat is nice, like on the pictures. Very central. We had a nice stay, thanks again! The host picked us up at the train station, gave us tips about places to eat. Perfect :)
Guillaume
2017-03-22T00:00:00Z
Typ pokoje
Celý dům/byt
---
Typ nemovitosti
Byt
---
Ubytuje
4
---
Ložnice
Eger, Heves County, Maďarsko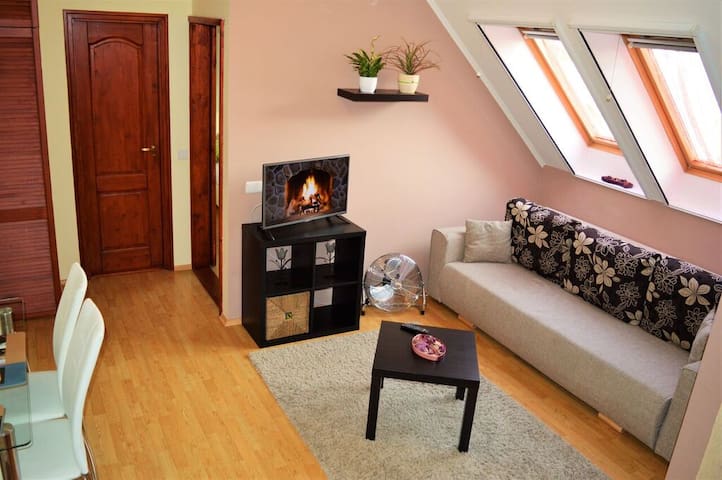 Nagyvisnyón, a Bükk hegység lábánál, Szilvásváradtól 5 km-re található a Csikász Vendégház. Csendes, zöld környezetben, gépkocsiforgalomtól mentes. A vendégház 1 apartman, 2 különálló szobával, 4 + 1 fő elhelyezésére kerti szaletlivel.
Ingyenes tea- és kávéfilterek, kávé, méz. Vendégfogadó sütemény.
Typ pokoje
Celý dům/byt
---
Typ nemovitosti
Byt
---
Ubytuje
4
---
Ložnice
Nagyvisnyó, Heves County, Maďarsko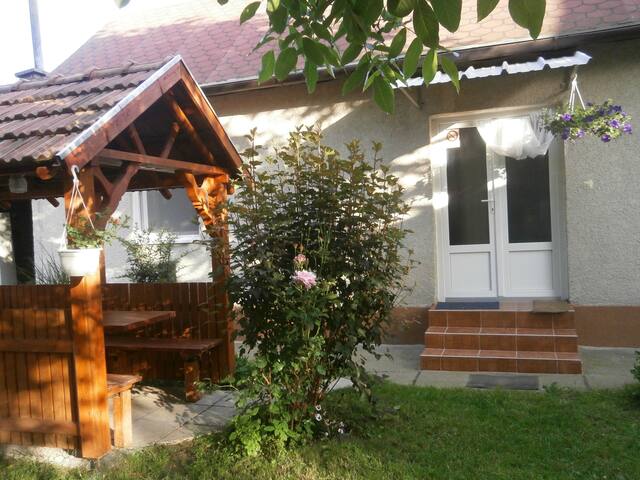 The Old Granary consists of Apt. "Oak" and Apt. "Walnut". 100 m2 "Oak" features 3 bedrooms (sleeping 2-3-4 guest), a large living / dining area with kitchen, bathroom and separate toilet. Guest have full acces to all facilities of the "Old Granary"
Only 40 min drive from Budapest, The "Old Granary" - a 110 yrs old granary, fully renovated to the highest standars, serves as a 300m2 guesthouse, located in the Mátra wine-region. 2 spacious apartments (Oak and Walnut) host up to 21, but you can rent them also separately, still having full access to the amenities of the Granary.
Typ pokoje
Celý dům/byt
---
Typ nemovitosti
Byt
---
Ubytuje
11
---
Ložnice
Nagyréde, Heves County, Maďarsko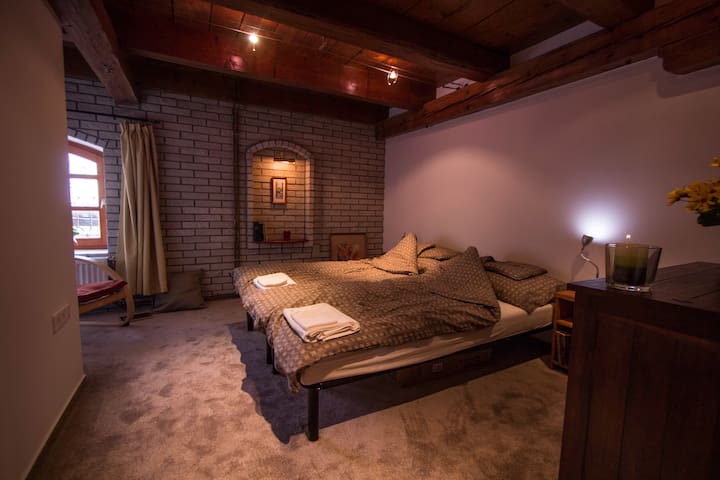 Explore Slovakia and Hungary from my apartment situated in Southern-Slovakia close to the Hungarian border. Within 1-hour drive you can reach for example Kosice, Miskolc, Aggtelek from here. You can rent 1 bedroom with private bathroom, shared living room and shared kitchen facilities. Price is per room for a maximum of 2 people. Extra person will be charged: 6 Euro/night.
We spent here one night on the way to the east of Slovakia. The host was kind, helpful and attentive. Accommodation was clean, in a quiet environment.
Zoltan
2016-08-06T00:00:00Z
Das Schlafzimmer und das eigene Badezimmer waren schön eingerichtet und sehr sauber. Die netten Gespräche mit Brigitta zum Frühstück haben mir sehr gefallen und ich habe mich sehr wohl aufgenommen gefühlt in der Familie. Der Ort ist ideal aus Ausgangspunkt für Sightseeing-Rundreisen und ich habe es sehr genossen dort zu wohnen. Werde höchstwahrscheinlich wieder einmal für paar Tage das Angebot von Brigitta annehmen. Ganz liebe Grüße Johannes
Johannes
2016-09-22T00:00:00Z
Typ pokoje
Soukromý pokoj
---
Typ nemovitosti
Byt
---
Ubytuje
2
---
Ložnice
Tornaľa, Slovensko
csodas panoramaval szoba kiado
Typ pokoje
Soukromý pokoj
---
Typ nemovitosti
Byt
---
Ubytuje
5
---
Ložnice
Eger, Heves County, Maďarsko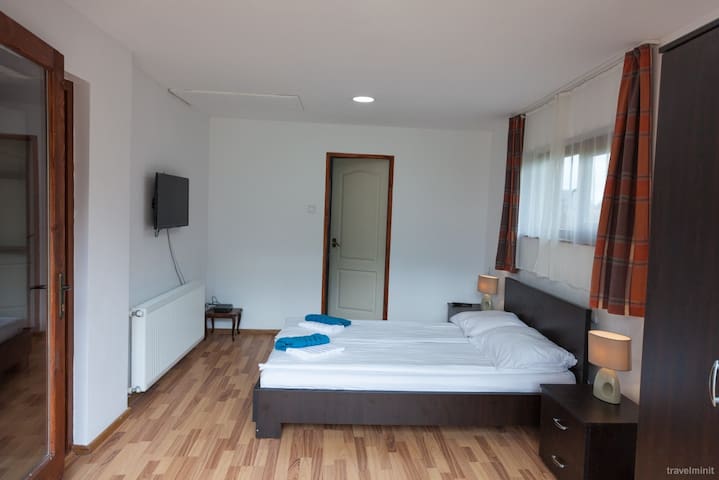 Feel comfortable, feel safe with us, all of our guests. Green area, full amenities. good air. Eger fine wine, homemade cookies, fruit, and offer programs welcome all of our guests. Hi Klara
The newly built apartment , loft , large-area ( 72m2 ) one area . Beloved guests.domestic welcome prospective pet is permitted , the veterinarian street.The price : 2 person / night has been established. The Comfort Apartment is located in a suburban neighborhood , the streets are bus ( 7 flights ) . Nearby grocery store, grocery , shopping center ( Plaza ) restaurant , on foot 15 minutes walk from the city center and the Szépasszonyvölgy . Mice around many tourist spot found.the Tombs Castle , Noszvaj De La Motte castle, Síkfőkút , Szilvásvárad - trout - .Fátyolvízesés , Miskolc. - Tapoca . Eger and its surroundings spas are famous (and not only for its wines ) from 10 to 40 km away from Eger - natural salt hill is Bogács , Bükkszék - szalvus water - waiting Field Follow - Zsórifürdő , and relaxing for our guests , families with love our (URL HIDDEN) , separate paneling complete . Calm, quiet town . The apartment is fully equipped, - living room - cable TV , wi-fi , CD . Radio - sleeping area (Ed. and gallery ) 2-8 seats - full kitchen , domestic and catering equipment, - . bathroom with corner bath , bidet, hair dryer, washing machine.Garden , baking and cooking facilities for our guests Eger wine 1 glass of welcome. Unique housing design. Did not disturb other guests .
Quiet suburban environment, but close to the city center and the Szépasszonyvölgy. Eger and its surroundings and many spa. velness bath is.
We had a lovely stay at Klara's apartment! She was so wonderful and provided us with delicious wine and Hungarian dessert cakes when we arrived. We wished we could have stayed for longer! Ajanlom a holgyet szivbol ahol megszalltunk. Szep hely volt remek idot toltottunk ott zome neki koszonheto.
Kirsten
2015-06-03T00:00:00Z
Accueil chaleureux et appartement conforme à la description. Je recommande.
Grégory
2017-03-26T00:00:00Z
I had a great stay with Klara. The home was very comfortable, had plenty of space, and the family was welcoming. It is a great price and well worth the money. If I return to Eger I will be sure to stay here again!
Ben
2015-12-06T00:00:00Z
Die Unterkunft ist wunderschön, hell und sehr geräumig, mit großem modernen Badezimmer und sehr ruhig gelegen in der Nähe des Busbahnhofs und nur zehn Minuten zu Fuß in die Innenstadt. Klara, die Gastgeberin, ist sehr gastfreundlich: Sie holte uns am Busbahnhof ab und bewirtete uns mit hausgemachtem Strudel und Wein. Insgesamt kann ich den Aufenthalt nur empfehlen!
Bjela
2017-03-16T00:00:00Z
We had a wonderful weekend at Klara's apartment (5 ppl altogether). The place is on the 2nd floor of the house, has a really pleasant atmosphere, nicely furnished and full of lights. It was designed by Klara, she was an architect. The whole apartment is one airspace, so It's comfortable for families or close friends, perhaps a little less for separate couples. The kitchen, bathroom, everything is fully equipped. The house is located in pleasant, quite neighborhood, it is about 15-20 minutes walking to the city center. There's really good quality wine tasting place just a couple of minutes away. Klara is very friendly and talkative, we also had received a bottle of local wine and some snack when we arrived. The family has very charming cats as well. I can absolutely recommend the place!
Bence
2014-10-13T00:00:00Z
We had a wonderful stay at Komfort Apartman and thanks a lot to Klara and her family for them hospitality. Apartment was very clean and comfortable, in a very good peaceful location, with a comfortable bed, spacious bathroom, very well equipped kitchen with all the necessary and good wi-fi. Thanks for all!!!
Graudina
2014-01-11T00:00:00Z
We were surprised when Klara picked us up at the station, and we really loved the bottle of wine and the dessert left at the table for us! The room is much larger and nicer than in the pictures, and we had a nice stay. It takes around 20 mins walk to the town centre, and being on the top of a hill it has a nice view from the balcony. The area is very quiet. Klara doesn't speak English but her son does and seems very nice. Overall a nice place to stay in Eger.
Lynn
2017-01-04T00:00:00Z
The best place . We passed a great time and steve and klara are Good persons Best regards
Guido
2017-04-02T00:00:00Z
Typ pokoje
Celý dům/byt
---
Typ nemovitosti
Byt
---
Ubytuje
8
---
Ložnice
Eger, Heves County, Maďarsko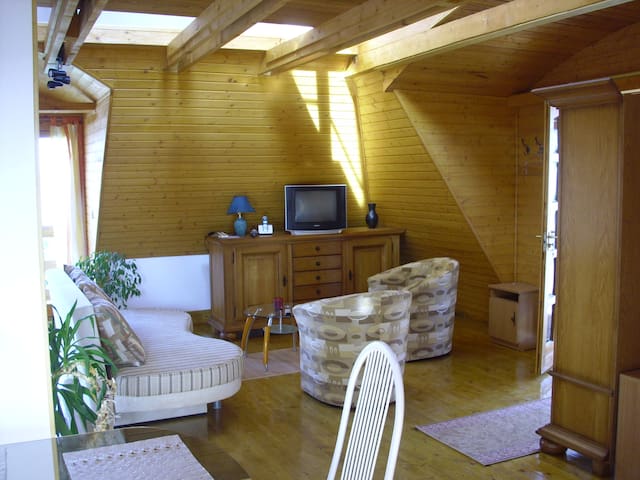 A real jewel, Eger is a romantic town, abounding in history. Thermal Apart awaits you in all its glory; the welcoming apartment is fully equipped for your comfort and leisure. An ideal holiday getaway that can host up to 4-6 people!
Welcome to Thermal Apart in Downtown Eger ! Why not spend your vacation in the baroque city of Eger, famous for its castle, thermal bath and wines? Our air-conditioned, recently renovated apartment is in the historic city center, just 2-minutes walk far from the castle, and 4-minutes walk far from Dobó Square, the thermal bath, and the swimming pool. All the major sights are walking distance away. You can enjoy the lovely cobble stoned streets wit their romantic cafes and wine bars where the famous" Egri Bikavèr"; "Bull's Blood of Eger" and other nice wines are offered by the best wine makers of the region. A modern, 63m2 apartment, with 2 bedrooms and a living room, kitchen (equipped with fridge, microwave, electric stove and dishwasher), bathroom, and toilet awaits our guests. A sunny terrace with summer awning overlooks the garden. We can accommodate comfortably 4 people and maximum 2 more for an additional price in case of need. There's a convertible extra sofa bed in the living room that can be used for two additional people upon request. We offer personal assistance to our distinguished guests and can organize wine tasting and sightseeing tours in different languages. The apartment building is opposite the bus stop, you just have to walk across the street if you need to travel farther. Parking is available free of charge in public parking in front of the house from 5 pm to 8 am, or at a designated area behind the house all day long. Come and enjoy this beautiful city !
Our neighborhood is fantastic, because the apartment is located in the center, yet in a quiet area, most sights, restaurant can be accessed on foot. Our guests can meet lots of other international tourists in the streets. People from Eger are very nice folks and very polite with visitors. We love entertaining and our hospitality is legendary.
The Thermal apartment was very comfortable with everything as described on the site. Gabriella was excellent with communication prior to our visit and during our time there. We appreciated Eniko meeting us, answering our questions and giving great suggestions. We really enjoyed our time there.
Barbara
2016-09-23T00:00:00Z
The flat is spacious, well-equipped, sunny, clean and very comfortable. It's located in the downtown, close to the castle so you can go anywhere on foot. Because of high temperatures outside, air conditioning was very useful. You can find there everything what you'll need during your stay in Eger: towels, well-equipped kitchen (dishwasher, dishes), wine glasses etc a shop is nearby. We can recommend the flat and we're sure we'll come back
Marcin
2012-08-05T00:00:00Z
We had really great time in Gabi´s flat. Her mother waited for us inside the apartment (unfortunately didn´t speak English) but somehow managed to show us all important things. The flat itself was really clean, clear, very well kept and well equipped. Gabi was with us on instant contact via email and mobile phone. When we needed something, she brought it to us, she answered our questions. The location is perfect for exploring the town, you can reach easily everything on foot (the castle, the Dobo square, the thermal bath etc.) It is also convenient to go to the Valley of a Beautiful Woman, the Szalajka natural park etc. We highly recommend this host and her flat! Thank you for all Gabi (and your mother as well!)
Nora
2013-05-27T00:00:00Z
Very nice apart, close to the city center, Everything was as described and as expected. Strongly recommended!
Olivier
2015-09-16T00:00:00Z
Our short stay in Gabriella's Thermal Apartment (which is a house rather than an apartment) was lovely. The house is on a quiet street five minutes walk from the center of the town. It is a comfortable and pleasing place to stay: the rooms are large and everything that you might need is there for you. The bed in the large bedroom was huge (and comfortable), and the bathroom (the one we used) was also huge. Gabriella was pleasant and efficient to deal with by email, and though we didn't meet her, we were met by friends (I think they were friends; maybe family) who showed us all that we needed to know. Everything was clean and instructions were clear. The wi-fi worked well also. We would be delighted to stay at either of Gabriella's two places in Eger again. Charles and Suzanne Newman
Charles
2013-11-04T00:00:00Z
Minden rendben volt, a szálláshely nagyon jó elhelyezkedésű , ha legközelebb Eger városába látogatnánk biztos hogy újra itt szállnánk meg!
Lili
2016-11-02T00:00:00Z
Gabriella is a wonderful host. She made sure we had a pleasant stay in Eger. The apartment was great and we totally enjoyed our one-week stay. I look forward to returning to Eger and I would certainly contact Gabriella for accommodation.
Iulian
2014-03-17T00:00:00Z
Wrażenia bardzo pozytywne. Miłe i ciepłe przyjęcie. Mieszkanie zgodne z opisem i dobrze wyposażone. Położenie w bardzo dobrym punkcie miasta. Drobną niedogodnością dla podróżujących samochodem jest brak stałego bezpłatnego miejsca parkingowego ( mieszkanie położone w ścisłej strefie parkowania płatnego). W naszym przypadku problem został rozwiązany.
Marek
2016-07-12T00:00:00Z
Typ pokoje
Celý dům/byt
---
Typ nemovitosti
Byt
---
Ubytuje
6
---
Ložnice
Eger, Heves, Maďarsko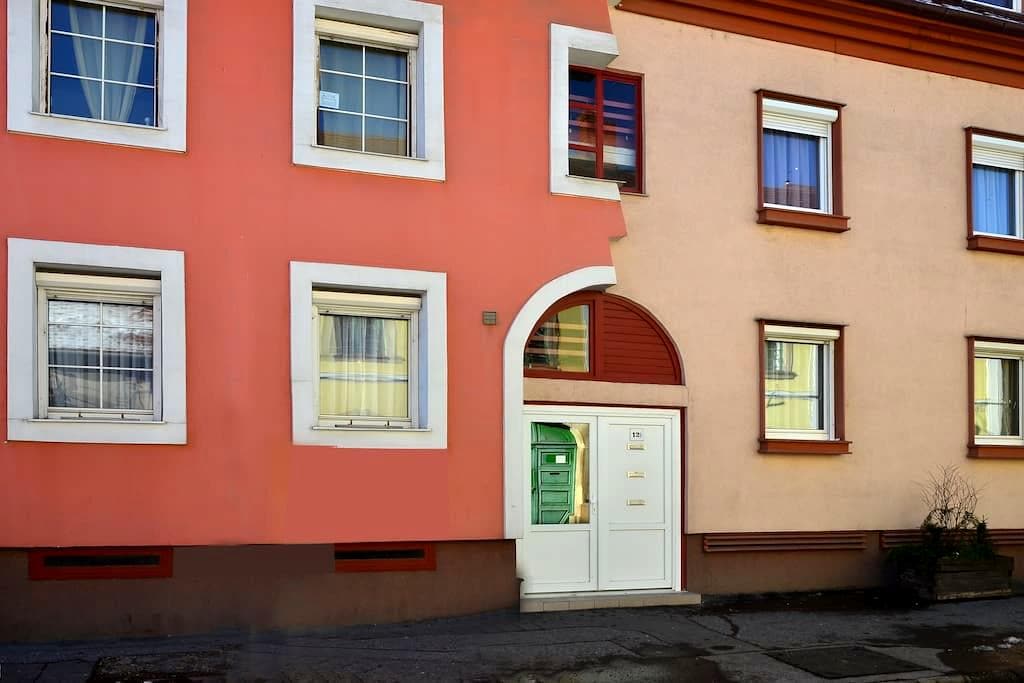 One of the most atmospheric streets of Eger, 5 minutes walk from the pedestrian street, two rooms, first-floor apartment with balcony terrace. Perfectly equipped kitchen, new bathroom. Parking on the street is free.
Special themed studio apartment on the first floor of a four storey building. Spacious, quiet and peaceful. Two rooms and a cozy kitchen-dining area. Few minutes walk from the city center after a pleasant evening dinner, movie, walk or strenuous bathe. Spend your leisure time as a real local! :)
At the Hajdúhegy foothills, neighbourhood of Eger downtown, Károlyváros part of town is a pleasant residential area. Recreation, relaxation but a perfect starting point for smaller excursions, hiking, spa visits also.
Szilveszter was very informative and quick to answer our queries. The flat is simple, well located, very clean and the kitchen is well-equipped. Eger is a beautiful place and this airbnb is a perfect choice when staying there!
Guillaume
2015-08-07T00:00:00Z
Szilveszter's place was perfect. Everything was clean and the apartment was situated perfectly between the town and the wineries. Szilveszter's mom came to pick me up at the train station and was very lovely. I can't say enough good about the place.
Lorianne
2015-08-27T00:00:00Z
We booked Szilveszters place for 2 nights than decided to arrive. A day earlier and arranged it easily with Szilveszter. As he was out of town.his mum.came and greeted us at 5he arranged time. No fuss very warm welcome. Welcome bottle of lovely white was waiting for us too. Thanks for that. The apartment was super clean, neat and bigger than expected. The location is very convenient 5 min. from the walking street and approx. 10 min.from the castle.Neighbourhood was very quiet although its very near. A busy road we couldn't hear traffic. Also the bus stop.is literally there 100m or so. Approximately 30 minutes from.the train stop, taxis available.for.your convenience. The bathroom is very well equipped even had shower gel/ shampoo not many hosts would consider but lovely gesture. Towels ready as well. Iron with board, kitchen fully equipped if you want to bother with cooking. There is a shop Coop ABC or Spar at even distance of probably 10 minutes from the place. Very convenient. We absolutely loved the place and would definitely come back. Communication is very easy with Szilveszter through airbnb/ sms or e-mail. Thanks again.for our lovely stay we loved our 3 nights.
Anita
2016-07-11T00:00:00Z
We love visiting Eger, and we really loved Szilveszter's apartment. It was extremely clean, well furnished and laid out. It was convenient walking distance to everything we wanted to see. Szilveszter was very attentive and communicated very well. Great host.
Chris
2016-10-10T00:00:00Z
We didn't see Szilveszter in person,but his mother welcomed us very warmly with a bottle wine and he always reply to our questions. Very nice and clean apartment, fully equipped and very good located - just 5 min away from the town center. Would recommend staying here to anybody.
Liana
2016-08-29T00:00:00Z
Szilveszter was a great host. He welcomed us to his flat, even thought it was quite late, and we were certainly tired. He was willing to show us around and answer our questions as we settled in. Even though we have been to Eger several times, staying at Szilveszter's place on this trip was a pleasant addition to an already enjoyable visit. We will definitely consider him again.
Geoff
2016-07-18T00:00:00Z
Szilveszter nagyon segítőkész volt mindenben. Mikor mi mentünk párommal, akkor éppen nem tartózkodott Egerben a házigazda, de ez nem okozott problémát. Szilveszter bekészített nekünk egy üveg finom bort, ami nagyon kedves volt tőle. Mindenkinek csak ajánlani tudom a szállást.
Gábor
2016-11-27T00:00:00Z
Kedves kis lakás, kedves házigazdával! :) Rendezett, tiszta lakás, nagyon jó helyen, gyalog is közel a belvároshoz. Szilveszter mindenben nagyon segítőkész és rugalmas volt, éttermeket és programokat is ajánlott, amikért hálásak vagyunk! :) Nagyon jól éreztük magunkat, bátran ajánlom mindenkinek!! :)
Adrienn
2015-11-16T00:00:00Z
Typ pokoje
Celý dům/byt
---
Typ nemovitosti
Byt
---
Ubytuje
3
---
Ložnice
Eger, Heves County, Maďarsko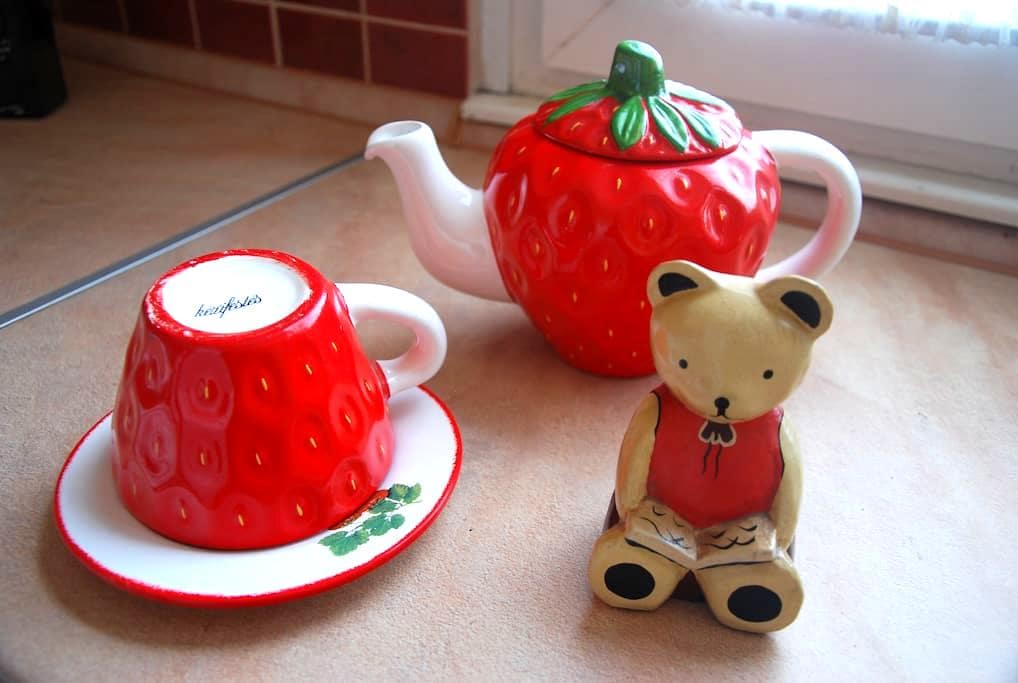 Somoskőújfalu - Airbnb
:
Průměrně

4.85

z

5

hvězdiček na základě

200

hodnocení hostů
Pro zobrazení celkové ceny zadej termín. Mohou být přidány další poplatky a daně.