One of the hidden treasure of Hvar and the most authentic village on the island is the abandoned shepherd's village of Humac. We are delighted to offer one of the most unique accommodations in Croatia, in the newly renovated house with amazing views.
Our house is located 10 km east of Jelsa, at the entrance to the eco-ethno village Humac and it takes only 10 minutes by car on newly renovated road to Jelsa. The beautiful beaches on the north side of island are also 10 minutes away by car. House has a fully equipped kitchen with fireplace and refrigerator with mini freezer, big table, Wifi internet, two rooms, lines and towels and toilet with shower. There are two rooms, one is on ground flour with single and double bad and gallery with two single beds and one double bed. House is supplied with electricity by solar power supply. Running water in the home is used from the water tank, which is located under the ground and fill with rainwater, collected from the roof and it's heated by special solar sistem. You have parking place in the pine shade. You will also get bikes to use, at no extra charge. This house is in very, very quite area, without traffic on the road because the village is non inhabited, there is only a restaurant 100 meters away. Also you have a large area around the house of 500m2 with tree shade, where your children can play and you will get the necessary peace and privacy. From the yard, you will be able to enjoy in beautiful view, facing island Brač and Zečevo, Vrboska, Jelsa and Stari Grad bay. From Humac we can organized yours visits to the nearby Grapčeva špilja (Grapčeva cave), one of the most important prehistoric site on the Mediterranean with the findings from 4 000 B.C. ABOUT VILLAGE HUMAC A unique example of well preserved rural architecture, formerly a pastoral village, Humac originated in the 17th century. At the height of 350 m above sea level, you have a magnificent panoramic view of all the surrounding places, coves, the island of Brač and Makarska's coast. The charm of this village lies in its harmonious stone houses, courtyards, balconies, narrow streets and nature which all give an inspiring sight. Humac is a very old village where man has been living for centuries. There are many simple houses made of stone in its surroundings called trim, built without binder in a way that they become narrower towards the top. Many of them have their original foundations from early Stone Age. Inhabitants of Humac have been occupied with cattle and wine growing for thousands years, and in around 1950 they started growing lavender. In the last few centuries people didn't live in Humac, but spent time in Humac during major agrarian works.
We absolutely loved Mario's place. The house and view are both stunning. Everything you need is there, plus wine and snacks from the family that were amazing! We hiked through the abandoned village, rode the provided bikes, hung out with the free roaming horses and enjoyed being totally away from everything. It was truly a total vacation from the world. Mario was always prompt and helpful via e mail and was great in person as well.
Lindsay
2015-04-05T00:00:00Z
Der Urlaub in Humac war großartig! Mario und seine Familie waren reizend. Wir konnten uns mit allen Fragen problemlos an sie wenden. Der Ort - einfach bezaubernd. Das Restaurant nebenan -gibt's nur einmal.Große Herzlichkeit. Ein Herzensort eben.
sylvana
2015-08-12T00:00:00Z
This cottage was amazing. Set on top of a hill looking down over the valley to the sea, provided a beautiful sun set and relaxing atmosphere. We had a very warm welcome from Mario's brother Jakov, who show us around. They provided us with fire wood, home made goodies and a bottle of home made wine. There is a lot to explore on foot around the cottage and small towns and beaches by car. Mountain bikes were provided for us as well. Mario was very easy to contact and was in contact with us to be sure everything was going ok. He made everything easy for us. We will diffidently stay here again.
Michelle
2014-04-30T00:00:00Z
We arrived at The Eco house where Jacov met us and showed us around. You will need some form of motorised transport to get there and to get around but it's definitively worth it. The view is outstanding. We took advantage of the outdoor table for our breakfast and pre dinner drinks with amazing sunsets. As the evenings were pretty fresh, we used the fire place to cook our dinners and keep warm. The house runs on solar power and gas.. We were a group of 4 people and everything worked without any problems at all. When we booked it, we thought that it was closer from the beach, it actually takes around 15min to get to amazing spots for a swim, but we didn't mind the drive and we spent all our days to explore Hvar island.
Julie
2014-06-08T00:00:00Z
The house and the village were amazing! The view from the porch overlooking the lavender fields and the towns below was awesome! The house is so well equipped and so comfortable that you forget it is all run by solar. We did a tour to the cave with Jakov. It was great! In addition to the cave, he gave us the history of the village and a tour of several buildings. We really enjoyed his stories. Seeing the wild horses was great as was the local wine and snacks that Jakov and Mario shared with us! Our 8 days here went way too quickly and we would definitely stay here again.
liz
2016-04-04T00:00:00Z
Mario & Jakov were brilliant to deal with and were able to meet all our needs. The Humac Village is a unique experience & a fantastic place to spend a relaxing time on Hvar - exploring some of the more secluded beaches and enjoying the amazing sunsets from your own hammock/loungers! The woodfired oven/grill is also great fun to try out.
Tom
2015-07-28T00:00:00Z
The location was so great, wonderful view, so very nice people, we really enjoyed our stay - thank you, Rubinić- family! We spent two weeks there in October, trekking along the coast, bathing, having cultural experiences, being almost alone in the world and the nature, so relaxing!
Rupert
2014-10-25T00:00:00Z
What a perfect house on an amazing location! Also the island is very beautiful. It does get reather hot in summer without airco.
Ilke
2016-08-01T00:00:00Z
Typ pokoje
Celý dům/byt
---
Typ nemovitosti
Dům
---
Ubytuje
7
---
Ložnice
Jelsa, Split-Dalmácie, Chorvatsko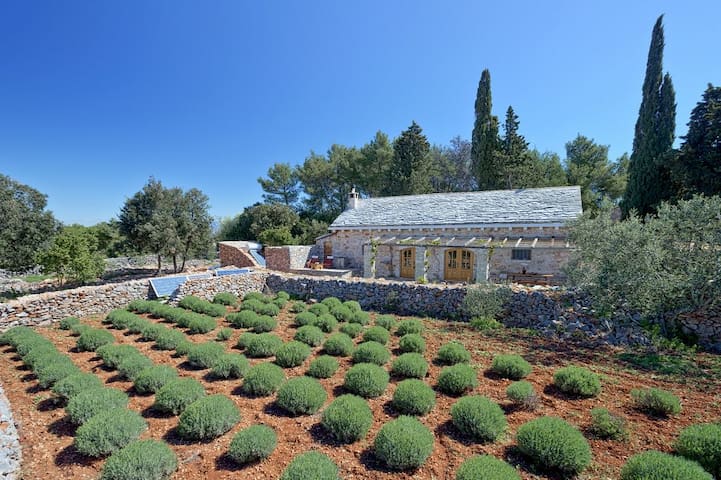 Check also my other apartment on my profile, or here!! https://www.airbnb.com/rooms/1132152?s=wqho
Renovated in March 2014. CHECK MY OTHER STUDIO ON MY PROFILE IF THIS ONE IS UNAVAILABLE. :) This delightful studio is in an old stone house situated in a quiet historical district surrounded by typical Dalmatian stone homes. The studio is on the top floor. Very comfortable, easy access, completely restored with new interior furnishing and decorating. Separate entry, 1 double bed, single pull sofa bed, wardrobe, a fully equipped kitchenette with all amenities, 2 hotplates, refrigerator, satellite TV, air-conditioning, Wi-Fi ADSL internet, bathroom with glass enclosed shower. 27 m2
The neighborhood is very safe and the district surrounding our house is historical and peaceful, so you'll stay close to all most important attractions but in a quiet district.
Tea's apartment is in a wonderful location - just outside of the Palace walls and a 5 minute walk to everything you need! The apartment itself is super cute - small, but comfortable and very modern. All you need for a perfect base from which to explore the city! Tea was very friendly, met us at the apartment and gave us some advice on what to see while we were in Split (including some great restaurant recommendations!). Tea was also VERY accommodating and understanding when our plans fell through and we had to change our dates. We very much appreciated her flexibility!
Ashley
2015-09-19T00:00:00Z
Tea was a fantastic host, with a beautiful apartment. Very conveniently located, a short walking distance from town. She recommended some great restaurants and activities to do. This is a great apartment for two people.
Lucy
2015-07-28T00:00:00Z
Great apartment. Just as described. Very good location. Tea was great at giving advice on restaurants etc.
Aoife
2016-08-11T00:00:00Z
Nice, modern apartment in an excellent location. Very clean and comfortable. Perfect for a short stay. You have to climb three storeys of steps to get to it which might be difficult for some but we didn't mind.
Eoin & Agnieszka
2014-10-28T00:00:00Z
The place is lovely and in a perfect location. We loved Split, and this is a wonderful place to start from. Tea's family even found us a parking spot right in front, which was super valuable. Highly recommended.
Dane and Sonja
2014-05-10T00:00:00Z
Great apartment - clean and looks exactly as it does in the photographs. Good central location as well.
Nicola
2015-07-02T00:00:00Z
What an amazing place to stay !!! The apartment was excellent, newly renovated and well designed, it has everything you need and a great Wi Fi. I stayed two nigths at the apartment which is perfectly located to discover Split ,it is in the center, very close to all tourisit attractions like the Diocletian's Palace.( 1 minute walk). The apartment was super clean and it is located in a quiet street so i could get a good rest at night !! Tea and Antonija are really great host !! Very hospitable and helpful, available for communication and tips. I would recommend 100 % this apartment to anyone who wants a great and comfortable place to stay in the center of Split !!
Alessandro
2014-04-13T00:00:00Z
The apartment is every bit as fantastic as the photos - very tastefully decorated and conveniently situated. We would highly recommend this apartment if traveling to Split!
Nick
2014-06-24T00:00:00Z
Typ pokoje
Celý dům/byt
---
Typ nemovitosti
Dům
---
Ubytuje
2
---
Ložnice
Split, Split-Dalmatia County, Chorvatsko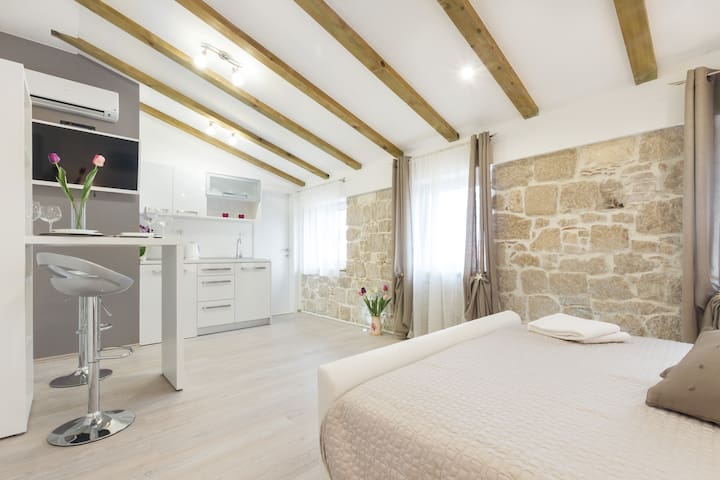 Old tower is situated in Hvar`s historical center, in a peaceful area, just few minutes walking distance from the main town square. Tower has been luxuriously refurbished using traditional building methods and materials combined with latest technology.
The Old tower "Ruina di Molino a Vento" situated in the centre of the town of Hvar was built by the Franciscans as a windmill in 1761. Today, the tower is protected by Hvar Cultural Heritage, as a cultural monument. From the 1971 it belongs to the Lorenzo Tudor`s family. The property has been luxuriously refurbished using traditional building methods and materials combined with the latest technology. It has its own cooling and heating system, as well as its own water supply, electricity power and wi-fi connection. The tower has four floors, one bedroom, lounge area, living room, kitchenette, dining area, one bathroom, one toilet, a private garden and a private parking.
It was a treat to stay at Lorenzo and Ivana's Windmill! It is thoughtfully designed to make the unusual space work perfectly with tons of charm. The location couldn't be better, as it provides a respite on the hill directly above the bustling town of Hvar. We basically planned our trip around the availability at the Windmill and we couldn't be happier! Lorenzo and Ivana were easy to work with and offered a great set of recommendations for the town.
Breanna
2015-06-30T00:00:00Z
The tower is amazing! They welcomed us at the bus stop and took us to the apartment. Super friendly and easy going. The tower has a great feeling and details. Interesting and charming . Thank you again :) ️chao!
Ricardo
2015-08-16T00:00:00Z
The Old Tower was lovely. Newly renovated and had a great view from top of the hill. Really cool experience. Our host Lorenzo was so great and his recommendations. He offered to come pick us up from the bus station and dropped us off early in the morning to make our ferry return. I would highly recommend this place. Very unique!
Jessica
2015-08-11T00:00:00Z
Wonderful experience! The tower was exactly as expected from the pictures and description. Ivana and Lorenzo were very proactive with communication, and were gracious enough to let us have a late check out on our day of departure.
Kristin
2015-10-17T00:00:00Z
Loved the old tower. It's beautifully updated and cozy.
Richard
2016-05-17T00:00:00Z
We had a wonderful stay at this beautifully restored tower in Hvar. Lorenzo and Ivana were always helpful and have been responsive since we booked the tower months ago. They gave us wonderful tips on what to do in the island and how to get there. The tower itself is in Hvar town but you need to climb a few steps up. This allows for a fantastic view across the town and into the sea and the fortress. The tower inside is breathtakingly restored. Attention to detail is great and we really wished we stayed more than 1 night there. Definitely a place that we would recommend.
Aritha
2015-05-23T00:00:00Z
A unique place, full of history and in a convenient location, 5 mins from the old town centre
Louise
2016-10-25T00:00:00Z
Pros - Truly unique setting - they've done a fantastic job making this windmill into a home - 5 minute walk from the harbor but peaceful and quiet at night - Top notch finishings and extremely well run with basically everything you could need provided Cons - Not much - It is a bit of a hike up the stairs I guess... both to get to the house and up and down the stairs while in it. - It is a 300 year old windmill so the window seals might not be perfect and there are a few areas where moving around is tight (can't stand up in the loft area where the master bed is for instance) Maybe not ideal for a family with young children or for anyone that lacks some mobility but otherwise book it you'll be happy you did.
Porter
2014-09-24T00:00:00Z
Typ pokoje
Celý dům/byt
---
Typ nemovitosti
Dům
---
Ubytuje
6
---
Ložnice
Hvar, Split-Dalmatia County, Chorvatsko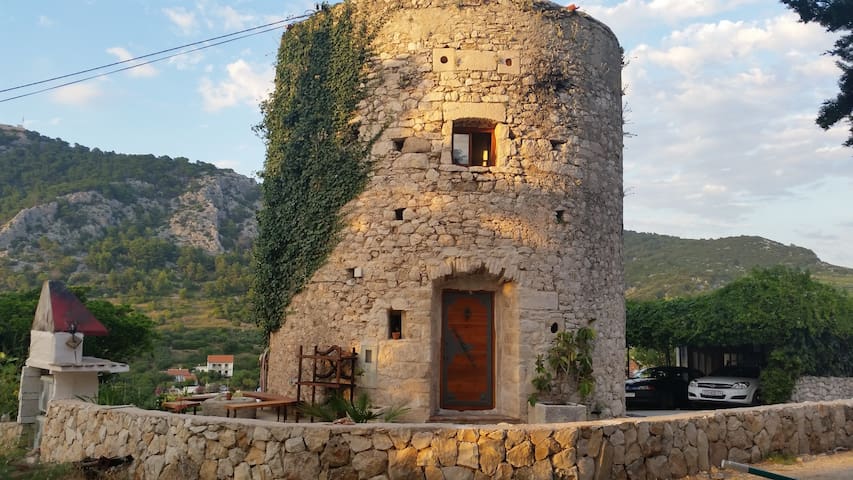 Private room with an en suite bathroom and a beautiful sea view. The private room is conveniently located in central area, very safe, and yet less then 10 minutes of walk from everything; center (Diocletian palace), Bus station,Ferries,beaches, Marjan forest, ACI Marina and Poljud stadium (Ultra festival).
Private room with a beautiful view on the main harbor and ACI marina. In front there is a big park and a parking lot where you can park your car safely and for free. It consists of spacious en suite bathroom with tub and shower, and sleeping room with a king size double bed. facilities are : - Air condition -Free WI-FI (wireless internet) - washing machine - hairdryer -TV - towels and linen included in price - city tax included in price The house is in a very central position in the first line by the sea, with a great view on the city harbor and the surrounding islands. One of the most famous Split restaurant FIFE is located in the building across the street and a well equipped supermarket is just next door. If you're coming with a car there are loads of city parking spaces in the vicinity of the house , and most of the city rent a car offices are in the 100 meters radius. If coming by bus/train/ferry it's a 10 minutes walking distance as all of the stations are located in the city ferry station. Diocletian's palace is just 5 minutes walking distance. We can store your bags when you check out if you want to take day trips so you don't have to carry all of your luggage.
House is located at the end of the main promenade in Split, The Riva. It's a lively area filled with bars and restaurants, the main sightseeing area The Diocletians Palace is less than 5 minutes walk from the house. This neighborhood is considered one of the best in Split because it is a 10 min. walk from the Diocletian's Palace and center, 5 min.ACI MARINA and from forest hill Marjan which is surrounded with beautiful beaches, all different, tracks for running biking, walking, climbing, tennis, medieval churches, views that takes your breath away.... and it has a lot of parks and green areas with a free parking spaces. Several markets, groceries are located in the neighborhood as well as local green market where people from villages around Split bring freshly grown food and sell it.
Marin was very easy to speak to over messaging prior to arrival. He was eager to make our stay in Split enjoyable! This is by far the best location I've experienced using air B&B
Kathryn
2014-10-08T00:00:00Z
This was the perfect place to stay. It was perfectly close to literally everything, we never needed public transportation! Food and live music were a short distance away which we reveled in every night. Our host was absolutely lovely, very accommodating, and made spectacular breakfasts each morning which were included in our stay! We would stay here again, no question.
Sonya
2016-06-16T00:00:00Z
Our hostess was very kind and waited up for us late into the evening. Tea with muffins were served for breakfast and it was a very comfortable and cozy room . We enjoyed our stay in Split and would come back to this bnb again .
michaela
2015-06-23T00:00:00Z
Very comfortable, clean room in a perfect location. Easy walking distance to all the sights. It's right on the main promenade with a view of the park across the street. Park noise made us close the windows at night for sleep. Otherwise no issues. Great restaurants within minutes walk. One food for thought though. If you are using Rick Steve's guide to get around it's great for the sights and self guided tours, but his recommendations on restaurants is worth skipping. There are hundreds of restaurants to choose from, don't be sold by what he says.
Matt
2013-09-27T00:00:00Z
Everything was amazing. We had a view to the sea, the apartment was very clean. It was a perfect trip with a perfect apartment, I would book again this apartment, in case I come back to Split one time:) Thank You
Katja
2014-04-09T00:00:00Z
Beautiful view and good location to travel Split
SUNGHO
2014-05-02T00:00:00Z
Great location. Very nice owners and easy hook up from the train station. A bit noisy at night, but beautiful views and great bed. Would stay again.
Julie
2011-06-16T00:00:00Z
The location of the apartment is great: in the old town and with the most incredible view. As it faces onto the main promenade it can get a tad noisy in the evenings but I didn't mind as it is to be expected when right in the centre. The place was clean and tidy and I had a lovely stay.
Laura
2014-06-29T00:00:00Z
Typ pokoje
Soukromý pokoj
---
Typ nemovitosti
Dům
---
Ubytuje
2
---
Ložnice
Split, Split-Dalmatia County, Chorvatsko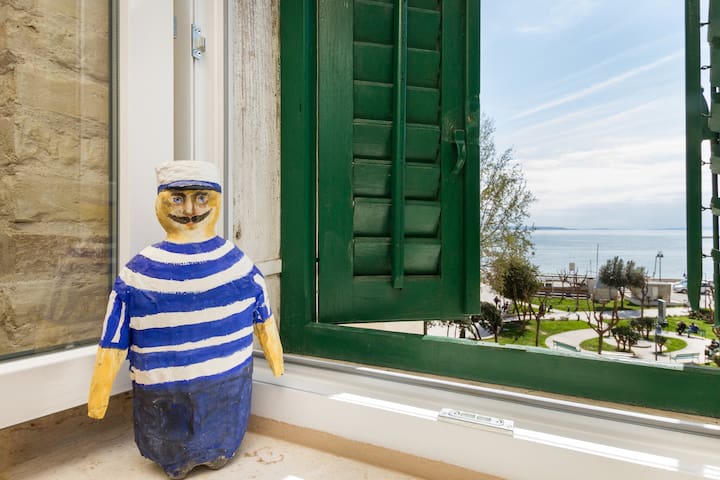 Gallery House with 2 bedrooms, 2 bathrooms, living room and kitchen.
The holiday home (stone house) is located in city center Split in the historic part of the town. It's a traditional stone house with modern design. The cottage has 2 bedrooms, sauna, 2 bathrooms, fully equipped kitchen and living room. We provide free WLAN, a LCD flat screen SAT/TV and air conditioning / heater in every room. In our rooms modern life and traditional stone walls find common ground. "child cot by * HAUCK*" As the cottage is in a dead end street, it's quiet withalmost no people passing by. It's a pedestrian area so there's absolutely no traffic noise. Just 4 minutes by foot from the Palace of Diocletian and the Maritime Museum. The beaches can be reached in about 5 minutes by foot. There are only 400m from our holiday home to the ferry port and the railway station of Split. By ferry you can visit the islands Brac, Hvar, Vis or Korcula. Split is one of the most popular tourist destinations on the Adriatic Sea cost and the second largest city in Croatia. Split is a city with 1700 years old history, also offers you a wide range of places to relax and enjoy. One of those places is a very popular sand beach Bacvice with plenty of restaurants, cafes, and nightclubs. Worth a visit is Dalmatia's biggest city Split. Why do you not start at the Diokletian's Palace and take a stroll through the old town centre as well as along the promenade. Alternatively you could walk up to Marjan Hill where you have a wonderful view over the area. Should you want to take in some of the cultural treasures then we would recommend you to visit one of the larger museums of the town. The neighborhood are lot of small origin stone houses separated with small streets (there is no cars!). In these streets there are lots of small restaurant and domestic "konoba" with origin dalmatians food. •Bacvice Beach This is the most popular of Split's Beaches. It is located just in front of Bacvice Restaurant and Nightclub complex. The beach has many facilities, like lifeguards, chair and umbrellas rentals, facilities for disabled, showers, lockers and enough parking. It also features cafes, bars and restaurants. It also has a few nightclubs with dancing until late at nights. One more important thing is that it is located walking distance from the train station. It is an urban city beach This beach's claim to fame is as being the center for the game Picigin. It is an ancient traditional game involving a ball that has to be kept as long as possible in the air. But if the game is not your cup of tea, hear for the bar, look for a cold beer and sit comfortably to watch the sea and the beach. In 2006 Bacvice Beach was awarded a Blue Flag for the cleanliness of the water and the beach facilities. So, in the same day, you can visit the old cetrer of Split and enjoy on the beach ! Looking forward to meeting you!
History...Architecture...nice people :-) ...enjoy...
Our host greeted us at the apartment and left us with a map, brief description of how to operate appliances, etc in the apartment, and completed all paper work. The apartment looked as nice as advertised and was tastefully decorated. The location was absolutely perfect for exploring Split.
Holly
2014-07-11T00:00:00Z
We had a fantastic time in Split. The house is in a great location, it was more spacious than we would have thought from the pictures, and the sauna is awesome!
Michael
2015-05-29T00:00:00Z
The apartment is really lovely and we had a great time staying there. It is very prettily decorated and we enjoyed it being split over three floors. The location is very convenient for getting to the old town and the port. Ivana was incredibly helpful and friendly.
Luke
2015-06-21T00:00:00Z
Having actually lived in Split earlier for six months, the three of us in our family were delighted with both the apartment and location so near the Old City center. The apartment is spotless, modern and very quiet. We did have questions about restaurants and so forth, and had a really enjoyable stay.
George
2016-05-19T00:00:00Z
Really great apartment in a perfect, quiet location - less than five minutes from the city center, three minutes from the ferry and less than 10 minutes from the beach. Ivana organized a car for us from the airport and met us at the apartment to show us around and give us tips for the city. The place was clean, looked just like the pictures and had great air conditioning! Highly recommend!
Samantha
2015-07-22T00:00:00Z
We had a great time staying at Ivana and Zrina's apartment. It's located on a quiet street about 200 meters from the Green Market, palace, port and delicious bakeries, making it a welcome escape from the crowds and heat during the middle of the day. The locals are very friendly and even walked us to the apartment when we first arrived. The apartment is outfitted with all the essentials, was clean and the WiFi worked well. There were a few maintenance hiccups that I'm sure will be easily remedied. The filter coffee machine didn't work, the whirlpool shower didn't drain and the kitchen roof sprung a leak every once in a while. These are small things I'm sure Zrina and Ivana will tackle quickly and get sorted. Regardless of these small things we do recommend staying at the apartment when visiting Split.
Lindie
2015-06-06T00:00:00Z
Det är ett mycket bra, välskött och trevligt boende som ligger centralt i det gamla Split med nära till allt. Vi blev mycket bra omhändertagna och våra värdar ställde alltid upp och hjälpte till när vi bad om det. Vi kan ge detta boende de bästa rekommendationer. Göran, Marianne, Christer, Lena
Göran
2014-09-23T00:00:00Z
Apartment is spotlessly clean. Bedrooms are spacious with very welcome air conditioning. Position is great but a bit difficult to find for the first time. You can't drive to the apartment and need to leave your car somewhere between the ferry terminal and the palace and walk. Stairs are not suitable for the very young or the very old. For us it was perfect and had everything we needed for a 2 day stay. I would highly recommend the apartment.
Kerry
2013-09-11T00:00:00Z
Typ pokoje
Celý dům/byt
---
Typ nemovitosti
Dům
---
Ubytuje
4
---
Ložnice
Split, Split-Dalmatia County, Chorvatsko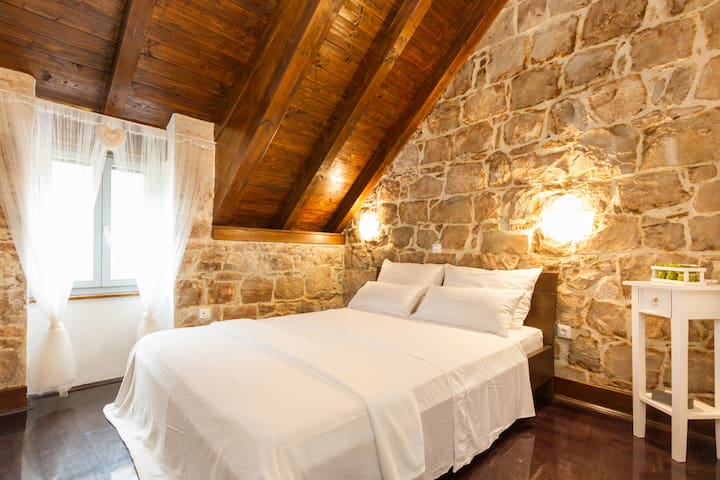 Have you ever wondered is there place you have never been before? We have an oasis in the middle of purity of nature. Kingdom of Brač island offers you this jewel to spend holiday. This year we even improved- new solar water heater, new bathroom and new top lounge.
Once upon a time far, far away on the island of Brač, there was an exquisite place. It was so outstanding that the prince and princess after a long time of searching for perfect nest, decided to live there. Of course, they lived there happily ever after. We are not in actual fairy tale, but we are happy to present you the place that is close to a fairy tale place due to its uniqueness. Not to mention that prince, princess and their kids were intoxicated by remarkable view on a daily basis. If you are searching for luxury, jacuzzi, swiming pool or wellness... we dont have that... we have only striped nature, and beautiful view and peace. This place is in the middle of nowhere, but at the same time its location is close to everything you need. About 600 m airline from the beautiful crystal Dalmatian sea, 1.5 km away from the "civilization", the nearest place. We are happy to present you this extraordinary place, and will be even more happier to accommodate you in our object. Nature and wilderness are key factor to the exceptionality of this place. There is a phrase about places in which "your dreams come true". Let's be realistic, the sole place cannot turn your life upside-down. But the place can increase the quality of your life to a great extent. Surrounded purely by nature, we are sure that you will find the peace and excitement at the same time and enjoy your trip extensively. As far as the activities are concerned, you can play bowls, ride a bike, play badmington, have jogging, prepare grill, do fishing, dive, and a lot of others. You can also explore the whole island of Brač - its land, coast and underwater – depending on your preferences. We are happy to be your hosts and help you discover many secrets of this place.
The neighborhood is pure nature. As far as the places on the island are concerned, you have many places to investigate on Brač: there are four places that are very close: Puntinak (belonging to Selca - 1.5 km away), Selca (4.5 km), Sumartin (port, 3 km away), Novo Selo (6 km away), and Povlja (about 10 km away). There are many other places to investigate, such as popular touristic destination Bol, museum Blaca, capital Supetar, Milna, Pučišće, Nerežišće, and many others.
A beautiful space amidst the tranquility of nature. Miro's apartment was not only splendid but everything you could ask for while trying to get away from the crowd. This is the place to be while you are on the Brac island. Both Miro and Carmen were amazing hosts and fun to be with. We had some great time on the island, from getting invited to a grilled fish lunch at Miro's place to olive oil tasting at Brachia. While you are here, dont forget to buy some olive oil from Miro's homegrown olives, extremely good. I would definitely recommend this place if you want a perfect getaway from the crowd & experience true nature.
Siddharth
2016-07-02T00:00:00Z
Majoittaja tuli meitä vastaan lautalle ja opasti meidät perille asti. Perillä ruokapöydässä odotti valikoima erilaisia paikallisia herkkuja viikunoista suolakurkkuihin. Itse tila oli erinomaisen hieno, tilaa riittää ja näkymät ovat ihanat. Puutarhasta löytyi vielä tuoreita viikunoita ja grillaaminen ulkosalla oli varsin rentouttavaa. Myös tekniikka toimi hyvin, ainakin meillä niin vettä kuin sähköäkin piisasi hyvin. Kaikin puolin mukavaa!
Heikki
2016-09-24T00:00:00Z
Der Gastgeber war sehr nett und sympathisch und immer sehr gut erreichbar. Die Ranch ist sehr abseits gelegen; das letzte Stück der Anfahrt ist nicht asphaltiert (1,5 km). Prima für jeden, der die Natur liebt und den Insekten und andere kleine Tiere nicht stören. Über einen 15 minütigen Fußweg gelangt man bergab zum Meer. Sumartin und Selca sind die nächsten Städte und auch einen Besuch wert. Bis Bol braucht man eine halbe Stunde. Das Gelände der Ranch sieht recht unberührt aus; hier könnte man noch etwas mehr draus machen. Wir konnten den Grill nutzen und Feigen sowie Tomaten aus dem Garten nehmen. Zwei der Doppelbetten sind nicht im Haupthaus sondern in kleinen Steinhäuschen daneben. Eins ist zwar direkt daneben, zum anderen muss man aber ein paar Meter laufen. Strom hat man nur über Solarpanels. Das reicht tagsüber für einen Laptop und den Kühlschrank, aber nachts ist der Kühlschrank leider immer komplett ausgefallen. Das Wasser ist gesammeltes Regenwasser. Leider ist an einem der Abende der Strom ausgefallen und wir hatten über die Nacht bis zum nächsten Mittag kein Strom und kein Wasser. Das hat uns schon sehr gestört. Der Gastgeber hat dies wieder in Ordnung gebracht und uns einen kleinen Bootstrip als Wiedergutmachung angeboten. Nach seiner Auskunft lag es an der Batterie, die noch ausgetauscht wird. Alles in Allem empfehlenswert für absolute Naturliebhaber und alle, die auf Luxus auch mal verzichten können.
Christian
2015-08-11T00:00:00Z
It's an amazing stay. Very isolated, very tranquil, with a little private beach literally fifteen minutes walk away! The hosts ie Karmen and the gang ( the family) are the best hosts I've experienced so far! Always attentive and generous with the dad jokes. My favourite air bnb so far! Spot on!!
Jo
2016-07-12T00:00:00Z
Vielen Dank an Miro, Karmen und die gesamte Familie! Wir fühlten uns sehr gut aufgehoben. Die Docine Ranch ist ein besonderer Ort in einer großartigen Lage. Die Ausstattung ist einfach und zweckmäßig. Wir wurden herzlich aufgenommen: es gab einen Geburtstagskuchen für unsere einjährige Tochter, ein sehr leckeres Fischessen, hauseigenes Olivenöl und auf die Wetterkapriolen wurde sehr flexibel reagiert. Danke!
Simone
2016-10-11T00:00:00Z
Absolutely unforgettable experience. One of the most beautiful places I have ever been. Perfect get away from civilization. The docine has an amazing spirit and offers all you need. The bedroom is already separated from the kitchen and the living room. 2 bathrooms, terrace on the roof, hammock, huge garden with herbs, olive and fig trees and a lot of special little corners to be discovered. Store, restaurants and a cafe with a really good coffee only few mins by car. We have visited couple of places on the island and loved it all. Also wide sea sport offer. 4 days wasn't enough and I am looking forward to come back! Karmen was fun and nice host, thank you for everything!
Mirka
2016-06-01T00:00:00Z
The ranch is the ideal isolated rustic holiday spot. Although only a few minutes drive to the nearest town it is high up on a hill away from everyone and everything with sweeping views over the sea and hills. Our favourite parts of our stay were picking and eating fresh figs straight from the tree, eating salads of wild rocket found growing all round the ranch, the complete silence at night and the sounds of crickets in the day, the hammock under an almond tree, the outdoor shower (although there is also one indoors) and doing early morning meditation and yoga on the roof at dawn, watching the sun rise. It really is a truly special place and highly recommended to all nature lovers and people wanting a bit of tranquility around a beautiful landscape. Karmen, Katerina & Miro where all also super friendly and accommodating, helping us with scooter hire, ferry times and inviting us to theirs for delicious cheese and wine. We left feeling extremely happy with our stay!
Steph & Ben
2015-09-01T00:00:00Z
Paradise found. The tranquility was hard to leave. The location was idyllic. Feels like being miles from civilization and yet 5min from sea and restaurants and the omnipresent Croatian church steeple. Three showers to choose from, it would be great for a family. I enjoyed having it to myself where I could do yoga on the rooftop and coin elaborate meals for one. I bet it's even more magical when the figs, olives or grapes are in season. I would like to come back here and write my memoirs if only I weren't going to keep making beautiful memories like this until I die. Karmen brought me milk and American coffee and best of all a Croatian football Tshirt that my GF will be proud to wear. Thank you and I'll be back.
Desta
2016-06-20T00:00:00Z
Typ pokoje
Celý dům/byt
---
Typ nemovitosti
Dům
---
Ubytuje
5
---
Ložnice
Selca , Brac, Dalmatia, Chorvatsko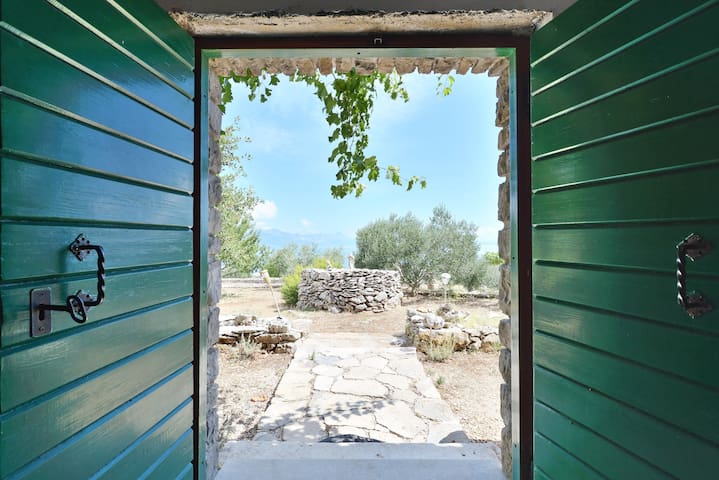 Renovated stone house in the top centre, right next to the Marmontova street and few minutes from the Palace and Riva. Everything within few minutes on foot.
Apartment is located in Split city center with possibility to meet this 1700 ancient city by feet. Apartment it self is located in traditional dalmatian stone house (completely renovated) but it is modern equipped inside with modern kitchen, internet, air condition and everything that you need for life. It is very well located just outside Diocletian's Palace walls, next to the Marmontova street and near the main square Pjaca. It's a short walk to the Riva and harbour. It is easy to get to and from the bus/train/ferry terminal. Split city center is historical place since Roman times, but about 10 minutes walking you will be near famous Split beaches. There is a nearby service of renting a bike or a car or motorcycle just ask owner to help you with any information you need. It is suitable for 3 persons. Zvone has one double bed room (brand new bed and mattress), and extra extendable sofa (single bed) in living room. Zvone also has living room, modern equipped kitchen and bathroom (with shower). If you want to be in the heart of Diocletian's town, and have peace and comfort, Zvone is an ideal place for you. Nearby are all the historical sights such as the Split Diocletian's Palace, the statue of Gregory of Nin, the Croatian National Theater, Museum of the City of Split ... Features: Internet • Air condition • Washing machine • Satellite TV • TV • Towels & Linens, Iron & Ironing board, Hair dryer Welcome to apartment Zvone in very center of Split!
This is an incredible place to stay in Split - we absolutely loved it!! I would highly recommend staying here if you are visiting Split - Emilija is sooooo accommodating and will explain main attractions in the Old City.
Haris
2013-07-22T00:00:00Z
Emilia's apartment was perfect for our overnight stop in split before we jumped on a G adventures boat trip Split - Dubrovnik. We loved split and highly recommend this apartment as its location is absolutely ideal. Very clean, had everything we needed and great value for money. We would stay again next time!
Hayley
2013-09-08T00:00:00Z
Emiloja personally welcomed us by meeting and walking to Stone House Zvone apartment. Once there, she showed us around the apartment and then provided a map pointing out "must-see" highlights Being a local, she was able to convey enthusiasm and pride in her community. We were so excited about seeing Split following this warm introduction that we changed our flights and plans to stay an extra day! And it was well worth it. This modern decor apartment is centrally located, extremely clean and chic! So east to come 'home' quickly for ay reason.
Leslie
2015-09-22T00:00:00Z
We had an amazing time in Split, partly due to staying here! Emilija went above and beyond to make us feel welcome and ensure we enjoyed our stay. The apartment, over 3 levels is very special and was perfect for a couple travelling with lots of room. Emilija takes a lot of care in being a host and it shows. Apartment was spotless, and had absolutely everything you could need. Especially appreciated were the 2 powerful air conditioning units given it was very hot in July. Fantastic location, in a very clean, safe area of Split but also extremely close to all the sights. We were pleasantly surprised just how close it is to everything. Do not hesitate to book this place, you won't regret it. Better than a hotel, no question.
Natalie
2014-07-22T00:00:00Z
Emilija was the perfect host and the flat was both conveniently and had everything we needed. We were able to cook and also do some washing which was really needed at the end of a long holiday. I'd recommend this flat to anyone wanting to be in the heart of beautiful Split, with a terrific host who gave us loads of advice on what to do, all of which was perfect (walks, restaurants nearby) and made our stay amazing.
Alexandra
2014-08-30T00:00:00Z
We loved Emilija's apartment! She was right on time to meet us and was very sweet & accommodating! She gave us tons of recommendations of where to go / eat as well. Her apartment was very similar to the photos & very clean. Her apartment is in the best location where you can literally walk anywhere you need to go in Split! We found the location especially convenient after we took a day tour to Hvar - after returning to Split, we were wet after swimming and it was so nice to run off the boat and walk 5 minutes to the apartment to shower/change and head back out for the night! It was so convenient and staying in a hotel that required a cab or bus would have taken up much more time & been expensive. We would recommend this apartment for anyone who is looking for a fun/easy/convenient experience!
Khushbu
2015-05-08T00:00:00Z
We had a really nice time at Emilija's place. It is a cute apartment stretching over three floors in the heart of Split's old town. Everything you want to see is only a short walk away so it is the perfect spot to explore the city. Emilija was a very nice host who offered us a warm welcome and provided us with some helpful information about the city and its sights to give us a good start in Split. We can definitely recommend staying with her and would do so again.
Andre & Will
2015-05-31T00:00:00Z
I needed a short break so I decided to spend two days at Emilija's place. Apartment is situated in the centre - near the main Marmontova street, it is not very big but totally cute, and as a guest I had everything I needed. I was impressed by cleanliness and one of the best things was big bed on the first floor, although the apartment is located in the center, even with partially opened windows you can have peace and quiet. I was sorry only because one thing - there is no direct sunlight in the apartment which is sometimes desirable. Emilija is a wonderful person - great communication, responsible and always smiling. It was a pleasure to stay here. Thank you very much for everything Emilija ! :)
Petra
2014-04-07T00:00:00Z
Typ pokoje
Celý dům/byt
---
Typ nemovitosti
Dům
---
Ubytuje
3
---
Ložnice
Split, Split-Dalmatia County, Chorvatsko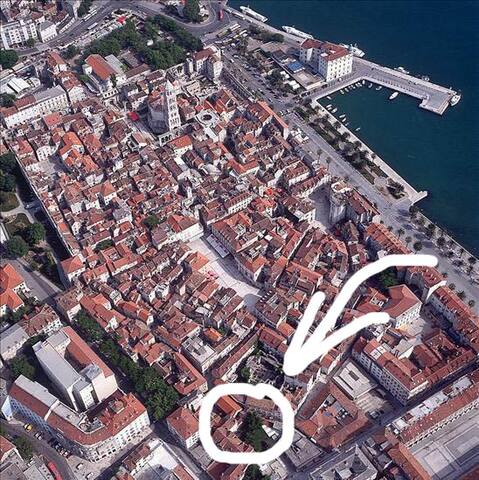 Newly renovated apartment in strict center of Split.
This delightful studio is in an old stone house situated in a quiet historical district surrounded by typical Dalmatian stone homes. The studio is on the first floor. Very comfortable, easy access, completely restored with new interior furnishing and decorating. Separate entry, 1 double bed, wardrobe, a fully equipped kitchenette with all amenities, 2 hotplates, refrigerator, satellite TV, air-conditioning, Wi-Fi ADSL internet, bathroom with glass enclosed shower.
The neighborhood is very safe and the district surrounding our house is historical and peaceful, so you'll stay close to all most important attractions but in a quiet district.
Very lovely apartment, a bit hard to find but very close to "Riva", "Marjan", and old town. Anita was very friendly and helpful host, she made our short stay nice and pleasant!
Dubravka
2015-11-25T00:00:00Z
This is a great apartment in Split. It's close to Diocletian's Palace and the main port, and it looks exactly like the advertised pictures. The apartment is clean and nicely furnished. Anita's niece Ana met us outside the apartment and could not have been nicer. Anita responded promptly to all of our questions If the apartment has any drawbacks, it is that it can be a bit tricky to find. That said, Ana's directions were more than adequate and the apartment is definitely worth finding. I will stay there again next time I'm in Split!
Adam
2015-08-22T00:00:00Z
집은 정말 깨끗했고 침대는 너무너무 편했습니다. 위치도 바로 올드타운 리바거리 옆에 있어서 다니기 좋았습니다.
Jung Won
2015-12-29T00:00:00Z
Anita was great in communication, and kindly greeted us and helped us with parking. Anita is a really lovely person and the apartment is beautiful, modern, and in a fantastic location to see Split. Loved the area we were in.
David and Penny-Ann
2016-05-13T00:00:00Z
When we first arrived in Split Anita met us at the airport. So easy and lovely. On the drive to her fabulous apartment we were thinking uh oh this looks like a nothing town.... We arrived at the beautiful little apartment with directions to walk to town. We soon found ourselves in the most vibrant exciting wonderful place. The accom was perfect. Perfect distance from the noise. So clean and comfortable!
Jodie
2016-07-18T00:00:00Z
What a great host and amazing little studio. Walkable distance to center and super clean. Anita was very welcoming and friendly, she easily accommodated our arrival and gave us useful tips of town. :) Will come back :) thanks!
Maria
2016-06-25T00:00:00Z
We really enjoyed our stay in Anita's studio. It's very clean and modern, with a great location in the town center (5 minutes by foot). We were greeted by Antonija (Anita's niece) who was really welcoming and helpfull, she gave us some tips, and recommended us restaurants and points of view,... Anita was also great in communication when we had questions. I highlty recommend that appartement for a stay in Split !
Matthieu
2016-07-11T00:00:00Z
무거운 케리어 끌고도 버스정류장.올드시티 걸어서 가능해요. 숙소는 엄청 깨끗합니다. 아주 좁은 골목을 지나야하는데 이게 더 멋있어요 유럽스러워서
태순
2017-03-14T00:00:00Z
Typ pokoje
Celý dům/byt
---
Typ nemovitosti
Dům
---
Ubytuje
2
---
Ložnice
Split, Splitsko-dalmatinska županija, Chorvatsko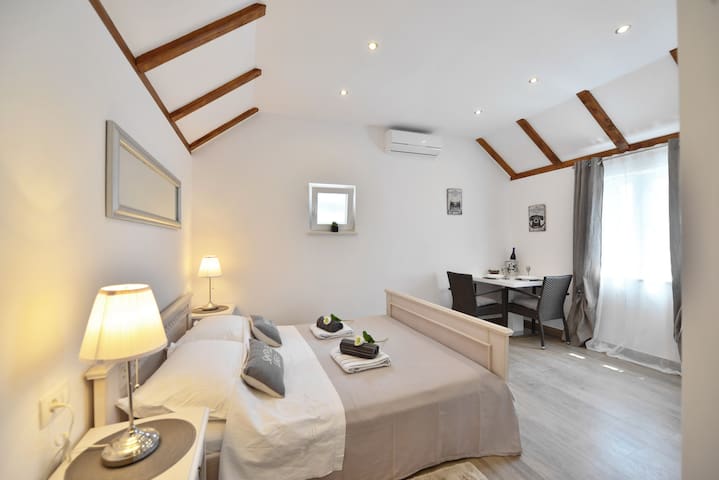 Our apartment is located in the city centre, first line - only 50m from the sea, with the balcony facing the beach and the pine trees. Parking place is at your disposal. Nearby there are restaurants offering cheap and traditionally rich food.
BESIDES THIS APARTMENT, WE HAVE ONE MORE APARTMENT IN THE SAME HOUSE: Studio by the beach & city centre 2 www.airbnb.com/rooms/(PHONE NUMBER HIDDEN) Welcome to Makarska - enjoy the wonderful view of the Adriatic Sea! Our apartment is located in the city centre, first line - only 50m from the sea, with the balcony facing the beach and the pine trees. The apartment has: - double bed and a sofa bed - own bathroom - own little kitchen, with fridge and all necessary dishes - air condition - free WIFI - satellite TV At your disposal are also: - towels and bed sheets - filter coffee machine - iron and ironing board - hair dryer Parking place is at your disposal. Price for extra bed is 10€, and for children under 6 years is free. Nearby there are restaurants offering cheap and traditionally rich food. Excursions: mountain Biokovo, Split, island Brač, Hvar and Korčula (ferry boot and boat excursions only 5 minutes walk to the Riva), Međugorije and Mostar. We are speaking Croatian, English, German and Dutch. BESIDES THIS APARTMENT, WE HAVE ONE MORE APARTMENT IN THE SAME HOUSE: Studio by the beach & city centre 2 www.airbnb.com/rooms/(PHONE NUMBER HIDDEN)
Great apartment clean with a huge comfy bed! Located in a very central place 2 minutes from the beach. The hosts made us feel very welcome and we got to sample the family cherry and walnut sherry which was very good. All in all a great place to stay would highly recommend it
Molly
2015-08-16T00:00:00Z
Great apartment right in Makarska with great location that we could walk every where and everything we needed. The hosts were so friendly! Would def stay here again!
Karen
2013-09-14T00:00:00Z
We had a wonderful time at Apartements Peskera The appartement was great, very bright and clean, and the location was perfect (2 minutes walk to the beach and restaurants, 5 minutes walk to the old town) Our hosts were very kind, nice and helpful, We appreciated all their kind attentions. We would definitely recommend and come back!
Pierre Yves
2013-09-09T00:00:00Z
Gino welcomed us warmly with two bottles of their traditional homemade cherry and walnut brandy and a bowl of strawberries, which was very refreshing after a long journey. Gino was very kind to advise us on where to go and eat and also general information on how/where to buy tickets for ferry. The flat itself was very nice. Everything was provided for us, extra blankets, iron, etc. The room was spacious and as described. And the neighborhood was also nice. The flat was 2 min walk away from the beach and walking distance to the sights. We also had a free parking space, which was very helpful. We would definitely recommend Peskara Apartments.
Taha
2016-04-20T00:00:00Z
We had a good stay in makarska. The room was very clean and it has a beatifull view to the Ocean! Many Thanks for the liqour :) The Host was very friendly We can recommand the room
Giulia
2014-09-10T00:00:00Z
Our stay at Makarska has been the best, thanks to Gino and his family. He was awaiting us with his mother and we were lucky to have some welcome gifts (fresh Figs and typical liquors) that we really appreciated. Immediately, we were given information about how to find everything in the city, where the beaches are, what transport to take to go to the islands, and for the utilities in the apartment. The apartment was, to our view, very well located, two minutes to the beach, in a street where you can find a supermarket, the bus station at the top, and a bank, a bakery and some excursions agencies. The apartment was nice, well decorated with special pictures taken by our renter, and we never had any problem during our stay. About the stay in itself, it turned out to be a very peaceful week. As mentionned in others commentaries, the main beach is very crowdy but if you walk, you will find some tremendous spots like Nugal beach which is a bit far by feet but worth it. Otherwise, the promenade along the beach is very nice, and if you search for a good restaurant, you should definitely go to Il Golfo which makes good food, and cares about the client, and offers a great view. Finally, I recommend you to go to Sumartin island, by taking the ferry which takes only 40 minutes and a few kunas. It's a peaceful place with wonderful beaches, so you should go there. If you search for a good adress in Makarska, don't hesitate no more and go for Gino's place. They are a very nice family, and we will keep a very good souvenir of this trip. Thank you very much for all ! Tatiana and Nicolas.
nicolas
2014-08-28T00:00:00Z
The place is really nice, clean and great location(right on the beach and close to the bus station). Gino and his family are really friendly people and willing to help in any way they can. I strongly recommend this place
James
2015-04-14T00:00:00Z
Gino and his wife were great hosts. The apt was exactly as advertised and very clean and well organized. I would not hesitate to stay here again. Location was close to everything we needed as well. I was in need of some new luggage and they both were gracious enough to offer to drive to get some. They even sent pics of some they saw that day.
Jean
2016-07-12T00:00:00Z
Typ pokoje
Celý dům/byt
---
Typ nemovitosti
Dům
---
Ubytuje
2
---
Ložnice
Makarska, Split-Dalmatia County, Chorvatsko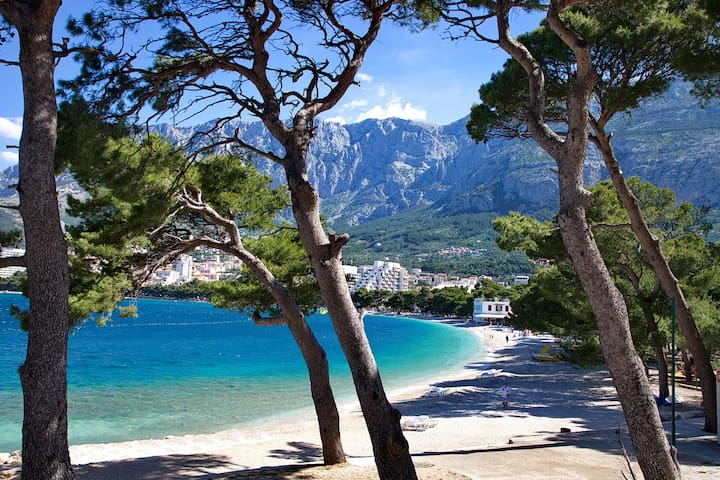 Island of Šolta is small peaceful island close to the Split city and it is very well connected with ferry and catamaran lines every day. Apartment is newly renovated and it is situated in a beautiful old stone house on the ground floor,first floor and second floor (attic) so whole house is for our guests.Whole house has 90 m3. There are 2 bedrooms and 3 bathrooms, kitchen,tavern, living room and balcony.4 people sleep in bedrooms and 2 more in pull-out sofa in the living room. Apartment also features: Cable TV(over 40 programs), Air condition, shower, oven, refrigerator, dishwasher, Wi-Fi internet, hair dryer, radio, towels, cutlery and kitchenware... Donje Selo is small village situated inland. Nearest beach is 1.3 km away. By car you can go on other places on island and go to the beaches, restaurants, shops. The island is ideal for a relaxing or active holiday like walking, jogging, cycling, sea trips etc. There is possibility for trips on a small islands close to Maslinica by a boat that your host will be very glad take you to trip. There is parking available for your car.
Apartment Tudor and the wonderful hospitality of the Tudors themselves was faultless. My partner and I were more than impressed with quality, cleanliness and overall design of the apartment which has been done with love, care and a lot of thought. I would say it borders on 5* luxury. In addition to this, the owners are delightful. They not only provided us with help and information to make the most of our stay but also guided us to the best restaurants, supplied us with homegrown potatoes and delicious olive oil plus other goodies and best of all, took us on a little boat trip around the islands. It could not be more perfect a place to stay. Everything is accessible in the car, only short drives to restaurants and bars. There is a taxi service on the island too. There are loads of hidden beaches and coves waiting to be discovered down rubbly tracks off the beaten path....Highly highly recommend.
Karen
2013-07-02T00:00:00Z
We had a lovely week at the Tudor's apartment and were looked after exceptionally well by Duje's father, Dodo. Unfortunately we didn't meet Duje to illness but all correspondence with him was good. The apartment is very well appointed and has a lovely sunny balcony. Solta is a fantastic island and there's lots to do in a low key kind of a way - which was exactly what we wanted. Thanks again Dodo & Duje ...
Gordon
2014-07-27T00:00:00Z
We had a wonderful time at Villa Tudor, outstanding house. Our landlord was super nice and helpful, it was like been at home. We highly recommended!!
Hillevi
2016-07-18T00:00:00Z
Mit rundherum wohlfühlen sind unsere 10 Tage noch nicht gut genug beschrieben. Die Unterkunft ist liebevoll eingerichtet, sehr gepflegt und unsere Tochter beschrieb sie bei der Ankunft mit den Worten "Hier sieht es echt aus wie in einem Wohnmagazin". Aber es ist vor allem die Herzlichkeit und Hilfsbereitschaft mit der uns Dujes Eltern Dodo und Slavena aufgenommen haben, die es zu einem wundervollen Urlaub gemacht haben. Eigentlich ein Grund nicht mehr von dort wegzugehen.
Birgit
2015-08-23T00:00:00Z
Best holiday experience ever! First of all, communation with Duje was fast and good. Stay on the beautiful island Solta next to the place of his parents was the best! They (Dodo and Slavena) gave us a very warm welcome and we felt very much at home at the cleanest and nicest house we have ever rented via Airbnb! Everything you need is there. We had a delicious Croatian meal with Dodo and Slavena and they showed us the best places of the island. Nice to drive around bij car or bike and relax on one of the natural private beaches with great views and sunsets. We felt sad when we had to leave and have the best memories of the time at Solta!
johan
2016-06-01T00:00:00Z
This was a great holiday. The house is even nicer than on the photos and the hosts are just wonderful!!! It was phantastic. If I could give 10 stars I would. I can just recommend it to anyone.
johann
2014-07-20T00:00:00Z
Me and my partner thoroughly enjoyed our stay at Villa Tudor in Solta. The property was exactly, if not better, than how it appears in the images, and was super clean. The hosts seriously left no detail out; from the selection of local liquors, to the abundance of condiments and quirky owl (a symbol of the island) decor dotted about the property. Slavena and Dodo were amazing hosts and always went out of their way to make us feel at home - the boat trip Dodo took us on was one of the highlights of our holiday. That said, they allowed us our privacy too and at no time did we feel our space was invaded. If we needed help they were always more than happy to help; this included lifts about the island and advice on where to eat. Solta is a truly wonderful place and is ideal for those wishing to escape the hustle and bustle of city life (this is not a "party" island). The ocean is the clearest I have ever seen, the scenery beautiful and there are so many hidden gems to be discovered - lots of cats too! I would advise either hiring a car or scooter for some of your stay however as getting around is a little trickier than in a larger town or city. Alternatively, bicycles are a great idea if you want to get active which your hosts can provide. All in all, a 5-star holiday :)
Sabina
2016-09-13T00:00:00Z
Wir wurden ganz herzlich durch Dujes Eltern empfangen und haben alle notwendigen Informationen erhalten. Die Wohnung und das Umfeld entsprechen voll und ganz der Beschreibung. Wir haben uns super erholt und den Aufenthalt sehr genossen. Es hat uns an nichts gefehlt. Dank Klimaanlage war es im Haus schön kühl. Einen ganz lieben Dank für den schönen Aufenthalt, den tollen Bootsausflug und die Köstlichkeiten an Familie Tudor. Wir kommen gerne mal wieder.
Stephan
2015-07-26T00:00:00Z
Typ pokoje
Celý dům/byt
---
Typ nemovitosti
Dům
---
Ubytuje
6
---
Ložnice
Donje Selo, Split-Dalmatia County, Chorvatsko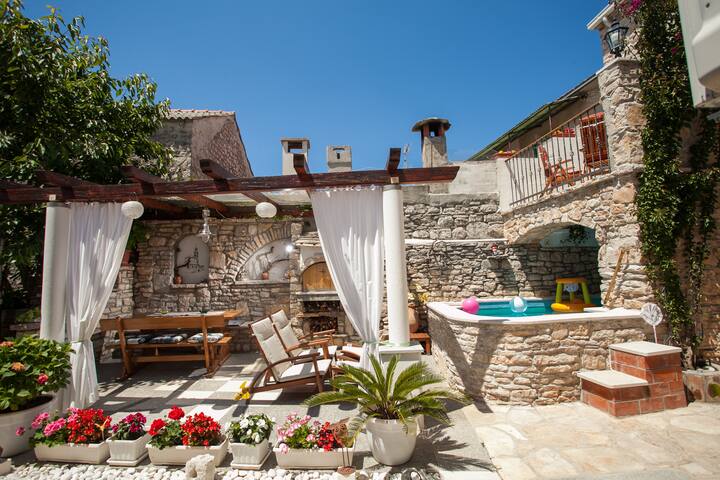 Velmi malý, ale útulný pokoj pro mladé lidi a ty, které to tak cítím. Velkou hodnotu za peníze, s lednicí, vlastní koupelnou, bezplatné parkování, Wi-Fi a jízdních kol (pokud jsou theire availabe)
Nachází se v bezpečné turistické oblasti s výhledem na moře na ostrově Hvar a Brač. Můžete dostat do centra Brely chůzí po přímořské čáru za pouhých 20 minut od hotelu. Hlavní pláž Punta Rata a oblázková pláž je pouhých 500 metrů od pokoje.
Příjemné a klidné okolí. Téměř všichni sousedé pronajmout své domovy, takže to je také velmi veselý. Všichni víme, že se navzájem, takže je to opravdu bezpečné a příjemné okolí.
We loved to stay at apartment Zina. We checked in an one hour before check in time, and that was not a problem. We didn't see Sonja, but her husband who is also really friendly. He brought us some fresh fruit and cold water! Really welcoming. The apartment is on top of the hill, so you have a beautiful sea view from the room. The room is also comfortable and tidy. If you are by car, there is a garage under the building or on the street. From the apartment you walk all the way downstairs for the beach. That's about 10 min. walking. Along the seaside you walk to different beaches. Everywhere are restaurants, bars, toilets, showers, shops etc. so everything you need is there. Make sure you have cash with you, because a lot of restaurants don't expect cards. If you go to Brela, stay at Apartment Zina. It's the best location with great hosts!!!
Arijana
2016-09-29T00:00:00Z
Brela was an incredible town!! I had such a lovely, relaxing time in Sonja's home. It's a little hike to get to the town; the residential area where the home is located is in a very quiet area. But Sonja and her family were wonderful hosts, making sure to tell me where to find everything I needed. Overall wonderful experience and I wished I'd stayed longer!!
Kirsten
2016-09-13T00:00:00Z
Sonja is very kind. The room was good with a nice balcony.
Terry
2016-07-01T00:00:00Z
Sonja is cheerful, communicative, kind person. There was no problem with contact with her. She's a local so she knows Brela very well and her tips about best places to eat were very helpful and she was totally right about these places ! She tried to provide everything that was needed. She left some fruits and cold mineral water for us which was very nice and kind because of heat in Brela. The room was the same as on the pictures, it's small but cozy and clean, perfect for a few days. It takes abot 8-10 min walking down the road to get to one of most beautiful beach I have ever seen. I tottaly recommend this room and Sonja as a host - both worth it. ! Thank You Sonja, it was a pleasure for us to meet You ! Hope to see You next time ! Marcin & Mariola
Marcin
2016-07-05T00:00:00Z
Super, bon accueil
Emma
2016-08-16T00:00:00Z
We had a warm welcome through her daughter and her husband, the room is exactly as showed ob the pictures and fits very well :) Sonja even left us some fruits and sparkling water sin the room! The most beautiful thing about the room is the stunning view on the ocean! Situated next to a mini-market you go down the road and take te stairs to get to the beach.. awesome little beaches and a beautiful promenade leading to the main beach with restaurants & bars :) It's a pitty that we stayed just for one night! Highly recommended place!
Yasmine
2016-09-06T00:00:00Z
It's was very beautiful location with clean room. Thank you Sonja, for making us such a good Turkish coffee
Eliza
2016-09-08T00:00:00Z
I had an amazing time staying with Sonja. She helped me book activities and was very helpful when I had any questions. The apartment was nice and when the weather turned sour she even let me move up to a different apartment so I would be more comfortable. I would highly recommend staying with Sonja.
Michaela
2016-09-20T00:00:00Z
Typ pokoje
Soukromý pokoj
---
Typ nemovitosti
Dům
---
Ubytuje
2
---
Ložnice
Brela, Splitsko-dalmatinska županija, Chorvatsko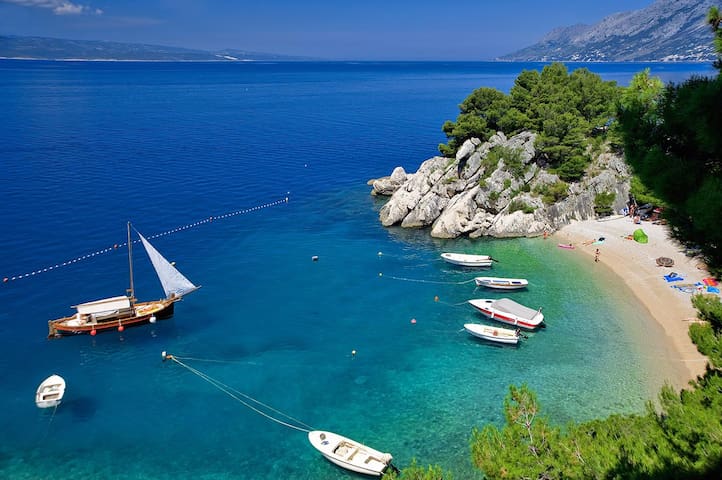 Newly renovated apartment in strict center of Split.
This delightful studio is in an old stone house situated in a quiet historical district surrounded by typical Dalmatian stone homes. The studio is on the ground floor. Very comfortable, easy access, completely restored with new interior furnishing and decorating. Separate entry, 1 double bed, wardrobe, a fully equipped kitchenette with all amenities, 2 hotplates, refrigerator, satellite TV, air-conditioning, Wi-Fi ADSL internet, bathroom with glass enclosed shower.
The neighborhood is very safe and the district surrounding our house is historical and peaceful, so you'll stay close to all most important attractions but in a quiet district.
Great apartment, small but really sweet, it can be a little hard to find when you first arrived but Anita's husband waited outside of the apartment for me. He gave detailed explanations about the apartment and the area. The location is super close to center of old town. It was a great experience.
Yi
2016-02-21T00:00:00Z
We had a great stay here, the location was very close to the old town and Castle in a very pretty and quaint area. It was beautifully clean and the information we were given on arrival was extremely helpful !
Tilly
2016-09-18T00:00:00Z
My stay at Anita's home was perfect! Anita met me at the airport when I arrived and we went directly to the front door of the apartment. The apartment is exactly as it looks in the photos. Everything is brand new and modern. The bathroom is very spacious, comfortable and modern as well. The apartment is perfectly located in a quiet area and is less than 10 minutes walking to various restaurants and shopping areas and only about 15 minutes walking to the bus stop, ferry and train station. I absolutely recommend Anita's home if you're planning on visiting Split!
Ryan
2016-10-05T00:00:00Z
Really cute studio apartment. Good location. Everything was really clean and new. Wish our stay was longer. The apartment looks slightly bigger online but not a problem for us.
Ben
2015-08-07T00:00:00Z
I messaged with Anita's niece prior to arriving who made everything so easy and even accommodated an early arrival. They were both responsive and wanted us to feel at home. We were only there for one night but have no complaints!
Stephanie
2016-08-17T00:00:00Z
Nicely decorated apartment in very close proximity to the old town- less than 5 min walk! Anita and husband welcomed us on our arrival and were prompt in replies. Thank you for hosting!
Ningxia
2016-05-03T00:00:00Z
We never got to see Anita in person but her niece met us when we arrived and she was kind and helpful. The accommodation was clean, modern and very well located. We had a few problems with the wifi as it kept cutting out....but that's not the reason you visit Split! :) We would definitely recommend this place to others.
Laura
2015-08-15T00:00:00Z
Amazing apartment in great location. We were greeted by Anita's niece who was very friendly and helpful. I would definitely recommend this apartment for a stay in Split.
Eoghan
2016-07-06T00:00:00Z
Typ pokoje
Celý dům/byt
---
Typ nemovitosti
Dům
---
Ubytuje
2
---
Ložnice
Split, Splitsko-dalmatinska županija, Chorvatsko
Lozisca je vzácným příkladem venkovské středomořské architektury naprosto nedotčené moderního života a v nádherném prostředí.
Sotva jsme se odváží říct, co vás čeká, pokud nastavíte oči na Lozisca poprvé, ze strachu, že kazí tento strhující moment. Nicméně, protože naším úkolem je poskytnout turisty s informacemi budeme muset riskovat ... Postavený na vrcholku kopce a kaskádové do údolí, kámen obec je dost efektní sám o sobě. Ale stoupající z jejího srdce jako jemnou kámen lilie je ozdobený zvonice. To je jistě nejvíce ozdobený a nejokázalejší zvonice na ostrově, a možná i na míle daleko. Lozisca je vzácným příkladem venkovské středomořské architektury naprosto nedotčené moderního života a v nádherném prostředí. Villa Roza se nachází v této malebné vesnici. Jedná se o tradiční dalmatské kamenný dům více než 150 let, který byl kompletně zrekonstruován v roce 2012. Tato okouzlující vila se může ubytovat 8 až 10 lidí pohodlně. V přízemí se nachází kuchyň / jídelna / obývací pokoj prostor, 2 ložnice a koupelnu. V horním patře je kuchyň / jídelna / velký obývací pokoj prostorem, 2 ložnice a koupelnu. V přední části domu se nachází plavecký bazén, gril a letní kuchyně. Chcete-li chránit svůj klid a soukromí, Villa Roza je k dispozici pouze jako kompletní jednotka se zahradou a bazénem. Aby byl váš pobyt na ostrově Brač, jak příjemné je to možné, jsme vybavili vilu s veškerým vybavením byste mohli potřebovat i interiéru a důvody, které byly vkusně zařízené. Krásná Bobovisca záliv je asi 15 minut chůze od domu, a četné horská kola a turistické trasy jsou jen mimo obec. Užijte si pobyt !
C'est notre meilleure expérience Air bnb à ce jour ! les photos sur l'annonce, reflètent parfaitement la réalité, mais nous ne nous attendions pas à être aussi agréablement surpris à notre arrivée ! L'accueil est très agréable, et la découverte de chaque pièce de la maison fut un plaisir ! Tout est parfaitement propre, entièrement équipé, et nous étions ravis d'avoir un frigo rempli de nourriture et boissons, une première dans nos locations airbnb ! l'environnement est parfait, la vue est superbe, et le village très calme. la terrasse et la piscine sont magnifiques ! Plus important encore, Bozen et son épouse ont un incroyable sens de la satisfaction pour les gens qu'ils accueillent, tout est prêt à votre arrivée,comme si ils invitaient leurs meilleurs amis chez eux !Notre séjour fut trop court pour profiter pleinement de cette magnifique maison, mais nous reviendrons avec un immense plaisir, pour plus longtemps cette fois ! Pour ceux qui voudraient passer un moment sur l'ile de Brac, c'est un endroit parfait pour profiter au maximum des vacances !
JEAN MATHIAS
2015-05-30T00:00:00Z
What a wonderful stay at Villa Rosa we have had. It took me ages to find the perfect spot on Airbnb and oh how it paid off, the house is absolutely beautiful with everything we needed and so immaculate. The views are truly stunning, sitting in the swimming pool with those views was gorgeous and watching the sun set over the sea was magical, you have to go and see for yourself's and I promise you won't be disappointed!! Only a ten minute walk down the hill and there is a beautiful little fishing village with some lovely areas to sunbath and some lovely restaurants and there is also a shop only a few minutes away from the villa. Bozen and his wife were amazing and helped us with anything we needed, they were very kind and made our stay extra special. Truly one of the loveliest places I have stayed in.
Corinne
2015-07-18T00:00:00Z
We had a wonderful 1 week break in Villa Roza. Bozen welcomed us at the harbour and surprised us with a filled fridge - which was very helpful as we arrived in the evening with 4 children ... House, garden and pool were the perfect environment for all of us, we enjoyed it plentiful. The house is very clean and very well equipped- like 50 towels for our 4 swimming creatures... Nicely located in proximity to a little harbour and easy to reach... The garden blossomed and is well shaded with bbq corners and sun terraces. And the pool was loved by all of us for a well deserved dive after visiting the island.. We can well imagine to return to Villa Roza - thank you Bozen.
Patrick
2016-06-06T00:00:00Z
Vielen Dank an Bozen für diese wunderschöne Woche! Wir wurden von seiner Frau in Supetar abgeholt und zum Haus gebracht. Die Lage dieses Hauses ist toll und der Ausblick in die Bucht samt Sonnenuntergang atemberaubend. Die Ausstattung des Hauses lässt keine Wünsche über. Es ist alles da, was man für den Aufenthalt braucht. Sogar 4 Mountainbikes standen zur Verwendung und der Kühlschrank war gefüllt. Wir würden jederzeit wieder hier urlauben.
Harald
2016-07-17T00:00:00Z
AirBNB wünscht von mir "Verfasse diese öffentliche Bewertung auf Deutsch", daher: Die Unterkunft entsprach all unseren Erwartungen. Das Haus war für uns 4 Erw. und 4 (kleinere) Kinder sehr gut geeignet. Wir haben nichts vermisst. Unser Gastgeber hat sich sehr um uns bemüht, er war zur Abholung an der Fähre, der Kühlschrank war gefüllt, er reagierte schnell auf Rückfragen. Alles in allem waren und sind wir sehr zufrieden.
Carsten
2015-07-27T00:00:00Z
We had an amazing stay at Villa Roza. Our hosts Bozen and his wife made us feel welcomed and at home. Their house is just as beautiful as it is in the pictures. Everything works and is of good quality. Wonderful flowers surround the house. There are plenty of places where you can just sit back, relax and enjoy. The scenery breathtaking, I cannot count the times we said to each other "look how beautiful it is". Ložišća village is picturesque and calm. The pool area is wonderful and we used it a lot! Our children took short trips with the bikes. In the evenings we went by car to the nearby harbours for dinner. Sunset in Bobovišća na moru was one of the highlights of our trip. Our family of six wants to thank our hosts for a great experience. We wish to come back!
Anna
2015-06-06T00:00:00Z
We had a wonderful week at this beautiful house. Bozen and Ivana were both incredibly helpful, assisting us with sorting out a hire car and Ivana picked us up from the ferry and took us to the house. They were both very quick to respond to any queries which was much appreciated. The view from the house down to the sea is breathtaking, especially at sunset and in the early morning, and we will remember it very fondly. The house was so well equipped with absolutely everything we could possibly need, even a fridge full of food. It was clear that a great deal of thought and care had been put into this property and its upkeep and we felt very privileged to be able to enjoy it. We had fun visiting the neighboring small villages and ports and eating at a number of very pleasant restaurants. We swam in the nearby sea inlet which is a picturesque harbour with two good restaurants and a very gentle and relaxed atmosphere. Thank you Bozen and Ivana for a very happy holiday!
Mary
2016-08-21T00:00:00Z
Bozen is a very nice and considerate person. Answering our questions immediately and taking care of everything ,like a rental car. The fridge was full upon arrival which was just great. We enjoyed The house, pool, surroundings a lot. Bozen gave us Some great restaurant tips which we enjoyed very much because The regular places tend to be very touristic. Everything was present in the house, well equiped kitchen, excellent wifi, good coffeemachine, games, and most important excellent beds. The place is even better then it looks on the pictures. With every night a beautiful sunset we for sure would return whenever returning to brac!
Else-Marie
2015-08-01T00:00:00Z
Typ pokoje
Celý dům/byt
---
Typ nemovitosti
Dům
---
Ubytuje
8
---
Ložnice
Ložišća, Split-Dalmatia County, Chorvatsko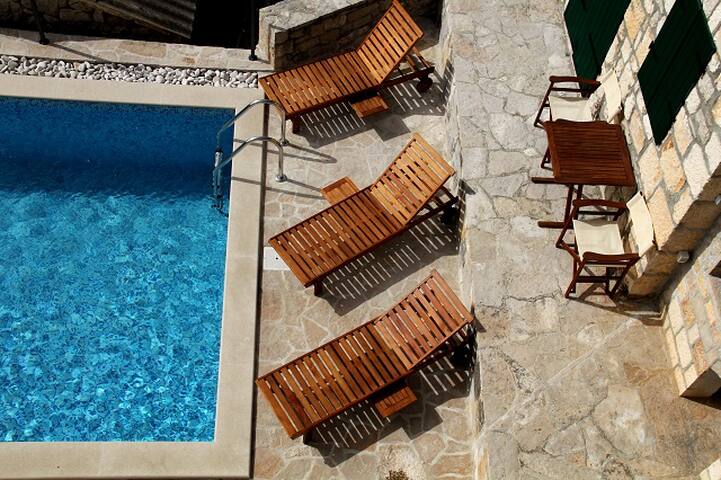 We have room available on the top (third floor) of our family house in old part of Korcula Town. This property was easy to find and more importantly only a couple of hundred metres from the bus station and port and also Korcula centre. Supermarket is also very close and anything else you needed. Comfortable twin beds, to all intents en suite and a good hot shower. No kitchen, but a fridge and crockery/utensils meant that you didn't need one. Lovely terrace with pot plants.
El barrio muy bien, cerca del centro
cristina
2016-08-16T00:00:00Z
We really liked our stay in Zeljka's apartment, in Korcula. It was perfect location, could have not been anything better! Our room was so comfortable and we had lovely balcony. It was really nice equipped: two single beds, kettle and other equipment for easy breakfast. Zeljka helped us and showed places (Old Town) and gave a map and tips what to do and where to go. She was really warm and helpful. She also picked us from the harbour, which was really nice.
Jusa
2015-09-05T00:00:00Z
Bon logement sur rapport qualite prix Accueil parfait
Marco & Romkoo
2016-09-21T00:00:00Z
Recommended! :) Zeljko and her family were great. They picked us up halfway from vela luka to korcula because we missed the catamaran (note: it's very important to get the catamaran as it stops at korcula town instead of vela luka). Room was very comfortable with fridge, air conditioning and tv - perfect for summer. Private toilet and terrace too. Location was great too. Less than 5min walk to the bus station and the old town is just around the corner.
De Lian
2013-06-17T00:00:00Z
The perfect place to stay in Korcula! We were met at the bus stop and walked to this incredibly central room in Korcula town. It is steps away from the harbour, the old town and the main bus station. The room itself is very clean with great aircon and wifi and Zelika has helpfully provided cutlery plates etc so you can have breakfast in the room easily or drinks. The room feels very private, especially when you are on the gorgeous terrace which is just for your use. We spent our afternoons there reading, it is lovely! Really recommend this room - amazing value.
Hannah
2016-07-26T00:00:00Z
Our Host waited for us at the ferry port. We were earlier than the check-in time but that was no problem for them, we could leave our luggage and get in our room half an hour later! The room was very nice decorated and very clean. We especially liked the wonderful terrace. We were completely satisfied! Thanks!
Debbie
2016-07-29T00:00:00Z
Really lovely little space in a prime location in Korcula. Guests have the whole top floor including the cute little terrace (perfect for a morning cup of coffee in the sun) and a private bathroom. Everything was clean and would definitely recommend for an inexpensive visit to Korcula island!
Georgia
2016-08-10T00:00:00Z
The host Zeljka is very helpful and her English is very good. She also came to the port to meet us, it was very nice of her.
Vadim
2016-10-07T00:00:00Z
Typ pokoje
Soukromý pokoj
---
Typ nemovitosti
Dům
---
Ubytuje
2
---
Ložnice
Korčula, Croatia, Chorvatsko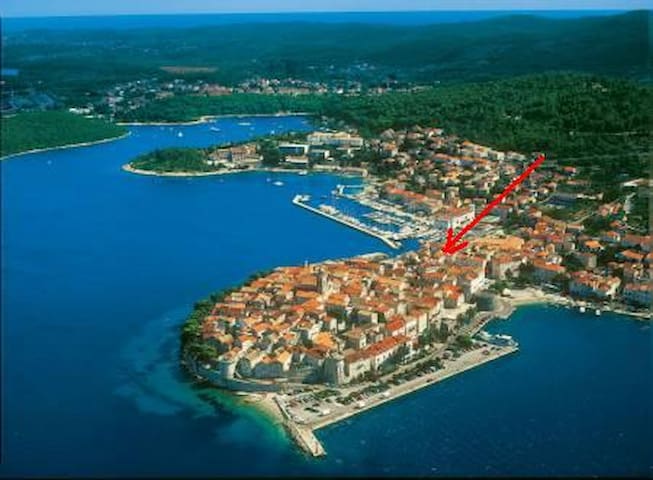 This air-conditioned room comes with a TV and a wardrobe. The private bathroom is fitted with a shower. Towels and linen are included in the rate. Located in the centre of Split, 300 metres from the UNESCO-protected Diocletian's Palace
Located in the centre of Split, 300 metres from the UNESCO-protected Diocletian's Palace and 300 metres from the Riva seaside promenade. Free Wi-Fi access is available. This air-conditioned room comes with a TV and a wardrobe. The private bathroom is fitted with a shower. Towels and linen are included in the rate.
The house is situated in a very quiet street without traffic. Neighborhood is nice and kind. This is a one of the oldest street in Split with typical Mediterranean building.
I don't recognize this photo- so don't know know where this photo was taken. Our place on a floor up does not look like this. We came in from airport in rental car- and did not have a working phone in order to call her. She knew when she was coming and since we got lost, she walked to where we were, got in our car and led us to her place. We had a place to park! But make sure you rent a small car! She was so SWEET and gave us ALL news we needed to have. She is a beautiful woman inside and out- and her place is SO convenient to everything! If Indira is NOT there, her next door friend and or the woman a few steps up in the flower store can call her for you. We had to buy a phone in Split with a sim card- and she told us about where to go- and we finally figured it out- it was a Saturday- so that was good because the phone store on the main shopping street and the CONNECT store which is where we bought the phone was perfect. WE did not have a phone with us from the US that was "unlocked" so that is why we had to buy a phone and a sim card. But now we have a phone and when travel again- we can go right ahead and buy a sim card to that country. Make sure you phones are on AIRPLANE mode all the time- even when you are on wifi or you will have huge bill. Also if you rent a car make sure you take pictures close up of the car when you rent it- and when you turn it in- or they may try to tell you that you damaged car- we rented from ORYX and car, a VW golf was great but they tagged on 2000HRK which we are contesting. Back to Indira- we were with her for three nights- and again- she was fabulous. I told her to give exact directions on website WITH kilometers from airport or else it is easy to get lost!
Boots
2016-09-27T00:00:00Z
Very lovely host!! She was very serviceminded and kind and gave us lots of information about Split and what to see. We will definitely stay in her apartments again!
Jorunn
2015-07-13T00:00:00Z
Lovely quiet and comfortable room in very convenient location. My host was excellent:)
Liz
2016-08-15T00:00:00Z
Indira is by far the best host that we have ever experienced. She helps you with everything you need and even more than that. The room was great. It is really quiet, clean and has everything one needs for vacation. It is located perfectly, close to the beaches and the beautiful city centre of Split. I can only highly recommend one to stay at this place!!
Alna
2016-07-06T00:00:00Z
Indira is a great host! the room is very well located, confortable and restful . Thank's for all the informations of Split you gave to us (fife, no stress are very good! And vis... Amazing!!)
Louise
2015-06-13T00:00:00Z
Had a wonderful stay at Indira's beautiful apartment. Indira is a lovely host who made us feel very welcome and gave us awesome restaurant and attraction recommendations. The apartment is perfectly located, not far from Diocletian Palace, the bus station or the supermarkets. Plus, it was the best bed we slept in over our five months of travel around Europe. Can't recommend this enough!
Jade
2016-09-13T00:00:00Z
The room was very clean and as described. Although quite small it was perfectly adequate for a few days stay. The location is great just a few minutes walk from the bus and ferry terminal and the Palace. Indira was lovely and provided a map of split and recommendations of places to eat (which were very nice). I would stay here again :-)
Stephanie
2015-06-25T00:00:00Z
Petit appartement sympathique dans un quartier charmant et calme. Grand lit confortable, salle de bain. Même s'il n'y a pas de cuisine, il y a un frigo, une bouilloire, et un minimum de vaisselle pour le petit-déjeuner. Indira est une hôtesse qui vous guidera dans la ville, les îles... Elle était présente à notre arrivée et au départ. Cet appartement est vraiment bien situé pour les excursions de toutes sortes ainsi que pour la location de voiture !
Hervé
2016-07-11T00:00:00Z
Typ pokoje
Soukromý pokoj
---
Typ nemovitosti
Dům
---
Ubytuje
2
---
Ložnice
Split, Split-Dalmatia County, Chorvatsko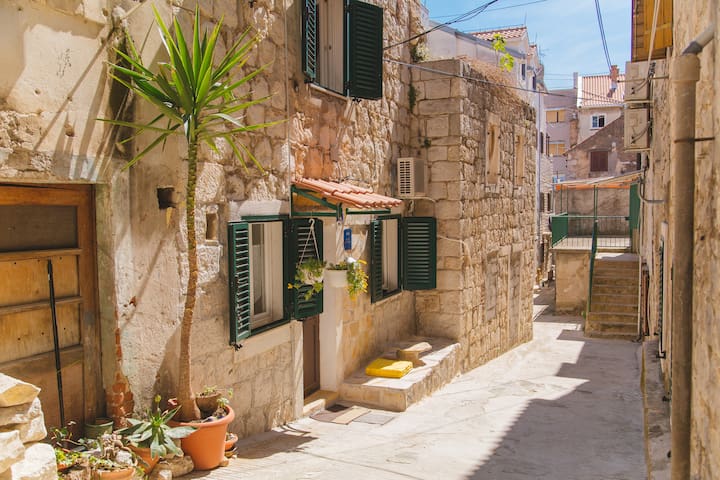 House is placed in the center of Korčula,... heart of the Old Town, on the eastern coast, on one of most atractive position. Beautifull old stone house, with its history.. Anyhow,...therefore it has got the outstanding SEA VIEW, vicinity of small stone beach, and everything interesting in town.... A/C, Internet facilities....,etc.Familly run tavern "konoba Aurora"-part of house&meeting point for our guests-with nice local &mediterranean food acompanied with exellent local wines.Enjoy it personally... Host speak English/Italiano... etc. Find your good solution to be accomodated in this beautiful town. Choose your good starting point for an unforgetable holyday in Korčula,...unique small town with its magical beauty and romantic history.Definitelly,..place with you will fall in love on first sight.... WE CAN OFFER YOU........ ..... : -STUDIO APARTMENT- (size aprox.30m2)-with double bed +1 additional adjustable bed, own bathroom,sea view, air conditioner, kitchenette, water boiling kettle, fridge, stereo system, WiFi..... Note...- ... minimum stay is 2 days... -ROOM-(size aprox. 20m2)-with double bed,own bathroom,SEA VIEW,etc..-see all details on Airbnb DAJANA-OLD TOWN ROOM
We were delighted with Dajanas apartment. The location and views are stunning!! Our hosts were very helpful and friendly with a huge welcome plate of grapes for us. The parking was sorted out with placement in another location a bit of a walk away but much less expensive than the close one. Shower was full of pressure, bed comfortable, and kitchen had all the necessary items. Everything was accurate from the listing but I will emphasize that the location is stunning and very convenient to everything. Loved the whole 3 days there.
Jacquie
2016-09-19T00:00:00Z
We've just returned home from our visit to Croatia and feel hugely compelled to write a review for Dajana & Maro. We stayed with them for just the two night straight from the ferry and it was perfect. We felt completely welcome in their home and the location is ideal to experience the best from Korcula Town. Maro met us from the ferry and led us on the short walk to the perfectly located apartment; a sea view, 10 metres from a swimmiing and sun bathing spot and all of the town's restaurants. We hugely recommend The Dajana Room & Apartment if you're thinking of staying in Korcula Town. Oh, and Restaurants 'Komin' and 'Marco Polo' served amazing croatian food.
Christopher
2012-08-15T00:00:00Z
Vi følte oss veldig velkomne og ble tatt i mot av blide og serviceinnstilte eiere.
Kristin
2016-07-29T00:00:00Z
Good communication with nice hosts. Apartment in a handy spot in a building on the edge of the old town. If you have a car drive down, drop off bags and then go park in the supermarket at the top of the hill- bit of a slog with luggage otherwise. Apartment small, simple and clean but everything you need. Our only issue was with the bed- it desperately needs a new mattress and a couple of smaller pillows. Otherwise a nice stay.
James
2015-08-14T00:00:00Z
Maro and Dajana were so welcoming and made us feel completely at ease. The room was cosy and comfortable and truly felt like our own little home. The room and shower are both large, and there is a beautiful window overlooking the sea, which is literally just downstairs. We loved every minute of our stay in Korčula and only wish we stayed longer!
Blaise
2015-09-09T00:00:00Z
Dajana and Maroje were very welcoming (Maroje came to pick us at the catamaran arrival) and helpful. The appartment's view is wonderful, ant the location is perfect to visit Korcula and the islands around.
Perrine
2013-08-11T00:00:00Z
Thank you to Dajana and Maro for their warm welcome and their lovely comfortable room overlooking the see. We had a lovely time in Korcula and wish you all the best, Stephen and Tracey
Stephen
2015-06-28T00:00:00Z
We would really like to thank Dajana & Maro for their hospitality. We stayed a few days in Korcula and we really liked the apartment. The apartment was completely clean, right in the center of Korcula and has a great view.
Rob
2015-07-26T00:00:00Z
Typ pokoje
Soukromý pokoj
---
Typ nemovitosti
Dům
---
Ubytuje
2
---
Ložnice
Korčula, Okres Dubrovnik-Neretva, Chorvatsko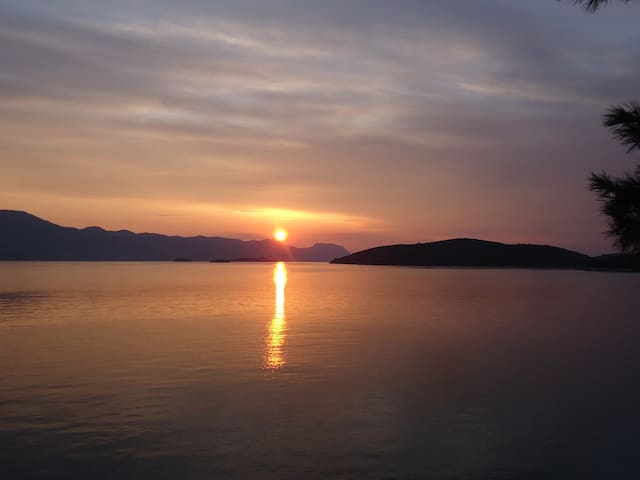 Location is hard to beat just a few meters from the town center. Large comfortable,quiet, air conditioned double room with en-suite bathroom and sea view. Use of a bright, fully equipped shared kitchen. Room Includes: Hi speed Wifi, towels/linen, fridge, kettle/water boiler, tea and coffee, Brita water filter jug, hairdryer, shampoo, conditioner, personal pick up on arrival, town map and many recommendations with discounts on boat, car & scooter rentals and at some of our favourite restaurants.
With over 900 positive reviews across all our listings, we are confident you will not be disappointed if you choose to stay with us. See our profile for our other listings. The room is situated on the third floor of a four floored 16th century Palace 'Palace De Lupis' in the very heart of Hvar old town. You will be living meters from the very center which gives you the feeling that the entire town of Hvar is your living room. The part of the old town the room is in has the strictest rules for the center regarding noise There are no clubs around our home only restaurants and shops. The room is large, cool and comfortable with a en-suite bathroom. The room also has a great town and sea view. The room includes: - King size bed 160cm x 200cm, 25 cm deep memory foam mattress - Sofa - Air conditioning - Ceiling Fan - Fridge - Water filter jug (Brita) - Kettle (Water boiler) - Tea & Coffee - Hairdryer - Towels & Linen (Can be changed on request) - En-suite bathroom - Use of a bright and airy shared kitchen at the top of the house, which not only has all the facilities you would expect - oven, fridge/freezer, coffee machine, water boiler (kettle), toaster etc but it's also a great part of the house to meet other guests. The entire house has high speed WiFi internet access.
The house is in the heart of the old town and the 15th and 16th century streets and architecture are truly a sight to behold. The main stairs to the incredible Spanjola fortress are right alongside the house. The narrow 15th -16th century streets around the house offer amazing restaurants with traditional Dalmatian cuisine, Italian plus other international dishes. There are many shops with original fashions and jewellery. Traditional wine bars (Konoba) and even a Monastery next door to the house. You really can walk to everything! Here are some approximate walking times.... Catamaran: 3minutes Bus station: 3minutes Taxi boats to Pakleni Islands (best beaches): 2minutes Super market / fruit, veg and fish market: 3minutes Restaurants/ shops: Seconds Carpe Diem and taxi boats to Carpe Diem beach: 3minutes Hula Hula: 10 minutes Beaches in Hvar town: 3minutes to 15minutes Bars/clubs: 3 minutes
I wish there were a way to leave more than five stars! This was by far the best Airbnb I have ever stayed in. Not only was the room so lovely, but Andrew and Dani were beyond accommodating. They had lots of suggestions of what to do and were so welcoming. I cannot recommend staying with them enough!
Lydia
2017-01-04T00:00:00Z
Fantastic room. Beautiful and clean with everything you'll need including a fridge, kettle, tea and coffee! Dani and Andrew were very accommodating when we arrived. After meeting us at the bus stop they showed us all the good things to see and places to eat at (including discount vouchers for the restaurants!). Highly recommend, best spot in Hvar!
Izabella
2015-07-15T00:00:00Z
Very friendly people! They came to search us at the ferry and showed us our double room, which was very bright, spacious and had a very nice view. There was also a nice common kitchen. The place is very well situated, near to evrything. We can strongly recommand this place!
Clara
2012-08-18T00:00:00Z
Os dias que passei na casa de Andrew e Dani foram a melhor surpresa que o Airbnb já me proporcionou. Eles sempre responderam nossas mensagens rapidamente, nos buscaram no porto e nos deram ótimas dicas de como aproveitar Hvar. Durante nossa estadia, eles nos ajudaram também a reservar os passeios que faríamos! O quarto é exatamente do jeitinho que está na foto. É espaçoso, limpo e super confortável. Me senti tão em casa que confesso que quase cancelei a minha ida para Split para passar mais uns dias em Hvar. Já estou pensando em voltar! Andrew e Dani, obrigada por tudo!
Marina
2015-08-28T00:00:00Z
Excellent location in the city center, the room is large, to improve the cleanliness and the bathroom which is a bit old and often there was a bad smell coming from the toilet
Davide
2013-08-25T00:00:00Z
Andrew was an amazing host! He received us at the port and walked with is to the apartment! He showed everything on the map and also gave us amaxing tips of restaurantes and during our stay updated us about what was happening in the city, including live music and also booked the tour to the caves for us. The room was great and super clean. it was 5 min walking from the port and near everything! I can say that andrew and dani were the best host that i've ever met on airbnb and i definetly recommend them to everyone that want to enjoy the wonderfull island of hvar!
Rafael
2014-10-02T00:00:00Z
Very sweet and hospitable hosts! They picked us up from the bus station and showed us a cheap parking lot for our car. The room was very clean and exactly as shown on the photos. Additionally they gave us great recommendations, what to do and where to eat in the city/on the island. *thumbs up*
Anne
2015-10-27T00:00:00Z
Excellent accommodation. Very well located. Hosts were excellent- they communicated well with us throughout our visit and had lots of really helpful suggestions to make our trip even more special.
Martin
2015-09-28T00:00:00Z
Typ pokoje
Soukromý pokoj
---
Typ nemovitosti
Dům
---
Ubytuje
2
---
Ložnice
Hvar, Split-Dalmatia County, Chorvatsko
In the old part of Split, Radunica quarter, you can find apartment Dino in newly renovated stone house. The distance from food market is 2 minutes; from port, Diocletian's palace and Riva 3 minutes; from train and bus station 5 minutes; from sand and stone beach 10 minutes.
Apartment Dino is located in newly renovated old stone house, located in Split, which provides unforgettable moments of pleasure with its tourist attractions, as well as with its historic sites. The apartment is located just a short walk from the historic center recognizable by St Dujam's cathedral and unique Diocletian's Palace, which is also a UNESCO World Heritage Site. Also nearby you can find the best known and most popular beach in Split named Bačvice, where you can enjoy the benefits of clear water, recreation, sport and relax while sipping cocktails at nearby cafes. You can enjoy a simple stroll through the famous promenade of Split-Riva or visit Marjan Forest Park, which offers pleasant walks under the pines by the sea. In case you want to escape from the city noise, we recommend that you visit the islands of Hvar, Brač and Vis, but if you're more adventurous, ideal trip can be Omiš and river Cetina which offers many activities such as rafting and horseback riding. There are bedrooms with double beds and anatomic sofa, air conditioner, LCD TV, free Wi-Fi. This modern apartment has a kitchen, a microwave and a hairdryer. Bedding is cotton, the price includes towels and shampoo. The guest who stays more than a week has free apartment cleaning and changing the bed linen completely.
Apartment is placed in a romantic area, in a quiet street. The neighborhood is very safe. How would you like to stay in Sunny apartment? Here is your chance! Book this Sunny apartment in Split, in city center. It is bound to be an unforgettable visit to one of the most beautiful cities on the Adriatic coast. Just book our apartment, and we will be honoured to do everything for you. We can arrange a transfer from the airport to the accommodation in both ways, tour around Split, little excursions to see the beautiful nature that Croatia offers, from the National Parks, little old villages, just name it and we will make it happen. Apartment is 10 minutes walking distance from sand and stone beach. Attractions like the Split promenade, Diocletians Palace, which is under UNESCO's protection, are just a 3 minutes walk from the accommodation. UNESCO has placed Diocletian's Palace under its protection and that's why some of the leading tour operators in the world keep Split among the first five destinations in this part of the globe. Sea/ Beach: 500 m Market: 200 m Restaurant: 40 m BusStation: 350 m Diocletian Palace: 800 m Saint Dujam's Cathedral: 600 m Main Promenade Riva:500 m Ferry: 700 m Airport: 21 km
Best location, comfortable house with all facilities, favorite house of this trip!
ANNA
2017-02-09T00:00:00Z
Great stay! The apartment is tucked into a quiet alley, but easy to find with the map and pictures. While you're very close to the sites and busy streets, because it's in a secluded alley, it's still very quiet and quaint. Check-in was smooth, as the host simply left good directions to pick up the key. Enjoy!
Andrew
2017-03-25T00:00:00Z
Although I did not personally meet Ernesta because she's not free on my arrival day, her friend who showed me the room was very nice as well, and Ernesta was very responsive to my messages. The location of the room is superb, close to the pier, bus terminal and the Old City. Overall speaking, a very nice location to explore Split!
Catherine
2016-09-26T00:00:00Z
Great apartment, great location! Ernesta was really helpfull.
Diego
2016-05-27T00:00:00Z
My boyfriend and I stayed only one night at Ernesta's apartment in Split, but it was perfect for us. We arrived very late as our flight was delayed, but Ernesta arranged for a driver to meet us at the airport and was very helpful and understanding and ensured that we were able to arrive comfortably. The apartment is small, but clean and comfortable and in a great location very close to shops and the sea front.
jessica
2016-07-26T00:00:00Z
朝早くにフェリーが到着してしまうのでそのことを事前に連絡したところ、早めのチェックインにも柔軟に対応してくれて助かりました。 部屋は簡易なキッチンが付いているので、市場で食材を買って食べたりするにはちょうどよく、旧市街やバス、フェリーターミナルにも近く観光や移動にも便利でした。 連絡もチェックインもスムーズで、スプリットでの滞在を楽しめました。 ただ、シャワーを使用している途中、給湯器の容量の問題かお湯が途中で無くなってしまうようで、あまり長く使用していると途中で水温が下がってしまうことが若干不便でした。あと、二階の別のゲストハウスの利用者たちの足音や物音がよく響くので、騒音とまでは言わないまでも、睡眠の妨げになりました。
Michiko
2016-05-26T00:00:00Z
Pour un cours séjour seule ou en couple, le logement d'ernesta est ideal, jolie deco, très fonctionnel et à 5 minutes à pied des commerces et de la vieille ville. Je recommande sans hésitation ! Merci Ernesta.
Sarah
2016-10-15T00:00:00Z
Is was very pleasant to stay in Ernesta place. The place will clean, spacious and convenient to many places of interest. It is within walking distance to the ferry terminal and bus terminal. Will recommend friends to stay if they will to come to Split.
Jeremy
2016-09-25T00:00:00Z
Typ pokoje
Celý dům/byt
---
Typ nemovitosti
Dům
---
Ubytuje
2
---
Ložnice
Split, Splitsko-dalmatinska županija, Chorvatsko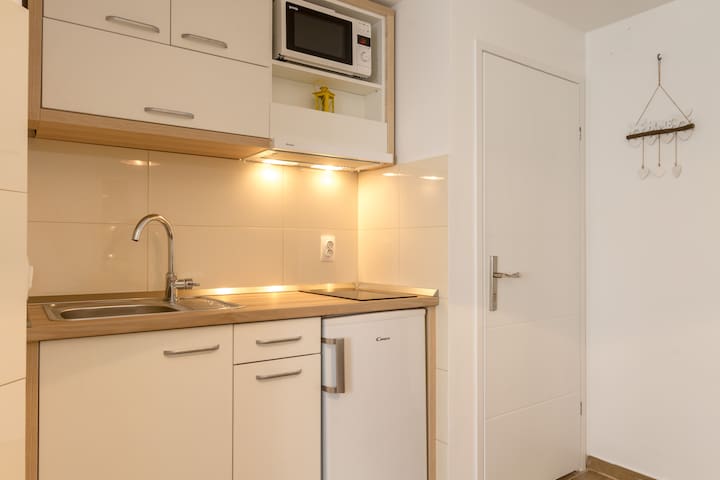 Split-Dalmatia County - Airbnb
:
Průměrně

4.91

z

5

hvězdiček na základě

1833

hodnocení hostů
1

–

18

z

300+ pronájmů domů
Pro zobrazení celkové ceny zadej termín. Mohou být přidány další poplatky a daně.