Eco-beauty, slightly savage, our 200-year old estate is on the ancient Puuc Ruta. Built on a Mayan mound, with natural cave cenote & modern pool. It was a cattle ranch, a steam powered hennequen plantation. Now, a private resort for adventure savvy.
Built on a Mayan platform as a Royal land grant, Yunku began life as a 17th century cattle ranch and then became a "green gold" (henequen) plantation in the 19th C. Today it is a beautiful, slightly savage, staffed retreat. (When not in use by a group, it can be rented on a B&B basis. Ask me for details.) We prefer family groups, yoga or Pilates groups or or high-school/college groups. The area is ripe for exploration - from Mayan cities to crafts villages. There is a 90-foot veranda for activities. A natural-wonder cave "cenote" for exploring. 200 year old aqueducts that still work. An orchard that once provided fruit for surrounding haciendas. For family reunions, Adults can have their places and kids can all stay together. The environment in-general is tranquil and spiritual, a place where your feet are on the ground and you head is in the voluptuous Yucatan clouds. It's a great place for snow birds to spend the winter. If you stay more than a month, we can negotiate on price. To get here, fly to Merida (MID) and we will provide ground transfers free. Or take a cheap flight to Cancun. The drive to Yunku takes you by Coba, Villadolid, and. (We can pick you up for a slightly extra charge. Also, ask me for rates. They depend on the size of your group and whether we need a car or a van.) The Casa Principal contains two master bedrooms with en-suite bathroom, professional kitchen, dining room, sitting room, game room and the 90-foot multi-arched veranda. The out-buildings that date to the time the hacienda evolved from a cattle ranch to a sisal producing plantation each have room for four people, and hammocks deliver room for more. Amenities include complimentary breakfast every day, snorkel gear, bicycles, ground transfers. Sighting trips can be arranged with our staff. If you want the hacienda to provide three mails daily, let me know. Unlimited snacks for self-catering can also be arranged. As your host, I will take care of every detail. You will find Hacienda Yunku an experience to talk about for a long time.
The Yucatan is rich and vibrant with history and you can explore back as far as you want. The Chixculub crater (discovered in the 1970s) that created the cave "cenote" may be responsible for worldwide extinction of non-avian dinosaurs. Fast forward to the pre-Columbia Mayan cities. Uxmal. Chichen-Itza. Ek Balaam. Fast forward again to Victorian era elegancy in Merida. Enjoy a world-class symphony, great restaurants, and impromptu dancing. With my guidance, you will discover a world of indigenous crafts that are the secret treasures of the Yucatan...Or take a look at modern Mexico in nearby Merida, where commerce now drives wealth. And if you want to know more about the agave cactus that used to be grown on Yunku for the making of rope, there's a working henequin plantation nearby to tour. If you need a dose of culture, nearby Merida boasts a world-class symphony, art museums, a large market, fine restaurants with global cuisines, and bull fights. There is a beach a few kilometers from Merida. Hacienda Yunku offers luxury and a journey of discovery to the Mayan world and Modern Mexico.
La hacienda es realmente mágica, muy bien restaurada, con espacios cómodos y agradables para vivir,. Un lugar espectacular con un cenote bellísimo, sólo para nosotros, jardines selváticos y una alberca espectacular para nadar. Las personas que atienden la casa son muy amables y ayudan en todo lo necesario. Nuestra familia lo paso muy bien, tanto los adultos como los niños. Yunku es un buen lugar para ir a conocer Uxmal y otras pirámides, pero también Mérida y haciendas henequeneras.
Huguette
2015-01-03T00:00:00Z
Typ pokoje
Celý dům/byt
---
Typ nemovitosti
Vila
---
Ubytuje
16
---
Ložnice
Abala, Yucatan, Mexiko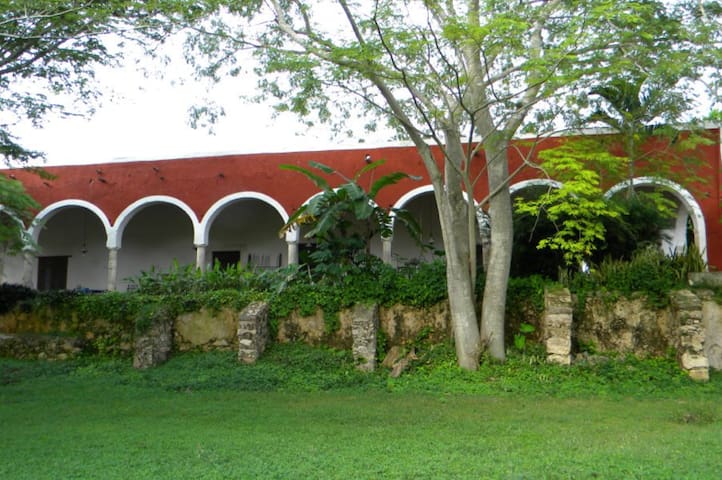 Pro zobrazení celkové ceny zadej termín. Mohou být přidány další poplatky a daně.