New studio apartment with separate entrance nestled on the Shepaug River minutes from the Village of Litchfield, two hours from NYC. Property has 100 year old trees river & ponds. Close proximity to summer/winter activities, hiking trails, and the magnificent colors the New England fall foliage. Amenities are finished beautifully. Entire property has charm and warmth along walkways, the river and ponds are amazing and tranquil. A perfect escape to decompress or a couples romantic getaway.
The apartment has white angular ceilings. The space is immaculate, quaint, with plenty of storage for your belongings, perfect for two people. There is a large desk to spread out any task with wifi. The T.V. pulls out from the wall can be angled anywhere. The bathroom has an open spa shower with a seat and bath essentials. Soft white linens for the queen bed covered with pillows and a duvet for a comfy quiet nights rest. The air here is a recipe for a great nights sleep. A full kitchen, everything from utensils to cookware. A satisfying breakfast of coffee, fruit, juice, yogurt, & baked goods, provided by local farms and bakery, and small snacks for hungry arrivals.
A Brief History of Milton This beautiful section of Litchfield, CT was originally settled about 1740. In its earliest days it was known as the "Northwest Section," but soon was called "Blue Swamp" because of the blue gentian wild flowers that grew beneath the many tamarack trees which flourished in the swampy area. The name Milton was chosen in 1795, probably in honor of John Milton, the English poet.
Words can't describe how special Antonia's retreat in Litchfield is-and what a wonderful and accommodating host she was. Her communication was easy and helpful before and throughout our stay. The studio is newly renovated and beautifully decorated giving the feel of a luxury boutique hotel. In addition to the attention to detail with the decor, she also thoughtfully provides everything one might need for a short stay including milk, juice, coffee, fruit, snacks and pastries from the local Bantam Bread- highly recommended. The property was beautiful covered in a blanket of snow but I am sure it's even more breathtaking in the spring, summer, and fall seasons. Her studio is a perfect sanctuary and we only wish we could have stayed longer. An excellent experience, and a place we hope to visit again. Thank you, Antonia!
Natasha
2017-03-19T00:00:00Z
This rental was everything it was advertised to be. The location was scenic and peaceful. The space was beautiful and inviting. Antonia was welcoming, and she provided more than we expected. It's an absolute "must visit" in our book. We would love to return someday.
William
2017-02-20T00:00:00Z
Great hosts and great place!
Terry
2016-10-29T00:00:00Z
Thank you for this great hospitality Beautifull and cosy in the forest near a river
Xavier
2016-10-30T00:00:00Z
This was our second time staying here; just as perfect as the first time!
CATHERINE
2016-12-04T00:00:00Z
Antonia and her husband were gracious hosts! We weren't sure exactly what time we were going to arrive so Antonia left our door open with the key inside so we wouldn't feel any pressure to arrive at a certain time. We were driving from Boston and wanted to make stops along the way. The room was immaculate and had all the amenities we could ever need. Antonia even had snacks and breakfast for us in the fridge! The property was gorgeous and we spent time walking all around and enjoying the views. Antonia was helpful in giving us suggestions on places to hike and things to do in the area. Her and her husband are such a lovely couple and had a great energy. We didn't want to leave! We will definitely be back and I highly recommend staying in this beautiful home!
Lauren
2016-10-22T00:00:00Z
wonderful hosts, lovely people, truly beautiful location. thank you
Rafe
2016-11-26T00:00:00Z
This is a fantastic place to stay! Just entering the driveway to their house makes you feel good - the grounds are enchanting and we were lucky to be there when the foliage was just about to peak. Antonia greeted us warmly, showing us around the property and offering numerous helpful hints about the area. The studio is just perfect! So well-designed and includes everything you could possibly want - and more. To our surprise, Antonia left us 2 fantastic pastries from the local baker and an equally delicious tea cake. And going above and beyond, there were fresh berries and yogurt (the good kind) in the fridge as well as orange juice, coffee and milk - plus fresh apples from a nearby farm. And if you wanted, bread and butter for toast and instant oatmeal. This was so helpful and unexpected but really appreciated as it kept us from going out to breakfast, saving us a lot of time and $$. She also recommended the most appropriate hiking trail for my bum hip. We met her husband the second day, who was equally as charming and helpful. We are planning to buy a home in this beautiful area so I know that we will be staying there again - and already look forward doing so! Thank you both!
CATHERINE
2016-10-09T00:00:00Z
Typ pokoje
Celý dům/byt
---
Typ nemovitosti
Byt
---
Ubytuje
2
---
Ložnice
Litchfield, Connecticut, Spojené státy
Acogedora unidad de 1 dormitorio en limpio, tranquilo, barrio tranquilo, con entrada privada.
Privado apartamento de 1 dormitorio con entrada privada; sala de estar, comedor, cocina completa y baño completo con bañera / ducha.
zona tranquila y hermosa. 3 minutos en coche de Waterbury Plaza y 7-10 minutos de Naugatuck centro comercial y de latón Molino Center Mall.
Marlene's apartment is a great place for a quiet get-away or to do some writing and research. It is very comfortable, private and well-equipped. Marlene is very easy to communicate with and very accommodating to needs. Great spot.
Jeremy
2017-03-30T00:00:00Z
Marlene is such a great host! We had such a nice time. Her place is clean and the kitchen is well stocked. She even got us breakfast food according to our tastes and a bottle of wine, since we couldn't find one along the way to the airbnb. Really one of the best places I've stayed at. Thank you Marlene :)
Christina
2017-03-25T00:00:00Z
Marlene's place is self-contained and very comfortable. She provides everything that a guest may need for a few days and more from bathroom supplies to breakfast, utensils and pots and pans. The kitchen is equipped with a full size fridge and stove/oven. The bedroom is very cozy. The living/ dining room is homely. Marlene and her young family are very quiet neighbors. I have been given my space and privacy, which I needed, but at the same time Marlene is a text or call away and is very prompt at resolving concerns. It has been a joy knowing Marlene.
Yasmeen
2017-02-21T00:00:00Z
Typ pokoje
Celý dům/byt
---
Typ nemovitosti
Byt
---
Ubytuje
2
---
Ložnice
Waterbury, Connecticut, Spojené státy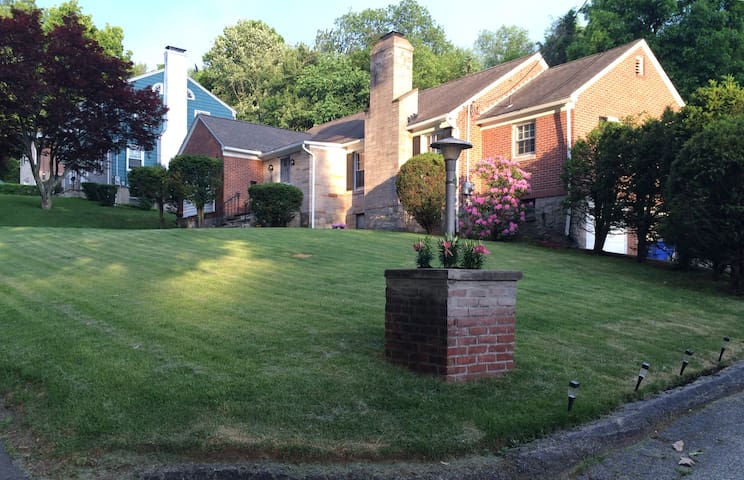 granja muy encantador decorado con buen gusto situado en la zona rural de West Simsbury CT. Aprender cada día de la vida agrícola de ayudar a reunir los 400 huevos al día para alimentar trata a los animales del zoológico de mascotas.
Julie was absolutely great! Kind, very welcoming, and made us feel at home. With fresh eggs, milk in the fridge and the fire place already on. She took us all over the farm, with lots of patience and explanation. I think it was the best airbnb experience we had so far and my 3 years old daughter had a blast with all the animals and the house itself. Thank you for everything, Julie!
Joseph
2015-03-30T00:00:00Z
The house couldn't have possibly been more charming. Julie and Neven were very kind and helpful. Had an absolutely wonderful weekend. Kids love the variety of animals. Beds were comfortable, house was clean and well maintained. It was fun running the wood burning stove, sorry I melted your fire starter, hope $5 covered buying a new one(URL HIDDEN)We will defiantly be back. Thank you for your hospitality and gracious kindness.
Logan
2014-03-03T00:00:00Z
I stayed here with my husband and our 16 month old son & we had a great time! The apartment was very clean and cozy & we loved the fresh eggs! My son enjoyed checking out all the animals and using the toys that are in the apartment. A couple mornings the chickens woke us up a bit early but that's to be expected on a farm!
Sara
2014-05-24T00:00:00Z
This was a great place for a family visit. The farm was fun for everyone, and farm fresh eggs an extra plus. The accommodations were clean, comfy and inviting. The toys and portable crib were great to have as well. The apt was stocked with extra towels and linens, wood pellet stove, and kitchen supplies. The hosts were friendly and available for any questions. We hope to stay again for our next trip.
Jeanie
2015-01-01T00:00:00Z
We had such a fantastic time even in the dead of winter. Was cozy, clean and a fantastic getaway for families and couples. Julie and Nevis were unbelievable hosts. Very friendly and very open to answering all our questions and making sure we felt as comfortable as possible. It's a rare fine to have both attentive host and a beautiful place, not to mention the all the animals! Can't wait to come back again when the weather gets warm but honestly even in snowy weather the farm is a magical place.
David
2017-02-14T00:00:00Z
Wanted to get away for a few days with the kids and this was the perfect place!! We loved having farm fresh eggs for us and the hosts are so kind!! There were even toys for the kids to play with! We all enjoyed helping feed the animals in the morning and collect some eggs - made our stay that much more fun! The pellet stove made it an even cozier place than we could have imagined. Definitely recommend a stay here!!
Theresa
2017-03-09T00:00:00Z
For us, it was all about the farm and countryside experience for us and the kids, and it was definitely a success. Lots of differents animals, plenty of life on the farm and our host had filled up the fridge and was very helpful during our stay. There were also plenty of toys for the kids. Flamig farm has a wonderful atmosphere, we recommend it highly!
Koen and Maren
2014-07-26T00:00:00Z
Three of us stayed at Flamig Farm for nearly 3 weeks whilst visiting family and friends in the local area. Everything was as described and the charm of not only the accommodation but of the farm as whole made our stay a real pleasure. Julie, Nevin, their family and all the staff made us welcome from the outset and their willingness to include us in the activities of the farm was an added bonus that was greatly appreciated. There was a great deal going on around the farm at the time of our visit (Halloween Hay rides, pumpkin carving, hog roast, parties and visits) and we were invited to partake in all and made to feel very welcome. Julie, Nevin and the family also hosted a dinner for us in their lovely house which was a great evening. Children love the animals and the farm, as the visitors book attests to, and although the area is not on many tourists 'to do list' there is plenty to entertain all tastes and the fall colours were truly stunning this year. A great base from which to explore but a car is an essential. Thanks to all concerned.
Ian
2016-11-07T00:00:00Z
Typ pokoje
Celý dům/byt
---
Typ nemovitosti
Byt
---
Ubytuje
5
---
Ložnice
West Simsbury, Connecticut, Spojené státy
Joliment rénové l'espace, avec des meubles anciens et cru tout au long. A plafonds voûtés, planchers de bois franc et des carreaux de granit dans le bain. La cuisine a appareils en acier inoxydable. Il y a aussi un écran plat de 55 pouces ainsi que wifi haut débit !!!!!!
MISES À JOUR: section Granite péninsule de la dalle de comptoir récemment installé. Mars 2017: Détecteur de fumée remplacé et testé. boutons de Cabinet également installés et des ventilateurs de plafond nettoyé en profondeur !!!
Up and coming communauté artistique dans une ville plus ancienne avec beaucoup à offrir.
Place was exactly as described and beautiful! By the end of our stay we wished we could have just moved in. Gabrielle was very helpful with remote check in and had a beautiful welcome book prepared for us. We also loved how easy it was to get to great hiking.
Rachel
2017-03-22T00:00:00Z
We had a wonderful stay! The apartment was even nicer in person, with new countertops, microwave, and portable closet space. The porch is a cozy romantic spot with twinkle lights and small table and chair set. When we arrived (late), we were met with a smile and graciously walked through and shown around. Everything was so clean and organized. The tenants downstairs were quiet and friendly. We didn't have a single complaint. We would love to stay here again!!!
Mary
2016-10-20T00:00:00Z
I really enjoyed my stay in this upstairs apartment! It is a good value for the amenities provided! Gabby is a great host and easy to contact, if needed. There are 6 tenants living in the floors below, but I had the whole third floor to myself. I could really only hear any of the other tenants if they were cooking and I was in the kitchen or dining room. Many of the other tenants sat on the porch and were very friendly. I enjoyed my conversations with them in passing over the 3 months I stayed.
Brianna
2016-10-01T00:00:00Z
Gabrielle was very responsive and a gracious host. Great location!
Steph
2016-10-23T00:00:00Z
Gabby's place was clean, well decorated, and had everything we needed in it for a great weekend - (full kitchen, bathroom, living room with huge tv, bedroom)! Very close to Mohawk Mountain ski resort and a strip of cute restaurants. Gabby and her dad (who was helping her manage) were very responsive and friendly. I do have to say that I'm not sure I would classify this spot as a "whole house" - it is the top floor of a shared house but we were not bothered by the other tenants and again it had everything in it that we needed.
Renee
2016-02-16T00:00:00Z
Porch? Check Space? Check Clean? Check Amazing host? Check. This was one of the best AirBNB experiences I've had yet! I would happily re-book this space during a future visit to Torrington/Litchfield.
Jereremy
2016-06-20T00:00:00Z
Gabrielle was amazing she was quick to respond back and even tell my significant other and I places to visit. The apartment was just like the pictures. It was very cozy and made us feel right at home.
Nicole
2016-10-10T00:00:00Z
Gabrielle's apartment was beautiful! The amenities were great and she was very quick to respond to any questions we had during our stay. She was very informative and suggested great places to check out in the town of Torrington (which we did). If my girlfriend and I ever get a chance again to visit Connecticut, we would love to stay at Gabrielle's apartment.
Seth
2016-01-04T00:00:00Z
Typ pokoje
Celý dům/byt
---
Typ nemovitosti
Byt
---
Ubytuje
2
---
Ložnice
Torrington, Connecticut, Spojené státy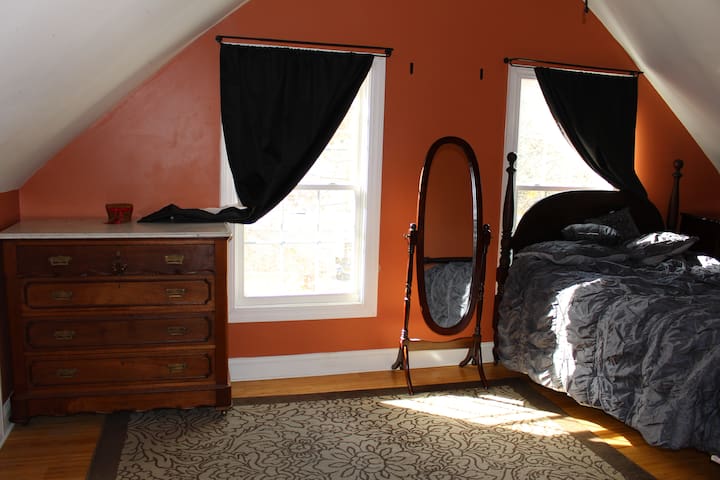 My place is good for couples, solo adventurers, and business travelers. Right next to ESPN for short term stays you'll have all the amenities of home.
The kitchen, Living Rm and Bed Rm is one big open space with the bathroom off a Hallway with washer and dryer. Very nice and modern and a large private lot
The house is off a dead end street from a main road with shops and bus routes
Typ pokoje
Celý dům/byt
---
Typ nemovitosti
Byt
---
Ubytuje
2
---
Ložnice
Bristol, Connecticut, Spojené státy
Comfortable home away from home. Centrally located between Hartford and New Haven. Near CCSU, UCONN Medical, HOCC, quick drive to West Hartford or Middletown. Great for the business professional on extended stay. Snowbirds. This is a separate, one bedroom apartment, 2nd floor. NEW! WASHER/DRYER. Very clean, safe location. Close to Amtrak station, banks, restaurants, grocery stores. Relax and enjoy the four seasons overlooking Paper Goods Pond. Thank you, Sally and Pete.
We are celebrating our 2nd year here on Airbnb. We have created this comfortable little apartment for short term and extended stays ie: job assignments, visiting family, snowbirds over the summer etc. This space is an individual apartment unit set-up just like a vacation club with everything you will need. Kitchen with granite counters. Full size stove and refrigerator. Microwave, coffee maker, toaster oven. All kitchen accessories. Towels and bed linens. We have just added a washer/dryer right off of the unit. Complimentary toiletries upon check in. Apartment unit is located on the second floor with private entrance. Front and back porches. There is a queen size, memory foam mattress. This unit accommodates (2) guests. Nice large yard overlooking scenic pond and park. Guests have use of picnic tables and grill. We live on on-site but respect our guests privacy. Please feel free to stop and chat with us or ask us about the area. The area is a New England country setting but convenient to everything! Easy access to I-84, I-91, Rte 9, and the Merritt Parkway. We are half way in between Hartford and New Haven. We are adjacent to the City of New Britain. Fifteen minutes from the CCSU or Wesleyan Campus, The Hospital of Central Connecticut, The New Britain Museum of American Art and the UCONN Medical Center. From our location you can walk to the center of town which offers train service from the Berlin Amtrak Station to Hartford, New Haven and New York. Convenient shopping, banking and restaurants. There is a very nice public pool available walking distance from property (open seasonally). This apartment is one of two on the second level.
This is a scenic New England location close to everything! 1 mile from the New Britain Bees Baseball Stadium, Hospital of Central Connecticut, Central Connecticut State University. 15-20 minutes to UCONN Health Center, Downtown Hartford.
Sally was there to meet us when we arrived and made us feel very welcome. The place was clean and convenient with all the amenities we needed. We would definitely stay there again.
Jory
2016-10-21T00:00:00Z
The room was excellent, better than expected and much better than a hotel room. We basically had an entire apartment to ourselves complete with a full kitchen (including dishes and silverware), internet, and DIRECTV (which I like because I was able to tape shows while we were out and watch them in the bedroom or living room when we returned). Parking, getting in/out of the apartment, and cleanliness where also excellent. Everything in the apartment worked and there were no problems with noise. I've already recommended Sally and Pete to my friends and family while on the visit and will undoubtedly stay again.
Matthew
2015-07-08T00:00:00Z
Sally & Pete were fantastic hosts. This is a gem of an apartment in CT. The location on the pond is so relaxing and nice. Close to a lot of nice biking, hiking and exploring.
Amber
2016-07-05T00:00:00Z
They made us feel welcome. They left us coffee, tea, creamer,fruit,and bottled water which was great since we got to the apt late on Sat and didn't have to run out for coffee Sunday morning. The apt isn't real big but there was a nice area outside for sitting and tables we could use to eat at. It fit our needs for the week, we were visiting relatives so we were on the go, most of the time . It was convenient to highways.
Mark
2016-09-18T00:00:00Z
Sally and Pete have a wonderful place! The apartment had everything you'd need - they even had some snacks and water ready for us. They have a big yard, which they generously shared with us, right across from a beautiful pond. Overall a great stay!
Ece
2016-09-06T00:00:00Z
Great place - as nice as advertised! Sally and Pete made us feel totally welcome. Thanks!
Luke
2015-05-24T00:00:00Z
My husband and I arrived at the apartment in the evening. We had some difficulty finding the house in the dark but Sally answered our texts promptly and then called us. We were delighted with the accommodations. Sally and Pete obviously have taken great care to make the apartment comfortable, clean, and very well-stocked. There were snacks, coffee, and tea in the kitchen and even some Christmas decorations. The weather was unpredictable and Sally provided ice brushes, and salt for the stairs. The apartment is in a very convenient location...easy to get to the places we visited: Hartford, Meriden, Wallingford, East Hampton, and New Haven. We also enjoyed looking at the pond across the street (lakes don't freeze where we live!) and listening to the geese. Thank you, Sally and Pete, for a lovely 10 days!
Katherine
2016-12-30T00:00:00Z
My husband and I enjoyed staying this clean, neat, and comfortable home. We could sleep very well, and especially, I loved the view of the pond including trees and birds from the bedroom window every morning. Also we were lucky as we could enjoy the annual music concert held by Sally & Pete's family. They have small vegetable field in the yard that added fresh tomatoes to our dish. We cooked every day and provided the raw trash for recycling. I like their eco-friendly life style. The house is over 100years old but the kitchen and the bathroom and bed are very nice equipped. We even enjoyed the tilt of part of the floor. The location is very convenient for grocery shopping and hiking. If we have next chance we'd like to stay at this home again. We very much appreciated Sally & Pete's hospitality.
Chikako
2016-08-16T00:00:00Z
Typ pokoje
Celý dům/byt
---
Typ nemovitosti
Byt
---
Ubytuje
2
---
Ložnice
Berlín, Connecticut, Spojené státy
Right up the hill from the Washington Depot and it's numerous places to dine. Close to Steep Rock and plenty of hiking trails. Full kitchen, clawfoot tub, wi-fi, comfy queen bed, private entrance and terrace.
Frankie communicated with us and made certain everything was as expected.
Dennis
2016-10-09T00:00:00Z
Frankie's beautiful & private apartment was perfect for our two day trip to the Washington area of Connecticut. It is located just outside of the depot & is peaceful & quiet. It is a great place for both short & long term stays while exploring this beautiful part of Connecticut. We will most certainly stay again!
Maggie
2017-01-31T00:00:00Z
Extremely cozy and adorable.
Nazorine
2017-03-05T00:00:00Z
Great location with pretty views of the surrounding hills. The unit was larger than expected and lots of windows which was a bonus for us...loved seeing out across the valley. The unit is basic in furnishings(photos are accurate, no TV though, just VCR monitor) but for an extended stay, its spacious and it fit our needs perfectly. Frankie is easy to get a hold if you have any questions or concerns.
Siobhan
2017-02-22T00:00:00Z
This was my first visit to Washington Depot, and Frankie was a kind and gracious host. She was responsive and helpful, both in the trip planning stage and during our stay. When an issue arose with the water line - one she couldn't have anticipated - she went out of her way to ensure we were still comfortable and had everything we needed. I would definitely stay there again if I have the chance to return to the idyllic town.
Chela
2016-10-23T00:00:00Z
Wonderful cozy apartment with a great view! Easy to find and super friendly! Frankie went out of her way to make us comfortable, with coffe and cream ready for the morning! Very communicative, easy to find and a super comfortable bed!
David
2016-10-30T00:00:00Z
Great little apartment with a wonderful view and close to town.
Colleen
2016-12-30T00:00:00Z
Frankie provides a lovely and quiet space. It's an easy walk to the village, and a beautiful view from the apartment. Very quiet and private. It will be our first choice in the future.
Jampa
2016-11-05T00:00:00Z
Typ pokoje
Celý dům/byt
---
Typ nemovitosti
Byt
---
Ubytuje
2
---
Ložnice
Washington, Connecticut, Spojené státy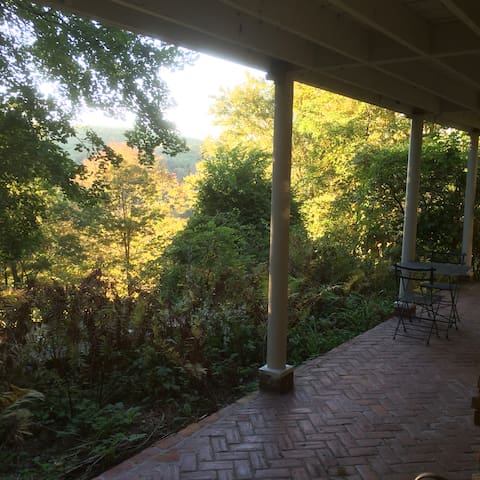 Comfortable, Affordable, and Convenient
The host canceled this reservation 5 days before arrival. This is an automated posting.
Tera
2017-01-28T00:00:00Z
Typ pokoje
Celý dům/byt
---
Typ nemovitosti
Byt
---
Ubytuje
2
---
Ložnice
Plymouth, Connecticut, Spojené státy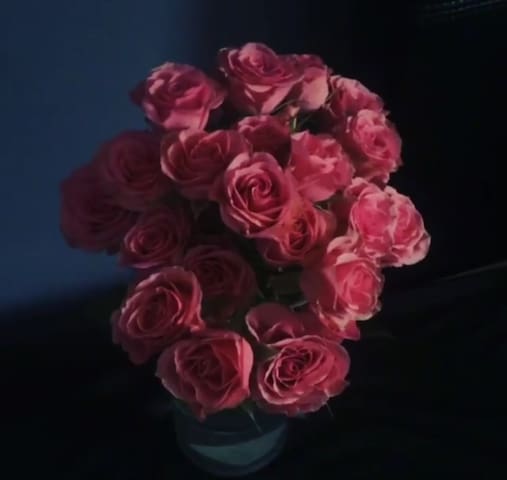 Enorme apartamento moderno, a poca distancia del centro de Torrington. Gran espacio, totalmente amueblado con cocina totalmente equipada y baño completo con bañera, cama de matrimonio, aire acondicionado / calefacción central, conexión Wi-Fi y aparcamiento privado. Todos los servicios están incluidos
Edificio singular. Lo que solía ser una escuela hasta que se convierten en apartamentos. Usted tiene este 13 pies techos altos y ventanas de una pared a la otra. Las ventanas son a lo largo de 9feet de altura !!! Extra brillante, que se encuentra en el segundo piso.
Katerina has a beautiful apartment on the third floor of a wonderful old industrial building - it's a special place. The unit was clean and beautifully decorated. Everything worked as advertised and the welcome document was easy to understand. There was one small problem that was dealt with immediately and graciously. We had a great stay and would gladly be Katerina's guests the next time we're in the area.
Miles
2015-01-02T00:00:00Z
Katerina was very welcoming and helpful. Her space was exactly as advertised: sparkling clean and beautifully decorated. Very close to the center of town too.
thea
2014-06-23T00:00:00Z
Katerina was an amazing host and we has a wonderful stay. The place was well furnished and spotless when we arrived. She provided more amenities than we can ask and would definitely come back again
anthony
2014-08-04T00:00:00Z
Katerina was very responsive and made arrangements for us to arrive late. The apartment was nicely furnished, clean and comfortable. We liked the privacy and having a living area all to ourselves. We would certainly consider staying here again when the opportunity arises. It is a great value when compared to a hotel room of which there are not very many choices in this area.
Ken
2014-10-19T00:00:00Z
I had a great stay at Katerina's place. The apartment was clean, neat and well decorated! Very comfortable place to be in for the night. Even though it is off a main street, it was very quiet. Katerina was a great host as well. Very responsive to all my messages and questions! Her friend met us to give us the keys and to tour the place and she was great as well.
Liz
2014-10-26T00:00:00Z
Katerina's apartment is lovely and well-kept in a quiet apartment building. The ceilings are super high with large windows, and the house is cutely decorated. We were quite comfortable during our stay and Katerina arranged for us to be able to come in late, at 10 p.m. She was very communicative. And it was a close walk to shops and food, as well as a short drive to sights around Torrington. Thanks for a nice stay!
Jillian
2014-10-12T00:00:00Z
This was my first time trying out Airbnb and I couldn't have had a better experience. I had to travel on a last minute trip to Torrington and Katerina couldn't have been more helpful and accommodating. Her place is everything that is advertised and more...very beautifully decorated, extremely clean and comfortable, and just perfect. Katerina has a beautiful home and it felt like I was staying at a friend's place. It is everything you could ask for, including close to everything, secure, quiet building, and available parking. Also Katerina was the perfect host and was available at a minute's notice, although there was no need for any assistance. I would definitely look forward to staying here when I visit Torrington again. Thanks for sharing your great place and for such a great experience. Len
Len
2015-11-21T00:00:00Z
Katerina was a wonderful host. It was a very nice space, quiet, exactly what I needed.
Jesse
2014-07-08T00:00:00Z
Typ pokoje
Celý dům/byt
---
Typ nemovitosti
Byt
---
Ubytuje
2
---
Ložnice
Torrington, Connecticut, Spojené státy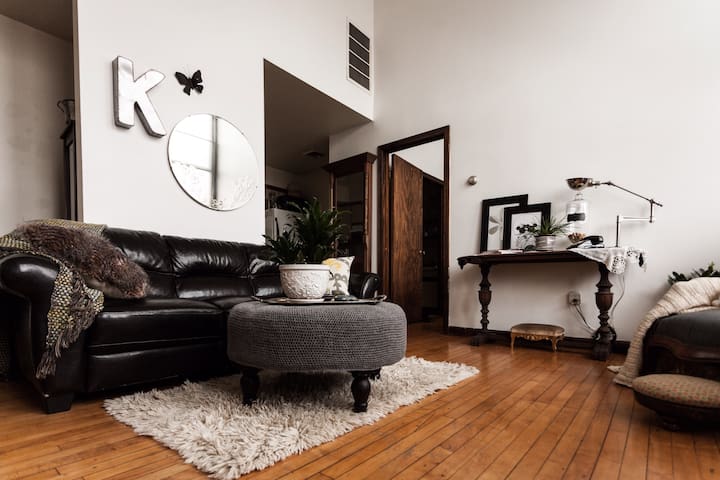 Separate private in-law apt on 2nd floor of private home with kitchen. bedroom with queen bed and tv room is just right for 2 people. In older established neighborhood with museum, churches, supermarkets. and park all within walking distance. 2 miles to ESPN & Lake Compounce. 4 blocks walk for local buses and Hartford.
We offer you our 1 bedroom apt with queen size bed on the 2nd floor of our historic 1880 home. Private entrance. Cable tv, wireless internet and cooking facilities. Off street parking. 2 miles to amusement park, ESPN. No pets. No smoking.
We are within walking distance of Page Park, Clock museum, grocery stores, churches.
Joyce e Jude sono stati degli host deliziosi , molto gentili e discreti , l'appartamento mi è molto piaciuto e l'ho trovato pulito , caldo e confortevole , a due passi dal centro commerciale , siamo stati benissimo e lo consiglio vivamente
Alessandra
2015-04-20T00:00:00Z
Joyce's place is convenient, quiet and private.
Karen
2016-12-05T00:00:00Z
The house is an amazing stay for two. The place had a very nice homely feeling to it. Joyce was very helpful to us , they even helped us out by giving directions to avoid traffic. They couple are nice n sweet they go to great lengths to make you feel comfortable. It was a pleasure staying your place . *Thank You :-)*
Rohit Reddy
2016-01-18T00:00:00Z
Joyce is a good hostess, providing us breakfast food and on site parking. Kitchen is fully furnished with plenty of towels in the bathroom! House is close to local sites and restaurants.
Anne
2015-08-26T00:00:00Z
It was our second time at Joyce's aparment. And it was great again! Joyce is very flexible with check in and check out times and everything is well prepared and very clean. She takes really care of the apartment. Thanks Joyce!!
Benedikt
2016-08-19T00:00:00Z
Joyce and Bob made me immediately welcome. The three room apartment on the second floor of their antique home is very clean, comfortable, well appointed and has all the amenities that I could ever need. The neighborhood is lovely and I felt very safe. Since it was winter and there were record amounts of snow, Joyce and Bob were very solicitous about ice in the drive and on the steps and had me go through their kitchen to avoid slipping. The refrigerator was stocked with breakfast foods and beverages which I made use of. I would enjoy staying at their place again were I to have the need.
Pat
2015-03-31T00:00:00Z
Joyce is a very nice person. Their house is very comfortable and convenient, everything was provided as described. Thanks for having us.
Maggie
2016-04-09T00:00:00Z
Exactly as depicted, plus food in the fridge! I wish I had more time to spend at the place because it was tidy and livable. Even had an iron and ironing board (I was traveling for business). Thanks for opening your home, Joyce.
Zack
2015-08-21T00:00:00Z
Typ pokoje
Celý dům/byt
---
Typ nemovitosti
Byt
---
Ubytuje
2
---
Ložnice
Bristol, Connecticut, Spojené státy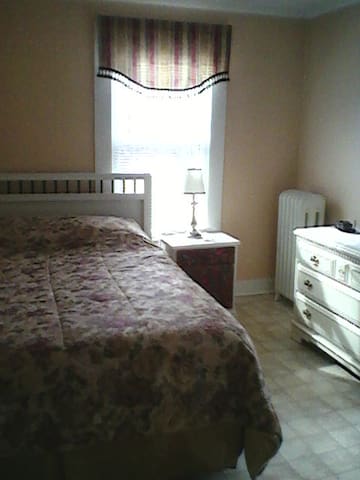 变得可用4月13日!欢迎到我的公寓楼下!这家新装修,干净的公寓是准备好你的长期或过夜。这间一室公寓设有一个私人入口,厨房和一个安静的街区私人浴室。步行距离塔夫脱; 10分钟车程至沃特伯里和圣玛丽医院,方便RTS 8和84街边PKG。无论你是在一个晚上或一年,欢迎您在这里!
如果需要,您可以享受舒适的双人床和一个双气垫。厨房里有一台电冰箱,电磁炉,对流烤箱,微波炉,咖啡壶和一些基本的器皿等我在楼上,如果你需要什么,否则我会让你享受您的光临。不允许携带宠物或吸烟请。空间有限三人最大。有有线电视小电视,我会提供接入WIFI,当你到达。您可以在车道(2辆MAX,请)停放。这适合短期和长期住宿的理想空间。步行距离塔夫脱学校,10分钟至驱动沃特伯里和圣玛丽医院和方便的RTS 8 84 6。
我住在一个漂亮的,友好,安静的居民区安静的街道上。我们即将从RTE的8月五日至10日分和10 - 从84号公路步行距离塔夫脱15分钟,他们的轨道,这是伟大的那天早上散步。
Pam was GREAT! We were a bit late and she was very understanding. Everything was like she said it would be and it was perfect for what we needed. She was very easy going and the place was clean and comfortable!
Martha
2016-05-16T00:00:00Z
Pam's place was beautiful, clean, and comfortable. We would definitely stay here again!
Taryn
2016-08-15T00:00:00Z
Pam was really great and helpful. She gave us a nice recommendation for breakfast. We came late and were out early so we were not there very long but it was perfect for what we needed.
Kathryn
2016-09-07T00:00:00Z
Pam was so kind and flexible about our late arrival time. We were greeted with fresh cut flowers from her garden when we arrived, and we slept fantastically well in the cool and quiet studio. Thank you Pam for a restful stay!
olivia
2016-08-21T00:00:00Z
Pam was a great host. It's a adorable little apartment that was convenient to my work location. I would definitely consider staying here again!
Audrey
2016-09-03T00:00:00Z
Pam's place is very cozy. It is in the basement of her home, but feels totally separate. Pam was very responsive and a lovely host.
Catherine
2016-08-27T00:00:00Z
Everything is perfect! I would definitely choose here if I come again!
Lihong
2016-04-30T00:00:00Z
Typ pokoje
Celý dům/byt
---
Typ nemovitosti
Byt
---
Ubytuje
3
---
Ložnice
Watertown, Connecticut, Spojené státy
Ma place est à proximité des transports en commun, le centre-ville, l'aéroport, l'art et la culture, et des parcs.
pas de marches, allée séparée
calme, pays, 5mn à autoroute
Typ pokoje
Soukromý pokoj
---
Typ nemovitosti
Byt
---
Ubytuje
1
---
Ložnice
Watertown, Connecticut, Spojené státy
Escapada tranquila de la ciudad con encanto retro de Winsted en el noroeste de CT, el condado de Litchfield ... Un luminoso apartamento totalmente amueblado privado en el piso superior de un ocupadas por sus propietarios majestuoso estilo victoriano. Su propia entrada en su propio apartamento con una llave. Dos (2) horas en coche desde Nueva York y 2 1/2 horas desde Boston
Escapada tranquila de la ciudad con encanto retro de Winsted en la esquina noroeste de la TC, el condado de Litchfield ... 2 horas en coche desde Nueva York y 2 1/2 horas de Boston. Un luminoso apartamento totalmente amueblado privado moderno en la planta superior en un majestuoso ocupada por el propietario del Victorian con su propia entrada y clave. decoradas con buen gusto apartamento completo con cocina, sala de estar, comedor, baño y dormitorio. cama nido en el salón. Los propietarios actuarán como sus conserjes compartiendo con ustedes todos los maravillosos lugares y acontecimientos en el área de: antigüedades, música / Salón Infinity siguiente ciudad, arte, esquí. Lenox, Great Barrington, Berkshires son 35-40 minutos de distancia y Hartford es de 40 minutos. Se puede ir andando al centro a restaurantes, una sala de cine que sirve bebidas y la cena, una bolera, tienda de alimentos, supermercados y mucho más. Peter Pan Bus de la autoridad portuaria te deja en el centro y caminar 2 cuadras de casa o va a recoger si no tienes un coche. Mínimo de dos noches, $ 95 por noche - tarifas semanales y mensuales más bajos disponibles. Más fotos por encargo. Todas las comodidades de un hogar lejos de casa.
La ciudad tiene un toque retro a la misma. A pie de Gilson Cine, películas y comida que se sirve. Museo Americano de Ralph Nader de Derecho de Daños, duckpin Bowling tiendas de antigüedades, el lago de montaña, esquí Sundown (20 minutos)
The reservation was canceled 18 days before arrival. This is an automated posting.
Erika
2012-09-10T00:00:00Z
This was a cute little place and perfect for our visit to CT for Christmas. Anita was very fast to respond to all our questions. We will definitely stay here on our next visit.
Amanda
2012-12-28T00:00:00Z
The new photos definitely do the space more justice! This adorable apartment has a spacious dining area, cozy tv room, modern bathroom, separate bedroom, and a full kitchen stocked with all of the basics needed to make everything from breakfast to cupcakes. Anita is more than accommodating, with information on neat spots to visit (the Gilson Theater is a must), and ride offers around town, although the local thrift shops, duckpin bowling, and restaurants are all very walkable from the apartment. Dont miss out on Kelly's Kitchen for breakfast!
Heather J.
2012-03-18T00:00:00Z
Anita was a very courteous hostess and provided treats on arrival, which was most appreciated after a long drive. Could have done with more information on local tourist opportunities given lack of nearby tourist office. Lots of very interesting locations to visit, especially for visitors from old England. Scenery is fantastic, especially during fall season. However you do need a car, or a bike, to fully appreciate area.
geoff
2016-10-14T00:00:00Z
Anita's 3rd floor apt is spacious and comfortable. Tucked under the Mansard roof of a big charming Victorian, each of the 3 big rooms has 2 windows so there is lots of light. At night, I noticed the lighting in the rooms is very pleasant too. The location is the perfect Basecamp for exploring the town and the region. From here you can get to the grocery or to other pretty Berkshires towns, to NYC, or to Hartford train station -all w/o a car! I was in town for work but there are plenty of fun things to do nearby - just ask Anita; she's a wonderful host!
mark
2015-04-28T00:00:00Z
My stay in winsted was 6 weeks long. It was enjoyable and very comfortable. Everything I needed was available to me. Very clean and quiet with adequate parking. Would definitely go back again
Diane
2016-03-17T00:00:00Z
Anita is very good, give me a lot of help, drive me to the supermarket and other places, tell me a lot of local information; I live in the house is also very comfortable, in the 3 layer, can cook, very convenient. Anita is very, very good.
Shuang
2016-01-25T00:00:00Z
Typ pokoje
Celý dům/byt
---
Typ nemovitosti
Byt
---
Ubytuje
2
---
Ložnice
Winchester, Connecticut, Spojené státy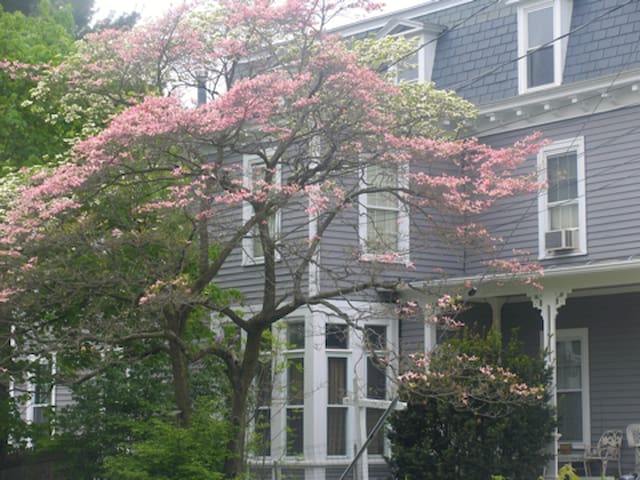 Gran apartamento compartido distancia a pie de todas las actividades de centros de la ciudad. Warner Teatro y Ballet de nuez moscada. A poca distancia de Peter Pan parada de autobús desde Nueva York y Pittsfield MA. Disfrutar de hermosas del noroeste de Connecticut y todo lo que tiene que ofrecer.
I enjoyed my stay. Jason's place was clean and quiet, near to shopping and restaurants. He recommended things to do in the area, and was interesting to talk to.
Barbara
2016-08-10T00:00:00Z
Jason was an ideal host. He was friendly, easy to talk with and helpful in recommending things like restaurants in the neighborhood. He kept me aware of when he might be on the premises and when he would be gone for a weekend. The things like shelf space and refrigerator space were just as he said they would be. Since I like to grill, he turned up a charcoal-fired Weber for me to use. which was beyond the call of duty.
Charles
2016-07-01T00:00:00Z
Jason's place is the best of what Airbnb is for me - a clean, comfortable place to rest my head and a chance to explore the local area. And while I didn't spend a lot of time there, he was generous with sharing his living space. His recommendation for dinner was spot on. Thanks Jason!
Lance
2016-07-22T00:00:00Z
Jason stood outside his house to help me find it when I couldn't spot the house #. He then shared his only beer with me when I commented on wishing I had a beer. He was friendly and willing to converse or not as I desired. The room was great; big, with a place to hang your clothes, lamp by bed, etc.
Randy
2016-08-16T00:00:00Z
Jason was very accommodating and considerate. Air conditioning was exceptional and the bed was comfortable. There was nothing wrong with the bathroom/shower.
James
2016-07-07T00:00:00Z
Great place to stay over, Jason is very easy going and helpful. I really enjoyed my time here.
ted
2016-08-21T00:00:00Z
Jason has a beautiful home and the room was just as described. Hospitality and concierge service was excellent. My first Airbnb reservation was a success.
Steve
2015-08-02T00:00:00Z
Jason was a gracious host and his cat is adorable no matter what he says.
Robert
2015-07-10T00:00:00Z
Typ pokoje
Soukromý pokoj
---
Typ nemovitosti
Byt
---
Ubytuje
2
---
Ložnice
Torrington, Connecticut, Spojené státy
Enjoy the countryside and the beauty of nature from an artsy loft. You'll love my place because of the ambiance, the views, and the outdoors space. My place is good for couples, business travelers, and families (with kids).
Good
JaeHoon
2017-01-07T00:00:00Z
The host canceled this reservation 8 days before arrival. This is an automated posting.
Kate
2017-01-06T00:00:00Z
Typ pokoje
Celý dům/byt
---
Typ nemovitosti
Byt
---
Ubytuje
4
---
Ložnice
Beacon Falls, Connecticut, Spojené státy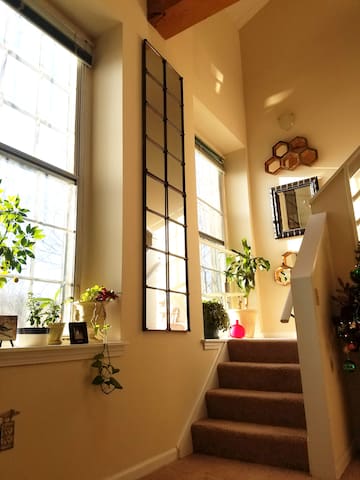 Pro zobrazení celkové ceny zadej termín. Mohou být přidány další poplatky a daně.