In the heart of Somerset's rolling countryside, this impressive country cottage combines secluded luxury with classic rural chic. Tucked away in a hamlet, close to Bruton and historic Bath, The Cottage is far from unassuming.
Typ pokoje
Celý dům/byt
---
Typ nemovitosti
Dům
---
Ubytuje
4
---
Ložnice
Upton noble, Somerset, Velká Británie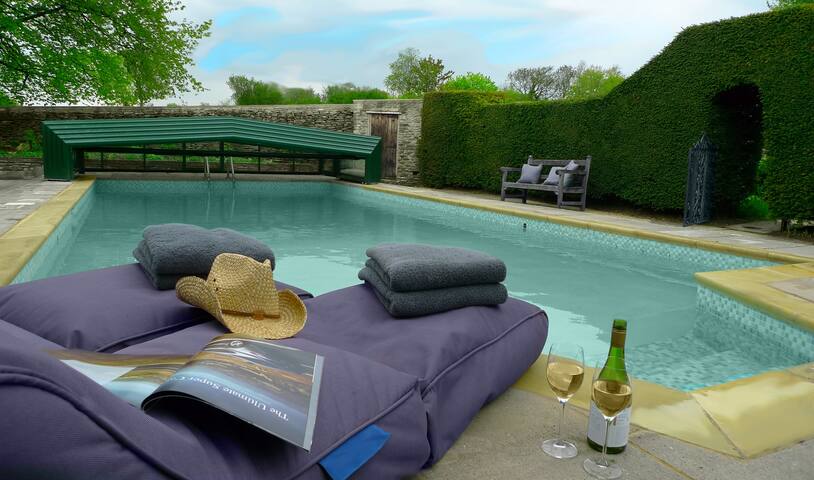 Liść mięty domek jest położony w Bruton w odległości spaceru od Hauser & Wirth, Gants Mill, Longhouse, Mill na Brue, w kaplicy i fmly Store. Ciesz się powitalny kosz i czytać Guide Book wystawianie lokalnych atrakcji. Bezpłatny parking, bezpłatny internet bezprzewodowy, materiały śniadanie (kawa / herbata / cukier / mleko / muesli), książki, czasopisma, kosmetyki, ręczniki i pościel oraz stylowe wnętrza z Nordic Style. Relaks roll-top pary wanna ładnie z kieliszkiem wina! Dzieci mile widziane.
Liść mięty domek jest ciche i urokliwe 19th Century zestaw "pracowników Cottage" w samym sercu tętniącego życiem Bruton. Wszystkie główne atrakcje miasta są dostępne pieszo - Longhouse, Mill na Brue, alchemia Antyki, sklep fmly i Trufle French Bistro są po drugiej stronie drogi. W kaplicy (boutique kawiarni / restauracji, mieszczącej się w dawnej kaplicy) znajduje się 5 minut spacerem na High Street i Hauser & Wirth Galeria Sztuki i Roth Bar & Grill to wspaniały 15 minut yomp przez pola pięknych krajów - uważaj na spektakularne zachody słońca nad gołębnika (a także 15 minut spacerem i warte wycieczka!). Liść mięty MAŁA oferuje odprężającą uciec od wyścigu szczurów wziąć długa kąpiel w wannie, odprężyć się, chwycić książkę, odpocząć w łóżku i niech wszystkie twoje kłopoty odpłynąć! Mamy świetny zespół czyszczący na pokładzie, a znajdziecie domek czysty, lekki i jasny z 2 sypialni dwuosobowych (jedno łóżko typu king / dwa pojedyncze łóżka, które mogą być zamienione na jeden king size bed) i marmurową łazienką z wolnostojącej roll-top kąpiel i zawory telefoniczne (nie prysznicowe). W salonie obejmuje miejsce przy oknie, TV DVB-T i jadalnia pod schodami która może pomieścić cztery. Kuchnia - z oknem z widokiem na trawnik - obejmuje czajnik / toster / kuchenka / płyta / pralka / lodówka / zamrażarka / sztućce / naczynia / sztućce / kawa / herbata / cukier / musli / ciasteczka pobytu. Łazienka składa nóżkach wolnostojącą roll-top bath (z kranów telefonicznych, ale bez prysznic), świeżo wypranych ręczników, ręcznik, maty do kąpieli, szampon, odżywka, kąpieli i prania ręcznego.
BRUTON je čokoláda-box středověké město a přátelské vesnice (cca 3000 obyvatel), který byl sypané Stardust a celebrity obyvatel v nedávné době (Nicholas Cage / Johnny Depp / Stella McCartney / Andrea Corr / Pearl Lowe / Mariella Frostrup / Kevin McCloud - abychom jmenovali alespoň některé!). K dispozici jsou tradiční hospody a skvělé restaurace včetně Lanýže (přes silnici), u kaple (5 minut chůze do High Street), Roth Bar & Restaurant (spojený s Hauser & Wirth - 15 minut chůze přes pole země) a Matt Kitchen ( ve svém domě). K dispozici je také čínský Takeaway přes silnici a Budgens vedle, pokud máte chuť na pizzu a láhev vína na pohovce! Tahákem do vesnice je Hauser & Wirth Gallery představí současné umění v nepředvídatelný prostředí. Vstup je zdarma. Krajina je krásná. Pokud máte rádi procházky, nenechte si ujít výlet do Holubník pro nádhernými výhledy na Bruton. Ostatní procházky patří Creech Hill (nejvyšší bod v jihovýchodní Somerset), Dunkery Hill (nejvyšší bod v Somersetu), Kinga Alfreda věž, Stourhead okrasných zahrad, Hrad Cadbury a Glastonbury Tor. DENNÍ VÝLETY * Shepton Mallet (viz moruše továrna vývod obchod dámy) * Frome (10 mil! - Domov pro Babington domě, který nabízí poloviční cenu lázeňské procedury u kravína každé pondělí) * Bath (20 mil) * Glastonbury (17 mil) * Sherborne * Wells (10 mil) * Wookey Hole (skvělé, pokud jste na cestách s maličkým) * Stonehenge (30 mil) Glastonbury Festival (8 mil) se koná každoročně v červnu a Bruton dělá Pit-Stop pro dojíždění do akce. Bruton sám hostí 2 menší hudební festivaly každý rok - Farma Fest a Shindig. WALK: Creech HILL Půldenní venkov chůze od roku Bruton (asi 13.2km / 8,2 míle dlouhé) s krásným výhledem směrem k impozantní krále Alfréda věž na Stourhead Estate - kultovní obraz Somerset Levels. Tento kruhový Procházka trvá v památkách Bruton a míří do okolních bujné zemědělské půdy, která vás do místní střední místě Creech Hill, který je pozoruhodný pro univallate doby železné hradiště. To představuje v knize "Anglie je 100 Nejlepší Zobrazení 'a je vybaven doba železná pevnosti, římský chrám a starobylé lesy. Vracejí, jste zpracována tak, aby více místních specialit a okouzlující záblesk Glastonbury Tor. WALK: Kinga Alfreda věž, BREWHAM Kinga Alfreda věž je vysoká 160 stop hloupost věž značení na místě, kde král Alfred shromáždil síly Somerset, Dorset a Wiltshire, před jeho rozhodnou porážkou v bitvě u Edington v 878AD. To bylo postaveno v polovině 18. století bankéře Henry Hoare II, tehdejší majitel panství Stourhead a dominantou krajiny v Cranbourne Chase oblasti výjimečné přírodní krásy. Ve své knize "Anglie je 100 nejlepších pohledů", National Trust popisuje Vista z Creech kopce směrem k Stourhead jako nejlepší výhled na Somerset Levels, "Creech Hill stojí sedm mil na sever a je blíže k úrovním. Vypadá to, až Stourhead za ním a dívá napříč k Cadbury doleva. "Je to přímo s výhledem na zlaté vápencový město Bruton, hluboko v údolí Brue a pouze s kostelem a holubník viditelné z dálky."
Thanks for a very nice stay. Trina was so quick gettin back to us and able to accommodate is at really short notice. Check in was very easy and the cottage was well equipped with very comfy beds. Thanks!
Susanna
2017-02-25T00:00:00Z
Perfect place to stay in Bruton. We loved the fact that it is right in the Centre yet quiet and peaceful.
Kinley Wangmo
2017-01-15T00:00:00Z
Great little stylish cottage. In a small village, tastefully decorated and cosy. Great value and would stay again
buster
2017-01-30T00:00:00Z
Trina and Phil were wonderful hosts they gave us a lovely warm welcome and greeted us at their cottage. We were given full access of the cottage and our first impressions were wow. The cottage had a real beautiful luxurious feel and we felt honoured to be the cottages first guests. Everything was clean, fresh and new and the bathroom had a gorgeous roll top bath with marble tiling, a real stunner. We were given a wonderful greeting hamper with lots of goodies and treats and they had left us a chilled bottle of wine with chilled glasses in the fridge. We were given lots of information on the area, places to visit and eat including the restaurant owner's names and discount cards. We were given the opportunity to ask any questions and given contact details. The welcome pack was so informative and covered everything you would wish to know from domestics to about the location and its surroundings, it was so well thought out and professional. The hosts gave us an overview of themselves and the cottages history and were really interested in getting to know us too, a real personal touch. Trina and Phil made us feel so welcome and comfortable around them and we were so excited to spend a wonderful week in their lovely cottage. They made us feel that we could be home away from home in their cottage, which made us want to look after it like it was our own, as you could see the love and care they had poured into it. This was our first time staying in a cottage and we feel thoroughly spoilt as the cosy cottage is so stunning and in such a beautiful location and setting. We visit the area three to four times a year and have always had a great break, but this stay was much more special and allowed us to be a real family again. We desperately needed time to rest as well as regroup as a family and this stay allowed us to do this. The bedrooms were wonderful and the beds were so comfortable that we had a lie in every day, something we very rarely do, so cannot thank them enough. Our children had their own space too, which gave us more quality time together as a couple. None of us wanted to leave the stunning cosy cottage and we wish we could have stayed for longer. We would stay in the cottage again within a heartbeat as it really is a truly stunning and quaint cottage. The area is breath taking and the cottage is central or close to so many landmarks and places of interest, we found our way around really easily. We cannot thank Trina and Phil enough for sharing their gorgeous cosy cottages with us. We would strongly recommend staying here to any potential future guests as you will definitely have a wonderful stay, we did. Thank you - Richard and Family x
Richard
2016-08-26T00:00:00Z
Mint Leaf Cottage is the perfect retreat for visiting Bruton. Everything is to a very high standard and the extra touches make it special. Fresh roses and a lovely Christmas not to mention the quality bath products . Highly recommended and as the off street parking is a real plus for Bruton. Trina's communication is first class for any questions. We will definitely stay again.
Tim
2016-12-22T00:00:00Z
Great cottage for a break in Bruton. Walkable to all local attractions/restaurants. Lovely living space and thoughtfully set up as a rental. Nice touches like some toiletries and a hot water bottle available, lots of magazines and books, great local information. Very good value for money and a quick booking with great comms from the owner. Would recommend a travel blackout blind for families with young children, just due to location/street lighting.
Fiona
2017-02-05T00:00:00Z
Trina is a perfect hostess and her house is very comfortable and warm.
Beatriz
2017-03-13T00:00:00Z
Lovely cottage wanted to give 5 stars for everything but it wouldn't work, but everything was perfect and beautifully clean, would definitely like to return. Excellent communication no problems with anything particularly liked the bath!
Sam
2017-02-17T00:00:00Z
Typ pokoje
Celý dům/byt
---
Typ nemovitosti
Dům
---
Ubytuje
4
---
Ložnice
Bruton, Anglie, Velká Británie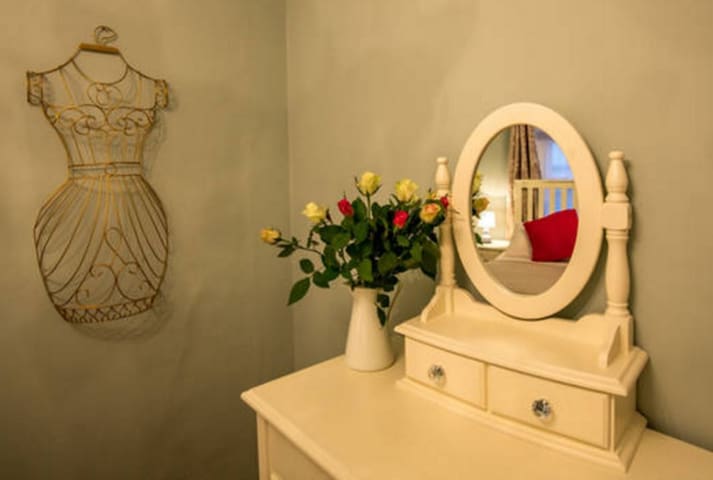 Das Haus (ein ehemaliger Apple Store) ist im Herzen von Bruton. Es blickt auf unsere geheimen Garten und darüber hinaus, dass die Kirche und Taubenschlag. Der offene Innenraum verfügt über ein Schlafzimmer im Obergeschoss und ein Wohnzimmer, Küche und Bad / Nassraum im Erdgeschoss.
Really wonderful, cosy and comfortable. Jocelyn looked after us so well. A real pleasure.
Joe
2014-06-01T00:00:00Z
Listing was accurate, the flat/home is very quaint and lovely. Jocelyn was very welcoming and accomodating. I would definitely go back.
Lily
2015-07-09T00:00:00Z
Myself and a friend has a lovely one night stay at Jocelyn's lovely cottage! The environment is beautiful and completely unique. We were made very welcome and Jocelyn showed us around the cottage and gave us tips about the local, very lovely village of Bruton. The cottage was well equipt and had tea, coffee & breakfast items- we even had fresh croissants in the morning which was a lovely treat. I would really recommend staying here, and would love to go back!
Sophie
2015-05-29T00:00:00Z
The train set got rave reviews, according to our six-year-old, "the best train set ever!" And happy grown-ups too - Jocelyn was a great host who did everything possible to help, provided homemade cupcakes and jams and the accommodation was fully equipped with everything that we needed.
Torie
2015-10-30T00:00:00Z
Jocelyn made us feel very welcome at the lovely little cottage at the bottom of her pretty garden. She even brought us fresh croissants in the morning and there were little cakes when we arrived. Bruton is a lovely town with a world-class gallery and fantastic restaurant called At The Chapel (there are probably others but sadly we only had time to try one!). Both are in walking distance. The cottage is private, cosy and comfy. Our little girl loved the cats, fish and the tortoise too!
Nancy
2014-11-01T00:00:00Z
We have just come home from 3 nights at The Apple Store. It is absolutely idyllic; tranquil, quirky, erelaxing and fun ! Jocelyn is a great host, she makes you feel very welcome and comes over in the morning with freshly baked goodies for breakfast. My eight year old son loved Hector the Tortoise and the cats. We hope to be able to return very soon !
Eils
2016-07-27T00:00:00Z
Jocelyn is a lovely and warm host who invited us into her home like we were family. The accommodation was a charming little English cottage (converted apple store) with beautiful little personal touches everywhere you turned. The deco was delightful.... I personally fell in love with her hand made patch work bed spreads. When I return to Bruton, I hope Jocelyn will have us to stay again.
Rae
2015-03-30T00:00:00Z
A lovely stay in a cute spot of Bruton. Jocelyn was very hospitable and made us feel extremely welcome, thank you!
Adam
2016-05-23T00:00:00Z
Typ pokoje
Celý dům/byt
---
Typ nemovitosti
Dům
---
Ubytuje
3
---
Ložnice
Bruton, Velká Británie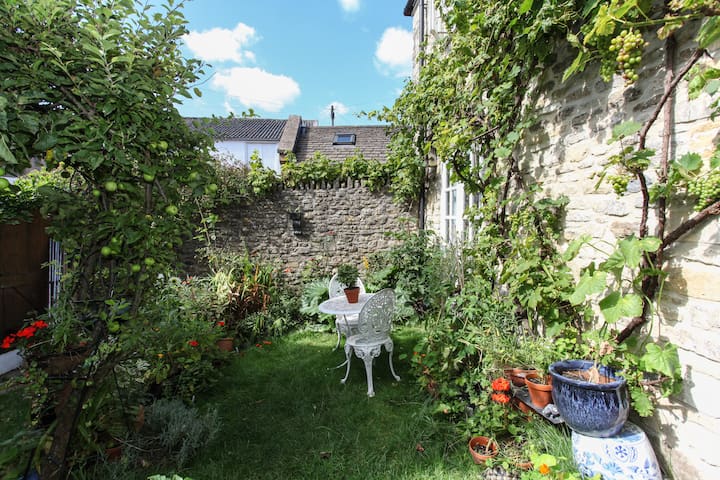 Our hideaway Barn is close to Bath & West Showground, Hauser & Wirth Gallery and Restaurant, At The Chapel, Stourhead House & Gardens, Wincanton Racecourse, Glastonbury Festival and Kilver Court. A 5* rural hideaway in the heart of the Somerset countryside (but only 5 minutes from Bruton). Ideal place for a couple, a family with children or a group of friends. Use of private lake and boat. Stunning countryside for walks and picnics. Private garden with BBQ and seating. Min 2 night stay.
Surrounded by a great choice of restaurants, pubs and wonderful walks.
Delightful conversion of farm building into an airy spacious two private bedroom "barn". Lovely countryside. Fiona was away but Bruce and their daughter Laura were marvelous hosts - even driving to lead us the way to a recommended and very good pub lunch and offering to drive us to where we'd booked dinner (we declined because it was quite a long way!). The barn is beautifully appointed and Bruce was very generous in provisioning the kitchen. Very highly recommended
Ian
2017-03-14T00:00:00Z
I'd highly recommend this beautiful barn conversion for a weekend getaway. The location is idyllic, with a lovely view of the garden and lake from the the bedroom; where you can go for a walk, or even use the boat on the lake! Fiona has thought of every detail: from the design, to the goodies (including amazing local bread) waiting for us on arrival. Five stars.
James
2017-04-09T00:00:00Z
Typ pokoje
Celý dům/byt
---
Typ nemovitosti
Dům
---
Ubytuje
5
---
Ložnice
Shepton Mallet, Anglie, Velká Británie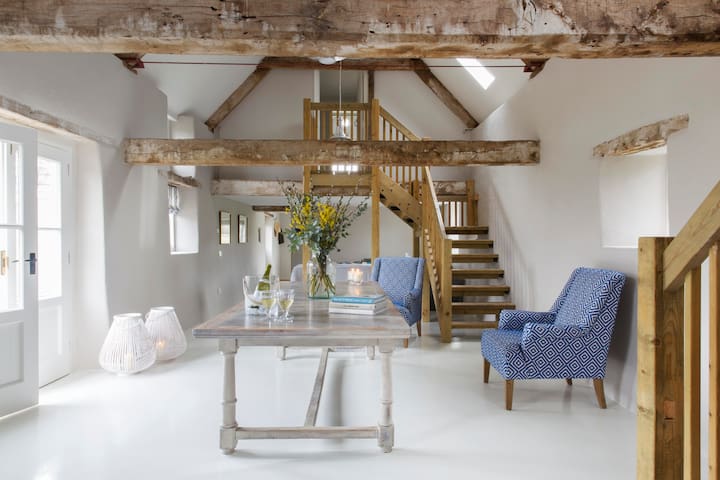 The Cider House is situated in the garden of Orchard House in the village of Westcombe. This unique and snug cottage has only recently been converted and is perfect for couples or small family. Ideal for Glastonbury, Bath, Bruton & Penny Sq Barn.
Completely self contained bijou cottage with large bath for total relaxation and separate wet room & loo.
Westcombe is a small hamlet famous for its cheese, its micro brewery and its unique mix of people. Located 5 minutes from Bruton famed for 'At the Chapel' restaurant and Hauser & Wirth Art Gallery, and a host of unique shops. Glastonbury festival site is 15 minutes away (main gate) and the shuttle bus service at Royal Bath and West show ground 10 minutes away. Bath is 30 minutes by car, Bristol 45 minutes. Castle Cary train station 15 minutes away.
What a fantastic find. Lucinda and JJ were the most perfect hosts. Great communication before the visit, a warm welcome on our arrival and friendly non intrusive attention throughout the stay. The property is stunning. Even better than the photographs. The attention to detail is beautiful and the complimentary essentials provided were very thoughtful and kind. The information on Local places to eat and drink was spot on. Local pub was warm, friendly and did great food from local produce. Wonderful log burner a huge bath and a glorious hot shower/wet room (can you tell we liked it?). My only regret in heartily recommending this place is the lack of availability it will cause for us to go back. We will return. It's perfect.
Nick
2015-12-06T00:00:00Z
This place is incredible. Really beautifully converted with amazing quality throughout. Lucinda and Jeremy were perfect hosts and a we'd love to return one day. Can't recommend it enough!
Eloise
2015-11-01T00:00:00Z
Jeremy and Lucinda provided us with a perfect base in Somerset. The house is a small jewel, beautifully restored with everything that one might need for a comfortable stay. The bath upstairs is especially wonderful. The location is ideal for exploring Bruton, Glastonbury, Wells and Cheddar, but it's also great for a quiet weekend sitting outside and listening to the countryside.
Adam
2015-07-12T00:00:00Z
I arrived in Somerset after a long drive and was welcomed a glass of wine and a big hug! I was immediately made to feel at home and the property itself is stunning, so inviting and beautifully furnished. This part of the country is very special and the Cider House is the perfect base to explore the local area. Wish I could have stayed longer.
Rebecca
2015-09-21T00:00:00Z
Jeremy & Lucinda were the perfect hosts, to match their perfect cottage. The photos are wonderful but it's honestly even better in real life! From the fresh eggs waiting for us on arrival, the gorgeous fire, amazing bath to the heated floors - we couldn't fault it. The location of the cottage was ideal for us as we visited Longleat Safari Park which took about 20/30 minutes. Hope to be back soon, thanks again for a lovely weekend stay.
Monica
2015-07-26T00:00:00Z
Had a lovely time at the Cider House West - Jeremy and Lucinda were very welcoming! The cottage itself was gorgeous, perfect for a little New Year's getaway. Can't wait to book again soon!
Pete
2016-01-02T00:00:00Z
I can without hesitation say that the Cider House West is a superb place to stay. The house has been beautifully decorated, the location is very tranquil and the hosts are wonderful. If you want a proper break from hectic city life, look no further. Thank you Jeremy and Lucinda!
Michael
2015-07-05T00:00:00Z
I picked this place because of the amazing reviews and everything that people have mentioned is absolutely true. There is no expense spared on the Cider house and it makes it a truly wonderful place to stay. The communication with Lucinda and Jeremy was excellent and we absolutely loved our stay. If you like dogs, cats and exploring the outdoors, there is no better place to stay. Thanks for hosting us. Dave and Sara
David
2016-08-16T00:00:00Z
Typ pokoje
Celý dům/byt
---
Typ nemovitosti
Dům
---
Ubytuje
2
---
Ložnice
Westcombe, Anglie, Velká Británie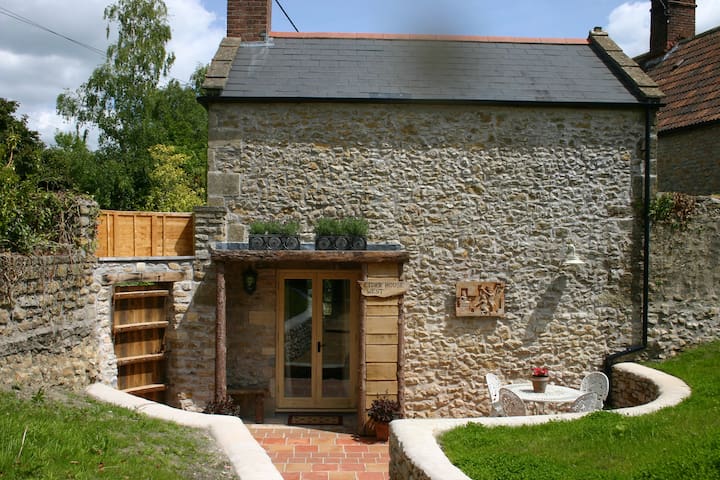 Nuestra casa de dos dormitorios es en un carril oculto tranquila en la histórica ciudad de Bruton. Relajarse en el jardín que da a un prado de la fauna. a poca distancia de la estación de tren, centro de la ciudad y las escuelas locales. Aparcamiento en el terreno.
Los huéspedes tienen a su disposición toda la casa y el jardín. Arriba hay un dormitorio doble con cama King Size y una habitación individual, ambos con vista al jardín y la fauna prado. Cuarto de baño con ducha en el baño. cocina abierta y estar abajo. cocina tiene barra con taburetes y viene con hervidor de agua, nevera, lavadora, horno, microondas y tostadora. Un desayuno básico se proporciona en la casa para que comas en su tiempo libre.
Hasta hace poco la histórica ciudad de Bruton fue reconocida por sus escuelas - Reyes, Sexeys y la escuela Bruton para las niñas. También por su Bartons antiguas y su vínculo con Steinbeck. Ahora se nos conoce por nuestra variedad de restaurantes, dos lugares de la boda y la galería de arte Hauser y Wirth recién abierto. Bruton también es central para los destinos turísticos, incluyendo, Glastonbury, Wells, Frome y Bath. Nacional Properties Trust Stourhead y Lytes Cary son también muy cerca. Buena zona de paseo y estamos en el Macmillan Way y Leland Trail. Se proporcionan mapas locales.
Had a lovely time in this beautiful cottage. Hosts very welcoming with their homemade bread and brownies. Very clean. Very comfortable. Definitely like to return
Belinda
2015-08-25T00:00:00Z
We only had one night in Bruton, but Christine's house was a perfect place for a stopover and she and her husband were great hosts who made us feel very welcome. It was a very cosy, warm cottage with stairs hidden away in the corner going up to the bedrooms and bathroom. I loved the tiny laneway of old houses, and how the grass out the back was speckled with spring flowers. But what will make this house stand out in our memory is Christine's "breakfast menu"- what a great way to let us know what was on offer, especially Christine's delicious home made bread and cakes. Oh yum!!! These were a real treat - thank you :)
Helen
2016-05-02T00:00:00Z
Clean and well presented cottage. Welcome treats were a really nice touch and the breakfast supplies were just right. Location in walking distance of the centre of Bruton. Parking space really useful. We would definitely go back:)
Fabia
2015-09-14T00:00:00Z
Christine was brilliant. We had to make a last minute booking and Christine accommodated very well. My husband and I came with our 7 month old baby and it couldn't have been a better stay. The cottage looks how it does on the photos and is very clean.
Neesha
2016-08-13T00:00:00Z
Very warm welcome from Christine, the cottage was exactly as described: cosy and immaculately clean. Breakfast items were an unexpected surprise and very welcome. A perfect location to explore local sites including Hauser & Wirth Gallery and Stourhead house and gardens. We would highly recommend.
Jo
2015-11-08T00:00:00Z
We had a lovely stay- the house was clean and cosy and perfect. We could explore the local area and everything in Bruton was walking distance. Christine had thought of everything and couldn't fault it. We even had brownies to welcome us (always a winner) would definitely come again and would recommend to friends!
anniki
2016-09-15T00:00:00Z
We had a wonderful stay here, Christine was very welcoming and the cottage was lovely. Homemade cakes, choc biscuits and a great selection of food available for breakfast (inc homemade bread, eggs, fruit and cereal). We were just in Bruton for one night for a wedding but the village looked beautiful and the cottage was very central. Wished we could have stayed longer!
Holly
2015-08-30T00:00:00Z
Had an excellent one nights stay. The breakfast, tea and coffee was appreciated. Christina was very welcoming.
Don
2016-06-19T00:00:00Z
Typ pokoje
Celý dům/byt
---
Typ nemovitosti
Dům
---
Ubytuje
3
---
Ložnice
Bruton, Somerset, Velká Británie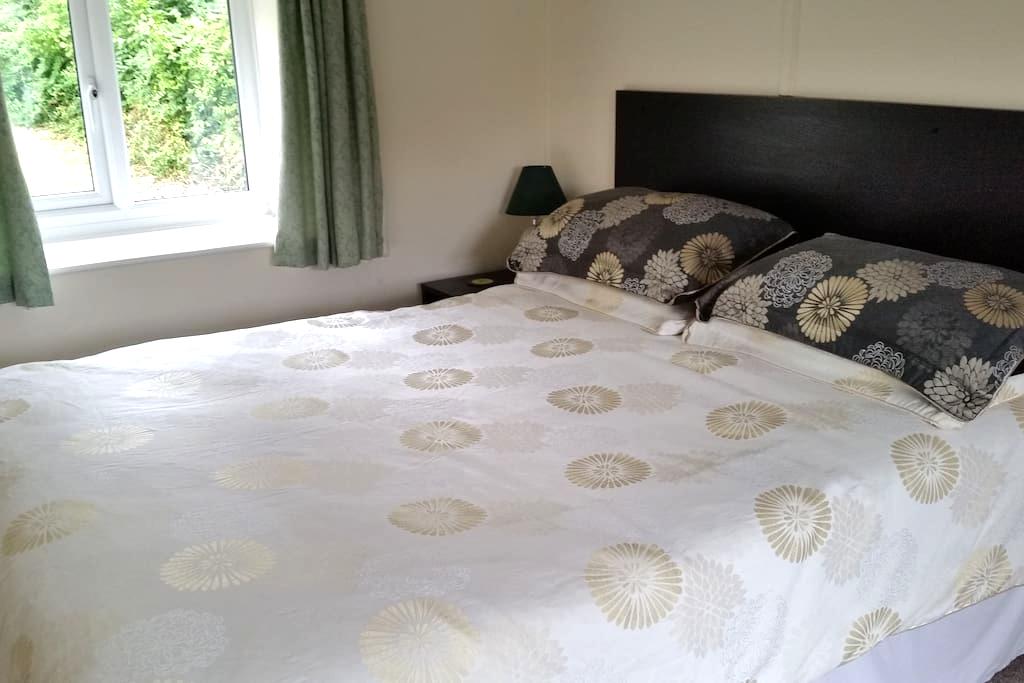 The coach house is an annexe to our home, with its own entrance and parking on a quiet no through lane, a short drive from the medieval village of Nunney and 3 miles from the popular market town of Frome. Bath, Longleat, Stourhead, Bruton and Glastonbury are all only a short distance away.
The coach house is a large, airy space with room for relaxing. It also has a dining table and chairs and a kitchenette with all the basic cooking facilities including fridge, combination microwave/convection oven and grill, and two ring hob. There is a kingsize bed with quality cotton bedding, converting to singles if necessary; a separate wet room with shower and WC, and plenty of fluffy towels. Tea and fresh coffee making facilities are always available. Our views and sunsets are beautiful!
A walk beyond the gated road past a duck pond reaches a fish restaurant and petrol station with shop. A longer walk or short drive takes you to the medieval village of Nunney, with its own ruined castle, pub and shop. The market town of Frome, with an abundance of independent shops and restaurants and more listed buildings than any other town in Somerset, is 3 miles away.
We were warmly welcomed by Jane and her husband who made it clear they were available for any questions or recommendations, but were happy to leave us to enjoy the property by ourselves which was much appreciated. We were also very grateful for them accommodating our bikes as we were in the area for cycling sportive starting at Longleat safari park (7miles away) and taking in much of the beautiful area within easy distance of Nunney. The property had everything we needed and expected from the description and we were pleasantly surprised to find it larger than the photos suggested - but still lovely and cosy. Definitely recommended!
Catherine
2016-04-19T00:00:00Z
Lovely stay! Great host! We had a great time. Thanks Jane!
Nancy
2016-06-06T00:00:00Z
Great place to stay, made us very welcome and exactly as outlined. Would definitely recommend this.
Marc
2016-04-12T00:00:00Z
We arrived after flying for two days, in a very zombie like state. They were looking out for us, and met us in the road. They had provided some eggs, milk and honey, all of which were much appreciated. The bed was wonderful, with mattress protector and pillow protectors which all added to the freshness. As we were staying for two weeks, they anticipated that we would need the sheets and towels changed, which they did frequently. Ridgeway is very convenient as a hub for getting around the Somerset/Wiltshire area. Plenty of places to eat out near by. Loved staying there.
mary
2016-07-01T00:00:00Z
We had a great time at Janes cozy little coach house! It was very comfortable and nicely decorated and was located in a nice, quiet street. Jane and her husband gave us a warm welcome and a lot of tipps on what to do in the area:) I can really recommend staying in this flat :)
Charlotte
2016-08-18T00:00:00Z
Thank you Jane and James for a lovely stay. The coach house is charming and cosy. The coach house is private but Jane and James are on hand if you need anything. We ate at the Talbot inn and the George, and visited longleat.
Ruth
2016-09-16T00:00:00Z
It was a lovely experience to stay in "The Coach House" in Nunney at Jane. The house is located in a quiet area surrounded by a beautiful garden. It is well-appointed and have all the facilities we want. everywhere there are fine details and very cozy. Quality throughout - particularly the bed was top quality. While Jane is the perfect host. She had made sure that there were six fresh eggs from their own chickens, and a jug of fresh milk in the fridge. Friendly, knowledgeable and smiling - so we saw her and her husband James. Everything was perfect.
Niels
2016-09-04T00:00:00Z
This was my second stay here and I enjoyed it as much as the first. A relaxing, peaceful stay in a lovely place. I hope to return.
Angie
2017-01-12T00:00:00Z
Typ pokoje
Celý dům/byt
---
Typ nemovitosti
Dům
---
Ubytuje
2
---
Ložnice
Nunney, Velká Británie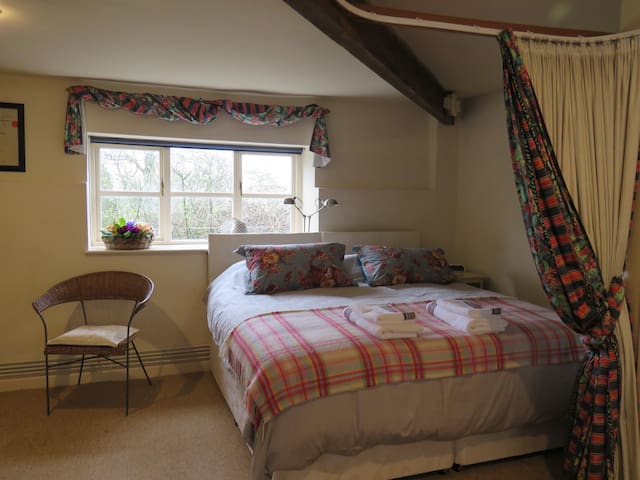 This is a superb BNB: quiet and close to the Church. Clean tidy and excellent room with very comfortable bed. The bathroom, with its brilliant shower, is exclusive to guests and Linda could not have been more helpful, friendly and welcoming. Excellent breakfast. The directions to the house need a little more precision. Highly recommended in every respect.
Peter
2016-10-26T00:00:00Z
Typ pokoje
Soukromý pokoj
---
Typ nemovitosti
Dům
---
Ubytuje
2
---
Ložnice
Evercreech, Anglie, Velká Británie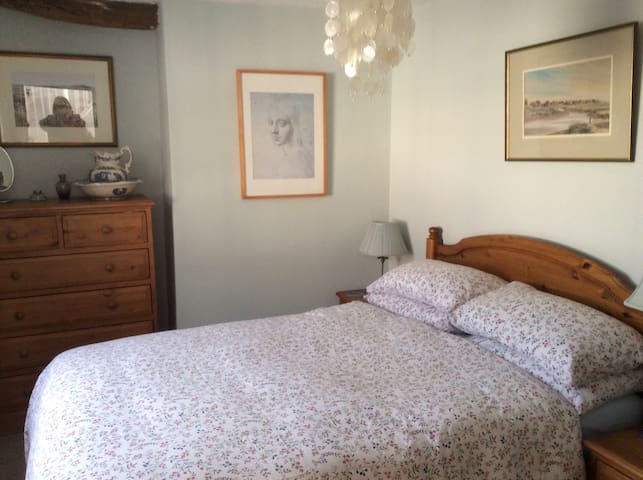 This ground floor annexe offers a double bedroom with luxury en-suite shower and well equipped kitchen/sitting room with comfortable sofa bed French doors look out over a beautiful valley to the south. Only five minutes walk to the pub!
Little Acre is a beautifully converted apartment which offers couples or small families the ideal place to relax and enjoy this beautiful part of Somerset
Batcombe is a quiet and picturesque village. Nestled in an outstanding valley with beautiful views, Batcombe offers stunning walks and an award-winning pub, yet lies only 2 miles from arty Bruton and only 10 minutes drive to Glastonbury Festival purple parking. We are an easy 45 minutes drive to Bath, Longleat Safari Park, and the Cheddar Gorge.
Beautiful apartment in a lovely secluded and quiet part of the countryside. Very well equipped, great shower and we enjoyed a lovely breakfast! Many thanks!
Rebecca
2016-08-13T00:00:00Z
Lovely private apartment in very quiet location in picturesque Batcombe. The facilities were excellent despite TV and wifi not working during our visit, and Pip left an abundant amount of supplies for breakfast and snacks, couldn't have been better.
David
2016-08-15T00:00:00Z
Friendly welcome, comfortable modern accommodation, and a beautiful view across the countryside surrounding this lovely village.
Fabian
2016-08-26T00:00:00Z
Pip was very helpful before arrival with clear instructions of how to get there, as well as being flexible on arrival time. She gave us a very friendly welcome, as well as well stocked breakfast supplies in a lovely, clean apartment, which all made our stay really enjoyable. She was also very patient with our late returns from work and a change of guest midweek!
Rachel
2016-07-29T00:00:00Z
Pip was very welcoming. The accomadation exceeded our expectations. Although we had to leave very early Sunday morning Pip got up to wave us off. A nice touch. Would definitely stay again.
Keith
2016-07-04T00:00:00Z
A really good introduction to Airbnb. Three of us stayed for the night and it worked really well. We were greeted very warmly and shown round. Comfortable double bed with en suite and a sofa bed in the sitting room/kitchen. The kitchen would have been more than adequate had we been staying for a much longer time and provisions left for breakfast were extremely generous. We didn't have time to explore the village but we did find the pub. The host was very welcoming and helpful - even though the kitchen was closed he rustled up enough for a snack lunch and was interesting to talk with. It's not the simplest place to find but we used a Map app on a tablet and that with local knowledge help from our host got us there without problems. When I'm that way again and relatives don't have a spare bed I shall certainly stay at Little Acre. On top of everything, the price charged was generously little.
Penny
2016-06-26T00:00:00Z
What a lovely stay. Thank you to Pip and her family for making us feel so welcome. Albeit a brief visit we both had a fantastic time and would definitely visit again.
Chris
2016-08-28T00:00:00Z
Another short but lovely stay in this beautiful place - super comfy and Pip made us feel very welcome. A home from home.
Alexa
2016-09-18T00:00:00Z
Typ pokoje
Soukromý pokoj
---
Typ nemovitosti
Dům
---
Ubytuje
3
---
Ložnice
Nr Bruton, Somerset, Velká Británie
Our cottage is situated in the picturesque village of Nunney, 3 miles from Frome, complete with its own castle and great country pub. Built in 1693 the cottage is packed full of quirky period features, while outside is a large sunny garden. Book in Summer or Autumn and you can even try a variety of fruit and vegetables we grow. Around Nunney there are lots of walks to do or it is a short drive to Longleat Estate, Stourhead, Bath and Wells. Babington House is also only a 5 min drive away.
Being one of the oldest houses in the village it has plenty of quirky features. There is an original wall painting dating back to the 17th Century and the bathroom door is the old window lintel from the original cottage. You can snuggle up in the winter months with a book and a glass of wine in front of our great wood burner. Or make use of our beautiful large garden in the warmer months with a variety of fruits and vegetables to enjoy.
Nunney is a very community led village, everyone is extremely friendly and welcoming. The village itself is beautiful to walk around and has a great local pub and nice cafe. There is also a Spar (not open on Sunday). On Sunday however you can enjoy the local cakes and teas in the church from 3-5pm.
A beautiful cottage in a gorgeous village, with thoughtful and generous hosts. Highly recommended. Our best AirBnB stay by a wide margin.
Gary
2017-04-06T00:00:00Z
My boyfriend and I stayed at Treetops for 2 nights over New Year. The cottage is charming and beautifully presented. Very peaceful and everything provided you could want for. A wonderful log burner in the sitting room where we spent cosy days, spacious pretty bathroom for lots of happy wallowing in the bath and a good well equipped kitchen. The village is very pretty and peaceful. There is a village shop, pub and restaurant all within walking distance. We loved this cottage and didn't want to leave. We would love to return in the summer to enjoy all the garden has to offer.
Lucie
2017-01-02T00:00:00Z
Lovely homely little house. Great to have the wood burner in February! Comfy beds, great bathroom and kitchen. Perfect!
Tracey
2017-02-15T00:00:00Z
Treetops cottage is the perfect romantic getaway. The decor is beautifully done and gives it a home away from home feeling. And breakfast in the fridge was a lovely touch. We spent every evening in front of the wood burner playing games and drinking wine. Nunney is gorgeous with a friendly pub down the road. And it's a great place for exploring Somerset including Mells (Talbot Inn is fantastic for food!), Bruton and Frome. We thoroughly recommend treetops to anyone looking to get away from it all.
Freya
2017-02-19T00:00:00Z
Absolute perfection. Our long-weekend at Treetops Cottage could not have been more wonderful, or more English. From the afternoon teas served at the village church, the beer garden at The George, and the 14th century moated medieval castle. Zoe and Hugo's gorgeous little cottage included a well stocked kitchen with everything we needed to cook for ourselves. Zoe was even kind enough to include sausages, eggs, and bacon for our first morning's breakfast. The beds were lovely and comfortable and little things like throw blankets, fresh flowers, hand-soap and hand-lotion, made Treetops feel like home. From Treetops we enjoyed day -trips to Frome, Bath, and Stonehenge. The Bell at Rode offered a not-to-be-missed spectacular Sunday roast. We absolutely loved our time at Treetops and are very grateful to Zoe and Hugo for allowing us the opportunity to visit.
Alex
2016-08-16T00:00:00Z
The cottage was even better than described. It has been recently decorated to a very high standard with many original features still present from the c.17 century. Zoe thoughtfully provided fresh orange juice, milk, tea, coffee, eggs, bread and mushrooms so we could have breakfast without having to do some shopping first. The cottage is in a picture perfect setting with a very short walk to the local pub and shop. The pub and the locals were very friendly. The cottage is also about 10 minutes from Frome by car which is a must see town. Although we didn't meet Zoe in person, she was available through the message system and her friend in the village was around and provided everything we needed.
sarbjit
2016-07-31T00:00:00Z
What a wonderful weekend at Zoe and Hugo's gorgeous cottage. It has so many lovely touches throughout the house, we had a very comfortable stay and slept so well:) A very peaceful tranquil place to stay with so many places to visit near by. We ate out in the local pub and the experience from the food to the service was spot on. Highly recommended x
Ceri
2017-02-26T00:00:00Z
What an absolutely stunning cottage. So stylish and comfortable. A real home from home and Zoe did everything she could to make us welcome and comfortable. Thank you for the delicious treats in the fridge Zoe! We will definitely be booking again!
Anna
2016-11-27T00:00:00Z
Typ pokoje
Celý dům/byt
---
Typ nemovitosti
Dům
---
Ubytuje
4
---
Ložnice
Nunney, Anglie, Velká Británie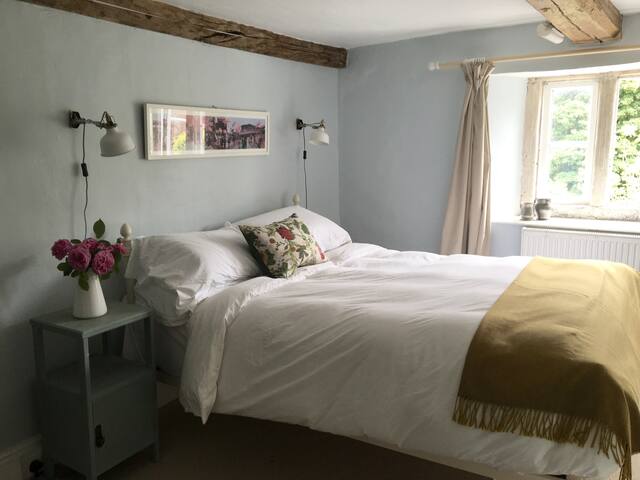 We had a lovely stay and Carrie was very helpful to us ahead of our stay. Would stay there again. Really enjoyed Bruton too.
lara
2017-04-04T00:00:00Z
Tidy, cool and confortable. Carrie recieved us with the house warm chimeny on and Christmas lights in the house
Itziar
2016-12-12T00:00:00Z
Helt, helt fantastisk sted at bo. Carrie og hendes mand var gæstfrie og søde værter, og der blev taget rigtigt god i mod ved ankomsten. Alt var bare tip top okay. Byen som sådan er også fin efter sin størrelse med både indkøbsmuligheder og en traditionel in. Med lækre fish n' chips og det hele.
Bjarke
2016-11-22T00:00:00Z
Carrie made us feel extremely welcome. We don't feel there was anything else she could have done. Carrie provided freshly laid eggs from her own hens as well as coffee, tea, bread and butter etc. She reassured us not to worry about our dogs in her cottage, as she just wanted us to enjoy our stay; that was very kind of her. We were grateful to find dog friendly accommodation with a secure garden which was pristinely clean! Excellent! If you're not a dog owner, please still consider this cottage as Carrie cleans it so thoroughly, you'd never know a pup had been there...everything is modern, in good order, but the cottage still retains charm and character. We used the log burner and the host even dropped by some extra logs later in the evening. We stayed here to visit Longleat and the journey was about 30 minutes. Despite arriving in driving rain, lol, we enjoyed our stay and left feeling refreshed.
Jane
2016-10-26T00:00:00Z
Carrie was a lovely and welcoming host and the cottage was amazing. It had everything we needed, including a cosy wood burning fire, kitted out kitchen and bathroom. The surrounding area was beautiful countryside and I would recommend the cottage to anyone looking for a really relaxing place to stay in a beautiful part of the world.
Alisdair
2016-10-21T00:00:00Z
Highly recommended. Everything was perfect, confortable, clean, quiet, great location, fantastic communication. Many extras in terms of food and treats.
Vivienne
2017-01-02T00:00:00Z
Gorgeous little cottage, brilliantly equipped - everything you need for a lovely stay. Highly recommend.
Vanessa
2016-12-26T00:00:00Z
The cottage was a perfect place to stay for our family weekend away. Thank you Carrie!
Emily
2017-02-19T00:00:00Z
Typ pokoje
Celý dům/byt
---
Typ nemovitosti
Dům
---
Ubytuje
4
---
Ložnice
Bruton, Anglie, Velká Británie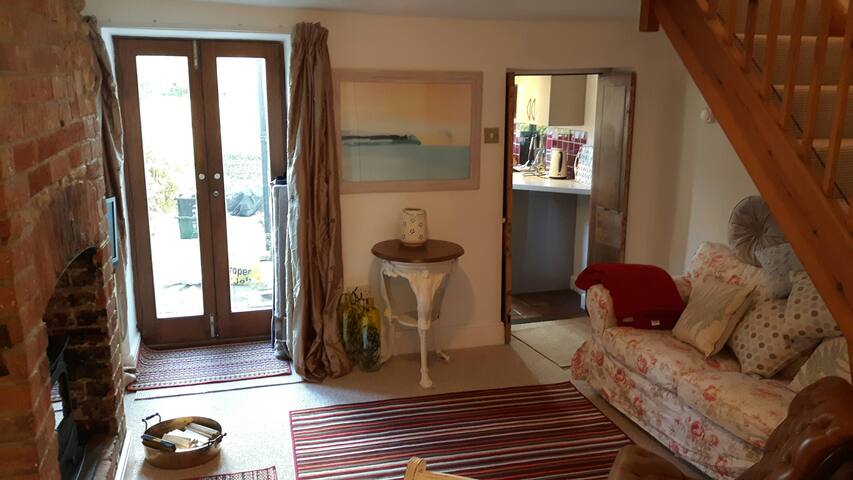 Lovely stay in a great location. The barn conversion has been done to a really high standard. Having the log stove made it very cosy, the addition of curtains/blind in the lounge would have made it even more so. Wendy was a perfect host and made us feel very welcome. Can't finish with out mentioning the lovely pool and tennis court which made it a perfect family location.
Mark
2015-09-05T00:00:00Z
We had a really lovely weekend here to get away from the city for a little bit. Very relaxing, super quiet, lovely pool and area. Perfect place to go and recharge your batteries!
Linda
2016-08-30T00:00:00Z
Wendy was extremely welcoming and helpful. From being there to meet us on our arrival after 10pm to lending us a blanket for our dog to make him even more comfortable. She suggested some lovely walks and places to visit.
Michael
2016-07-11T00:00:00Z
Very nice Cottage the guys from me had a beautiful stay . Wendy was a very good hostess !!
Florian
2016-03-25T00:00:00Z
Our family (two young boys and my partner) had a wonderful time for 5 nights in Wendy's cottage. Although the weather was changeable we made good use of the lovely pool & tennis court and also made a number of trips including to Wookey Hole and Stourhead (pretty glorious National Trust property). Wendy was extremely welcoming complete with lovely cake and homemade jam on arrival and we felt right at home. The cottage itself is fantastic and very easy to live in, great feeling and facilities. Thank you! A special break.
Kat
2015-08-19T00:00:00Z
Lovely cottage in a great setting. Swimming pool and tennis court both fantastic. If anything, better than the pictures suggest. Recommended.
phil
2016-06-02T00:00:00Z
Wendy's place is so amazing, we enjoyed a lot the time in the cottage, everything was completely clean and tidy and the decoration was fantastic... The only problem was the weather... But this is country's fault
MARIA
2016-03-31T00:00:00Z
After 4 days of camping with a one year old we arrived at Druley Hill Farmhouse and were very happy indeed to be welcomed there by Wendy who showed us around and left us to it. The house was perfect for us and our little girl, very tidy and comfortable indeed. The outside space was great, sheep & chickens to go and look at and the pool & tennis court very easy to have fun in. When it was raining the wood burner made the house very warm and cosy indeed. Thanks Wendy - We all had a really great time.
Cecily
2015-08-23T00:00:00Z
Typ pokoje
Celý dům/byt
---
Typ nemovitosti
Dům
---
Ubytuje
4
---
Ložnice
North Brewham, Bruton, Somerset, Velká Británie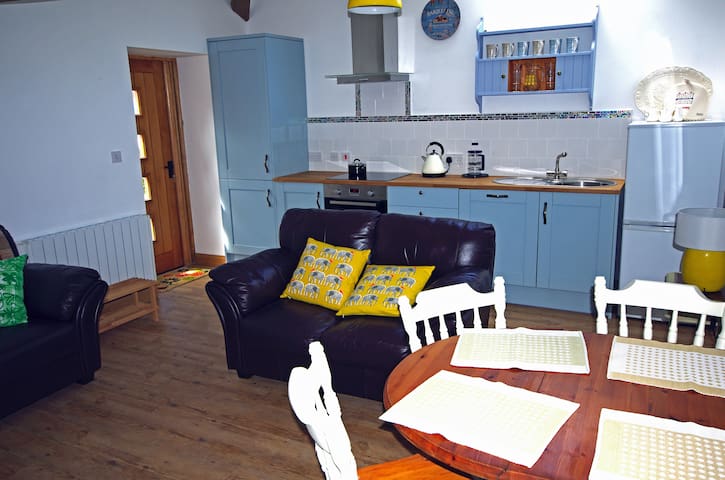 Niché au cœur de Batcombe, notre maison d'entraîneur récemment rénové offre un endroit confortable pour rester. Ce village pittoresque offre des promenades fantastiques sur les collines de Mendip et grand pub local. Week-end réservations doivent être un minimum de 2 nuits.
Little Brook est une maison d'entraîneur du 18ème siècle récemment rénové et stable. Il est une propriété individuelle située dans l'extrémité tranquille, à l'ouest du village. A l'étage est la grande chambre des maîtres avec lit king-size lit double et salle de douche attenante. bas se trouve une chambre à deux lits spacieux, (qui peut être constitué comme un lit double). Il y a aussi une salle de bains en bas. Les lits sont très confortables, avec des draps blancs en coton, et des oreillers en plumes. serviettes de coton sont également fournis. Un supplémentaires 1-2 personnes peuvent être hébergées sur un canapé-lit à disposition et pour une taxe. Little Brook est une location vacances et la cuisine est équipée avec réfrigérateur-congélateur, cuisinière à gaz, fours électriques, micro-ondes et lave-vaisselle. Une laveuse / sécheuse signifie que vous pouvez garder sur le dessus de la lessive de vêtements trop. L'eau chaude est disponible 24/7, et le chauffage central est disponible dans tout l'établissement. Il y a le wifi et un téléphone fixe. (Demande de téléphonie fixe sont facturés sur une base «d'honnêteté».) Multi-canaux Sky TV HD et DVD sont accessibles sur le "large TV 32 écran HD dans le salon. Il y a aussi une chaîne stéréo + iPod plomb. En outre, le maître chambre dispose d'une télévision freesat et DVD. Il y a aussi, d'un patio clos isolé avec 6 places table de pique-nique et un banc, qui est à usage privé des invités. Comme une opération d'auto-restauration, nous sommes plus qu'heureux de vous aider à mettre en place avec certaines dispositions de base pour votre arrivée, un panier d'œufs, du pain et d'autres délicieux produits locaux peuvent être fournis ne hésitez pas à nous laisser tomber une ligne pour discuter. Sinon, si vous ne vous sentez pas comme la cuisine, le pub du village, (qui est l'enfant et les chiens), sert des bières fines, les vins et la bonne nourriture tous les jours de la semaine, et il est juste en bas de la voie. TARIFS SEMAINE Les tarifs hebdomadaires sont pour toute la maison, mais il y aura toujours les frais de nettoyage de £ 20. Si vous êtes intéressé s'il vous plaît laissez-moi savoir et je vais l'envoyer comme une offre spéciale. Dogs- sont les bienvenus, mais il y a une charge de £ 25 p. chien, p. semaine ou 40 £ pour les chiens x2. Sinon, il est £ 5 p. chien p. nuit. Nous avons tendance à limiter les chiens à un maximum de x2. S'il vous plaît garder les chiens hors du mobilier, nettoyer après eux et leur fournir leurs propres lits et autres doggy-kit, plus une serviette pour les sécher après une promenade humide.
"Batcombe est rêver Angleterre. Il est un endroit que vous seriez heureux d'atteindre par hasard à la fin du cheminement d'une longue journée." (Candida Lycett vert, journaliste.) Il est un petit village et conviviale, très loin des sentiers battus. Mais les événements locaux sont souvent sur les cartes: dégustations de fromage Westcombe et bière sauvage dans Westcombe voisin, le cricket en place à la hauteur du village, récemment rénové, ou monkeying environ avec les enfants dans la cour de récréation très bien rénovée - grande pour tous les âges et équipées de terrain de football et les filets de cricket en plus de balançoires, jouent-fort et tyrolienne. Magnifiques promenades étendent loin dans toutes les directions à partir de votre porte: sentiers interminables errent sur les collines de Mendip, avec des vues à travers à Glastonbury Tor et au-delà, ou vous pouvez flâner le long de la vallée, en suivant la rivière Alham.
The cottage was cosy and comfortable. We appreciated the eggs, milk and bread that Sasha left for us.
Anna
2016-10-29T00:00:00Z
We had a wonderful stay at Little Brook. The cottage had everything you could possibly need. A very charming location in the unspoilt countryside - thank you Sasha.
Amanda
2016-10-09T00:00:00Z
We had a great time. A lovely cottage in a magnificent location. The only thing missing from the cottage is access to the wonderful local views.
John
2016-03-29T00:00:00Z
We spent the first 3 nights of our Honeymoon here. It was wonderful! The cottage is really cosy, Sasha has stocked it with everything you could possibly need, and a few extra treats, which were greatly appreciated. Sasha really looked after us and made us feel at home. We very much enjoyed our stay and would highly recommend it. We will hopefully visit again, for our anniversary maybe.
Sarah
2015-09-18T00:00:00Z
We found Little brook easily following Sasha's directions and arrived at a beautiful cottage in a great quiet village setting. The cottage is just as we imagined it to be and just perfect us and our 2 dogs. It has everything you need for a weekend or much longer stay and you can walk for miles straight from the cottage. We loved the friendly village pub which does great food, beer and local cider and the only negative about the place is we had to leave so soon . We would highly recommend Little brook and we will hopefully be back soon. Thank you Sasha for letting us stay!!
graham
2016-06-01T00:00:00Z
Sasha was very welcoming and helpful during our stay at Batcombe. Both the house and the village are lovely and we had a wonderful time. Sasha's advice on things to do in the area were great. The children in particular loved the playground.
Daniela
2014-10-29T00:00:00Z
Batcombe is beautiful, the cottage was sweet and well-equipped for adults and Sasha and Rupert went out of their way to provide toys for our daughter, as well as a lovely breakfast hamper for us. It's not really set up for babies (no cot or highchair on site - Sasha borrowed a travel cot from a neighbour) but would be fine with older children. All in all, a wonderful weekend with attentive hosts.
Annie
2015-05-25T00:00:00Z
This is a really wonderful place to stay - very well appointed and thoughtfully finished accommodation set in a beautiful, unspoilt village with generous and helpful hosts. Cannot recommend enough.
Jago
2014-11-01T00:00:00Z
Typ pokoje
Celý dům/byt
---
Typ nemovitosti
Dům
---
Ubytuje
4
---
Ložnice
Batcombe, Anglie, Velká Británie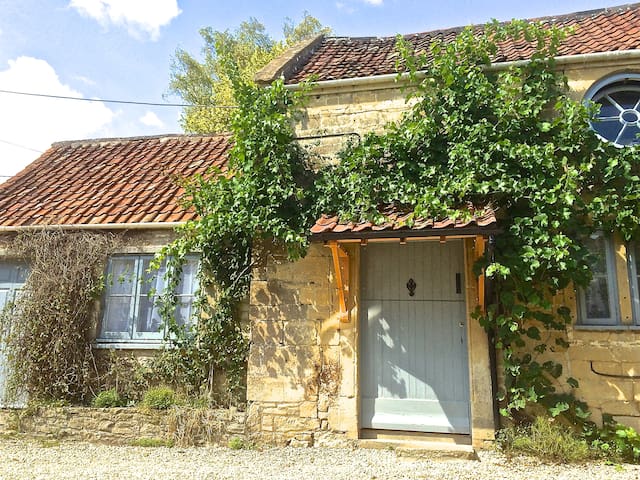 Bruton ist ein süßes und flippige kleine Stadt in South Somerset. Alles ist zu Fuß erreichbar und die Einheimischen sind sehr freundlich. Wir haben große Restaurants, Pubs, Geschäfte und eine erstaunliche Kunstgalerie. Mein Haus ist super familienfreundlich, aber minimal und klar genug von denen, ohne Kinder zu genießen. Es gibt einen großen Garten mit sehr besteigbar Bäumen und einem kleinen Spielhaus. Sie können in bleiben und durch den Holzofen auf keinen Fall kalt erhalten oder zu erkunden. Frome, Bath und Bristol sind alle in der Nähe.
Es ist eine minimale Familie zu Hause mit einem großen Platz im Freien in einer Stadt, klein genug, um Töpfer zu Fuß herum. Es gibt 3 Schlafzimmer: ein Doppelzimmer, ein Einzelzimmer, die eine andere einzelne hinzugefügt und ein weiteres kleines Einzelzimmer haben kann. Ich habe ein Studio in einem umgebauten Schuppen im Garten, der auch notwendig, verwendet werden kann, wenn (sie vollständig mit elektrischen, Wärme, Fenster und Möbel umgewandelt ist so nicht, wie sie möchten, wie es klingen mag!)
Sie sind freundlich, einfach immer hilfreich und sich für ein bisschen über das Tor Geplänkel.
Lovely home, like a typical english cottage. We spent very lovely envening near the fire. Close to Longleat and Bath. Nice little town. We had a lot information and very nice attentions for us and for our children.
Julien
2017-01-01T00:00:00Z
Typ pokoje
Celý dům/byt
---
Typ nemovitosti
Dům
---
Ubytuje
5
---
Ložnice
Bruton, Anglie, Velká Británie
Beautiful house and village, Barbara was an excellent host and the room was exactly as described. Every amenity was provided you could possibly need! She helped out with information on the surrounding area and where to go, and her communication before and during the stay was impeccable! 5 stars! Highly Recommend!
Oscar
2016-05-02T00:00:00Z
Barbara's house is not only beautiful, but she and her husband Mark made us feel immediately at home, and the whole experience was really fantastic for us. We were in the area for a wedding, so only stayed the one night, but this was really perfect for us. Highly recommended! Hope to stay again one day!
Peter
2016-06-13T00:00:00Z
We had a wonderful stay, beautiful house and a great breakfast. Barbara is a very kind and accommodating host
Sherrill
2016-06-27T00:00:00Z
Barbara's home is beautiful and her rooms very comfortable. Barbara made us extremely welcome; she is a very gracious and helpful host.
Neil
2016-04-18T00:00:00Z
I signed up with Barbara at Evercreech because I was going to a Wedding in the next villiage so location was ideal. Sadly Barbara was unable to be at the house that weekend but had a wonderful friend of hers who stepped in. The room was very clean and large and had a fabulous bathroom. Tea making facilities were excellent. Barbara left a delicious Lemon Drizzel cake in a tin for me. Homemade. It was my home from home as the wedding was a 3 day event .... All over a very good experience
Julie
2016-09-05T00:00:00Z
This is brialliant place to stay. Barbara really looked after us and the room is spacious and comfortable. The house is amazing. Local pubs are good for food and atmosphere. We shall definitely be back soon.
Keith
2017-03-20T00:00:00Z
Barbara was by far the nicest host i have ever had on airbnb so far. Really helpful and very nice to us.
sean
2016-05-31T00:00:00Z
Barbara's place is wonderful — one of the best AirBnBs I've been to so far. A beautiful, cozy and bright room with its own bathroom and a lot of privacy. Everything is in top condition, and we felt comfortable from the first minute. Barbara is the perfect host, too. She not only made us feel very welcome, she also recommended a pub in nearby Batcombe (which was fantastic: "The Three Horseshoes"). She gave us instructions and a map to partly walk the way through the fields, which turned out to a most wonderful experience. The landscape around Evercreech is, if course, beautiful. I highly recommend Barbara's place, and I hope to be back soon myself!
Jan
2016-08-17T00:00:00Z
Typ pokoje
Soukromý pokoj
---
Typ nemovitosti
Dům
---
Ubytuje
2
---
Ložnice
Evercreech, Somerset, Velká Británie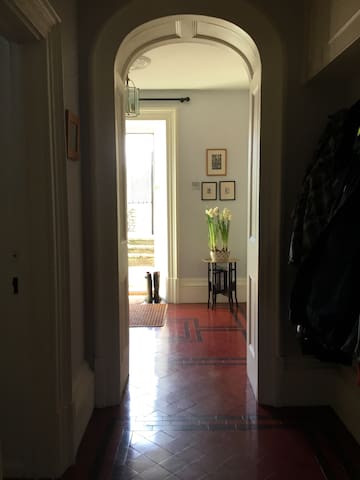 Carla was a great host and her basement guest room was simple and all that we needed. The location is perfect for exploring Bruton and beyond, walking distance to Main Street with parking. The place is simple but quaint and comfortable with all basic guest amenities are provided. Only small downsides are that bathroom is separated by an outdoor landing and wifi isn't great in the bedroom, but for the price and a great host it makes up for it!
Jake
2016-05-23T00:00:00Z
Very restful place. Wonderful host very delightful surroundings.
Christopher
2016-08-13T00:00:00Z
Fantastic location, lovely host with great local knowledge. Highly recommend.
Natalie
2016-09-11T00:00:00Z
Lovely stay in a beautiful room. Lots of space, lovely garden, muesli and real coffee left for the morning and Carla was a great host. We are already planning our next trip!
Amy
2016-05-02T00:00:00Z
Carla it' s a great host. The rustic studio looks exactly like in pictures. Carla also have a great garden and you can relax there. I really recommend Carla 's studio. Everything was fine and very very clean. Thank you once again Carla!
Sabrina
2016-09-05T00:00:00Z
This was one of my favorite air bnb experiences! Such a unique studio in a perfect location. Carla was a huge help and so kind.
Marley
2016-08-15T00:00:00Z
My husband and I stayed overnight the day before toddling off to the Glastonbury Festival and fell completely in love with the room and with the hostess, Carla. The bedroom was wonderfully quirky and cave-like with plenty of space and facilities. Bed was very comfortable too and we both slept well. The sweet little shower-room is just outside the bedroom door so you only have to take a quick step outdoors before you're in there - and a dressing-gown is provided if you need to get up in the middle of the night. Carla was, frankly, quite delicious, and it wasn't long before we had cracked open a bottle of wine to share in the garden! She was also asked and was very appreciative of our comments about what she could do to improve the room (a hook here-and-there, a slightly bigger fridge if possible etc.) As Glasto police decided to delay arrivals for six hours the next day, Carla very kindly allowed us to make use of the room for a few extra hours which was immensely helpful. We'll definitely be back to stay the next time we're down her way!
Jane
2016-06-22T00:00:00Z
This was a great place right in the centre of Bruton with everything you could need in the room, it's own bathroom, and including breakfast! Carla was most helpful and welcoming, especially as I arrived later than expected as I was on a long distance bike ride.
sophy
2016-06-11T00:00:00Z
Typ pokoje
Soukromý pokoj
---
Typ nemovitosti
Dům
---
Ubytuje
2
---
Ložnice
Bruton, Velká Británie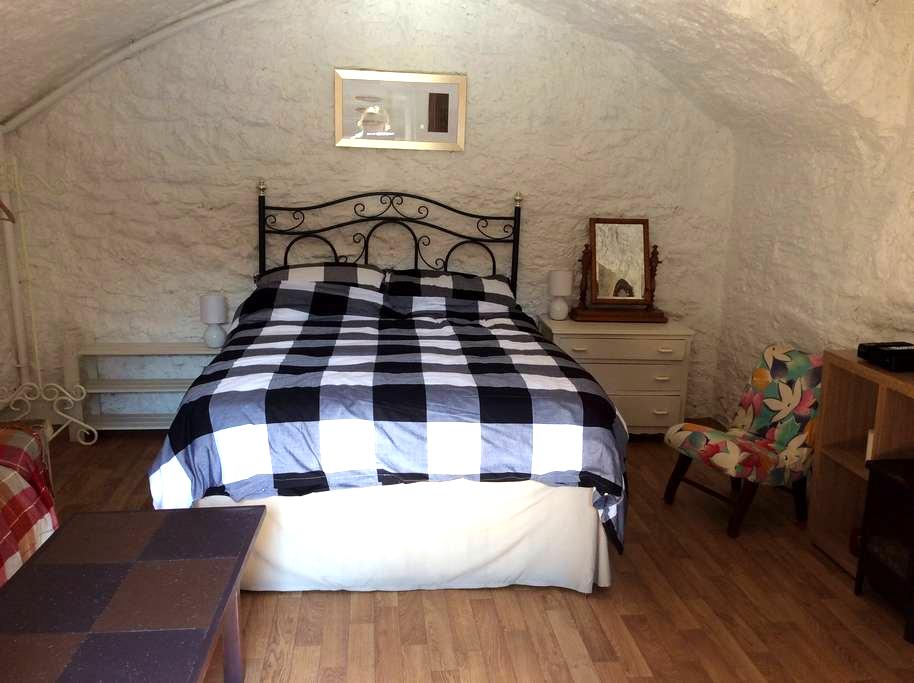 Enjoy relaxing in our new, contemporary home situated close to the amenities of Frome and Bath yet set in a picturesque, rural, Somerset Mendip village. Well appointed guest accommodation with continental breakfast provided and off road parking.
Accommodation comprises: 1 x First Floor Kingsize Room with en-suite 'rainfall' shower 1 x First Floor Twin Bedroom with stylish Guest Bathroom (bath with shower) All bedrooms have "Freeview" TV. Complimentary afternoon tea on arrival and an extensive Continental Breakfast provided each morning. Guest living room available for you to relax. Free WiFi for our guests. Off road parking available.
Trudoxhill is a village located just off the A361 with easy access to the following: Frome historic town centre, 10 minutes drive Bath City Centre, 30 minutes drive Nunney Castle, 10 minutes away Stourhead National Trust House and Gardens, 20 minutes drive Longleat House and Safari Park, 6 miles. Bruton, Hauser & Wirth Gallery, 8 miles. Wincanton Racecourse and several local Golf Courses close by. Wells, 17 miles. Glastonbury Festival site, 25 minutes away Local Private Schools: All Hallows (6 miles), Bruton Schools for Girls and Kings School Bruton (8 miles).
An absolute treat and a pleasure to stay at Jane and Graham's! Lovely, warm and thoughtful hosts and really comfortable, clean and beautiful rooms. Wish we'd booked for longer to explore the surrounding areas- so many great places to visit on the doorstep. Thoroughly recommend staying at Orchard House - Thanks so much to you both x
Michael
2016-08-29T00:00:00Z
What a wonderful place to stay! A gorgeous house with comfortable beds, stylish bathrooms, a relaxing guest living room, and in a great location for visiting Longleat. The breakfast was amazing, and our hosts extremely welcoming and friendly. I definitely recommend this as a place to stay, and hope to go back myself!
Olwen
2016-07-31T00:00:00Z
Even before I arrived at Jane & Graham's I was made to feel welcome. I was given very specific directions and mobile telephone numbers. On arrival I was given refreshments. The accommodation is outstanding and I cannot rate it highly enough. Time for breakfast to be served was by mutual arrangement and the choice at breakfast was amazing from cereal, fruit, yoghurt, toast, croissants, jams, marmalade even almond butter. There was a choice of teas available as well as coffee.(URL HIDDEN)was in the area tracing family history and Graham even offered some literature and local information. I would wholeheartedly recommend the accommodation and would certainly stay again next time I visit the area.
Victoria
2016-07-07T00:00:00Z
Graham is a good gentleman who helped us to take heavy suitcase into their house. He also provided a great breakfast for us on the morning. His house is big and comfortable. There are two bathroom in the house which is important for team people. The wifi is great and rooms are tidy. I strongly recommend you to choose their house.
Larina
2016-07-10T00:00:00Z
Excellent hosts, excellent accommodation. Ideal for my stay, close enough to the chess venue. Pleasant area and scenery.
Cornelius
2016-05-16T00:00:00Z
Our stay at Jane and Graham's was a very good experience. We were warmly welcomed, they are both really interesting and nice people, who made feel confortabl straight away. The rooms were very cosy, one has an ensuite bathroon, the second one can benefit from a second bathroom with a bathtub. All amenities were clean, and towels and shampoo/soap was provided. Breakfast was provided, and was huge : croissant, pain au chocolat, homemade marmelade, cereals, and hot drinks, we couldn't ask for more! Finally, there is loads of parking space, and the place is both remote in the countryside, and close to all main touristic sites, such as Bath and Stonehenge! In a nutshell, I would definitely recommend staying at Jane and Graham's, it was absolutely perfect!
andre
2016-08-15T00:00:00Z
Lovely house, one of the best I've seen, lovely couple, very friendly, extremely helpful. They make you feel so welcome & relaxed, you don't want to go back ! Thank you.
Rosen
2016-08-05T00:00:00Z
Warm, friendly, happy, helpful. Beautiful home and room with a fantastic continental breakfast. Home made marmalade a real treat.
Mark
2016-01-21T00:00:00Z
Typ pokoje
Soukromý pokoj
---
Typ nemovitosti
Dům
---
Ubytuje
4
---
Ložnice
Trudoxhill, Anglie, Velká Británie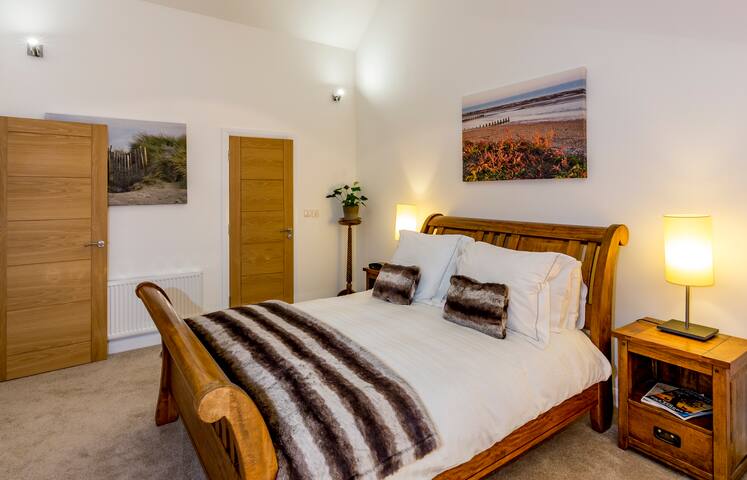 1

–

18

z

29 Pronájmy domácností
Pro zobrazení celkové ceny zadej termín. Mohou být přidány další poplatky a daně.