Vysoko v horách (1600 metrů) najdete tento magický chatu. Pokud chcete jen relaxovat, pokud máte rádi hory, pokud máte rádi ticho, pokud se vám líbí hikin Mé místo je vhodné pro páry, rodiny (s dětmi), velkých skupin a chlupatými kamarády (zvířata).
Typ pokoje
Celý dům/byt
---
Typ nemovitosti
Bungalov
---
Ubytuje
6
---
Ložnice
Velika Planina, Kamnik, Slovinsko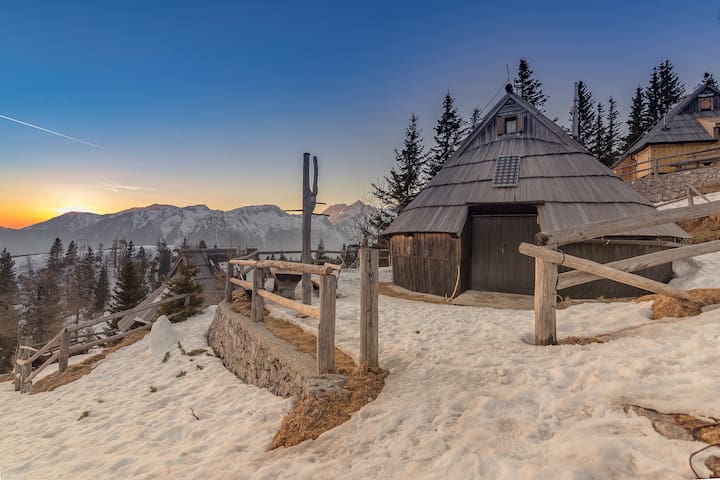 Mé místo je v blízkosti v blízkosti pastorační obci. Zamilujete si své místo, protože jsme si tě vybral z města a dýchat skutečný horský vzduch, ale také najít skutečnou domácí jídla. Mé místo je vhodné pro páry, sólové dobrodruhy, obchodní cestující, rodiny s dětmi (), tak i velkým skupinám.
We had a warm welcome with lots of info on the site, and places to visit nearby. The house is brand new, fully equipped, near the cable car, so it is easy to carry your bags. Very peaceful. A bit of advice for those new to Velika planina - water is not potable, so you should bring bottled water with you.
Sandra
2016-07-18T00:00:00Z
Very nice cottage in Velika planina area. Maja was a wonderfull host, welcoming us warmly, offering us nice beers in the fridge, providing a fully equiped new cottage and giving us good advice during our stay. Few points could be improved such as: - Clearer meeting point with phone number availability - More clear indication of cottage location (near cable car arrival) Usefull to know, there is no restaurant nearby so you need to take your own food for the full stay. We were counting on a dinner outside for one night :-) Enjoy your stay in this wonderfull area and nice cottage
Gonzague
2016-07-30T00:00:00Z
We got lost on the way to the cable car station because our Navigation system leaded us on the top of the mountain. But Maja did all for us to get to the right way - she's so friendly and everybody in Slovenja too! The cottage is new, warmly, cozy and very beautiful. At the beginning it was a bit cold but there is a camin in it and a lot of wood, this is cozy and very warm! You are also able to do very good Hikes up there and there are only a few people - this is really a SECRET TIP. I am also planning my next trip back to here. Thank You Maja!
Bernhard
2016-12-04T00:00:00Z
le soit disant accès à un point de restauration est plus ou moins vrai un restaurant certes très proche mais qui ferme à 18h au mois d'aout et un autre à une heure de marche sur un terrain pas évident et surtout de nuit. Dépendance du logement liée au téléphérique en bas de la vallée.
Sébastien
2016-08-24T00:00:00Z
The host canceled this reservation 7 days before arrival. This is an automated posting.
Janja
2016-10-21T00:00:00Z
Maya est très sympa et nous attendais en haut du telepherique. La maison est cosy et propre. Il y a tout ce qu'il faut même un lave vaisselle ! Seul hic l'eau non potable mais bon faut monter des bouteilles c'est pas sorcier. Le lieu est magnifique prévoir longue balades !
stephane
2016-08-12T00:00:00Z
Typ pokoje
Celý dům/byt
---
Typ nemovitosti
Chatka
---
Ubytuje
10
---
Ložnice
Velika Planina, Kamnik, Slovinsko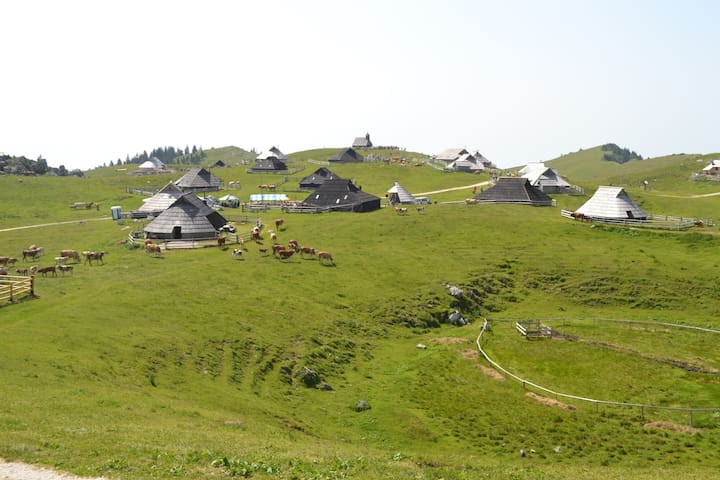 Geräumige 2-Zimmer-Hütte, nur wenige Schritte von der Gondel entfernt, bietet perfekte Flucht aus der Stadt ohne fehlende Luxus: eine voll ausgestattete Küche, ein geräumiges Wohnzimmer. in der Sauna, Barbecue auf der Terrasse Nach dem Wandern, entspannen und eine herrliche Aussicht genießen.
Das Haus ist die größte Größe aller Arten von Hütten auf Velika Planina Berg. Es ist gut eingerichtet, geräumig und sauber, im Vergleich zu anderen Unterkünften zur Verfügung auf dem Berg. Das Haus hat zwei Wohnungen, die jeweils mit einer Kapazität für 4 Personen. Wenn beide Wohnungen buchen, ist das Haus geöffnet und innen verbunden. Küche und Esszimmer mit geräumigen Bank um es (Bergstil) + TV mit Bad auf dem Boden Hebel. Im Obergeschoss befinden sich zwei separate Schlafzimmer (eines pro Wohnung), die jeweils mit zwei großen Betten in jedem Schlafzimmer komfortable Erholung für 4 erwachsene Menschen ermöglichen, und mehr Kinder auch. Finnische Sauna mit Dusche befindet sich unter der Erde befindet. Die Küche ist mit einem Holzofen (traditionell für die Berghütten) und Elektroherd ausgestattet. Eines der Apartments hat sogar eine Spülmaschine. Draußen auf der Terrasse mit einem herrlichen Blick den ganzen Weg bis ins Tal ist ein Ort, Barbecue rund um den großen Holztisch zu genießen oder in der Sonne liegen und ruhen den ganzen Tag nach dem Wandern. Das Haus befindet sich innerhalb von 5 Minuten zu Fuß von der oberen Gondelstation positioniert, das Gepäck zu einem Kinderspiel macht den Transport. Der Berg ist nicht Wasserleitungen haben; jedoch hat das Haus zur Verfügung Regenwasser für die Dusche Gebrauch. Es ist anzu elektrische Versorgung angeschlossen. Der Preis beinhaltet Bettwäsche und Handtücher.
Velika Planina ist ein von einer Art Berg mit Senn Siedlung, wo Sie einen Blick auf die einfache Art und Weise das Leben der Hirten bekommen können, schmecken ihre Milchprodukte und bewundern Sie die einzigartige Architektur der Häuser, die Velika Planina definieren. Machen Sie einen Spaziergang in den grünen Weiden der Bergplateau oder wenn Sie in einen aktiven Urlaub wählen, längere Wanderungen und verschiedene Berg Radtouren. Mehrere Orte auf dem Berg bieten Speisen der lokalen Küche, die wir Ihnen empfehlen versuchen.
The house is really nice and clean. It has all necesary amenities and is very clean. The location is nice for hiking/walking. There are few mountain houses 30-60min walking, but no stores, so bring your food.
Filip
2017-01-08T00:00:00Z
Barbara and father did all possible to have a nice experience at 1666 m. altitude! Incredible area to visit, we have very good luck with weather and enjoyed a lot. As we went by car and not knowing much the Country, we had to change arrival time. They adapted perfectly to our needs and communication were perfect
Inma
2016-08-09T00:00:00Z
Recommend staying here. It's worth spending the night up on he plateau. The cottage is close to the gondola which helps. And has a great view and outdoor area. It's a tough but nice walk up to Velika planning. We were a couple with young baby and was fine although it would be a bit tight with four people. It's fully equipped and Barbara the host is very welcoming and helpful.
Ben
2015-08-20T00:00:00Z
Wonderful cottage in the middle of nature, good communication.
Žiga
2017-02-26T00:00:00Z
Barbara, the host, was very friendly and helpful. She also responded very quickly to all our questions. The cottage is very cute, in a nice quiet area with beautiful views of the mountains around. It is 5 min walk a little bit uphill from the cable car. If you will be carrying a lot of things with you to stay at the cottage, you will have to carry this a bit up hill, but it is not very far. The cottage inside was very cosy with the wood oven burning, which made it very warm. The kitchen is the largest and the most pleasant space, however it was 4 of us and we found the place just a little bit small. There is not so much space to put all the luggage and things, if you have a lot. Otherwise we were very happy. Also the sauna was great!!! Thank you!
Alenka
2015-10-02T00:00:00Z
Barbara welcomed us warmly, and she helped us everything. The Velika planina was beautiful, and thats fantastic when u can go outside from the sauna. I can suggest this place to everybody.
Levente
2015-10-25T00:00:00Z
Typ pokoje
Celý dům/byt
---
Typ nemovitosti
Srub
---
Ubytuje
8
---
Ložnice
Velika Planina, Kamnik, Slovinsko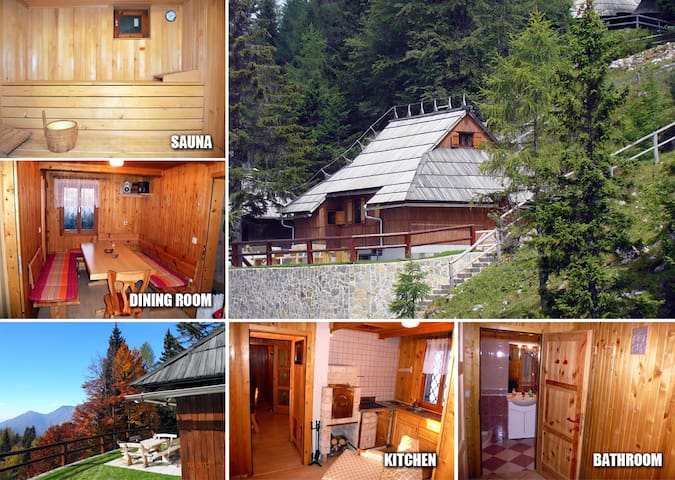 Odpočiňte si v pohodlí horské chatě na Velika planina, kde čistá příroda setkává tradiční bydlení. Koča Ojstrica je hezké, teplé a krásné chaty s úžasnými malebným výhledem. Je v jednom z nejlepších míst pro strávení nádherné dovolené uprostřed hor.
Chata je obklopena travnatou zahradou s venkovním posezením a BBQ místě. Je vybaven roztomilé kuchyní, jídelním stolem, který sedí 8 lidí a moderní koupelnu s teplou sprchou. V přízemí Ložnice je velmi soukromé a je dodáván s královnou velké posteli. V patře ložnice je útulný půdní prostor se čtyřmi samostatnými lůžky.
The Big pastviny Plateau (slovinština: Velika Planina) je postiženy zkrasověním horské plošině v Savinjské Alpy. Nejvyšší bod je Mount Gradisce, v 1666 m (5,466 ft). A chata se nachází těsně pod ní. The Big pastviny plošina je turistickou destinací a to jak v zimě jako lyžařské středisko, v létě jako místo pro relaxaci, turistiku a pozorování tradičního bydlení. Nejstarší chaty slouží k datu pastvině ze 16. století.
Great location and an incredible host, his willingness to help us was just astonishing! It was the first time for us but definitely not the last. If you want to spend some time without distractions, you should visit the place!
Žan
2017-02-23T00:00:00Z
Typ pokoje
Celý dům/byt
---
Typ nemovitosti
Chalupa
---
Ubytuje
8
---
Ložnice
Velika Planina, Kamnik, Slovinsko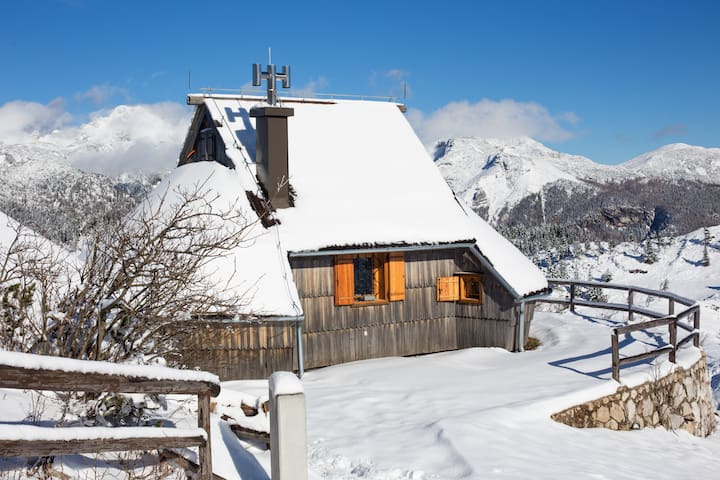 Modrá obloha, mnoho hvězd v noci, čerstvý vzduch, krásné hory a matoucí přírody relaxovat teplým sluncem na hory.
Miha is a great host. Everything was arranged perfectly. We were greeted upon arrival of the upper cable car station and accompanied tot the house and shown around. The location was great. The chalet we stayed is was not the newest, but that is part of the charm.
Koen
2016-07-24T00:00:00Z
Typ pokoje
Celý dům/byt
---
Typ nemovitosti
Dům
---
Ubytuje
8
---
Ložnice
Velika Planina, Kamnik, Slovinsko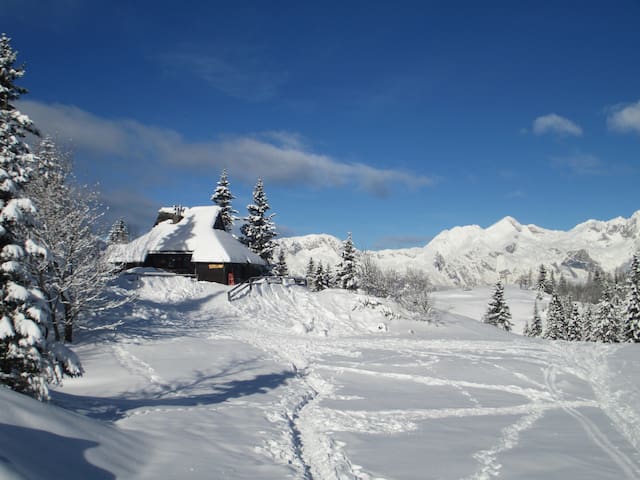 This is our weekend house since forever. My grandma build this house on her own and it was our getaway from hassle of work and to get some peace & quiet. House is situated by the woods & plains at the end of the road and with large garden to mow :)
Peace in the countryside. Grill, terrace, deck chair and cows on the lawn (summer months). There are two rooms in the upper floor with first room (2 single beds) and second room (1 double and 1 single bed). There is also one couch in the lower floor that can sleep one. There is only one closed for clothes. Size of all rooms is 44m2 Fresh linens and towels are provided.
Alpine village stretched over large stretch of single houses. There is a lot of woods to hike in, take a trip in neighboring villages & towns of Slovenia. Don't forget it's only 1,5 hour from the sea, 30 mins to Bled & Bohinj or 15 minutes from Krvavec ski resort. But you will need a car as there is no public transport. I'll provide 2 mountain bikes to use. House is not on the ski slope but a few minutes drive from the lift.
We (5 girls) really loved our stay at Grandmas little house!!! It was exactly as we imagined it, very cosy and surrounded by beautiful nature. It´s well equipped with everything you need and tought it is very basic and old (which is exactly what we LOVED! :) its very clean and you feel immediately at home! We spent 3 wonderful days, hiking, cooking and eating outside on the beautiful veranda, playing games, chatting and relaxing in the sun, just enjoying our lives :) Slovenia is very beautiful and the time we were there (15-18.04) it was just amazing, flowers and blooming trees everywhere! THANK you Domen (everything was absolutely uncompilcated, and he and his father were very friendly!), we will definitely come back one day! :D
Lisi
2016-04-18T00:00:00Z
We had a great time, the house is very comfortable. It was the perfect place to unwind and relax! The countryside is so beautiful all around with the fields, the cows and the forest. Great location! Plus Domen and Tamara we're so kind when we arrived. It would be a pleasure to go and stay there again!
Jonathan
2016-10-31T00:00:00Z
It's a simple little rustic cabin in the mountains within easy driving distance of Ljubljana. A walk to the end of the driveway provides a beautiful 180' view of the valley below and a walk out back down a wooded trail leads to a large open pasture where cows occasionally graze. The area is remote, beautifully quiet and great for star gazing. The cabin itself is simple, but has everything you need. It is an older place and the beds & pillows could use updating, but overall it was a nice stay.
James
2015-09-12T00:00:00Z
If you love nature and countryside, this wooden cabin is the right place for you. First of all its charming, and well built with a lot of attention to detail. It is not luxurious but it is very functional and a pleasure to stay in. Most importantly this house is not your tipical tourist listing built for rent, but a family property that was well taken care off by different generations. Makes you feel at home. Big sunny terrace, nice surroundings, and a good location if you want to explore Slovenia by car. The hosts are super nice and helpful. We asked for hiking recommendations in the area and they provided a lot of useful material. Overall positive experience and we would be glad to come back to this unique listing! Thanks, Domen & Tamara.
Marija
2017-02-18T00:00:00Z
The cabin is a perfect place to enjoy the nature. It was little bit difficult to find it but the place is really nice and authentic! :)
Carlos & Lucia
2015-07-31T00:00:00Z
The host canceled this reservation 16 days before arrival. This is an automated posting.
Johnny
2015-06-13T00:00:00Z
Grandma's little house was wonderful! It was far more spacious than you'd ever expect with two good-sized bedrooms, a large living room/dining area, plus separate kitchen. The house is full of character and really has a personality, and although it is rustic, it was very clean and tidy. The location was also excellent with a perfect combination of privacy without feeling isolated. The house was well-stocked with the basics if needed (oil/salt/sugar/etc). Absolutely charming place that we'd love to stay in again--highly recommend it for a really genuine and unique stay.
Katrina
2015-06-10T00:00:00Z
We stayed at grandmas little cottage for 5 nights. Had such a peaceful time and the place is in a small mountain town with beautiful views! Perfect place away from the city and surrounded by beautiful nature. It was about a 30 min drive to the city centre. A car is necessary if you are staying here. Domen and Tamara were kind enough to meet us at the cottage and left us a little present since we were on our honeymoon! The cottage is very rustic and cute. We loved our time there and would definitely recommend this place.
Aradhana
2016-09-14T00:00:00Z
Typ pokoje
Celý dům/byt
---
Typ nemovitosti
Srub
---
Ubytuje
5
---
Ložnice
Šenturška Gora, Kranj, Slovinsko
Vysoko v horách (1600 metrů) najdete tento magický chatu. Pokud chcete jen relaxovat, pokud máte rádi hory, pokud máte rádi ticho, pokud se vám líbí hikin Mé místo je vhodné pro páry, rodiny (s dětmi), velkých skupin a chlupatými kamarády (zvířata).
Chatky se svou jedinečnou architekturou Velika planina a veškeré pohodlí domova ... Turistický komplex byl postaven podle plánů architekta Vlasto Kopáč (1964), Chatky jsou postaveny v jedinečném stylu a jsou v jejich vzhledu velmi podobné na pastevců domečky. Na samém počátku během komunismus turistickém místě byl použit zaměstnancem společností z Kamnik a jejím sousedství. Po vyhlášení nezávislosti Slovinska (1991) byly více či méně všechny chaty prodán jednotlivce. A nyní, po 20 letech, snažíme se restartuje a dát chalupy zpět na turisty.
Velika planina je známá pro mountainhiking a mountaincycling. O krátké výlety najdete veškeré informace o (URL HIDDEN)
Typ pokoje
Celý dům/byt
---
Typ nemovitosti
Chalupa
---
Ubytuje
12
---
Ložnice
Velika Planina, Kamnik, Slovinsko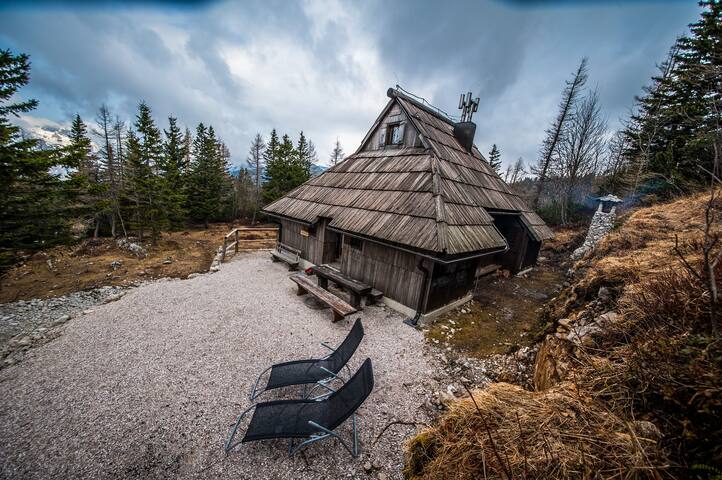 Chata leží v srdci alpském údolí Zgornje Jezersko, obklopen vrcholky hor dosáhl více než 2500 metrů high.It tichý a teplé útočiště pro ty, kteří chtějí klid a čerstvý vzduch, pěší turistika a jedny z nejúžasnějších pohledů přímo ze svého pokoje. Je také vybaven vysokorychlostním optického vlákna internetu / wi-fi.
Chata má 2 ložnice (4 lůžka) s balkonem, obývací pokoj s místem pro odpočinek (1 lůžko) a jídelním stolem s měkkým posezením kolem něj (což může nakonec být použit jako lůžky, stejně), kuchyň, koupelna a garáž. Tam je dost záchody atd. Pro skladování. Prosím měj na paměti, kabina není ústřední vyhřívaný, uzavřený krb v obývacím pokoji je hlavní zdroj vytápění v chladných měsících, to také dělá romantickou atmosféru. V případě potřeby je vždy předehřát před příjezdem. Je třeba hodinu nebo dvě, aby se zahřát, ale jakmile nastartoval udržuje teplo několik hodin. Jako sekundární zdroj vytápění, tam jsou elektrické sporáky v každém pokoji. K dispozici je 6 dní v týdnu otevřený trh 5 min pěšky, 2 restaurace (10 min) a další restaurace u jezera (20 min) v blízkém okolí. POLOHA a tranzitních I přesto, že by se dalo říci Dům je ve středu obce, má velmi pěknou polohu, je obklopen malými lesa, který dělá to velmi soukromé a výhledem na Alpy, který dává některé úžasnými výhledy z první věc, v dopoledních hodinách, kdy slunce Lits nahoru horách, jako svíčky, do zapadajícího slunce. Spousta tras pro snadnou pěší turistiku, moderní pěší turistiku a horolezectví. V zimě je to speciální místo pro běžecké lyžování, sníh posuvné ... (Když je sníh samozřejmě). K dispozici je veřejná doprava do prvního velkého města Kranj a také hlavního města Lublaně. Stanice je 5 min chůze. Výlet do Lublaně trvá 1 hodinu autem / 2 hodiny autobusem. Autem se můžete dostat do dalších krásných koutů Slovinska: Bled (1 hodina), Kranjska Gora (2 hod), Postojna (1,5 hod) a protože Rakousko je 10 minut jízdy, počítat, že příliš. Tam je největší slovinské lyžařské středisko Krvavec nachází v bezprostředním sousedství (45 min autem). Další možnosti: Fast optickými vlákny Internet Hora, turistika příručku (psát pro více informací ...) Jízda na kole příručku (psát pro více informací ...) Velmi dobrý slovinský vína z vinného sklepa v jihozápadní části Slovinska (psát pro více informací ...) ..please (SENSITIVE CONTENTS HIDDEN) Jezersko Pro více informací o údolí.
Zgornje Jezersko je klidné alpském údolí. V kabině se nachází v malé vesničce s přátelskými obyvateli. I když je kabina v obci je stále poměrně soukromé, a to zejména v teplých obdobích, kdy tam je spousta zeleně kolem ... Pro více informací o okolí je (SENSITIVE CONTENTS HIDDEN) Street view k dispozici.
Communication with Mitia beforehand was fast, friendly and clear. The cabin itself was just as cozy and picturesque as the photos online suggested and SUPER CLEAN. Since we prepared our own meals, I was happy to find basic equipment and ingredients/spices in the kitchen. For everything else, there was a shop close by. It was freezing cold outside during our stay, but the oven in the living area was already running when we arrived and kept us perfectly warm during our stay. All in all, this is a perfect little cabin for quiet days surrounded by a beautiful landscape. Great hiking opportunities, which Mitia's father kindly recommended to us on our first day. Thank you, Mitia & Klemen, I hope we make it to Zgornje Jezersko again some time during the summer!
Lisa
2017-01-08T00:00:00Z
Très agréable séjour chez Mitia. Rien ne manque de le chalet qui offre une vue superbe sur les montagnes. Belles balades dans les alentours, excellent week end en famille. Thank you Mitia !
Stéphanie
2016-07-19T00:00:00Z
Le chalet est très agréable pour une famille de 4 personnes avec une vue magnifique sur les montagnes. Il est très bien équipé pour les séjours longs. Les randonnées à proximité sont nombreuses et il est possible de rayonner sur une grande partie du nord de la Slovénie à partir de ce point. Mitia était très réactive et prévenante pour préparer notre arrivée et ses parents ont été formidables lors de notre arrivée et de notre départ. De plus il ne faut pas hésiter à gouter le vin local ! Merci pour cet agréable moment !
Thierry
2014-08-05T00:00:00Z
Alles ist genauso einladend, freundlich, natürlich und gemütlich wie es die schönen fotos versprechen. das haus ist bestens ausgestattet, der blick auf die steiner alpen und die nähe dorthin sind atemberaubend, für bergwanderer, kletterer und naturliebhaber bestens. in der nacht rauscht der bach, wir haben herrlich geschlafen und milch muss man auch nicht unbedingt selber mitbringen aber das ist dann eine andere geschichte... alles wunderbar, gastgeber freundlich und hilfsbereit, unbedingt wein bestellen. wir kommen sicher wieder.
Oliver
2014-08-08T00:00:00Z
Thank you for a truly lovely stay! The views were amazing, the house cosy and warm, a fully equipped kitchen and comfortable bed - we could not have asked for more. Lots of hiking opportunities and we even went skiing one day. I highly recommend this place!
Julia
2016-03-03T00:00:00Z
Five adults and two little kids traveld 1000 km with a bad wetherforecast to northern slowenia. But the worries what we should do in the small cabin when it`s raining all day were causeless. The house is very beautiful. When the sun is shining the view to Grintovec is amazing and when it was raining the wood stove kept us warm and cosy. Mitias father Klement was very nice and we felt very welcome. The greedy little cat already waited to be fed when we arrived. We got fresh milk from a farm and the nice lady showed our kids around. We had some nice trips to the Mountains. Still there is so much left to do in this beautiful place!
Christoph
2014-08-25T00:00:00Z
We had a great time staying at this beautiful cabin. The heating is via a wood fire and as long as you keep it going it's nice and cosy. The apline views were fantastic and we enjoyed the snow! The location is great and we enjoyed a drive into Austria and skiing in the Slovenian Apls a short drive from the cabin!
Milly
2017-02-09T00:00:00Z
The cabin is fantastic, in a beautiful location with all the facilities you'll need and with plenty of romantic and homely features. The view from the garden and bedroom balcony is beautiful. We were welcomed by the host's father by the lake and he was so friendly and welcoming. The location is great for walking and cycling and it's not too far to drive to Bled, the national park and lakes, rafting etc and Ljubljana. It was much easier having a car although there is a local shop and occasional buses so you could probably manage without. We had a fantastic time - thanks guys!
Alex
2015-08-09T00:00:00Z
Typ pokoje
Celý dům/byt
---
Typ nemovitosti
Srub
---
Ubytuje
5
---
Ložnice
Zgornje Jezersko, Slovinsko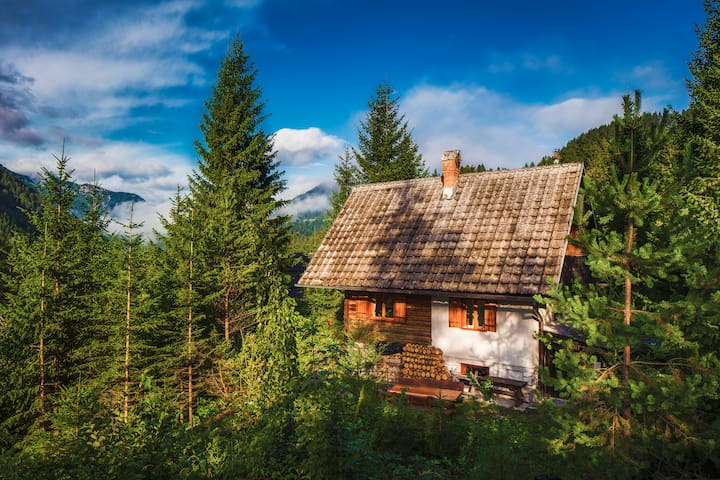 Mé místo je dobré pro páry SOLO dobrodruhy, zejména pro obchodní cestující a rodiny (s dětmi).
Probudit a chill out na terase, a prozkoumat les a přírodu na dosah ruky. Nachází se pouze 15 min jízdy od Lublaně, takže můžete mít to nejlepší z obou světů. Můžeme navrhnout aktivity v oblasti Lublaně a Slovinska.
Mi barrio es el lugar más bonito del mundo ... para mí, pero Te va a gustar también, estoy seguro!
I only can give 5 star rating to the place as there is no option for 6... The flat is really spacious and very comfortable. Clean, bright ( but can make dark with blinds, lovely scenery, super close to Ljubljana, literary 20-25 drive to the Ljubljana castle and still away from the city buzz. Darko and his family are the perfect hosts - warm, caring, with a great sense of humor. Few times we needed advice or something small - they were there to help out. In a summary - the flat is an excellent value for money and our famiy of 5 felt very comfortable and are very grateful! We will be definitely going back when visiting Slovenia again!
Asen
2017-01-03T00:00:00Z
Vse je bilo super. Stanovanje takšno kot na slikah in super gostitelj.
ivan
2016-12-17T00:00:00Z
If you have a car, this is a very good place. The apartment is on the 2 floor, very good very pleasant scenery. Room is very large, in addition to the living room, there are 3 bedrooms, spacious and clean room. The landlord is particularly good, the yard is also very large, kitchen and bathroom are very clean, very comfortable to use. Hope you do not miss this good house, once again expressed gratitude!
ZHIXIAN
2016-11-19T00:00:00Z
This is great for those looking for a big, clean and relatively well-equipped apartment, not too far away from Ljubljana (15 min drive), and for a reasonable price. Darko was very flexible and always reachable! If you want to cook, the kitchen is furnished but you should bring your own spices.
Nico
2017-01-08T00:00:00Z
Typ pokoje
Celý dům/byt
---
Typ nemovitosti
Byt
---
Ubytuje
4
---
Ložnice
Spodnje Prapreče, Domžale, Slovinsko
Vysoko v horách (1600 metrů) spočívá to kouzlo chatu. Pokud chcete jen odpočinout, pokud máte rádi ticho, pokud máte rádi magické pohledy, pokud máte rádi pěší turistiku, chcete-li horskou cyklistiku, než Velika planina v Kamnik Alp je tím pravým místem pro vás.
Vysoko v horách (1600 metrů) spočívá to kouzlo chatu. Pokud chcete jen odpočinout, pokud máte rádi ticho, pokud máte rádi magické pohledy, pokud máte rádi pěší turistiku, chcete-li horskou cyklistiku, než Velika planina v Kamnik Alp je tím pravým místem pro vás. Vysoko v horách leží kouzelný chata s jedinečnou architekturou Velika planina se všemi pohodlí domova. Objevte starověký život Shepards. Užijte si i další outdoorové aktivity, jako je pěší turistika nebo sněhu chůzi. Podrobnosti o vnitřku boudy: V přízemí je malá lobby sundat boty. Z haly vstoupíte do hlavní místnosti s kuchyňským koutem a velkým jídelním stolem. Ve výklenku je patrová postel. V patře se nachází noclehárna s 6 matrace. V přízemí se nachází také skladování a koupelna se sprchovým koutem, toaletou a umyvadlem. Venku je také dřevník. Okolí je tranquile, že je fantastický výhled na Kamnik Alp a Lublani. Co dělat? Velika planina je úžasné v letním období. Za prvé - musíte navštívit osadu pastevci lidové. Tam je také muzeum Shepards života a Snow Marie kaple. Osada je oživen každý červen, kdy pastevci vrátit do osady a mají tendenci k jejich dobytek do září. Jsou rádi, že Vás pozvat na ochutnávku svých mléčné výrobky nebo zkusit oběd typický pastevci lidové; kyselé mléko a natvrdo kukuřice kaše. Máte-li rádi pěší turistiku - může být jeden den výlet do nejvyšších hor v Kamnisko - Savinjské Alpe (lezení na Planjava - 2394 metrů), nebo pro mladší děti navštíví louka obec Dol (jedna hodina chůze downhil a než chůze na horských Konj 1803 metrech ( 2 hodiny chůze). Nedotčené přírody: byste měli navštívit Veternica a Dovja Griča caves.Veternica jeskyně je nejpopulárnější přírodní památku úroků z Velika planina. Je sestaven z jeskyní Malá JAMA a Velika Veternica, která vznikla, když je střecha zřítila se v důsledku rozpojování hornin. Jeskyně Velika Veternica je více populární. Je známý pro své skvrnami sněhu, které zůstávají v jeskyni i během léta. Horská cyklistika: K dispozici jsou jasně označené cyklistické značky, označující jednotlivé kamenné silnice a lesních cestách. Můžete si vybrat mezi tratí různých délky a náročnosti úrovních. Všechny trasy sestup zpět do údolí říčky Kamniška Bistrica. Jeden z nich končí v Terme Snovik, v údolí Tuhinjska doliny. Cyklistické stezky jsou v průměru o 25 km dlouhý. Podrobnější informace a mapa značených tras is k dispozici v pokladně ve vstupním stanici lanovky. Spodní stanice lanovky na Velika planina se nachází v Kamniška Bistrica, jen 3 km před ukončením údolí. Je to 10 km od města Kamnik. Od Kamnik: Doporučujeme, abyste sledovat ukazatele od Kamnik do Kamniška Bistrica- Gornji Grad. Cesta odbočuje vlevo ve městě Stahovica (po 6 km), kde si sledovat ukazatele směru na Kamniška Bistrica a dolní stanici lanovky. Po 4 km, všimnete si parkovací místo na pravé straně a autokabelu stanici na levé straně. Od Mariboru: Doporučujeme, abyste po dálnici A2 / E57. Ukončíte bezprostředně po zpoplatněné stanice Vranského. Cesta odbočuje doprava po několika kilometrech (režie: Kamnik) a budete pokračovat disku údolím Tuhinjska doliny. Přijedete do Kamnik po 20 kilometrech a pokračujte odtamtud (viz návod k směru od Kamnik). Můžete také pokračovat v jízdě po dálnici na výjezdu Krtina a pak postupujte podle značek Kamnik. Cesta vede přes měst Dob, Radomlje a Volčji Potok. Z Jože Pučnika letiště Ljubljana: Jože Pučnika letiště Ljubljana je 28 km vzdálené od dolní stanice lanovky. Pokračovat v jízdě na místní silnici ze směru Ljubljana (sledovat ukazatele Lublaň - Kamnik). Odbočit vlevo po 12 km na křižovatce v Moste a sledovat ukazatele pro Kamnik (pro pokračování své cesty viz instrukce pro směr od Kamnik). Pokud potřebujete kyvadlová doprava z letiště do Velika planina, jsme vám k dispozici. Pokud budete potřebovat jakékoliv informace nebo pomoc během vaší návštěvy, neváhejte mě kontaktovat kdykoliv. Můžeme také zorganizovat pěší turistiku či jiné outdoorové aktivity, včetně jednodenních výletů do hlavního města nebo na pobřeží.
A beautiful house in the middle of nowhere. Just right to reload the batteries. Lots to do but enough to relax. A perfect holiday with wonderful hikes and good tips from the host.
Jürgen
2016-08-07T00:00:00Z
Nice welcome! Well organized. Everything fine.
Erich
2015-07-22T00:00:00Z
The experience on velika planina is unique and so is the cottage. Very warm, with an exceptional view over the mountains. We certainly recommand a visit. Uros helped us a lot with the arrival and providing us the needed information. When you go there, be sure to bring sufficient fresh food (bread, fruits, drinks), because you cannot purchase it, once you are there. and the menu at the only restaurant is very limited.
pepijn
2016-08-25T00:00:00Z
Nous avons passé deux nuits dans le chalet avec nos 3 enfants. Le lieu est magique, la vue superbe et les ballades très agréables. Le chalet est très typique et grand... le dépaysement est total ! Nous avons été très bien accueillis et les contacts avec Uros étaient très faciles et rapides.
jerome
2016-07-29T00:00:00Z
Eine gemütliche Hütte in den slowenischen Bergen. Die Lage und die Umgebung sind einfach traumhaft! Uroš ist ein super Gastgeber. Er war sehr hilfsbereit und die Kommunikation super einfach.
Johannes
2017-01-02T00:00:00Z
Uros is a great host. Communication was great, Uros gave us many information about chalet, destination and arriving to destination. Chalet is very nice, cosy and clean. In chalet you will find all you need for comfort stay. Location is beautiful with stunning nature. We had real winter magic in Uros chalet and I highly recommend it.
Hana
2017-02-12T00:00:00Z
Pour accéder au magnifique plateau de Velika Planina, il faudra laisser sa voiture au parking de la station de télécabine, grimper par télécabine, puis par télésiège, et enfin marcher une dizaine de minutes avant de poser ses valises ! Nous n'étions pas très rassurées à l'idée de laisser la voiture seule pendant plusieurs jours, mais en fait, le parking ne craint rien et vous pourrez profiter pleinement de votre séjour avec cette option. Arrivées là-haut, Uros nous attendait à côté de la location, très bien située. Très accueillant, nous aurons eu, en cadeau de bienvenue, une bouteille de vin slovène et une tablette de chocolat. Uros met également à disposition des vivres de première nécessité, qu'il est possible de consommer en échange d'une pièce à déposer dans une corbeille (prévoir de la monnaie), ce qui est pratique, compte tenu de l'isolement des lieux. Concernant le logement, nous étions dans le chalet Resa, qui n'est pas en photo sur les images, mais qui reste fidèle à l'architecture typique de ces anciens chalets de bergers. Cependant, si vous souhaitez calme et sérénité, certains chalets sont très rapprochés les uns des autres, ce qui était le cas pour le nôtre. Et pour peu que les voisins soient un peu bruyants, cela peut perturber votre séjour sur ces hauteurs slovènes. Demandez donc à avoir plus de précision sur l'emplacement des chalets, car certains sont plus isolés. Autrement, le paysage est à couper le souffle, vous pourrez profiter ici d'une nature préservée, où les vaches entretiennent les plateaux alpins.
Lucile
2015-08-07T00:00:00Z
This is a absolut 5 star get away for people looking for quietness and peace. Unfortunately there was no snow, but this was compensated by long sunny days. The cozy chalet has a south orientation which gives you sun all day long. The fire place heats up the entire place and you can cook and even bake with the heat of the fire place. The kitchen is fully equipped - so you won't miss anything. You can enjoy the nature by walking to the close by Sheppards village or doing all day long hikes. The trails are from easy going to adventurous and challenging. Also you'll find some board games - if you manage to understand the Slovenian cards you can have a nice evening with that. But be aware: the Winnie Pooh puzzle is missing a few crucial peaces ;) As written in the description there is a little restaurant near by but you should be self sufficient. However Uros offers a variety of groceries you can buy at the chalet. Remember to check the cable cabin and chair lift operating hours. Communication with Uros was easy and clear, he responded quickly and answered all questions. The directions where clear and easy to understand. He even provided us with updates on the weather as it was a windy and cold (-19°C) during our stay. To sum it up - apart from the incomplete Winnie Pooh puzzle we had a absolut great stay and will come back for sure. Uros is a incredible caring host and will do everything for your perfect stay. Again, thank you very much Uros!
Dario
2017-01-10T00:00:00Z
Typ pokoje
Celý dům/byt
---
Typ nemovitosti
Chalupa
---
Ubytuje
8
---
Ložnice
Velika Planina, Kamnik, Slovinsko
Cozy and colorful apartment in a new house, just a 5 min drive to the airport (LJU) and to the ski resort Kravec. We are located in a green and peaceful town with a nice mountain view. The apartment has a private entrance and a covered terrace/patio.
My apartment, equipped with its own entrance and coverd patio, has a great view of the mountains from the garden. It is family-friendly and the location ofers excellent hiking possibilities also perfect for all kinds of sport activities like skiing, cycling, downhill cycling, paragliding ...The apartment suits any kind of guests, couples, solo adventures, business travellers...We are located just 25 minutes from Ljubljana city centre (the capital), 30 minutes to lake Bled and 5 minutes from the airport and ski resort Krvavec. Despite being close to the airport, our place is in a really silent and peaceful small town perfect for rest and relaxation. The apartment is surrounded by a huge garden and it is fully furnished and equipped to modern standards. The size of the apartment is 40m2 KITCHEN: *Fridge with freezer *Water heater *Stove with an oven *Microwave *New dishes *Coffee, tea, sugar, salt, oil, ... LIVING ROOM: *TV *Dining table *Sofa bed *Bunk bed (90×200 cm) BATHROOM: *Shower *Toilet *Heated floor *Towels, hair dryer, toiletries ... BEDROOM: *Queen size bed *Wardrobe *Table with chair *Clothes hangers *Linen & towels are provided OUTSIDE THE APARTMENT: *Patio *Grill *Terrace with a table and chairs *Garden *Great view
The apartment is located in a peaceful, quiet and green neighbourhood on the edge of the small town named Cerklje na Gorenjskem. The supermarket is 50 meters from my house, the post office, pharmacist, bus station, the ATM, the bank and doctor are 200 meters away and there are a couple good restaurants nearby. The ski resort Kravec is just a 5 minute drive away and its purpose in the winter is self-explanatory, whereas in the summer you have a lot of different activities to choose from downhill cycling, hiking, mountaineering, parachuting and they also recently build an adrenaline park. In Cerklje there are a lot of marked cycling routes. But Cerklje are not just a village by a ski resort. There are a lot of cultural and historic sights to see. We have castle Strmol, the 10th largest church in Slovenia, Borštnik's house, Hribar's house, "Petrovčeva" house and Adergas monastery...
Amazing apartment, very clean and cozy :) location is perfect. Maja and her family is very helpful, friendly and lovely people. Thank you again for everything you are amazing:) We will be back!:)
Polina
2017-02-28T00:00:00Z
Maja was an excellent host! She even let us stay the last day after regular check out time. The apartment was clean and cosy, with all you need. Just 5min drive from Ski resort Krvavec. I would book this place again, no doubt.
Maja
2017-02-12T00:00:00Z
Great host with great location and very friendly atmosphere. Great getaway place for hiking and biking as well as winter sports.
Roman
2017-01-15T00:00:00Z
Lovely place, great host! Extremely convenient location for skiing at Krvavec, literally 5 minutes from the mountain and 5 from airport, supermarket is few steps away, plenty of places to eat within walking distance. Maja and her family were very helpful and there is everything you need in the apartment, plus bathroom has heated floor!!!
Vitaliy
2017-01-31T00:00:00Z
Maja and her family are one of the kindest hosts I ever met. Apartment very clean, tidy and cosy, 10 min away by car from Ljubljana airport. I strongly recommend it!
Duc Hoang Lan
2017-01-26T00:00:00Z
Staying at maja's place was great. Home was very nice and warm like it's owner's. Maja and her husband were very hepful and glosbe. We will come back again.
Zoran
2017-02-19T00:00:00Z
The host canceled this reservation the day before arrival. This is an automated posting.
Farnoosh
2017-04-04T00:00:00Z
It was one of our best stays! Very nice, stylish apartment in a beautiful place, good location, nice view, and lots of goodies such as lovely cake prepared by Maja, Chinese tea, Slovenia guides, and most important - amazing, welcoming hosts. A place you want to return to! :)
Dima & Yulia
2017-04-02T00:00:00Z
Typ pokoje
Celý dům/byt
---
Typ nemovitosti
Byt
---
Ubytuje
4
---
Ložnice
Cerklje na Gorenjskem, Kranj, Slovinsko
TOURIST WINDOW OF SLOVENIA We are situated in the centre of Slovenia in quiet countryside which provides a good starting point for a journey across Slovenia and for sightseeing. Ljubljana is 18 km Airport Ljubljana is 3 km, Ski center Krvavec 6km, Bled 30km. Our place is close to public transport and the Airport Ljubljana. Our place is good for couples, solo adventurers, business travelers, and families. We organize cheap shuttle from/to Airport. We offer rich selfservice breakfast for 4,5€.
Jana's place is very cosy and comfortable. She was such a gracious host and offered to pick us up very late in the night from Kranj and dropped us off to the airport early in the morning so that we could catch out flights on time - for a nominal fee. The place is a little difficult to access by public transport but I think Jana helps to mitigate those problems, as mentioned above. Jana's place is in a serene and secluded setting that is just 3km from the airport - perfect if you are arriving late from the airport or leaving early to fly out of Ljubljana like we were. It is also very picturesque with mountains and fields all around and a farmhouse feel. The house is very lively with travelers- families and backpackers from all over the world. We had a very short stay but it was just right for us. Highly recommend!
Aparna
2016-06-26T00:00:00Z
Very nice accommodation with ready access to the airport. Host provided transportation to the airport for an early flight.
Paul
2015-04-25T00:00:00Z
A lovely stay with a very nice room and Jana and her husband were extremely helpful and nice. Good breakfast too.
Emily
2016-06-11T00:00:00Z
Jana and her husband were very nice and accommodating. They picked us up and dropped us off at the airport for a very small fee. The room was very clean, had everything we needed, fast wifi. You receive a free welcome drink when you arrive and breakfast available in the morning. Overall wonderful experience and would recommend to anyone!
Andy & Sarah
2015-07-23T00:00:00Z
Great hosts, beautiful rimm, and a very nice setting. Thank you.
Patrick
2016-10-03T00:00:00Z
The place was lovely, and Jana and her husband were really helpful. The view from the balcony was amazing. They picked us up from the airport and the breakfast was really nice. Would definitely recommend!
Ray
2016-08-29T00:00:00Z
Late arrival but great host as always.
Paul
2015-10-02T00:00:00Z
Everything good
Henry
2017-01-10T00:00:00Z
Typ pokoje
Soukromý pokoj
---
Typ nemovitosti
Penzion (B&B)
---
Ubytuje
2
---
Ložnice
Cerklje na Gorenjskem, Slovinsko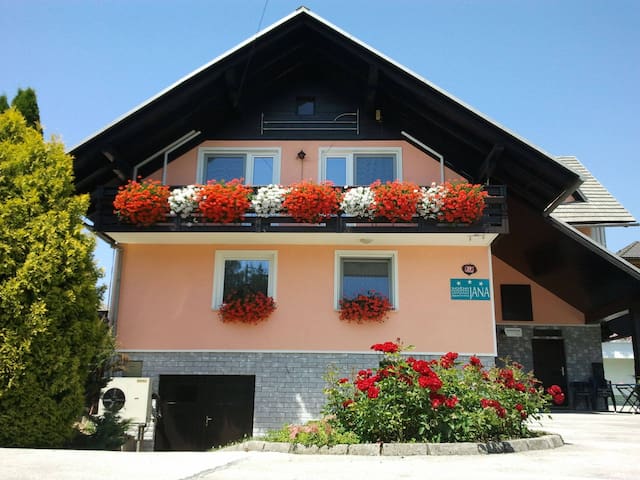 Apartma Bela is situated in the heart of Robanov kot – the most well preserved glacial valley in Solčava region. Calm and cosy suite in the scenic valley offers the perfect starting point for hiking, mountaineering or cycling. Bedroom with double bed, a bathroom with a shower, a large living area with a sleeper sofa , TV, and a well equipped kitchen. The vilagge Solčava with grocery store, gas station and tourist information Centre is in 4km distance.
Typ pokoje
Celý dům/byt
---
Typ nemovitosti
Prázdninový dům
---
Ubytuje
4
---
Ložnice
Robanov Kot, Mozirje, Slovinsko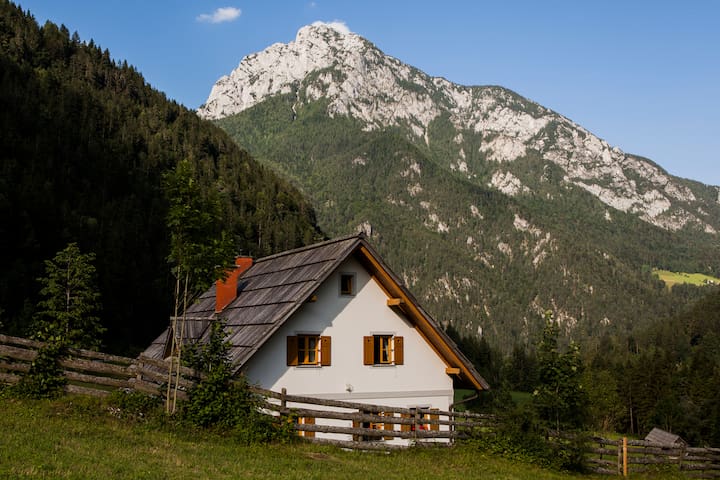 NaturPlac ''Na Škali'' is one of those special places where you will end your activity-packed day by gathering with your family or friends around a fire and build new bonds with other nature lovers. The camp is located near the Alpine river Savinja, not far from the amazing Logar valley. It will delight families with young children, people who love peace and quiet and those who like some adrenalin in their life as well. Great place for your unforgettable adventures in Slovenia!
The NaturPlac is open to socialising and cooperation. Our strength and obligation lies in the fact that we respect natural and cultural values. With the help of good practice, consistent education, learning and awareness-rising not only of the providers of such services but also of the nature custodians, nature protection supervisors, nature's interpreters, tourist workers and others in charge as well as general public are those that will grant the only correct, sustainable (tourist) future. In our NaturPlac we offer you great adrenalin sports: Sports water: Canyoning, Rafting, Kayaking, Fishing Sports air: Sky diving Sports Land: Hiking, Biking, Climbing, Caving, Mountaneering
- the special thing is the river beach with the jump spot - Smrekovec Shelf - Landscape Park - Rafting Collection - The Needle rock - Snow Cave - Cuc Waterfall - 90 meters high Rinka Waterfall - Healing mineral water
The camping is gorgeous and very quiet (when we were there in September). The owners are very helpful about giving information and you can ask them making traditional breakfast and dinner as well. The location is great for outdoor activities such as hiking, walking, biking and sports like rafting or canoeing. The campsite has access to two beaches to a river. However, when we were there, the water was so cold you might not want to swim there. Overall we had a great time here and would definitely recommend.
Isabelle
2016-09-14T00:00:00Z
Toller Ort mit außergewöhnlicher Atmosphäre. Schön, dass einem heholfen wird, verschiedene Aktivitäten ohne Aufwand zu planen.
Ronny
2015-08-12T00:00:00Z
Endroit calme et reposant. Accueil chaleureux attentionné et serviable.
Mylene
2016-08-09T00:00:00Z
Beautiful place -- pictures as described. We enjoyed relaxing in hammocks next to the crystal clear river. Great hosts; Gasper, Dusan and Aleš were all so welcoming and hospitable. Thanks for a great stay, guys. You're on to a great thing.
David
2015-06-07T00:00:00Z
We loved our stay with Gasper and Ales. Gasper waited for us and picked us up from the bus station- which is always a big relief when you don't know where you are! There are so many things to do at Naturplac- we loved being near the river and the nice walks in the mountains. This was my first experience camping and I was so impressed with how clean and lovely it was! The kitchen area is very nice and the blended teas were fantastic. We would consider our stay here to be the highlight of our holiday in Slovenia. We would give it more than five stars if we could!
Nicole
2014-07-17T00:00:00Z
This is the best experience of camping we've ever had. The campsite is by a wonderful babbling river, the accommodation is brilliantly well designed and comfortable and the food was simple, local and delicious. Ales and the other residents had gone to enormous trouble to make the place relaxed and comfortable - little touches like hammocks in the trees and places for fires. The facilities for cooking and making tea or food were shared in a light airy space where people could be as sociable or not as they pleased. Really highly recommended. One of the first hundred airbnbs.
KATHERINE
2015-08-07T00:00:00Z
Accueil chaleureux autour d'un verre de bienvenue après avoir découvert le camp et ses installations (les huttes -sous lesquelles se trouvent les tentes dotées d'un matelas et de housses de couettes-, coin cuisine en pleine nature, repas sur une grande table en extérieur, coin hamac... des airs de camp de vacances qui sont très agréables.) C'est un très bel endroit au pied de la rivière où il est à la fois possible de se reposer ou de partager des moments avec notre hôte (repas, discussions autour du feu le soir..). Glasper est très attentionné ce qui apporte un réel plus au charme des lieux. De plus, son emplacement permet aussi d'aller pratiquer de nombreuses activités (canyoning, vélo, randonnées à Logorska Dolina...).
Aliénor
2014-09-18T00:00:00Z
Wow! Wonderful location, very friendly people, nice and cosy tents, warm campfires (to fight away the rain)... When you go to Slovenia, make sure you make a stop here!
Lise
2016-08-12T00:00:00Z
Typ pokoje
Soukromý pokoj
---
Typ nemovitosti
Chatka
---
Ubytuje
2
---
Ložnice
Primož pri Ljubnem, Slovinsko
Farmhouse Štiftar is located on the foot of the beautiful mountain Raduha, halfway between the Logarska Valley and the valley Robanov Kot. Bright and spacious rooms are newly furnished and feature a cable flat-screen TV, each one has its own bathroom
Farmhouse Štiftar is located on the foot of the beautiful mountain Raduha, halfway between the Logarska Valley and the valley Robanov Ko. Bright and spacious rooms offer free Wi-Fi, while a wellness area is available for the guests. Rooms are newly furnished and feature a cable flat-screen TV. Private bathrooms provide a shower. There is also a shared dining area guests can use. You can enjoy a mountain view and a river view from all the rooms. At Farmhouse Štiftar you will find barbecue facilities and a shared terrace. There is also a children's playground on site, while guests can enjoy cycling, hiking and table tennis nearby. The property offers free parking. Bikes can be rented on site, while Nordic walking lessons can also be enjoyed. The property is a great starting point for excursions in Solčavsko region. Guests can also visit the fantasy Land of Dwarfs located in the immediate vicinity of the Štiftar Farmhouse. Pubs and restaurants can be reached in a short walk. The property offers a Finnish sauna and a hot tub, where guests can relax and enjoy the views of beautiful surroundings. The farm stay is 60 km from Ljubljana Jože Pučnik Airport. Interaction with Guests
Katja was a great and attentive host. she provide us with everything we needed and made sure we had an enjoyable stay. The room was really clean and cozy.
Ani
2016-08-20T00:00:00Z
Excellent location. Quiet, cozy and clean room.
Michał
2016-07-22T00:00:00Z
We had a pleasant weekend in Solčava! The rooms are as described, brand new, clean and warm. Since there were some other rooms free, Katja offered us a room upgrade for free, so we stayed in more spacious apartment. The house is just few hundred meters away from village centre, where you can go for a beer or dinner. A tourist centre is located very close. Also, there are many things to do around so don't hesitate and visit Solčava!
Bert
2016-02-01T00:00:00Z
Katja was a wonderful host! She gave us bigger apartment just because she was not there in the morning to make us breakfast, so we would be able to make it on our own. The apartment was clean, spacious and bright. The town of Solcava is cute and we had great pizza and pancakes in the restaurant nearby.
Jaime
2016-09-20T00:00:00Z
Place was really clean and nice. Host is very kind and willing to help with anything. Breakfast is Royal with all kind of food and tea from the surrounding meadow plants. Will highly recommend.
Andrej
2016-06-06T00:00:00Z
Typ pokoje
Soukromý pokoj
---
Typ nemovitosti
Penzion (B&B)
---
Ubytuje
2
---
Ložnice
Solčava, Mozirje, Slovinsko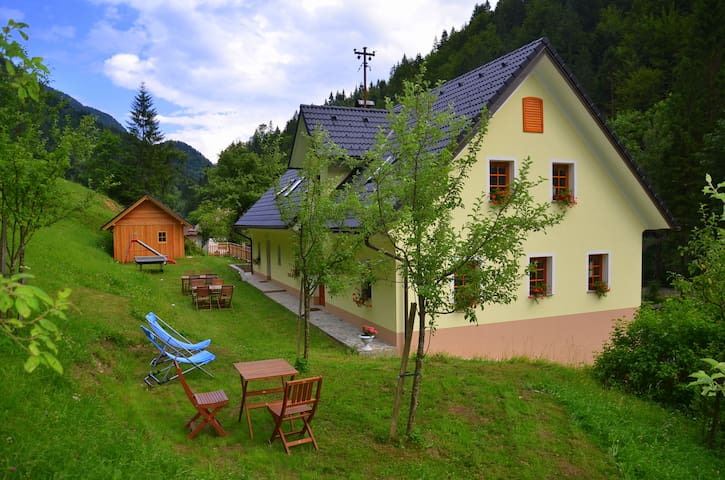 Mein Platz ist an Wald in der Nähe. Sie werden meinen Platz wegen des Friedens, der Natur, Stille, saubere Luft, die Aussicht, die locaton lieben. Mein Platz ist gut für Paare, Solo-Abenteurer, Geschäftsreisende, Familien (mit Kindern) und pelzigen Freunde (Haustiere). Andere Einrichtungen im Ferienhaus KASTA gehören ein Grill. (URL HIDDEN) Ljubljana ist 33 km von der Hütte KASTA, während Bled 46 km von der Unterkunft entfernt ist. Die Gegend ist beliebt für Angeln und Wandern.
Die Hütte KASTA in auf einem Hügel gelegen, so haben Sie eine schöne Aussicht!
Neza greeted us kindly and there was a garden outside for the host. The cottage was adorable! Her garden was organic and didn't have any chemicals added to it, so I thought it was very natural and green. she also gave us homemade salami, bread and cheese, and the cheese wasn't salty at all and they made it wonderfully. we loved the garden, because the tomatoes were ripe and red than any other tomato I'd seen. delicious too! the raspberries were very ripe, too. Thank you so much! This cottage was better than ever in my opinion. I wish I can come back again. :D
Andy
2016-10-10T00:00:00Z
The place is amazing. The cottage is located above the village and the view is amazing. The cottage is huge and can easily fit for a famliy of 5-7. The hosts did evry thing to make us feel wellcome and comfortable. Thank you for an amazing weekend.
bar
2016-09-18T00:00:00Z
Typ pokoje
Celý dům/byt
---
Typ nemovitosti
Dům
---
Ubytuje
6
---
Ložnice
Luče, Mozirje, Slovinsko
Ma place est à proximité du centre ville, des restaurants et des restaurants, et de superbes vues. Vous allez adorer ma place à cause des gens, l'ambiance, et l'espace de plein air. Ma place est bonne pour les couples, les aventuriers en solo, et les voyageurs d'affaires.
We were very warmly welcomed. everyone was very friendly and the area is beautiful! The apartment was nice and clean. However, the only minus was that our room was above the bar and quite noisy so a little difficult to sleep.
Martine
2016-08-04T00:00:00Z
Typ pokoje
Soukromý pokoj
---
Typ nemovitosti
Byt
---
Ubytuje
2
---
Ložnice
Luče, Mozirje, Slovinsko
Pro zobrazení celkové ceny zadej termín. Mohou být přidány další poplatky a daně.