My place is close to the airport, beaches, malls, great views, restaurants and dining, the beach, family-friendly activities, nightlife. My place is good for couples, solo adventurers, and business travelers. It is very modern, clean, warm, and convenient.
It is very modern, clean, warm, spacious and convenient. Guests have access to a spacious bedroom, a personal bathroom, living room, kitchen with washer and dryer.
I love the fact that this community is gated-I can get off a flight (no matter how late), park my car anywhere in my complex, and feel safe walking solo to my door. My location is convenient, close, and central to all parts of Tampa. In addition to all that it has a modern look to it that I feel is important.
Jessica was one of my friendliest hosts. She always wanted to cook for me and tried many times to convince me to go out on some adventures in Tampa. I hope I get to stay with her again in the future!
Bradasaurus
2017-02-25T00:00:00Z
Great stay, close to everything I needed. Jessica was an excellent host.
Dan
2017-03-20T00:00:00Z
Jessica's place was clean and warm. It is conveniently located near restaurants and there are several beaches to choose from close by. I truly enjoyed my getaway!!
Kammi
2017-03-22T00:00:00Z
Jessica is such a nice and friendlly host and her place was very clean and well kept in a great neighbourhood!
Brian
2017-01-10T00:00:00Z
Typ pokoje
Soukromý pokoj
---
Typ nemovitosti
Byt
---
Ubytuje
2
---
Ložnice
Westchase, Florida, Spojené státy
My place is close to Airport, clearwater beach, downtown Tampa,, the city center. You'll love my place because of the outdoors space, the ambiance, over 10 restaurants, even Starbucks, Big pool with BBQ, and GYM, the neighborhood, the people.
Typ pokoje
Celý dům/byt
---
Typ nemovitosti
Řadový dům
---
Ubytuje
4
---
Ložnice
Westchase, Florida, Spojené státy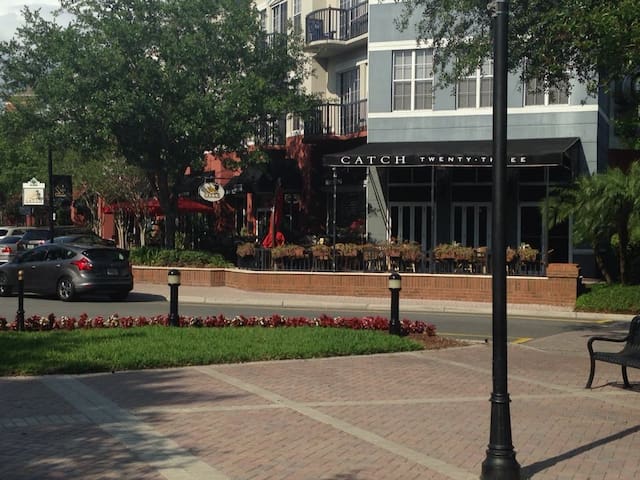 This is a quiet room in a 2/2 3rd floor apartment with a private bathroom. It's in a beautiful, friendly neighborhood in Westchase. Lots of parking available. Everywhere is within a 30 minute drive, including the beach, malls, and Downtown Tampa.
In the room, you'll have a queen sized bed, a desk, a dresser, and plenty of closet space. You'll also get a very spacious bathroom with a garden tub! There's a TV in the room with a Roku, which lets you watch Netflix, Hulu, HBOGo, etc.
Our apartment is in a quiet, friendly, gated community. The whole area is very residential but there are also many restaurants and bars to enjoy.
Gustavo and his fiancé were extremely accommodating and friendly. They opened their home to a stranger even though they had to leave for the weekend. I absolutely would stay there again and highly suspect I would spend time with the host if they were available
Lawrence
2016-08-15T00:00:00Z
The stay was great. We were able to come and go without having to worry about disrupting the homeowners. Everything was set up and ready to go when we got there. All amenities were awesome and clean. We would definitely stay here again.
Jessica
2017-03-29T00:00:00Z
Thank you, Luis & Alexis!! We soooo appreciate your warmth, kindness & hospitality. We felt so comfortable & "at home" in our own little space with all of the conveniences-nice size B/R with private bath, walk-in closet, Netflix/large flat-screen TV, use of kitchen/great coffee...all in Westchase, an attractive location of Tampa with many restaurants. We could not have asked for more! Indie & Jules
Nancy
2016-09-26T00:00:00Z
This stay worked out extremely well. The hosts were very nice and friendly people. The place is clean and comfortable. The location is good, in between downtown Tampa and Clearwater beach, making both accessible by car. I would surely recommend staying here.
Ravi
2017-01-22T00:00:00Z
This airbnb is just perfect. It looks like on the pictures. Everything was clean and the check in was easy. Even if we didn't get the chance to meet Gustavo and Alexis, it was easy to communicate with them and they were really helpful. We would highly recommend this airbnb! :)
Tim
2017-03-12T00:00:00Z
Luis and Alexis were great hosts with a homely comfortable apartment. Spacious and quiet. They were inviting and friendly. My now fiancé proposed to me in Tampa and i couldn't have asked for a better experience and they were so happy for us i couldn't of asked for anything more.! Fun people and very easy to get along with. I hope we cross paths again sooner rather than later! Thank you again so much! Declan and Lauren
lauren
2016-12-23T00:00:00Z
It was my second trip to stay with Gustavo and his wife Alexis and as expected, we had a great time- it's a beautiful space to share and location is handy to everywhere in and around Tampa, St Pete's, Dunedin- you name it.
Stephanie
2017-03-03T00:00:00Z
My second stay. Highly recommended
ira
2017-02-17T00:00:00Z
Typ pokoje
Soukromý pokoj
---
Typ nemovitosti
Byt
---
Ubytuje
2
---
Ložnice
Westchase, Florida, Spojené státy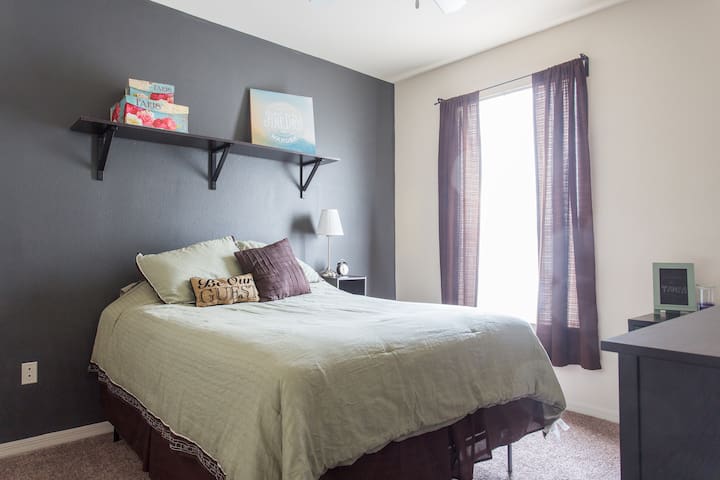 My place is close to shopping, citrus mall, restaurants and dining, family-friendly activities, the beach. You'll love my place because its fairly roomy and good to stay for the views, the ambiance.
Typ pokoje
Společný pokoj
---
Typ nemovitosti
Byt
---
Ubytuje
1
---
Ložnice
Westchase, Florida, Spojené státy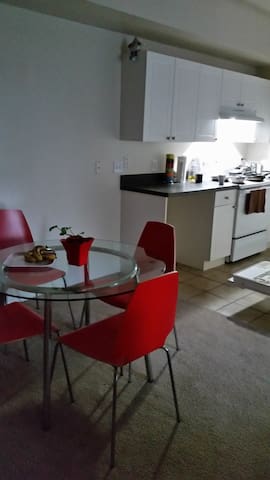 Enjoy our tropical Mediterranean one bedroom apartment located on a 2 acre estate in Tarpon Springs, FL. We are only a 40 min. drive from Tampa airport and only minutes to beaches, dining, and the Pinellas Trail. The Pinellas Trail is a 40 mile trail that reaches from Tarpon Springs to St. Petersburg. I'm sure you will love our apartment.
This one bedroom one bath apartment is located on a tropical 2 acre estate on beautiful Salt Lake in Tarpon Springs, FL. You have a full eat in kitchen with table and four chairs. Full sized living room with a queen sofa bed and TV. Bedroom has a queen sized bed, night stand, dresser, and closet. Full sized bath room with bath tub and shower. You also have a large screened in porch with loveseat and two chairs. We are about a 1/4 mile from the Pinellas trail (which is a 40 mile paved trail that goes from Tarpon Springs to St. Petersburg), beaches, Nature Preserve, Mall , and many other outdoor activities. Weekly and monthly rates are available.
Tarpon Springs is a Greek community est.1904. It is known as the sponge capital of the world with many local shops and Greek restaurants. Tarpon Springs offers an array of events and activities, such as deep sea fishing, boat rentals, and many activities. Visit our sponge docks for an afternoon shopping and dining or our Greek Cathedral with beautiful stained glass windows and art work. Tarpon Springs is also home to some Inness Paintings and artist Christopher Still.
The apartment is just as described--very cozy and clean, in a beautiful, secluded setting. The pool, landscaping, and lake are gorgeous. Cece was a gracious host. I especially appreciated the bottled water and her understanding when my partner and I left with the apartment key (oops). I needed to work part of the time, and the WI-FI was great and I was comfortable at the kitchen table doing my thing. The Tarpon Turtle is a short drive away. Downtown Tarpon and the Sponge Docks are close by and the trip can even be made on bike via the Pinellas Trail. Thank you for hosting us!
Terry
2015-09-18T00:00:00Z
Very nice location and a beautiful residence.
linda
2017-02-11T00:00:00Z
The apt. was clean and well appointed. Cece was thoughtful by providing coffee, toiletries, ice, and water. The sunsets were beautiful and the location was great for the local restaurants five minutes away, kayaking at Weeki Wachee Springs to the north, and Honeymoon Beach to the south.
Lisa
2017-03-08T00:00:00Z
Wonderful gem of a suite! First, the accommodations were extremely clean, well appointed, and charming. The use of the large, private pool was a bonus. Cece was professional, personal, and most importantly, flexible. This was my first AIRBNB experience and I will say the bar has been set! I'm ready to return.
Kim
2016-07-15T00:00:00Z
Very gracious host who cared for us very much
Susannah
2015-08-05T00:00:00Z
Cece is a gracious host. The space was clean and private and cozy (more suitable for a couple or single person). Inground pool was large and clean but canoe had a crack in it so it could not be used.
Alvis
2015-07-09T00:00:00Z
Beautiful place! Gracious Host! Very Comfy apartment. I highly recommend staying here when traveling to Tarpon Springs area.
Shadrach's
2016-04-11T00:00:00Z
Cece was an incredible host! Very caring about making sure I had what I needed. The apartment and grounds were beautiful. I teared up when I left, because I got to relax, enjoy the outdoors- hammock and kayaking- and focus on important aspects of my dreams. I highly recommend Cece's place for a getaway. I'm already returning! Amazing. Just amazing.
LaVonna
2015-05-19T00:00:00Z
Typ pokoje
Celý dům/byt
---
Typ nemovitosti
Byt
---
Ubytuje
4
---
Ložnice
Tarpon Springs, Florida, Spojené státy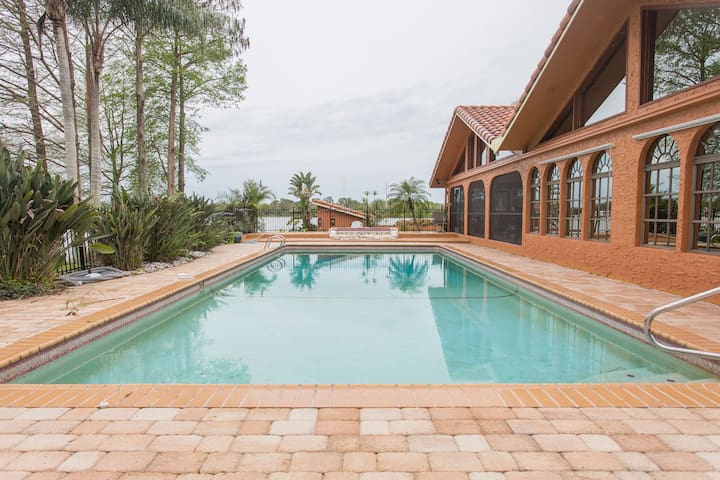 My cool and comfortable 3 bed/ 2 bath home is conveniently located 15 minutes from the Tampa airport and downtown. I have two bedrooms that each sleep two people with a shared bath between them. Swimming pool with screened lanai are included!
They were really accommodating and flexible. I accidentally booked the wrong dates and they were really courteous about it. The bed is so big and comfy. It was a lovely house.
David
2016-09-15T00:00:00Z
Great and comfortable stay! Thank you!
Ana
2017-03-04T00:00:00Z
Everything great, no complaints.
Rigoberto
2016-09-01T00:00:00Z
Muchas gracias por recibirnos. Muy cómoda la habitación, excelente todo. Sitio recomendado. Hasta la próxima.
Lady
2016-10-15T00:00:00Z
Jan is a fabulous host, very accommodating and friendly! She is concerned about her guests well being and very easy to communicate with! We would definitely recommend her!!
Katherine
2017-03-15T00:00:00Z
Jan & James's place was perfect, super clean, very nice location, bed was super comfy and they're super helpful with instructions and everything. Was such a nice place for a very good price. We would love to come back. We're thankful with them!
Yisse
2017-03-18T00:00:00Z
Everything was great.
Gordon
2017-01-06T00:00:00Z
The place was easy to get to, clean, well maintained. Jan is very friendly and really made me and my girlfriend feel at home with our brief stay.
Stephen
2017-03-28T00:00:00Z
Typ pokoje
Soukromý pokoj
---
Typ nemovitosti
Dům
---
Ubytuje
2
---
Ložnice
Tampa, Florida, Spojené státy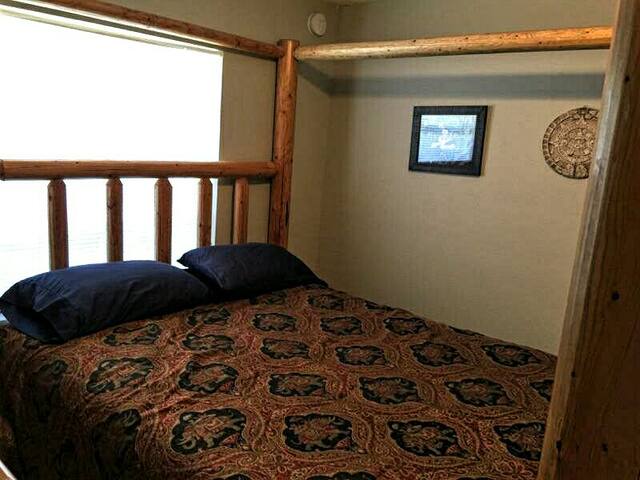 Cozy room that's 15 min from Airport and 30 min from Busch Gardens or USF. Safe neighborhood, comfortable surroundings, easy parking. We talk Spanish & English.
The host and his family were hospitable, caring, and thoughtful. The room is comfortable and the house is very clean. Very convenient area.
Jacine
2017-04-04T00:00:00Z
Coming here was amazing. We are students coming from Georgia and we got there super late. They were willing to wait up for us and get up early to make us coffee. They were super accommodating and helpful. I honestly wish we could have stayed longer. You have your own bedroom with your bathroom. The house was super clean and in a nice neighborhood. I'm definitely coming here again if I'm ever back in Tampa.
Amanda
2017-03-18T00:00:00Z
Cesar and his parents made us feel very welcome! They are very kind and warm hearted people and we would defiantly book again if we come to the area. They had towels on the beds for us and shampoo and body wash in the bathroom. The room was located right when you walk into the house and the. bathroom next to the room. It was private, clean and convenient. Waking up in the morning to freshly brewed coffee helped start our day!! Thank you So much! Great Hosts!
Lori
2017-03-14T00:00:00Z
The house was very clean, Cesar and his family are very nice and good hosts
Adam
2017-03-28T00:00:00Z
Cesar was a great host, he was quick to respond and I couldn't believe the price so I booked it since I was on a budget. It was a beautiful home in a lovely neighborhood! I was so pleased! Thank you for everything!
rachelle
2017-03-05T00:00:00Z
Wir haben 4 Nächte bei Cesar verbracht und haben uns dort fast wie zu Hause gefühlt. Sehr gastfreundlich und uneingeschränkt zu empfehlen!
Andreas
2017-03-03T00:00:00Z
Great guy! Stays out of your way
Matt
2017-03-07T00:00:00Z
Had a wonderful expirence staying here during my 3 days' Business trip to Tampa. Needless to say I loved this accomodation and would highly recommend if you are looking for a calm and quiet neighborhood in a safe and peaceful community. The hosts were awesome and took care of every small details to ensure I get all the amenities I needed. Will definitly choose this place again when I visit Tampa next time.
Partha Pratim
2017-03-22T00:00:00Z
Typ pokoje
Soukromý pokoj
---
Typ nemovitosti
Dům
---
Ubytuje
2
---
Ložnice
Tampa, Florida, Spojené státy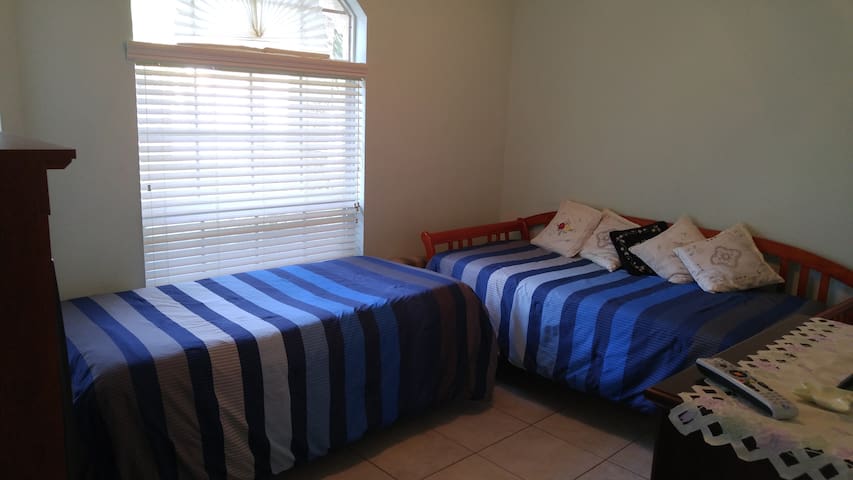 5 minute drive to movie theater, restaurants/shopping mall. 15-20 Minutes to Busch Gardens,downtown, and either 10 or 30 minutes to beach depending on which one selected. Bathroom is not private.
Cathedral ceilings and very large kitchen.
Friendly neighbors
John and Diana are wonderful hosts. I've stayed a lot longer than I planned it's been so good!
nicola
2016-09-16T00:00:00Z
We thoroughly enjoyed our stay. Beautiful family, great hosts, good people, and nice accommodations. This was a wonderful first AirBnB experience for us. 4 of us stayed with John and his family. Although you share the house with the family, the 2 bedrooms and private bath are away from the rest of the living area and are private. The location is great - on a private cul-de-sac away from the main road, in a nice part of town, and close to restaurants and shopping. They encourage you to feel at home in the house (i.e., you are not restricted to your room) and they are great people to get to know with interesting personal stories. I feel like we made new friends during our 4 days with them. Thank you John and Diana for hosting us.
J B
2015-12-31T00:00:00Z
Love Diane like a little sister..precious family... They make you feel like home away from home!
Victoria
2016-11-09T00:00:00Z
Room was nice and clean along with bathroom. There was no problems finding the House and parking was good. I would stay here again
Juan
2016-02-17T00:00:00Z
Was traveling with a friend this time, and John worked to make sure we were both quite comfortable. Good second stay, and I'll most likely stay again!
Michael
2016-11-23T00:00:00Z
Incredibly welcoming people. A really enjoyable stay
Jonathan
2016-10-10T00:00:00Z
I really enjoyed my stay! John and Diana are exceptionally kind and accommodating! My flight got delayed and they waited for my arrival until midnight. The room was beautiful and well maintained. The neighborhood was quiet and safe, perfect for a morning jog as well. I would highly recommend staying here! Thank you John!
Samantha
2016-08-06T00:00:00Z
Mr. John and his family were great host and I felt like I am at my home. Their place is very quiet and clean. I look forward staying at their place again. Thank you John for being a great host.
TC Orkun
2016-11-21T00:00:00Z
Typ pokoje
Soukromý pokoj
---
Typ nemovitosti
Dům
---
Ubytuje
2
---
Ložnice
Tampa, Florida, Spojené státy
Perfect for a solo traveler, couple, close friends, or family looking for affordable lodging in a safe Tampa community. This one-bedroom condo has a fully-equipped kitchen, en suite bath, walk-in closet, dishwasher, and washer/dryer. Easy drive to airport, beaches, and everything Tampa Bay has to offer!
There is a comfy, queen-sized futon in the bedroom. The living area has a table for dining or working with a wireless printer/copier/scanner, a 32" TV (with access to local channels, Netflix, Hulu, Amazon Video and lots more!) and two sleeper sofas--one queen size and one twin. The kitchen is fully equipped and there is a washer/dryer combo inside the apartment. Use whatever you need!
Quiet neighborhood set on a peaceful lake.
Great place to stay.
Thomas
2017-03-25T00:00:00Z
Kedisha's condo is just the right size for a brief stay. We were impressed by the cleanliness and amenities, and could not have been happier with the location. We feel Kedisha provides the gold standard for the Air B'n'B experience.
Matthew
2017-03-20T00:00:00Z
Kedisha's place was perfect for us. We went to Busch Gardens and it was about 15 minutes away. The condo was clean and cozy. The location was great as well. If we find ourselves in Tampa again I will definitely try to stay here.
Mikayla
2016-12-24T00:00:00Z
muy lindo departamente, muy comodo. excelente estadia! lo recomendamos
anabela
2017-04-02T00:00:00Z
This place was the perfect place for our family of 5 to stay for a couple of days while we went to nearby Clearwater Beach. The place was spotless and had everything we needed. We especially appreciated having access to a washer/dryer so we didn't have to take wet swimsuits and beach towels home with us! The bed linens and towels were great, the gated community was quiet and sweet (we saw several herons and a momma duck with her ducklings in a small pond right out front!), and she made check-in and check-out a breeze! Would not hesitate to recommend this place!
Sean
2017-03-19T00:00:00Z
Kedisha is the best host in the area, she made sure we were well taken care of from beginning to end. Would definitely recommend her to anyone traveling to Tampa area. Wish I could rate more than 5 stars!
Juan
2017-01-30T00:00:00Z
Great place to stay, lots of things handy incase we forgot anything. Kedisha was really welcoming!
Malikah
2017-03-14T00:00:00Z
I had a great time during my stay. Nice simple home, with everything you can ask for.
Jalil
2016-12-23T00:00:00Z
Typ pokoje
Celý dům/byt
---
Typ nemovitosti
Byt
---
Ubytuje
5
---
Ložnice
Tampa, Florida, Spojené státy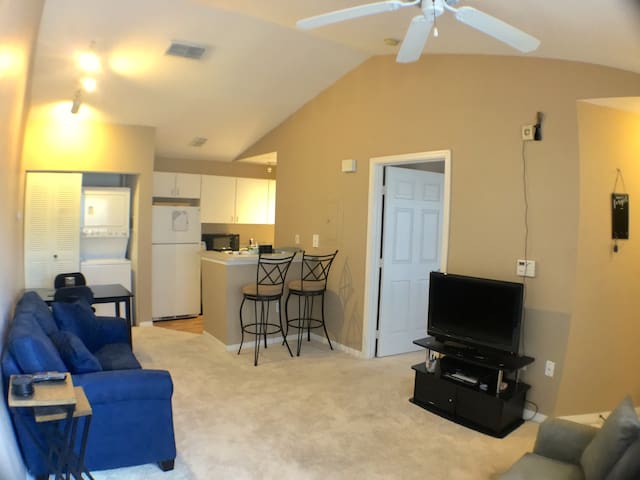 Fantastic location in the Sunshine State! All the benefits of a private suite at a single-room rate. This suite features a queen size bed, full bath, kitchenette, closet and work desk. Located 10min from the Tampa Airport- 15min from Downtown- 30min from Clearwater Beach- 30min from Bush Gardens & Adventure Island- 20min to cruise terminal. Centrally located to all Tampa attractions. Three malls. movies, restaurants.
This studio has it's own private entrance. it's located on the left side of the main house. you will be using the parking area along the left side of the house as well. The studio has a small yard area at the entrance for your outdoor minutes.
I have lived in this house for the passed sixteen years. This neighborhood is very safe, most of homes in this area are lived by the owners.
Typ pokoje
Celý dům/byt
---
Typ nemovitosti
Byt
---
Ubytuje
2
---
Ložnice
Tampa, Florida, Spojené státy
Our newly renovated guest house sits in the popular Old Seminole Heights Neighborhood. Enjoy a full kitchen and living space that includes a king size bed and a queen double-thick air mattress. Tampa International Airport - 19 min Amalie Arena (Lightning) - 11 min Ybor City (Nightlife/Dining) - 11 min Downtown Tampa - 9 min Raymond James Stadium - 11 min Tropicana Field - 28 min. Great for couples, solo adventurers, business travelers, families (with kids), and furry friends (pets).
Our listing is a awesome little guest house located in our back yard behind a gate and not visible from the street. Watch a movie or cook some steaks on the grill. We provide a fully stocked kitchen in case you decide you want to stay-in and cook.
Seminole Heights is one of the quickest growing communities to be apart of. With property values sky rocketing and new families moving in every day, this is definitely the area to be in right now in Tampa!
Great cozy place and very quiet. 10 minutes away from busch gardens. Great communication with Zach
Martin
2017-03-17T00:00:00Z
This was my first Airbnb experience, and a positive one! The communication from Zach leading up to the trip was really great and welcoming. He was very clear with arrival instructions and I found everything to be just as described and pictured. The space was very clean and comfortable and well outfitted...there was even cereal, milk and fruit in the fridge, and a dish of Halloween candy.
Michelle
2016-11-06T00:00:00Z
We had a very nice stay! Everything was clean and comfortable. The amenities were definitely the best part! The host was very gracious to provide Netflix, Hulu and cereal for breakfast! I also had left part of my phone case there. Zach had the case sent to my house which couldnt have been more helpful! I would definitely recommend this place!
Brandon
2016-09-07T00:00:00Z
Zach's guest house was exactly what we wanted for our short stay in Tampa. The space itself is very clean, modern and private. The house was easy to find, and near the highway. Zach was easy to reach, but we really didn't need him for anything since he was great at providing all the information right up front. Everything about staying here was simple and straight forward (the perfect oasis for our weekend visiting family!) We would certainly stay here again on our next trip to Tampa!
Lauren, Michael and Pema
2016-09-26T00:00:00Z
The location was very convenient for going to the Tampa convention center at a great price. The lodging is a small house on their property complete with kitchen, bedroom and bath. There was no issues with parking, or accessing the house via keypad. The only issue we had was the door was not properly sealed. There were a few bugs that came in, but other than that the place was clean and awesome to stay at. Overall 4.5/5.
Travis
2016-08-09T00:00:00Z
Excellent location in a quiet neighbourhood. Great host, inviting and friendly. Really clean. Lots of personnel touches that make the property feel a home from home.
Lee
2016-11-15T00:00:00Z
Very cozy, and clean! Plus they had an Xbox and Netflix! Lol. Loved my stay.
Jeremy
2016-10-13T00:00:00Z
Zach and Anggie we're really great. The space was perfect for us for almost a full week. They left breakfast cereal and apples for the morning along with coffee and milk. They also had extra towels, sheets, milk and coffee if we ran out. They also had all the kitchen supplies you needed except for a dishwasher and a microwave but we made pizza one night and had cereal to save money. Although the neighborhood is a little rough, we felt really safe and the keyless entry was great. The location is very close to the highway and only 10 min away from everything else, such as downtown. They also had Roku on the TV and offered us access to their accounts to be able to watch tv. The only issue we had was the very loud AC, we had some rough nights sleeping because of it, but thank goodness that the bed was comfortable. 4.5 stars because everything was great except the AC.
Olivia
2016-10-01T00:00:00Z
Typ pokoje
Celý dům/byt
---
Typ nemovitosti
Dům
---
Ubytuje
4
---
Ložnice
Tampa, Florida, Spojené státy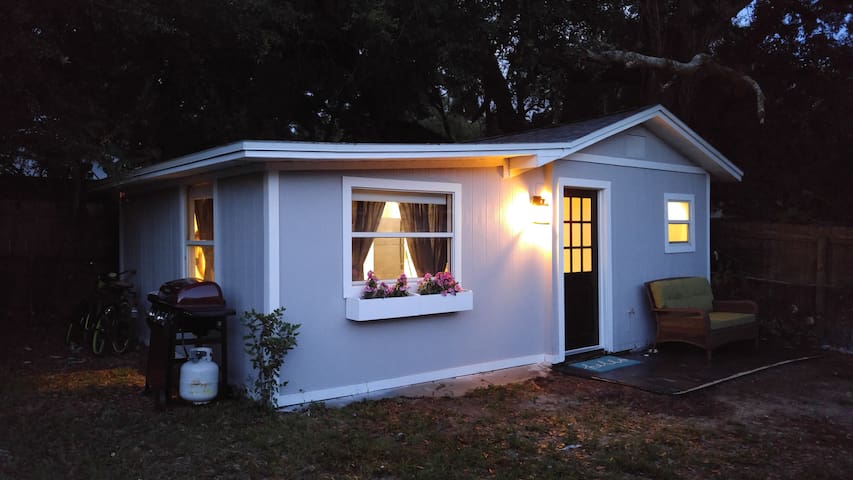 My place is close to Veterans Expressway, Upper Tampa Bay Trail. You'll love my place because of the coziness, quiet street, safe neighborhood, comfortable surroundings, easy parking.
reasonably priced accommodation. Not a lot of frills but the bed was great and the owner's brother was extremely cordial. I'd definitely stay here again.
Dennis
2017-03-26T00:00:00Z
Such a wonderful home! Stephan was very good with communicating with me and letting me know what I needed to know, and was very quick to respond to any questions I had!!! Loved our stay very much!!! When we come back to Tampa next year, this will be the place we stay if it is available!!! Recommend it HIGHLY!!!!!!!
Sierra
2017-02-11T00:00:00Z
Place is great. Stephen is very accommodating and communicates quickly. I enjoy staying here. He extended my stay without any hassle and I would have stayed longer if it was available. Everything is as described. It's a home away from home.
Cylinda
2016-12-23T00:00:00Z
This is my second time staying here. This place is always my first choice I'm very disappointed that it's not gonna be available for me next week but hopefully the next time Im in need it will be available. everything is perfect
Cylinda
2016-12-31T00:00:00Z
Great place to stay. Clean room and respectful guest. I recomend.
Paulo Henrique
2017-02-14T00:00:00Z
Another great stay❤️
Cylinda
2017-01-27T00:00:00Z
I had a great stay. Clean and comfortable. Excellent communication.
Kyle
2017-03-20T00:00:00Z
Great value, quiet house and nice neighborhood. I very much recommend Stephen's place for your Tampa trip.
Chris
2016-12-09T00:00:00Z
Typ pokoje
Soukromý pokoj
---
Typ nemovitosti
Dům
---
Ubytuje
2
---
Ložnice
Tampa, Florida, Spojené státy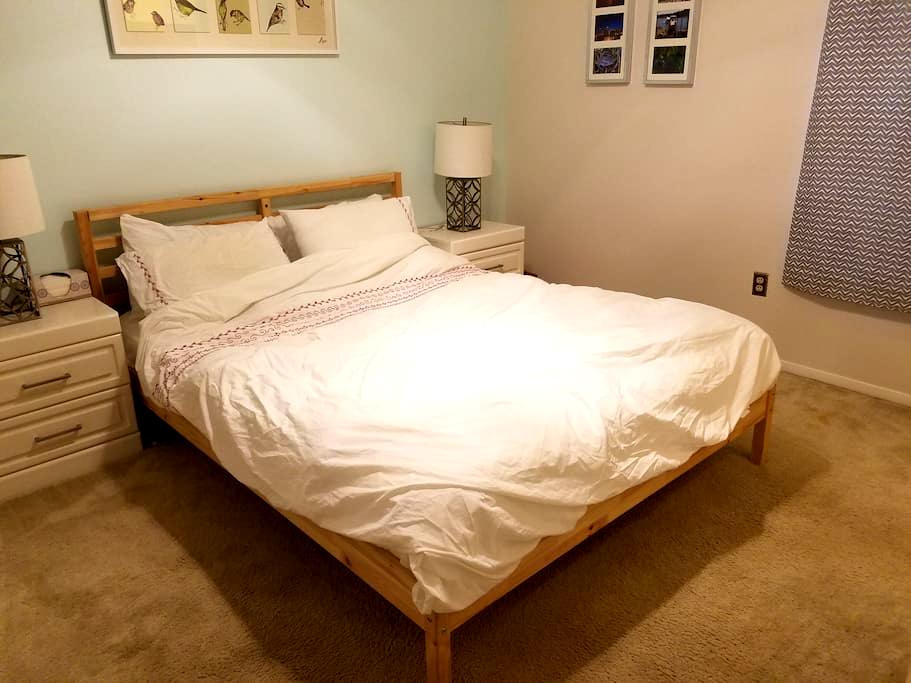 The Bamboo Palace is a tropical paradise that will transport your mind and soul to an exotic island in the sun. I spent a year building the room and its one of a kind decor. Many of the decorations are handmade in the islands with some dating back decades. This is a truly unique experience that you won't forget. The room is located above my detached garage in an upscale town home community. Enjoy your own entrance and bathroom for total privacy. 15 minutes from TIA and 20 minutes from the beach.
Private bathroom & small kitchenette. 1 minute walk to grocery store, sushi, Mexican, Italian, Greek, Wendy's, Village Inn, Subway & Bars. Depending on what you want to do you can Uber here (17 dollars) and not need a car for your entire stay.
Upscale town house neighborhood.
My best friend and I came to Tampa for a fun weekend and chose to stay at Jeff's Bamboo Palace and would could not have made a better decision! It was such a fun space and made our trip to Tampa better than if we stayed in a hotel. Jeff made sure we had everything we needed and even let us check in early. I highly recommend The Bamboo Palace!!
Amy
2017-02-19T00:00:00Z
Amazing little gem clean and unique with amazing attention to detail, awesome experience
Evan
2017-02-15T00:00:00Z
This was the most AWESOME place i ever stayed!
Gary
2017-01-02T00:00:00Z
My boyfriend and I enjoyed our stay at Jeff's! he was a very kind & helpful host, you can always communicate with him if anything is needed. Very clean place, so much creativity put into one room, the details were incredible! No problems at all and he allowed us to take our time leaving the next day. He really thought of everything, you have speakers, a playstation, record player with an awesome classic collection! This was our first airbnb experience and it was so easy, fun, and comfortable! Would recommend to anyone staying in the area!
Lismarie
2017-01-13T00:00:00Z
Jeff's place was as pictured. Very clean and comfortable.
Peggy
2017-02-26T00:00:00Z
Had a wonderful stay. Loved the unique space, and will have great memories of it. Had a blast listening to records all weekend.
Calder
2017-03-19T00:00:00Z
Great location. The spec is very nice for 1 or 2 visitors. Very clean. Jeff is friendly and was very patient with my later than expected check in. Thanks Jeff!
Jameel
2016-12-31T00:00:00Z
Unique and comfortable stay that makes you feel far enough away, but close enough to the action in the big city! Perfect location in super fun environment that Jeff has created with this little bamboo studio!
Emily
2017-04-02T00:00:00Z
Typ pokoje
Celý dům/byt
---
Typ nemovitosti
Dům pro hosty
---
Ubytuje
2
---
Ložnice
Tampa, Florida, Spojené státy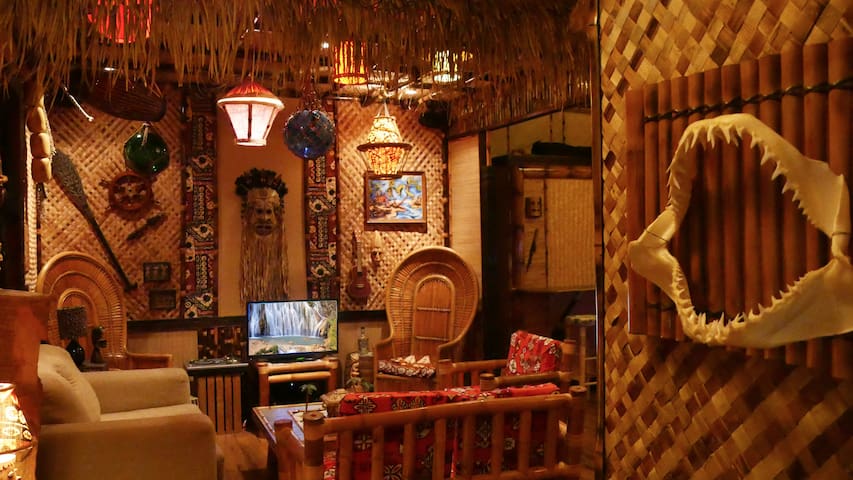 My place is close to Gulf of Mexico Beaches, World Famous Sponge Docks, Lake Tarpon, Freshwater and Saltwater Fishing, Fred Howard Park, Anderson Park, Boat Ramps, The Arts, Epiphany Celebration. You'll love my place because of We just completed renovation (April 2017) and strive to provide a relaxing tropical atmosphere. The home is very quiet and well laid out. My place is good for couples, solo adventurers, business travelers, families (with kids), and furry friends (pets).
Typ pokoje
Celý dům/byt
---
Typ nemovitosti
Kondominium
---
Ubytuje
6
---
Ložnice
Tarpon Springs, Florida, Spojené státy
15 minutes from TPA airport, 17 minutes to Raymond James stadium 20 minutes to Silver Dollar & RV Resort shooters club 25 minutes to Tampa convention Center ,international plaza, Westshore mall, major restaurants ,downtown racetrack . Busch gardens Park . 30 minutes honeymoon island, Clearwater ,Saint Pettersburgh . One hour to ORLANDO parks.
What does make my space unique? It's my home and now yours!!!
I have a great Neighborhoods, what makes a unique is because we are like a family.
Ivanete was a great host. She was always quick to respond to any emails or texts I sent her. Her place was very clean and neat when I arrived and nicely decorated. She also had plenty of amenities available for me to use during my stay as well. This was great since I often don't travel with those extra items. She was also very helpful and thorough in leaving me additional information and pamphlets about the area and what was around. It felt like she provided everything I needed and more. She was even kind enough to leave me a bottle of wine to enjoy during my visit. I will definitely stay here again the next time I come to Tampa. It was a great experience.
Adam
2017-01-24T00:00:00Z
Very nice townhome centrally located between Orlando and Clearwater. The host is a pleasure to work with and very responsive to your needs. The home was clean and was great to use as our base between Disney and the beach. Would highly recommend to anyone with a family looking to vacation in Florida on a budget; you will not be disappointed.
Tisa
2017-03-17T00:00:00Z
This is my second time staying at Ivanete's place and it is wonderful as always. Great Host.
Tammy
2017-03-25T00:00:00Z
Outstanding! This has to be one of the nicest AirBnB places I have ever stayed at. A beautiful accommodation from a beautiful host. If they ever have an airbnb school for hosts Ivanete should be the teacher.
Tammy
2017-02-18T00:00:00Z
I love the house decor, cleanliness and coziness. I totally enjoyed staying there.
Abdias
2016-12-12T00:00:00Z
Ivanete place was amazing left my wife and I speechless. Everything was well organized and clean. Made me feel like I was in my own home. Place was close to restaurants, fast food, supermarket, gas stations stores. The communication was always there from the beginning of my reservation. Will totally recommend this place to anyone.
Daniel
2017-03-21T00:00:00Z
Ivanete was an excellent host. Her house was clean and spacious. One night my wife and I hung around and watched Netflix, the other we checked out a few breweries in the area, and on the last night took a trip to Downtown Tampa for Gasparilla. Her house is in the suburbs, so it's not in the most walkable location. But other than that the trip was excellent.
Kurt
2017-01-29T00:00:00Z
Nete's home was very accommodating. Super comfortable beds and great water pressure for showers. We were greeted by a box of chocolates and a lovely map of the city for deciding what to do during our stay. Will gladly stay here again when we come to the area!
Casey
2017-02-10T00:00:00Z
Typ pokoje
Celý dům/byt
---
Typ nemovitosti
Dům
---
Ubytuje
4
---
Ložnice
Tampa, Florida, Spojené státy
Beautiful Key West style home in a quiet, convenient and serene location. Home is on a canal that leads out to Upper Tampa Bay. 10 minutes from the Tampa International Airport and 20-30 minutes away from the finest beaches and area attractions. Close to Everything Far from Ordinary! Explore the acres and acres of estuaries the natural habitat for a variety of birds, fish, manatee, dolphin and many others. The home is very clean, modern and bright with water views from practically every room.
The rental consists of the first floor 1200 square foot 2 bedroom, 1.5 bath apartment with separate entrance, covered porch just steps from the waters edge. The entrance is on the side of the house facing the water.
Home is located on a small peninsula that encompasses just about a dozen homes. The two small roads coming into the neighborhood dead end into the water.
Typ pokoje
Celý dům/byt
---
Typ nemovitosti
Prázdninový dům
---
Ubytuje
5
---
Ložnice
Tampa, Florida, Spojené státy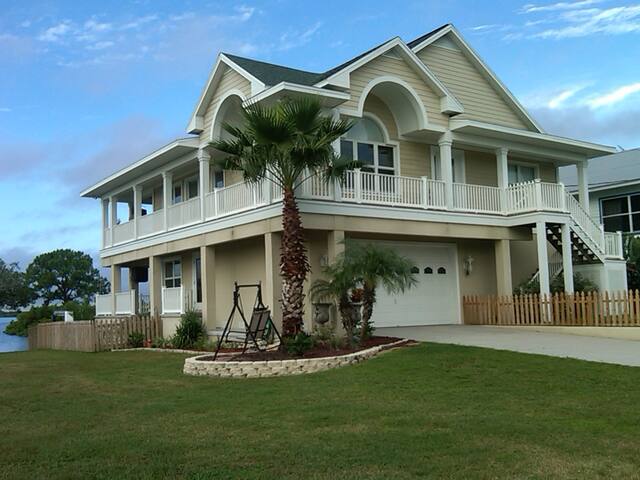 Nice private room upstairs, a nice neighborhood in town n country tampa. Enjoy the kitchen , access the pool, outside backyard , 5 mins away from Tampa int airport and international mall , 10 mins away from the yankee stadium,20 minute away from Bush Gardens, Perfect for a couple or business travelers,own parking space under roof.
What i love about my neighborhood it's a quiet and clean,located in Hanley and Woodbridge Blvd. With a pizzeria right at the corner, ice cream cone, laundry, hispanic store, gas stations just about 2 mins away.
Laly's place was clean and comfortable. I had access to the kitchen and laundry. Perfect for my 3 night stay. Laly was a great host.
Alma
2017-03-28T00:00:00Z
Fantastic hostess quick to answer questions and make our stay comfortable. We stayed for 4 nights with our 10 month old and enjoyed our stay the whole time. If you are looking for a quiet place to rest your head during business or personal travel, this place is great!
May
2017-02-12T00:00:00Z
This is a good location if you have a car..It is about a mile to Hillsborough Street which is full of all the food chains. There is a bus (number 30) near the properythat will take you to downtown Tampa (one hour) The room is quite comfortable, and there is a large television in the room Laly was away most of the time I spent there, but she greeted me when I arrived and took good care of me There is a nice patio area in the front of the house This is a good value if you are visiting Tampa
Bob
2017-03-08T00:00:00Z
The location was perfect, and the host very responsive and accommodating
Carla
2017-01-06T00:00:00Z
Laly took me last minute when i left another airbnb. So she had just 30 minutes to prepare everything. She was very kind and friendly. There is a puppy living there and it was crying from the minute they left in the morning.
Daniela
2017-03-31T00:00:00Z
The host canceled this reservation the day before arrival. This is an automated posting.
Bill and Glendy
2017-03-09T00:00:00Z
Laly is sweet shes also bi-lingual! So great for families! Her daughters were great! And kind and helpful my daughter was so comfortable there;literally felt like a home! Thx 4 everything!
Ashanti
2017-02-17T00:00:00Z
Laly was very welcoming and very sweet. She made us feel very comfortable and at home. We will definitely look her up if we are ever in town again.
kenneth
2016-10-13T00:00:00Z
Typ pokoje
Soukromý pokoj
---
Typ nemovitosti
Jiné
---
Ubytuje
2
---
Ložnice
Tampa, Florida, Spojené státy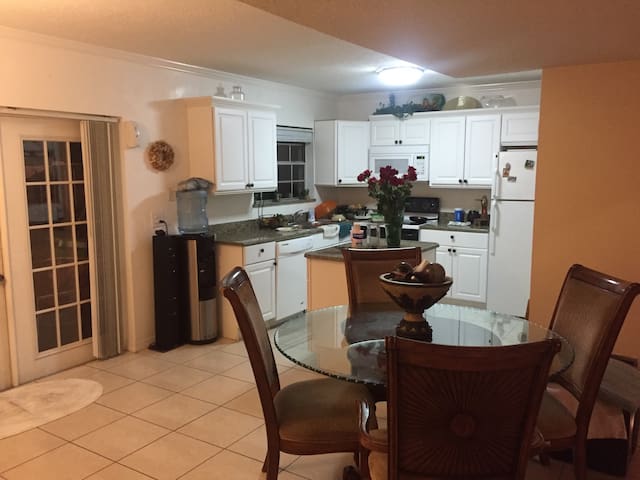 It's 15mins from the airport, 30min from Clearwater beach, and 35min from st pete beach, and the mall is 10mins away. The room has an independent entrance and we are in north east Tampa. We have a variety of restaurants near by. Its a calm community.
Small great studio room, everything is completely private its an extension part of the house, comfortable and quiet,perfect for one or two person. The entrance and bathroom is private e independent, the room had cold A/C, mini fridge,coffee machine, TV, microwave and stove small of two burners. My idea is that you have a good stay, quiet, comfortable and that have total privacy, if need something additional, I am always available to help you. The area is great because it's family friendly and there are many green areas,parks, and near beaches . 15 min Tampa International Airport, 45 min to Orlando ,15 min Amelia Arena,20 min donwton Tampa, we even have Busch gardens real close. The drive way has a parking space for one car.
The security in the neighborhood is really safe, everything is calm and clean. The neighbors are friendly. I also like the sports areas the neighborhood has. Its the perfect place to enjoy your vacation.
Cleanliness could use improvement. Communication was not good. Address that came through to us was wrong so we were looking in a neighbor's Mailbox for the key. We finally found out it was the house next door. We were not told there was a parking spot for us so drove around trying to find one on the street. Found out the next morning that there was a special spot. Were told there was a booklet with information for us and there wasn't. Had to repeatedly message host and finally had information on WiFi. Property was very shabby for what we are used to through Airbnb.
Cheryl
2016-03-21T00:00:00Z
The room was exactly what I need. Really liked the fact that the room had its separate entrance. It was clean. They were very nice and periodically would check in to see if I needed anything. They were extremely accommodating when I needed to extend reservation.
Crista
2016-12-31T00:00:00Z
It's nice family friendly neighborhood and host are friendly too.
Vaibhav
2016-10-06T00:00:00Z
Fine.
Kerri
2016-10-14T00:00:00Z
The site was difficult to find and in a very crowded neighborhood.
Linda
2016-07-25T00:00:00Z
Very polite, thoughtful, cold a/c, essentials provided without question. Private entrance, kitchen, patio, bathroom and parking. Cool efficiency!
Edward
2016-09-29T00:00:00Z
Nice neighborhood, friendly neighbors and host. Could use some refurbishing.
Sydney
2016-05-13T00:00:00Z
It was very nice. The room was very clean and organized. It was also very private so if one wants to be rather alone it's perfect. Bed is very comfortable and it was kept cool. The host although did not intrude, we very friendly and open as well as helpful when it came to suggestions of what to do. I'll definitely stay there if I go back to Tampa again.
Omar
2016-06-25T00:00:00Z
Typ pokoje
Soukromý pokoj
---
Typ nemovitosti
Dům
---
Ubytuje
2
---
Ložnice
Tampa, Florida, Spojené státy
Pro zobrazení celkové ceny zadej termín. Mohou být přidány další poplatky a daně.