Neu renoviertes Haus mit Garten, in Wolkersdorf im Weinviertel, 16 km nordöstlich von Wien. Entfernung z. Bahnhof 2 min. und Wien Mitte S-Bahn 28 min. Schloss mit Park in unmittelbarer Nähe. Idealer Ausgangspunkt für Wienbesichtigung und Radtouren !
Neu renoviertes Haus, mit Schlafzimmer, Wohnzimmer, Esszimmer, Küche, Bad und WC. Bei Bedarf, Zusatzbett möglich. Parkplatz vorm Haus.
Schlosspark und Stadtzentrum in 5 min zu Fuß erreichbar.
Charmant, Ehrlich und sehr Hilfsbereit. Das Haus ist ein sehr schön restauriertes Haus mit allen schönen Facetten eines Altbaues.
IBS Bau & Immobilien GmbH
2015-05-12T00:00:00Z
This property is fantastic and Herbert and Romy were exceptional hosts. The property is better than described. It is on a quiet street within 200m of the town train station. Public transportation to Vienna is exceptionally good and inexpensive. The small town is a very enjoyable walk to several cafes and a beautiful park. On cool evenings, a nice fire in the fireplace is great.
Barry
2015-10-20T00:00:00Z
Das Haus ist sehr zu empfehlen! Die Zimmer sind sauber und es ist alles vorhanden, was man braucht. Der Garten lädt zum Entspannen ein. Die Kommunikation mit dem Gastgeber verlief einwandfrei. Ich komme gerne wieder!
Tamara
2015-05-13T00:00:00Z
The host canceled this reservation 2 days before arrival. This is an automated posting.
christoph
2017-02-23T00:00:00Z
My stay was fantastic! It was definitely one of my best airnbnb experiences! Herbert and Romy are perfect hosts. They prepared everything that allows to feel like at home immediately. Highly recommend! Any time I come to Vienna, I will be happy to stay there again!
Alexandra
2017-01-03T00:00:00Z
Wir können dieses wunderschöne Haus in der Nähe von Wien wirklich jedem empfehlen!!! Gleich von Anfang an haben wir uns Willkommen und wie Zuhause gefühlt. Der Empfang durch die Gastgeber war sehr freundlich. Durch flexible Check-In und Check-Out Zeiten verlief unsere An- und Abreise sehr entspannt. Das Haus ist gemütlich und liebevoll eingerichtet, sodass man sich sofort wohl fühlt. Es hat uns dort an nichts gefehlt. Auch die Lage des Hauses ist empfehlenswert. Der Bahnhof, mit guter und regelmäßiger Verbindung nach Wien liegt quasi um die Ecke. Dennoch ist er weit genug vom Haus entfernt, damit man nicht durch Zuglärm gestört wird. Wir waren mit unserer Unterkunft wirklich in jeglicher Hinsicht zufrieden und bedanken uns nochmal herzlich bei unseren Gastgebern für die schöne Zeit, die wir in ihrem Haus verbringen konnten.
Fredy
2016-05-13T00:00:00Z
Ich habe mich bei Romy und Herbert von Anfang an rundum wohl gefühlt. Die beiden sind herzliche und aufmerksame Gastgeber, die sich in der Gegend sehr gut auskennen und mir viele gute Tipps für Ausflüge oder Veranstaltungen gegeben haben, mit denen ich das Weinviertel kennen lernen konnte (unbedingt die vielen Kellergassen in der Gegend ansehen!). Das gepflegte, über 100 Jahre alte Haus, das sie in Eigenregie liebevoll renoviert haben, entspricht genau der Beschreibung. Zusammen mit dem hübschen kleinen Garten ist es ein Schmuckstück und ideale Ausgangsbasis, um Wien und Weinviertel zu entdecken. In Wolkersdorf selbst gibt es alles, was man braucht, und mit dem Zug (in zwei Minuten zu Fuß zu erreichen) sind es gerade mal 28 Minuten bis Wien-Mitte Landstraße. Morgens auf der Terrasse frühstücken, Mittags mit dem Fahrrad die Gegend erkunden und abends nach Wien ins Kabarett oder Konzert: Für mich war es die perfekte Kombination aus ländlich-ruhigem Wohnen und Großstadtnähe, die ich gesucht hatte – unbedingt zu empfehlen! Die Gastgeber waren für Fragen zu Haus oder Gegend immer erreichbar und haben dafür gesorgt, dass es mir hier an nichts fehlte. Ich habe mein fünfwöchiges Mini-Sabbatical hier sehr genossen und werde sicher wiederkommen!
Marion
2015-06-18T00:00:00Z
Charming little house, with everything you need inside. Large spacious rooms make you feel comfortable whatever you do. Was not able to test the garden too much as it is winter, but it is pleasant to have that green spot at the door. Train station is really nearby, making Vienna city centre only 35 minutes. Herbert and Romy are very caring hosts, beyond taking care of what you need they are also taking care of what you might need. Definitely a pleasant experience !
Gabor
2015-12-11T00:00:00Z
Typ pokoje
Celý dům/byt
---
Typ nemovitosti
Dům
---
Ubytuje
3
---
Ložnice
Wolkersdorf im Weinviertel , Niederösterreich, Rakousko
Wolkersdorf is the gateway to the wine district, with very good public connections to Vienna (train). The area offers cycling and woodland walks, art and culture in the castle Wolkersdorf and nice taverns. You'll love my accommodation for the quiet surroundings, plenty of outdoor space and a comfortable bed. It is a 2012-built wooden house with a very pleasant living environment. Louise speaks perfect English. My accommodation is good for couples, lone adventurers and business travelers.
Franz and his wife are excellent hosts. They are extremely nice people and our stay at their place started out really well, with Franz picking us up at the station with his car. We requested an early book in and they had no problems with it.. Throughout our stay they supplied us with a lot of help (such as cooking condiments) and towels, tips and maps without asking for any payment. More about the apartment, it is a very very beautiful and new wooden house, the flooring is pretty and the room is perfect! Very spacious and good heating, comfortable bed and sofa as well.. It is conveniently located as well, just 10 minutes walk from Wolkersdof Bahnhof, and 5 minutes from the supermarket. (Billa) Franz's house is kept in a very clean and tidy condition, and my partner and I had such a good time playing with their pets, Hazel and Pablo.. A dog and a cat. They're very friendly. If you're worried that this place is too far from the city, do not be it is just a 15-20 minutes train ride away to some of the major attractions of Vienna. It is definitely worth the value for such a clean nice and spacious place for what it costs. Hands down recommend this place to anyone travelling to Vienna!
Aaron
2016-12-31T00:00:00Z
Franz and Louise were the most amazing hosts I've ever stayed with in an AirBnB. The kindness and attention they gave us during our stay was like if we were family. They made us cookies and left us chocolates on our pillows when we arrived. It was also a delightful spending New Years Eve with them; we felt like that was the place we needed to be. The house is beautiful, almost completely made out of wood, you'll be amazed by the architecture design, and the room is spacious. They even offered to pick us up at the train station in Wolkersdorf. It may be a bit far from the city but it's worth the trip when you also want to enjoy a good company at home.
Laura
2017-01-02T00:00:00Z
Typ pokoje
Soukromý pokoj
---
Typ nemovitosti
Dům
---
Ubytuje
2
---
Ložnice
Wolkersdorf im Weinviertel, Niederösterreich, Rakousko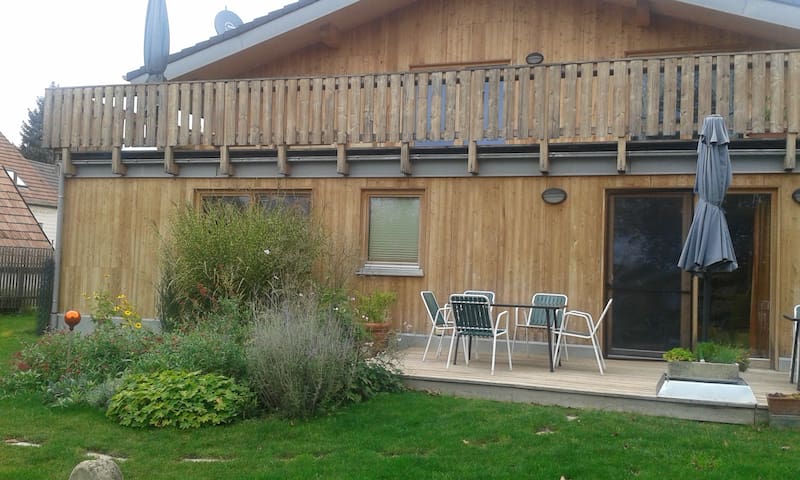 quiet nice room in Wolkersdorf im Weinviertel, just 15 km north of vienna
Parking place in front of the house
Жилье было даже лучше чем указано, Ганс явно скрывает достоинства своего дома. Гостеприимный молодой человек. Чувствовали себя как дома.
Liliia
2016-08-28T00:00:00Z
Beautyful place, nice and interesting host. A huge, stylish space for staying. Unbelivabely clean :)
Łukasz
2016-08-24T00:00:00Z
very good, good guy, a clean house, a comfortable bed, everything is super!))) Рекомендую))
Андрей
2016-07-13T00:00:00Z
Hanns is very kind and open for his guests. his house is beautiful. It was a plasure to be his guest.
Ewaa
2016-07-16T00:00:00Z
Geweldig! Wij hebben hier 4 nachten gelogeerd met onze familie. Een mooi huis, ruim, schoon en alle faciliteiten die je nodig hebt als familie. Onze dochter kon heerlijk spelen in de grote tuin. Goede ligging voor een citytrip Wenen. Hannes is zeer gastvrij en relaxed. Hij zorgt ervoor dat iedereen zich thuis voelt. Voor herhaling vatbaar en een aanrader!
Desiree
2016-09-16T00:00:00Z
Perfect stay. Hannes is a really friendly and helpful host. The house is spacious, modern and spotless clean in a lovely town near Vienna. Everything was as described. I highly recommend to stay at Hannes' place.
Sandor
2016-10-20T00:00:00Z
Hannes is a great and easy-going host. The house is very spacious and comfortable. The location is perfect for travellers going via Wien.
Alicja
2016-08-26T00:00:00Z
Alles war prima. / Everything went very well.
Ioan Liviu
2016-08-21T00:00:00Z
Typ pokoje
Soukromý pokoj
---
Typ nemovitosti
Dům
---
Ubytuje
2
---
Ložnice
2120 Obersdorf, NÖ, Rakousko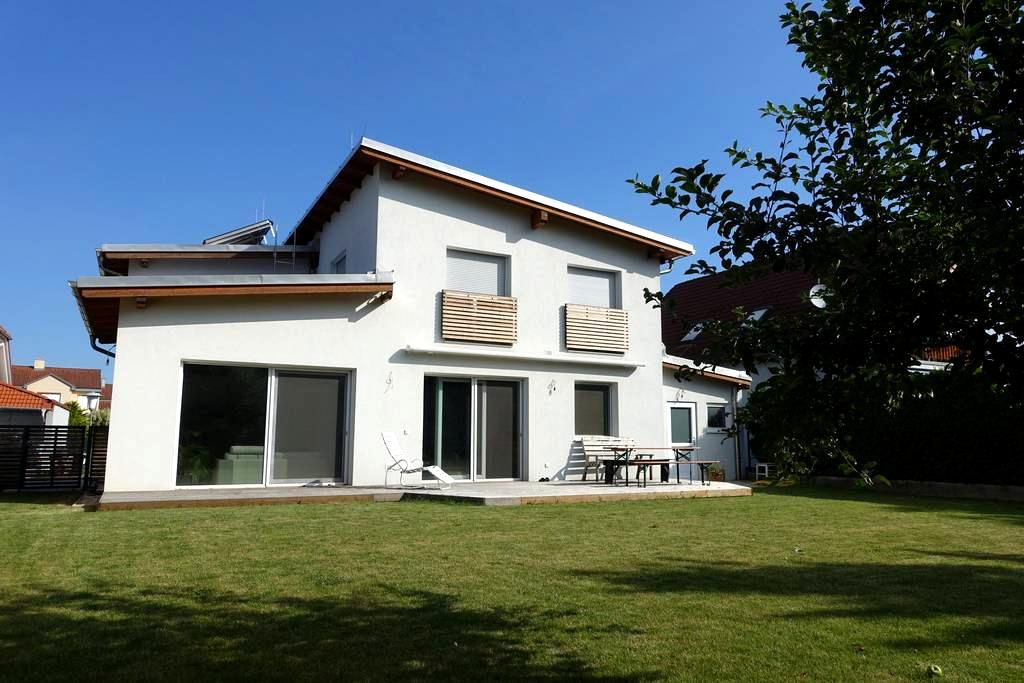 Schöne 3 Zimmerwohnung mit Bad (inkl. Badewanne, Waschtrockner), Küche inkl. Geschirrspüler und Mikrowelle, voll möbliert, 2 Fernseher (Wohnzimmer & Schlafzimmer) + 2 Blu Ray Player, PS 3 Schnellbahnanbindung in 20 min zur U6, alle 20 - 30 min
Matthias apartment was so special, we really enjoyed everything in it (you will find everything you need, especially in the kitchen, if you want to cook )! The place is located in a quiet neighborhood of small town outside of Vienna, but there was not a single regret about it, you can reach center in 20 minutes (10 minutes to the train station), Vienna is a big city, so expect some time for the road. Our host really took care of us, he met us at the train station to show us how to get to the apartment, explained everything and came back on the day we left to find out about our stay in Vienna! So thank you once again, we surely have to come back again!
Olga
2015-08-01T00:00:00Z
Typ pokoje
Celý dům/byt
---
Typ nemovitosti
Dům
---
Ubytuje
3
---
Ložnice
Wolkersdorf im Weinviertel, Niederösterreich, Rakousko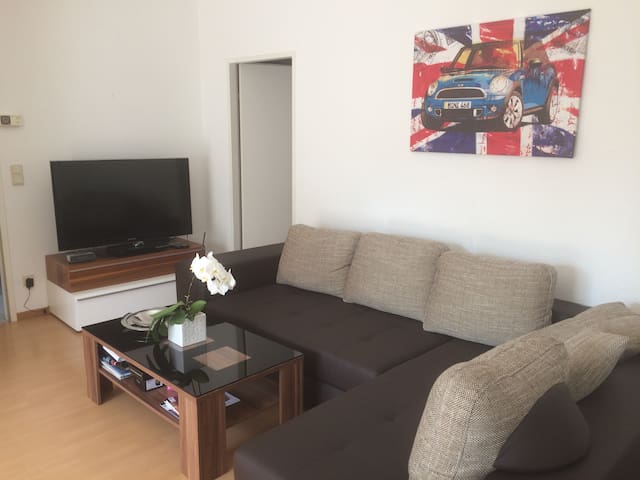 Mein Haus ist ca. 60 m² groß, auf 2 Etagen aufgeteilt. Es ist mit viel Holz und Liebe zum Deteil eingerichtet, was ihm eine heimelige Almhüttenatmosphäre verleiht. Wien besichtigen und im Grünen wohnen ! Vom romantischen Balkon aus, mit Essgelegenheit, hat man einen wunderbaren Blick auf die Skyline von Wien.
Description and Information My house has approx. 60 sqm on 2 floors. It´s furnished with a lot of wood and loving attention to detail, which gives it a cosy alpine hut atmosphere. In the ground floor you can find the entrance area, equipped with a dining table for 4 persons and a homely corner with a tiled stove and a laptop connected to the internet. In the upper floor there is a bedroom with a small single bed (1,40 x 1,80), a bath room with a bath tub and a separate toilet. In the living room there is a comfortable, proper sofa bed, a small but fully equipped open kitchen with a connecting eating area. The house is heated by a tiled stove which cares for cosiness and a pleasant atmosphere. Don´t worry about any circumstances or efforts for the tiled stove, there is a separate heating room which I operate. In addition there is a infra-red heating if required. The romantic balcony, which offers also a dining space, has a wonderful view over the skyline of Vienna.
Manhartsbrunn is located on a small hill before the gates of Vienna, in the southern Weinviertel. Apart from the fact that Manhartsbrunn is a perfect starting point for your Vienna city visit, the local area offer also a wide range of excursions and other activities (for example bicycle tours, hiking trails...). Furthermore a number of (wine) taverns offer you a good glass of wine and traditional Austrian cuisine such as Wiener Schnitzel and roast pork. Very close to visit is also the theme park Fossilienwelt and the Kreuzenstein castle. You can reach the newest Shopping Resort G3 by car in 5 minutes.
We had an absolutely fantastic stay at Marion's 'Romantische'. It really is as gorgeous as it looks (if not more so!). Marion went out of her way to welcome us and make us feel at home without being intrusive. Her attention to detail was great and she clearly cares very much about her guests' experience, which makes all the difference. Although the space is 'cosy' upstairs it was very well designed and beautifully decorated. We were a group of three adults (one couple and sister) and felt very comfortable there. The mattresses were very comfy and we all slept very well in the peaceful atmosphere. The village of Manhartsbrunn is very picturesque and great for walks around the village and into the surrounding countryside. Although we didn't venture in to Vienna it looked easily accessible. The view from the balcony of the city was amazing in the morning and evening light as the mist rolled across. We highly recommend staying at Romantische and will be looking to stay again!
Martina
2016-09-30T00:00:00Z
Marion ist eine sehr rührend bemühte Gastgeberin, die uns zur Ankunft ein wunderbares Abendmahl bereitet hatte. Auch später verwöhnte sie uns noch , der Küchenbereich war mit lauter Leckereien ausgestattet, die wir benutzen sollten. Ihr Häuschen ist ein kleines verwunschenes Paradies, total idyllisch und ruhig mit einem Blick ins Tal auf Wien. Es war ein sehr schöner Aufenthaltsort. Vielen lieben Dank,Marion!
Bettina
2016-10-25T00:00:00Z
Very nice Place, Great view over Vienna at night
Wolfgang
2017-02-25T00:00:00Z
Marion was absolutely the best host one could ask for. She had her little cottage fully stocked with everything one would need for a comfortable stay. Including enough food and drink for a few days. Everything worked well and she checked in every so often to make sure we were enjoying our stay. She was absolutely amazing and I would highly recommend her place as a quiet alternative when touring Vienna.
Mark
2016-08-22T00:00:00Z
Marion hat uns sehr freundlich empfangen und uns ihr nettes Häuschen gezeigt. Sie hat an alles gedacht, was man zum Starten, ohne vorher einkaufen gehen zu müssen, braucht. Das war total fein. Vor allem hat Marion eine tolle Wasserkaraffe für uns bereit gestellt, mit sämtlichen Beeren und Kräutern vom eigenen Garten. Sehr liebevoll und aufmerksam :-) Maria und ich behalten Manhartsbrunn und Marion in bester Erinnerung
Ingrid
2016-08-06T00:00:00Z
Martion's place was perfect! It's in the countryside only about 25 minutes from the center of Vienna. It was a great place to relax. Her pictures reflected the charm of the entire place. The beds were comfortable. The view was great. She had all the amenities anyone could possibly want. A great place. I highly recommend it to everyone! Martion Platz war perfekt! Es ist auf dem Land nur etwa 25 Minuten vom Zentrum von Wien. Es war ein toller Ort zum Entspannen. Ihre Bilder spiegelt den Charme des gesamten Ort. Die Betten waren komfortabel. Die Aussicht war großartig . Sie hatte alle Annehmlichkeiten, jeder konnte sich nur wünschen. Ein großartiger Platz. Ich empfehle es allen!
Veronica
2016-07-24T00:00:00Z
Die Unterkunft war super schön. Alles war zu Benutzung vorhanden. Kaffee, Zucker, Gewürze, Duschzeug, und vieles mehr was in Ferienwohnungen eigentlich nicht selbstverständlich ist. Marion hat uns eine Wurst und Käse Platte zubereitet bei Ankunft, und im Kühlschrank und drumherum war alles vorhanden (Butter, Milch, Getränke, Aufbackbrötchen usw) , dass man nicht sofort in den nächsten Supermarkt musste. Sie hat einen immer wieder mit Kleinigkeiten überrascht. War ein sehr angenehmer und schöner Aufenthalt.
Franziska
2016-10-07T00:00:00Z
We booked this place for one night due to our cricket semifinal match in Vienna at Seebarn cricket grond. We were 5 people, we reached at Marion's place around mid night. She was waiting for us, she prepared reasonable sized snack for us, cheese platter and salami. we were pleasantly surprised she gave us all type of drinks for free (juices, beers, wine, energy drinks, coca cola you name it). For morning breakfast there were bread, butter, nutella, eggs, marmalade, coffee and many other stuff. she is very caring and nice host. we felt like home here. she provided mattress for extra person without extra cost. i will definitely stay at her place whenever i will come to Vienna with my cricket friends. I would like to thanks her for making our stay so pleasant. recommended place
Muhammad Shahid
2016-09-04T00:00:00Z
Typ pokoje
Celý dům/byt
---
Typ nemovitosti
Dům
---
Ubytuje
4
---
Ložnice
Manhartsbrunn, Niederösterreich, Rakousko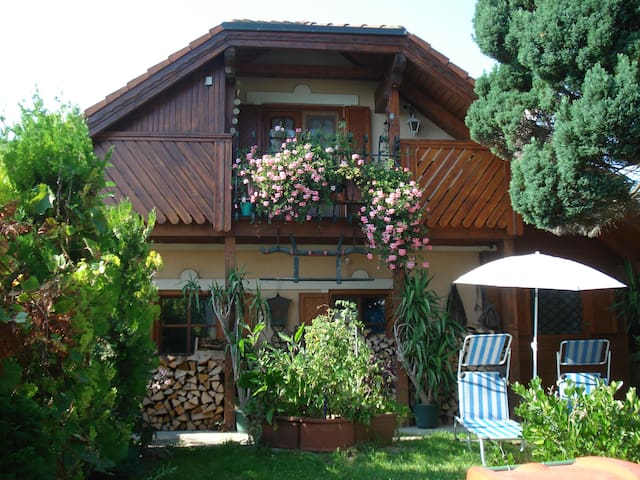 Je to ode mě blízko do Wolkersdorf and Vienna. U mě si to zamilujete, protože je tu klid a zahrada . Mé ubytování je skvělé pro páry a sóloví cestovatelé. You will have to drive for P+R Leopoldau around 5 km from my place.
Place was very nice and quiet, great location if you need to sleep over close to highway:)
Gabriela
2017-03-25T00:00:00Z
Everything was OK. Place was quiet, clean and what is important for me - it was warm inside. I had breakfast and I could use kitchen. The only small disadvantage is thet it is quite far from U-bahn. But with car it was not a problem. I can recommend it as good, clean and quiet place to visit Vienna.
Paweł
2017-01-01T00:00:00Z
Typ pokoje
Soukromý pokoj
---
Typ nemovitosti
Dům
---
Ubytuje
2
---
Ložnice
Großebersdorf, Niederösterreich, Rakousko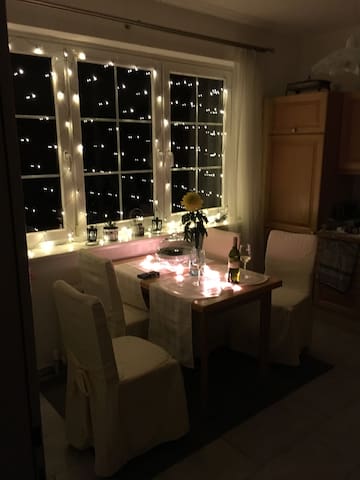 Můj majetek se nachází v blízkosti Vídně, 5 minut na stanici pěšky, má přímé napojení na dálnici, je to aktivity pro rodiny s dětmi k dispozici (jízda na kole na Marchfeldkanal, krásný velký veřejný plavecký rybník v obci). Zamilujete si svou dovolenou pro spoustu venkovního prostoru, hodně přírody i přes velkoměsta blízkého, noční život ve Vídni, klidná lokalita jen obyvatelé provozu. Moje ubytování je vhodné pro páry, osamělých dobrodruhů, obchodní cestující a rodiny (s dětmi).
Typ pokoje
Celý dům/byt
---
Typ nemovitosti
Dům
---
Ubytuje
4
---
Ložnice
Gerasdorf bei Wien, Niederösterreich, Rakousko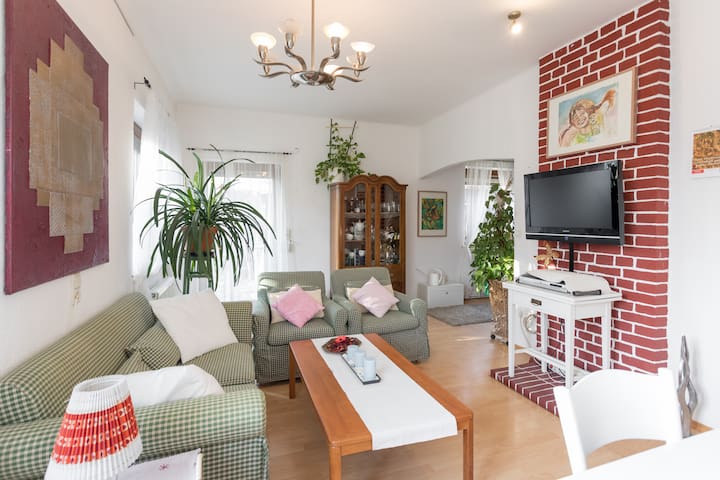 Modern family villa only 30 minutes to downtown Vienna; 60minutes to downtown Bratislava and 2 hours to Budapest and Prague. Quiet and family friendly neighbourhood in a small village next to the vineyards of Weinviertel. Ideal for families of 4-8p
Modern family villa only 30 minutes to downtown Vienna; 60minutes to downtown Bratislava and 2 hours to Budapest and Prague. Quiet and family friendly neighbourhood in a small village next to the vineyards of Weinviertel. Ideal for families of 4-8p
Quartier calme et familial avec l'école locale, un supermarché et 2 restaurants à distance de marche.
The host canceled this reservation 118 days before arrival. This is an automated posting.
Andy
2016-03-21T00:00:00Z
Typ pokoje
Celý dům/byt
---
Typ nemovitosti
Dům
---
Ubytuje
8
---
Ložnice
Bockfließ, Niederösterreich, Rakousko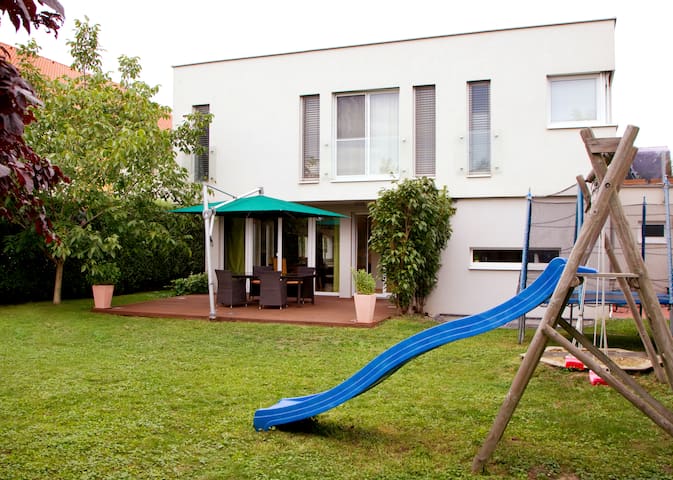 wunderschön - gorgeous house I hope to be your host for your time in Vienna. See you soon
* Private garden with organic vegetables * Surrounded by green / Sleep * Free parking & Garage available * Free Wi-Fi * Speaker with bluetooth function * 2 bathrooms * 2 flatscreen TV * Huge terrace / clear sky at night / low light pollution * Beautiful & luxurious interior * Fully equipped kitchen / kitchen appliances / dishes and dishwasher, Nespresso coffee machine, kettle * Washing machine + Iron * Own Gardeners * Bike & Car Rental verhanden * Good restaurants with Austrian specialties and wine taverns * Inexpensive pizzeria with delivery possibility * Many supermarkets nearby * Golf course, tennis, fitness center, children's playground * Natural swimming pond, near * Cultural landscape Marchfeld for walks English: * Private garden with organic vegetables and fruits * Quiet neighborhood in a green environment * Free parking lots and garage available * Free WiFi * Sound system with bluetooth functions on * 2 bathrooms * 2 flatscreen TV's * Big terrace / balcony included, low light pollution Enables a gourgeous view of the night sky * Beautiful and luxurious interiour design with a comfy and cozy feeling * Fully equipped open kitchen Containing stove and oven, refrigerator, dishwascher, kettle, nespresso coffee mashine, crockery * Washing mashine, flatiron * Private gardener * Bicycle- and car rental service nearby * Nearby restaurants and heuriger offering traditional austrian cuisine * Reasonably priced pizzaria with delivery service * Multiple supermarkets close-by * Natural swimming pond within walking distance * Cultivated landscape "Marchfeld" for romantic and / or relaxing walks in proximity
Very nice neighborhood. Quiet please after 22:00 on the terrace and in the garden. Thank you English: amicable neiborhood. Please consider the night rest starting at 10pm on the terrace and in the garden. Thank you
The host canceled this reservation 8 days before arrival. This is an automated posting.
Mathis
2017-04-05T00:00:00Z
Typ pokoje
Celý dům/byt
---
Typ nemovitosti
Dům
---
Ubytuje
8
---
Ložnice
Gerasdorf bei Wien, Niederösterreich, Rakousko
30 minutes from Vienna's center. Family House. Suitable for children, several dogs welcome. Ideal for visits to Vienna and to the discovery of the East of Austria. Situated on the outskirts of Vienna, whether by car or public transportation (three minute walk) in 30 minutes you are at the center of Vienna. Neusiedler See 85 km away. Directly on flat cycle paths of Marchfeld. Trips to the Marchfeld Schössern and conservation area March Danube Thaya Auen.
Large garden about 2400 m², fenced. Ideal with children and with dogs! Garden furniture in the front and rear part of the garden, barbecue, etc. summer swimming pool 4 x 7 (unheated). Children's playground with swings and slide, large trampoline, sandpit, garden furniture, Table Tennis. secured for Children (pool fenced) and equipped. Soccer goal. All in max. 25 km Distance: Metro station Kagraner Platz 16 kilometers. St. Stephen's Cathedral Subway station Stephansplatz Belvedere Palace Vienna State Opera Neusiedler See 85 km away. Directly on flat cycle paths of Marchfeld. Trips to the Marchfeld Schössern and conservation area March Danube Thaya Auen.
Typ pokoje
Celý dům/byt
---
Typ nemovitosti
Dům
---
Ubytuje
7
---
Ložnice
Deutsch-Wagram, Niederösterreich, Rakousko
Komplett neu renoviertes Haus mit 160m2 Wohnfläche am Fuße des Bisambergs im Wiener Umland. Garten mit überdachtem Pool, überdachter Terrasse und Grillterrasse. Drei große Schlafzimmer mit Doppel-Boxspringbetten, 2 Badezimmer - eines mit Whirlpool.
Dieses Einfamilienhaus befindet sich in einer sehr ruhigen Straße inmitten des Ortes Bisamberg. Die umliegenden Weinberge und Wälder eignen sich ideal um wandern zu gehen und dabei die idyllische Landschaft des Naturschutzgebietes Bisamberg zu genießen. Der Haupteingang und die Waschmaschine befinden sich im Untergeschoß (Straßenniveau). Über eine Treppe kommen Sie in das Erdgeschoß, wo sich auch der zweite, gartenseitige Eingang befindet. Weiters finden Sie in diesem Stockwerk eine voll ausgestattete Küche mit Induktionsherd, Backofen, Mikrowelle, Weinkühlschrank, Kühlschrank mit Tiefkühlfach, Geschirrspüler, Esstisch mit Sitzgelegenheit für 10 Personen, Nespresso-Kaffeemaschine. Weiters gibt es ein Badezimmer mit Dusche und Fußbodenheizung, ein separates WC und ein Schlafzimmer mit einem Boxspringbett 160x200 cm und einen Fernseher. Vom Schlafzimmer führt auch eine Tür zu der überdachten Terrasse. Vom Erdgeschoß kommen Sie über eine Treppe in das Obergeschoß, wo sich 2 Schlafzimmer und ein Badezimmer mit Whirlwanne und WC befinden. Ein Schlafzimmer hat ein separaten Sitzbereich mit Tisch und einem Fernseher, ein Schreibtisch und ein Boxspringbett (180x200 cm). Im zweiten Schlafzimmer finden Sie ebenfalls ein Boxspringbett (180x200 cm), ein Schreibtisch und ein Sofa. Alle Räume sind mit einer Zentralheizung ausgestattet. Auf der überdachten Terrasse erwartet Sie ein Tisch und Sitzplatz für 6 Personen. Auf der Grillterrasse gibt es noch ein Tisch mit 6 Stühlen, ein Gasgrill und ein Smoker. Der überdachte Pool ist 32 m2 groß. Vor dem Haus gibt es 3 Parkplätze.
In 5-10 min.Fußweg erreichen Sie ein Supermarkt, Bäckerei, Biogeschäft und einige Gastronomiebetriebe.
It's a very nice House, very quiet. The pool is awesome. Perfect location for a BBQ.
Cola
2016-07-11T00:00:00Z
Das Haus war super sauber und Wien war nur 15 Minuten entfernt. Die Gastgeber waren ständig erreichbar und super nett bei der Schlüsselübergabe. Lief alles reibungslos ab.
Marcel
2017-01-02T00:00:00Z
Very warm and kind host couple, just like their house gave us wonderful memory. I have to say the actual is better than the photo on airbnb a lot: every room is spacious and clean, the kitchen is in special design that we can cook happily, we also enjoyed the garden and the swimming pool, kids laugh are always around the house. Whats more, the traffic is flat to the Vien and other tourist points, we also can esay to hike to the mountain beside the house. Recommond!!!
carol
2016-08-02T00:00:00Z
We enjoyed our stay. Great experience for the whole family.
Ahmad
2016-07-18T00:00:00Z
Typ pokoje
Celý dům/byt
---
Typ nemovitosti
Dům
---
Ubytuje
6
---
Ložnice
Bisamberg, Niederösterreich, Rakousko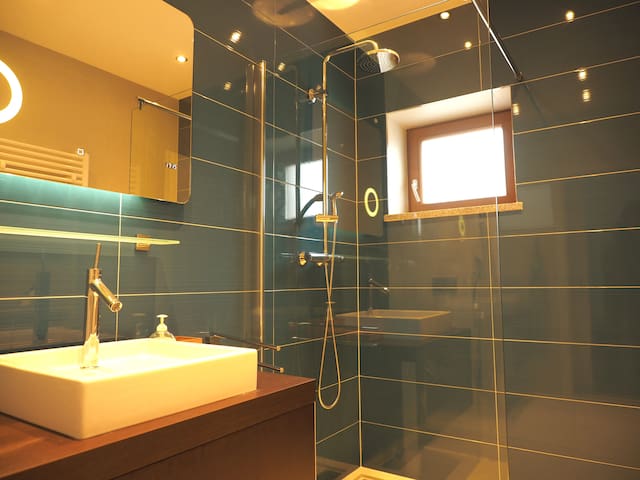 Das Haus im Grünen bietet bis zu 6 Personen genügend Platz (120 m²) sich wohl zufühlen. Mit öffentlichen Verkehrsmitteln ist man in 20 Minuten in der City. Auch für dein Auto gibt es Platz und WLAN ist ebenfalls vorhanden.
Das Haus befindet sich in 21. Wiener Bezirk. Die Räumlichkeiten sind auf zwei Ebenen verteilt (nicht Behinderten gerecht!) und bietet auf 120 m² Platz sich wohlzufühlen. Im gesamten Haus freies WLAN. Im Erdgeschoß befinden sich die Küche, das Bad mit WC, Vorraum und Gardaroberaum sowie ein geräumiges Wohnzimmer. Die Küche ist mit E-Herd, Geschirrspüler, Wasserkocher, Kühlschrank mit Gefrierfach und allen anderen notwendigen Sachen zum Kochen ausgestattet. Für die Zubereitung des Frühstücks- bzw. Nachmittagskaffees stehen eine Filtermaschine und Nespressomaschine zur Verfügung. Im Wohnzimmer befinden sich ein SAT-TV, eine Stereoanlage mit CD, eine Vielzahl von Büchern (auch Kinderbücher) sowie Gesellschaftsspiele. Die Sitzgarnitur lädt zum Entspannen ein. Ein Teil der Sitzgarnitur lässt sich zu einem Bett aufklappen und bietet Platz für eine Person. Das Bad ist mit einer Badewanne ausgestattet. Handtücher, Seife, Shampoo und Haar Fön sind vorhanden. Im 1. Stock befinden sich das Schlafzimmer, ein Wohn- / Schlafzimmer und ein WC. Das Schlafzimmer ist mit einen geräumigen Bett (2 Personen) mit viel Stauraum für Bekleidung ausgestattet. Bettwäsche ist vorhanden. Im Wohn- / Schlafzimmer befinden sich eine gemütliche Sitzgruppe mit Blick auf den Garten sowie einer Ausziehcouch, welche von 2 Personen als Schlafgelegenheit benutzt werden kann. Ein weiteres Bett bietet Platz für ein bis zwei Person. Ein SAT-TV ist ebenfalls vorhanden. Eine Waschküche mit Waschmaschine, Bügelladen mit Bügeleisen sowie eine Brausetasse im Keller runden die Unterkunft ab. Außerhalb des Hauses befindet sich ein Garten mit Sitzgelegenheit, der zum Relaxen in der Natur einlädt.
•Parkmöglichkeit auf öffentlichen gebührenfreien Flächen direkt bei der Unterkunft. •Zwei Supermärkte in jeweils 500 m Entfernung. •Apotheke und Arztpraxis ebenfalls in 500 m Entfernung •Sollte man keine Lust auf Kochen haben, so bietet das gegenüber liegende Restaurant mit moderaten Preisen Abhilfe. •Der Heurigenorte Jedlersdorf (10 Minuten zu Fuß) und Stammerdorf (ca. 9 Min mit dem Auto) sind nicht weit entfernt. •Wer sich sportlich auspowern will kann dies im gegenüberliegenden Sportcenter "Marco-Polo-Vienna" tun. Es bietet Indoor Golf, einen Outdoor Golfplatz mit 9 Löchern, Badminton, Indoor Tennis sowie Wellness. Die Gebühren und Fotos sind auf der Internetseite von 'Marco-Polo-Vienna' verfügbar.
We want to tell that our family was fully satisfied at the Heinrich`s house.Everything was just great ,even better that we were expecting. Heinrich and his wife were so kindly to us all the time,they just were make a present for the first morning -lovely breakfast for our family so we did`t have to lose time for it. All the house was so clean,cosy and comfortable that we were feeling like in our own home ,even better. Heinrich helped us all the time with information and tips about Wien. We highly appreciate all his efforts to be not only host but also like a friend.We recommend his apartment with very big pleasure!!!! Thank you very much!!!!
Elka
2016-03-07T00:00:00Z
A really nice house, even better than in the pictures. We visited Vienna for three nights, and it suited us well. The house was clean and had all the equipments we needed for our stay. Kitchen is fully stocked although it didn't really get to use in our 4 day trip. Highly recommended.
Adnan
2016-01-03T00:00:00Z
Sehr nette Gastgeber, war alles da was man benötigt. Uns wurde alles sehr genau erklärt. Wir kommen gerne wieder.
Heike
2017-01-02T00:00:00Z
Heinrich and his wife were amazing hosts! The house was perfectly set up with all the items we needed for our two week stay. They were very flexible with our arrival and even provided us breakfast for our first morning. We were treated like part of the family. We are definitely coming back ! Thank you Heinrich
Robert
2016-08-09T00:00:00Z
The house was really really nice! We stayed two days in that house. It was really comfortable. Meanwhile, thanks to Heinrich and his wife, really a good help! Don't miss it!
嘉宁
2015-12-26T00:00:00Z
Heinrich was an excellent host & the house is very beautiful and comfortable!
Ki
2016-06-28T00:00:00Z
Einer der besten AirBNB Unterkünfte die ich bisher gesehen habe. Alles top. Super freundliche Gastgeber, wir wurden sogar mit Manner Schnitten empfangen. Kaffee und Milch war auch das. Alles top. Jederzeit gerne wieder.
István
2017-02-26T00:00:00Z
Typ pokoje
Celý dům/byt
---
Typ nemovitosti
Dům
---
Ubytuje
5
---
Ložnice
Vídeň, Wien, Rakousko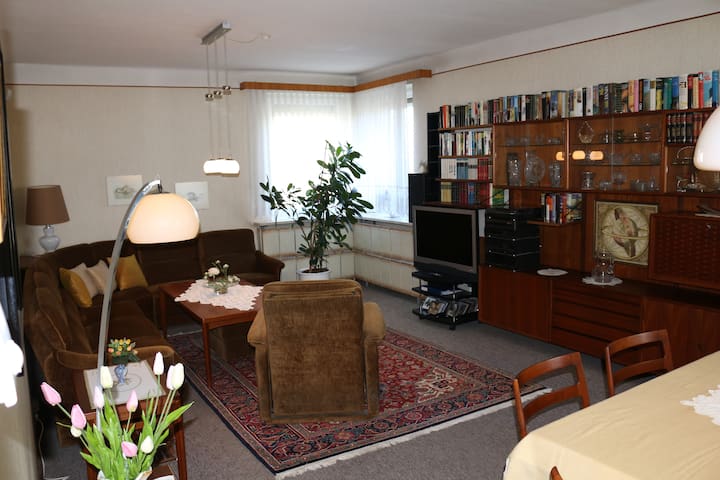 Wunderschönes Einfamilienhaus, ideal für kleine Familien, die eine schöne Zeit in Wien verbringen wollen, und nach einem aufregenden Tag in der Stadt noch im Stadtgebiet ein wenig "ländliche Ruhe" genießen wollen. Beautiful house, ideal for families , who want to pass a good time in Vienna. Enjoy "rural quietness" within the city after a day in the center.
Nichtraucher Haus Non-smoker
Nicht für Veranstaltungen geeignet!
Herzlichen Dank für den tollen Aufenthalt - es hat einfach alles super gepasst :-) Wir kommen gerne wieder!
Sara
2017-03-09T00:00:00Z
Sehr netter Gastgeber. Ein wirklich schönes, sauberes Haus in einer ruhigen schönen Gegend. Es ist alles da, was man braucht - und sogar mehr. Spielsachen für die Kinder etc. Gerne wieder!
Tobias
2017-03-13T00:00:00Z
Das Haus ist am Rande Wiens ideal gelegen für Reisende mit Auto (gratis und sicherer Parkplatz vor dem Haus) oder mit dem Wunsch nach Ruhe, denn auch mit den Öffis ist man schnell am Kagraner Platz und von dort sehr schnell in der Innenstadt. Das Haus selber ist ein Traum, groß, modern, neu, wir sind mit unseren beiden Hunden angereist und hatten ideale Möglichkeiten zum Spazierengehen (Info für Hundehalter: der Vermieter wünscht, dass Tiere nicht bei Abwesenheit der Besitzer im Haus bleiben, Dh man sollte sie mitnehmen können, für uns war das aber kein Problem). Der Kontakt zu Diego war absolut problemlos, bei jeder Fragestellung reagiert er sehr schnell und man erreicht ihn auch vor Ort sehr gut. Das Internet ist für den Normalgebrauch ausreichend. Uns hat es sehr gut gefallen und wir kommen gerne wieder :)!
Christin
2017-02-26T00:00:00Z
Great house, better then in pictures, everything was fine and Diego is friendly and the communication was perfect!
Cristian
2017-03-29T00:00:00Z
The house was really great, it looks so good, it was in very quiet area, communication with hosts was all good also. They are really nice people. Hopefully to come soon, I can only recommend this place :)
Lenka
2017-02-02T00:00:00Z
The house is very new and looks better than in pictures. It is well equipped and everything is gret about it. The only minus which i have is the lack of wi-fi (internet at all). Otherwise i would recommend it.
Remus
2017-01-24T00:00:00Z
The host canceled this reservation 26 days before arrival. This is an automated posting.
Marina
2017-02-27T00:00:00Z
非常適合自駕遊的朋友,遠離塵囂,離市區大概25分鐘車程,我喜歡的
Leo
2017-03-22T00:00:00Z
Typ pokoje
Celý dům/byt
---
Typ nemovitosti
Dům
---
Ubytuje
4
---
Ložnice
Vídeň, Wien, Rakousko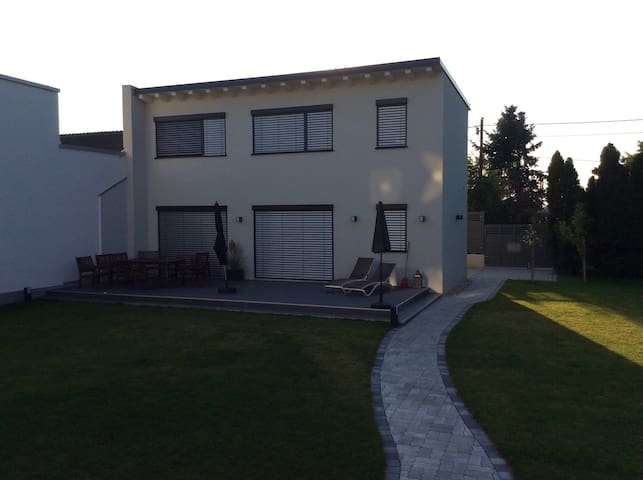 Můj majetek je v blízkosti restaurací a jídlo, pláží a veřejné dopravy. Zamilujete si svůj ubytování za okolního, venkovního prostoru a okolí. Moje ubytování je vhodné pro páry, sólo dobrodruha, obchodní cestující, rodiny (s dětmi) a chlupatými kamarády (zvířata).
Bytová má centrální vytápění v každé místnosti! - Můžete ručně nastavit teplotu, pokud si budete přát. Máme obývací pokoj, ložnici, kuchyň a koupelnu a WC oddělené. Vana je malá velikost, ale může být použit jako sprchovým koutem.
Jste zvyklý být narušen Cars tím, že hluk. Jeho velmi tichý, prosím, ale přesto v blízkosti města!
good location on vienna suburb. its ok if you dont mind the spiders wich are everywhere. the toilet bowl is noisy. Andreas is helpful on thw phone although we didnt met him.
David
2016-09-08T00:00:00Z
Andreas hat uns sehr nett und sympatisch empfangen, alles erklärt und all unsere Fragen beantwortet. Es gab am ersten Tag ein kleines Problem in der Wohnung, er war sofort erreichbar und hat sofort seine eigenen Pläne abgebrochen, um das Problem gleich zu beheben. Super! Da wir viel unterwegs waren, haben wir ihn bis zur Abreise nicht mehr gesehen. Aber vielleicht das nächste Mal-denn beim nächsten Wienaufenthalt kommen wir auf jeden Fall wieder! Danke!
Zita
2016-09-26T00:00:00Z
Great place, big and very nice hosts.
Marty
2017-04-04T00:00:00Z
Andreas is warm and welcoming. He was waiting for us even though our journey took far longer than expected. Andreas showed us around and explained how things work. The house is a diamond in the rough. Its located about 5-6 mins walk from the bus stop. The house has all that you require for a comfortable stay and more. Vienna is a beautiful city with beautiful people.
Doc
2017-01-23T00:00:00Z
Trotz des kurzen Aufenthaltes, von zwei Tagen, waren wir mit dem Angebot von Andreas sehr zufrieden und würden gerne jederzeit wiederkommen. Die Unterkunft ist außerdem sehr gemütlich eingerichtet und ist in einer ruhigen Umgebung. Dadurch haben wir uns sofort heimisch gefühlt. Optimale Verkehrsanbindung mit gutem Parkplatz. Der Aufenthalt wurde auch gut Vorbereitet.
Simon
2016-12-20T00:00:00Z
Очень прикольный, милый домик с большим садом- как у старых дачных участков в Подмосковье. Тишина, уединение, до центра города и аэропорта - минут 25 на машине. Рекомендую всем, кто любит жить на земле.
Александр
2017-01-09T00:00:00Z
We stayed one night in spring. Everything is exactly as described, and everything was fine. The host is very friendly and eager to help! Thanks a lot
Олена
2017-03-04T00:00:00Z
Thank you Andreas for everything! We had a really great time, and the place was excellent.
Zoe-Larisa
2016-12-30T00:00:00Z
Typ pokoje
Celý dům/byt
---
Typ nemovitosti
Dům
---
Ubytuje
5
---
Ložnice
Vídeň, Vídeň, Rakousko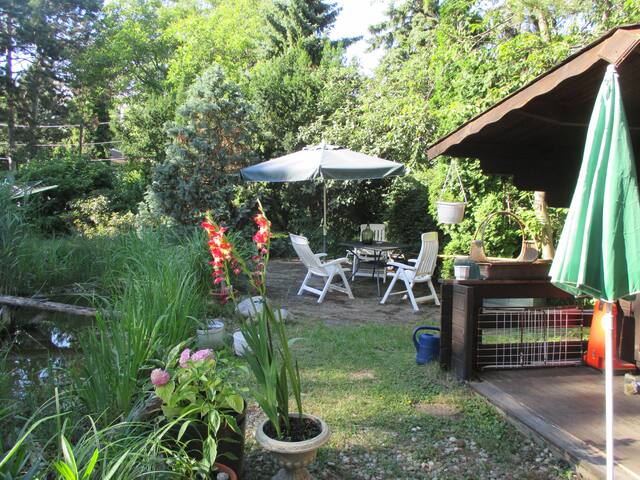 Meine Unterkunft ist in der Nähe von öffentlicher Verkehr, Natur, Marchfeldkanal, Badeteich, Einkaufsmöglichkeiten. Du wirst meine Unterkunft lieben wegen die Leute, Platz im Freien, Umgebung, Obstbäume, Grün, Gemütlich. Meine Unterkunft ist gut für paare und alleinreisende abenteurer.
Typ pokoje
Soukromý pokoj
---
Typ nemovitosti
Dům
---
Ubytuje
2
---
Ložnice
Vídeň, Wien, Rakousko
In der Wohneinheit mit voll ausgestatteter Küche und hellem Wohnraum führt eine Wendeltreppe zum großzügigen Schlafraum unter der Dachschräge. Zusätzlich stehen 2 weitere Zimmer zur Verfügung, ebenso ein Balkon mit Sitzgarnitur zum Chillen, ein Bad und ein getrenntes WC. Der vermietete Bereich bietet Platz für maximal 10 Personen. Das Haus hat einen romantischen Garten mit Schwimmteich. In 8 Gehminuten ist die U1 erreichbar, die unsere Gäste in 15 Minuten direkt ins Zentrum bringt.
Das Haus ist ganz neu Ende 2016 erbaut worden. Es sind alle mögliche Umwelt Regeln beachtet worden. Traumhaftes helles Wohnzimmer mit Holzparkett und Eingang zur Lounge -Terrasse. Eine vollausgestattete moderne Küche. Bequeme Betten. Eigenes Bad und ein eigenes WC. Benützung vom romantischen Garten, Grillen und Baden nach Vereinbarung gestattet. Sie sind in 5 Gehminuten bei der U Bahn. In 3 Gehminuten können Sie die Bus Station erreichen. Egal wenn Sie beruflich oder zum Urlaub in Wien sind, das Haus ist ideal zum Entspannen und Kraft Tanken.
Das Haus liegt in ruhiger Wohngegend. Durch den großen Garten fühlt man sich wie im Grünen. Supermärkte und Apotheke sind in 2 Minuten zu Fuß erreichbar. Wir haben sehr nette Nachbarn!
Typ pokoje
Soukromý pokoj
---
Typ nemovitosti
Dům
---
Ubytuje
10
---
Ložnice
Vídeň, Wien, Rakousko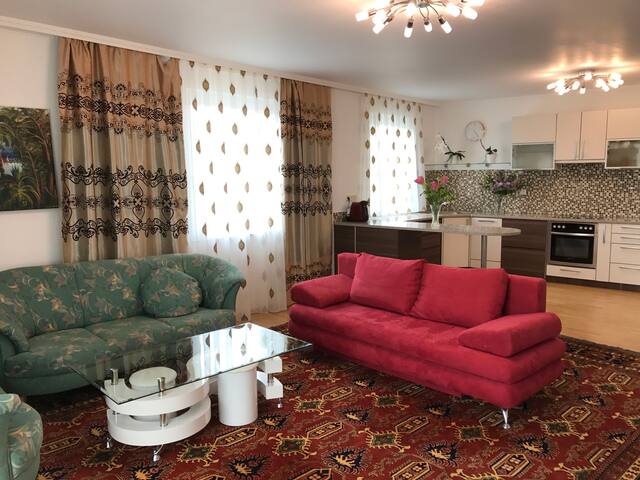 Einzel- od. Doppelzimmer in Einfamilienhaus. Ein Zimmer im 1. Stock, ein Zimmer im Wohnkeller gelegen. Ruhige Lage in Wohngebiet nahe Alte Donau. Ca. 8 Min von Kagraner Platz. (U-1 Station). Bad/WC bei Zimmer im 1. Stock kann möglicherweise von anderen Mitbewohnern mitbenützt werden. Privates Bad/WC bei Zimmer im Keller.
Typ pokoje
Soukromý pokoj
---
Typ nemovitosti
Dům
---
Ubytuje
2
---
Ložnice
Vídeň, Wien, Rakousko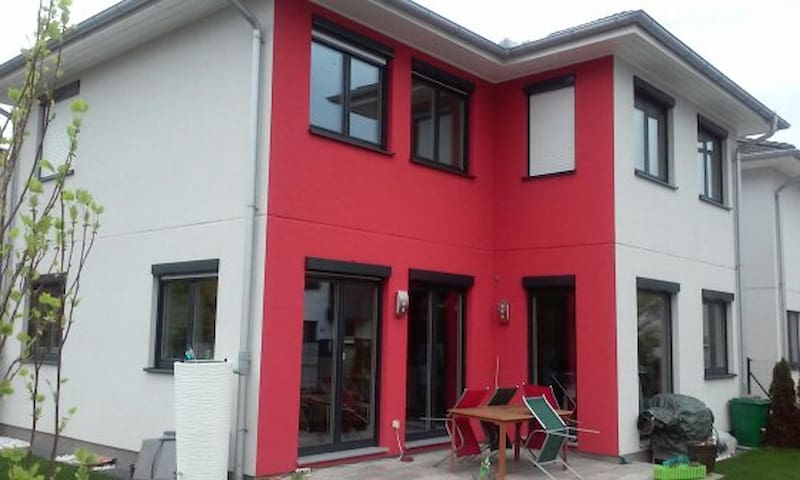 Gabriela's Haus, der Garten & der Teich in Wien sind 25 min vom Stadtzentrum entfernt und bieten für Dich / Euch schöne, spannende Großstadt und Erholung im Grünen gleichzeitig. 1 voll möbliertes 18m² Zimmer im OG 1 gemeinsames Bad. Goodies: - Architektonisch interessantes Haus - Obergeschoss angenehm gerundete Räume. - Die Küche im EG kann gemeinschaftlich genutzt werden. - Schöne Terrasse - Schwimmteich - meine große Liebe ;)- Garten mit Rosen, Obstbäumen, Wildpflanzen - Grillplatz - Internet Wierless - Waschmaschine zur Mitnutzung (3€) - Frühstück ist möglich (€ 5 pro Person) - Fahrräder (älter für die City) können nach Verfügbarkeit geborgt werden. Und fürs Wohlbefinden gibt es Wellness im Haus: Gabrielas hawaiianische Massagen LOMI LOMI NUI Vom Gabrielas Place in die Wiener City: - 3min.Fußweg zur Straßenbahn 26 -> 3-5 min zu U1 Kagraner Platz oder:12 min Fußweg zur U1 Kagraner Platz - 4 min mit dem Rad zur U1 Kagraner Platz (Räder stehen teilweise zur Verfügung) Einkaufsmöglichkeit (Supermarkt) in 3 Fußminuten Alte Donau 10 Minuten mit dem Rad Gerne zeige ich euch, wenn wir gemeinsam Zeit finden, meine Stadt oder gebe euch Infos zum Thema Wien, Unternehmungen, Ausflüge in die Umgebung...Ich spreche deutsch und englisch und freue mich immer auf neue interessante Menschen in meinem Haus! Auf bald in Wien. Gabriela
Gabriela ist eine sehr freundliche, interessante und aufgeschlossene Frau. Sie hat uns freundlich empfangen und wir haben uns sehr wohlgefühlt in ihrem einmaligen Haus. Es ist etwas außerhalb von der Innenstadt gelegen, aber mit den U-Bahn und Tram gut zu erreichen. Einziger Wermutstropfen während unseres Aufenthalts war, dass die Stadt zwischen Weihnachten und Neujahr total von Touristen überrannt wurde und aufgrund der Kälte waren alle Cafés und Museen überfüllt. Also während dieser Zeit ist eine Reise nach Wien nicht zu empfehlen. Aber ansonsten ist es eine tolle Stadt.
Berit
2014-12-30T00:00:00Z
We had a good time at Gabriela's, and although she was busy while we were there she made sure we had a good stay, like I'm sure she'll do for you. I enjoyed the outdoors, relaxing on the balcony overlooking the pond, and heading into the city quite easily. There's a little room for improvement in the maintenance of the house and the pond, as despite the 30+ degree weather we didn't really want to swim in the algae. Gabriela said she'd clean it though, so no worries there. All in all a very nice place from which to discover Vienna and relax afterwards. Reccomended!
Matthijs
2016-06-28T00:00:00Z
Schönes Zimmer mit fantastischer Aussicht ins Grüne. Das Gebäude ist wie auf den Bildern und die Gastgeberin sehr nett. Mit öffentlichen Verkehrsmitteln 2 Straßenbahnhaltestellen von der U-Bahn kagraner Platz. Empfehlenswert! Danke
Nicolas
2016-10-16T00:00:00Z
Gabriela was a great host! Her house was fantastic with a very cosy bedroom. We loved the architecture. Public transport was also perfect. It`s definitely the best choice if you travel Vienna.
小轩
2015-07-24T00:00:00Z
Fantastic! The house looks superb and we loved it. The room was cozy, bright, with a big window wall. The view from the room reveals the garden and the pond. In the distance we could see the Donau Turm. The pond sounds were very relaxing and quiet. Everything was lovely. We would stay there for eternity. Gabriela is sehr nett :-), we felt welcomed. We enjoyed our stay very much and we would definetely come back anytime. Also the connection to city center is very good, few minutes (~10 min.) walk to U-bahn.
Georgiana
2016-10-25T00:00:00Z
Das Haus liegt in einer sehr ruhigen Gegend, eine Kleingärtneranlage mit lauter hübschen Häusern. An Individualität übertrifft Gabrielas Haus alles was wir je gesehen haben. Sehr originell und überall gibt es nette Dinge zu bewundern. Wir durften in einem großen Zimmer mit eine sehr guten Bett schlafen – mit Blick auf den wunderschönen Gartenteich, der beruhigend vor sich hinplätscherte. Gabriela hat uns sehr freundlich begrüßt und auch gleich erzählt wie man am besten in die Stadt kommt. Auch ihre Empfehlungen für Restaurants in Fußnähe waren wertvoll. Die nahegelegene S-Bahn hört man nicht. Die Anbindung an das öffentliche Verkehrsnetz ist super. Der weitere Mitbewohner hat uns nicht gestört. Schade, dass wir zu wenig Zeit hatten, gern hätten wir uns länger mit Gabiela unterhalten und auch eine ihrer LomiLomi Massagen genossen – aber dann beim nächsten Wienbesuch. Ich kann diese Unterkunft wärmstens weiterempfehlen!
Mayke
2015-04-16T00:00:00Z
Los días que estuve en casa de Gabriela fueron maravillosos. Su casa se encuentra retirada del centro de la ciudad lo cual la hace un lugar ideal para encontrar silencio y un ambiente campestre. Desde la llegada Gabriela fue muy amable y me explicó algunas cosas útiles para la ciudad. El transporte es bastante útil pues el tram está a pocos minutos de distancia, al igual que el metro. La habitación es grande y cómoda y el baño limpio y muy aseado. Definitivamente volvería a donde Gabriela. I had a great time in Gabriela's place, she is very kind and helpful. The house is located in a quiet and beautiful place. The transport is very useful and its easy to reach the top places en Viena. Super recommended,
Juan Gabriel
2015-10-05T00:00:00Z
War ein rundherum schönes Erlebnis. Nette Gespräche, sehr schönes Haus, freundliche Atmosphäre. Ich kann Gabrielas Unterkunft wirklich empfehlen.
Gigi
2016-10-03T00:00:00Z
Typ pokoje
Soukromý pokoj
---
Typ nemovitosti
Dům
---
Ubytuje
2
---
Ložnice
Vídeň, Vídeň, Rakousko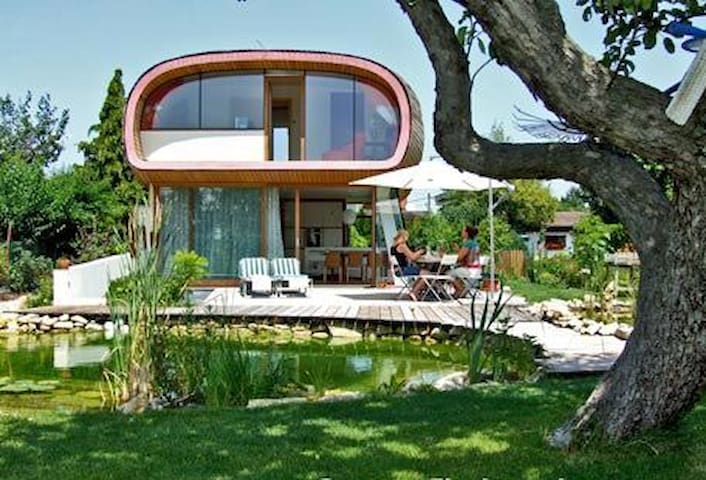 1

–

18

z

30 Pronájmy domácností
Pro zobrazení celkové ceny zadej termín. Mohou být přidány další poplatky a daně.